Help President Nasheed of the Maldives.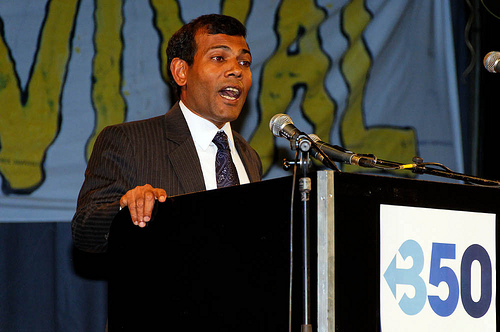 President Mohamed Nasheed of the Maldives, a friend and ally of the climate movement, is in danger, and when our friends need our help, we respond. Sign on to tell world leaders to do what they can to keep him and his people safe.
President Mohamed Nasheed of the Maldives has been one of 350.org's strongest allies, and friends, for many years. As the first democratically elected leader of the small island nation, he has been a tireless voice for climate action and strong advocate for getting us back to 350 ppm. "For us, this is a matter of life and death," Nasheed has said.
Now it is he specifically who is at risk. A military coup forced President Nasheed from office on Tuesday morning with threats of violence. He is currently under house arrest and needs our help.
From Bill McKibben:
Dear friends,
Our fight is a global fight, and early this morning one of our greatest allies, Maldives President Mohamed Nasheed, was ousted in a military coup. He's under house arrest at the moment and could be in serious danger. We're collecting signatures on a petition that we will deliver to key secretaries of state and foreign ministers to make sure there's pressure on the coup leaders to keep President Nasheed safe.
On our action page,  you'll see a video of President Nasheed at the Copenhagen climate talks–it was one of the great moments of the 350 movement.
We also pasted an account of the coup from inside the government. Click Get More Info on the page for both.
The Maldives was on course to become the world's first carbon-neutral nation, a beacon for the rest of the planet; but for the moment, all that matters is the safety of our dear friend and his colleagues.
Days like today remind us how hard this fight will be, and how many setbacks we'll see on the way. They also remind us that we need solidarity above all else. If you're a praying person, include Pres. Nasheed and his family in your prayers.
We know that all of you are action people–so here's that sign-on link again.
With respect,
Bill McKibben and the 350.org team.
————
Tell your national leaders:
We are deeply concerned about the recent coup that forced Maldives President Mohamed Nasheed from office and is currently keeping him under house arrest. President Nasheed was the first democratically elected leader of his country and a global voice for action to address the climate crisis. He needs your support to ensure his safety.
Please put diplomatic pressure on the leaders of this coup to avoid violence and to work for a peaceful, democratic solution to their conflict.
---
350.org is building a global movement to solve the climate crisis. Connect with us on Facebook and Twitter, and sign up for email alerts. You can help power our work by getting involved locally and donating here.
What is 350? —-   Go to our website to learn about the science behind the movement.
###
As part of CAI-Asia's mission (Clean Air Initiative for Asian Cities)  to promote better air quality and livable cities, it conducted an annual review of main events relevant to air quality/climate change and transport in Asia. The review, which started on 2008 and initially focused on sustainable transport, has now evolved to include air quality and climate events. It is an opportunity to look back and understand where Asia focused in the past year and foresee emerging trends in Asia in the coming years.

The main highlights for 2011 are:
Increasing public demand for improved air quality monitoring and reporting

Transition from science to policy action regarding black carbon and short-lived climate forcers (SLCF)

Increased awareness on green freight and logistics

Successes on clean fuels and vehicles, particularly in Vietnam and Sri Lanka

Improved understanding of walkability issues

Asian cities trying a mix of transport demand management measures to address congestion, pollution
Enjoy!
–
from Kaye Patdu, Air Quality Researcher with -
Clean Air Initiative for Asian Cities Center (CAI-Asia)
Unit 3505 Robinsons Equitable Tower, ADB Avenue, Pasig City 1605 PHILIPPINES
###
From material by  STEVEN LEE MYERS and SETH MYDANS
The action is a diplomatic reward for recent political reforms by Myanmar's civilian government, including the release of top activists on Friday.
QUOTATION OF THE DAY –  "This is a momentous day for the diverse people of Burma. And we will continue to support them and their efforts and to encourage their government to take bold steps."
Freeing the prisoners, which President Obama praised as a "substantial step forward for democratic reform," was one of the most significant gestures yet by Myanmar's new civilian government to address international concerns about the country's repressive history, which led to decades of diplomatic and economic isolation.
The releases — described in official reports as an amnesty — occurred around the country and included political activists, journalists, leaders of ethnic minority groups and relatives of the dictator who led the coup in 1962, Gen. Ne Win.
Among 651 prisoners given amnesty on Friday were leaders of the brutally repressed student protests in 1988; a former prime minister, Khin Nyunt, ousted in an internal purge in 2004; and monks and others involved in antigovernment protests in 2007 that were known as the "saffron revolution." A senior State Department official in Washington described Myanmar's move on Friday as the largest single release of political prisoners in Asia's history.
by some accounts Mr. Thein Sein's government has now released as many as half of 1,000 to 2,000 in custody.
The administration's reciprocal announcement is the latest in a series of cautious moves that have significantly eased tensions between the United States and Myanmar, also known as Burma. The diplomatic engagement — which one senior administration official said would have seemed unthinkable a year ago — now appears to be accelerating, though he and other officials stopped short of calling it irreversible.
A renewed relationship between the two countries has the potential to remake American diplomacy in Asia, where the Obama administration says it hopes to refocus its foreign policy at a time when China's influence is expanding. The closer ties could enhance trade and help integrate Myanmar into regional alliances sympathetic to the West.
Since taking office last March, the country's president, U Thein Sein, has overseen a raft of changes that appear to indicate a new willingness to end military rule for the first time since a coup in 1962.
He has sought to reform the economy, allow political competition and end the country's economic and diplomatic dependence on China, its huge neighbor to the north. In a move that presages a far broader shift in policies, his government halted work in September on a $3.6 billion dam under construction on the Irrawaddy River by a Chinese state company.
The United States never fully severed relations with Myanmar, as it did over the years with Iran, Cuba and North Korea, but it downgraded relations and withdrew its ambassador after elections in 1990. Those elections were won by the party of the main opposition leader, Daw Aung San Suu Kyi, though never recognized by the military government, which instead cracked down and put her under house arrest. Subsequent administrations have since toughened sanctions on most trade with Myanmar.
The Obama administration is not yet considering lifting sanctions, but Mrs. Clinton announced that it would soon nominate an ambassador and invite Myanmar to send one to Washington. She pledged other actions in response to continued reforms, though she did not spell them out.
Mrs. Clinton, who met with Mr. Thein Sein in the country's newly built capital,Naypyidaw, pressed him to follow through with the nascent reforms, which he appears to be doing. Since her visit, the government scheduled special elections on April 1 to fill 48 vacant parliamentary seats. For the first time since 1990, Ms. Aung San Suu Kyi and her party will be allowed to seek elected office.
The thaw with Myanmar is in some ways a belated success of the Obama administration's early policy to engage with the United States' enemies. The effort has failed with Syria, Iran and North Korea, and for at least for the first two years, Myanmar was no different. That has left many administration officials — and members of Congress — wary of moving too quickly.
Myanmar, isolated for so long, is suddenly a diplomatic destination of choice. The British foreign secretary, William Hague, visited last week. France announced that its foreign minister, Alain Juppé, would travel there this weekend.
The Senate's Republican leader, Mitch McConnell of Kentucky, departed for Myanmar on Friday, soon to be followed by Senator John McCain, Republican of Arizona. Mr. McConnell, who annually sponsors legislation sanctioning Myanmar, said in a statement that Mr. Thein Sein's government needed to do more to ensure free elections and disclose its military ties with North Korea.
| | |
| --- | --- |
| | January 14, 2012 |



###
From RESOLVE —  cifobservers@resolv.org
RESOLVE builds strong, enduring solutions to environmental, social, and health challenges. We help community, business, government, and NGO leaders get results and create lasting relationships through collaboration. RESOLVE is an independent organization with a thirty-year track record of success.

RESOLVE is pleased to announce the opening of the voting period for civil society observers on the Climate Investment Funds (CIFs). Voting is of interest to large and small Civil Society Organizations (CSO) from around the world who are working on projects integrating climate change and sustainable development.

About the CIFs:
The CIFs are a pair of funds – the Clean Technology Fund (CTF) and the Strategic Climate Fund (SCF) – aimed at helping developing countries pilot low-emissions and climate-resilient development.
Each fund is governed by a Trust Fund Committee with equal representation from contributor and recipient countries.
The CTF Trust Fund Committee oversees the Fund's operations, provides strategic direction, and approves and oversees programming and projects.
The SCF Trust Fund Committee advises strategic direction for three targeted programs: (1) the Forest Investment Program (FIP), (2) the Pilot Program for Climate Resilience (PPCR), and (3) the Scaling up Renewable Energy Program (SREP). Each of these programs is governed by its own subcommittee, and active civil society observers are selected for each of these programs.

Who may vote?
In order to vote, you must be a member of a nonprofit CSO or network involved in issues of climate change. You are invited to vote on the candidates from your geographic region (Africa, Asia, Developed Countries, and Latin America). Only one vote is permitted for each organization; large organizations with offices in multiple countries are allowed one vote per region.

How to vote?
To cast your ballot, please follow this link: resolve.us2.qualtrics.com/SE/?SID=SV_bwMccwzYWNZPsoc
After you complete a brief registration form, the link to the ballot will be emailed directly to you. Please follow the link and log in using the same email address you used to register.
The voting period will close Tuesday, January 24, 11:59 pm GMT.
If you have any questions on the voting process, please contact  cifobservers@resolv.org.
For more information on the CSO selection process or the CIFs please visit www.resolv.org/cif and www.climateinvestmentfunds.org/cif, respectively.
Best Regards,
Kate Kopischke Senior Mediator

###
LET US  POST THIS ON OUR MINDS:
GREEN ECONOMY, SUSTAINABLE DEVELOPMENT, HAPPINESS, and PROSPERITY!
GREEN DEVELOPMENT, HAPPINESS, and PROSPERITY? COULD THAT BE THE NEW DEFINITION OF SUSTAINABLE DEVELOPMENT?
Costa Rica envoy makes energy pitch.
from Japan we learn that –  The new Costa Rican ambassador to Japan, Alvaro Antonio Cedeno Molinari, said his mission here is to raise awareness of investment opportunities in renewable energy.
He also wants to attract more Japanese tourists to Costa Rica — a country with a rich variety of bird species, rain forests and kayaking spots that make it a prime ecotourism destination.
In a courtesy call Wednesday to The Japan Times, Cedeno Molinari stressed that diplomacy in the next few decades "should focus on green economy, sustainable development, happiness and prosperity."
He emphasized that Costa Rica "generates 95 percent of its electricity from renewable, clean and safe resources."
Cedeno Molinari, 36, also said although 50 percent of the nation's gross domestic product is related to tourism, only a small number who visit hail from Japan.
He also said he would push for a free-trade pact with Japan.
###
"Peace and Democracy: Make your voice heard!"
Be blessed – But this is a charade. You cannot be part of  that building if you are a proponent of true democracy – there surely will be some government that you will step on their toes and they are given the power to lock you out by using their appointed UN officials that get the job on a quota basis. The accreditation of NGOs and Press reporters is thus heavily censored, and talk of democracy is nothing but a charade. All what they suggest is –  Just join the choir in an act of self-love.
————–
Each year the International Day of Peace is observed around the world on 21 September. Conveniently so timed to the opening of the UN General Assembly.  The General Assembly has declared this as a day devoted to strengthening the ideals of peace, both within and among all nations and peoples – this according to language borrowed from the UN charter..
This year – on its 30th anniversary – the Day's theme is "Peace and Democracy: make your voice heard".
The Preamble to the United Nations Charter states that the Organization was founded to prevent and resolve international conflicts and help build a culture of peace in the world.
Peace and democracy are inextricably linked. Together, they form a partnership that promotes the well-being of all. Embodied in the Universal Declaration of Human Rights, democracy supports an environment for a host of political rights and civil liberties.
In line with the Day's theme, something profoundly remarkable is happening in the world. Young women and men everywhere are demonstrating the power of solidarity by reaching out and rallying together for the common goal of dignity and human rights. This powerful force brings with it the potential to create a peaceful and democratic future. Add your voice!
There are many ways to participate in democratic practices, including taking part in dialogue on constitutional processes, advocating for civil society empowerment, joining the struggle for gender equality and against discrimination, engaging in civic education and promoting voter registration.
The International Day of Peace offers people globally, a shared date to organize events and undertake deeds celebrating the importance of peace and democracy in realistic and useful ways.
THIS YEAR IS INDEED A SPECIAL YEAR THANKS TO THE REMOVAL OF DICTATORS IN THE ARAB WORLD – BUT A YEAR OF  EVEN GREATER DANGERS WHEN WATCHING MOBS CONFUSE DEMOCRACY WITH NEW FORMS OF DESPOTISM. A TRUELY DEMOCRATIC UN COULD HAVE HELPED – BUT WE WILL BE REMISS IF THINKING THAT THIS UN CAN FILL THE NEED.
###
A solar-powered light bulb may sound like an oxymoron (what's the point of a lightbulb that only works when the sun's out?), but a company called Nokero has a prototype in the works that will charge a battery in the light bulb, making it useful after sundown.
Denver-based Nokero, short for No Kerosene, hopes to offer a safe light source to the millions living without a reliable energy supply. Common non-electric light sources such as candles, charcoal, wood and kerosene are a major health threat when regularly used indoors because of the fumes they produce.
Candles and kerosene are also often relatively expensive to attain and Nokero estimates up to 20% of a family's income in places without reliable electricity can go to purchasing candles and lighting fuel. Nokero hopes to provide an affordable and lung-friendly alternative.  Priced around $20 and reducing the need for fuels, the company says its bulb begins saving most families money within 3-8 weeks.
The company's design comes in the form of a lantern that can be hung or placed on a table. The N200 model bulb contains four LEDs and is charged through an embedded solar panel connected to a NiMH AA size battery with a two-year lifespan. The power switch on the back of the bulb can also change the intensity of the light, from high to low, and the bulb itself is made from a durable polycarbonate similar to that used in automobile headlights.
The company is partnering with non-profits to help distribute the bulbs both nationally, such as to off-grid citizens of Navajo Nation, and internationally to countries including Haiti, Pakistan, Mexico and Japan.
—–
www.washingtonpost.com/business/technology/solar-powered-bulb-provides-light-after-dark/2011/09/16/gIQARyQsYK_story.html?wpisrc=nl_headlines
###
Rio 1992 – the UN Conference on Environment and Development that came up with texts on Sustainable Development, on Climate Change, on Biodiversity, and on Desertification and Arid Lands – was the last high point in UN history – from there on it was mostly down-hill. Going to the low entrance of the "2012 RIO+20″ meeting – the UN is opening an "IDEA BOX" – it asks the insider's MAJOR GROUPS to contribute to it and enhance on government ideas – a clear non-starter. We post the actual UN release/invitation. Why is this Idea Box not open to outside ThinkTanks and truly Independent NGOs that are more objective when it comes to the UN failures?
Please see how YOU WOULD WANT TO ANSWER THE UN OPENING!
###
North Korea in the presidency seat of the UN Disarmament Conference likened to 'asking fox to guard chickens, says Asian News International, June 30, 2011.
"So North Korea is Leading the Conference on Disarmament. So What?", June 29, 2011 said a quote in UN Dispatch.
Really – why take the UN seriously on anything else.
###
The Clean Air Initiative for Asian Cities (CAI-Asia) and the World Bank through its Development Grant Facility (DGF) launched an Air Pollution and Greenhouse (GHG) Emissions Data Initiative to help policy makers, development agencies and other stakeholders in Asia have better access to air quality and climate change data to further enrich policy development activities and development interventions relevant to energy and transport sectors and urban development.
For inquiries on this initiative or on how to share data, please contact:
May Ajero, Air Quality Program Manager: (may (dot) ajero (at) cai-asia.org)
Kaye Patdu, Air Quality Researcher: (kaye (dot) patdu (at) cai-asia.org)
———————————-
Call for Contributions:
We would like to invite other institutions, corporations, partnerships, forums and other groups working in this field to contribute and share data on air pollution, GHG emissions and related data and statistics for transport and energy sectors. All contributions will be properly referenced in publications as well as in the online open database.
CAI-Asia's projects with the Asian Development Bank (ADB), Deutsche Gesellschaft für Internationale Zusammenarbeit (GIZ), Institute for Global Environmental Strategies (IGES) and Institute for Transport Policy Studies (ITPS) also contribute to this data initiative.
For more information on:
This program involves conducting a review of availability and quality of air pollution, GHG emissions and related data and statistics for transport and energy sectors. Data collection is now ongoing for these countries – Bangladesh, China, India, Indonesia, Malaysia, Mongolia, Nepal, Pakistan, Philippines, Singapore, Sri Lanka, Thailand, and Vietnam. Data and statistics collected through this initiative will be made available through the CitiesACT database. General information regarding data quality and/or data generation process/system will also be provided.
By the end of year, air pollution, GHG emissions and related data and statistics for transport and energy sectors will be partially available in the CitiesACT database.
———————————
from: Maria Katherina Patdu
Air Quality Researcher

Clean Air Initiative for Asian Cities (CAI-Asia Center) Center
T +63 2 395 2843 to 45 | F +63 2 395 2846 | M +63 928 213 7241 | kaye.patdu@cai-asia.org | cleanairinitiative.org/portal/
Unit 3504-05, 35F, Robinsons-Equitable Tower, ADB Avenue, Pasig City, 1605, Philippines
###
21st International Congress on Irrigation and Drainage (ICID), 8th International Micro Irrigation Congress, & 62nd International Executive Council meeting
15-23 October 2011, Tehran, Iran
The announcement says:
Last chance to avail "Early Bird Registration" offer by 1 June 2011
Congress Theme: Water Productivity towards Food Security
Congress Questions
Question 56 : Water and Land Productivity Challenges
Question 57 : Water Management in Rainfed Agriculture
Special Session : Modernization of Water Management Schemes
Symposium : Climate Change Impacts on Soil and Water Resources
Seminar : Possibilities of Using Traditional Methods in Modern Water Management Systems
Venue
IICC Conference/Exhibition Center is Tehran is a World Class meeting and convention facility with 20,000 square meter space, located in the northern part of Tehran. IICC is closely linked to most of Tehran hotels.
Registration fees in US Dollars (SUD).
Participants    Early Bird Prior to June 1, 2011   Standard After June 1, 2011
Member country delegate               750     800
Non-Member country delegate      800     850
Accompanying person                     300     300
Young Professionals                       400     400 – Those who are under 40 years by Oct. 15, 2011.
How to Register
•       Fill the Registration and Visa Request form after downloading (www.icid2011.org) and send them with copy of the first page of the Passport (in color) to the Congress Secretariat (icid.congress@gmail.com, Fax:+9821-22367789).
•       For paying the registration fee you can choose any one of the following methods:
Through the following Bank account:
o       Bank Account: Sparkasse Starkenburg, Account Number: 5059922, Beneficiary: ToossAb International Consulting Engineers GmbH, Mentioning: ICID 2011 Registration Fee, Swift code: HELADEF1HEP, IBAN: DE14509514690005059922
•       In case of payment with Credit Card, please contact the bank via email:info@taice.de .The bank will then facilitate the payment.
•       The registration fee could also be paid at the venue during the congress.
Important note: Regarding the Iranian banking system, the registration fee or any other cost cannot be paid via any foreign bank card, inside Iran, under any circumstances.
Tours
Technical – Khuzestan (US$ 350); Mazandaran (US$ 250)
Post Conference – Isfahan Tour : 3 days and 2 nights (US$ 500)
Isfahan+ Shiraz Tour: 4 days and 3 nights (US$650).
8th International Micro Irrigation Congress
The 8th International Micro Irrigation Congress (8th IMIC) is in the series of Micro Irrigation Congresses that ICID organizes. First congress was held in 1971. The theme of the 8th International Micro Irrigation Congress is "Innovation in Technology and Management of Micro-irrigation for Crop Production Enhancement".
Objectives of 8th IMIC congress are:
•       To share experiences in the use of new technologies and best management practices in drip, micro-sprinkler, and other localized irrigation systems.
•       To review the status of use of micro irrigation for smallholders.
•       To understand socio-economic and technological factors impeding expansion of drip and micro-sprinkler irrigation area.
Other Events:
FAO-ICID Special Session
Irrigation Australia (IAL) Special Session
INPIM Special Session
Technical Exhibitions
ICID Congress provides a unique opportunity in the field of irrigation and drainage, where the latest products and achievements of the industries are presented. Exhibit space will be available during the congress to showcase commercial displays. For space, please contact Congress Secretariat.
Contact
Dr. S.A. Assadollahi, Secretary General, Congress Secretary, Iranian National Committee on Irrigation and Drainage (IRNCID), No. 1, Shahrsaz Alley, Kargozar St., Zafar Ave., Tehran, Iran, Postal Code: 19198-34453. Tel: (+9821) 2225 7348 – 22250162, Fax: (+9821) 2227 2285
E-mail : irncid@gmail.com, icid2011@gmail.com,
Website : www.icid2011.org
———————————————————————————————
HURRY ! HURRY ! HURRY !
ICID WatSave Awards 2011 – Invitation for nominations - Deadline 30 June 2011

Dear Sir/Madam,
It is my great pleasure to announce that ICID is inviting nominations for the WatSave Awards 2011 from individuals/ team working in the area of irrigation, drainage and flood management. Awards for innovations from across the world are given to recognize outstanding contributions to water saving/conservation in agriculture and are given in four categories viz. (i) Technology, (ii) Innovative Water Management, (iii) Young Professionals, and (iv) Farmer. The ICID WatSave Awards for the year 2011 will be presented at the 62nd meeting of the IEC scheduled to be held in October 2011 at Tehran, Iran.
Nominations are invited for the 'WatSave Awards 2011' from individuals/ team of individuals through ICID National Committees/ Committee. The entries are open to all professionals/ teams from ICID member countries as well as non-member countries. In case of an entry from a 'non-member' country, the nomination has to be  routed through and validated by an active National Committee of ICID, who should be in touch with the nominee and is aware of nominee's work'.
All the National Committees/ Committee are requested to send their nominations by inviting contributions on outstanding achievements from all those professionals who are engaged in water saving/ conservation activities. The deadline for receipt of the entries from the National Committees along with a completed Nomination Form (Annex 1) to the Central Office ICID, New Delhi is 30 June 2011. The 'Conditions and Criteria' set for the awards are given in Annex 2. Annex 3 shows the checklist of enclosures to be forwarded by the National Committee while submitting the nominations.

The selection of the winners from amongst the nominations received will be made by an International Panel of Judges to be appointed by the President, ICID in consultation with the Chairman, Working Group on Water Saving for Agriculture (WG-WATS).
I request all the national committees/ committee to carry out primary evaluation of the nomination(s) in light of the questions posed in the evaluation process, before submitting only one of them in any particular category (if there had been more responses) to the Central Office, New Delhi.  Nominations not complying with the above requirements or more than one nomination from the same National Committee in a particular category are liable to be rejected.
Full details of the awards and excerpts of the past award winning contributions are available on ICID web site www.icid.org/awards.html. Please feel free to disseminate this announcement through resources available with you. Please contact me for clarification, if any.
Yours sincerely,
Dr. Vijay K. Labhsetwar                                                                         14 June 2011
Director
——————————————————————————————-
Drylands in Brazil and Elsewhere Vital for Global Sustainability.
Bonn, 8 February 2010. Historically, socially and economically, drylands have been key regions for global sustainability. This message must be communicated to the global community, according to Brazil's Professor Antonio Rocha Magalhães, Director of the second International Conference on Climate Change, Sustainability and Development in the Semi-arid Regions (ICID 2010). The conference is scheduled to take place in August. Prof. Magalhães made the remarks as part of Brazil's delegation on a visit last Friday to concretize partnership in organizing the Conference in close collaboration with the secretariat of the United Nations Convention to Combat Desertification (UNCCD).
Welcoming the initiative from the Government of Brazil to organize and host the Conference, Executive Secretary Luc Gnacadja said ICID 2010 "will go a long way towards building momentum and strong international mobilization for the implementation of the United Nations Convention to Combat Desertification (UNCCD)." Gnacadja added that holding the event is particularly timely in light of the United Nations General Assembly's recent declaration of 2010-2020 as the United Nations Decade on Deserts and the Fight against Desertification.
Noting that Brazil's Amazon forest is well known, but not its drylands, the delegation stressed the need to draw attention to the importance of the well being of the drylands people in Brazil and elsewhere, and to advocate an agenda for policy development. The delegation comprised of Francisco José Pinheiro, Vice Governor of the State of Ceará, the region threatened by desertification and the State hosting the Conference, Professor Antonio Rocha Magalhães, Director of the ICID 2010 Conference, and José Roberto de Lima, Brazil's designated Technical Focal Point for the Convention in the Ministry of Environment.
The ICID 2010 will take place from 16-20 August 2010 in Fortaleza, Brazil. It is part of Brazil's preparatory process towards the implementation for the United Nations General Assembly's decision to hold in Brazil, in 2012, the World Summit on the Follow-up of Agenda 21, the Programme for the Further Implementation of Agenda 21 and the outcomes of the World Summit for Sustainable Development.
The first ICID was held in the lead up to the Earth Summit held in Rio de Janeiro in 1992, and brought together over 1,200 participants from all over the world. ICID 2010 is jointly sponsored by Brazil's Ministry of Environment, the Government of the State of Ceará, the Ministry of Science and Technology and the Center for Management and Strategic Studies.
Highlights of the ICID 2010 Conference are available here.
Our website covered the event – 23 Aug 2010 … Sustainabilitank.info: The Sustainable Development Media Think Tank – At ICID 2010, In Fortaleza, Ceara, Brazil, Professor Jeffrey Sachs …
www.sustainabilitank.info/…/at-icid-2010-in-fortaleza-ceara-brazil-professor-jeffrey-sachs-suggested-a-new-political-alliance-of-semi-arid…
In normal conditions, we consider the event in Tehran of high importance – specially for Iran itself – and for the sand and oil rich region of which Iran is part. Talking of Sustainable Development and showing irrigation technology – Iranian as well as foreign such as Australian, Israeli, US, Chinese … –  would be important for food production in the region. We hope that Iran decided to go this road indeed.
###
[gu-new] (20110606) Concept papers of GEWS/GUS projects for Bangladesh, DRC, Nigeria and Rwanda.
<<20110606>> Archived distributions can be retrieved at;
<tinyurl.com/2fzx23e> This archive includes a html version of this
list distribution and its MS/WORD version with its filename as
³year-month-date.doc.² You can also access all of its attachments, if any.
References:
> (a) Concept Paper to Create a South Asian Hub of Global Early Warning System
> and Global University System in Bangladesh (June 6, 2011)
> tinyurl.com/4y2gz8t
>
> (b) Concept Paper to Create a Central African Hub of Global Early Warning
> System and Global University System in Democratic Republic of Congo (DRC) (May
> 9, 2011)
> tinyurl.com/3tk9pvp
>
> (c) CLOUD COMPUTING SIMULATION CENTER FOR GLOBAL EARLY WARNING SYSTEM (GEWS)
> WITH GLOBAL UNIVERSITY SYSTEM (GUS) IN NIGERIA (May 14, 2011)
> tinyurl.com/3l5b2dn
>
> (d) Concept Note: The Global Early Warning System (GEWS) with Global
> University System (GUS) In Rwanda (May 1, 2011)
> tinyurl.com/3v6tta2
Dear E-Colleagues:
(1) I just came back from my very fruitful, two weeks trip to Japan.
(2) The References above are the concept papers of our GEWS/GUS projects in
Bangladesh, Democratic Republic of Congo (DRC), Nigeria, and Rwanda.
I sincerely thank you for those people who contributed to produce those
excellent concept papers.
(3) We will then forge ahead to raise funds with those papers.
(4) Pls feel free to contact me if you have any comments and suggestions to
improve them, and of course, any ideas about possible funding sources.
Best, Tak
****************************************************************************
***
* Takeshi Utsumi, Ph.D., P.E., Chairman, GLOSAS/USA
*
* (GLObal Systems Analysis and Simulation Association in the U.S.A.)
*
* Laureate of Lord Perry Award for Excellence in Distance Education
*
* Founder and V.P. for Technology and Coordination of
*
*   Global University System (GUS)
*
* 43-23 Colden Street, #9L, Flushing, NY 11355-5913, U.S.A.
*
* Tel: 718-939-0928; Skype: utsumi
*
* Email: takutsumi0@gmail.com, Web: www.friends-partners.org/GLOSAS/
*
* U.S./IRS Employer ID: 11-2999676 <tinyurl.com/534gxc>
*
* New York State Tax Exempt ID: 217837 <tinyurl.com/47wqbo>
*
* Brief bio and photo: <tinyurl.com/6jljtrd>
*
* CV: <tinyurl.com/2esr94l>
###
Statement on the Synergistic Implementation of the Rio Conventions in the Drylands.
From 8-11 November 2010 the third bi-annual conference on Drylands, Deserts and Desertification was held at the Blaustein Institutes for Desert Research in Sede Boqer Israel. The conference was attended by hundreds of government and non-government officials, senior representatives of the UNESCO, the United Nations Convention to Combat Desertification (UNCCD), and the Convention on Biological Diversity (CBD) as well as researchers from 63 countries working in areas related to the combating of desertification and development of sustainable livelihoods in the drylands.
Among the central topics discussed in a special session sponsored by UNESCO was the potential for synergistic implementation of the Rio conventions in the drylands.  While the issue of such "synergies" has been widely embraced, participants noted that there has been too little progress in translating this impulse from a conceptual consensus to actual procedures and activities that can improve implementation in each substantive area. The deliberations and presentations about synergisms at the 2010 Sede Boqer conference focused on existing international experience and projects on the ground that demonstrate synergistic benefits.  Among the proven cases discussed were afforestation initiatives, agricultural and agro-forestry programmes as well as measures for improving public health, which respond simultaneously to the disparate global challenges of desertification, climate change and biodiversity loss.
The conference participants call upon the UNCCD Committee for Science and Technology as well as its Committee for Review of Implementation of the Convention to consider the issue of synergisms at their upcoming meetings in Bonn, Germany in February 2011.  Beyond confirming the theoretical importance, the conference suggests that specific proposals for cooperation between the three conventions be considered in such areas as:
The importance of recognizing and addressing both the physical and socio-economic drivers that jointly linked to land degradation, climate change and biodiversity loss in the drylands through improved monitoring, assessing and reporting on the interlinkages between desertification, biodiversity, climate change and sustainable development.
The need to create stronger synergies between national reporting schedules and requirements for the three Rio conventions to improve the efficiency and reduce the reporting burdens, particularly on affected developing countries.
The need to integrate UNCCD National Action Plans, National Biodiversity Action Plans and UNFCCC
National Adaptation Plans of Action and to mainstream these plans into National Sustainable Development Plans.
The need to create synergies between the UNCCD impact indicators and the newly adopted CBD Strategic Plan and targets.
The challenges that affected developing countries face in jointly implementing the three Rio conventions due to lack of resources and capacities for the development and implementation of synergistic policies and activities.
The need to encourage bilateral and multilateral donors to fund projects and programmes that jointly implement the Rio conventions.
The importance of payment for dryland ecosystem services and other appropriate incentives to promote an enabling environment for the national and local implementation of the three Rio conventions in the drylands.
The importance of mainstreaming science and scientific advice into the implementation of national plans, programmes and projects to facilitate synergistic implementation of the three Rio conventions.
Presentations at the conference, as well as local site visits revealed an empirical basis for restoration/rehabilitation in the drylands through sustainable forestry, agriculture, water management, grazing, eco-tourism, planning/architecture and biodiversity conservation programmes. Encouraged by the availability of solutions, the conference participants call for continued research efforts and dissemination of successful approaches that can contribute not only to combating desertification, but also magnifying these efforts by protecting biological diversity and responding effectively to climate change.
Adopted at Sede Boqer, Israel, 11 November 2010
###
Frank Lavin is now Chairman, Public Affairs, Asia Pacific, at Edelman – the largest PR company in the Asia-Pacific region. He previously was Under Secretary for International Trade at the US Department of Commerce and Ambassador to Singapore. In those capacities he was responsible for Trade agreements with China, India, Singapore – among his other imprint on US Asian commerce policy. Now he lives in Hong Kong.
When the US was in a position that there might not have been a US pavilion at this year's -  six months long – May 1 to Oct 31, 2010 – World Fair in Shanghai, he volunteered to organize one with the help of business companies, and the friendly assistance of Secretary of State Hilary Clinton. Now he can look and say – we did it! It took him a mere one year to put up a respectable "Great Hall of the American People" pavilion.
This fair will have three times as many visitors as the New York World Fair and will be the largest ever in every respect – in size – number of countries exhibiting – 189, number of heads of State visiting 100. There are 240 pavilions that include 57 that are not by governments – such as IOs, NGOs, and businesses. 40 million visitors have already seen it by August 14th. It is expected that 60 million Chinese and 10 million foreigners, will have seen the Fair by the time it closes.
I found it extremely interesting that the Fair includes pavilions for Taiwan, Hong Kong and Macao – very nice and non-controversial -  and the Chinese go and see them. Also interesting that in their statistics these lands are counted as foreign. I wonder how are displayed the Chinese provinces and how the competition between them is handled? Is a decentralized vuew of China allowed in the Chinese huge and very beautiful red and white Chinese pavilion?
The main item in the US pavilion is a film that shows a girl that sees through her window the need to plant a tree in order to beautify the neighborhood. This is a subtle way to tell the visitors – mainly Chinese – that with initiative and cooperation, one can change the world for the better. It is not a government, but the individual human spirit that does it. You learn that you are responsible for the environment and your actions count. The overall theme of this year's Fair is "Better City , Better Life, so there is nothing revolutionary in the US story here except this interpretation that it calls for an individual response to environmental needs.
It is hoped that this will be appreciated by the average person in the region – the fact that the US did not come to toot its horn by showing off achievements of the past – the US makes rather attempts at cooperation with the Chinese in many areas of common interest. That reminded me of the G2 approach that President Obama initiated ahead of going to Copenhagen – now we see that it could also be a people's action if people are ready to do what is right for their communities. Maybe we should recommend that Americans also go to see this US pavilion in Shanghai.
Asked what else he could have done for the pavilion, Frank Lavin said that besides the content for the 30 minutes he planed for there are several minutes of waiting time in line that could have been used. For the people in lines outside – there is entertainment that changes – visiting bands – so on. Several people in the Asia Society audience have already been to see the pavilion, quite a few more said that they are scheduled to go. Michael Roberts, Executive Director, New York Public Programs at Asia Society chaired the event.
————————————————————–
THE UPDATE:
Above we posted on August 27, 2010, but now we got the posting that was done by The Asia Society and a bit of the actual tape – so we include these in the UPDATE.
The Shanghai Expo:
Inside 'The World's Largest Event.'
Frank Lavin explains how the US Pavilion at the 2010 Shanghai Expo emphasizes what Americans and Chinese have in common. (1 min., 48 sec.)
NEW YORK, August 26, 2010 – "The Shanghai Expo, at an annualized rate about 150 million people a year, would be something like eight or nine times what the number one theme park in the world does, which is Disney World," said ambassador Frank Lavin, Chairman of the USA Pavilion's Steering Committee, referring to the number of people who will visit the 2010 Expo. "In fact, it is not just the largest World's Fair in history, but this is the largest event in human history."
Speaking at Asia Society's New York Headquarters, the former US Ambassador to Singapore was sharing his insider's perspective on the Shanghai Expo, the latest incarnation of the World's Fair that runs from May 1 to October 31, 2010.
Lavin helped organize this year's United States Pavilion. He explained that since the average Expo attendee spends only 30 minutes in each pavilion, early decisions were made not to treat the American exhibit as a "college seminar course in US history," but to present a "show, don't tell" narrative of American society and culture.
By exposing millions of Chinese to unfamiliar countries and cultures, Lavin said the Expo is an important opportunity to educate the country's citizens about the rest of the world. Although 47 million Chinese will travel abroad this year, more than 50 percent will only visit the semi-autonomous enclaves of Hong Kong and Macao. With over 90 percent of the 70 million fairgoers Chinese, the Expo is accessible to a much larger population of Chinese citizens who want to experience foreign cultures.
Asked about how the United States pavilion's message will help its public diplomacy with China, he responded, "Of course there are many issues where the United States and China have different points of view."  But at the American Pavilion, "The average Chinese fairgoer is going to see that he or she has a lot in common with the same American in a similar position." He concluded that the media tends to only focus our few disagreements, rather than our many points of commonality.
Although the 2010 Expo will be the most attended event in human history, American attendance is quite low. Lavin noted, however, that this isn't because Americans aren't interested in foreign cultures; rather, "When an American goes to visit China, he is not going to go to the Expo. He is going to go to the Great Wall, Summer Palace, Forbidden City, and see the sights of Beijing and Shanghai."
Reported by Zachary Raske
###
Aid only trickles to Pakistan's monsoon disaster.
By Reza Sayah, CNN
August 18, 2010
Islamabad, Pakistan (CNN) — Pakistan is reeling from a natural disaster affecting 20 million people but relief groups say donors have been painfully slow in helping.
When a magnitude 7.0 earthquake hit Haiti in January, donors responded with $13 billion in aid. Within 24 hours Hollywood mega-stars like George Clooney, Madonna, Tom Cruise and Beyonce had signed up for a telethon to raise money for Haiti's quake victims.
By contrast nearly three weeks after flood waters inundated one-fifth of Pakistan, the United Nations has collected roughly half of the $460 million it has called for to meet the immediate needs of 20 million flood victims.
This week Oscar winner and U.N. goodwill ambassador Angelina Jolie made a high-profile plea to ask the international community to give more aid to Pakistan.
Video: Photographer focuses on Pakistan flood
Video: Aid trickles into flood ravaged Pakistan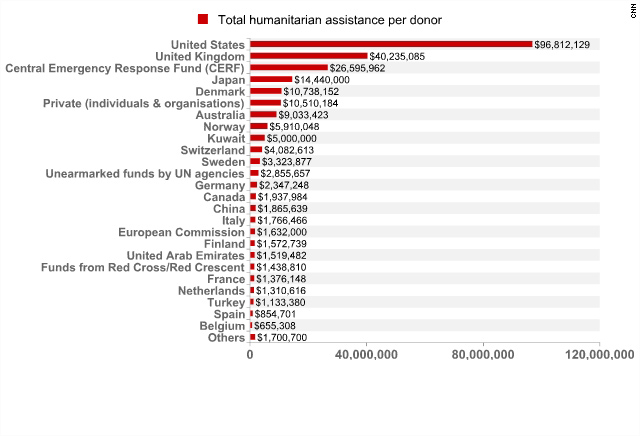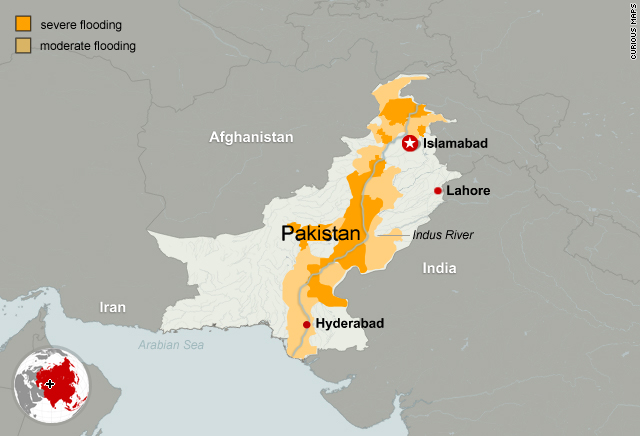 Pakistan's flood-affected areas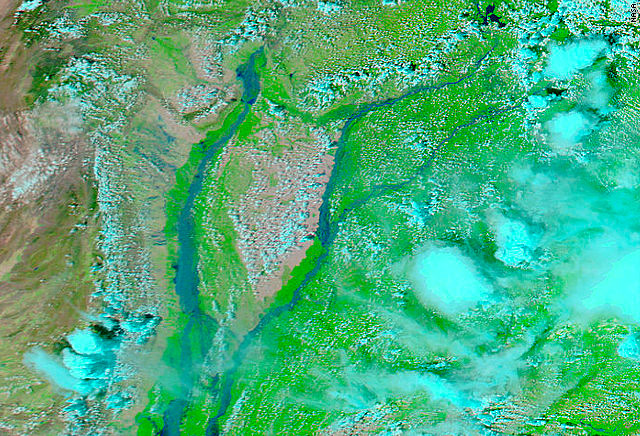 Pakistan flood: Before and after
"Hopefully there are a lot of people ready to give money," Jolie told British television network ITN.
Aid workers and analysts say there are several possibilities why governments, individual donors and celebrities are not giving to Pakistan the way they've done with other disasters. None, they add, is a good excuse.
The relatively low death toll — roughly 1,500 killed — may have created the impression that Pakistan's floods are not as severe as the Haiti quake and the Indian Ocean Tsunami where tens of thousands were instantly killed.
U.N. officials say the death toll in Pakistan's floods belies the desperate and often life-threatening conditions of the 20 million victims. Many of them have lost their homes, their belongings and their sources of income.
Analysts say governments may also be suffering from "donor fatigue" with Pakistan. For years now Pakistan has been on a seemingly constant round of donor needs — money to revive its feeble economy, fight the Taliban, recover from the 2005 Kashmir earthquake, the 2009 refugee crisis and now these floods.
"A donor never gets fatigued," Islamabad-based political analyst Mosharraf Zaidi told CNN.
"A donor, just as an idea, is not about 'I'm fresh so I'll give.' You don't give because you're fresh. You give because of humanity."
There's also the perception that Pakistan is run by corrupt politicians and the aid won't get to those who need it.
This week Pakistani Prime Minister Yousuf Raza Gilani insisted all aid would be transparent. Aid professionals say if you don't trust the Pakistani government, then give to an international aid group you do trust.
"There are so many ways people can give that doesn't have to be rooted in the government if that was a concern," said OXFAM's country director in Pakistan, Neva Khan.
Aid groups and analysts say the worst excuse not to give is the perception among many in the west that Pakistan is just not a good place, a country full of militants. It's an image reinforced by the media's obsession with extremism in Pakistan, says Mosharraf Zaidi.
"I think that coverage is fundamentally one of great reasons why it's been hard for people to reach into their wallet."
The cooling global economy may also have governments and individuals reluctant to give but analysts say the consequences of not giving to Pakistan could be costly.
In the short run people will go hungry, suffer from disease, and lose their fight to survive. In the long run a nation that's critical in the fight against extremism may face a political crisis that could further destabilize the region.
————————
Except for Kuwait  and the UAE – the Islamic States are not on the donor list – Why? Is this not Ramadan time – if nothing else?
Seemingly, it is all coming from the US, UK, EU, Japan, Australia, Denmark, Switzerland. We  find China at less the $2 million – and we learned that Pakistan refused $5 million from India. At the pledging we learned that Georgia is contributing $1oo,ooo and there are small amounts from around the world.

All of the above seems strange but clear to us. It is the US that fights to keep Pakistan in one piece as it did in Iraq. Can Pakistan hold when the real enemy is climate change?
###
from
David Hodgkinson <d.hodgkinson@hodgkinsongroup.com>
Wed, Aug 18, 2010
Proposal for a convention for persons displaced by climate change – frequently asked questions.





We are engaged in a project which seeks to address the problem of climate change displacement.
The focus of our project is a proposal for a convention for persons displaced by climate change.
Please find attached a list of frequently asked questions (FAQs) about our climate change displacement convention.
The FAQs can also be found at the 'Documents' page of our project website – www.ccdpconvention.com.
Our proposed convention would largely operate prospectively; assistance to climate change displaced persons would be based on an assessment of whether their environment was likely to become uninhabitable due to events consistent with anthropogenic climate change such that resettlement measures and assistance were necessary.  In other words, displacement is viewed as a form of adaptation that creates particular vulnerabilities requiring protection as well as assistance through international cooperation.
If you have any questions about the paper please contact me at d.hodgkinson@hodgkinsongroup.com or on +61 402 824 832.
Best wishes
David
___________________________
David Hodgkinson
The Hodgkinson Group
+61 402 824 832 (international)
0402 824 832 (within Australia)
###
The 170 million people of Pakistan are in serious trouble, Besides the war in Afghanistan and the internal wars of secession, they got stricken also by tremendous floods that covered 20% of the land and made at least 20 million people homeless. Estimates are even higher. The UN says $460 million are needed for an initial reaction and supposedly only $80 million were subscribed according to Luis Morago of Avaaz.org – a good intended western NGO. In this context please read the following:
The Islamic Development Bank (IDB) approves $11 million humanitarian package of emergency relief and rehabilitation for Pakistan.
Expressing profound sympathy with the Pakistani government and nation on the unprecedented deadly and devastating flooding in the country which shows no signs of abating, the 269th meeting of the Board of Executive Directors of the Islamic Development Bank (IDB) in Jeddah, Saudi Arabia, approved a humanitarian package of $11 million to provide immediate financial assistance to the victims of the tragic environmental disaster. In addition to that, an IDB mission will leave for Pakistan immediately to assess the situation on the ground and discuss the relevant details of the package.
The $11 million humanitarian package, a combination of relief and rehabilitation operations, envisages immediate emergency relief and contribution to the rehabilitation efforts aimed at restoring normal functioning of community services in different sectors in Pakistan, including education, health, agriculture, water and sanitation facilities.
It consists of a $1.00 million grant to the government of Pakistan to finance some of the urgent relief activities in the disaster-stricken areas as well as the equivalent of $10.00 million in concessionary loan / soft-istisnaa' for the rehabilitation and reconstruction of social services and food security facilities devastated by the floods in disaster areas.
Long-term reconstruction requirements, meanwhile, are expected to be included under the normal programming cycle in consultation with the government of Pakistan and in coordination with the donor community.
OIC Emergency Meeting on the floods in Pakistan adopts measures for mobilizing support and providing relief
The Emergency Meeting of Permanent Representatives of the OIC Member States on the Floods in Pakistan held at the OIC Headquarters in Jeddah on 18 August 2010 adopted several measures to mobilize support and delivering relief.
The OIC held the meeting upon the request of Pakistan to express the Member States' support, solidarity and sympathy to the Government and the People of Pakistan in the aftermath of the worst ever tragic floods disaster witnessed in Pakistan and the unprecedented humanitarian catastrophe in modern history.
In his statement to the meeting, OIC Secretary General Ekmeleddin Ihsanoglu urged the Member States, civil society and the international community at large to act instantly to come to the aid of Pakistan and its people. He said it was high time to initiate collective efforts towards innovative policies by devising early warning system, contingency and consequence management plans as well as financial mechanisms to address future calamities. Ihsanoglu announced that he will be sending a joint fact-finding mission, comprising OIC General Secretariat, Islamic Development Bank (IDB) and Islamic Solidarity Fund (ISF) to Pakistan to assess the situation in the field and come up with a strategic plan, both in the areas of emergency delivery and reconstruction. He expressed his thanks and gratitude to the OIC Member States which have come forward and extended a helping hand to Pakistan.
The Meeting adopted a Final Communiqué calling on the international community and the Islamic world, in particular at the level of states, institutions and individuals as well as the Red Crescent Societies of the OIC Member States, charity and humanitarian organizations and private financial institutions to urgently address the humanitarian needs of the Pakistani people.
The Meeting also called on the OIC to consider seriously the establishment of an emergency fund to address efficiently and urgently natural disasters and catastrophes which might affect individual Member States in the future, particularly in view of the phenomena of global warming and climate change.
In terms of immediate relief, the meeting called upon Member States, in coordination with the General Secretariat, to organize telethon fundraising in their countries in aid of Pakistani people affected by the floods, in the spirit of Islamic solidarity. It also called upon the OIC Member States to broadcast the video appeal of the OIC Secretary General's call to assist the flood-affected people in Pakistan.
For long term assistance, the meeting called upon the OIC General Secretariat to initiate a program for the children affected by the floods and requests Member States and institutions to contribute generously towards the success of this program. It also called upon the OIC General Secretariat, in coordination with the Government of Pakistan, to thoroughly coordinate humanitarian developments to keep Member States up-dated and to organize an Islamic philanthropic and humanitarian organizations meeting on the humanitarian situation in Pakistan.
In addition, the meeting called upon the IDB, in consultation with the Government of Pakistan, to work out long term programs for the reconstruction and rehabilitation of the flood affected areas in Pakistan.
###
President Obama was supposed to go to Jakarta, but first postponed, then canceled the trip. Whatever the official explanation – Jakarta responded and was a no-show at the Washington meeting of the large economies (in effect we did raise the question with the US Department of State and on the record – we did not get a satisfactory answer and reported accordingly).
We saw a series of missteps that eventually will have to be corrected. We wrote about that earlier and moved Indonesia into the front page of our website with the understanding that the largest Muslim country that is a democracy with a growing middle class, will eventually live up to its potential of being a world leader. The following article strengthens us in above belief.
We also expect Indonesia to move on issues of Sustainable Development and Climate Change as it stands only to gain by becoming home to clean technologies. Indonesian leaders understand that much of their recent environmental disasters are global warming related – they also can be counted upon in efforts to restrain the forces of aggressive extreme Islam.
———————————————————-
After Years of Inefficiency, Indonesia Emerges as an Economic Model.
Enny Nuraheni/Reuters
After years of being known for inefficiency, corruption and instability, Indonesia is becoming an economic powerhouse in Asia.
By AUBREY BELFORD, an Independent journalist based in Indonesia. www.aubreybelford.com
The New York Times online, August 5, 2010 – in print August 7, 2010.
JAKARTA — After years of being known for inefficiency, corruption and instability, Indonesia is emerging from the global financial crisis with a surprising new reputation — economic golden child.
The country's economy, the largest in Southeast Asia, grew at an annual rate of 6.2 percent in the second quarter of this year, data released Thursday showed. That is an acceleration from 2009, when gross domestic product expanded 4.5 percent.
The stock market hit a record high last week and has been among the best-performing equities markets in Asia this year, rising more than 20 percent since Jan. 1. The country's currency, the rupiah, has appreciated nearly 5 percent this year against the dollar, among the strongest showings in Asia besides that of the yen.
Foreign direct investment, which was held in check for years after the 1997 economic crisis in Asia, is also returning. The country had 33.3 trillion rupiah, or $3.7 billion, in foreign direct investment in the second quarter of this year, a 51 percent rise from a year earlier, the Investment Coordinating Board in Indonesia said last week. The country is on track to attract more foreign investment this year than it did in 2008, when it lured in $14.87 billion.
Such statistics have some here cautiously saying that the country, a Muslim-majority democracy and one of the world's most populous countries, could soon merit the kind of attention that investors now lavish on China and India.
"Indonesia is one of the most interesting, most attractive destinations in the world," said Lanang Trihardian, an analyst at Syailendra Capital, a fund management firm based in Jakarta. "Foreign investors have been flowing to Indonesia from maybe around mid-2009. We are seeing a lot of liquidity coming into Indonesia, and it is mostly going to capital markets, to bonds, to stocks."
Undoubtedly, significant obstacles to sustained growth remain. Despite progress on corruption, investors complain of confusing regulations and labor laws that make it difficult to dismiss employees. Little infrastructure has been built since the Asian economic crisis in 1997, and rolling blackouts have plagued the country for years. While the education system has been successful in fulfilling basic requirements like literacy, the universities and colleges in the country are widely considered archaic.
But more than a decade after the chaotic overthrow of the Suharto dictatorship in 1998 — and subsequent fears of disintegration at the hands of separatist groups, as well as the threat of Islamic militancy — the country seems to have stabilized. It is rich in natural resources like palm oil, copper and timber, commodities that are in great demand in China.
The administration of President Susilo Bambang Yudhoyono has won plaudits for reducing debt and has achieved some success fighting graft. Mr. Yudhoyono was resoundingly re-elected to a second five-year term in 2009, and changes aimed at introducing more democracy have seen power devolved to local governments, where elections have been largely peaceful, orderly affairs.
In one sense, Indonesia appears more attractive these days because much of the rest of the global marketplace looks so gloomy. Its low debt, high growth and a sense of optimism compare favorably with a mood of despondency in developed markets like the United States, Japan and Europe.
The huge consumer market in the country, accounting for more than two-thirds of G.D.P., has largely been credited for maintaining growth. Although the global economic crisis crimped confidence, Indonesia's relatively young population of 240 million and government stimulus policies, as well as a popular program of direct cash transfers to the poor, have kept consumption humming.
In Jakarta, worsening traffic and a proliferation of megamalls are seen as signs of the growing strength of the middle class. At the center of the capital, the huge Grand Indonesia mall opened in 2007 and expanded during the global downturn, adding theme areas with mockups of New York, Japan, the Arabian Peninsula and Paris, complete with a miniature, spinning Moulin Rouge windmill.
"We're selling international brands here so Indonesians don't have to shop abroad for them," said Teges Prita Soraya, a spokeswoman for the mall, adding that trade, largely in imported luxury brands, had surged ahead despite the global crisis.
The mall is home to the country's first branch of Harvey Nichols, the upscale British department store, and has boutiques for luxury brands like Chanel, Armani and Dolce & Gabbana — which already have branches in other malls across the city.
Yet there is criticism that economic growth has had less effect than it should have for the majority. About 15 percent of the population lives below the country's official poverty line of around $1 a day, but advocates for the poor say the percentage would be larger if Indonesia set the bar a little higher, say, at $1.25. Relatively sluggish growth in labor-intensive industries has meant slow progress in curbing unemployment, which is over 7 percent.
The New York Times
The government believes that one solution to moving to a higher level of sustained growth is foreign investment, particularly in industries like manufacturing. The government's investment coordinating board, known as BKPM, is hoping to attract $30 billion to $40 billion in annual foreign investment by 2015 — three to four times as much as it achieved last year, said Gita Wirjawan, head of the agency.
In an economy currently worth $650 billion a year and expected to grow to $1 trillion in five years, that is not terribly much. But it is "optically" very important for establishing Indonesia as a serious investment destination, he said.
"It's not a slam-dunk, but it's achievable," he said.
Indonesia gets the largest share of its foreign investment from within the Association of Southeast Asian Nations, with non-Asean states like Japan and South Korea, as well as European countries, making up much of the rest.
Indonesia is working to change rules to make it easier to acquire land for infrastructure and is seeing interest in infrastructure investment, Mr. Wirjawan said.
The government recently eased investment rules in areas including health care, construction and electricity generation. At the same time, it is working to put the flow of "hot," or speculative, money to better use, passing rules on government bonds requiring foreign investors to keep their money in the country for longer.
Such efforts seem to be paying off. The government announced this week that China's sovereign fund, China Investment Corp., was hoping to invest $25 billion in infrastructure projects in Indonesia. Posco, the South Korean steel giant, signed a $6 billion deal on Wednesday to build a plant in Indonesia with the local producer Krakatau Steel.
While investment in manufacturing still lags behind other sectors, Mr. Wirjawan said that Indonesia, with its relatively low labor costs, was reaping the benefits of rising costs in regional competitors.
"We're seeing an increasing relocation of factories by the Taiwanese, the Koreans and Japanese from Vietnam and China, given their rising labor costs and given the increased stability that people are seeing in Indonesia from an economic and political standpoint," he said.
The Indonesian Footwear Association has said that major brands including Asics, Mizuno and New Balance have shifted part of their production to Indonesia this year because of rising costs elsewhere. Indonesia's footwear industry employs 640,000 people and exported $1.8 billion worth of goods in 2009, said the association's chairman, Eddy Widjanarko. Producers are hoping to increase that figure to $2 billion this year.
Katja Schreiber, a spokeswoman for Adidas — which has also been aggressively expanding production in Indonesia — said the country, its third-biggest supplier, offered "abundant labor availability, good quality, competitive prices and political stability." Although production here is growing rapidly, she said, it is not happening at the expense of its top suppliers, China and Vietnam.
The local stock market has reflected the perceived strengths of the economy. Shares related to commodities, Indonesia's main export sector, have been strong earners. Banking stocks have risen along with the generally upbeat mood on consumption and the relatively good health of the sector, which, for the most part, weathered the credit crisis reasonably well. Major consumer shares like Unilever Indonesia and the car distributor Astra International have been consistent leaders on the local index.
All this exuberance has raised some fears that inflation could become a big problem. The country's central bank, Bank Indonesia, decided to hold its benchmark interest rate at 6.5 percent this week, despite a jump in annual inflation to 6.22 percent in July.
Regardless, many feel that Indonesia's time has come again.
"In Asia there is a feeling that after you invest in China and after you invest in India, where are you going to invest? said Fauzi Ichsan, senior economist for Standard Chartered in Indonesia.
"It'll have to be Indonesia. It's a natural destination."
www.nytimes.com/2010/08/06/busine…
###
Fareed mentioned that on this day, nine years ago, he took the Oath of Naturalization and became a US citizen – clearly a tremendous gain for the US.
He mentioned this while showing 57 military personnel serving with the US forces in Afghanistan who took today their oath of Naturalization right there in Afghanistan swearing that they will be ready to take up arms in the defense of the United States – this please note while they are already fighting on behalf of US Government even though they were not yet US citizens.
This might have been an expressive thing that caught my eye on the CNN/GPS  program – sort of corollary to the main meat of the program that dealt with the G-20 meeting on the World Economy and the US position on the conclusions of the meeting.
Our clear decision watching the program is that the US is far from being united and one. In effect it is divided in two, and it was Fareed Zakaria – the newest American – who tried to bind the two parts into one. But what is even worse, the two opposing parts – both of them – are not purely American – but rather still beholden to the British outreach – this after all of these 234 years.
So, as Fareed would say – "let us see:"
The G-20 decided (that is except for Japan) that we must start decreasing debt because otherwise the cost of borrowing money increases prohibitively. Today is Greece – tomorrow it's us.
The stakes are the future of US and Global Prosperity and the two opposing points of view are:
(A) As presented by Paul Krugman – an American steeped in Keynesian (English) economics – said that our reaction today is like it was in the 30s and we will face similar consequences – a similar large depression which he calls The Coming Third Depression.
We need increased stimulus now – a la Keynes – and he told us so earlier that the $800 Billion were just not enough. He does not want to see unemployment keeping  workers out of a job for 3-4 years as it becomes harder for them to return ever to a job. They will be lost into a structured unemployment reality.
Also, people will be afraid to spend enough to keep the economy going. In uncertainty they will hold on to their money as this will seem the right thing to do, but it will cause drop in prices and deflation.
So, if we do not increase spending now – in the next 1-2 years – in the short term – we drift into The Third Depression.
A trillion dollars spending now will cause $26 Billion in interest per year but this is not so much.
(B) On the other side was Niall Ferguson, himself British of Glasgow, and we do not know if he ever started steps to become American.
He points a finger at the US debt and says the US must start to decrease spending and have also some increase in taxes if it wants to get back some credibility in the world. He said the financial crisis is already happening – right now – and we will not have a Keynesian answer of stimulus in the future.
The US Treasuries are safe heaven like Pearl Harbor was until something happened. Imagine something happening – then what?
Ferguson talks of a rationalized new tax structure that is a serious option. He was reminded by Fareed that this is the Republican approach that was presented by Congressman Paul Ryan from Wisconsin, and was told that in the Meeting with him, there were two more Congressmen present. So, what we are talking here is a Policy Change but Fareed is skeptical. If we cannot even raise the retiremment age by one year, how will we achieve radical change?
The answer was that when an international Bond market crisis hits – there wil be a radical restructure of policy. It seems that the Republican answer to Keynes is to create first a total collapse that will radicalize the wealth divide before readiness to do anything at all. That smells of the 30s all-right.
Fareed added that American companies have a lot of cash at hand from earnings that they do not spend – to which Ferguson reacted that confidence is low. if you look at China, India, Indonesia, Brazil, growing very fast and you sit on money at a US company, so what are you to do?
The Chinese had it very well when keeping out of a Western Crisis, but they over-heated and have wage unrest as a consequence. If we do the right thing – they will do the right thing – he said.
(C) The Fareed Zakaria Unifier Proposal:
That seems easy – Go for a second stimulus coupled with an announced 10 year program or what we say all the time – do now what should have been done then – Give money to companies only so that they work with you on betterment and problem solving – not as giveaway and bailouts.
Clearly he says – the US never had a problem borrowing money – this until we will!
Further – the issue is not Small Government or Big Government – But Smart Government.
———————–
Back to Afghanistan, Fareed Zakaria noted that having been told that the number of Al Qaeda men in Afghanistan is 100, and the yearly expenditure on the war by the US is $100 Billion – this comes to $1 Billion/Al Qaeda man/year. At the same time -  legally, at Afghan airports, $2.7 Million declared money leaves daily, and this is by far much more then all the taxes that the Afghan Government collects. The illegal exit of money is obviously much much higher – so what is the US doing there?
———————-
Also, today, July 4, 2010 is DAY 76 of the BP oil-spill and the TV showed a huge ship called "A WHALE" that was refitted specifically for the purpose of collecting water and oil mixtures in order to retrieve the oil from the water. This does not yet make the US independent of its oil industry strongmen.

VENICE, La., July 4 (UPI) — The world's largest skimming vessel, A Whale, could play a crucial role in oil cleanup efforts in the Gulf of Mexico if tests succeed, maritime experts say.
The tanker, which can skim about 21 million gallons of oil a day by taking in water with oil and separating it, was conducting tests in a 5-square-mile area north of the underwater spill Sunday, CNN reported.
The ship is capable of skimming at least 250 times the amount of oil that modified fishing vessels now in the gulf are able to contain, said Taiwanese shipping company TMT, the ship's owner.
Initial test results could be available Monday, TMT spokesman Bob Grantham said. A Whale arrived in the gulf Wednesday and was waiting approval to join in cleanup operations.
A Whale is a Liberian flagged oil tanker built in 2010 by Hyundai Heavy Industries, Ulsan, South Korea. She was refitted and converted in Portugal into a so-called "super skimmer" to assist in the clean up of the BP Deepwater Horizon oil spill. A Whale arrived in the Gulf of Mexico on 30 June 2010, while financial agreements were yet pending.
The "WHALE" is thus capable to retrieve some of the oil – clearly a financial gain for BP.
###