nbsp;www.sdplannet-ap.org/Pages/aboutu…
Network Mission
Network for Integrated Planning and Sustainable Development Strategies-Asia&Pacific (SDplanNet-AP) exists to help professionals involved in development planning share innovative approaches for integrating sustainable development into plans, strategies and budgeting processes at national, sub-national and local levels.
Types of Approaches and Tools being shared

The network focuses on approaches that facilitate forward-looking analysis and adaptive strategy-making and that identify important linkages and trade-offs among economic, social and environmental issues. Examples of approaches include, but are not limited to: the use of scenario outlooks for long-term planning; indicator information systems to measure progress towards improved quality of life and sustainability; integrated assessment techniques such as sustainability assessment and integrated policy appraisal; creation and operation of multi-stakeholder councils and advisory groups; and innovative financing mechanisms such as payment for ecological goods and services.
Network Participants
– Persons from national governments who are responsible for developing and coordinating national development plans and strategies, including planning and finance departments, as well as environment, natural resources, education, health, and community development
– Persons from sub-national and local governments, including city officials, who are responsible for developing and coordinating development plans and strategies
– Persons from organizations who have a mandate and interest in advancing approaches for integrating sustainable development into decision-making
Network Activities

– (Not currently conducting) Host bi-monthly internet-based learning events on specific tools and approaches used by network participants and in other countries around the world.
– (Currently conducting) Moderate e-mail correspondence among the participants to share new practices and questions posted by the participants.
– (Currently conducting online) Share best practices with other similar networks worldwide.
– (Currently conducting online) Conduct targeted research on specific tools and approaches of interest to network participants.
– (Not currently conducting) Coordinate and host annual conferences featuring tools and approaches for integrating sustainable development into national plans, strategies and budgeting processes.
Advisory Group Members
›› European Environment and Sustainable Development Advisory Councils (EEAC)
›› Deutsche Gesellschaft für Technische Zusammenarbeit (GIZ)
›› Earth Council
›› Economic Cooperation Organization (ECO)
›› Institute for Global Environmental Strategies (IGES)
›› International Development Research Centre (IDRC)
›› International Institute for Sustainable Development (IISD)
›› Organization for Economic Cooperation and Development (OECD)
›› The Pacific Islands Forum Secretariat
›› Secretariat of the Pacific Regional Environment Programme
›› UN Division for Sustainable Development
›› UN Economic and Social Commission for Asia and the Pacific (UNESCAP)
›› UNEP Regional Resource Center for Asia and the Pacific
###
For the Asia-Pacific region – an effort to pick up from where RIO+20 left us.
Please See www.sdplannet-ap.org/ that emphasizes the SMART way to Sustainable Development.
That is fine with us except that, though acknowledged in the text backing this network, it does not put the needed emphasis as well on SUSTAINABILITY as the bridge to FUTURE GENERATIONS.
We say that a SD project beside being SMART must also be checked for SUSTAINABILITY from the point of interest of FUTURE GENERATIONS and we suggest this addition to Visions and Goals Setting for the post RIO+20 new era.
Visioning And Goal Setting

Setting SMART Objectives

Regarding objectives, various documents emphasise that SD strategies should be based on sound analyses of economic and environmental data, provide a long-term vision, and clear, achievable objectives (UNDESA, 2002; OECD, 2001). Clear objectives are a prerequisite for assessing the degree to which policies have achieved their own objectives."Clear, achievable objectives", however, are given meaning as follows:

One can understand that objectives should be SMART, i.e. that they should be Specific, Measurable, Achievable, Relevant, and Timed (Doran, 1981; Favell, 2004). These have always been cited in the strategic management and project management literature.

Specific: Objectives should describe what a strategy, policy or project wants to achieve in a focused and precise way; objectives should be well-defined;
Measurable: Objectives should be measurable so that their achievement can be assessed. This requires that they are quantified and timed;
Achievable: Objectives should be attainable with a reasonable amount of effort (in terms of work time, budget, participants involved, etc.), and achieving them should be neither too easy nor too hard (or even impossible);
Relevant/realistic: Objectives should be relevant to those who have the power and resources to realise them, and the resources necessary to achieve them should be available;
Timed/Time-bound: It must be apparent in what timespan an objective should be achieved; objectives that do not state a "deadline" or "target year" are not measurable.

References
Markus Hametner, Reinhard Steurer. Objectives and Indicators of Sustainable Development in Europe: A Comparative Analysis of European Coherence (December 2007). ESDN Quarterly Report, available at www.sd-network.eu/?k=quarterly%20reports&report_id=7#qr12
###
Dear Pincas Jawetz,
Please find attached a letter signed by former senior UNCTAD staff members including Secretary General Rubens Ricupero, Deputy Secretary-Generals and Directors, regarding the pressure placed on UNCTAD and the G-77 by major developed countries in the preparations for UNCTAD XIII. The statement has been released in a press conference held today and presented to Ambassador Maruping.
With best wishes,
Martin Khor
attachments:
Statement_former UNCTAD sms_April 2012.pdf
59K   View Download
==================================
Please read the attachment – French or English – and while agreeing that currency calculations distort trade, give please also some thoughts to the HAPPINESS concept as presented at the UN recently by the Prime Minister of Bhutan.
At this run-up time to RIO+20 it might be in place to contemplate trade that is not only in the interest of the trading partners – but also trade that looks at the impact on future generations. Things like a consumption tax could be used not in order to dampen  trade, but to help innovation so we use less material input and rather more renewables.
A world currency could be devised also in ways that measure happiness as one of the factors in measuring the success of an exchange – and I surely do not mean the here the happiness of someone who realizes he stole someone else's goods, labor, or environment quality. I trust that friend Martin Khor, could help devise these practical yardsticks.
###
At www.SostainabiliTank.info – in "About Us"  we say it all the time:
Our definition of Sustainable Development is: GREEN DEVELOPMENT, HAPPINESS, and PROSPERITY.
We humbly take serious the following dictums:
"I have no special talents. I am only passionately curious."
(Albert Einstein 1879-1955)
"I have never met a man so ignorant that I couldn't learn something from him."
(Galileo Galilei 1564-1642)
"I cannot teach anybody anything, I can only make them think."
(Socrates 469 B.C.-399 B.C.)

"The world is a dangerous place to live, not because of the people who are evil, but because of the people who don't do anything about it."
(Albert Einstein)

================================================

It is thus –

"GREEN DEVELOPMENT, HAPPINESS, and PROSPERITY"

rather then the original –

"ENVIRONMENT, SOCIAL DEVELOPMENT, and ECONOMIC DEVELOPMENT" –

the compromise that the Brundtland Commission of 1987 and the following Global Summit of 1992 – the original UN Conference on the Environment and Development – were able to pass at the UN. We suggest that in the redo of the basic concept at the RIO+20 it should be changed to this more basic and clearer definition.



###
As they say in Bhutan, Tashi Dalek! (roughly translates as "Blessings and good luck").
Press Release:          The UNITED NATIONS CONFERENCE ON WELL-BEING AND HAPPINESS.
New York City, In and around the UN Headquarters, April 2-4, 2012.
A NEW ECONOMIC DEVELOPMENT PARADIGM.
Experts and representatives from all sectors of society gathered at the United Nations, Monday, April 2, 2012 for a landmark day-long conference and two subsequent days of working groups on "Happiness and Well-being; Defining a New Economic Paradigm," hosted by the Royal Government of Bhutan.  The landmark gathering addressed next steps towards realizing the vision of a new development paradigm that replaces the present narrow system based on GDP (Gross Domestic Product) with a "Gross National Happiness" (GNH) model.
The current measurement as defined by GDP is dysfunctional, based on the pursuit of material wealth, and the unsustainable premise of limitless growth on a finite planet, while the Bhutan-originated GNH model is holistic, integrating economic, environmental and social measures and objectives.
"A great beginning has been made but it is the end that we must strive for," Bhutan's Prime Minister, Jigmi Yoezer Thinley, said at the conclusion of the three-day discussions. "I hope that by 2015 the international community will have adopted a sustainability-based economic paradigm committed to promoting true human well-being and happiness, and ensuring at the same time, the survival of all species with which we share this planet."
Gross National Happiness is defined by the Bhutan government as a holistic philosophy or development paradigm based on the belief that the ultimate goal of every human individual is happiness, so governments must ensure this human right and take responsibility to create those conditions that will enable citizens to pursue this value and goal.
The conference identified four dimensions for the proposed new economic development paradigm: well-being and happiness; ecological sustainability; fair distribution; and efficient use of increasingly scarce resources. "The new economy will be an economy based on a genuine vision of life's ultimate meaning and purpose ? an economy that does not cut us off from nature and community but fosters true human potential, fulfillment, and satisfaction," said Prime Minister Jigmi Thinley.
The historical meeting brought together a select but representative group of government officials, United Nations staff, diplomats, Nobel Laureates, scholars in diverse fields, leading economists and psychologists, representatives of non-governmental organizations, think tanks and advocacy centers, and spiritual and civil society leaders. Panelists and attendees were from both – from developed and developing nations.
The extent of global support for Gross National Happiness was evident in the participation at Monday's conference of high level representatives from countries around the world, including Finland, India, Japan, Israel, Costa Rica, Thailand, Morocco, Australia. and the United Kingdom.
Noting India's cultural ties with Bhutan, Mrs. Jayanthi Natarajan, India's Honorable Minister of State for Environment and Forests, endorsed the need for a new economic paradigm, quoting Mahatma Ghandi, father of the Indian nation, as saying, "Nature provides enough to satisfy every man's need, but not every man's greed." She pledged India's cooperation in the effort.
Remarks by eco-feminist Dr. Vandana Shiva, Founder of Navdanya, Recipient of the Right Livelihood Award, which supports farmers, highlighted the concordant need to attend to the world food problem, and received considerable approbation by the audience.
Mr. Joe Nakano, Parliamentary Vice-Minister for Foreign Affairs of Japan, expressed appreciation for ongoing support to Japan in the wake of last year's Great East Japan Earthquake. He emphasized the importance of bonds that matter most to people ("kizuna" in Japanese), and the "Paradox of Happiness," in which, in many developed countries, happiness is not proportional to economic wealth.  A Council on National Strategy and Policy is now following up with visions and concrete measures for government policy-making based on a study published by a Japanese government commission last December, which proposed 130 well-being indicators focusing on bonds between families, communities and nature.  Japan also hosted an Asian-Pacific Conference on Measuring Well-being and Fostering the Progress of Societies in cooperation with the Asian Development Bank and other entities.
Parliamentary speaker Mr. Eero Heinaluoma of Finland pointed out that Finland was one of the first countries to agree on a national set of sustainable development indicators and tools for such measurement in the late 1990s, and committed his country to mainstreaming new measures in its policy-making.
Other addresses were delivered by the Honorable Tim Fischer, Former Deputy Prime Minister of Australia, a country which has implemented carbon taxes to reduce carbon emissions; Mr. Gilad Erdan, Minister of Environmental Protection for the Government of Israel, who spoke of their leadership in alternative energy and clean technology, especially in regard to water shortages; from the Kingdom of Morocco; High Commissioner for Planning Mr. Ahmed Lahlimi Alami, whose country has taken major steps to reduce poverty; the Vice-Minister of Foreign Affairs from Thailand, Mr. Jullapong Nonsrichai, who referred to the Thai concept of "sufficient economy"; and Lord Gus O'Donnell, Special Envoy of the Prime Minister of the United Kingdom of Great Britain and Northern Ireland, who related its new well-being policy and measures. The British Government has instructed its office for National Statistics to begin measuring well-being in the United Kingdom.  The commitment of Great Britain to the Bhutan initiative was confirmed by the Prince of Wales who said in a video message that such a new paradigm is "an essential task that cannot be ignored."
"Happiness is a sentiment that nests within each person," said the President of Costa Rica, Laura Chinchilla Miranda, in her keynote address. "There are many paths to reach it.  But human history, as well as current realities, teaches us that the paths to Well-being are deeply connected to the respect for dignity and the creation of opportunities to freely pursue our full and harmonious realization as part of the natural and social milieu." Costa Rica, recognized for its exemplary sustainable development record, was the top-rated nation on the Happy Planet Index, combining its green ecology with reports of high levels of life satisfaction by its citizens.
The meetings were endorsed by the Member States of the United Nations General Assembly, reflected in Resolution 65/309 passed July 2011, when 68 countries co-sponsored the  Bhutan-initiated resolution titled "Happiness: Toward a Holistic Approach to Development."
Support from the United Nations was also evident in the participation of the United Nations Secretary General Ban Ki-Moon, President of the General Assembly Mr. Nassir Abdulaziz Al-Nasser, and President of the Economic and Social Council, Mr. Milos Koterec, all of whom gave opening comments. The Administrator for the United Nations Development Fund, Helen Clark, served as moderator.
"Gross National Product has long been the yardstick by which economies and politicians have been measured," said UN Secretary-General Ban Ki-moon, in his inaugural address to the conference, "yet it fails to take into account the social and environmental costs of so-called progress."
Four panels made presentations on ecological sustainability, efficient use of resources, fair distribution, and well-being and happiness, including presentations by the President of the Centre for Bhutan Studies Karma Ura and the Secretary of Bhutan's Gross National Happiness Commission, Karma Tshiteem.
Well-being is postulated as an important social indicator of development, which adds value to purely economic indicators; this is viewed as especially important for policy makers in this development model in which public happiness and well-being are their goals.
Eminent expert speakers represented the two aspects of the initiative – economic and psychological.  Nobel Laureate economist Joseph Stiglitz, endorsing the value and importance of the concept of well-being, said "Whatever the indicators we use, whether it's Well-being or others, we have to be very conscious that …people are experiencing different things, and our commitment to equitable development means that we have to focus on the experiences not of the average but on what's happening to all of our citizens, including those at the bottom and middle." According to Professor Emeritus of Economics at the University of British Columbia, John F. Helliwell, the world is moving toward both a green economy as well as policies that pay more attention to the quality of people's lives.
Noted psychologist Martin Seligman founder of Positive Psychology (based on tenets of empathy, resilience, positive thinking, traits, relationships and institutions), emphasized the importance of Gross National Happiness in the mental health of peoples around the world.  Alarmingly high rates of depression worldwide underscore the relevance of such an index.
Happiness is a state and a trait and a skill and can be learned, noted Earth Institute Director Jeffrey Sachs.
In an appeal for a more green economy as well as concern for common good, David Cadman said, "We are living in a rock star mentality, as if there were no tomorrow."
Prayers were given throughout the meetings by spiritual leaders from Hindu, Christian, Jewish, Muslim and Buddhist faiths.
While happiness has been critiqued as a naïve concept that cannot be measured, presentations at a pre-conference meeting at Columbia University refuted that idea.  Economists and experts from many fields presented "the "World Happiness Report," released to coincide with the conference.  The report lends considerable credibility to a happiness index by presenting methodological approaches and measurement tools to assess development.  The result was extensive country rankings along nine "domains" or well-being indices, including community vitality, cultural and ecological diversity and resilience, good governance, health, education, living standards, time use, and psychosocial well-being (e.g. "life satisfaction" and "positive affect"). The report is co-edited by Professor Emeritus of Economics John F. Helliwell, Director of the Well-being Programme at the London School of Economics Lord Richard Layard and The Earth Institute Director Jeffrey D. Sachs.
Countering critiques about limits of measurement of well-being and happiness, Chief Statistician from the Organization of Economic Cooperation and Development, Ms. Martine Durand, described their "Better Life Initiative in Measuring Well-being and Progress."
Although Bhutan is a small country, larger developed nations and their leaders are already committed to the new ways of measuring development and progress, including the British Prime Minister David Cameron, and France's President Nikolas Sarkozy.  Both leaders commissioned Nobel Prize-winning economists Joseph Stiglitz and Amartya Sen to examine new ways of measuring social progress. Sarkozy has said that the focus on GDP as the main measure of prosperity helped trigger the financial crisis; he ordered France's statistics agency to integrate the findings of the study into future economic analysis.
The Gross National Happiness model has already been applied in cities, communities and corporations and schools in Brazil, a country that sent a considerable number of attendees to the conference. Susan Andrews, founder of the Brazil-based Fortune Vision Institute, showed a film about a large-scale effort in a Brazilian city whose students polled citizens about their happiness.
In two subsequent days, volunteers participated in break-out groups and came together to share plans and progress to help advance the Happiness agenda in four areas: strategic planning, expert and scholars, civil society involvement, and communications.
The planned outcomes were to submit a report on the conference to the Secretary General of the United Nations; to distribute a set of recommendations for national economic policies based on happiness and well-being to heads of governments around the world; to draft a new development paradigm; and to design a communications strategy to enhance the global understanding of well-being and happiness.
"Happiness is a way of being that comes with genuine altruistic love – serenity – that can be cultivated as a skill day after day, month after month," said Buddhist scholar Matthieu Ricard. "Now one thing that is clear is that the pursuit of happiness is intimately linked with altruism. There's no such thing as a successful selfish happiness… Happiness and altruism are not a luxury, they are a necessity."
The movement has already spawned civil society organizations committed to the cause, including Gross National Happiness World Project, Gross National Happiness USA, a government-sponsored Happiness Project in Japan, the London-based Action for Happiness and the Observatoire International du Bonheur in France (Happiness Observatory), which offers legal tools and research on happiness, as well as entrepreneurship enterprises like GNHappiness, which provides consultation for business transformation.
Youth involvement was an important goal identified by the planning working group, consistent with the emphasis on youth by many United Nations initiatives. At the concluding ceremony, student Latoya Mistral Ferns presented her model of an interactive television show, currently being piloted at the University of Warwick in the United Kingdom, in which youth interview the public on the topic of happiness.
Since governments can make laws, but citizens must abide by them, reactions were important to gauge. Comments and questions from participants, interspersed between panelist presentations, revealed widespread enthusiasm and commitment to the GNH campaign.
In the year 2015, the Millennium Development Goals, as outlined by the United Nations, will formally come to an end (these include the eradication of poverty, improving maternal and child health, promoting gender equality, and combating HIV/AIDS malaria and other communicable diseases); the governments of the world will consider new Sustainable Development Goals for the years to follow.  Looking towards this time, Prime Minister Jigmi Thinley said, "I hope that by the year 2015, the international community would have integrated a sustainability-based economic paradigm committed to promoting true human well-being and happiness, and insuring at the same time the survival of all beings on this planet."
Commentary is presented on the website of the Centre for Bhutan Studies. Opinions and outcomes of the conference are being collated to present at the new economic paradigm at the upcoming United Nations Conference on Sustainable Development ("Rio+20") to take place in Brazil this June.
————–
For inquiries, please contact the official site of the Bhutan Government GNH Project.
========================================================================================
###
A UN delegation has arrived in Maldives to encourage leaders to stabilize the political situation after the resignation of the country's first democratically elected president, Mohamed Nasheed, who said he was forced to step down at gunpoint. The popular revolt over the arrest of a judge accused of being a puppet of the country's former dictator, as even the UN acknowledges – observers say –  looks more like an old-fashioned coup.
The problem described in the press started in the capital central island of Male, but it turns out that Islamists got hold also of the Southern island of Addu. Thinking of an ocean  infested by Somali pirates, and the fact that the Maldives closes neighbors are India and Sri Lanka – that would not readily favor Islamic pirates – attempts of a renewed Islamic takeover of a string of Islands benefiting from Western tourism could make sense in this turbulence.
———————————-
The Maldives
Reverting to type
Democracy is never as easy as the voters hope.
Feb 11th 2012 | from the upcoming print edition of the Economist.
"IN POLITICS in this country," Mohamed Nasheed told The Economist in 2006, "you're either in government or in jail." Under house arrest at the time, he seemed more at ease than later, when, bizarrely, he became the Maldives' president. Having fallen prey this week to what presents itself as a popular revolt but looks much like an old-fashioned coup, Mr Nasheed, known by his nickname "Anni", is back in a familiar predicament, as a beleaguered activist bewailing the injustice of Maldivian politics.
He relinquished his presidency in a brief press conference on February 7th—a performance forced on him at gunpoint, he later said. After a night "in protective custody", he was freed and the next day took to the streets, leading a rally of his Maldivian Democratic Party (MDP) which ended in arrests and violent scuffles, in which he was hurt.
The vice-president, Waheed Hassan, had been sworn in as his replacement. Mr Nasheed's supporters see the new man as an ineffectual puppet, with the real power-grabbers being close to Maumoon Abdul Gayoom. Mr Gayoom's nasty 30-year dictatorship was overthrown in the Maldives' first multiparty election, in 2008.
Then, Mr Nasheed won 54% of the vote. Young and charismatic, he came to power bearing the hopes of liberals among the Maldives' 400,000-strong population. He soon charmed the outside world with shrewd publicity stunts that were aimed at drawing attention to the particular danger climate change poses to the Maldives—1,200 tiny islands, barely above sea-level. Mr Nasheed held the world's first (scuba-enabled) underwater cabinet meeting, and suggested his country set aside some of its tourism earnings to buy a new homeland.
But from the beginning, the MDP has struggled to remake the Maldives. In particular, the judiciary has blocked efforts to reform and to prosecute members of the Gayoom regime. Mr Nasheed's detractors allege that, in response, he acquired some of the intolerance of dissent that marked the Gayoom era. What precipitated his downfall was the arrest of a judge accused of being in Mr Gayoom's pocket. That arrest, which was condemned as unconstitutional, galvanised nightly protests in Male, the crowded capital. When some of the police mutinied and joined the protesters, it seemed clear that Mr Nasheed's days were numbered. (The offending judge has now issued an order for Mr Nasheed's arrest.)
One element of the opposition to him is Islamic. After he resigned, there were soon stories of the alcohol and "hash oil" allegedly found in his home. The stress on Islamic virtue seems odd for a country whose main industry relies on pandering to the sybaritic excesses of honeymooning couples. But the Maldives operates touristic apartheid. The resorts are on uninhabited islands. Tourists need have no truck with Maldivian culture or currency, let alone its politics.
They may be thankful for that in the weeks to come. The ugly clashes on February 8th-9th are a warning of the potential for violence. In his resignation speech, Mr Nasheed said he did not want to rely on force to stay in power. Whatever else one thinks about his rule, at least Anni did not get his gun.
###
Help President Nasheed of the Maldives.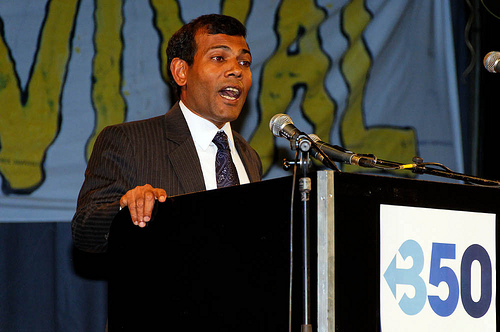 President Mohamed Nasheed of the Maldives, a friend and ally of the climate movement, is in danger, and when our friends need our help, we respond. Sign on to tell world leaders to do what they can to keep him and his people safe.
President Mohamed Nasheed of the Maldives has been one of 350.org's strongest allies, and friends, for many years. As the first democratically elected leader of the small island nation, he has been a tireless voice for climate action and strong advocate for getting us back to 350 ppm. "For us, this is a matter of life and death," Nasheed has said.
Now it is he specifically who is at risk. A military coup forced President Nasheed from office on Tuesday morning with threats of violence. He is currently under house arrest and needs our help.
From Bill McKibben:
Dear friends,
Our fight is a global fight, and early this morning one of our greatest allies, Maldives President Mohamed Nasheed, was ousted in a military coup. He's under house arrest at the moment and could be in serious danger. We're collecting signatures on a petition that we will deliver to key secretaries of state and foreign ministers to make sure there's pressure on the coup leaders to keep President Nasheed safe.
On our action page,  you'll see a video of President Nasheed at the Copenhagen climate talks–it was one of the great moments of the 350 movement.
We also pasted an account of the coup from inside the government. Click Get More Info on the page for both.
The Maldives was on course to become the world's first carbon-neutral nation, a beacon for the rest of the planet; but for the moment, all that matters is the safety of our dear friend and his colleagues.
Days like today remind us how hard this fight will be, and how many setbacks we'll see on the way. They also remind us that we need solidarity above all else. If you're a praying person, include Pres. Nasheed and his family in your prayers.
We know that all of you are action people–so here's that sign-on link again.
With respect,
Bill McKibben and the 350.org team.
————
Tell your national leaders:
We are deeply concerned about the recent coup that forced Maldives President Mohamed Nasheed from office and is currently keeping him under house arrest. President Nasheed was the first democratically elected leader of his country and a global voice for action to address the climate crisis. He needs your support to ensure his safety.
Please put diplomatic pressure on the leaders of this coup to avoid violence and to work for a peaceful, democratic solution to their conflict.
---
350.org is building a global movement to solve the climate crisis. Connect with us on Facebook and Twitter, and sign up for email alerts. You can help power our work by getting involved locally and donating here.
What is 350? —-   Go to our website to learn about the science behind the movement.
###
As part of CAI-Asia's mission (Clean Air Initiative for Asian Cities)  to promote better air quality and livable cities, it conducted an annual review of main events relevant to air quality/climate change and transport in Asia. The review, which started on 2008 and initially focused on sustainable transport, has now evolved to include air quality and climate events. It is an opportunity to look back and understand where Asia focused in the past year and foresee emerging trends in Asia in the coming years.

The main highlights for 2011 are:
Increasing public demand for improved air quality monitoring and reporting

Transition from science to policy action regarding black carbon and short-lived climate forcers (SLCF)

Increased awareness on green freight and logistics

Successes on clean fuels and vehicles, particularly in Vietnam and Sri Lanka

Improved understanding of walkability issues

Asian cities trying a mix of transport demand management measures to address congestion, pollution
Enjoy!
—
from Kaye Patdu, Air Quality Researcher with –
Clean Air Initiative for Asian Cities Center (CAI-Asia)
Unit 3505 Robinsons Equitable Tower, ADB Avenue, Pasig City 1605 PHILIPPINES
###
From material by  STEVEN LEE MYERS and SETH MYDANS
The action is a diplomatic reward for recent political reforms by Myanmar's civilian government, including the release of top activists on Friday.
QUOTATION OF THE DAY –  "This is a momentous day for the diverse people of Burma. And we will continue to support them and their efforts and to encourage their government to take bold steps."
Freeing the prisoners, which President Obama praised as a "substantial step forward for democratic reform," was one of the most significant gestures yet by Myanmar's new civilian government to address international concerns about the country's repressive history, which led to decades of diplomatic and economic isolation.
The releases — described in official reports as an amnesty — occurred around the country and included political activists, journalists, leaders of ethnic minority groups and relatives of the dictator who led the coup in 1962, Gen. Ne Win.
Among 651 prisoners given amnesty on Friday were leaders of the brutally repressed student protests in 1988; a former prime minister, Khin Nyunt, ousted in an internal purge in 2004; and monks and others involved in antigovernment protests in 2007 that were known as the "saffron revolution." A senior State Department official in Washington described Myanmar's move on Friday as the largest single release of political prisoners in Asia's history.
by some accounts Mr. Thein Sein's government has now released as many as half of 1,000 to 2,000 in custody.
The administration's reciprocal announcement is the latest in a series of cautious moves that have significantly eased tensions between the United States and Myanmar, also known as Burma. The diplomatic engagement — which one senior administration official said would have seemed unthinkable a year ago — now appears to be accelerating, though he and other officials stopped short of calling it irreversible.
A renewed relationship between the two countries has the potential to remake American diplomacy in Asia, where the Obama administration says it hopes to refocus its foreign policy at a time when China's influence is expanding. The closer ties could enhance trade and help integrate Myanmar into regional alliances sympathetic to the West.
Since taking office last March, the country's president, U Thein Sein, has overseen a raft of changes that appear to indicate a new willingness to end military rule for the first time since a coup in 1962.
He has sought to reform the economy, allow political competition and end the country's economic and diplomatic dependence on China, its huge neighbor to the north. In a move that presages a far broader shift in policies, his government halted work in September on a $3.6 billion dam under construction on the Irrawaddy River by a Chinese state company.
The United States never fully severed relations with Myanmar, as it did over the years with Iran, Cuba and North Korea, but it downgraded relations and withdrew its ambassador after elections in 1990. Those elections were won by the party of the main opposition leader, Daw Aung San Suu Kyi, though never recognized by the military government, which instead cracked down and put her under house arrest. Subsequent administrations have since toughened sanctions on most trade with Myanmar.
The Obama administration is not yet considering lifting sanctions, but Mrs. Clinton announced that it would soon nominate an ambassador and invite Myanmar to send one to Washington. She pledged other actions in response to continued reforms, though she did not spell them out.
Mrs. Clinton, who met with Mr. Thein Sein in the country's newly built capital,Naypyidaw, pressed him to follow through with the nascent reforms, which he appears to be doing. Since her visit, the government scheduled special elections on April 1 to fill 48 vacant parliamentary seats. For the first time since 1990, Ms. Aung San Suu Kyi and her party will be allowed to seek elected office.
The thaw with Myanmar is in some ways a belated success of the Obama administration's early policy to engage with the United States' enemies. The effort has failed with Syria, Iran and North Korea, and for at least for the first two years, Myanmar was no different. That has left many administration officials — and members of Congress — wary of moving too quickly.
Myanmar, isolated for so long, is suddenly a diplomatic destination of choice. The British foreign secretary, William Hague, visited last week. France announced that its foreign minister, Alain Juppé, would travel there this weekend.
The Senate's Republican leader, Mitch McConnell of Kentucky, departed for Myanmar on Friday, soon to be followed by Senator John McCain, Republican of Arizona. Mr. McConnell, who annually sponsors legislation sanctioning Myanmar, said in a statement that Mr. Thein Sein's government needed to do more to ensure free elections and disclose its military ties with North Korea.
| | |
| --- | --- |
| | January 14, 2012 |



###
From RESOLVE —  cifobservers@resolv.org
RESOLVE builds strong, enduring solutions to environmental, social, and health challenges. We help community, business, government, and NGO leaders get results and create lasting relationships through collaboration. RESOLVE is an independent organization with a thirty-year track record of success.

RESOLVE is pleased to announce the opening of the voting period for civil society observers on the Climate Investment Funds (CIFs). Voting is of interest to large and small Civil Society Organizations (CSO) from around the world who are working on projects integrating climate change and sustainable development.

About the CIFs:
The CIFs are a pair of funds – the Clean Technology Fund (CTF) and the Strategic Climate Fund (SCF) – aimed at helping developing countries pilot low-emissions and climate-resilient development.
Each fund is governed by a Trust Fund Committee with equal representation from contributor and recipient countries.
The CTF Trust Fund Committee oversees the Fund's operations, provides strategic direction, and approves and oversees programming and projects.
The SCF Trust Fund Committee advises strategic direction for three targeted programs: (1) the Forest Investment Program (FIP), (2) the Pilot Program for Climate Resilience (PPCR), and (3) the Scaling up Renewable Energy Program (SREP). Each of these programs is governed by its own subcommittee, and active civil society observers are selected for each of these programs.

Who may vote?
In order to vote, you must be a member of a nonprofit CSO or network involved in issues of climate change. You are invited to vote on the candidates from your geographic region (Africa, Asia, Developed Countries, and Latin America). Only one vote is permitted for each organization; large organizations with offices in multiple countries are allowed one vote per region.

How to vote?
To cast your ballot, please follow this link: resolve.us2.qualtrics.com/SE/?SID=SV_bwMccwzYWNZPsoc
After you complete a brief registration form, the link to the ballot will be emailed directly to you. Please follow the link and log in using the same email address you used to register.
The voting period will close Tuesday, January 24, 11:59 pm GMT.
If you have any questions on the voting process, please contact  cifobservers@resolv.org.
For more information on the CSO selection process or the CIFs please visit www.resolv.org/cif and www.climateinvestmentfunds.org/cif, respectively.
Best Regards,
Kate Kopischke Senior Mediator

###
LET US  POST THIS ON OUR MINDS:
GREEN ECONOMY, SUSTAINABLE DEVELOPMENT, HAPPINESS, and PROSPERITY!
GREEN DEVELOPMENT, HAPPINESS, and PROSPERITY? COULD THAT BE THE NEW DEFINITION OF SUSTAINABLE DEVELOPMENT?
Costa Rica envoy makes energy pitch.
from Japan we learn that –  The new Costa Rican ambassador to Japan, Alvaro Antonio Cedeno Molinari, said his mission here is to raise awareness of investment opportunities in renewable energy.
He also wants to attract more Japanese tourists to Costa Rica — a country with a rich variety of bird species, rain forests and kayaking spots that make it a prime ecotourism destination.
In a courtesy call Wednesday to The Japan Times, Cedeno Molinari stressed that diplomacy in the next few decades "should focus on green economy, sustainable development, happiness and prosperity."
He emphasized that Costa Rica "generates 95 percent of its electricity from renewable, clean and safe resources."
Cedeno Molinari, 36, also said although 50 percent of the nation's gross domestic product is related to tourism, only a small number who visit hail from Japan.
He also said he would push for a free-trade pact with Japan.
——
###
"Peace and Democracy: Make your voice heard!"
Be blessed – But this is a charade. You cannot be part of  that building if you are a proponent of true democracy – there surely will be some government that you will step on their toes and they are given the power to lock you out by using their appointed UN officials that get the job on a quota basis. The accreditation of NGOs and Press reporters is thus heavily censored, and talk of democracy is nothing but a charade. All what they suggest is –  Just join the choir in an act of self-love.
————–
Each year the International Day of Peace is observed around the world on 21 September. Conveniently so timed to the opening of the UN General Assembly.  The General Assembly has declared this as a day devoted to strengthening the ideals of peace, both within and among all nations and peoples – this according to language borrowed from the UN charter..
This year – on its 30th anniversary – the Day's theme is "Peace and Democracy: make your voice heard".
The Preamble to the United Nations Charter states that the Organization was founded to prevent and resolve international conflicts and help build a culture of peace in the world.
Peace and democracy are inextricably linked. Together, they form a partnership that promotes the well-being of all. Embodied in the Universal Declaration of Human Rights, democracy supports an environment for a host of political rights and civil liberties.
In line with the Day's theme, something profoundly remarkable is happening in the world. Young women and men everywhere are demonstrating the power of solidarity by reaching out and rallying together for the common goal of dignity and human rights. This powerful force brings with it the potential to create a peaceful and democratic future. Add your voice!
There are many ways to participate in democratic practices, including taking part in dialogue on constitutional processes, advocating for civil society empowerment, joining the struggle for gender equality and against discrimination, engaging in civic education and promoting voter registration.
The International Day of Peace offers people globally, a shared date to organize events and undertake deeds celebrating the importance of peace and democracy in realistic and useful ways.
THIS YEAR IS INDEED A SPECIAL YEAR THANKS TO THE REMOVAL OF DICTATORS IN THE ARAB WORLD – BUT A YEAR OF  EVEN GREATER DANGERS WHEN WATCHING MOBS CONFUSE DEMOCRACY WITH NEW FORMS OF DESPOTISM. A TRUELY DEMOCRATIC UN COULD HAVE HELPED – BUT WE WILL BE REMISS IF THINKING THAT THIS UN CAN FILL THE NEED.
###
A solar-powered light bulb may sound like an oxymoron (what's the point of a lightbulb that only works when the sun's out?), but a company called Nokero has a prototype in the works that will charge a battery in the light bulb, making it useful after sundown.
Denver-based Nokero, short for No Kerosene, hopes to offer a safe light source to the millions living without a reliable energy supply. Common non-electric light sources such as candles, charcoal, wood and kerosene are a major health threat when regularly used indoors because of the fumes they produce.
Candles and kerosene are also often relatively expensive to attain and Nokero estimates up to 20% of a family's income in places without reliable electricity can go to purchasing candles and lighting fuel. Nokero hopes to provide an affordable and lung-friendly alternative.  Priced around $20 and reducing the need for fuels, the company says its bulb begins saving most families money within 3-8 weeks.
The company's design comes in the form of a lantern that can be hung or placed on a table. The N200 model bulb contains four LEDs and is charged through an embedded solar panel connected to a NiMH AA size battery with a two-year lifespan. The power switch on the back of the bulb can also change the intensity of the light, from high to low, and the bulb itself is made from a durable polycarbonate similar to that used in automobile headlights.
The company is partnering with non-profits to help distribute the bulbs both nationally, such as to off-grid citizens of Navajo Nation, and internationally to countries including Haiti, Pakistan, Mexico and Japan.
—–
www.washingtonpost.com/business/technology/solar-powered-bulb-provides-light-after-dark/2011/09/16/gIQARyQsYK_story.html?wpisrc=nl_headlines
###
Rio 1992 – the UN Conference on Environment and Development that came up with texts on Sustainable Development, on Climate Change, on Biodiversity, and on Desertification and Arid Lands – was the last high point in UN history – from there on it was mostly down-hill. Going to the low entrance of the "2012 RIO+20" meeting – the UN is opening an "IDEA BOX" – it asks the insider's MAJOR GROUPS to contribute to it and enhance on government ideas – a clear non-starter. We post the actual UN release/invitation. Why is this Idea Box not open to outside ThinkTanks and truly Independent NGOs that are more objective when it comes to the UN failures?
Please see how YOU WOULD WANT TO ANSWER THE UN OPENING!
###
North Korea in the presidency seat of the UN Disarmament Conference likened to 'asking fox to guard chickens, says Asian News International, June 30, 2011.
"So North Korea is Leading the Conference on Disarmament. So What?", June 29, 2011 said a quote in UN Dispatch.
Really – why take the UN seriously on anything else.
###
The Clean Air Initiative for Asian Cities (CAI-Asia) and the World Bank through its Development Grant Facility (DGF) launched an Air Pollution and Greenhouse (GHG) Emissions Data Initiative to help policy makers, development agencies and other stakeholders in Asia have better access to air quality and climate change data to further enrich policy development activities and development interventions relevant to energy and transport sectors and urban development.
For inquiries on this initiative or on how to share data, please contact:
May Ajero, Air Quality Program Manager: (may (dot) ajero (at) cai-asia.org)
Kaye Patdu, Air Quality Researcher: (kaye (dot) patdu (at) cai-asia.org)
———————————-
Call for Contributions:
We would like to invite other institutions, corporations, partnerships, forums and other groups working in this field to contribute and share data on air pollution, GHG emissions and related data and statistics for transport and energy sectors. All contributions will be properly referenced in publications as well as in the online open database.
CAI-Asia's projects with the Asian Development Bank (ADB), Deutsche Gesellschaft für Internationale Zusammenarbeit (GIZ), Institute for Global Environmental Strategies (IGES) and Institute for Transport Policy Studies (ITPS) also contribute to this data initiative.
For more information on:
This program involves conducting a review of availability and quality of air pollution, GHG emissions and related data and statistics for transport and energy sectors. Data collection is now ongoing for these countries – Bangladesh, China, India, Indonesia, Malaysia, Mongolia, Nepal, Pakistan, Philippines, Singapore, Sri Lanka, Thailand, and Vietnam. Data and statistics collected through this initiative will be made available through the CitiesACT database. General information regarding data quality and/or data generation process/system will also be provided.
By the end of year, air pollution, GHG emissions and related data and statistics for transport and energy sectors will be partially available in the CitiesACT database.
———————————
from: Maria Katherina Patdu
Air Quality Researcher

Clean Air Initiative for Asian Cities (CAI-Asia Center) Center
T +63 2 395 2843 to 45 | F +63 2 395 2846 | M +63 928 213 7241 | kaye.patdu@cai-asia.org | cleanairinitiative.org/portal/
Unit 3504-05, 35F, Robinsons-Equitable Tower, ADB Avenue, Pasig City, 1605, Philippines
###
21st International Congress on Irrigation and Drainage (ICID), 8th International Micro Irrigation Congress, & 62nd International Executive Council meeting
15-23 October 2011, Tehran, Iran
The announcement says:
Last chance to avail "Early Bird Registration" offer by 1 June 2011
Congress Theme: Water Productivity towards Food Security
Congress Questions
Question 56 : Water and Land Productivity Challenges
Question 57 : Water Management in Rainfed Agriculture
Special Session : Modernization of Water Management Schemes
Symposium : Climate Change Impacts on Soil and Water Resources
Seminar : Possibilities of Using Traditional Methods in Modern Water Management Systems
Venue
IICC Conference/Exhibition Center is Tehran is a World Class meeting and convention facility with 20,000 square meter space, located in the northern part of Tehran. IICC is closely linked to most of Tehran hotels.
Registration fees in US Dollars (SUD).
Participants    Early Bird Prior to June 1, 2011   Standard After June 1, 2011
Member country delegate               750     800
Non-Member country delegate      800     850
Accompanying person                     300     300
Young Professionals                       400     400 – Those who are under 40 years by Oct. 15, 2011.
How to Register
•       Fill the Registration and Visa Request form after downloading (www.icid2011.org) and send them with copy of the first page of the Passport (in color) to the Congress Secretariat (icid.congress@gmail.com, Fax:+9821-22367789).
•       For paying the registration fee you can choose any one of the following methods:
Through the following Bank account:
o       Bank Account: Sparkasse Starkenburg, Account Number: 5059922, Beneficiary: ToossAb International Consulting Engineers GmbH, Mentioning: ICID 2011 Registration Fee, Swift code: HELADEF1HEP, IBAN: DE14509514690005059922
•       In case of payment with Credit Card, please contact the bank via email:info@taice.de .The bank will then facilitate the payment.
•       The registration fee could also be paid at the venue during the congress.
Important note: Regarding the Iranian banking system, the registration fee or any other cost cannot be paid via any foreign bank card, inside Iran, under any circumstances.
Tours
Technical – Khuzestan (US$ 350); Mazandaran (US$ 250)
Post Conference – Isfahan Tour : 3 days and 2 nights (US$ 500)
Isfahan+ Shiraz Tour: 4 days and 3 nights (US$650).
8th International Micro Irrigation Congress
The 8th International Micro Irrigation Congress (8th IMIC) is in the series of Micro Irrigation Congresses that ICID organizes. First congress was held in 1971. The theme of the 8th International Micro Irrigation Congress is "Innovation in Technology and Management of Micro-irrigation for Crop Production Enhancement".
Objectives of 8th IMIC congress are:
•       To share experiences in the use of new technologies and best management practices in drip, micro-sprinkler, and other localized irrigation systems.
•       To review the status of use of micro irrigation for smallholders.
•       To understand socio-economic and technological factors impeding expansion of drip and micro-sprinkler irrigation area.
Other Events:
FAO-ICID Special Session
Irrigation Australia (IAL) Special Session
INPIM Special Session
Technical Exhibitions
ICID Congress provides a unique opportunity in the field of irrigation and drainage, where the latest products and achievements of the industries are presented. Exhibit space will be available during the congress to showcase commercial displays. For space, please contact Congress Secretariat.
Contact
Dr. S.A. Assadollahi, Secretary General, Congress Secretary, Iranian National Committee on Irrigation and Drainage (IRNCID), No. 1, Shahrsaz Alley, Kargozar St., Zafar Ave., Tehran, Iran, Postal Code: 19198-34453. Tel: (+9821) 2225 7348 – 22250162, Fax: (+9821) 2227 2285
E-mail : irncid@gmail.com, icid2011@gmail.com,
Website : www.icid2011.org
———————————————————————————————
HURRY ! HURRY ! HURRY !
ICID WatSave Awards 2011 – Invitation for nominations – Deadline 30 June 2011

Dear Sir/Madam,
It is my great pleasure to announce that ICID is inviting nominations for the WatSave Awards 2011 from individuals/ team working in the area of irrigation, drainage and flood management. Awards for innovations from across the world are given to recognize outstanding contributions to water saving/conservation in agriculture and are given in four categories viz. (i) Technology, (ii) Innovative Water Management, (iii) Young Professionals, and (iv) Farmer. The ICID WatSave Awards for the year 2011 will be presented at the 62nd meeting of the IEC scheduled to be held in October 2011 at Tehran, Iran.
Nominations are invited for the 'WatSave Awards 2011' from individuals/ team of individuals through ICID National Committees/ Committee. The entries are open to all professionals/ teams from ICID member countries as well as non-member countries. In case of an entry from a 'non-member' country, the nomination has to be  routed through and validated by an active National Committee of ICID, who should be in touch with the nominee and is aware of nominee's work'.
All the National Committees/ Committee are requested to send their nominations by inviting contributions on outstanding achievements from all those professionals who are engaged in water saving/ conservation activities. The deadline for receipt of the entries from the National Committees along with a completed Nomination Form (Annex 1) to the Central Office ICID, New Delhi is 30 June 2011. The 'Conditions and Criteria' set for the awards are given in Annex 2. Annex 3 shows the checklist of enclosures to be forwarded by the National Committee while submitting the nominations.

The selection of the winners from amongst the nominations received will be made by an International Panel of Judges to be appointed by the President, ICID in consultation with the Chairman, Working Group on Water Saving for Agriculture (WG-WATS).
I request all the national committees/ committee to carry out primary evaluation of the nomination(s) in light of the questions posed in the evaluation process, before submitting only one of them in any particular category (if there had been more responses) to the Central Office, New Delhi.  Nominations not complying with the above requirements or more than one nomination from the same National Committee in a particular category are liable to be rejected.
Full details of the awards and excerpts of the past award winning contributions are available on ICID web site www.icid.org/awards.html. Please feel free to disseminate this announcement through resources available with you. Please contact me for clarification, if any.
Yours sincerely,
Dr. Vijay K. Labhsetwar                                                                         14 June 2011
Director
——————————————————————————————-
Drylands in Brazil and Elsewhere Vital for Global Sustainability.
Bonn, 8 February 2010. Historically, socially and economically, drylands have been key regions for global sustainability. This message must be communicated to the global community, according to Brazil's Professor Antonio Rocha Magalhães, Director of the second International Conference on Climate Change, Sustainability and Development in the Semi-arid Regions (ICID 2010). The conference is scheduled to take place in August. Prof. Magalhães made the remarks as part of Brazil's delegation on a visit last Friday to concretize partnership in organizing the Conference in close collaboration with the secretariat of the United Nations Convention to Combat Desertification (UNCCD).
Welcoming the initiative from the Government of Brazil to organize and host the Conference, Executive Secretary Luc Gnacadja said ICID 2010 "will go a long way towards building momentum and strong international mobilization for the implementation of the United Nations Convention to Combat Desertification (UNCCD)." Gnacadja added that holding the event is particularly timely in light of the United Nations General Assembly's recent declaration of 2010-2020 as the United Nations Decade on Deserts and the Fight against Desertification.
Noting that Brazil's Amazon forest is well known, but not its drylands, the delegation stressed the need to draw attention to the importance of the well being of the drylands people in Brazil and elsewhere, and to advocate an agenda for policy development. The delegation comprised of Francisco José Pinheiro, Vice Governor of the State of Ceará, the region threatened by desertification and the State hosting the Conference, Professor Antonio Rocha Magalhães, Director of the ICID 2010 Conference, and José Roberto de Lima, Brazil's designated Technical Focal Point for the Convention in the Ministry of Environment.
The ICID 2010 will take place from 16-20 August 2010 in Fortaleza, Brazil. It is part of Brazil's preparatory process towards the implementation for the United Nations General Assembly's decision to hold in Brazil, in 2012, the World Summit on the Follow-up of Agenda 21, the Programme for the Further Implementation of Agenda 21 and the outcomes of the World Summit for Sustainable Development.
The first ICID was held in the lead up to the Earth Summit held in Rio de Janeiro in 1992, and brought together over 1,200 participants from all over the world. ICID 2010 is jointly sponsored by Brazil's Ministry of Environment, the Government of the State of Ceará, the Ministry of Science and Technology and the Center for Management and Strategic Studies.
Highlights of the ICID 2010 Conference are available here.
Our website covered the event – 23 Aug 2010 … Sustainabilitank.info: The Sustainable Development Media Think Tank – At ICID 2010, In Fortaleza, Ceara, Brazil, Professor Jeffrey Sachs …
www.sustainabilitank.info/…/at-icid-2010-in-fortaleza-ceara-brazil-professor-jeffrey-sachs-suggested-a-new-political-alliance-of-semi-arid…
In normal conditions, we consider the event in Tehran of high importance – specially for Iran itself – and for the sand and oil rich region of which Iran is part. Talking of Sustainable Development and showing irrigation technology – Iranian as well as foreign such as Australian, Israeli, US, Chinese … –  would be important for food production in the region. We hope that Iran decided to go this road indeed.
###
[gu-new] (20110606) Concept papers of GEWS/GUS projects for Bangladesh, DRC, Nigeria and Rwanda.
<<20110606>> Archived distributions can be retrieved at;
<tinyurl.com/2fzx23e> This archive includes a html version of this
list distribution and its MS/WORD version with its filename as
³year-month-date.doc.² You can also access all of its attachments, if any.
References:
> (a) Concept Paper to Create a South Asian Hub of Global Early Warning System
> and Global University System in Bangladesh (June 6, 2011)
> tinyurl.com/4y2gz8t
>
> (b) Concept Paper to Create a Central African Hub of Global Early Warning
> System and Global University System in Democratic Republic of Congo (DRC) (May
> 9, 2011)
> tinyurl.com/3tk9pvp
>
> (c) CLOUD COMPUTING SIMULATION CENTER FOR GLOBAL EARLY WARNING SYSTEM (GEWS)
> WITH GLOBAL UNIVERSITY SYSTEM (GUS) IN NIGERIA (May 14, 2011)
> tinyurl.com/3l5b2dn
>
> (d) Concept Note: The Global Early Warning System (GEWS) with Global
> University System (GUS) In Rwanda (May 1, 2011)
> tinyurl.com/3v6tta2
Dear E-Colleagues:
(1) I just came back from my very fruitful, two weeks trip to Japan.
(2) The References above are the concept papers of our GEWS/GUS projects in
Bangladesh, Democratic Republic of Congo (DRC), Nigeria, and Rwanda.
I sincerely thank you for those people who contributed to produce those
excellent concept papers.
(3) We will then forge ahead to raise funds with those papers.
(4) Pls feel free to contact me if you have any comments and suggestions to
improve them, and of course, any ideas about possible funding sources.
Best, Tak
****************************************************************************
***
* Takeshi Utsumi, Ph.D., P.E., Chairman, GLOSAS/USA
*
* (GLObal Systems Analysis and Simulation Association in the U.S.A.)
*
* Laureate of Lord Perry Award for Excellence in Distance Education
*
* Founder and V.P. for Technology and Coordination of
*
*   Global University System (GUS)
*
* 43-23 Colden Street, #9L, Flushing, NY 11355-5913, U.S.A.
*
* Tel: 718-939-0928; Skype: utsumi
*
* Email: takutsumi0@gmail.com, Web: www.friends-partners.org/GLOSAS/
*
* U.S./IRS Employer ID: 11-2999676 <tinyurl.com/534gxc>
*
* New York State Tax Exempt ID: 217837 <tinyurl.com/47wqbo>
*
* Brief bio and photo: <tinyurl.com/6jljtrd>
*
* CV: <tinyurl.com/2esr94l>
###
Statement on the Synergistic Implementation of the Rio Conventions in the Drylands.
From 8-11 November 2010 the third bi-annual conference on Drylands, Deserts and Desertification was held at the Blaustein Institutes for Desert Research in Sede Boqer Israel. The conference was attended by hundreds of government and non-government officials, senior representatives of the UNESCO, the United Nations Convention to Combat Desertification (UNCCD), and the Convention on Biological Diversity (CBD) as well as researchers from 63 countries working in areas related to the combating of desertification and development of sustainable livelihoods in the drylands.
Among the central topics discussed in a special session sponsored by UNESCO was the potential for synergistic implementation of the Rio conventions in the drylands.  While the issue of such "synergies" has been widely embraced, participants noted that there has been too little progress in translating this impulse from a conceptual consensus to actual procedures and activities that can improve implementation in each substantive area. The deliberations and presentations about synergisms at the 2010 Sede Boqer conference focused on existing international experience and projects on the ground that demonstrate synergistic benefits.  Among the proven cases discussed were afforestation initiatives, agricultural and agro-forestry programmes as well as measures for improving public health, which respond simultaneously to the disparate global challenges of desertification, climate change and biodiversity loss.
The conference participants call upon the UNCCD Committee for Science and Technology as well as its Committee for Review of Implementation of the Convention to consider the issue of synergisms at their upcoming meetings in Bonn, Germany in February 2011.  Beyond confirming the theoretical importance, the conference suggests that specific proposals for cooperation between the three conventions be considered in such areas as:
The importance of recognizing and addressing both the physical and socio-economic drivers that jointly linked to land degradation, climate change and biodiversity loss in the drylands through improved monitoring, assessing and reporting on the interlinkages between desertification, biodiversity, climate change and sustainable development.
The need to create stronger synergies between national reporting schedules and requirements for the three Rio conventions to improve the efficiency and reduce the reporting burdens, particularly on affected developing countries.
The need to integrate UNCCD National Action Plans, National Biodiversity Action Plans and UNFCCC
National Adaptation Plans of Action and to mainstream these plans into National Sustainable Development Plans.
The need to create synergies between the UNCCD impact indicators and the newly adopted CBD Strategic Plan and targets.
The challenges that affected developing countries face in jointly implementing the three Rio conventions due to lack of resources and capacities for the development and implementation of synergistic policies and activities.
The need to encourage bilateral and multilateral donors to fund projects and programmes that jointly implement the Rio conventions.
The importance of payment for dryland ecosystem services and other appropriate incentives to promote an enabling environment for the national and local implementation of the three Rio conventions in the drylands.
The importance of mainstreaming science and scientific advice into the implementation of national plans, programmes and projects to facilitate synergistic implementation of the three Rio conventions.
Presentations at the conference, as well as local site visits revealed an empirical basis for restoration/rehabilitation in the drylands through sustainable forestry, agriculture, water management, grazing, eco-tourism, planning/architecture and biodiversity conservation programmes. Encouraged by the availability of solutions, the conference participants call for continued research efforts and dissemination of successful approaches that can contribute not only to combating desertification, but also magnifying these efforts by protecting biological diversity and responding effectively to climate change.
Adopted at Sede Boqer, Israel, 11 November 2010
###