FROM COHA – The Washington DC based Council on Hemispheric Affairs.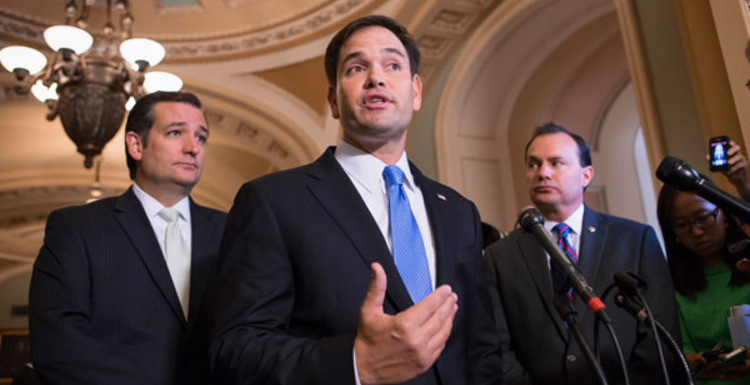 Photo Source: AP.
NOW IT IS THE TIME FOR A WASHINGTON—CARACAS DIALOG, NOT SANCTIONS.
By: Larry Birns, Director of the Council on Hemispheric Affairs; Frederick B. Mills, Senior Research Fellow at the Council on Hemispheric Affairs and Professor of Philosophy at Bowie State University.
At a time when Washington ought to seize upon overtures from Caracas for the re-establishment of full diplomatic relations and direct talks, the champions of the antiquated embargo against Cuba in the Senate are calling for sanctions against Venezuela. Such an approach to diplomacy with Venezuela would be detrimental to the development of a more constructive and mutually respectful US policy towards the region. Now is the time for a Washington—Caracas dialog, not sanctions.
Democratic Senator Bob Menéndez and Republican Senator Marco Rubio have introduced a proposed resolution in the Senate that would call on the Obama administration to study sanctions against Venezuela. The sanctions would be aimed at punishing "the violent repression suffered by pacific protesters" by targeting individual Venezuelan government officials. Of course, any state actors responsible for the repression of pacific demonstrations ought to be held accountable not only in Venezuela, but anywhere in the world. Indeed, the Venezuelan government is already taking steps to address this. The problem with the resolution is that it reflects a very myopic view of political violence in that nation. It also reflects an unproductive approach to diplomacy towards Venezuela as well as the region.
Not all demonstrations have been pacific. A significant amount of the violent demonstrations are ostensively anti- government.  The "exit" strategy being sought after by the ultra-right in Venezuela has generated violent anti-government demonstrations that have called for regime change through extra constitutional means. In other words, through a coup or by creating the escalating violence on the ground that might provoke a coup or an international intervention.
No doubt opposition demonstrators are not a homogeneous group and many prescribe to non-violent means of protesting. Yet it is indisputable that elements of anti-government protests, using the slogans of "exit," have deployed incendiary bombs, rocks, guns, barricades, wire, and other instruments of violence against government and public property as well as people, resulting in injuries and death. But those who have resorted to violence are most often portrayed in the press as responding to repression, as if the government has no legitimate recourse in response to violent attacks on persons and property. To be sure, violence is generally condemned by the State Department, but accountability is selectively applied predominantly to government actors.
The Council on Hemispheric Affairs has been calling for a change of course in US policy towards Venezuela and the rest of the region based on mutual respect and dialog, not imperial intervention and subordination.
It was Caracas that instigated the tit for tat after the expulsion of consular officials, and COHA called the expulsion of US consular officials into question at the time. But now President Maduro has proposed a new ambassador to the US and direct talks with the Obama administration. The State Department has also, on occasion, expressed an openness to rapprochement, so now is the time to seize the moment, not wait to see which way the political winds will blow in Venezuela.
There is obviously a great ideological divide between nations that prescribe to some version of neoliberalism and those engaging in various experiments in 21st century socialism. Yet such differences need not translate into either hard or soft wars. At the January CELAC meeting in Cuba, the member states, despite their political differences, figured out a way to declare all of Latin America a region of peace and mutual respect. Meanwhile, there is a national peace conference underway in Caracas, called by the government, that commenced two days ago and includes an increasingly broad spectrum of opinion in the opposition, and seeks to overcome the boycott of the MUD.  This will take a pull back against war and for political competition through the ballot box.
Surely, in this context, there is room for Washington-Caracas diplomacy. Rather than impose sanctions on Venezuela, Washington ought to accept the proposed Venezuelan ambassador and enter into a dialog with Caracas based on mutual respect and the common goal of regional peace and human development.
Please accept this article as a free contribution from COHA, but if re-posting, please afford authorial and institutional attribution.
###
Koch World 2014
25 January 2014
f the Koch brothers' political operation seemed ambitious in 2010 or 2012, wait for what's in store for 2014 and beyond.
The billionaire industrialists Charles and David Koch are convening some of the country's richest Republican donors on Sunday at a resort near Palm Springs, Calif., to raise millions of dollars for efforts to shape the political landscape for years to come.
It's the cash that can possibly kick Democrats out of the Senate majority this fall and shape the philosophy and agenda of the GOP conference – not to mention the 2016 presidential field.
The Koch political operation has become among the most dominant forces in American politics, rivaling even the official Republican Party in its ability to shape policy debates and elections. But it's mostly taken a piecemeal approach, sticking to its sweet spots, while leaving other tasks to outsiders, or ad hoc coalitions of allies.
That's changing. This year, the Kochs' close allies are rolling out a new, more integrated approach to politics. That includes wading into Republican primaries for the first time to ensure their ideal candidates end up on the ticket, and also centralizing control of their network to limit headache-inducing freelancing by affiliated operatives.
The shift is best illustrated in the expansion of three pieces of the Koch political network expected to be showcased or represented at the three-day meeting in Palm Springs, whose evolving roles were described to POLITICO by several sources.
Center for Shared Services: a nonprofit recruiter and administrative support team for other Koch-backed groups, which provides assistance with everything from scouting office space to accounting to furniture and security.
Freedom Partners: a nonprofit hub that

doled out $236 million

in 2012 to an array of conservative nonprofits that is now expanding its own operation so that it can fulfill many of the functions of past grantees.
Aegis Strategic: a political consulting firm started last year by Koch-allied operatives who will recruit, train and support candidates who espouse free-market philosophies like those beloved by the Kochs, and will also work with nonprofit groups in the Koch network, like Freedom Partners, with which it has a contract to provide policy analysis.
The Koch network raised an astounding $400 million in the run-up to 2012, spending much of it assailing President Barack Obama and congressional Democrats. After the Election Day letdown, the Kochs did an in-depth analysis to find out what went wrong and what they could do better. Among the areas identified for improvement were greater investments in grassroots organizing, better use of voter data and more effective appeals to young and Hispanic voters, according to sources.
Still, the big question was whether the donors who attend the conferences would keep stroking big checks or scale back their efforts. There's no way to measure that definitively, since most of the groups in the network don't disclose their finances regularly or reveal their donors. Early indications, though, suggest enthusiasm is high.
Groups in the Koch network – led by the brothers' main political vehicle Americans for Prosperity – spent $25 million between the summer and early this month on ads bashing Democrats over Obamacare, which have been credited for hurting Democratic senators who are vulnerable in 2014.
James Davis, an official at Freedom Partners told POLITICO that his group has expanded rapidly, "and we expect to continue to grow."
The 2014 potential of AfP, Freedom Partners and the other groups in the network depends in large part on the reception they get at this weekend's gathering – the annual winter installment in the Kochs' long-running series of twice-a-year meetings. Koch Industries spokesman Rob Tappan declined to comment on the Palm Springs meeting, but the company's website includes a statement describing the events as bringing together "some of America's greatest philanthropists and most successful business leaders" to "discuss solutions to our most pressing issues and strategies to promote policies that will help grow our economy, foster free enterprise and create American jobs."
Many of the right's most generous benefactors – folks like Minnesota media mogul Stan Hubbard, Wall Street investor Ken Langone and Wyoming mutual fund guru Foster Friess – are regulars. The gatherings, which attendees call "seminars" and are typically held at tony resorts, routinely attract some of the top operatives and biggest names in Republican politics, as well as rising stars tapped by the Kochs' operatives.
The last seminar, held in August outside Albuquerque, N.M., drew Rep. Paul Ryan, House Majority Leader Eric Cantor, New Mexico Gov. Susana Martinez and Iowa state legislator Joni Ernst, who is running in a crowded GOP Senate primary.
The seminars typically conclude with pledge sessions that can raise tens of millions of dollars. In 2012, that cash mostly went into a pair of non-profit conduits – Freedom Partners and the Center to Protect Patient Rights – whose operatives then doled it out to a range of nonprofits blessed by the Koch operation, including some groups asked to make presentations to donors at the seminars.
But several sources suggested that Freedom Partners' growth and expansion into a more central strategic role within the network means that the roles – and possibly funding – of the Center to Protect Patient Rights and other groups in the network will diminish. In other words, Freedom Partners will bring in-house many Koch network functions that had been outsourced. That could reduce the chances of a repeat of situations like that which the Center to Protect Patient Rights and one of its beneficiary nonprofits found themselves in California, where they paid $1 million last year to settle an investigation into alleged campaign finance violations. The settlement stipulated that the violation "was inadvertent, or at worst negligent," but the investigation brought unwanted attention to the Kochs, who repeatedly stressed that they had no involvement in the matter and distanced themselves from the operative who ran the Center to Protect Patient Rights, Sean Noble, explaining that he was just a consultant.
Freedom Partners, by contrast, is run by Marc Short, a former Koch employee, and staffed by other Koch loyalists, although Koch Industries issued a statement saying the group "operates independently of Koch Industries." The group, established in November 2011, is technically a business league, and its members pay at least $100,000 in annual dues. "Our membership has grown out of concern that the administration's policies are hurting Americans by crippling businesses and our economy," Davis said. The growth has continued since the 2012 election, he said, adding that the group is in the process of expanding its 50-employee staff.
It appears to be looking to hire a creative director to make videos for both Freedom Partners and other groups, as well as an executive to work with the groups' donors and help raise money for it and other groups. Those postings are listed on the website of the Center for Shared Services, which sources say is filling an innovative niche recruiting talent for the entire Koch network.
The network's ambitious plans are borne out in the Center's job board, which has an array of posts that hint at major 2014 expansions that seem to track areas of improvement identified in the Kochs' post-2012 analysis.
The website doesn't actually list the groups for which it's hiring, but sources say the Center — which was founded in mid-2011 and received $2.7 million from Freedom Partners in 2012 — is primarily devoted to boosting Koch-backed nonprofits. All the services it provides are "free or substantially below cost," according to the group's tax filings, which show it spent only $1.2 million through mid-2012. Center officials did not respond to requests for comment, but the group's job board reads like a guide to Koch World.
"The leading data and technology provider for the pro-free market public policy and advocacy community" is looking to hire about a dozen positions, including developers to "help build data driven web and mobile applications systems." The outfit is based in Alexandria, Va., where the Koch-backed voter data non-profit Themis and its for-profit arm i360 are headquartered.
A "youth advocacy organization" is seeking directors, volunteer coordinators and event coordinators in multiple states who have worked on national political campaigns, and have voter identification and turnout experience. The Koch network's youth advocacy nonprofit is called Generation Opportunity and it, like the organization in the postings and many Koch-backed non-profits, is based in the Washington suburb of Arlington, Va. An organization dedicated to Hispanic voter outreach – much like the Koch-backed LIBRE Initiative – is hiring field directors in Colorado, New Mexico and Texas.
Americans for Prosperity, The LIBRE Initiative and Generation Opportunity have focused their efforts primarily on beating up Democrats over Obamacare, but after 2013 conservative operatives had studied the Koch operation for signs that it might throw its weight into Republican primaries. AfP's president Tim Phillips had suggested that was a possibility for his group, which could have seriously altered the balance of power in the battle for the soul of the GOP. And, while POLITICO has learned that AfP ultimately decided against such a move, sources say that Aegis is envisioned as a way for Koch operatives to mix it up in primaries.
"They are the candidate-support operation of the Koch network," said one GOP operative who has met with Aegis president Jeff Crank about his firm's plans. "They're looking at these races and looking to get involved in primaries."
Crank, who ran twice unsuccessfully for congress in Colorado, was the director of that state's chapter of Americans for Prosperity, before serving a stint as the interim chief operating officer for the entire organization after a post-2012 election shakeup. Another Aegis staffer ran AfP's Nebraska chapter, while a third worked at Themis.
Crank didn't respond to phone calls or emails for this story, but last week on the Saturday morning radio show he hosts on a Colorado station, he said one of the reasons he started Aegis was "because we're trying to end that kind of nonsense from political consultants, who just go out and get a candidate so they can get a job." On his show a week earlier, he praised the Koch brothers, calling them "some of the most philanthropic givers in the United States of America" — citing their donations to medical research, the Smithsonian and various arts programs in New York. "But they're vilified if they give any money to try and keep America free."
Sources told POLITICO that Koch network donors invested in Aegis. Crank told the Denver Post that he had financial backers, though he didn't identify them, and said he also used his own money. He said his goal was avoiding GOP electoral meltdowns like Todd Akin, who won a Missouri Senate primary, only to implode in the general election campaign when he asserted that victims of "legitimate rape" very rarely get pregnant.
"Our effort is to find good candidates who are committed to pulling America off the fiscal cliff, whether they are gubernatorial candidates or U.S. House or U.S. Senate candidates," he told the Denver Post. Mother Jones reported that Crank has touted his ties to the Kochs and their fundraising network and that its first client is a New Hampshire state lawmaker who has been an AfP ally.
It's unclear if Aegis has signed any gubernatorial or congressional candidates yet, but POLITICO has learned that Aegis and i360 both made informal pitches to work for Ernst's Iowa Senate campaign around the time that she attended the August seminar in Albuquerque, for which her campaign reimbursed Koch Companies Public Sector $242 for "event registration fee," according to Federal Election Commission filings. They show the campaign also spent $884 on lodging at the Hyatt where the conference was held. Derek Flowers, an Ernst campaign staffer, told POLITICO that the payment to Koch was "to cover the cost of meals and expenses while at the retreat" which was paid for by the company, and said ultimately the campaign decided to go with firms other than Aegis and i360.
Ernst, though, said she was grateful for the chance to appear before the Koch network donors in Albuquerque, where she talked her campaign and why she thought she would be a good senator. "I do think it gets my name out there," she said last year, in previously unreported comments. "Not everyone will jump on board and support just because of that, but it is good to get the name out, absolutely."
=============================================
The Koch Party
Only a few weeks into this midterm election year, the right-wing political zeppelin is fully inflated with secret cash and is firing malicious falsehoods at supporters of health care reform.
As Carl Hulse of The Times reported recently, Democrats have been staggered by a $20 million advertising blitz produced by Americans for Prosperity, the conservative advocacy group organized and financed by the Koch brothers, billionaire industrialists. The ads take aim at House and Senate candidates for re-election who have supported the health law, and blame them for the hyped-up problems with the law's rollout that now seem to be the sole plank in this year's Republican platform.
In one typical example, the group's ad against Representative Gary Peters of Michigan, a Democrat who is running for an open Senate seat, is full of distortions and lies. It accuses Mr. Peters of lying when he said the law bars cancellations of insurance policies. Mr. Peters happened to be right, as millions of people who once faced losing all insurance after they got sick now appreciate. The 225,000 Michigan residents who the ad said received "cancellation notices" were actually told that they could change to a better policy; they were not told they could no longer have insurance, as the ad implies. And though the ad said health care costs are "skyrocketing," national spending on health care is now growing at the slowest pace ever recorded, in part because of the reform law.
Democrats intend to counter this campaign with the facts, but few of the candidates have the money to do so now. As a result, the campaign is taking a serious political toll, increasing the chances that Republicans who support a repeal of the law will win back the Senate majority this fall.
Naturally, Democrats are using the campaign to increase their own fund-raising, begging donors to give unlimited amounts to left-leaning super PACs and advocacy groups. But it is unlikely that they will be able to match the resources or the cunning of the Kochs, who are using vast pools of money earned through corporate revenues to build a network unrivaled in complexity and secrecy. This weekend, they are bringing together some of the biggest Republican bank accounts at a resort in Palm Springs, Calif., to collect money and plan this year's strategy.
As Politico described it on Friday, they have already set up an operation so sophisticated it rivals "even the official Republican Party in its ability to shape policy debates and elections." Its components include a political consulting firm to recruit, train and support like-minded antigovernment candidates, which will be active in the congressional primaries. There is also a center that provides technology and administrative services to right-wing groups and candidates, an office that compiles and analyzes voter data and a youth advocacy group.
In 2012, as The Washington Post reported, the Koch network raised $407 million, which was secreted among 17 groups with cryptic names and purposes that were designed to make it impossible to figure out the names of donors the Kochs worked with. As one tax expert told The Post, "it's designed to make it opaque as to where the money is coming from and where the money is going."
The Democrats have smaller versions of these operations, though they are more focused on building a super PAC to collect unlimited donations supporting Hillary Rodham Clinton in 2016, and they lack the resources to compete with the Kochs at this stage.
The clandestine influence of the Kochs and their Palm Springs friends would be much reduced if they were forced to play in the sunshine.
The Internal Revenue Service and several lawmakers are beginning to step up their interest in preventing "social welfare" organizations and other tax-sheltered groups from being used as political conduits, but they have encountered the usual resistance from Republican lawmakers. Considering how effectively the Koch brothers are doing their job, it's easy to see why.
###
The Poet Rumi, a Secular Islam meeting in Florida, an Iranian-American businessman Freydoon Khoie is campaigning for a new Muslim World.
Secular Islam
 
The only way to save Islam is to build Secularist Muslims Societies in Muslim Countries
 
A summit was held a few months ago in St. Petersburg, Florida, USA to promote a "secular version of Islam". This Summit was an international forum spearheaded by Muslim secularists and was organized and sponsored by the Center for Inquiry in partnership with the International Intelligence Summit.
Many who attended issued a declaration at the end of the summit. While many of the clauses of that declaration are in tune with Islam and its teachings, there were others that clearly are based on faulty and presumed premises (e.g. submitting Islamic practices to criticism or condemnation when they violate human reason or rights). The fact is that mainstream Muslims do not believe that any of it's teachings violate human rights – rather Islam came and through its principles and teachings, it protected the weak, elevated the status of women, lay down rules for protection of minorities in Muslim lands and many other such principles.
The text of the declaration issued by the "Muslim Secularists" read as follows:
We are secular Muslims, and secular persons of Muslim societies. We are believers, doubters, and unbelievers, brought together by a great struggle, not between the West and Islam, but between the free and the unfree.
We affirm the inviolable freedom of the individual conscience. We believe in the equality of all human persons.
We insist upon the separation of religion from state and the observance of universal human rights.
We find traditions of liberty, rationality, and tolerance in the rich histories of pre-Islamic and Islamic societies. These values do not belong to the West or the East; they are the common moral heritage of humankind.
We see no colonialism, racism, or so-called "Islamaphobia" in submitting Islamic practices to criticism or condemnation when they violate human reason or rights.
We call on the governments of the world to:
Reject Sharia law, fatwa courts, clerical rule, and state-sanctioned religion in all their forms; oppose all penalties for blasphemy and apostasy, in accordance with Article 18 of the Universal Declaration of Human rights; eliminate practices, such as female circumcision, honor killing, forced veiling, and forced marriage, that further the oppression of women; protect sexual and gender minorities from persecution and violence; reform sectarian education that teaches intolerance and bigotry towards non-Muslims; and foster an open public sphere in which all matters may be discussed without coercion or intimidation.
We demand the release of Islam from its captivity to the totalitarian ambitions of power-hungry men and the rigid structures of orthodoxy like it is practiced in Iran.
We enjoin academics and thinkers everywhere to embark on a fearless examination of the origins and sources of Islam, and to promulgate the ideals of free scientific and spiritual inquiry through cross-cultural translation, publishing, and the mass media.
We say to Muslim believers: there is a noble future for Islam as a personal faith, not a political doctrine; to Christians, Jews, Buddhists, Hindus, Baha'is, and all members of non-Muslim faith communities: we stand with you as free and equal citizens; and to nonbelievers: we defend your unqualified liberty to question and dissent.
Before any of us is a member of the Umma, the Body of Christ, or the Chosen People, we are all members of the community of conscience, the people who must choose for themselves.
——————————————————
FREYDOON KHOIE
I was born in April 1949, to a middle class family in Iran and raised in Tehran. I really believe that being an entrepreneur is in one's genes as I realized my love for business, independence and hard work at a very early age of 14, when I dropped out of high school and started working in number of fields until I started my first serious business at age 23 by forming IPC Engineering company in 1972 and quickly built my engineering team to design, and build industrial projects in Iran's golden age when the whole country was under construction. By 1975, I had 34 staff and $1,280,000 revenue which was a serious money in those days. To qualify for bigger projects, I formed joint venture partnerships with couple of American companies and visited the United States for the first time. Upon arriving in New York, I could not believe the vast difference between America and Iran. After few months and in my second visit, I decided to set up a branch office in Los Angeles to use it as the source of technology and knowhow and trading, but only two years later the national catastrophe in the body of so called Islamic revolution hit my beloved Iran and devastated everything that was good and lovely and replaced it with utter ugliness, terror and violence and destroyed our chances and hope of building a new, modern, industrialized and civilized Iran. The rest is history and our country has continued to decline ever since.
Now reluctant to return my country under the tyrannical regime, I formed Sood Industries in Los Angeles, and started my CNC machine tools business. The Registered Trade Mark was FreeMax Precision Machine Tools. By 1990, we had expanded into PC business, and we were selling IBM PCs to our customer base in California to CAD/CAM software sector which was a bundling strategy with our CNC machine tools to capture greater market share, and this led me into computer business which I took it one step further and decided to build my own PC brand and since East Asia was the place to go for cheap labor, I picked Singapore as our production base. By now, I had sold my IPC company in Tehran and had become an international entrepreneur.
In 1990, I established IMI Electronics in Singapore and started building IMI Computers into a global PC brand. Our principle activities involved the assembly, packaging, marketing and sales and distribution of microcomputer-based products as well as application specific products such as point-of-sale terminals and network systems. IMI's broad product lines were distributed under "IMI" brand, through a wide network of appointed distributors and dealers to more than 38 countries around the world.
With $53 million confirmed orders for 1994 and projected sales of $80 million for 1995 and growing sales subsidiaries in Europe, Middle East, and our own East Asian markets, Australia and Iran, the company was attacked by a $2 billion conglomerate IMI PLC., ( a UK based Company) alleging Trade Mark infringement and after a protracted legal tussle and plenty of dirty tricks by them, we lost the and I learned a great lesson in trade mark protection. I restructured the company under UBIQ Computers and relocated our operations to Kuala Lumpur, Malaysia and Brisbane, Australia and a year later in 1997 I sold the company and started planning my next move.
In 1997, having been away from Iran for 24 years, I decided to go back and explore business opportunities. The arrival experience was horrific. Finding my flourishing and rapidly progressing country of 1975 in a state of utter repression, poverty, depression, chaos and criminality was much painful but still I was hoping to find a way to help our people in any way possible. In my first month, I realized that the national car – Paykon – had no air conditioning and people in the heat of Tehran's horrible summer were suffering. My quick research indicated that there was a niche market which I jumped on the opportunity and few months late I formed Neekon Automotive in Tehran, and invited Japanese Sanden Corporation to design an application specific A/C for Paykon and in matter of months I launched an aggressive marketing campaign and started selling our A/Cs, but just as I was warned by friends, the corrupt elements in the government owned Iran Khodro, the manufacturer of Paykon, attacked my company, demanding that I should give them our technology, and making all kinds of threats that if I refuse they will prevent us doing business. I could not believe my eyes that bunch of thugs and criminals were actually in charge of our greatest industries like Iran Khodro, Ministry of Industry, Ministry of Commerce that so blatantly and openly acted like communists and crushed private sector initiatives. After couple of years of confrontations I realized that everything said about this regime was true and the only solution for saving Iran was and is a total abolition of the Islamic Republic Constitution and removal of the state from power and establishing a new, multi-party, secular and modern democratic political system. So I closed down my businesses and decided to relocate to Dubai in the year 2000 right after our son was born.
I found Dubai to be absolutely the best of both worlds. A wise and forward looking leadership, tolerant and open minded had turned Dubai into a model state for all Muslim countries as center of excellence. The first thing I did was to establish Maxam Publishing House to produce two monthly English business magazines: The Middle East Entrepreneur and Digital Executive, and decided to get settled in this beautiful, business friendly, corruption free, dynamic country and since then I have built number of companies that form the Khoie Group today. Having identified the construction boom in Dubai and UAE, I formed such companies as Khoie Power, Khoie Trading, Khoie Properties, Khoie Education, Khoie Industries, and Khoie Media with variety of ventures and projects in the service of community and by 2011 we reached our $1 billion market valuation and growing.
In the meantime, like all other nationalist Iranians, I have been watching with deep concern the disastrous mismanagement of our country and her continued social and economic decline and political isolation and I have lend my support to the progressive green movement and other pro-democracy forces seeking change and reform in Iran to put an end to the mullah's tyrannical rule and establish a secular, liberal democratic political system in which individual liberties, free market and peace are guaranteed to all citizens.
He posted:
Our 21st Century Challenge for Iran

It is impossible to reform and stop oppression, corruption and terrorism in Iran because the regime structure is originally designed to survive on corruption and it is rotten from its roots

Iran's 1979 Revolutions was more or less something like Russia's Communist Revolution of 1917 in which Lenin and his partners in crime promised the poor workers and peasants that they had nothing to lose but their chains and the whole world to gain.
Khamnei's Islamic Republic of Horror

What was the Original Intention of the 1979 Revolution in Iran? What are the Function and Purpose of a Government?

It is refreshing to re-visit Ayn Rand when she wrote over seventy years ago about the function and purpose of government: "If physical force is to be barred from social relationships,
Bible translation into Persian language completed after 18 years of work

This is without a doubt the best thing that has happened to the faithful people of Iran since the first translation of the Bible into Persian language in early Christianity

I have studied the Holy Bible, Quran, Avesta and other Holy books for over 38 years and as a Christian I am convinced that God has a clear and specific plan for the faithful people of Iran
Voltarian Muslims and Hyper-maniac Hezbollah

How the few hired radical Islamist mercenaries are destroying the good name of Islam

The millions of innocent Muslims who involuntarily left their homeland to escape extremist Mullahs' tyranny and oppression and migrated to such liberal and advanced economies like France, Britain, Germany, Holland, and other western and northern European countries
Giving 'Democracy' a Bad Name

Turkmenistan Votes in First Ever Multi-Party Legislative Polls!!!

Turkmenistan, located on the north east border of Iran, was part of the Persian Empire. The Turkmen people were originally pastoral nomads and some of them continued this way of life up into the 20th century, living in transportable dome-shaped felt tents.
Pluralism: a key challenge of the 21st century – Kofi Annan

"If diversity is seen as a source of strength, societies can become healthier, more stable and prosperous."

In a speech at the Global Centre for Pluralism, in May 2013 Kofi Annan discusses the challenges of governing plural societies, promoting inclusive democracy in Iran, Kenya, and the moment at which Syria's deadly conflict could have been averted:
————————————==============————————
Jalal ad-Din Muhammad Rumi
Jal?l ad-D?n Muhammad Balkh?, also known as Jal?l ad-D?n Muhammad R?m?, and more popularly in the English-speaking world simply as Rumi, was a 13th-century Persian poet, jurist, theologian, and Sufi mystic.
—————————–——————————
"Your task is not to seek for love, but merely to seek and find all the barriers within yourself that you have built against it."

"Out beyond ideas of wrongdoing and rightdoing there is a field. I'll meet you there.When the soul lies down in that grass the world is too full to talk about."




"If you are irritated by every rub, how will your mirror be polished?"




"The minute I heard my first love story, I started looking for you, not knowing how blind that was.
Lovers don't finally meet somewhere. They're in each other all along."
"What you seek is seeking you."
"The wound is the place where the Light enters you."
"Sell your cleverness and buy bewilderment."
"You were born with wings, why prefer to crawl through life?"
"Don't grieve. Anything you lose comes round in another form."
"Dance, when you're broken open. Dance, if you've torn the bandage off. Dance in the middle of the fighting. Dance in your blood. Dance when you're perfectly free."
"When I am with you, we stay up all night.
When you're not here, I can't go to sleep.
Praise God for those two insomnias!
And the difference between them."
"When you do things from your soul, you feel a river moving in you, a joy."
"Ignore those that make you fearful and sad, that degrade you back towards disease and death."
"Knock, And He'll open the door
Vanish, And He'll make you shine like the sun
Fall, And He'll raise you to the heavens
Become nothing, And He'll turn you into everything."
"Forget safety.
Live where you fear to live. Destroy your
reputation. Be notorious."
"My soul is from elsewhere, I'm sure of that, and I intend to end up there."
"In your light I learn how to love. In your beauty, how to make poems. You dance inside my chest where no-one sees you, but sometimes I do, and that sight becomes this art."

Secular Islam
 
The only way to save Islam is to build Secularist Muslims Societies in Muslim Countries
 
A summit was held a few months ago in St. Petersburg, Florida, USA to promote a "secular version of Islam". This Summit was an international forum spearheaded by Muslim secularists and was organized and sponsored by the Center for Inquiry in partnership with the International Intelligence Summit.

Many who attended issued a declaration at the end of the summit. While many of the clauses of that declaration are in tune with Islam and its teachings, there were others that clearly are based on faulty and presumed premises (e.g. submitting Islamic practices to criticism or condemnation when they violate human reason or rights). The fact is that mainstream Muslims do not believe that any of it's teachings violate human rights – rather Islam came and through its principles and teachings, it protected the weak, elevated the status of women, lay down rules for protection of minorities in Muslim lands and many other such principles.

The text of the declaration issued by the "Muslim Secularists" read as follows:

We are secular Muslims, and secular persons of Muslim societies. We are believers, doubters, and unbelievers, brought together by a great struggle, not between the West and Islam, but between the free and the unfree.

We affirm the inviolable freedom of the individual conscience. We believe in the equality of all human persons.

We insist upon the separation of religion from state and the observance of universal human rights.

We find traditions of liberty, rationality, and tolerance in the rich histories of pre-Islamic and Islamic societies. These values do not belong to the West or the East; they are the common moral heritage of humankind.

We see no colonialism, racism, or so-called "Islamaphobia" in submitting Islamic practices to criticism or condemnation when they violate human reason or rights.

We call on the governments of the world to:

Reject Sharia law, fatwa courts, clerical rule, and state-sanctioned religion in all their forms; oppose all penalties for blasphemy and apostasy, in accordance with Article 18 of the Universal Declaration of Human rights; eliminate practices, such as female circumcision, honor killing, forced veiling, and forced marriage, that further the oppression of women; protect sexual and gender minorities from persecution and violence; reform sectarian education that teaches intolerance and bigotry towards non-Muslims; and foster an open public sphere in which all matters may be discussed without coercion or intimidation.

We demand the release of Islam from its captivity to the totalitarian ambitions of power-hungry men and the rigid structures of orthodoxy like it is practiced in Iran.

We enjoin academics and thinkers everywhere to embark on a fearless examination of the origins and sources of Islam, and to promulgate the ideals of free scientific and spiritual inquiry through cross-cultural translation, publishing, and the mass media.

We say to Muslim believers: there is a noble future for Islam as a personal faith, not a political doctrine; to Christians, Jews, Buddhists, Hindus, Baha'is, and all members of non-Muslim faith communities: we stand with you as free and equal citizens; and to nonbelievers: we defend your unqualified liberty to question and dissent.

Before any of us is a member of the Umma, the Body of Christ, or the Chosen People, we are all members of the community of conscience, the people who must choose for themselves.

The declaration obviously was critiqued by many Muslim organizations. Your thoughts and analysis on the declaration are welcome.
###
THE FOLLOWING IS A COLLAGE OF ARTICLES FROM TODAY'S NEW YORK TIMES THAT POINT AT MORE DISCORD IN THE HOUSE OF REPRESENTATIVES AND THE LIBERAL'S HOPE THAT PRESIDENT OBAMA WILL REFUSE TO PLAY BALL WITH THEM. IT IS IMPERATIVE THAT LIBERAL-REPUBLICANS REBRAND AND FORM THEIR INDEPENDENT RANKS IN THEIR OWN INTEREST AND IN THE NATIONS INTEREST.

TOP NEWS
By MICHAEL D. SHEAR and JACKIE CALMES
Even as Republicans vow to leverage the federal borrowing limit in their demands for spending cuts, President Obama, who signed the tax bill Wednesday, says he won't join in more charged talks on the issue.
————————————————–
By RAYMOND HERNANDEZ
The depth of the anger that followed the House's refusal to take up a package of assistance for Hurricane Sandy victims was extraordinary and exceedingly personal.
————————————————
Op-Ed Contributor
By GARY L. ACKERMAN
"Who am I?" a departing congressman asks, after nearly 30 years of service in the House.
————————————————
Op-Ed Columnist
By CHARLES M. BLOW
Not only is the era of grand bargains over, but the era of basic governance is screeching to a halt.
————————————————
Editorial | Dereliction Of Duty
The unwillingness of House Republicans to work for the common good suggests that the 113th Congress will be bitterly unproductive.
———————————————–
Editorial | Dereliction Of Duty
Speaker John Boehner failed the thousands devastated by the storm when the relief package that passed the Senate was ignored in the House.
———————————————–
Op-Ed Columnist
By GAIL COLLINS
Wasn't the 112th Congress something else? Well, don't worry, people. The next one won't entirely be more of the same.
———————————————
Taking Note
By JULIET LAPIDOS
Does the Republican base crave pragmatism, or purity? With their fiscal cliff votes, three likely 2016 candidates indicated which way they think the wind is blowing.
——————————————-
Letters
——————————————
THE UPDATE
Sandy Flood Insurance Aid Bill Sails Through House After Outcry.
Posted: 01/04/2013 11:54 am EST  |  Updated: 01/04/2013 12:25
A $9.7 billion bill to pay flood insurance claims from Hurricane Sandy sailed through the House on Friday with an overwhelming bipartisan majority, just two days after Republican officials in New York and New Jersey exploded in outrage after a much larger relief bill failed to come up for a vote before the end of the last Congress.
Friday's 354-67 vote extends the borrowing authority of the National Flood Insurance Program, which the Federal Emergency Management Agency warned on Tuesday was set to run out of money next week without additional funds from Congress. If the mandatory insurance program went broke, payments on more than 115,000 claims from Sandy would be delayed, the agency said.
The flood insurance measure now goes to the Senate, which easily approved a $60 billion Sandy aid package in late December that leaders in the Republican-controlled House declined to bring to the floor.
Another vote is set for Jan. 15 on an additional $51 billion in Sandy aid, House Speaker John Boehner (R-Ohio) said. That aid covers a wide range of needs related to the storm, including funds for financially-strained municipalities struggling with the recovery. More than half a million homes and business were destroyed or damaged in New Jersey and New York by Sandy, according to official estimates. New York City also suffered at least 11.7 billion in damage to its subway system and other infrastructure.
While the flood insurance measure had overwhelming support from both parties, Democratic legislators from New York and New Jersey on Friday continued to harshly criticize GOP leaders for the long delay in approving a comprehensive relief package for storm victims.
"It is a shame and an embarrassment for this institution that the House Republican leadership continues playing games with this essential assistance," said Rep. Nydia Velazquez (D-N.Y.), who represents parts of New York City devastated by the storm.
"Today we are taking care of flood insurance. What about small business? The job creators in our community? They are getting nothing," Velazquez added.
Many Republicans from the Northeast who blasted the decision by GOP leaders to scrap the vote on the original aid bill appeared largely appeased by Friday's vote and the scheduled vote on the broader aid package later this month.
"While it is unfortunately long overdue, I am pleased that we are finally here to help," said Rep. Jon Runyan, (R-N.J.), whose district includes parts of coastal New Jersey hard-hit by Sandy.
Some Republican members took to the floor to defend the decision not to bring the broader relief package up for a vote, saying the $60 billion Senate relief bill contained millions of dollars of spending unrelated to the storm.
"We need to get the pork out," said Rep. Darrell Issa (R-Calif.), chairman of the House Oversight Committee.
But Rep. Peter King (R-N.Y.), a powerful House Republican who represents New York's Long Island, which sustained billions of dollars in storm damage, refuted those claims. "The House bill never contained any of those extraneous provisions," he said.
King was among the fiercest critics of the GOP leadership for scrapping the aid vote earlier in the week, calling it a "cruel knife in the back" to the Northeast and urging his constituents not to donate to the Republican Party.
New Jersey Gov. Chris Christie (R) said on Wednesday that the failure to vote on the aid bill was the result of "toxic internal politics" in the Republican Party. He added that he would have a hard time trusting Boehner and other national party officials after the "duplicity" surrounding the dropping of the earlier aid vote. Christie did not immediately respond to a request for comment.
"Americans are tired of the palace intrigue and political partisanship of this Congress," Christie said. "Disaster relief was something that you didn't play games with."
===================================================
GOP freshmen: Even more tea party than 2010?
Posted by Aaron Blake on January 4, 2013
www.washingtonpost.com/blogs/the-…
The Republican freshmen sworn into Congress this week might be even more tea party than the Tea Party Class of 2010.
The tea party influence on last year's primaries wasn't as big a story as it was two years prior, as the label lost its luster and the rallies stopped. But the anti-establishment fervor of that movement lives on in the crop of 35 Republicans joining the House.
And in fact, it may even be ratcheted up.
Tea party freshman Rep. Jim Bridenstine (R-Okla.) voted against John Boehner for speaker on Thursday and against a Hurricane Sandy aid bill on Friday. (AP Photo/Sue Ogrocki)
Case in point: The vote Friday to approve a $9.7 billion aide package for victims of Hurricane Sandy, which some Republicans have criticized for not being accompanied by spending cuts.
In the end, 67 House Republicans voted against it. Of those 67, 19 came from the freshman class, compared to 22 who came from the Class of 2010.
Pretty close, huh? Well, when you consider that the 2012 class (35 Republicans) is less than half the size of the 2010 class (84 Republicans), things begin to come into focus.
In fact, while just more than one-quarter of 2010ers voted against the Sandy aid bill, more than half of 2012ers voted no. And while freshmen make up less than 15 percent of the GOP caucus, they comprised nearly 30 percent of the no votes.
(Also worth noting: four freshmen voted against John Boehner for speaker on Thursday — almost as many as the five defectors from the Class of 2010.)
Make no mistake: Even as the tea party isn't as much of a thing any more, its ideals and anti-establishment attitude very much remain in today's Republican Party and House GOP caucus.
And if the first votes of the 113th Congress are any indication, incoming members will continue to vote the tea party line — perhaps in even higher numbers than their tea party predecessors. Which make Boehner's job very, very difficult going forward.
====================================
Who voted against Boehner for speaker and why?
Twelve Republicans voted against John Boehner's second term as speaker Thursday, making for a very tense final few minutes of the vote.
At one point, in fact, the number either voting for someone else or not voting reached into the high teens, raising the possibility that Boehner wouldn't secure a majority on the first ballot. Eventually, a few of those who hadn't voted — including Rep. Michele Bachmann (R-Minn.) — cast their ballots for Boehner.
Boehner won with 220 votes — six more than the 214 votes he needed. (A speaker needs only a majority of the actual votes cast, not of all members of the House. And here's the roll call.)
Below is a look at the defectors, whom they voted for, and our best guess as to why it wasn't Boehner:
Rep. Eric Cantor (3 votes)
Rep. Jim Bridenstine (R-Okla.) — conservative freshman who defeated Rep. John Sullivan (R-Okla.) in a primary
Rep. Steve Pearce (R-N.M.) — very conservative
Rep. Ted Yoho (R-Fla.) — conservative freshman who defeated Rep. Cliff Stearns (R-Fla.) in a primary
Former congressman Allen West (2)
Rep. Paul Broun (R-Ga.) — noted conservative maverick, Club for Growth favorite
Rep. Louie Gohmert (R-Tex.) — outspoken conservative
Rep. Raul Labrador (1)
Rep. Justin Amash (R-Mich.) — libertarian ally of former congressman Ron Paul (R-Tex.), recently stripped of committee assignments by House GOP leadership
Rep. Jim Jordan (1)
Rep. Tim Huelskamp (R-Kan.) — very conservative, recently stripped of committee assignments
Former comptroller general David Walker (1)
Rep. Walter Jones (R-N.C.) — frequently votes against his party, recently stripped of committee assignments
Amash (1)
Rep. Tom Massie (R-Ky.) — freshman conservative, favorite of the Club for Growth
Voting present (1)
Rep. Steve Stockman (R-Tex.) — has criticized Boehner for "being too harsh with conservatives"
Not voting (3)
Rep. Raul Labrador (R-Idaho) — conservative, frequent critic of Boehner
Rep. Mick Mulvaney (R-S.C.) — critic of Boehner's "Plan B" maneuver on the "fiscal cliff"
Boehner — speaker traditionally does not vote for himself or herself.
———————————————————————————————————

And now a look at the Democrats who voted against Nancy Pelosi for speaker. Basically all of them are Blue Dog Democrats.
And we would note that the defections are far less than the 20 who didn't vote for Pelosi in 2011.
Rep. Jim Cooper (2)
Rep. Mike McIntyre (D-N.C.)
Rep. Dan Lipinski (D-Ill.)
Rep. John Dingell (1)
Rep. Jim Matheson (D-Utah)
Rep. John Lewis (1)
Rep. John Barrow (D-Ga.)
Colin Powell (1)
Cooper (D-Tenn.)
Not voting (3)
Rep. Lucille Roybal-Allard (D-Calif.) — her mother died recently
Lewis (D-Ga.) — his wife died this week
Rep. Earl Blumenauer (D-Ore.)
###
President Obama used his weekly Saturday address to repeat his impassioned but vague call to take "meaningful action to prevent more tragedies like this," some gun control advocates said they hoped the shooting would be a catalyst for change.
"We genuinely believe that this one is different," Dan Gross, the president of the Brady Campaign to Prevent Gun Violence, said in an interview on Saturday. "It's different because no decent human being can look at a tragedy like this and not be outraged by the fact that it can happen in our nation. And because this time, we're really poised to harness that outrage and create a focused and sustained outcry for change."
But supporters of gun control sounded similar notes after other recent mass shootings — including one early last year in Tucson in which six people were killed and Representative Gabrielle Giffords was wounded — only to see little or no action. And as governors condemned the Connecticut shooting and expressed sympathy for its victims, their statements, from Democrats and Republicans alike, were more likely to mention prayer than gun laws.
That same day, Ohio lawmakers passed a bill that would allow guns in cars at the Statehouse garage. Earlier in the week, a federal appeals court struck down a ban on carrying concealed weapons in Illinois. And Florida officials announced that they would soon issue their millionth concealed weapon and firearm license — or, as a state news release put it, the program would be "One Million Strong."
Exception was in Colorado, which had started a debate on gun laws earlier in the week. Gov. John W. Hickenlooper, a Democrat, had said on Wednesday that he believed "the time is right" for state lawmakers to consider new gun restrictions.
Mr. Hickenlooper, who had appeared cool to the idea immediately after the shooting at a movie theater in Aurora that killed 12 people and wounded dozens, said he hoped lawmakers would take up the issue in the next legislative session, when Democrats will control both houses.
"After the shootings happened in Aurora in July, everyone was just so empty that it didn't feel appropriate to start talking about racing right into the sometimes contentious arguments of appropriate gun control or inappropriate gun control, depending on which side of the fence you're on," Mr. Hickenlooper said Saturday. He added that he hoped lawmakers would examine issues like public access to assault weapons, magazines that hold a great deal of ammunition and armor-piercing bullets, and how the state can help the mentally ill and keep them from doing harm.
With gun control efforts seen as unlikely in Washington, where the Republicans who control the House oppose them, the next frontiers of the debate may be in states like Michigan, where the bill that would allow people to carry concealed weapons in school is being weighed by Gov. Rick Snyder, a Republican.
Don Wotruba, the deputy director of the Michigan Association of School Boards, said the group was calling on the governor to veto the bill. "Putting children in closer proximity with more guns is a risk that shouldn't be taken," he said in an interview.
=======================================================
The massacre at the Sandy Hook Elementary School has finally grabbed the Nation's attention – something that Hurricane Sandy did not do.
The Republicans blame their loss in the Presidential elections on the Hurricane and we find no evidence that this was the case – but we say that had the elections been held today instead, they might have been wiped out – just a Sandy closer to home.
Today's Sunday TV programs all dealt with the woman that collected guns and made them accessible to her sick-genius son.
New York City Mayor Michael Bloomberg, on Meet the Press, said that he did put his money to work for candidates to Congress that were ready to take on the National Rifle Association. He explained that good laws and readiness to enforce them have reduced killings by guns in new York City to the point that it is now best in the country on the reduction of crime. He said it clearly – The Comforter in Chief is first The Commander in Chief and criticized the Preasident for not having put forward an actual plan to combat what is killing per year in the US more people then all the Vietnam War did in its time.
Bloomberg said that he decided to back President Obama only after he interviewed both – The President and Mr. Romney – and had the feeling that Obama knew what he has to do. But then, Obama did not go come up with a program to back up his rhetoric.
In New York City, if someone is found with a loaded concealed weapon – he gets an automatic 3.5 years.

THE PRESIDENT HAS IN HIS POWER TO ACT UPON WHAT HE TELLS THE PEOPLE THAT HE INTENDS TO DO. HE FIRST HAS TO TELL THE PEOPLE WHAT HE WANTS TO DO, AND THEN DO IT THROUGH EXECUTIVE ORDERS. My feeling was that Mayor Bloomberg, now an Independent, is ready to take the argument on a ride to the White House in 2016. He has the money and made it clear in public that he has the readiness. While the NRA's only reason for existence in 2012 was to try to unseat President Obama, Bloombeg sees them weakened now to the point that an Obama who is not up for reelection anymore, ought to push Members of Congress to fight as if the NRA has no power over them – and indeed it does not anymore.
David Frum, who worked for President G.W. Bush said that when he grew up in Canada nobody there understood the US interest in weapons. Recently 300,000 people bought guns in one day in the US. 31 Senators for the Gun-lobby refused to speak on the Sunday programs – so they are stiff scared finally! This at a time that there is evidence that 40% of the guns sold in the US are sold at gun-shows or via the internet – no documents of any kind needed.
What is needed? For a starter something like a drivers' license  that requires tests of health (specifically mental health), a test of skills, and a minimum age. Also, clear understanding of spacial exclusions – like schools.
We would like to see Senator John Kerry take over the leadership in Congress and the fight against folks like Senator John McCain.
For first horn – President Obama ought to nominate Susan Rice for the Secretary of State position and fight for her; forget the leveling off on the taxation of the rich. The specter of a Middle East Bazaar  bargaining between positions saying that rich is an income of one million/year or a quarter million/year are just unseemly. We would say that a special extra gun-control security tax would be fitting the present need as a clear add-on. We would then suggest that a similar add-on would qualify for climate-change effects as well because of the delayed action of dealing with the subject. Rich should be defined at the $150,000  level and taxed higher as the income is higher. Running a State is indeed the responsibility of those that were privileged to get a higher income as they got were they are mainly not by wins at the lottery, but because of the sweat of the great majority – the "others" that make up more then 95% of the Nation.  PRESIDENT OBAMA IS NOW IN THIS POTENTIALLY UNCOMPROMISING POSITION BECAUSE OF THE CONFLUENCE OF OPPORTUNITIES THAT SHOULD NOT BE MISSED -  HIS CLEAR INDEPENDENCE OF NEED TO BOW TO HIS DETRACTORS, AND THE DISASTERS OF SANDY & SANDY.

###
Justices to Revisit Voting Act in View of a Changing South
The New York Times – Published: November 9, 2012
Three years ago, the court signaled that part of the law may no longer be needed, and the law's challengers said the re-election of the nation's first black president is proof that the nation has moved beyond the racial divisions that gave rise to efforts to protect the integrity of elections in the South.
The law "is stuck in a Jim Crow-era time warp," said Edward P. Blum, director of the Project on Fair Representation, a small legal foundation that helped organize the suit.
Civil rights leaders, on the other hand, pointed to the role the law played in the recent election, with courts relying on it to block voter identification requirements and cutbacks on early voting.
"In the midst of the recent assault on voter access, the Voting Rights Act is playing a pivotal role beating back discriminatory voting measures," said Debo P. Adegbile, the acting president of the NAACP Legal Defense and Educational Fund.
The Supreme Court's ruling on the law, expected by June, could reshape how elections are conducted.
The case concerns Section 5 of the law, which requires many state and local governments, mostly in the South, to obtain permission, or "preclearance," from the Justice Department or a federal court before making changes that affect voting. Critics of the law call the preclearance requirement a unique federal intrusion on state sovereignty and a badge of shame for the affected jurisdictions that is no longer justified.
The preclearance requirement, originally set to expire in five years, was upheld by the Supreme Court in 1966 as a rational response to the often flagrantly lawless conduct of some Southern officials then.
Congress has repeatedly extended the requirement: for 5 years in 1970, 7 years in 1975, and 25 years in 1982. Congress renewed the act in 2006 after holding extensive hearings on the persistence of racial discrimination at the polls, again extending the preclearance requirement for 25 years.
But it made no changes to the list of jurisdictions covered by Section 5, relying instead on a formula based on historical practices and voting data from elections held decades ago. It applies to nine states — Alabama, Alaska, Arizona, Georgia, Louisiana, Mississippi, South Carolina, Texas and Virginia — and to scores of counties and municipalities in other states.
Should the court rule that Congress was not entitled to rely on outdated data to decide which jurisdictions should be covered, lawmakers could in theory go back to the drawing board and re-enact the law using fresher information. In practice, given the political realities, a decision striking down the coverage formula would probably amount to the end of Section 5.
In May, a divided three-judge panel of the United States Court of Appeals for the District of Columbia rejected a challenge to the law filed by Shelby County, Ala. Judge David S. Tatel, writing for the majority, acknowledged that "the extraordinary federalism costs imposed by Section 5 raise substantial constitutional concerns," and he added that the record compiled by Congress to justify the law's renewal was "by no means unambiguous."
"But Congress drew reasonable conclusions from the extensive evidence it gathered," he went on. The constitutional amendments ratified after the Civil War, he said, "entrust Congress with ensuring that the right to vote — surely among the most important guarantees of political liberty in the Constitution — is not abridged on account of race. In this context, we owe much deference to the considered judgment of the people's elected representatives."
The dissenting member of the panel, Judge Stephen F. Williams, surveyed recent evidence concerning registration and turnout, the election of black officials, the use of federal election observers and suits under another part of the law.
Some of that evidence, he said, "suggests that the coverage formula completely lacks any rational connection to current levels of voter discrimination," while other evidence indicates that the formula, "though not completely perverse, is a remarkably bad fit with Congress's concerns."
"Given the drastic remedy imposed on covered jurisdictions by Section 5," he wrote, "I do not believe that such equivocal evidence can sustain the scheme."
The Supreme Court has already once considered the constitutionality of the 2006 extension of the law in a 2009 decision, Northwest Austin Municipal Utility District Number One v. Holder. But it avoided answering the central question, and it seemed to give Congress an opportunity to make adjustments. Congress did not respond.
At the argument of the 2009 case, Justice Anthony M. Kennedy questioned whether the distinctions drawn in the 2006 law reflect contemporary realities.
"Congress has made a finding that the sovereignty of Georgia is less than the sovereign dignity of Ohio," Justice Kennedy said. "The sovereignty of Alabama is less than the sovereign dignity of Michigan. And the governments in one are to be trusted less than the governments in the other."
"No one questions the validity, the urgency, the essentiality of the Voting Rights Act," he added. "The question is whether or not it should be continued with this differentiation between the states. And that is for Congress to show."
In the end, the court, in an 8-to-1 decision, ducked the central question and ruled instead on a narrow statutory ground, saying the utility district in Austin, Tex., that had challenged the constitutionality of the law might be eligible to "bail out" from being covered by it. Still, Chief Justice John G. Roberts Jr., writing for the majority, was skeptical about the continued need for Section 5.
"The historic accomplishments of the Voting Rights Act are undeniable," he wrote. But "things have changed in the South.
"Voter turnout and registration rates now approach parity," he wrote. "Blatantly discriminatory evasions of federal decrees are rare. And minority candidates hold office at unprecedented levels.
"The statute's coverage formula is based on data that is now more than 35 years old," he added,"and there is considerable evidence that it fails to account for current political conditions."
Having said all of that, and acknowledging that the court's alternative ruling had stretched the text of the statute, Chief Justice Roberts said the court should avoid deciding hard constitutional questions when it could. "Whether conditions continue to justify such legislation is a difficult constitutional question we do not answer today," he wrote.
On Friday, in agreeing to hear the case, Shelby County v. Holder, No. 12-96, the court indicated that it is prepared to provide an answer to the question it left open three years ago.
—————————–
The New York Times Editorial
A Supreme Test on the Right to Vote
Published: November 9, 2012
The Supreme Court decided on Friday to review Section 5 of the 1965 Voting Rights Act, which has been crucial in combating efforts to disenfranchise minority voters. The justices should uphold the validity of the section, which requires nine states and parts of several others with deep histories of racial discrimination to get permission from the Justice Department or a federal court before making any changes to their voting rules.
The case, Shelby County v. Holder, was brought by an Alabama county, which contends that Section 5 intrudes unconstitutionally on the sovereign authority of states and that federal review of proposed voting changes, once needed to end legal segregation, is no longer required.
Nothing could be further from the truth. Just this year, Republican efforts to block the votes of minorities and the poor — which were rejected again and again by federal judges relying on the Voting Rights Act, including Section 5 — have made that utterly clear.
Judge John Bates of Federal District Court in the District of Columbia, rejected Shelby County's challenge last year, noting that Congress, in renewing the section in 2006, found that "40 years has not been a sufficient amount of time to eliminate the vestiges of discrimination."
In May, the Court of Appeals for the District of Columbia upheld his ruling, saying that discrimination in voting is "one of the gravest evils that Congress can seek to redress" and that Congress's painstaking research in its renewal of Section 5 (22 hearings and 15,000 pages of evidence) "deserves judicial deference."
In another voting rights case in 2009, the Supreme Court said there were "serious constitutional questions" about whether Section 5 meets a current need. That comment left some legal experts with the impression that the court came close to striking down the provision. But the justices did not do so in that case, and they have even less reason to in this case. Overt discrimination clearly persists and remains pernicious in places like Shelby County.
###
That is amazing! while cleaning an old  box of newspaper clippings I fell upon a March 11, 2007 article that came to my attention because of the following terrific predictive map, but when googling for the article I did not find the map anymore. Nevertheless, a secondary posting by an environmental group had the map – and it turns out the map is actually from the New York Office of Emergency Management that released it already on March 9, 2007, which triggered then the NYT Real Estate alarming article.
The above is full proof that already the G.W. Bush Administration knew that parts of New York City are exposed to a serious Hurricane and had no doubt that such a Hurricane will eventually happen. This caused obviously worries with the Real Estate specialists and the ubiquitous question became "HOW SAFE IS MY HOME?"

Please look at the map – The red area is just any Hurricane which in the context of the other colors means our recent guest – Sandy – that was just a category 1 Hurricane.
Then we have Categories 2 and 3 and we see that in some areas Sandy performed more evil then expected. In Manhattan Queens and Bronx she ventured clearly into areas of the 2 anticipation – specially around the shores o f the Jamaica Bay region – something the city was slow recognizing as the extent of the damage in these areas is made known only now – days after the actual disaster.
The following article is a complete indictment of the Federal Government and of the City of New York for having sat five years on material that was public knowledge already march 2007.
To top this, I also found an Andrew C. Revkin article of March 3, 2007 – "U.S. PREDICTING STEADY INCREASE FOR EMISSIONS. REPORT TO U.N. OVERDUE – EXPERTS CRITICAL." This turns the subject from not just a US crime towards its citizens – but towards the world at large as well.
Please see: that includes the charts: –
Which show that while Senators Sanders and Boxer, as well as Senators McCain and Lieberman (yes the same Republican John McCain who in 2008 competed against President Obama for the Presidency) tried to come up with a solution, it was the Senator from Fossil Fuels Mr. Bingaman who sat on top of the Energy Committee, and the Bush Administration at large, who preferred to do nothing.

Kristen A. Hellmer, a spokeswoman for the White House on environmental matters  said: "The Climate Action Report will show that the president's portfolio of actions addressing climate change and his unparalleled financial commitments are working." But when shown the report, an assortment of experts on climate trends and policy described the projected emissions as unacceptable given the rising evidence of risks from unabated global warming.

Mr. Mitt Romney now laughs at President Obama for having promised to slow the rise of the Ocean – unfortunately – something Obama failed to do in his first four years – but the Romney laugh disqualifies him from white House tennentcy.

YES – THESE ARTICLES ARE GREAT REMINDER THAT GAMBLERS WITH THE PEOPLES HOMES SHOULD NOT SIT IN THE WHITE HOUSE.

============

| | |
| --- | --- |
| | March 9, 2007 |

New York Office of Emergency Management



---
March 11, 2007
,
On the front page of the Real Estate section of the New York Times, and accompanied with a terrific map yjat 100% predited the damage from Hurricane Sandy.
The Real Riddle of Changing Weather: How Safe Is My Home?
By TERI KARUSH ROGERS,
BY now it is no longer news that people are jiggling the planet's thermostat.
One response is to go green: New Yorkers who were terrified into action by Al Gore's movie, "An Inconvenient Truth," are shaping up their lives and homes with a compulsion formerly reserved for the Atkins diet.
All this carbon cutting is a boon, and it certainly provides a moral high ground. But it fails to address one pesky truth: no matter how green New York City becomes, it remains hostage to huge amounts of heat-trapping carbon dioxide emissions already in the pipeline and from the future environmental transgressions of others, facts made clear in the bleak conclusions of the Intergovernmental Panel on Climate Change, released last month in Paris.
With no obvious savior in the wings, there is a growing urgency that global warming be understood at a local level, right down to the block, starting with: How could a rising sea level and pummeling storms affect the trillion dollars' worth of property New Yorkers call home?
"It's all pointing in a bad direction," said Stuart Gaffin, an associate research scientist at the Center for Climate Systems Research at Columbia University. "There's nothing good to encourage you to think we're going to avoid long-term flooding events."
Estimates provided by the center, and relied upon by New York City planners, predict that sea levels will creep up about five more inches by 2030 and another few inches by 2050. More dire estimates call for 12 inches or more between 2030 and 2080.
But while widespread permanent inundation — the sort vividly illustrated in Mr. Gore's movie — is possible, it isn't likely to occur in the city in our grandchildren's lifetimes, or even their grandchildren's. And an extra 5 to 10 inches of water over the next few decades won't pose devastating problems for most of the city.
The bigger threat to property is the possibility of more frequent and increasingly vicious storms that could propel already encroaching waters onto the shore, could dump larger amounts of precipitation, and could lash glassy skyscrapers and crumbling tenements.
And even before that happens, real estate values in low-lying areas could erode as heightened awareness of global warming draws attention not only to long-term exposure to storms but also to near-term damage from severe storms that could happen regardless of any long-term warming trend — like the major hurricane that experts say is overdue in New York City.
One Manhattan real estate agent said the fear was already weighing on some clients' minds. "After Katrina, they saw how ineffective the U.S. is at holding back water compared to some other places, and it has made some people concerned," said the agent, Tom Hemann of Brown Harris Stevens, who sells downtown. He said last month's gloomy report on global warming prompted four former clients who had bought downtown to voice concern about living in low-lying neighborhoods.
Mr. Hemann — who said he was confident that there would be solutions before there was real trouble — is nevertheless working with a couple in their 30s who are selling their loft on Elizabeth Street. They had planned to buy again in Lower Manhattan, but the February report "changed everything," Mr. Hemann said. "Now they're telling us that one of the main considerations is to make sure it's not an area of low ground. They're also considering getting a smaller place here and investing in a property in a city way above sea level."
Most urban planning and environmental groups have just begun grappling with how to protect the city's property from climate change. Last fall, Mayor Michael R. Bloomberg created the Office of Long-Term Planning and Sustainability and named as its director Rohit Aggarwala, a 35-year-old former McKinsey & Company consultant with four degrees from Columbia.
As part of the new office's broad mandate to address housing, transportation and other infrastructure needs over the next 25 years, it will coordinate the development of a climate adaptation strategy.
Drawing on other city agencies, including the Department of Environmental Protection and the Department of Buildings, the new long-term planning office has also met with more than 100 advocacy organizations, conducted community meetings in each borough and digested thousands of individual e-mail messages collected through its Web site, nyc.gov/planyc2030.
The early fruit of these efforts will be a plan — or at least a framework for one, to be announced by the mayor in early April — to tailor the city to its future 25 years hence.
But like Mr. Hemann's clients, some New Yorkers are not willing to bet their nest eggs that the dice will roll their way.
Among insurers, all of whom factor climate change into their risk assessments, some like Allstate are already refusing to renew homeowners' policies in the eight downstate counties (including metropolitan New York) most vulnerable to hurricanes and other major storms that could proliferate in a warming climate. (Allstate continues to insure individual co-op and condo units.)
"When you have trillion-dollar exposure, it doesn't take much bad weather to cause extensive damage," said L. James Valverde Jr., the vice president for economics and risk management at the Insurance Information Institute, a trade group based in Manhattan. "That's really on the mind of the industry. When you've got this kind of concentration of people and property in a very important sector of the country, the potential for economic and insured loss really is great."
Structures at particular risk from storm-related flooding include tenements, brownstones and any building with old masonry foundations, said Joe Tortorella, a vice president and a structural engineer at Robert Silman Associates in Manhattan and a member of the Disaster Preparedness Task Force of the American Institute of Architects.
Mr. Tortorella noted that much of the West Village and Lower Manhattan — neighborhoods whose low elevation renders them vulnerable to flooding — is on a precarious perch. "It's like the finest sand you can find, so that even if you could put it on a table, you can't mound it up in a pile," he said.
In a hurricane or severe northeaster, Mr. Tortorella said, "if the water moves fast enough and recedes fast enough, there could be scouring like a tide that takes sand with it on the beach. As the water recedes, it pulls silt out and could undermine the building. It could be a disaster of epic proportions in New York for the smaller buildings."
Unlike New Orleans, where water from Hurricane Katrina was trapped in the city's tidal basin, a hurricane storm surge in New York City would most likely retreat after a single tidal cycle, except for the water pooled underground, where it could disable power lines, drown the subway system and choke basements, among other things. Standing water in basements could breed mold, rendering entire buildings uninhabitable.
And flooding isn't an issue just with hurricanes. Though climate models are at odds with one another, some scientists expect the number of northeasters to increase in the next several decades, along with the amount of rain they unleash. While the storms won't push rivers and oceans as far onto land as hurricanes could, northeasters cover more territory and linger far longer, over several tidal cycles.
In a city increasingly fashioned of glass, there are also winds to consider. Category 3 hurricanes generate sustained winds of 111 to 130 miles per hour, and Category 4 hurricanes blow at 131 to 155 m.p.h. But the city's building code requires that windows in even the newest buildings withstand winds of just 110 miles an hour.
"Glass is a hot thing in New York City," Mr. Tortorella said. "There's a lot of glass structures, and you get more aggressive with what you can do with glass — actually using it for structure as opposed to just a skin on the building. The biggest problem with hurricanes is a 2-by-4 or signage from another building that falls off and blows through the glass and creates interior suction — causing the windows to blow out, the walls to blow out."
Stronger windows could keep the winds at bay, but what about the water?
"There's not going to be anything easy or cheap," said Mr. Gaffin of the climate research center at Columbia. "There's not going to be a magic silver bullet."
One long-term but unappetizing option is to ring the city with enormous concrete sea walls. In Manhattan, this would require a wall several dozen feet high and wide enough to fit a four-lane highway on top. The higher a sea wall or levee is, the broader it has to be, and in New York City, which is interlaced with rivers, such barriers would encroach on some of the priciest real estate in the world.
(In the Netherlands, in some otherwise picturesque villages guarded by sea walls, it is possible to hear the waves crashing, see the seagulls circling and smell the salt air but never see the ocean.)
Somewhat more palatable though infinitely more complex and expensive — and politically explosive, since some waterfront acreage would not be protected — is the possibility of erecting a series of storm-surge barriers in local waterways.
"What we're talking about is a ring of protection for metro New York that would require four large barriers, like removable dam structures, that could block off the ocean when needed," said Malcolm James Bowman, a professor of oceanography at the Marine Sciences Research Center at the State University at Stony Brook, N.Y., and the leader of the storm-surge group there that is studying ways to protect metropolitan New York and Long Island.
"You'd need four," he said. "One close under the Verrazano Bridge. One in Perth Amboy behind Staten Island, because the water would leak around the back into the harbor from the ocean. A third from Long Island Sound in the upper East River, perhaps between the Whitestone and Throgs Neck Bridges. And then to protect Jamaica Bay and Kennedy Airport, you would need a fourth one across the Rockaway Inlet, but because the ground is low there, you would also need a sea wall running along the beach and up around Kennedy Airport."
Such barriers, including lock systems to allow ships to pass through, would cost perhaps $10 billion each and take 5 to 10 years to construct. And that's not including the 30- or 40-year prelude of engineering studies, debate, financing and court challenges.
"If you look at the European experience," said Professor Bowman, referring to surge barriers built or under construction in the Netherlands, London and Venice, "it took up to 45 years in some cases, after a major catastrophe, before the barriers were built."
Not that the surge barriers would be a panacea. Besides the ecological side effects like erosion, the barriers wouldn't prevent wind damage and would fail to protect some areas, including the southern coast of Long Island. (There, said Professor Bowman, looking several decades ahead, "I think people will stay as long as they can and then slowly evacuate if it gets really bad.")
Shorter-term fixes include mandating a costly round of retrofitting, intelligent land-use planning and reining in coastal development, or at least requiring wider buffer areas to absorb huge storm surges capped by breaking waves.
And then there's the building code.
Even the city's newest gleaming towers were constructed under 40-year-old rules whose own foundations seem rickety when it comes to withstanding — or even contemplating — damage from severe storms.
With regard to flooding, the building code follows Federal Emergency Management Agency regulations, which set forth a bare-minimum standard for construction in flood zones and rely on the emergency agency's conservative flood maps drawn in 1983. Roughly translated, the maps identify areas that might be flooded by a Category 2 or 3 hurricane; in some places around New York City, the zones correspond to a mere Category 1 hurricane, with winds of 74 to 95 m.p.h.
Besides excluding areas that could be inundated by a severe hurricane, the flood zones are based on purely historical data and thus do not factor in climate change. That means that new construction may be inadequate to withstand the rigors of climate change 30, 40 or 50 years from now or the hurricane that could hit at any time.
Even the emergency agency's newest maps, scheduled to go into use this fall — which show slightly enlarged flood zones on the south shores of Staten Island and Queens, for example; along the Hudson River in Lower Manhattan; and in Hunts Point in the Bronx — are still based only on historical data. (The new maps can be viewed online on the Buildings Department Web site: gis.nyc.gov/dob/fm/index.htm.)
"The future is just too theoretical, and FEMA maps have to tell people what has happened in the past," said Paul Weberg, a senior engineer in the agency's office that covers New York State. "We need something to hang our hat on."
(Mr. Weberg himself made sure to buy a home in one of the highest neighborhoods on Staten Island. "As much as I like the water, I wasn't going to buy a place south of Hylan Boulevard," he said, referring to the island's southern coastline.)
For New York planners, there are other options. "If there is a concern within a city or state about long-range planning or global warming," Mr. Weberg said, "they can always go above our regulations. We go by minimum regulations. We are almost a compromise between environmentalists and builders."
The city's Buildings Department has been working to modernize its code for the last three years and expects to present a plan this spring.
One section will revise the criteria for deciding how much force a window should withstand. With regard to flooding, the focus will be on shoring up a small group of critical buildings — hospitals, firehouses and the like — and only those built within identified flood zones.
But if you believe that flood zones will expand along with the frequency of storms, these zones will be inadequate.
So who's looking out for the rest of the city?
"I do a lot of work in the West Village in new construction, and the talk of storm surges is not even on the lips of anyone," Mr. Tortorella said. "What's in the code is flood zones that you have to obey, and you deal with that but nothing more."
Homeowners curious about how vulnerable they are to flooding may not find even the newest FEMA maps especially useful. Besides failing to anticipate the effects of climate change, the flood zones merely calculate odds (again, based on historical data) that a particular area will be flooded. So while it may not seem very alarming that your home (or prospective home) is in a 100-year flood zone, the designation does not mean a flood will occur only once in 100 years. Instead, it means that a flood has a 26 percent chance of occurring in any 30-year period.
An arguably more useful gauge is the hurricane evacuation map that can be downloaded at the city's Office of Emergency Management Web site, nyc.gov/html/oem/html/ready/hurricane_guide.shtml.
Dispensing with probabilities, it illustrates the areas expected to be affected by hurricane storm surges based on today's sea levels — block by block and neighborhood by neighborhood. The agency itself takes the threat quite seriously: it not only redrew its disaster plan after Katrina, but will soon solicit designs for an urban alternative to the FEMA trailer — pods to shelter thousands of New Yorkers displaced by a disaster.
Along with global-warming talk, the hurricane map has surfaced often enough in the media to make at least some home buyers and owners aware of the potential risk. But if Lower Manhattan is an example, most people even in low-lying areas aren't thinking about it too much.
Paddington M. Zwigard, an avid environmentalist and a downtown real estate broker with Brown Harris Stevens, just sold her $4.15 million "green" penthouse on Chambers Street between Hudson and Greenwich Streets. Though she was long aware that its location near the river made it vulnerable to flooding — either from a hurricane or a long-term rise in sea levels — she was willing to stomach the risk to live downtown and near the river.
When she decided to sell, she thought the apartment's location would prompt at least some questions from buyers, though when it didn't, she suspected she knew why.
"I've lived downtown for 20 years, and there's definitely a new wave of TriBeCans — younger, self-absorbed, mass-materialist consumers who are really not aware of anything outside their whatever," Ms. Zwigard said.
She speculates that the extensive condo development has attracted a certain type of buyer: wealthier, more mobile and disinclined to look more than a few years into his or her homeowning future. Ms. Zwigard is planning to buy other apartments downtown, renovate them and sell them — betting, in effect, on others' short-sightedness.
Wayne Tusa, a former board member of the New York chapter of the United States Green Building Council, echoed that thought. "People generally think about what's in their face today," he said. "You're not thinking: 'Gee whiz, what will happen 30 years from now? Will the value suddenly go poof because my basement is flooded three times a week?' "
Mr. Tusa, who lives at the edge of a 100-year flood plain, on East 90th Street between First and Second Avenues, is looking for a parking garage on higher ground. He is also considering buying a second home in the Catskills to get away from the coast.
One downtown broker, Jon Phillips, a vice president of Halstead Property, said his buyers don't worry because they reason that "the safest place to hide is in a bank." In other words, with so much capital at risk, if New York City flounders, they believe somebody will do something before it's too late.
What if somebody doesn't? Is New York one catastrophic hurricane — or a few awful northeasters — away from a huge shift in ownership?
"There are several horror stories to be written," Mr. Tusa said.
"How does New York City survive if 20 percent of it is flooded and nothing works? What if we lose one airport, or what if the subway system doesn't work anymore? What if the waste-water treatment systems don't work anymore? What if 50 percent of the time there's waves on the F.D.R.? New York City would not be habitable —that's really the worst-case scenario. And before that begins to happen, people will make different choices like, 'Should I move my office?' "
But some thoughtful voices are being heard. "The fact that the city has started raising the question now is to their credit," said Mark E. Ginsberg, a partner in Curtis & Ginsberg Architects in Manhattan and a leader of New York New Visions, a coalition of architecture, planning and design organizations concerned with rebuilding Lower Manhattan. "Do we deal with it before something bad happens, or as is often the case in human nature, do we deal with it after something bad happens? Look what happened to New Orleans."
====================================================
www.nytimes.com/2007/03/11/reales…
www.ecoearth.info/shared/reader/w…
BY now it is no longer news that people are jiggling the planet's thermostat.
One response is to go green: New Yorkers who were terrified into action by Al Gore's movie, "An Inconvenient Truth," are shaping up their lives and homes with a compulsion formerly reserved for the Atkins diet.
All this carbon cutting is a boon, and it certainly provides a moral high ground. But it fails to address one pesky truth: no matter how green New York City becomes, it remains hostage to huge amounts of heat-trapping carbon dioxide emissions already in the pipeline and from the future environmental transgressions of others, facts made clear in the bleak conclusions of the Intergovernmental Panel on Climate Change, released last month in Paris.
With no obvious savior in the wings, there is a growing urgency that global warming be understood at a local level, right down to the block, starting with: How could a rising sea level and …
###
DROUGHT IN TEXAS.
27/10/12
EVERYBODY IN Israel knows this story. When Levy Eshkol was Prime Minister, his assistants rushed up to him in panic: "Levy, there is a drought!"
"In Texas?" Eshkol asked anxiously.
"No, in Israel!" they said.
"Then it doesn't matter," Eshkol assured them. "We can always get all the wheat we need from the Americans."

That was some 50 years ago. Since than, nothing much has changed. The elections in the US in 11 days are more important to us than our own elections in three months.
I HAD to stay awake till 3 am again to watch the final presidential debate live. I was afraid that I would doze off, but I did not. On the contrary.
When two chess players are engaged in a game, there is often a person – we call him a "kibitzer" – standing behind one of them, trying to give him unsolicited advice. During the debates, I do the same. In my imagination, I stand behind Barack Obama and think about the right answer to Romney, before Obama himself opens his mouth.
I must admit that on some occasions during this debate, his answers were much better than mine. For example, I did not think up a stinging reply to Romney's contention that the US now has less warships then it had a hundred years ago. Obama's dry reply – that the US army now has fewer horses, too – was sheer genius. The more so since he could not have prepared it. Who could have foreseen such a dumb remark?
Also, when Romney slammed Obama for skipping Israel on his first Middle East tour as president. How to counter such a factual challenge – especially with thousands of Jewish pensioners in Florida listening to every word?
Obama hit the right note. Remarking that Romney had visited with an entourage of donors and fund-raisers (without naming Sheldon Adelson and the other Jewish donors), he reminded us that as a candidate he went instead to Yad Vashem, to see for himself the evil done to the Jews. Touche.
On a few occasions, I thought I had a better answer. For example, when Romney tried to explain away his comment that Russia was the most important "geo-political foe" of the US, I would have reacted with "Excuse my ignorance, governor, but what does 'geo-political' mean?" In his context, it was a highfalutin but meaningless phrase.
("Geo-politics" is not just a juxtaposition of geography and politics. It is a world-view propagated by the German professor Hans Haushofer and others and adopted by Adolf Hitler as a rationale for his plan to create Lebensraum for Germans by annihilating or driving out the population of Eastern Europe.)
I would have talked much more about the wars, Nixon's Vietnam, the two Bushes' Iraq, the second Bush's Afghanistan. I noticed that Obama did not mention that he had been against the Iraq war right from the beginning. He must have been advised not to.
ONE DID not have to be an expert to notice that Romney did not present original ideas of his own. He parroted Obama's positions, changing a few words here and there.
Earlier in the campaign, during the primaries, it did not look like that. Clamoring for the votes of the right-wing base, he was about to bomb Iran, provoke China, battle Islamists of all shades, perhaps resurrect Osama Bin Laden in order to kill him again. Nothing of the sort this time. Only a meek "I agree with the President".
Why? Because he was told that the American people had had enough of the Bush Wars. They don't want any more. Not in Afghanistan, and certainly not in Iran. Wars cost a lot of money. And people even get killed.
Perhaps Romney decided in advance that it was enough for him to avoid looking like an ignoramus on foreign affairs, since the main battleground was in the economic sphere, where he can hope to look more convincing than Obama. So he played it safe. "I agree with the President…"
THE WHOLE concept of a presidential debate on foreign affairs is, of course, nonsensical. World affairs are far too complicated, the nuances far too subtle, to be dealt with in this rough way. It would be like performing a kidney operation with an ax.
One could easily get the impression that the world is an American golf course, in which the US can knock the peoples around like balls, and the only question is which player has the more skill and selects the best club. The will of the peoples themselves is quite irrelevant. What are the feelings of the Chinese, the Pakistanis, the Egyptians? Who cares?!
I am not sure that most of the American viewers could find Tunis on the map. So it makes no sense to argue about the forces at work there, make distinctions between Salafists and Muslim Brothers, preferring these or those. All in four minutes.
For Romney, obviously, all Muslims are the same. Islamophobia is the order of the day, and Romney openly pandered to it. As I have pointed out before, Islamophobia is nothing but the fashionable modern cousin of good old anti-Semitism, seeping from the same sewers of the collective unconscious, exploiting the same old prejudices, transferring to the Muslims all the hatred once directed towards the Jews.
Many Jews, of course, especially the elderly in the nursing homes in warm Florida, are relieved to see the Goyim turn on other victims. And since the new victims happen also to be the foes of beloved Israel, all the better. Romney clearly believed that pouring his bile on "Islamists" was the easiest way to garner Jewish votes.
Trying hard to look tougher than Obama, Romney did, after all, come up with an original idea: provide the Syrian insurgents with "heavy arms". What does that mean? Artillery? Drones? Missiles? And if so, to whom? To the Good Guys, of course. And take care that they do not fall into the hands of the Bad Guys.
What a brilliant idea. But please, who are the Good Guys and who the Baddies? Nobody else seems to know. Least of all the CIA or the Mossad. Dozens of Syrian factions are at work – regional, confessional, ideological. All want to kill Assad. So who will get the cannons?
All this made any serious discussion about the Middle East, now a region of infinite variations and nuances, quite impossible. Obama, who knows a lot more about our problems than his adversary, found it wise to play the simpleton and utter nothing but the most fatuous platitudes. Anything else – for example a plan for Israeli-Palestinian peace, God forbid, could have offended the dear inhabitants of the one old people's home which may change the outcome in Florida.
ANY SERIOUS Arab or Israeli should have been insulted by the way our region was treated in this debate by the two men, one of whom will soon be our lord and master.
Israel was mentioned in the debate 34 times – 33 times more than Europe, 30 times more than Latin America, five times more than Afghanistan, four times more than China. Only Iran was mentioned more often – 45 times – but in the context of the danger it poses to Israel.
Israel is our most important ally in the region (or in the world?) We shall defend it to the hilt. We shall provide it with all the arms it needs (plus those it doesn't need).
Wonderful. Just wonderful. But which Israel, exactly? The Israel of the endless occupation? Of the unlimited expansion of settlements? Of the total denial of Palestinian rights? Of the rain of new anti-democratic laws?
Or a different, liberal and democratic Israel, an Israel of equality for all its citizens, an Israel that pursues peace and recognizes Palestinian statehood?
But not only what was parroted was interesting, but also what was left unsaid. No automatic backing of an Israeli attack on Iran. No war on Iran at all, until hell freezes over. No repetition of Romney's earlier declaration that he would move the US embassy from Tel Aviv to Jerusalem. No pardon for the Israeli spy Jonathan Pollard.
And, most importantly: no effort at all to use the immense potential power of the US and its European allies to bring about Israel-Palestine peace, by imposing the Two-State solution that everybody agrees is the only viable settlement. No mention of the Arab peace initiative still offered by 23 Arab countries, Islamists and all.
China, the new emerging world power, was treated with something close to disdain. They must be told how to behave. They must do this or that, stop manipulating their currency, send the jobs back to America.
But why should the Chinese take any notice when China controls the US national debt? No matter, they'll have to do what America wants. Washington locuta, causa finita. ("Rome has spoken, the case is closed," as Catholics used to say, way back before the sex scandals.)
UNSERIOUS AS the debate was, it showed up a very serious problem.
The French used to say that war is too serious to leave to the generals. World politics are certainly too serious to leave to the politicians. Politicians are elected by the people – and the people have no idea.
It was obvious that both contenders avoided any specifics that would have demanded even the slightest knowledge from the listeners. 1.5 billion plus Muslims were considered to fall into just two categories – "moderates" and "Islamists". Israel is one bloc, no differentiation. What do viewers know about 3000 years of Persian civilization? True, Romney knew – rather surprisingly – what or where Mali is. Most viewers surely didn't.
Yet these very same viewers must now finally decide who will be the leader of the world's greatest military power, with a huge impact on everyone else.
Winston Churchill memorably described democracy as "the worst form of government, except for all the other forms that have been tried from time to time."
This debate could serve as evidence.
###
All the voters who are aware of Romney's fact-mangling, but vote for him anyway, must ask themselves this question:
are they granting him the liberty to lie?
WHAT FOLLOWS IS ALL FROM TODAY'S NEW YORK TIMES: THERE IS NO NEWS EXCEPT SANDY NEWS AND COMMENTS.
Op-Ed Columnist
By NICHOLAS D. KRISTOF
Climate change has virtually been ignored in this presidential campaign, but Sandy brought it front and center.
———————————————
Campaign Stops
By CHARLES M. BLOW
A significant number of voters who admit that they don't trust Mitt Romney say that they're going to vote for him anyway. What gives?
———————————————
Op-Ed Columnist
By GAIL COLLINS
Ohio has it all: a Real Recovery Road Rally, tons of TV ads and a problem with political lawn signs. People, if this election is going to come down to one group, let it be Ohioans.
———————————————
Editorial
Mitt Romney can't admit that the auto bailout helped Detroit and America, so instead he invents problems with it.
Editorial
Could surge barriers be a bargain against future eruptions of nature?
——————————————–
By CATHERINE RAMPELL and SHAILA DEWAN
Hurricane damage will help construction companies and the workers they plan to hire, many of whom have been idled and ailing from the housing bust for nearly half a decade.
By MARY WILLIAMS WALSH and SHAILA DEWAN
Homeowners who suffered wind and storm damage this week will get financial relief from rulings that insurers must treat Sandy as a tropical storm and not a hurricane.
———————————————
U.S.
By JAMES BARRON
New York faced horror in waterlogged neighborhoods, where rescuers pulled bodies from wreckage, and exasperation elsewhere as more than 3.75 million people entered a third day without electricity.
——————————————–
By DANIEL J. WAKIN
Carnegie Hall canceled all concerts on Tuesday, Wednesday, and Thursday after the city cordoned off streets surrounding the hall and cut off utilities to the area for safety reasons.
—————————————————-
TOP NEWS
By DAVID M. HALBFINGER
Though Hurricane Sandy raged up the East Coast, it has become increasingly apparent that New Jersey took the brunt of it.
By MATT FLEGENHEIMER and JOHN LELAND
With some commutes into the city taking three hours, New Yorkers clung to news that some subway and rail service would be restored on Thursday.
By MARK LANDLER and MICHAEL BARBARO
President Obama's tour of New Jersey with Gov. Chris Christie confronted Mitt Romney with a vexing challenge just as he returned to the campaign trail in Florida.
===================================================================================================================================
But above does not mean yet that the elections November 6th are a sure thing for the Democrats.
The issue is that the Metropolitan New York area is not yet the United States, and even a New York-New Jersey alignment may perhaps speak for the US North-East but that is all.
In effect, the moment you step out of this region you might feel that there is a complaint that those liberals of the North East, who are in the Democratic Column, speak only about themselves.
To check this one has to go no further then poltics savy Washington DC a nd look up the Washington Post:
As Obama tours storm damage, Romney steps carefully back on trail
Romney avoids mentioning the president while campaigning, but surrogates on each side let loose.
( by?Philip Rucker , The Washington Post)
–

The result will have little impact.
–
Why do its victims get our empathy while poor kids don't?
–

We are specially upset with the Matt Miller piece that speaks for those that do not want to see change by assuming a make belief of attention to social welfare.
That sounds like Norway on the international stage, where the Oil industry interests rule, and whenever there was a danger that the world might indeed take to heart the climate change – anti-oil position – they would trump up the women issues for which they get lots of credit.
Similarly, the Matt Miller piece calls Sandy a NATURAL DISASTER and complains why we give attention more to its victims then to our daily poor children.
This is plain demagoguery, but it just tells us that the war was not won yet and there will be much more Romney obfuscation – some of it pure disenchantment of some folks out there in the sticks, affectionados of tea, with the East Coast.
Will April 6th turn out a lot of anti-Darwinians to turn the event into an anti-enlightenment vote? As said, we do not even go beyond the politically neutral Washington Post.
###


Reader Supported News
————————————————————————————————————————————————————————————
Sen. Bernie Sanders: Tax Dodgers on Wall Street Have No Shame.
By Sen. Bernie Sanders, Reader Supported News
25 October 12
en. Bernie Sanders (I-Vt.) today said corporate leaders should look in the mirror before lecturing the American people on ways to tackle the deficit.
The senator's comments came after the heads of more than 80 big companies issued a statement on deficit reduction. Sanders released a report detailing how many of the companies headed by the same CEOs have avoided taxes, sent American jobs overseas and took taxpayer bailouts. Click here for the full report.
"There really is no shame," Sanders said. "The Wall Street leaders whose recklessness and illegal behavior caused this terrible recession are now lecturing the American people on the need for courage to deal with the nation's finances and deficit crisis. Before telling us why we should cut Social Security, Medicare and other vitally important programs, these CEOs might want to take a hard look at their responsibility for causing the deficit and this terrible recession.
"Our Wall Street friends might also want to show some courage of their own by suggesting that the wealthiest people in this country, like them, start paying their fair share of taxes. They might work to end the outrageous corporate loopholes, tax havens and outsourcing provisions that their lobbyists have littered throughout the tax code – contributing greatly to our deficit," Sanders added.
Many of the CEOs who signed the deficit-reduction letter run corporations that evaded, in total, at least $34.5 billion in taxes by setting up more than 600 subsidiaries in the Cayman Islands and other offshore tax havens since 2008. As a result, at least a dozen of the companies avoided paying any federal income taxes in recent years, and even received more than $6.4 billion in tax refunds from the IRS since 2008.
Several of the companies received a total taxpayer bailout of more than $2.5 trillion from the Federal Reserve and the Treasury Department.
Many of the companies also have outsourced hundreds of thousands of American jobs to China and other low wage countries, forcing their workers to rely on unemployment insurance and other federal benefits.
"In other words," Sanders said, "these are some of the same people who have significantly caused the deficit to explode over the last four years."
Sanders, a member of the Senate Budget Committee, said the $16 trillion national debt is a serious issue. He has proposed specific ways to lower deficits. For details, click here.
A Progressive Deficit Reduction Plan
Repeal all of the 2001 and 2003 Bush tax breaks for the top two percent.  Repealing the 2001 and 2003 tax breaks for the top two percent would reduce the deficit by about $1 trillion over the next decade.  After President Clinton increased taxes on the top two percent, the economy added over 22 million jobs.  After President Bush reduced taxes for the rich, the economy lost over 600,000 private sector jobs.
Create an emergency deficit-reduction surtax on millionaires. Enacting a 5.4 percent surtax on adjusted gross income of more than $1 million would raise over $383 billion over 10 years, according to the Joint Tax Committee.  According to a February 2011 NBC News/Wall Street Journal poll, 81 percent of the American people support the creation of a millionaires surtax to reduce the deficit.
End tax breaks and subsidies for big oil, gas and coal companies. If we ended tax breaks and subsidies for big oil, gas, and coal companies, we could reduce the deficit by more than $113 billion over the next ten years.  The five largest oil companies in the United States have earned about $1 trillion in profits over the past decade.
Establish a Wall Street speculation fee of 0.03 percent on the sale of credit default swaps, derivatives, stocks, options, and futures. Both the economic crisis and the deficit crisis are a direct result of the greed and recklessness on Wall Street.  Establishing a speculation fee would reduce gambling on Wall Street, encourage the financial sector to invest in the productive economy, and reduce the deficit by $350 billion over 10 years without harming average Americans.
Eliminate tax breaks for companies shipping American jobs overseas. Today, the U.S. government is actually rewarding companies that move U.S. manufacturing jobs overseas through loopholes in the tax code known as deferral and foreign source income.  During the last decade, the U.S. lost about 30% of its manufacturing jobs and over 56,000 factories have been shut down.  If we eliminated these tax loopholes, the Joint Tax Committee has estimated that we could raise more than $582 billion in revenue over the next ten years.
Prohibit abusive and illegal offshore tax shelters. Each and every year, the United States loses an estimated $100 billion in tax revenues due to offshore tax abuses by the wealthy and large corporations.  The situation has become so absurd that one five-story office building in the Cayman Islands is now the "home" to more than 18,000 corporations.  The wealthy and large corporations should not be allowed to avoid paying taxes by setting up tax shelters in Panama, the Cayman Islands, Bermuda, the Bahamas or other tax haven countries.  Cracking down on offshore tax shelters could reduce the deficit by as much as $1 trillion over the next decade.
Establish a currency manipulation fee on China and other countries. As almost everyone knows, China is manipulating its currency, giving it an unfair trade advantage over the United States and destroying decent paying manufacturing jobs in the process.  If we imposed a currency manipulation fee on China and other currency manipulators, the Economic Policy Institute has estimated that we could raise $500 billion over 10 years and create 1 million jobs in the process.
Tax capital gains and dividends the same as work. Taxing capital gains and dividends the same way that we tax work would raise more than $730 billion over the next decade.  Warren Buffet has often said that he pays a lower effective tax rate than his secretary.  The reason for this is that the wealthy obtain most of their income from capital gains and dividends, which is taxed at a much lower rate than work.  Right now, the top marginal income tax for working is 35%, but the tax rate on corporate dividends and capital gains is only 15%.
Establish a Progressive Estate Tax. If we established a progressive estate tax on inherited wealth of more than $3.5 million, we could raise more than $300 billion over 10 years.  Sen. Sanders introduced the Responsible Estate Tax Act that would reduce the deficit in a fair way while ensuring that 99.7 percent of Americans who lose a loved one would never see a dime of their loved one's estate paid in federal estate taxes.
Reduce unnecessary and wasteful spending at the Pentagon, which now consumes over half of our discretionary budget. Much of the huge spending at the Pentagon is devoted to spending money on Cold War weapons programs to fight a Soviet Union that no longer exists.  Sen. Tom Coburn (R-OK) and Lawrence Korb, an Assistant Secretary of Defense under Ronald Reagan, have estimated that we could achieve significant savings of around $100 billion a year at the Pentagon while still ensuring that the United States has the strongest and most powerful military in the world.
Require Medicare to negotiate for lower prescription drug prices with the pharmaceutical industry. Requiring Medicare to negotiate drug prices, similarly to what the VA currently does, would save more than $157 billion over 10 years.
Eliminate waste, fraud, and abuse within every federal government agency. Virtually everyone agrees that there is waste, fraud, and abuse in every agency of the federal government.  Rooting out this waste, fraud, and abuse could save between $150 billion and $200 billion over the next 10 years.
—————————————————————————————————–
Elizabeth Warren on the Man Made Financial Crisis
By Charles Pierce, Esquire Magazine
25 October 12
ast weekend was a good one for Elizabeth Warren, the Democratic candidate for the U.S. Senate here in Massachusetts. She'd managed to crack open a slim, but noticable, lead over incumbent Scott Brown, who seemed bound and determined to demolish his own personal favorability rating and, as a result, had slipped some three to five points behind Warren, depending on which poll you read. Senator Al Franken came to a labor event in Worcester last Thursday to stump for Warren, and then she appeared with a number of other Democratic candidates, including congressional candidate Joe Kennedy, at the Laborer's Hall in Hopkinton, which sits in the middle of a complex of playing fields and meeting halls that various unions tucked together behind the pines years ago as kind of a general headquarters.
In fact, it is the active involvement of organized labor, which was not there in 2010 when Brown upset Martha Coakley to take over the seat held for five decades by Edward Kennedy, that has,as we've seen in the course of following the race on The Politics Blog, energized Warren's campaign in the last weeks before the election. Boston mayor Thomas Menino has swung a particularly heavy bat, both with his influence within the labor community, and with this own personal political operation as well. As we rode between the Laborer's Hall and the next event on her campaign schedule Saturday afternoon, Warren talked about the events that first brought her to public prominence – the financial collapse of 2008, the Wall Street chicanery behind it, and the ongoing repercussions that are so much a part of her basic campaign message. Oh, and the former governor up here.
CHARLES P. PIERCE: How did we get back again to too big to fail? How did that happen?
ELIZABETH WARREN: I think it happened a couple of different ways. One of them was – and I think there was a miscalculation back in 2008, 2009 – a lot of people, at least I subscribed to it, a lot of people thought, Okay, we have 30 years of trying deregulation and to cut taxes and it has brought us to the biggest financial crisis since the great depression. So I thought what would happen over the next 50 years, we'd spend one year rewriting the financial rules and we'd be tough on the banks – as a country, we would be. And then the next 50 years, we'd concentrate on rebuilding America's working families, creating opportunity and a better middle class, creating these opportunities for kids to rise out of poverty for all of our children to be included, because that's what we do. I just truly believe that. I looked at that in 2008, 2009 and said, We tried the experiment…. Well, it just seemed so obvious to me! We had tried it, right? Coming out of the Great Depression to basically late '70s, early 1980s, just almost every piece of legislation that passed through Congress was through the filter of: Does it strengthen the middle class? Does it create more opportunities for working families? And that was the litmus test. That switches in the early '80s, when the Republican party says the role of government is to protect those who've already made it, let them keep more of the money, let them keep more power. And so we tried that for 30 years and ended up with an economy that almost ran over a cliff and crashed into the stone age.
So the deregulation starts. We start pulling the threads out of the regulatory fabric and we actually do it in two ways: one is to repeal certain regulation, Glass-Steagall is amended multiple times before it is finally repealed completely in 1999. As new financial products, as new innovations come along, there's no regulation. So the regulatory fabric, you know, they just pull one thread out after another. And what happens? So there's the savings and loan crisis at the end of the '80s. They keep pulling the regulatory threads out, at the end of the '90s, there's long-term capital management, remember? Showed us that the whole world is stitched together economically. They keep pulling the regulatory threads out and then the next big crash is 2008.
This was not a natural disaster. The crash of 2008 was manmade. And that's important because it has both halves in it. If we're not careful, we create more problems,and it also means though it's within our capacity to prevent this from happening. There were no financial crashes between the 1930s and the late 1980s until the deregulation started again. The relevance of this is what I think is so interesting about this: you know, there was a financial panic. They used to call it "panic," roughly about every 15 years from the 1790s forward, and it was the insight in the 1930s that we can do better than this. We can put some basic rules of the market: transparency, a level playing field, which were the SEC rules; the FDIC, you know, to make it safe to put money in banks. And we bought 50 years of economic peace. But it's always the case that the financial institutions, they're always looking for the chink in the wall. They want everyone else to follow the rules, but, you know: Can they get one little advantage? Can they get one little exception?
(Warren became a national celebrity when she was called in to assess the damage, and to conduct oversight of the Troubled Assets Relief Program, aka TARP, aka The Really Big Bank Bailout. It was in that capacity that she first ran up against the nexus of financial and political power that had camouflaged the ongoing structural thievery of the financial-services economy.)
CPP: I just remember watching this thing on NBC's evening news one night and the guy saying the entire United States financial system is on the brink, and I say, What?
EW: Yeah. Exactly.
CPP: But if what you're saying is true, the crisis just exploded on the general public and then it was explained in gobbledygook.
EW: And then it was explained in gobbledygook, which is a way of saying: Be helpless. Leave it to a handful of insiders to solve the problem. We'll take care of this, you know, and the rest of you relax. Just give us seven hundred billion dollars. But that was the point – that was the battle of whether it's gonna be all about the experts and they're going to go behind closed doors. I mean that metaphorically, but that's really what was happening. How much crazy language and it makes no sense and it's gobbledygook – that's a way of telling everybody else: Be helpless.. And that means no accountability. Nobody's accountable, you know? And then the metaphors, you know: This is like a big hurricane.
I was in Washington about 12 minutes before I figured out, Wait a minute, the financial rules will be rewritten following this crisis, so this is a chance, you know? The door is gonna open. I don't know how wide or how long, but let's get in. So, everybody's talking about, in Washington, the top of the heap, the top of the pyramid, the top of the mountain, capital-reserve requirements for the nine largest financial institutions of the Commodities Futures Trading Commission, and I'm waiving my hands saying, But the market is broken at the family level, at the household level. Remember, this crisis started one lousy mortgage at a time. So if the so-called experts just go off and fix the top and don't do anything about what's happening in the consumer credit market, which had changed from a market where they looked at you and said, Well, you have a credit history, you've lived somewhere, I can afford to lend you this much money, you're probably going to pay it back, to a market that was based – think about this, several of the largest financial institutions in this country had a profit model based on tricking their customers.
CPP: Would you have voted for the bailout if you were in the Senate?
EW: You know, without restrictions, no. So I'm going to put it this way: It was clear something had to be done. The part that I was just beside myself over was the lack of accountability. I mean accountability in every meaning of that word: how the money would be given out, whether or not the banks would be accountable for it. Go back and look at that first report, because that's what that first report is about. I could not believe that, that the treasurer of the United States government was shoveling money out the door to the nine largest financial institutions on a no-questions-asked basis…. And in some ways it was worse than that, because it not only had no restrictions to speak of, it had no restrictions in the statute – it was a bait-and-switch. Do you remember what TARP stood for? It was to buy up mortgages – bad mortgages – and stabilize the system by buying those mortgages and riding them down. Remember how much of that happened? Pretty much nothing…. Not much was the answer, and it was much slower and much later. Instead, Paulson started pushing that money out the door to the financial institutions. So, first report, I would describe as: What's going on here? The second report, I would describe as Paulson – as calling Paulson out for not making that clear. And then, third report: We had brought in our own economic team to look at this – the third report was showing how, by using the same terms for all nine of the big financial institutions, what they were really doing was bailing out the four in the most trouble, the one that was in the most trouble and then the next three or four and using the rest of them for camouflage for how bad the financial system was.
Now think about this. They all got it on the same terms. Why do you do that? It was to provide a bigger subsidy for the financial institutions that were in the most trouble and to provide camouflage so no one noticed. And that was our third report, and we raised holy hell.
(Not long before this particular afternoon, Warren had received the endorsement of Sheila Bair, the Republican who'd been chairman of the FDIC through the entire financial crisis. At one point, Bair, Warren, and Mary Schapiro, the chairperson of the Securities and Exchange Commission at the time, shared the cover of Time. Bair also had come to Massachusetts to campaign for Warren.)
EW: You're gonna laugh. Adam was driving us, and, what was it you described it as, Adam? We were dishing on the other – we sat in the back seat, Shelia and I did, dishing on the other people in the financial system. But the thing is, it's not just like we're sitting around like a bunch of old people saying, Back in the day…. This is still going on. The financial system is still at risk and here's what's interesting: The ball hasn't stopped rolling on financial reform. Watch what you wish for, right? So Dodd-Frank is this big complex bill, but, as you know, part of the goal is to bring these large financial institutions to heel, and the financial-services industry tries to roll that out, tries to create as many loopholes as it can. The Volcker rule as been much delayed and complicated and so on, but what it means it is it has kept open the question of what the new regulation's look like.
Then, Dan Tarullo stepped out last week. Dan Tarullo is one of the governors of the Federal Reserve, and Turullo stepped out and said maybe we should consider capping the size of financial institutions, and he had a new way to do it, rather than doing it on deposits, which was the old way of doing it. He wanted to do it on liabilities, but Tarullo put back in play the idea of the break up of the big banks. That's gonna cause a few hearts to skip a beat on Wall Street.
(Which is pretty much how she became a candidate, to try and control the uncontrollable and unaccountable forces of financial power. And, thus, she became a politician, and, by now, she's a pretty good one. "Six weeks ago," said an old political strategist at her Worcester event, "I wouldn't have given her a chance. Now, I'd say she's probably the favorite." She's also running so that nobody forgets how close we really came to losing it all.)
EW: I cannot believe that. The first time I saw the videotape of Mitt Romney saying, On the first day of his presidency…, I'm not kidding you, my mouth fell open. I thought, Wait a minute, this guy, four years after the greatest crash since the Great Depression, this guy is running for office? On embracing the rule that lead to the biggest financial crash since the Great Depression! Hello?
And that's the thing that makes it so remarkable about what the Republicans are saying. They say they want to cut taxes and reduce regulation, right? Mitt Romney says on the very first day, what will he do? He will get rid of all the Dodd-Frank regulations, and that's a way of saying that the Republican plan is to let the rich and powerful get richer and more powerful and somehow – that that will be America's future and that's their vision for America's future. I just… I don't know how we do anything other than get up and fight.
---
Charlie has been a working journalist since 1976. He is the author of four books, most recently "Idiot America." He lives near Boston with his wife but no longer his three children.
###
We bring here the Uri Avnery article but present only the link to the very long and well researched New York Times article.
That link to the David Barboza article "Billions in Hidden Riches for Family of Chinese Leader " of Friday, October 26, 2012 is:
www.nytimes.com/2012/10/26/business/global/family-of-wen-jiabao-holds-a-hidden-fortune-in-china.html?nl=todaysheadlines&emc=edit_th_20121026&_r=0
Interesting how Communist China turned into star-student of capitalism and how anti-Communist Romney embraced them to the point that he did great business with them and instead of being the Mormon Missionary he trained to be, he is now a devotee to the class structure of the New China.
LIBERALISM HAD AND HAS NO PLACE IN CHINA, WILL BECOME EXTINCT IN A ROMNEY US, AND IS IN TROUBLE IN ISRAEL AS WELL.
————————————————————————————————-
Damon Winter/The New York Times
President Obama cast his early ballot Thursday in Chicago.
————————————————————————————————–

from Uri Avnery's Column
THE MAN WITH THE UZI.
October 20, 2012 (after the Second US Presidential Debate and before the Third.
THERE WAS this young Israeli who was captured by cannibals. They put him in the cooking pot and were about to light the fire, when he expressed one last wish: "Please box my ears!"
When the cannibal chief obliged, the Israeli jumped up, leveled his Uzi and mowed down his captors.

"If you had the Uzi all the time, why didn't you use it before?" he was asked.
"I can't do this unless I am angry," he replied.
BARACK OBAMA's debating performance reminds me of this joke. At the first confrontation he was listless and lifeless. He just wanted the silly thing to end.
During the second debate, he was a changed man. Energetic. Aggressive. Decisive. In short: angry.
When the confrontation started, it was 3 a.m. in Israel. I could have recorded it and watched it later. But I was unable to wait. My curiosity got the better of me.
Of course, this whole performance is silly. There is no connection at all between talent as a debater and the ability to lead a nation. You can be an outstanding polemicist and unable to conduct a rational policy. Israelis have only to look at Binyamin Netanyahu. You can be a purposeful leader, and fail utterly at expressing yourself. YItzhak Rabin, for example.
Yet Americans insist that their leaders demonstrate their prowess as debaters as a condition for being elected. It somehow reminds one of the single combats of antiquity, when each side chose a champion and the two tried to kill each other, in place of mutual mass slaughter . David and Goliath spring to mind. It's certainly more humane.
THE RHETORIC was not directed at the mass of voters. As has been said before, it was aimed at the "Undecideds", a special class of people. The title is supposed to confer some kind of distinction. For me it makes more sense as an expression of contempt. If you haven't decided yet, three weeks before the gong sounds, is that something to brag about?
At this stage of the game, both candidates must be very careful not to antagonize anyone. Which means, of course, that they cannot afford to present any definite, clear cut, opinion on anything, except motherhood and apple pie – or, in Israel, Zionism and gefilte fish.
You must beware of any new idea. God forbid. New ideas create enemies. You may impress a few voters, but most likely you will drive away many more. The trick is to express generalities forcefully.
Gun ownership, for example. Guns kill. In strictest confidence, I might disclose to you that guns are produced for this very purpose. Since you are not likely to be kidnapped by cannibals, why for God's sake keep an Uzi in your cupboard? To keep the Bad Injuns away?
Yet even Obama skirted the issue. He did not dare to come out with an unqualified demand to put an end to this nuisance altogether. You don't mess with the gun lobby. Almost like the pro-Israel lobby. Mitt Romney cited his experience in bringing pro-gun and anti-gun people together to work out a compromise. Like: instead of ten children with assault rifles shooting up their schoolmates, only five per year.
I MUST admit that I didn't quite understand the bitter quarrel about the Benghazi incident. Perhaps you need an American mind to grasp it. My primitive Israeli head just doesn't get it.
Was it a simple terrorist attack, or did the terrorists use a protest gathering for cover? Why the hell does that matter? Why should the President have bothered to falsify the picture this or that way? Israelis know from long experience that after a botched rescue attempt, security services always lie. It's in their nature. No president can change that.
The idea that any country can protect its hundreds of embassies and consulates around the world against all possible types of attack is childish. Especially if you cut their security budget.
Apart from these particular issues, both candidates spoke in generalities. Drill, baby, drill! But don't forget the sun and the wind. Young people must be able to go to college. And get a well-paid job afterwards. The devious Chinese must be shown who's boss. Unemployment is bad and should be abolished. The Middle Class must be saved.
Seems the Middle Class (both in the US and in Israel) makes up the entire population. One may wonder what they are the middle of. One hardly hears of anyone lower or higher on the scale.
In short, both candidates made much of the enormous differences between them, but looked suspiciously alike.
EXCEPT FOR the color of their skin, of course. But do we dare mention that? Not if we want to be politically correct. The most obvious fact of the campaign is also its deepest secret.
I can't prove it, but my feeling is that race plays a much bigger role in these elections than anyone is ready to admit.
In the presidential debates, one cannot get away from the fact that one candidate is white and the other black. One is a WASP (are Mormons protestants?), the other is half black. The difference is even more striking with the two wives. One cannot be whiter than Ann, or blacker than Michelle.
Not mentioning these facts does not make them disappear. They are there. They surely play a role in the minds of many people, perhaps unconsciously.
One can only wonder that Barack Hussein Obama was elected in the first place. It shows the American people in the best light. But will there be a backlash this time? I don't know.
RIGHT FROM the beginning, I felt that Obama would win this debate. And win he did.
In a previous article, I mentioned that I have many misgivings about Obama. An irate reader asked me what they were. Well, Obama has been giving in to the anti-peace agenda of Netanyahu. After some feeble attempts to get Netanyahu to stop the building of settlements, Obama shut up.
Obama must take his share of the blame for the waste of four precious years, during which grievous damage, perhaps irreversible, has been done to Israeli-Palestinian peace. Settlements have been expanded at a frantic pace, the occupation has struck even deeper roots, the Two-State solution – the only one there is – has been seriously undermined.
The Arab Spring, which could so easily have been a new beginning for peace in the Middle East, has been squandered. The Arab peace initiative, which has been lying on the table for years, is still lying there, like a wilted flower.
American inactivity on this problem has deepened the despair of the Israeli peace forces on the eve of our own elections, removing the idea of peace altogether from public discourse.
On the other hand, Obama has prevented Netanyahu from starting a disastrous war. He may have saved the lives of hundreds, even thousands of human beings, Israelis and Iranians, and perhaps in the end Americans. For that alone, we must be profoundly grateful.
I HOPE that Obama wins the elections. Or, rather, that the other guy does not . As we say in Hebrew, drawing on the Book of Esther: "Not for the love of Mordecai, but for the hatred of Haman".
(I am tempted to quote again the old Jewish joke about the mean rich man in the shtetl, whom no one wanted to eulogize as required on the occasion of his death. In the end, someone stood up and said: "We all know that he was mean-spirited, vicious and avaricious, but compared to his son he was an angel.")
This is, of course, a wild exaggeration. I have a lot of real sympathy for Obama. I think that he is basically a decent, well-meaning person. I wish for his reelection, and not only because the opposing ticket is so worrisome.
IF OBAMA is elected, what will his second term look like, as far as we are concerned?
There is always the lurking hope that a President in his second term will be less subservient to the "pro-Israel" lobby – which is in effect an anti-Israel lobby, driving us on towards national disaster.
After being reelected, the second-term President will be relieved of his worry about the lobby, its voters and its money. Not entirely, of course. He will still have to worry about the mid-term congressional elections and about the fate of his party in the next presidential round.
Still, he will have much more leeway. He will be able to do much more for peace and change the face of the Middle East.
As our Arab cousins say: Inshallah – God willing.
###
The four debates between the two large US parties are over but then there are four parties that together could walk away with 5% of the vote and mess up the tables for the two big ones – to the point that they influence the results in some swing States. These little four have their own debate tonight in Chicago and the moderator is Larry King.
Previewing the third-party presidential candidates debate.
Posted by Sean Sullivan of the Washington Post, October 23, 2012 before the debate.

THEN UPDATED BY US BASED ON THE POST-DEBATE ARTICLE OF THE WASHINGTON POST FIX. ALSO – PLEASE NOTE THAT A SECOND DEBATE – BETWEEN THE TWO TOP INTERNET-VOTING ACHIEVERS – WILL BE HELD IN WASHINGTON DC on TUESDAY, OCTOBER 30, 2012.

Third-party presidential candidates rail against Obama and Romney at debate (VIDEO)
CHICAGO — Away from the bright lights and fanfare of the just-completed presidential debates, four third-party White House hopefuls debated Tuesday night, coming from starkly different political perspectives, but uniting in agreement that neither Mitt Romney nor President Obama can solve the nation's biggest problems.
A day after Obama and Romney debated for the final time, the long-shots took a turn. Here in a hotel ballroom just a block from Grant Park — where Obama delivered his victory speech in 2008 – they addressed many of the same issues the major party candidates have wrangled over — the economy, foreign policy, education — but also addressed matters, such as drugs, that have not been a focal points in the race between Obama and Romney.
Gary Johnson, the Libertarian Party nominee, earned the loudest applause during the debate's opening moments. He railed against the domestic and foreign policy proposals both major party candidates have put forth, and called for the legalization of marijuana.
"In no category is marijuana more dangerous than alcohol," said Johnson, a former governor of New Mexico who also wants to abolish the Internal Revenue Service and do away with income and corporate taxes in favor of an expenditure tax.
Johnson also railed against the length of the war in Afghanistan. "I thought initially that was totally warranted," he said, before adding that we should "have gotten out of Afghanistan 11 years ago."
The former governor saved perhaps his most memorable line of the night for the end of the debate, when he declared, "Wasting your vote is voting for somebody that you don't believe in. That's wasting your vote. I'm asking everybody here, I'm asking everybody watching this nationwide to waste your vote on me."
Constitution Party nominee Virgil Goode, a former Virginia congressman and hard-line anti-immigration candidate, proposed a moratorium on green card admissions into the United States until unemployment falls below five percent nationally. He earned only a smattering of cheers when he pitched his plan.
Green Party nominee Jill Stein and Justice Party nominee Rocky Anderson rounded out the lineup on stage. Stein, who ran for governor of Massachusetts against Romney in 2002, called for free public higher education. "Let's bail out the students," she declared.
The candidates largely kept things cordial with each other during the debate, but there were disagreements from time to time. Goode was at odds with Johnson's call to legalize marijuana. Stein and Anderson disagreed with Johnson and Goode on education spending.
The debate was moderated by former CNN host Larry King and presented by the nonpartisan Free and Equal Elections Foundation. Individuals submitted the questions via social media. The issues ranged from drugs, to the economy, foreign policy, and civil rights.
Absent here were the pre-game formalities that colored the much higher-profile debates between the president and his Republican challenger. There were no cable network countdown shows and no well-known pols reporting for surrogate duty. While the debate was streamed live online, the TV networks didn't air it.
Time and again, the candidates expressed their dissatisfaction with both Romney and Obama. Goode blasted both Rep. Paul Ryan's (R-Wis.) budget plan and Obama's. Stein said neither candidate offered an acceptable way forward on the issues that matter.
"Things are not working and there is not a single exit strategy on the table being offered by Mitt Romney or Barack Obama," Stein said in an interview before the debate.
At best, the four candidates who appeared together Tuesday are each expected to compete for single-digit percentage shares of the vote in the states where they will appear on the ballot. Not one has made a dent on the national radar akin to the success Texas billionaire Ross Perot found in 1992, when he carried nearly 20 percent of the popular vote. Goode, Johnson, and Stein each claimed one percent support in an early September Gallup poll of national adults.
But even if they only attract nominal enthusiasm, these longest of long-shots could become entangled in the race between Romney and Obama. Johnson will appear on the ballot in 48 states, including some key battlegrounds with independent streaks, where his blend of fiscal conservatism and distinctly libertarian social views could make him a compelling alternative for conservative voters not wedded to voting for Romney.
In Colorado, New Hampshire, and Nevada, in particular, Johnson could be a thorn in Romney's side if the election is close. Johnson received just two percent support in a recent Suffolk University/News 7 survey of those likeliest to vote in New Hampshire. But the poll also showed Johnson hurt Romney more than Obama.
"Politics is full of ironies. Gary Johnson voters are predisposed to voting against the incumbent president, but Johnson's presence on the New Hampshire presidential ballot is actually helping Obama," said David Paleologos, director of the Suffolk University Political Research Center.
If Virginia is exceptionally close, Goode, despite attracting just two percent support in a mid-September Washington Post poll of Virginia voters, could be an also-ran to remember, causing some discomfort for Romney supporters. The state Republican Party tried to keep Goode out of the mix altogether earlier this year, alleging issues with the signatures he submitted to the state Board of Elections to get on the ballot.
Goode survived the scrutiny. Now, the former Democrat-turned-Republican-turned-independent congressman — who could benefit from residual name identification in the southern part of the state — threatens to steal support from Romney at the margins, potentially costing the Republican big in a tight race.
When asked before the debate about the possibility that he might play the role of spoiler, Goode said he was focused on policy matters. "I am focusing on issues. I want to balance the budget now. Romney and Obama do not," he said.
The biggest question at the end of Tuesday night's debate may have been who won. A spokesperson with the Free and Equal Elections Foundation said that viewers will have a chance to vote for their favorite candidate during the next 24 hours, and the top two vote-getters will debate once more this election season in Washington next Tuesday.
=====================================================================
THE FIRST POSTING WAS:

CHICAGO — President Obama squared off against Mitt Romney for the final time Monday night, but debate season in the presidential campaign isn't quite over.
Four third-party candidates will take their turn here Tuesday night in a debate that should be filled with policy and political positions as different as can be from one another.
Constitution Party nominee US Congressman Virgil Goode – now Independent – previously Democrat then Republican – (Brendan Smialowski/AFP/Getty Images)
Libertarian Party nominee Gary Johnson, Green Party nominee Jill Stein, Constitution Party nominee Virgil Goode, and Justice Party nominee Rocky Anderson will participate in a session moderated by former CNN host Larry King will moderate and hosted by the nonpartisan Free and Equal Elections Foundation.
None of the four candidates are strangers to politics. Johnson served two terms as governor of New Mexico and pursued the Republican presidential nomination in 2011 before opting for the Libertarian nod. Goode represented a central Virginia district in Congress as a Democrat, independent, and Republican. Anderson was the mayor of Salt Lake City, Utah, while Stein ran against Romney in the 2002 Massachusetts governor's race.
While each candidate has his or her share of loyal followers, polling shows they have barely registered a blip on the national radar. Goode, Johnson, and Stein each claimed one percent support in an early September Gallup poll of national adults. Johnson registered three percent support in an early September CNN/ORC survey of those likeliest to vote.
If the race between Obama and Romney is very close in some key swing states that have independent and libertarian streaks, Johnson's presence on the ballot could affect the Obama-Romney matchup. In particular, Colorado, New Hampshire and Nevada are the battlegrounds where Johnson could prove a nuisance to his major party competition.
A survey of the Colorado race conducted last week by Democratic automated pollster Public Policy Polling showed Johnson pulling four percent support, while a recent Suffolk University survey showed the former New Mexico governor pulling 2 percent support in New Hampshire.
We'll have a complete wrap of the debate — which begins at 9 p.m. ET – later tonight right here on The Fix.
www.washingtonpost.com/blogs/the-fix/wp/2012/10/23/previewing-the-third-party-presidential-candidates-debate/
You can also follow the debate in real time on Election 2012, where we'll live blog it. We'll also aim to bring you short dispatches throughout the day on Election 2012 and Twitter.
###
from: Jamie Henn - 350.org organizers at 350.org
For the first time in 24 years, climate change didn't come up once in the presidential debates.
That's after a year of record floods, crippling droughts, and unprecedented Arctic melting.

Beginning November 7, the day after the election, Bill McKibben and the 350.org team are going on tour to put climate back on the agenda in a big way. We're hitting 20 cities coast to coast to build a movement that our politicians can't ignore.
If you're as fed up with the silence as I am, I'd like to invite you to be there with us.

Click here to get a ticket for the event near you in New York City: act.350.org/signup/nyc-do-the-math/
The fossil fuel industry is spending over $150 million in this election—money that we'll never be able to match.
Starting Nov. 7th, we'll be fighting back with creativity, passion, and conviction.

It's time to get loud,
Jamie
---
350.org
is building a global movement to solve the climate crisis. Connect with us on
Facebook
and
Twitter
, and
sign up for email alerts
. You can help power our work by getting involved locally.
###
---
Monday's Debate Puts Focus on Foreign Policy Clashes
By
DAVID E. SANGER  of the new York Times – in the paper and on his blog.

This debate is about how America deals with the world — and how it should.
But for now, here is a field guide to Monday's debate.
Mr. Romney has said he would not allow Iran to have any enrichment capability at all — something it is allowed under the Nuclear Non-Proliferation Treaty as long as it is abiding by the treaty's rules — a position that would kill any talks. But Mr. Obama does not want to say the obvious: that he is willing to allow Iran to hold onto some face-saving enrichment capability as long as it does not retain its stockpiles of medium-enriched fuel, which can be converted to bomb-grade. Also, look for answers to the question of whether the United States would back up Israel if it decided to conduct a military strike against Iran. Mr. Romney wants to show that Mr. Obama has created "daylight" between the United States and Israel; Mr. Obama wants to demonstrate that while he has Israel's back, he is trying to protect the country from taking an action he considers unwise, at least at this stage.
Lots.
===================================================
###
THE INTERNATIONAL INSTITUTE FOR SYSTEMS ANALYSIS – IIASA – Celebrates its 40th Birthday at a Conference in the Rooms of the Austrian Presidency.
—–
Laxenburg, Austria (22 October, 2012)
–
How can science and policy come together to provide solutions to global problems? This week, international scientists, policymakers, and business leaders will come together to discuss our global future, as well as the latest findings from researchers who study global issues, at the IIASA 40th

Anniversary Conference:

Worlds Within Reach – From Science to Policy from 24-26 October, 2012.
—–
The opening session on 24 October features speakers such as Austrian president Heinz Fischer, Nobel prize-winners Thomas Schelling, Carlo Rubbia, and international sustainable business leader Bjorn Stigson.
Media are invited to a press conference following the opening session to ask questions of high-level speakers.

IIASA, the International Institute for Applied Systems Analysis, is an independent research institute that studies problems of global importance. Systems analysis combines detailed modeling work with a broad examination of interconnected areas. At the conference, IIASA scientists and researchers from around the world will present new findings in the areas of energy, climate change, food security, water resources, and ecosystems management.
—–

Highlights:
IIASA Director and CEO Prof. Pavel Kabat will highlight the role of systems analysis in supporting the sustainability goals of Rio+20. He says, "Narrowly focused, single-disciplinary science alone cannot adequately underpin policies and solutions to resolve major sustainability challenges."

IIASA Deputy Director Nebojsa Nakicenovic will describe his vision for a sustainable future, based on IIASA's unique brand of systems analysis. If we can get away from business-as-usual practices and policies, and transform our old systems into sustainable ones, says Nakicenovic, we can find our way to a more equitable and sustainable world.

Keywan Riahi will discuss key findings from the Global Energy Assessment (GEA), the first comprehensive global assessment of energy challenges, scenarios, and pathways for change. The report involved 300 authors and 200 reviewers worldwide, and was made available for free as an online PDF on 20 October, 2012.
Wolfgang Lutz will provide new findings from IIASA's  population projections to 2050, which project a world population of around 9 billion people in less than 40 years' time. The projections have been analyzed by 600 international experts and their views will serve as the "human core" of new IPCC projections.
Michael Obersteiner will show that to balance the need for greater food with preserving the environment and biodiversity, we need a range of new efforts from  individual lifestyle changes, shifts in human diets, to scientific inquiry that improves our understanding of land cover. Improving data about land cover can help lands be managed more intelligently to preserve the biosphere while also providing sufficient material goods for our survival and wellbeing.
Zbigniew Klimont will speak about recent findings of 14 "win-win" measures that would simultaneously benefit the climate, the environment, and human health. These measures must supplement, not replace efforts to reduce greenhouse gas emissions, says Klimont.
Sabine Fuss will present research showing how climate change will create more instability in many areas that link to food production, such as water, weather, and land use. Fuss' research examines a variety of solutions geared towards several different climate scenarios, but finds that there is no one single solution that works across all possible scenarios.
David Wiberg will discuss the new World Water Scenarios project, a joint effort coordinate by IIASA, UNESCO, and other groups. The project defines a variety of scenarios, working with stakeholders and scientists to include the many factors, from climate, population, and agriculture, to determine how much water might be needed, and how much water will be available in 2050.  The project aims to provide a toolbox for decision-making at local and international levels.

Details
:
The conference program is available at conference2012.iiasa.ac.at/program.html
A Media Kit will soon be available with story ideas, contact information, speaker information, and more. conference2012.iiasa.ac.at/media_kit.html
The conference will be livestreamed via the web site:  conference2012.iiasa.ac.at/stream.html
======================================================
On Wednesday, 24 October, media are invited to a press conference with speakers from the IIASA 40th Anniversary Conference.
Date: 24 October 2012
Time: 11:00-11:45
Location: Press Room, Hofburg Palace, Vienna
Q&A Session with High Level Speakers & Dignitaries
During the opening session of the IIASA Conference on 24 October, attendees will hear discussions from top policymakers and scientists. These three sessions will provide the background for the conference, and set the stage for more detailed discussions of global issues and potential solutions. Speakers in this session will address science and policy support for global transitions to a more sustainable and equitable world.
Following the first opening session, from 11:00 to 11:45, journalists will have the opportunity to participate in a Question and Answer session with key speakers from the three opening sessions. The press conference will include the following speakers:
Pavel Kabat is Director and CEO of IIASA, the International Institute for Applied Systems Analysis. He argues that a systems analysis approach – science that takes a broad view of issues and their interconnections – is key to solve global problems.
Nebojsa Nakicenovic is Deputy Director of IIASA. Says Nakicenovic, if we can get away from business-as-usual practices and policies we can find our way to a more equitable and sustainable future.
Sergey Glaziev is Counselor of the Admninistration of the President of the Russian Federation. He is known for championing social justice and opposing political corruption.
Nina Fedoroff is a professor at Pennsylvania State University and King Abdullah University of Science and Technology. Federoff will discuss how human population growth is putting pressure on the food supply, the environment, and the climate.
Gusti Muhammad Hatta is the Minister of Research and Technology in Indonesia. He believes Indonesia should look to science and technology to add value to natural resources in the country.
Wolfgang Lutz is the head of IIASA's World Population Program. He notes the importance of people in considering sustainability. His research suggests that the world population will grow to 9 billion by 2050.
Thomas Schelling is a Nobel Prize-winning economist at the University of Maryland, where he studies conflict and cooperation in problems such as climate change. Schelling emphasizes that the worst impact of climate change will be on the poor in the poor countries.
Bjorn Stigson,  is the chairman of Stigson & Partners AB, and was until 2011 the president of the World Business Council for Sustainable Development, which he founded. Stigson notes that the business community has a crucial role in the transformation to a sustainable world.
Moderator: Nisha Pillai, former BBC News anchor
===========================================================
###
The Candidates on Energy Policy
Council on Foreign Relations (CFR) Issue Tracker – ENERGY.
Updated: October 21, 2012
The cost and availability of energy resources have become contentious issues in the United States amid slow economic growth and high unemployment. On the presidential campaign trail, Republican candidate Mitt Romney has blamed rising gas prices on President Barack Obama's decision to temporarily block construction of the Keystone oil pipeline from Canada to the United States. Obama, meanwhile, has called for investing in alternative energy sources to reduce U.S. dependence on oil and gas.
Still, both candidates have advocated for a reduction in foreign oil imports and for an expansion of U.S. energy production in order to boost the economy and create new jobs. They also agree that increasing energy independence is critical to national security. However, Obama and Romney are at odds over the role government should play in subsidizing energy production–as well as which sectors should be favored–and regulating its environmental impact.
======================
ENERGY was the subject of two Fareed Zakaria programs on CNN/GPS this Sunday.
The second hour-long program was titled GLOBAL LESSONS and told us for a starter that Bill Gates has a dream – HE WISHES ENERGY THAT IS CHEAPER THEN COAL AND IS CLEAN – this seems to be the only way to solve the problems for our aching world – for the US as well.
President Jimmy Carter has installed solar panels on the White House roof, but they were taken down by the Republican Presidents and never put back up by the Democratic Presidents. Those panels were a mere symbol but let us not fake it – their removal was and is a badge of dishonnor to the US Presidency since Carter.
Fareed did not dwell on this but gave positive examples of forward looking countries.
Denmark, after the 1973 oil crisis unleashed on the world after the Yom Kippur war that the Arabs unleashed against Israel,  decided to climb down from its energy reliance 99% on Middle East oil and developed a wind energy industry that made it independent of oil period – this even though later they found offshore oil and gas. They keep the alternate energy afloat thanks to solid taxation of the gas pump. It is $8/gallon in Denmark and there are no complaints. Vestas is the largest wind energy company in the world. 30% of the electricity in Denmark comes currently from wind power, they intend to bring this up to 50% by 2020 and plan for a totally renewable energy base by 2050. No CO2 emissions from Denmark by that target date – no ifs or buts.
I say this because like everyone else's their wind industry is hurt by competition from government subsidized Chinese products – so without bickering – the Danes understand that they must subsidize their own products so they can compete with the cheaper imports.
Germany developed solar power in particular and surely it is not a very sunny country. What helped was the Feed-in-tariff that obligates an electric company to buy-back of electricity from homes and other solar collector devices. The repayment time for a solar installation is 7 years in Germany and after that it is all the investors gain. This amounts to an income equal to $3000/year after 7 years. The son is the free source of energy and 2% of the Sahara desert could provide energy for the whole world. Germany went solar after the Chernobyl disaster when it was decided not to expand nuclear power. In effect Germany is in the proces of decommissioning its nuclear plants.

France decided to go nuclear  and gets 75% of its electricity this way. After Chernobyl it developed the European Pressurized Reactor (EPR) and never had an accident.
The United States did very little and now fell upon the Fracking Gas – so the system moves on by replacing coal with natural gas that is produced from oil shale strata. This is a step in the direction of a cleaner fuel but it requires serious government supervision of the industry because if gas will come out from water faucets or fires from toilets, that will be the end of this industry – never mind what other pollution occurs to the drinking water from heavy metals and chemicals.
The fifth fuel Fareed talked about is EFFICIENCY or the reduction of the need for fuel. Better insulation of homes, lighter materials for motor vehicles with the introduction of parts made of carbon fiber. Visiting with Amory Lovins at his place in Colorado you see a tropical garden that provides him with bananas and you hear of the 240 miles/gallon vehicle.
In the first program this Sunday Fareed Zakaria hosted Mr. Fred Smith the Chairman and CEO of Fed Ex company who runs 90.000 motor vehicles and 500 planes and who saw his expenses for fuel move up in the last 10 years from 4% to 6%. He said this is a consumption $1300 tax on every American. The country pays for the imported oil $350 billion/year – so the shale gas and oil are going to get the US a turn-around he said.
Then he proceeded and said that the Prius and the Xgevy Volt are great vehicles and a step in the right direction. He also said that now it is 80% cheaper to operate an electric vehicle and the expense is in the vehicle itself – this expense will decrease with better batteries. He spoke of the battery exchange system operated by "Better Place" in Denmark and ended by talking of a great future in aviation for biofuels from algae, urban waste, etc.
Our question is now – will this become part of the US 2012 Presidential Debate on Foreign Policy? The reason why the country was kept in slavery by the oil industry so that it could not follow in the steps of a Denmark or Germany and left in limbo a company like Fed Ex and every single citizen of the US? Will somebody cross his heart and declare he will re-install the Carter panels on the White House roof? Pity there was not a Susan Katz, who asked about President GW Bush, that in a positive way could have asked about the disruption of the Carter efforts on true Energy Independence – the independence from the use of oil?
==============================
But then arrived the CFR primer for the Lynn University – Third and Final 2012 Presidential Debate, and though we all understand that historically Energy means Security and is this was always the most important ingredient of US Foreign Policy, nevertheless no mention of Energy was made in this primer. We did expect from CFR to include questions on energy, though we agreed that climate change and the global environment are no subject for the 2012 US elections – BUT ENERGY?
President Barack Obama and former governor Mitt Romney will face off in Boca Raton, Florida, tonight for the final presidential debate. Here is a nonpartisan guide from CFR and Foreign Affairs on the most salient campaign issues. These and other resources can be accessed on the Campaign 2012 Project page.
The Candidates, In their Own Words
A collection of the candidates' major speeches, statements, and op-eds. Browse the Essential Documents
Comparing the Candidates on the Issues
Fifteen continuously-updated summaries of Obama and Romney's positions on Iran, Pakistan, defense policy, Afghanistan, and other campaign issues. View the Issue Trackers
Get Up to Speed on Foreign Policy
Tonight's Must-Ask Questions
Four CFR fellows weigh in on the questions they believe warrant discussion during the debate. Read the Roundup
Challenges for the Next President
CFR experts look ahead at the foreign policy issues confronting the next president, including Isobel Coleman on foreign aid, Stewart Patrick on the United Nations, and Elizabeth Economy on China. Watch the Video Briefs
How the Election is Viewed Abroad
Experts from South Africa, China, Brazil, Germany, and other countries share their take on the campaign, and what's at stake for each country's relationship with the United States. Browse the Views from Abroad Series
###
The Israeli navy boarded a ship attempting to break the sea blockade of Gaza on Saturday, and planned to take the passengers into custody.

Those aboard the ship were hoping to call attention to the blockade of the Palestinian territory, which has been under an Israeli blockade since 2007.

Vessels attempting to break Israel's blockade of Gaza have sparked controversy — and violence — in the past.

In 2010, an Israeli raid on one flotilla ship resulted in the deaths of nine Turkish activists.

———–

Even while the Prime Minister is considering bringing to his cabinet's approval the report of Judge Edmond Levy, which asserts that the Palestinian territories are 'not occupied', Prime Minister Netanyahu, and his ally and rival Ehud Barak, have  ordered the Naval Commandos on a s resort to force, demonstrating that in effect  there is an occupation, and that the State of Israel is extending this occupation into international waters in the Mediterranean.Among the passengers on the Swedish ship "Estelle", which is now being dragged to the port of Ashdod in Israel, are three Israeli peace activists – Elik Elhanan Reut Mor and Yonathan Shapira. They arrived at the boat a few days ago, going by speedboat from Greece, and dodging the Greek Coast Guard. Along with them came on board the "Estelle" five Members of Parliament, from Sweden, Norway, Spain and Greece.

Estelle's passengers got yesterday a message from the Government of Israel, passed by the Finnish Foreign Ministry, in which they were warned that if they continue on their way they would be taken into custody in Israel and that they might be prosecuted for "illegal entry into Israel." They asked the Finns to relay back their answer – that they have no intention of or interest in trying to enter Israel, and that their sole purpose is to reach the Gaza Strip which is not part of Israel and from whose inhabitants they got an explicit invitation.

Yonathan Shapira wrote that his decision to participate in an attempt to break the siege and bring humanitarian aid to Gaza, is a direct continuation to his taking part, back in 2003, in the "Refuser Pilot Letter". Previous to the publication of this letter, Shapira had served in the Israeli Air Force as a helicopter pilot. Shapiro has been detained in the past when he sailed on "The Jewish Peace Ship" which was stopped off the Gaza shore in 2010.

The question is now how these events will impact the US electioneering debate.

as posted on October 18th:
Swedish Ship to Gaza – Former Israeli Air Force combat pilot evades coast guards in Greece to get on Gaza-bound boat.
Former Israeli Air Force combat pilot boards Gaza-bound boat
Came by motor boat, evading Greek coastguard, greeted with cheers
"Estelle" due at Gaza shore Saturday or Sunday
Activists on board:"Determined to reach Gaza, consent to UN inspection"
Israeli peace activist Yonatan Shapira, who had been a combat pilot in the Israeli Air Force and refused to take part in the bombing of Palestinian cities, has arrived on board the Swedish boat "Estelle" which is making her way towards the coast of Gaza.
When the Estelle passed near the shores of Greece, Shapira and other activists made their way in a motor boat, evading vessels of the Greek Coast Guard which sought to bar their way. "Along with the Greek Coast Guard  we saw a ship which seemed very much like an Israeli Navy vessel, though it did not fly a flag," said Shapira.
He was received with cheers by activists already on board. Shapira had taken part in a similar sailing last year, being taken off by Israeli Navy Commandos near the Gaza shore and spending time in police detention, but not charged with any criminal offence.
Meanwhile, Israel's Ambassador to the UN Ron Prosor has sent a letter calling on the United Nations to stop the Estelle from reaching her destination. To this activists on board respond: "If this means that Israel has decided to cede control over Palestinian territorial waters to the UN, this would actually be a step forward.
The UN and many other representatives of the International Community have for years characterized the siege of the Gaza strip as inhuman and incompatible with International Law.
"Ship to Gaza Sweden" assumes that that UN will not take over the implementation of this policy, by itself preventing a peaceful vessel from delivering humanitarian supplies.
"Ship to Gaza and the Freedom Flotilla have never opposed lawful inspections of cargo and vessel by representatives of the UN, as well as  by national authorities in the ports and waters we have passed through. We welcome further inspections of this kind by the UN, once we have anchored at Gaza City. What we refuse to accept is something which also the UN and the majority of The International Community oppose: The illegal siege of the Gaza Strip, with its devastating humanitarian results."
The Estelle has now set course to Gaza and, weather permitting, is due to get there on Saturday.
Adam Keller, Spokesperson of Gush Shalom, who is in ongoing contact with the Estelle activists, says that Israel's Prime Minister and Defense Minister still have some forty-eight hours' grace to make a wise and courageous decision, and let the Estelle dock at the Port of Gaza – while implementing a thorough UN inspection of her cargo, to which the activists  specifically consent.
Ship to Gaza-Sverige -  www.shiptogaza.se
###
We posted the following on February 17, 2008 (four and a half years ago – still in the GW Bush Presidency days !) and we re-post this again – without any changes -  because of the flack that Al Gore gets now from the Romney campaign. Our own old posting came to our attention because of the amount of new visits it earned in the last few days.
————————-

www.generationim.com/media/pdf-ws… is the reference for a Wall Street Journal Opinion piece (commentary), of March 28, 2006, by Al Gore and David Blood, the cofounders of Generation Investment Management LLP. David Blood is a former Head Of Goldman-Sachs. The Company is based in Washington, London, and will open this year also offices in Melbourne Australia. The President, working out of Washington DC is Peter Knight who has a history of over 30 years of having worked with Al Gore. The company was established already in April 2004. Comprised of a team of 27 people, the company includes 14 investment professionals. Out of profits, 5% are allocated to the Generation Foundation. The Generation Foundation is dedicated to strengthening the field of sustainable development and sustainability research worldwide.
The title of the WSJ article; "For People and Planet" comes about because the two authors believe that capitalism and sustainability are now increasingly interrelated and "not until we more broadly 'price in' the external costs of investment decisions across all sectors will we have a sustainable economy and society." Until now, economists called externalities the costs created by industry but paid for by society. Pollution is such an externality. "The sad thing is that companies have been rewarded financially for maximizing externalities in order to minimize costs" – says the article. For saying this truth, as the joke goes, Generation's founders were deemed as "Blood & Gore" by those that do not want to stare this reality in the face.
Now, with Global Warming upon us, "the interests of shareholders, over time, will be best served by companies that maximize their financial performance by strategically managing their economic, social, environmental, and ethical performance." The "polluter pays principle – PPP – is just one example of how companies will be held accountable for full costs of doing business. Further, companies will have to design products so their clients can compete in a carbon-constrained world. Companies that do the right thing will not do this out of altruism – but this will be the way to make money for their shareholders. Ceres is just   organization that understands this reality ( Ceres is the Coalition for Environmentally Responsible Economies) and is just one NGO that deals with corporate responsibility and comes up with new business strategy. Other such NGOs include the World Resources Institute (WRI) and Transparency International (TI).

www.generationim.com/media/pdf-al… is the link to the May 10, 2005 speech by Al Gore at the Institutional Investors Summit on Climate Risk. That was nearly three years ago. This week's presentation we presented in our own www.sustainabilitank.info/2008/02…
###
News Analysis
For the President, Punch, Punch, Another Punch.
Published: October 17, 2012
He waited all of 45 seconds to make clear he came not just ready for a fight but ready to pick one.
Richard Perry/The New York Times
Mitt Romney and President Obama clashed frequently during the town hall-style debate at Hofstra University. Mr. Obama repeatedly accused his opponent of being untruthful.
Second Presidential Debate: Full Video
President Obama, who concluded that he was "too polite" in his first debate with Mitt Romney, made sure no one would say that after their second. He interrupted, he scolded, he filibustered, he shook his head.
He tried to talk right over Mr. Romney, who tried to talk over him back. The president who waited patiently for his turn last time around forced his way into Mr. Romney's time this time. At one point, he squared off with Mr. Romney face to face, almost chest to chest, in the middle of the stage, as if they were roosters in a ring.
"What Governor Romney said just isn't true."
"Not true, Governor Romney, not true."
"What you're saying is just not true."
For a president teetering on the edge of a single term, making a more forceful case at Hofstra University on Long Island on Tuesday night could hardly have been more imperative. Thirteen days after he took presidential decorum to a Xanax extreme, he tucked away a dinner of steak and potatoes and then went out on stage with plenty of red meat for anxious supporters.
Whether it will decisively reroute the course of the campaign remains to be seen, but the president emerged from the encounter having settled nerves within his panicky party and claiming a new chance to frame the race with just three weeks left.
Heading into the evening, the Obama camp said that he needed at least a draw to mute the commotion over the first debate and drain some of the potential drama from the final meeting next Monday. But the risk, of course, was that an acerbic confrontation could turn off the very swing voters he covets.
The strategy for Tuesday night was clear: undercut Mr. Romney's character and credibility by portraying him as lying about his true positions on issues like taxes and abortion. Time and again, Mr. Obama questioned whether the man on stage with him was the same "severely conservative" candidate who tacked right in the Republican primaries.
He painted Mr. Romney as a tool of big oil who is soft on China, hard on immigrants, politically crass on Libya and two-faced on guns and energy. He deployed many of the attack lines that went unused in Denver, going after Mr. Romney's business record, his personal income taxes and, in the debate's final minutes, his comments about the 47 percent of Americans he once deemed too dependent on government.
"Governor Romney doesn't have a five-point plan," Mr. Obama charged. "He has a one-point plan," which is to help the rich, he said.
He mocked Mr. Romney by noting that he once closed a coal plant as the governor of Massachusetts. "Now suddenly you're a big champion of coal," he said.
As for trade, he said, "Governor, you're the last person who's going to get tough on China."
And he pressed Mr. Romney for not disclosing how he would pay for his tax and deficit reduction goals. "We haven't heard from the governor any specifics beyond Big Bird and eliminating funding for Planned Parenthood," he said.
Mr. Romney held his own and gave as good as he got, presenting Mr. Obama as a failed president who has piled on trillions of dollars of debt, left millions of Americans without work, bungled security for American personnel in Libya, done nothing to reform entitlement programs and deserted a middle class "crushed under the policies of a president who has not understood what it takes to get the economy working again."
But it was Mr. Obama who was the central story line of the night, his performance coming across as a striking contrast to that of his first face-off with Mr. Romney. For days leading up to Tuesday night's encounter, Mr. Obama huddled in a Virginia resort with advisers to practice a more aggressive approach without appearing somehow inauthentic or crossing over a line of presidential dignity. It was a line he would stride up to repeatedly over the course of more than 90 minutes, and some will argue that he slipped over it at times.
Along the way, he ducked some questions. He never directly answered a voter who asked whether it was the government's responsibility to try to lower gasoline prices, instead giving his stump speech on energy. Nor did he respond directly to another voter who asked who denied extra security to diplomats in Libya and why, although he did say, "I am ultimately responsible for what's taking place there."
Nor did he offer an extensive articulation of what his forward-looking agenda would be for a second term beyond, essentially, arguing that electing his opponent would be moving back to failed policies of the past.
His aggressive approach came as no surprise to Mr. Romney's camp. It was clear from the start when Mr. Obama made sure to use the first question — from a college student worried about finding a job — to jab Mr. Romney for opposing the way the president went about the auto industry bailout of 2009.
With each question that followed came another attack. When it was not his turn, Mr. Obama sat on a stool and looked at Mr. Romney as he talked, rather than staring down and taking notes as he did in Denver. There was little smirking, though he did project at times an air of tolerant dismissal.
Evidently intent on redeeming himself by getting in all the points he failed to get in last time, Mr. Obama pushed right past time limits and at one point even refused to yield when the moderator, Candy Crowley of CNN, tried to rein him in.
"I want to make sure our timekeepers are working," he complained when she tried to stop him on another occasion — never mind that at that point CNN's time clock showed that he had spoken 19 minutes and 50 seconds, compared with 17 minutes and 17 seconds for Mr. Romney.
By the end, he had dominated the clock, consuming 44 minutes and four seconds to 40 minutes and 50 seconds for Mr. Romney.
If that sort of score keeping gave it the feel of an athletic competition, Mr. Obama might not object. Aides and friends have long said he is a clutch player on the basketball court, the kind who turns in listless performances during practice but raises his level when the game is on the line.
The game was on the line Tuesday night, and he scored some points. But the final buzzer is still 20 days away.
=============================================================
A Night of Laughs Amid a Bitter Run for President.
Angry e-mails from conservative Christian organizations flooded Cardinal Timothy M. Dolan's in-box in August, after he announced that he had invited President Obama, along with Mitt Romney, to speak at the New York Archdiocese's biggest charity gala of the year, despite the church's differences with the president over contraception, abortion and same-sex marriage.
Beth Keiser/Associated Press

Archbishop Edward M. Egan separated George W. Bush and Al Gore in 2000 at the Al Smith Dinner.
Alfred E. Smith IV is master of ceremonies for the charity dinner, which honors his great-grandfather, a four-term governor.
But something else also kept flooding in: donations. The archdiocese's Alfred E. Smith Memorial Foundation, which will host the glittering dinner at the Waldorf-Astoria Hotel on Park Avenue on Thursday, is on track to raise more than $5 million in a single night for charities that assist poor and needy children in the archdiocese, a record for the event, said Alfred E. Smith IV, who is the master of ceremonies in honor of his great-grandfather, the first Roman Catholic to be nominated by a major party for the presidency.
"You know, you are never going to please the people on the far left; you are never going to please all the people on the far right," Mr. Smith said in an interview, adding that he knew of no donors who had decided not to come because of Mr. Obama's attendance. "Everyone should be happy that we are able to pull this off to help so many people."
Through its 67-year history, the annual Al Smith Dinner, as it is known, has attracted attention every four years as a lighthearted pit stop for presidential candidates in the heated final weeks of the campaign. For one evening, the candidates are supposed to put aside their differences and showcase their ability to vie for laughs, as well as votes, as they poke fun of themselves and each other to benefit charity.
The dinner, which this year comes just after the two candidates aggressively debated Tuesday night, will give Mr. Obama and Mr. Romney a chance to show voters that they can also be gracious and human.
"Last night, it was punch, punch, punch," Thomas J. Moran, the chairman of Mutual of America Life Insurance Company and a foundation board member, said Wednesday. "And now we will get to see how good they are with punch line, punch line, punch line."
Differences between the church and Democratic candidates have affected the dinner in the recent past, particularly when the archdiocese withheld invitations to John Kerry and Bill Clinton because of concern over their support for abortion rights. But this year, even though the archdiocese is suing the Obama administration over a contraception coverage mandate that applies to some employees of Catholic institutions, there was no discussion of withholding an invitation to the president, Mr. Smith said.
In response to critics, Cardinal Dolan, who is the archbishop of New York, wrote in a blog post that he wanted to be civil and inclusive. "If I only sat down with people who agreed with me, and I with them, or with those who were saints, I'd be taking all my meals alone," he wrote.
Cardinal Dolan, a talented quipster who frequently speaks of the importance of humor, will close the event. He has already played cameo roles in the campaign this year: he delivered benedictions at the Democratic and Republican conventions. "I think the fact that it is a Catholic archbishop who is the facilitator for bringing together the two opponents speaks volumes," his spokesman, Joseph Zwilling, said.
The event this year will have 1,600 attendees, who are paying at least $2,500 per head. (Some well-situated tables can cost up to $100,000.) Lamb will be served under the glow of crystal chandeliers, and the white-tie-clad guests on the tiered 70-person dais, including the candidates, are expected to linger at the dinner for its five-hour duration.
Though billed as nonpolitical, Mr. Smith said, the event has become an opportunity for political, labor and business leaders to chat and make deals. Among those listed on the dais this year are Mayor Michael R. Bloomberg, Gov. Andrew M. Cuomo and Senator Charles E. Schumer, as well as the journalists Katie Couric and Chris Matthews.
The event's $600,000 cost is covered by the board members of the Al Smith Foundation, meaning that the guests' donations will go entirely to the 13 charity organizations serving children and families in the archdiocese, like Good Shepherd Services in communities throughout New York City, Incarnation Children's Center in the Bronx, and the Elizabeth Seton Pediatric Center in Yonkers, Mr. Smith said.
In all, the money raised this year easily topped the $4 million record the dinner set in 2008, when Mr. Obama and John McCain took a break from the bitterness of their election battle to show off their humor.
"Even in this room full of proud Manhattan Democrats, I can't shake that feeling that some people here are pulling for me," Senator McCain said in his speech, quickly adding, "I'm delighted to see you here tonight, Hillary" — in a nod to Hillary Rodham Clinton, whom Mr. Obama had defeated in the Democratic primary.
The dinner was first held in 1946 by Cardinal Francis J. Spellman to honor the memory of Alfred E. Smith, a four-term Democratic governor of New York who ran for president in 1928. (Governor Smith died in 1944.) Its original fund-raising goal was to raise money for a new 16-story building for St. Vincent's Hospital Manhattan. But the dinner's tradition of bringing together politicians for charity quickly grew.
In 1960, John F. Kennedy and Richard M. Nixon became the first pair of candidates to attend in an election year, trading self-deprecating quips as television cameras rolled. Since then, five other sets of presidential candidates have taken the stage, including George W. Bush and Al Gore in 2000 and George Bush and Michael S. Dukakis in 1988.
One of the biggest surprises of the night is often how adept at comic timing even the most serious of candidates can be.
"Quite honestly, I didn't think Al Gore could ever be funny, and he certainly managed," said Mr. Moran, the foundation board member.
AND THAT WAS IT WHAT STARTED THE SERIES:

Joseph Scherschel//Time Life Pictures via Getty Images
John F. Kennedy and Richard M. Nixon, flanking Cardinal Francis J. Spellman, spoke at the Al Smith Dinner in 1960. It was the first year a pair of presidential candidates attended the dinner and exchanged quips.
======================================================================
Today's Schedule of President Barack Obama:
All times are Eastern Daylight Time (EDT).
9:35 AM: The President departs the White House en route Joint Base Andrews
9:50 AM: The President departs Joint Base Andrews
11:10 AM: The President arrives Manchester, New Hampshire
11:55 AM: The President delivers remarks at a campaign event
1:05 PM: The President departs Manchester, New Hampshire
2:00 PM: The Vice President delivers remarks at a campaign event
———————–
The New York City stop -
2:10 PM: The President arrives New York City
3:30 PM: The President tapes an appearance on "The Daily Show with Jon Stewart"

4:20 PM: The President attends a campaign event
7:55 PM: The President delivers remarks at the 67th Annual Alfred. E. Smith Memorial Foundation Dinner.

10:35 PM: The President departs New York City
———————–

11:30 PM:
The President arrives Joint Base Andrews
11:45 PM: The President arrives the White House
=====================================================================

But really much has changed in the last few years except Mr. Romney and some of his backers. The Church's position on abortion is not the only issue that separates the candidates – look at the general topic of Equal Rights as in today's New York Times editorial. Can the church keep pace with advances of equality?

The New York Times Editorial
Mr. Romney's Version of Equal Rights
Published: October 17, 2012
It has dawned on Mitt Romney that he has a problem with female voters. He just has no idea what to do about it, since it is the result of his positions on abortion, contraception, health services and many other issues. On Tuesday night, he bumbled his way through a cringe-inducing attempt to graft what he thinks should be 2012 talking points onto his 1952 sensibility.
——

——-
In the midst of their rancorous encounter at Hofstra University, President Obama attacked Mr. Romney for vowing he would end federal support of Planned Parenthood and for criticizing the provision in the health care law that requires employers — except churches and religiously affiliated institutions — to provide insurance coverage for contraceptives.
Clearly agitated, Mr. Romney said in response, "I'd just note that I don't believe that bureaucrats in Washington should tell someone whether they can use contraceptives or not, and I don't believe employers should tell someone whether they could have contraceptive care or not. Every woman in America should have access to contraceptives."
Perhaps Mr. Romney forgot that he vetoed a bill as Massachusetts governor in 2005 that would have given women who were raped access to emergency contraception, or that he supported an amendment this year that would have allowed any business to opt out of the contraceptive mandate, or that he has said he would support a state constitutional amendment that would declare that life begins at conception — potentially making some kinds of contraceptives illegal.
Perhaps Mr. Romney was trying to say that the issue is who pays for contraceptives, not whether women can use them. But all those possibilities are just reminders of how hard it must be for him to remember where he stands at any given moment.
In any case, you cannot untangle access and money. Mr. Romney's stated zeal to "defund" Planned Parenthood is either a rote ideological posture or a belief that it is right to end the federal support that gives many poor women access to mammograms, cervical cancer screening, family planning and other services. As Mr. Obama said: "That's a pocketbook issue for women and families all across the country. And it makes a difference in terms of how well and effectively women are able to work."
Having fumbled that one, Mr. Romney made things worse when he tried to talk about equal opportunity for women, which was made much harder by his opposition to the Lilly Ledbetter Fair Pay Act. He told a strange tale of his early days as governor of Massachusetts when he "had the chance to pull together a cabinet and all the applicants seemed to be men." He said he went to his staff about it and was told that "these are the people that have the qualifications."
So far, not so terribly bad.
But then he started a slow, painful slide into one of the most bizarre comments on this issue we've ever heard, which became an instant Internet sensation. "We took a concerted effort to go out and find women who had backgrounds that could be qualified to become members of our cabinet," Mr. Romney said, sounding as if that were a herculean task. An appeal to women's groups, he said, "brought us whole binders full of women."
This was important, he said, because "I recognized that if you're going to have women in the work force that sometimes they need to be more flexible. My chief of staff, for instance, had two kids that were still in school."
At this point we could practically hear his political consultants yelling "Stop!"
But Mr. Romney did not. "She said, I can't be here until 7 or 8 o'clock at night. I need to be able to get home at 5 o'clock so I can be there for making dinner for my kids and being with them when they get home from school."
Flexibility is a good policy. But what if a woman had wanted to go home to study Spanish? Or rebuild an old car? Or spend time with her lesbian partner? Would Mr. Romney have been flexible about that? Or if a man wanted similar treatment?
True equality is not satisfied by allowing the little lady to go home early and tend to her children.
=================================================
AND YET BEFORE THE CHARITY EVENT – NOT SO CHARITABLE NOTES:
---
Blunders and Binders.
By
CHARLES M. BLOW for The New York Times

Richard Perry/The New York Times
Now that's what I'm talking about.
Tuesday's debate went the way folks thought the first one would: with President Obama outmaneuvering Mitt Romney, defending his own record forcefully and not letting Romney slip away from his. Obama called Romney out on things that were "not true" — a phrase he used in some form at least six times. Romney, for his part, committed unforced errors, as is his wont.
The contest was a clear victory for Obama. Not a devastating loss for Romney, but a clear win for the president. Now the world makes sense again. Crestfallen Democrats took a breath. Giddy Republicans stopped walking on air.
Can someone get this man a binder full of facts?
The president came into the debate with lowered expectations, but he exceeded them. According to the Pew Research Center, people expected Obama to outperform Romney in the first debate by a margin of 51 percent to 29 percent. But after Obama performed like he was catatonic and Romney performed like he was over-caffeinated, things changed. The performance expectation gap going into the second debate was negligible, with just 41 percent thinking Obama would do better and 37 percent thinking Romney would win the day.
The president performed brilliantly, with force, verve and agility. As we used to say down south: he showed up and showed out. The base loved it.
Even the snap polls, which I take with a grain of salt because they can tilt Republican in their samples, gave the edge to Obama.
This time, it was Romney who did himself damage.
He completely flubbed his line of attack on Benghazi.
Then there was Romney's odd "binders full of women" comment about seeking suggestions from women's groups to "find women who had backgrounds that could be qualified to become members of our cabinet" when he was governor of Massachusetts.
He was laboring to avoid answering the actual question about pay equity for women.
But, according to David Bernstein of the Boston Phoenix, not even that dodge is true:
What actually happened was that in 2002 — prior to the election, not even knowing yet whether it would be a Republican or Democratic administration — a bipartisan group of women in Massachusetts formed MassGAP to address the problem of few women in senior leadership positions in state government. There were more than 40 organizations involved with the Massachusetts Women's Political Caucus (also bipartisan) as the lead sponsor. They did the research and put together the binder full of women qualified for all the different cabinet positions, agency heads, and authorities and commissions. They presented this binder to Governor Romney when he was elected.
Can someone get this man a binder full of facts?
Romney has spent the last few weeks shedding his "severely conservative" plumage like the feathers from a molting chicken. But on Tuesday night the president reminded voters of who his challenger was a few months — and a few years — ago. The picture that emerged was Whiplash Willard, a man you can never truly love and about whom you can always find something to loathe.
The master stroke came at the end. Answering the final question, Romney offered a defense against an assault that had not yet been levied, a defense he had rehearsed for the attack he anticipated over his negative comments about the 47 percent. But Obama didn't level this attack until his very last comment, when Romney could not respond. Crafty.
Even stylistically, Romney hit the wrong notes.
There is a fine line between feistiness and testiness. Romney has never negotiated that line well in debates and last night he fell over it again. At one point he scolded the president — the president of the United States! — "you'll get your chance in a moment. I'm still speaking."
Regardless of how it may have felt in the hall and how his base may have received his abrasive behavior, to most others watching it was déclassé and indecorous. When you're challenging a sitting president for his job, you have to respect the office, even if you don't respect the man.
Romney also kept standing when the president was speaking. They both did this at times, but Romney did it so consistently that at one point moderator Candy Crowley had to instruct him to take a seat. So much for all that debate training teaching him how to sit on a stool.
The overall impression left by the debate was of a president once again in control and a challenger out of control.
It is too soon to say whether or not this will arrest Romney's rise in the polls. But it definitely re-energized the president's supporters.
###
The Short News: During the Hofstra Debate, a forceful Obama defended his record and challenged Romney on shifting positions for 47 minutes of the  90-minute debate, arguing his Republican rival's policies would favor the wealthy if elected.
Romney repeatedly attacked Obama's record, saying millions of unemployed people and sluggish economic recovery showed the president's policies had failed.
Obama was more animated and engaged than his understated and widely panned performance in their first debate nearly two weeks ago.
Romney lost the debate because of his insistence to criticize the Obama Administration and the President for what he called a late recognition that the killing of the US Ambassador to Libya was an act of terrorism.

A third and final presidential debate focusing specifically on foreign policy will take place October 22nd  in Florida – at Lynn University in Boca Raton, Fla. The moderator is Bob Schieffer, chief Washington correspondent for CBS News and moderator of "Face the Nation."
============================================================================================================
The Washington Post evaluation of the Romney Libya debacle:
"Toward the end of the second presidential debate on Tuesday night, the controversy over Libya was threatening to cast a pall over what had otherwise been a much-improved debate performance by President Obama.
By the end of the exchange over the issue, though, it was clear that Libya was not going to be Obama's next undoing – and in fact, the moment probably cost Mitt Romney the most.
Asked a tough question about who is to blame for a lack of security at the U.S. consulate in Benghazi, where Ambassador Chris Stevens and three others were killed, Obama did what he had to: say the security of Americans' overseas rests on his shoulders.
You could almost see Romney licking his chops. He proceeded to criticize Obama for holding a fundraiser the day after the attack and for not calling it an act of terror for two weeks.
But what followed was about the best Obama could have hoped for out of the exchange.
After Obama devoted some time to a stern and direct rebuke of Republicans and Romney for politicizing the issue – Obama looked directly at Romney while doing this, and it played well – Romney took his turn.
Romney took issue with Obama's statement that he had called the attack an act of terror the day after it occurred. Romney even asked for Obama to repeat the claim, believing he had caught him in a lie.
Instead of trying to explain the exchange, let's just go to the transcript:
ROMNEY: I think it's interesting the president just said something which — which is that on the day after the attack, he went into the Rose Garden and said that this was an act of terror.

OBAMA: That's what I said.

ROMNEY: You said in the Rose Garden the day after the attack, it was an act of terror? It was not a spontaneous demonstration? Is that what you're saying?

OBAMA: Please proceed, governor.

ROMNEY: I want to make sure we get that for the record, because it took the president 14 days before he called the attack in Benghazi an act of terror.

OBAMA: Get the transcript.
At that point, debate moderator Candy Crowley inserted herself into the debate in a big way, pointing out that Obama had, in fact, referred to terrorism at the Rose Garden press conference.
(Here's Obama's quote: "No acts of terror will ever shake the resolve of this great nation, alter that character, or eclipse the light of the values that we stand for.")
Crowley interjected: "He did, in fact, sir (call it an act of terror)."
Obama, clearly pleased with how the exchange had panned out, then offered: "Can you say that a little louder, Candy?" And she did.
For a second, the air went out of the room, and a key GOP attack was rendered less effective.
Now, Republicans will argue today (and argued late Tuesday after the debate) that Obama didn't directly label the attack in Benghazi as terrorism in the Rose Garden, speaking only broadly about terror. They will also note that, for two weeks thereafter, he didn't use the word "terror" while discussing the tragedy.
(Crowley even acknowledged this after the debate.)
But the fact is, instead of having a policy argument about what Obama did or didn't do for Americans in Benghazi and how he handled the situation in the days after it occurred – a very tough issue and one that will undoubtedly be a major theme of the foreign policy debate next week – we're going to have a process argument over whether Romney flubbed his attack on the issue and when exactly Obama called the attack "terrorism."
And in a debate that was otherwise pretty tight (a CNN poll after the debate showed 46 percent thought Obama won and 39 percent said Romney won), the exchange over Libya turned out about as well for Obama as he could have hoped.
The question now is whether it remains a potent line of attack for the debate next week. It very well might be, but this is at least a momentary problem for the Romney campaign on an issue that otherwise will be tough for Obama to handle.
Republicans can still argue that Obama refused to use the word "terror" for two weeks and that he placed the blame on a spontaneous event rather than a coordinated attack. And that's potent.
But for Romney, whose foray into foreign policy in the 2012 presidential race often hasn't gone well, the moment served as an unhelpful side story."
Full transcripts of the debate can be found on the CPD (The Commission on Presidential Debates) website - www.debates.org
The President's annual salary is $400,000 plus a $50,000 expense account, a $100,000 nontaxable travel account and $19,000 for entertainment.
Why would Mr. Romney want this kind of job when he makes easily 20 million dollars for which he pays just 14% in taxes?
=============================================================================================================
Our own impressions of what went on at Hofstra this day:
On campus, the AARP, C-Span, Sirius XM radio, and MSNBC have taken over the Student Center and the East Parking Lot, and dominated the activities at the Students Center at what was defined as Issue Alley. Students were walking around with placards said FORWARD for BarackObama.com and America's Comeback Team for MittRomney.vom – I also spotted a Gary Johnson, of the Libertarians  hand written placard while others marched around in a historic Jazz band format.
For fun I explained to a group of students that while the Obama people have a Forward looking perspective of four years with their candidate, it is them, the campus Republicans, that seem to pronounce a wish to return to the G.W. Bush years that are not very popular. So why not go back to the Madison Avenue advertisement consultants who have sold them on this rotten herring that will not help make popular their cause and ask for money-back.
At the Maurice A. Deane School of Law there was a full day teach in on – "How Should the Next President Balance Civil Liberties,Human Rights and National Security?"
"What Should the Next President Do to Defuse the Student Debt Bomb?'
and "Where Should the Next President Take Our Health Care System?"
At 3:15 PM the 250- 300 students that won the Lottery, among more then 6500 applicants, started lining up outside the Hofstra USA building to get the buss ticket to the 5 minutes buss ride to the sports arena where the debate will start at 9:01 PM.
My own activity started at the Students Center with the participation at a 4-5:30 PM panel discussion on "PRESIDENTIAL POLITICS, US FOREIGN POLICY and NATIONAL SECURITY" that was set up by Professor Meena Bose, the Director of the Hofstra U. Kalikow Center for the Study of the American Presidency. The panel included Senior Presidential Fellows of the Kalikow Center – Dr. Howard B. Dean III, a medical doctor and  the 12 year governor of Vermont till the 2004 Presidential elections when he ran in the Democratic primary (he then was named Chairman Emeritus of the Democratic National Committee, but currently holds neither elected office nor an official position in the Democratic party), and Stewart M. Patrick, who is also director of the International Institutions and Global Governance Program at the Council on Foreign Relations in Washington DC. Also on the panel the  Ambassador of Canada to the United States since 2009, Gary Doer, who was prior to his appointment  to Washington by Prime Minister Harper was Premier (governor) of Manitoba.
Dr. Dean said that with the rise of China, India, and Brazil the future of the US is in cooperation and not in confrontation. Dr. Dean, four years ago was at Hofstra in charge of organizing the first Presidential Debate that was held on the University.
International Security was the main team of the panel, but then, to my delight, the subject turned to green topics and Renewable Energy.
First we heard about the cooperation of 24 NATO countries and 4 Arab countries in the effort to remove Gaddafy, the Arab Spring and now the problems with Iran and Syria. We heard about Energy Security, the Canada -US cooperation and Energy Independence – Energy Efficiency, car mileage per gallon, and all sources of energy if produced safely. We heard about the future of hydropower electricity and all forms of renewable input in electricity production and electric cars. We heard about climate Change and the failure to put a price on carbon – the fact that we will feel like a frog who does nothing while the water is heating in the pot until he is boiled.
Director Bose said that in 2008 Obama energized the youth with the subject of climate change and this has to do with the long term economic health while Mr. Patrick insisted that energy is the sensitivity now rather then climate and that Obama opened 75% of the offshore drilling- though this is not as much as Romney wanted and is not covering on land drilling, this is the move Romney is talking about. The Ambassador picked up the participation in the Montreal Protocol on the ozone layer that will push down emissions.
The subject turned then to Latin America, Chavez, Correa, Bolivia and Brazil, the reintegration of Columbia into Latin America. The Brazilians watch over Bolivia's Morales.

The student Center Theater was filled with students and media that came over from the media-filing center prepared for the evening's Debate. Lots of questions were asked with many areas opened up – such as the European economy, the future of Pakistan, or the so called Financial Cliff. I congratulated the panel for having addressed the most orphaned topic of the Presidential debates – the question of Sustainable Energy – and mentioned the change of emphasis since Rio 2012 to Sustainable Energy for All and the fact that under UK, and now German leadership, the climate change issue is regarded as a Security issue and asked for the panel's opinion. My question/comment was picked up by Stewart Patrick who at first did not tackle the security aspect, but when I said that what I am thinking about are climate refugees and wars – and that this is not an issue of foreign aid but of direct US security, he picked it up in this new direction without difficulty. In short – I wish that the discussion could be transferred to the Presidential Debate as well.
When this panel discussion ended I continued to occupy my seat for the follow up event that was the debate watch turned into an educational experience headed by University of Kansas Professor Diana Carlin and the Hofstra senior Presidential Fellows – Edward J. Rollins and Dr. Howard  B. Dean III . The Presider was Janet Brown of CPD while Professor Carlin is consider as father of Debate Watch, Rollins coached President Reagan how to relate to campaigns. He told that the Reagan and Mondale teams rejected 90 proposed moderators.
Dr. Dean suggests – forget what is said and watch without sound – look just at the visuals and you get the results accurately this way. Talking about the two contesters this time around – Rollins says that both, in their adds,  have not told you what they want to do, but spend a lot of money in advertisement.

The debates are very important and Carter lost mainly because he did not participate in the debate that had to have John Andersen as well.
Rollins evaluates President Obama as a great orator but poor debater. Obviously – Rollins is a Republican who thinks Obama is too slow and too long winded.
The media is very important and sells advertisement in close campaigns – so the media will reluctantly let someone run away with a clear sense that the election is over.
After these introductions and the suggestion by Professor Carlin of a questionaire she has prepared , time has arrived to watch on the huge screen the debate itself – then post-debate my going over to SPIN ALLEY – that is the empty half of the Media Filing Center where people will be standing with banners naming a Spin-doctor who is ready to speak to the cameras and explain what his or her candidate wants you to leave with.
==========================
Giving credit to the wide media coverage of the event – 3375  credentials issued by the Secret Service including 763 foreign Media counting in 367 Foreign TV – plus a further estimate of 125 online bloggers beyond 114 that had the Secret Service clearance, it is reasonable to assume that our readers know the simple facts of what has happened in the debate from the 3500 media people present, so I will just cherry pick and enhance the point where I might have an exclusive.
The main point of the debate that will influence the voters is the issue of Libya – the accusation that Romney made against the Obama Administration of having been negligent in its describing an act of terror as an act of terror, and the ease with which Obama was able to push this aside as factualy untrue. The arguments are unseemly and President Obama was right in saying that this was offensive – and use appropriate body language.
At Spin Alley I had the chance to ask about this the Republican National Committee (RNC) Chairman Reince Priebus – "my real question is why do the Republicans not include Development of Renewable Energy as a National Security issue and a second question which really is a matter of advice – why does the Governor insist on pointing a finger at the killing of the Ambassador in Libya, when this clearly becomes a turn-off because the voters will rather want to see a united stand and not this biting in the back?"
What I got in reply was that the Governor speaks a lot about energy security by speeding up the oil and gas development, and on the Libyan incident a flat – "Obama is lying " – Priebus looked at the tape and Obama was talking there of 9/11 not Libya – it took him 13 days to cal this a terrorist act. I remarked that when I mentioned energy security I meant a decreased dependence on oil because of the sorce of international oil supplies being in countries that cause trouble, and on Libya, I thought this wil be self defeating to continue this line. He asked for where I am from – I said Sustainable Development and he walked away. I followed up on Renewable Energy with a friendly Republican Spin Doctor who I know has a lot of experience in the Middle East and he told me he has tried to influence the Committee on the importance of non-oil energy but they did not accept his ideas.

Bottom Line: Governor Romney is not alone – it is his party at highest levels that thinks that the electorate is not capable of wise decisions.
—————

For Democratic U.S. Rep. Debbie Wasserman Schultz, thinking about the Third Presidential Debate that will be held in Glorida, I had a different set of two questions:
First "How do you think that the debate tonight will play in Florida and then looking at next week's debate on foreign policy, how will the Libyan issue the way it was brought up tonight influence that debate?"
Congresswoman Wasserman Schultz pointed out the issues of healthcare that are important to people in Florida, as well issues of immigration, education, family … of importance to the Latino population, but she was not ready to touch the Foreign Policy issue which we know is also of the highest importance to the pensioners living in Florida. How will the Middle East play in Florida nxt week?

###