A Stanford Social Innovation Review on Beyond Aid.
This as leaders across sectors convene at the UN in NewYork to discuss the new post-2015 global agenda – the opportunity to collaborate on a new breed of large-scale development projects known as innovative financing has never been brighter.
Imagine you have the opportunity to define how the world develops for the next 15 years. All government projects, nonprofit work, and foundation funding would cater to your agenda. If you are one of the representatives of the 193 United Nations member states currently discussing the new global agenda, your job entails exactly that.
By 2015, when the current development agenda expires, the international community must determine a new set of goals, and how to achieve and fund them. Based on early recommendations from the UN Secretary General's office, this next-generation agenda will probably be more ambitious in scope and cost than the present Millennium Development Goals (MDGs). While the current MDGs focus on a narrowly defined set of eight goals, the new global agenda will likely aim to both end poverty and increase sustainable development across many dimensions.

The proposed new, more ambitious agenda—depending on its scope—will cost approximately $1 trillion annually. This far exceeds current international aid, or overseas development assistance (ODA), which typically hovers around $150 million per year. Even if aid rises to the levels that rich countries pledged they would give per several international agreements—0.7 percent of developed countries' gross national income (GNI)—aid would add up to only about $330 billion annually. Relying purely on current funding channels has proven insufficient (see chart). Rich country government assistance lags far behind the needs of poor and middle-income countries. Even with increased private-sector spending to these countries, funding will not flow to the right areas; the goal of private sector investments is not to reduce poverty and increase development. Left alone, the amount of funding reaching the new development agenda will leave a significant gap; thus, we must look for new, unconventional channels to finance the next round of development funding. As leaders across sectors convene to discuss the new agenda they have a clear opportunity to collaborate on a new breed of large-scale development projects.
Unlocking More Money Through Innovative Financing
Development projects known as "innovative financing" reflect a new way of filling this funding gap. The term, coined in 2002 at a UN conference, refers to projects that raise money for development in new ways and spend money more effectively.
Given a variety of creative names, in truth innovative financing programs take just three different forms: pay only for results, make funding of the development agenda a safer investment, and find new funders.
Variations of innovative financing programs include known mechanisms such as social impact bonds or pay-for-success programs, which are used more and more frequently—research by Dalberg suggests at least a half dozen new initiatives have launched annually, on average, since 2002. To date, these programs have been initiated independently and for an array of causes on an ad-hoc basis.
Development leaders now have the opportunity to apply innovative finance tools on a major scale and in a systematic way; they also have new information on where and how to apply them. The most promising element of innovative financing is its ability to unlock pools of funds from the private sector, which typically finds development projects too risky and the results too uncertain to warrant investment. Funders of these development programs do not need to be impact investors looking for social returns; instead, programs can generate high returns or reduce risk for traditional investors. Innovative financing can also tap into additional public funds by providing opportunities for global coordination and public-private partnerships.
Pay only for results:
Spending money more effectively by paying for results rather than promises has two benefits: It reduces the total size of the fund needed to achieve the next-generation agenda and also ensures a greater impact from every dollar spent. For example, when the development community learned that Western pharmaceuticals were holding back from developing a cheap pneumonia vaccine for Africa because of a legitimate fear that there would be no money to buy these vaccines after they invested in building capacity, they designed an innovative financing program. The resulting program, known as the Pneumococcal Advance Market Commitment, guaranteed a minimum market size to any pharmaceutical company that could develop an appropriate vaccine. This enabled Pfizer and others to scale facilities that have since vaccinated more than 10 million children; it also enabled them to sell vaccines at less than 10 percent of their usual cost. Another results-based innovative financing mechanism, the Haiti Mobile Money prize, rewarded mobile operators in Haiti with $6 million to build out mobile banking. If applied to initiatives in the next development agenda, such cost-effective programs would reduce the total dollars needed.
Make funding development safe:
Innovative financing mechanisms include a whole suite of creative funding vehicles that shift risk away from funders, making development projects a safer investment. This includes social impact bonds and insurance for funders, who can then invest in projects that would otherwise be too risky—for example, global health clinics, rural energy, and agriculture equipment. The recently launched HUGinsure provides up to $400 million in insurance backed by Lloyd's, making it safe for private sector banks to fund unproven social impact projects. A potential new malaria bond will draw on public-private funders who will pay program implementers only if malaria eradication is successful. Such social impact bonds allow third-party backers like governments to take on risk instead of the private sector funder. Without these mechanisms, private funders tend to invest in sectors such as natural resource extraction, which offer immediate returns. But with them, private funders can benefit from sectors with more diffuse value, such as health and infrastructure.
Find new funders
Innovative mechanisms for raising new funds broaden the funding toolkit beyond simple grants and equity. Such mechanisms include ongoing programs such as social taxes and voluntary solidarity contributions, which raise small amounts of funds over time. A solidarity tax on airline tickets in France, for example, charges travelers a few dollars each time they leave French soil, and has raised nearly $2 billion since 2006 for the global health initiative UNITAID. This can also include large programs such as carbon emissions trading, which has raised more than $30 billion since 2002.
The Private Sector Potential:
Compared to international aid—which represents less than 1 percent of available funding for development—harnessing private sector funding presents a significant new opportunity for backing the new development agenda. Private sector spending within and flowing to low- and middle-income countries represents a rapidly growing pool –more than $20 trillion (see chart). Tapping into even a small portion of that through innovative financing would draw immense new resources. And more effectively allocating this funding means fewer dollars will be needed.

Innovative financing has been limited in size because setting up global mechanisms requires convening major decision-makers and alignment around agenda items. In the past, innovative financing mechanisms have raised only about $1 billion to $3 billion in new funds annually. But as heads of state, foundation CEOs, and international development leaders come together to discuss development priorities over the next year, the development community has a unique opportunity to set up new innovative financing mechanisms on a much bigger scale.
Though this funding would bridge only a small portion of the $1 trillion required for the next-generation development agenda, without it, many areas with benefits beyond financial returns will remain underfunded—private sector investors will continue to fund only clearly profitable projects such as mining. With increased coordination and fresh lessons from past experiments, development leaders can effectively wield innovative financing for greater impact.

————————————
Angela Rastegar Campbell (@angelarastegar) is a Project Leader at Dalberg Global Development Advisors, where she has worked with the Gates Foundation, the UN Foundation, and GAVI on projects related to the new development agenda and innovative financing. Angela holds an MBA from Stanford Graduate School of Business and a BA in Human Biology from Stanford University.
###

UN to Observe Earth Hour to Focus Global Attention on Need for Climate Action.
New York, 27 March – The UN will participate in the 2014 edition of Earth Hour on Saturday 29 March. Coming in the lead-up to the Climate Summit this September, this global initiative aims to focus attention on the need for climate action.
 
Organized by the World Wildlife Fund (WWF) Earth Hour encourages individuals, companies, organizations and governments throughout the world to switch off their lights for one hour at 8:30 p.m., local time worldwide.
 
The initiative started as a lights-off event in Sydney, Australia in 2007. Since then it has grown to engage over 150 countries and hundreds of millions of people last year.
 
The date traditionally coincides with the Spring and Autumn equinoxes in the northern and southern hemispheres respectively, which allows for near coincidental sunset times in both hemispheres, thereby ensuring the greatest visual impact for a global "lights out" event.
 
All UN staff members around the world have been invited to take part both in their office and home in order to demonstrate the UN's commitment to support action on climate change, one of the top priorities of the Organization.
 
For the last few years, the UN Headquarters in New York and many other UN offices around the world have been part of the many international landmarks participating in this initiative.
 
This year the UN is going the extra mile and turning off all non-essential lights within the UN complex in New York for three hours from 7:00 p.m. to 10:00 p.m. Geneva and many other UN offices worldwide will also participate.
 
Earth Hour recognizes that everyone's involvement is needed in order to make a collective impact and take accountability for their ecological footprint.
 
For more information please visit: www.un.org/climatechange
###
Take Action: Urge U.S. & EU to Oppose Imminent U.N. Appointment of Richard Falk's Wife.
As Richard Falk ends his despicable 6-year UN term this Friday, his wife, co-author and closest collaborator Dr. Hilal Elver (above) is about to be named to her own 6-year UN term, as expert on the right to food.
This Cuban-created position was for years held by Jean Ziegler – founder and recipient of the "Moammar Qaddafi Human Rights Prize" — which he abused to attack America, Israel and the West.
Given her shameful record of extremist politics, there is no doubt that Falk's wife intends to do the same. And that essentially Falk will retain his U.N. influence after all.
The only way to stop Elver's appointment to this 6-year global post is if the U.S. and EU make clear they will vote NO if her name is moved forward.

 Stop this from happening on Friday.
FALK FINALLY LEAVES UNHRC

Richard Falk

FALK'S WIFE JOINS UNHRC

Hilal Elver

Promotes writings of 9/11 conspiracy theorist David Ray Griffin, who in turn thanked him in his book "The New Pearl Harbor"
Promotes writings of 9/11 conspiracy theorist David Ray Griffin, who in turn thanked her in his book "The New Pearl Harbor"
Accuses Israel of "genocide"
Accuses Israel of "genocide"
Accuses Israel of "Apartheid" in latest and final UN report
Accuses Israel of "Water Apartheid" in latest Qatar lecture
Says criticism of Turkish demagogue Erdogan is "exaggerated"
Says criticism of Turkish demagogue Erdogan is "exaggerated"
Targets America and the West in his articles, books and lectures
Targets America & the West in her articles, books & Facebook page
 Urge world leaders to oppose the
outrageous nomination of Hilal Elver.
Say No to the Abuse of Human Rights!  
###
There are many positive sides to mingling through migration and it must be understood that those that think border crossings are meant only for transporting goods but not allowing it for people and ideas are all wrong.
===============================================================
International conference on migration and development in Ljubljana, Slovenia.
On 5th and 6th of December 2013, international conference on migration and development Developing developers: Migrants as development actors – A new way forward including international partnership fair Bridging the gap have been organized in the City Museum Ljubljana. The conference was attended by experts as speakers – both from governmental and from non-governmental sector – in the field of migration policy and development cooperation from Austria, Belgium, Ghana, Italy, Slovakia, Slovenia and the United Kingdom. The conference have been opened by the speeches of Michael Fanizadeh, VIDC – Vienna Institute for International Dialogue and Cooperation, Austria (project coordinators) and Slovenian actors: Dragoljuba Ben?ina, Directorate for Global Issues and Multilateral Political Relations, Ministry of Foreign Affairs, Slovenia; Marjan Hu?, SLOGA – Slovenian Global Action and Max Zimani, Zavod Global.
At the following panel, Gibril Faal, active in organizations Afford – African Foundation for Development and AEP – Africa-Europe Platform, United Kingdom spoken of migrants as development actors, Charito Basa, founder and activist of non-government organisation FWC – Filipino Women's Council, Italy presented the engagement of the organization and the hard way immigrants generally have to go through, Angela Odai from the diaspora Support Unit, Ghana presented functioning of that government organization that provides assistance to the Ghanaian diaspora around the world .
In the afternoon hours, common partnership fair followed, bringing together participant of the conference and those of the Regional seminar on global learning, organized by SLOGA.
The second day of the conference, Nadja Schuster, VIDC – Vienna Institute for International Dialogue and Cooperation, Austria and Galya Terzieva, Society Development Institute, Slovakia presented the European Manifesto on Migration and Development, a strategic document that contains recommendations for improving the understanding of the concept of development cooperation and migration as a key element in this concept. Comments to the Manifesto have been contributed by Arthur Yenga, AEP – Africa -Europe Platform, Belgium. At the workshops which followed, participants could contribute comments and opinions to refine the Manifesto, which later was adopted, but now its promotion and attempt to force in all European countries is planned and desirable.
 —————————-
Diaspora-Engagement: Best Practice Beispiele in der kommunalen und nationalen Entwicklungspolitik, Rathaus Wien, 11. Februar 2014
Positionspapier Migration & Entwicklung
Dokumentationen
—————————-
###
Mr. Georg Pfeiffer, the Representaive of the European Parliament in Austria – Wipplingerstraße 35, 1010 Vienna, with officials of the European Commission and the Austrian Society for Europa-Politics in Austria, arranged for an activity to strengthen interest in Austria for the May 25th elections.
This time the elections are important indeed – this because of the European Parliament's moves to create a European Presidency – or some other form of real union. Specially now, with the events in the Ukraine calling for a united EU position, these election must help create this united front through a clear united leadership.
The main Austrian political parties are setting up their lists and the top candidate of each of these lists becomes a potential candidate for the leadership in Brussels.
Thus, at the start up of 2 PM today, at the parking-lot of the Vienna Stadium,  were present Mr. Reinhold Lopatka, the Club Chief (the Fraction Head) in the Austrian Parliament of the Austrian People's Party (OEVP), Mr. Andreas Schieder, the Club Chief of the Austrian Socialist Party (SPOE), Ms. Eva Glawischnic-Pieszczek – the National Spokesperson and Club Chief of the Green Party, and Mr. Anton Fink – a candidate for the new NEOS Party.
There were present European integration Ministers Ambassadors – Ivana Cucukic, Renee Wagner, Deazen Ivanis, Cedrick Mayer, and Fadi Merza as well the 2012 Beauty Queen of Austria – Miss Amina Dagi.
Also, present were former Austrian Ambassadors to European Capitals – in particular Retired Austrian Ambassador to the EU 1999-2007, starting out with the Austrian Mission to the UN 1968-1973 then part of the negotiations when Austria joined the European Commission and later in the Integrations section of the Austrian Foreign and European Ministry, Dr. Gregor Woschnagg.  As well present were Journalists and writers.
—————————
THE FOLLOW UP:
Vielen Dank, dass du gestern trotz Regens beim Lauftreff dabei warst.
Am 06.04.2014 werden wir im Prater übrigens unseren 2. Lauftreff veranstalten.
The First training run was:  APA/OTS-Reminder II: www.ots.at/presseaussendung/OTS_20140321_OTS0054/reminder-einladung-zum-laufen-fuer-europa
 from:
Mag. CHRISTOPH ANGSTER, Projektmanagement

Österreichische Gesellschaft für Europapolitik

Rotenhausgasse 6/9, A-1090 Wien
###
The Opinion Pages
 

Op-Ed Columnist of the New York Times.
Wealth Over Work.
It seems safe to say that "Capital in the Twenty-First Century," the magnum opus of the French economist Thomas Piketty, will be the most important economics book of the year — and maybe of the decade. Mr. Piketty, arguably the world's leading expert on income and wealth inequality, does more than document the growing concentration of income in the hands of a small economic elite. He also makes a powerful case that we're on the way back to "patrimonial capitalism," in which the commanding heights of the economy are dominated not just by wealth, but also by inherited wealth, in which birth matters more than effort and talent.
To be sure, Mr. Piketty concedes that we aren't there yet. So far, the rise of America's 1 percent has mainly been driven by executive salaries and bonuses rather than income from investments, let alone inherited wealth. But six of the 10 wealthiest Americans are already heirs rather than self-made entrepreneurs, and the children of today's economic elite start from a position of immense privilege.  As Mr. Piketty notes, "the risk of a drift toward oligarchy is real and gives little reason for optimism."
Indeed. And if you want to feel even less optimistic, consider what many U.S. politicians are up to.  America's nascent oligarchy may not yet be fully formed — but one of our two main political parties already seems committed to defending the oligarchy's interests.
Despite the frantic efforts of some Republicans to pretend otherwise, most people realize that today's G.O.P. favors the interests of the rich over those of ordinary families. I suspect, however, that fewer people realize the extent to which the party favors returns on wealth over wages and salaries. And the dominance of income from capital, which can be inherited, over wages — the dominance of wealth over work — is what patrimonial capitalism is all about.
To see what I'm talking about, start with actual policies and policy proposals. It's generally understood that George W. Bush did all he could to cut taxes on the very affluent, that the middle-class cuts he included were essentially political loss leaders.  It's less well understood that the biggest breaks went not to people paid high salaries but to coupon-clippers and heirs to large estates. True, the top tax bracket on earned income fell from 39.6 to 35 percent. But the top rate on dividends fell from 39.6 percent (because they were taxed as ordinary income) to 15 percent — and the estate tax was completely eliminated.
Some of these cuts were reversed under President Obama, but the point is that the great tax-cut push of the Bush years was mainly about reducing taxes on unearned income. And when Republicans retook one house of Congress, they promptly came up with a plan — Representative Paul Ryan's "road map" — calling for the elimination of taxes on interest, dividends, capital gains and estates. Under this plan, someone living solely off inherited wealth would have owed no federal taxes at all.
This tilt of policy toward the interests of wealth has been mirrored by a tilt in rhetoric; Republicans often seem so intent on exalting "job creators" that they forget to mention American workers.
In 2012 Representative Eric Cantor, the House majority leader, famously commemorated Labor Day with a Twitter post honoring business owners. More recently, Mr. Cantor reportedly reminded colleagues at a G.O.P. retreat that most Americans work for other people, which is at least one reason attempts to make a big issue out of Mr. Obama's supposed denigration of businesspeople fell flat. (Another reason was that Mr. Obama did no such thing.)
 In fact, not only don't most Americans own businesses, but business income, and income from capital in general, is increasingly concentrated in the hands of a few people. In 1979 the top 1 percent of households accounted for 17 percent of business income; by 2007 the same group was getting 43 percent of business income, and 75 percent of capital gains. Yet this small elite gets all of the G.O.P.'s love, and most of its policy attention.
Why is this happening? Well, bear in mind that both Koch brothers are numbered among the 10 wealthiest Americans, and so are four Walmart heirs. Great wealth buys great political influence — and not just through campaign contributions. Many conservatives live inside an intellectual bubble of think tanks and captive media that is ultimately financed by a handful of megadonors. Not surprisingly, those inside the bubble tend to assume, instinctively, that what is good for oligarchs is good for America.
As I've already suggested, the results can sometimes seem comical. The important point to remember, however, is that the people inside the bubble have a lot of power, which they wield on behalf of their patrons. And the drift toward oligarchy continues.
—————————————
###
Using Copyright to Censor, from Turkey to Svoboda to Ban's UN & Reuters.

By Matthew Russell Lee, The Inner City Press (ICP) at the UN in New York.

UNITED NATIONS, March 20 — Turkey has now blocked Twitter citing a prosecutor's decision, drawing ire in the US from Press Secretary Jay Carney and State Department spokesperson Jen Psaki, after Prime Minister Recep Tayyip Erdogan in order to get his leaked phone calls removed from Google's YouTube has reportedly "copyrighted" his calls.

   This use of copyright to try to censor has echoes in the United Nations — and in Ukraine, where the Svoboda Party tried to get videos of its Members of Parliament beating up a news executive taken down as violations of copyright.

 On the Guardian website on March 21, where the video had been was a notice that "This video is no longer available due to a copyright claim."

The New York Times reported that late on March 20, YouTube copies of the video were taken down "for violating the copyright of the Svoboda party spokesman, who seems to be working to erase the evidence from the Internet through legal means."
   This is a growing trend. As set forth below, an anti-Press complaint to the UN's Stephane Dujarric, now Secretary General Ban Ki-moon's spokesperson, has been banned from Google's Search by an invocation of copyright similar to Erdogan's.

  On March 21, Dujarric from Kyiv told Inner City Press neither he nor, he assuumed, Ban had seen the Svoboda beat-down video. This seems noteworthy, given its prominence in Ukraine. Now we can add: perhaps Ban and Dujarric didn't see it due to the same censorship by copyright that has for now banned an anti Press complaint to them from Google's Search.

  And as to Twitter, Dujarric in his previous post in charge of UN Media Accreditation grilled Inner City Press about a tweet mentioning World War Two – the basis for example of France's veto power in the Security Council, which it parlayed into essentially permanent ownership of the top post in UN Peacekeeping, now though Herve Ladsous (coverage of whom Dujarric tried to dictate, or advise, Inner City Press about.)

   Dujarric's now bipolar tweeting has intersected with a recently revived anonymous trolling campaign which originated in the UN Correspondents Association, in support of the Sri Lankan government, alleging that any coverage of the abuse of Tamils must be funded by the now defunct Tamil Tigers.

  These outright attempts to censor are echoed, more genteelly, even as part of the UN press briefings these days. When Dujarric took eight questions on March 20 on Ban's essentially failed trip to Moscow, fully half went to representatives of UNCA's 15 member executive committee, including state media from Turkey, France and the United States. Other questions — by Twitter — were not answered, except those from explicitly pro-UN sources. These are the UN's circles.

   Google has accepted and acted on DMCA complaints about leaked e-mails, for example from Reuters to the United Nations seeking to get the investigative Press thrown out, and has then blocked access to the leaked documents from its search.

  Of this abuse of the Digital Millennium Copyright Act, the Electronic Frontier Foundation's Intellectual Property Director Corynne McSherry told Inner City Press about the Reuters case:

"Unfortunately, it is all too easy for a copyright holder (assuming that the person that sent this notice actually held copyright in the email) to abuse the DMCA to take down content and stifle legitimate speech. As countries outside the US consider adopting DMCA-like procedures, they must make sure they include strong protections for free speech, such as significant penalties for takedown abuse."
  In this case, copyright is being (mis) claimed for an email from Reuters' Louis Charbonneau to the UN's chief Media Accreditation official Stephane Dujarric — since March 10 Ban Ki-moon's new spokesperson — seeking to get Inner City Press thrown out of the UN.

  Access to the document has been blocked from Google's search based on a cursory take-down request under the Digital Millennium Copyright Act.

 If this remains precedent, what else could come down?
  Why not an email from Iran, for example, to the UN's International Atomic Energy Agency? Why not a sanctions filing by a country? Here is Reuters logic, accepted if only automatically by Google:
The copyrighted material is a private email I wrote in April 2012 and for which I never gave permission to be published. It has been published on a blog and appears in on the first page of search results for my name and the firm I work for, Reuters. It can be seen here: www.innercitypress.com/reutersLC3unmalu.pdf
  But this is true of ANY leaked document: it can be said that the entity or person exposed "never gave permission [for it] to be published." Does that mean Google can or should block search access to it?
  Can a complaint to a Media Accreditation official against a competitor legitimately be considered "private"? In any event, the DMCA is not about protecting privacy.
  Iran or North Korea could say a filing or status report they make with the IAEA is "private" and was not intended to be published. Would Google, receiving a DMCA filing, block access to the information on, say, Reuters.com?
  Charbonneau's bad-faith argument says his complaint to the UN was "published on a blog." Is THAT what Reuters claims makes it different that publication in some other media?
  The logic of Reuters' and Charbonneau's August 14, 2013 filing with Google, put online via the ChillingEffects.org project, is profoundly anti free press.
  The fact that Google accepts or didn't check, to remain in the DMCA Safe Harbor, the filing makes it even worse. The request to take-down wasn't made to InnerCityPress.com or its server — it would have been rejected. But banning a page from Search has the same censoring effect.
  The US has a regime to protect freedom of the press, and against prior restraint. But this is a loophole, exploited cynically by Reuters. What if a media conducted a long investigation of a mayor, fueled by a leaked email. When the story was published, could the Mayor make a Reuters-like filing with Google and get it blocked?
  Here is the text of Charbonneau's communication to the UN's top Media Accreditation and Liaison Unit official Stephane Dujarric and MALU's manager, to which he claimed "copyright" and for now has banned from Google's Search:
———————————————————-
Hi Isabelle and Stephane,
I just wanted to pass on for the record that I was just confronted by Matt Lee in the DHL auditorium in very hostile fashion a short while ago (there were several witnesses, including Giampaolo). He's obviously gotten wind that there's a movement afoot to expel him from the UNCA executive committee, though he doesn't know the details yet. But he was going out of his way to be as intimidating and aggressive as possible towards me, told me I "disgust" him, etc.
In all my 20+ years of reporting I've never been approached like that by a follow journalist in any press corps, no matter how stressful things got. He's become someone who's making it very hard for me and others in the UN press to do our jobs. His harassment of fellow reporters is reaching a new fever pitch.
I just thought you should know this.
Cheers,
Lou
Louis Charbonneau
Bureau Chief. United Nations
Reuters News Thomson Reuters reuters. com
This email was sent to you by Thomson Reuters, the global news and information company.
————————————————-
"UNCA" in the for-now banned e-mail is the United Nations Correspondents Association. The story developed here, as to Sri Lanka; here is a sample pick-up this past weekend in Italian, to which we link and give full credit, translated into English (NOT for now by Google) –
The fool of Reuters to the UN
by Mahesh – 12/27/2013 - calls for the removal of a letter from the head of his bureau at the United Nations, pursuing a copyright infringement on the part of the competition.
Try to make out a small competitor from the UN press room and then, when these publish proof of intrigue, invokes the copyright to release a letter from compromising the network.
MOLESTA-AGENCY  Inner City Press is a small non-profit agency covering the work of the United Nations for years, with an original cut, which become distasteful to many. Unlike other matching its founder master sent never tires of asking account of inconsistencies and contradictions and often refers to unpleasant situations involving colleagues and their reportage, too often twisted to obvious political contingencies.
THE LAST CAVITY – In this case the clutch is born when Matthew Lee, Inner City Press ever since he founded and made famous in the 90 's, challenged the screening of "Lies Agreed Upon" in the auditorium of the United Nations, a filmaccio of propaganda in which the Sri Lankan regime tries to deny the now tested massacres (and destroyed by International Crisis Group). In the piece, in which denounced the incident, Lee also announced that the screening was organized by the President of the United Nations Correspondents (UNCA), Italian Giampaolo Pioli, skipping the normal consultation procedure for this kind of events. Pioli then, was also accused of being in a conflict of interest, given that he rented an apartment in New York an apartment to the Deputy Permanent Representative to the UN in Sri Lanka, named Palitha Kohona and is suspected of war crimes.
TRY WITH THE COPYRIGHT- So he comes to the letter with which Louis Charbonneau, Reuters bureau chief at the United Nations, wrote to the Media Accreditation and Liaison Unit (MALU) calling for the ouster of Lee, which the UN being there for years as his colleagues, but we see that this was not done. Lee, however, comes into possession of the letter and publish it, and then writes to Google millantando Charbonneau the copyright on the letter and asking for removal pursuant to the Digital Millennium Copyright Act. That is a bit like if a company request the removal of a compromising document from a journalistic investigation, in the name of copyright, a claim clearly absurd and disingenuous.
HARASSMENT AND THREATS - In the letter published, Charbonneau complained about the aggressive behavior of Lee and cited among the witnesses to cases where Lee had been "aggressive" towards him even Pioli. Lee with that piece has gained throughout a hail of protests from Sri Lanka and an investigation by the UNCA, along with death threats and other well-known amenities the refugees away from the clutches of the regime, but it is still there. Behold then the brilliant idea of Charbonneau, improperly used copyright law to censor the objectionable publications to a colleague and competitor. Pity that Lee has already resisted successfully in similar cases, in 2008 was the same Google to remove your site from being indexed in the news in its search engines, it is unclear what impetus behind, only to regret it soon after that even Fox News had cried scandal.
=======================================
And further – to the place of UN as restricting flow of information – Matthew Lee has the following:
www.innercitypress.com/ukraine2svobodaunseen032214.html
In Ukraine, List of Parties UN's UNSG Ban Ki-moon Met With Still UNdisclosed, Visa Ban.

By Matthew Russell Lee

UNITED NATIONS, March 22 – With UN Secretary General Ban Ki-moon in Kyiv for a second day, it remained unclear if he met with representatives from the Svoboda Party, whose "freedom of speech" parliamentarian was filmed beating up a news executive and then sought to get the video removed from YouTube.

  Inner City Press on March 21 asked Ban's spokesperson Stephane Dujarric, video here

Inner City Press: I wanted to ask you about sanctions. I know that in his opening remarks, the Secretary-General talked about provocative actions and counter-reactions and obviously there have been, the US announced sanctions on a slew of individuals and one bank, and another bank, SMP, has been cut off from the Visa and Mastercard system. Russia has its own sanctions. Was this discussed, was this discussed while he was in Moscow? Does the Secretary-General think that sanctions should be done through the UN? And will he meet with representatives of the Svoboda party while he's there, if they were to request it?
Spokesman Stephane Dujarric: There was a — I will share with you as soon as I get it — the list of party leaders that attended the meeting with the Secretary-General. So we will see who exactly was there and, you know, I'm not going to get into detailed reactions to sanctions and counter-sanctions and so forth. But what I will say is that, you know, everybody needs to kind of focus on finding a peaceful, diplomatic solution and lowering the tensions.
Inner City Press: Has he or you seen the video of the Svoboda party MPs beating up the television executive?
Spokesman Stephane Dujarric: I have not and I doubt that he has.
  But more than 24 hours later, the "list of party members" who met with Ban was still not provided or shared, nor was an explanation provided. What should one infer from that?
… … ….

UN Secretary General Ban Ki-moon's race to Russia for relevance didn't work as he'd hoped. Just after his meetings with Vladimir Putin and Sergey Lavrov, Lavrov went to the Duma for the next step on Crimea.

  Then Ban's spokesperson did a call-in Q&A to the UN press briefing room in New York where only questions pointing one way were selected and allowed. Thus, there were no questions to Ban's spokesperson Stephane Dujarric about the new unilateral sanctions, or the trade embargo allegations.

   On March 19 after US Ambassador Samantha Power said Russia's Vitaly Churkin was creative like Tolstoy or Chekhov, Churkin asked for a right of reply or additional statement at the end of the March 19 UN Security Council meeting on Ukraine.

   Churkin said that from these two literary references, Power has stooped to tabloids, and that this should change if the US expected Russian cooperation. The reference, it seemed, was to Syria and Iran, and other UN issues.

   One wanted to explore this at the stakeout, but neither Power nor Churkin spoke there. In fact, no one did: even Ukraine's Yuriy Sergeyev left, down the long hallways with his leather coat and spokesperson. One wondered why.

   There were many questions to ask. Why did Ivan Simonovic's UN human rights report not mention the Svoboda Party MPs beating up the head of Ukrainian national television?  Will France, despite its Gerard Araud's speech, continue selling Mistral warships to Russia? What of France's role in the earlier referendum splitting Mayotte from the Comoros Islands?

  Araud exchanged a few words with those media he answers to while on the stairs, then left. The UK's Mark Lyall Grant spoke longer, but still left. Why didn't Simonovic at least come and answer questions? Perhaps he will, later in the week.

    When Security Council session began at 3 pm on March 19, Russia was listed as the tenth speaker, after other Council members including not only the US but France. (The order, however, would soon change: Argentina and Russia switched spots.)

  Speaking first, Deputy Secretary General Jan Eliasson recounted dates and events, such as the US and European Union sanctions of Marcy 17. Inner City Press asked UN spokesperson Stephane Dujarric if there was any UN comment on or view of such unilateral sanctions. There was no comment.

   UN human rights deputy Ivan Simonovic spoke next, saying that attacks on ethnic Russians have been neither widespread nor systematic. Simonovic did not mention the widely publicized assault on a national TV executive by Svoboda Party MPs.

  Ukraine's Yuriy Sergeyev mocked the referendum, saying that those who didn't vote were visited at home.

  France's Gerard Araud said that if there are fascists in this story, it is not where they're said to be — but he did not address the Svoboda Party and its attack on the TV executive. Nor has he addressed the analogy to the referendum France pushed to split Mayotte from Comoros, nor France's ongoing sale of Mistral warships to Russia.

  After Nigeria spoke, Argentina's listed place was taken by Russia, in what has been confirmed to Inner City Press as an exchange. Russia's Vitaly Churkin zeroed in on Simonovic not mentioning the Svoboda MPs' assault, nor evidence that the same snipers should police and protesters in Kyiv.

  US Ambassador Samantha Power called this an assault on Simonovic's report, and said Churkin had been as imaginative as Tolstoy or Chekhov, echoing an earlier US State Department Top Ten list. So what is the US, one wag mused, John Updike or Thomas Pynchon? It was a session meant for words.


Now that UN Secretary General Ban Ki-moon races to Russia for relevance, the news was handed out selectively by UN Moscow three hours before Ban's new spokesperson, after a request, confirmed it.

   It's worth remembering Moscow's anger at who called Ban's tune on Kosovo. What will be different now? After Russia, Ban will head to Kyiv to meet Yatsenyuk and the UN human rights monitors.

  It was at 6:20 am in New York when BBC said that "UN Moscow office confirm that Ban Ki Moon coming to Moscow tomorrow. Will meet Putin and Lavrov."

  But no announcement by Ban's Office of the Spokesperson, which has repeatedly refused to confirm Ban trips even when the country visited has already disclosed it.

  And so the Free UN Coalition for Access wrote to Ban's new spokesperson Stephane Dujarric:

"Will you confirm what BBC says UN Moscow told it, that the Secretary General is traveling to Russia tomorrow to meet President Putin and FM Lavrov — and is so, can you explain why and how this UN news was distributed in that way first, and not through your office, to all correspondents at once? The latter part of the question is on behalf of the Free UN Coalition for Access as well."
   Forty five minutes later, after a mass e-mail, Dujarric replied:

"Matthew, The official announcement was just made. The UN office in moscow did not announce anything before we did. I did see some leaked reports this morning from various sources but nothing is official until it's announced by this office."
  But it wasn't a "leaked report" — BBC said that UN Moscow had CONFIRMED it. We'll have more on this. For now it's worth reviewing Ban Ki-moon's response to Abkhazia and South Ossetia in 2008…

   The day after the Crimea referendum, the US White House announced new sanctions and Russia said Ukraine should adopt a federal constitution.

   Inner City Press asked UN Secretary General Ban Ki-moon's spokesperson Stephane Dujarric for Ban's or the UN's comment on either, if Ban thinks sanctions should ideally be imposed through the UN and not unilaterally, and if this might lead to a tit for tat.

  Dujarric said Ban's focus is on encouraging the parties to "not add tensions;" on Russia's federal constitution proposal he said the UN is "not going to get into judging every step."  Video here.

  With Serry gone from Crimea and Simonovic called unbalanced by Russia, what is the UN's role? Is it UNrelevant?

… … … and there is much more on our link.
———————————————————————-
###
Jeffrey David Sachs (born November 5, 1954) is professor of economics and Director of The Earth Institute at Columbia University. One of the youngest economics professors in the history of Harvard University (at age 28), Sachs became known for his role as an adviser to Eastern European and developing country governments during the transition from communism to a market system or during periods of economic crisis. Subsequently he has been known for his work on the challenges of economic development, environmental sustainability, poverty alleviation, debt cancellation, and globalization.
 Sachs is Quetelet Professor of Sustainable Development, and Professor of Health Policy and Management at Columbia University. He is Senior Special Advisor to United Nations Secretary-General Ban Ki-moon on the Millennium Development Goals, having held the same position under former UN Secretary-General Kofi Annan. He is Director of the UN Sustainable Development Solutions Network and co-founder and Chief Strategist of Millennium Promise Alliance, and is director of the Millennium Villages Project.  He has authored three New York Times bestsellers in the past seven years: The End of Poverty (2005), Common Wealth: Economics for a Crowded Planet (2008), and The Price of Civilization (2011). His latest book is To Move the World: JFK's Quest for Peace.
Sachs is leader in sustainable development and syndicated columnist whose monthly newspaper columns appear in more than 80 countries.
 Now he teaches that the intertwined challenges of economic development, social inclusion, and environmental sustainability must be addressed holistically, or else the world will find itself at dire risk of social instability and environmental calamity.  The path ahead is a narrow one, fraught with difficulties and uncertainties, yet the promise of a better life for billions of people is also realistic.  With proper policies and global cooperation, ours can be the era that ends extreme poverty, stabilizes the world's population, and ushers in the exciting prospects of a new period of sustainable growth.  
————————–
Some more about Professor Jeffrey D. Sachs:
Academic career
Sachs was raised in Oak Park, a suburb of Detroit, Michigan, the son of Joan (née Abrams) and Theodore Sachs, a labor lawyer.
He attended Harvard College, where he received his B.A. summa cum laude in 1976. He went on to receive his M.A. and Ph.D. in economics from Harvard, and was invited to join the Harvard Society of Fellows while still a Harvard graduate student. In 1980, he joined the Harvard faculty as an assistant professor and was promoted to associate professor in 1982. A year later, at the age of 28, Sachs became a full professor of economics with tenure at Harvard – one of the youngest ever.
During the next 19 years at Harvard, he became the Galen L. Stone Professor of International Trade, director of the Harvard Institute for International Development at the Kennedy School of Government (1995–1999), and director of the Center for International Development (1999–2002).
In 2002, Sachs became the Director of the Earth Institute of Columbia University. His classes are taught at the School of International and Public Affairs and the Mailman School of Public Health, and his course "Challenges of Sustainable Development" is taught at the undergraduate level.
In his capacity as director of the Earth Institute, he leads a university-wide organization of more than 850 professionals from natural-science and social-science disciplines, in support of sustainable development.
Sachs has consistently advocated for the expansion of university education on sustainable development, and helped to introduce the PhD in Sustainable Development at Columbia University, one of the first PhD programs of its kind in the U.S. He championed the new Masters of Development Practice (MDP), which has led to a consortium of major universities around the world offering the new degree. The Earth Institute has also guided the adoption of sustainable development as a new major at Columbia College. The Earth Institute is home to cutting-edge research on all aspects of earth systems and sustainable development.
Sachs' policy and academic works span the challenges of globalization, and include: the relationship of trade and economic growth; the resource curse and extractive industries; public health and economic development; economic geography; strategies of economic reform; international financial markets; macroeconomic policy; global competitiveness; climate change; and the end of poverty. He has authored or co-authored hundreds of scholarly articles and several books, including three bestsellers and a textbook on macroeconomics that is widely used around the world.
In 2011, Sachs called for the creation of a third U.S. political party, the "Alliance for the Radical Center."
Advising in Latin America and post-communist economies:
Sachs is known for his work as an economic adviser to governments in Latin America, Eastern Europe, and the former Soviet Union. A trained macroeconomist, he advised a number of national governments in the transition from communism to market economies.
In 1985, Bolivia was undergoing hyperinflation and was unable to pay back its debt to the International Monetary Fund (IMF). Sachs, an economic adviser to the Bolivian government at the time, drew up an extensive plan, later known as shock therapy, to cut inflation drastically by liberalizing the Bolivian market, ending government subsidies, eliminating import quotas, and linking the Bolivian economy to the US dollar. After Sachs's plan was implemented, inflation fell from 11,750% to 15% per year from 1985 to 1987.
In 1989, Sachs advised Poland's anti-communist Solidarity movement and the Government of Prime Minister Tadeusz Mazowiecki. He wrote the first-ever comprehensive plan for the transition from central planning to a market economy, which became incorporated into Poland's reform program led by Finance Minister Leszek Balcerowicz. Sachs was the main architect of Poland's successful debt reduction operation. Sachs and IMF economist David Lipton advised the rapid conversion of all property and assets from public to private ownership. Closure of many uncompetitive factories ensued.  In Poland, Sachs was firmly on the side of rapid transition to "normal" capitalism. At first he proposed US-style corporate structures, with professional managers answering to many shareholders and a large economic role for stock markets. That did not fly with the Polish authorities, but he then proposed that large blocks of the shares of privatized companies be placed in the hands of private banks. As  a result, there were some economic shortages and inflation, but prices in Poland eventually stabilized.  The Government of Poland awarded Sachs with one of its highest honors in 1999, the Commander's Cross of the Order of Merit. He also received an honorary doctorate from the Cracow University of Economics.
Sachs' ideas and methods of transition from central planning were adopted throughout the transition economies. He advised Slovenia (1991) and Estonia (1992) in the introduction of new stable and convertible currencies. Based on Poland's success, he was invited first by Soviet President Mikhail Gorbachev and then by Russian President Boris Yeltsin on the transition to a market economy. He served as advisor to Prime Minister Yegor Gaidar and Finance Minister Boris Federov during 1991-93 on macroeconomic policies. He received the Leontief Medal of the Leontief Centre, St. Petersburg, for his contributions to Russia's economic reforms.
Work on global sustainable economic development
More recently, Sachs has turned to global issues of economic development, poverty alleviation, health and aid policy, and environmental sustainability. He has written extensively on climate change, disease control, and globalization, and is one of the world's leading experts on the fight against poverty and sustainable development.
Since 1995, Sachs has been deeply engaged in efforts to alleviate poverty in Africa. He has worked in more than two dozen African countries, and has advised the African leadership at several African Union summits. In the mid-1990s he worked with senior officials of the Clinton Administration to develop the concept of the African Growth and Opportunity Act (AGOA). He has engaged with dozens of African leaders to promote smallholder agriculture and to fight high disease burdens through strengthened primary health systems. His pioneering ideas on investing in health to break the poverty trap have been widely applied throughout the continent. He currently serves as an advisor to several African governments, including Ethiopia, Ghana, Kenya, Malawi, Mali, Nigeria, Rwanda, Senegal, Tanzania, and Uganda, among others.
In his 2005 work, The End of Poverty, Sachs wrote "Africa's governance is poor because Africa is poor." According to Sachs, with the right policies and key interventions, extreme poverty — defined as living on less than $1 a day — can be eradicated within 20 years. India and China serve as examples, with the latter lifting 300 million people out of extreme poverty during the last two decades. Sachs has said that a key element to accomplishing this is raising aid from $65 billion in 2002 to $195 billion a year by 2015. He emphasizes the role of geography and climate, as much of Africa is landlocked and disease-prone. However, he stresses that these problems can be overcome.
Sachs suggests that with improved seeds, irrigation, and fertilizer, the crop yields in Africa and other places with subsistence farming can be increased from 1 ton/hectare to 3-5 tons/hectares. He reasons that increased harvests would significantly increase the income of subsistence farmers, thereby reducing poverty. Sachs does not believe that increased aid is the only solution. He also supports establishing credit and microloan programs, which are often lacking in impoverished areas. Sachs has also advocated the distribution of free insecticide-treated bed nets to combat malaria. The economic impact of malaria has been estimated to cost Africa US$12 billion per year. Sachs estimates that malaria can be controlled for US$3 billion per year, thus suggesting that anti-Malaria projects would be an economically justified investment.
From 2002 to 2006, Sachs was the Director of the UN Millennium Project and Special Advisor to then Secretary-General Kofi Annan on the Millennium Development Goals. Sachs founded the Millennium Villages Project, a plan dedicated to ending extreme poverty in various parts of sub-Saharan Africa through targeted agricultural, medical, and educational interventions. Along with philanthropist Ray Chambers, Sachs founded Millennium Promise, a nonprofit organization, to help the Earth Institute fund and operate the Millennium Villages Project.
The Millennium Villages Project, which he directs, operates in more than one dozen African countries, and covers more than 500,000 people. The MVP has achieved notable successes in raising agricultural production, reducing children's stunting, and cutting child mortality rates, with the results described in several peer-reviewed publications. Its key concepts of integrated rural development to achieve the MDGs are now being applied at national scale in Nigeria and Mali, and are being used by many other countries to help support national anti-poverty programs. He works very closely with the Islamic Development Bank to scale up programs of integrated rural development and sustainable agriculture among the Bank's member countries. One such project supports pastoralist communities in Eastern Africa, with six participating nations: Djibouti, Ethiopia, Somalia, Kenya, Uganda and South Sudan.
Since the adoption of the Millennium Development Goals (MDGs) in 2000, Sachs has been the leading academic scholar and practitioner on the MDGs. He chaired the WHO Commission on Macroeconomics and Health (2000-1), which played a pivotal role in scaling up the financing of health care and disease control in the low-income countries to support MDGs 4, 5, and 6. He worked with UN Secretary-General Kofi Annan in 2000-1 to design and launch the Global Fund to Fight AIDS, Tuberculosis and Malaria. He worked closely with senior officials of the George W. Bush administration to develop the PEPFAR program to fight HIV/AIDS, and the PMI to fight malaria. On behalf of Annan, from 2002-2006 he chaired the UN Millennium Project, which was tasked with developing a concrete action plan to achieve the MDGs. The UN General Assembly adopted the key recommendations of the UN Millennium Project at a special session in September 2005. The recommendations for rural Africa are currently being implemented and documented in the Millennium Villages, and in several national scale-up efforts such as in Nigeria.
Now a Special Adviser to current Secretary-General Ban Ki-moon, Sachs is still a leading advocate for the Millennium Development Goals, frequently meeting with foreign dignitaries and heads of state. He has also become a close friend of international celebrities Bono and Angelina Jolie, both of whom have traveled to Africa with Sachs to witness the progress of the Millennium Villages.
In August 2012, Secretary-General Ban Ki-moon announced the launch of the UN Sustainable Development Solutions Network (SDSN), which will mobilize scientific and technical expertise from academia, civil society, and the private sector in support of sustainable-development problem solving at local, national, and global scales. The Network convenes 12 global expert Thematic Groups on key sustainable development challenges that will identify common solutions and highlight best practices, and over time will launch projects to pilot or roll-out solutions to sustainable development challenges and assist countries in developing sustainable long-term development pathways.
Sachs has been a consistent critic of the IMF and its policies around the world. He has blasted the international bankers for what he sees as a pattern of ineffective investment strategies.
In Vienna, Sachs presented THE AGE OF SUSTAINABLE DEVELOPMENT as an unavoidable direction for the future of humanity and stated clearly that he is an optimist and knows that in the end we will move in the right direction.
Event Details
Wednesday, 12 March, 2014, 18:00
The Aula of the Austrian Academy of Sciences (1010 Vienna, Dr. Ignaz Seipel-Platz 2).
PRESENTED BY:
---
 The event was chaired jointly by Professor Pavel Kabat, the Director General of IIASA, Professor Anton Zeilinger – the institutional host, the President of the Austrian Academy of Sciences – the location host, and Dr. Franz Fischler the President of the European Forum Alpbach of Austria.
————–
We heard an announcement about the creation of a new Think Tank based on the network that UN Secretary General Ban Ki-Moon charged Professor Sachs to be its catalyst - that UN Sustainable Development Solutions Network (SDSN) of institutions dispersed globally.  IIASA will organize one of these institutions and Professor Sachs will become in the future a more frequent visitor at IIASA. – perhaps IIASA will be a major locus for this Network. I understand that right the following day a small meeting at IIASA, with the participation of 10 people, will start on this endeavor.

THUS THE START OF A NEW PATH TO SUSTAINABLE DEVELOPMENT WITH THE UNDERSTANDING AND THE MANAGING OF COMPLEX SYSTEMS. Sachs pointed out that we proved to be so successful in extracting things and producing things that lead us to the present challenges – but these same qualities are also what will help us – - in the future – when applying them to reverse the present trend of self destruction by finding the right technologies that will move us in the right direction.
We are now the first generation that can bring havoc to the planet through our exploitation of it, but we will also be those that can apply the corrections. Sachs loves to quote President Kennedy who seems to be his idol – "Man holds in his hands the power to abolish all forms of human poverty and all forms of human life!" as per the January 20, 1963 Inaugural Address.
Sachs reminded us that 1692 billionaires (in dollars) hold  $6.3 trillion dollars in their possession – and this inequality is the great challenge we face. It is combined further with environmental and social issues. When the past century has raised the ocean level by 75 cm in New York City it was the poor that suffer most. He saw in the recent floods in New York that only the Goldman Sachs building was lit – this because they knew not to put the back-up generators in the basement – like all others did. Beijing that got its floods earlier, got now choked in smog – and the WHO advised people to stay indoors – think of the best economic development in history and now they have the worst air and water.
Professor Sachs went on to look at the Middle East and at Syria in particular. He drew intersecting circles for Social Systems (dynamics), the Economy (Techno-Economy), Earth Systems and Governance and pointed out how countries that lived in peace for centuries with the different population groups side-by-side were now at each other's throat. He suggested to take the temperature of the social trust of societies. Then to analyze governance of the political system and the business system – eventually to look at political governance – and to see how this impacts on the stress.
Sachs looked at the US-Saudi-Turkey line-up vs. the Russia-Iran line up in regard to Syria – then looked at Mega-droughts and Sectarian Divisions – crops fail and reduce human security.
Complex systems have pivot points – the world does not care if poor hungry people when facing calamity tend to find a way out via migration – and disease, epidemics, violence – unrest can happen quickly. To bring home his points Professor Sachs showed us the map of the Middle East droughts and we saw how it fits also the violence patterns.
Looking closer to home – to the US – Professor Sachs sees there the lack of "Points of View" – it could be dangerous for politicians to have a point of view, he said. We need planning in the US – but after the Soviet Union was gone the belief in the US seems to be that planning is a NO! NO! Markets are great institutions for distribution – but they do not plan.
Power can come from investing in young people. He also found that bad experience of parents can be passed to children – 2 generations down – and we do not understand how – but it is real he said.
Professor Sachs advocated that every country needed an energy plan – a strategy – it need not be the same. We destroy land, acidify water and lead to extinction of species – 30% of the world food is lost in transmission from farms to consumers. He mentioned the power of Hedge Funds but pointed out that 0.7% of the income on earth could help close the gap with the poor. He kept stressing that Wellbeing is not measured by GDP.
People want to live in societies that have social support systems.
Professor Sachs turned back to his Idol – President Kennedy and said that equal compliments deserved also Mr. Nikita Khrushchev, when the two went ahead with the partial nuclear treaty and said that the need was to have the Americans to change themselves and not just to try to change the world of their adversaries. Kennedy and Krushev were partners and both had opponents among the extremes in their systems.
Kennedy said: Let us not be blind to our differences but let us also direct attention to our common interests and the means by which those differences can be resolved.
So, now – let us end poverty by 2030 – we know people are up to this challenge.
The most important vocabulary is built with the words – Poverty, Economy, Inclusion, Health, Food, Cities, and ENERGY/CLIMATE, Biodiversity, Governance – of which is built the  SDNS Action Plan, 2013.
Illustrative SDGs:
1.
End Extreme Poverty Including
Hunger
POVERTY
2.
Achieve
Growth and Jobs
within Planetary
Boundaries
ECONOMY
3.
Effective Education for
All Children and Youth for Life and
Livelihood
EDUCATION
4.
Achieve Gender Equality, Social Inclusion, and Human Rights for
All
INCLUSION
5.
Achieve Health and Wellbeing at All
Ages
HEALTH
6.
Improve Agricultural Systems and Rural
Productivity
FOOD
7.
Empower Inclusive, Productive, and Resilient
Cities
CITIES
8.
Curb
Climate
Change and Ensure Sustainable
Energy
ENERGY/CLIMATE
9.
Secure Ecosystem
Services, Biodiversity, Water, Natural Resources
BIODIVERSITY
10. Transform Government for Sustainable Development
GOVERNANCE
The Kennedy goal to put a man on the moon in a decade can be the inspiration for goals like "Save the Planet," "Save other Species" …  WE ALL BREATH THE SAME AIR, WE ALL CHERISH OUR CHILDREN'S FUTURE, AND WE ARE ALL MORTAL  (JFK, June 10, 1963).
Main points of the presentartion:
www.iiasa.ac.at/web/home/about/ev…
——————–
International Institute for Applied Systems Analysis (IIASA) – Schlossplatz 1 – A-2361 Laxenburg, Austria
Phone: (+43 2236) 807 0 – Fax: (+43 2236) 71 313 – info@iiasa.ac.at
###
UN's musical chairs.
Richard Falk's wife is top nominee for a post on the Human Rights Council
By Hillel Neuer
March 3, 2014
As UN chief Ban Ki-moon today joins foreign ministers from around the world in Geneva to inaugurate a month-long session of the United Nations Human Rights Council, he should tell the 47-nation body to stop a controversial appointment that will expose itself to ridicule.
The secretary-general is surely looking forward to the upcoming exit of Richard Falk, the council's pro-Hamas investigator of "Israel's violations of the principles and bases of international law."
More than once, Ban had to take the extraordinary step of condemning one of his organization's own human rights experts — Falk — for spreading "preposterous" 9/11 conspiracy theories. After six years, term limits finally require Falk to go.
Yet it turns out that Falk may not really be leaving after all: the Human Rights Council is set to appoint his wife and closest collaborator to a similar post at the end of the month, days after Falk makes his final presentation to the plenary.
According to a UN document circulated in Geneva, Hilal Elver — a Turkish academic on law and climate change who has been married to Falk for the past 18 years, co-authoring many of his articles — is rated first among three nominees to become the council's next "Special Rapporteur on the Right to Food."
The troubled history of this UN mandate suggests the practices Elver would likely follow.
Despite its lofty title, the position was created by Cuba in 2000 as a political tool to attack the West, one of several UNHRC mandates created by third world dictatorships to disguise themselves as victims of human rights violations committed by Western capitalism, imperialism and racism.
The first right-to-food expert was Swiss socialist politician Jean Ziegler, a long-time shill for Havana's Castro regime, and the shameless co-founder (and 2002 recipient) of the Mummar Gaddafi Human Rights Prize.
Turning a blind eye to genuine starvation in places like Burundi, Ziegler spent much of his time finding imaginative pretexts to use his UN mandate on hunger to attack America and Israel. He condemned the Jewish state so often that journalists began to describe him, mistakenly, as the council's investigator on Palestine.
Sadly, there are many reasons to suspect that Elver would follow in this politicized and prejudiced path.
First, although Elver and Falk own a million-dollar Santa Barbara home by the Pacific Ocean, she devotes much of her writing to condemning America, and the West.
Like Falk, Elver is explicitly acknowledged in the world's leading 9/11 conspiracy book, "The New Pearl Harbor" by David Ray Griffin, for the help she provided the author.
In turn, Elver's academic work cites to Griffin's conspiracy book, which argues that the Bush Administration helped orchestrate the attacks on the World Trade Center to justify wars against Muslims in Iraq and Afghanistan.
Elver's words are more cautious, but hint in the same direction. In a 2012 law journal article citing to Griffin's notorious conspiracy tract, Elver compares 9/11 to Pearl Harbor, saying that both incidents "gave permission to the government to unleash the war power" and "invade countries", "create new hegemonies", and "racially discriminate against and segregate the people inside the United States."
According to Elver, the "American establishment" – she singles out the media and Hollywood — is guilty of "hostility towards Islam."
Second, like her husband, Elver's work is infused with dogmatism and tendentiousness, with sloppy attention to facts.
In June 2011, after the Economist advised Turkish voters to vote against the party of Recip Tayyip Erdogan, Elver and Falk published an article on the Al Jazeera website accusing the British magazine of a "Eurocentric virus," because it "never did venture such an opinion on the eve of the election of such reactionary and militarist figures as George W. Bush, Stephen Harper, or Binyamin Netanyahu."
The magazine, they wrote, revealed "a mentality that has not shaken itself free from the paternalism and entitlements of the bygone colonialist days."
The only thing was that the Economist indeed had advised American, Canadian and Israeli citizens how to cast their votes.  "Don't professors do any homework nowadays?" asked the magazine in response.
Similarly, Elver's very application for the UN post underscores her unprofessionalism. Her form is replete with spelling mistakes, non-sequiturs, and even self-disqualifying answers. Asked if she satisfied the job's conflict-of-interest rules, she replied "No."
Third, there is every indication that Elver would, like Ziegler, twist the hunger post to go after Israel.
In 2007, Elver connected the Jewish state to "genocide" and Israelis to "Nazis."
As UN food expert, we know exactly what her first charge will be. At a December conference in Qatar, she gave a lecture on Israel entitled "Water Apartheid."
Like Erdogan, Elver is obsessed with what she calls in her Turkish articles the "Yahudi lobisini" — "the Jewish lobby."
On the 10th anniversary of 9/11, Elver wrote that "the Jewish lobby" is "manipulating American politics" to ensure unlimited support for Israel.
In 2012, she warned about "the strong Zionist lobby" in the United States. Indeed, "many Muslim organizations are being controlled" in the American political arena by "pro-Israel lobbyist groups."
Appointing Elver will be like appointing Falk. They travel, work and write together. She is not only his "constant companion," says Falk, but also his "deepest collaborator."
When in 2012 I urged Human Rights Watch director Ken Roth to finally remove Falk from one his organization's influential committees, after he was condemned by the UK and other countries for anti-Semitism, they did so. Yet Falk's wife remained on, allowing the couple to continue hosting HRW events in their home.
It seems like the UN is now trying to pull the same trick.
Hillel Neuer is the executive director of UN Watch.
###
THE FOLLOWING SHOWS THAT UNDER UK LEADERSHIP, AND US BACKING, THE UN TURNS TO ITS MEMBER STATES' LEGISLATORS IN ORDER TO FIND A WAY TO TACKLE CLIMATE CHANGE.  IT SEEMS THAT FINALLY THE UN HAS LANDED ON SOMETHING – AND WE GIVE A LOT OF CREDIT FOR THIS TO  Dr. ROBERT ORR – a US citizen -  UN Assistant Secretary General in the UN Secretary-General's office.
We are told that In 2013 there was substantive legislative progress in 8 countries (passage of "flagship legislation") and positive advances in a further 19 countries:
– Americas: Bolivia passed its Framework Law on Mother Earth and Integral Development to Live Well; El Salvador adopted its National Climate Change Strategy; In Ecuador, Decree 1815 established the Intersectoral National Strategy for Climate Change; and in Costa Rica a draft General Law on Climate Change has been introduced and is expected to pass in 2014.
– Asia-Pacific: China published its National Adaptation Plan and made progress in drafting its national climate change law; Indonesia extended its forest moratorium; Kazakhstan introduced a pilot emissions trading scheme; Micronesia passed its Climate Change Act in late 2013.
– Europe: Poland adopted its National Strategy for Adaptation and Switzerland overhauled its CO2 Act to increase ambition.
– Middle East and North Africa: Jordan passed its National Climate Change Policy; and the United Arab Emirates launched a mandatory Energy Efficiency Standardization and Labelling Scheme.
– Sub-Saharan Africa: Kenya adopted 2013-2017 Climate Change Action Plan; Mozambique adopted 2013-2025 National Strategy for Climate Change;Tanzania passed its National Strategy on REDD+; Nigeria's Legislative Council
approved the adoption of a National Climate Change Policy and Response Strategy.
BUT WHEN THINGS MOVE UP THEY MAY ALSO COME DOWN – SO -
* Two countries began processes to reverse legislation:
– Following an election, the new Australian government has proposed to repeal aspects of the Clean Energy Act in 2014.
– Japan announced a lowering of its ambition on climate change in response to its reduced reliance on nuclear energy after the tsunami and resulting accident at Fukushima.
        Key information on the GLOBE Partnership for Climate Legislation (supported by the UN and the World Bank Group):
* The Partnership For Climate Legislation will support national legislators in 66 countries to share best practice and to develop and oversee the implementation of legislation on climate change, natural capital accounting and forests/REDD+.   The Partnership directly responds to the demand from legislators for technical, policy and analytical capacity.
* Specific aims:
i. To share best legislative practice through the annual GLOBE Climate
Legislation Study, national case studies and the convening of GLOBE Climate
Legislation Summits.
ii. To provide a dedicated international process that supports legislators
– on a demand-led basis – to develop and implement climate change
legislation.
iii. To explore how commitments made in national legislation can be
recognised within the architecture of an international climate change
agreement.
iv. To develop a Climate Legislation Resolution to be agreed at the World
Summit of Legislators and to be taken by legislators to their respective
national parliaments.
v. To support legislators to obtain, use and exchange relevant climate data.
* Climate-related legislation and policies (including mitigation, adaptation and forests/REDD), once implemented, carry the potential to bring additional benefits including disaster risk reduction and resilience, new sources of income/livelihoods, sustainable energy access and positive effects on public health.
* Recognizing that developing and passing laws is not sufficient in itself, the Partnership will support legislators to ensure they are equipped to effectively oversee the implementation of the law by national governments, including ensuring national budgets are consistent with climate goals, as well as assessing the impact of climate-related laws on the national
economy and key sectors of society.
           About the Global Legislators Organisation (GLOBE):
* GLOBE was established in 1989 by cross party legislators from the EU, Japan, Russia and the USA.  Today GLOBE International is the world's largest organisation of legislators dedicated to advancing laws on climate
change, forests/REDD+ and natural capital accounting .
* Legislators from 86 countries have participated in GLOBE's dedicated policy initiatives and legislators from 40 countries work through formal national and regional chapters of the organization.
* With headquarters in Great Britain, offices in 8 countries and over 25 locally-recruited policy advisors across a global network, GLOBE is uniquely placed to support national legislators to develop and implement laws.
—————————————
FURTHER – A PRESS RELEASE – THAT WAS EMBARGOED UNTIL 00:01 UK/GMT 27 FEBRUARY 2014
STUDY REVEALS RAPID ADVANCE OF NATIONAL CLIMATE CHANGE LAWS CREATING BASIS FOR NEW INTERNATIONAL CLIMATE AGREEMENT
UN and World Bank support partnership with the Global Legislators Organisation (GLOBE) to encourage development of national climate change laws.
********
Thursday 27th February, US Senate, Washington DC, 115 senior national legislators from 50 countries along with the heads of key United Nations Institutions, United Nations Climate Negotiations and the World Bank Group receive the results of the most comprehensive analysis to date of the reach and depth of national climate changes laws in 66 of the world's countries.  The Summit will be hosted in the US Senate Kennedy Caucus Room by Senator Edward Markey.
The Study covering countries responsible for 88% of global carbon emissions was co-authored by the Global Legislators Organisation (GLOBE) and the Grantham Research Institute at the London School of Economics (LSE).  The Study sets out a series of politically significant findings that will have a direct bearing on success of the international negotiations. Legislators will also consider how national laws can be recognised within a 2015 international climate change agreement.
Responding to the Study, the Global Legislators Organisation is launching a major new international initiative, The Partnership for Climate Legislation, supported by the United Nations and the World Bank Group.  The Partnership will help national legislators to develop and implement climate change laws. It will work across the 66 nations covered by the Study by sharing best legislative practice, provide detailed policy, analytical and legal capacity to cross party groups of legislators as they develop their own laws.
The GLOBE Climate Legislation Study findings show:
* Almost 500 national climate laws have been passed in the 66 countries
covered by the Study.  The 66 countries account for 88% of global
emissions.
* 64 of 66 countries have progressed or are progressing significant climate
and/or energy-related legislation.
* Much of the substantive progress on legislative activity on climate
change in 2013 took place in emerging economies, including China and
Mexico, which will provide the motor of global economic growth in coming
decades.
* Whilst the legislative approach often differs (whether directly inspired
by climate change, energy efficiency, energy security or competitiveness),
national legislation is achieving similar results — improved energy
security, greater resource-efficiency and cleaner, lower carbon economic
growth.
* While current national legislation does not yet add up to what needs to
be done to avoid dangerous climate change, it is putting in place the
mechanisms to measure, report and verify emissions, a pre-requisite for a
credible global climate treaty.
* There is an urgent need for those countries that have not yet passed
climate legislation to do so
US Senator Edward Markey, said: "Climate action is happening in legislatures around the globe because climate change is harming countries and their people around the globe.  We need an international movement to pass climate legislation, and nowhere is that movement needed more than here in the United States.  The GLOBE study show legislators around the
world are taking actives steps to develop significant national legislation and I urge colleagues here in the United States to acknowledge the movement and take action".
President of the Global Legislators Organisation, Rt Hon John Gummer, Lord Deben, said: "The message from the 4th GLOBE Climate Legislation Study is clear – more countries than ever before are passing credible and significant national
climate change laws. This is changing the dynamics of the international response to climate change and poses a serious question to the international community about how we can recognise credible commitments made by governments within their national legislature.  It is by implementing national legislation and regulations that the political conditions for a global agreement in 2015 will be created."
"Understanding this message from the Study and embracing it in how major international processes and institutions work between now and Paris 2015 will be critical.  We must see more countries develop their own national climate change laws so that when governments sit down in 2015 they will do so in very different political conditions to when they did in Copenhagen. The Partnership for Climate Legislation will support legislators across party political lines to advance climate change-related legislation. The Partnership will provide a combination of political, analytical and administrative capacity.  It will also serve as a platform where legislators from across the world can meet, discuss common barriers, issues and successes and share information about best legislative practice".
Executive Secretary of the United Nations Framework on Climate Change (UNFCCC), Christiana Figueres said: "It is no exaggeration to say that theclean revolution we need is being carried forward by legislation. Domestic legislation is critical because it is the linchpin between action on the ground and the international agreement. At the national level, it is clear
that when countries enact clean energy policies, investment follows. At the international level, it is equally clear that domestic legislation opens the political space for international agreements and facilitates overall ambition".
World Bank Group Vice-President and Special Envoy Rachel Kyte said: "2014 is the year we need to step up climate action.  Legislators have a critical role to play in raising political ambition and ensuring that effective laws and regulations support low carbon and resilient development.  For this reason, we're pleased to support the new Partnership for Climate
Legislation".
The President of the Mexican Congress, Hon. Ricardo Anaya Cortes said: "With the support of GLOBE, Mexico has passed ambitious climate legislation. We are here today in the US Senate to share our experience, to build a global coalition of parliamentarians against the damaging effects of climate change and to challenge inaction."
UK Foreign Secretary Rt. Hon William Hague said: "A global and legally binding deal on emissions reductions in the UNFCC in 2015 is imperative. As we work towards that agreement, it is clear that domestic legislation has a key role to play in building consensus and cementing ambition, which is why GLOBE's work is so important.  The launch of GLOBE's Partnership forClimate Legislation, with the backing of the UN and World Bank, is an  important step towards sustaining this work for long term, which the UK Government wholeheartedly supports".
Confirmed Keynote Speakers included:
Representing the United Nations Secretary General's Office:
* UN Assistant Secretary-General, Dr Robert Orr Representing the World Bank:
* World Bank Group President, Dr Jim Yong Kim
* World Bank Group Vice President and Special Envoy for Climate Change, Rachel Kyte
Representing the United Nations Framework Convention on Climate Change:
* UNFCCC Executive Secretary, Christiana Figueres
Representing the United Nations Environment Programmes:
* UNEP Executive Director, Achim Steiner
Representing the Congress of Mexico:
* President of Congress, Hon. Ricardo Anaya Cortes
—————————————————
For further information, please contact:
Study results and policy:
Terry Townshend, Study Author and Policy Director, Mobile: +86 15011 289613
and +44 7900 912808. E-mail: Terry.Townshend@globeinternational.org
Washington Summit:
Andrew Hammond, GLOBE Media Relations, Mobile: +44 7792926576. E-mail:
Andrew.Hammond@globeinternational.org
Office of Senator Markey:
Eben Burnham-Snyder, Telephone +1 202 224 2742, Email
eben_bs@markey.senate.gov
www.globeinternational.org
###
On the occasion of the International Year of Family Farming 2014

,
the
United Nations Information Service (UNIS) Vienna,
in cooperation with
this human world (THW)
 Film Festival
 and
Topkino,
presented
the
Ciné-ONU Vienna screening
 of the documentary
"The Moo Man"
(by Andy Heathcote, UK 2013, 98 min, English)
followed by a Q&A session with invited guests, free entry.
Date / Time: 24 February 2014, 18:30 hrs
Location: Topkino, Rahlgasse 1, 1060 Vienna
Participants of the panel discussion:
Elisabeth Sötz - Advisor for Environment and Natural Resources, ADA (Austrian Development Agency) 
Nikolaus Morawitz – Head of EU & International Affairs, Austrian Chamber of Agriculture
Frank Hartwich – Industrial Development Officer, UNIDO (United Nations Industrial Development Organization)
Janos Tisovszky – Outgoing Director, United Nations Information Service (UNIS) Vienna (Moderator)
———————————————————————————————————————  
as reported for SustainabiliTank by Ms. Irith Jawetz:
"The Moo Man" tells the remarkable story of a maverick farmer and his unruly cows, filmed over four years on the marshes of the Pevensey Levels*.  In an attempt to save his family farm, Stephen Hook decides to turn his back on the cost cutting dairies and supermarkets, and instead stay small and keep his close relationship with the herd. However farmer Hook's plans to save the farm do not always go down well with his 55 spirited cows. The result is a laugh-out-loud, emotional roller-coaster of a journey.
"Heart warming, a tearjerker of a movie, about the incredible bonds between man, animal and countryside." 
Mr. Hook describes his cows as "family". While the average life span of a cow on a farm is 5 to 6 years, his cows live 9 to 10 years. "We do not push them, they are more relaxed" he explains as the reason for their long life.
The film follows partly the story of his favorite cow, Ida. "Ida is a symbol of what we do" says Mr. Hook. We follow her life until she passes away and the sadness expressed by Mr. Hook is really touching. "She was a lovely cow the queen of the herd, and had a lot of character" Mr. Hook laments .
Farming is a 24/7 job, with no time off. Mr. Hook explains that the work is hard and you basically work for nothing. He milks the cows himself with little help, since he cannot afford to employ people, bottles them and brings them to the customers in his truck. This milk is literally brought from the cow to the consumers directly. However, it is a losing battle because of the high costs. As Mr. Hook explains nobody wants to farm anymore because you work hard for nothing.  Family farms close down all over England and Wales.
The discussion after the film focused basically on how the private farms could be helped.  They all agreed that farmers need subsidies, that is why the United States had the farm Bill. There is also a big difference between small farms in developed countries and those in developing countries – and that is where three essential facts were put forward to produce the best conditions for successful farming:
1) Stable policy on environment by the respective government;
2) Providing education, skills, and know-how to the farmers;
3) Organization, i.e. lobbying & marketing.
This is where developing countries falter, while developed countries are doing better. In the developed countries, especially in the EU, the farmers are well represented, have a strong lobby and basically do better.
One big problem for the farmers is Climate Change.  Since they cannot predict the weather, it is difficult for them to know when to plant what and whether the weather will cooperate.
Sudden floods, drought may ruin the whole crop.
A second problem is urbanization. Young people move to the cities seeking easier and more profitable jobs.
Agri-tourism is a small help. Small farms, especially in the EU open B & B facilities for families, particularly city folks with children, to spend time on the farm. The income helps.
It was all in all an interesting evening, combining an endearing film with lots of emotions, yet also laughter, and a serious discussion afterwards.
—————————
*  Natural England – Pevensey Levels NNR
Pevensey Levels NNR lies in the heart of a large grazing marsh which is home to many species of wetland bird.
————————-
This event – the showing of the movie to the public at large – by a UN Information Service/Center – shows what an outreach of the UN can do even in a developed country – that is not just assuming the role of the UN is

just

to teach the backward developing countries.
###
Feb 18.

2014
agri-climatmadagascar.blogspot.com/
Drought a river in southern Madagascar
According to the FAO, "The family farming protects traditional foods, while contributing to a healthy and balanced diet, the conservation of the world's agricultural biodiversity and the sustainable use of natural resources."
For Madagascar, agriculture is the mainstay of the economy.
However, this sector is now in danger.
But often, rural households face the new challenges made by climate change, lack of technical expertise and funds, a particularly important level of isolation, etc..
But the most important remaining exposure to climatic and environmental shocks, against which their resilience is very low.
The problems of food insecurity are the most immediate consequence of this poverty.
Flooding of rice fields after passing a downpour
However, Madagascar is a country with high rates of endemic biodiversity and rich natural resources. Of those, family farming is very promising because this practice contributes to the management and sustainable use of these resources. Small farmers become key players in the preservation of the environment and the fight against climate change. Of those, sustainable family farming helps fight climate change.

IOC, a vast untapped energy potential
Victoria Harbour Wind Farm, Seychelles
Member countries of the Indian Ocean Commission and IOC (Comoros, Madagascar, Mauritius, Reunion and Seychelles)
are highly dependent on fossil fuels at least 81% primary is imported (oil and coal)

.
In Madagascar, in particular, wood is the main source of household energy. 
Visit one of the turbines
Now the entire region has a vast potential for renewable energies (hydro, solar, wind, geothermal, wave energy etc.).
Underutilized.
Regarding solar energy, for example, the region of the IOC has a tropical climate where all countries in the region are quite sunny throughout the year.
About wind energy or energy waves, the majority of countries of the Commission of the Indian Ocean islands are composed of small islands.
Seychelles as currently they are developing the field of wind energy.
Since 2013, eight turbines (Wind Farm Port Victoria) have been established to contribute up to 12% of all electricity in the Seychelles.
River Namorona feeding a hydroelectric plant
Madagascar is the largest island among the members of the IOC (5000km range).
However, access to electricity is very limited, especially in rural areas.
However, 80% of the Malagasy are living in rural areas.
Hence, rural electrification through renewable energy is an important measure to promote sustainable development in Madagascar.
It is also a key technology in the fight against climate change, which could have a material adverse impact on ecosystems
Visit the River Namorona
fragile Madagascar. Balanced combination of renewable energy, sustainable agriculture helps preserve rainforests. On hydropower, for example, only 1.3% of 7800MW are being exploited.
Posted by Malala RAKOTOJAOFENO
###
A global journey to 2030: Reviewing the First Steps …
The article below is the excerpt of a commentary authored by Molly Elgin-Cossart, former chief of staff for the secretariat of the High Level Panel on the Post 2015 Development Agenda. In her commentary, Molly draws on her experience with the High Level Panel offering a valuable insight of the process by looking at its strenghts, weaknesses and lessons learned. Molly is a Senior Fellow on global development at the Center on International Cooperation (CIC), at New York University, USA.
by Molly Elgin-Cossart -  now she is with the New York University  Center on International Cooperation – published by The Society for International Development – original link: The SID Forum Alert – February 17, 2014
The UN Secretary-General's High-level Panel of Eminent Persons on the post- 2015 Development Agenda (HLP) – a group of 27 eminent world leaders including a Nobel Peace Prize-winning Yemeni journalist, a Nigerian Minister of Finance, a Brazilian Minister of Environment, the CEO of Unilever, and three Heads of State/Government from Indonesia, Liberia, and the United Kingdom – came together a few months ago to make a deceptively simple statement at the United Nations: we can end extreme poverty by 2030.
For the first time in history, we have the knowledge, tools, and resources to Leave No One Behind. Not only that, we can do it as part of a broader economic transformation that will lead to sustained prosperity for all, and in a way that preserves our planet, for this generation and those to come.
This is an extraordinary moment. Never before has the opportunity to share prosperity been more within reach. To say that not a single person need live in the most desperate circumstances may sound innocuous. It may sound as if it is inevitable. But that is not the case. Continued growth will continue to reduce poverty, but it will not end it.
Cycles of poverty, perpetuated by injustice and inequality, trap the most vulnerable individuals and prevent them from fulfilling their potential. Often the poor are subject to overlapping forms of discrimination. For example, women who live with disabilities in isolated rural areas face a fight even to survive, let alone prosper, due to the discrimination, lack of mobility, and social exclusion they face.
Only through a transformational approach can we hope to give every person on this planet the chance she deserves. The members of the HLP agreed that we can – and we must – transform the way we approach development, to tackle global challenges through a new global partnership to end extreme poverty and put the world squarely on the path to sustainable development.
Crucially, though, the HLP report, A New Global Partnership: Eradicate Poverty and Transform Economies through Sustainable Development, is not the final word on the post-2015 development agenda. The world's next development agenda will be decided at a summit of Heads of State in September 2015.
Between now and then, global leaders will discuss the future of poverty and sustainable development. Will they rise to the challenge? Or will they let the chance pass them by, distracted by problems at home and the frustrations of international negotiation?
It will be a difficult journey to agreement in 2015. But the stakes are too high to allow leaders to shirk their responsibility to get serious about taking action to confront the challenges we face, from poverty to inequality to environmental degradation. Because the deliberations of the HLP provide a preview of the debates to come, reviewing some of the lessons of the Panel's experience may provide insight into the next two years of negotiations.
The Panel's journey from London to Monrovia to Bali – through debates, discussions, and consultations, led them to a worthwhile destination: a coherent, effective and sustainable road map to tackle global challenges.
Yet more than the destination, it is the Panel's journey that offers insight on navigating the rough waters ahead to 2015.
What follows are a few key observations from my experience as Chief of Staff of the Panel secretariat that I think are worth highlighting as we head into two years of intense multilateral negotiations.
###
Vienna's History and Legacy of the Past 150 Years.
Celebrating the Arts, Learning From Politics, War and Reconciliation.
In memory of the First World War – the 1914 War only 100 years ago.
A Symposium divided into three days – part of a larger 90 events Festival organized by Carnegie Hall.
PANEL I:
VIENNA 1860 TO 1914:
CREATIVITY, CULTURE, SCIENCE AND POLITICS.Fin de siècle Vienna was creative, cosmopolitan, and modern, as well as a hothouse of political ferment. How did arts and politics intermingle and influence a city's and country's destiny? A panel of leaders in arts and science discusses creativity as well as historic and contemporary examples of the arts as both a political tool and healing mechanism. Participants: Eric Kandel, Andreas Mailath-Pokorny, Christian Meyer, Dominique Meyer, Helga Rabl-Stadler, Franz Welser-Möst; Moderator: Carol Off
PANEL II:
HOW DID THE CULTURED, CREATIVE SOCIETY OF
VIENNA LOSE ITS MORAL COMPASS – COMING TO TERMS.
Vienna's creative, cultured, and open society deteriorated in the years leading to the 1938 Anschluss. Why did it happen and why did Austria take so long to recognize the horrors of the Holocaust? A panel explores a new generation's constructive efforts at remembrance and reconciliation.
Participants: Martin Eichtinger, Stuart Eizenstat, Clemens Hellsberg, Oliver Rathkolb, Alexandra Starr; Moderator: Morley Safer
PANEL III:
A GLOBAL ETHIC, CONTEMPORARY RISKS
AND APPROPRIATE RESPONSES – LESSONS OF HISTORY.With the experience of past conflicts and an examination of contemporary problems and risks, how does an increasingly globalized and interdependent world deal with ongoing issues and tensions? A panel of diplomatic and crisis-response experts debates whether the world is doing enough to avoid moral atrocities and advance ethical behaviour. Participants: Louise Arbour, Robert Hormats, Ferdinand Trauttmansdorff; Moderator: Peter Launsky-Tieffenthal
The Symposium at a glance:
The symposium explores a specific period in history, seeking to inform
current thinking and facilitate participation in a dialogue on current
conditions and foster action on vital ethical choices:
• What makes a community creative, dynamic, productive and
comfort able? What can we do to inspire more of what was best
about that legacy in our communities today?
• What causes a society to become morally destructive? What
constructive measures can we take today, some years and even
generations of leadership later, to learn from past horrors
• Are there signs of trouble around us? What are the prospects of
doing what is needed for an ethical outcome?
The events take place at the Paley Center for Media
25 West 52 Street
New York, NY 10019
Monday  February 24, 2014   6:00 – 8:00 PM
Thursday February 27, 2014  5:30 – 7:30 PM
Friday      February 28, 2014 12:00 – 2:00 PM
###
---
El Gouna: Egypt builds MENA's first carbon-neutral city
Posted: 15 Feb 2014 09:23 PM PST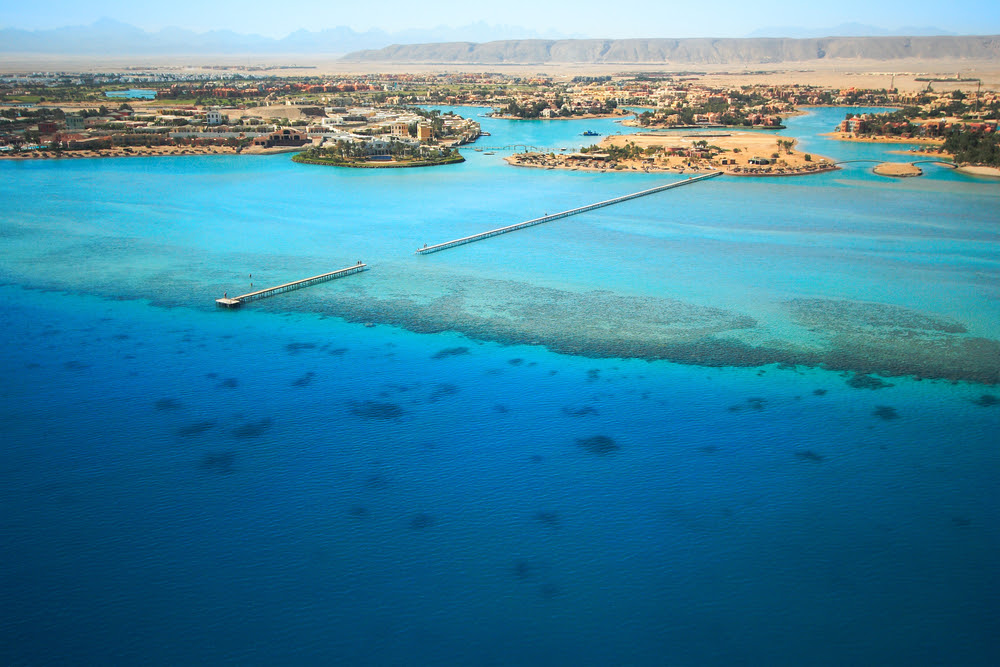 El Gouna, a resort city on Egypt's Red Sea Riviera, is set to become the first carbon-neutral city in that nation, in Africa, and likely the entire Middle East North Africa (MENA) region. Masdar City, in continuing development in Abu Dhabi, initially targeted zero-carbon status, but has yet to hit that goal.

Image of El Gouna from Shutterstock
The ambitious development agreement was signed last week by the Egyptian Ministry of State for Environmental Affairs, the Italian Ministry of Environment and El Gouna City.
Dr. Laila Iskandar, Egyptian Minister of State for Environmental Affairs, told Trade Arabia, "This agreement will help the Egyptian government to achieve a significant breakthrough in the fields of environment and tourism, enhancing Egypt's global image and opening the door for Egyptian tourism projects and cities to rank among the leading carbon-neutral entities."
El Gouna is already hailed as Egypt's most environmentally-friendly vacation destination.  It's captured Green Globe and Travelife certifications and was selected as the pilot location for the Green Star Hotel Initiative (GSHI).
Launched in 2007, GSHI is a cooperative effort between public and private sectors, the Egyptian and German tourism industries, and supported by key technical consultants.  They promote use of environmental management systems and environmentally sound operations to improve environmental performance and to increase competitiveness of the Egyptian hotel industry.
Priority projects include conservation of natural resources such as clean beaches, healthy marine life and protected areas, which are the backbone of the Red Sea Riviera and the nation's eco-tourism market.
Mr. Hisham Zaazou, Egyptian Minister of Tourism, told Trade Arabia, "We will also be working on implementing this project in other Egyptian cities."
###
Sheldon Mervin Chumir (December 3, 1940 – January 26, 1992) was a Canadian lawyer and Liberal Party politician from Alberta.
Sheldon Chumir was born in Calgary. He studied law at the University of Alberta, graduating in the year 1963 with the gold medal.[1] He continued his education as a Rhodes Scholar and earned a Bachelor of Letters degree from Oxford University in 1965.
Chumir began his professional career as a tax lawyer with the federal Department of Justice in Toronto. In 1971, he joined a Calgary law firm. In 1976, he launched his own private practice focusing on civil liberties cases which on occasion provided representation on a pro-bono basis.[2] He lectured on civil liberties and human rights at the University of Calgary Law School and founded the Calgary Civil Liberties Association.
Churmir was an active entrepreneur, he founded a small oil and gas company, and co-founded the entertainment promotion firm Brimstone Productions and engaged in real estate.
In 1983, he ventured into activism by creating "Save Public Education", an organization which opposed public funds to support religious schools.[3] The group ran a successful slate of candidates in a Calgary Board of Education election. As an MLA, Chumir advocated community service, and he advocated legislature that supported human rights and civil liberties.
Chumir was elected in the 1986 Alberta general election for the Alberta Liberal Party defeating Progressive Conservative Brian Lee. He was among a group of four Liberal MLAs who first elected Legislative Assembly of Alberta since 1969. In the Assembly, he advocated on legal affairs, human rights, energy and finance.
Chumir was elected to a second term in the Legislative Assembly in the year 1989.
Chumir died in 1992. The unmarried Chumir having no close kin to bequeath to, left his estate to establishing the Sheldon Chumir Foundation for Ethics Leadership.[4] As a politician and human rights attorney Chumir was an advocate for human rights and believed ethical values are fundamental to a healthy society. The foundation was intended to advocate for leadership and legislature to further the cause of democratic legislation and social reform.[5] The foundation offers internships and scholarships for students studying the field of Leadership and Law, publishes material pertaining to civil rights, and supports initiatives in the community.
The Sheldon M. Chumir Centre, an eight-story medical facility named in honor of Chumir, opened in Calgary in April 2008. The facility includes an Urgent Care Centre, Mental Health clinic, Diagnostic Imaging department and the Southern Alberta HIV Clinic.
Chumir was called one of Alberta's New Mavericks by Jamie Komarnicki of the Calgary Herald, who in Chumir's obituary described him as a "soft-spoken man with a quirky sense of humour [who] was a determined champion of public education and individual freedoms."[6][7]
In 2012, Chumir was posthumously honored by the Calgary Stampede Foundation with the centennial edition of the Western Legacy Award. This unique edition award recognized contributions of 100 Calgarians and their services to Calgary.
###
CULTURE WARS: Yogurt spat throws off breakfast routines of US athletes at Sochi Olympics.
FILE–In this Jan. 13, 2012 file photo, Chobani Greek Yogurt is seen at the Chobani plant in South Edmeston, N.Y. Team USA sponsor Chobani, which is based in upstate New York, says it has 5,000 cups of Greek yogurt sitting in a refrigerated warehouse waiting to be flown to the Olympic village. But Russian authorities say the U.S. Department of Agriculture has refused to provide a certificate that is required for dairy products under its customs rules. (AP Photo/Mike Groll, File)
SOCHI, Russia (AP) — U.S. Olympians will have to make do without the team's official yogurt — denying them a source of protein and potentially disturbing their daily routines as they prepare for the biggest competition of their lives.
Some 5,000 cups of Greek yogurt from Team USA sponsor Chobani isn't getting to Sochi because of a customs dispute with Russia.
U.S. halfpipe skier Aaron Blunck said Friday that to traveling athletes, getting food from home is part of feeling fit and healthy. "And having the yogurt there, that helps you, gives you protein, gives you nutrition," he said.
But teammate Lyman Currier said part of being an elite athlete is dealing with the unexpected.
"We all have different routines before competing but I think that part of the sport is adapting," he said. "So whether we have our yogurt or not, we'll be able to adapt."
The U.S. Ski Team is not staying in the athletes' village in Krasnaya Polyana in the mountains above Sochi. The Americans have their own place, with their own food and private chefs.
U.S. Alpine skiers Steven Nyman and Marco Sullivan said they were fine without yogurt.
"Our setup's pretty good. I can get my Greek yogurt when I get back home," Nyman said.
Sullivan noted that oatmeal was also missing from the breakfast menu; there was rice pudding instead. "I don't really care about it, but I noticed it," he said.
Russian authorities say the U.S. Department of Agriculture has refused to provide a certificate that is required for dairy products under its customs rules.
"American officials know what the requirements are, and I do not understand why they stood to the side and waited until the situation reached this point," said Alexei Alexeyenko, an official at the Russian Federal Service for Veterinary and Phytosanitary Surveillance. "This question can be resolved very quickly."
U.S. Sen. Charles Schumer this week implored the Russians to let the shipment through and said export trade rules should have nothing to do with it, since the yogurt isn't for sale and is to be eaten only by U.S. citizens in Sochi.
U.S. Ambassador to Russia Michael McFaul said Friday the trade dispute goes back four years and that he's been working on it ever since he arrived as ambassador in 2012.
"Unfortunately, with this particular shipment, it came to an impasse," he said. "We are still working it, we would like our athletes to be able to have the American yogurt."
—————-
I just had one of those Chobani Yogurts as part of my New York breakfast today. It had in it passion fruit and tasted very good. The cup had imprinted on it "Naturally Powering Team USA" but instead of the athletes in Sochi it was me in New York eating it. The Dagostino Supermarket had them on sale 5 for $5  (that is one dollar per cup).
—————
Senator Charles Schumer had in his declaration in Washington: "Chobani Yogurt is safe, nutritious, and delicious, and the Russian authorities should get past 'NYET.'"
This little skirmish – on principle – is just one more reason Sochi and Russia were not a good pick for the Olympics. US goodwill for the future is being lost by the day.
So, what is this all about?
Russia and its Customs Union (that is Belarus and Kazakhstan) demand a certification from the exporting country according to basic WTO regulations and want a  Certificate No. 28 – Milk and Dairy Products – from the US Department of Agriculture. This certificate asks for veterinary checks on the animals and for non-presence of live cells in the product. But this is a cultured yogurt that prides itself with active cells that help digestion. It is something like the great "stinking" cheeses of France that years ago US dairy interests tried to keep out – but later this got settled. The Russia/Customs Union asked thus for a document that could not be provided without actually having been targeted as a future market. We are talking here about a food to be consumed by Americans only and that ought to come under diplomatic immunity from shenanigans of trade. We suggest therefore that the US retaliate by forbidding the Russians to bring in caviar and vodka to their Missions in US.
Shenanigans I said, and these happen not only with Russia. Chiobani has a problem that came up in a London court where a claim was put in that being produced in the US, their yogurt cannot be called Greek Yogurt. Behind that fight was a Greece registered company – Fage – a competitor of Chobani in the US, where "Greek Yogurt" is understood as a generic like Greek Style Yogurt.
To muddy further the issue – another company – Danone – which is France based – and is the biggest yogurt producer in Russia and the World. Danone was the first company to invest in Russia after the collapse of the USSR, and by now has invested $1.6 Billion in Russia. Dannon is the name of their subsidiary in the US and they produce the Oikos brand of Greek Yogurt that is also a competitor with Chobani – the largest producer in the US. Another Greek Yogurt maker in the US has no Greek name pretense at all is Mueller Greek Yogurt.
In effect, I remember in my young days the culture yogurt was called Bulgarian Yogurt as Bulgarian families were priding themselves with generations old cultures of life yogurt – extending from one jar of milk to the next. These cultures were like family members and helped people have long lives. This is not a story – this is real natural medicine that ought to be left out of the hands of bureaucrats and dirty-business people.
All right – let us simply say that a national team that goes to an Olympics is entitled to diplomatic status and can bring along food for its own consumption – this ought to be part of the agreement with the International Olympics Committee when getting the OK for holding the games. The ongoing shenanigans are proof that goodwill is not a basis for the games.
————–
###
The Peace Islands Institute – driven by the JWF  tried yesterday its hand at the above by letting African Ambassadors to the UN state their case – but then when the questions came from the floor it became obvious that representatives of the African Governments to the UN just are not the right people to devise the right solutions.

Ms.  Sharene Louise Bailey, with a UN flag in front of her, was the moderator. She is Charge d'Affaires for politcal affairs at the African Union Observer Mission to the UN in New York.
Her panel included – in order of them speaking – Ambassador Dr. Mamadou Tangara of Gambia, Dr. T.A. Elias-Fatile, Senior Councellor for General Assembly Affairs representing Ambassador Professor U. Joy Ogwu of Nigeria, Ambassador Dr. Richard Nduhuura of Uganda, Ambassador      of South Africa,  The Ambassador from Mozambique was scheduled, could not make it, and so the unscheduled Ambassador from South Africa took over that slot. Also unanounced – for a short appearance we listened to Mageed A.Abdelaziz, United Nations Secretary-General's Special Adviser on Africa at the level of Under-Secretary-General. He was an Egyptian diplomat who had been Egypt's Permanent Representative to the United Nations since January 2005 – he left after his presentation.
The 1990 were discussed – the conflicts – the genocides of 1994 – the Convention to Combat African corruption and the talk of an Agenda of Sustainable Development. The Ambassador for Gambia, an academic Social Economist – reminded the audience that Kenya was ahead of south Korea and where are they now? I admire South Korea ad am angree about Kenya, he said. The source of the conflicts are the riches of natural resources – take Liberia, Sierra Leone he said – we had mercenaries taking the diamonds. Unfortunately we see ourselves through the eyes of others – even in education we need money from the outside and they ask us to "put in things we want you to put in" – he said.
The talk is about Nation Building and the outsiders think they know more then the Africans themselves
The Ugandan spoke of African ownership, the South African about regional integration -  then why does an Egyptian advise the UN Secretary-General on Africa – we ask?
Ms. Bailey asked – how do we Africans see ourselves this day when we say African Solutions for African Problems? Sharing lessons among ourselves – What have we achieved for Africans? Success issues of peace Keeping in Somalia? Investments? – How to get it?  The naked ingredients for peace  The promotion of regional cooperation with inter-African exchange of assets and concluded with the need for better financing.
After that came the questions:
An African Student at Columbia University wanted to know – When do we have an African Charter on Human Rights? HE ALSO CORRECTLY MENTIONED  – "WE ARE NET EXPORTERS OF DOLLARS!"
A lady born in Nigeria and who serves now in New York as a promoter of the rich African Culture here – Ms. Joyce Adewumi – spoke of the women of Africa – i"t seems we are ashamed now of our culture and of what we are doing" – she said. We buy foreign goods – we do not support our own products – We do not Support African Solutions she said to the Ambassadors without flinching. We are ashamed of being Africans!
Then we heard from Claudine Mukamabano, a beautiful young woman, a genocide orphan survivor who turned a life of hardship into one of leadership and advocacy.  She has the recognition of the Assembly of the State of New York for what she is doing for refugees from Africa. "How can we resolve the ethic problems in our continent" she asked? What has the African Union done to prevent genocide, she asked?
When the answers came we heard how an EU good-doer could not provide the rather small amount of money that was needed to provide drinkable water to a particular community – this because there was no existing way to provide small grants. She had to push the EU to go for bigger projects. I was flabbergasted – where were the Africans themselves – why do they not get off the corruption bags and do something for their people?  The basic human problem is that the colonizers put in our head that we are inferior and it stayed there.
They divided us and we stayed divided – was the answer.
The Ugandan said that the Security Council will act on Genocide. He wants Peace Enforcement – Not Just Peace Keeping. The problem with elections – you do not get ideology but tribalism. They'll make a constitution and go for elections later – then what? The idea is – let's have the healing before the elections. Quite right but this does not even start to scratch the problem.
Why detest the colonial powers when the actual states they created along Administrative lines are themselves the reason for the in-fighting. If truly independent why not reorganize the continent along lines more acceptable to the population – with attention to the traditional leaders? Why wait for the Security Council where the former colonial powers hold power today and have continuing business interests in their former colonies and are tied to some of the new country leaders?  Why not organize rather an African Union intervention force. Why not a minimum caring for  the people before they are pushed to flee their homes?
Why not talk some more to these refugees living now in the diaspora and listen to their wisdom more often – like in this event at the Peace Islands Institute in New York?
Present at Peace Islands was also Ethiopian Professor Ephraim Isaac who teaches African languages and Religion at East Coast Ivy League Universities. He did not voice opinions but eagerly followed the discussion. He proudly showed me that Harvard is now awarding a yearly prize to honor him on his name – to a promising student in African languages.
Germane to the event at Peace Islands, is also our previous posting about the High-Level Panel on the Illicit outflow of funds from Africa – about $50 Billion/year as presented by former President of South Africa, Mr. Thabo Mbeki, on February 6, 2014.
###