EU Agenda for the May 20, 2013 week -
EU leaders discuss energy and tax next WEEK.
17.05.13
BRUSSELS – Energy and tax policy are on next WEEK's agenda as European leaders gather in Brussels for a summit
on Wednesday (22 May).
Member states want to harvest an estimated €1 trillion lost every year to tax evasion.
It is hoped the additional funds will help alleviate a social and economic crisis that has put millions out of work.
Among the proposed solutions to help fill the state coffers is the automatic information exchange of bank account details.
Energy is also up for discussion.
Leaders are expected to focus their attention on completing the internal energy market, boosting investment in energy infrastructure, and reducing high-energy prices.
The European Commission says energy import dependence has increased in last two decades and estimates the demand for oil and gas will increase by more than 80 percent by 2035.
Commission chief Jose Barroso said the fragmented EU energy market is driving up energy prices for both consumers and businesses. He said the internal energy market must be completed through existing legislation to bring down the costs and boost revenues.
"Our discussion [at the summit] should build on February 2011 conclusions and take our policy forward," he said in a speech in early May.
Meanwhile, euro-deputies are in Strasbourg for their plenary session.
The MEPs on Tuesday will issue resolutions to urge member states to halve the €1 trillion in uncollected taxes by 2020.
Banking supervision is also on the plenary agenda on Tuesday.
The parliament says a final vote will be postponed until it can resolve accountability issues with European Central Bank.
A vote on a draft resolution on media freedoms and pluralism is scheduled on Tuesday. Deputies the same day will also approve the new dates of 22 to 25 May for the 2014 European elections.On Wednesday, MEPs will debate the upcoming US-EU free trade agreement with EU trade commissioner Karel de Gucht.
The commission, for its part, is set to adopt on Thursday a proposal by EU transport commissioner Sim Kallas on maritime ports in Europe.
Digital commissioner Neelie Kroes is also set to present a strategy on micro-electronics and nanotechnology on Thursday.
###
A Festival of singing people – 440 of them – from 18 choirs – in 16 European Cities – May 9-12, 2013 – held with workshops at the reestablished historic Odeon Theater in Leopoldstadt – the previously mainly Jewish Second District of Vienna.
The Festival culminated in a public concert on Sunday May 12, 2013 at the Austria Center back-to-back with the offices of the Vienna UN compound. The Honorary Chairman of the event was Austria's President – the Honorable Heinz Fischer.
This after the 2011 revival of the European States Makkabi sports-competitions that brought at the time 60,000 out-of-town visitors to Vienna.
The present event was dedicated to the revival of Jewish culture in European Communities – and at times the choirs including non-Jews as well.
The timing seems symbolical – it started May 9th – the Victory Day over Nazism and ended on Mothers' Day – if you wish in memory of those Jewish self sacrificing mothers that helped continue Judaism in Europe that proving that Hitler was defeated.
At the workshops the choirs were taught new songs that were then performed jointly by all participants at the grand-finale of the Sunday event. These included Adon Olam with the Chief cantor of Vienna's Jewish Community Shmuel Barzilay, Ose Shalom, and the israeli National anthem – The Hatikah (Hope).
The professional leader of the event was Choirmaster Roman Grinberg of the Vienna Jewish Choir whose President is a Young man Florian Pollack who was the organizer of the Sunday concert. Though performing also liturgical music, this choir is cultural in content – including both men and women, something that might have been difficult to do if it were directly part of the Orthodox stream of the majority of Vienna Synagogues – though quite normal with the Or Chadash Reform Vienna Synagogue. Nevertheless the Orthodox Chief Rabbi of Austria, Rabbi Chaim Eisenberg, who himself has in the past performed with the Vienna Jewish Choir outside the Synagogue, wrote an introductory note to the Sunday program booklet.

The MC on Sunday was Ms. Danielle Spera who is a well known Austrian TV personality, and in 2010 became the Director of the Vienna Jewish Museum. She was the top choice of Vice Mayor Renate Brauner, who is in charge of the Vienna Holding Company that owns the buildings of the two Vienna Jewish Museums that were up for renovation in the 2010-2011 years.
The meeting of the choirs cost 200.000 Euro and the money came from institutional contributions. The main backer was the Bruxells based European Jewish Union that was described by the MC as The Jewish European Parliament.
At the workshops, the nine choirs that belong to the Renanim organization – choirs from Amsterdam, Bruxelles, Dijon, Marseille, Nantes, Nice, Paris, Toulouse, and Utrecht chose to appear in a large united choir – thus reducing the number of choirs on Sunday from 18 to 10 facilitating a more manageable situation.
The Sunday event started with one choir on stage and all the others in various locations in the hall – singing together Uru Ahim- Hava Neranna. . .  with an added 1400 people in the large and full hall of the Austria Center (In the audience I spotted also several women with Muslim head-covers). Then, after the introductory, thankfully rather short  speeches, the line-up was thus as follows:
1. The Vienna Jewish Choir led by Roman Grinberg that was created 20 years ago by Dr. Timothy Smolka with 8 people and counts now on 50 active singers having performed at many events all over Europe. Their contribution was mainly in Jidish – old folk-songs.
2. The Assoziazione Coro-Kol of Rome led by Choirmaster Andrea Orlando that started with Verdi's Va Pensiero and moved to Hebrew Shabbat and wedding songs. This choir was established in 1993 by the Great Synagogue of Rome and has usually a repertory that includes Ladino as well as Yiddish songs.
3. The Masel Tov Choir of Wuppertal, Germany with Rokella Rachel Verenina, formerly of Odessa, the Ukraine, as choirmaster.It is a choir established 15 years ago by Russian immigrants that finally wanted to express themselves freely. It has now 35 active members – Jews and non-Jews and is one of the best in Germany. They sang Yiddish and German. In the choir I spotted also one black man and many of the singers looked like hardened industrial workers – what they probably are indeed.
4. The Boys Choir of The Vienna City Tempel – the Main Synagogue of Austria Shmuel Barzilai, the Chief Cantor in charge. It had 7 boys under the age 13. This Choir is modeled after the famous Vienna Boys Choir. Their songs were all in Hebrew and from the liturgy and were received with warm applause.
5. The Shalom Chor of Berlin led by Nikola David who is an operatic singer who after graduating from cantorial school has now a position with the Erfurt Synagogue. The 37 active members are from the community and from churches around Berlin. They sang in Hebrew and interestingly wore shawls of single colors – red, green, orange, blue, light green – which left me with the impression that they covered the political spectrum of Germany. I wonder if this was indeed the intent of these colors.
6. The Ensemble Vocal Zamir of Paris with Albert Benzaquen as choirmaster ranging in music from Shlomo Carlebach and Naomi Shemer to Chasidic and Ladino. It was created in 1980 from basically members of families from the Sephardic community. They have had many appearances in France and do not miss the choir festival in Israel – the Zimrya in Jerusalem. Working people – they clearly enjoy what they are doing and we were told meet twice a week.
7. The Jewish Choir "Eva" of Saint Petersburg with Elena Rubinovich as choirmaster. An all girls choir. The teen-age girls dressed in white blouses and blue long skirts. They had a large Magen David attached to their blouses above the heart. They started with Jerusalem of Gold in Hebrew, had a Russian song and moved to Yidddish – "Bei Mir Bistu Shein" the Jewish American song. Interesting – this was different then in the written program and clearly they have a large repertory and were excellent – real singing talent – lurks here. We were told that the girls are children and youth organized by the Welfare and Community Centre. Terrific applause.
8. The Varnishkes of Lviv, The Ukraine with Oleksandra Somysh as Band leader of what was indeed a Klezmer-music group.  Another example of terrific applause. The team was born 6 years ago and as they state it – they adore the magic of Yiddishkeit. They include volunteers and foreign students and are lovely. They reminded me of a similar non-Jewish group I saw in Cracow years ago and Elie Wiesel was in the audience then.
The Lviv group – the singing was all in Yiddish – and we understand that young German audiences love to listen to them.
9. Hor Bracha Baruh a Choir named after the Baruch Brothers of Belgrade. This choir is not by definition Jewish – but it was named after three brothers that were killed fighting in the resistance in WWII, and the choir comes to honor their Jewish culture. The choir was founded in 1879 as the Serbian Jewish Singing Society – perhaps the oldest Jewish choir in the world – then re-established under the present name when Yugoslavia split and the Serbs clearly were looking for Israeli recognition mentioning that it was Serbs that were most friendly in those terrible war-years.Their repertory is eclectic – included Serbian, Ladino and Hebrew and sounded well rehearsed. It is a nostalgic but hope-filled experience. The Choirmaster Stefan Zekic – a clear professional.
10. The Renanim combine with Avner Soudry as choirmaster and Therese Beuret-Sadoul as Administrator that gave us a Paul Ben Haim Hebrew composition, a Suite Judeo-Espagnole and a very appropriate Shir LaShalom, then Mipi El. They remained on stage and were joined by everyone else for the Grand Finale.
There were obviously no encores – but everyone, afyer milling around for a while, happily called it a night.
###
Our website has proposed that geopolitics are headed to a new structure were it is needed to have a billion people in order to be considered a World Power. As such we proposed that besides China and India, the other World powers will be -
- an Anglo-American Block led by the US and that will include also the UK, Australia, New Zealand, Canada, and as well Mexico and Japan;
- a European Block led out of Brussels by a more united and reorganized EU and that will include Russia but not the UK;
- an Islamic Block led by Turkey or Indonesia that will stretch from Mauritania to Indonesia;
- and a block "Of the Rest" that will be led by Brazil and include, with a few exceptions based on the US led Trans-Pacific Partnership (the TPP) , Latin America, Africa, the SIDS, parts of Asia.
It is this last Block that will become the new Third World – that is the Sixth World of those outside the China, India, US, EU, and Islamic Blocks.
We see the recent news of Brazil defeating Mexico for the leadership of the WTO as an important step in above direction.
=======================
Brazil Wins Leadership of the World Trade Organization
Brazilian Roberto Azevêdo has been chosen over Mexican candidate Herminio Blanco as the newest director general of the World Trade Organization (WTO) on May 7. El Palenque, AnimalPolitico's debate forum for experts, discusses the effects this win will have on Mexican diplomacy, Brazil's role in trade liberalization, and the prominence of the BRICS on the world stage. Azevêdo will be the first Latin American to head the WTO.
—————–
The Financial Times wrote May 7, 2013:
So, Roberto Azevêdo, Brazil's candidate for director general of the WTO, has pipped his rival Herminio Blanco of Mexico for the job.
But there is still a question to be answered: Who won? The man or the country?
Between Azevêdo and Blanco, there may not be much to choose. Both have impressive credentials. Azevêdo, a career diplomat in one of the world's most polished diplomatic services, has been Brazil's ambassador to the WTO since 2008. He knows the organisation inside out. Blanco is a businessman steeped in trade, a trade consultant who was formerly Mexico's trade minister and its chief negotiator during preparation of the North American Free Trade Agreement.
If the race was between two technocrats, it must have been a photo finish.
But what if the WTO members voted for the country, not the man? Then, it was a matter of chalk and cheese. Disgruntled Mexicans – whose pride will have taken a severe knock – will call this a victory of protectionism over free trade.
It will also be a victory of the developing world over the developed one.
Mexico, which has free trade agreements with 44 different countries, is the new poster child of developed world policies at work in the developing world. Brazil has free trade agreements with nobody, and has shown a tendency to renegotiate what agreements it does have as soon as they become inconvenient – not least its auto agreement with Mexico. Many developing countries – in Africa and Asia as well as in Latin America – will have felt the Brazilian was much more likely to protect their fledgling manufacturers and farmers than was the Mexican. Many of those countries, especially in Africa, already have closer ties with Brazil than they do with Mexico.
In an interview with Reuters, Azevêdo played down the issue of nationality:
"I, as candidate and as director of the WTO will not be representing Brazil," Azevedo told Reuters in a phone interview on Tuesday.

"I made it to the final round in the election with those complaints on the table, and that doesn't change things. It means there is an understanding between WTO members that the candidate must be independent from his country and be evaluated according to his skills."

Asked if he considered Brazil was protectionist, he declined to comment.
To those who say that, under Azevêdo, the WTO will lose sight of its mission to promote free trade, others will reply that it never had one in the first place.
But Tuesday's decision will make a big difference. No matter how pure a technocrat he is, Azevêdo will find it hard to fend off the influence of Brasília. It was the Brazilian that won, and not the Mexican.
Related FT reading:
Brazil wins battle for WTO leadership, FT
WTO chief must show relevance by making progress on global pact, FT
WTO candidates adopt varying stances on trade, FT
Questions for the world's next trade chief, FT
Herminio Blanco: status quo is not an option for the WTO, beyondbrics
SO, WE WILL SAY – THE FT AGREE WITH OUR POINT OF VIEW THAT THE US CANDIDATE – MEXICO – LOST TO THE CANDIDATE OF THE THIRD WORLD – THAT IS OUR TRUE SIXTH WORLD – WHO WILL STAND UP TO THE BIGGER BOYS OF THE OTHER FIVE WORLDS – SPECIFICALLY THE US – WHO BLATANTLY USE THE INTERNATIONAL ORGANIZATIONS FOR THEIR OWN GOOD – EXCLUSIVELY!!!
=====================
FURTHER NEWS OF RELEVANCE TO THE NEW WORLD IN THE MAKING:
Clinton Global Initiative to Launch Latin America Program in Rio
Former President Bill Clinton announced on May 6 that the Clinton Global Initiative (CGI) would be expanding to Latin America in December 2013, with its first meeting set to launch in Rio de Janeiro. He was joined by Rio Mayor Eduardo Paes in making the announcement at the mid-year meeting for his annual conference.
Brazil Starts Small Business Ministry
President Dilma Rousseff announced the start of a small business ministry on May 6, saying that government banks will provide up to $7,500 to small businesses in 2013 and will reduce the public loan interest rate from 8 percent to 5 percent beginning on May 31. "The question of small business is indispensable for the country's future and present," said Rousseff. Brazil's estimated 6 million micro and small businesses accounted for 40 percent of the country's 15 million new jobs from 2001 to 2011.
Cuba to Send 6,000 Doctors to Brazil
Brazil plans to hire approximately 6,000 Cuban doctors to work in the country's rural areas, said Brazilian Foreign Minister Antonio Patriota on May 6. The Federal Medical Council­–a Brazilian doctor's organization–questioned the island nation's medical qualifications, but Patriota called Cuba "very proficient in the areas of medicine, pharmaceuticals, and biotechnology." President Dilma Rousseff began the talks in January 2012, and both countries are currently consulting with the Pan American Health Organization to move forward.
A Bright Outlook for Latin American Economies?
The International Monetary Fund's May 2013 Regional Economic Outlook predicts Latin America's growth to increase approximately 3.5 percent by the end of the year. But, in an article for The Huffington Post, Director for the IMF's Western Hemisphere Department Alejandro Werner questions whether countries in the region will be able to "adjust policies to preserve macroeconomic and financial stability" after the near-future external benefits, such as easy external financing and high commodity prices, begin to decline.
Volcanoes and Geysers Could Fuel Chilean Energy
Chile will partner with New Zealand to develop its deep exploration drilling and to develop its geothermal energy production. Chile is home to 20 percent of the world's active volcanoes, which can be harnessed for geothermal energy. However, only 5 percent of the country's electrical power is attributed to renewable energy resources, reports IPS News.
The Pacific Alliance Creates a Legislative Committee
Heads of Congress from Pacific Alliance members Chile, Colombia, México, and Perú signed an accord to form a Pacific Alliance Inter-Parliamentary Committee on May 6, reports La República. The committee would serve as the legislative arm of the Alliance by developing a framework to approve free trade agreements and distribution of goods, services, and capital under the Alliance. The committee will be officially presented to the Alliance at a legislative session in Chile in June.
Washington to Host Chilean and Peruvian Presidents
Chile's President Sebastian Piñera and Peru's President Ollanta Humala will visit Washington D.C. in June to discuss economic relations with President Obama. Piñera's visit will take place on June 4, and Humala will visit one week later on June 11. The agenda will likely touch on negotiations with the Trans-Pacific Partnership, as all three countries hope to develop closer economic ties to Asian markets.
###
Norway, Canada, the United States, and the Tar Sands.
9 May 2013
by James Hansen
Today 36 Norwegian organizations sent an open letter to Prime Minister Stoltenberg expressing opposition to development of Canadian tar sands by Statoil (the Norwegian state is majority shareholder of Statoil). Signatories include not only environmental organizations, but a broad public spectrum, including, appropriately, many youth
organizations.
It is encouraging that Norwegian youth press their government to stop supporting tar sands development, given
the fact that Norway saves much of its oil earnings for future generations and given the fact that Norway is not
likely among the nations that will suffer most from climate change.
I wonder if the Norway government response will be better than their response in 2010.
The gap between public preference and government policy is not unique to Norway. Similar situations were found in other nations, as described in "Storms of My Grandchildren."
Governments talk green while doing black, supporting or even subsidizing the fossil fuel industry while
doing little to solve fossil fuel addiction.
The Canadian public is also impressive. Most messages that I receive from Canadians are ones of encouragement, apologetic that some government ministers speak out of both sides of their mouth at the same time. On one hand,
they say that tar sands will make Canada the Saudi Arabia of oil. On the other hand, they say that the amount of carbon in tar sands is negligible.
The truth is that the tar sands gook contains more than twice the carbon from all the oil burned in human history.
If infrastructure, such as the Keystone XL pipeline, is built to transport tar sands gook, ways will be developed to extract more and more. When full accounting is done of emissions from tar sands oil, its use is equivalent to burning coal to power your automobile.
This is on top of the grotesque regional tar sands destruction.
There is a basis for optimism that the Keystone pipeline can be stopped and tar sands exploitation phased down before it becomes the monstrosity that oil companies are aiming for.
Tar sands make no economic sense if fossil fuels pay their true costs to society via a gradually rising fee collected from fossil companies in proportion to the amount of carbon in the fuel. Conservatives in the United States are beginning to recognize the merits of a carbon fee, which would be a non-tax, 100% of collected funds distributed to the public on per capita basis.
The Wall Street Journal recently published an article endorsing this approach by George Shultz and Gary Becker, a Nobel prize winning economist. Such a fee levels the playing field among alternative energies and energy efficiency, providing a spur for development of clean energies. After 10 years a carbon fee rising $10 per ton of CO2 per year would reduce United States carbon emissions by 10 – 11 times more than the carbon carried by the Keystone pipeline.
The funds distributed to the public, 60 percent of the people getting more than they pay in increased prices, would spur the economy. The energy revolution would create millions of jobs.
So don't despair re the tar sands.
There are sensible alternatives.
The common presumption that President Obama is going to approve the Keystone XL pipeline is wrong, in my opinion.
The State Department must provide an assessment to President Obama. Secretary of State John Kerry is expert on the climate issue and has long been one of the most thoughtful members of our government. I cannot believe that Secretary Kerry would let his and President Obama's legacies go down the tar sands drain.
###
As reported by Matthew Russell Lee from the UN, it seems that there is a Russian-American agreement to let Assad of Syria continue to fight his opposition as it seems that the Qatar, Arab Sunni proposal,leads to an Al-Qaeda domination in a post-Syria configuration. This might be what some Arab States want to happen, but it is totally unacceptable to the US and other States. Syria is doomed one way or another, and the new reality is that the US will not waste more energy on playing along Arab lines.

UNITED NATIONS, May 9 — On the pending Syria UN General Assembly resolution drafted by Qatar, Russia's Permanent Representative Vitaly Churkin has now written to all member states, opposing the resolution on procedure, substance and on the May 7 announcement by Russian Foreign Minister Lavrov and US Secretary of State Kerry.
Inner City Press has obtained a copy of Russia's letter and puts it online, here.
Please see Lavrov's letter and realize that Syria is being moved to the backburners – even though it is clear that people will continue to be killed or driven into exile. No solution in Syria is now also clear reason for not pushing a Palestinian resolution either – all what we expect now is lot of empty noise.
###
The Return of the Jordan Option
For Palestine.
A recent visitor to Amman reports some senior Jordanians declaring openly that "there never was a place called Palestine. There is no such thing as Palestine, only Jordan." Such sentiments, while still a minority view, mark a sea change in the long-standing Jordanian deference to the PLO on developments west of the Jordan River. According to one Palestinian, such views are being encouraged by some voices in Fatah, who fear Hamas' baton more than Amman's reluctant embrace, and who no doubt believe, as many veterans in Fatah do, that all it will take to turn Jordan into Palestine is a Palestinian decision to do so.
"Jordan is Palestine" is the mirror image of  "Palestine is Jordan." Jordanians identified with the latter are not contemplating a confederal agreement between respective Jordanian and and Palestinian states, but rather the restoration of Jordan's uncontested place in Jerusalem and the West Bank on the eve of the June 1967 war.
The ruler of the Hashemite Kingdom of Jordan is not to be envied. History and geography have played a cruel trick on the leader of this unlikely country. He is squeezed between more powerful and often warring parties, presiding over a population of subjects thrown together by war and circumstance.To its credit, Jordan has succeeded more often than it has failed to construct a popular and workable, if fragile sense of national identity shared by disparate Palestinian and Transjordanian communities during the last nine decades. However, the self-immolation of Syria, Fatah's failure to end Israel's occupation of the West Bank, including East Jerusalem, and the uncertain promise of the Arab Spring are posing new and unprecedented challenges for King Abdullah II, whose head lies ever uneasy on the royal throne.
The feasting on the corpse that was once Syria poses the most immediate challenge to Jordan, and it was at the heart of recent discussions during the King's recent visit to Washington in the last week of April. But Jordan's cascading problem managing the fallout from Syria complements the more essential challenge that has always been uppermost in the mind of Jordan's political elite as well as its growing Islamic opposition. This challenge, of course, relates to the Palestinian dimension of Jordan's national identity, and the King's ability to manage this without his Hashemite or Transjordanian identity suffering as a consequence.
It is against Jordan's basic nature to make precipitous moves in any direction, yet a dynamic trend favoring a "New Look" in Jordan's Palestine policy — one that is viewed sympathetically in both Jerusalem and Washington — is hard to ignore.
For many years now Jordan has been confronting a most unwelcome strategic environment to its west, across the Jordan River. Fatah has failed to end Israel's occupation of the West Bank, including East Jerusalem, and the growing power of Hamas as a political factor has proceeded in tandem. Fatah is no friend of Jordan, where memories of Black September remain etched in the consciousness of the Jordanian elite. But Jordan long ago was forced by its own failures and by circumstances beyond its control to make its peace with the PLO, not only as the recognized representative of the Palestinian people — at least those residing east of the Jordan River —- but also as a strategic buffer against Israeli, American and Islamic/Arab claims against Amman. The PLO, notably after King Hussein's 1988 disengagement from the West Bank, became Jordan's insurance policy against the imposition of a solution at Jordan's expense to Palestine's problems in West Bank and Gaza Strip.
To Jordan's dismay, it is being forced to realize that Fatah and the PLO it embodies cannot perform this task. This conclusion has been debated from time to time in recent years. The barometer of these discussions is Amman's on-again, off-again dance with Khaled Meshaal and Hamas, most notably the 2009 thaw in relations engineered by Gen. Mohammad Dhahabi, who was at the time head of Jordan's General Intelligence Department. If Fatah cannot be a Palestinian shield protecting Jordanian interests in a quiescent West Bank, it is argued, then perhaps Hamas should be given a go.
The other option, and the one today at the center of Jordan's agenda, suggests a fundamental rethinking of Jordan's exit from the West Bank that began with King Hussein's failure in 1972 to reach an agreement on Israeli withdrawal with Moshe Dayan and that gained momentum with the Arab League decision to recognize the PLO as the sole legitimate representative of the Palestinian people in 1974.  Like Jordan's unenthusiastic turn in Hamas' direction, this option reflects Jordan's despair at Fatah's failure and is a hedge against Fatah's capitulation to Israel in a deal that would endanger Jordan's interest in preventing an influx of Palestinians eastward across the Jordan River.
One example of this trend is the "historic," if precipitous, agreement between King Abdullah and PLO head Mahmoud Abbas in March confirming the Jordanian king's stewardship of the holy places in Jerusalem.
"In this historic agreement, Abbas reiterated that the king is the custodian of holy sites in Jerusalem and that he has the right to exert all legal efforts to preserve them, especially Al-Aqsa mosque," the palace said in a statement. Abbas said that the agreement confirmed "Jordan's role since the era of the late King Hussein" and that it consolidated agreements established decades ago.
Abbas' signature marks the first formal Palestinian recognition of Jordan's central role in Jerusalem and it complements the understanding detailed in Jordan's treaty with Israel in 1994. The treaty notes that "Israel respects the present special role of the Hashemite Kingdom of Jordan in Muslim Holy shrines in Jerusalem. When negotiations on the permanent status will take place, Israel will give high priority to the Jordanian historic role in these shrines."
Abbas' interest in formalizing Jordan's role is a function of Palestinian weakness and stands in ironic contrast to the nominal, and apparently symbolic boost for sovereignty won at the UN last November.
The understanding on Jerusalem reflects the PLO's interest in Amman as a diplomatic safe harbor, protecting against both Hamas and Israel, and Amman's readiness to reaffirm its interest in Jerusalem at the PLO's (and Hamas') expense.
These interests are not inconsistent with the evolving diplomatic strategy being pursued by US Secretary of State John Kerry. For more than a year, Amman has been a key way station of Washington's diplomacy, much to the dismay of some in Egypt who preside over long-stalled reconciliation efforts. But unlike President Mohammad Morsi, King Abdullah is interested in being identified with any American effort. Even if opposed to the ideas Kerry is now circulating, Jordan has rarely viewed itself as in a position to reject US efforts.
"Palestine is Jordan" has long been the rallying cry of Israel's right wing. It is now finding an uncertain echo in Jordan.
Geoffrey Aronson has long been active in Track II diplomatic efforts on various Middle East issues. He writes widely on regional affairs.
————————————
Jordan hails US-Russia plans for Syria peace conference

Jordan's Foreign Minister Nasser Judeh, meeting with US Secretary of state John Kerry in Rome Thursday, threw his support behind the US-Russian call for a Syria peace conference later this month. With over 500,000 Syrian refugees and 2,000 more coming every day, Jordan's envoy said it's imperative that a transition get underway to a political resolution that preserves Syria's multi-ethnic society and borders.
"We are extremely encouraged by the results of the Secretary's meetings in Moscow with the President and with the Foreign Minister and salute your achievements in that regard by identifying a path forward," Judeh said at a meeting with Kerry at the US ambassador's residence in Rome Thursday.
Jordan's position, Judeh said, is that there "has to be a transitional period that results in a political solution that includes all the segments of Syrian society, no exclusion whatsoever…preserves Syria's territorial integrity and unity, and…guarantees… pluralism and opportunity for everybody."
Judeh said he was heading to Moscow Thursday for further discussions.  On Tuesday, Judeh issued a joint call  with Iran's visiting Foreign Minister Ali Akbar Salehi for both sides in Syria's civil war to enter talks on a transition government.
Kerry, on the final leg of a trip to Moscow and Rome, said Thursday that he had sent US Ambassador to Syria Robert Ford on to Istanbul to meet with the Syrian opposition and begin work to persuade them to come to the peace conference. They have expressed misgivings because it would get underway before any agreement on the departure of Syrian President Bashar al-Assad, although US officials insist US policy hasn't changed and that they do not see any possibility where Assad could remain the leader of Syria.
"The specific work of this next conference will be to bring representatives of the government and the opposition together to determine how we can fully implement the means of the [Geneva] communique, understanding that the communique's language specifically says that the Government of Syria and the opposition have to put together, by mutual consent, the parties that will then become the transitional government itself," Kerry said at a meeting with Russia's Foreign Minister Sergei Lavrov in Moscow on Tuesday.
Washington and Moscow actually have common ground on Syria, except for the issue of the sequencing of the transition, Russian foreign affairs analyst Fyodor Lukyanov wrote  for Al-Monitor Thursday.
"We can say that Russia and the US differ today on only one issue: the sequence of actions," Lukyanov wrote. "First Assad leaves, then the process of establishing a new political regime in Syria begins, or the other way around. Moscow supports the second version, and Washington the first. As strange as it seems, they are in agreement on everything else: After Assad, there is a risk that Syria will become ungovernable, and the goal of outside forces… is to prevent power from falling into the hands of Islamic extremists."
————————————-
How the Arab League Can Help
Israel, Palestine Negotiate
The April 29 meeting between US Secretary of State John Kerry and an Arab League ministerial delegation of the Arab Peace Initiative (API) follow-up committee carried a double message.
The first was the United States' willingness to seriously explore the possibility of resuming negotiations with the aim of ending the Palestinian-Israeli conflict after visits to the region by President Barack Obama and the secretary of state.
Skeptics worry that a division of labor decided by the US president, whereby he focuses on Asia while leaving the Arab-Israeli conflict to his secretary of state, is not very promising, despite the commitment and personality of the latter.
The second message is that Arabs have been waiting for a willingness to dust off the API, as I have previously argued here, and put it on their agenda with the United States. They are showing a readiness to invest in the Palestinian issue at this critical moment in Syria. The meeting should be the beginning of a process that would also involve intensive US-Israeli contacts and other concerned parties in serious negotiations. Such negotiations should be conducted on a basis different from those that have failed to produce results for two decades.
Yet the Arab willingness to accept the principle of territorial swaps — limited as well as symmetrical in terms of area and quality — was seen by others in the United States and Israel conversely: something to precede the negotiations, or to be addressed separately from the basic issue, which is Israel's acceptance of the June 1967 borders in conformity with UN Security Council Resolution 242.
Indeed, this resolution should be the basis for a settlement of the conflict and of a resolution of the occupation. The Palestinians have indicated many times their acceptance of minor adjustments to the borders of 1967 — adjustments that will be considered only in the context of negotiations for the two-state solution, not before.
Israel must formally accept the 1967 borders instead of engaging continuously in diplomatic acrobatics over the version of the Resolution 242 in which there is an omission of the word "the" before "territories." Israel's aim is to suggest that it does not have to withdraw from all the occupied territories and to legitimize its occupation of the territories it wants to annex. Yet the preamble of the resolution clearly states the inadmissibility of territorial acquisition by means of war, thus invalidating the Israeli argument. Minor, symmetrical adjustments are an integrated part and facilitator of that deal, well defined according to Resolution 242. This does not allow for an unknown offer to be made by Israel.
It is equally important that Israel cease all settlement activity, which Obama mildly criticized during his visit as detrimental to the process. Indeed, they represent a real danger to a peaceful resolution because they systematically destroy any possibility of creating a viable Palestinian state based on the 1967 borders.
Also, suggesting Arab normalization with Israel as an encouraging gesture toward Israel, a free gift, further complicates matters. The focus must be on the United States and other third parties committed to peace in the Middle East and aware of the dangers of inaction to spell out the guidelines for reaching peace.
These guidelines are found in relevant UN resolutions and earlier agreements. These third parties should stand firmly by these guidelines. This is how the United States, a third party, could make the serious resumption of negotiations on the basis of a clear timetable and not mere discussion. The aim is to reach a comprehensive peace that includes normalization, as is clearly stated in the API, without amendment, despite what some have insinuated.
It is worth noting that amending the API necessitates a resolution by an Arab Summit, a matter that is neither on the collective Arab agenda nor on the agenda of the delegation. It is needless to revive once more, under different names, interim solutions that will take us nowhere but to further crisis and result in more conflicts.
Ambassador Nassif Hitti is a senior Arab League official and the former head of the Arab League Mission in Paris. He is a former representative to UNESCO and a member of the Al-Monitor board of directors. The views he presents here are his alone and do not necessarily reflect the views of these organizations.
###
Cross-Country Solar Plane Expedition Set for Takeoff.
The Solar Impulse is powered by about 12,000 photovoltaic cells that charge its batteries, letting it fly day and night.
Published by The New York Times: May 1, 2013
MOUNTAIN VIEW, Calif. — When Bertrand Piccard was growing up in Switzerland, heady discussions about the boundless potential for human endeavor were standard fare.
His grandfather, a physicist and friend of Albert Einstein and Marie Curie, had invented a special capsule so he and a partner could be first to reach the stratosphere in a balloon. His father, an engineer, helped design the submarine that made him and an American naval officer the first to plunge undersea to the earth's crust.
"All the most incredible things seemed to be completely normal," Mr. Piccard, a psychiatrist trained in hypnosis, said last week at Moffett Field at the NASA Ames Research Center here, preparing for his next expedition. "I thought this was the normal way to live and I was very disappointed to see that there are a lot of people who are afraid of the unknown, afraid of the doubts, afraid of the question marks."
He went on to become part of the team that was first to circumnavigate the globe nonstop in a balloon. But when a propane shortage nearly ended his record-setting ride in 1999, he began dreaming of a way to fly day and night without fuel, an idea that has reached fruition in a featherweight solar airplane set for an initial voyage across the United States starting on Friday, weather permitting. His brainchild, the Solar Impulse, will not be the first sun-powered plane to fly; its chief distinction is its ability to go through the night.
Conceived of as a grand demonstration of what can be done with clean technologies — a Jules Verne-style adventure with a dash of P. T. Barnum thrown in — the project has more practical implications. While it could be decades, at least, before ordinary travelers line up to board solar electric planes, the technology is under consideration for drones, which risk damage each time they land to refuel.
Another venture's solar electric plane, which seats two and could one day find a place in the sport aviation market, made its debut last week in Germany. The Sunseeker Duo from Solar Flight (founded by Eric Raymond, who also worked on the Solar Impulse project) can fly for about 12 hours at a time, said Eric Lentz-Gauthier, a pilot and spokesman for the company. And some of the technologies developed for Solar Impulse — which has a wingspan matching that of a 747 but the weight of a midsize car — are already set for commercial use, including the special batteries used to store the solar energy and the foam that insulates them.
The cockpit will fit only one, so Mr. Piccard will trade legs of the journey with his partner, André Borschberg, an engineer and entrepreneur who was a jet fighter pilot in the Swiss Air Force, flying at about 45 miles per hour for 18 to 20 hours at a time. The aircraft could theoretically fly continuously, but the pilots — despite Mr. Piccard's apparent skill at self-hypnosis and Mr. Borschberg's explorations of yoga and meditation — cannot.
"We have a sustainable airplane; now we have to build a sustainable pilot," said Mr. Borschberg at a presentation at Stanford University later that day. So flight legs are limited, since the plane's extreme sensitivity to turbulence demands a pilot's direct attention.
The men plan stops in Phoenix, Dallas, St. Louis and Washington before a final landing at Kennedy Airport in New York around the end of June. The voyage is a precursor to a planned trip around the globe in 2015 for which the team is building a second plane, adding adjustments like an autopilot and reclining seat, to help them fly for as many as five days straight.
The two first met after Mr. Piccard presented his idea for fuel-free flight to the Swiss Institute of Technology, which put Mr. Borschberg in charge of studying the project. He ended up overseeing the aircraft's design and construction, including its nearly 12,000 solar cells. Mr. Piccard turned to raising the $140 million in financing and sponsorship to support it ("Like in every couple, I was bringing the money in and André was spending it.").
Solar Impulse borrows technologies from industries like semiconductor and boat manufacturing, Mr. Borschberg said. Constructed of a carbon fiber frame, monocrystalline silicon solar panels and a sheer, silver carbon wrapping, the plane is tough enough to reach almost 30,000 feet but so fragile you could put a finger through it.
"Everything is so efficient that we can fly only with the sun that we collect in the airplane," he said.
For Mr. Piccard, the project represents another genealogical milestone. Like his grandfather and father before him, he is driven to be a pioneer.
"If you make a record, you know that it's possible and you just want to beat the guy who did it before," he said. "If you make a first, you have no benchmark. You don't know if what you want to do is feasible or not. You just have to try."
As a child, he said, he met Charles Lindbergh and heard the stories of his grandfather, who died when he was 4. He read books about exploration and space travel, building model planes and rockets, and he also learned from talking with his mother, the daughter of a cleric, about spirituality, philosophy, religion and the meaning of life. A temporary move to Florida during the launches of several Apollo space missions proved influential.
"I saw that everything was true: it was not a dream, it was not only books, it was not only nice stories but it was real," he said. "There was the submarine of my father drifting in the Gulf Stream and the rockets going to the moon."
But when he returned to Switzerland, he said, the American space program was in a lull so he turned to plumbing the depths of the mind instead, and became a psychiatrist. Still, he kept one foot in the world of physical exploration, he said, always trying new ways of floating through the air, including hang gliding and ballooning. He did not train as a balloon pilot, though, until he was invited in 1992 to join a trans-Atlantic race because the pilot wanted a psychiatrist aboard to help him sleep and manage stress.
Mr. Piccard loved it, he said, and saw a metaphor for life in an endeavor where the only way to steer was to change altitude, sometimes by shedding weight, throwing sand overboard.
"You also have to learn how to change altitude in the winds of life to find your way: different ways of thinking, different ways of reacting, different ways of understanding situations," he said. "In life you have to drop your certitudes, your common assumptions, your convictions sometimes, to be more flexible to adapt to the unknown."
###
April 15-21, 2013, I participated on a trip to Baltic Sea States of the KPV (Komunal Politische Vereignigung) of the Politische Akademie of the Austrian Peoples Party (OEVP). Above took us to Estonia  Saturday April-20 to Sunday April 21-st. This was a weekend and it might have been a too short time for serious learning about matters of Energy Policy. But I was fortunate to come back with enough information because I had the chance to meet very helpful people and I was prepared ahead with my questions.
We drove from St. Petersburg in Russia to Narva in Estonia and then continued to the capital – Tallinn. We had the luck of having a very good Estonian guide and were honored that evening with a reception at the residence of Austrian Ambassador H. E. Ms. Renate Kobler who invited as well local and Austrian resource people and made sure to establish contacts according to our interests.
I had in effect two different set of interests. One was in regard to a transportation policy instituted this year by the city of Tallinn that offers free rides on the electric street-cars to documented residents of the city while having increased charges for the out-of-towners. The idea behind this being that people will be moving back to the city from the suburbs and increase the tax roles thus making up for some of the losses and allow for gains in air quality by getting out of their cars. I learned that though nice in theory, seemingly it did not work in practice because it applied mainly to the poor – so it did not result in enhanced income from taxes leaving just the lower income from the tram-rides. The topic was originally brought to my attention by the Austrian Standard of April 5, 2013.
This was the minor interest of my two suggested topics.
The other topic – and that one of major interest these days – dealt with the use of oil-shales for energy – an issue of global importance  when Shale-Gas has become the energy interests' battle cry. It was brought out of obscurity in the United States, and Europe is talking as if it was going to follow suit. Austria has also shales and at present media battles rage between business interests and the environmentalists – with the Eurosolar monthly table all convinced that Austria can become energy self-sufficient without touching the shales.
Estonia, as well as Spain, are countries with experience in what can happen when energy is obtained from these shales.
Under the Soviets, the shales were mined and used like a lower grade coal in thermal power plants. What was left are mountains of ash from the combustion process and mountains of  spent shales from the retorting process in which the product was a synthetic crude oil. These mountains of by-product contain heavy metals and when washed by rains these heavy metals poisoned the underground water, thus making it unusable for drinking and agriculture. Everybody I talked to told me the same thing – the losses around Narva are immense.
Wikipedia tells us: "Oil shale in Estonia is an important resource for the national economy. Estonia's oil shale deposits account for just 17% of total deposits in the European Union but the country generates 90% of its power from this source. The oil shale industry in Estonia employs 7,500 people—about one percent of the national work force—and accounts for four percent of its gross domestic product.[1]
There are two kinds of oil shale in Estonia – Dictyonema argillite (claystone) and kukersite.[2] The first attempt to establish an open-cast oil shale pit and to start oil production was undertaken in 1838.[3] Modern utilization of oil shale commenced in 1916. Production began in 1921 and the generation of power from oil shale in 1924.[4]
In 2005 Estonia was the leading producer of shale oil in the world. Of all the power plants fired by oil shale, the largest was in this country.[1][5] As of 2007, six mines (open cast or underground) were extracting oil shale in Estonia.[2]"
Kukersite, named after the Kukruse settlement in Estonia, is the better quality shale. Estonian kukersite deposits are one of the world's highest-grade shale deposits with more than 40% organic content and 66% conversion ratio into shale oil and oil shale gas. They have relatively a lower content of heavy metals.
in the 1830s, although the attempt of shale oil distillation failed, oil shale was used as a low-grade fuel. Then studies of Estonian oil shale resources and mining possibilities intensified in the beginning of 20th century because of industrial development of Saint Petersburg and a shortage of fuel resources in the region. Finally – the world's two largest oil shale-fired power stations – Balti Power Plant and Eesti Power Plant (known as the Narva Power Plants) – were opened in 1965 and in 1973. Because of the success of oil shale-based power generation, Estonian oil shale production peaked in 1980 at 31.35 million tonnes.[3] In 2004, two power units with circulating fluidized bed combustion (CFBC) boilers were put into operation at Narva Power Plant.[4] In 1984, the scientific-technical journal Oil Shale was founded in Estonia.[15]
Some of the spent shale is used in cement manufacturing and Uranium is a by-product.
Kerogen (from Greek for wax + -gen, that which produces)[1]  is a mixture of organic chemical compounds that make up a portion of the organic matter in sedimentary rocks.[2] It is insoluble in normal organic solvents because of a huge molecular weight. The soluble portion is known as bitumen. When heated to the right temperatures in the Earth's crust, (oil window ca. 60–160 °C, gas window ca. 150–200 °C, both depending on how quickly the source rock is heated) some types of kerogen release crude oil or natural gas, collectively known as hydrocarbons (fossil fuels). When such kerogens are present in high concentration in rocks such as shale they form possible source rocks. Shales rich in kerogens that have not been heated to a warmer temperature to release their hydrocarbons will eventually  form oil shale deposits. (The name "kerogen" was introduced by the Scottish organic chemist Alexander Crum Brown in 1906.)
What above tells us is that the organic matter in shales is in the form of very large molecular weight polymers. These can be deconstructed at high temperature in retorts, and then the quality of the remaining ash (or spent shale) can be investigated and the potential damage to the environment assessed. An alternative could be to create a fire underground and collect above ground the released oil or gas created by breaking up the kerogen polymer. In such case the damage from the ash cannot be assessed without knowing the underground conditions and where the underground waters will take the released heavy metals. The Shale Gas operations now in the United States are underground production sites explained as examples of Hydro-Fracking which sounds incoherent when we do not know the operating temperatures which are needed to break chemical bonds of that polymer. Neither the new American production companies nor the EU Shale Gas production interests give us such technology details as they did not even obtain patents that would have required transparency.
This present posting has an added purpose.
I learned that  June 10-13, 2013, the Estonian users of shale-for-energy intend a Shales Symposium in Tallinn as a follow up to the 2006 Symposium that was held in Ammann, Jordan.
The Symposium in Tallinn will be followed by a Field Trip to Estonian oil shale processing industry – an extraordinary opportunity to visit the most important sites of Estonian oil shale industry, including the new, recently completed Enefit280 Oil Plant.
I would like to hope that the European Commission send some inquisitive people to that symposium in order to learn about the side-effects or the environmentally harming "externalities" that could cause harm to the underground aquifers.
Further, as mentioned at the beginning, another European location were there was experience with Oil Shale Retorting is Puertollano, in the Ciudad Real region of Spain. With information from these  sites the EU could be in a better position to judge the issues involved.
I was personally involved with the Purtollano plant of the Empressa Nacional de Pisara Bituminosa Calvo Sotelo in 1959. That plant was producing lubricants or viscous petroleum product alternatives in huge retorts and leaving behind mountains of spent shale as well. Looking at the remains of those mountains – in Puertollano and in Narva, could help the decision making process at the EU.
We realize the importance of the energy independence goal – but as it can be reached in various ways, it is important to start out with open eyes.
 ——————–
Estonia and Sweden Oil Shale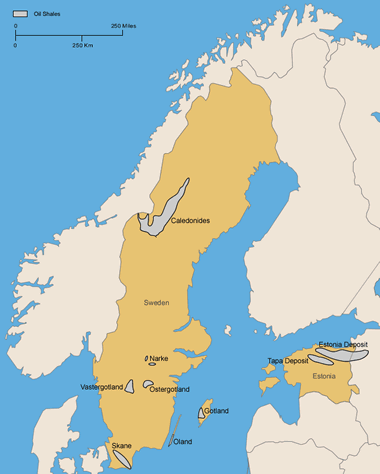 Map of kukersite deposits in northern Estonia and Russia (locations after Kattai and Lokk, 1998; and Bauert, 1994). Also, areas of Alum Shale in Sweden (locations after Andersson and others, 1985).
Estonia and Sweden Oil-Shale Deposits
Reprint of: United States Geological Survey Scientific Investigations Report 2005-5294
By John R. Dyni
Estonia
The Ordovician kukersite deposits of Estonia have been known since the 1700s. However, active exploration only began as a result of fuel shortages brought on by World War I. Full-scale mining began in 1918. Oil-shale production in that year was 17,000 tons by open-pit mining, and by 1940, the annual production reached 1.7 million tons. However, it was not until after World War II, during the Soviet era, that production climbed dramatically, peaking in 1980 when 31.4 million tons of oil shale were mined from eleven open-pit and underground mines.
The annual production of oil shale decreased after 1980 to about 14 million tons in 1994-95 (Katti and Lokk, 1998; Reinsalu, 1998a) then began to increase again. In 1997, 22 million tons of oil shale were produced from six room-and-pillar underground mines and three open-pit mines (Opik, 1998). Of this amount, 81 percent was used to fuel electric power plants, 16 percent was processed into petrochemicals, and the remainder was used to manufacture cement as well as other minor products. State subsidies for oil-shale companies in 1997 amounted to 132.4 million Estonian kroons (9.7 million U.S. dollars) (Reinsalu, 1998a).
The kukersite deposits occupy more than 50,000 km2 in northern Estonia and extend eastward into Russia toward St. Petersburg where it is known as the Leningrad deposit. In Estonia a somewhat younger deposit of kukersite, the Tapa deposit, overlies the Estonia deposit.
As many as 50 beds of kukersite and kerogen-rich limestone alternating with biomicritic limestone are in the Kõrgekallas and Viivikonna Formations of Middle Ordovician age. These beds form a 20- to 30-m-thick sequence in the middle of the Estonia field. Individual kukersite beds are commonly 10-40 cm thick and reach as much as 2.4 m. The organic content of the richest kukersite beds reaches 40-45 weight percent (Bauert, 1994).
Rock-Eval analyses of the richest-grade kukersite in Estonia show oil yields as high as 300 to 470 mg/g of shale, which is equivalent to about 320 to 500 l/t. The calorific value in seven open-pit mines ranges from 2,440 to 3,020 kcal/kg (Reinsalu, 1998a, his table 5). Most of the organic matter is derived from the fossil green alga, Gloeocapsomorpha prisca, which has affinities to the modern cyanobacterium, Entophysalis major, an extant species that forms algal mats in intertidal to very shallow subtidal waters (Bauert, 1994).
Matrix minerals in Estonian kukersite and interbedded limestones includes dominantly low-Mg calcite (>50 percent), dolomite (<10-15 percent), and siliciclastic minerals including quartz, feldspars, illite, chlorite, and pyrite (<10-15 percent). The kukersite beds and associated limestones are evidently not enriched in heavy metals, unlike the Lower Ordovician Dictyonema Shale of northern Estonia and Sweden (Bauert, 1994; Andersson and others, 1985).
Bauert (1994, p. 418-420) suggested that the kukersite and limestone sequence was deposited in a series of east-west "stacked belts" in a shallow subtidal marine basin adjacent to a shallow coastal area on the north side of the Baltic Sea near Finland. The abundance of marine macrofossils and low pyrite content indicate an oxygenated-water setting with negligible bottom currents as evidenced by widespread lateral continuity of uniformly thin beds of kukersite.
Kattai and Lokk (1998, p. 109) estimated the proved and probable reserves of kukersite to be 5.94 billion tons. A good review of the criteria for estimating Estonia's resources of kukersite oil shale was made by Reinsalu (1998b). In addition to thickness of overburden and thickness and grade of the oil shale, Reinsalu defined a given bed of kukersite as constituting a reserve, if the cost of mining and delivering the oil shale to the consumer was less than the cost of the delivery of the equivalent amount of coal having an energy value of 7,000 kcal/kg. He defined a bed of kukersite as a resource as one having an energy rating exceeding 25 GJ/m2 of bed area. On this basis, the total resources of Estonian kukersite in beds A through F (fig. 8) are estimated to be 6.3 billion tons, which includes 2 billion tons of "active" reserves (defined as oil shale "worth mining"). The Tapa deposit is not included in these estimates.
The number of exploratory drill holes in the Estonia field exceeds 10,000. The Estonia kukersite has been relatively thoroughly explored, whereas the Tapa deposit is currently in the prospecting stage.
 -Dictyonema Shale
Another older oil-shale deposit, the marine Dictyonema Shale of Early Ordovician age, underlies most of northern Estonia. Until recently, little has been published about this unit because it was covertly mined for uranium during the Soviet era. The unit ranges from less than 0.5 to more than 5 m in thickness. A total of 22.5 tons of elemental uranium was produced from 271,575 tons of Dictyonema Shale from an underground mine near Sillamäe. The uranium (U3O8) was extracted from the ore in a processing plant at Sillamäe (Lippmaa and Maramäe, 1999, 2000, 2001).
The future of oil-shale mining in Estonia faces a number of problems including competition from natural gas, petroleum, and coal. The present open-pit mines in the kukersite deposits will eventually need to be converted to more expensive underground operations as the deeper oil shale is mined. Serious air and ground-water pollution have resulted from burning oil shale and leaching of trace metals and organic compounds from spoil piles left from many years of mining and processing the oil shales. Reclamation of mined-out areas and their associated piles of spent shale, and studies to ameliorate the environmental degradation of the mined lands by the oil-shale industry are underway. The geology, mining, and reclamation of the Estonia kukersite deposit were reviewed in detail by Kattai and others (2000).
###
CNN Breaking News

                     Monday, April 22,  2013 , 7:24 PM       

The surviving suspect in last week's Boston Marathon bombings, Dzhokhar Tsarnaev, "will not be treated as an enemy combatant"  – but rather will be prosecuted "through our civilian system of justice," White House spokesman Jay Carney said today. "Under U.S. law, United States citizens cannot be tried in military commissions," he said.
"The suspect made an initial appearance in the hospital room in front of a federal magistrate judge," Circuit Executive Gary Wente tells CNN. The complaint is under seal, Wente said. This initial appearance does not constitute an arraignment.
Dzhokhar Tsarnaev has been charged in federal court with use of a weapon of mass destruction and malicious destruction of property resulting in death.
The statutory charges authorize a penalty, upon conviction, of death or imprisonment for life or any term of years, according to a statement from the Department of Justice.
A moment of silence will be observed at 2:50 p.m. ET today, exactly a week after the twin explosions near the marathon's finish line that killed three and injured more than 170 others.
===========================================================================
Boston bombings suspect Dzhokhar Tsarnaev conveyed to investigators that no international terrorist groups were behind the attacks, a U.S. government source told CNN's Jake Tapper.
Dzhokhar Tsarnaev indicated his older brother, Tamerlan, was the driving force behind the attacks and wanted to defend Islam from attack, the source said.
The 19-year-old was "alert, mentally competent and lucid," U.S. Magistrate Judge Marianne Bowler found during a brief initial court appearance in Tsarnaev's hospital room. During the hearing, he communicated mostly by nodding his head.
===========================================================================
Glenn Greenwald | What Rights Should Dzhokhar Tsarnaev Get?


Glenn Greenwald, Guardian UK
Greenwald writes: "Once Tsarnaev was arrested, President Obama strongly suggested that he would eventually be tried in court, which presumably means he will at some point have a lawyer."
READ MORE
How Much Civil Liberty Should We Give Up?
Emily Bazelon, Slate Magazine
Bazelon writes: "It's been reassuring to hear few calls for constricting civil liberties in the name of national security. Is that about to change, as information pours in about the foreign and Muslim background of the accused bombers?"
READ MORE
———————————–
Immigration and Fear.
The New York Times | Editorial
Excerpt: "Much of the country was still waking up to the mayhem and confusion outside Boston on Friday morning when Senator Charles Grassley decided to link the hunt for terrorist bombers to immigration reform."
READ MORE
———————————
###
from the Hooshang Amirahmadi for President of Iran campaign.

A major earthquake on Tuesday April 9, 2013 has left at least 37 people dead and 850 injured in Iran's southwest region. The 6.3-magnitude quake was centered in the city of Kaki, about 90 kilometers south of the country's only nuclear power plant at Bushehr. Fortunately, Iran has informed the International Atomic Energy Agency that there has been no damage to the nuclear plant.
I was in Tehran at the time of the earthquake, but circumstances prevented me from traveling to the disaster area. I wish to express my regret for the unfortunate loss of life as well as my condolences to the families of the victims. Our campaign will be in touch with the Iranian authorities and will offer whatever assistance it can including to help mobilize international support if that was to become necessary.
—————————————————————————————————————————————
Amirahmadi 1392 wishes to express its gratitude to all those who have donated. Without your generosity, this campaign would not be possible. To join them and invest in a better Iran, click Donate.
————————————————————————————————————————————–
For more information on the campaign, email Kayvon Afshari at info@amirahmadi.com
The Afshari family is running this campaign that at the present stage is a campaign for the attention of the Ayattolah  who is the final decision maker on who will be allowed on the actual list of candidates.
We have aid this before – the Iranian ruling heads of the religion, would do themselves and their country people a big favor by allowing on that list U S residing Professor Amirahmadi of Rutgers University – The State University of New Jersey. They could then claim that they are open to communication with the West. Not that we think he could win – but we believe he could open channels of communication with the World at large.
So far – we can state that Professor Amirahmadi was not yet accused of being an American ploy whose presence in Iran caused the earthquake in the region of the atomic reactor that was built many years ago starting with the help the Iranians got from the Exxon Oil Company -  still under the Shah.
For historical perspective, from Wikipedia, the free encyclopedia:
The nuclear program of Iran was launched in the 1950s with the help of the United States as part of the Atoms for Peace program.[1]
The participation of the United States and Western European governments in Iran's nuclear program continued until the 1979 Iranian Revolution that toppled the Shah of Iran.[2]
After the 1979 revolution, a clandestine nuclear weapons research program was disbanded by Ayatollah Ruhollah Khomeini, who considered such weapons forbidden under Muslim ethics and jurisprudence.[3] Small scale research into nuclear weapons may have restarted during the Iran-Iraq War, and underwent significant expansion after the Ayatollah's death in 1989.[4]
Iran's nuclear program has included several research sites, two uranium mines, a research reactor, and uranium processing facilities that include three known uranium enrichment plants. [5]
Iran's first nuclear power plant, Bushehr I reactor was complete with major assistance of Russian government agency Rosatom and officially opened on 12 September 2011.[6] Iran has announced that it is working on a new 360 MW nuclear power plant to be located in Darkhovin.
The Russian engineering contractor Atomenergoprom said the Bushehr Nuclear Power Plant would reach full capacity by the end of 2012.[7] Iran has also indicated that it will seek more medium-sized nuclear power plants and uranium mines in the future.[8]
In November 2011, the International Atomic Energy Agency (IAEA) Board of Governors criticized Iran after an IAEA report concluded that before 2003 Iran likely had undertaken research and experiments geared to developing a nuclear weapons capability.[9] The IAEA report details allegations that Iran conducted studies related to nuclear weapons design, including detonator development, the multiple-point initiation of high explosives, and experiments involving nuclear payload integration into a missile delivery vehicle.[10] A number of Western nuclear experts have stated there was very little new in the report, that it primarily concerned Iranian activities prior to 2003,[11] and that media reports exaggerated its significance.[12] Iran rejected the details of the report and accused the IAEA of pro-Western bias.[13] and threatened to reduce its cooperation with the IAEA.[14][15]
Former United States Secretary of State Henry Kissinger recalled in 2005, "I don't think the issue of proliferation came up."[56] However, a 1974 CIA proliferation assessment stated "If [the Shah] is alive in the mid-1980s … and if other countries [particularly India] have proceeded with weapons development we have no doubt Iran will follow suit."[57]
The Shah also signed a nuclear cooperation agreement with South Africa under which Iranian oil money financed the development of South African fuel enrichment technology using a novel "jet nozzle" process, in return for assured supplies of South African (and Namibian) enriched uranium.[58]
Those days also Israel was working with South Africa and we would not be surprised that there was Israeli-Iranian Cooperation as well.

Following the 1979 Revolution, most of the international nuclear cooperation with Iran was cut off. Iran has later argued that these experiences indicate foreign facilities and foreign fuel supplies are an unreliable source of nuclear fuel supply.[59][60]
The United States cut off the supply of highly enriched uranium (HEU) fuel for the Tehran Nuclear Research Center, which forced the reactor to shut down for a number of years, until Argentina's National Atomic Energy Commission in 1987–88 signed an agreement with Iran to help in converting the reactor from highly enriched uranium fuel to 19.75% low-enriched uranium, and to supply the low-enriched uranium to Iran.[64] The uranium was delivered in 1993.[65]

Since that time Iran's nuclear ambitions are daily in the News.
==================================================================================
Iran's presidential hopefuls take aim at Ahmadinejad
The Washington Post
TEHRAN – Iran's political landscape has become increasingly divided during controversial President Mahmoud Ahmadinejad's second and final term. But as a diverse array of candidates to replace him takes shape, nearly all the contenders seem united on one thing: attacking the president's legacy.
The eventual winner of the June election will wield influence over the direction of negotiations on Iran's nuclear program, a topic of immense importance to the U.S. In Iran, however, the biggest election issue is the sagging economy, and most among an emerging list of about 20 candidates argue that it has been harmed as much by Ahmadinejad's tenure as by international sanctions.
The growing field of hopefuls is generating fresh popular interest in an election that few believed would be competitive just a short while ago. That is in large part because candidates must be approved by Iran's Guardian Council, a powerful body of clerics and jurists, half of whom are appointed by Supreme Leader Ayatollah Ali Khamenei.
Iran's traditional conservative factions — known as principlists for their loyalty to the founding principles of the Islamic republic — make up the largest number of expected candidates. But instead of a field limited to conservatives, who once counted Ahmadinejad among their ranks but came to see him as a threat to their dominance, a number of candidates who many analysts believed would sit out for fear of not passing the strict vetting process have stepped forward.
Reformists, who have seen the modest social gains and improved foreign relations achieved during previous President Mohammad Khatami's eight-year reign evaporate under the current administration, are lining up against the president.
Among them is the lead nuclear negotiator under Khatami, Hassan Rowhani, who announced his candidacy Thursday. The entrance of Rowhani, a cleric and one of the few moderate voices still prominent in Iran's ruling system, diminished the likelihood that Khatami or former President Hashemi Rafsanjani — both allies of Rowhani — will run again, as had been speculated.
Three conservative former members of Ahmadinejad's Cabinet, including former Foreign Minister Manouchehr Mottaki, have announced their candidacies and are also running on anti-Ahmadinejad platforms.
Ultraconservatives, led by Ayatollah Taghi Mesbah Yazdi, who was long seen as Ahmadinejad's staunchest supporter in the clergy but is now among his most vocal critics, have not yet announced their candidacies but are expected to do so soon.
Touting slogans such as "Improvement and Justice," "Victory of Honesty over Wealth and Power" and "Government of Ethics," many candidates are targeting the millions of disenchanted Iranians who believe the Ahmadinejad years were a time of economic mismanagement, fraud within the banking system and a misguided foreign policy that has left Iran even further isolated from the international community than it already was.
In contrast, Ahmadinejad's team — which is so far fielding two candidates — has adopted the slogan "Long Live the Spring," a phrase variously interpreted as an exhortation to keep his faction in power and a reference to the movements that have toppled regimes in the Arab world.
An election season with high voter turnout has always been the preference of Iran's ruling clerics, who consider participation as proof of popular support for their system. But a major concern of principlist and ultraconservative hardliners is that a high turnout might favor their adversaries.
According to official counts of the 2009 election, two reformist leaders won more than one-third of the vote. Their supporters and international observers assert that the total was much higher, however, and most agree that those who backed the reformists are unlikely to vote this year for any of the principlist candidates, who favor conservative social policies rooted in Quranic law.
This could create an opportunity for another reformist candidate or one backed by Ahmadinejad, whose circle has moved away from Islamic rhetoric in favor of a more nationalist tone.
With the principlists fielding the most candidates so far, there is a growing possibility that they will split each other's votes, opening an easier path to victory for either a reformist or one of Ahmadinejad's allies.
"A distribution of votes between our candidates will lead to defeat," Ayatollah Nasser Makarem Shirazi, a leading conservative cleric, said in an interview with the Fars news agency last week. "The result of division between those loyal to the revolution will be defeat. It would be good if (principlists) create a coalition and zoom in on one person with the rest becoming helping hands."
###
The Arctic Circle, New Assembly for 
International Cooperation on Arctic Issues 
To Be Inaugurated in Reykjavík, Iceland, October 12-14, 2013
_______
Learn More About Arctic Challenges and Opportunities
at the National Press Club Newsmakers Luncheon
with Iceland's President Ólafur Ragnar Grímsson,
U.S. and Arctic Partners 
Iceland's President Ólafur Ragnar Grímsson will address 
Arctic world challenges on April 15 at 12:30 p.m. 
at the Holeman Lounge of the National Press Club, 
529 14th St. NW, Washington, DC 20045.
Grímsson will be joined by other distinguished initiators to announce a new assembly to promote collaboration among Arctic and international partners. The mission of the Arctic Circle is to convene a diverse group of stakeholders in an annual gathering to facilitate dialogue and build relationships to confront the Arctic's greatest challenges.
As the fastest-warming place on Earth, the Arctic is moving to the center of the geopolitical stage. It is playing an increasingly important role in globalization, economic development, energy exploration, environ­mental protection and international security. Various plans for resource utilization and new sea routes linking Asia to Europe and America in a new way have led to an increased focus on the region.
In the past, the region did not matter to the world's decision-makers and was largely forgotten. Now, with sea ice levels at their lowest point in recorded history, the world is waking up to the challenges and opportunities the Arctic presents for its citizens as well
as for people in other parts of the world.
Rapid changes in the Arctic have led to a critical need for a new and inclusive international dialogue. To that end, the Arctic Circle will convene for the first time in Iceland at Harpa Reykjavík Concert and Conference Centre on October 12-14, 2013, to discuss issues that impact the global commons, including:
* Sea ice melt and extreme weather
* Security implications
* Fisheries and ecosystem management
* Shipping and transportation
* Natural resources
The Arctic Circle will be an open venue for institutions, organizations, forums, think tanks, corporations and public associations to hold their meetings or events without surrendering their independence or decision-making abilities. The assembly will meet in a different Arctic location each year.
The purpose of the Arctic Circle will be to assist and further such meetings by maximizing attendance and strengthening the opportunities open to everyone to attend different meetings and conduct their own networking events. The unique arts and cultural attributes of the Arctic will also be presented through a variety of performances, exhibitions and programs.
To attend the public luncheon, please visit the
NPC online
.
______
To learn about how you can participate in the Arctic Circle, 
______
Visit the
Arctic Wire
for News from the North, 
sponsored 
and publisher of the Alaska Dispatch.
###
Grateful for Dirty Dishes. And Taxes.
Sunday, 07 April 2013 07:24 By Valerie Tarico, Truthout | Op-Ed
   (Photo: ilovedthecoffee)
As April heats up and that midnight-on-the-15th deadline approaches, even the most civic-minded of us can end up feeling stressed and crabby about taxes. A quarter of households (like mine) will procrastinate until the last two weeks to take care of a task that can feel like an annual headache. As odd as it may sound in this context, reframing those tax forms as an opportunity to count your personal blessings and America's blessings might be a mental health lifesaver.
Research shows that deliberately counting blessings or keeping "gratitude lists"  has a host of mental health benefits, and cultivating a habit of gratitude reduces negative affect like resentment, irritability, stress, and depression.
My cousin Robyn is a hard-working mother of three whose joints don't function as well as they once did. In fact, they hurt. A lot. The day-to-day can be a challenge, and most people in her situation do a fair bit of grumbling. But Robyn recently posted on Facebook: Lord, I thank You for dirty clothes, muddy shoes, messy rooms, a dusty house, tired legs, aching knees, and taxes. I thank You that I have clothes, shoes, a room to make a mess in, a house to get dirty, legs that work, knees that bend and a free country in which I can pay taxes.
Her words transported me all the way back to my childhood, to the 1962 tract house where I shared a room with two sisters, and a bathroom with another two brothers, and kitchen chores with the whole family – except that left of the kitchen sink was frequently stacked high with items waiting to be scrubbed, and the drainer seemed always full. But on the other side of the sink, attached to the upper cabinet, was a little sign that read, "Thank God for dirty dishes; they have a tale to tell; while others may be hungry; we're eating very well. . . ." As a short child up to my elbows in soapy water, I liked the sign and I liked washing dishes, and I still like them both – most of the time – to this day.
I first broadened my appreciation from dirty dishes to taxes on a trip to Guatemala. My husband and I were winding our way up unpaved mountain roads in a "retired" American school bus, three to a seat, knees to our chests, on our way to language school in the highland village of Todos Santos. As the bus ground around gullies and erosion and potholes, it struck me, rather hard, that we get something for our tax money. The thought struck again when, once settled with a village family, we visited the local grade school. There, children were attempting to learn math, reading and writing without such basics as textbooks and paper, let alone the brightly colored posters and media and other learning tools I had taken for granted as a child. I've had a Canadian attitude toward taxes ever since (well, at least when my better self is in charge).
The Guatemalan roads and school may have brought the pattern into focus, but really, it was my parents who sketched the lines. If any bunch of five kids were primed to appreciate the bounty that we Americans share and that our taxes sustain, it was us. Public school classrooms that did have books and paper gave way each spring to summers spent traversing the interstate highway system, hiking, and sleeping in state parks, and poking through small-town museums and stretching out on picnic benches in a roadside rest stops. We saw astounding wonders – the Grand Canyon and the Mississippi River, Carlsbad Caverns, the Badlands – and got our heads filled with history at old monuments like Montezuma's Castle and the Vicksburg Civil War cemetery. We slogged single file in scruffy boots up Pikes Peak and through Maroon Bells wilderness, with backpacks on, and eventually learned to love it.
As a teen, I read a book called Mama's Bank Account about a Norwegian immigrant family scraping by in San Francisco at the turn of the century. Week after week, in the story, they carefully count out money to cover expenses, and the mother comments how good it is that they don't have to take money from their bank account. Only after the children are grown do they find that the bank account doesn't exist; Mama has made it up to give them a sense of security and prosperity. For me as a child, the delicious knowledge that I was a part-owner, albeit a very small shareholder, in America the Beautiful was my equivalent of Mama's bank account. When life felt overwhelming, I imagined those highways and parks, familiar and beautiful, all places I was allowed to be because I had been born in the Land of the Free. To this day, when I travel to other countries, and natural wonders like caves or geysers are fenced off with private property signs and exorbitant entry fees, the child in me protests: But, but they're supposed to belong to everyone!
As one who has received so many benefits from this country, it pains me sometimes how much of our national conversation is about taxes. It's like going into a department store where the merchandise is all hidden behind enormous price tags. Our representatives spend so much time quarreling about who's going to carry what share of the tax "burden," that there's no time left for the dish-washing, mess-scrubbing, everyday work that it takes to keep our communities great. We get so ground down from fighting with each other that we have a hard time coming together to ask the important questions: What do we want for our children? What do we want for our community? What do we want for our country? We put so much emotional energy into nursing resentment about those so-called "burdens" that we sometimes forget how astoundingly much we have received, both from those who came before us and from this extraordinary land of purple mountains and spacious skies.
Robyn's Facebook prayer and my mother's sign both were notes to self. They were small acts of commitment to living deliberately in a sense of bounty and gratitude, even when knees are sore and hands are chapped and the housekeeping seems endless. Affirmations like theirs get us out of our normal way of thinking and focus us on life's goodness, and they have clear health and mental health benefits for us and people around us. Cultivating gratitude leads to better sleep, greater goal attainment, better relationships, more mutual support, and a stronger love life.
Gratitude as a life posture or a sense of being "blessed" is something that religious people talk about mostly in church and secular people like me, who have given up that traditional forum and vocabulary, mostly keep to ourselves. But Robyn, in her note, did an interesting thing. By adding taxes to her list, she crossed a boundary. Not the boundary between church and state – that one's been crossed plenty of late – but the boundary between civic life and spiritual life. I wonder what it would it mean for our country if more of us said, to a God or to the universe: "I thank You that I have roads to maintain, schoolbooks to buy, a sewer to mend, rivers and mountains to protect and a free country in which I can pay taxes."
—-==========================—–
Valerie Tarico is a psychologist. She is the author of 'Trusting Doubt: A Former Evangelical Looks at Old Beliefs in a New Light." She is also the founder of WisdomCommons.org.
---
Show Comments
###
Centripetality?  The force that under Capitalism sends money to look for safe havens in order to avoid taxes that are needed in order to run a safe State. All US Republican contenders for the Presidency, and some of the Democrats as well, keep their money off-shore because keeping it in Delaware is not beneficial enough.
Op-Ed Contributor
Did Putin Sink Cyprus?
By BEN JUDAH
Published: April 2, 2013
THE blue-glass skyscrapers of Moscow City — fragments of Russia's boom-time dream — are visible from the Kremlin walls, within which there was once hope that those towers could supplant the West's financial centers. When the sun sets behind them, you can see that many of the offices lie empty.
In fact, the real hubs for Russian banking are in other countries. Moscow's billionaires squirrel their fortunes abroad, and many businessmen register their companies as British, Dutch, Swiss or Cypriot — anything but Russian. Whistle-blowers would have us believe that even President Vladimir V. Putin stashes his money offshore.
Simply put, Russian money is frightened of Russia. This is because after Boris N. Yeltsin made the transition to crude capitalism in the 1990s, Mr. Putin never delivered secure property rights. That makes Russian money paranoid; since 2008 alone more than $350 billion in capital has fled the country.
These billions craved secrecy and security, and financial islands inside the European Union welcomed them. A love affair started, especially, between Cypriot banks and Russia's cash. Only weeks ago, the Cypriot capital, Nicosia, was Russia's most important offshore accountant. But today this financial paradise lies in economic ruin, its bloated banking sector wrecked by a gigantic exposure to Greek bonds. To save Cyprus from bankruptcy, a decree from the European Union, the International Monetary Fund and the European Central Bank (known as "the troika") is now confronting depositors in Cypriot banks with the loss of as much as 60 percent of deposits greater than $100,000, alongside tough new capital controls.
Nicosia was the second capital of Russian finance, after Moscow, and Russians are believed to account for the majority of the foreign accounts there worth over 100,000 euros.
According to the I.M.F., Cyprus was the destination for 34 percent of all outward investment from Russia in 2011, and accounted for 28 percent of foreign direct investment in Russia. But these gigantic flows did not reflect real investment overseas. They were overwhelmingly Russian cash "round-tripping" through Nicosia shell companies and re-entering as foreign investment. As the German finance minister, Wolfgang Schäuble, pointed out, this has raised suspicions of money laundering.
On the other hand, many legitimate Russian businessmen had funds there as well. Russia's steel oligarchs controlled their companies through Cypriot holding companies. Many state-owned pillars of Russia's economy also have Cyprus accounts, including the oil company Rosneft and the banks Sberbank and VTB.
How did so much Russian money end up in Cyprus? Mr. Putin took office in 2000 promising a "dictatorship of law," but the moneymakers lost confidence in him. By 2003, the country's richest man, Mikhail Khodorkovsky, had been arrested, ultimately to be stripped of his biggest holdings and thrown into a Siberian prison, making it clear that what Mr. Putin really had in mind was manipulating the law to control any potential challenge from the oligarchs' wealth.
So the capital flight that had begun in Russia's "wild 1990s" never stopped. And by 2011 the I.M.F. reported that all of the top five national destinations for foreign investment in and out of Russia were tax havens — a sign that the funds were really offshore Russian money.
Russia's middle class lost faith in Mr. Putin after 2008, when in the midst of the global financial crisis, the bureaucracy remained mired in Gogolian incompetence and venality. He had gutted the courts, media and local governments while focusing power in his party. That left little more than a servile web of patronage, a recipe for embezzlement of public funds. So more Russians put money in "safe" places like Cyprus.
Matters were made only worse when protests over election rigging charges in 2011 revived fears of a national implosion.
Last year, official capital flight hit $56 billion, and Mr. Putin's own central bank calculated that two-thirds of that total might be traceable to illegal activity like drug money, kickbacks or tax fraud.
Why did Russians flock to Cyprus? Cyprus was in the European Union, with its rules and overseers — a nearby legal paradise where state confiscation was unthinkable. But now the troika's raid on their accounts — Russians call it a theft — has given Russians a new dose of anti-Western passion and paranoia.
Whatever remains of the Russian fortunes in Nicosia seems sure to flee again — but not back to Russia. It may go to other European havens, like the Dutch Antilles and the British Virgin Islands. Malta and Luxembourg are possibilities, but analysts have both on bailout watch.
Meanwhile, Brussels is not impotent. The European Union must clamp down on offshore havens, insist on transparent banking and toughen up on money laundering. This is austerity Europe — and bloated tax havens not only put Europe at risk but also make its financial system complicit with offshore corruption.
But it cannot erase the truths exposed by the Nicosia bust. Europe, it turns out, is studded with vulnerable, contagious tax islands, and their availability only compounds Russia's deeper problem: it is both too corrupt and too paranoid to keep its billions at home.
Ben Judah, a journalist, is the author of the forthcoming book "Fragile Empire: How Russia Fell In and Out of Love With Vladimir Putin."
=================
Above is only the beginning of the Europe-story. Today, April 6, 2013 – the papers in Vienna are full of stories about warm-islands – hot-money-havens.
Europe wants to clamp down on its Euro-drains – but did you hear of similar stories about Washington attempting to close the Romney-dollar-drains?
So, let us advocate for a clear call to GLOBAL regulation of money-flows so one louse does not feed from another.
We follow up by asking – and how much of America's money is out there in Caribbean islands' accounts?
###
Statement by UK Ambassador Joanne Adamson, Head of Delegation, to the United Nations General Assembly meeting on the Arms Trade Treaty – 2 April 2013
10:00 PM (18 minutes ago)

 

 
 
Statement by UK Ambassador Joanne Adamson, Head of Delegation, to the United Nations General Assembly meeting on the Arms Trade Treaty – 2 April 2013
Thank you, Mr President.
Last Thursday, we were disappointed that success was deferred. Today, we have taken a decision that will save lives. It was the right decision, and we are proud of it.
Today, I have seen statements from my Prime Minister, my Foreign Secretary, my Deputy Prime Minister, and I have been in touch with our Foreign Office Minister, Mr Alistair Burt, who has been watching these negotiations with baited breath for the last two weeks.
This is a great success for the United Nations today and we in the UK are extremely proud.
Our action today is the product of ten years of campaigning and seven years of negotiation. But now, we must look ahead, to the future generations that will have a better chance to live safe and peaceful lives if this Treaty fulfills its promise.
Mr President,
It is up to us to make this happen.  Today, we have shown what the United Nations can achieve. We have a strong text. We made it together. But it is the global implementation of this text that will make a real difference. The United Kingdom stands ready to play its part. We will work with others to ensure this Treaty matters.
So what we have achieved today is a significant milestone on our journey to a better world. But it is just one part of the process. We cannot rest now. Today is the end of the beginning. Tomorrow we begin the practical work of changing lives and improving the future.
As we move forward we will keep together that team – the team of diplomats, of people working in civil society, of people from our industry, of our politicians, of public opinion. I pay tribute to everyone who has been involved in this long journey and my message to the conference today is let's move forward together.
Don't look back in anger.
Let's take the next step.
=======================================
And the US joins its voice for the regulation of passing on arms to other countries:
AS DELIVERED
Mr. President, the United States is proud to have been able to co-sponsor and vote in favor of adopting the Arms Trade Treaty. The treaty is strong, balanced, effective, and implementable, and we believe it can command wide support. We join others in congratulating Ambassador Peter Woolcott for his tireless efforts in guiding the negotiation.
The treaty is the product of a long, intensive negotiation, and I know that no nation, including my own, got everything it may have sought in the final text. The result, however, is an instrument that succeeds in raising the bar on common standards for regulating international trade in conventional arms while helping to ensure that legitimate trade in such arms will not be unduly hindered.
The negotiations remained true to the original mandate for them from UN General Assembly Resolution 64/48, which called for negotiating a treaty with the highest possible common international standards for the transfer of conventional arms and for the negotiations to be conducted in an open and transparent manner, on the basis of consensus. The consensus rule remains important
for the United States; the United Nations is most effective when it is able to take decisions by consensus.
Mr. President, as the United States has urged from the outset, this Treaty sets a floor – not a ceiling – for responsible national policies and practices for the regulation of international trade in conventional arms. We look forward to all countries having effective national control systems and procedures to manage international conventional arms transfers, as the United States does already.
We believe that our negotiations have resulted in a treaty that provides a clear standard, in Article 6, for when a transfer of conventional arms is absolutely prohibited. This article both reflects existing international law and, in paragraph three, would extend it by establishing a specific prohibition on the transfer of conventional arms when a state party knows that the transfer will be used in the commission of genocide, crimes against humanity, or the enumerated war and other crimes. Article 7 requires a state party to conduct a national assessment of the risk that a proposed export could be used to commit or facilitate serious violations of international humanitarian law or international human rights law, as well as acts of terrorism or transnational organized crime. Taken together, these articles provide a robust and complementary framework that will promote responsible transfer of decisions by states parties.
Thank you, Mr. President.
===============================================
At UN, ATT Passes With 22 Abstentions, Woolcott Tells ICP of Speakers List
By Matthew Russell Lee
UNITED NATIONS, April 2 — When the Arms Trade Treaty was blocked on March 28 under the rules of consensus, the headlines read that only three countries were against it: Syria, North Korea and Iran.
But even then, in speeches like Sudan's and Belarus', one could hear abstentions coming.
And Tuesday in the UN General Assembly there were 23 abstentions, including the two most populous countries on Earth, China and India, and the most populous predominantly Muslim country, Indonesia.
Afterward, Inner City Press asked ATT president Peter Woolcott, after thanking him on behalf of the Free UN Coalition for Access, about criticism of his allowing, before a promised ruling, Mexico and others to make an argument against the UN meaning of consensus.

  He replied that there was speakers list that he followed. He said he personally does not favor negotiating under the rule of consensus. Other might say: it showed.

 Inner City Press asked Mexico's Luis Alfonso de Alba, who gave a thoughtful answer about "no vetoes," that may resonate in the UN Budget Committee.
t

   It was announced that Angola did not abstain, but voted Yes (hence, 22 abstentions, still quite populous.)
In speeches before Tuesday's vote, as Syria's Bashar Ja'afari spoke, US Ambassador Susan Rice was walking out. After that, a full hour into the speeches, Qatar's delegation rolled in. They ended up abstaining. Qatar supports rebels in Syria.
Sudan on the other hand said it was abstaining, citing the failure to address the arming of "mutinous" groups, like the SPLM-North and rebels in Darfur.
Russia, which by a point of order Thursday night put an end to the Mexico-launched attempt to redefine consensus, on Tuesday morning zeroed in on what knowledge of genocide might mean, in Article 6.3. Its Ambassador Churkin said Russia would not have broken consensus on March 28, but would now abstain, as did China. It's hard to call this consensus.

===========================================================================================
U.N. Treaty Is First Aimed at Regulating Global Arms Sales.
Published by The New York Times on-line  April 2, 2013  – 107 Comments
Readers' Comments: "There are too many in Congress who owe allegiance to the NRA and the armaments industry and not to the best interests of the U.S." RHSchumann, Bonn
UNITED NATIONS — The United Nations General Assembly voted overwhelmingly on Tuesday to approve a pioneering treaty aimed at regulating the enormous global trade in conventional weapons, for the first time linking sales to the human rights records of the buyers.
Although implementation is years away and there is no specific enforcement mechanism, proponents say the treaty would for the first time force sellers to consider how their customers will use the weapons and to make that information public.
The goal is to curb the sale of weapons that kill tens of thousands of people every year — by, for example, making it harder for Russia to argue that its arms deals with Syria are legal under international law.
The treaty, which took seven years to negotiate, reflects growing international sentiment that the multibillion-dollar weapons trade needs to be held to a moral standard.
The hope is that even nations reluctant to ratify the treaty will feel public pressure to abide by its provisions.
The treaty calls for sales to be evaluated on whether the weapons will be used to break humanitarian law, foment genocide or war crimes, abet terrorism or organized crime or slaughter women and children.
"Finally we have seen the governments of the world come together and say 'Enough!' " said Anna MacDonald, the head of arms control for Oxfam International, one of the many rights groups that pushed for the treaty. "It is time to stop the poorly regulated arms trade. It is time to bring the arms trade under control."
She pointed to the Syrian civil war, where 70,000 people have been killed, as a hypothetical example, noting that Russia argues that sales are permitted because there is no arms embargo.
"This treaty won't solve the problems of Syria overnight, no treaty could do that, but it will help to prevent future Syrias," Ms. MacDonald said. "It will help to reduce armed violence. It will help to reduce conflict."
Members of the General Assembly voted 154 to 3 to approve the Arms Trade Treaty, with 23 abstentions — many from nations with dubious recent human rights records like Bahrain, Myanmar and Sri Lanka.
The vote came after more than two decades of organizing. Humanitarian groups started lobbying after the 1991 Persian Gulf war to curb the trade in conventional weapons, having realized that Iraq had more weapons than France, diplomats said.
The treaty establishes an international forum of states that will review published reports of arms sales and publicly name violators. Even if the treaty will take time to become international law, its standards will be used immediately as political and moral guidelines, proponents said.
"It will help reduce the risk that international transfers of conventional arms will be used to carry out the world's worst crimes, including terrorism, genocide, crimes against humanity and war crimes," Secretary of State John Kerry said in a statement after the United States, the biggest arms exporter, voted with the majority for approval.
But the abstaining countries included China and Russia, which also are leading sellers, raising concerns about how many countries will ultimately ratify the treaty. It is scheduled to go into effect after 50 nations have ratified it. Given the overwhelming vote, diplomats anticipated that it could go into effect in two to three years, relative quickly for an international treaty.
Proponents said that if enough countries ratify the treaty, it will effectively become the international norm. If major sellers like the United States and Russia choose to sit on the sidelines while the rest of the world negotiates what weapons can be traded globally, they will still be affected by the outcome, activists said.
The treaty's ratification prospects in the Senate appear bleak, at least in the short term, in part because of opposition by the gun lobby. More than 50 senators signaled months ago that they would oppose the treaty — more than enough to defeat it, since 67 senators must ratify it.
Among the opponents is Senator John Cornyn of Texas, the second-ranking Republican. In a statement last month, he said that the treaty contained "unnecessarily harsh treatment of civilian-owned small arms" and violated the right to self-defense and United States sovereignty.
In a bow to American concerns, the preamble states that it is focused on international sales, not traditional domestic use, but the National Rifle Association has vowed to fight ratification anyway.
The General Assembly vote came after efforts to achieve a consensus on the treaty among all 193 member states of the United Nations failed last week, with Iran, North Korea and Syria blocking it. The three, often ostracized, voted against the treaty again on Tuesday.
Vitaly I. Churkin, the Russian envoy to the United Nations, said Russian misgivings about what he called ambiguities in the treaty, including how terms like genocide would be defined, had pushed his government to abstain. But neither Russia nor China rejected it outright.
"Having the abstentions from two major arms exporters lessens the moral weight of the treaty," said Nic Marsh, a proponent with the Peace Research Institute in Oslo. "By abstaining they have left their options open."
Numerous states, including Bolivia, Cuba and Nicaragua, said they had abstained because the human rights criteria were ill defined and could be abused to create political pressure. Many who abstained said the treaty should have banned sales to all armed groups, but supporters said the guidelines did that effectively while leaving open sales to liberation movements facing abusive governments.
Supporters also said that over the long run the guidelines should work to make the criteria more standardized, rather than arbitrary, as countries agree on norms of sale in a trade estimated at $70 billion annually.
The treaty covers tanks, armored combat vehicles, large-caliber weapons, combat aircraft, attack helicopters, warships, missiles and launchers, small arms and light weapons. Ammunition exports are subject to the same criteria as the other war matériel. Imports are not covered.
India, a major importer, abstained because of its concerns that its existing contracts might be blocked, despite compromise language to address that.
Support was particularly strong among African countries — even if the compromise text was weaker than some had anticipated — with most governments asserting that in the long run, the treaty would curb the arms sales that have fueled many conflicts.
Even some supporters conceded that the highly complicated negotiations forced compromises that left significant loopholes. The treaty focuses on sales, for example, and not on all the ways in which conventional arms are transferred, including as gifts, loans, leases and aid.
"This is a very good framework to build on," said Peter Woolcott, the Australian diplomat who presided over the negotiations. "But it is only a framework."
———–
Rick Gladstone contributed reporting from New York, and Jonathan Weisman from Washington.
###
 We posted recently the Kishore Mahbubani view of the world that points at   US, CHINA, RUSSIA, INDIA, The EU, BRAZIL, and NIGERIA as the Seven Front-line leading powers of the World. Of these the US and a United Europe are the powers of the democratic west – something of the past – with China, Russia, India, Brazil, and Nigeria the rising powers of the future. Interesting – here a deviation from what the UN's BRICS that has South Africa and not Nigeria, as representatives of the black African continent.
Both – Nigeria and South Africa are not typical of the rest of Africa – the one ruled by a Muslim majority and based on Petro-money, the other ruled by a Western oriented government that has no clear independent economic policy but was seen for years as the bridge for Africa's development. Mahbubani, who has clear leaning towards the Islamic world, likes to believe that eventually it will be Nigeria that will emerge as Africa's main power. Whatever – Africa is the weakest BRIC and in many fora represented well by Brazil. I pick on this as a side issue to today's interesting news of a Putin backed attempt at placing Russia, via South Africa, at the center of an effort to create a non-Western hub for the World economy and wrestle away the Western economic hegemony from a shriveling North Atlantic alliance anchored at Washington. The New York Times article that brought these latest news to our attention is obviously a US inspired reporting exercise.
Whatever – the facts are that the money is now mainly with China and the two big Western blocks, the United States of America, and the "not-yet-united" States of Europe, depend on China money, and as these last few weeks – the Greek tragedy in Greece and Cyprus – showed that eventually the Europeans might yet ask for hand-outs in Moscow. This was not wasted on the established BRICS and Mr. Putin moved on. The International Monetary system built after WWII – The World Bank and the International Monetary Fund – can be pushed aside in major parts of the Developing World.
It is not ingenious to point at the five BRICS that they are very different States – surely they are different among themselves – China, India, Russia, and Brazil have different political systems but are united in their interest to nudge aside the US from the position of manager of the world – and they see now their chance to do so.
==================================================
Group of Emerging Nations Plans to Form Development Bank.
Agence France-Presse — Getty Images
President Vladimir V. Putin of Russia on Tuesday in Durban, South Africa,  just ahead of Nosiviwe Mapisa-Nqakula, South Africa's defense minister.
Published: March 26, 2013
JOHANNESBURG — A group of five emerging world economic powers met in Africa for the first time Tuesday, gathering in South Africa for a summit meeting at which they plan to announce the creation of a new development bank, a direct challenge to the dominance of the World Bank and the International Monetary Fund.
The leaders of Brazil, Russia, India, China and South Africa, all members of the so-called BRICS Group of developing nations, have agreed to create the bank to focus on infrastructure and development in emerging markets. The countries are also planning to discuss pooling their foreign reserves as a bulwark against currency crises, part of a growing effort by emerging economic powers to build institutions and forums that are alternatives to Western-dominated ones.
"Up until now, it has been a loose arrangement of five countries meeting once a year," said Abdullah Verachia, director of the Frontier Advisory Group, which focuses on emerging markets. "It is going to be the first real institution we have seen."
But the alliance faces serious questions about whether the member countries have enough in common and enough shared goals to function effectively as a counterweight to the West.
"Despite the political rhetoric around partnerships, there is a huge amount of competition between the countries," Mr. Verachia said.
For all the talk of solidarity among emerging giants, the group's concrete achievements have been few since its first full meeting, in Russia in 2009. This is partly because its members are deeply divided on some basic issues and are in many ways rivals, not allies, in the global economy.
They have widely divergent economies, disparate foreign policy aims and different forms of government. India, Brazil and South Africa have strong democratic traditions, while Russia and China are autocratic.
The bloc even struggles to agree on overhauling international institutions. India, Brazil and South Africa want permanent seats on the United Nations Security Council, for example, but China, which already has one, has shown little interest in shaking up the status quo.
The developing countries in the bloc hardly invest in one another, preferring their neighbors and the developed world's major economies, according to a report released Monday by the United Nations Conference on Trade and Development.
Just 2.5 percent of foreign investment by BRICS countries goes to other countries in the group, the report said, while more than 40 percent of their foreign investment goes to the developed world's largest economies, the European Union, the United States and Japan.
Africa, home to several of the world's fastest-growing economies, drew less than 5 percent of total investment from BRICS nations, the report said. France and the United States still have the highest rate of foreign investment in Africa. Despite China's reputation for heavy investment in Africa, Malaysia has actually invested $2 billion more in Africa than China has.
Still, 15 African heads of state were invited to the summit meeting in South Africa as observers, a sign of the continent's increasing importance as an investment destination for all of the BRICS countries.
China is in many ways a major competitor of its fellow BRICS member, South Africa. South African manufacturers, retail chains, cellphone service providers, mining operations and tourism companies have bet heavily on African economic growth and in some ways go head-to-head against Chinese companies on the continent.
South Africa is playing host for the first time since becoming the newest member of what had been known previously as BRIC. Many analysts have questioned South Africa's inclusion in the group because its economy is tiny compared with the other members, ranking 28th in the world, and its growth rates in recent years have been anemic.
In an interview last year with a South African newspaper, Jim O'Neill, the Goldman Sachs executive who coined the term BRIC, said South Africa did not belong in the group.
"South Africa has too small an economy," Mr. O'Neill told the newspaper, The Mail & Guardian. "There are not many similarities with the other four countries in terms of the numbers. In fact, South Africa's inclusion has somewhat weakened the group's power."
But South Africa's sluggish growth has become the rule, not the exception, among the onetime powerhouse nations. India's hopes of reaching double-digit growth have ebbed. Brazil's surging economy, credited with pulling millions out of poverty, has cooled drastically. Even China's growth has slowed.
And once welcome, Chinese investment in Africa is viewed with increasing suspicion.
On a visit to Beijing last year, President Jacob Zuma of South Africa warned that Chinese trade ties in Africa were following a troubling pattern.
"Africa's commitment to China's development has been demonstrated by supply of raw materials, other products and technology transfer," Mr. Zuma said. "This trade pattern is unsustainable in the long term. Africa's past economic experience with Europe dictates a need to be cautious when entering into partnerships with other economies."
Mr. Zuma appeared to have a change of heart before the summit meeting, saying Monday that China does not approach Africa with a colonial attitude.
But other African leaders are not so sure. —– Lamido Sanusi, governor of Nigeria's central bank, wrote in an opinion article published in The Financial Times this month that China's approach to Africa is in many ways as exploitative as the West's has been.
"China is no longer a fellow underdeveloped economy — it is the world's second-biggest, capable of the same forms of exploitation as the West," he wrote. "It is a significant contributor to Africa's de-industrialization and under-development."
This article appeared in print on March 27, 2013, on page A4 of the New York edition with the headline: Group of Emerging Nations Plans to Form Development Bank.
###
Fareed Zakaria asks Kishore Mahbubani on the CNN/GPS program March 24, 2013 – One thing historically that has always happened is when you have the rise of a middle class, countries tend to become more democratic. Do you think China will become a democracy?
Mahbubani: "I think China will eventually become a democracy. The destination is not in doubt. The only question is the route and timing.
But China is not going to become democratic in the near future, in the next 10 to 20 years. And, by the way, one point people forget is that if you go to Chinese universities and you talk to bright young Chinese and ask them, would you like to get rid of the Communist Party and immediately become democratic tomorrow, most of them would say no. Because they do know that the Chinese Communist Party, over the last 30 years, has delivered the fastest growth in the standard of living.
And they do know that if you dismantle this and if China falls apart, all their dreams of becoming number one in the world will disappear. And the Chinese…the feeling is that they are almost there, the feeling that they're going to become number one very soon is a very powerful driving force that's also keeping them together."
Starting with China and India and looking at the rest of Asia – today there are 500 million people in the middle class – the growth is immense and by 2020 the expectation is that this number will more then triple and there will be 1.75 billion people of that region that will be in the middle class.
The West must show the wisdom to learn to manage the entrance of these Asian states into the Global multinational system – and what more – the US must learn how to be a #2 when finally another Nation becomes #1. Mahbubani talks of THE GREAT CONVERSION as a final result of the development process. He is mostly interested in the political sphere. Today we have a strong International Society and a very weak International Government. Some must learn to conceive that the time of being clear #1 will be over.
Mahbubani is practical and aims at the end of the present system of the so called 5 Superpowers. He shreds the UN Security Council and wants to se it replaced by a set of new 7 Permanent Members augmented with another 7 Semi-permanent Members.
The first set of the NEW PERMANENTS is to be made up of:
The US, CHINA, RUSSIA, INDIA, The EU, BRAZIL, and NIGERIA
The Set of Semi-Permanents will then be made up by counties like Korea, Japan, Turkey, Mexico, Indonesia ….
We were flabbergasted as his scheme, except for replacing Nigeria for South Africa, is identical with what we were advocating years ago.  So, to be honest, this posting comes about because we feel justified by the content of Professor Mahbubani's remarks.
Further, on the Fareed Zakaria program today he had also Dr. Neil Degrasse Tyson advocate the US put more money into Space as the present situation of not having a US Space-ship and the need to rent place on Russia's equipment, not just harms US research, but in effect became a give-away to Russia, China, India, even Canada, of the potential for inovation that comes with investment in space Programs. This is another reason for fore-seable US decline.
###
Press conference: Arms Trade Treaty with Control Arms coalition MONDAY 25 March, 2013.
Media Control Arms <media@controlarms.org>

March 24, 2013, 6:14 PM (8 minutes ago)

to undisclosed recipients
Media alert
Final Diplomatic Conference on the Arms Trade Treaty – Control Arms Coalition's Reaction to the latest text
Monday March 25, 2013:
Press conference on the Arms Trade Treaty. Midway through the diplomatic conference, the Control Arms Coalition gives a critical analysis of the latest draft of the text, which was published on Friday March 22.
Where: UN Building – Dag Hammarskjöld Library @ 11:00 am to 12:00 pm 
Who: Sponsored by the Government of Mexico 
Chair: Allison Pytlak, Campaign Manager – Control Arms
Participants:
Anna MacDonald, Head of Arms Control – Oxfam
Jonathan Frerichs, Programme Executive – World Council of Churches (Geneva)
Roy Isbister, Head of Arms Transfer Controls –  Saferworld
For more info:

——————
Control Arms Media Relations
917 224 0834
media@controlarms.org
###
We received the following invitation to a full day conference – the enticing title:
"THE UKRAINE – ITS ORIENTATION TO THE EU OR RUSSIA OR TO BOTH?"
organized by the Danube Region Institute of the Austrian Social Democratic Party (Long-standing member party of Austrian Governments) Karl Renner Think-Tank and held at the Vienna home of the EU offices.
——————–
Das Karl-Renner-Institut und das Institut für den Donauraum und Mitteleuropa – IDM laden ein zur
Konferenz -  DIE UKRAINE – ORIENTIERUNG RICHTUNG EU UND/ODER RUSSLAND?
Termin -  Freitag, 22. März 2013, 9.00 – 16.00 Uhr
Ort – Haus der Europäischen Union  – Wipplingerstraße 35, 1010 Wien
PanelistInnen (u.a.)
WINFRIED SCHNEIDER-DETERS – 1995 bis 2000 Leiter des Büros der Friedrich Ebert Stiftung in Kiew,
Autor des Buches "Die Ukraine: Machtvakuum zwischen Russland und der Europäischen Union"
GABRIELE BAUMANN, Konrad Adenauer Stiftung, Kiew
VOLODYMYR OGRYSKO, 2007-2009 Außenminister der Ukraine
MYKOLA RJABTSCHUK, Schriftsteller und Journalist
HANNES SWOBODA, MEP, Präsident der S&D-Fraktion
YURIY YAKYMENKO, Stv. Generaldirektor des Razumkov-Zentrums für politische und ökonomische Studien, Kiew
Konferenzsprachen: Deutsch und Englisch
—————–
The Karl Renner Institute
The Karl Renner Institute is the political academy of the Austrian Social Democratic movement. In this capacity, it foremostly aims at
involving experts from various fields in the development and realization of new political positions by establishing a discourse between experts from various fields and the Austrian Social Democratic Party;
generating a forum for political discussion and thus helping to introduce social democratic positions into public discussion;
training representatives of the Austrian Social Democratic Party so that they are optimally prepared for their present and future tasks;
fostering the organizational development of the Austrian Social Democratic Party in order to open up and modernize party structures.
These days, together with its foreign sister organizations, the Karl Renner Institute especially tries to support the young Central and Eastern European democracies and to help their integration into the mainstream of European political life. So it was not surprising that it brought its representative to the European Parliament, Mr. Hannes Swoboda, to be part of the discussion.
—————–
The Keynote speaker was – the 1995-2000 Head of the parallel German Social Democrat Think Tank – the Friedrich Ebert Foundation's Kiew offices – and author of the volume: "The Ukraine Power Vacuum between Russia and the European Union"and from that point on the rest of the meeting just went on to justify that title.
The three panels were:
I      Ukraine Inner politics,
II    The Ukraine and Russia
III   The Ukraine and the EU
Each of these panels was moderated by an editor of one of the most important print media in Austria – "Der Standard", "Profil", and "Die Presse,"
and the panels well balanced in right/left context – so there was a representative of the Right-of Center Konrad Adenauer Foundation office in Kiew, The Ukraine Foreign Ministry, the Russian Institute for Foreign Relations MGIMO, The Helsinki University, The Vienna University, and the Head of the Information Center of the EU representation in Kiew. It was clear that a lot of work went into preparing for this meeting – and we expect to get eventually printed concluding remarks.
So why am I disappointed? And disappointed I was. The answer is simple – I found more valuable information in a copy of "The Ukrainian Week" -
a December 2012 issue "Customs Union – Why Ukraine should avoid the trap by all means" featuring content from "The Economist" that I picked up at the information desk, then I got from the presenters.
The problems were two-fold. No presenter went into depth in describing the economics situation – it mainly was a debate about culture and where does Ukraine stand versus the cultural invasion from Russia. The fact that Russia never recognized that the Ukrainians have their own language and culture that are different from Russian. The fact that the Ukrainian elite knows only one foreign language – Russian. This while the Russian elites know western languages. The Ukrainians feel suffocated under the Russian onslaught but do not know any better. When they reached out to the West – they were not received – just because of this – they did not comply with Western ideals.
So, what we got was not real interests but perceived interests – with the Ukrainians actively shooting themselves in the foot.
When I went to the conference, as we posted many times on SustainabiliTank, I felt that The Ukraine will eventually have to split amicably like the old Czechoslovakia did – The Western Ruthenians that still remember their links to Poland – even though they never liked to be under Polish rule – belong to the EU, while the East and South – heavily Russian speaking – join Russia. But when others actually made this argument in the Q&A they were told that 80% of the citizens are Ukrainians – even those that speak Russian – and they want to stay in the Ukraine.
Further, when the previous government did serious and painful steps to adjust to the EU they were rebuffed anyway – so now there is a turn back to Russia.
a. Ukraine is too big to slip into the EU without being noticed
b. The Ukrainians want to stick together even if they look to the East – they want the West.
c. Not having been offered an alternative economically they want to look to the East because their economy is all run by the Russians – this even though the coal industry of East Ukraine has collapsed.
That reminded me of the Turkish experience – too big and too different.
The Turks tried to westernize under Ataturk – but still were Turks. The Ukrainians – or at least part of them could be accepted by the EU but they are not ready to make the Czechoslovak sacrifice. Actually they are much worse off then the Turks. There the decisions were in their own hands – no outside pull to the East. Here, the Russians want a buffer State between them and the West – so they will be kept in limbo if not ready to make their own decisions. So here comes the Custom Union with Russia that will leave them totally in continuing dependence on Russia. Could they aim at a Custom Union with the EU as well – and stay on as a buffer – in global limbo? The danger is – like Turkey – they eventually turn into a spinning top – just spinning around themselves. Not a great future in this.
###
Russian PM lectures Barroso on Cyprus.
Medvedev: 'The euro crisis has strengthened ideas that Europe is in decline.'
21.03.13
By Andrew Rettman
euobserver.com/economic/119525
BRUSSELS - Russian Prime Minister Dmitry Medvedev humbled European Commission chief Jose Manuel Barroso in public remarks on Thursday (21 March) over the EU's handling of Cyprus.
Speaking alongside Barroso at a conference in Moscow, he called the EU's original Cypriot bailout idea "to put it mildly, surprising … absurd … preposterous."
"The situation is unpredictable and inconsistent. It [the bailout model] has been reviewed several times. I browsed the Internet this morning and I saw another Plan B, or a Plan C or whatever," he noted.
He upbraided EU institutions for failing to give Moscow due notice of its decision.
"The system of early warning did not work very well … that means we need to work on it," he said.
He also quoted unnamed Russian "eurosceptics" as saying: "The euro crisis has strengthened ideas that Europe is in decline in the 21st century … that the European project has turned out to be too cumbersome."
Earlier the same say, he told Russian newswire Interfax that he is thinking of reducing Russia's holding of euro-denominated currency reserves.
In a sign of broader Russian upset, Leonid Grigoriev, an academic and a former Russian deputy finance minister, told a separate news conference that Russian money is no longer safe anywhere in the EU.
"The Cyprus situation has created new uncertainty in the banking sector. People have started thinking whether the same can happen elsewhere, in Spain, Portugal, Ireland?" he said.
The EU's Plan A for Cyprus was to lend it €10 billion, but to impose a 7-to-10 percent levy on all Cypriot savers, including Russian expats, who alone stood to lose €2 billion.
It has now been scrapped.
It is unclear what new model might be found.
But the Cypriot finance minister, Michael Sarris, also in Moscow on Thursday, said he is in talks to give Russia shares in Cypriot "banks, natural gas [reserves]" in return for Russian bailout money.
For his part, Barroso told Medvedev that the EU could not have warned Russia even if it wanted to.
"Regarding the conclusions of the last Eurogroup [euro finance ministers, who drew up Plan A], Russia was not informed because the governments of Europe were not informed – let's be completely open and honest about that issue. There was not a pre-decision before the Eurogroup meeting. The Eurogroup meeting concluded, I think, in the very early hours of Saturday and the decision was the result of a compromise," he said.
He added: "Don't believe in this idea of the decline of Europe … The European Union is stronger than it is today fashionable to admit."
Leaked documents on internal EU talks seen by the Reuters news agency give substance to Russia's criticism, however.
The notes record remarks by finance officials from euro-using countries during a panicky conference call about Cyprus held on Wednesday.
According to Reuters, a French official said Cyprus' decision not to take part in the phone-debate is "a big problem … We have never seen this."
A German official said Cyprus might quit the euro and there is a need to "ring-fence" other countries from contagion.
A European Central Bank official said there is a "very difficult situation" because savers might pull money from the island if banks re-open next week.
Meanwhile, Thomas Wieser, an Austrian-origin EU official who chaired the phone-meeting, described the situation as "foggy." He added: "The economy is going to tank in Cyprus no matter what."
—————————————————
To the above we add that Turkey, its holding onto North Cyprus, and its interest in the gas fields that stretch from Cyprus to Israel and Lebanon, having first development seen by Israel, are part of the larger scope of the Cyprus potential move away from the EU. But, In effect, these other aspects might make the EU stiffen up in a bailing out effort conditioned only on reorganizing some of the Cypriot Banks – letting Russian oligarchs foot part of the bill – without selling to Russia port holdings in the Mediterranean. Seeing a Syria solution that drives out Russia from its port facilities there, may be part of the American interest in the region as well. In short – Cyprus is not Iceland – this because it is geographically located in a very complicated region of the Outer EU. Is it so that an Obama trip could help by forcing a Cyprus-Turkey reconciliation first?
—————————————————
We just found out that The New York Times is catching up:
Russian Ties Put Cyprus Banking Crisis on East-West Fault Line
By ANDREW HIGGINS, The New York Times, March 24, 2013
With Cyprus's role as a provider of financial services for Russians, what began as another episode in a familiar narrative has escalated into a drama with geopolitical implications.
==============================================================================================
Also, we know that Oligarch Abramowich is overexposed in Cyprus banks, is this also the case of Mr. Berezowski who just committed suicide at his home near London? Were there politics involved and this was a Russian in-fight? The coincidence of the timing will create rumors – we say.
Russian Oligarch and Critic of Putin Dead in Britain.
Stefan Wermuth/Reuters
Boris Berezovsky in London in last year. He is said to have committed suicide on Saturday.
Published: March 23, 2013
MOSCOW — Boris A. Berezovsky, once the richest and most powerful of the so-called oligarchs who dominated post-Soviet Russia, and a close ally of Boris N. Yeltsin who helped install Vladimir V. Putin as president but later exiled himself to London after a bitter falling out with the Kremlin, died Saturday.
He was 67 and lived near London, where last year he lost one of the largest private lawsuits in history — an epic tug-of-war over more than $5 billion with another Russian oligarch, Roman A. Abramovich, in which legal and other costs were estimated to be about $250 million.
Mr. Berezovsky's death was first reported in a post on Facebook by his son-in-law Egor Schuppe and was confirmed by Alexander Dobrovinsky, a lawyer who had represented him.
Mr. Dobrovinsky wrote in Russian on his Facebook page: "Just got a call from London. Boris Berezovsky has committed suicide. The man was complex. An act of desperation? Impossible to live poor? A series of blows? I am afraid that no one will know the truth."
The Thames Valley police in Berkshire, an hour from London, said Saturday that they were investigating the "unexplained" death of a 67-year-old man, apparently Mr. Berezovsky, in Ascot.
The police statement did not name Mr. Berezovsky, but British news reports said an investigation was under way at his home. "Specially trained officers are currently at the scene, including C.B.R.N.-trained officers, who are conducting a number of searches as a precaution," said a spokeswoman for the Thames Valley police, referring to the force's chemical, biological, radiological and nuclear team. "This is to enable officers to carry out an investigation into the man's death. The body of the man is still in the property at this time."
In London, Mr. Berezovsky had adopted much the same style as an oligarch in Russia, with chauffeurs and bodyguards. But recent news reports said Mr. Berezovsky had begun to sell personal assets, including a yacht and a painting by Andy Warhol, "Red Lenin," to pay debts related to the lawsuit.
The lawsuit, in which Mr. Berezovsky brought a claim against Mr. Abramovich in a dispute over the sale of shares in Sibneft, an oil company, and other assets, ended in a spectacular defeat.
In her ruling, the judge in the case, Elizabeth Gloster, called Mr. Berezovsky an "unimpressive and inherently unreliable witness" and at times a dishonest one. By contrast, the judge said Mr. Abramovich had been "a truthful, and on the whole reliable, witness."
Mr. Berezovsky's legal troubles worsened recently with a claim by his former girlfriend, Elena Gorbunova, that he owed her about $8 million from the sale of a house they owned in Surrey, England. The judge also ordered him to pay more than $53 million of Mr. Abramovich's fees.
A friend of the tycoon, who spoke on the condition of anonymity because he was not authorized to speak to the press, said Mr. Berezovsky said he had been "extremely depressed" for at least six months since losing his case. "He was a great believer in British justice, and he felt it let him down," the friend said.
A spokesman for Mr. Putin said Mr. Berezovsky had recently sent a letter asking President Putin for forgiveness and permission to return to Russia. "Some time ago, maybe a couple of months, Berezovsky sent Vladimir Putin a letter, written by himself, in which he admitted that he had made a lot of mistakes," the spokesman, Dmitri S. Peskov, said on the Russia 24 television channel. "He asked Putin for forgiveness for the errors to be able to return home."
Mr. Peskov said that he did not know Mr. Putin's reaction, but that "news of anyone's death, no matter what kind of person they were, cannot arouse any positive emotions."
Mr. Berezovsky was a Soviet mathematician who after the fall of Communism went into business and figured out how to skim profits off what was then Russian's largest state-owned carmaker. Along with spectacular wealth, he accumulated enormous political influence, becoming a close ally of Mr. Yeltsin's.
With Mr. Yeltsin's political career fading, Mr. Berezovsky helped engineer the rise of Mr. Putin, an obscure former K.G.B. agent and onetime aide to the mayor of St. Petersburg who became president of Russia in 2000 and last May returned to the presidency for a third term.
After his election, Mr. Putin began a campaign of tax claims against a group of rich and powerful Russians, including Mr. Berezovsky and Mikhail B. Khodorkovsky, an oil tycoon, who remains jailed in Russia.
Mr. Berezovsky fled to London, where he eventually won political asylum and at one point raised tensions by calling for a coup against Mr. Putin.
David E. Hoffman, the author of "The Oligarchs: Wealth and Power in the New Russia," an exploration of the role of such magnates in the era after the breakup of the Soviet Union, said Mr. Berezovsky stood out for seeking not only wealth but political clout.
"Boris Berezovsky was among that wave of oligarchs who realized that great fortunes were to be made in the massive sell-off of assets in the new Russia," Mr. Hoffman said by e-mail on Saturday. "While many of his peers also saw the opportunity, Berezovsky was more focused than most on the role that politics would play. He realized the need to co-opt those in power in order to make deals. He did it from the early days with automobiles and later with oil."
Mr. Berezovsky had an outsize, if hardly always benevolent, role in post-Soviet Russia.
George Soros, a financier and a critic of the Russian oligarchs, had likened them to 19th-century American robber barons. But if that was an apt metaphor, the power and influence of these new tycoons was amplified by the legal and political vacuum left by the collapse of the Soviet Union.
Mr. Berezovsky amassed his fortune at first in automobiles, including a business he formed in 1993 with Aleksandr Voloshin, who would later become Mr. Yeltsin's chief of staff. But like other oligarchs, Mr. Berezovsky's interests spread across many sectors of the post-Soviet Russian economy, to oil; media; and Aeroflot, the Russian airline.
He survived an assassination attempt in 1994, a car bombing in which his driver was killed.  
The assassination attempt connected him to a K.G.B. officer, Alexander V. Litvinenko, who was poisoned by the radioactive isotope polonium 210 in London in November 2006.
Mr. Litvinenko, then working for the F.S.B., the domestic successor to the K.G.B., was assigned to investigate the blast, and Mr. Berezovsky became his mentor and later his employer.
Mr. Berezovsky helped Mr. Litvinenko flee Russia in 2000 before he, too, left the country to seek asylum in London.
On the day he was poisoned, Nov. 1, 2006, Mr. Litvinenko went from a meeting with several Russians at a hotel in central London to Mr. Berezovsky's nearby office. There he met with a Chechen exile, Akhmed Zakayev, another Berezovsky protégé, and the two drove together to adjacent homes financed by Mr. Berezovsky, in North London.
After Mr. Litvinenko's death, and with his wealth dwindling during his time in London, Mr. Berezovsky slowly withdrew his financial support for Mr. Litvinenko's widow as she pressed for an inquest into the death, now scheduled to begin in May.
Boris Abramovich Berezovsky was born in Moscow on Jan. 23, 1946, to Abram Berezovsky, a civil engineer who worked in construction, and Anna Gelman, at a time when the Soviet Union was recovering from World War II.
He studied forestry and mathematics at the Moscow Forestry Engineering Institute. He worked as an engineer and researcher until the late 1980s.
In the mid-1990s, Mr. Berezovsky served on Russia's security council, only to be dismissed from that post by Mr. Yeltsin in 1997.
Mr. Berezovsky and Mr. Putin had been close, and Mr. Berezovsky aided Mr. Putin's rise to the presidency. But signs came quickly that Mr. Berezovsky had fallen out of favor. In October 2000, just 10 months after Mr. Yeltsin's resignation, Mr. Berezovsky was ordered to vacate a spacious government country house and to return the government plates on his limousine. He left Russia for Britain that year.
In March 2003, the British authorities arrested Mr. Berezovsky and said they were beginning a process that could lead to his extradition. But he was granted political asylum later that year apparently after the British determined that Russia sought him solely on political grounds.
In 2007, he was convicted of fraud charges by a Russian court in absentia and sentenced to six years in prison, and had potentially faced prosecution in at least 10 other cases.
The sharpest blow to his wealth came from the failed lawsuit against Mr. Abramovich.
On the day last August when the court ruled against him, Mr. Berezovsky attempted an air of nonchalance. "Life is life," he said, flanked by bodyguards, before driving off in a Mercedes.
Andrew E. Kramer contributed reporting from Moscow, Alan Cowell from Venice, and Ravi Somaiya from New York.
###