'The next UN Secretary General will be…' The beginning of the media buzz.
blog.felixdodds.net/2015/09/the-n…

The blog Felix Dodds did on who the next Executive Director of UNEP should be seemed to go down well with my readers. Though I did think I missed a potential candidate in Christiana Figueres, Executive Secretary of the UNFCCC, who will finish at the UNFCCC after the Paris Climate meeting and therefore be available.
I was contemplating doing a blog about who the next UN Secretary General should be for the beginning of September, but I see that the New York Times and Slant have beaten me to it.
Of course, it helps if you know the process of selection a little better before writing the article. For starters, you cannot have a Permanent Member of the UN Security Council (China, France, Russia, UK and USA [P5]) as the UN Secretary General. The New York Times suggested Christine Lagarde, Managing Director of the International Monetary Fund. She is unfortunately a French national, therefore she isn't a possible candidate; nor is the excellent suggestion by Slant of Ertharin Cousin, the US World Food Programme head.

The UN is a set of checks and balances – just like the US Congress. Well… we hope not like the present US Congress.

It makes complete sense that the P5, as they are called, should not have even more power taking the UN Secretary General's position. Until the mid-2000s, you would not find them on Bureaus of UN Commissions and Conferences, either. It's not a written rule but one cannot imagine that the other 188 countries would agree to a P5 Secretary General. There is some feeling that the P5 want to ensure that the candidate is not too strong, and that the UN itself is not too strong. Giving away power to the multi-lateral level is not seen as in their interest.


The process:

The election for the next UN Secretary General is due to be held in 2016 to determine who succeeds Ban Ki-moon, whose term as the eighth United Nations Secretary-General will conclude December 31, 2016.
At present, the Security Council recommends a candidate for appointment to the General Assembly – ANY of the P5 can veto a candidate. The issue is discussed and decided in private meetings.
The actual appointment is "by the General Assembly upon the recommendation of the Security Council," which is traditionally through a GA resolution.
Historically, the Secretary-General has been selected based on an informal system of regional rotation. The GA Resolution 51/241 states that, "due regard shall continue to be given to regional rotation and shall also be given to gender equality." To date, there have been NO women, and so it is highly likely that the next Secretary General will be a woman.
There are five regional blocs the UN recognizes when elections are conducted within the UN institutions. The distribution of the past Secretary-General has been:
Western Europe and Other Group (WEOG) (Trygvie Lie [Norway], Dag Hammarskjold [Sweden], Kurt Waldheim[Austria])
Asia (U Thant [Burma], Ban Ki-moon[Republic of Korea])
Latin America and the Caribbean (Javier Perez de Cuellar [Peru])
Africa (Boutros Boutros-Ghali [Egypt], Kofi Annan[Ghana])
To date, no Secretary-General has hailed from Eastern Europe, which is why it is expected that Eastern Europe is likely to have a strong case for that position and that Russia will play a significant role in that choice.
The candidates:
Before going into suggestions, I want to take a step back. There are some suggestions of what the next Secretary General should have, as a skill base, produced by a number of NGOs. Clearly, it would help enormously if the candidates were to have a strong track record of implementing organizational-wide reforms. It would be vital for the UN to publish the job description and the person spec for everyone to see.
The UN is in need of another period of reform, so it is 'fit for purpose' in ensuring that the new Sustainable Development Goals become the agenda of all its organs over the next 15 years.
Perhaps candidates should have support from countries making up every region of the UN to be considered?
What I would very much like to see is for the UN Security Council to produce a short list (3 to 5 people). These people could then have a set of televised debates perhaps one in each of the five UN regions, for the world to participate in.
Although I recognize the final decision has to be member states, it would ensure that the candidates would be seen under pressure and would become household names at the start of their term. It would also enable an online conversation about the strengths and weaknesses of each candidate, perhaps even an online poll which member states can take note of in their decision.
It is clear that member states are looking to have a woman as the next Secretary General – though that is not guaranteed.


So far two candidates announced and have the support of their governments. They are:
Mr Danilo Türk (Slovenia), former President of Slovenia, former Assistant Secretary-General of the UN, former Ambassador to the UN, former President of the Security Council of the UN (nominated by the Slovenian government in January 2014)
Ms Irina Bokova (Bulgaria), UNESCO Director-General (nominated by the Bulgarian government in June 2014)
Of the two declared candidates, both have extensive experience in the UN, but only one is a woman. So, Irina must – at this point – be seen as the front-runner of the declared candidates. It's also true to say she has done an excellent job dealing with the withdrawal of its financial commitment of the US from UNESCO in 2011 and the funding crisis that has caused. She has supported staff and managed to keep the organization active in many areas.
A few other possible candidates have indicated an interest from Eastern Europe. They are:
Mr. Vuk Jeremi? (Serbia), former President of the United Nations General Assembly and former Serbian Minister of Foreign Affairs
Ms. Vesna Pusi? (Croatia), Croatian Minister of Foreign and European Affairs
It is still early days in that we are about a year away from the beginning of the informal process for selection. My further suggestions will ONLY be women.
Other possible candidates from Eastern Europe might be:
Kristalina Georgieva (Bulgaria), Vice-President of the European Commission
Dalia Grybauskaite (Lithuania), President of Lithuania she would be be the first former Head of State to be a UN Secretary General.
If for some reason it does not go to Eastern Europe then it is likely to go to Latin America and Caribbean Group as the region has only had the Secretary General once. There are two excellent potential women candidates in:
Michelle Bachelet (Chile), President of Chile and former Executive Director of UN Women – though not finishing her term before going back to stand for election as President of Chile. She would also be the first former Head of State to be a UN Secretary General, which has some clear advantages when dealing with governments.
Alicia Bárcena Ibarra (Mexico), Executive Secretary of the Economic Commission for Latin America and the Caribbean. Alicia was also the UN USG for Management and Budgetary Affairs so in a reforming UN would already have a very clear idea where that reform could come from. She also has been a strong advocate for the SDGs and is well liked within stakeholders.
If it were to go to Africa, then the candidate that seems to have some support is Ellen Johnson Sirleaf – the 24th President of Liberia and Africa's first democratically elected female Head of State. She's serving her second term as President after winning the 2011 presidential election. She also co-chaired the UN Secretary Generals High level panel that brought forward some great suggestions for what the SDGs should be in 2013.
If for some reason, it were to go to the Western European and Others Group (WEOG) – which I very much doubt it will – then Margot Wallstrom, currently Foreign Minister of Sweden is a good candidate. She was also the UN experience as the representative for women and the EU Environment Commissioner and, subsequently, its VICE-PRESIDENT.
There is also Helle Thorning-Schmidt (Denmark), former Prime Minister of Denmark,
and Federica Mogherini (Italy), current High Representative of the Union for Foreign Affairs and Security Policy, the European Union's foreign minister both would also be strong candidates.
Conclusion
If you are interested in this process, there is an NGO campaign called "1 for 7 Billion," which has developed its own set of criteria for a new Secretary General and has met the incoming President of the UN General Assembly Mogens Lykketoft.
The new Secretary General will not only have to oversee the implementation of the Sustainable Development Goals, but the continuing crisis in the Middle East and Eastern Europe, as well as the humanitarian crisis around refugees, Climate Change and the emergence of new technologies and their massive impact on global work force – in particular –tomorrow's youth unemployment crisis.
Let's choose a UN Secretary General who can address these issues effectively.
Posted 2 days ago by felix dodds
Labels: Alicia Bárcena Ibarra Dalia Grybauskaite Danilo Türk Irina Bokova Kristalina Georgieva Michelle Bachelet, Vesna Pusi? and Vuk Jeremi?, also new UN Secretary General UN Secretary General election 2016.
——————————————
Some of the comments Felix Dodds posted:
Ross BaileySeptember 2, 2015 at 2:25 PM
Good blog Felix. Will be fascinating to see what happens next.
You've made very clear that she would be an outside but in reality, surely no chance for President Sirleaf surely? She would bring real gravitas but isn't 78 quite old to be starting an 8 year term.
———
Stephanie HodgeSeptember 4, 2015 at 2:14 PM
The UN is in need of another period of reform, so it is 'fit for purpose' in ensuring that the new Sustainable Development Goals become the agenda of all its organs over the next 15 years.
——–
Loy RegoSeptember 4, 2015 at 4:10 PM
Thanks Felix. Far more substantive than the NY Times article, which emphasized only gender as a factor. Keep blogging.
——–
Loy RegoSeptember 4, 2015 at 4:14 PM
.. and in implementing reform, making the UN fit for purpose, and advancing the SDGs while reversing climate change and building climate and disaster resilience, we need a "Super woman' selected through a new process and therefore having a greater public buy in than ever before.
Felix Dodds comments on sustainable development, coffee & life
—————————————
Sep 2 a reply note from Felix Dodds:
'The next UN Secretary General will be…' The beginning of the media buzz
The blog I did on who the next Executive Director of UNEP should be seemed to go down well with my readers.
UN publishes draft SDG Summit outcome and policy briefs for September Summit
The General Assembly will convene a meeting on 1 September at 10 a.m. in the General Assembly Hall to take action and transmit the draft outcome for consideration at the 25-27 September Summit to adopt the post-2015 development agenda.
Upcoming climate change related events. Green Economy Principles:
I am attending a very interesting Green Growth and Travelism Summer School organized by he Green Growth and Travelism Institute at Hasselt University in Belgium. A very interesting venue where a former prison has been converted into a prison.
Yet again another article on why the SDGs are not perfect………………………
I have to say I am getting bored with armchair journalists and academics who think they know better than 193 countries, thousands of NGOs and experts. So I am going to try and make this the LAST comment on an ill informed article….but i cant promise it.
Very nice graphic for the 5Ps in the preamble to 'Transforming Our World: The 2030 Agenda for Sustainable Development.
As the SDGs start to be promoted there is the need for good graphics. This is the best one i've seen so far for the 5 P's that are in the preamble to 'Transforming Our World: The 2030 Agenda for Sustainable Development.
Bringing the ?SDGs? to life: real change for real people video by IIED.
Time for all of us to be creative – Nice contribution from IIED. Are there any other creative ideas out there? If so send them to me at felix[at felixdodds.net and the best i'll promote here in the blog.

With the next meeting of the Inter-agency and Expert Group on SDG Indicators (IAEG-SDGs), in Bangkok 26-28th of October they have opened a consultation on the development of a global indicator framework for the Sustainable Development Goals.
Bjorn Lomborg Wrong Again:
I had missed Bjorn Lomborg's article in the Guardian "These are the four SDGs we need to agree on to help the planet" in the section sponsored by Business call to Action.
Summer book reads from some of my friends:
Im enjoying a little downtime after the crazy 2015,2014,2013,2012 processes and wanted to share some books out by some of my friends which you may enjoy for summer reading.
Transforming Our World: The 2030 Agenda for Sustainable Development
We now have an agreement and a very good name for the agreement it will be called 'Transforming Our World: The 2030 Agenda for Sustainable Development.' This was important because of the ongoing discussion in the negotiations of taking poverty eradication out of sustainable development.
Comments on the new Post 2015 text:
Well who would have expected me to be writing another blog about another final text? Governments return at 11am Sunday to try and finish the negotiations on the Post 2015 Development Agenda. I myself left on Friday assuming it would finish then and went to see Mission Impossible last night.
Comments on the new Post 2015 text
Love the new preamble YES YES YES People need to read the SDGs and their targets and not a summary in a preamble.
We are here to help with delegate therapy
Bracketing Therapists – As the negotiations are coming to an end on the Post 2015 Agenda you must be worrying what you will do with all that time you now will have.
Part 2: NGOs such as Save the Children and Corporations —- Tuesday also saw a very good article in the Guardian which raises some very serious issues relating to Save the Children's relationship with the corporate sector.
It was a good warning for all NGOs to look at who they are having funding from in the corporate world.
Part 1: The UN and Corporations
Tuesday I went to an excellent side event by the Global Policy Forum who pre-launched what I think is an excellent report called Fit for Purpose: Private funding and corporate influence in the United Nations.
Some initial thoughts on the Final Declaration Draft:
Wow we are, we hope, into the last five days of the Post 2015 process!!!!
By Friday there should be an agreement and lots of hugs, I understand, all round. Between now and then though there is some tough negotiations to be undertaken.
The year of negotiating precariously
This is a reproduction of the Guardian article written by myself and Michael Strauss 'The year of negotiating precariously' in the Guardian on the 23rd of July 2015 which can be read on the Guardian web site.
New Book Governance for Sustainable Development: The Post-2015 Agenda is an unprecedented effort that embodies universal aspirations for achieving a better, more just, equitable, peaceful and sustainable future. Representatives from 193 governments and multiple stakeholders, from all sectors, have actively participated in its creation.
Civil Society Response to the Addis Ababa Action Agenda on Financing for Development Addis Ababa, 16 July 2015
Below is the CSO response to the Addis Ababa Action Agenda. As very little changes have happened in the txt relating to sustainable development and sustainable development goals. My criticism of that text stands.
——————————————————————
###

In the run-up to Paris2015 Kevin Rudd of the New York based Asia Society argues that "U.S., China, and India Must Lead Together for a Climate Deal in Paris," Lord Nicholas Stern said that there will be a complete change in what the planet will look like in 100 years from now, and Christiana Figueres said that what countries have prepared for Paris is insufficient, but she hopes that in those 100 coming years they will be more forthcoming.
On August 28, 2015 – on CNN International's Amanpour – Kevin Rudd, the Asia Society Policy Institute (ASPI) President, discussed the effects of climate change – with Lord Nicholas Stern, chairman of the Grantham Research Institute on Climate Change and the Environment at the London School of Economics, and international climate policy, with Christiana Figueres, executive secretary of the United Nations Framework Convention on Climate Change.

Noting that projected levels of greenhouse gas emissions would cause average temperatures to rise by three-and-a-half to four degrees Celsius over the next 100 years, Lord Stern said "that is very dangerous territory" that the planet hasn't seen "for around three million years," since the end of the last Ice Age.
"These kinds of temperature increases are just enormous and would rewrite where we could live, where the rivers are, where the seashores are, what the weather is like," said Lord Stern.
The poorest areas of the world would be "hit strongest and earliest," he added. "Probably most of Southern Europe would look like the Sahara Desert."

Figueres said that countries' national climate change plans, which governments have been announcing ahead of the United Nations Conference on Climate Change in Paris this December, will fall short of "where we should be, according to science, to be on the two degree [temperature increase] pathway."
The resulting gap "will not be filled in Paris," Figueres said. "It will not be filled in January."

She noted that the Paris climate agreement "is being constructed, actually, as a progressive effort over a certain period of timeframes, during which countries need, and will be able to, because of increased technology and further capital flows … increase their contribution to the solution."
Video: Kevin Rudd discusses climate change with Lord Nicholas Stern and Christiana Figueres on CNN International's Amanpour.
Related Links
Kevin Rudd on CNBC: Don't Confuse the Chinese Stock Market with Overall Economy
Kevin Rudd in the New York Times: U.S., China, and India Must Lead Together for a Climate Deal in Paris
———–================================================================———–

THE UPDATE – SEPTEMBER 5, 2015

Ms. Christiana Figueres – the Executive Secretary of UNFCCC will end her contract at the end of this year after the conclusion of the Paris 2015 meeting – having guided the organization through all this preparatory years. It is being suggested that her candidacy be submitted for the 2016 selection process for next UN Secretary-General position. She would be the best informed person to lead the UN in the crucial 2017-2026 period when Climate Change and Sustainability become main UN topics under the incoming title from Paris – "Transforming Our World: The 2030 Agenda for Sustainable Development."
The UN is in need of another period of reform, so it is 'fit for purpose' in ensuring that the new Sustainable Development Goals become the agenda of all its organs over the next 15 years.
————————————————————–
UN climate chief: No such thing as ideal pace for pre-Paris talks
By EUOBSERVER
4. Sep, 13:47
UN climate chief Christiana Figueres countered criticism that preliminary talks for a Paris climate treaty were moving too slowly. "There is no such thing as an objective [ideal] pace of negotiations that everyone can agree on", she said at a press conference Friday after a round of talks in Bonn.
###
VIII Foro Latinoamericano y del Caribe del Carbono se realizará en Bogotá
Del 3 al 5 de septiembre se reunirán expertos de Europa, América del Norte,  América Latina y el Caribe para analizar los últimos avances en la implementación de políticas internacionales sobre  cambio climático, precios de carbono  y desarrollo sostenible

(Bogotá, 04 de agosto de 2014). Con el propósito de difundir conocimiento, promover el intercambio de información y de experiencias, así como propiciar un ambiente de oportunidades de negocio en el mercado de carbono, del 3 al 5 de septiembre se realizará en Bogotá el VIII Foro Latinoamericano y del Caribe del Carbono (FLACC), evento que reunirá a expertos internacionales que analizarán los últimos avances en la implementación de políticas internacionales sobre cambio climático, precios de carbono y desarrollo sostenible. La reunión pondrá  énfasis en la necesidad de avanzar hacia un  desarrollo bajo en carbono, e iniciativas y esquemas de comercio de emisiones.
Esta VIII edición está organizada por el Banco Mundial, la Organización Latinoamericana de Energía (OLADE), la Asociación Internacional de Comercio de Emisiones (IETA), el Programa de Naciones Unidas para el Medio Ambiente (PNUMA) y el centro PNUMA DTU, el Banco Interamericano de Desarrollo (BID), la Secretaría de la Convención Marco de las Naciones Unidas sobre Cambio Climático (CMNUCC) el Programa de las Naciones Unidas para el Desarrollo (PNUD) y CAF –banco de desarrollo de América Latina.
La agenda contemplará siete reuniones plenarias, 14 talleres y una serie de eventos paralelos organizados por los expositores en los que se abordarán temas como las oportunidades para acelerar el desarrollo sostenible en la región, instrumentos de tarificación del carbono, el rol del sector privado y de los bancos de desarrollo para financiar las acciones climáticas  y las políticas y alternativas para revitalizar el mercado del carbono. Así mismo, se discutirá la fijación de precios de las reducciones de las emisiones de CO2, iniciativas de ciudades sostenibles en América Latina y las propuestas para reducir emisiones y discutir estrategias de desarrollo bajo en carbono en sectores como producción y uso de energía, transporte e industria, bosques, agricultura y manejo de residuos.
El FLACC es una plataforma regional creada en 2006 con la finalidad de compartir información, discutir nuevas tendencias, proponer soluciones y crear oportunidades de negocio. En ediciones anteriores contó con la presencia de más de 800 participantes provenientes del sector privado, público, bancos multilaterales y de desarrollo, expertos en políticas y estrategias de desarrollo bajo en carbono y promotores de proyectos, entre otros.
Para inscribirse en la VIII edición de forma gratuita visite www.latincarbon.com/2014. El cupo es limitado.
###
<
unfccc.int/files/press/news_room/press_releases_and_advisories/application/pdf/pr20140106_ctcn.pdf
>
(Copenhagen/Bonn, 2 June 2014):
Developing countries are now beginning to make active use of the UN's new global network for climate technology solutions, the Climate Technology Centre and Network (CTCN). This constitutes a promising signal that momentum for climate action is building ahead of a new, universal climate agreement in 2015.
So far this year, six countries have submitted eight requests for technology assistance to the CTCN, which is headquartered in Copenhagen.
These include – Afghanistan, Bhutan, Chile, Colombia, Honduras and Pakistan.
The requests for support relate to a broad range of climate action, from renewable energy policies to public transportation, and from biodiversity monitoring to saving mangrove forests for coastal protection.
Welcoming the development, Achim Steiner, Executive Director of the United Nations Environment Programme (UNEP), said:
"Innovation is the engine of development, and replacing current technologies
with cleaner, low-carbon alternatives is a vital part of tackling the
causes and effects of climate change. The Climate Technology Centre and
Network works to accelerate the use of new technologies in improving the
lives and livelihoods of millions of people in developing countries who are
dealing with the impacts of climate change on a daily basis."
According to Christiana Figueres, Executive Secretary of the Bonn based UN
Framework Convention on Climate Change (UNFCCC) – the growing use of the
CTCN is encouraging and now needs the necessary finance.
"As countries work towards a universal climate agreement in Paris in 2015,
the CTCN provides yet another foundation upon which optimism and action is
being built. For it to fully flourish and provide maximum support to
developing country ambitions, the requests for support now need to be
matched with the finance required, most notably through swift and
sufficient capitalization of the Green Climate Fund," she said.
Last week, the board of the Green Climate Fund (GCF) completed the
essential policy requirements to make the fund operational. The GCF was
established as a prime global channel to deliver public funds and to
leverage private sector finance for developing country climate action.
Meanwhile, the CTCN has put all central requirements for the transfer of
technology in place.
Since its launch in late 2013, over 80 countries have established national
CTCN focal points (known as National Designated Entities) who work with
country stakeholders to develop and relay requests to the Climate
Technology Centre's network of regional and sectoral experts from academia,
the private sector, and public and research institutions.
A side event on the progress to date of the Technology Mechanism and the
CTCN will be held on the margins of the upcoming Bonn Climate Change
Conference on 7 June 2014, 18.30-20.00.
This side event is organized collaboratively by the Technology Executive
Committee (TEC) and the CTCN. It will opened by UNFCCC Executive Secretary
Christiana Figueres, and will include presentations by the Director of the
CTCN, Mr. Jukka Uosukainen, and the Chairs of the TEC and the CTCN.
More information: goo.gl/PUK0Kp.
For more information, please contact:
Karina Larsen, CTCN Knowledge & Communications Manager
+45 4533 5373; karina.larsen@unep.org
Climate Technology Centre & Network (CTCN)
Website: www.unep.org/climatechange/ctcn/
Nick Nuttall, Coordinator, Communications and Outreach: +49 228 815 1400
(phone), +49 152 0168 4831
(mobile) nnuttall(at)unfccc.int
John Hay, Communications Officer: +49 172 258 6944 (mobile) jhay
(at)unfccc.int
Website: unfccc.int
About the UNFCCC
With 196 Parties, the United Nations Framework Convention on Climate Change
(UNFCCC) has near universal membership and is the parent treaty of the 1997
Kyoto Protocol. The Kyoto Protocol has been ratified by 192 of the UNFCCC
Parties. For the first commitment period of the Kyoto Protocol, 37 States,
consisting of highly industrialized countries and countries undergoing the
process of transition to a market economy, have legally binding emission
limitation and reduction commitments. In Doha in 2012, the Conference of
the Parties serving as the meeting of the Parties to the Kyoto Protocol
adopted an amendment to the Kyoto Protocol, which establishes the second
commitment period under the Protocol. The ultimate objective of both
treaties is to stabilize greenhouse gas concentrations in the atmosphere at
a level that will prevent dangerous human interference with the climate
system.
About the CTCN
The Climate Technology Centre and Network promotes the accelerated transfer
of environmentally sound technologies for climate change mitigation and
adaptation in developing countries. The CTCN quickly responds with
potential solutions as well as tailored capacity building in order to
transfer valuable knowledge and practical advice from one country to
another in order to accelerate the pace of climate technology
implementation. The CTCN is the operational arm of the UNFCCC Technology
Mechanism and is hosted by UNEP in collaboration with the United Nations
Industrial Development Organization (UNIDO) and 11 independent, regional
organizations with expertise in climate technologies.
See also:  <unfccc.int/press/items/2794.php>
Follow UNFCCC on Twitter:  @UN_ClimateTalks
UNFCCC Executive Secretary Christiana Figueres on Twitter: @CFigueres
UNFCCC on Facebook:  facebook.com/UNclimatechange
###
Professor Timmons Roberts and I would like to share with you our new policy paper published by Brookings Institution on Chinese-Latin American relations in a carbon constrained world.
The paper can be downloaded here:
www.brookings.edu/
research/papers/2014/03/
carbon-partnership-china-
latin-america-edwards-roberts
Best wishes,
Guy Edwards
Below we include the executive summary: 
China's rapidly increasing investment, trade and loans in Latin America may be entrenching high-carbon development pathways in the region, a trend scarcely mentioned in policy circles. High-carbon activities include the extraction of fossil fuels and other natural resources, expansion of large-scale agriculture and the energy-intensive stages of processing natural resources into intermediate goods. 
This paper addresses three examples, including Chinese investments in Venezuela's oil sector and a Costa Rican oil refinery, and Chinese investment in and purchases of Brazilian soybeans. We pose the question of whether there is a tie between China's role in opening up vast resources in Latin America and the way those nations make national climate policy and how they behave at the United Nations Framework Convention on Climate Change (UNFCCC) negotiations. 
China and Latin America have a critical role to play to ensure progress is made before the 2015 deadline, since they together account for approximately 40 percent of total global greenhouse gas emissions. Several Latin American nations are world leaders in having reached high levels of human development while emitting very low levels of greenhouse gases. Several have publicly committed to ambitious greenhouse gas emission reduction goals. Staying on or moving to low-carbon pathways is critical for these countries, but substantial Chinese investments in natural resources and commodities—when combined with those of other nations and firms—run the risk of taking the region in an unsustainable direction.
Chinese investments and imports of Latin American commodities may be strengthening the relative power of political and commercial domestic constituencies and of "dirty" ministries (e.g. ministries of mining, agriculture or energy) vis-à-vis environmental and climate change ministries and departments. These "cleaner" ministries are traditionally weak and marginalized actors in the region. China may thus be inadvertently undermining Latin American countries' attempts to promote climate change policies by reinforcing and strengthening actors within those countries and governments that do not prioritize climate change and who have often seen environmental efforts as an impediment to economic growth.
China has stated that it is interested in cooperating with Latin America on combating climate change, but official bilateral or multilateral exchanges on the issue outside of the UNFCCC negotiations have been limited. Both China and Latin America could benefit substantially by refocusing on opportunities for low-carbon growth such as renewable energy. China's growing influence in global renewable energy markets presents excellent opportunities to invest in clean energy in Latin America.
China and Latin American countries could launch a climate change initiative through the newly created China-CELAC (Community of Latin American and Caribbean States) Forum, focused on financing the reduction of greenhouse gas emissions from agriculture, forestry, energy and transport, as well as sharing technology and strategies for adapting to climate impacts. Chinese-Latin American relations should also mainstream environmental protection and low-carbon sustainable growth into their partnership, to avoid pushing countries in the region towards high-carbon pathways.
—
Research FellowCenter for Environmental Studies
Co-Director of the Climate and Development Lab
###
COHA Statement on the Ongoing Stress in Venezuela
By: Larry Birns, Director of the Council on Hemispheric Affairs (COHA), Washington DC.
Contributor: Lauren Foiles, Research Associate at COHA.
The general position of the Council on Hemispheric Affairs (COHA) on the ongoing developments in Venezuela is that Washington has a misguided policy toward the South American country.
Moreover, Washington's Venezuelan policy directly conflicts with the rest of Latin America's thinking on the subject. This gap may cost the already diplomatically embattled U.S. in the near future when it comes to improving its already damaged image in the Americas as well as its diplomatic ties with Venezuela's allies, such as Argentina, Bolivia, Cuba and Ecuador.
Who Creates Washington's Policy Towards Caracas?
In the current extremely tense atmosphere, it would seem that the White House is much more likely to respond with favor to a growing Venezuelan exile group in Florida than to a growing Latino community who want the Obama administration to bring about real and progressive change to the inter-American system.
Back in November, Secretary of State John Kerry famously declared in a speech at the Organization of American States that: "the era of the Monroe Doctrine is over." The situation in Venezuela is a real-life test for Washington to demonstrate that Secretary Kerry's historical declaration will be followed through, unlike the December 1933 Montevideo Convention.
Three Expelled U.S. Diplomats
Right now a question revolves around whether the Venezuelan government had sufficient grounds to issue the recall instructions against three U.S. officials to be ejected from Caracas.
On Sunday evening, February 16, President Maduro announced the expulsion of three U.S. Embassy officials from Venezuela. Maduro's decision was followed by a statement released on Monday from the Minister for Foreign Affairs, Elías Jaua, who declared that the consular officials had 48 hours to vacate the country. The announcement comes after the U.S. State Department voiced concerns over the growing violence in Caracas with the department spokeswoman, Marie Harf stating on Saturday, "We are deeply concerned by rising tensions, by the violence surrounding this February 12 protest and by the issuing of a warrant for the arrest of the opposition leader Leopoldo Lopez."
Jaua stated that the Embassy officials had been visiting universities under the false pretenses of granting students with visas, however he charged that "at bottom that is a cover to establish contacts with leaders who they recruit for training, for financing and the creation of youth organizations through which violence is promoted in Venezuela." This most recent expulsion mirrors those of September 2013 when Maduro announced on state-run VTV that he was expelling three U.S. Diplomats, similarly charging that, "They have 48 hours to leave the country…Get out of Venezuela…Yankee go home. Enough abuses already." This marks the third time in less than a year that President Maduro has expelled American diplomats under the allegations of supporting opposition factions to insight a coup. While the names of the three-expelled diplomats have yet to be released, the U.S. State Department has publicly and adamantly denied the accusations. Meanwhile, the Twitter account of the U.S. embassy in Venezuela continues to be active and has tweeted that it will continue to operate normally and has no plans to suspend operations.
The Council on Hemispheric Affairs, like much of the international community, awaits the release of factual evidence to support the consular officials' expulsion. Until such time, only speculations can be made about the validity of the administrations' statements and whether or not the expulsions are justifiable. Even without evidence, it is far from outlandish to speculate that American institutions are using their chartered mandates as a guise to intervene in internal politics.
 In Alan McPherson's "The Encyclopedia of U.S. Military Interventions in Latin America" the author goes into detail about the prevalence of, most notably, extending U.S. power militarily through local actors, citing the CIA-led coup against Guatemalan President Jacobo Árbenz in 1954, the response to Cuba from 1956 on, the intervention in the Dominican Republic of 1965-1966, the support for Pinochet's coup against Allende in Chile in 1973, and the invasion of Grenada in 1983 among others. In a historical context, Maduro's charges do in fact follow a pattern of U.S intervention in Latin American politics.
Furthermore, no one can easily deny that consular officials (from the U.S. or other powers) repeatedly have been used to transmit intelligence material to both sides for spying and liaison missions.  COHA's Director Larry Birns recollects visiting the U.S. embassy in Venezuela in the 1970s. "There would be this wall with photos of embassy personnel and their diplomatic titles, like 'agricultural attaché.' I can assure you none of the so-called attaches I met had ever seen a plow in their lives."
This historical record and suspicions notwithstanding, COHA still urges the Venezuelan government to conduct an impartial investigation into the expulsions, however utopian a request that may be. Impartial investigation aside, one thing is certain: the expulsions will serve as political fire for both the opposition and Chavista, pro-government factions alike. Critics of the government have often pointed to Maduro's efforts to provoke crises with the U.S. as a "diversionary conflict" method to distract citizens from the dismal realities of the state's economic shortcomings, as they are certain to continue to do with this instance. Likewise, pro-government supporters and the Maduro administration will use the expulsion as evidence that they are willing to take action against the U.S. for again meddling in the politics of a sovereign Latin American nation. 
A Conspiracy Theory?
At the time of this writing, there  is bizarre, and apparently false, news floating around the internet regarding a potential U.S. military operation in Venezuela.  Arizona Senator John McCain is being quoted as stating that the U.S. could (or rather should) prepare a military operation in Venezuela and that it can ask U.S. allies in the region, namely Colombia and Peru, to create some kind of multinational coalition a la Iraq or Afghanistan. A report apparently accredited to the Agence France Presse and Xinhua (a Chinese news agency),  allegedly quotes Senator McCain making these declarations in an interview with NBC.
COHA has tried to independently verify these alleged statements and they appear to be false. A recent interview with Senator McCain  on  CNN's  The Jake Tapper Show, focuses  primarily on the situation in Ukraine. There is a brief 30-second segment in which Senator McCain discusses Venezuela, but at no point does he talk about military intervention.
Moreover, the articles and blog posts where these alleged statements by the Arizona congressman appear are all in Spanish. COHA has not found any major news media outlet, be it in English or Spanish which confirm these statements.
COHA has contacted Senator McCain's office in Washington D.C. to confirm the veracity of these allegations. Upon calling the senator's office, we were asked by Press Secretary Rachael Dean to email links to the articles in Spanish that COHA's research team found. The response to our email stated that "the quote is not accurate" and directed us to Senator McCain's interview on CNN.
Given the gravity of these alleged statements, COHA calls for caution. Articles and blog posts quoting or paraphrasing the quotes are spreading throughout the internet,  most prominently on Twitter, despite the lack of verification on the matter.
Conclusions
The Council on Hemispheric Affairs urges the State Department to declare its respect for Venezuela's sovereignty and respect the results of the 2013 elections which, while certainly polarizing, were democratic.
Certainly, taking this diplomatic stance does not equate to neutrality, as the anti-Chavista factions would like to see regime change. Hopefully, President Maduro's pledge that he is open to dialogue with the opposition is not a hollow one. COHA eagerly encourages all sides (the government as well as opposition groups) to refrain from further violence.
Please accept this article as a free contribution from COHA, but if re-posting, please afford authorial and institutional attribution.
###
Kerala bags an United Nations award for sustainable tourism initiatives.
Published on : Friday, January 24, 2014
      Kerala, God's own country is recognized for its sustainable tourism policies by the United Nations. Kerala tourism is awarded by the United Nations for creating innovative initiatives in sustainable tourism.
This is the first ever UN award for any state in India.
The coveted award from the United Nations was mostly influenced by the sustainable  development initiative in the world famous backwater resort of Kumarakom. According to a press release from the Kerala tourism, they received the award at the UNWTO Awards for Excellence and Innovation in Tourism held in Madrid, Spain.
Kerala won the UNWTO Ulysses Award for Innovation in Public Policy and Governance, the highest honour given to the government bodies for shaping global tourism policies through innovative initiatives.
Kerala Tourism was chosen for the honour for its path-breaking 'Responsible Tourism' project in Kumarakom, which has successfully linked the local community with the Hospitality industry and government departments, thereby creating a model for empowerment and development of the people in the area while sustaining eco-friendly tourism.
The Kumarakom initiative had earlier won the National Award for Best Rural Tourism Project in March last year and also the PATA Grand Award for Environment.
————————————-
Dr. Tej Vir Singh awarded the UNWTO Ulysses Prize for the Creation and Dissemination of Knowledge.
Dr. Tej Vir Singh, professor and Founding Director of the Centre for Tourism Research & Development (CTRD) in India, has been named winner of the 2013 UNWTO Ulysses Prize for Excellence in the Creation and Dissemination of Knowledge. The Award honors outstanding members of the academia for their significant contribution to the development of tourism education and research.
Dr. Singh, the Founding Editor of Tourism Recreation Research, the oldest and highly respected, international tourism journal in Asia, is a pioneer in introducing extensive tourism research in the region. A specialist in Himalayan tourism, Dr. Singh has produced several books on tourism and many papers on tourism development and its impacts.
"I would like to commend Dr. Singh´s lifelong dedication to tourism research and his pioneering the concept and practice of sustainability in the field of tourism. His work has inspired many other academicians to develop their own research in the field, contributing greatly to the advancement of tourism education and of the tourism sector as a whole," said UNWTO Secretary-General, Taleb Rifai.
As the Founding Director of the Institute of Himalayan Studies and Regional Development at the University of Garhwal, Dr. Singh started the first Himalayan tourism training course. In 1976, he established the CTRD, a non-government organization devoted to the cause of tourism academics and research, with a special focus on India. Under his leadership, the Centre started an outreach programme that included education, training, research guidance, consultancy, curriculum design, and tourism programme initiation to several Indian universities, management institutions and colleges. Today, the CTRD is recognized for the generation and publication of valuable research on recreation and tourism, and is well-known as a leading organization for developing and disseminating scholarships in tourism in India.
The UNWTO Ulysses Prize for Excellence in the Creation and Dissemination of Knowledge will be presented during the UNWTO Awards Ceremony to be held on 22 January 2014, within the framework of the International Tourism Trade Fair (FITUR) in Madrid, Spain.
———————————————–
Volatile Bangkok turns out positive for Indian tourism.
Published on : Thursday, January 23, 2014
        While Bangkok faces a tourism fall due to the ongoing political crisis, Indian tourism reaps the dividends. Thailand government's decision to impose emergency in Bangkok is supposed to cause a loss of almost B10 billion for the Thailand tourism industry. On the contrary, foreign tourists are preferring to book a holiday in India.
According to the Indian Association of Tour Operators (IATO), the volatile political condition in Bangkok has spurred a huge interest of international travelers seeking holiday escapades in Indian. Political volatility has been on the rise in Bangkok, especially in the past few days. A couple of bomb blasts took place in the capital amidst wide protests. Protesters have been trying for more than two months to bring down the government. The Indian embassy in Thailand too is continuously tracking the situation and coming up with updates.
The global tourism industry has seen such shift of choices due to political and violent condition in a particular destination. To site an example, Spain tourism had a major share of international travelers last year owing to the political strife in Egypt. While Bangkok is one of the most popular destinations in Asia, India enjoys the advantage of volatile currency and a plethora of destination choices. In fact, domestic tourism also got a boost as many Indians are also going for home holidays rather than opting for Bangkok as every year about 500,000 Indians visit Bangkok.
————————————————————————————————————-
Tourism can foster sustainable development in Central America – UN General Assembly.
Published on : Friday, January 24, 2014
Sustainable tourism is an ally of poverty eradication in Central America and the three dimensions of sustainable development – social, economic and environmental – as reflected in the UN resolution on "Sustainable tourism and sustainable development in Central America".
The 193-member UN General Assembly adopted the resolution unanimously during its 68th session. This represents an important step towards mainstreaming sustainable tourism in the international development agenda and the post 2015 Sustainable Development Goals (New York, USA, 22 December 2013).
Emphasizing that sustainable tourism in Central America is a cross-cutting activity with close linkages to other sectors and thus generating trade opportunities, the UN General Assembly recognizes tourism as a fundamental pillar of regional integration and an engine of social and economic development, income, investment and hard currency in the region. The resolution further "encourages giving appropriate consideration to the issue of sustainable tourism in the elaboration of the post-2015 development agenda", which will follow the deadline of the UN Millennium Development Goals (MDGs).
Against this backdrop, the UN General Assembly invites States and other stakeholders, as well as the World Tourism Organization, to continue to support the activities undertaken by the Central American countries for the promotion of responsible and sustainable tourism and extend the benefits of tourism to all sectors of society, in particular the most vulnerable and marginalized groups of the population.
International tourism in Central America grew significantly in recent years. In 2012, Central America received almost 9 million international tourists who generated US$ 8 billion in revenues, up from, respectively, 4.3 million arrivals and US$ 3 billion in 2000. Today, international tourism accounts for as much as 17% of all Central American exports.
The UN resolution was sponsored by 51 Member States: Argentina, Australia, Barbados, Belize, Bolivia, Canada, Cape Vert, Chile, Colombia, Costa Rica, Croatia, Cuba, Cyprus, Dominican Republic, Ecuador, Egypt, El Salvador, Finland, Georgia, Greece, Guatemala, Guyana, Haiti, Honduras, Hungary, India, Israel, Italy, Jordan, Kazakhstan, Lithuania, Luxembourg, Maldives, Mexico, Monaco, Montenegro, Morocco, New Zealand, Nicaragua, Palau, Panama, Paraguay, Peru, Portugal, Saudi Arabia, Slovenia, Spain, Sri Lanka, United States of America, Ukraine and Uruguay.
—————————————–
Central America poised for tourism growth: SITCA
Published on : Sunday, September 15, 2013
          The Secretariat of Central American Tourism Integration (SITCA), along with the tourism authorities of the seven Central American countries – Belize, Costa Rica, El Salvado r, Guatemala, Honduras, Nicaragua and Panama – have conducted a study on the evolution of the tourism sector in the region over the past 12 years and found a positive forecast of expected 6.1 per cent growth for this year.
       In the period between 2000 and 2012, tourism to Central America has grown by 122.8 per cent from 4.23 million visitors in 2000 to 9.39 visitors in 2012, an annual increase of seven per cent on average stated the study.

Domestic tourism from within the region accounts for 40 per cent while North America accounts for between 35 per cent and 40 per cent of visitors.
Costa Rica and Guatemala received the highest number of visitors, but Nicaragua and Panama have registered the biggest growth in the period covered by the study, moving from fifth and sixth position (in terms of the total number of visitors received) to fourth and third respectively.

The average spend by tourists has also grown considerably over the last 12 years, thanks to an increase in the amount of products consumed, moving from an average spend per person of US$700 in 2000 to US$1,016 in 2012.
Based on the results of the study, it is expected that the number of visitors will increase by 6.1 per cent this year compared to last year, with an expected total of 9.96 million visitors.

For 2013, the average spend per tourist is expected to reach US$1,016.63, compared to US$1,016.18 in 2012. Revenue from tourism revenue is expected to be highest in Panama and lowest in Nicaragua.
The data presented by SITCA shows that the tourism sector in Central America is becoming the main source of revenue for all seven countries and a true driver for the economic growth of the region.
—————————————————————————————
International tourism exceeds expectations with arrivals up by 52 million in 2013.
International tourist arrivals grew by 5% in 2013, reaching a record 1,087 million arrivals, according to the latest UNWTO World Tourism Barometer. Despite global economic challenges, international tourism results were well above expectations, with an additional 52 million international tourists travelling the world in 2013. For 2014, UNWTO forecasts 4% to 4.5% growth – again, above the long term projections.
Demand for international tourism was strongest for destinations in Asia and the Pacific (+6%), Africa (+6%) and Europe (+5%). The leading sub-regions were South-East Asia (+10%), Central and Eastern Europe (+7%), Southern and Mediterranean Europe (+6%) and North Africa (+6%).
"2013 was an excellent year for international tourism" said UNWTO Secretary-General, Taleb Rifai. "The tourism sector has shown a remarkable capacity to adjust to the changing market conditions, fuelling growth and job creation around the world, despite the lingering economic and geopolitical challenges. Indeed, tourism has been among the few sectors generating positive news for many economies", he added.
UNWTO forecasts international arrivals to increase by 4% to 4.5% in 2014, again above its long-term forecast of +3.8% per year between 2010 and 2020. The UNWTO Confidence Index, based on the feedback from over 300 experts worldwide, confirms this outlook with prospects for 2014 higher than in previous years
"The positive results of 2013, and the expected global economic improvement in 2014, set the scene for another positive year for international tourism. Against this backdrop, UNWTO calls upon national governments to increasingly set up national strategies that support the sector and to deliver on their commitment to fair and sustainable growth", added Mr Rifai.
2014 regional prospects are strongest for Asia and the Pacific (+5% to +6%) and Africa (+4% to +6%), followed by Europe and the Americas (both +3% to +4%). In the Middle East (0% to +5%) prospects are positive yet volatile.
Europe welcomes most of the new arrivals
Europe led growth in absolute terms, welcoming an additional 29 million international tourist arrivals in 2013, raising the total to 563 million. Growth (+5%) exceeded the forecast for 2013 and is double the region's average for the period 2005-2012 (+2.5% a year). This is particularly remarkable in view of the regional economic situation and as it follows an already robust 2011 and 2012. By sub-region, Central and Eastern Europe (+7%) and Southern Mediterranean Europe (+6%) experienced the best results.
In relative terms, growth was strongest in Asia and the Pacific (+6%), where the number of international tourists grew by 14 million to reach 248 million. South-East Asia (+10%) was the best performing sub-region, while growth was comparatively more moderate in South Asia (+5%), Oceania and North-East Asia (+4% each).
The Americas (+4%) saw an increase of six million arrivals, reaching a total of 169 million. Leading growth were destinations in North and Central America (+4% each), while South America (+2%) and the Caribbean (+1%) showed some slowdown as compared to 2012.
Africa (+6%) attracted three million additional arrivals, reaching a new record of 56 million, reflecting the on-going rebound in North Africa (+6%) and the sustained growth of Sub-Saharan destinations (+5%). Results in the Middle East (+0% at 52 million) were rather mixed and volatile.
Russia and China – leading in growth in 2013
Among the ten most important source markets in the world, Russia and China clearly stand out. China, which became the largest outbound market in 2012 with an expenditure of US$ 102 billion, saw an increase in expenditure of 28% in the first three quarters of 2013. The Russian Federation, the 5th largest outbound market, reported 26% growth through September.
The performance of key advanced economy source markets was comparatively more modest. France (+6%) recovered from a weak 2012 and the United States, the United Kingdom, Canada and Australia all grew at 3%. In contrast, Germany, Japan and Italy reported declines in outbound expenditure.
Emerging markets with substantial growth in outbound expenditure were Turkey (+24%), Qatar (+18%), Philippines (+18%), Kuwait (+15%), Indonesia (+15%), Ukraine (+15%) and Brazil (+14%).
—————————————-
Source: PATA
###
Ahead of the 20th United Nations Climate Change Conference (COP20) to be held this year in Lima, Americas Society/Council of the Americas hosted UNFCCC Executive Secretary Christiana Figueres, the principal voice on the international climate change negotiations, on Tuesday, January 14, 2014 from 5:30 p.m. to 7:00 p.m.
At the November 2013 UN Climate Change Conference in Warsaw, governments took a step toward a new, universal climate change agreement said Ms. Figueres in her presentation at AS/COA, Ms. Figueres  addressed the concrete steps that must be taken in 2014, which will pave the way for the 2015 conference in Paris, where a new global climate agreement for the post-2020 period is to be adopted.
With 195 Parties, the United Nations Framework Convention on Climate Change (UNFCCC) has near universal membership and is the parent treaty of the 1997 Kyoto Protocol. The Kyoto Protocol has been ratified by 192 of the UNFCCC Parties and its ultimate objective is to stabilize greenhouse gas concentrations in the atmosphere at a level that will prevent dangerous human interference with the climate system.
Christiana Figueres was appointed executive secretary of the United Nations Framework Convention on Climate Change (UNFCCC) by UN Secretary-General Ban Ki-moon in 2010 and was reappointed for a second three year term in July 2013. Ms. Figueres has been involved in climate change negotiations since 1995.
——————————
Americas Society (AS) is the premier organization dedicated to education, debate and dialogue in the Americas. Established by David Rockefeller in 1965, our mission is to foster an understanding of the contemporary political, social and economic issues confronting Latin America, the Caribbean, and Canada, and to increase public awareness and appreciation of the diverse cultural heritage of the Americas and the importance of the inter-American relationship," it says.

Council of the Americas (COA) is the premier international business organization whose members share a common commitment to economic and social development, open markets, the rule of law, and democracy throughout the Western Hemisphere.
Contacts to the outside:  Adriana La Rotta at alarotta@as-coa.org or 1-212-277-8384
and   Kariela Almonte at as-coa.org
————————
The following day – January 15, 2014, Ms. Christiana Figueres, participated at the UN Headquarters at the
Investor Summit on Climate Risk at UN Headquarters – 15 January 2014 – co-hosted by the UN Foundation, UN Office for Partnerships,and Ceres.
Complete agenda can be found at: www.ceres.org/press/press-releases/500-global-investors-to-gather-at-united-nations-summit-on-climate-change
In that room were insurance company and re-insurance companies and other investors – and I was told that about $13 Trillion were represented there. The talk was that $1 Trillion will be invested in clean energy – this is an economics must.
Christiana Figueres – on a panel that included the relentless Timothy Worth who as maverick Senator was part of the US "B" (the Senate) delegation to the Rio 1992 Conference and now heads the UN Foundation that was created with a one Billion US Dollars by Ted Turner, and Mr. Orr representing the UN Secretariat. The agreed conclusion was that INVESTORS OUGHT TO MOVE OUT OF HIGH-CARBON ASSETS.
We posted at the time: "Costs to the economy – The amount of money invested into the 200 biggest fossil fuel companies through global financial markets is estimated at 5.5 trillion dollars. The costs to human and environmental health that is another matter. But luckily – fossil fuel consumption is already in decline — not only because it's the right thing to do, but also because it makes economic sense. But do not count on it – the financial moghuls will not step aside easily." – See more at:
Financing Solutions for Clean Energy in Latin America," which seems to be a – Microfinance Panel: Financing Solutions for Clean Energy in Latin America.
Why this enhanced interest of Latin America in Climate Change? Is this only because of Brazil that over-extended itself in these topics?
Brazil was host of the Rio 1992 Conference that introduced Environment and Development into the routine lingo of the UN as a double helix of Sustainable Development. They were hosts to creation of the high-level product AGENDA 21 and the three conventions – on  Biodiversity, Desertification, and Climate Change. But the majority of the Developing Countries were not ready for it yet – they just wanted DEVELOPMENT – read INDUSTRIALIZATION – and professed not to be the address for Global Sustainability.
The Developed/Industrialized States on the other hand thought that the whole concept was just a give-away to the poorer Nations – something that the established ethics thought to take care of with simple hand-outs of Foreign aid – not an issue of rights.Sustainable Development just did not work in practice.
Then we had the stale-birth of the Kyoto Protocol in 1997, and the answer five years later – the Millennium Development Goals.
After another 10 years, at the Rio 2012 meeting, Brazil stepped into the breach again, and with excellent diplomacy, and got rid of the Sustainable Development Commission establishing a new debating platform that will channel its activities to a new Agenda – the post 2015 Global Agenda built on a set of Sustainable Development Goals. Part of this process is anchored in Paris at a COP21 meeting of the UNFCCC.
To get there we have the Lima, Peru, meeting of 2014 – and that is the last chance for Latin America to have an impact.
So, here we get to the Latin Year of which Costa Rican Chrstiana Figueres  wants to take advantage of, and she is lucky in many respects. The UN stars seem to line up in her direction.
The idea was to  have the 2014 UNFCCC meeting in Latin America and at first it was Venezuela that wanted to host the event. In parallel they also wanted to be at the UN – the G77 leaders this year. Bolivia decided to contest  both posts. Bolivia won the G77 position – but with the strong opposition from the US  to both original candidates – it was Peru that got to be the location of the COP with Venezuela hosting – as a consolation prize – the last preparatory meeting. That is how this year's Latin UN stars are  Bolivia, Peru, and Venezuela.

Considering the central place of Bolivia in all of this – them speaking for the ALBA group – the micro-finance answer to the mega-finance of the UN makes sense as well and the Latin Year might turn out to be an ALBA year to be followed by a Developed & Already Emerged Economic States at the Paris Summit with the real power to lead.

=============================================================================
###
PEACE AND SUSTAINABLE DEVELOPMENT: A TWO-WAY RELATIONSHIP
Panel discussion during the 8th session of the
United Nations Open Working Group on Sustainable Development Goals.
Friday

, 

February 7

, 

1:15pm – 2:45pm
United Nations Conference Room 5, New York, NY
Please join our panel at the United Nations 
which will focus on the following topics
:
Causal relationship between durable peace and sustainable development
Dilemma of the governments and armed opposition groups: the issue of trust and credible commitment to follow through on peace agreement
Distrust of the conflicting sides as a barrier to the implementation of SDGs
Enforcement mechanism: How can the United Nations, its agencies, and regional intergovernmental organizations enforce peace deals and contribute to sustainable development
This event will feature a discussion by H.E. Carlos Enrique Garcia Gonzalez, Permanent Representative of El Salvador to the United Nations as well as professors from Columbia University and New York University.
UN Pass is required to attend.
To receive a UN Pass, please RSVP to rsvp@peaceislands.org        by no later than

Thursday, January 30th

.
==========================================================================
As a preparation for this meeting I would like to propose an old Jan Pronk article of

Maastricht, 1.5.2007, that starts:
SUSTAINABLE DEVELOPMENT AND PEACE
by Jan Pronk
www.merit.unu.edu/…/200705_JanPronkM…?United Nations University ]

Shortly after the fall of the Berlin wall the then UN Secretary General, Boutros Boutros Galil, drew the attention to the need for a new paradigm in international policy making: there is no peace without development and there is no development without peace. It may sound as a truism. However, it had been ignored during the Cold War between East and West as well as during many years of lukewarm peace between North and South in the aftermath of decolonisation.
Mutual interests
The neglect of this truism had already become clear during the discussions about the conclusions presented by the Brandt Commission in the two reports North- South: A Programme for Survival (1980) and Common Crisis: Cooperation for World Recovery (1983). These reports dealt with issues concerning development, poverty and new relations between North and South, a new international economic order. They reflected a new philosophy: interdependence between nations, mutual dependencies resulting in a common interest of all nations, not only in order to establish recovery, but also to manage development and even to guarantee survival. The reports claimed that all nations shared a global responsibility for world social and economic development. A world public
sector was advocated, parallel to orderly international market operations, in particular in energy, food, trade in general as well as in finance. This was complemented by the statement that there was a need for world institutional reforms. Would all this be possible? Yes, as Willy Brandt said in the preface to the report: 'One should not give up the hope that problems created by men can also be solved by men'.
This programme has not been implemented. Why not? Maybe the minds were not yet ripe. The confrontation between East West during the Cold War did not create a climate in favour of global cooperation. There was not yet a feeling of global communality.
There was a second reason as well. The world economic recession of the second half of the seventies and the eighties was not conducive to new approaches. Instead countries followed a pattern of adjustment to what was felt as the economic reality. This adjustment took place through expenditure cuts, rather than investments resulting in growth and development. This led to an economic philosophy consisting of elements which were not in accordance with those proposed by the Brandt Commission: market liberalisation, deregulation, a smaller public sector and more reliance on unbridled market mechanisms.
In the second half of the eighties and in the nineties the world has changed drastically. There was the end of the Cold War, followed by a new phase of globalisation. The new chances for world peace after the Cold War were a big boost to world economic growth, benefiting both the US, the countries of the former Soviet Union as well the countries in Eastern and Western Europe. The economies of these countries were benefiting from a fast and intense globalisation following the opening of national borders. There was a new mutuality of peace and economic progress. Could it be extended towards developing countries as well?
###

Countries Agree on Novel Formula for High-level Forum to Boost Follow-up of Rio+20 Outcomes on Sustainable Development
New York, 9 July— United Nations Member States agreed today to establish a new High-Level Political Forum to boost efforts to achieve global sustainable development that will improve people's economic and social well-being while protecting the environment. The decision by the General Assembly follows up on a key recommendation of 'The Future We Want,' the outcome document of last year's Rio+20 Conference in Rio de Janeiro.
The Forum will convene annually at the ministerial level under the auspices of the UN Economic and Social Council and, every four years, it will bring together Heads of State to provide added momentum for sustainable development.
"Establishing the Forum marks a major step forward in implementing 'The Future We Want," said UN Secretary-General Ban Ki-moon. "The Forum can provide the political leadership and action-oriented recommendations we need to follow up on all the Rio recommendations and meet urgent global economic, social and environmental challenges. Countries must do their utmost to realize the Forum's potential."
"We are simply not doing enough to meet the fundamental challenges of our time: to end extreme poverty in this generation and significantly narrow the global gap between rich and poor, without inflicting irreparable damage to the environmental basis for our survival," said UN General Assembly President Vuk Jeremi?. "The new Forum must be more than just a meeting place—it must be the place where countries and civil society generate the momentum for change."
Wu Hongbo, Under-Secretary-General for Economic and Social Affairs, said "This is a great opportunity to advance the sustainable development agenda. There is so much that we need to do in concert—to accelerate action on the Millennium Development Goals, to eradicate poverty and promote prosperity, to ensure that everyone has a chance for a better life, while addressing important environmental challenges that threaten progress, such as climate change and biodiversity loss and developing a new set of sustainable development goals."
The High-Level Political Forum will replace the UN Commission on Sustainable Development. The Commission, formed after the 1992 Earth Summit, helped generate action on a range of issues that led to international agreements or treaties. The Commission was also in the forefront in promoting the involvement of civil society in its work. However, governments and civil society actors came to share a belief that a higher-profile body was needed to guide sustainable development towards the future we want.
The Forum will review progress in the implementation of sustainable development commitments, enhance the integration of the three dimensions of sustainable development—economic, social and environmental –focus on themes consistent with the post-2015 development agenda and ensure that new sustainable development challenges are properly addressed.
The General Assembly resolution stresses the need to enhance the role and participation of major groups of society and other stakeholders, while retaining the intergovernmental character of the forum. The first meeting of the Forum will be held in September, during the Assembly's forthcoming 68th session.
MEDIA CONTACT
For interviews and more information, contact Dan Shepard of the UN Department of Public Information,
1-212-963-9495, shepard at un.org
On the web — Permalink | |
Email This Article
Posted in Africa, Archives, Brazil, Copenhagen COP15, Costa Rica, Eco Friendly Tourism, Future Events, Futurism, IBSA, Islands & SIDS, Peoples without a UN Seat, Reporting From the UN Headquarters in New York, UN Commission on Sustainable Development, Vienna
###
Venezuela's Independence Day
Press Statement
John Kerry
Secretary of State
Washington, DC
July 3, 2013
On behalf of President Obama and the people of the United States, I congratulate the people of Venezuela as you commemorate the day that Venezuela declared its independence 202 years ago.
Venezuela and the United States have much in common. For example, revolutionary leader General Francisco de Miranda also played a part in our own struggle for independence, participating in the Battle of Pensacola in 1781. His contribution is forever memorialized in a monument that stands in the heart of Philadelphia, the original capital of the United States. When a devastating earthquake struck Venezuela in 1812 the United States sent the Venezuelan people the first humanitarian assistance it ever provided to a foreign country. These two examples demonstrate that Venezuela and the United States have shared ties of friendship and common values since the birth of our two nations, and the ties between our people endure.
I wish Venezuelans everywhere health, happiness, and hope on the anniversary of your independence.

——————————–

The Washington Post of July 5, 2013 tells us:
""As head of state, the government of the Bolivarian Republic of Venezuela decided to offer humanitarian asylum to the young American Edward Snowden so that he can live in the homeland" of independence leader Simon Bolivar and the late President Hugo Chavez without "persecution from the empire," Maduro said, referring to the United States.
He made the offer during a speech marking the anniversary of Venezuela's independence. It was not immediately clear if there were any conditions to Venezuela's offer.
Maduro added that several other Latin American governments have also expressed their intention of taking a similar stance by offering asylum for the cause of "dignity."
In Nicaragua, Ortega said he was willing to make the same offer "if circumstances allow it." Ortega didn't say what the right circumstances would be when he spoke during a speech in Managua.
He said the Nicaraguan embassy in Moscow received Snowden's application for asylum and that it is studying the request.
"We have the sovereign right to help a person who felt remorse after finding out how the United States was using technology to spy on the whole world, and especially its European allies," Ortega said.
The offers came following a flap about the rerouting of Bolivian President Evo Morales' plane in Europe earlier this week amid reports that Snowden might have been aboard.
Spain on Friday said it had been warned along with other European countries that Snowden, a former U.S. intelligence worker, was aboard the Bolivian presidential plane, an acknowledgement that the manhunt for the fugitive leaker had something to do with the plane's unexpected diversion to Austria.
It is unclear whether the United States, which has told its European allies that it wants Snowden back, warned Madrid about the Bolivian president's plane. U.S. officials will not detail their conversations with European countries, except to say that they have stated the U.S.'s general position that it wants Snowden back.
Maduro joined other leftist South American presidents Thursday in Cochabamba, Bolivia, to rally behind Morales and denounce the rerouting incident.
President Barack Obama has publicly displayed a relaxed attitude toward Snowden's movements, saying last month that he wouldn't be "scrambling jets to get a 29-year-old hacker."
But the drama surrounding the flight of Morales, whose plane was abruptly rerouted to Vienna after apparently being denied permission to fly over France, suggests that pressure is being applied behind the scenes.
Spanish Foreign Minister Jose Manuel Garcia-Margallo told Spanish National Television that "they told us that the information was clear, that he was inside."
He did not identify who "they" were and declined to say whether he had been in contact with the U.S. But he said that European countries' decisions were based on the tip. France has since sent a letter of apology to the Bolivian government."
———————————–
The bottom line is as reported by the Guardian:
"We are not colonies any more," Uruguay's president, Jose Mujica, said. "We deserve respect, and when one of our governments is insulted we feel the insult throughout Latin America."
Ecuador's president, Rafael Correa, said on Thursday he and other leaders were offering full support to Morales and called the rerouting of the plane an aggression against the Americas.
Cristina Fernandez of Argentina said Latin Americans treasured freedom after fighting for independence from Europe in the 19th century and then surviving Washington's 20th-century history of backing repressive regimes in the Americas. She demanded an apology for the plane ordeal.
"I'm asking those who violated the law in calm but serious manner, to take responsibility for the errors made, it's the least they can do," Fernandez said. "To apologize for once in their life, to say they're sorry for what they've done."
Morales has said that while the plane was parked in Vienna, the Spanish ambassador to Austria arrived with two embassy personnel and they asked to search the plane. He said he denied them permission.
"Who takes the decision to attack the president of a South American nation?" Maduro asked. Spanish prime minister Mariano "Rajoy has been abusive by trying to search Morales' plane in Spain. He has no right to breach international law."

———————————–
It seems like time has come for a US face-saving diplomacy before true craters open up at US borders – East, West, and South.
We have previously outlined a draft that we did not publish – but think now that the airplane flap justifies a US Presidential pardon to Snowden – just to get the issue of the World table – the damage was done and no sense for the US to dig itself deeper into the hole it created.

———————————-
US senator from New Jersey, Robert Menendez, the Democratic chairman of the Senate Foreign Relations Committee, told little Ecuadoran that he would block the import of vegetables and flowers from Ecuador if Ecuador gives asylum to Edward Snowden. The cost to Ecuador would be one billion dollars in lost revenues. Will he also forbid trips from the US to the Galapagos?
Will he be consistent and close US imports of Venezuela oil? Of Latin oil in general?
Ecuador and Venezuela happen to be also members of OPEC which Bolivia is not. A policy of threats presents many interesting angles and possibilities.
Will there be ways to enlarge this with some reaction to what happens in Egypt, in Saudi Arabia, some more grand-standing anyone?
———————————-
Thursday the leaders of Venezuela, Ecuador, Argentina and Uruguay joined Bolivia's President Morales in Cochabamba, for a special meeting to address the diplomatic row.
At the end of the summit a statement was issued demanding answers from France, Portugal, Italy and Spain. The United States was not mentioned in the statement.
"Europe broke all the rules of the game," Venezuelan president Nicolas Maduro said shortly after arriving at Cochabamba airport. "We're here to tell president Evo Morales that he can count on us. Whoever picks a fight with Bolivia, picks a fight with Venezuela."
Maduro said an unnamed European government minister had told Venezuela the CIA was behind the incident.
"We are not colonies any more," Uruguay's president, Jose Mujica, said. "We deserve respect, and when one of our governments is insulted we feel the insult throughout Latin America."
Ecuador's president, Rafael Correa, said on Thursday he and other leaders were offering full support to Morales and called the rerouting of the plane an aggression against the Americas.
Cristina Fernandez of Argentina said Latin Americans treasured freedom after fighting for independence from Europe in the 19th century and then surviving Washington's 20th-century history of backing repressive regimes in the Americas. She demanded an apology for the plane ordeal.
"I'm asking those who violated the law in calm but serious manner, to take responsibility for the errors made, it's the least they can do," Fernandez said. "To apologise for once in their life, to say they're sorry for what they've done."
Morales has said that while the plane was parked in Vienna, the Spanish ambassador to Austria arrived with two embassy personnel and they asked to search the plane. He said he denied them permission.

"Who takes the decision to attack the president of a South American nation?" Maduro asked. Spanish prime minister Mariano "Rajoy has been abusive by trying to search Morales' plane in Spain. He has no right to breach international law."
Before the meeting, Morales said his ordeal was part of a US plot to intimidate him and other Latin American leaders.
He urged European nations to "free themselves" from the United States. "The United States is using its agent [Snowden] and the president [of Bolivia] to intimidate the whole region," he said.
France sent an apology to the Bolivian government. But Morales said "apologies are not enough because the stance is that international treaties must be respected".
Spain's foreign affairs minister, Jose Manuel Garcia-Margallo, said his country did not bar Morales from landing in its territory.
Amid the tensions, the US embassy in La Paz cancelled Independence Day celebrations scheduled for Thursday. In the eastern city of Santa Cruz, Bolivian government sympathisers painted protest slogans on the doors of the American consulate.

Bolivia has said it will summon the French and Italian ambassadors and the Portuguese consul to demand explanations.
Brazil was represented by Marco Aurelio Garcia, President Dilma Rousseff's top international adviser. The presidents of Colombia, Chile and Peru, who have strong ties to the US, were not attending.
Colombia's president, Juan Manuel Santos, said earlier on Thursday he supported Morales, but asked other leaders to remain cool and avoid an escalating dispute between Latin America and the European Union.
"We're in solidarity with Evo Morales because what they did to him is unheard-of, but let's not let this turn into a diplomatic crisis for Latin America and the EU," Santos tweeted on Thursday.
—————————————
Our draft started: Thanks to the Egyptian military – their intervention got off the media front line the Snowden, Assage, Manning, WikiLeaks Warning Lighthouses – and replaced them with a renewed attention to the Islamic potential for acts of terror.
Furthermore – Latin America seems split between the go it alone States of the ALBA group – Bolivia, Cuba, Ecuador, Venezuela, their new friends – Argentina, Brazil, Uruguay, and now Nicaragua – and their opponents – the strong US connected, Chile, Colombia, Peru and the Southern European States Italy, France, Spain, Portugal that acted out on unsightly pressure from the White House, and perhaps even Austria – if it turns out to be true that they searched the Bolivian President's plane. What about Mexico? Will they want to be seen as residing in the US vest-pocket?
Today it seems that just the Greens, the so called Pirates, and some other non-political fringe parties, are left in Europe to stand up for Democracy – The Reds, Blacks, Blues, Yellow, Orange, and Purple – all established political parties – have abandoned the Democracy ship because of the Transatlantic breeze from the Potomac. Europe seems anew like the Europe of the thirties with governments worried about their business-ties. Any infringements of democratic inalienable rights are not noted now, like they were not noted then. But this is totally misleading – just read the Guardian where all these stories started. This at a time the voters in quite a few European States do take position on this – and we would not be surprised if Austria as well took back its "Neutral Mantle" to declare that they too are ready to give refuge to Snowden. The coming days will tell.
————————————–
And as if nothing happened – a US hand to the people of Argentina as if they have now no elected government?:

Western Hemisphere: Argentina's Independence Day
07/05/2013 02:31 PM EDT
Argentina's Independence Day
Press Statement
John Kerry
Secretary of State
Washington, DC
July 5, 2013
On behalf of President Obama and the American people, I send best wishes to the people of Argentina as they celebrate their Independence Day this July 9.
The citizens of our two nations have a long history of productive and friendly relations, highlighted by educational and cultural exchanges and fruitful collaboration in the fields of science, technology, health, space, and energy.
The determination expressed by the patriots gathered at the Casa de Tucuman, to forge a free and independent nation, is a fundamental human longing, and one we share.
On this day, the United States wishes Argentina a happy celebration.
We look forward to working together to cultivate a strong bilateral relationship in the years to come.

###
President Obama makes his fourth visit to Mexico and continues on to Costa Rica on what is also his sixth visit to Latin America. On this journey, the President hopes to highlight and reinforce the deep cultural, familial, and economic ties that so many Americans share with Mexico and Central America, and to promote economic growth across the region.
On Monday, the President met with Latino leaders who work both domestically and across borders to enhance social and economic development. The President heard various perspectives on how to strengthen collaboration in the region, further develop our economic relationship, and ideas for how the hemisphere can fit into broader strategic priorities. He emphasized that the long term trends in the hemisphere are clearly moving in the right direction, with growing middle classes, declining poverty and inequality in much of the region, and countries such as Mexico, Brazil, and Colombia taking a more active global role.
On Friday at the White House,business representatives offered strong support for measures intended to facilitate global and hemispheric trade, such as the Trans-Pacific Partnership. They highlighted the growing importance of the energy sector throughout the Americas and the need for infrastructure improvements to facilitate cross-border trade.
The President made clear that immigration reform continues to be a top legislative priority this year; business leaders agreed on the need to enact commonsense immigration reform as quickly as possible. The meeting also underscored that increased trade throughout the region translates into jobs and growth here in America.
Over the next three days, the President traveled to Mexico City, and San Jose, Costa Rica. We hope you will follow @whitehouse, @lacasablanca and @nscpress for live updates from the President's trip or get more information about the trip here.
On Friday, in Mexico City, President Obama spoke of what he considered a changing country — one making more headlines lately for economic optimism and potential political reforms than the drug cartels and organized crime violence that have claimed about 65,000 lives over the past six years.
The trip came as Mexican President Enrique Peña Nieto shifts his new administration's focus to economic and social matters, instead of fixating on security — which analysts say remains a serious issue in many regions of the country.
President Obama promised to promote immigration reform — an important issue for Mexico, which has more than 10% of its population living in the United States. He also pledged action on guns, many of which flow south from the United States and are used to commit violence in Mexico.
President Obama went so far as to Blame U.S. For Gun Violence In Mexico – "Most of the guns used to commit violence here in Mexico come from the United States," President Obama said during a speech at Mexico's Anthropology Museum. "I think many of you know that in America, our Constitution guarantees our individual right to bear arms. And as president, I swore an oath to uphold that right, and I always will."
"But at the same time, as I've said in the United States, I will continue to do everything in my power to pass common-sense reforms that keep guns out of the hands of criminals and dangerous people. That can save lives here in Mexico and back home in the United States. It's the right thing to do," Obama added.
Following a 24-hour stay in Mexico President Obama continued to San Jose, Costa Rica. He was received by Tico astronaut Franklin Chang, Foreign Minister Enrique Castillo, and U.S. Ambassador Anne S. Andrew.The official welcome ceremony was held at the Foreign Ministry in downtown San José, where Obama met with President Laura Chinchilla – he, Chinchilla, and members of her Cabinet, held a bilateral meeting with the U.S. delegation. The stop in Costa Rica was the safest stop the US could have chosen in Central America these days.
Now back home, and the above trip must be seen in relation to Washington – Congress and Lobbyists.
We posted already about the US need to find a reasonable solution to the so called illegal immigrants to the US who are target to the various police levels and criminals in the US and Mexico systems. Most of them are also cheap labor because they are undocumented aliens, afraid to complain, and thus they are being exploited by US employers. They are a low paid working force in the US and a means to destroy the organized economy. This must come to an end as part of the reconstruction in US government policy. But this is just the beginning.
The GPS program of Fareed Zakaria on CNN today – Sunday May 5th, 2013, was all about a basic "Reset" of the US.
THE US MUST START DEALING MAINLY WITH ITS INTERNAL POLICIES – REFRAIN FROM FURTHER INVOLVEMENT IN THE MIDDLE EAST AND SWITCH ATTENTION TO THE PACIFIC – SOUTH AND EAST ASIA. PART OF THIS CHANGE INCLUDES A CLEAR-CUT SOLUTION OF THE PROBLEMS WITH MEXICO AND CENTRAL AMERICA AS WELL. Mexico is a member of the Trans-Pacific Partnership as well – so here another link to above general "RESET."
First let us explain the need to step out from the Lebanon-Iraq-Syria morass – the three countries of the Levant with a minority rule of which the Christian Maronite minority  in Lebanon and the Sunni minority in Iraq have already been deposed, and only the Alawite minority in Syria was still left hanging on to power. [The Alawite are a Shi'ite subsect that makes up 12% of the population, but it also draws some support from other minorities–Druze, Armenians and others–who worry about their fate in a majoritarian Syria. These fears might be justified. Consider what has happened to the Christians of Iraq. There were as many as 1.4 million of them before the Iraq war. There are now about 500,000, and many of their churches have been destroyed. Christian life in Iraq, which has survived since the days of the Bible, is in real danger of being extinguished by the current regime in Baghdad.] These situations were impossible to defend and the US entered situations of civil war destined to end with the minority loosing power. No sense what-so-ever for the US to allow itself be dragged into the Syrian internal war as well.
[In fact, we have seen atrocities much worse than those in Syria very recently, in Iraq under U.S. occupation only few years ago. From 2003 to 2012, despite there being as many as 180,000 American and allied troops in Iraq, somewhere between 150,000 and 300,000 Iraqi civilians died and about 1.5 million fled the country. Jihadi groups flourished in Iraq, and al-Qaeda had a huge presence there. The U.S. was about as actively engaged in Iraq as is possible, and yet more terrible things happened – AND CONTINUE TO HAPPEN – there than in Syria.]
If the objective is actually to reduce the atrocities and minimize potential instability, the key will be a political settlement that gives each side an assurance that it has a place in the new Syria. That was never achieved in Iraq, which is why, despite U.S. troops and arms and influence, the situation turned into a violent free-for-all. If some kind of political pact can be reached, there's hope for Syria. If it cannot, U.S. assistance to the rebels or even direct military intervention won't change much: Syria will follow the pattern of Lebanon and Iraq–a long, bloody civil war. And America will be in the middle of it.
With the Middle East pushed thus to the backburner – Fareed Zakaria's team on GPS could focus on what is really important and achievable for the US Administration – the fixing of the US Home.
The US must deal with the Financial Sector – this is done by looking at the infrastructure, the education system starting with day-care centers, and the immigration bill as well. Then focus on Asia.
The immigration bill must be presented as a win-win rather then a loosing platform. There are three scenarios for allowing the legalization of these illegal people living in the US underground. Legalizing them will create new tax-payers and new income for the Social Security Taxes. But they will also help bringing aboard their employers who will start paying taxes as well. The growth rate will increase by 1% and the average GDP by $1,500. This alone will give a jolt to the US economy.
Fareed Zakaria had two great teams on his program today – Richard Haas of the Center on Foreign Relations and Princeton University's Anne Marie Slaughter covering the political side, and then Rana Faroohar of the Economist and Gillian Tett of The Financial Times on the economy.
Then, to top it all a direct interview with Salman Rushdie who has been an immigrant twice – first from India to London then from there to the US. He had the gift of gab to express all of the above and tie it up neatly. The two economists had no problem agreeing among themselves.
So let us summarize the day – The US will be brought back into balance by allowing a settlement of its tens-of-millions illegals and bringing them into the positive circle of tax paying residents with rights to an education, health, and freedom to move up the jobs-ladder.
As we wrote earlier today, in addition the settling of bringing in new professionally needed immigrants as requested by the Silicon Valley CEOs will help bringing back jobs that go now overseas because the skills are not available in sufficient amount in the US.
When people will start earning more, they will be able to afford new housing and eventually new demand will help growth.
Then, again as we recently wrote, with non-fossil energy becoming more competitive, with a little further push, the US will clearly be able to embrace  the green economy which again will lead to further savings by avoiding environmental damage and health problems.
OH my! We just described the NEW AMERICAN REVOLUTION that starts with a friendlier look South-of-the-Border, arching to the true Orient and landing hard on those who opposed a betterment of the US economy by serving a 1% of the population aided by quite a few more naive followers that could not figure out by themselves that they were being had.
###
We remembered the Wikipedia posting en.wikipedia.org/wiki/Pink_tide that first came to our attention when we discovered that we were listed a reference to it. Today we decided to bring it up because of the twin events – all of Latin America mourning the passing of Hugo Chavez, and the Heritage Foundation asking that the Obama Administration back the British claim to the Falkland Islands, because it is British colonialists that live now there, but under the "Las Malvinas" name are considered Argentinian territory by the States of Central and South America..
As such the following article by the Heritage Foundation does not make life of the United States any easier in its location at the Northern half of the Western Hemisphere. We are talking about the back of a United States being torn between Asia and Europe, and made insecure because of wrong moves in its own backyard. Hugo Chavez was a product of wrong US handling of its Southern neighbors, . and the Heritage Foundation posting does not try to make it easier for the US. Oh Well – we know – it is again about oil and the grabbing of resources as if they are there for the taking.
====================================================================
The United States Should Recognize British Sovereignty Over the Falkland Islands.
By Luke Coffey, Theodore R. Bromund, Ph.D. and Nile Gardiner, Ph.D.
The Heritage Foundation, March 7, 2013.
In order to assert their inherent right to choose their own form of government, the inhabitants of the Falkland Islands will hold a referendum on March 10–11, 2013, to decide whether they wish to maintain their allegiance to Great Britain. Britain has administered the Islands peacefully and continuously since 1833, with the exception of the two months in 1982 when the Islands were invaded and illegally occupied by Argentine forces. The Obama Administration has backed Argentina's calls for a U.N.-brokered settlement for the Islands and so far has refused to recognize the outcome of the referendum. This policy poses serious risks to U.S. interests and is an insult both to Britain—the U.S.'s closest ally—and to the rights of the Islanders.
=================================
Pink tide
From Wikipedia, the free encyclopedia
Pink tide (a derogatory phrase coined by US press used less commonly than the more clear Turn to the Left) is a term being used in contemporary 21st century political analysis in the media and elsewhere to describe the perception that Leftist ideology in general, and Left-wing politics in particular, are increasingly influential in Latin America.[1][2][3]
In 2005, the BBC reported that out of 350 million people in South America, three out of four of them lived in countries ruled by "left-leaning presidents" elected during the preceding six years.[2] According to the BBC, "another common element of the 'pink tide' is a clean break with what was known at the outset of the 1990s as the 'Washington consensus', the mixture of open markets and privatisation pushed by the United States".[2]
The Latin American countries viewed as part of this ideological trend have been referred to as "Pink Tide nations".[4]
Use of the term
While being a relatively new coinage, the term "pink tide" has become prominent in contemporary discussion of Latin American politics. Origins of the term may be linked to a statement by Larry Rohter, a New York Times reporter in Montevideo who characterized the election of Tabaré Vázquez as leader of Uruguay as "not so much a red tide…as a pink one."[3] The term seems to be a play on words based on "red tide" (a biological phenomenon rather than a political one) with "red" – a color long associated with communism – being replaced with the lighter tone of "pink" to indicate the more moderate communist and socialist ideas gaining strength.[5]
According to a 2006 press release from the Council on Hemispheric Affairs, a Washington, D.C.-based non-governmental organization:
| | | |
| --- | --- | --- |
| " | …the Washington rumbles with suppressed outrage over Latin America's latest professions of its sovereignty – Bolivia's nationalization of its oil and natural gas reserves, and Ecuador and Venezuela's voiding of their energy contracts. At the same time, Bolivia's newly inaugurated president, Evo Morales, is a prime candidate to join Washington's pantheon of Latin American bad boys, presently represented by Fidel Castro and Hugo Chávez. Meanwhile, the region's new populist leadership, also known as the "Pink Tide", extends its colors across South America and is poised to leap to much of the rest of Latin America. Ostensibly, the "pink tide", consists of left-leaning South American governments seeking a third way to register their political legitimation to their citizens, as well as their autonomy regarding such foreign policy issues as Iraq.[6] | " |
According to Diana Raby from Red Pepper Blog:
| | | |
| --- | --- | --- |
| " | …with left-wing victories in Venezuela, Brazil, Uruguay, Bolivia, Ecuador and Nicaragua, social and economic recovery in Cuba and popular advances elsewhere in the region, journalists are talking about "Latin America's pink tide" and the region itself has become the forum for passionate debates on "Socialism of the 21st Century".[7] | " |
More recently one observer wrote that as "the so-called 'Pink Tide' sweeps through South America", 2009 will probably see the election of Mauricio Funes in El Salvador.[8] However, despite the presence of a number of Latin American governments which profess to embracing a leftist ideology, it is difficult to categorize Latin American states "according to dominant political tendencies, like a red-blue post-electoral map of the United States."[5] According to the Institute for Policy Studies, a liberal non-profit think-tank based in Washington, D.C.:
| | | |
| --- | --- | --- |
| " | …a deeper analysis of elections in Ecuador, Venezuela, Nicaragua, and Mexico indicates that the "pink tide" interpretation—that a diluted trend leftward is sweeping the continent—may be insufficient to understand the complexity of what's really taking place in each country and the region as a whole.[5] | " |
While this political shift is difficult to quantify, its effects are widely noticed. According to the Institute for Policy Studies, 2006 meetings of the South American Summit of Nations and the Social Forum for the Integration of Peoples demonstrated that certain discussions that "used to take place on the margins of the dominant discourse of neoliberalism, (have) now moved to the center of public debate."[5]
Reaction
The perception of the rising pink tide is heralded as welcome change by those sympathetic to the views its represents while those near the opposite end of the political spectrum identify it as a malignant influence. According to the latter:
According to a report from the Inter Press Service news agency:
| | | |
| --- | --- | --- |
| " | …elections results in Latin America appear to have confirmed a left-wing populist and anti-U.S. trend – the so-called "pink tide" – which, along with the recent disclosures regarding ties between right-wing paramilitaries and the government of Colombian President Álvaro Uribe, poses serious threats to Washington's multi-billion-dollar anti-drug effort in the Andes.[9] | " |
Left-wing presidents elected since 1998
See also
Further reading
References
This page was last modified on 7 March 2013 at 00:05.
###

In this release…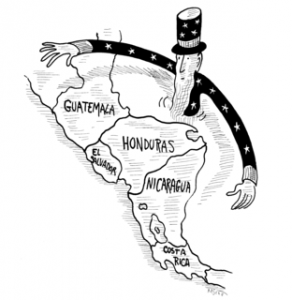 Source: Margaret Scott
CAFTA-DR Governments in Contrast to Small-Scale Owners Parcel Engines of Development
[THE CENTRAL AMERICAN FREE TRADE AGREEMENT THAT INCLUDES THE US AND THE DOMINICAN REPUBLIC OF THE CARIBBEAN ISLANDS.]
After 8 years of free trade agreement between Central America and the United States, CAFTA-DR has brought increased dependency on international markets for the region. Whereas this development decision was potentially positive for the countries' economy, it has hindered food security in the region, representing a huge risk to peasant's lives.
This article was prepared by Mar Guinot Aguado, Research Associate at the Council on Hemispheric Affairs.
To read full article, click here.
parts of it say:
Historically dependent on their neighbor to the North as the engine for development, the Central American countries agreed to fully open their markets to the United States in the late 2000s. The Central American Free Trade Agreement (CAFTA-DR), initiated in 2002 between El Salvador, Guatemala, Honduras, Nicaragua, Costa Rica, the Dominican Republic and the United States, strove to liberalize Central American markets in an effort to increase investments and create economic opportunities throughout the region. The neoliberal policy was aimed at eliminating trade barriers and tariffs on guaranteed agricultural and manufactured goods, investments, and services, which traditionally have led to misery for vulnerable peasants in the agreement's less developed countries. Central America is the third largest U.S. export market in existence, and up to now the neoliberal ideals imposed by the agreement have mainly benefited large corporations that have migrated to the region. The decision of these governments to establish a free market has hampered the Central American agricultural sector and has decreased food security. This process intensifies the area's dependency on volatile international markets in a region already threatened by structural malnutrition.
Free-trade advocates had argued that CAFTA-DR would decrease poverty in rural areas and accelerate the development of Central America, substantially benefiting consumers by decreasing prices of consumer products and improving their purchasing power. But years after its implementation, CAFTA-DR has re-structured the countries' economies by flooding their markets with subsidized grains coming from the Unites States. In fact, between 1995 and 2011, the U.S. government spent $277.3 billion USD in agricultural subsidies, exporting many of these products to Central America.[6] Since the free-trade agreement, Central American countries and the Dominican Republic have been transformed into net food importers, with their governments unable to dedicate as much investment to the agricultural sector. As a result of the international economic integration with trade liberalization, the region has dramatically increased its dependency on imports supplemented by diminishing amounts of aid, and thus has been exposed to the volatility of commodity prices. Yet, low food prices in Central America have not effectively mitigated hunger.
According to the 2008 State of the Region Report, "An increase of 15 percent in the price of food could mean 2.5 million more people in extreme poverty, particularly in Guatemala and Honduras." The report shows "a model of rising imports (wheat, rice and corn went up to about 30 percent in available food between 1990-2003) with tripled prices for wheat and doubled prices for corn and rice (2008-2009)," which not only "leads to profits for the companies that import the goods, but growing malnutrition, especially among the region's rural and indigenous poor."[7] For example, El Salvador imports 79 percent of its rice and 43 percent of its corn. Similarly, Costa Rica imports 77 percent of its beans while Guatemala imports 100 percent of its wheat and 70 percent of its rice.[8] Food prices have risen internationally; wheat prices have grown 152 percent and maize prices have grown 122 percent between 2006 and 2008.[9] This price inflation, therefore, has negatively affected poor people in the region, who suffer from a huge dependency on agricultural imports promulgated by CAFTA-DR.
Instead of growing yields destined for local consumption, the trade agreement has led to a decrease in the diversification of production and a concentration on exportable crops in Central America. From the 1990s to 2005, local food production—such as rice, beans, and corn—shrank by 50 percent.[10] Prior to the agreement, 75 percent of Central American exports had free access to the U.S. market through bilateral agreements. This slashed CAFTA-DR's developmental benefits for Central America.[11] Moreover, the huge size differences between the United States' and the other countries' markets seriously hindered Central America in seeking an equal negotiation.
Developed countries are promoting the cultivation of biofuel crops, such as palm oil in Guatemala, as a sustainable development project strategy. Yet, this expansion deepens food insecurity in this afflicted region by weakening rural sustainability.
According to USA Rice Federation Chairman Lee Adams, echoing the upbeat attitude of other unalloyed boosters, "support for CAFTA-DR means more jobs for rural America, and greater stability for U.S. agriculture."[18] Their argument is that CAFTA-DR has positively impacted agriculture in the U.S., increasing its exports to the region by 84 percent from 2005 to 2011, which represented $4.2 billion USD in 2010.[19] For the United States, removing agricultural barriers to this market has thus created a beneficial solution to its overproduction of farming goods. In that sense, the trade agreement is destroying any possibility of balanced regional integration within a Central American common market. Yet, the Central American governments continue to push toward a developmental model through free trade agreements, signing the new Association Agreement with the European Union in June 2012.[20] Similar to CAFTA-DR, this economic integration allows at least some kind of cooperation within Central America. While other trade alternatives exist such as ALBA, based on a more cooperative perspective, Central American governments chose the CAFTA-DR approach for their countries, which appears to only support narrow development.
The neoliberal policies implemented in the region through the CAFTA-DR agreement have negatively impacted these less developed countries. Subsidized production from the U.S. and superficially sustainable biofuel projects from developed countries have repeatedly devastated rural economies
———————————————————————
Ecuador's Correa Sounds The Bugle
Senior Research Fellow Sean Burges examines the political ramifications of Ecuadorian President Rafael Correa's decision to grant Wikileaks founder Julian Assange asylum. In this piece, Burges examines how Correa is expanding upon his tradition of a reformist populist agenda that confronts the established political orders of more Westernized countries. As the media focus on Assange, Correa is using the distraction to further implement his domestic agenda while using the splash tiny Ecuador has caused to solidify his leftist credentials.
This article was prepared by Sean Burges, Senior Research Fellow at the Council on Hemispheric Affairs.
To read full article, that explains the Correa Ecuador stand vis-a-vis the UK and the US please click here.
Some excerpts are:
The situation with respect to the US is not much different from the way Correa views the UK which has its entanglement with Latin America because of the Malvinas Islands. Correa can bank on Latin support versus the UK – this includes the strong Brazil. Relations with Washington remain stable despite sustained provocations. In 2009 Correa delivered a major blow to US drug interdiction policy by refusing to renew the Pentagon's lease on the Manta airbase in southern Ecuador. This was followed last year with the expulsion of the US ambassador, ironically because of the material released in the WikiLeaks Cablegate.
These provocations and a habitually anti-imperialist rhetoric from Correa had little impact on trade with the US. From 2005 to last year, exports to the US grew by 20.5 per cent. More importantly for Correa's strategic thinking, the US share of Ecuador's exports fell from 49.7 per cent to 34.6 per cent, and this trade was concentrated in the fish, fruit and oil that have a ready Chinese market.
The foreign policy and economic cost of provoking Britain and US is thus remarkably low for Correa, allowing him to use Assange to further burnish his anti-imperialist credentials among his domestic political supporters. For Correa, maintaining credibility as a forceful voice against imperialism and a staunch rhetorical critic of the US is a domestic political necessity. His entire agenda is directed towards transforming the political and social structure of Ecuador, which automatically threatens the interests of the established political and economic elite.
Given that the three presidents elected before Correa were belted from office by massive indigenous popular protests or congressional conspiracy, it is hard to argue that there was not a need for constitutional reform in Ecuador. At issue were the twin problems of the near impossibility of electing a congress that would co-operate with the president and the systemic exclusion of the country's indigenous peoples (25 per cent of the population) and the mixed-heritage mestizos (65 per cent) from real political participation.
Correa wasted little time in pursuing reform after his 2006 election. To facilitate inclusion and break gridlock, Correa called a constitutional convention in 2007, which duly drafted a new magna carta for Ecuador. In 2008, the document was put to a national referendum and approved by 64 per cent of the population as the country's 20thconstitution. The established political and economic elite is not happy and is doing all it can to undermine Correa. Although poverty rates in Ecuador have dropped from 37.6 per cent to 28.6 per cent over the past five years, the political reality is that it is very easy to spin a quarter of the population remaining impoverished as a cataclysmic failure of governmental policy.
###
Tancredo de Almeida Neves, Commonly called Tancredo Neves (March 4, 1910 – April 21, 1985) – was  born in São João del Rey, in the state of Minas Gerais, of mostly Portuguese, but also Austrian descent. [1]
Neves was the opposition candidate to replace President João Baptista de Oliveira Figueiredo – the last general-President of Brazil.
The campaign for direct elections failed. There was no popular public vote.[5] Neves was elected President by a majority of the Electoral College on January 15, 1985, where he received 480 votes.[6]
USING WIKIPEDIA LANGUAGE THE FOLLOWING IS THE OFFICIAL DESCRIPTION OF A CHAIN OF EVENTS:
On March 14, on the last day of his predecessor's term, and on the eve of his own inauguration, Neves became severely ill, requiring immediate surgery. He thus was not able to attend his own inauguration on March 15.
The Constitution required the President and Vice-President elect to take oaths of office before the assembled National Congress.
The inauguration was accordingly held for the Vice-President only, the Vice-President immediately assumed the powers of the presidency as Acting President. At that time, there was still hope that Neves would recover and appear before Congress to take the oath of office.
However, Neves suffered from abdominal complications and developed generalized infections. After seven operations, Neves died on April 21, more than one month after the beginning of his term of office, without ever having taken the oath of office as President.[7] He was succeeded by José Sarney who was the Vice President. Neves's ordeal was intensively covered by the Brazilian media and followed with anxiety by the whole nation, who had seen in him the way out of the authoritarian regime into what he had called a "New Republic" (Nova República).
His death caused an outpouring of national grief.
Tancredo Neves is counted among the official list of presidents of Brazil as a matter of homage and honour, since, not having taken the oath of office, he technically never became President. An Act of Congress was thus necessary to make this homage official. Accordingly on the first anniversary of his death, a statute was signed into law declaring that he should be counted among the Presidents of Brazil.
BUT NOBODY I TALKED TO IN BRAZIL BELIEVED THAT TANCREDO NEVES DIED OF NATURAL CAUSES. THE BELIEF IS RATHER THAT THE GENERALS WERE NOT READY YET TO TRANSFER POWER TO AN ELECTED PRESIDENT AND THIS INCLUDED NEVES, EVEN THOUGH HIS OWN ELECTION WAS NOT YET THE STATE OF THE ART OF PURE DEMOCRACY.
During the period that he was President Elect I had the great honor to be invited to Hotel Pierre in New York to a Presentation he made as guest of the Americas Society and Mr. David Rockefeller. Shortly after that the Organization of American States was involved in a conference on ethanol fuels that was held in Bello Horizonte, Minas Gerais, Brazil. Neves was the opening speaker and Aureliano Chaves, who later became the Energy Minister, and at that time was Governor of Minas Gerais, was the opening presenter. Here was a Brazil in motion that was talking independence of oil imports and local production of fuels. Was this something that ruffled feathers?
Above is my addition to the following article that does not mention Tancredo Neves. Nevertheless, if Brazil is ready to look under the rugs of dictatorship, even that an amnesty for the sake of internal peace has been declared, the Tancredo Neves case will eventually be touched upon as well. All what we can say nevertheless, the search for the truth of past dictatorships in the Southern Latin Cone, has in it the makings of unravelling as well US business involvement and CIA operatives that taught methodology  of torture in the region.
===========================================================================
Leader's Torture in the '70s Stirs Ghosts in Brazil.
Published by the New York Times: August 4, 2012
RIO DE JANEIRO — Her nom de guerre was Estela. Part of a shadowy urban guerrilla group at the time of her capture in 1970, she spent three years behind bars, where interrogators repeatedly tortured her with electric shocks to her feet and ears, and forced her into the pau de arara, or parrot's perch, in which victims are suspended upside down naked, from a stick, with bound wrists and ankles.
The Lady President of Brazil by Ricardo Moraes/Reuters
Ms. Rousseff, now president of Brazil, says little these days about the cruelty she endured.
That former guerrilla is now Brazil's president, Dilma Rousseff. As a truth commission begins examining the military's crackdown on the population during a dictatorship that lasted two decades, Brazilians are riveted by chilling details emerging about the painful pasts of both their country and their president.
The schisms of that era, which stretched from 1964 to 1985, live on here. Retired military officials, including Maurício Lopes Lima, 76, a former lieutenant colonel accused of torturing Ms. Rousseff, have questioned the evidence linking the military to abuses. Rights groups, meanwhile, are hounding Mr. Lopes Lima and others accused of torture, encircling their residences in cities across Brazil. "A torturer of the dictatorship lives here," they recently wrote in red paint on the entrance to Mr. Lopes Lima's apartment building in the seaside resort city of Guarujá, part of a street-theater protest.
While a 1979 amnesty still shields military officials from prosecution for abuses, the commission, which began in May and has a two-year mandate, is nevertheless stirring up ghosts. The dictatorship killed an estimated 400 people; torture victims are thought to number in the thousands.
The torture endured by Ms. Rousseff, who was 22 when the abuse began and is now 64, is among the most prominent of hundreds of decades-old cases that the commission is examining. The president is not the region's only political leader to rise to power after being imprisoned and tortured, a sign of the tumultuous pasts of other Latin American countries.
As a young medical student, Chile's former president,Michelle Bachelet, survived a harrowing stretch of detention and torture after a 1973 military coup. And Uruguay's president, José Mujica, a former leader of the Tupamaro guerrilla organization, underwent torture during nearly a decade and half of imprisonment.
Since Ms. Rousseff took office, she has refused to play the part of a victim while subtly pushing for more transparency into the years of Brazil's military dictatorship. She rarely refers in public to the cruelty she endured; aside from ceremonial appearances, she has spoken sparingly about the truth commission itself. She declined through a spokeswoman to comment on the commission or the time she spent in prison.
Ms. Rousseff has evolved considerably since her days in the underground resistance, when she used several aliases, a trajectory similar to that of other leftists who ascended into Brazil's political elite. The daughter of a Bulgarian émigré businessman and his Brazilian schoolteacher wife, she grew up in relative privilege, only to abandon that upbringing to join a fledgling guerrilla group, the Palmares Armed Revolutionary Vanguard.
After her release from prison, she moved to the southern city of Porto Alegre, where her husband at the time, Carlos Franklin Paixão de Araújo, was completing his own prison sentence for subversion. She resumed her studies in economics, gave birth to a daughter, Paula, in 1976, and entered local politics. Moderating her political views, she slowly rose to national prominence as a results-oriented technocrat. She served as chief of staff and energy minister for Brazil's former president, Luiz Inácio Lula da Silva. He prevailed on her to run in the 2010 election.
She governs with a markedly different style from that of Mr. da Silva, a gregarious former union leader. Even as Brazil's economy slows, her approval rating stands around 77 percent, as the government expands antipoverty spending and stimulus projects. She won plaudits from some in the opposition by acknowledging the economic achievements ofFernando Henrique Cardoso, Brazil's president from 1995 to 2002.
She keeps a low profile in Brasília, where she lives in the Alvorada Palace, the modernist presidential residence, with her mother and an aunt (she is divorced from Mr. Araújo, though the two remain close). News media pore over her interests, which range from René Magritte's surrealist paintings to the HBO fantasy series "Game of Thrones."
At the same time, her hard-charging governing style — she has been said to berate senior officials until they cry — has been enshrined in Brazilian popular culture, with Gustavo Mendes, a cross-dressing comedian, attaining fame by imitating her on the raunchy national television program "Casseta and Planeta Go Deep."
Such satirical derision on television of a Brazilian leader would have been almost unthinkable at the time of Ms. Rousseff's incarceration, when Brazilians faced censorship, prison sentences — or worse — for criticizing military rulers. Her experiences in the dictatorship's torture chambers remained unknown to the public for decades.
Some details emerged in 2005, after she was serving in Mr. da Silva's cabinet, when testimony she provided to the author of a book on women who resisted the military dictatorship was published in Brazilian newspapers.
She described the progression from palmatória, a torture method in which a paddle or stick is used to strike the knuckles and palms of the hand, to the next, when she was stripped naked, bound upside down and submitted to electric shocks on different parts of her body, including her breasts, inner thighs and head.
It was generally thought that Ms. Rousseff's torture sessions were limited to prisons in São Paulo and Rio de Janeiro, until an investigative report published in June described more torture interrogations, including sessions during a two-month stretch at a military prison in the southeastern state of Minas Gerais. When she was still an obscure provincial official, she gave testimony in 2001 to an investigator from Minas Gerais, describing how interrogators there beat her in the face, distorting her dental ridge. One tooth came loose and became rotten from the pummeling, she said, and was later dislodged by a blow from another interrogator in São Paulo.
Robson Sávio, the scholar who interviewed her then, said she had no obligation to respond to the request for testimony, since the Minas Gerais commission had already collected proof that she had been tortured. But she did so anyway; by the end of the encounter, after recalling interrogations resulting in other injuries, including the hemorrhaging of her uterus, she was in tears, he said.
"I remember the fear when my skin trembled," she said back in 2001. "Something like that marks us for the rest of our lives."
Mr. Lima Lopes, identified as one of Ms. Rousseff's torturers in São Paulo and still living in seaside Guarujá, has denied torturing her, while defiantly calling her a "good guerrilla." Other retired military figures, meanwhile, have adopted a similar stance.
Luiz Eduardo Rocha Paiva, a former secretary general of Brazil's Army, called into question in a newspaper interview this year whether Ms. Rousseff had been tortured. But he also claimed she belonged to an armed militant group seeking to install a Soviet-inspired dictatorship. Both insurgents and counterinsurgency agents committed abuses, he said. "Was there torture during the military regime? Yes," he said. "Is there torture in Brazil today? Yes," he added, referring to the deplorable conditions in some Brazilian prisons.
Ms. Rousseff, who has insisted she never took part in an armed act against the government, has opted not to publicly clash with the former officers. Meanwhile, the commission continues without interference from the president. Paulo Sérgio Pinheiro, a noted legal scholar who is one of its seven members, said the only time he met Ms. Rousseff was when he and his colleagues were convened this year in Brasília.
Here in Rio, the search for knowledge of the past has moved state authorities to pay reparations to nearly 900 people tortured in the state during the dictatorship. Among them is Ms. Rousseff, who said in May that she would donate her check of about $10,000 to Torture Never Again, a group that seeks to raise awareness of the military's abuses.
Still, despite such moves, closure remains evasive. Rights activists here were stunned in July after the office of Torture Never Again was burglarized, and archives describing the psychological treatment undertaken by torture victims were stolen.
###
CULTURAL SURVIVAL
The impulse for the founding of Cultural Survival arose during the 1960s with the "opening up" of the Amazonian regions of South America and other remote regions elsewhere. As governments all over the world sought to extract resources from areas that had never before been developed, the drastic effects this trend had on the regions' Indigenous Peoples underscored the urgent need to partner with Indigenous communities to defend their human rights. Cultural Survival was founded to help Indigenous Peoples in their struggles for human rights, sovereignty, and autonomy.
Partnering with Indigenous Peoples to Defend their Lands, Languages, and Cultures
On July 7–8, 2012, members of 15 community radio stations partnering with Cultural Survival's radio network across Guatemala gathered for a workshop in the Mujb'ab'l Yol training center in San Mateo, Quetzaltenango. The workshop focused on the difficult topic of historical memory of Guatemala's 36-year armed conflict, which claimed the lives of 200,000 mostly Indigenous people. With the goal of using self-expression as a tool to alleviate trauma, participants wrote and
recorded poems about the armed conflict in Spanish and their native Mayan languages. Leading the workshop was Alberto "Tino" Recinos (Mam), Cultural Survival's citizen participation coordinator, who ran the guerilla radio station Voz Popular during the armed conflict. Recinos founded a community radio station after the signing of the Peace Accords in 1996.
Below, read one of the poems written by ex-combatant Rigoberta Gonzalez Sul, and member of the radio station Radio Ixchel.  Written in Spanish, the poem is a call to women to be strong in the face of the traumas they experienced in the war.
Romper el Silencio
By Rigoberta González Sul
36 años inolvidables y dolorosas,
sembró lágrimas y tristezas.
Indujo a la mujer en el silencio y traumas.
Impidiendo el desarrollo integral de la mujer
en su identidad y valores.
Mujer, basta. Ya
ya no más lágrimas.
Ya no más violación a nuestros derechos humanos
Rompamos el silencio, alcemos nuestras voces libremente.
Breaking the Silence
By Rigoberta González Sul
36 unforgettable and painful years,
planted tears and sadness.
It led the women into silence and trauma,
Preventing the integral development of women
in their identity and values ?Women, Stop.
No more tears,
No more violations of our human rights.
Let's break the silence, let us raise our voices freely.
==================================
Throughout the 1970s, Cultural Survival's original founders David Maybury-Lewis (pictured right with Xavante elder Sibupa), Evon Vogt, Jr., Orlando Patterson, and Pia Maybury-Lewis functioned out of a space made available by Harvard's Peabody Museum. The organization was incorporated in 1972 as a tax-exempt NGO in Cambridge, Massachusetts. Since its inception, Cultural Survival has been at the forefront of the international Indigenous rights movement. Cultural Survival's work has contributed to a revolution of empowerment for Indigenous Peoples around the world.  In the first years Cultural Survival launched a publication program consisting of the Cultural Survival Newsletter and a series of Special Reports which eventually became the Cultural Survival Quarterly. Cultural Survival also introduced its annual bazaars, which display and sell Indigenous arts and crafts.
In the 1980s and 1990s, Cultural Survival created an economic strategy in order to bargain with governments who were ready to clear cut rainforests. Cultural Survival Enterprises (CSE) became a non-profit trading division that developed and marketed products generating income for Indigenous people who were struggling to protect their lands and traditions within rainforest regions. Cultural Survival Enterprises, spearheading the Fair Trade movement, was launched to help Indigenous groups receive a greater profit from their sold goods,  however, after considerable debate among the board and staff and due to complications with the supply, it was decided to no longer support this program.
Ellen L. Lutz became director of Cultural Survival in 2004 and transformed the organization over the next six years, strongly emphasizing human rights and advocacy areas in which she had an international reputation. For 25 years, Cultural Survival labored with many Indigenous activitst to win United Nations adoption of the Declaration on the Rights of Indigenous Peoples. Ellen played a key role in helping shepherd this long process and on September 13, 2007, the UN General Assembly adopted a visionary text that set the global standard for how governments must treat Indigenous Peoples.
An offshoot of these efforts, Cultural Survival started partnering with Guatemalan nongovernmental organizations to create a thriving network of over 200 community radio stations across Guatemala, many of which broadcast in one or more of the country's 23 indigenous languages. The stations offer news, educational programming, human rights and health information, and traditional music, all reinforcing pride in Mayan heritage.
In 2007, Cultural Survival turned its attention on the much-needed revitalization of critically endangered Native American languages. Cultural Survival partnered with tribal governments, foundations, corporations, and businesses to persuade the United States Congress to fund legislation providing federal support for language immersion programs.
In 2009, Ellen oversaw the merger of Cultural Survival and Global Response. Global Response, a nongovernmental organization, directs campaigns to protect Indigenous rights all around the world. Global Response has developed relationships with Indigenous communities in order to help them stop government abuse and exploitation of their lands and natural resources.
Suzanne Benally (Navajo and Santa Clara Tewa from New Mexico) is the current executive director. Benally was the associate provost for institutional planning and assessment and associate vice president for academic affairs at Naropa University. She was a core faculty member in environmental studies and a member of the president's cabinet.
Under Suzanne's direction, Cultural Survival is set to reflect a robust and inclusive role. "It is our goal to become a world leader in advocacy for Indigenous Peoples rights to their land, languages and cultures," Suzanne says. "We fully intend to continue our efforts in creating a world in which Indigenous Peoples speak their languages, live on their lands, control their resources, hold on to their culture, and whose rights are honored in participating in broader society. We believe this entails deliberate collaboration. It is all about building bridges."
###
Bhutan calls for a mindful revolution at the United Nations.
Bhutan's Prime Minister Jigme Thinley (left) and Costa Rican president Laura Chinchilla at the UN, via AFP.
The monks of South Asia have been chanting on behalf of the happiness and well-being of all creatures for 2,500 years. Now, the spirit of those mantras has marched out of the monastery and into the streets, even into the halls of the United Nations.
Calling for nothing less than nonviolent resistance against the failed global economic system, the tiny Himalayan nation of Bhutan, sandwiched between India and China, took to the world stage last month by leading a "High Level Meeting on Happiness and Well-Being." Its recommendation: Replace the Bretton Woods economic paradigm, imposed on the world by the United States in the wake of World War II, with an entirely new and inherently more just system.
The prime minister of Bhutan, Jigme Thinley, called on the people of the world to demand a change. Scholars, Nobel laureates, political actors, U.N. officials and staff, and spiritual and civil society leaders, many from the Global South, affirmed that the current system serves neither the human community nor other creatures on the planet.
"The GDP-led development model," Thinley told the gathering, "compels boundless growth on a planet with limited resources." Moreover, "it no longer makes economic sense. It is the cause of our irresponsible, immoral and self-destructive actions." Finally, the prime minister concluded, "The purpose of development must be to create enabling conditions through public policy for the pursuit of the ultimate goal of happiness by all citizens."
Most of the 600 in attendance shared Bhutan's vision. Indian activist Vandana Shiva emphasized the importance of such a basic human need as food, the source of profit for a few and misery for many. As she has noted before, "The poor are not those who have been 'left behind'; they are the ones who have been robbed." The current paradigm creates a flow of financial, social, human and natural capital to the United States and other rich nations at the expense of everyone else.
Although Bhutan has faced criticism in the past for its treatment of Nepalese immigrants and the jailing of smokers, it has made considerable progress in recent years by establishing a new democracy and implementing creative efforts to measure its citizens' well-being and happiness. The concept of Gross National Happiness was coined by the former King Jigme Singye Wangchuck, who abdicated in 2006 and set the democratization process in motion. To its credit, Bhutan is setting high standards for itself that may be difficult to reach, but the country is not alone in this endeavor.
Costa Rica's President Laura Chinchilla gave the keynote address, sharing the experience of her country, noting, "In 1948 we decided to consolidate the best of our civic values, and abolished the army. We chose to solve our disputes through the ballots, not the bullets; we decided to invest in schools and teachers, not garrisons and soldiers." Rather than decreasing the national security, "This uninterrupted path turned Costa Rica into the most stable and longest living democracy in Latin America."
Interfaith spiritual leaders at the meeting, including the moderator of the Church of Canada and the Buddhist supreme patriarch of Thailand, as well as representatives from major religious traditions, issued their own statement calling for a new economic paradigm "based upon compassion, altruism, balance, and peace, dedicated to the well-being, happiness, dignity and sacredness of all forms of life."
Meanwhile, economists John Helliwell, Richard Layard and Jeffrey Sachs distributed copies of the World Happiness Report. They argue, "We live in an age of stark contradictions. The world enjoys technologies of unimaginable sophistication; yet has at least one billion people without enough to eat each day."
The official statement that came out of the meeting calls for a new paradigm with four pillars: ecological sustainability, happiness and well-being for all, fair distribution, and efficient use of resources. An unexpected 200 participants remained at the U.N. for two additional days to clarify what the new paradigm would look like, to propose new solutions, and to strategize how to mobilize a global movement in civil society to resist the current one and implement the change. Relevant civil society, educational, spiritual and activist organizations worldwide are being informed about the process, with an eye toward a 2014 convention that would replace Bretton Woods.
Widespread civil resistance movements would be a vital component in bringing about a shift toward so radically different a paradigm as this. Yet the meeting suggests that insufficient use has been made of the United Nations as a venue by change activists. Despite the U.N.'s obvious shortcomings — for instance, OWS recently protested the influence of corporations on environmental proceedings— it is nonetheless an infrastructure where every nation has a voice, at least in theory. Paradoxically, Global South elites who are also victims of the current economic paradigm provide an entrée into the system for grassroots activists, and this meeting demonstrates that the U.N. can offer a venue for radical critique. But the U.N. will only work on behalf of the people if the people insist that it does and begin to explore the possibilities that it might offer as a space for challenging injustice at a global level.
Dutch Rabbi Awraham Soetendorp, a long-time veteran of international meetings, observed that this one had "a different spirit" and that the time was ripe for unprecedented change. His call for a 0.01 percent donation of everyone's income, especially from the rich nations, was received with enthusiasm by the civil society working group, which is creating a World Happiness Bank (a tentative name) that would promote and model the new economic paradigm.
This change will not happen, of course, without the mobilization of a nonviolent resistance movement. That's where we come in; we have a new opportunity to act against a system that is robbing humanity and its fellow creatures through what the meeting's statement calls the "private capture of the common wealth." And we can do so by following the lead of the marginalized.
###
Latin America seemingly buckles under pressure from outside and inside the continent.
Seemingly – Mercosur is not growing larger as expected. It is made up by Argentina, Brazil, Uruguay and Paraguay. A reaction t this, under leadership of Brazil and Argentina, Mercosur will increase tariff on imports from non-Mercosur States.
Closer allies of the US – Mexico, Colombia, Peru, and Chile, are eying the Pacific region, and tend to get closer business relations with the other side of the Pacific under a Pacific Alliance with US as main pivot. Chile seems to be interested to lead this group so there is less of a Brazil – Mexico competition in Latin America.
The left leaning ALBA States include Venezuela, Ecuador, Bolivia, Cuba, and some of the Caribbean Islands, while the Caribbean Island States still have their CARICOM that looks to Mexico.
This posting comes about because of our expectation that June 2012 will prove to be an important month for Latin America, considering the Mexican hosts of the G-20, and the Brazilian hosts of RIO+20 – both meetings with potential high power influence  on global economic structure at least in these next few years. Will the US be helpful, or harmful, to the creation of a more united Latin America?
###

Bonn Climate Change Conference – May  14-25, 2012 tells us that the while attention is riveted to RIO+20 in effect not only the UN Commission on Sustainable Development is bankrupt, but also the process that was started by the UN Convention on Climate Change is also bankrupt. THAT IS WHY WE SAY FOR A WHILE THAT THE MEETING IN RIO 2012 IS IN EFFECT A RIO MINUS TWENTY.
The following is the Analysis of the May 2012 Bonn Meeting as suggested by the Earth Negotiations Bulletin.
The Bonn Climate Change Conference took place from 14 to 25 May 2012 in Bonn, Germany. The conference comprised the 36th sessions of the Subsidiary Body for Implementation (SBI) and the Subsidiary Body for Scientific and Technological Advice (SBSTA). It also included the 15th session of the Ad Hoc Working Group on Long-term Cooperative Action under the United Nations Framework Convention on Climate Change (AWG-LCA), the 17th session of the Ad Hoc Working Group on Further Commitments for Annex I Parties under the Kyoto Protocol (AWG-KP) and the first session of the Ad Hoc Working Group on the Durban Platform for Enhanced Action (ADP).
Under the SBI, key issues discussed included loss and damage, national adaptation plans (NAPs), and reporting by Annex I and non-Annex I parties. The SBSTA focused on agriculture, research and systematic observation, and methodological guidance on REDD+ (reducing emissions from deforestation and forest degradation in developing countries, and the role of conservation, sustainable management of forests and enhancement of forest carbon stocks in developing countries). Technology and response measures were considered under both the SBI and SBSTA.
Under the AWG-KP, the focus was on issues that need to be finalized to adopt a second commitment period under the Kyoto Protocol and for the AWG-KP to conclude its work at the eighth session of the Conference of the Parties (COP) serving as the Meeting of the Parties to the Kyoto Protocol (CMP 8). These include: matters relating to quantified emission limitation or reduction objectives (QELROs) with a view to adopting these as amendments to Annex B to the Kyoto Protocol and carry-over of assigned amount units (AAUs). While discussions under the AWG-KP advanced understanding of these issues, many outstanding questions remain, including the length of the second commitment period under the Kyoto Protocol and carry-over of surplus units.
Under the AWG-LCA, parties initially debated the agenda and whether it adequately reflected progress since the adoption of the Bali Action Plan at COP 13 in 2007. After agreement on the agenda, debates continued on which issues require consideration so that the AWG-LCA can finalize its work at COP 18 in Doha. Developed countries stressed "significant progress" and the various new institutions established in Cancun and Durban. They called for a focus on specific tasks mandated by Decision 2/CP.17 (Outcome of the work of the AWG-LCA). Developing countries identified the need to continue discussing issues, such as finance, technology, adaptation, capacity building and response measures in order to fulfill the mandate in the Bali Action Plan.
Under the ADP, discussions centered on the agenda and election of officers. After nearly two weeks of discussions, the ADP plenary adopted the agenda and agreed on the election of officers during the final day of the conference.
At the close of the Bonn Conference, many felt that the atmosphere had been "tense," especially under the ADP. They expressed hope that this would not have a lasting impact, putting at risk efforts to rebuild trust in the process over the past two years since Copenhagen and the "delicate balance" of interests reflected in the Durban Package.
The Earth Negotiations Bulletin Summary of this meeting is now available in PDF format at www.iisd.ca/download/pdf/enb12546e.pdf and in HTML format atwww.iisd.ca/vol12/enb12546e.html
=====================================================
A BRIEF ANALYSIS OF THE BONN CLIMATE CHANGE CONFERENCE
Six months ago, many delegates left the UN Climate Change Conference in Durban basking in the warm glow of success, imbued with the infectious spirit of  "Ubuntu," or unity and interconnectedness. The conference had agreed on several landmark decisions including: the establishment a new Ad Hoc Working Group on the Durban Platform for Enhanced Action (ADP) and "a process to develop a protocol, another legal instrument or an agreed outcome with legal force applicable to all parties" to come into effect from 2020 onwards; a second commitment period under the Kyoto Protocol; and agreement to terminate the Ad Hoc Working Group on Long-term Cooperative Action under the Convention (AWG-LCA) and Ad Hoc Working Group on Annex I Parties' Further Commitments under the Kyoto Protocol (AWG-KP) in Doha. Many saw these decisions as heralding a new era of multilateralism and turned to 2012 with anticipation, vigor and purpose.
Six months later, the pressure was on delegates in Bonn to live up to the promise of Durban. Delegates faced a heavy workload, including the tasks needed to operationalize the institutions and mechanisms established in Cancun and Durban. Parties also had to try to demystify what it was they had actually agreed to during the waning hours of the frenzied COP 17. However, negotiations in 2012 got off to an inauspicious start and the Bonn Climate Change Conference was marred by mistrust and unabashed posturing. The meeting was almost paralyzed by prolonged procedural wrangling, which many described as "unprecedented." This analysis will discuss the underlying reasons for the disputes in Bonn and examine the implications for COP 18 in Doha, Qatar, in another six months.
UNRAVELING DURBAN'S CONSTRUCTIVE AMBIGUITY
Many could not begin to imagine how difficult it would be to begin implementing the Durban decisions. The new platform established in Durban introduced the notions of a "post-2012 or pre-2020" landscape; and a "post-2020" period, that will be covered by the new "protocol, another legal instrument or an agreed outcome with legal force under the Convention applicable to all parties" to be developed by the ADP.
The Durban Package, which had been negotiated sensitively to accommodate the myriad of parties' interests, presented challenges and complexities in Bonn, when parties began the business of interpreting its ambiguous language. For example, while many parties see mitigation as the core of the ADP, some developing countries insisted that all elements, including financing, adaptation, capacity building and technology transfer, should also be central to the ADP's mandate.
For many, enhancing ambition to close the "mitigation gap" was a crucial part of Decision 1/CP.17. The decision establishes that the ADP process for the post-2020 regime shall raise the level of ambition and also launches a post-2012 work plan on enhancing mitigation ambition for all parties. However, the decision does not stipulate when and which body will implement the work plan. While some developing parties supported addressing pre-2020 mitigation ambition under the AWG-LCA, many others insisted on addressing it under the ADP.
The reason why some preferred to address enhancing mitigation ambition under the AWG-LCA is that the Bali Action Plan affirms the Convention's core principles, including common but differentiated responsibilities. This implies that developed countries have commitments, while developing countries only take nationally appropriate mitigation actions contingent on support from developed countries. This level of comfort is missing under the ADP for developing countries. Indeed, the decision adopting the ADP does not include references to the Convention's principles nor does it make a distinction between developed and developing countries. As one insider highlighted, "some parties have started to panic about the ADP; they feel as if they are walking into a dark room and don't know if there is anything there or where anything is." This uncertainty manifested in disagreements over both the AWG-LCA and the ADP agendas. On the ADP agenda, parties ultimately agreed to address two work streams, one on the post-2020 regime and the other on the post-2012 work plan on enhancing the level of ambition.
Uncertainties also arose when considering the termination of the AWG-LCA in Doha. Decision 1/CP.17 extends the AWG-LCA's "mandate for one year in order for it to continue its work and reach the agreed outcome pursuant to decision 1/CP.13 (Bali Action Plan)", until COP 18 at which it "shall be terminated." However, Durban left room for different interpretations on how to proceed with the inconclusive work beyond Doha. The lack of clarity on the AWG-LCA termination provided room for discussions on whether the AWG-LCA should finish after the Bali Action Plan was accomplished or if the Bali Action Plan was accomplished by the termination of the AWG-LCA. Some parties, particularly a group of developing countries, wanted to assess the progress achieved toward fulfilling the Bali Action Plan, including some elements that were not agreed upon in Durban but were reflected in a compilation document referred to as "CRP.39," such as intellectual property issues in relation to technology, rights of Mother Earth, trade, and response measures. Meanwhile, many developed countries wanted to focus on specific issues mandated by COP 17. They highlighted that many issues mandated by the Bali Action Plan had already been properly addressed and forwarded to the permanent subsidiary bodies or other relevant institutions created for that purpose, such as the Technology Executive Committee, the Green Climate Fund, the Adaptation Committee and the Durban Forum on Capacity Building.
Nevertheless, the extent to which the permanent subsidiary bodies and the new bodies can address these issues is limited to their technical nature or their particular mandate. Moreover, many of the established bodies still need to be operationalized, as many highlighted. The fact that progress towards their operationalization was not achieved in Bonn did not help to enhance the environment of cooperation. On finance, the Philippines provided examples of this phenomenon, underscoring that the GCF is still "an empty shell, and the Standing Committee is not standing."
In Durban, under the AWG-KP track, parties agreed to "decide that the second commitment period under the Kyoto Protocol shall begin on 1 January 2013." However, it is clear to everybody that to "really adopt" the second commitment period parties will have to agree on its length, put forward QELROs and adopt the necessary amendments to the Kyoto Protocol in Doha. Some questions remain on key issues such as how to ensure a smooth transition to the second commitment period, how to deal with excess units from the first commitment period, how rules can be continued and, in particular, how to continue with the flexibility mechanisms, including who will be able to participate, given that some countries indicated they would not be part of a second commitment period. In Bonn, developing countries reiterated that parties intending to participate in the second commitment period should submit ambitious QELROs in line with the goal of limiting temperature increase to below 2°C. Venezuela vociferously demanded that Annex I parties "show their QELROs" as opposed to pledges. The EU highlighted their submission of QELROs and also called upon his Annex B colleagues to follow suit.
Moreover, in order to finish shaping the second commitment period and properly adopt it in Doha, parties have to agree on its length and on the text of the Kyoto Protocol amendment, but negotiations in Bonn did not lead to any further progress in this regard. With so many relevant details to be defined before Doha, developing countries expressed fear that parties are "jumping from the Kyoto Protocol ship" by shifting the focus on the ADP. The EU and other developed countries argued, in turn, that their agreement on a second commitment period under the Kyoto Protocol was based on a transition to a global and comprehensive post-2020 climate treaty to be negotiated under the ADP.
EVOLVING DYNAMICS IN A CHANGING WORLD
If anything, the Bonn session brought to the fore the universally acknowledged fact that the UNFCCC, drafted in 1992, reflects a reality light years away from the 2012 global landscape. Since the negotiation of the Convention, the outlook for many G-77/China members has changed dramatically and resulting tensions from these divergences are increasingly playing out in the negotiating rooms. For several years now, many have been wagering bets on how long the G-77/China tinderbox diplomacy can prevail, when it is evident that many of the members appear to sit uncomfortably around the same table. A discernible chasm was evident in Bonn. As one delegate said, "Members of the group are now washing their dirty linen very publically." The group did not have a common negotiating position on the ADP and many other issues. Moreover, they had trouble agreeing on fielding one non-Annex I candidate for the position of ADP Chair. As one practitioner explained, the UNFCCC governance structure assumed certain things, including that parties fall neatly into two groups: Annex I and non-Annex I countries. This "binary" dynamic has changed. As one delegate noted: "GRULAC and the Asian Group are the dominant forces but they do not represent the interests of the entire group." This means that, in addition to the traditional distinction between developed and developing countries, a third category of "emerging developing countries" or "advanced developing countries" may need to be factored into the mix.
Ultimately, the specter of having to vote for the ADP officers and the resulting damage to the process proved too much for parties to stomach, and they eventually agreed to a "delicate arrangement," where the candidate from the Asia-Pacific Group will serve an initial one year term from 2012-2013, with his counterpart from an Annex I party, and the subsequent Co-Chair from GRULAC will serve for a term of 18 months. Many said that creating a voting precedent under the UNFCCC would be difficult, almost unfathomable but, at times during the meeting it appeared as if the taboo would be broken.
Other dynamics also played out within the G-77/China, which caught many practitioners by surprise. Bonn witnessed the emergence of a group of approximately 40 countries primarily comprised of the Arab Group, Latin American countries, including Argentina, Venezuela, Bolivia and Ecuador, as well as India and China, who, on the face on things, appear to have forged an alliance to uphold the Convention's principles of common but differentiated responsibilities and equity, as well as developed countries' historical responsibility for climate change. They maintain that any outcome under the ADP must be equitable so that "universality of application" does not become "uniformity of application."
In contrast, another group of developing countries, including members from AOSIS, LDCs, and some Latin American countries, such as Chile, Costa Rica, Dominican Republic, Peru and Panama, are looking for such action on mitigation from developed and developing countries and for action to be "incentivized for all countries," which they describe as the "beginning of a new paradigm for responding to climate change."
Reflecting on the developments within the G-77/China, one insider said "history is being made and the wedge within the group is helping to bring about an exciting geo-political shift, which is about how countries deal with each other politically and economically and also a reflection of where they are and where they will be."
LOOKING AHEAD
Bonn demonstrated that, as many have said, Durban was a carefully negotiated package contingent on all elements of the outcome moving forward in tandem. However, what is clear is that parties have a very different perspective of what the future looks like in terms of, inter alia, the ADP's mandate, how to terminate the AWGs and what to focus on for effectively addressing climate change. As evidenced in Bonn, constructive ambiguity results in uncertainty that can sometimes breed mistrust. This mistrust is often manifested through disputes over procedure and consequently hampers progress. Looking ahead, parties have their work cut out to accomplish tasks they agreed to in Durban. They will need to exercise goodwill, integrity and congeniality in order to deliver on the ultimate objective of meaningful mitigation action for the post-2012 era.
###
| | |
| --- | --- |
| | |

Campaigns and Advocacy / Campañas y Defensa

SOURCE: Andean Foundation for Media Observation & Study (FUNDAMEDIOS)

(Fundamedios/IFEX) – 21 May 2012 – Seventeen states from the Americas, Europe and Asia suggested that the Ecuadorian government should respect and guarantee the freedoms of the press and of expression in the country.

They made these observations on 21 May 2012 during a session of the UN Human Rights Council, where the states assessed Ecuador using the mechanism known as the Universal Periodic Review (UPR).

Germany, Australia, Austria, Belgium, Canada, Costa Rica, Estonia, United States, Slovakia, Latvia, Luxemburg, Norway, France, India, Sweden, Switzerland and the United Kingdom were the countries that presented observations to the Ecuadorian State that it should promote and respect freedom of expression and eliminate laws that criminalize opinion. Some of them also requested that Ecuador should make possible a visit by the UN Special Rapporteur on Freedom of Expression to examine the situation of freedom of expression in the country.

The European countries' delegations were the most critical. Sweden, for example, mentioned the case that led to the conviction of a former feature writer and the directors of the newspaper El Universo; and although President Correa abandoned the lawsuit, it recommended that the Ecuadorian State should protect freedom of expression.

Meanwhile, Switzerland emphasized that an atmosphere of censorship and self-censorship prevails in Ecuador and that the State has the obligation of respecting this fundamental right, while Luxembourg expressed concern for the intimidations against Ecuadorian journalists.

Among countries in the Americas, the United States was one of the most critical, showing its concern for attacks against journalists and because in Ecuador freedom of expression is not fully guaranteed. Canada and Costa Rica also issued recommendations to establish measures that guarantee the protection of this fundamental right in accordance with international regulations.

The criminalization of social protest and free association concerned Belgium, Canada, Estonia, France, Germany, Hungary, Latvia and Luxembourg, all of which recommended that guarantees should be in place to allow opposition groups and communities to protest freely, without being condemned as terrorists or saboteurs. In regard to this issue, Spain recommended reviewing the restrictive legislation against NGOs and the criminalization of social protest in the country.

Faced by these pronouncements, the Ecuadorian delegation, led by Vice-president Lenin Moreno; the Minister of Foreign Affairs Ricardo Patiño; the Minister of Justice Johana Pesántez and the National Communication Secretary Fernando Alvarado affirmed that the press is neither censored nor persecuted in the country and that there are no jailed journalists in Ecuador. "Freedom of expression is absolutely and wholly respected in Ecuador", stated Minister Patiño.

The 17 observations exceed in number those issued against Venezuela during last October's UPR, when 13 recommendations concerning freedom of expression were presented, all of them were eventually rejected by that government.

The official report will be presented on Friday 25 May and the Ecuadorian government will have to accept or reject the recommendations issued today, as well as those that the states present in writing.

Fundamedios will attend this session and will provide news coverage through its twitter accounts, @LoFundamental and @Fundamedios, and its Facebook pages Fundamedios and LoFundamental.

For more information:
Andean Foundation for Media Observation & Study (FUNDAMEDIOS)
Unión Nacional de Periodistas E2-32 e Iñaquito
Edificio UNP
Piso 4, Ofic. 403
Quito, Ecuador
info (@) fundamedios.org.ec
Phone: +593 2 2461622/ 2461636/ 2461642
Fax: +593 2 2230 821
www.fundamedios.org
@fundamedios

---


22 mayo 2012

FUENTE: Fundación Andina para la Observación y el Estudio de Medios

(Fundamedios/IFEX) – 21 de Mayo de 2012 – Diecisiete estados de América, Europa y Asia realizaron sugerencias para que el gobierno de Ecuador respete y garantice de forma efectiva las libertades de expresión y de prensa en el país.

Esas observaciones se realizaron este 21 de mayo de 2012, durante la sesión del Consejo de Derechos Humanos de la ONU, en donde los Estados evaluaron al Ecuador bajo el mecanismo conocido como Examen Periódico Universal (EPU).

Alemania, Australia, Austria, Bélgica, Canadá, Costa Rica, Estonia, Estados Unidos, Eslovaquia, Letonia, Luxemburgo, Noruega, Francia, India, Suecia, Suiza, Reino Unido, fueron los países que plantearon observaciones al Estado ecuatoriano para que promueva y respete la libertad de expresión y que elimine leyes que criminalizan la opinión. Algunos de ellos también solicitaron que el Ecuador posibilite de forma real la visita del Relator Especial de Libertad de Expresión de la ONU, para que constate la situación de la libertad de expresión.

En este sentido, los países de las delegaciones europeas fueron los más críticos con este tema. Por ejemplo, Suecia mencionó el caso por el que se condenó al exarticulista y directivos de diario El Universo y, pese a que el Presidente desistió de aquel juicio, recomendó al Estado ecuatoriano la protección de la libertad de expresión.

Por su parte, Suiza fue enfático en señalar que el Ecuador se vive un clima de censura y autocensura y que el Estado tiene la obligación de respetar este derecho fundamental, mientras que Luxemburgo se mostró preocupado por las intimidaciones a periodistas ecuatorianos.

Del lado del continente americano, Estados Unidos fue otro de los Estados más críticos y que mostró su preocupación por los ataques a periodistas y porque en Ecuador no se garantiza plenamente la libertad de expresión. Canadá y Costa Rica también formularon recomendaciones para que se tomen medidas que garanticen la protección de este derecho fundamental, de acuerdo con las normas internacionales.

La criminalización de la protesta social y la libre asociación también fueron temas que preocuparon a muchos países como Bélgica, Canadá, Estonia, Francia, Alemania, Hungría, Letonia, Luxemburgo, quienes plantearon sus recomendaciones en el sentido de que deben existir garantías para que los grupos opositores, así como las comunidades puedan protestar libremente, sin ser condenados bajo figuras como el terrorismo y sabotaje. Al respecto España recomendó revisar la legislación restrictiva para ONG y criminalización de la protesta social en el país.

Frente a estas inquietudes, la delegación ecuatoriana, encabezada por el vicepresidente Lenin Moreno; el canciller Ricardo Patiño, la ministra de Justicia Johana Pesántez y el secretario nacional de comunicación Fernando Alvarado, aseguraron que en el país no se censura ni se persigue a la prensa y que tampoco existen periodistas encarcelados. "En Ecuador se respeta absoluta y totalmente la libertad de expresión", mencionó el canciller Patiño.

Las 17 observaciones formuladas superan a las realizadas a Venezuela, en el EPU de octubre pasado, en dónde se plantearon 13 recomendaciones sobre libertad de expresión, todas las cuales fueron rechazadas por dicho Gobierno.

El próximo viernes 25 de mayo, se presentará el informe y el Gobierno ecuatoriano aceptará o rechazará las recomendaciones realizadas hoy, o aquellas que los estados presenten por escrito.

Fundamedios estará presente en esta sesión y acompañará la cobertura noticiosa a través de sus cuentas de twitter, @LoFundamental y @Fundamedios y sus páginas de Facebook, Fundamedios y LoFundamental.

Para mayor información:
Fundación Andina para la Observación y el Estudio de Medios
Unión Nacional de Periodistas E2-32 e Iñaquito
Edificio UNP
Piso 4, Ofic. 403
Quito, Ecuador
info (@) fundamedios.org.ec
Tel: +593 2 2461622/ 2461636/ 2461642
Fax: +593 2 2230 821
www.fundamedios.org
@fundamedios
###