The THIRD ANNUAL ARCTIC CIRCLE ASSEMBLY
OCTOBER 16 – 18, 2015
REYKJAVÍK, ICELAND

PRESIDENT OF FRANCE – WILL ATTEND THE ASSEMBLY and Deliver an Opening Speech linked to the Climate Negotiations at COP 21.
At a meeting at the Élysée Palace in Paris on April 17th, the President of France, François Hollande, accepted an invitation from President Ólafur Ragnar Grímsson to deliver an opening speech at the October Assembly. The attendance by President Hollande is linked to the upcoming climate negotiations COP21 in Paris in December and the relevance of the Arctic to those negotiations.

PRESIDENT XI JINPING – And Offered to host a special CHINA SESSION at the Assembly.
President of China XI Jinping has in a recent letter to President Ólafur Ragnar Grímsson endorsed China's participation in the Arctic Circle Assembly and declared his decision that China will host a special Plenary Session at the October Assembly in Reykjavík.

CHANCELLOR ANGELA MERKEL – suggested a special plenary GERMANY and the ARCTIC SESSION at the Assembly.
Chancellor Angela Merkel has in a recent letter to President Ólafur Ragnar Grímsson announced her support for the Arctic Circle and its importance as a venue to present the involvement of Germany in the future of the Arctic. Consequently, the program of the October Assembly in Reykjavík will include a special Plenary Session on Germany and the Arctic.
More Assembly news in the coming weeks.
###
From: Jeff Huffines <jeffery.huffines@civicus.org>
as per: International Cooperative Alliance and Commons Cluster of the UN MG

Subject: A WORKSHOP on Powerful and Innovative Approaches for Financing Development
TUESDAY, FEBRUARY 10, 2015 1:15 – 2:45 pm UN HQ NYC – Room 1
TeleConference 712 432 1500 Access Code 972978#
For those without a UN Pass – TO GET ACCESS TO THE UN – RSVP COMMONACTIONUN at gmail.com
==========================================================
###
my correspondence with Kaveh following RIO II
It came up when I googled for Ahmad Fawzi in pursuit of content for another article – and decided that this was an exchange in 2012 that has renewed value today.
Afrasiabi gained a PhD in Political Science from Boston University in 1988, under the supervision of Professor Howard Zinn, with a thesis titled "State and Populism in Iran."
Afrasiabi has taught political science at the University of Tehran, Boston University, and Bentley University. Afrasiabi has been a visiting scholar at Harvard University (1989-1990), University of California, Berkeley (2000-2001), Binghamton University (2001-2002) and the Center for Strategic Research, Tehran. During 2004-2005, Afrasiabi was involved in Iran as an advisor to Iran's nuclear negotiation team.
Afrasiabi is a former consultant to the United Nations "Dialogue Among Civilizations", for which he interviewed the former Iranian president, Mohammad Khatami.
Afrasiabi is a member of the advisory board of the Campaign Against Sanctions and Military Intervention in Iran. Afrasiabi has authored numerous articles in scholarly journals and newspapers, including Harvard Theological Review, Harvard International Review, UN Chronicle, Boston Globe, Global Dialogue, Middle East Journal, Mediterranean Affairs, Brown's Journal of World Affairs, International Herald Tribune, Der Tageszeit, Der Tagesspiegel, Journal of International Affairs, Telos, Nation Magazine, Asia times, Washington Post, San Francisco Chronicle, Monthly Review, as well as dozens of articles and letters in The New York Times. Afrasiabi has made dozens of television appearances as a Middle East expert on CNN, Aljazeera, Voice of America, PBS, BBC, PressTV, Russia Today, and other networks.
Selected works by Afrasiabi:
After Khomeini: New Directions in Iran's Foreign Policy (1994)
Nir/North: A Cinematic Story about the Iran-Contra Affair (1996)
Infringements (1998)
Islam and Ecology (2003)
Iran's Nuclear Program: Debating Facts Versus Fiction (2006)
Reading in Iran's Foreign Policy After September 11 (2008)
Looking For Rights At Harvard (2010)
UN Management Reform (2011)
Iran Phobia and US Terror Plot: A Legal Deconstruction (2012)
A Controversy with Harvard that blew out of proportion in Boston:
Afrasiabi v. Mottahedeh
From 1996 to 2003, Afrasiabi was involved in a legal conflict with Roy Mottahedeh, former director of the Center for Middle Eastern Studies at Harvard University, who had been his superior during Afrasiabi's time as a postdoctoral fellow at Harvard, and Harvard University itself.
The conflict started with an alleged extortion against Mottahedeh's subordinates and a "pre-dawn" arrest of Afrasiabi by Harvard police, and terminated in 2003 with a civil rights case against Harvard, Mottahedeh and the Supreme Court of the United States, in which Afrasiabi acted as his own attorney. During associated controversies, Afrasiabi was supported by Mike Wallace of the US television program 60 Minutes, author David Mamet, linguist Noam Chomsky, and political scientist Howard Zinn, and former deputy prime minister of Iran, Farhang Mehr. In a video deposition, Mr. Wallace has defended Afrasiabi and accused professor Mottahedeh of making false statements to him about Afrasiabi. His "David and Goliath" battle with Harvard has been praised by Mike Wallace, who has stated "I admire Dr. Afrasiabi. He has been wronged. The cannons of Harvard are lined up against a pea shooter."
June 2010 incident
On June 27, 2010, Afrasiabi went to the Zuzu restaurant in Cambridge, Massachusetts. According to Afrasiabi, employees there showed "racist and indecent behavior" and "treated him unprofessionally", after which he exited the restaurant without finishing his meal nor paying for it. He approached some police standing nearby. A restaurant employee approached the police. The police then arrested Afrasiabi, on the basis of an outstanding warrant. Afrasiabi claims the warrant was issued in error, based on a 1986 unregistered vehicle incident, for which he had already paid the fines. The police claim it originated from an incident in 1999. Afrasiabi described the arrest taking place with "a racist attitude." While in custody, Afrasiabi claims that he was denied the right to a telephone call to contact his family and/or a lawyer. He said that the police officers were racist and brutal, stating, "If I had blond hair and blue eyes and had an American-sounding last name, no, I wouldn't have been subjected to this. They did this to me because they're racist."
In July 2010, Afrasiabi filed a formal complaint against Cambridge police alleging racism and physical injury in the hands of Cambridge police, who placed him under arrest after he had approached them to complain of being mistreated at a restaurant.[20] The basis for his arrest was an outstanding warrant for a 1986 ticket, which Afrasiabi claimed to have paid at the time. A judge in Newton, Massachusetts agreed with Afrasiabi and dismissed the warrant without imposing any fines. Afrasiabi has alleged that while being transported to a court the next day, he was deliberately injured when the police van slammed the break after driving in full speed, resulting in Afrasiabi's multiple visits to hospitals. The Cambridge police initially claimed that Afrasiabi had walked out of a restaurant without paying and then changed their story, deleting any reference to the restaurant. In a letter to The Cambridge Chronicle, Afrasiabi has demanded an apology from the police for what he alleges is their racist and brutal mistreatment of him.
References
www.researchgate.net/publication/…
mrzine.monthlyreview.org/2010/afr…
www.bentley.edu/offices/sites/www…
www.bentley.edu/offices/sites/ww…
Upton, Geoffrey C. (1996-02-08). "Former Post-Doc Will Stand Trial; Afrasiabi Denies Extortion Charge, Cites 'Mind-Blowing Conspiracy'". Harvard University. Archived from the original on 2009-06-03. Retrieved 2009-06-04.
ias44.ias.berkeley.edu/Newsletter…
www2.binghamton.edu/fbc/archive/n…
Fathi, Nazila (2004-11-28). "Iran Reasserts Its Right to Enrich Uranium as Standoff Persists". The New York Times.
Khatami, Mohammad; Kaveh L. Afrasiabi (2006-09-11). "Mohammad Khatami on the Dialogue Among Civilizations". United Nations. Archived from the original on 2009-06-03. Retrieved 2009-06-03.
Afrasiabi, Kaveh L. (2005-02-17). "A letter to America". Asia Times. Archived from the original on 2009-06-03. Retrieved 2009-06-03.
"KAVEH L. AFRASIABI, Plaintiff, Appellant, v. HARVARD UNIVERSITY; HARVARD UNIVERSITY POLICE DEPARTMENT; RICHARD W. MEDEROS; FRANCIS RILEY; LAUREEN DONAHUE; CENTER FOR MIDDLE EASTERN STUDIES; ROY P. MOTTAHEDEH; REZA ALAVI and SHOBHANA RANA, Defendants, Appellees.". United States Court of Appeals. 2002-07-01. Archived from the original on 2009-06-03. Retrieved 2009-06-04.
"Between Mike Wallace and Me".
"The David Mamet Society".
"Reading Kafka at Harvard".
www.iranian.com/main/2008/reading…
"Abused scholar: US police conspiring against me". Press TV. 2010-07-01. Archived from the original on 2010-07-11. Retrieved 2010-07-11.
Guha, Auditi; Jen Thomas (2010-07-08). "Iranian pundit claims 'police brutality' in Cambridge". Cambridge Chronicle. Archived from the original on 2010-07-11. Retrieved 2010-07-11.
"Veteran Iranian-American Professor Talks of US Police Brutality Against Him". Hamsayeh.Net. 2010-07-02. Archived from the original on 2010-07-11. Retrieved 2010-07-10.
www.wickedlocal.com/cambridge/new…
www.wickedlocal.com/cambridge/fea…,
www.wickedlocal.com/cambridge/new…
So, of real interest is:
Kaveh L. Afrasiabi | Al Jazeera America
afrasiabik at yahoo.com to me May 17, 2012

Thanks so here s my real question;
What can third world leaders from iran bolivia etc do to make a real splash in rio? I would appreciate an answer. I was thinking of an ad hoc sub group making joint statement beyond the resolution etc.
Sent on the Sprint® Now Network from my BlackBerry®
and my answer:
Real fast answer – as you can see from my website – I do not shy away from the two countries you mention – an ALBA button is right there in front of my website. Having made that remark – I would suggest that specifically these two countries would be best advised to keep out of the limelight.
For AlLBA – it is Ecuador with some help from Argentina and Chile – that speaks up and that is perfect.
Then, for the best of the countries in trouble spoke recently Bangladesh, Fiji, Grenada, Costa Rica, even Mexico.
Subjects like the issue of going to the International Court of Justice for transnational pollution and climate change, and the effects on the poorest countries – these are subjects that can make a splash.
Also, backing A SMALL OFFICE of a UN Commissioner for Future Generations and the need to do away with the GDP as yardstick for Growth, and some reference to Well Being and Happiness that are not based on consumption (the Bhutan concept) are good topics where your two named countries could be seconds if someone else leeds.
Bolivia has done very well in the past by pushing the Pacha Mama, but Iran has never understood that it had a great pre-Islamic past and thus failed to establish real leadership of any kind.
While Bolivia's problem is that it pushed too hard, Iran' problem is that it did not push at all its culture of the past and militancy is not what the UN is about. In both cases what I really talk about – is a real push of culture for the 21-st century.
================
and the third round of that day:
From Kaveh Afrasiabi to me:
How about int environmental court championed by morales?
Sent on the Sprint® Now Network from my BlackBerry®
and my answer:
I really think now that I gave you enough, and basically – all that material is indeed on my web because these are the things that made me decide to keep the site going. In my book – Copenhagen was the last place that saw progress – and that was thanks to Obama who brought in the Chinese for the first time, and they brought in the IBSA as well.
Pincas
============
followed by:
Many thanks i will quote you in my piece and send y link
Sent on the Sprint® Now Network from my BlackBerry®
and the following day:
I have a small book on un reform it s'at un bookshop. Fyi
Sent on the Sprint® Now Network from my BlackBerry®
Having found this by accident, I intend now to restart that contact
to find out what the gentleman is doing these days.
=======================================================================
###

Brazil gives go-ahead to 31 solar parks in push for new energy
Date: 03-Nov-14
Country: Brazil
Author: Marcelo Teixeira of Reuters
Brazil finally entered the solar power sector on Friday, granting contracts for the construction of 31 solar parks as it tries to diversify its sources of generation amid an energy crisis caused by the worst drought in eight decades.
Brazil's energy regulator, Aneel, concluded its first exclusive solar power auction on Friday, clinching 20-year energy supply contracts with companies that will invest 4.14 billion reais ($1.67 billion) and start to feed the national grid in 2017.

The 31 solar parks, the first large-scale solar projects to be constructed in Brazil, will have a combined installed capacity of 1,048 megawatts (MW). Market expectations were for projected total awards of 500 MW.
"This auction is a mark, not only because it signals the entrance of solar power in the Brazilian energy mix, but because it was one of the most competitive to date," said Mauricio Tolmasquim, head of the government's energy research company, EPE.
The auction lasted more than eight hours. The final price for solar power came at around 220 reais ($89) per megawatt-hour, against an initial price of 262 reais ($106), an 18 percent discount.
"This is one of the lowest prices for solar energy in the world," Tolmasquim said.
According to Tolmasquim, costs were reduced because of the strong solar radiation factor in Brazil and because many solar parks would be installed in areas that already have wind farms, reducing the amount developers would spend on land and transmission lines.
In Brazil's power auctions, the government sets a maximum price for the megawatt-hour and companies bid down the price at which they are willing to sell energy. Companies that offer the lowest prices win the contracts.
Solar power developers have participated in previous auctions, but because they were competing against cheaper sources, such as wind and hydroelectric plants, they never succeeded in winning contracts.
This time, the government allocated a specific amount of energy to be produced by solar parks, trying to spur development of a local industry and in the long term reduce costs for projects, as it did with wind power some years ago.

Currently, wind power companies win most of the contracts in the regular auctions, with prices per megawatt-hour that are lower than thermal projects fueled by coal or natural gas.
Brazil's power system has traditionally been composed by a network of large hydro power plants, but almost three years of well below-average rains have depleted reservoirs and sent the country scrambling to diversify its energy matrix.
An expensive, fossil-fueled emergency network of thermal power plants has shored up supply, but at the cost of tarnishing the country's reputation as a renewable energy producer and consumer.
The government has been criticized by environmental groups for taking so long to enlist solar power in its energy matrix, because of Brazil's excellent potential for solar.
###
Dear Pincas,

Change doesn't happen by accident.

Change takes time, dedication, and most importantly, it takes leaders.

Here at The Climate Reality Project, we've got some of the best around: they're called Climate Reality Leaders. And today, I'm hoping you'll apply to join us in Rio de Janeiro November 4-6 to become one.

During the course of three days, you'll work with world-renowned experts in climate science, alternative energy, and sustainability. You'll learn from twenty-first century communicators, organizers, and of course, former U.S. Vice President Al Gore.

Together, we'll equip you with the training to more effectively communicate, organize, and lead. You'll discuss what's happening to our planet and the real solutions we have today. You'll learn how to strengthen the public will to solve this crisis once and for all.

And once you've got the right tools, you'll be prepared to join more than 6,000 other Climate Reality Leaders across the planet and spread the message so widely and speak up so loudly that it cannot be ignored: we can solve climate change.

The world needs climate leaders like you now more than ever.

Apply to join us in this effort. You'll come as a leader, and leave as a Climate Reality Leader, ready to take on the greatest challenge of our time.

We look forward to receiving your application. Together, we can change the world.

Thanks for your commitment to climate action,

Ken Berlin
President & CEO

P.S. If you still need some convincing, check out this video our Chairman and Founder Al Gore recorded to remind everyone why becoming a Climate Reality Leader is so important.
###
With  Interference from Breaking News from the battle fields in the Ukraine and the Muslim World – the US and Russia are at Cold War level; Israel has already 20 dead (two civilians) and dozens wounded – Fareed Zakaria on CNN/Global Public Square did his best this Sunday July 20, 2014, to try to make sense from the present global wars.
I will try to reorganize the material into a neat tableau that can be viewed as a whole.
Fareed's own introduction was about what happened in recent years is a "democratization of violence" that created an asymmetry like in Al Qaeda's 9/11 where each of their one dollar generated the need for  7 million dollars to be spent by the US in order to counter-react. Thus, before, it was armies of States that were needed to have a war – now everyone can cause it with a pauper's means.
Then he continued by saying that this is NOT what happened in Ukraine. There Putin was trying to fake it, by using his resources large State resources to create from former Russian soldiers a "rebel force in the Ukraine."  The Kremlin is operating the rebels in a situation where the military expenditures by Russia, which are 35 times larger then those of the Ukraine, take care of the expenditures of this war.
But where Vladimir Putin miscalculated – it is that he did not realize that when he takes the ginny of Nationalism out of his dark box, he will never be able to cause it to go back. Putin unleashed both – Russian and Ukrainian Nationalism and it might be that by now he is no boss over the outcome anymore.
Let us face it – G.W. Bush played a similar game in Iraq and Afghanistan and the US will not be  master in the Middle East anymore.
Zbigniew Brzezinski was asked on the program what should Obama do?
He thinks this is a historical defining moment that allows still to Putin to redeem himself. It is for him – rather then somebody else – to call for an International tribunal and allow open investigation by telling the pro-Russians in the Ukraine, whom he supported and provided them with arms, that they crossed the line.  Brzezinski says this is a situation for Europe like it was before WWII.
The issue is that the Europeans are not yet behind the US. London is a Las Vegas for the Russians, France supplies them military goods, it was a German Chancellor before Merkel who made Europe dependent on Rusian gas.
Without being clearly united behind the US, the West will get nowhere.
On the other hand – Russia, seeing the sanctions coming, sees the prospect of becoming a China satellite if sanctions go into effect. Not a great prospect for itself either.
So, the answer is Obama leadership to be backed by the Europeans and Putin making steps to smooth out the situation and redeem himself. This is the only way to save the old order.

Steven Cohen, Professor on Russia at Princeton: The US is in a complicated situation by having backed fully the Ukrainian government.
It is the US that pushed Putin to take his positions. The Ukraine is a divided country and the story is not just a recent development. Putin cannot just walk away from the separatists in the Ukraine – they will not listen to him. The reality in the Ukraine, as per Professor Cohen, is very complex and there are no good guys there – basically just a complex reality that was exploited from the outside.
Christa Freeland, a famous journalist, who is now a Canadian member of Parliament, and traveled many times to the Ukraine, completely disagrees with Cohen and says a US leadership is imperative.
Our feeling is that all this discussion goes on as if it were in a vacuum – the true reality is that in the Globalized World we are far beyond the post WWII configuration that was just Trans-Atlantic with a Eurasian Continental spur going to China and Japan.  What has happened since is the RISE OF THE REST OF THE WORLD – with China, india, Brazil, and even South Africa, telling the West that besides dealing with Russia the West must deal with them as well !!
 The BRICS meeting in Fortaleza (Brazil, Russia, India, China, South Africa) where this week they established a $50 Billion alternative to the World Bank and a $100 Billion alternative to the IMF, ought to be part of the negotiation in the US and at the EU Member States  when talking about a post-Ukraine-flare-up World. The timing may have been coincidental – but the build-up was not.
These days there is the celebration of 70 years (1–22 July 1944) of the establishing of the Bretton Woods agreements system that created the old institutions that can be changed only with the help of US Congress – something that just will not happen. Those are the World Bank and the IMF – but In the meantime China has become the World's largest economy and they still have less voting power at the World Bank then the three BENELUX countries.
The BRICS do not accept anymore the domination of the US dollar over their economies. If nothing else they want a seat at the table, and detest the fact that three out of five are not even at the UN Security Council.
So, the New World Order will have to account for this Rise of the Rest having had the old order based just on the West.
   Further on today's program, Paul Krugman a very wise man, a Nobel Prize holder in Economics, was brought in to show  a quick take on the economy. He made it clear that there is an improvement but it is by far not enough.
It is more half empty then half full because by now it should have been better. But he stressed that despite the interference, Obamacare works better and ahead of expectations. Even premiums rise slower then before.
Yes, there are some losers, but this is a narrow group of young and healthy, but people that were supposed to be helped are helped.
On energy – yes – renewable costs are lower then expected.
Obama's grade? Over all B or B-, but on what he endured from the opposition A-. Yes, we can trust Obama to decide the correct moves – and on International and Foreign Policy the White House has freer hands then in Internal, National, policy. His presidency is the most consequential since Ronald Reagan – whatever we think of Reagan – but in Obama's case, he will leave behind  a legacy of the country having been involved in less disasters, but leaving behind more achievements – be those in health-care, environment, finances, energy, migration, etc. then any President of the last 40 years. But where does this leave him in relation to the Rest of the World?
###
As reported by Irith Jawetz from the Vienna Seminar., July 1, 2014.
Seminar: "Brazil's Nuclear Kaleidoscope: An Evolving Identity."
On Tuesday, July 1, 2014, The Vienna Center for Disarmament and Non-Proliferation (VCDNP)  hosted a seminar by Dr. Todzan Kassenova,  that had the above title. It was both – important and informative.
Dr. Kassenova is an Associate in the Nuclear Program at the Carnegie Endowment based in Washington DC.
She currently works on issues related to the role of emerging powers in the global nuclear order, weapons of mass destruction, non proliferation, nuclear security, and strategic trade management. She also serves on the UN Secretary General's Advisory Board on Disarmament matters.
Prior to joining the Carnegie Endowment, Dr. Kassenova worked as senior research associate at the  Center for International Trade and Security in Washington DC, as a postdoctoral fellow at the James Martin Center for Nonproliferation Studies, and as an Adjunct  faculty member at the Monterey Institute of International Studies.
Previously she was a journalist and professor in her native Kazakhstan.
Today's seminar focused on Dr. Kassenova's recently published a research paper on this topic – on  which she worked for two years – it focuses on focusing on Brazil's Nuclear program.
In order to do some justice to that very involved topic, we would just highlight a few points from that research study.
For the electronic copy of the report please visit CarnegieEndowment.org
An important point Dr. Kassenova stressed at the very beginning of her talk was that negative past experiences explain why Brazil seeks nuclear independence. Brazil tried first to obtain nuclear technology from abroad, i.e. France, Germany, the USA, prompting Brasilia to develop domestic capabilities.
Currently Brazil mines uranium, produces nuclear fuel, operates two nuclear power plants and is building a third.
The Brazilian navy is important in the nuclear field as well, it developed uranium conversion and enrichment technology, and since the 1970s has been working on a nuclear powered submarine.
The nuclear submarine program is essential in order to protect Brazil's coast and offshore natural resources, and to stave off potential enemies from the sea. Brazil wants to bolster its international standing with that program.
Rivalry with Argentina was initially a drive of Brazil's nuclear program. Today both countries work together in a bilateral nuclear safeguards regime to verify their nuclear activities are peaceful.
Brazil has not signed an IAEA Additional Protocol on nuclear safeguards  because it is reluctant to accept additional non proliferation obligations as long as nuclear weapon states do not achieve meaningful progress towards nuclear disarmament.

Brazil's nuclear policy, especially its advanced nuclear fuel cycle and its nuclear powered submarine project generate attention internationally, but little is known about the domestic drives behind that program. Dr. Kassenova based her study on numerous conversations over two years with Brazilian policy experts, academics, former and current officials, and representatives of the nuclear industry.
For more information, please log on to Dr. Kassenova's full report at: carnegieendowment.org/2014/03/12/brazil-s-nuclear-kaleidoscope-evolving-identity/h2rx.
###
Our week-end update is Bravo Colombia for eliminating Uruguay that advanced thanks to one of their players biting an Italian player before that game was over – then scored one more goal. We did not see any clear excuse on part of Uruguay for the misdeed – that is for the third time a repeating crazy activity on the part of that player.
Brazil failed by not taking clear stand on a crime committed on its territory and on its watch as hosts of these games.
FIFA failed miserably by eliminating only the culprit player and this only for the rest of this com petition. They did not even make the minimum effort of recommending psychiatric treatment for the player who was left rejoining a British or Spanish team that might think they can now bask in his increased fame. Only decent reaction we found from advertisers that used his fame as a player for their TV adds. Some already pulled of those advertisements hitting him in his pockets. But how long will this last?  FIFA must be restructured and the fact that there are allegations of bribery against their executive just increases the call for personnel change in that organization. Only clean sport should prevail. The present situation is not sustainable.
-==================================================
Luis Suarez Apologizes For Biting Rival At World Cup
Luis Suarez holds his teeth after biting Giorgio Chiellini's shoulder during last week's World Cup match between Italy and Uruguay in Brazil. FIFA has banned Suarez for nine games and four months over the incident.
Ricardo Mazalan/APUpdated at 2:14 p.m. E
Controversial Uruguayan striker Luis Suarez apologized Monday for in last week's World Cup soccer game between their two countries.
FIFA, soccer's governing body, for nine games and fined him 100,000 Swiss francs (about $112,000) for the act, and banned him from any soccer activity for four months. Uruguay, playing without their star player on Saturday, in the knockout stage of the World Cup being held in Brazil.
Chiellini himself said he thought the ban was "," and on Monday, responding to Suarez's tweet, he tweeted:  "I hope FIFA will reduce your suspension."
——————————–
THESE ARE REACTIONS IN THE WORLD OF THE BUSINESS OF FOOTBALL/SOCCER NOT IN THE WORLD OF ETHICS.
——————————
=================================
Uruguay defends Suarez as FIFA scrambles.
Yahoo Sports Videos
Why Luis Suarez should be banned from the remainder of the World Cup
?
?
World Soccer Spotlight
Why Luis Suarez should be banned from the remainder of the World Cup

Iran makes arrests for World Cup celebration video

Uruguayan media makes no mention of Suarez bite
RIO DE JANEIRO (AP) — As the world was judging Uruguay's Luis Suarez for biting a player in the World Cup, his teammates, coaches and fans in World Cup organizers scrambled Wednesday to quickly decide on a punishment before Uruguay plays Colombia Saturday in the round of 16.
"We have to resolve it either today or tomorrow," FIFA disciplinary panel member Martin Hong told reporters Wednesday.
"It's our duty to see justice done."
The disciplinary committee meeting was already underway on Wednesday evening, FIFA spokeswoman Delia Fischer said.
Wilmar Valdez, Uruguay football federation president, told the Associated Press shortly after midnight local time that the disciplinary hearing will continue Thursday morning.
"What we know is they (the disciplinary panel) met for a long time," he said. "We don't know if that's a good or a bad situation.'
"Luis is fine. He's been through 1001 battles," he told the online site Tenfield.com on Wednesday. "We all know who Luis is and that's why we have to defend him."
The bite – just before Uruguay scored the clinching goal to eliminate the four-time champion Italians -will now test FIFA president Sepp Blatter's often-stated commitment to "fair play, discipline, respect."
Blatter, who was in the crowd for the Uruguay-Italy match at Natal, has pledged a zero tolerance for the darker side of the game.
Many are questioning where that leaves a player like Suarez, who has a history of disciplinary problems including separate bans of seven and 10 matches for biting opponents in the Netherlands and England.
Valdez said Uruguay officials were sent a video of the incident by FIFA, and would respond with footage showing Suarez – a striker for Liverpool and last season's player of the year in England's Premier League – as a victim of Italian aggression.
"When he falls, several substitutes insult him on the ground and some members of Italy's staff even came out of the bench to try to hit him," Valdez said, suggesting FIFA could investigate Italy.
Uruguay also will cite Brazil star Neymar getting only a yellow card in a clash with a Croatia player, Valdez said.
Uruguay federation board member Alejandro Balbi, who is Suarez's lawyer, blamed European media reporting.
"This happened because there have been campaigns launched by the media in England and Italy," Balbi told Uruguayan radio Sport 890.
View gallery
Uruguay's Luis Suarez holds his teeth after running into Italy's Giorgio Chiellini's sho …
Suarez's teammate Diego Lugano agreed.
"The British media has a vendetta against Suarez, and everyone knows that," he said. "It's obvious the vendetta sells newspapers in England, otherwise you wouldn't be here. Uruguay and Italy played yesterday. On Saturday Uruguay plays Colombia, I don't know why there's a British journalist asking about Suarez."
Lugano said he had seen "much more violent plays" than the bite at the World Cup.
"It was a normal taunt in football, and the world press ends up talking about something totally trivial," he said.
FIFA's case against Suarez – announced early Wednesday – will be managed by a Swiss lawyer, Claudio Sulser, chairman of the FIFA disciplinary committee. A former international forward himself, Sulser has worked for four years at FIFA, first as head of its ethics court.
View gallery
10ThingstoSeeSports – Uruguay's Luis Suarez holds his teeth after running into Italy's Giorg …
Sulser can choose to judge the offense within the scale of typical red-card incidents: A three-match ban may then be appropriate, banishing Suarez at least until the World Cup final should Uruguay advance that far.
The maximum penalty would be a ban of 24 international matches.
FIFA can also choose to ban Suarez for up to two years. That would cover club and international games and would ruin a widely speculated transfer to Barcelona or Real Madrid.
Suarez and the Uruguay football federation had until 5 p.m. local time Wednesday (4 p.m. EDT/2000 GMT) to present a documented defense.
Completing the case ahead of Saturday's match could be complicated if Suarez appeals. That challenge could go direct to the Court of Arbitration for Sport in Switzerland for an urgent and binding ruling.
View gallery
Italy's Giorgio Chiellini displays his shoulder showing apparent teeth marks after colliding wit …
However, one option open to FIFA and Sulser to avoid that scenario is that a suspension of "fewer than three matches or of up to two months" cannot be appealed, according to FIFA rules.
Already, one of Suarez's sponsors said it was "reviewing our relationship with him."
"We will not tolerate unsporting behavior," 888poker said in a Twitter message.
Last month, the firm announced a global endorsement contract with Suarez, a poker enthusiast.
adidas, which also has Suarez as a client and is FIFA's longest standing World Cup sponsor, said it was monitoring the case.
Meanwhile, Suarez was criticized by a Uruguay football great Alcides Ghiggia, the last survivor of the team which defeated Brazil to win the 1950 World Cup.
Suarez "plays well but he has done things that are not normal for a player nor for a soccer game," Ghiggia told The AP. "I think FIFA can sanction him."
—
AP Sports Writer Rob Harris in Rio de Janeiro and Associated Press writer Leonardo Haberkorn in Montevideo, Uruguay, contributed to this report
###
PRESS RELEASE: Brazil Kicks Off Carbon Neutral Goal for FIFA World Cup.
(16 April 2014) – The globe's biggest sporting event – the FIFA World Cup –
is aiming to offset its greenhouse gas emissions this summer in a move that
should inspire more event organizers to undertake high-profile climate
action.
The Government of Brazil has announced an initiative encouraging holders of
carbon credits from the Clean Development Mechanism (CDM), called certified
emission reductions (CERs), to donate them to organizers to offset
emissions from construction and renovation of stadia, consumption of fossil
fuels from official and public transport, and other sources.
By some estimates, offsetting these sources of emissions – just during the days of the Soccer Championship games – would require above one million CERs or more, depending on what was covered in the calculation.
That would be equivalent to taking nearly 300,000 passenger cars off the road for a year.
"Brazil's call for carbon credits to offset emissions from the world's
largest mass spectator event is a welcome move and part of a global trend
by organizers to green big sporting events like football tournaments and
the Olympics," said Christiana Figueres, Executive Secretary of the UN
Framework Convention on Climate Change (UNFCCC) after being informed of the
news.
It has also been reported that FIFA is planning to offset the emissions of officials and fans by perhaps buying carbon offsets.
 "I wish Brazil and FIFA every success in their endeavors and look forward
to a rigorous assessment after the final whistle blows on what was actually
achieved in respect to climate neutrality. Big sporting events are
increasingly winning green medals for their environmental performance. In
doing so they can inspire the wider society towards climate action in
support of a better world," added Ms. Figueres.
All donated credits must originate from Brazilian CDM projects. Nearly 150
Brazilian CDM projects have issued more than 90 million CERs; an estimated
14 million of these could be available for donation. Each CER is equal to
one tonne of avoided carbon dioxide. The smallest accepted donation is
5,000 CERs and donors will receive an official certificate acknowledging
their contribution to offsetting the FIFA World Cup in Brazil.
Since being established as part of the Kyoto Protocol, the world's first
emissions reduction treaty, more than 7,600 CDM projects and programmes in
105 developing countries have been approved.
These range from projects that reduce emissions by replacing inefficient
wood stoves and ones improving energy efficiency to solar, wind and hydro
power projects. The CDM to date has generated more than 1.4 billion CERs
and has driven climate-focused investment worth $396 billion.
"When emission reductions come with other benefits, such as technology
transfer, sustainable energy, increased household prosperity, clean air,
education, or spur other types of sustainable development, then clearly
this is in the best interest of everyone, in developed and developing
countries," said Hugh Sealy, Chair of the Executive Board that oversees the
CDM. "The CDM delivers these kinds of benefits, so companies that use CDM
offsets are doing the right thing and have a great story to tell."
The Executive Board Chair made the remarks at the close of the Board's most
recent meeting, which gave the green light to an initiative intended to
increase CDM's use by environmentally aware emitters in the private and
public sector. The initiative will include a range of outreach activities
and communication efforts in the coming two years, including encouraging
events like the FIFA World Cup to offset emissions using the UN-certified
emission reductions.
"Measuring and reducing emissions is the responsibility of all companies
and significant emitters. Investors, customers and a fast-growing
proportion of the public expect it," said Dr. Sealy. "The use of offsets
offers a cost-effective way to approach climate neutrality by going outside
the company boundaries and investing in emission reductions elsewhere."
The value of CERs has in recent years gone down as demand has fallen, due
ultimately to countries' level of ambition to reduce greenhouse gas
emissions. A new universal climate agreement in Paris in 2015 could make
mechanisms like the CDM indispensable as a means to mobilize investment to
reduce emissions and spur development.
More information:
www.mma.gov.br/governanca-ambiental/copa-verde/nucleo-mudancas-climaticas/item/10076
News release from the Brazilian government:
www.mma.gov.br/informma/item/10081-mma-chama-empresas-interessadas-na-doa%C3%A7%C3%A3o-de-cr%C3%A9ditos-de-carbono-para-copa
About the CDM:
The CDM allows emission-reduction projects in developing countries to earn
certified emission reductions (CERs), each equivalent to one tonne of CO2.
CERs can be traded and sold, and used by industrialized countries to meet a
part of their emission reduction targets under the Kyoto Protocol. With
more than 7,600 registered projects and programmes in 105 developing
countries, the CDM has proven to be a powerful mechanism to deliver finance
for emission-reduction projects and contribute to sustainable development.
About the UNFCCC:
With 195 Parties, the United Nations Framework Convention on Climate Change
(UNFCCC) has near universal membership and is the parent treaty of the 1997
Kyoto Protocol. The Kyoto Protocol has been ratified by 192 of the UNFCCC
Parties. For the first commitment period of the Kyoto Protocol, 37 States,
consisting of highly industrialized countries and countries undergoing the
process of transition to a market economy, have legally binding emission
limitation and reduction commitments. In Doha in 2012, the Conference of
the Parties serving as the meeting of the Parties to the Kyoto Protocol
adopted an amendment to the Kyoto Protocol, which establishes the second
commitment period under the Protocol. The ultimate objective of both
treaties is to stabilize greenhouse gas concentrations in the atmosphere at
a level that will prevent dangerous human interference with the climate
system.
###
Professor Timmons Roberts and I would like to share with you our new policy paper published by Brookings Institution on Chinese-Latin American relations in a carbon constrained world.
The paper can be downloaded here:
www.brookings.edu/
research/papers/2014/03/
carbon-partnership-china-
latin-america-edwards-roberts
Best wishes,
Guy Edwards
Below we include the executive summary: 
China's rapidly increasing investment, trade and loans in Latin America may be entrenching high-carbon development pathways in the region, a trend scarcely mentioned in policy circles. High-carbon activities include the extraction of fossil fuels and other natural resources, expansion of large-scale agriculture and the energy-intensive stages of processing natural resources into intermediate goods. 
This paper addresses three examples, including Chinese investments in Venezuela's oil sector and a Costa Rican oil refinery, and Chinese investment in and purchases of Brazilian soybeans. We pose the question of whether there is a tie between China's role in opening up vast resources in Latin America and the way those nations make national climate policy and how they behave at the United Nations Framework Convention on Climate Change (UNFCCC) negotiations. 
China and Latin America have a critical role to play to ensure progress is made before the 2015 deadline, since they together account for approximately 40 percent of total global greenhouse gas emissions. Several Latin American nations are world leaders in having reached high levels of human development while emitting very low levels of greenhouse gases. Several have publicly committed to ambitious greenhouse gas emission reduction goals. Staying on or moving to low-carbon pathways is critical for these countries, but substantial Chinese investments in natural resources and commodities—when combined with those of other nations and firms—run the risk of taking the region in an unsustainable direction.
Chinese investments and imports of Latin American commodities may be strengthening the relative power of political and commercial domestic constituencies and of "dirty" ministries (e.g. ministries of mining, agriculture or energy) vis-à-vis environmental and climate change ministries and departments. These "cleaner" ministries are traditionally weak and marginalized actors in the region. China may thus be inadvertently undermining Latin American countries' attempts to promote climate change policies by reinforcing and strengthening actors within those countries and governments that do not prioritize climate change and who have often seen environmental efforts as an impediment to economic growth.
China has stated that it is interested in cooperating with Latin America on combating climate change, but official bilateral or multilateral exchanges on the issue outside of the UNFCCC negotiations have been limited. Both China and Latin America could benefit substantially by refocusing on opportunities for low-carbon growth such as renewable energy. China's growing influence in global renewable energy markets presents excellent opportunities to invest in clean energy in Latin America.
China and Latin American countries could launch a climate change initiative through the newly created China-CELAC (Community of Latin American and Caribbean States) Forum, focused on financing the reduction of greenhouse gas emissions from agriculture, forestry, energy and transport, as well as sharing technology and strategies for adapting to climate impacts. Chinese-Latin American relations should also mainstream environmental protection and low-carbon sustainable growth into their partnership, to avoid pushing countries in the region towards high-carbon pathways.
–
Research FellowCenter for Environmental Studies
Co-Director of the Climate and Development Lab
###
The Dirty Secret About Quinoa – And Its Real Cost.
Posted on January 18, 2013 by Arwa Aburawa in Health and The Green Prophet.
This healthy superfood filling up kitchen cupboards of ethical and vegetarian eaters comes at a high price for those in Peru and Bolivia 
If you're a vegan or vegetarian or someone who is just trying to eat a little more consciously, you know that shopping can be something of a nightmare. Taking into consideration food miles, sustainability, water footprints, animal-friendly production as well as making sure the food is organic and healthy is a minefield. So when something as tasty and low fat (I remember 'superfood' was being bandied about) as quinoa comes along it's something of a blessing. The fact it is high in protein is also perfect for those cutting out meat. However, new research has shown that affluent westerner's love for quinoa is pushing up prices and denying Peruvians and Bolivians the crop which was once was a staple of the poor.
Since 2006, the price of quinoa has tripled and in Lima, Peru, the once unheard of grain now costs more than chicken. Overseas demand for the grain continues to grow which is all putting pressure on land in Peru and Bolivia that once produced a diverse range of crops to simply harvest quinoa. Writing in the Guardian, investigative journalist Joanna Blythman states: "the quinoa trade is yet another troubling example of a damaging north-south exchange, with well-intentioned health and ethics-led consumers here unwittingly driving poverty there. It's beginning to look like a cautionary tale of how a focus on exporting premium foods can damage the producer country's food security. "
Another example that Blythman highlights is that Peruvian asparagus which is grown in the arid Ica region has depleted water resources on which the locals depend. She also adds that soya production is now one of the two main causes of deforestation in South America along with cattle ranching. It is worth pointing out however that according to a UN report in 2006, 97% of soya production was used for animal feed and not to fill vegetarian's fridges. Even so, the food insecurity caused by the rising popularity of Quinoa is troubling and highlights the need for a more localised approach to food production and consumption. Especially when we are importing from countries with high poverty rates.
: Guardian
- See more at: www.greenprophet.com/2013/01/the-dirty-secret-about-quinoa/#sthash.HLoENVOp.dpuf
###
FROM COHA – The Washington DC based Council on Hemispheric Affairs.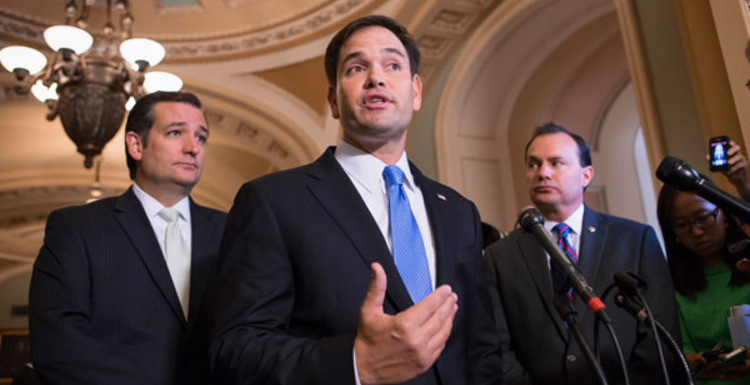 Photo Source: AP.
NOW IT IS THE TIME FOR A WASHINGTON—CARACAS DIALOG, NOT SANCTIONS.
By: Larry Birns, Director of the Council on Hemispheric Affairs; Frederick B. Mills, Senior Research Fellow at the Council on Hemispheric Affairs and Professor of Philosophy at Bowie State University.
At a time when Washington ought to seize upon overtures from Caracas for the re-establishment of full diplomatic relations and direct talks, the champions of the antiquated embargo against Cuba in the Senate are calling for sanctions against Venezuela. Such an approach to diplomacy with Venezuela would be detrimental to the development of a more constructive and mutually respectful US policy towards the region. Now is the time for a Washington—Caracas dialog, not sanctions.
Democratic Senator Bob Menéndez and Republican Senator Marco Rubio have introduced a proposed resolution in the Senate that would call on the Obama administration to study sanctions against Venezuela. The sanctions would be aimed at punishing "the violent repression suffered by pacific protesters" by targeting individual Venezuelan government officials. Of course, any state actors responsible for the repression of pacific demonstrations ought to be held accountable not only in Venezuela, but anywhere in the world. Indeed, the Venezuelan government is already taking steps to address this. The problem with the resolution is that it reflects a very myopic view of political violence in that nation. It also reflects an unproductive approach to diplomacy towards Venezuela as well as the region.
Not all demonstrations have been pacific. A significant amount of the violent demonstrations are ostensively anti- government.  The "exit" strategy being sought after by the ultra-right in Venezuela has generated violent anti-government demonstrations that have called for regime change through extra constitutional means. In other words, through a coup or by creating the escalating violence on the ground that might provoke a coup or an international intervention.
No doubt opposition demonstrators are not a homogeneous group and many prescribe to non-violent means of protesting. Yet it is indisputable that elements of anti-government protests, using the slogans of "exit," have deployed incendiary bombs, rocks, guns, barricades, wire, and other instruments of violence against government and public property as well as people, resulting in injuries and death. But those who have resorted to violence are most often portrayed in the press as responding to repression, as if the government has no legitimate recourse in response to violent attacks on persons and property. To be sure, violence is generally condemned by the State Department, but accountability is selectively applied predominantly to government actors.
The Council on Hemispheric Affairs has been calling for a change of course in US policy towards Venezuela and the rest of the region based on mutual respect and dialog, not imperial intervention and subordination.
It was Caracas that instigated the tit for tat after the expulsion of consular officials, and COHA called the expulsion of US consular officials into question at the time. But now President Maduro has proposed a new ambassador to the US and direct talks with the Obama administration. The State Department has also, on occasion, expressed an openness to rapprochement, so now is the time to seize the moment, not wait to see which way the political winds will blow in Venezuela.
There is obviously a great ideological divide between nations that prescribe to some version of neoliberalism and those engaging in various experiments in 21st century socialism. Yet such differences need not translate into either hard or soft wars. At the January CELAC meeting in Cuba, the member states, despite their political differences, figured out a way to declare all of Latin America a region of peace and mutual respect. Meanwhile, there is a national peace conference underway in Caracas, called by the government, that commenced two days ago and includes an increasingly broad spectrum of opinion in the opposition, and seeks to overcome the boycott of the MUD.  This will take a pull back against war and for political competition through the ballot box.
Surely, in this context, there is room for Washington-Caracas diplomacy. Rather than impose sanctions on Venezuela, Washington ought to accept the proposed Venezuelan ambassador and enter into a dialog with Caracas based on mutual respect and the common goal of regional peace and human development.
Please accept this article as a free contribution from COHA, but if re-posting, please afford authorial and institutional attribution.
###
Bolivia VP Slams IMF, Talks Up G77.
By Matthew Russell Lee, Inner City Press.

UNITED NATIONS, February 25 — When Bolivia's Vice President Alvaro Garcia Linera spoke to the media on February 25, he was setting the stage for the Group of 77 and China summit set for Santa Cruz in June.

  Inner City Press asked him if at the Summit G77 will adopt a position on what should be in the Sustainable Development Goals, and for his response to comments about Bolivia by the International Monetary Fund which Inner City Press reported back on February 10.

  He replied that Bolivia doesn't much care what the IMF says, that if they criticize the country for being too pro-poor, that's a matter of pride, they are going to do more of it. [Tweeted photo here; higher resolution photos by Free UN Coalition for Access member Luiz Rampelotto, to follow.]

  Back on February 10, the IMF had just released its Article IV review of Bolivia, in which it criticized the country's new Financial Services Law, specifically that
"the law's general thrust is to subordinate financial sector activities to social objectives with instruments that could create risks to financial stability. Main features of the law include: (i) provisions to regulate lending rates and set minimum lending quotas for the productive sector and social housing; (ii) discretion to set floors on deposit rates; and (iii) mechanisms to enhance consumer protection and financial access in rural areas."
  On February 10, Inner City Press asked the IMF's Mission Chief for Bolivia Ana Corbacho to explain this criticism, and more generally to reconcile Bolivia's and President Evo Morales' public critique of the IMF with this visit.

  In response to a question from Inner City Press at UN headquarters in January, Morales recounted how the IMF dominated Bolivia in the past, but now decision making had passed from the "Chicago to the Bolivia boys."

  The IMF Article IV staff report says they met with "Minister of Economy and Public Finances Arce, Central Bank President Zabalaga, Minister of Planning Caro, other senior public officials, and representatives of the private sector. Mr. Tamez and Ms. Kroytor (LEG) provided inputs on the new Financial Services Law at headquarters."

  The IMF staff report also says that "the instruments chosen (interest rate caps and minimum credit quotas) could reduce the profitability and lending funds of financial institutions, over-leverage target beneficiaries, and complicate the conduct of monetary policy."

   Ms. Corbacho of the IMF, on the February 10 embargoed press conference call, largely in Spanish, on which only three media asked questions, replied that Bolivia for example capping interest rates might impact financial institution's profitability and thus "financial stability."
   She said the government responded that financial inclusion has not progressed fast enough and so they are taking these steps. She the Article IV discussion, which are held with each IMF member, were "very open and frank" with Bolivia, and thus positive.
  To Inner City Press, the IMF's willingness to criticize consumer protection in Bolivia stands in contrast to the IMF's deference to the US on the how to manage and communicate the Federal Reserve's tapering, the debt ceiling — anything, essentially.
  On February 25, Bolivia's Vice President Alvaro Garcia Linera, with his UN Permanent Representative Sacha Llorenti translating, described this is a key time for sustainable development, and that the G77 and China will play a key role, since it has 133 members (2/3 of the UN membership) and represents 70% of the world's population.

  Given that, it was noteworthy that the pro-Western "United Nations Correspondents Association" did not send a single one of their 15 Executive Committee members to the briefing by Bolivia's vice president about the Group of 77 and China. Tellingly, UNCA last July used the big third floor room the UN gives them to host Saudi-supported Syria rebel leader Ahmad al Jarba for a faux "UN briefing."

  In the same room, also tellingly, the outgoing UN spokesperson Martin Nesirky will hold his farewell on March 7. His deputy Eduardo del Buey held his farewell, more appropriately, in the UN Spokesperson's office. But this UN is going more and more Gulf and Western, with its spokesperson's job now passing to France.

 We'll have more on this — for now, we will link to Bolivia's Vice President's comments on G77, and on the IMF.
——————————-
SustainabiliTank actually expected the Bolivian VP to touch also upon the meetings of the SIDS, but seemingly there wee no questions to him on this topic.
###
from:

 

english@other-news.info

date:

 Mon, Feb 17, 2014
Syrian rebels or international terrorists?
Vijay Prashad* – The Hindu
*Vijay Prashad is the Edward Said Chair at the American University of Beirut, Beirut, Lebanon.
With Bashar Assad arguing that this is a war against terrorism, and the rebels arguing that this is a war against authoritarianism, no agreement can come of the peace talks on Syria.
Geneva 2's mood mirrored the sound of mortar and despair on the ground in Syria. Not much of substance came of the former, as the U.N.-Arab League envoy Lakhdar Brahimi tiredly indicated that diplomacy continued despite the lack of a breakthrough. He hoped that the United States and the Russians would pressure their clients to remain at the table, from where, for three weeks, little of value has emerged. No agreement can come of these peace talks for at least two reasons. First, the government of Bashar Assad and the rebel coalition do not agree on the interpretation of the conflict. Mr. Assad argues that this is a war against terrorism (Al-Qaeda), while the rebels argue that this is a war against authoritarianism (the Assad government). Second, the rebels themselves are deeply fractured, with the Islamists in Syria who are doing the brunt of the fighting indisposed to any peace talks.
Mr. Brahimi hoped that humanitarian relief would be the glue to hold the two sides together. Residents in the old city of Homs and in the Palestinian neighbourhood of Yarmouk in Damascus have been under siege for two years. It was hoped that safe passage could be provided for food and medicine, but this was not accomplished. U.N. and Islamic Red Cross workers bravely avoided snipers and shells to transport food and medicines to the Syrians; children among them stared at fresh fruit, unsure of what to do with it. Absent momentum from Geneva, the options for a regional solution are back on the table.
In 2012, Egypt convened the Syria Contact Group that comprised Iran, Saudi Arabia and Turkey — unlikely partners. Pressure from the U.S. and Russia at that time closed down the Group. Today, the regional partners seek an exit from their exaggerated postures over Syria, but there is no diplomatic space for them to act. It falls to powers that are untainted by the war, perhaps China and India, to call for a meeting — a Beijing or New Delhi summit — to craft a serious agenda to pressure all sides to a ceasefire and a credible political process.
The war is now fought less on the ground and more over its interpretation. Expectations of a hasty collapse of the government withdraw as the Syrian Army takes Jarajir, along the Lebanon border. Islamists groups continue to fight against each other in the north, weakening their firepower as the Syrian army watches from the sidelines. The emboldened Syrian government has now stepped up its rhetoric about this war being essentially one against terrorists with affiliation to al-Qaeda. Ears that once rejected this narrative in the West and Turkey are now increasingly sympathetic to it. As the Islamists suffocate the rebellion, it becomes hard to champion them against the government. Focus has moved away from the prisons and barrel bombs of the government to the executions and social policies of the Islamists.
A year ago, the West and Turkey would have scoffed at talk of terrorism as the fantasy of the Assad government. The West and the Gulf Arabs had opened their coffers to the rebels, knowing full well that they were incubating the growth of the Islamist factions at the expense of the secular opposition. Turkey's government of Recep Tayyip Erdog?an micromanaged the opposition, provided bases in Turkey and allowed well-armed fighters to slip across the border into Syria. By early 2012, it had become a common sight to see well-armed Islamist fighters in the streets of Antakya and in the refugee camps in Hatay Province. The seeds of what was to come — the entry of al-Qaeda into Syria — was set by an opportunistic and poorly conceived policy by Erdog?an's government. It did not help that his otherwise well-spoken and highly-regarded Foreign Minister Ahmet Davutog?lu began to refer to Syria's Alawites (Mr. Assad's community) as Nusayri, a derogatory sectarian term. Turkey joined U.S., Europe and Gulf Arab calls for Mr. Assad's departure well before the numbers of those dead climbed above the thousands. Nervousness about the spread of al-Qaeda to Syria has made the rebels' patrons edge closer to the Damascus narrative.
The U.S. government wishes to arm the Iraqi government with Hellfire missiles and drones to combat the Islamic State of Iraq and al-Sham (ISIS) in Iraq's Anbar Province. Britain has said that any fighter who comes back from Syria will be arrested (last week, a Sussex man — Abu Suleiman al-Britani — conducted a suicide operation in Aleppo). The Saudi Royal Court decreed that any Saudi found to have waged jihad abroad could spend up to 20 years in prison.
General Mansour al-Turki of the Saudi Interior Ministry said: "We are trying to stop everyone who wants to go to Syria, but we can't stop leaks." The Turkish Armed Forces fired on an ISIS convoy on January 28 inside Syria, and told the government in a report prepared jointly with the Turkish National Intelligence agency that al-Qaeda had made credible threats on Turkey.
Mr. Erdog?an hastened to Tehran to meet the new Iranian leadership — their public comments were on trade, but their private meetings were all on Syria and the need to combat the rise of terrorism. What Mr. Assad had warned about in 2012 came to pass — for whatever reason — and led to a loss of confidence among the rebels' patrons for their future. Even al-Qaeda's putative leader, Ayman al-Zawahiri, has sought to distance himself from ISIS. These signs indicate that on Syria, the "terrorism narrative" has come to dominate over the "authoritarian regime narrative."
The fractious Syrian opposition that came to Geneva does not represent the main columns of rebel fighters on the ground. These are mainly Islamists — with the al-Qaeda wing represented by ISIS and Jabhat al-Nusra, and the rest represented by the Islamic Front. They have no appetite for negotiation. Mr. Abu Omar of the Islamic Front said that Syria's future would be created "here on the ground of heroism, and signed with blood on the frontlines, not in hollow conferences attended by those who don't even represent themselves." A U.S. intelligence official told me that when the U.S. went into Afghanistan in 2001, "We smashed the mercury and watched it spread out slowly in the area." Al-Qaeda was not demolished in Kandahar and Tora Bora. Its hardened cadre slipped across to Pakistan and then onwards to their homelands. There they regrouped, reviving the Libyan Islamic Fighting Group, al-Qaeda in Yemen, Ansar al-Sharia, Ansar Dine, and ISIS. The latter slipped into Syria from an Iraq broken by the U.S. occupation and the sectarian governance of the current government. There they worked with Jabhat al-Nusra and fought alongside other Islamist currents such as Ahrar ash-Sham. It was inevitable that these battle-tested Islamists would overrun the peaceful protesters and the defectors from the Syrian Army — the Free Syrian Army (FSA) — who scattered to the wind in 2012.
The FSA troops either joined up with the Islamists, continued to fight in small detachments, or linger precariously as twice defectors who are now homeless. The barbarism of the ISIS pushed other Islamists — with Gulf Arab support — to form the Islamic Front. The hope was that this group would run ISIS back to Iraq and remove the stigma of "al-Qaeda" from the Syrian rebellion. The problem is that one of the constituents of the Islamic Front — Jabhat al-Nusra, arguably the most effective of its fighting forces — sees itself as the Syrian franchise of al-Qaeda and has largely abjured the fight against ISIS. Another problem is that the in-fighting on the ground seems to have tapered off — one of the Islamist groups, Suqour al-Sham signed a truce with ISIS and pledged to work together.
By early 2014, these groups found their supply lines cut off.  Iraq's attack on ISIS began to seal the porous border that runs through the Great Syrian Desert.  Jordan had already tried to close its border since early 2013, having arrested over a hundred fighters who have tried to cross into Syria.  Lebanon's border has become almost inaccessible for the rebels as the Syrian Army takes the roadway that runs along the boundary line.  Last year, Turkey closed the Azaz crossing once it was taken over by the radical Islamists.
On January 20, the rebels attacked the Turkish post at Cilvegözü-Bab al-Hawa, killing 16.  This is what spurred the Turkish Army to attack the ISIS convoy a week later.
As the Islamists saw their supply lines closed off, the U.S. announced that it would restart its aid to the rebel fighters.  On February 5, the Syrian Coalition chief Ahmad Jabra told Future TV that his rebels would get "advanced weapons" — likely from the U.S.  The FSA announced the formation of the Southern Front – with assistance from the West — to revive the dormant fight in Syria's south-west.  All this took place during Geneva 2, signalling confusion in U.S. policy.
       Does Washington still want to overthrow the Syrian government?  Would it live with an Islamist government on Israel's borders?  Or, perhaps, the U.S. is eager for a stalemate, as pointed out by former CIA analyst Bruce Riedel, "The rebels lack the organization and weapons to defeat Assad.  The regime lacks the loyal manpower to suppress the rebellion.  Both sides' external allies are ready to supply enough money and arms to fuel the stalemate for the foreseeable future."  This is a cruel strategy.
It offers no hope of peace for the Syrian people.
Road ahead for Syria group:
A senior military official in West Asia told me that one of the most overlooked aspects of West Asia and North Africa is that the military leaderships of each country maintain close contacts with each other. During Turkey's war against the Kurdish rebellion in its eastern provinces, the military coordinated their operations with the Syrian armed forces. These links have been maintained. When it became clear that Mr. Erdog?an's exaggerated hopes for Syria failed, and with the growth of the Islamists on Turkey's borders and the Kurds in Syria having declared their independence, the Turkish military exerted its views. The Iraqi armed forces had already begun their operations against ISIS. Additionally, Egypt's new Field Marshal Sisi overthrew the government of Mohamed Morsi when the latter encouraged jihadis to go to Syria. This was anathema to the Egyptian military who acted for this and other reasons to depose Mr. Morsi. The military view of the political situation leans naturally toward the terrorism narrative.
It appears now that the regional states are no longer agreed that their primary mission is the removal of Mr. Assad.
This view — shared by the militaries — is evident in the political leadership in Iran, Iraq, and Turkey.With Egypt, these three states would be the core of a rejuvenated Syria Contact Group.
The 2012 group also had Saudi Arabia, which might be enjoined to come back to the table if they see that their outside allies — notably the U.S. — are averse to a policy that would mean Jabhat al-Nusra in power in Damascus.
Without Saudi Arabia, and perhaps even Qatar, the Syria Contact Group would be less effective.
If the Syria Contact Group is to re-emerge, it would need to be incubated by pressure from China and India, two countries that are sympathetic to multipolar regionalism.
Thus far, neither China nor India has taken an active role in the Syrian conflict, content to work within the United Nations and to make statements as part of the BRICS group.
But the failure of the U.S. and Russia and the paralysis of the U.N. alongside the continued brutality in Syria require an alternative path to be opened up.
Egypt, Iran, Iraq, Jordan, Saudi Arabia and Turkey have indicated willingness for a dialogue — China and India need to offer them the table.
###
Goa Carnival expects to attract more than 250,000 visitors this year.
GOA was a Potuguese Colony that was ceded to India. The people are mainly christian and still carry Portuguese culture.
Published on : Friday, February 14, 2014
           West India Goa's state annual Goa Carnival is expected to attract more than 250,000 visitors this year, Press Trsut of India (PTI) reported.
The non-stop festival will be held from March 1 to 5 in the main cities of the coastal state beginning with a float parade in state capital Panaji.
"Tourists are expected to arrive in droves to witness colourful parades scheduled in various cities," said State Tourism Department director Nikhil Desai.
          "Occupancy in several hotels across the state is high. People have booked their tickets to participate in the festival," Nikhil said.
           A float parade organised by the Tourism Department will be led by     King Momo, a ceremonial figure who proclaims the decree of eating, drinking and merry making during the carnival.
          The Goa Carnival is celebrated throughout Goa and ends days before the season of Lent that precedes Easter.
======================
THE MOST BRAZILIAN OF ALL SPANISH CARNIVALS.
The Greatest event is THE FUNERAL OF THE SARDINE OF TENERIFE.
Actually – the climax comes on Carnival Tuesday with "el Coso", a spectacular parade which will amaze everyone who sees it. The next day the Burial of the Sardine marks the end of the festivities: the spirit of Carnival, symbolised by the sardine, is carried through the streets on a funeral bier, and is then set on fire and consumed by the flames to the despair of the entourage of inconsolable and "grief-stricken" widows, widowers and mourners. The final ending, however, is really the celebration of the "Piñata Chica" at the weekend, with shows, dances and parades. If you are planning to come to the Santa Cruz de Tenerife Carnival you should make your arrangements well in advance. This already popular destination, with its year-round attraction of sun and beautiful beaches, is in even greater demand at this time.
Practical information:
Date:   From Feb 28, 2014 to Mar 9, 2014

Place:  Santa Cruz de Tenerife (Tenerife. Canary Islands)
CARNIVAL in SANTA CRUZ  and PUERTO DE LA CRUZ
YEAR
  DATES
PARADE Santa Cruz
FUNERAL of the Sardine
PARADE Puerto de la Cruz

2012

12/02-26/02

21/02

22/02

25/02

2013
03/02-17/02
12/02
13/02
16/02
2014
23/02-09/03
04/03
05/03
08/03
2015
08/02-22/02
17/02
18/02
21/02
2016
31/01-14/02
09/02
10/02
13/02
###
Tips to find a comfortable bed in Brazil during the World Cup 2014
Published Tuesday, February 11, 2014 by Travel and Tour World.

Football fans have another reason to be anxious about their coming to Brazil, since accommodation prices have indeed soared.
But there are still ways to find a comfortable and reliable bed, especially if you count on the knowledge and experience of major local tour operators, such as Passion Brazil. Follow some tips that the director Mariana Rosa gave on planning your trip to find an easier road for a great stay in Brazil!
12 host cities in Brazil are selected to host qualifying rounds for 32 teams from different countries, which will vie for that coveted spot in the finals, held in the worldwide famous Maracanã. Due to the large distances, make sure to guarantee internal flights and accommodation first, and then move on to tours and restaurants issues.
Let go of the near-to-the-beach convenience and consider hotels in alternative neighborhoods, such as Flamengo or Santa Teresa in Rio de Janeiro. Alternative housing such as apartment rentals and guesthouses are an option as well, but be careful with who you book from. Passion Brazil has negotiated some beautiful reliable options, ranging from 1 to 5 bedrooms.
Also consider close by cities that can be reached within a couple of hours by car, such as Búzios or Niterói for games in Rio de Janeiro. Other options are: Praia do Forte for games held in Salvador and Ouro Preto for Belo Horizonte games.
It is easier to get available and still affordable rooms in those neighbor cities. Besides, those cities are beautiful tourist spots, worth the visit.
But if you do want to get the most of the experience, a nice hotel in Copacabana or Ipanema are still the best choices. In the trickiest of all cities, Rio de Janeiro, Passion Brazil has confirmed rooms in two of the nicest 4* hotels in Rio, Ipanema Plaza and Best Western Plus Sol Ipanema. Ipanema Plaza is a really nice hotel, displaying a rooftop with beautiful view and swimming pool. Sol Ipanema has a superb beachfront location, close to many bars and restaurants. Bright contemporary décor, nice service and rooftop pool.
Brazil is one of the most passionate country for football in the world and Brazilians are looking forward to hosting this amazing show. Their happiness and joyful attitude are sure to brighten the party. At the end, the experience is sure to make up for all the hassle the previous planning requires.
###
At this time, when the World watches how the President of Brazil shows full indignation in the news for the fact that her private phone was hacked by US pseudo-Security  services for BUSINESS reasons – and the same was done to the phone of the German President, but she does not complain about it in public, here comes an important German paper and provides us the explanation about this difference.
What Die Welt writes amounts to an ode to the United States for having given Germany its present Democracy.
It even goes so far as saying that Elvis Presley was the real German Revolutionary.
We are sure that Germany does, like Brazil, work hard at building a Cyber-wall with technology intended to keep out foreign snoopers including the US – but the Germans just do not talk about it out of respect for a very shady past and the reality that the US helped them free themselves of themselves.
In the case of Brazil there are no thanks to any favorable past as every Brazilians will tell you that it was the US Intelligence services that held them down for many years, and it was the United States that backed the Brazilian home grown dictators and helped depose any signs of democratization.
Brazil is sort of in the position of Iran – only that they are much nicer about it – but nevertheless have no reason to hold back their indignation at discovering that it was snooping related to their oil industry – the Petrobras company – that propelled the US activity – not any different to what the US did in its relations to Iran – albeit explanations mentioning Cold War reasons just do not hold the water in either case.
We post here the German original article that provides the background for the German side of this difference in attitude.
Papst Franziskus hat in seinem Apostolischen Schreiben ein Programm seines Pontifikats entfaltet, in dem er für Freude und Begeisterung für das Evangelium Jesu Christi wirbt. Vor allem seine Kritik an den Auswüchsen eines schrankenlosen Marktes hat in Deutschland Aufsehen erregt und eine Debatte über eine dem Menschen dienliche Wirtschaftsordnung ausgelöst. Das vorliegende Papier der Konrad Adenauer Stiftung gibt zunächst den Inhalt des Schreibens in groben Zügen wieder, um danach die drei wichtigsten Fragen – Kapitalismuskritik, Kulturkritik und Kirchenkritik – im Spiegel der deutschen Presse zu erörtern. Mehr dazu unter

Konrad Adenauer Stiftung

.Seit dem NSA-Skandal droht uns Amerika fremd zu werden. Dabei vergessen wir, was wir Europäer den Vereinigten Staaten verdanken. Weil wir im Geiste alle Amerikaner sind, haben wir es besser. Mehr dazu unter

Die Welt

.Der Philosoph John Stuart Mill meinte, der Kapitalismus kann glücklich machen. Damit das funktioniert, forderte er Bildung, Gleichberechtigung und Erbschaftssteuern. Mehr dazu unter FAZ.net.

Politische Akademie der ÖVP
Tivoliga­ss­e 7­3
11­20 WienTelefon: +4­3-1-8­14­20
E-Mail:

akademie@PolAk.at
Meinung 15.01.14 – OPINION IN DIE WELT – re-posted by the Political Academy of the Austrian People's Party – OEVP.

USA-Bashing
Deutschlands Freiheit kommt aus Amerika
Seit dem NSA-Skandal droht uns Amerika fremd zu werden. Dabei vergessen wir, was wir Deutsche den Vereinigten Staaten verdanken. Weil wir im Geiste alle Amerikaner sind, haben wir es besser. Von Richard Herzinger
###
Obama promises not to spy on EU leaders
18.01.14  – THE EUobserver – by Andrew Rettman
BRUSSELS – US President Barack Obama has said he will not spy on EU leaders or conduct economic espionage, but will continue snooping on ordinary US and EU citizens.
He made the pledge in a TV speech on Friday (17 January) in reaction to the Edward Snowden leaks.
"I've made clear to the intelligence community that unless there is a compelling national security purpose, we will not monitor the communications of heads of state and government of our close friends and allies," he said.
"We do not collect intelligence to provide a competitive advantage to US companies or US commercial sectors," he added.
He justified the mass-scale collection of information on ordinary US or foreign nationals' telephone calls, however.
"Why is this necessary? The programme grew out of a desire to address a gap identified after 9/11 … [It] was designed to map the communications of terrorists so we can see who they may be in contact with as quickly as possible," he noted.
He promised to create a data privacy tsar to implement new safeguards.
The measures, enshrined in an executive order, centre round the future storage of intercepted phone data by an independent agency, which can only be accessed "after a judicial finding or in the case of a true emergency."
Obama also ordered one of his spy chiefs, James Clapper, to draft better protection for US citizens whose internet data is caught in the NSA's overseas operations.
He did not give non-US citizens any right of redress in US courts, however.
He also made no reference to the NSA's most controversial exploits.
He said nothing on its introduction of bugs into commercial encryption software, on burglarising undersea cables, on hacking internet and phone companies, or bugging EU officials.
He also defended America's right to spy in general.
He said: "The whole point of intelligence is to obtain information that is not publicly available."
Counter-terrorism aside, he added: "Our intelligence agencies will continue to gather information about the intentions of governments … around the world in the same way that the intelligence services of every other nation does. We will not apologise simply because our services may be more effective."
He noted that some foreign leaders "feigned surprise" on the Snowden leaks, while others "privately acknowledge" they need the NSA to protect their own countries.
He also claimed the US handling of the Snowden affair shows its respect for democratic values.
"No one expects China to have an open debate about their surveillance programmes or Russia to take privacy concerns of citizens in other places into account," the US President noted.
For its part, the European Commission welcomed Obama's words in a communique published shortly after he finished speaking.
"President Obama's remarks and action show that the legitimate concerns expressed by the EU have been listened to by our US partner," it said.
It promised to push for more, however.
It said it will seek "an improvement of the Safe Harbour scheme," an EU-US pact on data handling by US firms.
It will also seek "the swift conclusion of an umbrella agreement on data protection in the area of law enforcement that will guarantee enforceable rights for EU citizens, including judicial redress."
The European Parliament, which held an inquiry into the NSA affair, was more sceptical.
British centre-left deputy Claude Moraes, its NSA rapporteur, said Obama's reaction is "substantial" but "weighted towards … a concerned US audience."
He added that "lack of clarity" on the new safeguards mean "his comments may not have been enough to restore confidence."
German Green MEP Jan Philipp Albrecht, who also took part in the NSA inquiry, was more critical.
He told EUobserver: "My impression is he [Obama] is making a change in rhetorical terms, not in substance."
Albrecht said almost all NSA programmes, including Prism, which intercepts data held by internet firms like Google and Microsoft, "will be the same as before, there are no changes."
He also said people should pay attention to the small print in Obama's language.
He noted that the ban on spying on friendly "heads of state and government" leaves the US free to spy on lower-rank officials, such as foreign ministers.
He also noted that Obama included numerous "security carve-outs."
For instance, the NSA can still bug German Chancellor Angela Merkel's phone if "there is a compelling national security purpose."
"European leaders will have to decide if they want to follow him, and lose the trust of their citizens in their ability to safeguard their basic rights," Albrecht said.
###
Obama's NSA 'Reforms' Inadequate, Cosmetic Gestures
18 January 14
Obama is draping the banner of change over the NSA status quo. Bulk surveillance that caused such outrage will remain in place
n response to political scandal and public outrage, official Washington repeatedly uses the same well-worn tactic. It is the one that has been hauled out over decades in response to many of America's most significant political scandals. Predictably, it is the same one that shaped President Obama's much-heralded Friday speech to announce his proposals for "reforming" the National Security Agency in the wake of seven months of intense worldwide controversy.
The crux of this tactic is that US political leaders pretend to vail 18 January 14 and even channel public anger by acknowledging that there are "serious questions that have been raised". They vow changes to fix the system and ensure these problems never happen again. And they then set out, with their actions, to do exactly the opposite: to make the system prettier and more politically palatable with empty, cosmetic "reforms" so as to placate public anger while leaving the system fundamentally unchanged, even more immune than before to serious challenge.
This scam has been so frequently used that it is now easily recognizable. In the mid-1970s, the Senate uncovered surveillance abuses that had been ongoing for decades, generating widespread public fury. In response, the US Congress enacted a new law (Fisa) which featured two primary "safeguards": a requirement of judicial review for any domestic surveillance, and newly created committees to ensure legal compliance by the intelligence community.
But the new court was designed to ensure that all of the government's requests were approved: it met in secret, only the government's lawyers could attend, it was staffed with the most pro-government judges, and it was even housed in the executive branch. As planned, the court over the next 30 years virtually never said no to the government.
Identically, the most devoted and slavish loyalists of the National Security State were repeatedly installed as the committee's heads, currently in the form of NSA cheerleaders Democrat Dianne Feinstein in the Senate and Republican Mike Rogers in the House. As the New Yorker's Ryan Lizza put it in a December 2013 article on the joke of Congressional oversight, the committees "more often treat … senior intelligence officials like matinee idols".
As a result, the committees, ostensibly intended to serve an overseer function, have far more often acted as the NSA's in-house PR firm. The heralded mid-1970s reforms did more to make Americans believe there was reform than actually providing any, thus shielding it from real reforms.
The same thing happened after the New York Times, in 2005, revealed that the NSA under Bush had been eavesdropping on Americans for years without the warrants required by criminal law. The US political class loudly claimed that they would resolve the problems that led to that scandal. Instead, they did the opposite: in 2008, a bipartisan Congress, with the support of then-Senator Barack Obama, enacted targeta new Fisa law that legalized the bulk of the once-illegal Bush program, including allowing warrantless eavesdropping on hundreds of millions of foreign nationals and large numbers of Americans as well.
This was also the same tactic used in the wake of the 2008 financial crises. Politicians dutifully read from the script that blamed unregulated Wall Street excesses and angrily vowed to rein them in. They then enacted legislation that left the bankers almost entirely unscathed, and which made the "too-big-to-fail" problem that spawned the crises worse than ever.
And now we have the spectacle of President Obama reciting paeans to the values of individual privacy and the pressing need for NSA safeguards. "Individual freedom is the wellspring of human progress," he gushed with an impressively straight face. "One thing I'm certain of, this debate will make us stronger," he pronounced, while still seeking to imprison for decades the whistleblower who enabled that debate. The bottom line, he said, is this: "I believe we need a new approach."
But those pretty rhetorical flourishes were accompanied by a series of plainly cosmetic "reforms". By design, those proposals will do little more than maintain rigidly in place the very bulk surveillance systems that have sparked such controversy and anger.
To be sure, there were several proposals from Obama that are positive steps. A public advocate in the Fisa court, a loosening of "gag orders" for national security letters, removing metadata control from the NSA, stricter standards for accessing metadata, and narrower authorizations for spying on friendly foreign leaders (but not, of course, their populations) can all have some marginal benefits. But even there, Obama's speech was so bereft of specifics – what will the new standards bewho will now control Americans' metadata– that they are more like slogans than serious proposals.
Ultimately, the radical essence of the NSA – a system of suspicion-less spying aimed at hundreds of millions of people in the US and around the world – will fully endure even if all of Obama's proposals are adopted. That's because Obama never hid the real purpose of this process. It is, he and his officials repeatedly acknowledged, "to restore public confidence" in the NSA. In other words, the goal isn't to truly reform the agency; it is deceive people into believing it has been so that they no longer fear it or are angry about it.
As the ACLU's executive director Anthony Romero said after the speech:
The president should end – not mend – the government's collection and retention of all law-abiding Americans' data. When the government collects and stores every American's phone call data, it is engaging in a textbook example of an 'unreasonable search' that violates the constitution.
That, in general, has long been Obama's primary role in our political system and his premiere, defining value to the permanent power factions that run Washington. He prettifies the ugly; he drapes the banner of change over systematic status quo perpetuation; he makes Americans feel better about policies they find repellent without the need to change any of them in meaningful ways. He's not an agent of change but the soothing branding packaging for it.
As is always the case, those who want genuine changes should not look to politicians, and certainly not to Barack Obama, to wait for it to be gifted. Obama was forced to give this speech by rising public pressure, increasingly scared US tech giants, and surprisingly strong resistance from the international community to the out-of-control American surveillance state.
Today's speech should be seen as the first step, not the last, on the road to restoring privacy. The causes that drove Obama to give this speech need to be, and will be, stoked and nurtured further until it becomes clear to official Washington that, this time around, cosmetic gestures are plainly inadequate.
###