What we ask is whom do represent the black clad military people that took over Crimea?  Are they representing a new force or their old Russian military. We see a way out if the lack of insignia means that there is a new force being born.
FIRST CLEAR CASUALTY – THE SOCHI G8 MEETING THAT BECOMES IMPOSSIBLE WITH RUSSIA AT WAR.
SO – IT IS NOW CLEAR THAT SOCHI IS NOT THE PUTIN PLANNED  RUSSIAN GOLD MINE.
—————————————–
Ukraine PR Says UN Charter Brutally Violated, Meeting Format Fight.

By Matthew Russell Lee, Inner City Press Follow Up

UNITED NATIONS, March 1 — As the UN Security Council on Saturday afternoon held its second emergency meeting in as many days on Ukraine, that country's Permanent Representative Yuriy Sergeyev stopped and told the press it is now a Russian "aggression" and that the UN Charter has been "brutally" violated.
Video here.

 He said an appeal is being made to the US, France, UK and China, under the rubric of non-proliferation; he said there is still time, before Russian president Vladimir Putin signs the order for military moves in Crimea.

  Then the Security Council "suspended" for ten minutes; Russian ambassador Vitaly Churkin emerged and said some members of the Council are trying to change the format of the meeting, that Russia agrees with the format proposed by Luxembourg, which took over today as Council president.

After UN Secretary General Ban Ki-moon's envoy Robert Serry spun the contents of a closed door Security Council consultation on Ukraine on which there was no agreed outcome, Ban himself did the same on Saturday.

   Could Serry go to Crimea?  Hours before Serry through the spokesperson had said no. But the purpose of the UN TV theater is to get this spin "on camera" – that's the role Falk's UNCA is playing.

   Also Ban said he is going to speak with Putin soon. Will his spokesperson take question, this time with notice, on that?

   On February 28, Serry's impartiality as "UN" envoy on Ukraine was called into question, on camera, in front of the UN Security Council by Russian Ambassador Vitaly Churkin.

   A "Note to Correspondents" was put out Saturday morning by the UN Spokesperson's Office in which Serry put his spin on the Security Council consultations at which he was not present, and at which not even a Press Statement was agreed:

Note to correspondents: Statement by Mr. Robert Serry, Senior Advisor to the Secretary-General, at the end of his mission to Ukraine
Kyiv, 1 March 2014
Following the consultations in the United Nations Security Council yesterday, the Secretary-General requested me to go to Crimea as part of my fact-finding mission. I have since been in touch with the authorities of the Autonomous Republic of Crimea and have come to the conclusion that a visit to Crimea today is not possible. I will therefore proceed to Geneva, where I will tomorrow brief the Secretary-General on my mission and consult with him on next steps.
In Crimea, I would have conveyed, also on behalf of the Secretary-General, a message for all to calm the situation down and to refrain from any actions that could further escalate an already-tense environment.
It became very clear from yesterday's Council consultations that the unity and territorial integrity of Ukraine is not to be called into question. This is a time for dialogue and to engage with each other constructively.
Note to correspondents: Statement by Mr. Robert Serry, Senior Advisor to the Secretary-General, at the end of his mission to Ukraine.
March 1, updated — After the Ukraine open meeting then consultations of the UN Security Council took place, Council president for March Sylvie Lucas of Luxembourg came out and read a short statement.

  Inner City Press asked her if this was a mere "elements to the press," not even an agreed Press Statement. This seems to be the case. She politely answered, but not why China and the ten elected members did not speak in the open meeting.

  Inner City Press asked UK Ambassador Lyall Grant about the Budapest Memorandum — has it already been violated, including by the Western IMF side, in terms of economic coercion? Is it just a superseded document summoned up for pragmatic reasons now?

  Lyall Grant acknowledged that some time has passed. From the UK Mission transcript:
Inner City Press: The Budapest memorandum. There's been a lot of talk about it. It requires the UK, Russia and France to seek immediate Security Council action if there's a threat of force, so is this the end of your duties, or do you have a duty to defend Ukraine? And it also seems to commit the UK and others to refrain from economic coercion, so some people have been saying that on both sides, the economic coercion factor has been played. Has this memorandum been complied with since '94, or is it just pulled out at this time as a convenient document?
Amb Lyall Grant: Clearly, this document has become very relevant in the last few days. We believe that the first step should be a meeting of the signatories of the Budapest memorandum, as Ukraine government has suggested should take place. Proposals have been made for a meeting of the three signatories as early as Monday, but so far Russia has not agreed to that meeting.
  Lyall Grant also said his prime minister David Cameron spoke with Vladimir Putin and his foreign secretary William Hague will be in Ukraine on Sunday.

  Inner City Press asked Deputy Secretary General Jan Eliasson of Russia's critique of envoy Robert Serry "getting played," and of the leaked (US) audio about former US now UN official Jeffrey Feltman "getting" Ban to send Serry to Ukraine.

   Eliasson said Serry is an international civil servant, but that the UN is not mediating, he is only a go-between for now. Will that change?

  US Samantha Power came out, saying another things that President Obama is suspending participation in the preparation for the G8 in Sochi. She took only two questions; it was not possible to ask her about movement on loan guarantees, or her view of the US' duties under the Budapest Memorandum. So it goes at the UN.

  When the open meeting happened, after two hours of wrangling about format, not all 15 members of the Council — not even all five Permanent members — spoke. (China didn't).

  Instead, UN Deputy Secretary General Eliasson led off, saying that Ban Ki-moon would speak with Vladimir Putin. That had already taken place, but even an hour later, no read-out.
 ===================================================================
Ukraine's EU embassy details 'Abkhazia scenario'
01.03.14 @ 12:56
BRUSSELS – Ukraine's embassy to the EU has detailed Russian military movements in Crimea, saying operations to seize control began one week ago.
The Ukrainian embassy, in a two-page note circulated to EU diplomats on Friday (28 February) – and seen by EUobserver – cited seven "illegal military activities of the Russian Federation in the Autonomous Republic of Crimea, Ukraine."
Going back to February 21 and 22, it says Russia moved 16 BTR-80 armoured personnel carriers of the 801st Marine Corps brigade from the Russian naval base in Sevastopol, Crimea, which it leases from Ukraine, to the Crimean towns of Kaha, Gvardiiske, and Sevastopol.
It notes that on 23 February three BTR-80s moved from the base to the town of Khersones.
On 26 February, 10 armoured vehicles from the 801st brigade moved "into the depth of the Crimean peninsula towards Simferopol."
On 28 February, 12 Mi-24 Russian attack helicopters flew from Anapa in Russia to the Kacha airfield in Crimea "despite [the fact] clearance was granted only for 3 helos."
The same day five Il-76 Russian military transport planes landed at Gvardiiske with no clerance at all, while 400 Russian troops from the Ulyanovsk Airborne Brigade moved to Cape Fiolent, near Sevastopol.
The Ukrainian document says that also on Friday: "Belbek airport (Sevastopol) was blocked by an armed unit of the Russian Fleet (soldiers with no marking but not concealing their affiliation). Simferopol airport occupied by more than 100 soldiers with machine guns wearing camouflage, unmarked but not concealing their affiliation to the Armed Forces of the Russian Federation."
It adds that Captain Oleksandr Tolmachov, a Russian Black Sea Fleet officer, led a group of 30 soldiers who blocked the Sevastopol Marine Security detachment of the State Border Service of Ukraine.
Speaking in Kiev on Friday, Ukraine's interim president, Oleksandr Turchynov, said: "They are provoking us into an armed conflict. Based on our intelligence, they're working on scenarios analogous to Abkhazia, in which they provoke conflict, and then they start to annex territory."
He added: "Ukraine's military will fulfill its duties, but will not succumb to provocation."
He also said Russia's actions violate the 1994 Budapest Memorandum on Security Assurances, signed by Russia, the UK, Ukraine, and the US.
Russia in 2008 invaded Georgia saying Georgian forces had fired on its "peacekeeping" troops in Georgia's breakaway region of South Ossetia. After an eight-day war, Russia retreated from Georgia proper, but entrenched its occupation of South Ossetia and a second breakaway entity, Abkhazia, in what is widely seen as a way of blocking Georgia's EU and Nato aspirations.
The Budapest document obliges signatories to "respect the independence and sovereignty and the existing borders of Ukraine." It also says they "will consult in the event a situation arises which raises a question concerning these commitments."
There is no shortage of consultations.
The Kremlin said President Vladimir Putin on Friday phoned the British and German leaders and EU Council chief Herman Van Rompuy.
Lithuania, which currently holds the UN Security Council (UNSC) presidency, also called a meeting of UNSC ambassadors in New York.
Statements coming from the Budapest signatories echo the terms of the agreement.
A spokesman for British leader David Cameron said he told Putin "that all countries should respect the territorial integrity and sovereignty of Ukraine." US President Barack Obama said on TV "the United States will stand with the international community in affirming that there will be costs for any military intervention in Ukraine."
Meanwhile, Sweden, a close US ally, corroborated Ukraine's accusations. "Obvious that there is Russian military intervention in Ukraine. Likely immediate aim is to set up puppet pro-Russian semi-state in Crimea," Swedish foreign minister Carl Bildt said.
The Polish foreign ministry noted: "Any decisions that will be taken in the coming days, including of military nature, could have irreparable consequences for the international order."
The UN meeting in New York did little to calm nerves.
Ukraine's UN ambassador, Yuriy Sergeyev, told press afterward: "We are strong enough to defend ourselves."
Russia's UN envoy, Vitaly Churkin, said all Russian military activity in Crimea is "within the framework" of a 1997 Ukraine-Russia treaty governing the use of its Sevastopol base.
Churkin added the EU bears "responsibility" for events because three EU foreign ministers – from France, Germany, and Poland – on 21 February signed a deal between Ukraine's ousted president, Viktor Yanukovych, and opposition MPs which says he is to stay in power until December.
Yanukovych fled Kiev the next day when Kiev protesters rejected the agreement and threatened to storm his palace.
Churkin accused the EU of fomenting the revolution by criticising Yanukovych for refusing to sign an EU association and free trade treaty and by sending VIPs to Kiev to mingle with demonstrators. "They emphasize sovereignty. But they behave as if Ukraine was a province of the European Union, not even a country, but a province," he said.
Budapest memorandum
For his part, Andrew Wilson, an analyst at the London-based European Council on Foreign Relations, a think tank, who was in Kiev during the unrest, told EUobserver on Saturday the Budapest accord should not be seen as a Nato-type treaty which obliges signatories to use military force
But he noted that the 1994 memorandum poses Cold War-type questions.
"Are we [the West] going to send a warship through the Bosphorus?" he said, referring to the channel which leads from the Mediterranean Sea to the Black Sea and Crimea.
"These kind of questions were asked in the Cold War: Would America be willing to lose Detroit [in a Russian nuclear strike] to save Berlin? Later it was about Vilnius [when Lithuania joined Nato in 2004], now it's about Simferopol. Budapest is not Article 5. But if we are being logical, it does offer security guarantees and it is still in force," he added, referring to the Nato treaty's Article 5 on mutual defence.
Crimea is a majority ethnic Russian region which became part of Ukraine in 1954.
Its local parliament this week elected a new leader, pro-Russian politician Sergiy Aksyonov, who called a referendum on independence on 30 March.
The ethnic Russian population made up 49.6 percent of Crimea in 1939. It currently makes up some 58 percent, after Stalin deported its Armenian, Bulgarian, Jewish, German, Greek, and Tatar minorities during World War II. But Russians are in a minority in nine Crimean districts.
###
Op-Ed Columnist at the New York Times.
Brazil Is Abuzz About Snowden
Published: January 3, 2014   –  7 Comments
RIO DE JANEIRO — When I visited China in June, my trip happened to coincide with the discovery that Edward Snowden was hiding out in Hong Kong. By then, Snowden's revelations about the voracious data-collection operation by the National Security Agency was front-page news all over the world. Snowden hadn't yet been charged for the leak of tens of thousands of pages of classified N.S.A. documents, but it was clear that it was coming. So it was only natural to ask — as many journalists did — would Hong Kong give Snowden asylum if he requested it?
Now I'm in Brazil, where I've spent the last few weeks, and wouldn't you know it? A question very much in the air here is whether Brazil would grant Snowden asylum once his temporary stay in Russia comes to an end. In recent weeks, Snowden had twice expressed publicly his desire to gain asylum to Brazil, once in an open letter published in a newspaper in São Paulo — in which he said he would cooperate with Brazilian authorities investigating the N.S.A. once he was safely inside the country — and then, somewhat more cautiously, in a television interview.
With the possible exception of Germany, there isn't another nation as publicly irate over the eavesdropping on its citizens and its government as Brazil. Upon learning that the N.S.A. had spied on her personal communications, Brazil's president, Dilma Rousseff, canceled a state visit. Then, during a speech to the United Nations, she excoriated the United States, even as President Obama stood in the wings.
Along with Germany, Brazil has rekindled a long-stalled effort to create a new structure for Internet governance, one that would be less dependent on American companies and American networks. Virgílio Fernandes Almeida, a government official who is chairman of the country's Internet Steering Committee, told me that there is no question that the Snowden revelations helped jump-start the effort.
Indeed, two weeks ago, a $4 billion contract for a fighter jet, in which Boeing was said to be the front-runner, went to a unit of Saab instead. Although Saab was the lowest-cost bidder, "The N.S.A. problem ruined it for the Americans," a Brazilian government source told Reuters.
"Brazil was one of the most targeted countries," said Glenn Greenwald, the journalist who is based here and is closest to Snowden. "It was more than even Russia or China."
What is also true is that Greenwald, who has published dozens of stories in The Guardian based on the documents Snowden supplied, did his best to stoke Brazil's rage. After every print revelation — O Globo, a large Brazilian daily, was his vehicle of choice — he would appear on a popular show similar to "60 Minutes" to talk up his latest bombshell. "Snowden became almost a household name after that," said Maurício Santoro, a Rio-based human rights advocate for Amnesty International.
And then Greenwald found the document about the surveillance on Dilma's phone calls, text messages and emails, and all hell broke loose. "It wasn't a supertechnical document," Greenwald told me. "It was written for an idiot. It was like, 'Great news. We have had great success eavesdropping on Dilma.' 

Perhaps just as infuriating to the Brazilian elites was the discovery that the N.S.A., along with Britain's secret spy agency, GCHQ, had apparently succeeded in penetrating the private computer network of Petrobas, a giant state-owned oil company and a source of national pride.
"Why did they have to do this to us?" asked Santoro, posing the question many Brazilians still want answered. "Of course we have our disagreements with the U.S., but we are not enemies. What has also been maddening has been the lack of a clear explanation from the Obama administration," he added.

Yet for all that, Santoro doesn't think that Brazil will give Snowden asylum. So far, the government has been coy, saying that because Snowden has not applied for asylum through the proper channels, there is nothing to talk about. The way it was explained to me, though, Brazil prefers to use what it likes to call "soft power" on the world stage — global consensus building, that sort of thing. Helping to create an Internet governance system fits nicely in that model. Giving Snowden asylum does not.
Meanwhile, the American government shows no signs of softening its stance of trying Snowden for espionage if it gets its hands on him. It's worth remembering that another important whistle-blower, Daniel Ellsberg, was eventually put on trial for leaking the Pentagon Papers. The case was thrown out of court largely because of government misconduct, starting with the break-in of the office of Ellsberg's psychiatrist.
At least as it concerns the N.S.A., government misconduct is now official policy. We know that thanks to Snowden.
He needs a place to live. Why not you, Brazil?
###
Wives of Ambassadors, Women Ambassadors and High Ranking Staff, organized to try to make more understandable issues being debated at the UN. Under the leadership of Mrs. Irmeli Viinanen they tackled the thorny Iranian issue with the help of Trita Parsi of the National Iranian American Council.
The mission of the Women's International Forum at the UN (WIF)  is to "provide a forum for briefings and discussions on international affairs, in order to promote understanding and mutual appreciation among members of the diplomatic community, the United Nations Secretariat, and the United Nations community at large and to network, promote knowledge, and raise awareness about current international issues – particularly those related to the United Nations, and to uphold the purpose and the principles of the United Nations Charter."
At present time the Executive Board includes: Irmeli Viinanen, President (Finland), Nelly Gicho-Niyonzima, Vice-President (Burundi), Mounia Loulichki, Sahar Baassiri,  Pamela Jacovides, Malini Nambiar, Muna Rihani, Ingrid Ruzicková, Nareumon Sinhaseni, Peggy Sanford Carlin, Berit Stanton and  Cristina Tortorelli de Errazuriz.
Many of the women who serve as their countries' permanent representatives, or as high-ranking officials of the UN Secretariat, serve on the WIF Honorary Board.
At present time the Honorary Board includes: H.E. Ms. Maria Cristina Perceval, Argentina; H.E. Mrs. Bénédicte Frankinet, Belgium; H.E. Ms. Mirsada Colakovic,Bosnia and Herzegovina H.E. Ms. Edita Hrdá, Czech Republic; H.E. Ms. Mary Flores, Honduras; H.E. Ms. Gréta Gunnarsdóttir, Iceland; H.E. Ms. Byrganym Aitimova, Kazakhstan; H.E. Ms. Marjon V. Kamara, Liberia; H.E. Ms. Raimonda Murmokait?, Lithuania; H.E. Ms. Sylvie Lucas, Luxembourg; H.E. Ms. Isabelle F. Picco, Monaco; H.E. Ms. Marlene Moses, Nauru; H.E. Ms. Maria Rubiales de Chamorro,  Nicaragua; H.E. Ms. U. Joy Ogwu,  Nigeria; H.E. Ms. Lyutha S. Al-Mughairy, Oman; H.E. Ms. Simona-Mirela Miculescu, Romania; H.E. Ms. Menissa Rambally, Saint Lucia; H.E. Mrs. Marie-Louise Potter Seychelles; H.E. Ms. Sofia Borges, Timor-Leste;  H.E. Ms. Aksoltan T. Atayeva, Turkmenistan; H.E. Dr. Mwaba P. Kasese-Bota, Zambia; H.E. Ms. Paulette A. Bethel,Chef de Cabinet for the President of the 68th General Assembly
Mrs. Ban Soon-Taek, wife of the UN Secretary General, Ban Ki-Moon, is the Patron of the WIF.
         On December 11, 2013 WIF held at the UN ECOSOC Chamber a Briefing with Dr. Trita Parsi, President of the                National Iranian American Council and a generally recognized Senior Iranian analyst.
           The topic was "The Iran nuclear deal – how we got here and what it means"
Born in Iran to a Zoroastrian family, Parsi moved with his family to Sweden at the age of four in order to escape the political repression in Iran. His father was an outspoken academic who was jailed under the reign of the Shah and later under Ayatollah Khomeini's Islamic Republic.
He came to the US first in a high-school exchange program to Ohio where he lived in the house of Robert Ney, then of Ohio State Congress and later a US Congressman. This link with Congressman Ney turned out later of major importance to both of them.
Parsi earned a Master's Degree in International Relations at Uppsala University and a second Master's Degree in Economics at Stockholm School of Economics.  Parsi moved to the United States and studied foreign policy at the Johns Hopkins School for Advanced International Studies where he received his Ph.D. in International Relations. In a personal statement as part of his application to a Harvard doctoral program, Parsi mentioned his success at converting Ney into Congress's most pro-Iranian member. "In 1997," he wrote, "I worked as policy advisor on MidEastern issues to Congressman Robert Ney of Ohio. My job was to reformulate Ney's position vis-à-vis Iran. At the time, Ney was a supporter of the Clinton Administration's isolation policy of Iran. By identifying the long-term strategic necessity of befriending Iran and showing how such a policy should be pursued, I was successful in convincing Ney to alter his position. In 1997, he became one of the first Congressmen to propagate dialogue with Tehran."
In effect, Trita Parsi emerged naturally as a bridge between Iran, the  US and Sweden and even Israel. Early in his career he worked with the Swedish Permanent Mission to the UN in New York, where he served in the Security Council, handling the affairs of Afghanistan, Iraq, Tajikistan, and Western Sahara, and on the General Assembly's Third Committee, addressing human rights in Iran, Afghanistan, Myanmar and Iraq.
In Washington he  served as an adjunct professor of International Relations at Johns Hopkins University SAIS, an adjunct scholar at the Middle East Institute and as a Policy Fellow at the Woodrow Wilson International Center for Scholars emerging as immensely influential on formulation of US policy in the larger Middle East, and as a link with Iran.
In 2002, Parsi closed down in effect the IIC (Iranians for International Cooperation – Iranian International Council – a trade lobby in Washington trying to fight the sanctions on Iran)  and founded the National Iranian American Council (NIAC), whose stated purpose was "to enable Iranian Americans to condemn the Sept. 11, 2001, terror attacks" and, later, to provide a "grass-roots group aimed at strengthening their voice." Through the organization, he supports engagement between the US and Iran in belief that it "would enhance our [U.S.] national security by helping to stabilize the Middle East and bolster the moderates in Iran." On the group's formation, he commented, "We realized that our primary thing that separates the Iranian-American community from the Jewish-American community, the Arab-American community, the Armenian-American community is that the Iranian-American community has shunned political participation." NIAC has received financial support from the Open Society Institute, the Tides Foundation, the National Endowment for Democracy, the Kenbe Foundation, and the Kamyar and Goli Foundation. In effect what Trita Parsi was doing is to create instead a Washington based lobby that works in favor of the Iranian people without supporting the mullahs. This was a tall task in the back-stabbing world of business lobbies in Washington, and clearly put him at the center of controversy – specially as his first mentor – Congressman Robert Ney – got involved in the Jack Abramoff scandals and was fined for supporting the permission to export one airplane to Iran (Bob Ney, Trita Parsi and pro-Tehran activities in Washington).
In 2007, Yale University Press published "Treacherous Alliance: The Secret Dealings of Israel, Iran, and the United States." Parsi's work is an expansion of his 2006 Ph.D. dissertation written at Johns Hopkins University under the supervision of his Ph.D. adviser Francis Fukuyama.  The book "takes a closer look at the complicated triangular relations between Israel, Iran, and the United States that continue to shape the future of the Middle East."  The book basically argues that the struggle between Israel and Iran is not ideological but strategic. The book received many positive reviews. In Foreign Affairs, L. Carl Brown called the book a "well-constructed history" and former U.S. ambassador Peter Galbraith praised the book as "a wonderfully informative account." The book was also praised by political scientist John Mearsheimer and former National Security Advisor Zbigniew Brzezinski who was on his dissertation committee. In 2008, Treacherous Alliance was awarded the silver medal (runner-up) in the Council on Foreign Relations' Arthur Ross Book Award. About that time I first encountered Dr. Trita Parsi at a book presentation sponsored in person by Arthur Ross at the Asia Society in New York and I was tremendously impressed by the fact that it seemed obvious – the man has direct relations with all four  protagonists in the Middle East – Iranians, Americans, Israel and the Saudis – and somehow manages to survive by not letting down any of them, while criticizing their governmental positions. In many ways he sounded like  Stephen Kinzer   who was talking of a RESET in policy that eventually ought to ring in US policies that will eventually be anchored on Turkey and Iran. To me – Trita Parsi was in effect an agent of the future.
In a 2011 interview with the Institute for Global Law and Policy at Harvard University, he asserted that his thesis had "been vindicated" by recent events. "I believe it is increasingly clear that efforts to divide the region between moderates vs radicals, democracies vs non-democracies etc is of little utility and has no real explanatory value. Israel, for instance, who had sought to frame its rivalry with Iran as a struggle between the region's sole Western democracy against a fanatical Islamic tyranny, favored the status quo in Egypt and opposed the efforts to oust Mubarak."
He added that "With the decline of the US, Israel's strategic paralysis and increased isolation in the region, the rise of Turkey, the 'revolutions' in Tunisia and Egypt, and Iran's continued difficulties in translating its strength to regional acceptance, the region is experiencing momentous changes both in its political structure and in its balance of power. An ideology based approach towards understanding these shifts won't get you far."
As we already said – Parsi's career is not all roses. In effect he is also a focal point in the fight between various lobbies in Washington – so in 2007, Arizona-based Iranian-American journalist Hassan Daioleslam began publicly asserting that NIAC was lobbying on behalf of the Islamic Republic of Iran. In response, Parsi sued him for defamation. As a result of the lawsuit, many internal documents were released, including e-mail correspondence between Parsi and Mohammad Javad Zarif, then Iran's ambassador to the United Nations under President Ahmedinejad, and now under President Rouhani the Foreign Minister of Iran. In a November 2009 article, Washington Times national security correspondent Eli Lake reported on some of the facts disclosed in those documents. After Barack Obama's election to the presidency, for example, the NIAC, fearing that Obama would put Dennis Ross, an anti-Iran hardliner, in charge of Iran policy, and thus scuttle their efforts to persuade U.S. officials to lift sanctions, deliberately set out to create a "media controversy" about Ross and thereby prevent his appointment.
Although Ross got the job, Lake noted that Parsi, whose "history suggests a continuing commitment to changing U.S. policy on Iran," had "clearly become more influential in Washington since the change of administrations." Now, wrote Lake, "a lawsuit has brought to light numerous documents that raise questions about whether the organization is using that influence to lobby for policies favorable to Iran in violation of federal law." Those documents, according to Lake, "offer evidence that the group has operated as an undeclared lobby and may be guilty of violating tax laws, the Foreign Agents Registration Act and lobbying disclosure laws." Although Parsi denied that NIAC was a lobby, he was previously connected with IIC – a trade lobby, which had openly advocated for the removal of the U.S. sanctions regime against Iran.
A former federal law-enforcement official, who asked to review documents showing that Parsi had helped arrange meetings between members of Congress and Zarif, said that anyone engaging in such activity should be registered as a foreign agent; another such official said that "this may be lobbying." Lake also quoted Mohsen Makhmalbaf, an Iranian filmmaker and unofficial spokesman for Iran's opposition Green Movement, as saying, "I think Trita Parsi does not belong to the Green Movement. I feel his lobbying has secretly been more for the Islamic Republic."
In September 2012, after a more than four-year legal battle, a U.S. federal judge threw out the libel suit against Daioleslam on the grounds that "NIAC and Parsi had failed to show evidence of actual malice, either that Daioeslam acted with knowledge the allegations he made were false or with reckless disregard about their accuracy." Parsi and the NIAC were ordered to pay part of Daioleslam's legal expenses, and Daioleslam stated that "I have always believed that NIAC and Trita Parsi lobby for the Iranian regime. I maintained and reiterated this belief during the lawsuit, my deposition and in our last motions including the motion for summary judgment."In January 2013, Daioleslam published a series of e-mails between Parsi and Zarif which suggested that the former was passing information to the latter.
Something we clearly find quite in accordance with what we observed about Trita Parsi and tried to convey in this long introduction.
—————-
Further, quite excited when I found out about the invitation the Women's International Forum at the UN (WIF) had extended to Trita Parsi to give a briefing at the UN, I did in effect congratulate Mrs. Irmeli Viinanen for the group's choice,  I went to the event as a guest of my wife, expecting to get perhaps quotable new insights to the Iran nuclear issue in particular, and to the Obama Administration position on the larger Middle East in general.

So now to what was actually said in this very vivid event at the UN which extended for about one and a half hours – half of it the Parsi presentation, and half for a very active Q&A period. I was amazed that only one UN accredited journalist – a reporter from Lebanon linked to the Hezbollah – was present and active at this event, which was announced in the UN Journal, and open to all who have access to the UN.
What was said?
Trita Parsi started by describing the Washington of 2012 as a place where the US Department of Defense expected in early 2012 a military confrontation with Iran – and now – just one and a half years later the atmosphere is very different. What happened in between?
(a) The elections in Iran. We doubted there will be a high participation – yet they came and voted for the most laid back name that was put before them. With him came to Government people that were marginalized in the last 8 years during the Ahmdinejad Administration.
(b) Trita Parsi pointed out that even in the past the Iranians had participated in the taming of  Afghanistan  as per the Bonn agreement signed December 10, 2011. (The conference, which was attended by 85 states, 15 international organizations and the United Nations, focused on three main issues involving the conclusion of the Afghan War and the transition of security responsibility to the Afghan Government, scheduled to occur in 2014. These were: civil aspects of the transition process, the role of international community in Afghanistan after the handover, and long-term political stabilization of the country. The conference concluded by issuing a statement affirming continued international support for Afghanistan for the next decade. Progress was not hindered by Iran, but was hindered by Pakistan's boycott of the conference following the 2011 NATO attack in Pakistan.)
(c) The Syria event showed the overwhelming opposition by Americans for a new involvement in the Middle East. There are credible threats on Members of Congress one way or the other and there is a realization that if this is not solved by diplomacy there will be costs to the US in any case.
(d) Paradoxically Iran looks now like the lowest hanging fruit in the Middle East. It has promise when compared with what may happen in a few years from now. The US Presidential legacy goal becomes attainable if both sides compromise – this because the sanctions on Iran did what they were supposed to do and impacted trade, currency etc. but did little on the nuclear issue. Iran increased its number of centrifuges from 164 to 19,000 and has by now over 1,800 kg. of enriched Uranium – slightly bellow 200 kg of 20% enriched Uranium. Parsi says that both sides – the US and Iran – pursued pipe-dreams objectives. Iran will never agree to have a zero program, and the Iranian dream was that the International community will come to accept their position. Parsi thinks that both sides came now to the realization that there will be no escalation risk while politicians talk of compromise and will quietly agree to something. Something like the acknowledgement that there will be an enrichment program on Iranian soil, and a very intrusive IAEA supervision and inspection mechanism. Trita Parsi says that this could have happened already 8 years ago under more favorable conditions to the US.
(d) Nevertheless, Parsi says that if not for a series of surprises, the whole thing could have gone in a different direction with a terrible outcome.
The fact that these surprises include the collapse of Syria, the various upheavals in Arab lands, the situation of Israel having become the only real superpower now in the Middle East created a specific case and it can not be a blue print for other situations when there is an attempt to develop nuclear weapons.
(e) Still, he is not over-confident right now because of the dysfunctional state of Washington today  and the fact that there are opponents to the Iranian Administration that wait to see the Rouhani started process fail.
(f) In Iran it is much more then about enrichment. It is rather about the determination who will be the face of Iran for many years to come.
Parsi says that it is for Rouhani to show that moderation pays – and for Washington to distance itself as well from what went on 8 years ago.
If successful – this could be constructive for the region as a whole, concluded Trita Parsi.
With this Mrs. Viinanen took over and asked the first question: "What has surprised you most at the Geneva talks?"
A.  Last day it was 23 hours non-stop.  The Surprise – Obama was ready to take the cost of taking on Washington and Congress.
The President spends now resources engaging with Congress. This is the first time he does so.

Trita Parsi then continued by talking about Iran. That Iran has been excluded from most political aspects of the region by its stands. Moderating the policies that come out from Iran will result in stopping the spoiler policy. They will have then moderating positions even on the issue of Israel.
It is nevertheless that the posture is changing and there will be repercussions on the Arab States – on the understanding of what it means to them. Had it not been for 2004 – 2006 – what is the impact of these proxy fights with Israel? Obama steps could put an end to wars – but at the time of the Bush Administration it was different – and Parsi talked of Dr. Efraim Sneh from Israel (a physician, military man, and politician who was also a minister in the government) who told him in 2006 that the Lebanon war is a prelude to an Iran War. The Pentagon was wrapped in cynicism already in 2004.
.
Who could be the spoilers? Israel? the Saudis?
A.  I do not share the opinion that Israel and the Saudis are losers. I cannot agree that the long term interest is to continue confrontation.
The spoiler could rather be US Congress if they pass sanctions against Iran. This is the primary element that worries the White House.
In Iran it is just 20 out of 290 deputies of Parliament that ask for calling Rouhani for questioning. In US Congress it is a majority that is against Obama.
Trita also pointed out that in the US, it was under a bill sponsored in Congress by Mr. Dick Cheney that asked to supply the Shah with 93% enriched Uranium – so in effect the Iranians were only asking to continue that US policy.
The parting words of Mr. Parsi were that now there is a possibility to get to a position to stop this confrontation.
======================================================================================
The WIF women intend to have Ms. Amina J. Mohammed as their January speaker.
She will be dealing with RIO+20 and we expect to be there as well.
Upcoming Event

"The Post-2015 development agenda – enabling a life of dignity for all"
By Ms. Amina J. Mohammed
Special Advisor of the Secretary-General on Post-2015 Development Planning
Date: Monday, January 20th 2014
Time: 1.15 pm – 2.30 pm
 =================================================================================
THE BOOKS MENTIONED IN OUR REPORTING:
Oct 01, 2007
384 p., 6 1/8 x 9 1/4ISBN: 9780300120578
Cloth
###
Brazil Snubs Boeing in Fighter Jet Deal
Fabrice Coffrini/Agence France-Presse — Getty Images
Published by The New York Times: December 18, 2013
SÃO PAULO, Brazil — In a disappointment for Boeing, Brazilian defense officials said on Wednesday that they had picked the aircraft maker Saab for a $4.5 billion contract to build 36 fighter jets over the next 10 years.
The Brazilian defense minister, Celso Amorim, told reporters at a news conference in Brasilia that Saab was selected over Boeing because it had agreed to share more technology with contractors and because many parts for the new jet, the Gripen NG, would be made in Brazil.
The decision "took into account performance, the effective transfer of technology and costs, not only of acquisition, but also of maintenance," Mr. Amorim said in a statement. He was accompanied by Gen. Juniti Saito, the Brazilian air force's chief of staff. "The decision was based on these three factors."
The announcement comes at a time of heightened tension between the United States and Brazil. In September, the Brazilian president, Dilma Rousseff, canceled a state visit to the United States after revelations that the National Security Agency was spying on foreign heads of state, including her.
In a speech at the United Nations that month, Ms. Rousseff gave a blistering attack on the United States for its "illegal interception of information and data."
In a response to the outcry over the spying, a panel of advisers for President Obama on Wednesday recommended limiting the wide-ranging collection of personal data and restricting operations to spy on foreign leaders.
When asked at the news conference if the spying had anything to do with the decision to award the contract to Saab, Mr. Amorim did not answer directly, instead repeating reasons of cost and technology sharing.
Analysts said Brazil had many financial and practical reasons to award the contract to Saab.
Richard L. Aboulafia, an aviation analyst at Teal Group in Fairfax, Va., said that while Brazil's disenchantment over the N.S.A.'s spying could have played a role in the decision, costs were probably a bigger factor.
"You're talking about a military service that doesn't need a heavyweight front-line fighter and has suffered a budget squeeze and hasn't been able to fly the planes that it owns," he said.
He added that a basic version of the Saab jet might cost about $45 million, compared with $55 million for Boeing's basic F/A-18 Super Hornet.
And the Gripen's fuel costs would be half of that for the Boeing plane. Both jets use the same engine, but the Super Hornet has two engines and the Gripen one.
A study by the military publisher IHS Jane's said that the Gripen costs about $4,700 an hour to fly — the lowest among modern fighter jets — compared with the $11,000 for the Super Hornet.
Boeing said that the decision was "disappointing" and that it would talk to the Brazilian air force to better understand it. The company, based in Chicago, said it would still look for chances to expand its partnerships in Brazil.
The loss was also difficult for Boeing because there are only a few fighter competitions going on around the world and the United States Navy plans to stop buying the F/A-18's.
While most countries that want high-tech fighters are buying Lockheed Martin's more advanced F-35, many other countries cannot afford even top older models like the F/A-18. So far, Australia is Boeing's only export customer for the jet.
By contrast, Saab's more workaday Gripen models are flown by several other countries.
Brazil originally began its quest for new fighters to replace its aging Mirages more than a decade ago. Brazil's former president, Luiz Inácio Lula da Silva, wanted to buy Dassault's Rafale fighter jets in 2009 instead of the F/A-18.
But a change in administration in Brazil, and the country's deteriorating financial condition, helped alter the equation. A Brazilian news report on Saturday said that Dassault had already been eliminated from the competition even though the French president, François Hollande, backed the jet on a visit to Brazil last week.
Terms of the deal must still be negotiated over the next year, but delivery of the first batch of Gripen NG jets is expected in 2018.
Also on Wednesday, Boeing announced the promotion of Dennis A. Muilenburg, the head of its military business, to vice chairman, president and chief operating officer of the company.
Analysts said that move made Mr. Muilenburg, 49, the heir apparent to Boeing's chief executive, W. James McNerney Jr., who is 64.
Ray Conner, the chief executive of Boeing's commercial airplane division, was also named a Boeing vice chairman while keeping his current responsibilities. Christopher M. Chadwick, 53, will succeed Mr. Muilenburg as chief executive of Boeing's military unit.
###
By Degrees
A Climate Alarm, Too Muted for Some.
By JUSTIN GILLIS
This month, the world will get a new report from a United Nations panel about the science of climate change, and behind the scenes, two big fights are brewing.
Scientists will soon meet in Stockholm to put the finishing touches on the document, and behind the scenes, two big fights are brewing.
Articles in this series focus on the central arguments in the climate debate and examine the evidence for global warming and its consequences.

In one case, we have a lot of mainstream science that says if human society keeps burning fossil fuels with abandon, considerable land ice could melt and the ocean could rise as much as three feet by the year 2100. We have some outlier science that says the problem could be quite a bit worse than that, with a maximum rise exceeding five feet.

The drafters of the report went with the lower numbers, choosing to treat the outlier science as not very credible.
In the second case, we have mainstream science that says if the amount of carbon dioxide in the atmosphere doubles, which is well on its way to happening, the long-term rise in the temperature of the earth will be at least 3.6 degrees Fahrenheit, but more likely above 5 degrees. We have outlier science that says the rise could come in well below 3 degrees.
In this case, the drafters of the report lowered the bottom end in a range of temperatures for how much the earth could warm, treating the outlier science as credible.

Climate change skeptics often disparage these periodic reports from the United Nations, claiming that the panel writing them routinely stretches the boundaries of scientific evidence to make the problem look as dire as possible. So it is interesting to see that in these two important cases, the panel seems to be bending over backward to be scientifically conservative.
Is it right to throw out bleeding-edge science in the one case while keeping it in the other? That is hard to judge for anybody who is not a working climate scientist. After all, we pay them for their expertise, just as we pay doctors to advise us if we are diagnosed with cancer. And we are talking about two distinct issues here, each with its own specialized body of research.
The group making these decisions is the Intergovernmental Panel on Climate Change, a worldwide committee of several hundred scientists knowledgeable in the complex field of climatology. It won the Nobel Peace Prize in 2007, along with Al Gore, for helping to alert the public to the risks that are being run with the unchecked combustion of fossil fuels.

The group's decisions will not be final until the official report is released on Sept. 27. We know about them only because a secret draft was leaked ahead of the final editing session coming up in Stockholm. Scientists from a few countries have raised objections to the preliminary decisions on sea level and temperature, and they could well change in the final report.
Perhaps they should; there are climate scientists not serving on the committee this year who think so. Their fear is that the intergovernmental panel might be pulling punches.
It turns out that the Nobel Prize, welcome as it might have been back in 2007, served the same function it has for many other scientists who have won it over the years: it painted a fat target on the committee's back. The group has been subjected to attack in recent years by climate skeptics. The intimidation tactics have included abusive language on blogs, comparisons to the Unabomber, e-mail hacking and even occasional death threats.
Who could blame the panel if it wound up erring on the side of scientific conservatism? Yet most citizens surely want something else from the group: an unvarnished analysis of the risks they face.
To be clear, even if the Intergovernmental Panel on Climate Change ends up sticking with the lowball numbers in these two instances, they are worrisome enough. As best scientists can tell, the question with sea level is not whether it is going to get to three feet and then five feet of increase, but merely whether it will happen in this century or the next.
Likewise, with temperature, the panel is saying only that the lowball numbers are possible, not that they are likely. In fact, the metric used in the scientific literature, the temperature effect of doubled carbon dioxide, is merely a convenient way of comparing studies. Many people make the mistake of thinking that is how much of a global temperature increase will actually occur.
At the pace we are going, there is no reason to think that we will stop burning fossil fuels when carbon dioxide doubles. We could be on our way to tripling or quadrupling the amount of that heat-trapping gas in the atmosphere. In that case, experts believe, even an earth that turns out to be somewhat insensitive to carbon dioxide will undergo drastic changes.
Obviously, the high estimates are even scarier. So it would be nice to hear an explanation from the drafters of this coming report as to why they made decisions that effectively play up the low-end possibilities. But with the report still officially under wraps, they are not speaking publicly. We are thus left wondering whether it is a matter of pure professional judgment — or whether they have been cowed by the attacks of recent years.
Assuming these decisions withstand final review, it will be fascinating to hear the detailed explanations in Stockholm.
###
June 7, 2013 I was on my way to the Vienna International Club to listen to the Austrian Ambassador to Cyprus on matters of the EU.
At the Michaeler Platz in front of the Presidential Hofburg I saw a large Scania Bus and on it the words "CLEAN AIR IS A HUMAN RIGHT."
It was a muggy day and I was going to listen to a muggy topic – so – to improve my spirits I decided to stop at the Scania bus on the way back.
This was a worldwide road show organized by a Swedish Air-Filters manufacturer – the company is at Trosa, 60 Km SW of Stockholm – on the coast line, is 50 years old, and has 28 production sites globally. The CAMFIL Company produces only air-Filters.
CAMFIL is opening now new offices in Austria at the Hermann-Mark-Gasse 7, 1100 Vienna.  www.camfil.at and this is the reason of the strong PR campaign.
Inside the bus I enjoyed a video presentation that elucidated the afflictions from air-pollution. Today it is not just pollution from transportation – SO2 from burning coal. We have also the indoor pollution in part caused by particulates that result from cooking. Once we used to open widows to get in clean air – now we close the windows and must use filters to help us clean the air indoors.
The asthma numbers have skyrocketed. Further – the development of childrens lungs is harmed, heart and circulation diseases cause serious decrease in productivity. In some cities people walk around with gas masks.  They get tired while sitting at the computer? School kids have low attention in classes. The dependence on oil has done us in – quality of life has decreased as a result. Buildings got sick as well. The emissions led us to Climate Change and glaciers melt making things worse.
What can each one of us do? We can thrive to get better information and tell the politicians what we want them to do for us.
WE CAN IMPROVE THE PRODUCTIVITY OF OUR EMPLOYEES AND THIS WILL MORE THEN COVER ANY EXTRA EXPENSE WE HAD.
This by improving air quality with filters while obviously also change infrastructure and systems so we get away from the source of the pollution.
In the mean-time we do good by filtering out the bad – nothing wrong with this approach as long as we do not forget the larger goal which is the removal of the source of the pollution and not just the pollution itself.
We wish the best to this CAMFIL INITIATIVE.
###
Who lives in Tallinn, travels free with public transport.
based on article by André Anwar of Der Standard of Vienna, 5 April 2013.
  photo: apa / dpa / peer grimm

Passersby walk past in the Estonian capital of a web. Since the beginning of the year there are free tours by bus or tram.
Since the inhabitants of the Estonian capital can drive for free on public transport, the traffic in the center of Tallinn is already decreased by 15 percent. Now also other cities consider to introduce free public transport.
Tallinn (from Stockholm) – Tickets are for sale on the buses and trams of Tallinn- but not for the citizen-residents of the Baltic metropolis. Since this year its 420,000 inhabitants, the capital of Estonia, the first capital in the world, they can be completely free and unlimited ride on public transport . This measure is intended to combat ever increasing number of traffic jams in addition to the air pollution.
15 percent less traffic
The city government now sees first successes. "The traffic in the city has declined by 15 percent," said Allan Allaküla, traffic expert and head of the EU office of Tallinn, the standard. 21 percent of people say in surveys that they now use public transport more often. Last year, about 100,000 people a day used the public transport.
Mayor Edgar Savissar hopes that the number will increase significantly over the course of months yet. The new concept was flanked the year by numerous bus lanes on existing lanes in the city center. "Tallinn is innovative. Ours is the first capital, in which such a concept will be implemented on such a scale," said Savisaar. The measure also increases the mobility significantly poorer families.
Controversial initiative
The initiative of the left-liberal city chief is highly controversial. Opponents – obviously from the right – criticize that with Tallinn's bruised budget much more pressing social problems should be solved.
The transport had previously been heavily subsidized in Tallinn. A monthly ticket cost 18,50 €. Ticket proceeds from the end of 2012 show at least 33 percent of the cost of operating Öffi were covered. The loss is estimated by the opposition at 20 million euros. "The streets are full of potholes and there is no money for kindergartens," criticizes Valdo Randpere of the bourgeois opposition.
Price increase for tourists
Tallin Mayor Savisaar disagrees saying that now more people are living in Tallinn, which ultimately increase tax revenues. In 2013, there were many people who take the public transport  and stay in Tallinn and its surroundings, yet continued to be registered for tax purpose in other municipalities. They now log on to Tallinn to enjoy the free electronic tickets – for only he who is registered in Tallinn, travels free.
For tourists and other visitors, the prices were doubled from 80 cents to 1.60 euros.
If the model works Tallinn in the longer term, it could set a precedent in the region as well. Namely the other two Baltic capitals Riga and Vilnius, as well as the Finnish Helsinki, consider the introduction of public transport for free as well.
(André Anwar, THE STANDARD, 6./7.4.2013)
We add to this that in a country like the United States this would not work – simply because it requires an identity card – and the US is reluctant at allowing the issuance of personal IDs. Progress in important issues – like the right to free transportation from a locality – to the people who are registered local tax payers – legal residents of the place – is just as important as the right to clean air and water – call it in UN fashion – an inalienable right.
So far as Austria goes – there will be a trip this month to Tallinn as part of the learning tour of Austrian local government – organized by the Think Tank Academy of the Austrian People's Party. I will be on that tour and promise to make sure that the content of this article – originally brought to my attention by the left-of Center main Austrian newspaper – will not be lost to the members of the Austrian Right of center party. Mind you – both parties are part of long term government coalitions and starting to jostle in light of the September 2013 elections that could cause a relative change in strength that could lead to a change in the actual occupancy of the Chancellor's office. We think that ideas like the one in this article should be on the table.
###
Six EU leaders to skip Nobel gala
30.11.12 @ 09:51
By Andrew Rettman on www.EUobserver.com

BRUSSELS – Six EU leaders, including the UK, are to skip the Nobel gala next month, as criticism of the award multiplies.
Nobel Institute director Geir Lundestad told EUobserver on Friday (30 November) that 18 EU leaders will come to watch the Union's top three officials – Herman Van Rompuy, Jose Manuel Barroso and Martin Schulz – collect the peace prize in Oslo on 10 December.
He declined to list them. But he indicated that they include the "big" countries – France, Germany, Italy, Poland and Spain.
He said six others – including the Czech republic, Sweden and the UK – have confirmed they are not going, while the rest are still making up their mind.
The British and Czech decisions come from two eurosceptic VIPs – David Cameron and Vaclav Klaus – and are likely to fuel talk on whether Cameron thinks the UK is on its way out of the bloc.
Sweden's Frederik Reinfeldt cannot go because he is busy in a parallel Nobel event in Stockholm the same day.
Lundestad declined to speculate on whether Cameron and Klaus' decision amounts to a boycott. "It's up to them to explain why they are not coming," he said.
But he did criticise four cabinet ministers from Norway's eurosceptic Centre Party for also deciding to stay away.
"They put the emphasis on Norway and whether Norway should be a member of the EU or not. The committee dos not address that question. It recognises the EU's contribution to a more peaceful Europe through six decades. It has nothing to do with Norway," he noted.
The Nobel decision back in October prompted debate on whether the EU deserves the prize.
Some of the arguments were repeated this week.
For his part, the Austrian leader of the centre-left S&D group in the EU parliament, Hannes Swoboda, said in a debate in Brussels: "The EU was a vision for peace, after WWII. And the EU brought peace."
But a joint letter by the World Council of Churches and the Conference of European Churches said: "The economic and humanitarian tragedy today in Greece challenges the EU as a peace builder for the next generation."
Meanwhile, the recent Gaza crisis – which claimed 168 Palestinian lives and five Israeli ones – prompted a fresh rebuke.
A joint letter by 52 former peace prize laureates, artists, academics and diplomats on Wednesday said the EU should be disqualified for its ties to Israel.
"The role of the European Union must not go unnoticed, in particular its hefty subsidies to Israel's military complex through its research programmes," they wrote.
Former Nobel laureates Desmond Tutu, Mairead Maguire and Adolfo Perez Esquivel also wrote a letter attacking the EU as a party in conflicts around the world.
"The EU is clearly not 'the champion of peace' that Alfred Nobel had in mind when he wrote his will … The Norwegian Nobel committee has redefined and remodelled the prize in a manner that is not consistent with the law," they said.
They called for the committee to withhold the prize money of €930,000, even though the EU has promised to give it to charities for child victims of war.
For his part, Lundestad said the Tutu letter was organised by Fredrik Heffermehl, a Norwegian jurist who has "protested for many, many years against every decision of the Nobel committee."
He added: "The prize money has never been withheld."
Related:
###
The Israeli navy boarded a ship attempting to break the sea blockade of Gaza on Saturday, and planned to take the passengers into custody.

Those aboard the ship were hoping to call attention to the blockade of the Palestinian territory, which has been under an Israeli blockade since 2007.

Vessels attempting to break Israel's blockade of Gaza have sparked controversy — and violence — in the past.

In 2010, an Israeli raid on one flotilla ship resulted in the deaths of nine Turkish activists.

———–

Even while the Prime Minister is considering bringing to his cabinet's approval the report of Judge Edmond Levy, which asserts that the Palestinian territories are 'not occupied', Prime Minister Netanyahu, and his ally and rival Ehud Barak, have  ordered the Naval Commandos on a s resort to force, demonstrating that in effect  there is an occupation, and that the State of Israel is extending this occupation into international waters in the Mediterranean.Among the passengers on the Swedish ship "Estelle", which is now being dragged to the port of Ashdod in Israel, are three Israeli peace activists – Elik Elhanan Reut Mor and Yonathan Shapira. They arrived at the boat a few days ago, going by speedboat from Greece, and dodging the Greek Coast Guard. Along with them came on board the "Estelle" five Members of Parliament, from Sweden, Norway, Spain and Greece.

Estelle's passengers got yesterday a message from the Government of Israel, passed by the Finnish Foreign Ministry, in which they were warned that if they continue on their way they would be taken into custody in Israel and that they might be prosecuted for "illegal entry into Israel." They asked the Finns to relay back their answer – that they have no intention of or interest in trying to enter Israel, and that their sole purpose is to reach the Gaza Strip which is not part of Israel and from whose inhabitants they got an explicit invitation.

Yonathan Shapira wrote that his decision to participate in an attempt to break the siege and bring humanitarian aid to Gaza, is a direct continuation to his taking part, back in 2003, in the "Refuser Pilot Letter". Previous to the publication of this letter, Shapira had served in the Israeli Air Force as a helicopter pilot. Shapiro has been detained in the past when he sailed on "The Jewish Peace Ship" which was stopped off the Gaza shore in 2010.

The question is now how these events will impact the US electioneering debate.

as posted on October 18th:
Swedish Ship to Gaza – Former Israeli Air Force combat pilot evades coast guards in Greece to get on Gaza-bound boat.
Former Israeli Air Force combat pilot boards Gaza-bound boat
Came by motor boat, evading Greek coastguard, greeted with cheers
"Estelle" due at Gaza shore Saturday or Sunday
Activists on board:"Determined to reach Gaza, consent to UN inspection"
Israeli peace activist Yonatan Shapira, who had been a combat pilot in the Israeli Air Force and refused to take part in the bombing of Palestinian cities, has arrived on board the Swedish boat "Estelle" which is making her way towards the coast of Gaza.
When the Estelle passed near the shores of Greece, Shapira and other activists made their way in a motor boat, evading vessels of the Greek Coast Guard which sought to bar their way. "Along with the Greek Coast Guard  we saw a ship which seemed very much like an Israeli Navy vessel, though it did not fly a flag," said Shapira.
He was received with cheers by activists already on board. Shapira had taken part in a similar sailing last year, being taken off by Israeli Navy Commandos near the Gaza shore and spending time in police detention, but not charged with any criminal offence.
Meanwhile, Israel's Ambassador to the UN Ron Prosor has sent a letter calling on the United Nations to stop the Estelle from reaching her destination. To this activists on board respond: "If this means that Israel has decided to cede control over Palestinian territorial waters to the UN, this would actually be a step forward.
The UN and many other representatives of the International Community have for years characterized the siege of the Gaza strip as inhuman and incompatible with International Law.
"Ship to Gaza Sweden" assumes that that UN will not take over the implementation of this policy, by itself preventing a peaceful vessel from delivering humanitarian supplies.
"Ship to Gaza and the Freedom Flotilla have never opposed lawful inspections of cargo and vessel by representatives of the UN, as well as  by national authorities in the ports and waters we have passed through. We welcome further inspections of this kind by the UN, once we have anchored at Gaza City. What we refuse to accept is something which also the UN and the majority of The International Community oppose: The illegal siege of the Gaza Strip, with its devastating humanitarian results."
The Estelle has now set course to Gaza and, weather permitting, is due to get there on Saturday.
Adam Keller, Spokesperson of Gush Shalom, who is in ongoing contact with the Estelle activists, says that Israel's Prime Minister and Defense Minister still have some forty-eight hours' grace to make a wise and courageous decision, and let the Estelle dock at the Port of Gaza – while implementing a thorough UN inspection of her cargo, to which the activists  specifically consent.
Ship to Gaza-Sverige -  www.shiptogaza.se
###

In this release…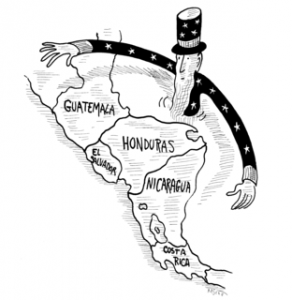 Source: Margaret Scott
CAFTA-DR Governments in Contrast to Small-Scale Owners Parcel Engines of Development
[THE CENTRAL AMERICAN FREE TRADE AGREEMENT THAT INCLUDES THE US AND THE DOMINICAN REPUBLIC OF THE CARIBBEAN ISLANDS.]
After 8 years of free trade agreement between Central America and the United States, CAFTA-DR has brought increased dependency on international markets for the region. Whereas this development decision was potentially positive for the countries' economy, it has hindered food security in the region, representing a huge risk to peasant's lives.
This article was prepared by Mar Guinot Aguado, Research Associate at the Council on Hemispheric Affairs.
To read full article, click here.
parts of it say:
Historically dependent on their neighbor to the North as the engine for development, the Central American countries agreed to fully open their markets to the United States in the late 2000s. The Central American Free Trade Agreement (CAFTA-DR), initiated in 2002 between El Salvador, Guatemala, Honduras, Nicaragua, Costa Rica, the Dominican Republic and the United States, strove to liberalize Central American markets in an effort to increase investments and create economic opportunities throughout the region. The neoliberal policy was aimed at eliminating trade barriers and tariffs on guaranteed agricultural and manufactured goods, investments, and services, which traditionally have led to misery for vulnerable peasants in the agreement's less developed countries. Central America is the third largest U.S. export market in existence, and up to now the neoliberal ideals imposed by the agreement have mainly benefited large corporations that have migrated to the region. The decision of these governments to establish a free market has hampered the Central American agricultural sector and has decreased food security. This process intensifies the area's dependency on volatile international markets in a region already threatened by structural malnutrition.
Free-trade advocates had argued that CAFTA-DR would decrease poverty in rural areas and accelerate the development of Central America, substantially benefiting consumers by decreasing prices of consumer products and improving their purchasing power. But years after its implementation, CAFTA-DR has re-structured the countries' economies by flooding their markets with subsidized grains coming from the Unites States. In fact, between 1995 and 2011, the U.S. government spent $277.3 billion USD in agricultural subsidies, exporting many of these products to Central America.[6] Since the free-trade agreement, Central American countries and the Dominican Republic have been transformed into net food importers, with their governments unable to dedicate as much investment to the agricultural sector. As a result of the international economic integration with trade liberalization, the region has dramatically increased its dependency on imports supplemented by diminishing amounts of aid, and thus has been exposed to the volatility of commodity prices. Yet, low food prices in Central America have not effectively mitigated hunger.
According to the 2008 State of the Region Report, "An increase of 15 percent in the price of food could mean 2.5 million more people in extreme poverty, particularly in Guatemala and Honduras." The report shows "a model of rising imports (wheat, rice and corn went up to about 30 percent in available food between 1990-2003) with tripled prices for wheat and doubled prices for corn and rice (2008-2009)," which not only "leads to profits for the companies that import the goods, but growing malnutrition, especially among the region's rural and indigenous poor."[7] For example, El Salvador imports 79 percent of its rice and 43 percent of its corn. Similarly, Costa Rica imports 77 percent of its beans while Guatemala imports 100 percent of its wheat and 70 percent of its rice.[8] Food prices have risen internationally; wheat prices have grown 152 percent and maize prices have grown 122 percent between 2006 and 2008.[9] This price inflation, therefore, has negatively affected poor people in the region, who suffer from a huge dependency on agricultural imports promulgated by CAFTA-DR.
Instead of growing yields destined for local consumption, the trade agreement has led to a decrease in the diversification of production and a concentration on exportable crops in Central America. From the 1990s to 2005, local food production—such as rice, beans, and corn—shrank by 50 percent.[10] Prior to the agreement, 75 percent of Central American exports had free access to the U.S. market through bilateral agreements. This slashed CAFTA-DR's developmental benefits for Central America.[11] Moreover, the huge size differences between the United States' and the other countries' markets seriously hindered Central America in seeking an equal negotiation.
Developed countries are promoting the cultivation of biofuel crops, such as palm oil in Guatemala, as a sustainable development project strategy. Yet, this expansion deepens food insecurity in this afflicted region by weakening rural sustainability.
According to USA Rice Federation Chairman Lee Adams, echoing the upbeat attitude of other unalloyed boosters, "support for CAFTA-DR means more jobs for rural America, and greater stability for U.S. agriculture."[18] Their argument is that CAFTA-DR has positively impacted agriculture in the U.S., increasing its exports to the region by 84 percent from 2005 to 2011, which represented $4.2 billion USD in 2010.[19] For the United States, removing agricultural barriers to this market has thus created a beneficial solution to its overproduction of farming goods. In that sense, the trade agreement is destroying any possibility of balanced regional integration within a Central American common market. Yet, the Central American governments continue to push toward a developmental model through free trade agreements, signing the new Association Agreement with the European Union in June 2012.[20] Similar to CAFTA-DR, this economic integration allows at least some kind of cooperation within Central America. While other trade alternatives exist such as ALBA, based on a more cooperative perspective, Central American governments chose the CAFTA-DR approach for their countries, which appears to only support narrow development.
The neoliberal policies implemented in the region through the CAFTA-DR agreement have negatively impacted these less developed countries. Subsidized production from the U.S. and superficially sustainable biofuel projects from developed countries have repeatedly devastated rural economies
———————————————————————
Ecuador's Correa Sounds The Bugle
Senior Research Fellow Sean Burges examines the political ramifications of Ecuadorian President Rafael Correa's decision to grant Wikileaks founder Julian Assange asylum. In this piece, Burges examines how Correa is expanding upon his tradition of a reformist populist agenda that confronts the established political orders of more Westernized countries. As the media focus on Assange, Correa is using the distraction to further implement his domestic agenda while using the splash tiny Ecuador has caused to solidify his leftist credentials.
This article was prepared by Sean Burges, Senior Research Fellow at the Council on Hemispheric Affairs.
To read full article, that explains the Correa Ecuador stand vis-a-vis the UK and the US please click here.
Some excerpts are:
The situation with respect to the US is not much different from the way Correa views the UK which has its entanglement with Latin America because of the Malvinas Islands. Correa can bank on Latin support versus the UK – this includes the strong Brazil. Relations with Washington remain stable despite sustained provocations. In 2009 Correa delivered a major blow to US drug interdiction policy by refusing to renew the Pentagon's lease on the Manta airbase in southern Ecuador. This was followed last year with the expulsion of the US ambassador, ironically because of the material released in the WikiLeaks Cablegate.
These provocations and a habitually anti-imperialist rhetoric from Correa had little impact on trade with the US. From 2005 to last year, exports to the US grew by 20.5 per cent. More importantly for Correa's strategic thinking, the US share of Ecuador's exports fell from 49.7 per cent to 34.6 per cent, and this trade was concentrated in the fish, fruit and oil that have a ready Chinese market.
The foreign policy and economic cost of provoking Britain and US is thus remarkably low for Correa, allowing him to use Assange to further burnish his anti-imperialist credentials among his domestic political supporters. For Correa, maintaining credibility as a forceful voice against imperialism and a staunch rhetorical critic of the US is a domestic political necessity. His entire agenda is directed towards transforming the political and social structure of Ecuador, which automatically threatens the interests of the established political and economic elite.
Given that the three presidents elected before Correa were belted from office by massive indigenous popular protests or congressional conspiracy, it is hard to argue that there was not a need for constitutional reform in Ecuador. At issue were the twin problems of the near impossibility of electing a congress that would co-operate with the president and the systemic exclusion of the country's indigenous peoples (25 per cent of the population) and the mixed-heritage mestizos (65 per cent) from real political participation.
Correa wasted little time in pursuing reform after his 2006 election. To facilitate inclusion and break gridlock, Correa called a constitutional convention in 2007, which duly drafted a new magna carta for Ecuador. In 2008, the document was put to a national referendum and approved by 64 per cent of the population as the country's 20thconstitution. The established political and economic elite is not happy and is doing all it can to undermine Correa. Although poverty rates in Ecuador have dropped from 37.6 per cent to 28.6 per cent over the past five years, the political reality is that it is very easy to spin a quarter of the population remaining impoverished as a cataclysmic failure of governmental policy.
###
please see also our previous posting:
==========================================
Cut air pollution, buy time to slow climate change: US.
Cutting soot and other air pollutants could help "buy time" in the fight against climate change, a senior U.S. official said on Tuesday as seven nations joined a Washington-led plan.
Air pollution, from sources ranging from wood-fired cooking stoves in Africa to cars in Europe, may be responsible for up to six million deaths a year worldwide and is also contributing to global warming, the U.N. Environment Programme (UNEP) said.
Seven countries — Britain, Denmark, Finland, France, Germany, Italy and Jordan — formally joined the U.S.-led Climate and Clean Air Initiative, bringing the total of members to about 20 since the plan was launched in February.
"If we are able to do this we could really buy time in the context of the global problem to combat climate change," Jonathan Pershing, U.S. deputy special envoy for climate change, told a telephone news briefing from Paris.
Pershing said that time was "desperately" needed to slow global warming. Unlike other developed nations, the United States has not passed laws to cut greenhouse gas emissions despite proposed cuts by President Barack Obama.
Pershing said that Washington was in talks trying to attract more nations to the air pollution plan, including China and India which are the number one and three emitters of greenhouse gases respectively, with the United States in second.
The U.S.-led plan in Paris focuses on limiting soot, heat-trapping methane, ground level ozone and HFC gases. Soot, for instance, can speed the melt of Arctic ice when it lands as a dark dusting that soaks up more heat and thaws ice.
Soot can also cause respiratory diseases.
By contrast, U.N. plans for fighting climate change focus mainly on carbon dioxide, the main greenhouse gas released by burning fossil fuels that are blamed for causing more droughts, floods, wildfires and rising sea levels.
The U.N. Environment Programme, which is a partner with the U.S. initiative, said that success could reduce the projected rise in global temperatures from a build-up of greenhouse gases by 0.5 degree Celsius (0.9 Fahrenheit) by 2050.
By 2030, fast action could also prevent millions of premature deaths and avoid the annual loss of 30 million tons of crops, it said.
Pershing said that the small amount mobilized so far in pilot projects — $13 million — could catalyze wider change. And many projects paid for themselves in greater efficiency.
Karen Luken, of the C40 Partnership and the Clinton Climate Initiative, said that exploiting methane from trash decomposing in a landfill in Mexico City had reduced greenhouse gases and was providing energy for 35,000 homes.
"We will use that model in other places, such as Lagos."
Quotes from new partners
Finland
"The need to limit short-lived climate pollutants (SLCPs) has grown.  In the Arctic region, in particular, black carbon emissions and deposition must be reduced.  Controlling all SLCP emissions will complement international efforts to reduce greenhouse gas emissions, in order to combat climate change as effectively as possible.  Limiting fine particulates will also alleviate health risk", states Ville Niinistö, Finland's Minister of the Environment.
Germany
"The German Government is delighted to be a part of the Climate and Clean Air Coalition to Reduce Short-Lived Climate Pollutants.  Germany has already initiated extensive measures at national and international level to curb these substances.  The Coalition can play a key role in achieving this and thus supplement the efforts of international climate policy and other environmental areas such as air quality control and the protection of the ozone layer", according to the Federal Environment Minister of Germany, Peter Altmaier.
==============================
The initiatives were agreed at the first ministerial of the Coalition held in Stockholm, Sweden, in April during the celebrations of the 40th anniversary of the first UN Conference on the Human Environment.
Methane Emissions from Municipal Waste
Waste generated world-wide is responsible for an estimated one-third of global methane emissions—a greenhouse gas over 20 times more potent than carbon dioxide and one linked to the generation of ground level ozone that is not only damaging to crops but human health.
The Coalition is working with the Global Methane Initiative and the C40 Cities Climate Leadership Group, which is partnered with the Clinton Climate Initiative, to assist urban areas to cut methane emissions from across the waste chain including from landfills and pollution linked with organic waste like food.
The initiative is also planning to assist cities in reducing open burning of municipal waste, which results in harmful black carbon emissions.
A dedicated web-based platform, through which cities world-wide can share experiences, achievements and best practices, will be launched.
At today's meeting in Paris, the Coalition discussed progress on this initiative, including plans to work with an initial group of up to 10 cities during the next 12 months through measures such as waste inventories, enhanced composting and recycling, landfill management, and comprehensive waste sector planning.
Emissions from Brick Kilns
The manufacture of bricks in developing countries is often linked with significant emissions of toxic fumes including black carbon.
The Coalition is assessing how to assist countries to switch to more efficient and mechanized "firing" technologies.
A recent study in India and Vietnam indicates that modernizing 35,000 old brick kilns in the region could cut black carbon emissions by 40,000 tons, equal to 27 million tons of CO2.
Mexico, which has secured close to $1 million from the Global Environment Facility to carry out the first national assessment of SLCPs including those from its estimated 20,000 traditional brick kilns, is planning a Coalition workshop in September to advance action in the region.
The Coalition is also putting in place the awareness raising and knowledge generation needed to fast track demonstration projects.
Reducing Black Carbon Emissions from Heavy Duty Diesel Vehicles and Engines
The Coalition discussed many different methods of reducing black carbon from heavy duty diesel vehicles and engines—emissions that are not only a health risk but contribute to melting in the Arctic.
The use of low-sulphur fuels opens up the possibility of one method — fitting particle or black carbon filters to heavy duty vehicles.
Efforts under the UNEP-hosted Clean Fuels and Vehicles Partnership, originally established to phase lead out of petrol, are now focused on reducing sulphur levels in transport fuels.  The Coalition is planning to build off of UNEP's existing sulphur reduction efforts to also tackle black carbon emissions.
Promoting Alternatives to HFCs
HFCs are increasingly being used  as replacements to CFCs in areas such as air conditioners, refrigeration and foams because they have zero impact on the ozone layer–the Earth's shield that filters out dangerous levels of the sun's ultra violet rays.
However, studies indicate that some HFCs are powerful greenhouse gases and if these become widespread they could be responsible for emissions equivalent to 3.5 to 8.8 gigatonnes (Gt) of carbon dioxide (Gt CO2eq) — comparable to current annual emissions from the entire global transport system, estimated at around 6-7 Gt annually.
There are many climate-friendlier replacements available and opportunities to reduce HFC emissions through advanced technologies as well as best service practices.
The Coalition is catalysing awareness of the risks and the alternatives. This week it convened a packed meeting of industry and governments in Bangkok, Thailand, aimed at fast tracking these aims.
Emissions from Oil and Gas Industry
Venting and leakage from oil and gas systems account for over a fifth of global man-made methane emissions and represent estimated economic losses of $27 billion to over $60 billion a year.
An estimated one-third of these losses can be reduced at zero cost with existing technologies and practices. Meanwhile, flaring also leads to emissions of black carbon.
Action is underway to address the issue through initiatives such as the Global Methane Initiative, the Natural Gas STAR International programme, and the Global Gas Flaring Reduction (GGFR) Partnership.
The Coalition is planning to build upon those efforts by working with industry, countries and investors to catalyse accelerated action.
###
Dear Reader,
Don Hazen
Executive Editor, AlterNet
——————————
YES – but not enough. Let us understand finally that we have been hijacked by our own inaction.
The papers this weekend want us to believe that the two greatest things that are happening right now are the start of Olympics 2012 in London and the opening of  "The Dark Knight Rises" or Batman III. What goes on in Syria is just a distraction from above focal points of our lives.
Just in case – if we want a little bit more then tragicomedy in our lives – the main attraction at the London Olympics – the first since 1948 – will be the helicopter-carrier positioned in the middle of the Thames River, and the main advertisement for the Batman movie was done with the help of news from the killings at Aurora, Denver, Colorado.
For the honest reality show – the whole world was placed in a Ghetto by the terror act at the Munich Olympics in 1972.
The present Olympics Committee – just a mere 40 years later, did not even agree to have a special ceremony at this year's Olympics – the tenth since that on-TV event of 1972. Now the TV programs amaze us with the killings of Arab-against-Arab, as in the Damascus routine, and the pre-Olympic celebration in Burgas near the Bulgarian Black Sea coast. There, a terrorist blew himself up, and took along six other people – five of them Israelis – his presumable targets.
Who was the terrorist of Burgas? We do not know and do not assume to know, but we read that Israel says Hamas, and the US know that it was a Hezbollah man backed by Iran, while  the Bulgarian official version is simply – he was not Bulgarian but someone who came from the outside with a pre-conceived plan. Strangely – a Bulgarian journalist had more to say.
He wrote on inter-view.info hat the killer, Mehdi Muhammad G. (33) was born in Sweden, son of immigrants – an Algerian father and a Finnish mother, and went to Pakistan to absorb Islamic teachings. There he was found by the US and brought to Guantanamo on December 1, 2001.
July 2004 (that is still during the G.W. Bush US Presidency – something worthwhile noting right here in the light of the potential of politicizing the event – if true)  he was subsequently released upon request from Sweden. We have no proof that this story is true, but if it is there will clearly be repercussions at the EU and in the US.  So far we read only in Austrian papers, whatever the facts, Bulgaria's chances to join the Schengen agreement are now diminished.
But above mishap, or perhaps an Olympic reminder to the survivors of the Israeli 1972 team, that went this week to re-visit the Munich site, was coincidentally only a first step – followed by an unrelated event – that we argue to be related nevertheless.
The second event is the Aurora shooting in at a movie house near Denver, Colorado – the killing of 12 people, and injuring 59 more, by what the papers try to describe as a deranged person who had – in a US crazy way – legal access to buy guns and ammunition. (The amo bought on internet and delivered to his home and school, the guns bought directly from official dealers based on his having a clean record.)
James Eagan Holmes, a 24 year young student of neuroscience, hair dyed red, with a gas mask on his face, armed with tear gas and guns, did his thing at the midnight premiere of Batman III, a movie officially titled "The Dark Knight Rises," that was going to bring in a lot of money to its producers – who prepared as well a great advertising campaign with the help of a website www.RottenTomatoes.com The website itself, though managed by the film-critics community Flixter.com is owned by Warner Brothers – the studio that produced this film.
The critics, based on seeing trailers or having been at previews, posted 197 articles out of  which 86% were positive.
The first negative review earned the critic, Marshall Fine, threats to his life.
The film, like all Batman films, deals in hidden ways with what is interpreted as a glorification of the George W. Bush, post 9/11 War on Terror. That would not have excited us. We decided to write this posting only when we read that Rush Limbaugh, the fire-brand of the US Tea-Party, and the storm-trooper of the fight against an Obama Presidency, pointed out that the character's name  in the film – Bane, is a hidden psychological hint at the Bain Capital Company (same pronunciation) owned by Mitt Romney in real life, and this is no coincidence according to Rush.
Rush expressed the certainty that this was intended so that it plants in the mind of the viewers the idea that Romney is a personification of evil. The fact that the book was actually written in 1993 by a conservative writer –  Christopher Nolans – and the character was already there – is a detail of no importance to Rush – but we fear  that in real political life of the Republican Party  in the USA of 2012, facts have no importance.   …. It is the figments of imagination that are being expressed as facts, and weak minds draw weak conclusions. The real  problem is that such conclusions can kill.
Holmes booby-trapped his apartment in Aurora, and now the police must be very careful in gaining access – we hope they do not proceed by blowing up the place and losing whatever further evidence can be found there.
In Paris the opening of  The Dark Knight Rises was cancelled, in Vienna the Tuesday preview is still on, and the opening is scheduled for Wednesday. In New York, supposedly the movie's Gotham City – a sin city of the stock exchange if you want this sort of interpretation for creation of good ticket-box results, Mayor Bloomberg, who calls for gun-control laws, has made sure that the movie house is supervised by no-nonsense police.
Also, we understand that some wise person wrote a pro-guns' proliferation piece contending that had there been more guns in the theater room, the number of casualties would have been smaller. I guess, if this logic holds, our lives would be safer living in a wild west coral – like in the movies – all of us would would be drawing guns.
———————————————
Our posting is very short – if interested here are some further material that throws light at the low state we find ourselves in the post-Munich insecurity that benefits only the arms producers and the outspoken and powerful moron politicians:
By Chip Berlet | AlterNet
By Kristen Gwynne | AlterNet
By Kathleen Geier | Washington Monthly
By Julianne Escobedo Shepherd | AlterNet
By BooMan | Booman Tribune
By Julianne Escobedo Shepherd | AlterNet
By Jodi Jacobson | RH Reality Check
By Travis Waldron | ThinkProgress
By Lisa Belkin | Huffington Post
###
From The Dag Hammarskjöld Foundation:
New publication: Development Dialogue no.59

No future without justice – Report of the Civil Society Reflection Group on Global Development Perspectives

The world faces an unprecedented coincidence of global crises. They testify to the failure of the dominant model of development and economic progress that is oriented on a technocratic modernisation path, is blind to human rights and the ecological limits of the global ecosystem, confuses growth of Gross Domestic Product with progress in society, and regards poverty as a primarily technical challenge in which categories of inequality and social justice are neglected.

The Civil Society Reflection Group on Global Development Perspectives brought together 18 civil society activists and scholars from different disciplines from around the globe. Its members jointly drew lessons from the current crises, looked beyond conventional development concepts and goals, questioned the models and measures of development and social progress, and presented alternatives.

This report is the main outcome of the joint deliberations. It describes the root causes of the multiple crises, reconfirms the framework of universal principles and rights, reconsiders development goals and indicators, and draws conclusions for the post-2015 development agenda. It seeks to stimulate debates about alternative development paths, participatory and inclusive governance structures, and the transformation in politics and societies that future justice for all will require.

Have a nice day,

Henning Melber

Executive Director
The Dag Hammarskjöld Foundation.
###
| | |
| --- | --- |
| | |

Campaigns and Advocacy / Campañas y Defensa

SOURCE: Andean Foundation for Media Observation & Study (FUNDAMEDIOS)

(Fundamedios/IFEX) – 21 May 2012 – Seventeen states from the Americas, Europe and Asia suggested that the Ecuadorian government should respect and guarantee the freedoms of the press and of expression in the country.

They made these observations on 21 May 2012 during a session of the UN Human Rights Council, where the states assessed Ecuador using the mechanism known as the Universal Periodic Review (UPR).

Germany, Australia, Austria, Belgium, Canada, Costa Rica, Estonia, United States, Slovakia, Latvia, Luxemburg, Norway, France, India, Sweden, Switzerland and the United Kingdom were the countries that presented observations to the Ecuadorian State that it should promote and respect freedom of expression and eliminate laws that criminalize opinion. Some of them also requested that Ecuador should make possible a visit by the UN Special Rapporteur on Freedom of Expression to examine the situation of freedom of expression in the country.

The European countries' delegations were the most critical. Sweden, for example, mentioned the case that led to the conviction of a former feature writer and the directors of the newspaper El Universo; and although President Correa abandoned the lawsuit, it recommended that the Ecuadorian State should protect freedom of expression.

Meanwhile, Switzerland emphasized that an atmosphere of censorship and self-censorship prevails in Ecuador and that the State has the obligation of respecting this fundamental right, while Luxembourg expressed concern for the intimidations against Ecuadorian journalists.

Among countries in the Americas, the United States was one of the most critical, showing its concern for attacks against journalists and because in Ecuador freedom of expression is not fully guaranteed. Canada and Costa Rica also issued recommendations to establish measures that guarantee the protection of this fundamental right in accordance with international regulations.

The criminalization of social protest and free association concerned Belgium, Canada, Estonia, France, Germany, Hungary, Latvia and Luxembourg, all of which recommended that guarantees should be in place to allow opposition groups and communities to protest freely, without being condemned as terrorists or saboteurs. In regard to this issue, Spain recommended reviewing the restrictive legislation against NGOs and the criminalization of social protest in the country.

Faced by these pronouncements, the Ecuadorian delegation, led by Vice-president Lenin Moreno; the Minister of Foreign Affairs Ricardo Patiño; the Minister of Justice Johana Pesántez and the National Communication Secretary Fernando Alvarado affirmed that the press is neither censored nor persecuted in the country and that there are no jailed journalists in Ecuador. "Freedom of expression is absolutely and wholly respected in Ecuador", stated Minister Patiño.

The 17 observations exceed in number those issued against Venezuela during last October's UPR, when 13 recommendations concerning freedom of expression were presented, all of them were eventually rejected by that government.

The official report will be presented on Friday 25 May and the Ecuadorian government will have to accept or reject the recommendations issued today, as well as those that the states present in writing.

Fundamedios will attend this session and will provide news coverage through its twitter accounts, @LoFundamental and @Fundamedios, and its Facebook pages Fundamedios and LoFundamental.

For more information:
Andean Foundation for Media Observation & Study (FUNDAMEDIOS)
Unión Nacional de Periodistas E2-32 e Iñaquito
Edificio UNP
Piso 4, Ofic. 403
Quito, Ecuador
info (@) fundamedios.org.ec
Phone: +593 2 2461622/ 2461636/ 2461642
Fax: +593 2 2230 821
www.fundamedios.org
@fundamedios

---


22 mayo 2012

FUENTE: Fundación Andina para la Observación y el Estudio de Medios

(Fundamedios/IFEX) – 21 de Mayo de 2012 – Diecisiete estados de América, Europa y Asia realizaron sugerencias para que el gobierno de Ecuador respete y garantice de forma efectiva las libertades de expresión y de prensa en el país.

Esas observaciones se realizaron este 21 de mayo de 2012, durante la sesión del Consejo de Derechos Humanos de la ONU, en donde los Estados evaluaron al Ecuador bajo el mecanismo conocido como Examen Periódico Universal (EPU).

Alemania, Australia, Austria, Bélgica, Canadá, Costa Rica, Estonia, Estados Unidos, Eslovaquia, Letonia, Luxemburgo, Noruega, Francia, India, Suecia, Suiza, Reino Unido, fueron los países que plantearon observaciones al Estado ecuatoriano para que promueva y respete la libertad de expresión y que elimine leyes que criminalizan la opinión. Algunos de ellos también solicitaron que el Ecuador posibilite de forma real la visita del Relator Especial de Libertad de Expresión de la ONU, para que constate la situación de la libertad de expresión.

En este sentido, los países de las delegaciones europeas fueron los más críticos con este tema. Por ejemplo, Suecia mencionó el caso por el que se condenó al exarticulista y directivos de diario El Universo y, pese a que el Presidente desistió de aquel juicio, recomendó al Estado ecuatoriano la protección de la libertad de expresión.

Por su parte, Suiza fue enfático en señalar que el Ecuador se vive un clima de censura y autocensura y que el Estado tiene la obligación de respetar este derecho fundamental, mientras que Luxemburgo se mostró preocupado por las intimidaciones a periodistas ecuatorianos.

Del lado del continente americano, Estados Unidos fue otro de los Estados más críticos y que mostró su preocupación por los ataques a periodistas y porque en Ecuador no se garantiza plenamente la libertad de expresión. Canadá y Costa Rica también formularon recomendaciones para que se tomen medidas que garanticen la protección de este derecho fundamental, de acuerdo con las normas internacionales.

La criminalización de la protesta social y la libre asociación también fueron temas que preocuparon a muchos países como Bélgica, Canadá, Estonia, Francia, Alemania, Hungría, Letonia, Luxemburgo, quienes plantearon sus recomendaciones en el sentido de que deben existir garantías para que los grupos opositores, así como las comunidades puedan protestar libremente, sin ser condenados bajo figuras como el terrorismo y sabotaje. Al respecto España recomendó revisar la legislación restrictiva para ONG y criminalización de la protesta social en el país.

Frente a estas inquietudes, la delegación ecuatoriana, encabezada por el vicepresidente Lenin Moreno; el canciller Ricardo Patiño, la ministra de Justicia Johana Pesántez y el secretario nacional de comunicación Fernando Alvarado, aseguraron que en el país no se censura ni se persigue a la prensa y que tampoco existen periodistas encarcelados. "En Ecuador se respeta absoluta y totalmente la libertad de expresión", mencionó el canciller Patiño.

Las 17 observaciones formuladas superan a las realizadas a Venezuela, en el EPU de octubre pasado, en dónde se plantearon 13 recomendaciones sobre libertad de expresión, todas las cuales fueron rechazadas por dicho Gobierno.

El próximo viernes 25 de mayo, se presentará el informe y el Gobierno ecuatoriano aceptará o rechazará las recomendaciones realizadas hoy, o aquellas que los estados presenten por escrito.

Fundamedios estará presente en esta sesión y acompañará la cobertura noticiosa a través de sus cuentas de twitter, @LoFundamental y @Fundamedios y sus páginas de Facebook, Fundamedios y LoFundamental.

Para mayor información:
Fundación Andina para la Observación y el Estudio de Medios
Unión Nacional de Periodistas E2-32 e Iñaquito
Edificio UNP
Piso 4, Ofic. 403
Quito, Ecuador
info (@) fundamedios.org.ec
Tel: +593 2 2461622/ 2461636/ 2461642
Fax: +593 2 2230 821
www.fundamedios.org
@fundamedios
###
Given the slow progress of international climate talks, many have come to see the "green economy" as a more promising approach: If we can make low-carbon technologies profitable, reliable and affordable, they argue, they could be successfully deployed around the world even without mandatory emission-reduction targets.
In a new article in the journal Climate and Development, researchers from the Potsdam Institute for Climate Impact Research (PIK), the International Institute for Applied Systems Analysis (IIASA), and PricewaterhouseCoopers test the viability of this strategy by examining trends in Europe's electricity sector.
They find that changes are occurring in the political, policy, and regulatory landscape in Europe, as well as North Africa, that are consistent with a continued and accelerated deployment of renewable power in the region. This supports the proposition, they write, that a technology push could be sufficiently substantial and sustained to make some renewables economically competitive with fossil fuels, perhaps by the end of this decade, or the beginning of next. And if this occurs, renewables could potentially become attractive and viable globally, even in the poorest of countries, and even in the absence of a global treaty.
The article is "An alternative to a global climate deal may be unfolding before our eyes," by Johan Lilliestam, Antonella Battaglini, Charlotte Finlay, Daniel Fürstenwerth, Anthony Patt, Gus Schellekens and Peter Schmidt. It appears in the forthcoming Climate and Development 4(1), DOI:10.1080/17565529.2012.658273.  If you do not have access to the journal but would like to read a copy of the article, please email me or Tom Gill, Managing Editor of the journal, at tom.gill@sei-international.org.
–
Marion Davis
Stockholm Environment Institute – Communications
+1(617) 245-0895 / Skype: marion.s.davis
###
EU Fails To Resolve Dispute Over UN Climate Fund Seats.
Date: 02-Apr-12
Country: UK/BELGIUM
Author: Nina Chestney and Charlie Dunmore from Reuters.
European Union ambassadors failed to resolve a dispute over the allocation of seats on the United Nations' Green Climate Fund (GCF) board on Friday, possibly undermining the bloc's credibility in international climate talks.
The EU envoys were meeting for the second time in a week to decide which European nations will be represented on the governing board. This has 12 seats for developing countries and another 12 for developed countries.
"Despite willingness to compromise and adequately share board seats, it has, unfortunately, not been possible to come to an agreement within the EU," the EU's Danish presidency said in a statement.
As a result, the EU will miss a March 31 deadline for making a joint proposal on board membership, and EU governments and the bloc's executive will now have to negotiate directly with other developed countries over who gets the seats.
"For this reason, respective nominations from the group of developed country parties will be withheld until these discussions have taken place," delaying the entire process, the Danish presidency said.
U.N. climate talks in Durban last year agreed on the design of the fund, which is aimed at channelling up to $100 billion a year to help developing countries adapt to climate change.
Disputes of this kind could both slow the process towards the launch of the fund in 2013 and give other countries the impression that the EU is stalling on climate finance. "It shows that the EU unity we had in Durban has been eroded and that could damage Europe's image in global climate change talks," Danish presidency spokesman Jakob Alvi said.
The fund's first board meeting is due on April 25 to 27, a U.N. spokesman said, subject to confirmation next week.
Despite the EU's failure to reach an agreement, it should not affect the number of seats it will be allocated on the GCF board, he added.
SEAT DISPUTE
Thirteen of the 27 EU countries had requested a board seat, to ensure they had a say in funding decisions.
A draft EU document, seen by Reuters this week, shows that EU member states and Switzerland might together be able to obtain seven full seats plus associated alternating seats between them. Denmark had proposed that Britain, Germany and France, as the likely biggest financial contributors, should hold a full seat each and share three further alternating seats with another EU country.
But an EU source involved in the discussions said Germany – backed by France – refused to share its seat with any other EU country and insisted on a permanent position on the board, ending any chance of an EU compromise.
Poland also insisted on having a full seat, and told the meeting that in the absence of a joint proposal it would put itself forward to the U.N. in a separate bid outside the EU, sources said under condition of anonymity.
Poland, which relies heavily on coal production for its energy needs, says its economy would develop much more quickly if it wasn't for the EU's climate policy, which aims to make coal power generation more expensive.
"(The Commission) has tried to rob us so many times before. This time around we want to wear a second jacket – just in case – and let nothing we are eligible for miss us," a Polish government source told Reuters.
###
International Herald Tribune EDITORIAL
A Second Front in the Climate War
Published: February 17, 2012
Year after year, the world's nations gather to find ways to reduce carbon dioxide, the main greenhouse gas, with little meaningful progress. Frustrated by this slow pace, the United States and five other countries announced this week a modest but potentially game-changing initiative to cut three other pollutants that also contribute significantly to climate change.
The three pollutants — methane, soot (also known as black carbon) and hydrofluorocarbons — together account for about 30 percent to 40 percent of the rise in global temperatures. Unlike carbon dioxide, they do not remain in the atmosphere for a long time, but, while they are there, they drive temperatures upward.
Mainstream scientists believe that to avoid disastrous increases in the sea levels and widespread drought, the rise in global temperatures by 2050 should not exceed 2 degrees Celsius above preindustrial levels. Though cuts in carbon dioxide will also be necessary to reach that goal, curbing these three pollutants will help enormously.
Officials hope further that by tackling these pollutants they can achieve relatively quick and measurable reductions in emissions without waiting for politicians to act or the United Nations process to produce a global agreement on carbon dioxide.
The plan's founding members are the United States, Canada, Sweden, Mexico, Ghana and Bangladesh. Washington and Ottawa will jointly underwrite a $15 million start-up fund. Clearly, the program must be scaled up over time, with many more countries participating. In the short term, officials say their purpose is to educate and test inexpensive and technologically accessible ways of capturing these gases.
Soot, a huge health hazard, can be reduced by installing filters on diesel engines, replacing traditional cookstoves with more efficient models and banning the open burning of agricultural waste. Methane can be captured from oil and gas wells, leaky pipelines, municipal landfills and wastewater treatment plants.
Significantly reducing hydrofluorocarbons, or HFCs, could be harder. These compounds, widely used in air-conditioners and originally developed to replace the refrigerants that were damaging the ozone layer, turned out to be a potent greenhouse gas. Efforts to find less-harmful substitutes have met resistance from countries like India and China, where most HFCs are manufactured.
Governments everywhere should obviously be pushing to reduce carbon dioxide, the most dangerous greenhouse gas. In the meantime, opening an important second front in the climate war will demonstrate that progress is possible.
###
New cars were unveiled at the Detroit auto show on Monday.
Wanted or Not: Alternative-Fuel Cars Flood Auto Show.
By NICK BUNKLEY
Published, The New York Times on-line,  January 9, 2012
DETROIT — In the race to claim ever-higher fuel-economy numbers and keep up with government regulations, automakers are rolling out hybrids and electric cars aplenty at this week's Detroit auto show.      If only buyers were arriving as fast as the cars.
Rebecca Cook/Reuters


Stefan Jacoby, chief executive of Volvo Cars, showed the XC60 plug-in hybrid concept car on Monday in Detroit.
Clockwise from top, Rebecca Cook/Reuters; Geoff Robins, via Agence France-Presse — Getty Images; Tannen Maury, via European Pressphoto Agency
New cars unveiled at the Detroit auto show on Monday are, clockwise from top, the Mercedes-Benz E-400 hybrid, Volkswagen Jetta Hybrid, and BMW Active Hybrid 3.
Hybrid sales waned as gasoline prices ebbed in 2011, declining to 2.2 percent of the market from 2.4 percent a year earlier, according to the research firm LMC Automotive. Meanwhile, sales of the Nissan Leaf electric car and theChevrolet Volt plug-in each fell short of expectations.
Analysts do not expect the segment to grow significantly this year: the combination of gas prices below $4 a gallon and higher upfront costs for the cars is not attracting consumers.
But that is not deterring Toyota, Honda, Ford Motor and several European carmakers from introducing new hybrid and plug-in models.
"The market is going in one direction and fuel-economy regulations are going the other direction," said Jeremy Anwyl, vice chairman of the automotive information Web siteEdmunds.com. "Just because people start building more of something doesn't mean the segment grows."
Regardless, the automakers have little choice but to develop and try to push more hybrids as they prepare for fuel-efficiency requirements that call for significant increases later this decade. Advances such as Ford's EcoBoost technology have increased mileage for gas-powered engines — the new Fusion midsize sedan it unveiled Monday can get 37 miles to the gallon, Ford said — but bigger gains are needed.
"Internal combustion can't get all the way there, so you need an alternative," said Russell Hensley, a partner with the consulting firm McKinsey & Company. "The only alternative we have at the moment is electrification."
In a report Monday, McKinsey listed "uncertainty around future adoption of hybrid/electric powertrain technology" as one of several challenges facing automakers and their suppliers in the coming years.
McKinsey said hybrids could account for up to a quarter of sales by 2020, with battery-powered cars making up 5 percent. But it said internal-combustion engines would dominate the industry through at least 2030. "The demand is in its infancy," Mr. Hensley said.
Hybrids and electric cars typically cost at least several thousand dollars more than their conventional counterparts. BMW said Monday that its ActiveHybrid 5 would be priced at $8,700 above the gas-powered 535i. The Volt costs nearly twice as much as the similarly sized Chevy Cruze, after a $7,500 federal tax credit.
Most consumers want to be able to recoup the additional cost of an alternative-technology vehicle within a year, Mr. Anwyl said. At today's gas prices, the payback generally takes several years, if not more.
Automakers said shortages of batteries and other parts also held back sales in 2011.
"We have a bottleneck with the batteries," said Carlos Ghosn, the chief executive of Nissan, adding that he expects supplies to increase as the Leaf enters new markets in the United States and production of the car and battery begins in Tennessee later this year.
"A lot of consumers are thrilled that they have the option of buying an electric car," Mr. Ghosn said. "We sold 9,700 the first year. We can double that.
"I am much more optimistic on the prospects for electric cars than many people. We are very, very far from our potential."
General Motors has said it wants to sell 45,000 of the Volt this year, despite falling short of its 10,000 target in 2011. G.M.'s chief executive, Daniel F. Akerson, said on Sunday that the company would build only as many Volts as the market called for.
"We're going to match production with demand," Mr. Akerson told reporters. "There are new variables in the equation, so we'll see."
Sales of the most popular hybrid, the Toyota Prius, declined 3.2 percent in 2011, after disruptions caused by the earthquake and tsunami in Japan, where it is built. The Prius accounted for almost half of all hybrids sold.
On Tuesday, Toyota will unveil the Prius C, a smaller version. It began selling the larger Prius V in the fall and plans to bring out a plug-in Prius this spring.
Toyota also is showing off a plug-in hybrid concept called the NS4 on Tuesday. Its premium brand, Lexus, on Monday unveiled a hybrid concept sports coupe.
Honda showed off two cars, the ILX and NSX, that will be the first hybrids ever for its upscale Acura brand. Honda said it planned to build a new plant in Ohio to assemble the NSX.
Volkswagen unveiled a hybrid version of its Jetta compact car Monday. BMW brought two new hybrids and a pair of electric concept cars to Detroit. Mercedes took the wraps off two E-Class hybrids, though one will not be sold in the United States, and a tiny electric pickup truck concept for its Smart brand. Volvo is showing a plug-in hybrid concept.
Ford is taking away the hybrid option on its small sport utility vehicle, the Escape, but it is bringing out hybrid and plug-in versions of the Fusion, which it introduced Monday. The plug-in Fusion will get the equivalent of more than 100 miles per gallon, Ford said.
"We still believe electrification is going to play a big role in the industry, both to meet CAFE requirements and because of consumers' sensitivity to gas prices," said Mark Fields, the president of Ford's Americas division, referring to the government's corporate average fuel economy regulations. "We want to give people an opportunity to choose, and we have a manufacturing strategy that allows us to be flexible with what we produce. Whatever way the market goes, we will be able to respond."
Bill Vlasic contributed reporting.
A version of this article appeared in print on January 10, 2012, on page B1 of the New York edition with the headline: The Alternatives: Wanted or Not.
###
These states are:
Three of them are – The UK, Isle of Man and Jersey Island – Like the Isle of Man, Jersey is a separate possession of the Crown and is not part of the United Kingdom.[
Seven independent States – AUSTRALIA, CANADA, LICHTENSTEIN, LUXEMBOURG, NORWAY, SINGAPORE and SWITZERLAND.
Seven EURO States – AUSTRIA, DENMARK, FINLAND, FRANCE, GERMANY, THE NETHERLANDS, and SWEDEN.
and HONG KONG that sits on the rib of China.
Of these France seems to be next State to fall of this economists' tree of life.
###
By ANNA ETRA , The Jerusalem Post, August 2, 2011.
Goal is to move toward renewable resources, away from oil-based materials. Researchers at the Hebrew University have developed a new method to convert waste fibers from the paper industry into non-synthetic foam that can be re-used.
The project was spearheaded by Shaul Lapidot, a PhD student of Prof. Oded Shoseyov, at the university's Robert H. Smith Faculty of Agriculture, Food and Environment in Rehovot.
The Melodea company licensed the product from the Hebrew University, and is now looking for seed money in order to bring the foam product to the market. That product has two parts, the microscopic fibers as well as the final foam material.
"Melodea is a Swedish-Israeli company that aims to bring materials for day to day use from renewable resources," Lapidot said on Monday.
Using existing technology, the team of researchers was able to take cellulose, a natural material produced by trees, and reduce it to a microscopic scale. The tiny cellulose fibers were used as building blocks to create the three-dimensional, lightweight and strong foam.
Foams have many uses, ranging from seat cushions and the car industry to integral parts of aviation, and air and space technology.
The main inspiration for the project was large structures found in nature that have been neglected in the plastic age, such as wood, specifically the Redwood trees found in Northern California.
The team's goal was to move away from plastics and other raw materials that require oil production and to mimic these large structures for industrial use.
To minimize environmental impact, the researchers carefully chose the source of fibers to produce this non-synthetic foam. Wood fibers are processed during paper production and this "produce huge amounts of waste," explained Lapidot. "A large part of the fibers are not being used, and are washed away during production."
The researchers have developed technology to convert these washed away waste fibers into the small cellulose fibers. From there, the new technology converts the fibers into the non-synthetic foam.
Lapidot and Shoseyov collaborated with Tord Gustafsson, a Swedish composite industry expert, Dr. Lea Carmel Goren, who is experienced in Israeli clean-tech and biotech industries, and Tzipi Landesman, who is experienced in business and marketing in hi-tech industries worldwide, to found Melodea.
The project was funded by the European Commission Seventh Framework Programme (FP7), and partnered with the WOODY project, whose goal is to develop products from natural raw materials.
These foams have huge market possibilities, as they can be used as higher-end foams to create composite materials, materials that combine fabrics and foams, in industries such as aviation, construction and transportation, Lapidot said.
Melodea hopes to develop its business on two levels.
First, by replacing all PVC foams (synthetic foams made using oil), with all natural based foams.
Second, by taking the raw materials from the waste of paper companies and converting it into a valuable product.
The company is offering an alternative to paper companies spending money to dispose of their waste in landfills or burning it.
###