May 22, 2013

The Society for International Development (SID), founded in Washington, D.C., United States, in 1957, is committed to stimulating dialogue and cooperation on global development issues, enhancing skills, knowledge and understanding among development practitioners, and providing a network for individuals and organizations working in various sectors of international development. Over the years, SID has consistently been at the forefront of shaping the theory and practice of development, challenging existing practices and suggesting alternative approaches.

Today, SID's programme of work reflects the growing questioning of development as a point of reference for meaningful North-South dialogues. Accordingly, the Society's focus has shifted from debates on how to advance development, to ways of opening up spaces for a reflection on how to ensure an agenda for social justice can be carried forward in a climate that is increasingly conservative and inward looking.

SID has a strong and vibrant network of individual and institutional members, local chapters and partner organisations, in more than 80 countries. It works with more than 100 associations, networks and institutions involving academia, parliamentarians, students, political leaders and development experts, both at local and international level.

From The Vienna Chapter – Please find attached an invitation to a lecture on

5 June 2013


by Kurt Bayer at the offi

c

es of OEGVN (The Austrian Society for International Relations), on  

"The Role of the International Financial Institutions ( IFIs ) –

What works and what does not."
SID NETWORK NEWS
SID ISRAEL:
SID Israel has completed the recruitment of a wonderful team who will lead the chapter to new and great accomplishments. Meet our staff!

SID FRANKFURT:
SID NETHERLANDS:
SID NL's core activity is its annual lecture series on a theme both relevant and current for the area of international and development cooperation. These lecture cycles are organised in cooperation with VU University Amsterdam and NCDO.
SID WASHINGTON
:
June 6, 2013
| You are invited to the SID-Washington
2013 Annual Conference
:
Development Goals: How We Got Here and What Comes Next
.
If you have any questions, feel free to call (202) 331-1317, or email annualconference@sidw.org
SID HAMBURG
: The Hamburg Chapter of SID has a new Board. The General Assembly decided to launch a lecture series on development policies at the University of Hamburg – summer semester. This initiative will also include a training program. If you want to become a member of SID Hamburg please visit www.sid-hamburg.de
SID FORUM  
Stay Tuned! Follow SID Forum via:
Twitter @SID_INT and @SIDEastAfrica
Facebook and LinkedIn @Society for International Development
EAST AFRICA TODAY Podcast Series
Enjoy the latest episodes of the podcast series:

###
 We kept the April 12, 2013 New York Times article as a draft because we basically found it very one-sided and know very little about "Berkeley Earth" or Elizabeth Muller (*), but with information about the Koch Brothers professed skepticism of progressive ideas.
Now we decided to post this because of Fareed Zakaria, someone we hold in high esteem, saying this Sunday on CNN/GPS, that in order to start putting a limit to the emission of CO2 globally, the best step for the US would be to share, what he called safe technologies of Shale Fracking and gas production, this in order to replace the reliance on burning coal as it is done now in China. We know this to be the wrong advice:
(1) there is no technology of "fracking the shale" that is safe to the ground water reservoirs.
(2) fracking and shale-gas will slow down the commercialization of truly positive renewable energy technologies,
and (3) the worse of all – it starts looking like "The Rhinoceros" of World War II Eugene Ionesco – the slow developing of a takeover by an aggressive wrong and obnoxious ideology – and the Koch Brothers are versed in technologies in this respect. 
So – let us say: Fareed Zakaria expressed the idea that Shale Gas is a step in the right direction, but we do not think so – and thousands of scientists agree with us but have suspicions about the proponents of the fracking myth.
Op-Ed Contributor
China Must Exploit Its Shale Gas.
By ELIZABETH MULLER
Published, The New York Times on-line: April 12, 2013
IF the Senate confirms the nomination of the M.I.T. scientist Ernest J. Moniz as the next energy secretary, as expected, he must use his new position to consider the energy situation not only in the United States, but in China as well.
Mr. Moniz, a professor of physics and engineering systems and the director of M.I.T.'s Energy Initiative, sailed through a confirmation hearing Tuesday before the Senate Energy and Natural Resources Committee.
But some environmentalists are skeptical of Mr. Moniz. He is known for advocating natural gas and nuclear power as cleaner sources of energy than coal and for his support of hydraulic fracturing to extract natural gas from shale deposits. The environmental group Food and Water Watch has warned that as energy secretary, he "could set renewable energy development back years."
The criticism is misplaced. Instead of fighting hydraulic fracturing, environmental activists should recognize that the technique is vital to the broader effort to contain climate change and should be pushing for stronger standards and controls over the process.
Nowhere is this challenge and opportunity more pressing than in China. Exploiting its vast resources of shale gas is the only short-term way for China, the world's second-largest economy, to avoid huge increases in greenhouse gas emissions from burning coal.
China's greenhouse gas emissions are twice those of the United States and growing at 8 percent to 10 percent per year. Last year, China increased its coal-fired generating capacity by 50 gigawatts, enough to power a city that uses seven times the energy of New York City. By 2020, an analysis by Berkeley Earth shows, China will emit greenhouse gases at four times the rate of the United States, and even if American emissions were to suddenly disappear tomorrow, world emissions would be back at the same level within four years as a result of China's growth alone.
The only way to offset such an enormous increase in energy use is to help China switch from coal to natural gas. A modern natural gas plant emits between one-third and one-half of the carbon dioxide released by coal for the same amount of electric energy produced. China has the potential to unearth large amounts of shale gas through hydraulic fracturing. In 2011, the United States Energy Information Administration estimated that China had "technically recoverable" reserves of 1.3 quadrillion cubic feet, nearly 50 percent more than the United States.
The risk is that what is now a nascent Chinese shale gas industry may take off in a way that leads to ecological disaster. Many of the purchasers of drilling rights in recent Chinese auctions are inexperienced.
Opponents of this drilling method point to cases in which gas wells have polluted groundwater or released "fugitive" methane gas emissions. The groundwater issue is worrisome, of course, and weight for weight, methane has a global warming potential 25 to 70 times higher than carbon dioxide, the principal greenhouse gas that results from the burning of coal.
Moving away from fossil fuels entirely may make sense in the United States, where we can potentially afford to pay for more expensive renewable sources of energy. But developing countries have other priorities, like improving the education and health of their people. Given the dangers that hydraulic fracturing poses for groundwater pollution and gas leaks, we must help China develop an approach that is environmentally sound.
Mr. Moniz has warned of the need to curb environmental damage from the process. But he has also stressed the value of natural gas as a "bridging" source of energy as we strive to move from largely dirty energy to clean energy. Extracting shale gas in an environmentally responsible way is technically achievable, according to engineering experts. Accomplishing that goal is primarily a matter of engineering and regulation.
That is where we need the engagement of environmental activists. At home, they can push the United States to set verifiable standards for clean hydraulic fracturing and enforce those standards through careful monitoring. Internationally, American industry can lead by showing that clean production can be profitable.
We need a solution for energy production that can displace the rapid growth of coal use today. Switching from coal to natural gas could reduce the growth of China's emissions by more than 50 percent and give the world more time to bring down the cost of solar and wind energy to levels that are affordable for poorer countries.
 ——————————————–
###
Programme
Day 1-
28 May 2013
Tuesday, 28 May 2013
08.45 – 09.00
Welcome Address
H.E. Mr. Michael Spindelegger, Vice Chancellor and
Foreign Minister of Austria
Mr. Pavel Kabat, Director,
IIASA
Mr. Kandeh Yumkella, Director General, UNIDO
09.00 – 09.15
Two pieces of music
presented
by a
String
Quartet of the Vienna Philharmonic Orchestra
,
IIASA Goodwill Ambassador
09.15 – 09.45
Opening Speeches
Mr. Chad Holliday, Chairman, Bank of America
Ms. Renate Brauner, Vice-Mayor and Vice-Governor of
the City of Vienna
Message from the United Nations Secretary
-
General, Mr. Ban Ki
-
moon
09.30
Press Conference (in parallel)
09.45 – 11.15
Ministerial and High-Level Dignitaries Segment
Moderator
Ms. Nisha Pillai
, BBC
H.E. Mr. Suhail Mohamed Almazroui, Minister of Ener
gy of the United Arab Emirates
H.E. Mr. Heikki Holmås, Minister of International D
evelopment of Norway
H.E. Mr. Edison Lobão, Minister of Mines and Energy
of Brazil
H.E. Mr. Lihua Liu, Vice Minister of Industry and I
nformation Technology of China
H.E. Mr. Anatoly Yanovskiy, Deputy Minister, Minist
ry of Energy of the Russian Federation
H.E.
Mr. Peter Thomson, Permanent Representative of Fiji
to the United Nations New York and
Chairman of the G77
11.15 – 12.45
High Level Panel I:
Energy in the Post-2015 Agenda
Moderator Ms. Nisha Pillai,
BBC
Panelists
Mr. Sven
Alkalaj
, Under
-
Secretary
-
General and Executive Secretary of the United Natio
ns
Economic Commission for Europe, UNECE
Mr. Adnan Amin, Director General, IRENA
Mr. Jose Goldemberg
, Board Member, Sustainable Energy Institute
Ms. Maria van der Hoeven, Director General, Interna
tional Energy Agency
Ms. Rachel Kyte, Vice President, Sustainable Develo
pment, The World Bank
Mr. Gerhard Roiss, CEO, OMV
Ms. Elizabeth Thompson, Executive Coordinator for t
he UNCSD Rio + 20 Conference
Mr. Halil Yurdakul Yigitgüden,
Coordinator, Co
-
ordinator of Economic and Environmental
Activities, OSCE
12.45 – 14.30
Lunch hosted by OFID and IIASA (by invitation only
at Dachfoyer)
Day 1-
28 May 2013
14.30 – 16.00
High Level Panel II:
A New Action Agenda – High Level Group on Sustainab
le Energy for All
Moderator Ms. Nisha Pillai,
BBC
Panelists
Mr. Alexander Bychkov, Deputy Director General, IAE
A
Mr. Jérôme Ferrier, President, International Gas Un
ion
Mr. Victorio Oxilia, Executive Secretary, OLADE
Mr. N.P. Singh, Adviser, Ministry of New and Renewa
ble Energy of India
Mr. Andrew Steer, President and CEO, World Resource
s Institute
Mr. Mohammed Taeb, Environmental Coordinator, OPEC
14.30 – 15.30
Special Event: Launch of the SE4ALL Global Tracking
Framework (parallel at Radetzky
Appartment II)
Moderator Mr. Kandeh K. Yumkella
, Director General, UNIDO
Panelists
Ms. Rachel Kyte, Vice
President, Sustainable Development, World Bank
Ms. Maria van der Hoeven, Director General, Intern
ational Energy Agency
Ms. Vivien Foster, Sector Manager, Sustainable Ener
gy, World Bank
Mr. Simon Trace, Executive Director, Practical Acti
on
16.00 – 16.30
Coffee and Tea Break
16.30 – 18.00
Special Event: Thematic Consultations on Energy (pa
rallel at Rittersaal)
16.30 – 18.00
Plenary Session 1:
Framework for Action – High Impact Opportunities
Moderator Mr. Albrecht Reuter
, Member of the Board, Fichtner IT Consulting
Panelists
Mr. Albert Binger, Energy Science Advisor, Caribbea
n Community Climate Change Centre
Mr. Christoph Frei, Secretary General, World Energy
Council
Ms. Helen Mountford, Deputy Director, OECD
Mr. Nebojsa Nakicenovic,
Deputy Director, IIASA and Professor of Energy Econ
omics,
Technical University of Vienna
Mr. Ebrima Njie, ECOWAS Commissioner for Infrastruc
ture
Ms. Leena Shrivastava, Executive Director, The Ener
gy and Resource Institute
Mr. Arthouros Zervos, Chair of REN21and CEO and Pre
sident Public Power Corporation
18.00
Reception hosted by
EnDev and Partnership
Day 2-
29 May 2013
Wednesday, 29 May, 2013
08.30 – 09.00
Summary of the Previous Day
by
Ged Davis,
Co-President, Global Energy Assessment
09.00 – 10.00
Ministerial and High Level Segment
H.E. Mr. Marcin Korolec, Minister of Environment, P
oland
H.E. Mr. Sospeter Muhonga, Minister of Energy and M
inerals of Tanzania
H.E. Mr. Ahmed Mostafa Emam, Minister of Electricit
y and Energy, of Egypt
H.E. Mr. Sok Siphana, Advisor of the Royal Governme
nt of Cambodia
Ms. Datuk Loo Took Gee, Secretary General of the Mi
nistry of Energy, Green Technology
and Water of Malaysia
Mr. Raúl García Barreiro, Deputy First Viceminister
of the Ministry of Energy and Mining
of the Republic of Cuba
10.00 – 11.30
Plenary Session 2:
Energy and Green Growth
Moderator Mr. Paul Hohnen
, Founder and Managing Director, Sustainability Str
ategies
Panelists
Ms. Jacqueline Cramer, Director, Utrecht Sustainabi
lity Institute
Ms. Naoki Ishii, CEO and Chairperson, Global Enviro
nment Facility
Mr. Lambert Kuijpers, Co
-
Chair, Technology and Economic Assessment Panel of
the Ozone
Secretariat
Mr. Heinz Leuenberger, Director, Environmental Mana
gement Branch, UNIDO
Mr. Mark Radka, Head of Energy Branch, UNEP
Mr. Arthur Reijnhart, General Manager, Alternative
Energy Strategy, Shell
11.30 – 13.00
Plenary Session 3 –
Planning for
Sustainable Cities
Moderator Mr. Joan Clos
, Executive Director, UN HABITAT
Panelists
Mr. Eddie Bet Hazavdi,
Director, Department of Energy
Conservation at Ministry of Energy
and Water of Israel
Ms. Brigitta Huckestein, Senior Manager, Communicat
ions & Government Relations
Energy and Climate Policy, BASF Group
Ms. Carina Lakovits, Advisor, International Financi
al Institutions, Austrian
Ministry of
Finance
Mr. Raj Liberhan, Director, Indian Habitat Centre
Mr. Thomas Madreiter, Director of the Urban Plannin
g, City of Vienna
Mr. Franz
-
B. Marré, Head of Division of Water, Energy, Urban
Development and the
Geoscience Sector, Federal German Ministry for Econ
omic Cooperation and Development
Mr. Marcos Pontes, UNIDO Goodwill Ambassador
13.00 – 14.30
Lunch hosted by GEF and UNIDO (by invitation only a
t Dachfoyer)
Day 2-
29 May 2013
14.30 – 16.00
Parallel Session 1 –
Energy Access
Moderator Mr.
Vijay Modi
, Professor of Mechanical Engineering, Columbia Uni
versity
Panelists
Mr. Jan Dictus, GOJA Consulting for Environment and
Sustainable Development
Mr. Wolfgang Engshuber, Chairman, Principles for Re
sponsible Investment
Mr. Michael Kelly, Deputy Managing Director, World
LP Gas Association
Ms. Richenda Van Leeuwen, Director, Energy Access I
nitiative, United Nations Foundation
Mr. Pradeep Monga, Director, Energy and Climate Cha
nge, UNIDO
Mr. Lucius Mayer-Tasch, Energy Advisor, GIZ
Ms. Mary Robinson, UN Special Envoy for the Great L
akes Region of Africa
14.30 – 16.00
Parallel Session 2
– Energy Efficiency
Mr. Luis Gomez-Echeverri
, Senior Research Scholar, Transition to New Techno
logies, IIASA
Panelists
Mr. Mark Hopkins, Energy Efficiency Expert, United
Nations Foundation
Ms. Doris Österreicher,
Head of Business Unit Sustainable Building Technolo
gies, Austrian
Institute of Technology
Ms. Marina Ploutakhina, Industrial Energy Efficienc
y, Unit Chief, UNIDO
Mr. Jigar V. Shah, Executive Director, Institute fo
r Industrial Productivity
Mr. David Shropshire, Section Head, Planning and Ec
onomic Studies Section, IAEA
16.00 – 16.30
Coffee and Tea Break
16.30 – 18.00
Parallel Session 3 –
Renewable Energy as a Tool for Sustainable Developm
ent
Moderator Ms. Christine Lins,
Executive Director, REN 21
Panelists
Mr. Gábor Baranyai, Deputy State Secretary, Ministr
y of Foreign Affairs of Hungary
Mr. Martin Hiller, Director General, REEEP
Mr. Mahama Kappiah, Executive Director, ECREEE
Mr. Diego Masera, Unit Chief, Renewable and Rural E
nergy Unit, UNIDO
H.E. Ms. Brigitte Öppinger-Walchshofer, Managing Di
rector, Austrian Development Agency
Mr. Jorge Samek, Director General, ITAIPU Binaciona
l
Mr. Peter Traupmann, Managing Director, Austrian En
ergy Agency
16.30 – 18.00
Parallel Session 4–
Technology Transfer and Innovation
Moderator Mr. Omar El Arini,
Honorary Chief Officer, Multilateral Fund Secretari
at
Panelists
Mr. Giovanni Federigo De Santi, Director of the Ins
titute for Energy and Transport of the Joint
Research Centre of the European Commission
Mr. Martin Krause, Regional Practice Leader for Env
ironment, UNDP
Mr. David Rodgers, Senior Energy Specialist, Global
Environment Facility
Mr. Sidi Menad Si-Ahmed, Director of Montreal Proto
col Branch, UNIDO
M.R. Mr. Pongsvas Svasti, Associate Professor, Tham
masat University
Mr. Sven Teske, Director of Renewable Energy, Green
peace International
18.00
Reception hosted by REEEP
Day 3-
30 May 2013
Thursday, 30 May 2013
08.30 – 09.00
Summary of the Previous Day
by
Ged Davis,
Co-President, Global Energy Assessment
09.00 – 10.00
Ministerial and High Level Dignitaries Segment
10.00 – 11.30
Plenary Session 4 :
Financing the Energy Future We Want
Moderator tbc
Panelists
Mr. Robert Dixon, Team Leader of Climate Change and
Chemicals Team, GEF
Mr. Faris Hasan, Director of Corporate Planning and
Economic Services, OFID
Ms. Georgina Kessel, Partner, Spectron
Mr. Venkata Ramana Putti, Senior Energy Specialist,
Sustainable Energy Department, World Bank
Ms. Wang Yuan, Senior Advisor, China Development Ba
nk
11.30 – 13.00
Plenary Session 5:
Public and Private Partnerships
Moderator Ms. Irene Giner-Reichl
, President, Global Forum on Sustainable Energy
Panelists
Mr. Günter Maier, Managing Partner , MG Energy
Mr. Rajendra Pachauri, Chairman, IPCC and UNIDO Goo
dwill Ambassador
Mr. Janez Podobnik, Director General, International
Centre for Promotion of Enterprises
Mr. Alexei Shevlyakov, Acting Director General, Rus
sian Energy Agency
Mr. Thomas Stelzer, Assistant Secretary
-
General, Policy Coordination and Inter
-
Agency
Affairs, United Nations Department of Economic and
Social Affairs
Mr. Harry Verhaar, Head of Global Public and Govern
ment Affairs, Philips
13.00 – 13.30
Coffee and Tea Break
11.30 – 13.00
Parallel Session 5:
Green Mini-Grids Africa –
Sector Transformation Towards Sustainable
Energy For All
Moderator Mr. Steven Hunt
, Energy Advisor, Low Carbon Development Team, DFID
Panelists
Mr. Ryan Anderson, Head of Section for Renewable En
ergy Advisory Services, Norplan
Mr. Theophillo Bwakea, Principal Engineer, Tanzania
n Rural Energy Agency
Mr. Dean Cooper, Energy Finance Programme Manager,
UNEP
Mr. Bertrand Deprez, European Affairs Manager, Schn
eider Electric
Mr. Mike Enskat, Senior Programme Manager, GIZ
Mr. Patrick Theuret, Access to Energy Programme, ED
F
13.30 – 14.30
Adoption of VEF 2013 Declaration: Energy Goals Beyo
nd 2015
Moderator Ged Davis
, Co-President, Global Energy Assessment
Closing remarks by Co-organisers
——————————
—————————-
Side Events
ADVANTAGE AUSTRIA: Business Partnerships – An effective instrument for development cooperation
How innovative cooperation supports the development of markets for renewable energy
Date – 28 May 2013
Time – 14:30 to 16:00
Location – Rittersaal
This side-event discusses innovative forms of cooperation between the private sector and established structures of development cooperation to develop new markets. Examples from the renewable energy sector show how both recipient countries and companies can utilize the opportunities of business partnerships. Traditional development cooperation faces many challenges, so alternative approaches are required. As business and development belong together, partnerships with the private sector are getting more and more important. Join the discussion on business partnerships and the development of renewable energy markets!
European Commission Joint Research Centre: Creating and sharing knowledge together on African Renewable Energy Sources
Date: 28 May 2013
Time: 16:00 – 17:30
Location: Mittlere Lounge
On the occasion of the Vienna Energy Forum 2013, JRC will release findings from the newest report "The availability of Renewable Energies in a changing Africa". This report follows and extends the 2011 JRC report "Renewable energies in Africa" and focuses on the climatic, demographic and technological changes expecting to involve Africa in next decades and how they will impact the Renewable Energy production and deployment opportunities in the continent. This side event will explore to what extent climate change has affect the ability of the renewable energy sources to deliver their important resources to this goal and will look at the potential of the available options. Come and join the second report presentation, discuss issues with authors, and test the latest online tool developed to visualize off-grid electricity production options in Africa.
GFSE: Sustainable Energy Solutions for All: Made in Austria
Date – 29 May 2013
Time – 09:00 to 11:00
Location – Trabantenstube
Austrian know-how and technologies have a lot to offer to make inclusive sustainable energy solutions a reality. In this side event, the Austrian experience in the fields of renewable energy and energy efficiency will be presented. The event also seeks to facilitate the identification of cooperation opportunities for different actors in the context of SE4All. It will also highlight the value-added of multi-stakeholder networks in enabling joint action. We would be delighted if you could join the discussion.
IIASA: Multiple Benefits of the Global Energy Transformation Recent Research Findings
Date – 29 May 2013
Time – 09:30 to 13:00
Location – Künstlerzimmer
The International Institute for Applied Systems Analysis (IIASA) is organizing the VEF side event "Multiple Benefits of the Global Energy Transformations: Recent Research Findings". The main global problem areas of research at IIASA – energy and climate change, food and water, and poverty and equity – are among the greatest challenges facing humanity today. The side event will present recent research findings – focusing on energy and technology – and their relevance to the Post 2015 Development Agenda. The Global Energy Assessment (GEA), completed in 2012, was an important component of the energy-related activities at IIASA and some of the new research activities at IIASA are building upon the findings of GEA.
IAEA: Promoting a Sustainable Energy Future: the Role of the International Atomic Energy Agency
Date – 29 May 2013
Time – 10:00 to 12:00
Location – Mittlere Lounge
The International Atomic Energy Agency (IAEA) supports its Member States in their efforts towards a sustainable energy future. In this side event, IAEA representatives will showcase the successful contribution of the Agency to build capacity, disseminate information, raise awareness and foster cooperation within and among Member States to help them make informed decisions regarding the most appropriate energy strategies. Topics discussed will include the sustainability of nuclear power as a clean energy solution, capacity building activities, the role of innovative technology solutions and the critical steps to introduce or expand a nuclear power programme.
EUEI PDF: Africa-EU Private Sector Cooperation: Matchmaking for win-win business opportunities in the renewables sector? 
Date – 29 May 2013
Time – 11:30 to 13:00
Location – Trabantenstube
The Africa-EU Renewable Energy Cooperation Programme (RECP) is a multi-donor and multi-implementer programme that aims to accelerate the use of renewable energy in Africa. It was launched by more than 35 African and European Ministers at the First High-Level Meeting of the Africa-EU Energy Partnership (AEEP) in Vienna in September 2010. While the programme has already launched a number of support interventions in the area of policy advisory services, this side event aims at reflecting on the types of support interventions necessary to foster an active exchange and linking of African and European private sectors actors, as well as highlighting some of the positive examples where European and African actors have successfully worked together.
Launch of the SE4All Global Tracking Framework
Date – 28 May 2013
Time: 14:00 to 14:45
Location – Radetzkysaal II
Prepared by a team of energy experts from 15 agencies under the leadership of the World Bank and the International Energy Agency, the report provides a comprehensive snapshot of over 180 countries' status with respect to action on energy access, energy efficiency and renewable energy, as well as energy consumption. As the Millennium Development Goals process has clearly demonstrated, measurable goals that enjoy widespread consensus can mobilize commitments to action, strategic partnerships and widespread support from key stakeholders and whole societies.  For many, the Sustainable Energy for All initiative is an illustration of what a Sustainable Development Goal for the energy sector would look like. However, it is well known that measure progress is critical to achieving goals and getting results. The Global Tracking Framework Report is the answer to the challenge of measuring and reporting progress towards achieving the Sustainable Energy for All goals and objectives..  The report's framework for data collection and analysis will enable us to monitor progress on the SE4ALL objectives from now to 2030.
The Energy Future We Want – Including Water & Food in the Energy Debate
Date – 29 May 2013
Time – 14:30 to 16:00
Location – Radetzky II
The side-event will provide a global platform to discuss recent international undertakings and progress on the water-energy-food nexus. The side-event will stimulate contributions and insights from institutions and individual experts on strategies to include water and food in the energy debate as nations around the world develop new energy policies and evaluate the options they want to follow in response to the SE4All initiative. Contribute to the nexus debate by sharing your experience and expertise with representatives from the private sector, researchers, policy makers and water/energy experts around the world on the intricate links between water, energy and food.
Regional Sustainable Energy Centers in Africa: Creating Regional Markets to Support the Decade of Sustainable Energy For All (SE4ALL)
Date – 29 May 2013
Time – 14:30 to 18:00
Location – Trabantenstube
The Energy and Climate Change Branch of UNIDO, in close collaboration with the ECOWAS Centre for Renewable Energy and Energy Efficiency (ECREEE) and the Global Forum on Sustainable Energy (GFSE), are organizing the VEF side event "Regional Sustainable Energy Centers in Africa: Creating Regional Markets to Support the Decade of Sustainable Energy For All (SE4ALL)". The side event will facilitate discussions on the added value and possible actions of a south-south cooperation network between regional sustainable energy promotion centers in Africa. It will highlight the roles of the Centers as part of the institutional structure of the SE4ALL initiative. In a learning event, the ECOWAS Observatory for Renewable Energy and Energy Efficiency (ECOWREX), one of the flag-ship programs of ECREEE will be introduced to the audience. Finally, a new publication on Renewable Energy Status and Trends in West Africa will be presented.
UNIDO: Women's Leadership on Energy Justice in Productive Sectors
Date – 29 May 2013
Time – 15:00 to 17:00; Networking Drinks from 17:00
Location – Künstlerzimmer
Increasing energy access for productive use will generate opportunities for women to earn a living for themselves and their families, but the debate thus far has been mainly focused on women's domestic needs. At this side-event, we will look beyond the household door and discuss how to empower women to become active producers, managers, promoters, sellers and leaders of modern energy services for a truly sustainable solution to energy poverty.  We would be delighted if you could join us to share your experiences and expertise in this debate.
Register for the event 
here
###
Ecologic Institute: An International Think Tank for Environment and Development.
Climate Action Network (CAN) is a worldwide network of over 850 Non-Governmental Organizations (NGOs) in more than 90 countries, working to promote government and individual action to limit human-induced climate change to ecologically sustainable levels.
CAN members work to achieve this goal through information exchange and the coordinated development of NGO strategy on international, regional, and national climate issues. CAN has regional network hubs that coordinate these efforts around the world.
CAN members place a high priority on both a healthy environment and development that "meets the needs of the present without compromising the ability of future generations to meet their own needs" (Brundtland Commission). CAN's vision is to protect the atmosphere while allowing for sustainable and equitable development worldwide.  
www.climatenetwork.org/about/abou…
Ecologic Institute is a private not-for-profit think tank for applied environmental research, policy analysis and consultancy with offices in Berlin, Brussels and Vienna in the EU, and Washington DC and San Mateo, CA in the US.
Ecologic Institute was founded in 1995 as an independent research institute. Since its founding, Ecologic Institute has built a reputation for excellence in transdisciplinary and policy-relevant research. Through its participation in large-scale international collaborations, Ecologic Institute increases the relevance of its project results and improves communication among scientists, policymakers and the public. Ecologic Institute also provides ongoing expert advice on emerging issues through its framework agreements with the European Parliament
(Consultancy for the Environment Committee and Framework Contract Development Policy),  the European Environment Agency and the European Commission, eg. DG Research.
The insights of Ecologic's staff provide practical ways forward for policymakers seeking to address complex challenges. Over the years, Ecologic's work has informed the decision-making processes of a wide variety of international institutions, national ministries, sub-national and local authorities and non-profit organizations.
Contact Information:
43/44 Pfalzburger Strabe
Berlin 10717
Germany
Matthias Duwe of the German Think Tank Ecologic recently spoke on the future of European climate policy making as part of our EPC Forum Speakers Series. The presentation is available on our You Tube channel: www.youtube.com/watch?v=lyqtdryZdJM
 from:
Dr. Wil Burns, Associate Director
Master of Science, Energy Policy & Climate Program
Johns Hopkins University
1717 Massachusetts Ave., NW
Washington, DC 20036
650.281.9126 (Mobile)
202.452.8713 (Fax)
Skype ID: Wil.Burns
Blog: Teaching Climate & Energy Law & Policy, www.teachingclimatelaw.org
###
The widowed Empress Wilhelmine Amalie had the orangery garden installed in Schoenbrunn with the purpose of overwintering her bitter orange plants inside a greenhouse.
The Schoenbrunn Palace in Vienna has, since the Emperors' days, hot-houses under the Orangery name, as seemingly the Emperors were keen of the citrus plants. Here you find a large collection of citrus varieties and fruit was produced for the Emperor's Court.
May 17-20, 2013,  were citrus-festival days at the Orangery of the Schoenbrunn Palace.
Sunday May 19th there was what amounted to a Citrus tasting class where Katharina Seiser, an Eating-culture specialist and culinary journalist, explained the three kinds of Citrus plants – the Lemon, the Mandarin and the Pamplemousse father of the Grapefruit. We were told that there was also a fourth line – that of the Asian Ichang-Papeda which was not presented. We got to taste some two dozen different varieties and a few secondary products such as marmalade and sweets. I clearly got convinced that a fresh-picked kumquat tastes immensely better then the market bought produce.
The Buddha's Hand is a very strange looking species – tastes good.
Some other lemons were the size of cantaloupes – we saw them on trees on display.
Life Minister of the Austrian Federal Government, Mr.Niki Berlakovich, was the honorary chairman of the festival.
In Koernten (Carinthia), at Faaker Sea (Lake) one finds an actual Mediterranean Citrus Garden -
  – that markets locally produced Lemon marmalade, Orange cakes and other products you would not expect to get from locally produced fruit in Austria. www.Zitrusgarten.at
At second thought – above should not surprise us,.  In the Center of Vienna, on the cement floor at the side of the Danube canal, there is also a Tel-Aviv Beach were in the summer young people play paddle ball like on the Tel-Aviv beaches.
Looking up the Ichang-Papeda on the internet – I found:

"January Fruit of The Month: Ichang Papeda And Its Amazing Hybrid Offspring.
The Ichang Papeda (Citrus ichangensis) is the hardiest of the evergreen citrus, said to withstand temperatures down to 0 degrees F. It is a tough, spiny, small tree growing wild on steep hillsides in the Himalayan foothills. Though its fruit is marginally edible, small, thick skinned, seedy and somewhat bitter with limited juice, it does make  an interesting and attractive ornamental. Its most important use is in hybridizing with other citrus species to create super cold hardy, yet highly edible varieties.
One of our favorites of these here on the farm is the Shangjuan. It is a natural cross originating in China of Citrus ichangensis and C. maxima, the pummelo. Also called the Ichang Lemon, the Shangjuan, which means "fragrant ball" in Chinese, produces masses of large, juicy, yellow lemon like fruit. Somewhat rough skinned and with a generous amount of seeds that can be easily removed, each fruit can give up to ½ cup of good quality juice that can be used for fresh or for cooking and desserts. These fruits ripen October- January  for us, starting a full month before our Meyer lemons, giving us an abundant supply of high vitamin C juice at a time when it is most needed. When fully ripe the fruits have a good grapefruit taste and can be eaten as such, especially with a little sweetening. This easy to grow vigorous evergreen tree makes a great ornamental, its broad glossy dark green leaves giving year round beauty. Fragrant white spring blooms are followed by a heavy crop of fruit in the fall. The Shangjuan is considered hardy down to 5 to 10 degrees, which gives it adaptability to many areas where commercial citrus cannot be grown.
Another popular hybrid is the Yuzu, an ancient natural cross of Citrus ichangensis X C.reticulata. In the past it was called C.junos. The Yuzu originated in east Asia and grows wild in central China and Tibet. It was introduced to Japan and Korea during the Tang dynasty and has become a very popular fruit in these countries. The fruit ripens in the fall and is about the size of a tangerine. It has a fragrant juice similar to a lemon that is much esteemed in Japanese cooking. The spicy rind is also used as a flavoring. In Japan several fruits are wrapped in cheesecloth and floated in a hot bath for their relaxing scent. In Korea a syrup is made from the fruit and added to hot water as a remedy for the common cold and other winter illnesses. The upright evergreen tree is very hardy, able to withstand temperatures in the 5 to 10 degree F range. Even if defoliated the fruiting wood can survive to bear the next year. Like the Shangjuan it has lustrous green leaves, fragrant white flowers, showy fruit and many thorns.
The Ichang Papeda is also used in breeding programs to develop cold hardy citrus. It has been found to have a better ability to convey cold hardiness without compromising fruit quality than its deciduous relative the Trifoliate orange. Who knows what interesting and useful Ichang hybrids await us in the future."
Which means to me – forget now the Mediterranean – Asia gives us the possibility to enlarge indeed citrus growing to colder climates as well!
###
The Vienna Solarstammtisch that meets at the "Zum Hagenthaler" Restaurant at Wallgasse 32, 1060 Wien, every third Thursday of the month, is a creation of Eurosolar Austria.  www.eurosolar.at
It is led by Professor Franz Niessler, and the information is usually conveyed by Eng. Herbert Eberhardt  herbert.ebergardt at eurosolar.at
Many of the the Solar Table participants own electric vehicles and live in energy-saving homes equiped for use of solar energy.
At the May 2013 meeting, the First presenter was Rosemarie Dietz, a Green visionary from Perchtoldsdorf NO, who related her experiences when crossing on foot the length of Lower Austria (Niederoesterreich) looking for the implementation of renewable energy on her path. She was looking for location of wind-mills and for the use of photovoltaic use of solar energy, but she also found that there were no-more small local restaurants on her way where one could have stopped for a meal and a drink. The villages are shrinking and the young people move to the large cities. The small scale agriculture that was the base of the rural sector has vanished and everything is bought at the large supper markets like in the city – much of it imported from long distance.
The moderator was Gerhard Kohlmaier and the main speaker Professor Hannes Bauer who is now with the Union of Retirees of Lower Austria, Head of the Political and Economic Futures Forum and building an effort for change. His target is the economic security of the individual in a growing strength of the European Union. He clearly sees in providing safeguards for the communities in villages – people living on and from the land – the best way of providing this security – and it clearly grabs our attention because this is also our belief.
Dr. Bauer looked at the ethics of high social, ecological and democratic values as strength for Austria in the EU context – Quality of Life and the Social Security of the citizens are the goals of his sort of politics.
Dr. Hannes Bauer is not a newcomer to Austrian Politics. During the years 1989-1991 and 2000-2008 he was a Socialist Party member of the Austrian Parliament and 1986-1987 State Secretary in the Ministry of Trades, Industry, and Labor. His background is economics – business development. Having started out from the State Government of Lower Austria and entering in 1991 the Leadership of at the the Federal level of the Austrian Socialist Party. He belongs to the Chancellor Bruno Kreisky School of active policy-oriented Socialism.
The meeting of the Solar-Table May meeting was amazing. Besides the Austrian political Reds and Greens, present were also the Blacks, Blues, and the new Stronach Yellow – and all got involved in the conversation. Needless to say that all were for solar energy but had difficulty accepting each-others honesty in pursuing the goal of a decentralized, community-based, small-town or village based economy – though all adhered to such a goal.
Energy was a main topic. How do we build back an agriculture that will provide biofuels, and how do we do so that the villages rely on photovoltaic solar energy and windmills – being independent of big corporation electricity grids, and even able to supply energy to the National grid? How do we convince the governing powers that there is no need of shale-fracking – this beyond the obvious that fracking is dangerous to the environment? How does one handle American intervention in EU economy planning?
I will now do something unusual – I am going to put forward the ideas I voiced at the meeting and which I felt summarized the different points of view in an event that sounded like a political competition, but that could easily be turned into a united National front for independence from outside economic forces. All what is needed now is a single party to come up with such ideas in its platform and invite the others to join in.
Let us start now:
The thesis is that what grows on the land is sustainable and positive, what comes from the inside of the earth will not endure, is unsustainable, and negative.
Planting for food and fuel, for animal feed and industrial feed-stocks, for human and animal life, is all based on the continuous energy that reaches the earth from the sun – thus non depleting. This is done by people living in small communities on the land – this activity if cared for, with the help of appropriate National policies, will keep people on the land and avoid their migration to magnet-cities something the topic of the evening was aimed to achieve.
Planting wind mills and solar collectors, like the photovoltaic collectors, on the land or roof-tops, is just another act of reaping results with the help of solar energy – exactly like growing vegetation or animals. We see no difference here.
Looking under the land for riches deposited in the past, the likes of fossil fuels of all sorts – coal, shale, oil, gas, and figuring out technologies to extract them from underground, amounts to using up in a short time of natures bank-deposits. On top of this it gave us the CO2 problem and clear climate-change – both avoidable if we refrain from using fossil fuels.
ERGO: Working the land revives the villages and provides us with what we need. Searching ways to obtain products out of fossil deposits, destroys the land, the population living on the land, and eventually the whole economy, because of the way it effects the environment, the social and economic development of the State, and the security of the people who lose their direct relationship to the land.
What political party will have the courage to put a return to a land policy of growth on its election banner?
————————
Further:
Mr. Eberhardt brought to show the new Renaud "Twizy" small two-seater electric vehicle.
———–
Next Solar Table meeting will be Thursday, June 20, 2013, same location, 18:00 pm (6PM)
THE TOPIC:  RENEWABLE PRIMARY MATERIALS – "NAWAROS" – ("Nachwachsende Rohstoffe").
###
EU Agenda for the May 20, 2013 week -
EU leaders discuss energy and tax next WEEK.
17.05.13
BRUSSELS – Energy and tax policy are on next WEEK's agenda as European leaders gather in Brussels for a summit
on Wednesday (22 May).
Member states want to harvest an estimated €1 trillion lost every year to tax evasion.
It is hoped the additional funds will help alleviate a social and economic crisis that has put millions out of work.
Among the proposed solutions to help fill the state coffers is the automatic information exchange of bank account details.
Energy is also up for discussion.
Leaders are expected to focus their attention on completing the internal energy market, boosting investment in energy infrastructure, and reducing high-energy prices.
The European Commission says energy import dependence has increased in last two decades and estimates the demand for oil and gas will increase by more than 80 percent by 2035.
Commission chief Jose Barroso said the fragmented EU energy market is driving up energy prices for both consumers and businesses. He said the internal energy market must be completed through existing legislation to bring down the costs and boost revenues.
"Our discussion [at the summit] should build on February 2011 conclusions and take our policy forward," he said in a speech in early May.
Meanwhile, euro-deputies are in Strasbourg for their plenary session.
The MEPs on Tuesday will issue resolutions to urge member states to halve the €1 trillion in uncollected taxes by 2020.
Banking supervision is also on the plenary agenda on Tuesday.
The parliament says a final vote will be postponed until it can resolve accountability issues with European Central Bank.
A vote on a draft resolution on media freedoms and pluralism is scheduled on Tuesday. Deputies the same day will also approve the new dates of 22 to 25 May for the 2014 European elections.On Wednesday, MEPs will debate the upcoming US-EU free trade agreement with EU trade commissioner Karel de Gucht.
The commission, for its part, is set to adopt on Thursday a proposal by EU transport commissioner Sim Kallas on maritime ports in Europe.
Digital commissioner Neelie Kroes is also set to present a strategy on micro-electronics and nanotechnology on Thursday.
###
A Festival of singing people – 440 of them – from 18 choirs – in 16 European Cities – May 9-12, 2013 – held with workshops at the reestablished historic Odeon Theater in Leopoldstadt – the previously mainly Jewish Second District of Vienna.
The Festival culminated in a public concert on Sunday May 12, 2013 at the Austria Center back-to-back with the offices of the Vienna UN compound. The Honorary Chairman of the event was Austria's President – the Honorable Heinz Fischer.
This after the 2011 revival of the European States Makkabi sports-competitions that brought at the time 60,000 out-of-town visitors to Vienna.
The present event was dedicated to the revival of Jewish culture in European Communities – and at times the choirs including non-Jews as well.
The timing seems symbolical – it started May 9th – the Victory Day over Nazism and ended on Mothers' Day – if you wish in memory of those Jewish self sacrificing mothers that helped continue Judaism in Europe that proving that Hitler was defeated.
At the workshops the choirs were taught new songs that were then performed jointly by all participants at the grand-finale of the Sunday event. These included Adon Olam with the Chief cantor of Vienna's Jewish Community Shmuel Barzilay, Ose Shalom, and the israeli National anthem – The Hatikah (Hope).
The professional leader of the event was Choirmaster Roman Grinberg of the Vienna Jewish Choir whose President is a Young man Florian Pollack who was the organizer of the Sunday concert. Though performing also liturgical music, this choir is cultural in content – including both men and women, something that might have been difficult to do if it were directly part of the Orthodox stream of the majority of Vienna Synagogues – though quite normal with the Or Chadash Reform Vienna Synagogue. Nevertheless the Orthodox Chief Rabbi of Austria, Rabbi Chaim Eisenberg, who himself has in the past performed with the Vienna Jewish Choir outside the Synagogue, wrote an introductory note to the Sunday program booklet.

The MC on Sunday was Ms. Danielle Spera who is a well known Austrian TV personality, and in 2010 became the Director of the Vienna Jewish Museum. She was the top choice of Vice Mayor Renate Brauner, who is in charge of the Vienna Holding Company that owns the buildings of the two Vienna Jewish Museums that were up for renovation in the 2010-2011 years.
The meeting of the choirs cost 200.000 Euro and the money came from institutional contributions. The main backer was the Bruxells based European Jewish Union that was described by the MC as The Jewish European Parliament.
At the workshops, the nine choirs that belong to the Renanim organization – choirs from Amsterdam, Bruxelles, Dijon, Marseille, Nantes, Nice, Paris, Toulouse, and Utrecht chose to appear in a large united choir – thus reducing the number of choirs on Sunday from 18 to 10 facilitating a more manageable situation.
The Sunday event started with one choir on stage and all the others in various locations in the hall – singing together Uru Ahim- Hava Neranna. . .  with an added 1400 people in the large and full hall of the Austria Center (In the audience I spotted also several women with Muslim head-covers). Then, after the introductory, thankfully rather short  speeches, the line-up was thus as follows:
1. The Vienna Jewish Choir led by Roman Grinberg that was created 20 years ago by Dr. Timothy Smolka with 8 people and counts now on 50 active singers having performed at many events all over Europe. Their contribution was mainly in Jidish – old folk-songs.
2. The Assoziazione Coro-Kol of Rome led by Choirmaster Andrea Orlando that started with Verdi's Va Pensiero and moved to Hebrew Shabbat and wedding songs. This choir was established in 1993 by the Great Synagogue of Rome and has usually a repertory that includes Ladino as well as Yiddish songs.
3. The Masel Tov Choir of Wuppertal, Germany with Rokella Rachel Verenina, formerly of Odessa, the Ukraine, as choirmaster.It is a choir established 15 years ago by Russian immigrants that finally wanted to express themselves freely. It has now 35 active members – Jews and non-Jews and is one of the best in Germany. They sang Yiddish and German. In the choir I spotted also one black man and many of the singers looked like hardened industrial workers – what they probably are indeed.
4. The Boys Choir of The Vienna City Tempel – the Main Synagogue of Austria Shmuel Barzilai, the Chief Cantor in charge. It had 7 boys under the age 13. This Choir is modeled after the famous Vienna Boys Choir. Their songs were all in Hebrew and from the liturgy and were received with warm applause.
5. The Shalom Chor of Berlin led by Nikola David who is an operatic singer who after graduating from cantorial school has now a position with the Erfurt Synagogue. The 37 active members are from the community and from churches around Berlin. They sang in Hebrew and interestingly wore shawls of single colors – red, green, orange, blue, light green – which left me with the impression that they covered the political spectrum of Germany. I wonder if this was indeed the intent of these colors.
6. The Ensemble Vocal Zamir of Paris with Albert Benzaquen as choirmaster ranging in music from Shlomo Carlebach and Naomi Shemer to Chasidic and Ladino. It was created in 1980 from basically members of families from the Sephardic community. They have had many appearances in France and do not miss the choir festival in Israel – the Zimrya in Jerusalem. Working people – they clearly enjoy what they are doing and we were told meet twice a week.
7. The Jewish Choir "Eva" of Saint Petersburg with Elena Rubinovich as choirmaster. An all girls choir. The teen-age girls dressed in white blouses and blue long skirts. They had a large Magen David attached to their blouses above the heart. They started with Jerusalem of Gold in Hebrew, had a Russian song and moved to Yidddish – "Bei Mir Bistu Shein" the Jewish American song. Interesting – this was different then in the written program and clearly they have a large repertory and were excellent – real singing talent – lurks here. We were told that the girls are children and youth organized by the Welfare and Community Centre. Terrific applause.
8. The Varnishkes of Lviv, The Ukraine with Oleksandra Somysh as Band leader of what was indeed a Klezmer-music group.  Another example of terrific applause. The team was born 6 years ago and as they state it – they adore the magic of Yiddishkeit. They include volunteers and foreign students and are lovely. They reminded me of a similar non-Jewish group I saw in Cracow years ago and Elie Wiesel was in the audience then.
The Lviv group – the singing was all in Yiddish – and we understand that young German audiences love to listen to them.
9. Hor Bracha Baruh a Choir named after the Baruch Brothers of Belgrade. This choir is not by definition Jewish – but it was named after three brothers that were killed fighting in the resistance in WWII, and the choir comes to honor their Jewish culture. The choir was founded in 1879 as the Serbian Jewish Singing Society – perhaps the oldest Jewish choir in the world – then re-established under the present name when Yugoslavia split and the Serbs clearly were looking for Israeli recognition mentioning that it was Serbs that were most friendly in those terrible war-years.Their repertory is eclectic – included Serbian, Ladino and Hebrew and sounded well rehearsed. It is a nostalgic but hope-filled experience. The Choirmaster Stefan Zekic – a clear professional.
10. The Renanim combine with Avner Soudry as choirmaster and Therese Beuret-Sadoul as Administrator that gave us a Paul Ben Haim Hebrew composition, a Suite Judeo-Espagnole and a very appropriate Shir LaShalom, then Mipi El. They remained on stage and were joined by everyone else for the Grand Finale.
There were obviously no encores – but everyone, afyer milling around for a while, happily called it a night.
###
Obstacles to Sustainability at Centre of High-level discussions at UN Economic and Social Council
Monday, 13 May from 10 a.m. to 6 p.m. EDT
ECOSOC Chamber at UN Headquarters
Concerned that implementation of sustainable development is seriously lagging, world leaders at Rio+20 committed to fostering and implementing sustainable development at all levels. To this end, the Economic and Social Council is taking action to fulfill its integration mandate.
The Council is gathering a wide range of senior officials and civil society representatives to examine how science, technology and innovation can contribute to the integration of the economic, social and environmental dimensions of sustainable development for triple-win solutions in the energy and agriculture sectors at the upcoming ECOSOC Integration Meeting on

13 May.

The theme is: Achieving sustainable development: Integrating the social, economic and environmental dimensions.
The dialogue aims to identify triple-win solutions that can emerge from a sustainable development approach, as well as measures to strengthen the science-policy interface. The dialogue will also help identify steps needed for the Council and its subsidiary bodies to effectively promote the integration of the economic, social and environmental dimensions of sustainable development. The outcome of the discussion will be considered by ministers when they meet for the Annual Ministerial Review in Geneva in July.
The event is

open to the press

.
But will it be open to the truly interested press? Those affiliated with the topic of SUSTAINABLE DEVELOPMENT that for years were excluded from what the UN defined as accredited media? We can hope only that the present leader of the DPI will establish a new policy to help the evolving efforts to turn the up to now useless ECOSOC into the intended Commission or Council for Sustainability – or what the Sustainable Development Commission was intended for but never became.
More information:
For a full list of speakers, visit:
www.un.org/en/ecosoc/we/pdf/programme.pdf
For more background information, visit: www.un.org/en/ecosoc/we/pdf/concept_note_2013.pdf
Media contact:
Daniel Shepard, shepard@un.org, +1 212-963-9495 – UN Department of Public Information
Paul Simon, simonp@un.org, +1 917-367-5027 – UN Department of Economic and Social Affairs
2013 Economic and Social Council
Integration MeetingAchieving sustainable development: Integrating the
social, economic and environmental dimensions
Monday, 13 May 2013
10:00 a.m. – 06:00 p.m.
ECOSOC Chamber
————————————————-
Opening plenary
_________________________________________________________
Official welcome:                      
Ø        H.E. Ambassador Néstor Osorio, President of the United Nations Economic and Social Council
Ø        Mr. Jan Eliasson, Deputy Secretary-General, United Nations
Ø        Mr. Wu Hongbo, Under-Secretary-General, United Nations Department of Economic and Social Affairs
Session 1:          Policy convergence for sustainable development
__________________________________________________________
Moderator:
Mr. Adnan Z. Amin, Director General, International Renewable Energy Agency (IRENA)
                       
Keynote speech:
Ø        Mr. José Graziano da Silva, Director-General of the Food and Agriculture Organization of the United Nations (FAO)  (via video link)
 
Panellists:
Ø        H.E. Mr. Michael Anderson,  Prime Minister's
Special Envoy for UN Development Goals, United Kingdom 
Ø        H.E. Ms. Sus Ulbæk, Ambassador, Global Challenges, Global Green Growth Forum (3GF), Denmark  (via video link)
Ø        Ms. Gisela Alonso, President, the Cuban Agency of Environment, Cuba (tbc)
Ø        Mr. Ian Noble, Lead Scientist, Global Adaptation Institute, Washington D.C.
Ø        Mr. José Antonio Ocampo, Chairperson, United Nations Committee for Development Policy
 
Discussant:
Ø        Ms. Jan McAlpine, Director, United Nations Forum on Forests Secretariat, United Nations Department of Economic and Social Affairs
 
Discussion questions: 
·          What are the potential short-term policy choices and longer-term gains inherent in an approach that balances and integrates the three dimensions of sustainable development?
·          What are necessary elements for achieving policy coherence for the balanced integration of the economic, social and environmental dimensions of sustainable development?

 Session 2:         Scaling up for sustainable development
________________________________________________________
Moderator:
Ø        Mr. Robert C. Orr, Assistant Secretary-General for Policy Coordination and Strategic Planning, Executive Office of the Secretary-General, United Nations
 
Keynote speech:
Ø        Mr. Kandeh K. Yumkella, Director-General, UNIDO  (via video link)
 
Panellists:
Ø        H.E. Mr. Kenred Dorsett, Minister of Environment and Housing, The Bahamas (TBC)
Ø        Ms. Hunter Lovins, President, Natural Capitalism
Ø        Mr. Gary Lawrence, Corporate Vice President and Chief Sustainability Officer, AECOM
Ø        Mr. Philip Dobie, Senior Fellow, World Agroforestry Centre
 
Discussant:
Ø        Mr. Felix Dodds, Former Executive Director of Stakeholder Forum for a Sustainable Future
 
Discussion questions: 
·          How do science, technology and innovation (STI) intersect with sustainable development and be better used to promote triple-win solutions?
·          What kind of institutional framework and governance arrangements are needed for the successful integration of the three dimensions of sustainable development at the regional and country levels?
·          What specific steps are needed for ECOSOC and its subsidiary bodies to effectively promote a balanced integration of the three dimensions of sustainable development?
 
 Closing plenary
___________________________________________________________
Closing remarks:
Ø        Mr. Wu Hongbo, Under-Secretary-General, United Nations Department of Economic and Social Affairs
Ø        H.E. Ambassador Néstor Osorio, President of the United Nations Economic and Social Council
 
###
The two arms that crushed Nazism were the Anglo-Americans that came from the West and South and the Soviets that came from the East. As well there were several national armies of liberation, underground groups and plain individual heroes that resisted the madness. Those that fought in the  armies of the madman were no heroes – the best of them were just misguided individuals. There is really very little else an honest individual could say about the 1938-1945 years in Austrian history. It is just plain dishonest to forget that Otto Adolf Eichmann was not just a tinny bureaucrat, and that most of Austria were his accomplices and not just soldiers obeying orders. Hitler himself was an Austrian. Having been killed while being part of a madman's army does not make one a National hero. There were, and still are, those in Austria that find it difficult to level with above truth.
The fall of Nazism allowed for the hope of a new Austria and indeed today – after 68 years – finally – an Austrian government was brave enough to say so.
We regard this as a plain Austrian internal matter and we were proud standing up on our feet for the two hours of last night's concert.
The Faymann & Spindelegger government of Austria will mainly be remembered by history for having participated willingly at last night's event that was initiated by the organization that keeps up the memory of the Mauthausen Concentration and extermination camp on Austrian land.
The Heldenplatz is part of the Inner City where Austria as a whole pledged its allegiance  to the "Anschluss" to NAZI Germany and at the outside – the Inner City Gate (Burgtor) contains a Crypt where relics related to those that gave their life to fulfill orders of the armies of the Monarchie, the Wehrmacht, and the Waffen-SS.  Honoring the place as is – means honoring the Nazis as well – and that was what leaders of the FPOE – The Freedom Party that in the past was led by  George Haider – people like Heinz Christian Strache in 2004 (he is now the Party head – in contention now to become Chancellor), Lutz Weininger in 2007, and Wolfgang Jung in 2011 and 2012 did. Their May 8th ceremonies were remembrances to the fallen Nazi soldiers (how can you argue to have been a conquered land and hero to the Nazis at the same time?), and led usually to brawls with those that just could not take it. What is needed now is a weeding out of that crypt – the removal of the undesired relics and their replacement with relics related to the true heroes of Austria – those that preferred life rather then those others who acted as angels of death. Those in the crypt now belong to a factual museum and not to a memorial of honor. This year the name of Dr. Karl Lueger Ring – the Anti-Semite Mayor of Vienna – was removed from the segment of the Ring Streets that is in front of the University and replaced with the much better choice of the University name. Austria is finally catching up to the reality that it is a Nation that was freed from itself thanks to outside justice and an inside opposition.
What also is highly of significance – on Wednesday IT WAS DECIDED TO BUILD, STILL THIS YEAR, under this Parliament and Government,
A MONUMENT TO THE DESERTERS FROM THE WEHRMACHT – much truer National heroes that say they just followed orders.
Skeptics say that if the choice of a design, and the actual execution, are not done by this September, the whole thing might be left to next legislature and put on hold on ice by next Parliament.
——————
THE CELEBRATION OF JOY with families with children picnicking in the background, rings of police at the outskirts of the place, a huge bubble for stage and a seating area in case of rain – for an event that was scheduled for 7:30 PM – that was all crowded already an hour ahead of time.
The weather turned out most favorable and when we arrived like half an hour before starting time, we just found standing room behind the first row behind the last row of chairs. Eventually the estimate was that there were 10,000 people at the concert.
"The Joy was moderated"  – that is how it translates for what is meant that the excellent Master of Ceremony was the actress Katherina Stemberger and the Conductor of the Vienna Symphony Orchestra was Bertrand de Billy.
The first speaker was Willi Mernyl the Head of the Mauthausen Concentration Camp Memorial Committee, followed by Kaethe Sasso – who wrote about her youth in the resistance – setting the stage that this is the combined celebration of the new life of the survivors while honoring the memory of the victims. This is totally different from the memory of the dead of the armies of perpetrators – as it was celebrated just a year ago.
Vice Chancellor and Foreign Minister  Michael Spindellegger spoke followed by Chancellor Werner Faymann.
City Councilman for Culture Mr. Andreas Mailath-Pokorny of the Socialist Party represented Mayor Haeupl, followed by Deputy Mayor Maria Vassilakou of the Green Party.
To free form the summary of these introductions – what was said was that while in other European Cities it is self evident to be happy that democracy and freedom are part of our life – that was not the case in Vienna where brotherhoods were still in mourning for the fall of the old regime – we have a reason to be happy and want to pass this on to those that until now used the day as a day of mourning.
OUR HEROES ARE THOSE THAT FOUGHT FOR FREEDOM AND DEMOCRACY. WE WANT TO LEAVE THIS FOR THE FUTURE FROM NOW ON.  May 8, 1945 was the start of the new Europe.
A solidarity for a new United Europe does not happen by itself – and for us this starts right here today – now.
Talking about the solidarity of a new Europe has many implications these days of an EU in financial difficulties with the States called to bundle together and build a closer EU. All of this was hinted at by the speakers and is on the order of the day.
—————————–
The Concert that followed was obviously great – that is something that Austria excels in naturally and we will leave it to the professionals.
We will just note that it was the Ludwig van Beethoven's Symphony N. 7 A-Dur op 92 for a starter – followed by several full joy Johann Strauss and Jaques Ofenbach and some more. The Soprano Julia Novikova was an added crowd pleaser and reason for encores.
It all ended as a thanks to the great weather with the unbeatable "Thunder and light-bolts" – the Unter Donner und Blitz Polka by Johann Strauss.
===========================================
After this great event – rather then going directly home – I went to the Red Bar (ROTE BAR) at the venerable VOLKSTHEATER, where at 10:15 there was the KREISLER-KABARETT.
The performers were Konstanze Breitebner www.konstanzebreitebner.com) and Bela Koreny (www.belakoreny.at).

I had a premonition that I might find there something that will be germane to the day.  And I found gold.
In 1996 – let me repeat 1996 – Gerhard Kreisler writes to the Austrian Government that he saved himself to the US after his citizenship was to be changed in 1938 from Austrian to German – and he escaped to save himself.
No, he was not NAZI, and his citizenship was not returned automatically to him, as it was to those that became Germans in 1938, after having been Austrians.
For him, he was told he has to apply in order to get back his Austrian citizenship – something he refused to do.  So he applies to the Austrian Government now to be granted back an Austrian citizenship that was thus taken away from him for not having become a NAZI.
Was this not the great corollary to the 68 year late readjusting of the Austrian spine?
===================================================================================================
Also – important to note:
1.5 Million Jews Fought in Allied Armies in World War II – Daniel Estrin (AP)
Every year on "Victory in Europe" Day, which falls on Thursday this year, Jewish World War II veterans in Israel from the former Soviet Union parade in uniform to celebrate Nazi Germany's surrender.
About 1.5 million Jews fought in Allied armies, including 550,000 in the American army, 500,000 in the Red Army, 100,000 in the Polish army and 30,000 in the British army, according to Israel's Holocaust museum Yad Vashem.
About 200,000 Soviet Jewish soldiers fell on the battlefield or into German captivity. About 7,000 Jews who served in the Soviet Red Army are still alive today and living in Israel.
###
Following up on our posting:
we went to the 2nd "Day of Diversity (Vierfalt)" of the Vienna Chamber of Commerce (KPO) Monday May 6, 2013 at the KPO headquarters at Operngasse 17-21, 6th floor, 1040 Vienna, and were guided by Mr. Arber Marku who is in charge of the Chamber's  Department of Economy-Policy (Wirtschaftspolitik).
This second year of direct involvement of the Vienna Chamber of Commerce in Integration into the economy of the immigrants and all "Diverse" human elements such as the handicapped, the homosexuals, the young, the old – you name it – is being backed by the Austrian Ministry of Integration led by the youngest Secretary of State (this is in German language the equivalent of a Minister) Mr. Sebastian Kurz – a 27 year young bright star in the Austrian Government  and former students' leader phenomenon who is one of the most favored politicians these days.
To be honest – we followed up with thoughts in mind – "here something Mayor Bloomberg could have promoted as well and the Obama Administration needs in its effort to lessen the immigration faults – the tens of millions of illegals that are part of the cause of the fraying US economy while they could have become true assets of a booming economy.
Austria as part of the EU can not close its borders to people migrating to it from other EU States – including those that come from former communist States of East Europe, Central Europe, and the Balkan States – many of whom have no skills easily adaptable to the Western democracies and knowledge of the local language. They already own an EU pass and are free to try to establish themselves in a new home.
The Monday full day event had two parts that went on in parallel.
One part was a series of lectures explaining in German – to would be entrepreneurs – the art of being independent and building a new business in Austria.
The topics of the main series included: Promotions and Finances; Successful Marketing; On-line Marketing; Financial supervision by the Authorities – matters of taxation and transparency; A Business Plan; Navigating your business towards a goal; The Potential of Cooperating with others; and a set of Best Practices as example. Clearly this was an exercise in Small Business promotion – an important aspect of the Chamber of Commerce.
The parallel series of meetings was in foreign languages – the language of origin of many of these migrants. These included Spanish, Turkish, Polish, Bosnian-Croatian-Serbian,Chinese, Bulgarian, and Slovakian.
The topics were not exactly the same in all of these meetings – seemingly they were adapted to the needs expressed by the participants.
The topics ranged from Financial Aspects of running a company – the interaction with banks and other institutions, subsidies and Departments of Finance; Customer Orientation and Marketing; or Practical Handling the Taxation Laws.
At the day's end there was a plenary moderated by Werner Sejka and a panel made up of Minister Sebastian Kurz, the President of the Chamber of Commerce of Vienna – Commissioner Brigitte Jank – a feisty woman that did not allow accusations pass by without pointing out that there may be objective issues like lack of skills that must be remembered as well, Mr. Dino Sose who runs the Bum media of the Migrants to Austria and publishes the "Wienner Vielfalt" or the "Vienna Diversity," www.bumzeitung.com/ that explains the city to others in three languages, and Mr. Franz Wolf Mayer the CEO of OIF – The Austrian Integration Fund and Member of the Ministry of Interior.
Now, this day was actually part of a whole INTEGRATION WEEK -  "2. Wiener Integrationswoche im Zeichen des Zusammenlebens – Über 140 Veranstaltungen von 40 KooperationspartnerInnen in ganz Wien." – an effort to stress the life together of all these Diversities – and during the week between May 2nd and May 9th 140 events were planned. Some of these events were reflected in what Minister Kurz reported to the panel.
The following day, today, at a presentation by Vice Chancellor and Foreign Minister, Mr. Michael Spindelegger, I met a previous migrant from Poland, Alexandra Izdebska, who came to Austria in her in her young years, and now owns with her husband a computer company that employs some 200 more recent immigrants – this because of languages – but told me that she makes special effort to employ as well the handicapped and specially women. She knew all about last night's event and is one of the people now backing the government and Chamber of Commerce activism.
Further, Mr. Sose said last night that he came with values and Austria allowed him to develop – so now he wants to push to help others. Ms. Izdebska said today that she came with her parents from a Poland under communist dictatorship and was allowed to think for herself already as a young girl in an Austrian school – she saw the difference already then – and the Vice Chancellor said that he was proud of people like her – achievers in the Austrian economy that came from abroad and grew up in Austria. Minister Kurz told last night that when he visited as part of this week's activities the known Felber Bakery, and asked Mrs. Felber if there were any problems – he was surprised when she told him they had even knife fights. Then she explained these were flight between two sides in a Balkan war – but not between the migrants and old Austrians – there was reasonable harmony she said. She said that she had a black American employee in one of her outlets who sports a curly Afro, and though initially there was criticism – there are no problems now. That is what we want Kurz said.
The moderator spoke of a democratic change and we cannot over-intellectualize what we do. The Society must evaluate the living together in a city where it starts without knowing each other.
###
Athens, Amsterdam, Berlin, Buenos Aires, Copenhagen, Frankfurt, Koeln, Madrid, Mexico City, New York City, Paris, Tokyo, Toronto, Vienna – all had a Marijuana March today.
I witnessed it in Vienna, Austria where one tractor-trailer and seven large music trucks gathered this Saturday, at noon, off the Europa Place near the West Train Station, with about 1,000 people participating, that marched down Mariahilfer Street at 2 pm. The people ended up eventually at the Prater by 8pm.
Two of the trucks belonged to the young people's Pirate Party. Another truck belonged to the Green Party. Several of the trucks had to do with agricultural outfits interested in planting Cannabis as a business and explaining in their posters the many positive uses of the plant.
The front tractor was parading for www.Indras-Planet.at which is an on-line business selling to people that sign a disclaimer.
They were followed by a truck of Medijuana www.future-grow.at that displayed the medical uses of marijuana making it clear that legalization has many pluses.
Truck two of Bush Planet – grow together was part of the Pirates participants followed by their other truck for www.cultiva.at and HanfMess@2013 where Hanf is in German Hemp or Cannabis.
Truck 5 connected to www.Hanfwandertag.at – the festivity of the day and www.isi-Europa.org – the first Hemp Charity Project in Europe.
www.legalize.EU
Truck 6 had on the side written the Bertolt Brecht dictum:
"WHERE UNJUSTICE BECOMES JUSTICE – RESISTANCE BECOMES AN OBLIGATION."
It had in front also written that the Cannabis is a Sustainable Primary Material and that their vehicle uses Sustainable Energy.
It had also a Green Party poster on it.
Truck 7 at the end stated that Evolution comes with Marijuana.
All right – we are convinced – crime comes with illegal marijuana and no good purpose is achieved by making marijuana inaccessible to those who need it. legalizing the weed can achieve many positive goals and we do not see the forest of negatives that some present before us.
Others distributing leaflets were – www.stamm.baum.at from Vienna's 15th district, the Vegans of www.vegan.at, www.hanfforum.at and Hanf-Hanf.at   Also – Sensi Seeds, Paradise Seeds, and Bio Nova.  There is already an active Austrian Hanf Union that sposors these folks.
There were at least 100 police around and the following day the papers mentioned only that the march disturbed the experiment that made 150 meter of the Mariahilfer Street into a pedestrian zone for this weekend.
###
April 15-21, 2013, I participated on a trip to Baltic Sea States of the KPV (Komunal Politische Vereignigung) of the Politische Akademie of the Austrian Peoples Party (OEVP). Above took us to Estonia  Saturday April-20 to Sunday April 21-st. This was a weekend and it might have been a too short time for serious learning about matters of Energy Policy. But I was fortunate to come back with enough information because I had the chance to meet very helpful people and I was prepared ahead with my questions.
We drove from St. Petersburg in Russia to Narva in Estonia and then continued to the capital – Tallinn. We had the luck of having a very good Estonian guide and were honored that evening with a reception at the residence of Austrian Ambassador H. E. Ms. Renate Kobler who invited as well local and Austrian resource people and made sure to establish contacts according to our interests.
I had in effect two different set of interests. One was in regard to a transportation policy instituted this year by the city of Tallinn that offers free rides on the electric street-cars to documented residents of the city while having increased charges for the out-of-towners. The idea behind this being that people will be moving back to the city from the suburbs and increase the tax roles thus making up for some of the losses and allow for gains in air quality by getting out of their cars. I learned that though nice in theory, seemingly it did not work in practice because it applied mainly to the poor – so it did not result in enhanced income from taxes leaving just the lower income from the tram-rides. The topic was originally brought to my attention by the Austrian Standard of April 5, 2013.
This was the minor interest of my two suggested topics.
The other topic – and that one of major interest these days – dealt with the use of oil-shales for energy – an issue of global importance  when Shale-Gas has become the energy interests' battle cry. It was brought out of obscurity in the United States, and Europe is talking as if it was going to follow suit. Austria has also shales and at present media battles rage between business interests and the environmentalists – with the Eurosolar monthly table all convinced that Austria can become energy self-sufficient without touching the shales.
Estonia, as well as Spain, are countries with experience in what can happen when energy is obtained from these shales.
Under the Soviets, the shales were mined and used like a lower grade coal in thermal power plants. What was left are mountains of ash from the combustion process and mountains of  spent shales from the retorting process in which the product was a synthetic crude oil. These mountains of by-product contain heavy metals and when washed by rains these heavy metals poisoned the underground water, thus making it unusable for drinking and agriculture. Everybody I talked to told me the same thing – the losses around Narva are immense.
Wikipedia tells us: "Oil shale in Estonia is an important resource for the national economy. Estonia's oil shale deposits account for just 17% of total deposits in the European Union but the country generates 90% of its power from this source. The oil shale industry in Estonia employs 7,500 people—about one percent of the national work force—and accounts for four percent of its gross domestic product.[1]
There are two kinds of oil shale in Estonia – Dictyonema argillite (claystone) and kukersite.[2] The first attempt to establish an open-cast oil shale pit and to start oil production was undertaken in 1838.[3] Modern utilization of oil shale commenced in 1916. Production began in 1921 and the generation of power from oil shale in 1924.[4]
In 2005 Estonia was the leading producer of shale oil in the world. Of all the power plants fired by oil shale, the largest was in this country.[1][5] As of 2007, six mines (open cast or underground) were extracting oil shale in Estonia.[2]"
Kukersite, named after the Kukruse settlement in Estonia, is the better quality shale. Estonian kukersite deposits are one of the world's highest-grade shale deposits with more than 40% organic content and 66% conversion ratio into shale oil and oil shale gas. They have relatively a lower content of heavy metals.
in the 1830s, although the attempt of shale oil distillation failed, oil shale was used as a low-grade fuel. Then studies of Estonian oil shale resources and mining possibilities intensified in the beginning of 20th century because of industrial development of Saint Petersburg and a shortage of fuel resources in the region. Finally – the world's two largest oil shale-fired power stations – Balti Power Plant and Eesti Power Plant (known as the Narva Power Plants) – were opened in 1965 and in 1973. Because of the success of oil shale-based power generation, Estonian oil shale production peaked in 1980 at 31.35 million tonnes.[3] In 2004, two power units with circulating fluidized bed combustion (CFBC) boilers were put into operation at Narva Power Plant.[4] In 1984, the scientific-technical journal Oil Shale was founded in Estonia.[15]
Some of the spent shale is used in cement manufacturing and Uranium is a by-product.
Kerogen (from Greek for wax + -gen, that which produces)[1]  is a mixture of organic chemical compounds that make up a portion of the organic matter in sedimentary rocks.[2] It is insoluble in normal organic solvents because of a huge molecular weight. The soluble portion is known as bitumen. When heated to the right temperatures in the Earth's crust, (oil window ca. 60–160 °C, gas window ca. 150–200 °C, both depending on how quickly the source rock is heated) some types of kerogen release crude oil or natural gas, collectively known as hydrocarbons (fossil fuels). When such kerogens are present in high concentration in rocks such as shale they form possible source rocks. Shales rich in kerogens that have not been heated to a warmer temperature to release their hydrocarbons will eventually  form oil shale deposits. (The name "kerogen" was introduced by the Scottish organic chemist Alexander Crum Brown in 1906.)
What above tells us is that the organic matter in shales is in the form of very large molecular weight polymers. These can be deconstructed at high temperature in retorts, and then the quality of the remaining ash (or spent shale) can be investigated and the potential damage to the environment assessed. An alternative could be to create a fire underground and collect above ground the released oil or gas created by breaking up the kerogen polymer. In such case the damage from the ash cannot be assessed without knowing the underground conditions and where the underground waters will take the released heavy metals. The Shale Gas operations now in the United States are underground production sites explained as examples of Hydro-Fracking which sounds incoherent when we do not know the operating temperatures which are needed to break chemical bonds of that polymer. Neither the new American production companies nor the EU Shale Gas production interests give us such technology details as they did not even obtain patents that would have required transparency.
This present posting has an added purpose.
I learned that  June 10-13, 2013, the Estonian users of shale-for-energy intend a Shales Symposium in Tallinn as a follow up to the 2006 Symposium that was held in Ammann, Jordan.
The Symposium in Tallinn will be followed by a Field Trip to Estonian oil shale processing industry – an extraordinary opportunity to visit the most important sites of Estonian oil shale industry, including the new, recently completed Enefit280 Oil Plant.
I would like to hope that the European Commission send some inquisitive people to that symposium in order to learn about the side-effects or the environmentally harming "externalities" that could cause harm to the underground aquifers.
Further, as mentioned at the beginning, another European location were there was experience with Oil Shale Retorting is Puertollano, in the Ciudad Real region of Spain. With information from these  sites the EU could be in a better position to judge the issues involved.
I was personally involved with the Purtollano plant of the Empressa Nacional de Pisara Bituminosa Calvo Sotelo in 1959. That plant was producing lubricants or viscous petroleum product alternatives in huge retorts and leaving behind mountains of spent shale as well. Looking at the remains of those mountains – in Puertollano and in Narva, could help the decision making process at the EU.
We realize the importance of the energy independence goal – but as it can be reached in various ways, it is important to start out with open eyes.
 ——————–
Estonia and Sweden Oil Shale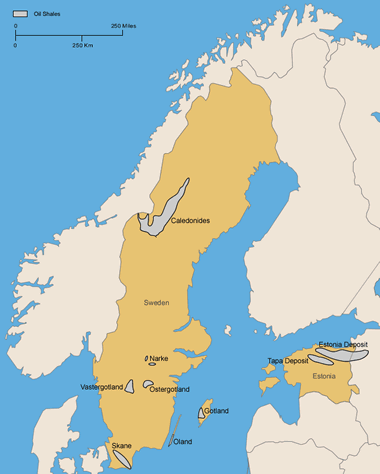 Map of kukersite deposits in northern Estonia and Russia (locations after Kattai and Lokk, 1998; and Bauert, 1994). Also, areas of Alum Shale in Sweden (locations after Andersson and others, 1985).
Estonia and Sweden Oil-Shale Deposits
Reprint of: United States Geological Survey Scientific Investigations Report 2005-5294
By John R. Dyni
Estonia
The Ordovician kukersite deposits of Estonia have been known since the 1700s. However, active exploration only began as a result of fuel shortages brought on by World War I. Full-scale mining began in 1918. Oil-shale production in that year was 17,000 tons by open-pit mining, and by 1940, the annual production reached 1.7 million tons. However, it was not until after World War II, during the Soviet era, that production climbed dramatically, peaking in 1980 when 31.4 million tons of oil shale were mined from eleven open-pit and underground mines.
The annual production of oil shale decreased after 1980 to about 14 million tons in 1994-95 (Katti and Lokk, 1998; Reinsalu, 1998a) then began to increase again. In 1997, 22 million tons of oil shale were produced from six room-and-pillar underground mines and three open-pit mines (Opik, 1998). Of this amount, 81 percent was used to fuel electric power plants, 16 percent was processed into petrochemicals, and the remainder was used to manufacture cement as well as other minor products. State subsidies for oil-shale companies in 1997 amounted to 132.4 million Estonian kroons (9.7 million U.S. dollars) (Reinsalu, 1998a).
The kukersite deposits occupy more than 50,000 km2 in northern Estonia and extend eastward into Russia toward St. Petersburg where it is known as the Leningrad deposit. In Estonia a somewhat younger deposit of kukersite, the Tapa deposit, overlies the Estonia deposit.
As many as 50 beds of kukersite and kerogen-rich limestone alternating with biomicritic limestone are in the Kõrgekallas and Viivikonna Formations of Middle Ordovician age. These beds form a 20- to 30-m-thick sequence in the middle of the Estonia field. Individual kukersite beds are commonly 10-40 cm thick and reach as much as 2.4 m. The organic content of the richest kukersite beds reaches 40-45 weight percent (Bauert, 1994).
Rock-Eval analyses of the richest-grade kukersite in Estonia show oil yields as high as 300 to 470 mg/g of shale, which is equivalent to about 320 to 500 l/t. The calorific value in seven open-pit mines ranges from 2,440 to 3,020 kcal/kg (Reinsalu, 1998a, his table 5). Most of the organic matter is derived from the fossil green alga, Gloeocapsomorpha prisca, which has affinities to the modern cyanobacterium, Entophysalis major, an extant species that forms algal mats in intertidal to very shallow subtidal waters (Bauert, 1994).
Matrix minerals in Estonian kukersite and interbedded limestones includes dominantly low-Mg calcite (>50 percent), dolomite (<10-15 percent), and siliciclastic minerals including quartz, feldspars, illite, chlorite, and pyrite (<10-15 percent). The kukersite beds and associated limestones are evidently not enriched in heavy metals, unlike the Lower Ordovician Dictyonema Shale of northern Estonia and Sweden (Bauert, 1994; Andersson and others, 1985).
Bauert (1994, p. 418-420) suggested that the kukersite and limestone sequence was deposited in a series of east-west "stacked belts" in a shallow subtidal marine basin adjacent to a shallow coastal area on the north side of the Baltic Sea near Finland. The abundance of marine macrofossils and low pyrite content indicate an oxygenated-water setting with negligible bottom currents as evidenced by widespread lateral continuity of uniformly thin beds of kukersite.
Kattai and Lokk (1998, p. 109) estimated the proved and probable reserves of kukersite to be 5.94 billion tons. A good review of the criteria for estimating Estonia's resources of kukersite oil shale was made by Reinsalu (1998b). In addition to thickness of overburden and thickness and grade of the oil shale, Reinsalu defined a given bed of kukersite as constituting a reserve, if the cost of mining and delivering the oil shale to the consumer was less than the cost of the delivery of the equivalent amount of coal having an energy value of 7,000 kcal/kg. He defined a bed of kukersite as a resource as one having an energy rating exceeding 25 GJ/m2 of bed area. On this basis, the total resources of Estonian kukersite in beds A through F (fig. 8) are estimated to be 6.3 billion tons, which includes 2 billion tons of "active" reserves (defined as oil shale "worth mining"). The Tapa deposit is not included in these estimates.
The number of exploratory drill holes in the Estonia field exceeds 10,000. The Estonia kukersite has been relatively thoroughly explored, whereas the Tapa deposit is currently in the prospecting stage.
 -Dictyonema Shale
Another older oil-shale deposit, the marine Dictyonema Shale of Early Ordovician age, underlies most of northern Estonia. Until recently, little has been published about this unit because it was covertly mined for uranium during the Soviet era. The unit ranges from less than 0.5 to more than 5 m in thickness. A total of 22.5 tons of elemental uranium was produced from 271,575 tons of Dictyonema Shale from an underground mine near Sillamäe. The uranium (U3O8) was extracted from the ore in a processing plant at Sillamäe (Lippmaa and Maramäe, 1999, 2000, 2001).
The future of oil-shale mining in Estonia faces a number of problems including competition from natural gas, petroleum, and coal. The present open-pit mines in the kukersite deposits will eventually need to be converted to more expensive underground operations as the deeper oil shale is mined. Serious air and ground-water pollution have resulted from burning oil shale and leaching of trace metals and organic compounds from spoil piles left from many years of mining and processing the oil shales. Reclamation of mined-out areas and their associated piles of spent shale, and studies to ameliorate the environmental degradation of the mined lands by the oil-shale industry are underway. The geology, mining, and reclamation of the Estonia kukersite deposit were reviewed in detail by Kattai and others (2000).
###
It was Saturday night April 27, 2013 – doors opened at 7:30 PM and stretched till 4 o'clock in the morning. The opening march started at 9 PM sharp and the place was packed. The conferencier for the evening was Marianne Schulze a Human Rights expert and consultant on matters of the handicapped.
See - www.behindertenarbeit.at/bha/arch… where she works with the "equalizent" – the official convener of this event.
It was just like any other opening march during the Vienna Ball season except that you saw also couples of two men or two women, a very tall man and a short woman, some physically bent, mixed race couples and no specific dress codes except that all in festive closing an the women wore a violet boa feather garland – though in different ways of putting it on. Many men had a green tie and even a woman or two had such a tie. It was all in fun and nobody tried to do it de rigueur.
There were two bands – the Jazz D'accord band for the introductory part and the Vienna very conventional music SIGMA big.dance.band of mainly young women. There was also the performance of a mixed group of dancers under the Stanek & competence-circle and DanceAbility that performed what some might have thought was an early Robert Wilson choreography – you know – the one about Sigmund Freud and his dreams.  It was terrific and included the wanderings of a short elderly woman in a green dress that looked autistic, two young people in wheel chairs, several Spiderman all covered figures – a man and a woman – some people with various handicaps and some without – but all moving to the beat of the music at slow speed.
The first row of chairs around the square dancing stage was taken by what the manager of the event called the "ministers" – but I recognized only Eva Glawischnig-Piesczek, the  Austrian politician of the Austrian Green Party and its federal spokeswoman, in line to be a minister when the Greens become members of the governing coalition. She and the other dignitaries were escorted to their seats by a variety of costumed people – some looking like angels others in stocking-garb that made them look like painted nudes – and Ms. Glawischnig got honored with one of the latter men – all in green.
Not to be misunderstood – please note that this was not a Green event – actually I would say it was a Chamber of Commerce backed event. The WKO-Wien has its Network Diversity – they create value by recognizing value.
You find them at www.wko.at/Wien/diversity
They explain Diversity as "Multiple" or perhaps Multiplicity – a valuable potential for the economy – and recommend to the businesses to take advantage of the diversity.
Diversity can be  in age, origin (ethnicity), Health or being Handicapped, Sexual orientation, religion.
Monika Haider, the CEO of "equalizent" and the head of the Honor Guard of the event, said that DIVERSITY MAKES OUR SOCIETY STRONG – because we all profit from the different experiences, talents, ideas, opinions – of a heterogeneous society.
A main interest is as well in migration. Migrants or refugees that came to Austria, and residents in camps overseas, are of interest to the WKO and were among the honorary guests to the Ball.
We received notice that Monday, May 6th, 2013, as part of the 3rd Vienna Integration Weak there will be a Vienna Economy Day of Diversity.
It will be held at Operngasse 17-21, 6th floor, 1040 Vienna.
There will be a series of lectures 9 am – 5-pm, and in parallel a series of business consultations in Turkish, Polish, Bosnian-Kroatian-Serb, Chinese, Bulgarian, and Slowakian.
Part of this program was also a business publication  about Austrian business – "Kosmo" that was given out to us in a Slavic language.
But that is not all – "equalizent" is teaching languages to the hearing and speach impaired and trying to sound funny someone suggested that this means teaching those that cannot pronounce one language as well how to be able not to pronounce another language as well. But without jokes – this clearly is an important hand to the handicapped that is thus made part of normal life.
Further members of the Honor Guard and seated in the front rows were – Brigitte Jank, President of the Chamber of Commerce, Vienna; Federal Minister Labor, Social Affairs, and Consumer Protection,  Maria Vassilakou, of the Green Party, Deputy  Mayor of Vienna; Petra Draxl, head of the Vienna Employment Services, actress Dagmar Koller.
While most of the above went on in the downstairs hall, and many of the people sitting in the garden and the side rooms – eating the traditional fare of Vienna Balls – gulash soup and Debreciner sausages – starting 10 pm Babsi Bandi in full voice and Jo Spelbrink in sign language – led the interminal young through terrific drumming by the Vienna naBum band – a cross between the North East of Brazil Capoeira culture and mother Africa that define themselves as a "beatfactory project."
Then there were the DJane CounTessa/ Brunhilde Collective led by Petra Grosinic who arrived as a child from Croatia and lives with her parents in Vienna's Ottakring District known for its immigrants diversity. At her mother's hair-dressing business she got to know  Anne Wiederhold, the head of the  Brunnenpassage DJane-Workshop and then with the women participants they created the "Brunhilde Collective." Her mix is Reggea.
They were followed by the !DelaDap DJ-Set with Tania Saedi as vocalist. This upper level Ball crowd had really a Ball. Here I saw something great.
For those interested, the Black Jack tables of Casinos Austria at the Kursalon were available as usual – in the Lehar Hall.
The effort to integrate the handicapped into normal life became crystal clear in the way people enjoyed themselves at this ball – at the dancing by the participants. Obviously – the hearing and speech impaired did not stick out – but the wheel chair people dancing with their wheelchairs was a totally different matter. I am sure I will never forget the sight of a young woman after having danced with her dancing-partner while in the wheel chair, then getting out of the chair and holding on to the side of the bar while the other woman sat in the wheel chair in her place and the dancing continued with the roles switched. Hurray for the the human spirit and Kudos to the organizers of the event.
At 2 am, while downstairs continued the Sigma big.dance.band, on the third floor there was the Salon Kitty Revue & Music for Separees – Austria's finest Burlesque show with added French Boylesque – who distributed leaflets to let you know you can see them again on May 11, 2013 at the Arena Variete Cafe, Margaretenstrasse 117, 1050 Vienna. To see the cast please go to - www.salon-kitty.net/?page_id=10
The recurrent motto: RESPECT AND TOLERANCE AND AGAINST DISCRIMINATION.
MORE ABOUT EQUALIZENT – the institution that helped and is helped by this Ball:
Their motto is that LANGUAGE is the interface between Identity, Education, and Human Interaction – so their contribution is to language.
If needed language is supported by sign language and WITAF is the outreach for integration via sign-language.
June 7, 2013 there will be a presentation about studying with impairement of hearing. Further information at www.plig.at
For a full listing of the Equalizent courses please see - www.equalizent.com
For more about the work of "Equalizent" Teaching and Consulting Ltd. Dr. Anna Gudra offered her direct contact – at Obere Augartenstrasse 20, 1020 Vienna. tel: 01/409 83 18- 32   anna.gudra at equalizent.com
###
Österreichisches
Gesellschafts- und Wirtschaftsmuseum
Austrian Museum
for Social and Economic Affairs  A-1050 Wien, Vogelsanggasse 36
Telefon: ++43-(0)1-5452551
Fax: ++43-(0)1-5452551-55
E-mail: wirtschaftsmuseum@oegwm.ac.at
ZVR-Zahl: 622163785
VERANSTALTUNGEN

im APRIL 2013

Montag,
22. 04. 2013
17.00

Wirtschaft in den Medien

Herbert Hutar, Wirtschaftspublizist und Gründer des Radiomagazins SALDO (Ö1), spricht über tatsächliche oder vorgetäuschte Objektivität in der Wirtschaftsberichterstattung, über Themenauswahl und Fallen, in die Medienkonsument(en)innen stolpern können.

Eintritt, Erfrischungen und Brötchen frei!

Montag,
22. 04. 2013
19.00
Vom Haydn-Gymnasium in Wien
in die EU-Kommission in Brüssel

Johannes Hahn, EU-Kommissar für Regionalpolitik, berichtet über seine derzeitigen Agenden und Herausforderungen und gibt Ausblick auf zukünftige Entwicklungen Europas.

Eintritt, Erfrischungen und Brötchen frei!

Mittwoch,
24. 04. 2013
19.00
Social Settlements –
Über die Verbreitung einer Idee in Österreich-Ungarn

Elisabeth Malleier, Historikerin, spricht über die Verbreitung der Settlements in Österreich-Ungarn. Als ein Initiator dieser Entwicklung gilt das in Wien gegründete "Ottakringer Settlement", dessen Ziel der direkte und persönliche Kontakt zwischen Arm und Reich in den Armenvierteln der Großstädte war.
###
AFRICA. DIMENSIONS OF A CONTINENT
Dienstag, 16. April 2013, 19.00 Uhr
Bruno Kreisky Forum für internationalen Dialog | Armbrustergasse 15 | 1190 Wien
Anmeldungen unter: Tel.: 3188260/20 | Fax: 318 82 60/10 | e-mail: einladung.kreiskyforum@kreisky.org
Buchpräsentation – "AFRIKA UND KLIMAWANDEL. DER DRUCK STEIGT."
Irene Giner-Reichl, Botschafterin Österreichs in China – presently Austria Ambassador to China but previously steeped in Development and Climate Change work with much experience at the UN on issues of Africa.
Stefan Mielke, CARE-Österreich
Elfriede-Anna More, BM für Land- und Forstwirtschaft, Umwelt und Wasserwirtschaft – Head of the International Environment Topics at the Austrian Life Ministry that includes the activities at the UN in handling the post-Rio Era, at a time that Austria will be Joining ECOSOC.
präsentieren die deutsche Version des Bandes Africa and Climate Change, der im Dezember 2011 aus Anlass der Klimakonferenz in Durban im Passagenverlag Wien erschien und diskutieren über die Arbeit von Hilfsorganisationen, den Gesellschaften in den betroffenen Ländern bei der Bewältigung der Folgen zu helfen.    —–    Which is the Book-presentation the NGOs had prepared for Rio 2012.
Die Auswirkungen des Klimawandels werden Afrika am stärksten betreffen. Welche Analysen gibt es von afrikanischen Experten und Entscheidungsträgern? Bereits heute sind am afrikanischen Kontinent ernste Auswirkungen des Klimawandels festzustellen. Niederschlagsmuster verändern sich, extreme Wettersituationen – Dürren wie Überschwemmungen – werden häufiger. Die Anpassung an den Klimawandel könnte eine der größten Herausforderungen für die Länder und Volkswirtschaften Afrikas werden.
Der vorliegende Band präsentiert afrikanische und internationale Stimmen zu einer der heißesten globalen Fragen mit signifikanten Auswirkungen auf den afrikanischen Kontinent.
Für die globale Hilfsorganisation CARE sind Klimawandel und seine Auswirkungen bereits seit Jahren ein zentrales Thema ihrer Arbeit weltweit und in Afrika, wo schon jetzt vor allem die Armen betroffen sind, und das auf dem Kontinent der den Klimawandel am wenigsten verursacht hat.
CARE arbeitet vor allem der Katastrophenvorsorge und der Klimawandel-Anpassung. Menschen in extremer Armut werden dabei unterstützt, sich an geänderte Umweltbedingun­gen besser anzupassen.
=================================================================
Thursday, April 18 2013, 7 p.m.
Bruno Kreisky Forum for International Dialogue | Armbrustergasse 15 | 1190 Wien
R.s.v.p.: Tel.: 3188260/20 | Fax: 318 82 60/10 | e-mail: einladung.kreiskyforum@kreisky.org
Anna Lindh Foundation Common Action Joint with The Austrian Institute for International Affairs (OIIP).
THE MISSING SENSE OF TOGETHERNESS IN THE MEDITERRANEAN SPACE AND ITS BORDERS.
Najat Abdulhaq, Historian and Economist, University Erlangen / Nürnberg
André Azoulay, President of ALF (tbc)
The Anna-Lindh Foundation (ALF) aims to bring people from across the Mediterranean together. Its objective is promoting intercultural dialogue and mutual respect between cultures.  Since its launch in 2005, the Anna Lindh Foundation has launched and supported action across fields impacting on mutual perceptions among people of different cultures and beliefs, as well as developing a region-wide Network of over 3000 civil society organizations. The Common Action of the Austrian ALF Network has been planned, organized and implemented by different member institutions. Our aim is to raise awareness for the challenges and chances in regard to the EuroMed Region and increase the visibility of Anna Lindh and its activities.
===================================
Karin Mendel
Bruno Kreisky Forum for International Dialogue
1190 Vienna, Armbrustergasse 15
###
Grateful for Dirty Dishes. And Taxes.
Sunday, 07 April 2013 07:24 By Valerie Tarico, Truthout | Op-Ed
   (Photo: ilovedthecoffee)
As April heats up and that midnight-on-the-15th deadline approaches, even the most civic-minded of us can end up feeling stressed and crabby about taxes. A quarter of households (like mine) will procrastinate until the last two weeks to take care of a task that can feel like an annual headache. As odd as it may sound in this context, reframing those tax forms as an opportunity to count your personal blessings and America's blessings might be a mental health lifesaver.
Research shows that deliberately counting blessings or keeping "gratitude lists"  has a host of mental health benefits, and cultivating a habit of gratitude reduces negative affect like resentment, irritability, stress, and depression.
My cousin Robyn is a hard-working mother of three whose joints don't function as well as they once did. In fact, they hurt. A lot. The day-to-day can be a challenge, and most people in her situation do a fair bit of grumbling. But Robyn recently posted on Facebook: Lord, I thank You for dirty clothes, muddy shoes, messy rooms, a dusty house, tired legs, aching knees, and taxes. I thank You that I have clothes, shoes, a room to make a mess in, a house to get dirty, legs that work, knees that bend and a free country in which I can pay taxes.
Her words transported me all the way back to my childhood, to the 1962 tract house where I shared a room with two sisters, and a bathroom with another two brothers, and kitchen chores with the whole family – except that left of the kitchen sink was frequently stacked high with items waiting to be scrubbed, and the drainer seemed always full. But on the other side of the sink, attached to the upper cabinet, was a little sign that read, "Thank God for dirty dishes; they have a tale to tell; while others may be hungry; we're eating very well. . . ." As a short child up to my elbows in soapy water, I liked the sign and I liked washing dishes, and I still like them both – most of the time – to this day.
I first broadened my appreciation from dirty dishes to taxes on a trip to Guatemala. My husband and I were winding our way up unpaved mountain roads in a "retired" American school bus, three to a seat, knees to our chests, on our way to language school in the highland village of Todos Santos. As the bus ground around gullies and erosion and potholes, it struck me, rather hard, that we get something for our tax money. The thought struck again when, once settled with a village family, we visited the local grade school. There, children were attempting to learn math, reading and writing without such basics as textbooks and paper, let alone the brightly colored posters and media and other learning tools I had taken for granted as a child. I've had a Canadian attitude toward taxes ever since (well, at least when my better self is in charge).
The Guatemalan roads and school may have brought the pattern into focus, but really, it was my parents who sketched the lines. If any bunch of five kids were primed to appreciate the bounty that we Americans share and that our taxes sustain, it was us. Public school classrooms that did have books and paper gave way each spring to summers spent traversing the interstate highway system, hiking, and sleeping in state parks, and poking through small-town museums and stretching out on picnic benches in a roadside rest stops. We saw astounding wonders – the Grand Canyon and the Mississippi River, Carlsbad Caverns, the Badlands – and got our heads filled with history at old monuments like Montezuma's Castle and the Vicksburg Civil War cemetery. We slogged single file in scruffy boots up Pikes Peak and through Maroon Bells wilderness, with backpacks on, and eventually learned to love it.
As a teen, I read a book called Mama's Bank Account about a Norwegian immigrant family scraping by in San Francisco at the turn of the century. Week after week, in the story, they carefully count out money to cover expenses, and the mother comments how good it is that they don't have to take money from their bank account. Only after the children are grown do they find that the bank account doesn't exist; Mama has made it up to give them a sense of security and prosperity. For me as a child, the delicious knowledge that I was a part-owner, albeit a very small shareholder, in America the Beautiful was my equivalent of Mama's bank account. When life felt overwhelming, I imagined those highways and parks, familiar and beautiful, all places I was allowed to be because I had been born in the Land of the Free. To this day, when I travel to other countries, and natural wonders like caves or geysers are fenced off with private property signs and exorbitant entry fees, the child in me protests: But, but they're supposed to belong to everyone!
As one who has received so many benefits from this country, it pains me sometimes how much of our national conversation is about taxes. It's like going into a department store where the merchandise is all hidden behind enormous price tags. Our representatives spend so much time quarreling about who's going to carry what share of the tax "burden," that there's no time left for the dish-washing, mess-scrubbing, everyday work that it takes to keep our communities great. We get so ground down from fighting with each other that we have a hard time coming together to ask the important questions: What do we want for our children? What do we want for our community? What do we want for our country? We put so much emotional energy into nursing resentment about those so-called "burdens" that we sometimes forget how astoundingly much we have received, both from those who came before us and from this extraordinary land of purple mountains and spacious skies.
Robyn's Facebook prayer and my mother's sign both were notes to self. They were small acts of commitment to living deliberately in a sense of bounty and gratitude, even when knees are sore and hands are chapped and the housekeeping seems endless. Affirmations like theirs get us out of our normal way of thinking and focus us on life's goodness, and they have clear health and mental health benefits for us and people around us. Cultivating gratitude leads to better sleep, greater goal attainment, better relationships, more mutual support, and a stronger love life.
Gratitude as a life posture or a sense of being "blessed" is something that religious people talk about mostly in church and secular people like me, who have given up that traditional forum and vocabulary, mostly keep to ourselves. But Robyn, in her note, did an interesting thing. By adding taxes to her list, she crossed a boundary. Not the boundary between church and state – that one's been crossed plenty of late – but the boundary between civic life and spiritual life. I wonder what it would it mean for our country if more of us said, to a God or to the universe: "I thank You that I have roads to maintain, schoolbooks to buy, a sewer to mend, rivers and mountains to protect and a free country in which I can pay taxes."
—-==========================—–
Valerie Tarico is a psychologist. She is the author of 'Trusting Doubt: A Former Evangelical Looks at Old Beliefs in a New Light." She is also the founder of WisdomCommons.org.
---
Show Comments
###
Who lives in Tallinn, travels free with public transport.
based on article by André Anwar of Der Standard of Vienna, 5 April 2013.
  photo: apa / dpa / peer grimm

Passersby walk past in the Estonian capital of a web. Since the beginning of the year there are free tours by bus or tram.
Since the inhabitants of the Estonian capital can drive for free on public transport, the traffic in the center of Tallinn is already decreased by 15 percent. Now also other cities consider to introduce free public transport.
Tallinn (from Stockholm) – Tickets are for sale on the buses and trams of Tallinn- but not for the citizen-residents of the Baltic metropolis. Since this year its 420,000 inhabitants, the capital of Estonia, the first capital in the world, they can be completely free and unlimited ride on public transport . This measure is intended to combat ever increasing number of traffic jams in addition to the air pollution.
15 percent less traffic
The city government now sees first successes. "The traffic in the city has declined by 15 percent," said Allan Allaküla, traffic expert and head of the EU office of Tallinn, the standard. 21 percent of people say in surveys that they now use public transport more often. Last year, about 100,000 people a day used the public transport.
Mayor Edgar Savissar hopes that the number will increase significantly over the course of months yet. The new concept was flanked the year by numerous bus lanes on existing lanes in the city center. "Tallinn is innovative. Ours is the first capital, in which such a concept will be implemented on such a scale," said Savisaar. The measure also increases the mobility significantly poorer families.
Controversial initiative
The initiative of the left-liberal city chief is highly controversial. Opponents – obviously from the right – criticize that with Tallinn's bruised budget much more pressing social problems should be solved.
The transport had previously been heavily subsidized in Tallinn. A monthly ticket cost 18,50 €. Ticket proceeds from the end of 2012 show at least 33 percent of the cost of operating Öffi were covered. The loss is estimated by the opposition at 20 million euros. "The streets are full of potholes and there is no money for kindergartens," criticizes Valdo Randpere of the bourgeois opposition.
Price increase for tourists
Tallin Mayor Savisaar disagrees saying that now more people are living in Tallinn, which ultimately increase tax revenues. In 2013, there were many people who take the public transport  and stay in Tallinn and its surroundings, yet continued to be registered for tax purpose in other municipalities. They now log on to Tallinn to enjoy the free electronic tickets – for only he who is registered in Tallinn, travels free.
For tourists and other visitors, the prices were doubled from 80 cents to 1.60 euros.
If the model works Tallinn in the longer term, it could set a precedent in the region as well. Namely the other two Baltic capitals Riga and Vilnius, as well as the Finnish Helsinki, consider the introduction of public transport for free as well.
(André Anwar, THE STANDARD, 6./7.4.2013)
We add to this that in a country like the United States this would not work – simply because it requires an identity card – and the US is reluctant at allowing the issuance of personal IDs. Progress in important issues – like the right to free transportation from a locality – to the people who are registered local tax payers – legal residents of the place – is just as important as the right to clean air and water – call it in UN fashion – an inalienable right.
So far as Austria goes – there will be a trip this month to Tallinn as part of the learning tour of Austrian local government – organized by the Think Tank Academy of the Austrian People's Party. I will be on that tour and promise to make sure that the content of this article – originally brought to my attention by the left-of Center main Austrian newspaper – will not be lost to the members of the Austrian Right of center party. Mind you – both parties are part of long term government coalitions and starting to jostle in light of the September 2013 elections that could cause a relative change in strength that could lead to a change in the actual occupancy of the Chancellor's office. We think that ideas like the one in this article should be on the table.
###
Centripetality?  The force that under Capitalism sends money to look for safe havens in order to avoid taxes that are needed in order to run a safe State. All US Republican contenders for the Presidency, and some of the Democrats as well, keep their money off-shore because keeping it in Delaware is not beneficial enough.
Op-Ed Contributor
Did Putin Sink Cyprus?
By BEN JUDAH
Published: April 2, 2013
THE blue-glass skyscrapers of Moscow City — fragments of Russia's boom-time dream — are visible from the Kremlin walls, within which there was once hope that those towers could supplant the West's financial centers. When the sun sets behind them, you can see that many of the offices lie empty.
In fact, the real hubs for Russian banking are in other countries. Moscow's billionaires squirrel their fortunes abroad, and many businessmen register their companies as British, Dutch, Swiss or Cypriot — anything but Russian. Whistle-blowers would have us believe that even President Vladimir V. Putin stashes his money offshore.
Simply put, Russian money is frightened of Russia. This is because after Boris N. Yeltsin made the transition to crude capitalism in the 1990s, Mr. Putin never delivered secure property rights. That makes Russian money paranoid; since 2008 alone more than $350 billion in capital has fled the country.
These billions craved secrecy and security, and financial islands inside the European Union welcomed them. A love affair started, especially, between Cypriot banks and Russia's cash. Only weeks ago, the Cypriot capital, Nicosia, was Russia's most important offshore accountant. But today this financial paradise lies in economic ruin, its bloated banking sector wrecked by a gigantic exposure to Greek bonds. To save Cyprus from bankruptcy, a decree from the European Union, the International Monetary Fund and the European Central Bank (known as "the troika") is now confronting depositors in Cypriot banks with the loss of as much as 60 percent of deposits greater than $100,000, alongside tough new capital controls.
Nicosia was the second capital of Russian finance, after Moscow, and Russians are believed to account for the majority of the foreign accounts there worth over 100,000 euros.
According to the I.M.F., Cyprus was the destination for 34 percent of all outward investment from Russia in 2011, and accounted for 28 percent of foreign direct investment in Russia. But these gigantic flows did not reflect real investment overseas. They were overwhelmingly Russian cash "round-tripping" through Nicosia shell companies and re-entering as foreign investment. As the German finance minister, Wolfgang Schäuble, pointed out, this has raised suspicions of money laundering.
On the other hand, many legitimate Russian businessmen had funds there as well. Russia's steel oligarchs controlled their companies through Cypriot holding companies. Many state-owned pillars of Russia's economy also have Cyprus accounts, including the oil company Rosneft and the banks Sberbank and VTB.
How did so much Russian money end up in Cyprus? Mr. Putin took office in 2000 promising a "dictatorship of law," but the moneymakers lost confidence in him. By 2003, the country's richest man, Mikhail Khodorkovsky, had been arrested, ultimately to be stripped of his biggest holdings and thrown into a Siberian prison, making it clear that what Mr. Putin really had in mind was manipulating the law to control any potential challenge from the oligarchs' wealth.
So the capital flight that had begun in Russia's "wild 1990s" never stopped. And by 2011 the I.M.F. reported that all of the top five national destinations for foreign investment in and out of Russia were tax havens — a sign that the funds were really offshore Russian money.
Russia's middle class lost faith in Mr. Putin after 2008, when in the midst of the global financial crisis, the bureaucracy remained mired in Gogolian incompetence and venality. He had gutted the courts, media and local governments while focusing power in his party. That left little more than a servile web of patronage, a recipe for embezzlement of public funds. So more Russians put money in "safe" places like Cyprus.
Matters were made only worse when protests over election rigging charges in 2011 revived fears of a national implosion.
Last year, official capital flight hit $56 billion, and Mr. Putin's own central bank calculated that two-thirds of that total might be traceable to illegal activity like drug money, kickbacks or tax fraud.
Why did Russians flock to Cyprus? Cyprus was in the European Union, with its rules and overseers — a nearby legal paradise where state confiscation was unthinkable. But now the troika's raid on their accounts — Russians call it a theft — has given Russians a new dose of anti-Western passion and paranoia.
Whatever remains of the Russian fortunes in Nicosia seems sure to flee again — but not back to Russia. It may go to other European havens, like the Dutch Antilles and the British Virgin Islands. Malta and Luxembourg are possibilities, but analysts have both on bailout watch.
Meanwhile, Brussels is not impotent. The European Union must clamp down on offshore havens, insist on transparent banking and toughen up on money laundering. This is austerity Europe — and bloated tax havens not only put Europe at risk but also make its financial system complicit with offshore corruption.
But it cannot erase the truths exposed by the Nicosia bust. Europe, it turns out, is studded with vulnerable, contagious tax islands, and their availability only compounds Russia's deeper problem: it is both too corrupt and too paranoid to keep its billions at home.
Ben Judah, a journalist, is the author of the forthcoming book "Fragile Empire: How Russia Fell In and Out of Love With Vladimir Putin."
=================
Above is only the beginning of the Europe-story. Today, April 6, 2013 – the papers in Vienna are full of stories about warm-islands – hot-money-havens.
Europe wants to clamp down on its Euro-drains – but did you hear of similar stories about Washington attempting to close the Romney-dollar-drains?
So, let us advocate for a clear call to GLOBAL regulation of money-flows so one louse does not feed from another.
We follow up by asking – and how much of America's money is out there in Caribbean islands' accounts?
###
=================
The two presenters were:
-  Dr. Angelika Milnar on "How Liberal is now/is becoming Austria?
-  Dr. Anton Fink – on – "Economic points of gravitas in the next Legislative period.
Austria is having legisilative elections 29 September 2013 – so everything now is geared already to positioning ahead of these elections.
en.wikipedia.org/wiki/Elections_i…
en.wikipedia.org/wiki/Austrian_le…
Last elections to the Parliament were in 2008 – with a five year period before next elections – so this is an election year.
At present – the Parliament includes the Social Democrats (Red), the People's Party (Black) – basically a Christian Democratic Party, the Freedom Party (Blue) – basically a Populist right wing Party, The Followers of what was the defunct's Joerg Haider's List BZOE (Orange), and the Greens Green).
The Liberal Forum, The Independent Citizens Initiative, and the "Christians" – all having had shades of Yellow – together totaled 3.46% in 2008 and did not pass the Parliament's threshold. But this is a fertile segment of the electorate, specially the Liberal Forum, and will always try to make a come-back. This year the situation is even more complex with the appearance of an Austrian Billionaire, – the 80 year old Frank Stronach – who did well in Canada and under his own name – The Stronach List – is assumed according to the polls – to run now about 9% of the electorate with his potential votes coming from all parties, but he  got now 5 members of Parliament mainly from switches from Orange and one Red – while looking that he will get votes from the Yellow unrepresented part of the electorate as well.
Further, before I went to the headquarters of the Austrian Hayek Institute at Gruenauergasse 1/15-1 (first floor), 1010 Vienna (Center City – 1st District, behind the Stephansdom, I had the chance to see the Wiener Zeitung of today – the article – "Mad men in Pink – The Liberal Citizens' Movement – Neos – fight the process and the results of the Vienna poll of the people" – a reference to a questionaire that dealt with four items ranging from the intent of the city of Vienna to host the Olympics, to a reorganization of the traffic in my District – the 6th District, and the limitation of street-parking permits. I assume that the ire comes from these Neo-Liberals believing that asking the people questions about the way they want to live is an imposition – I assume that the imposition is on those that feel they are entitled to make the decisions alone – something they call the wardens of private initiative.   Strange – but even stranger – they chose the pink color for reasons beyond me.   Could it be that they tried to say that the pink stands for Socialists – or worse – Communists – those that their Yellows oppose?   No, I did not understand this and thought it would be part of a decent question I will ask the speakers. But, as I did not get the chance to ask my question, I am still in the dark on this by the end of the day – on the connection between those people mentioned in the article and our speakers before the Hayek Institute audience.
Dr. Angelika Milner is the Head and Spokesperson of LIF – the Liberal Forum. She has had experience in the US – having been with the American University in Washington DC, and with various European Union institutions and think-tanks, and at the European Parliament as well.  She is a member of the Slovene minority in Carinthia.
Dr. Anton Fink is a lawyer with experience at Johns Hopkins University in Bologna and Washington DC. He worked in the private sector in banking in Austria and Germany and since 2005 he is partner and managing director of Dale Investment Advisors GmbH, Vienna – handling large sums of private money. We found no references linking him directly to a political institution.
Dr. Milner started by saying that the issue was the Liberal Forum and they try for a new way. For them it is not the State – but the individual person that is important. She wants to see the parties leave the operation of the State.
The individual has no chance to get a public position if he does not come with the backing of a party – so she wants to see this changed in Europe. That will be the position they would present in the European Commission.
Dr. Fink picked up from there – Should the State run the economic policy? Nevertheless, he finds that the State has place in securing the basic platform. From there he started mentioning the September elections where – if not for them – it will be again the old OVP – SPD line-up.
Their list wants the EDUCATION MINISTRY. As a Second Step they would go for the ECONOMY Ministry with Third Step THE STATE SECRETARY FOR FINANCES.  In US Republican fashion he wants to see a 5% decrease in the basic expenses – what the Americans call the entitlements, I assume.
He wants to eliminate the 13th or 14th salary.
Finland developed via innovation/technology and moved for gains to culture, gastronomy etc. He wants to see this happen to Austria via Telecom, Airports etc. I assume that privatization is what is at the basis of his ideas. Fine with me.
Now the Q&A. It was all attacks. Mainly from people that do not like the "is."
Most wanted an immediate change – Economy – not Education. The presenters seemed to them as not producing ideas for change but rather a continuation of an ongoing debate that has produced no results – so Austria never became a Finland. The first questioner became a speaker and accused the presenters of Socialism. The keyword for him was privatize it all – why does Austria need the Postal Service, he asked?
A banker with East Europe interests wanted to know how they see it from the angle of a European Party and was told that at that level the EU must be active and not reactive. He got the answer from Dr. Fink that he does not want it all thrown to the lawyers like the US does it – he wants EU regulation by the EU that does not shrink initiatives.
That is about when former Minister of Health, Families, and Youth,  ( 11.01.2007 – 02.12.2008 on the Black part of the Gussenbauer Cabinet – a position she lost when under reorganization the Ministry was switched to the Red side of the coalition Cabinet ), Dr. Andrea Kdolsky, a non-partisan professional now Director for Health of the Austrian PricewaterhouseCoopers, burst out – "You go about it the wrong way," she said. The Ministers in this State have no competence. Through the Federalism the Ministers just deal with goofing situations – what she wants to see is a call for new active young people that bring in new ideas – the Education and Health Ministries need people to bring in new ideas. What she heard here was basically the old debate of how things are bad – but no practical suggestions for new policies. She criticized those calls for saving on salaries by saying that if you do not earn enough even with a second job you do not innovate – the person will just not stir the pot if his income is not secure. She continued – "you are right that the laws should be made by the Parliamentarians – but they do not do it because all what they do is warm their chairs so that after 10 years can travel on to better positions. What I am missing are those bigger steps – you did not say how to get there even though the Constitution is a stumbling bloc that has to be changed.
Now, Dr. Kdolsky is not new to us. She presented in the same room at the Hayek Institute, in 2011, her experience as Minister of Health and families her new book  "Hauptsache gesund" – Most Important Be Healthy – publishers Goldmann Gesellschaft.

She was actually a most bright spot in that government – came in as a successful hospital manager and left because the seat was needed for political reasons. Now, in the private sector – she always speaks up.
On our website I found that her story was mentioned already at -
Brussels points angry fingers at Vienna as source for corruption in the EU Parliament. A main issue here involves nuclear power policy.
Then Dr. Fink defended himself before another voice in the room: "I am the People and wonder why I should vote for you?"  We have a very bad education level in Austria – those that do the cross and have no idea what they want. Only the population can induce change – America has shown it, he said. In principle I need the media – but then was hit by the same person with something that paraphrases as – That is hogwash – because you have no concrete ideas.
Dr. Fink answered: "I am ready to learn more and I am grateful for the comments."
Taxes are concrete things and I spoke about taxes – reducing taxes. But he also said you must give the bright people finances – and Austria is not Finland that has a bigger Financial Market. I said to myself – I wonder why?
Neo Liberal for a name? We need an association to something new in the name – the idea of a new effort (Versuch).
Wow! I thought that what Dr. Milnar started with is not different from what international Greens (not the Green Party of Austria – mind you) are talking about – but then Dr. Fink actually spoke the language of Yair Lapid of the "THERE IS A FUTURE Movement – Yesh Atid" of Israel."
  Yair Lapid, MK in Israel, Now Minister of Finances who insisted that his list gets also the Education post.
Then I thought to include in my posting the following from an Israeli sight meant for the Palestinians.
"During that dinner, I was photographed again with President Barack Obama, who is 1.90 meters [6 foot, 3 inches] tall. Afterward, with Secretary of State John Kerry, who is about two meters [6 foot, 7 inches] tall.  Afterward, I stood on the side with Trade and Industry Minister Naftali Bennett who, like me, doesn't reach 1.75 meters [5 foot, 9 inches], even when standing on a footstool and wearing heels. At a certain stage, the new beauty queen, Miss Israel Titi Aynaw, approached us with a large, enchanting smile on her face; incidentally, the 1.82-meter [almost 6 foot] beauty was wearing especially high heels. 'Brother,' I whispered to Bennett, "Don't give in. Even if she asks us, we're not going to be photographed with her.'"
This is a section from a Facebook post of Finance Minister Yair Lapid on March 23, including an excellent feuilleton describing his first days as minister. In that same post, Lapid describes the war of the ministers to sit next to the prime minister, in their desperate attempts to be photographed:
"My place is exactly opposite the prime minister, between Defense Minister Bogie Ya'alon and Minister of Justice Tzipi Livni. Later on, I learned that an entire struggle is waged over seats, mainly over sitting as close as possible to the prime minister. Why? Because the person sitting next to him, is also filmed for TV at the beginning of the meeting. I don't really care, I have been on television enough in my life and it suits me to sit opposite him."
In this amusing description, Lapid succeeds in telling a joke at the expense of ministers, while also flattering himself in his incidental, nonchalant manner.
Ever since his ministerial appointment, the state of Israel's finance minister invests his precious time in writing long posts that are disseminated to his 174,950 Facebook friends (as of writing these lines) — posts that almost immediately become media headlines. All this, without being interviewed, without convening press conferences and without having to answer even one difficult question.
Read more: www.al-monitor.com/pulse/originals/2013/04/yair-lapid-the-minister-for-facebook-affairs.html#ixzz2PXf8I6Bf
So – what did I just say in the introduction to my real posting of today?
IT IS – YOU DO NOT NEED ANYTHING "NEO" or "NEW" – YOU JUST NEED IDEAS TO STICK TO – AND THE POSTS of EDUCATION AND ECONOMICS WITH FINANCES ATTACHED. THEN YOU GO FOR A NAME LIKE "THERE IS A FUTURE" AND YOU TALK TO THE FOLKS ASKING THEM TO GIVE YOU A CHANCE.
Yair Lapid decided that Israel has to get stronger first by rebuilding internally before it takes on the external problems that are even greater – and he presented a program that enough people decided they are giving him the chance he asked for – and the Prime Minister had to offer him the opposite seat at the table knowing that this will be for purpose of continuing debate. That is what Austria needs as well – and the topics to start with are Economy growth based on new technologies like in energy, agriculture, communication, transportation, building materials and so on.
==================================================================================================
I said that all up to this point in this posting is the introduction only – this because of two events – that same evening and the following morning – that when added to the Hayek Institute's event – will start making sense. Let me also acknowledge that I was disappointed for not having been able to make comments at the Hayek Institute. I thought it would have helped the speakers see even further what they are asked to do.
The first event – April 3, 2013, 7 pm, was the monthly meeting of the Hietzinger Energiestammtisch – the every first Wednesday of the month meeting of the Energy Table of the Vienna Municipalities Thirteenth District (Hietzing) at the Bergwirt Restaurant.
The speaker was Diplom-Engineer Michael Schumich of the Technical University of Vienna, the Institute for Transportation Sciences, Research Area – Transportation Planning and Transportation Technologies.
Th topic was – "The Future of Transportation in Vienna – Parking Stickers, Electric-Mobility & Company." This topic was surely a spoof on that questionaire that was also the ire of those pink people we mentioned at our introduction to the introduction.
===================================================
The April 3, 2013 meeting of the Energy Table of the Hietzing District (13th District) of the Vienna Municipality – Hietzinger Energiestammtisch, where Diplom-Engineer Michael Schumich, of the Technical University of Vienna, Institute for Transportation Sciences, Research Area of Transportation Planning and Transportation Technology, spoke on:
"The Future of the Transportation in Vienna – Parking Stickers and Electric-Mobility & Company."
The event took place at the "Bergwirt" Restaurant and is part of a monthly series – first Wednesday of the month.
The title was a spoof – it dealt with the same questionaire that original pink "Neo" team of the introduction to the introduction  wrote about.
The issue is not the limitation of parking the conventional vehicles – but the development of a booming economy built on replacing the present methods of transportation – and that is what Mr. Schumich spoke about.
He explained land-use issues and how the personal motor vehicle costs loss of land – that is part of the economic calculation that must be taken into consideration. Also, you must develop the alternatives rather then do patchwork that still allows you to use your private car – whatever the fuel.
If you do not take the personal motor vehicle out of the calculation – people will not use the alternatives you develop. If you have a bus only every 30 minutes – it will run empty. 15 minutes is the maximum if you want people to switch to public transportation.
What more – in Hietzing only one of 100 trips is for 100 km or more, but 27 out of 100 trips can be replaced by walking on foot and he quoted William Faulkner as saying that "one gets courage when there is no alternative left." This is a clear platform for all those that talk about the rights of the individual to do whatever it pleases him. We clearly find that such rights are only satisfying the rich who do not care as everybody else is called to pay up for this lack of public interest.
At the table there were quite a few of the local politicians – and they became active and showed that at this level there is a clear interest to help the people – after all these politicians know their constituents in person and must react to the people's interest – the trick being the need to explain to the people the true cost of things. One made it clear she wants to break the taboo against car-sharing and had figures for increased sales by shops with decreased traffic. She finds that there is slow change because new constituencies are being created – i.e. the shop keepers. Yes – this was another of those questions that the "pinks" did attack – the turning of a main business street into a pedestrian mall.
=================================================
the April 4, 2013 breakfast meeting at the KommunalKredit Bank was about the Bank's presentation of a study on investment in Renewable Energy in Austria and Germany, and as well in – Bulgaria, Kroatia, Poland, Romania, Slovakia, Slovenia, the Czech Republic, and Hungary.
KommunalKredit or the Community Credit Bank, is a bank that invests in Infrastructure, as well as in Social Development. It is active in central and East Europe – in the former Soviet dominated economies. The bank is doing very well, has an outstanding record on renewable energy, and their complaint is that the European Commission makes too little money available for the projects.
The study, by the SCWP Schindhelm team, was enlarged this year and has a main emphasis on water project – hydro-power – an area Austria has shown competence on a global scale – so Austria has no nuclear plants  – but, serious criticism – points at Austria receiving power from its being part of the European network that gets supplied by countries that do have nuclear power production.
The report shows the progress made by the different countries in Photovoltaic and wind Power and points at how much more can be done – nevertheless it enlarged on the success stories and the laggards – not being afraid to point out the politically difficult situations in countries like Hungary and the Czech Republic. Now – here plans that ought to become part of the development program that a hands-on austrian political party – green or plain pro business – ought to show the way.
These two Energy/Infrastructure events showed what the the political event did not – ideas that can move the economy forward beyond the "Great Bickering" that has become the politicians Raison d'Etre and the hiding place of those that find it monetarily beneficial to themselves when nothing is being done.
###