Willkommen im Akademischen Forum für Außenpolitik – Hochschulliga für die Vereinten Nationen (AFA)

Das AFA ist die überparteiliche Organisation Österreichs für alle an internationalen Fragen interessierten Jugendlichen, Schülerinnen und Schüler, Studierenden und Jungakademiker/innen. In Österreich finden jährlich 400 – 500 Veranstaltungen und Projekte ganz unterschiedlicher Art statt.
Das AFA bietet:
Vorträge mit Persönlichkeiten aus Politik, Wirtschaft und Gesellschaft
UNO-Simulationen
Rhetorik- und Verhandlungstrainings
Lehrgänge
Exkursionen und Studienreisen
Publikationen

Social Events
Die Aktivitäten sind zumeist in Projekten (wie "VIMUN" oder "GAP") bzw. als "Clubs" zusammengefasst. Über den Button "Events and Calendar" ist eine chronologische Übersicht aller Termine in ganz Österreich abrufbar. Über den Button "Gallery" kann man sich ein Bild von uns machen.
Wir laden sehr herzlich ein, an unseren Aktivitäten teilzunehmen und uns bei Interesse via E-Mail austria@afa.at zu kontaktieren.
—————————————–
National and International links:
Nationale und internationale Vernetzung:
Unabhängige Jugend- und Studierendenorganisation der Österreichischen Gesellschaft für Außenpolitik und die Vereinten Nationen (ÖGAVN)
Mitglied der Bundes-Jugendvertretung (BJV) der Republik Österreich
Ehrenmitglied des Österreichischen Nationalkomitee

Blue Shield

(ÖNKBS)
Partner-Organisation der

European Law Students' Association (ELSA) Austria

Gründungsmitglied des

United Nations Youth Associations Network (UNYANET)

Jugend-Bindeglied zur

World Federation of United Nations Associations (WFUNA)

Assoziiertes NGO-Mitglied beim

United Nations Department of Public Information (DPI NGO)
###
The Nikolayev Synagogue in Ukraine was reportedly firebombed by vandals at approximate 2 AM on Saturday morning, according to Chabad blog Shturem and closed-circuit footage of the attack, uploaded to YouTube at the weekend.
The footage was posted by Yisroel Gotlieb, son of the city's chief rabbi, Sholom Gotlieb.
One firebomb was thrown at the door of the synagogue, which was unoccupied at the time, and another was lobbed at a window, according to the blog.
The junior Gotleib told Shturem that "miraculously a person passing by the shul was equipped with a fire extinguisher, and immediately put out the fire that had erupted, preventing massive damage."
In February, the Giymat Rosa Synagogue, in Zaporizhia, southeast of Kiev, was also firebombed.
Reports of rising anti-Semitism in the Ukraine after Russia's recent occupation of Crimea were highlighted last week when fliers, reminiscent of the pogroms of a century ago, were distributed outside of a synagogue on Passover. The origin of the fliers is yet unknown, and debate has focused on whether they were from Russian or Ukrainian groups, from officials or designed to appear so, or if they were intended as some kind of a KGB-style subterfuge created to use anti-Semitism as a lever in the conflict.
The fliers, distributed in Donetsk, were addressed to "Ukraine nationals of Jewish nationality," alerting Jews to pay a fee to register their names on a list and to show documentation of property ownership, or face deportation.
————————————–
From the 21 Comments
###
Please join the European Union Studies Center as we celebrate Europe Day 2014 with a keynote address of H.E. Mr. Christos P. Panagopoulos, the Ambassador of Greece to the United States, followed by a concert and reception.
  Greece holds the rotating Presidency of the Council of the European Union, the Ambassador is thus particularly well equipped to provide insights into European Union matters.
The event will take place on Friday May 9 from 6-8pm in the Elebash Recital Hall of the CUNY Graduate Center.
Business attire is required. Please register at www.euromatters.org/europe-day-2014/ or on  website euromatters.org.
Registration is also possible via the included flyer.
===================================================
9 May marks the capitulation of Nazi Germany to the Soviet Union in the Second World War (also known as the Great Patriotic War in the Soviet Union). It was first inaugurated in the fifteen republics of the Soviet Union, following the signing of the surrender document late in the evening on 8 May 1945 (after midnight, thus on 9 May, by Moscow Time).
The Soviet government announced the victory early on 9 May after the signing ceremony in Berlin. —- Though the official inauguration happened in 1945 (which means it has been celebrated since 1946), the holiday became a non-labour day only in 1965 and only in some of the countries.
In the former Soviet Union this festival was celebrated to commemorate the Red Army's victory over the Nazi forces.
In communist East Germany, a Soviet-style "Victory Day" on 9 May was an official holiday from 1975 until the end of the republic in 1990. Prior to that, "Liberation Day" was celebrated on 8 May, between 1950 and 1966, and again on the 40th anniversary in 1985. Since 2002, the German state of Mecklenburg-Vorpommern has observed a commemoration day known as the "Day of Liberation from National Socialism, and the End of the Second World War".
——-
The European Union does not set public holidays for its member states. However the European Commission does set public holidays for the employees of the institutions of the European Union on a year by year basis. This includes a EUROPE DAY on May 9th.
On 9 May 1950, Robert Schuman, the first President of the European Parliamentary Assembly, presented his proposal on the creation of an organised Europe, indispensable to the maintenance of peaceful relations.
This proposal, known as the 'Schuman declaration', is considered to be the beginning of the creation of what is now the European Union. Today, 9 May has become Europe Day, which is the occasion for activities and festivities that bring Europe closer to its citizens and the peoples of the Union closer to one another.
On the other hand – in 1964 – The Council of Europe declared May 5th as Europe Day.    THE EUROPEAN COUNCIL was formed in 1949 by the treaty of London to establish in Strasbourg the first institution to lead to European Integration. We hope that May 9th can stick despite the possibility that its Soviet context might make it seem a Russian partisanship of history – a discussion that deserves many tomes of research. In the meantime we felt we had to point out the fact that the date and a holiday on that date are not yet a matter of fact in the EU States.
 ———
###
 We were not that clever by ourselves – but recognized the depth of the Title "SHIMON THE LAST" a title used by Ernst Trost for a column in March 30th Sunday issue of The Vienna Kronen Zeitung.
The idea here is that the 91  year young Shimon Peres is the last active politician of the generation of the Founders of the State of Israel.
Born Szymon Perski (2 August 1923) in Wiszniew, Poland (now Vishnyeva, Belarus), the grand-son of a Rabbi he adored, he got an orthodox upbringing. He came to Palestine in   1934.
At 15, he started at Ben Shemen agricultural school and lived on Kibbutz Geva for several years.   Peres was one of the founders of Kibbutz Alumot.   In 1941 he was elected Secretary of Hanoar Haoved Vehalomed, a Labor Zionist youth movement, and in 1944 returned to Alumot, where he worked as a dairy farmer, shepherd and kibbutz secretary.
All of Peres' relatives who remained in Wiszniew in 1941 were murdered in the the Holocaust, many of them (including his beloved grand-fatherRabbi Meltzer) burned alive in the town's synagogue.
In 1947, Peres joined the Haganah, the predecessor of the Israel Defense Forces. David Ben-Gurion made him responsible for personnel and arms purchases.
He held several diplomatic and military positions during and directly after Israel's War of Independence.
His first high-level government position was as Deputy Director-General of Defense in 1952, and Director-General from 1953 until  1959.
During his career, he has represented five political parties in the Knesset: Mapai, Rafi, the Alignment, Labor and Kadima, and has led Alignment and Labor. Peres won the 1994 Nobel Peace Prize together with Yitzhak Rabin and Yasser Arafat for the peace talks that he participated in as Israeli Foreign Minister, producing the Oslo Accords.
Shimon's last political position was the two terms of Israel Presidency – a position from which he will retire in July 2014.
His official State visit With the President of Austria was his farewell trip to Europe. He expects still to visit China as well.
###
Take Action: Urge U.S. & EU to Oppose Imminent U.N. Appointment of Richard Falk's Wife.
As Richard Falk ends his despicable 6-year UN term this Friday, his wife, co-author and closest collaborator Dr. Hilal Elver (above) is about to be named to her own 6-year UN term, as expert on the right to food.
This Cuban-created position was for years held by Jean Ziegler – founder and recipient of the "Moammar Qaddafi Human Rights Prize" — which he abused to attack America, Israel and the West.
Given her shameful record of extremist politics, there is no doubt that Falk's wife intends to do the same. And that essentially Falk will retain his U.N. influence after all.
The only way to stop Elver's appointment to this 6-year global post is if the U.S. and EU make clear they will vote NO if her name is moved forward.

 Stop this from happening on Friday.
FALK FINALLY LEAVES UNHRC

Richard Falk

FALK'S WIFE JOINS UNHRC

Hilal Elver

Promotes writings of 9/11 conspiracy theorist David Ray Griffin, who in turn thanked him in his book "The New Pearl Harbor"
Promotes writings of 9/11 conspiracy theorist David Ray Griffin, who in turn thanked her in his book "The New Pearl Harbor"
Accuses Israel of "genocide"
Accuses Israel of "genocide"
Accuses Israel of "Apartheid" in latest and final UN report
Accuses Israel of "Water Apartheid" in latest Qatar lecture
Says criticism of Turkish demagogue Erdogan is "exaggerated"
Says criticism of Turkish demagogue Erdogan is "exaggerated"
Targets America and the West in his articles, books and lectures
Targets America & the West in her articles, books & Facebook page
 Urge world leaders to oppose the
outrageous nomination of Hilal Elver.
Say No to the Abuse of Human Rights!  
###
There are many positive sides to mingling through migration and it must be understood that those that think border crossings are meant only for transporting goods but not allowing it for people and ideas are all wrong.
===============================================================
International conference on migration and development in Ljubljana, Slovenia.
On 5th and 6th of December 2013, international conference on migration and development Developing developers: Migrants as development actors – A new way forward including international partnership fair Bridging the gap have been organized in the City Museum Ljubljana. The conference was attended by experts as speakers – both from governmental and from non-governmental sector – in the field of migration policy and development cooperation from Austria, Belgium, Ghana, Italy, Slovakia, Slovenia and the United Kingdom. The conference have been opened by the speeches of Michael Fanizadeh, VIDC – Vienna Institute for International Dialogue and Cooperation, Austria (project coordinators) and Slovenian actors: Dragoljuba Ben?ina, Directorate for Global Issues and Multilateral Political Relations, Ministry of Foreign Affairs, Slovenia; Marjan Hu?, SLOGA – Slovenian Global Action and Max Zimani, Zavod Global.
At the following panel, Gibril Faal, active in organizations Afford – African Foundation for Development and AEP – Africa-Europe Platform, United Kingdom spoken of migrants as development actors, Charito Basa, founder and activist of non-government organisation FWC – Filipino Women's Council, Italy presented the engagement of the organization and the hard way immigrants generally have to go through, Angela Odai from the diaspora Support Unit, Ghana presented functioning of that government organization that provides assistance to the Ghanaian diaspora around the world .
In the afternoon hours, common partnership fair followed, bringing together participant of the conference and those of the Regional seminar on global learning, organized by SLOGA.
The second day of the conference, Nadja Schuster, VIDC – Vienna Institute for International Dialogue and Cooperation, Austria and Galya Terzieva, Society Development Institute, Slovakia presented the European Manifesto on Migration and Development, a strategic document that contains recommendations for improving the understanding of the concept of development cooperation and migration as a key element in this concept. Comments to the Manifesto have been contributed by Arthur Yenga, AEP – Africa -Europe Platform, Belgium. At the workshops which followed, participants could contribute comments and opinions to refine the Manifesto, which later was adopted, but now its promotion and attempt to force in all European countries is planned and desirable.
 —————————-
Diaspora-Engagement: Best Practice Beispiele in der kommunalen und nationalen Entwicklungspolitik, Rathaus Wien, 11. Februar 2014
Positionspapier Migration & Entwicklung
Dokumentationen
—————————-
###
Mr. Georg Pfeiffer, the Representaive of the European Parliament in Austria – Wipplingerstraße 35, 1010 Vienna, with officials of the European Commission and the Austrian Society for Europa-Politics in Austria, arranged for an activity to strengthen interest in Austria for the May 25th elections.
This time the elections are important indeed – this because of the European Parliament's moves to create a European Presidency – or some other form of real union. Specially now, with the events in the Ukraine calling for a united EU position, these election must help create this united front through a clear united leadership.
The main Austrian political parties are setting up their lists and the top candidate of each of these lists becomes a potential candidate for the leadership in Brussels.
Thus, at the start up of 2 PM today, at the parking-lot of the Vienna Stadium,  were present Mr. Reinhold Lopatka, the Club Chief (the Fraction Head) in the Austrian Parliament of the Austrian People's Party (OEVP), Mr. Andreas Schieder, the Club Chief of the Austrian Socialist Party (SPOE), Ms. Eva Glawischnic-Pieszczek – the National Spokesperson and Club Chief of the Green Party, and Mr. Anton Fink – a candidate for the new NEOS Party.
There were present European integration Ministers Ambassadors – Ivana Cucukic, Renee Wagner, Deazen Ivanis, Cedrick Mayer, and Fadi Merza as well the 2012 Beauty Queen of Austria – Miss Amina Dagi.
Also, present were former Austrian Ambassadors to European Capitals – in particular Retired Austrian Ambassador to the EU 1999-2007, starting out with the Austrian Mission to the UN 1968-1973 then part of the negotiations when Austria joined the European Commission and later in the Integrations section of the Austrian Foreign and European Ministry, Dr. Gregor Woschnagg.  As well present were Journalists and writers.
—————————
THE FOLLOW UP:
Vielen Dank, dass du gestern trotz Regens beim Lauftreff dabei warst.
Am 06.04.2014 werden wir im Prater übrigens unseren 2. Lauftreff veranstalten.
The First training run was:  APA/OTS-Reminder II: www.ots.at/presseaussendung/OTS_20140321_OTS0054/reminder-einladung-zum-laufen-fuer-europa
 from:
Mag. CHRISTOPH ANGSTER, Projektmanagement

Österreichische Gesellschaft für Europapolitik

Rotenhausgasse 6/9, A-1090 Wien
###
The Opinion Pages
 

Op-Ed Columnist of the New York Times.
Wealth Over Work.
It seems safe to say that "Capital in the Twenty-First Century," the magnum opus of the French economist Thomas Piketty, will be the most important economics book of the year — and maybe of the decade. Mr. Piketty, arguably the world's leading expert on income and wealth inequality, does more than document the growing concentration of income in the hands of a small economic elite. He also makes a powerful case that we're on the way back to "patrimonial capitalism," in which the commanding heights of the economy are dominated not just by wealth, but also by inherited wealth, in which birth matters more than effort and talent.
To be sure, Mr. Piketty concedes that we aren't there yet. So far, the rise of America's 1 percent has mainly been driven by executive salaries and bonuses rather than income from investments, let alone inherited wealth. But six of the 10 wealthiest Americans are already heirs rather than self-made entrepreneurs, and the children of today's economic elite start from a position of immense privilege.  As Mr. Piketty notes, "the risk of a drift toward oligarchy is real and gives little reason for optimism."
Indeed. And if you want to feel even less optimistic, consider what many U.S. politicians are up to.  America's nascent oligarchy may not yet be fully formed — but one of our two main political parties already seems committed to defending the oligarchy's interests.
Despite the frantic efforts of some Republicans to pretend otherwise, most people realize that today's G.O.P. favors the interests of the rich over those of ordinary families. I suspect, however, that fewer people realize the extent to which the party favors returns on wealth over wages and salaries. And the dominance of income from capital, which can be inherited, over wages — the dominance of wealth over work — is what patrimonial capitalism is all about.
To see what I'm talking about, start with actual policies and policy proposals. It's generally understood that George W. Bush did all he could to cut taxes on the very affluent, that the middle-class cuts he included were essentially political loss leaders.  It's less well understood that the biggest breaks went not to people paid high salaries but to coupon-clippers and heirs to large estates. True, the top tax bracket on earned income fell from 39.6 to 35 percent. But the top rate on dividends fell from 39.6 percent (because they were taxed as ordinary income) to 15 percent — and the estate tax was completely eliminated.
Some of these cuts were reversed under President Obama, but the point is that the great tax-cut push of the Bush years was mainly about reducing taxes on unearned income. And when Republicans retook one house of Congress, they promptly came up with a plan — Representative Paul Ryan's "road map" — calling for the elimination of taxes on interest, dividends, capital gains and estates. Under this plan, someone living solely off inherited wealth would have owed no federal taxes at all.
This tilt of policy toward the interests of wealth has been mirrored by a tilt in rhetoric; Republicans often seem so intent on exalting "job creators" that they forget to mention American workers.
In 2012 Representative Eric Cantor, the House majority leader, famously commemorated Labor Day with a Twitter post honoring business owners. More recently, Mr. Cantor reportedly reminded colleagues at a G.O.P. retreat that most Americans work for other people, which is at least one reason attempts to make a big issue out of Mr. Obama's supposed denigration of businesspeople fell flat. (Another reason was that Mr. Obama did no such thing.)
 In fact, not only don't most Americans own businesses, but business income, and income from capital in general, is increasingly concentrated in the hands of a few people. In 1979 the top 1 percent of households accounted for 17 percent of business income; by 2007 the same group was getting 43 percent of business income, and 75 percent of capital gains. Yet this small elite gets all of the G.O.P.'s love, and most of its policy attention.
Why is this happening? Well, bear in mind that both Koch brothers are numbered among the 10 wealthiest Americans, and so are four Walmart heirs. Great wealth buys great political influence — and not just through campaign contributions. Many conservatives live inside an intellectual bubble of think tanks and captive media that is ultimately financed by a handful of megadonors. Not surprisingly, those inside the bubble tend to assume, instinctively, that what is good for oligarchs is good for America.
As I've already suggested, the results can sometimes seem comical. The important point to remember, however, is that the people inside the bubble have a lot of power, which they wield on behalf of their patrons. And the drift toward oligarchy continues.
—————————————
###
Using Copyright to Censor, from Turkey to Svoboda to Ban's UN & Reuters.

By Matthew Russell Lee, The Inner City Press (ICP) at the UN in New York.

UNITED NATIONS, March 20 — Turkey has now blocked Twitter citing a prosecutor's decision, drawing ire in the US from Press Secretary Jay Carney and State Department spokesperson Jen Psaki, after Prime Minister Recep Tayyip Erdogan in order to get his leaked phone calls removed from Google's YouTube has reportedly "copyrighted" his calls.

   This use of copyright to try to censor has echoes in the United Nations — and in Ukraine, where the Svoboda Party tried to get videos of its Members of Parliament beating up a news executive taken down as violations of copyright.

 On the Guardian website on March 21, where the video had been was a notice that "This video is no longer available due to a copyright claim."

The New York Times reported that late on March 20, YouTube copies of the video were taken down "for violating the copyright of the Svoboda party spokesman, who seems to be working to erase the evidence from the Internet through legal means."
   This is a growing trend. As set forth below, an anti-Press complaint to the UN's Stephane Dujarric, now Secretary General Ban Ki-moon's spokesperson, has been banned from Google's Search by an invocation of copyright similar to Erdogan's.

  On March 21, Dujarric from Kyiv told Inner City Press neither he nor, he assuumed, Ban had seen the Svoboda beat-down video. This seems noteworthy, given its prominence in Ukraine. Now we can add: perhaps Ban and Dujarric didn't see it due to the same censorship by copyright that has for now banned an anti Press complaint to them from Google's Search.

  And as to Twitter, Dujarric in his previous post in charge of UN Media Accreditation grilled Inner City Press about a tweet mentioning World War Two – the basis for example of France's veto power in the Security Council, which it parlayed into essentially permanent ownership of the top post in UN Peacekeeping, now though Herve Ladsous (coverage of whom Dujarric tried to dictate, or advise, Inner City Press about.)

   Dujarric's now bipolar tweeting has intersected with a recently revived anonymous trolling campaign which originated in the UN Correspondents Association, in support of the Sri Lankan government, alleging that any coverage of the abuse of Tamils must be funded by the now defunct Tamil Tigers.

  These outright attempts to censor are echoed, more genteelly, even as part of the UN press briefings these days. When Dujarric took eight questions on March 20 on Ban's essentially failed trip to Moscow, fully half went to representatives of UNCA's 15 member executive committee, including state media from Turkey, France and the United States. Other questions — by Twitter — were not answered, except those from explicitly pro-UN sources. These are the UN's circles.

   Google has accepted and acted on DMCA complaints about leaked e-mails, for example from Reuters to the United Nations seeking to get the investigative Press thrown out, and has then blocked access to the leaked documents from its search.

  Of this abuse of the Digital Millennium Copyright Act, the Electronic Frontier Foundation's Intellectual Property Director Corynne McSherry told Inner City Press about the Reuters case:

"Unfortunately, it is all too easy for a copyright holder (assuming that the person that sent this notice actually held copyright in the email) to abuse the DMCA to take down content and stifle legitimate speech. As countries outside the US consider adopting DMCA-like procedures, they must make sure they include strong protections for free speech, such as significant penalties for takedown abuse."
  In this case, copyright is being (mis) claimed for an email from Reuters' Louis Charbonneau to the UN's chief Media Accreditation official Stephane Dujarric — since March 10 Ban Ki-moon's new spokesperson — seeking to get Inner City Press thrown out of the UN.

  Access to the document has been blocked from Google's search based on a cursory take-down request under the Digital Millennium Copyright Act.

 If this remains precedent, what else could come down?
  Why not an email from Iran, for example, to the UN's International Atomic Energy Agency? Why not a sanctions filing by a country? Here is Reuters logic, accepted if only automatically by Google:
The copyrighted material is a private email I wrote in April 2012 and for which I never gave permission to be published. It has been published on a blog and appears in on the first page of search results for my name and the firm I work for, Reuters. It can be seen here: www.innercitypress.com/reutersLC3unmalu.pdf
  But this is true of ANY leaked document: it can be said that the entity or person exposed "never gave permission [for it] to be published." Does that mean Google can or should block search access to it?
  Can a complaint to a Media Accreditation official against a competitor legitimately be considered "private"? In any event, the DMCA is not about protecting privacy.
  Iran or North Korea could say a filing or status report they make with the IAEA is "private" and was not intended to be published. Would Google, receiving a DMCA filing, block access to the information on, say, Reuters.com?
  Charbonneau's bad-faith argument says his complaint to the UN was "published on a blog." Is THAT what Reuters claims makes it different that publication in some other media?
  The logic of Reuters' and Charbonneau's August 14, 2013 filing with Google, put online via the ChillingEffects.org project, is profoundly anti free press.
  The fact that Google accepts or didn't check, to remain in the DMCA Safe Harbor, the filing makes it even worse. The request to take-down wasn't made to InnerCityPress.com or its server — it would have been rejected. But banning a page from Search has the same censoring effect.
  The US has a regime to protect freedom of the press, and against prior restraint. But this is a loophole, exploited cynically by Reuters. What if a media conducted a long investigation of a mayor, fueled by a leaked email. When the story was published, could the Mayor make a Reuters-like filing with Google and get it blocked?
  Here is the text of Charbonneau's communication to the UN's top Media Accreditation and Liaison Unit official Stephane Dujarric and MALU's manager, to which he claimed "copyright" and for now has banned from Google's Search:
———————————————————-
Hi Isabelle and Stephane,
I just wanted to pass on for the record that I was just confronted by Matt Lee in the DHL auditorium in very hostile fashion a short while ago (there were several witnesses, including Giampaolo). He's obviously gotten wind that there's a movement afoot to expel him from the UNCA executive committee, though he doesn't know the details yet. But he was going out of his way to be as intimidating and aggressive as possible towards me, told me I "disgust" him, etc.
In all my 20+ years of reporting I've never been approached like that by a follow journalist in any press corps, no matter how stressful things got. He's become someone who's making it very hard for me and others in the UN press to do our jobs. His harassment of fellow reporters is reaching a new fever pitch.
I just thought you should know this.
Cheers,
Lou
Louis Charbonneau
Bureau Chief. United Nations
Reuters News Thomson Reuters reuters. com
This email was sent to you by Thomson Reuters, the global news and information company.
————————————————-
"UNCA" in the for-now banned e-mail is the United Nations Correspondents Association. The story developed here, as to Sri Lanka; here is a sample pick-up this past weekend in Italian, to which we link and give full credit, translated into English (NOT for now by Google) –
The fool of Reuters to the UN
by Mahesh – 12/27/2013 - calls for the removal of a letter from the head of his bureau at the United Nations, pursuing a copyright infringement on the part of the competition.
Try to make out a small competitor from the UN press room and then, when these publish proof of intrigue, invokes the copyright to release a letter from compromising the network.
MOLESTA-AGENCY  Inner City Press is a small non-profit agency covering the work of the United Nations for years, with an original cut, which become distasteful to many. Unlike other matching its founder master sent never tires of asking account of inconsistencies and contradictions and often refers to unpleasant situations involving colleagues and their reportage, too often twisted to obvious political contingencies.
THE LAST CAVITY – In this case the clutch is born when Matthew Lee, Inner City Press ever since he founded and made famous in the 90 's, challenged the screening of "Lies Agreed Upon" in the auditorium of the United Nations, a filmaccio of propaganda in which the Sri Lankan regime tries to deny the now tested massacres (and destroyed by International Crisis Group). In the piece, in which denounced the incident, Lee also announced that the screening was organized by the President of the United Nations Correspondents (UNCA), Italian Giampaolo Pioli, skipping the normal consultation procedure for this kind of events. Pioli then, was also accused of being in a conflict of interest, given that he rented an apartment in New York an apartment to the Deputy Permanent Representative to the UN in Sri Lanka, named Palitha Kohona and is suspected of war crimes.
TRY WITH THE COPYRIGHT- So he comes to the letter with which Louis Charbonneau, Reuters bureau chief at the United Nations, wrote to the Media Accreditation and Liaison Unit (MALU) calling for the ouster of Lee, which the UN being there for years as his colleagues, but we see that this was not done. Lee, however, comes into possession of the letter and publish it, and then writes to Google millantando Charbonneau the copyright on the letter and asking for removal pursuant to the Digital Millennium Copyright Act. That is a bit like if a company request the removal of a compromising document from a journalistic investigation, in the name of copyright, a claim clearly absurd and disingenuous.
HARASSMENT AND THREATS - In the letter published, Charbonneau complained about the aggressive behavior of Lee and cited among the witnesses to cases where Lee had been "aggressive" towards him even Pioli. Lee with that piece has gained throughout a hail of protests from Sri Lanka and an investigation by the UNCA, along with death threats and other well-known amenities the refugees away from the clutches of the regime, but it is still there. Behold then the brilliant idea of Charbonneau, improperly used copyright law to censor the objectionable publications to a colleague and competitor. Pity that Lee has already resisted successfully in similar cases, in 2008 was the same Google to remove your site from being indexed in the news in its search engines, it is unclear what impetus behind, only to regret it soon after that even Fox News had cried scandal.
=======================================
And further – to the place of UN as restricting flow of information – Matthew Lee has the following:
www.innercitypress.com/ukraine2svobodaunseen032214.html
In Ukraine, List of Parties UN's UNSG Ban Ki-moon Met With Still UNdisclosed, Visa Ban.

By Matthew Russell Lee

UNITED NATIONS, March 22 – With UN Secretary General Ban Ki-moon in Kyiv for a second day, it remained unclear if he met with representatives from the Svoboda Party, whose "freedom of speech" parliamentarian was filmed beating up a news executive and then sought to get the video removed from YouTube.

  Inner City Press on March 21 asked Ban's spokesperson Stephane Dujarric, video here

Inner City Press: I wanted to ask you about sanctions. I know that in his opening remarks, the Secretary-General talked about provocative actions and counter-reactions and obviously there have been, the US announced sanctions on a slew of individuals and one bank, and another bank, SMP, has been cut off from the Visa and Mastercard system. Russia has its own sanctions. Was this discussed, was this discussed while he was in Moscow? Does the Secretary-General think that sanctions should be done through the UN? And will he meet with representatives of the Svoboda party while he's there, if they were to request it?
Spokesman Stephane Dujarric: There was a — I will share with you as soon as I get it — the list of party leaders that attended the meeting with the Secretary-General. So we will see who exactly was there and, you know, I'm not going to get into detailed reactions to sanctions and counter-sanctions and so forth. But what I will say is that, you know, everybody needs to kind of focus on finding a peaceful, diplomatic solution and lowering the tensions.
Inner City Press: Has he or you seen the video of the Svoboda party MPs beating up the television executive?
Spokesman Stephane Dujarric: I have not and I doubt that he has.
  But more than 24 hours later, the "list of party members" who met with Ban was still not provided or shared, nor was an explanation provided. What should one infer from that?
… … ….

UN Secretary General Ban Ki-moon's race to Russia for relevance didn't work as he'd hoped. Just after his meetings with Vladimir Putin and Sergey Lavrov, Lavrov went to the Duma for the next step on Crimea.

  Then Ban's spokesperson did a call-in Q&A to the UN press briefing room in New York where only questions pointing one way were selected and allowed. Thus, there were no questions to Ban's spokesperson Stephane Dujarric about the new unilateral sanctions, or the trade embargo allegations.

   On March 19 after US Ambassador Samantha Power said Russia's Vitaly Churkin was creative like Tolstoy or Chekhov, Churkin asked for a right of reply or additional statement at the end of the March 19 UN Security Council meeting on Ukraine.

   Churkin said that from these two literary references, Power has stooped to tabloids, and that this should change if the US expected Russian cooperation. The reference, it seemed, was to Syria and Iran, and other UN issues.

   One wanted to explore this at the stakeout, but neither Power nor Churkin spoke there. In fact, no one did: even Ukraine's Yuriy Sergeyev left, down the long hallways with his leather coat and spokesperson. One wondered why.

   There were many questions to ask. Why did Ivan Simonovic's UN human rights report not mention the Svoboda Party MPs beating up the head of Ukrainian national television?  Will France, despite its Gerard Araud's speech, continue selling Mistral warships to Russia? What of France's role in the earlier referendum splitting Mayotte from the Comoros Islands?

  Araud exchanged a few words with those media he answers to while on the stairs, then left. The UK's Mark Lyall Grant spoke longer, but still left. Why didn't Simonovic at least come and answer questions? Perhaps he will, later in the week.

    When Security Council session began at 3 pm on March 19, Russia was listed as the tenth speaker, after other Council members including not only the US but France. (The order, however, would soon change: Argentina and Russia switched spots.)

  Speaking first, Deputy Secretary General Jan Eliasson recounted dates and events, such as the US and European Union sanctions of Marcy 17. Inner City Press asked UN spokesperson Stephane Dujarric if there was any UN comment on or view of such unilateral sanctions. There was no comment.

   UN human rights deputy Ivan Simonovic spoke next, saying that attacks on ethnic Russians have been neither widespread nor systematic. Simonovic did not mention the widely publicized assault on a national TV executive by Svoboda Party MPs.

  Ukraine's Yuriy Sergeyev mocked the referendum, saying that those who didn't vote were visited at home.

  France's Gerard Araud said that if there are fascists in this story, it is not where they're said to be — but he did not address the Svoboda Party and its attack on the TV executive. Nor has he addressed the analogy to the referendum France pushed to split Mayotte from Comoros, nor France's ongoing sale of Mistral warships to Russia.

  After Nigeria spoke, Argentina's listed place was taken by Russia, in what has been confirmed to Inner City Press as an exchange. Russia's Vitaly Churkin zeroed in on Simonovic not mentioning the Svoboda MPs' assault, nor evidence that the same snipers should police and protesters in Kyiv.

  US Ambassador Samantha Power called this an assault on Simonovic's report, and said Churkin had been as imaginative as Tolstoy or Chekhov, echoing an earlier US State Department Top Ten list. So what is the US, one wag mused, John Updike or Thomas Pynchon? It was a session meant for words.


Now that UN Secretary General Ban Ki-moon races to Russia for relevance, the news was handed out selectively by UN Moscow three hours before Ban's new spokesperson, after a request, confirmed it.

   It's worth remembering Moscow's anger at who called Ban's tune on Kosovo. What will be different now? After Russia, Ban will head to Kyiv to meet Yatsenyuk and the UN human rights monitors.

  It was at 6:20 am in New York when BBC said that "UN Moscow office confirm that Ban Ki Moon coming to Moscow tomorrow. Will meet Putin and Lavrov."

  But no announcement by Ban's Office of the Spokesperson, which has repeatedly refused to confirm Ban trips even when the country visited has already disclosed it.

  And so the Free UN Coalition for Access wrote to Ban's new spokesperson Stephane Dujarric:

"Will you confirm what BBC says UN Moscow told it, that the Secretary General is traveling to Russia tomorrow to meet President Putin and FM Lavrov — and is so, can you explain why and how this UN news was distributed in that way first, and not through your office, to all correspondents at once? The latter part of the question is on behalf of the Free UN Coalition for Access as well."
   Forty five minutes later, after a mass e-mail, Dujarric replied:

"Matthew, The official announcement was just made. The UN office in moscow did not announce anything before we did. I did see some leaked reports this morning from various sources but nothing is official until it's announced by this office."
  But it wasn't a "leaked report" — BBC said that UN Moscow had CONFIRMED it. We'll have more on this. For now it's worth reviewing Ban Ki-moon's response to Abkhazia and South Ossetia in 2008…

   The day after the Crimea referendum, the US White House announced new sanctions and Russia said Ukraine should adopt a federal constitution.

   Inner City Press asked UN Secretary General Ban Ki-moon's spokesperson Stephane Dujarric for Ban's or the UN's comment on either, if Ban thinks sanctions should ideally be imposed through the UN and not unilaterally, and if this might lead to a tit for tat.

  Dujarric said Ban's focus is on encouraging the parties to "not add tensions;" on Russia's federal constitution proposal he said the UN is "not going to get into judging every step."  Video here.

  With Serry gone from Crimea and Simonovic called unbalanced by Russia, what is the UN's role? Is it UNrelevant?

… … … and there is much more on our link.
———————————————————————-
###
from:  Österreichische Gesellschaft für Europapolitik (ÖGfE) | Rotenhausgasse 6/8-9 | A-1090 Wien |
europa at oegfe.at
| oegfe.at |
+43 1 – 533 4999
The Arab Spring: The role of quality education and the consequences of its lack.
By Anne Goujon
Vienna, 18. February 2014
ISSN 2305-2635
Abstract &  Policy Recommendations:
1. EU Member States should increase bilateral cooperation for teacher training with
Arab Spring Countries.
2. Focus on transparency and accountability in teachers training.
3. Promote the role of the EU as an umbrella and catalyst for all aid-driven education
system reforms activities.
The lack of quality education plays a major role
in explaining the Arab Spring: As a result of past
shortfalls in education, large shares of the working-
age population in the Arab-Spring countries do not
have the right qualifi cations for entering the labour
market. This not only leads to high levels of unem-
ployment but also entails poverty and social dist-
ress. At the macro level, it triggers a vicious cycle
of underdevelopment by hampering an upgrade to
economies driven by knowledge and innovation de-
spite the substantial numbers of higher educated ci-
tizens of working age in these countries. This holds
particularly true for Egypt. Remedying the current
lack of quality education should be a top priority
in the countries of North Africa, because it is the
source of many deficiencies plaguing this region. In
the Arab-Spring countries, the European Union's
sectoral aid given for education has focused on
quantity (e.g. raising enrollment by supporting the
implementation of the Millennium Development
Goals for Education) rather than on quality, where
interventions usually target higher education (most-
ly through individual sponsorship programmes),
although there are challenges at all levels, starting
with basic education. The European Union's main
priority should be to guide and assist these coun-
tries in developing training programmes for teachers
as the driving force behind the entire system reform.
Adams, A. and R. Winthrop
. 2011. The role of education in the Arab world. Brookings
Global Compact on Learning Report number 2.
Goujon, A
. 1997. Population and education Prospects in the Western Mediterranean
Region. IIASA Interim Report IR-97-046. Laxenburg, Austria: IIASA.
Goujon, A
. 2002. Population and education prospects in the Arab Region. In: I. Siragel-
din (ed.), Human capital: Population Economics in the Middle East. Cairo: The American
University in Cairo Press, An Economic Research Forum Edition: 116-140.
Goujon, A. and B. Barakat
. 2010. Future demographic challenges in the Arab world. The
Emirates Occasional Papers No. 75. Dubai: Emirates Center for Strategic Studies and
Research.
Goujon, A. and H. Alkitkat
. 2010. Population et capital humain en Egypte à l'horizon
2050 [Population and human capital in Egypt up to 2050]. In: P. Blanc (ed.), Egyp-
te: l'Eclipse, Confl uences Méditerranée, numéro 75, Automne 2010: 33–48. Paris:
L' H a r m a t t a n .
Goujon, A., S. K.C. 2010
. Gender gap handicap in North Africa. Options (IIASA, Laxen-
burg, Austria), Summer 2010, p.22.
Makhlouf Obermeyer, C.
1992. Islam, Women, and Politics: The Demography of Arab
Countries. Population and Development Review 18 (1): 33-60.
MRBF and UNDP
. 2012. Arab Knowledge Report 2010/2011: Preparing Future Genera-
tions for the Knowledge Society. Dubai, United Arab Emirates: Mohammed Bin Rashid
Al Maktoum Foundation (MBRF) and the United Nations Development Programme /
Regional Bureau for Arab States (UNDP/RBAS).
Transparency International
. 2013. Transparency International's ›Global Corruption Baro-
meter 2013‹.
Yousif, H. M., A. Goujon and W. Lutz
. 1996. Future Population and Education Trends in
the Countries of North Africa. Research Report RR-96-11. Laxenburg, Austria: IIASA.
###
The territory of Eastern Europe on which the present state of Ukraine is located was first mentioned in history in the 9th century as Kievan Rus which is in effect the cultural birthplace of Russia
of today – one could say that it parallels to the West Bank of the Palestinians that was the birthplace of the historic Israeli kingdom. I am sure that lots of people will disagree with this. But it is true nevertheless and we say it is of no practical importance today.
After the Partitions of Poland (1772–1795) and conquest of Crimean Khanate, Ukraine was divided between Russia and Austria, thus the largest part of the territory of Ukraine was integrated into the Russian Empire, with the rest, since 1849  under the Austro-Hungarian Empire.
After the Russian Revolution, there was created an internationally recognized independent Ukrainian People's Republic that emerged from its own civil war. The Ukrainian–Soviet War followed, which resulted in the Soviet Army establishing control in late 1919 – this Soviet victory was in effect the end of a short lived Ukraine. The conquerors created then the Ukrainian Soviet Socialist Republic, which on 30 December 1922 became one of the founding republics of the Soviet Union.
Then there was a genocide of Ukrainians by Stalin: millions of people starved to death in 1932 and 1933 in the Holodomor. After the 1939 invasion of Poland by Nazi Germany and Soviet Union, the Ukrainian SSR's territory was enlarged westward. During World War II the Ukrainian Insurgent Army tried to reestablish Ukrainian independence and fought against both Nazi Germany and the Soviet Union. But in 1941 Ukraine was occupied by Nazi Germany, being liberated in 1944. In 1945, the Ukrainian SSR became one of the the two Soviet Republics (the other being Belarus) to bolster the voting power of the Soviet Union in the founding of the United Nations – the assumption was that their territories were under Nazi occupation.
From above, it can be concluded that real first steps of a modern Ukrainian statehood came when the Ukraine per se got set up around WWII as an enlarged soviet republic by Stalin's Soviets  -  The Ukr.SSR,  Before that – in 1918 there were attempts at creating several Ukrainian States but they got suppressed swallowed up. To the Ukrainian SSR Stalin added later Hotin and South Bessarabia (AkermanRegion) taken from Bessarabia, the Chernivtsi region that was part of  Bukowina and the whole Eastern Galicia that was annexed from Poland. That Ukrainian SSR became in 1991 the Independent State of Ukraine by brake-up of the USSR in 1991. The UN membership was extended to them naturally
on basis of the latest Soviet geography.

  The Akerman region makes Ukraina a Danube Conference state  denying Moldova outlet to the sea. This area includes the Gagauz people. They proclaimed the Gaugazia State.
tribuna.md/wp-content/uploads/2011/09/img-gagauzia-2.jpg
Moldova was given the Tiraspol area East of the Dniester instead.
This enclave  refused to become Moldova after the breaking up of the Soviet Union.
 After a war  with the the Russian Tank division  stationed there which were victors, they  formed a breakaway  illegal state that named itself Transnistria (Trans-Dniester River) – that  included de facto the twin town of Tiraspol – Bender. Bender is on the west bank – the Moldova side of the Dniester.
Moldova it thus next hub of breakaway States – but now without bordering Russia it stands to reason that they will just freeze this reality.
Crimea was passed by Nikita Krushchev from the larger Soviet Union part that is now the Russian Federation to Ukraina SSR only in 1954. Crimea was now claimed by Russia and it stands to reason that even in honest voting there would have been a pro-Russian majority. The West can claim that in a civilized world one should go about secessions the way Scotland is doing it and it takes years in peace – not days at gun point.

###
HUMAN RIGHTS TALK ON THE UKRAINE IN VIENNA March 25th 2014: Ukraine quo vadis?
The question is what effect will the current developments in the Ukraine have on Human Rights in the Ukraine and what ought to be the stand of the EU? The reality being that the coming to power of Stepan Bandera Nationalists might in effect decrease Human Rights in Ukraine by feeding Xenophobia to people that had good reason to want their freedom from the Russian bear but are yet blinded by the Nationalist feelings that the rebellion has brought to the forefront. With much of the EU falling also into a re-Nationalization trap, the Ukrainians might not even realize the dangers in being mislead – something making Maidan very much like the Egyptian Tahrir – a path to further loss in Human Rights and a step back from true democracy that includes minorities and differing points of view. Vienna these days is the place where serious debate can be witnessed on these problems and where denial of the dangers of Nationalism is radiating from pro-Maidan Ukrainian representatives.
Sehr geehrte Damen und Herren, liebe Kolleginnen und Kollegen,
wir möchten Sie hiermit herzlich zum HUMAN RIGHTS TALK: Ukraine quo vadis? einladen, der am Dienstag, den 25. März 2014 um 19:00 Uhr in der Aula des Universitätscampus Altes AKH (1. Hof, Spitalgasse 2-4, 1090 Wien) stattfindet.
Die Veranstaltung wird vom Ludwig Boltzmann Institut für Menschenrechte organisiert und findet in Kooperation mit derStandard.at, juridikum, zeitschrift für kritik | recht | gesellschaft und zige.tv statt. Die Einladung finden Sie hier.
Seit Wochen befindet sich die Ukraine im Aufruhr, bei dem ersten HUMAN RIGHTS TALK des Sommersemesters 2014 gehen Richard KÜHNEL (Vertreter der Europäischen Kommission in Österreich), Kateryna MISHCHENKO (Herausgeberin und Übersetzerin aus Kiew dzt. Institut für die Wissenschaft vom Menschen), Susanne SCHOLL (ehem. ORF-Korrespondentin in Moskau) und Hannes TRETTER (Ludwig Boltzmann Institut für Menschenrechte) der Frage nach, welche menschenrechtlichen Auswirkungen die derzeitigen politischen Entwicklungen in der Ukraine haben und welche Rolle und Verantwortung die Europäische Union dabei hat. Moderiert wird das Gespräch von Anna Giulia FINK (Nachrichtenmagazin profil).
Das Gespräch findet in deutscher Sprache statt.
Im Anschluss an die Podiumsdiskussion lädt die Forschungsplattform "Human Rights in the European Context" und das Ludwig Boltzmann Institut zu einem kleinen Umtrunk ein.
Der Eintritt ist frei, aus logistischen Gründen bitten wir um Anmeldung an humanrightstalk@univie.ac.at.
###
Stepan Andriyovych Bandera  (1 January 1909 – 15 October 1959) was a Ukrainian politician and  leader in the Western Ukraine that fought for the Ukrainian independence via a nationalist movement that had no scruples in its allies – the goal overruling any other concerns.
Stepan Bandera was responsible for the proclamation of an Independent Ukrainian State in Lviv on June 30, 1941, eight days after Germany's attack against the USSR. Members of Bandera's Ukrainian nationalist movement thought that they had found a new powerful ally in Nazi Germany to aid them in their struggle to free themselves from the Soviet Union.
But NAZI Germany leaders thought differently and arrested his newly formed government, and sent them to concentration camps in Germany. Bandera  himself was imprisoned by the Nazis until September 1944. Eventually he was assassinated in 1959 by the KGB.
On 22 January 2010, President Viktor Yushchenko awarded Bandera the title of Hero of Ukraine (posthumously). The award was condemned by the European Parliament, and Russian, Polish and Jewish organizations, and was declared illegal by the pro-Russian Ukrainian government and court in April 2010. In January 2011, the award was officially annulled. Consequently, Stepan Bandera remains a controversial figure both in Ukraine and internationally – but the new Nationalism of the 2014 Ukraine is again trying to restore him to a pedestal of national Hero – and this ought to be enough for many outsiders that fear a new Neo-Nazi Ukraine. Bandera's flag was the red and black flag – not the commonly accepted Yellow and Blue flag – and my seeing on TV his flags on the Maidan made us hesitant in accepting the new Ukraine.
Bandera was jailed by the Polish government and released in 1939 when Poland caved in to the advancing Germans. He moved to Krakow – the seat of Germany's occupational General Government. He caused a split in the Organization of Ukrainian Nationalists (OUN)
searching support in Germany's military circles under his OUN(B for Bandera). In November 1939 about 800 Ukrainian nationalists began training in Abwehr's military camps. In the first days of December, Bandera, without co-ordination with the leader of the other OUN group led by Melnyk, and referred to as OUN(M), sent a courier to Lviv with directives for preparation of an armed uprising. The courier was intercepted by the NKVD, which had captured some of the OUN(M)'s leaders. Another such attempt was prevented in Autumn 1940.
He also organized "Mobile Groups"  which were small (5-15 members) groups of OUN-B members who would travel from General Government to Western Ukraine, and after German advance to Eastern Ukraine, to encourage support for the OUN-B and establishing the local authorities ruled by OUN-B activists.  These small groups also incited the Ukrainian peasants to kill the Jews that lived in their midst.I happen to have lost a grand-mother and an aunt to the knives of these murderers who crossed the Cheremush river from former Polish held Galizia to former Rumanian held Bukowina in what is now the Chernivtsi Oblast of the Ukraine. My grandmother and aunt were butchered by the "Banderevtses."
The intermittently close relationship between Bandera, the OUN and Nazi Germany have been described by historians such as David Marples as "ambivalent", tactical and opportunistic, with both sides trying to exploit the other unsuccessfully.
Prior to Operation Barbarossa, according to the National Academy of Sciences of Ukraine and other sources, Bandera held meetings with the heads of Germany's intelligence, regarding the formation of "Nachtigall" and "Roland" Battalions. In spring the OUN received 2.5 million marks for subversive activities inside the USSR.
Gestapo and Abwehr officials protected Bandera followers, as both organizations intended to use them for their own purposes.
On June 30, 1941, with the arrival of Nazi troops in Ukraine, Bandera and the OUN-B declared an independent Ukrainian State. Some of the published proclamations of the formation of this state say that it "will work closely with the National-Socialist Greater Germany, under the leadership of its leader Adolf Hitler which is forming a new order in Europe and the world and is helping the Ukrainian People to free itself from Moscovite occupation." – as stated in the text of the "Act of Proclamation of Ukrainian Statehood".
In 1941 relations between Nazi Germany and the OUN-B soured to the point where a Nazi document dated 25 November 1941 stated that "… the Bandera Movement is preparing a revolt in the Reichskommissariat which has as its ultimate aim the establishment of an independent Ukraine. All functionaries of the Bandera Movement must be arrested at once and, after thorough interrogation, are to be liquidated…".
On July 5, Bandera was arrested and transferred to Berlin. On July 12, the president of the newly formed Ukrainian state, Yaroslav Stetsko, was also arrested and taken to Berlin. Although released from custody on July 14, both were required to stay in Berlin.
In January 1942, Bandera was transferred to Sachsenhausen concentration camp's special barrack for high profile political prisoners Zellenbau.
In April 1944 Bandera and his deputy Yaroslav Stetsko were approached by an RSHA official to discuss plans for diversions and sabotage against the Soviet Army.
In September 1944  Bandera was released by [the German authorities] which hoped that he will incite the native populace to fight the advancing Soviet Army. With German consent Bandera set up headquarters in Berlin Germans supplied OUN-B and UIA by air with arms and equipment. Assigned German personnel and agents trained to conduct terrorist and intelligence activities behind Soviet lines, as well as some OUN-B leaders, were also transported by air until early 1945.
Views towards other ethnic groups:
Poles
In May 1941 at a meeting in Krakow the leadership of Bandera's OUN faction adopted the program "Struggle and action for OUN during the war" (Ukrainian: "???????? ? ?????????? ??? ??? ??? ?????») which outlined the plans for activities at the onset of the Nazi invasion of the Soviet Union and the western territories of the Ukrainian SSR.  Section G of that document –"Directives for first days of the organization of the living state" Ukrainian: "???????? ?? ????? ??? ??????????? ?????????? ?????» outline activity of the Bandera followers during summer 1941.  In the subsection of "Minority Policy" the OUN-B ordered the removal of hostile Poles, Jews, and Russians via deportation and the destruction of their respective intelligentsias, stating further that the "so-called Polish peasants must be assimilated" and to "destroy their leaders."
In late 1942, Bandera's organization, the Organization of Ukrainian Nationalists, was involved in a campaign of ethnic cleansing of Volhynia, and in early 1944, these campaigns began to include Eastern Galicia. It is estimated that nearly 70,000 Poles, mostly women and children along with unarmed men, were killed during the spring and summer campaign of 1943 in Volhynia  by the OUN-Bandera which bears primary responsibility for the massacres.
Despite the central role played by Bandera's followers in the massacre of Poles in western Ukraine, Bandera himself was interned in a German concentration camp when the concrete decision to massacre the Poles was made, and when the Poles were killed. During his internment, from the summer of 1941, he was not completely aware of events in Ukraine and moreover had serious differences of opinion with Mykola Lebed, the OUN-B leader who remained in Ukraine and who was one of the chief architects of the massacres of Poles.
Bandera was thus not directly involved in those massacres, although it cannot be ruled out that they would have occurred had he been present.
Jews
Unlike competing Polish, Russian, Hungarian or Romanian nationalisms in late imperial Austria, imperial Russia, interwar Poland and Romania, Ukrainian nationalism did not include antisemitism as a core aspect of its program and saw Russians as well as Poles as the chief enemy with Jews playing a secondary role.  Nevertheless, Ukrainian nationalism was not immune to the influence of the antisemitic climate in the Eastern and Central Europe,  had already become highly racialized in the late 19th century, and had developed an elaborate anti-Jewish discourse.  However, Ukrainian nationalistic Jews were welcome in the Banderivtsy, provided their adoption of the identity of the Galician Karaites, who were regarded as loyal compatriots.
The predominance of the Soviet central government, rather than the Jewish minority, as the principal perceived enemy of Ukrainian nationalists was highlighted at the OUN-B's Conference in Krakow in 1941 when it declared that "The Jews in the USSR constitute the most faithful support of the ruling Bolshevik regime, and the vanguard of Muscovite imperialism in Ukraine. The Muscovite-Bolshevik government exploits the anti-Jewish sentiments of the Ukrainian masses to divert their attention from the true cause of their misfortune and to channel them in a time of frustration into pogroms on Jews. The OUN combats the Jews as the prop of the Muscovite-Bolshevik regime and simultaneously it renders the masses conscious of the fact that the principal foe is Moscow."  In May 1941 at a meeting in Krakow the leadership of Bandera's OUN faction adopted the program "Struggle and action of OUN during the war" (Ukrainian: "???????? ? ?????????? ??? ??? ??? ?????») which outlined the plans for activities at the onset of the Nazi invasion of the Soviet Union and the western territories of the Ukrainian SSR.  Section G of that document –"Directives for first days of the organization of the living state" Ukrainian: "???????? ?? ????? ??? ??????????? ?????????? ?????» outline activity of the Bandera followers during summer 1941. In the subsection of "Minority Policy" the OUN-B ordered: "Moskali, Poles, Jews are hostile to us must be exterminated in this struggle, especially those who would resist our regime: deport them to their own lands, importantly: destroy their intelligentsia that may be in the positions of power … Jews must be isolated, removed from governmental positions in order to prevent sabotage, those who are deemed necessary may only work with an overseer… Jewish assimilation is not possible."  Later in June Yaroslav Stetsko sent to Bandera a report in which he indicated – "We are creating a militia which would help to get remove the Jews and protect the population." Leaflets spread in the name of Bandera in the same year called for the "destruction" of ""Moscow", Poles, Hungarians and Jewry. In 1941-1942 while Bandera was cooperating with the Germans, OUN members did take part in anti-Jewish actions.
In 1942 German intelligence concluded that Ukrainian nationalists were indifferent to the plight of the Jews and were willing to either kill them or help them, depending on what better served their cause. Several Jews took part in Bandera's underground movement, including one of Bandera's close associates Richard Yary who was also married to a Jewish woman. Another notable Jewish UPA member was Leyba-Itzik "Valeriy" Dombrovsky. According to a report to the Chief of the Security Police in Berlin dated March 30, 1942, "…it has been clearly established that the Bandera movement provided forged passports not only for its own members, but also for Jews.". The false papers were most likely supplied to Jewish doctors or skilled workers who could be useful for the movement.
When Bandera was in conflict with the Germans, the Ukrainian Insurgent Army under his authority sheltered many Jews. and included Jewish fighters and medical personnel. In the official organ of the OUN-B's leadership, instructions to OUN groups urged those groups to "liquidate the manifestations of harmful foreign influence, particularly the German racist concepts and practices."  In summary, Bandera's movement sometimes harmed and sometimes helped Jews depending on particular circumstances and on Bandera's relationship with Germany.
Bandera's execution by the Soviets.

On 15 October 1959, Stepan Bandera collapsed outside of Kreittmayrstrasse 7 in Munich and died shortly thereafter. A medical examination established that the cause of his death was poison (cyanide gas).   On October 20, 1959 Stepan Bandera was buried in the Waldfriedhof Cemetery in Munich.
Two years later, on 17 November 1961, the German judicial bodies announced that Bandera's murderer had been a KGB defector Bohdan Stashynsky who acted on the orders of Soviet KGB head Alexander Shelepin and Soviet premier Nikita Khrushchev.  After a detailed investigation against Stashynsky, a trial took place from 8 October to 15 October 1962. The sentence was handed down on 19 October in which Stashynsky was sentenced to 8 years imprisonment. The Federal Court of Justice of Germany confirmed at Karlsruhe that in the Bandera murder, the Soviet secret service was the main guilty party.
===========================================
Above tells us about Bandera – a strong activist against Polish and Soviet domination over Ukrainians – and in the process he also put in motion the killing of Jews by Ukrainians. Exceptions were made for Jews that could help his troops – such Jews as medical personnel.
By the end of WWII many surviving Banderivtsy found their way to British Columbia in Canada  and some of their children turned up in Lviv (Western Ukraine) with Bandera red&black flags and Canadian flags and marched to cellebrate the independence of Ukraine after the fall of the Soviet Union. Now the same flags showed up on the Maidan in order to free Ukraine of Russia's stooge – Viktor Yanukovych.

What we find unacceptable is that proponents of the Maidan movement see only the nationalism of Bandera but turn a blind eye at his prejudices and crimes against humanity. Yes, we know that Jews are bellweather to racism – that is that Nationalist revolutions do not mind spilling Jewish blood.  Transparency and rejection of such elements are a must for the acceptance of present day Ukrainian Nationalism, and the fact that none of this was part of the presentations made by Ukrainians at a meeting we attended in Vienna where three different aspects of the Maidan spoke, only one speaker mentioned Bandera but without feeling that he had to reject the Xenophobism of the man,
and the potential danger to the present movement. No, we cannot cheer for the Ukrainian side as long as they do not profess strict adherence to Human Rights of the minorities in their midst.
###
Russia Seizes Gas Plant Near Crimea Border, Ukraine Says.
SIMFEROPOL, Ukraine — Tensions mounted on the eve of a secession referendum here in Crimea as helicopter-borne Russian forces made a provocative incursion just outside the peninsula's regional border to seize a natural gas terminal, while American and European officials prepared sanctions to impose on Moscow as early as Monday.
The military operation by at least 80 troops landing on a slender sand bar just across from Crimea's northeast border seemed part of a broader effort to strengthen control over the peninsula before a referendum Sunday on whether its majority Russian-speaking population wants to demand greater autonomy from Ukraine or break away completely and join Russia. Whatever its tactical goals, the seizure of the terminal sent a defiant message to the United States and Europe and underscored that a diplomatic resolution to Russia's recent takeover of Crimea remains elusive.
The raid came as American and European diplomats at the United Nations pushed for a vote on a resolution declaring the Sunday referendum illegal, essentially forcing Russia to veto the measure. In the end, Russia cast the only vote against it; even China, its traditional ally on the Council, did not vote with Moscow but abstained, an indication of its unease with Russia's violation of another country's sovereignty. Western diplomats hoped the result would reinforce Russia's growing international isolation over Ukraine.
American and European officials worked through the day readying lists of Russians to penalize after the referendum, including possibly vital members of President Vladimir V. Putin's inner circle. Among the Russians who have been on at least some lists circulated for consideration for Western sanctions, according to officials, are Sergei K. Shoigu, the defense minister; Aleksandr V. Bortnikov, director of the Federal Security Service; Nikolai P. Patrushev, the secretary of the security council; Sergei B. Ivanov and Vladislav Surkov, two of Mr. Putin's closest and most powerful advisers; Dmitri O. Rogozin, a deputy prime minister; Aleksei Miller, the chief executive of Gazprom, the state energy giant; and Igor Sechin, head of the oil company Rosneft.
President Obama and his European counterparts may start with only some of the Putin confidants in whatever sanctions are imposed immediately after the referendum, so as to have the means to further escalate their response should Russia continue to press its seizure of Ukrainian territory. Instead, they may focus at first on lower-level officials, military leaders, business tycoons or parliamentarians.
The sanctions would ban the targets from traveling to Europe or the United States and freeze any assets they had in either place. Western officials said they do not plan to sanction Mr. Putin himself, at least at this point, because he is a head of state, nor do they intend to target Sergey V. Lavrov, the foreign minister, because he needs to travel if there are any future diplomatic talks.
Mr. Obama's cabinet secretaries and top advisers huddled in the White House on Saturday to discuss their strategy, joined by Secretary of State John Kerry, who returned from a fruitless last-ditch diplomatic trip to talk with Mr. Lavrov in London.
The degree of sanctions and the exact timing may depend on how Moscow reacts immediately after the referendum, which is almost universally expected to approve seceding from Ukraine and becoming part of Russia, officials said. If Mr. Putin moves promptly to initiate annexation, that would trigger immediate action, but if he holds back and leaves room for talks, Washington and Brussels may defer the tougher actions.
Russia left little impression of backing down on Saturday. Russian forces made a show of added strength here in Simferopol, the regional capital, stationing armed personnel carriers in at least two locations in the city center and parking two large troop carriers outside the headquarters of the election commission. Before Saturday, the heavy equipment had largely been kept out of the city.
The more provocative move, however, was the seizure of the gas terminal in the Kherson region near a town called Strelkovoye, which drew new threats of a military response from the Ukrainian government. Until now, it has refrained from responding in force to Russian actions, but it sent troops Saturday to surround the gas terminal, according to a Ukrainian news service quoting local police, though there were no immediate indications of any shots being fired.
In Kiev, the Foreign Ministry said in a statement that Ukraine "reserves the right to use all necessary measures" to stop what it called "the military invasion by Russia."
The White House suggested the move by Russia only increased the likelihood of sanctions. "We remain concerned about any attempt by Russia to increase tensions or threaten the Ukrainian people, and as we have long said, if Russia continues to take escalatory steps, there will be consequences," said Caitlin Hayden, a White House spokeswoman.
The pro-Russian government in Crimea issued a statement saying its "self-defense" forces had seized the gas terminal because Ukraine had turned off the supply of fuel, leaving homes, hospitals and schools without heat or electricity. The government also said that it found the terminal rigged with explosives "with the goal of totally destroying it," which would cut off gas to eastern cities in Crimea.
Those claims, carried by the Interfax news service, were impossible to verify independently. Power in some parts of Crimea appeared to be disrupted in recent days, although it was possible that was because of power lines downed by high winds.
Although the Crimean government sought to take responsibility for the operation, there was little doubt that it was conducted by Russian forces, given the involvement of helicopters and other sophisticated equipment.
The move appeared to fit the pattern of deployment on Crimea. The Ukrainian Unian news agency cited local residents saying soldiers without identifying insignia had landed near the gas terminal in helicopters with Russia's red-star tail art.
Officials in Ukraine have worried Russia would begin to take steps to ensure it could continue to provide services to Crimea, including trying to secure gas supplies that come from outside the peninsula. Such steps would be expected to diminish Ukraine's leverage over Crimea.
The showdown at the United Nations was dramatic in its own way. The Russian ambassador, Vitaly I. Churkin, preceded his veto by saying that Moscow would respect the results of Sunday's referendum, but he did not say what it would do afterward. He described the referendum as an "extraordinary measure," expressing the Crimean people's right to self-determination, made necessary by what he called an "illegal coup carried out by radicals" in Ukraine, referring to the street protests that led to the ouster of President Viktor F. Yanukovych, a Russian ally.
Western officials crafted the language to persuade China not to side with Moscow. China is sensitive about talk of secession since it has its own worries about restive regions, including Tibet.
"China has always respected the sovereignty and territorial integrity of all states," said Liu Jieyi, the Chinese ambassador, explaining his abstention before adding a jab at the West: "At the same time, we have noticed foreign interference is also an important reason leading to violent clashes on the streets of Ukraine."
The officials meeting in Washington and Europe working on sanctions saw three scenarios for Monday and beyond: Mr. Putin does not act; he moves to begin the legal processes of annexation; or, in the worst case, he moves to seize parts of eastern Ukraine.
Also on Saturday, amid the tensions between the West and Russia, NATO announced that several of its websites had been hit by cyberattacks. A spokeswoman said on Twitter that the sites had been hit by a denial of service attack, but that there had been no operational effect. A former Obama administration official said  responsibility for the attack was claimed by a group called cyber-Berkut. Ukraine's riot police are known as the Berkut.
Ukrainian officials have been worried about an escalation of Russian military actions, reporting shifting tanks and troops in the north of Crimea, near the Ukrainian mainland. A spokesman in Crimea, Vladislav Seleznyov, said troops and trucks towing artillery pieces moved from Kerch, a city near the strait of the same name separating Crimea from Russia, to the north.
In one episode on Saturday night, masked gunmen stormed into the Hotel Moskva in Simferopol where foreign journalists are staying. The heavily armed men, many in plainclothes, searched some rooms. Some journalists said their flash drives had been taken.
Crimean officials insisted it was a training exercise.
Mr. Putin on Saturday was in the southern Russian resort city of Sochi, where he watched the open relay in cross-country ski racing in the Paralympics. Russia won the gold; Ukraine won the silver. The Kremlin issued a statement saying Mr. Putin had congratulated both teams.
——————
David M. Herszenhorn reported from Simferopol, Ukraine; Peter Baker from Washington; and Andrew E. Kramer from Kiev, Ukraine. Somini Sengupta contributed reporting from the United Nations, Steven Lee Myers from Moscow, Noah Sneider from Simferopol and Scott Shane from Washington.
———————
###
Excessive diesel car usage cause severe atmospheric hazard in Paris.
Published on : Saturday, March 15, 2014
Paris has been hit by the worst kind of atmospheric pollution in seven years with unseasonably warm, windless days and cold clear nights which has covered Northern France with a sheet of warm air.
All public transport has been declared free until Sunday in Paris, Rouen and Caen Even the Velib. Short-term-hire bikes which fathered the Boris Bikes in London have been declared free to minimize public transport in France.
 Long usage of diesel-powered cars in France, and minuscule particles of pollution, have  contributed in accumulating pollution in France.
60 per cent of Paris is dependent on diesel cars as in the 1960s, French government and industry made a strategic decision that diesel engines were less polluting and would gradually supersede petrol. Big car companies Renault and Peugeot-Citroen invested heavily in diesel engines. Diesel fuel was taxed less heavily than petrol and it continues to do so.
The level of official "pollution alert" – 80 micrograms of tiny particles for every cubic meter of air – has been exceeded each day since Wednesday in 30 départements (counties) across northern France.
Visibility is all time low and how the bikers will be able to detect their path in the road is hard to fathom. In Paris it is near summer weather with daffodils gleaming, in the Tuileries gardens. Women were wearing summer dresses. The sky has turned a smudgy grey and the Eiffel Tower, and the skyscrapers in the La Défense office ghetto west of the city had been wrapped in yellow haze.
France has been aware for nearly two decades about its mistake on diesel engines being more polluting. But Successive governments have not issued anything against the French car-makers asking them to do away from diesel engines or to increase taxes on the diesel fuel used by two out of three motorists.
EU is dealing strongly with France as the growing atmospheric pollution has caused 40,000 premature  deaths and the government has to break free of the motorists' lobbies, to give the people of France a better environment.
———————————–
In the 1970s, as part of an Organization of American States (OAS) mission to Colombia, I learned that through its Foreign Aid, France messed up also the air quality of the city of Bogota. It seems to us plainly insane to submit the people at the tremendous altitude of Bogota and the low oxygen conditions at such altitude, to the burning of diesel fuel.   Sure – the city was in perpetual smog – but Paris kept sending here their diesel buses that choked the people.
That was one of the things we reported back to the OAS that was looking at the idea of introducing ethanol motor vehicles, or at least gasoline that contained a percentage of ethanol.
###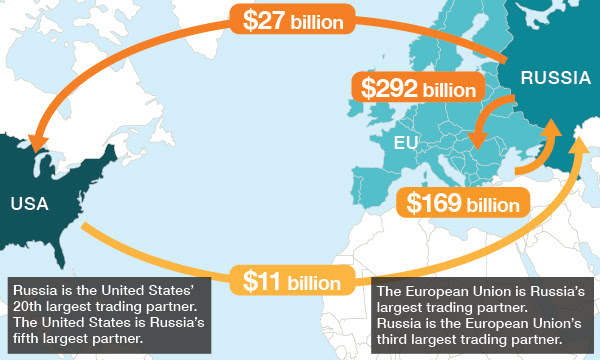 The New York Times – QUOTATION OF THE DAY:
"We don't have a common vision of the situation."
SERGEY V. LAVROV, Russia's foreign minister, on the failure of talks with Secretary of State John Kerry to ease tensions over Russia's insistence that a referendum on Crimean independence proceed as scheduled.
But in Washington the Republicans think the World is just an intra-US-political game. Quite disgusting that Senator McCain does not accept his defeat, and his party's defeat at the polls. Simply, in his case the results were not good enough for the Republican Supreme Court to move in and overturn the polls. He is quoted:
OPINION
|
Op-Ed Contributor to the New York Times
Obama Has Made America Look Weak
By JOHN McCAIN
The Crimea crisis offers Americans a chance to restore our country's credibility on the world stage.
BUT ABOVE TWO FIGURES SHOW CLEARLY THAT RUSSIA IS RATHER AN EU PARTNER AND CLEARLY NOT A US PARTNER.   AS RUSSIA IS RATHER UNIMPORTANT TO US BUSINESS – BUT MUCH MORE IMPORTANT TO EU BUSINESS – LET THE EU FIGURE OUT HOW TO REACT TO RUSSIA'S INCURSION TO THE UKRAINE. THERE IS RATHER A CHANCE THAT COMMON GROUND WILL EVENTUALLY BE FOUND WITH THE EUROPEANS BUT IT WILL BE DISASTER IF CRIMEA BECOMES THE SUBSTANCE OF US INTERNAL POLITICS AS SENATOR McCAIN WOULD LIKE TO SEE IT.
BUT YOU KNOW WHAT? SENATOR McCAIN ACTUALLY SAYS HE WANTS THE US TO GO IN THE EXACT DIRECTION PRESIDENT OBAMA IS TRYING TO TAKE IT – BUT INTERFERES WITH HIM.  HE SAYS THAT HE – McCAIN SEES THIS POLICY  AND OBAMA DOES NOT.
McCAIN  JOINS THE OBAMA-BASHERS AND BY DOING SO HE IN EFFECT BACKS THOSE THAT WANT TO REVISIT AND RELIVE VIETNAM, IRAQ, AFGHANISTAN … THE BIG ARMS INDUSTRY … THE COLD WARRIORS … AND WE REFUSE
TO BE FOOLED.
Furthermore – ask the East Europeans, now part of the EU, about the price they paid at the 1945 Yalta meeting for America's interest in Middle East oil – specifically in Iranian oil. They became after WWII that was fought on their back – the payment to Stalin for his giving up communism's  incursion in Iran – which may have in effect also after some other cycles led to the present US-bashing by Iran. Whatever the Obama moves and non-moves – they are at least more honest then this inter-party bashing by Americans.
His words in that OP-ED Opinion piece:
Should Russia's invasion and looming annexation of Crimea be blamed on President Barack Obama? Of course not,  just as it should not be blamed on NATO expansion, the Iraq war or Western interventions to stop mass atrocities in the Balkans and Libya. The blame lies squarely with Vladimir V. Putin, an unreconstructed Russian imperialist and K.G.B. apparatchik.
But in a broader sense, Crimea has exposed the disturbing lack of realism that has characterized our foreign policy under President Obama. It is this worldview, or lack of one, that must change.
For five years, Americans have been told that "the tide of war is receding," that we can pull back from the world at little cost to our interests and values. This has fed a perception that the United States is weak, and to people like Mr. Putin, weakness is provocative.
That is how Mr. Putin viewed the "reset" policy. United States missile defense plans were scaled back. Allies in Eastern Europe and Georgia were undercut. NATO enlargement was tabled. A new strategic arms reduction treaty required significant cuts by America, but not Russia. Mr. Putin gave little. Mr. Obama promised "more flexibility."
Mr. Putin also saw a lack of resolve in President Obama's actions beyond Europe. In Afghanistan and Iraq, military decisions have appeared driven more by a desire to withdraw than to succeed. Defense budgets have been slashed based on hope, not strategy. Iran and China have bullied America's allies at no discernible cost. Perhaps worst of all, Bashar al-Assad crossed President Obama's "red line" by using chemical weapons in Syria, and nothing happened to him.
For Mr. Putin, vacillation invites aggression. His world is a brutish, cynical place, where power is worshiped, weakness is despised, and all rivalries are zero-sum. He sees the fall of the Soviet Union as the "greatest geopolitical catastrophe of the century." He does not accept that Russia's neighbors, least of all Ukraine, are independent countries. To him, they are Russia's "near abroad" and must be brought back under Moscow's dominion by any means necessary.
What is most troubling about Mr. Putin's aggression in Crimea is that it reflects a growing disregard for America's credibility in the world. That has emboldened other aggressive actors — from Chinese nationalists to Al Qaeda terrorists and Iranian theocrats.
Crimea must be the place where President Obama recognizes this reality and begins to restore the credibility of the United States as a world leader. This will require two different kinds of responses.
The first, and most urgent, is crisis management. We need to work with our allies to shore up Ukraine, reassure shaken friends in Eastern Europe and the Baltic States, show Mr. Putin a strong, united front, and prevent the crisis from getting worse.
This does not mean military action against Russia. But it should mean sanctioning Russian officials, isolating Russia internationally, and increasing NATO's military presence and exercises on its eastern frontier. It should mean boycotting the Group of 8 summit meeting in Sochi and convening the Group of 7 elsewhere. It should also mean making every effort to support and resupply Ukrainian patriots, both soldiers and civilians, who are standing their ground in government facilities across Crimea. They refuse to accept the dismemberment of their country. So should we.
Crimea may be falling under Russian control, but Ukraine has another chance for freedom, rule of law and a European future. To seize that opportunity, Ukrainian leaders must unify the nation and commit to reform, and the West must provide significant financial and other assistance. Bipartisan legislation now before Congress would contribute to this effort.
More broadly, we must rearm ourselves morally and intellectually to prevent the darkness of Mr. Putin's world from befalling more of humanity. We may wish to believe, as President Obama has said, that we are not "in competition with Russia." But Mr. Putin believes Russia is in competition with us, and pretending otherwise is an unrealistic basis for a great nation's foreign policy.
Three American presidents have sought to cooperate with Mr. Putin where our interests converge. What should be clear now, and should have been clear the last time he tore apart a country, is that our interests do not converge much.  He will always insist on being our rival.
The United States must look beyond Mr. Putin. His regime may appear imposing, but it is rotting inside. His Russia is not a great power on par with America. It is a gas station run by a corrupt, autocratic regime.  And eventually, Russians will come for Mr. Putin in the same way and for the same reasons that Ukrainians came for Viktor F. Yanukovych.
We must prepare for that day now. We should show the Russian people that we support their human rights by expanding the Magnitsky Act to impose more sanctions on those who abuse them. We should stop allowing their country's most corrupt officials to park ill-gotten proceeds in Western economies. We should prove that countries like Ukraine, Georgia and Moldova have a future in the Euro-Atlantic community, and Russia can, too.
We must do all we can to demonstrate that the tide of history is with Ukraine — that the political values of the West, and not those of an imperial kleptocracy, are the hope of all nations. If Ukraine can emerge from this crisis independent, prosperous and anchored firmly in Europe, how long before Russians begin to ask, "Why not us?" That would not just spell the end of Mr. Putin's imperial dreams; it would strip away the lies that sustain his rule over Russia itself.
America's greatest strength has always been its hopeful vision of human progress. But hopes do not advance themselves, and the darkness that threatens them will not be checked by an America in denial about the world as it is. It requires realism, strength and leadership. If Crimea does not awaken us to this fact, I am afraid to think what will.
John McCain is a Republican senator from Arizona.
 Some Comments
==========================================================================
###
 We wonder that anti-EU British and Dutch Right-Wingers were not mentioned among the invitees – perhaps that was an oversight of the reporter?
=====================
Russia invites EU far-right to observe Crimea vote.
from the EUobserver – 13.03.14
By Benjamin Fox
BRUSSELS – The Russian government has invited some of Europe's far-right parties to observe this weekend's referendum in Crimea.
The leader of France's National Front party, Marine Le Pen, told press at the European Parliament in Strasbourg on Wednesday (12 March) that her executive has not yet decided whether to go.
The Austrian Freedom party, a National Front ally, also got an invitation.
Crimeans will go to the polls on Sunday to pick one of two options: "Are you in favour of Crimea becoming a constituent territory of the Russian Federation?" or "Are you in favour of restoring Crimea's 1992 constitution? [on semi-autonomy inside Ukraine]."With Russian soldiers and paramilitaries in control of streets and public buildings, the vote will effectively be held at gunpoint.
EU leaders have said the referendum is illegal.
The G7 club of wealthy nations, which also includes Canada, Japan, and the US, described it as a "deeply flawed process which would have no moral force."
The OSCE, a Vienna-based multilateral body, has also declined to send observers because the vote was called in violation of Ukraine's constitution.
But for her part, Le Pen voiced sympathy for Russia, even if it opts to annex the territory after Sunday's result.
"Crimea is not like the rest of the country … it is very closely linked to Russia," she said, adding: "We have to take account of the history of Crimea."
"From the outset of the crisis we [the National Front] have said that Ukraine should maintain its sovereignty but allow the three main regions to have a lot of autonomy."
She described the prospect of EU economic sanctions against Russia as "dangerous" and echoed Russian propaganda on the new authorities in Kiev.
"We should have some qualms about the new government because it was not elected … We know that there are neo-Nazis and extremists in this government," she said.
With Europe's far-right keen to play up the Ukrainian crisis as an EU foreign policy blunder, Austrian MEP Andreas Moelzer, from the Freedom Party, told Austrian news agency APA also on Wednesday that he is considering Putin's offer.
"We are among the few who try to understand Russia," he said.
———–
The Soviet Union made Crimea part of the Ukrainian Soviet Socialist Republic in 1954.
Some 58 percent of its 2 million people are ethnic Russians.
But ethnic Russians became the majority only in World War II, when Stalin deported hundreds of thousands of Armenians, Bulgarians, Jews, Germans, Greeks, and Tatars from the region.
The 800,000 or so Ukrainian speakers who live there now form the majority in nine districts.
The 250,000 or so Tatars in Crimea have appealed for EU, US, and Turkish help to keep them from falling under Putin's rule.
Crimean Tatars Face Uncertain Future
Seventy years after Stalin brutally deported thousands of Crimean Tatars to Central Asia, the descendants of those who returned fear repression as Russia tightens its grip on the peninsula.
Amid Preparations, Mediator Says Syria Vote Would Doom Talks
By SOMINI SENGUPTA
Lakhdar Brahimi said there were many signs that Syria's government was planning an election, though that would be counterproductive for talks.
========================
OUR CONCLUSION:
ELECTIONS AT GUN-POINT ARE A FAKE DEMOCRATIC WAY TO HELP DESPOTS ACHIEVE THEIR GOALS. WE THINK THE US TEA-PARTY COULD ALSO TAKE A BREAK BY GOING TO THE CRIM.  WE SAY THIS WITHOUT JUDGEMENT OF THE MERITS OF THE ISSUE AT HAND – RATHER BY THINKING ONLY OF THE SUSTAINABILITY OF THE APPROACH OF CALLING FOR DISPUTED ELECTIONS WITHOUT A WIDE RANGE OF OBSERVERS.
 ======================
THE TOTAL AMOUNT OF INFORMATION ABOUT US-RUSSIA DISCUSSIONS IS AS FOLLOWS:
Remarks
John Kerry
Secretary of State
Winfield House

London, United Kingdom

---
SECRETARY KERRY: Good morning, everybody. My pleasure to welcome Foreign Minister Lavrov to Winfield House, the American Embassy residence here in London. Obviously, we have a lot to talk about. I look forward to the opportunity to dig into the issues and possibilities that we may be able to find about how to move forward together to resolve some of the differences between us. And we look forward, I know, to a good conversation.
FOREIGN MINISTER LAVROV: (Via interpreter) Well, I'm also satisfied to have this meeting today. This is a difficult situation we are in. Many events have happened and a lot of time has been lost, so now we have to think what can be done. Thank you.
AND THAT IS HOW IT IS.
###
Obama, EU to stand together on climate change draft.
Date: 14-Mar-14
by Barbara Lewis, Reuters, Brussels
U.S. President Barack Obama and EU leaders meeting in Brussels this month will throw their combined weight behind tackling climate change, a document seen by Reuters says, in a show of developed world solidarity on the need for a new global deal.
But the guarded, diplomatic language is likely to disappoint environmentalists calling for urgent, ambitious pledges to cut greenhouse gas emissions.
"Sustainable economic growth will only be possible if we tackle climate change," a draft communique ahead of the EU-US summit on March 26 says. The text is subject to further negotiation between the European Union and the United States.
Both the European Union and the United States are preparing new pledges on cutting emissions for the first quarter of 2015, ahead of a U.N. summit in Paris that is meant to agree a new worldwide deal.
Its aim must be to limit any global average temperature increase to less than 2 degrees Celsius compared with pre-industrial levels "and should therefore include ambitious mitigation contributions, notably from the world's major economies and other significant emitters," the document said.
The European Union has sought to lead efforts to curb global warming with more ambitious carbon-cutting goals than any other bloc, but some of its member states, notably Poland, say there is no point in Europe taking the lead when it is responsible for only just over 10 percent of global emissions.
The United States, the world's second biggest emitter, together with China, the top emitter, account for about 40 percent of greenhouse gas emissions.
Earlier this month, the U.N.'s climate chief, Christiana Figueres, said closer cooperation between China and the United States could boost prospects for a U.N. deal in 2015.
European environmental campaigners say such a partnership could also marginalize Europe in the debate and in the race to keep up with technological advances to decarbonise energy.
PREPARATION:
To prepare its negotiating stance ahead of the 2015 U.N. talks, the Commission, the EU executive, in January outlined 2030 climate and energy policy, including a suggested 40 percent carbon cutting target. That compares with a 2020 goal to cut emissions by 20 percent from 1990 levels, which the European Union has almost achieved already.
The United States by contrast has said it will reduce carbon by 17 percent by 2020 compared with 2005, which equates to a fall of 3.5 percent below 1990 levels.
Just before Obama's visit to Brussels, a summit of EU leaders on March 20-21, will debate 2030 climate and energy policy, but is not expected to reach a firm agreement. Poland, which relies on coal for most of its energy, would block a deal at this point.
But Britain says Europe should not only make an early commitment to a cut of at least 40 percent, it should be willing to increase the aim to 50 percent if the rest of the world signs up to a deal.
A draft document this week said only that the European Union will submit its contribution at the latest by the first quarter of 2015, raising the possibility the European Union does not need to reach a political agreement until late this year.
Climate Commissioner Connie Hedegaard said only that next week's summit should send a strong signal.
"The sooner we have an overall signal, a political signal of what kind of ambition level we are heading for, the easier it will be to elaborate on the details," she said on Thursday.
###
Statement by UK Ambassador Mark Lyall Grant to the UN Security Council on the situation in Ukraine – 13 March 2014.
I welcome Prime Minister Arseniy Yatsenyuk to the Security Council today. The United Kingdom stands side-by-side with the Ukrainian people in this time of crisis.
We commend Mr Yatsenyuk, his government, and the people and armed forces of Ukraine, for the remarkable restraint they have shown in the face of repeated provocation. Because of their strength of will, there is still a chance for a peaceful, diplomatic solution.
Mr President,
Over the past week, we have heard in this chamber, and elsewhere, an attempt to cast doubt on the legitimacy of the transitional government in Ukraine. This is entirely unwarranted. Mr Yanukovych deserted his office and his people in the midst of a crisis. Rather than work to implement the 21 February Agreement, he abandoned his post. He was disowned by his own party and his removal approved by an overwhelming majority of Members of Parliament.
The transitional Government which replaced him has already taken important steps, steps which uphold the spirit of the 21 February Agreement and which lay the foundations for the future of Ukraine. They have restored the 2004 Constitution; they have begun the process of constitutional reform; and they have scheduled elections for 25 May.
These forthcoming elections will enable all Ukrainians to choose their own leaders. International monitors stand ready to ensure that these elections are free and fair. We urge all parties to support this effort.
We all agree that Ukraine needs our support in this time of transition. We all acknowledge that Ukraine has a pressing need for reform, for improvements to its political culture, for political stability, for inclusiveness and for an end to corruption. We all support the call for investigations into the violence of the past three months. We all back fresh elections under international observation. And we all agree on the importance of protecting minority rights. These points of agreement could form a basis around which we could coalesce to find a way forward.
But in order to move from away from confrontation, the Russian Federation needs to accept that the cause of current instability in Ukraine lies not in Kiev, nor in Donetsk.
It comes from the actions of the Russian Federation in the Crimean Peninsula where, against the expressed wishes of the Ukrainian Government, Russian military forces have taken control of a large part of the sovereign territory of Ukraine.
We utterly condemn this blatant violation of the sovereignty, independence and territorial integrity of Ukraine and this flagrant breach of international law.
Russia claims that it is acting to protect its citizens. We have heard claims of Russian speakers and nationals under threat, the Russian language outlawed, rampant anti-semitism, hundreds of thousands of refugees fleeing Ukraine. All these claims have been shown to be unfounded. The only part of Ukraine where minorities are under threat is in Russian occupied Crimea, where Ukrainian forces are besieged in their bases and hundreds of members of the Tartar community are fleeing Crimea in fear. Where, as we have heard just now from Mr Feltman, ASG Šimonovic has been denied access, denied the opportunity to investigate the disturbing developments taking place in Crimea. But those international observers who have visited Crimea, including Astrid Thors, the OSCE Commissioner on National Minorities, have found no evidence of any violations or threats to the rights of Russian speakers. They have, however, reported that, as a consequence of Russian actions, tensions between ethnic communities have increased.
Mr President,
We are deeply concerned by the decision by the so-called Crimean government – installed by an armed Putsch accompanied by Russian military intervention – to hold a referendum on 16 March to ascertain whether Crimea should become part of the Russian Federation. We are equally concerned by the legislative steps Russia is taking to facilitate this referendum.
It is absolutely clear that the proposed referendum would violate the Ukrainian Constitution. Article 73 sets out that any alteration to the territory of Ukraine must be resolved by an All-Ukrainian referendum. This is manifestly not an all-Ukrainian referendum.
Moreover, a free and fair referendum cannot possibly be held while Russian troops and Russian-backed militias dominate Crimea, where there is no electoral register, where there are restrictions on press freedom, and where voters are casting their ballots under the barrel of a gun.
Under such conditions, it is clear that any referendum vote in Crimea this weekend would be farcical. Worse, it would reopen ethnic divisions and risk a serious escalation in tensions. Such a referendum will not be recognised by the international community.
Mr President,
A window of opportunity remains to find a peaceful resolution to this crisis. The window is narrow, but it exists. But finding this solution requires Russia to take a number of important steps. It must de-escalate. Its forces must return to their bases in Crimea and to the force levels stipulated in the Black Sea Fleet basing agreements. International monitors must be allowed into Crimea. Their presence will ensure that the rights of people belonging to minorities are fully respected by all parties. Russia should distance itself from the proposed referendum, clearly indicate that it will not seek to use the result as a pretext for annexation, and publicly reaffirm its commitment to the unity, sovereignty and territorial integrity of Ukraine. And Russia must agree to proposals for a dialogue with the Ukrainian Government either directly or through meaningful international diplomatic process.
Mr President,
The Council is meeting today in the gravest possible circumstances.
A referendum is set to take place on Sunday which is illegal under Ukrainian law and the consequences of which will clearly be inflammatory and destabilising – with serious implications for the UN charter and international norms.
There is no need for this. What we have just heard from Prime Minister Yatsenyuk confirms what many of us have been repeatedly emphasising in this Council: that there is a clear willingness on the part of the Ukrainian Government to address Russia's stated concerns through peaceful dialogue, discussion and negotiation.
When there is a readiness for dialogue it makes no sense – indeed it would be dangerous and irresponsible – for Russia to take unilateral actions or to collude with unilateral actions of the Crimean authorities.
The United Kingdom urges Russia to refrain from such unilateral actions and to distance itself from the referendum set to take place on Sunday.
And the United Kingdom urges this Security Council to make clear that Ukraine's sovereignty, unity and territorial integrity must be respected and that any attempt to modify Ukraine's borders through unlawful means will not be tolerated.
Kind regards,
Press Office l UK Mission to the UN
###