The following article says basically that with more consciousness about healthy eating, there was a switch with more emphasis on subsidies to organic food, fruit and vegetables. This is nice we say – but far from what is needed.
The article also says that a new use for excess land of the farming industry is for growth of industrial hemp. You can bet that this is intended for the large industrial farms as well.
Any Farm Bill is rather a farm industry Bill – it addresses the large producers and makes it difficult for the true small farm-family to  make ends meet – as they are not included in the subsidies. Also, the commodity farmers produce mainly for export and for animal feed – not for direct human consumption in the US. Also, they are located far from where US consumers are located, and undercut with lower pricing efforts to produce locally.
Sustainability requires the production of vegetables and fruit for consumption in New York City for instance – that these are produced on city roofs and in New Jersey and Connecticut small farms – family owned – perhaps part-time work. Rather then subsidizing the production of lettuce in California so it is shipped to New York, why not give a premium to New York growers for saving the transportation fuel when replacing the distant producer?
What I am saying here is that the whole thinking of backing an industry – rather then striving to answer a sustainability needs – damns any farm support legislation that comes out from US Congress – and for fairness sake – in foreign States as well.
==================================================
WASHINGTON — The farm bill signed by President Obama last month was at first glance the usual boon for soybean growers, catfish farmers and their ilk. But closer examination reveals that the nation's agriculture policy is increasingly more whole grain than white bread.
Within the bill is a significant shift in the types of farmers who are now benefiting from taxpayer dollars, reflecting a decade of changing eating habits and cultural dispositions among American consumers. Organic farmers, fruit growers and hemp producers all did well in the new bill. An emphasis on locally grown, healthful foods appeals to a broad base of their constituents, members of both major parties said.
"There is nothing hotter than farm to table," said Representative Bill Huizenga, a Michigan Republican from a district of vast cherry orchards.
While traditional commodities subsidies were cut by more than 30 percent to $23 billion over 10 years, funding for fruits and vegetables and organic programs increased by more than 50 percent over the same period, to about $3 billion.
Fruit and vegetable farmers, who have been largely shut out of the crop insurance programs that grain and other farmers have enjoyed for decades, now have far greater access. Other programs for those crops were increased by 55 percent from the 2008 bill, which expired last year, and block grants for their marketing programs grew exponentially.
In addition, money to help growers make the transition from conventional to organic farming rose to $57.5 million from $22 million. Money for oversight of the nation's organic food program nearly doubled to $75 million over five years.
Programs that help food stamp recipients pay for fruits and vegetables — to get healthy food into neighborhoods that have few grocery stores and to get schools to grow their own food — all received large bumps in the bill.
The new attention and government money devoted to healthy foods stem from the growing market power of those segments of the food business, as well as profound shifts in nutrition policy and eating habits across the country.
"This is my fourth farm bill, and it's the most unique I have ever been involved in," said Senator Debbie Stabenow, the Michigan Democrat who negotiated, prodded, cajoled and finally shepherded the bill through Congress over two and a half years. "Past farm bills pit regions against regions. I said that we were going to support all of agriculture."
The bill also eased a 75-year-old restriction on growing and researching industrial hemp, paving the way for several states to begin pilot growing programs for this variety of the cannabis plant, which can be refined into oil, wax, rope, cloth, pulp and other products.
At the same time, hunting programs were protected in the farm bill, which attracted the rare approbation of the National Rifle Association. The bill also ties conservation requirements to crop insurance benefits, which many environmental groups praised. "I think this is the new coalition," Ms. Stabenow said.
While still in the shadows of traditional farming, organics are the fastest-growing sector of the food business. Support for that movement has traditionally come from Democrats in Congress, but the organic farming provisions in the bill had broad support from both parties.
"We kind of overperformed with younger new members of Congress on both sides of the aisle," said Laura Batcha, the executive director of the Organic Trade Association.
Ms. Batcha pointed to a provision sought by her organization to exempt organic producers from having to pay assessments for certain marketing programs, which received broad backing from both Republicans and Democrats. The support surprised her, she said, but showed the popularity of organic product.
"I think we should let consumers make their own decisions about what kinds of foods they purchase," said Representative Reid Ribble, Republican of Wisconsin, who is a member of the House Agriculture Committee. "And if there's a market for organic products, we should support it."
Over all, healthy food has become more politically popular because of efforts to combat childhood obesity and diabetes and a growing national interest in the farm-to-table movement promoted by the first lady, Michelle Obama, and other national figures.
"The average member of Congress, whether they are urban or suburban, knows that is what their constituents want," said Ferd Hoefner, the policy director of the National Sustainable Agriculture Coalition. "Even the most ag-centric member of the Agriculture Committee knows that is what helps sell the bill when it gets to the floor."
For farmers of fruits and vegetables, oddly referred to in ag-speak as specialty crops, the ability to participate in crop insurance programs, which were expanded as direct payments to farmers were ended, is a major victory.
John King, a co-owner of King Orchards, which specializes in Montmorency cherries in Central Lake, Mich., was previously able to get insurance only for his apples. His cherries, peaches, nectarines, apricots and raspberries went uncovered.
In 2012, the combination of a bitterly cold winter and a March heat wave resulted in Mr. King's greatest losses in the farm's 34-year history, wiping out all of his stone fruit and a third of his apple crop. "Crop insurance did not even cover half my labor bill for the year," said Mr. King, who has already signed up for the maximum insurance for 2014.
"Over the years the big-program crops have been able to get what they want while for specialty crops it has been, 'Tough luck as you freeze,' " Mr. King said. "Well, we grow the stuff people eat and want to eat, and we do need some financial cover from this increasingly precarious weather situation."
On the farm bill, Ms. Stabenow was able to come to an agreement with her Republican counterparts in the Senate as well as the House, where the most conservative members sought large cuts to the food and nutrition program that makes up about 80 percent of the bill.
Ms. Stabenow had to fend off the most conservative House members, who at one point wanted drug testing for food stamp recipients. (Ms. Stabenow told them that she would agree only if every recipient of farm bill dollars was also tested.) But she also had to deal with some liberals who pushed back against any cuts to the food stamp program, including a provision that had allowed some states to inflate residents' food assistance by counting the costs of utility bills that residents did not actually have.
"I appreciate passionate advocates," Ms. Stabenow said. "But I believe it helps to be the first one to call out situations where there is not accountability."
Ms. Stabenow was so persistent, her colleagues, supporters and Senate aides said, that some senators began to fear her approach as she moved purposefully between the Republican and Democratic cloakrooms just off the Senate floor. The clerks there would bet over drinks whether she could get her bill passed.
In general, the bill reflects the diverse agricultural landscape of Ms. Stabenow's home state, which plays a leading role in movements like community gardens in schools and offers a program that gives food stamp recipients double credit for food and vegetable purchases — a model for the federal farm bill.
"I give her a lot of credit," Mr. Hoefner said. "She made it clear from the get-go that these items needed to be in the bill."
###
MILAN — The Oprichniks were the murderous henchmen of Ivan the Terrible, torturing and killing the czar's enemies.
It says a lot about the Russian director Dmitri Tcherniakov's world view that he has chosen to reimagine these thugs as contemporary television executives in his exhilarating production of Rimsky-Korsakov's "The Tsar's Bride" at the Teatro alla Scala here. This lurid tale of jealousy, insanity and the search for a royal wife has become, in Mr. Tcherniakov's alchemical hands, a vivid, unsettling reflection on the media and the fast-disintegrating line between what seems real and what is.
It isn't the first time that this director has brought a new angle to an older work. His charged, often claustrophobic interpretations of operas like Mozart's "Don Giovanni" and Verdi's "Il Trovatore" over the past few years have revealed fresh narratives and unexpected emphases in well-trodden classics. Just last month at the Metropolitan Opera, his new production of Borodin's "Prince Igor" added some sections, cut others and rearranged what was left to create a dreamy portrait of a ruler and society thrown out of joint by the hunger for war.
But "Prince Igor" is a torso. Borodin never finished it and, as far as an overarching structure, barely even started it, a fact that even the Met's strong production couldn't conceal. While Mr. Tcherniakov's version of "Igor" showed craft and care, it was bracing on Wednesday, at the second performance of "The Tsar's Bride," to see what he is capable of when he actually has a full opera to work with.
Like many Russian masterpieces, this Rimsky-Korsakov piece, which premiered in 1899, is still a relative rarity in the West, and it hasn't always gotten the respect it deserves. It can seem, at first glance, a rather superficially sumptuous melodrama. But this performance made a strong case for its glimmers of forward-thinking angularity as well as its late-Verdian propulsion: it is an assemblage of set pieces — arias, ensembles, choruses — that presses forward with vigor.
The plot takes its cue from an encyclopedia footnote about which little is known: Ivan the Terrible's brief third marriage to a commoner who was selected from 12 finalists for his hand and who died mysteriously a few days after their wedding. In the opera, this young woman, Marfa, is the pawn in a tangled love story that leaves her insane, succumbing to poison, and several other people dead.
The odd thing about Rimsky-Korsakov's telling is that while there's certainly a bride in it, there's no czar. The one time in the original libretto that the fearsome Ivan seems to enter the picture, we're not even sure it's him: Marfa and her friend think they recognize his dreadful eyes in an anonymous man on horseback.
First at the Berlin Staatsoper in October and now in Milan, and both times with Daniel Barenboim conducting, Mr. Tcherniakov has taken this empty space at the opera's core and run with it. The curtain rises on a TV studio where what seems to be a storybook pageant about old Russia is being filmed.
Before the overture is over, video projections bring us into an online chat among the Oprichnik-executives, who propose the need to invent a fake czar. A computer-generated leader is swiftly created for the public to revere and fear, and a "Bachelor"-style competition is started to help choose his bride.
At its heart this is yet another iteration of the theater-within-the-theater conceit that has tripped up even gifted directors. (See Stefan Herheim's London production of Verdi's "Les Vêpres Siciliennes" last fall.) But Mr. Tcherniakov makes it work with the fresh energy of his concept and the vital performances he draws from his cast.
All the world's a screen in this "Tsar's Bride," a society distinguished most by the ceaseless generation and consumption of "content." So Lyubasha, driven to desperation by jealousy, performs part of her first-act monologue in front of the cameras in an empty studio.
At the end, the innocent Marfa's mad scene is filmed — ready to join happier, earlier clips flickering on the studio monitors. Becoming a media spectacle may be the most fitting way for her to go, in a live-by-the-sword, die-by-the-sword way: Throughout the previous acts, the Oprichniks' product — a manufactured reality, half-news, half-entertainment — has been gobbled up from the television at Marfa's family's home. (We glimpse a few seconds of battle footage, too, lest anyone forget what all the fuss about a royal wedding is distracting from.)
Mr. Tcherniakov's tweaks yield some of the production's most effective moments. In the original libretto, the vindictive Lyubasha secretly spies on Marfa, her romantic rival. But here the encounter was face to face, making Lyubasha's furious vows both more terrifying and more pitiable.
This director designed his own set, as is his usual practice, and it is a rotating wonder that makes possible, for instance, an elegant transition into the first-act trio. The world of the opera is rendered as a hermetic, arid interior. Nature is just another image, whether in the form of video of sun-dappled leaves or in the flowered wallpaper of Marfa's living room.
The intense performances, not least that of the theater's vibrant chorus, popped against this stark setting. The dusky-voiced mezzo Marina Prudenskaya's Lyubasha was a small miracle of barely contained despair. The tenor Pavel Cernoch was a bright-voiced wimp as Marfa's childhood sweetheart, Lykov, and the bass Anatoli Kotscherga a bearish presence as her father, Sobakin.
His baritone husky and lithe, Johannes Martin Kränzle was a bitter cynic at the heart of a cruel game as Gryaznoy, the Oprichnik mastermind of the czar's bride scheme. The mezzo Anna Lapkovskaja was warm-hearted and warm-toned as Marfa's friend, Dunyasha. The veteran soprano Anna Tomowa-Sintow was touchingly deluded as her mother, Saburova.
Her voice and manner agile and girlish in the early acts, the soprano Olga Peretyatko was transformed into a bitter Norma Desmond lookalike for a riveting mad scene, her eyes glittering under the studio spotlights. (She gets another descent into insanity next month as Elvira in Bellini's "I Puritani" for her Metropolitan Opera debut.)
Mr. Barenboim brought out the music's broad sweep and agitated details in moments like the febrile trembling as Gryaznoy toasts the bride-to-be in Act 3. He led the brass blasts at the start of the fourth act, each of which recedes into quiet unease, with a tautness and weight that revealed their debt to the opening of Wagner's "Götterdämmerung."
I wondered how the plusher Metropolitan Opera Orchestra would sound in this score, which has never been performed at the Met. I hope to have the chance to find out before too long, perhaps in Mr. Tcherniakov's daringly theatrical production, a natural fit if ever there was one for media-driven New York.
The Tsar's Bride. Directed by Dmitri Tcherniakov. Teatro alla Scala, Milan.Through March 14. teatroallascala.org.
###
Seeking An Exit From the Ukrainian Cul-de-Sac.
Posted:
German chancellor Angela Merkel came away from a phone conversation with Russian president Vladmir Putin this week convinced that he is living "in another world," she told Barack Obama — an Orwellian alternative universe, perhaps, in which freedom is slavery and lies are propagated by a Ministry of Truth. The political crisis that is consuming Ukraine has re-ignited the embers of cold war hostility and paranoia.
Yet as the West and Russia square off, Merkel has been reluctant to sanction and isolate Russia for destabilizing Ukraine. This only reinforces Washington hardliners' disdain for Europe's supposed ineffectuality: it was the European Union's trade initiative that Putin torpedoed, triggering the Ukrainian upheaval — and now the E.U. expects the Americans to deal with Russia's hardball reaction?
Europhile Henry Kissinger caustically blames E.U. "bureaucratic dilatoriness" for "turning a negotiation into a crisis." The last disciple of Metternichian realpolitik, Kissinger at least recognizes the perils of reacting intemperately and urges a compromise with Moscow involving "Finlandization" of Ukraine. But his fellow Republicans have seized on Ukraine to launch a full-throated assault on Obama as a "weak indecisive leader" whose "feckless foreign policy" invited Russian aggression and who lacks the backbone to force Putin into ignominious retreat.
If cold-war reflexes still come quickly to life in conservative quarters in Washington, they are far more deeply ingrained in Russia. Putin famously told the Duma that the dissolution of the Soviet Union was "the greatest geopolitical disaster of the last century." NATO's expansion eastward and its war with Serbia over Kosovo propelled his ascension to power in 1999, and what he sees through the Moscow looking-glass is an implacable Western drive to hem in Russia and impose Western economic and political models worldwide.
Russian rhetoric about Ukraine bitterly parodies the language of current Western internationalism. Russian military forces are undertaking a "humanitarian intervention," just as the Western countries did in Libya and have proposed for Syria (though in Ukraine no one has been killed or remotely threatened by the current Kiev authorities).
The Crimean autonomous region has the right to secede from Ukraine, just as the Western countries asserted for Kosovo (juridically an uncomfortably snug parallel, though missing the small detail of internationally certified lethal repression by Belgrade).
Ejection of sitting government officials from their posts by militant protesters in Russified districts of Ukraine is an expression of the popular will, a just riposte to the "Euro-Maidan" protesters who finally forced the flight of president Viktor Yanukovych.
Sergey Aksyonov, whose fervently Russian party won four percent of Crimeans' votes in regional elections, could then be legitimately installed as the region's leader, while it was illegitimate for the national parliament, including Yanukovych's own party members, to appoint Oleksandr Turchynov, whose Fatherland party had garnered 26 percent of Ukrainians' votes for the Rada in 2012, to fill the purportedly vacant presidency.
All this pretended symmetry is simply pretextual. The bottom line is that Putin deemed even a modest European link for Ukraine as a serious threat to Russia, perhaps a first step toward NATO. He gambled that he could prevent it.
The gamble backfired badly, mobilizing legions of protesters and knocking Yanukovych, who had walked a fine line between Ukrainians' European aspirations and Russian sympathies, off balance and finally out of power. While Obama does not see "some cold war chessboard," Moscow concluded it had just lost its queen, and riskily upped the ante.
The confrontation, however, actually poses more danger to Putin's economically brittle regime than to the West. And for a leader who craves international respect–basking in hosting the G-20 summit last September, sulking in the absence of his peers at the Sochi Olympics–Russia's deepening isolation is a blow.
Last year the Pew Research Center found barely a third of citizens across 38 countries had a favorable view of Russia, compared to the half that saw China favorably and the nearly two-thirds favorable to the United States. Without bonds of amity, every relationship becomes transactional. Now, Putin's tough talk and rough action are only exacerbating the international distaste. Even China, often an ally in the United Nations Security Council, is warning Moscow "not to interfere in others' internal affairs."
The militiamen in Crimea who blocked U.N. envoy Robert Serry's way sent a particularly disquieting signal. The United Nations provides one of the few international mechanisms of ingrained impartiality that can walk everyone back from confrontation.
Presumably a deal can be made. Putin had evinced no interest in Russian control of Crimea so long as the government in Kiev was neutral between East and West, and permanently detaching it from Ukraine tilts the country's electoral balance decisively toward the Russoskeptics. An international accord that guarantees a democratic Ukraine's territorial integrity and bars it from any military alliance, on the Finnish and Austrian model, will likely be at the heart of a resolution. And if Putin decides to proceed with Crimea's incorporation into Russia, he is signing off on NATO membership for Kiev, and other countries can permanently reject visa applications from Crimea or economic transactions with it.
The United States has proved itself essential to mobilizing the political pressures most persuasive to Putin, and Secretary of State John Kerry is managing the diplomacy with admirable firmness and nuance. But this is really a European affair. It is Europe that has the economic leverage that matters to Russia, and Europe whose prosperity Ukrainians want to share. Let Europe lead.
###
A DISCLOSURE:
THIS IS AN ABSOLUTE MUST READ – IT HELPS ME UNDERSTAND MY OWN FEELINGS AS WELL – SPECIALLY AS I LOST A GRANDMOTHER AND AN AUNT TO THE BUTCHER KNIVES (LITERALLY) OF THE UKRAINIAN BANDERA  NATIONALISTS IN MILLIE – (THE BUKOWINA OF OLD AND NOW IN THE CHERNIVTSI OBLAST OF THE UKRAINE TAKEN BY THE SOVIETS FROM ROMANIA) – THAT WERE INCITED BY A PRIEST THAT CAME FROM KUTTY (UKRAINIANS LIVING THEN UNDER POLAND BEFORE BEING ANNEXED BY THE SOVIETS), ACROSS THE CHEREMUSH RIVER in 1941. THOSE UKRAINIANS THAT SURVIVED THE WAR ENDED UP IN BRITISH COLUMBIA AS RESPECTED WAR REFUGEES LIKE THE SURVIVORS OF MY MOTHER'S FAMILY ENDED UP IN TORONTO. THE CANADIAN UKRAINIANS MARCHED WITH THE RED&BLACK FLAG THEN NEXT TO CANADA FLAG IN LVIV WHEN I WITNESSED THERE THE UKRAINIAN INDEPENDENCE – AND THEY WONDERED WHY I DO NOT MARCH WITH THEM ALSO. I SAW NOW THOSE SAME  RED/BLACK FLAGS ON THE MAIDAN VIA TV.
INTERESTING HOW AVNERY REMINDS US THAT I MIGHT BE A DESCENDENT OF THE UKRAINIAN KHAZARS – PERSONALLY I KNOW THAT FATHER AND ME LOOK LIKE THAT – BUT HE ALSO TELLS US THAT BINATIONALISM DOES NOT WORK, AND THAT NETANYAHU IS BUILDING THE DESTRUCTION OF ISRAEL AS A JEWISH STATE – AND THAT HURTS VERY MUCH. YES – ABSOLUTELY A MUST STUDY ARTICLE.

————————
Uri Avnery
March 8, 2014
                                                God Bless Putin
BINYAMIN NETANYAHU is very good at making speeches, especially to Jews, neocons and such, who jump up and applaud wildly at everything he says, including that tomorrow the sun will rise in the west.
The question is: is he good at anything else?
HIS FATHER, an ultra-ultra-Rightist, once said about him that he is quite unfit to be prime minister, but that he could be a good foreign minister. What he meant was that Binyamin does not have the depth of understanding needed to guide the nation, but that he is good at selling any policy decided upon by a real leader. 
(Reminding us of the characterization of Abba Eban by David Ben-Gurion: "He is very good at explaining, but you must tell him what to explain.")
This week Netanyahu was summoned to Washington. He was supposed to approve John Kerry's new "framework" agreement, which would serve as a basis for restarting the peace negotiations, which so far have come to naught.
On the eve of the event, President Barack Obama gave an interview to a Jewish journalist, blaming Netanyahu for the stalling of the "peace process" – as if there had ever been a peace process.
Netanyahu arrived with an empty bag – meaning a bag full of empty slogans. The Israeli leadership had striven mightily for peace, but could not progress at all because of the Palestinians. It is Mahmoud Abbas who is to blame, because he refuses to recognize Israel as the Nation-State of the Jewish People.
What…hmm…about the settlements, which have been expanding during the last year at a hectic pace? Why should the Palestinians negotiate endlessly, while at the same time the Israeli government takes more and more of the land which is the substance of the negotiations? (As the classic Palestinian argument goes: "We negotiate about dividing a pizza, and in the meantime Israel is eating the pizza.")
Obama steeled himself to confront Netanyahu, AIPAC and their congressional stooges. He was about to twist the arms of Netanyahu until he cried "uncle" – the uncle being Kerry's "framework", which by now has been watered down to look almost like a Zionist manifesto. Kerry is frantic for an achievement, whatever its contents and discontents.
Netanyahu, looking for an instrument to rebuff the onslaught, was ready to cry as usual "Iran! Iran! Iran!" – when something unforeseen happened.
NAPOLEON FAMOUSLY exclaimed: "Give me generals who are lucky!"  He would have loved General Bibi.
Because, on the way to confront a newly invigorated Obama, there was an explosion that shook the world:
Ukraine.
It was like the shots that rang out in Sarajevo a hundred years ago.
The international tranquility was suddenly shattered. The possibility of a major war was in the air.
Netanyahu's visit disappeared from the news. Obama, occupied with a historic crisis, just wanted to get rid of him as quickly as possible. Instead of the severe admonition of the Israeli leader, he got away with some hollow compliments. All the wonderful speeches Netanyahu had prepared were left unspeeched. Even his usual triumphant speech at AIPAC evoked no interest.
All because of the upheaval in Kiev.
BY NOW, innumerable articles have been written about the crisis. Historical associations abound.
Though Ukraine means "borderland", it was often at the center of European events. One must pity Ukrainian schoolchildren. The changes in the history of their country were constant and extreme. At different times Ukraine was a European power and a poor downtrodden territory, extremely rich ("the breadbasket of Europe") or abjectly poor, attacked by neighbors who captured their people to sell them as slaves or attacking their neighbors to enlarge their country.
The Ukraine's relationship with Russia is even more complex. In a way, the Ukraine is the heartland of Russian culture, religion and orthography. Kiev was far more important than Moscow, before becoming the centerpiece of Muscovite imperialism.
In the Crimean War of the 1850s, Russia fought valiantly against a coalition of Great Britain, France, the Ottoman Empire and Sardinia, and eventually lost. The war broke out over Christian rights in Jerusalem, and included a long siege of Sevastopol. The world remembers the charge of the Light Brigade. A British woman called Florence Nightingale established the first organization to tend the wounded on the battlefield.  
In my lifetime, Stalin murdered millions of Ukrainians by deliberate starvation. As a result, most Ukrainians welcomed the German Wehrmacht in 1941 as liberators. It could have been the beginning of a beautiful friendship, but unfortunately Hitler was determined to eradicate the Ukrainian "Untermenschen", in order to integrate the Ukraine into the German Lebensraum.
The Crimea suffered terribly. The Tatar people, who had ruled the peninsula in the past, were deported to Central Asia, then allowed to return decades later. Now they are a small minority, seemingly unsure of where their loyalties lie.
THE RELATIONSHIP between Ukraine and the Jews is no less complicated.
Some Jewish writers, like Arthur Koestler and Shlomo Sand, believe that the Khazar empire that ruled the Crimea and neighboring territory a thousand years ago, converted to Judaism, and that most Ashkenazi Jews are descended from them. This would turn us all into Ukrainians. (Many early Zionist leaders indeed came from Ukraine.)
When Ukraine was a part of the extensive Polish empire, many Polish noblemen took hold of large estates there. They employed Jews as their managers. Thus the Ukrainian peasants came to look upon the Jews as the agents of their oppressors, and anti-Semitism became part of the national culture of Ukraine.
As we learned in school, at every turn of Ukrainian history, the Jews were slaughtered. The names of most Ukrainian folk-heroes, leaders and rebels who are revered in their homeland are, in Jewish consciousness, connected with awful pogroms.
Cossack Hetman (leader) Bohdan Khmelnytsky, who liberated Ukraine from the Polish yoke, and who is considered by Ukrainians as the father of their nation, was one of the worst mass-murderers in Jewish history. Symon Petliura, who led the Ukrainian war against the Bolsheviks after World War I, was assassinated by a Jewish avenger.
Some elderly Jewish immigrants in Israel must find it hard to decide whom to hate more, the Ukrainians or the Russians (or the Poles, for that matter.)
PEOPLE AROUND the world find it also hard to choose sides.
The usual Cold-War zealots have it easy – they either hate the Americans or the Russians, out of habit.
As for me, the more I try to study the situation, the more unsure I become. This is not a black-or-white situation.
The first sympathy goes to the Maidan rebels. (Maidan is an Arab word meaning town square. Curious how it travelled to Kiev. Probably via Istanbul.)
They want to join the West, enjoy independence and democracy. What's wrong with that?
Nothing, except that they have dubious bedfellows. Neo-Nazis in their copycat Nazi uniforms, giving the Hitler salute and mouthing anti-Semitic slogans, are not very attractive. The encouragement they receive from Western allies, including the odious neocons, is off-putting.
On the other side, Vladimir Putin is also not very prepossessing. It's the old Russian imperialism all over again.
The slogan used by the Russians – the need to protect Russian-speaking people in a neighboring country – sounds eerily familiar. It is an exact copy of Adolf Hitler's claim in 1938 to protect the Sudeten Germans from the Czech monsters.  
But Putin has some logic on his side. Sevastopol – the scene of heroic sieges both in the Crimean War and in World War II, is essential for his naval forces. The association with Ukraine is an important part of Russian world power aspirations.
A cold-blooded, calculating operator, of a kind now rare in the world, Putin uses the strong cards he has, but is very careful not to take too many risks. He is managing the crisis astutely, using Russia's obvious advantages. Europe needs his oil and gas, he needs Europe's capital and trade. Russia has a leading role in Syria and Iran. The US suddenly looks like a bystander.
I assume that in the end there will be a compromise. Russia will retain a footing in the coming Ukrainian leadership. Both sides will proclaim victory, as they should.
(By the way, for those here who believe in the "One-State Solution": Another multicultural state seems to be breaking apart.)
WHERE WILL this leave Netanyahu?
He has gained some months or years without any movement toward peace, and in the meantime can continue with the occupation and build settlements at a frantic pace.
That is the traditional Zionist strategy. Time is everything. Every postponement provides opportunities to create more facts on the ground.
Netanyahu's prayers have been answered. God bless Putin.
###
David Weisberg
Chief Executive Officer, Hazon
Isabella Freedman Jewish Retreat Center, 116 Johnson Road, Falls Village, CT 06031
###
U.S. Provokes Russia, Acts Surprised to Get Nasty Reaction.
If too many people get sucked in by the current, distorted media coverage of events unfolding now in Ukraine, then there's a good chance life will get very ugly for a lot of innocent people, since one of the logical end points is the use of nuclear weapons. Everyone in power knows that's a potential reality, but the urge to demagogue the Russians is presently overwhelming honesty and caution. 
Ukraine is NOT a real place. Ukraine has never been a real place, not in the sense that Madascar or Cuba are both undeniably real places with real edges.  Ukraine has no real edges, just lines on a map imposed by some treaty or army over the past several thousand years. To speak, as the more pompous do, of Ukraine's "territorial integrity" is to speak of an imaginary construct, useful for blurring people's minds for political purposes.
www.alternet.org/world/us-provokes-russia-acts-surprised-get-nasty-reaction?akid=11573.102217.gz0pAk&rd=1&src=newsletter966991&t=2&paging=off&current_page=1#bookmark
Ukraine in recent years has been what the power brokers of the disintegrating Soviet Union decided to let it be in 1991. Ukraine has no coherent history as a nation. First inhabited some 44,000 years ago, most of the region's history is as occupied territory. 
Russia's history of maintaining a military presence in Crimea is older than United States history. The Russian Black Sea Fleet has been based in Sevastopol in Crimea continuously since 1783. For the Russians, this is a crucial warm water port, currently leased from Ukraine till 2042. 
To understand what this means to the Russians, it probably matters more to them than the United States would care if the Cubans decided to threaten the Naval Base at Guantanamo, and we know that wouldn't have a happy ending. 
Is anyone involved in Ukraine NOT to blame for something? 
In spite of its history as a subjugated non-state, Ukraine has managed something like a functioning democratic government from time to time in recent years. Now is not one of those times. The elected president, Viktor Yanukovych, was by all accounts corrupt, but he was elected. Although the process was somewhat messy, he was duly elected in 2010 with almost 49% of the vote, concentrated in Russian-populated eastern Ukraine and Crimea. 
Now Yanukovych has been deposed, perhaps justly, but by an unjust process spearheaded by a street mob and a disenthralled parliament. The parliament has appointed an acting president and Yanukovych is in asylum in Russia. It's not clear that Ukraine now has a legitimate government of any sort. 
The Ukrainian presidential crisis, which is ongoing, is surely the result of longstanding, internal Ukrainian faultlines, ethnic, political, and economic. And the crisis is even more surely the result of deliberate, years-long interference in the internal affairs of Ukraine by the United States, the European Union, NATO, and other western forces, as Robert Parry has described. Ukraine appears to be the latest victim of those New American Century conspirators who brought the world such success in Afghanistan, Iraq, Honduras, and Syria (home to another Russian warm water port and only Mediterranean base). 
"KREMLIN DEPLOYS MILITARY TO SEIZE CRIMEA" – N.Y. Times headline
That front page headline in the Times is, perhaps, less inflammatory than others elsewhere, but it was five columns wide and deploying "Kremlin" that way is pure Cold War journalism. As for accuracy, it's close – even if it doesn't acknowledge that Russian troops have long been based in Crimea and "seize" is a hyperbolic rendering of an unopposed deployment which may even have been welcomed by most of the population. 
The subhead – "REBUFF TO OBAMA" – is essentially propaganda, as it tries to make the President personally relevant to a situation that has its own dynamic. It's also propaganda insofar as it tries to make this an American crisis to which we're supposed to respond, rather than one we promoted for reasons that remain obscure.
The Times offers some idea of why Russia might be wary, but that's deep in an inside sidebar, not the front page story. The deadpan tone hides a host of implied threats to Russian stability and safety: 
"Ukraine had accomplished some military reform with NATO advice, but since President Yanukovych said that Ukraine was not interested in full NATO membership, cooperation has lagged, the NATO official said. Ukraine has, however, taken part in some military exercises with NATO, contribute some troops to NATO's response force and helped in a small way in Libya." 
 In other words, the "pro-Russian" Yanukovych was contributing to NATO, albeit in a small way that might even have been part of a balancing act reflecting Ukraine's unfortunate but inescapable geographic location bordering both Russia and NATO members Hungary, Slovakia, and Poland. As far as the NATO allies were concerned, Ukraine's effort to be a buffer state with good relations with all its hostile neighbors was not enough. Both NATO and the European Union were pressuring Ukraine to choose sides, NATO's side. How did they honestly expect Russia to react, sooner or later? 
These provocations have gone on for years in different forms, apparently with President Obama's blessing, since he apparently did nothing, or nothing effective, to mitigate or even cease the relentless instigation of Ukrainians toward violence. In mid-December 2013, former Democratic Congressman Dennis Kucinich warned of the trap Ukrainian demonstrators in Independence Square were headed toward. 
The fascist, neo-Nazi, ethnic cleansing forces in Kiev and western Ukraine do not control the government at this point, but they control the streets and they the most armed and organized of the factions in Ukraine. They provided many of the shock troops in recent confrontations with police at Independence Square. 
Concern about the possible rise to power of right wing forces contributed to the decision by Crimean authorities to reject the legitimacy of the Kiev government and establish de facto control of Crimea as, effectively, a temporary independent and autonomous province of Ukraine. After that, Sergei Aksyonov, prime minister of Crimea, asked the Russians for help safeguarding the region. 
Aksyonov also announced that Crimea would hold a public referendum on independence on March 30, 2014.

The government in Kiev mobilized the military to defend Ukraine and dispatched some troops to Crimea. There the majority of those troops reportedly joined the forces of the Crimean autonomous region. 
"PUTIN GOES TO WAR" – New Yorker online headline, March 1, 2014.
The usually brilliant David Remnick somehow sees this multi-faceted, low level, uncertain and ambiguous situation as a "war." Since no shot had been fired by the time he wrote about what he called a "demonstration war," that made it an especially interesting demonstration. 
"Putin's reaction exceeded our worst expectation," Remnick wrote, suggesting that no one had realistic expectations. For this statement to be true, "we" must have been delusional. Remnick must know that a rational person's expectations when provoking a huge nuclear power would have to be extreme – or detached from reality. 
What did anyone expect Russia to do in the face of perennial probes affecting its vital interests, real or perceived? Writing with a Cold War approach that denigrates or omits anything that makes sense of Russian behavior, Remnick compares the Russian deployment in Crimea to Georgia in 2008, Afghanistan in 1979, Checkoslovakia in 1968.  He omits any mention of Sevastop[ol or NATO. He argues instead that this is all about Putin's psyche. 
Without doubt, Putin's Russia has its horrors, but not everyone is blinded by them, any more than they are blinded by American horrors. Writing in Haaretz on February 25, before Ukraine fully came apart, Amatzia Baram wrote with clear-eyed analysis of the developing situation:
 "If Ukraine degenerates into chaos, Russia's naval base in Sevastopol will be in danger. If that happens, Putin may have an interest in seeing Ukraine split, for he will have no choice but to seize control somehow – perhaps with the services of a loyal Ukrainian politician – of Sevastopol and the surrounding area, or even of Eastern Ukraine, including the Crimean Peninsula where it is situated." 
The United States does not bear the sole responsibility for de-stabilizing Ukraine and risking a nuclear power confrontation, but there is little doubt that if the United States had not been an eager co-conspirator in twenty years of increasingly reckless global expansionism we wouldn't be in this current quandary. 
But here we are, headed into another media wonderland where the actual context of putting missiles near another country's borders is expected to elicit a reaction different from the one the Russians would get if they tried to finagle Mexico into a military alliance or base missiles in Canada. 
Come on, people, keep your wits about you. American exceptionalism isn't always such a good thing. 
 —————
###
QUOTATION OF THE DAY
"It is not appropriate to invade a country and at the end of a barrel of a gun dictate what you are trying to achieve."
JOHN KERRY, secretary of state, on Russia's actions in Crimea, a region in Ukraine.
QUOTATION OF THE DAY
"The only thing we had to do, and we did it, was to enhance the defense of our military facilities because they were constantly receiving threats and we were aware of the armed nationalists moving in."
VLADIMIR V. PUTIN, president of Russia.
No Easy Way Out of Ukraine Crisis.
WASHINGTON — For all his bluster and bravado, President Vladimir V. Putin's assurance on Tuesday that Russia does not plan, at least for now, to seize eastern Ukraine suggested a possible path forward in the geopolitical crisis that has captivated the world. Global markets reacted with relief, and the White House with cautious optimism.
But the development presented a tricky conundrum for President Obama and his European allies. Even if Russia does leave eastern Ukraine alone and avoids escalating its military intervention, can it effectively freeze in place its occupation of the Crimean Peninsula? Would the United States and Europe be forced to tacitly accept that or could they find a way to roll it back — and, if so, at what price?
Ever since Russian forces took control of Crimea, Mr. Obama's aides have privately conceded that reversing the occupation would be difficult, if not impossible, in the short run and focused on drawing a line to prevent Mr. Putin from going further.
If Crimea in coming weeks remains cordoned off, it will then require a concerted effort to force Russia to pull back troops, an effort that could divide the United States from European allies who may be more willing to live with the new status quo.
For the moment, the White House was focused on preventing the confrontation from escalating. While dismayed if not surprised by Mr. Putin's bellicosity and justification of his actions, American officials took some solace that he said he saw no need at this point for intervention in Russian-speaking areas of eastern Ukraine. They were also encouraged by his seeming acceptance of elections in May as a way to legitimize a new Ukrainian government and by his decision to cancel a military exercise near the border. And they detected no new influx of troops into Crimea.
While Secretary of State John Kerry visited Kiev on Tuesday to show support for its beleaguered pro-Western government, Mr. Obama consulted with Chancellor Angela Merkel of Germany by telephone about finding a face-saving way for Mr. Putin to withdraw in favor of international monitors.
Speaking with reporters, Mr. Obama said some had interpreted Mr. Putin's remarks earlier in the day to mean he "is pausing for a moment and reflecting on what's happened."
Others cautioned against reading too much into Mr. Putin's statements. "It would be a mistake on our part to look at what he's saying and think this crisis is almost over: 'O.K., we've lost Crimea, but the rest of the country is with us,' " said Ivo Daalder, Mr. Obama's first ambassador to NATO and now president of the Chicago Council on Global Affairs.
He said Crimea would become a precedent: "Crimea is a big deal. It means a country can be invaded, and a big piece of it can be taken away with no price. But two, this isn't just about Crimea. This is about who is ultimately in control of Ukraine."
The situation remained tense, as Obama administration officials moved forward with plans for sanctions that could be imposed by the United States and, they hoped, in conjunction with European allies. The administration is developing plans for actions that would escalate over time if Russia continued to leave forces in place in Crimea, an autonomous region of Ukraine.
Mr. Obama has authority to take several steps without new legislation from Congress. For starters, under a law called the Magnitsky Act, the State Department has already drafted a list of Russians tied to human rights abuses. The administration could promptly bar them from traveling to the United States, freeze any assets here and cut off their access to American banks.
The president also has the power under existing Syria sanctions to go after Russian individuals and institutions involved in sending arms to help President Bashar al-Assad crush the rebellion there. The administration had held back on such actions while trying to work with Russia to resolve Syria's civil war, but if applied they could cut off certain Russian banks from the international financial system.
Mr. Obama could also sign an executive order creating another set of sanctions specifically against Russian officials and organizations blamed for creating instability in Ukraine and violating its sovereignty. In theory, that could include everyone up to Mr. Putin, but officials indicated that they would instead work their way up the chain of command.
Leaders in Europe, a region dependent on Russian natural gas and with far deeper economic ties to Russia, have expressed reluctance to go along with the toughest sanctions.
But an American order declaring a Russian bank in violation would be sent to banks around the world, forcing them to cut ties with that Russian institution or risk being barred from doing business with the American financial sector.
"My view is that Russia can be forced out of Crimea with the combination of financial sanctions plus straightforward hard diplomacy," said Anders Aslund, a longtime specialist on Russia and Ukraine at the Peterson Institute for International Economics in Washington.
Still, others are more dubious, noting that Mr. Obama may not be willing to go as far as necessary without the support of allies, particularly given that it would presumably jeopardize Russian cooperation on a range of issues, including Syria, Iran, Afghanistan and Middle East peace.
The precedent may be Abkhazia and South Ossetia, pro-Moscow regions that broke away from the former Soviet republic of Georgia. After Russia's war with Georgia in 2008, the Kremlin defied the United States and the rest of the world by recognizing their independence and left troops in place to guarantee it. The United States and Europe ultimately resumed doing business as usual with Russia.
Mr. Obama's aides said that Ukraine was different and that they had a hard time imagining going back to a normal relationship as long as Russian troops occupied Crimea. Their first priority is preventing Russia from annexing the peninsula outright, but even leaving it as an enclave under Moscow's control would not be acceptable, they said.
White House officials said they saw three possibilities. The first would be a Russian escalation into eastern Ukraine, one they hope Mr. Putin was signaling he would not pursue. The second would be Russia deciding to stay put in Crimea, either through annexation or through de facto rule. The third would be Russia taking what American officials call an offramp, agreeing to let international monitors replace Russian troops in the streets to guard against any attacks on Russian speakers and accepting the Ukrainian government that emerges from the May elections.
Mr. Obama said Tuesday that he recognized that Russia had natural interests in its neighbor. But he said he would not accept what he called a violation of international law.
"I know President Putin seems to have a different set of lawyers making a different set of interpretations," he said, "but I don't think that's fooling anybody."
Mr. Obama added that Ukrainians should have the right to determine their own fate. "Mr. Putin can throw a lot of words out there, but the facts on the ground indicate that right now he's not abiding by that principle," he said. "There is still the opportunity for Russia to do so, working with the international community to help stabilize the situation."
====================================================================================
A Rational Response to Ukraine's Crisis.
The tensions over Ukraine eased somewhat after President Vladimir Putin of Russia halted military maneuvers on the Ukrainian border and declared at a news conference on Tuesday that there was no immediate need to send troops into eastern Ukraine. The conciliatory talk prompted Russian financial markets to rebound from their plunge on Monday. The markets reward peaceful behavior.
But the crisis is not over: Russia remains in control of Crimea, and Mr. Putin prepared the way for possible annexation of the peninsula to Russia when he said it was up to Crimean citizens, a majority of whom are Russian-speaking, to determine their future. The question remains what the United States and the European Union should or can do.
The Ukrainian crisis has provoked a broad range of reactions in the West, including angry demands for immediate sanctions against Russia and charges in the United States that President Obama is somehow "losing" in the confrontation to Mr. Putin and thus endangering Washington's credibility and global leadership. Yet leadership and credibility in a crisis mean reacting coolly and rationally, not rattling sabers, or rushing into economic warfare that allies may or may not support, or painting "red lines" that the other side can cross with impunity.
A bully welcomes a slugfest, and Mr. Putin revels in claiming American conspiracies; at his news conference on Tuesday, he even described the battering to Russia's markets on Monday as a result of American policies. But that battering and the decline of the value of the ruble were no doubt major factors behind Mr. Putin's conciliatory tone on Tuesday.
The Russian economy is not in great shape, and Russian businessmen understand full well that the $60 billion wiped off the value of their firms on Monday was because of a needless crisis.
Mr. Putin and his countrymen must be reminded, again and again, that seizing Crimea under a blatantly concocted pretext, or taking other measures against the new authorities in Ukraine, will carry a price.
Short of war, there is little the United States can do on its own to punish Russia. It is not among Russia's major trading partners. Europe, which does far more business with Russia, has more leverage, but also a dependence on Russian gas, and, so far, European leaders have shown little enthusiasm for economic sanctions.
The measures that have been suggested — exclusion from the Group of 8, selective sanctions and travel bans — would not alone cause much pain. But the consequences of isolation take a toll over time. With every new demonstration of Mr. Putin's authoritarian and expansionary tendencies, whether it was the invasion of Georgia in 2008 or the imprisonment of the Pussy Riot members in 2012, the West has become more wary of doing business with Russia. In a conversation with Mr. Obama, Chancellor Angela Merkel of Germany said she was unsure whether Mr. Putin was in touch with reality. That, from the leader of Europe's most powerful economy and one of Russia's biggest trading partners, cannot be heartening for Mr. Putin, and certainly not for Russian businessmen.
These are exactly the buttons Mr. Obama and Secretary of State John Kerry are pushing — threatening further isolation if Mr. Putin does not back down, and cooperation if he does, while rallying allies and pledging substantial assistance to the new authorities in Ukraine.
Closing the door to any further dealings with Mr. Putin, as hard-core cold-warriors want Mr. Obama to do, would not serve any purpose. Russia has already announced that it is ending discounts on the sale of Russian gas to Ukraine, and it could make life even more difficult for its bankrupt neighbor. But at his news conference, Mr. Putin said he felt a sympathy for the longing of the Kiev crowds to throw out a corrupt regime, and he insisted that Russian and Ukrainian soldiers "will be on the same side of the barricades."
If he meant all that, then he must agree that the optimal conclusion to the crisis would be the election of a balanced Parliament and a universally accepted president in Ukraine, which would also reassure Russians that their ties to Ukraine, including Crimea, won't be severed.
The United States and its European allies must prepare contingency plans for any escalation of Russian aggression or for the unilateral annexation of Crimea. The Europeans will have to overcome their reluctance on sanctions and form a common front with the United States. But, at the same time, they should reassure Mr. Putin that the West appreciates Russia's historic ties to Ukraine and has no interest in turning Kiev against Moscow. So far, Mr. Obama is on the right track.
================================================================================
The Opinion Pages
|

Op-Ed Columnist – The New York Times
Why Putin Doesn't Respect Us
Just as we've turned the coverage of politics into sports, we're doing the same with geopolitics. There is much nonsense being written about how Vladimir Putin showed how he is "tougher" than Barack Obama and how Obama now needs to demonstrate his manhood. This is how great powers get drawn into the politics of small tribes and end up in great wars that end badly for everyone. We vastly exaggerate Putin's strength — so does he — and we vastly underestimate our own strength, and ability to weaken him through nonmilitary means.
Let's start with Putin. Any man who actually believes, as Putin has said, that the breakup of the Soviet Union was "the greatest geopolitical catastrophe" of the 20th century is caught up in a dangerous fantasy that can't end well for him or his people. The Soviet Union died because Communism could not provide rising standards of living, and its collapse actually unleashed boundless human energy all across Eastern Europe and Russia. A wise Putin would have redesigned Russia so its vast human talent could take advantage of all that energy. He would be fighting today to get Russia into the European Union, not to keep Ukraine out. But that is not who Putin is and never will be. He is guilty of the soft bigotry of low expectations toward his people and prefers to turn Russia into a mafia-run petro-state — all the better to steal from.
So Putin is now fighting human nature among his own young people and his neighbors — who both want more E.U. and less Putinism. To put it in market terms, Putin is long oil and short history. He has made himself steadily richer and Russia steadily more reliant on natural resources rather than its human ones. History will not be kind to him — especially if energy prices ever collapse.
So spare me the Putin-body-slammed-Obama prattle. This isn't All-Star Wrestling. The fact that Putin has seized Crimea, a Russian-speaking zone of Ukraine, once part of Russia, where many of the citizens prefer to be part of Russia and where Russia has a major naval base, is not like taking Poland. I support economic and diplomatic sanctions to punish Russia for its violation of international norms and making clear that harsher sanctions, even military aid for Kiev, would ensue should Putin try to bite off more of Ukraine. But we need to remember that that little corner of the world is always going to mean more, much more, to Putin than to us, and we should refrain from making threats on which we're not going to deliver.
What disturbs me about Crimea is the larger trend it fits into, that Putinism used to just be a threat to Russia but is now becoming a threat to global stability. I opposed expanding NATO toward Russia after the Cold War, when Russia was at its most democratic and least threatening. It remains one of the dumbest things we've ever done and, of course, laid the groundwork for Putin's rise.
For a long time, Putin has exploited the humiliation and anti-Western attitudes NATO expansion triggered to gain popularity, but this seems to have become so fundamental to his domestic politics that it has locked him into a zero-sum relationship with the West that makes it hard to see how we collaborate with him in more serious trouble spots, like Syria or Iran. President Bashar al-Assad of Syria is engaged in monstrous, genocidal behavior that also threatens the stability of the Middle East. But Putin stands by him. At least half the people of Ukraine long to be part of Europe, but he treated that understandable desire as a NATO plot and quickly resorted to force.
I don't want to go to war with Putin, but it is time we expose his real weakness and our real strength. That, though, requires a long-term strategy — not just fulminating on "Meet the Press." It requires going after the twin pillars of his regime: oil and gas. Just as the oil glut of the 1980s, partly engineered by the Saudis, brought down global oil prices to a level that helped collapse Soviet Communism, we could do the same today to Putinism by putting the right long-term policies in place. That is by investing in the facilities to liquefy and export our natural gas bounty (provided it is extracted at the highest environmental standards) and making Europe, which gets 30 percent of its gas from Russia, more dependent on us instead. I'd also raise our gasoline tax, put in place a carbon tax and a national renewable energy portfolio standard — all of which would also help lower the global oil price (and make us stronger, with cleaner air, less oil dependence and more innovation).
You want to frighten Putin? Just announce those steps.
But you know the story, the tough guys in Washington who want to take on Putin would rather ask 1 percent of Americans — the military and their families — to make the ultimate sacrifice than have all of us make a small sacrifice in the form of tiny energy price increases. Those tough guys who thump their chests in Congress but run for the hills if you ask them to vote for a 10-cent increase in the gasoline tax that would actually boost our leverage, they'll never rise to this challenge. We'll do anything to expose Putin's weakness; anything that isn't hard. And you wonder why Putin holds us in contempt?
###
03/04/2014 05:57 AM EST
Remarks at the American Israel Public Affairs Committee Conference.
Remarks
John Kerry
Secretary of State
Washington Convention Center

Washington, DC

March 3, 2014
---
Norm, thank you. Thank you very, very much. Thank you all, 14,000 strong or more. (Applause.) Howard, Howard Friedman and Executive Director Howard Kohr, incoming president Bob Cohen, incoming chairman Michael Kassen, outgoing chairman Lee Rosenberg, and Ambassador Ron Dermer and Ambassador Dan Shapiro. I don't know where our ambassadors are. Would they – somebody ought to applaud both of them here. (Applause.) There they are. Thanks for your own, Norman.
Let me tell you, it really is an enormous pleasure for me to be able to be here. It's a privilege. And good to see so many friends, all 14,000 of you – a little frightening to see myself on about eight, nine, ten screens up here – (laughter). The last time I spoke to AIPAC, I joined your national summit in Napa Valley. I did it via satellite. And you were in the vineyards, I was overseas – a different kind of vineyard. So today, I think I'm getting the better end of the deal because I am here with you in person, and your wine selection is a lot more limited this time.
I have to tell you, I had the pleasure of speaking to AIPAC back in the 1990s, it was a great honor, and every time I come here, whether I get a chance to talk to a smaller group during the daytime sessions or otherwise, this is a remarkably inspiring gathering – people from every corner of the country coming together to demonstrate our deep support as Americans for a strong U.S.-Israel relationship. (Applause.)
And it is no exaggeration. It's not just words to say that every single one of you brings here such a special passion to a cause that you so fiercely believe in. And let me tell you something unequivocally: After almost 30 years in the United States Senate, I can tell you that is precisely why AIPAC's work is in the best traditions of American democracy, and I thank you for practicing it. (Applause.)
I want you to know that in my judgment, these democratic values are stamped in the DNA of both the United States and Israel. But we also share something much deeper than that. Like no other two countries on the planet, against the deepest odds, both America and Israel confidently, purposefully set out to be examples to the world. Think about it. From its earliest days, Israel has always said it's not enough just to be one of many in a community of nations; Israel has strived since Isaiah's time to serve as a light unto the nations. (Applause.) And that responsibility to be a light unto the nations sounds actually unbelievably similar to something that we as Americans know is part of who we are, too.
My grandfather ten times over – too hard to count in other terms – was a man by the name of John Winthrop. And he came to what was then the New World, and he came in search of freedom, freedom to worship as he wished. He was a minister. He and his congregants were outcasts, persecuted, heading into a rough and unforgiving land with no guarantee even of survival. And on his way here, he delivered a now fairly famous sermon at sea in which he called on his community to create a city upon a hill in their new home, America.
So whether you call it a city upon a hill or a light unto the nations, it actually means the same thing: being a model to the world. It means having a home that sets a standard, a standard of dignity and a standard of freedom. So the foundation of the friendship between the American people and the people of Israel was actually laid centuries before a single stone was set under the U.S. Capitol or under the Knesset. And looking around this room tonight, it is clear that our friendship has never been stronger. (Applause.)
And I'll tell you why. Because today, as Israel faces serious challenges to her future, it is America that will stand firmly by her side. (Applause.) I will tell you that with the leadership of President Obama – and you can look it up, you can measure it; this is not an exaggeration, it's a matter of fact – there has been a complete, unmatched commitment to Israel's security. The record of this Administration in providing aid and assistance, consultation, weapons, help, standing up in various international fora, fighting, I am proud to tell you, is unrivaled. And the bottom line, pure and simple, has been making sure that Israel has the means to defend itself by itself and defending Israel's right to be able to do so. That is what we've done. (Applause.)
Security. Security is fundamentally what President Obama is committed to. And so too is he committed to using the full force of our diplomacy to resolve the two great questions that most matter when it comes to ensuring the security of Israel: preventing a nuclear Iran and ending the Israeli-Palestinian conflict. (Applause.)
Now let me start with Iran because I know there are many questions. I know many people – there's been a healthy debate about the approach. We welcome that. But let me sum up President Obama's policy in 10 simple, clear words, unequivocal: We will not permit Iran to obtain a nuclear weapon, period. (Applause.) Now, I added an eleventh word just for punctuation. (Laughter.)
But I want you to understand there are no if, ands, or buts. This is not a political policy. This is a real foreign policy. And we mean every word of what we say. You have the word of the President of the United States that Iran will not get a nuclear weapon. Now, as we said at the outset, and I say it again today, our diplomacy is guided by a simple bottom line: No deal is better than a bad deal. (Applause.) And we absolutely will not accept a bad deal. We are committed to a deal that gets the job done. (Applause.)
Why? Because we get it, we understand it. As President Obama said in Jerusalem, no one can question why Israel looks at the Iranian program and sees an existential threat. We understand it. We understand it in our gut. And we also know something else. This is not some favor that we do for Israel. This is something that is also in the interest of the United States of America, and it's in the interest of countries surrounding Israel. (Applause.) A nuclear bomb for Iran would also threaten the stability of the region, indeed the entire world. It would produce an arms race among the surrounding countries. There is no way the world is safer anywhere in the world with a nuclear weapon in Iran, and we are not going to let it happen, period, end of story. (Applause.)
Now, to do that, to achieve this all-important goal, important for America's security and for Israel's security, it is crucial that we seizes what might be the last best chance to be able to have diplomacy work, and maybe the last chance for quite some time. Because the reality is only strong diplomacy can fully and permanently achieve the goal. Those who say strike and hit need to go look at exactly what happens after you've done that, whether that permanently eliminates the program or opens up all kinds of other possibilities, including Iran leaving the Nuclear Proliferation Treaty, not even allowing IAEA inspectors in, not living under any international regimen. That's a possibility. Only strong diplomacy can guarantee that a nuclear weapons program actually goes away for good instead of just going underground and becoming more dangerous. Only the exhaustion of diplomacy can justify more forceful options if you have to take them in the end.
So we say – President Obama and myself and others – we say let's seize the diplomatic moment. And that's what we are trying to do. And the truth is it is strong diplomacy that has actually made this moment possible. And we need to give it the space to work. We need to make sure that if this opportunity were to elude us, it is not because we are the ones that close the window.
Now, I understand the skepticism. I've been around this city for 29-plus years as a senator, became chairman of the foreign relations committee, worked with most of the members of your board and with AIPAC and others around the country, and proud to tell you that during that time I had a 100 percent voting record for Israel. (Applause.)
And I'm not coming here to stand up in front of you and tell you that I know that Iran is going to reach an agreement. I don't know. I don't know what they'll do. I don't know if they are able to make some of the tough decisions they're going to have to make in the months ahead. But I know that if the United States is going to be able to look the world in the eye and say we have to do something, we have to have exhausted the possibilities available to us for that diplomatic peaceful resolution. Let me make it clear our approach is not Ronald Reagan's and the Soviets –We're not looking at this and saying trust, but verify. Our approach is a much more complex and dangerous world – it's verify and verify. And that's what we intend to do. (Applause.)
Now, there is very good reason for these sanctions to exist in the first place, and good reason that we have kept the architecture of these sanctions in place. And we continue to enforce it even as we negotiate a comprehensive agreement. In the last weeks, we have announced additional sanctions with respect to individuals who have been tempted to go around it or violate it. We have not changed one piece of the sanctions architecture. And yet we are able to negotiate. Our eyes, my friends, are wide open. This is not a process that is open-ended. This is not a process that is about trusting Tehran. This is about testing Tehran. And you can be sure that if Iran fails this test, America will not fail Israel. That, I promise. (Applause.)
Now, we have taken no options off the table, but so far there is no question but that tough sanctions and strong diplomacy are already making Israel and America safer. The first step agreement, the first step agreement – it's not an interim agreement, it's a first step agreement – and the agreement that's in force today didn't just halt the advance of the Iranian nuclear program for the first time in a decade; it's actually rolled it back. And we all remember how Prime Minister Netanyahu highlighted Iran's 20 percent enriched uranium in the 2012 speech at the United Nations. Well, today Iran is reducing its stockpile of 20 percent uranium. And without the agreement in force today, the opposite would have been in effect. The stockpile would have grown even more dangerous, and the amount of breakout time that they have would have grown smaller. Because of the agreement, Iran will soon have to take its entire stock of 20 percent enriched uranium down to zero. Zero. Zero. (Applause.) You don't have to be a math major to know that Israel is safer when Iran has zero uranium enriched to 20 percent, and that's what we've achieved.
The same independent inspectors who also tell us that Iran has halted its advances on the heavy water reactor known as the Arak reactor, without the agreement in force today, we could not have stopped them making progress on the Arak heavy water reactor, plutonium reactor. Iran has also stopped enriching all uranium above 5 percent, and it has given inspectors daily access to the facilities at Natanz and at Fordow. You know Fordow, you've heard about it, that underground facility that was a secret for so long. We've never had people in it. But because of this first step agreement, we now have people inside Fordow every single day telling us what is happening. (Applause.)
None of these things would have happened without forceful diplomacy by the United States and our international partners. But now, my friends, we have to finish the job. Like I tell my staff, there aren't any exit polls in foreign policy. It's results that count, final results. And that means we have to let forceful diplomacy keep working in order to put this test to Iran.
Now, right now we are carefully – and I mean carefully – negotiating a comprehensive agreement. We are consulting with our friends in Israel constantly. The minute Under Secretary Wendy Sherman finished her last set of meetings in Vienna the other day, she went immediately to Israel, briefed thoroughly on the talks, then went to Saudi Arabia and the United Arab Emirates and continued to brief and briefed our European partners.
You might be asking: If no deal is better than a bad deal, what does the United States consider a good deal? Well, you have my word – and the President's – that the United States will only sign an agreement that answers three critical questions the right way. First, will it make certain that Iran cannot obtain a nuclear weapon? Second, can it continuously assure the world that Iran's program remains entirely peaceful as it claims? And third, will the agreement increase our visibility on the nuclear program and expand the breakout time so that if they were to try to go for a bomb, we know we will have time to act?
Those are the tests. Those are our standards for any comprehensive agreement. It's that simple. And those objectives, if they're not met, then there won't be an agreement. (Applause.) Now make no mistake, make no mistake; we can't resolve the answer to those questions. It's up to Iran. It's up to Iran to prove to the world that its program is peaceful, and the world will hold Iran accountable.
Now, if it turns out that Iran cannot address the world's concerns, I guarantee you it will face more pressure, Iran will face more pressure, more and more isolation. And Congress will introduce more tough sanctions. And let me assure you – I know Eric Cantor is here, sitting here – I assure you it'll take about two hours to get it through the House and the Senate and it won't be delayed and the Congress will have to do nothing more than schedule the vote, because President Obama and I fully support those sanctions under those circumstances. (Applause.)
In the meantime, as I said earlier, we are enforcing every letter of the existing sanctions. I have personally instructed every State Department bureau and mission around the world to watch vigilantly for any signs of the sanctions being skirted. And to any country that wants to trade with Iran with these sanctions firmly in place, the United States will tell them exactly what I have told foreign leaders in no uncertain terms: Iran is not open for business until Iran is closed for nuclear bombs. (Applause.)
Now, strong diplomacy is also essential to another threat to Israel's security: ending the conflict with the Palestinians, and in doing so, preserving the Jewish and democratic nature of the state of Israel. (Applause.) I've had some folks ask me why I'm so committed to these negotiations and why I'm so convinced that peace is actually possible. And they ask, "Why does John Kerry go to Israel so often?" I think I heard Steny Hoyer say he'd been there 13 times, Eric Cantor who's been there 12 times. I've been there more times than that just in the last nine months. (Laughter.) And I've been in the Middle East more times than even that in the last months because I don't always wind up going to Israel.
But apart from the question, I'm surprised because people ask, because apart from my affection for Israel which dates back to my first visit back in 1986, and it just strikes me that it's the wrong question to ask, why do I go. This isn't about me. This is about the dreams of Israelis and the dignity of Palestinians. It's about reconciling two peoples who want at long last to live normal secure lives in the land that they have fought over for so long. It's about answering King David's timeless call that we seek peace and pursue it. It's about fulfilling the fervent prayer for peace that Jews around the world recite to welcome Shabbat. It's about parents from Tsefat to Eilat who want to raise their families in a region that accepts the nation-state of the Jewish people is here to stay. (Applause.)
Now, it's not news to any Israeli to hear me say that they live in a difficult neighborhood. Israelis know that better than anyone. No one needs to explain the importance of peace and security to a mother who has just sent her daughter to the army or a son who is waiting for his father to come home from another mission. No one knows the stakes of success or failure better than those who will inherit them for generations to come. And I have seen all of these realities in so many different ways in my travels in Israel, from the rocket casings in Sderot to the shelter in Kiryat Shmona that I visited years ago where children had to hide from Katyusha rockets. I've seen it.
My friends, I also believe that we are at a point in history that requires the United States as Israel's closest friend and the world's preeminent power to do everything we can to help end this conflict once and for all. Now, that is why America – (applause) – that is why America helped bring the parties back to the table, where, let's be honest, Israelis and Palestinians have difficult choices to make. And no one understands just how complex those choices are or how emotional they are better than the leaders who have to summon the courage in order to actually make them.
I have sat with Bibi Netanyahu for hours and hours and days and days. We have become good friends. (Applause.) I believe – in fact, he ought to be charging me rent. (Laughter.) I've seen up close and personally the grit and the guts of this man and his love of country. And I can tell you with absolute certainty and without question, Prime Minister Netanyahu has demonstrated his courage and his commitment in pursuit of peace with security. (Applause.) He knows that it is the only way for Israel to be a Jewish and democratic state; not a bi-national state. (Applause.)
As President Obama said publicly in the Oval Office today, and I quote him: "Prime Minister Netanyahu has approached these negotiations with a level of seriousness and commitment that reflects his leadership and the desire of the Israeli people for peace."
Thus far, I will tell you also that President Abbas, and I know there are many doubters here – I've heard the arguments for 30-plus years, 40 years – that there's no partner for peace, that Abbas won't be there, that – both sides, by the way, say the same thing about each other. That's one of the difficulties we have to try get through here. A very small needle to try to thread in terms of the trust deficit. Thus far, President Abbas, I will tell you, has demonstrated he wants to be a partner for peace. He's committed to trying to end the conflict in all of its claims, but he obviously has a point of view about what's fair and how he can do that. Let's be candid. I know that some of you doubt that. But as Israeli security officials will attest, President Abbas has been genuinely committed against violence, and his own security forces have worked closely with Israel in order to prevent violence against Israeli citizens.
I've also spent many hours with President Abbas, and I believe that he clearly understands both the tremendous benefits of peace and the great costs of failure. He understands that in terms of his own people, his own grandchildren, the country he hopes to be able to lead, and in terms of the history that beleaguers all. He knows the Palestinian people will never experience the self determination that they seek in a state of their own without ending the conflict in a solution that delivers two states for two peoples. (Applause.)
And so does Prime Minister Netanyahu. When Bibi looks me in the eye and says, "I can't accept a deal with Palestinians that doesn't make the people of Israel safer," we agree 100 percent. (Applause.) But I argue that there is a distinction between a unilateral withdrawal from Lebanon or from Gaza where nothing is resolved, and a phased withdrawal that is negotiated where everything is at least in an agreement resolved.
Now, I learned about Israel's security on many different trips over there, but one stands out. I was – I'd been a pilot since I was in college and I was on a trip over there. I was having a luncheon at Ovda Airbase with the Israel Air Force. And the colonel who was in charge was – had flown. He was an ace from the Six-Day War. And we were having lunch at the time at Ovda and I had been badgering them to maybe let me go up and fly. And they disappeared at lunch and finally he comes back and he says, "Senator, I hope you don't eat too much. We're going flying." I said, "Wow, great. This is what I've wanted." And we went out, the two of us, drove out to this jet, and he trusted me. We put on our helmets, got in the jet, and he says, "The moment we're off the ground, it's your airplane."
So literally, we took off, I take the stick, we go up, we're flying around. Next thing I know in my ear he says, "Senator, you better turn faster. You're going over Egypt." (Laughter.) So I turned very fast and then I asked him if I could do some aerobatics over the Negev. And I turned upside down and did a big loop and I was coming down, I was looking upside-down, and I said to myself, "This is perfect." I could see all of the Sinai. I could see Aqaba. I could see Jordan. I see all of Israel below me, each side to each side. Said, "This is the perfect way to see the Middle East upside-down and backwards." I understand it. (Applause.)
The real point of this story is just to tell you that I can't tell you the imprint on me, being up there and tiny – almost turning. You had barely space to turn. You get the sense of a missile from here, or a rocket from there, or the threat of war. You understand it's impossible to ignore just how narrow those borders are, how vulnerable Israel can be, and why Israel's security is our first priority. We understand that. (Applause.)
That is why, my friends, President Obama sent a four-star general, John Allen, one of the most respected minds in United States military to do something we've never done in all the history of administrations negotiating for Israel's and Palestinians' future and that is to work with Israelis and Jordanians and Palestinians to make the Jordan River border as strong as the strongest borders on Earth. That's what makes this effort different from anything we've ever done before. With the combination of the best military experience America can offer and the best ideas in the Pentagon and the best technology that we could deliver, we believe we can deliver to Israel security that Israel needs in order to make peace, and President Obama is committed to doing that.
Now we have no illusions. We saw what happened after Israel withdrew unilaterally from Gaza and Lebanon. We all learned lessons from that, I hope. That's why a negotiated agreement is so important. That's why the security arrangements that we are helping to design will need to be operationally proven. We're not doing this on a whim and a prayer. We will never let the West Bank turn into another Gaza. (Applause.)
My friends, we understand that Israel has to be strong in order to make peace. But we also understand that peace will make Israel stronger. Any peace agreement must also guarantee Israel's identity as a Jewish homeland. (Applause.) As Ehud Barak said on this stage last year, a two-state solution is the only way for Israel to stay true to its founding principles – to remain both Jewish and democratic. At last year's AIPAC conference, he said statehood is not a favor for the Palestinians, and let me reaffirm: He is right; it is not.
Israel also needs peace in order to create greater prosperity. All of you here know the great economic benefits of peace. All of you have already seen what Israel has already been able to build with the forces of the region that raid against it. Just imagine what it will be able to build as a result of peace with Palestinian neighbors. I've had the foreign minister of one of the surrounding countries – a very wealthy country and a very smart foreign minister say to me if we make peace – this is under the Arab Peace Initiative and the Arab Follow-on Committee that is following everything we're doing very closely and supporting it – and they said if we make peace, Israel will trade more in this community within a few years than it trades with Europe today. That's what we have available to us. (Applause.) And I believe that we need to stand together with a single voice to reject any of the arbitrary unwarranted boycotts of Israel. For more than 30 years, I have staunchly, loudly, unapologetically opposed boycotts of Israel – (applause) – and I will continue to oppose those boycotts of Israel. That will never change. (Applause.)
Every time that Israel is subjected to attacks on its legitimacy, whether at the United Nations or from any nation, the United States will use every tool we have to defeat those efforts and we will stand with Israel. (Applause.)
Finally, peace demands that Israel fulfill its destiny not just as a nation but also as a neighbor. And that begins with the Palestinians, and it extends to the entire Arab League whose Arab Peace Initiative can open the door to peace and normalized relations with 20 additional Arab countries and a total of 55 Muslim countries. The upheaval in the Middle East has shown us all that Arabs and Israelis share some of the very same security concerns. Without the Palestinian conflict to divide them, these common interests can grow into real relationships and transform Israel's standing in the region. And I just invite you – I promise you these conversations take place. I've had them throughout the Gulf region, throughout the Middle East, where increasingly those countries begin to see the possibilities of mutual security interests coming together for all of them against an Iran, against terrorism, against religious extremism. This is a commonality that is a new thread in the region, and I believe it brings the potential of new possibilities.
It is also important to remember that ending the conflict means ending the incitement. President Abbas has called incitement a germ that must be removed. And he has sought our help in order to try to deal with the problem. And I can tell you that with any final agreement it will also include a larger endeavor in order to help people on both sides move beyond a painful past and promote a culture of peace and tolerance.
After all these years, my friends, it is really no mystery what the end-game really looks like. I think you know that in your hearts. We understand what the end-game is. I know what peace looks like. When I talk to Prime Minister Netanyahu and others, I think everybody shares this because this is not new. After Camp David and Oslo and Wye and Annapolis and Taba and all of these efforts, what the end-game should look like is straightforward: security arrangements that leave Israelis more secure, not less; mutual recognition of the nation-state of the Jewish people and the nation-state of the Palestinian people; an end to the conflict and to all claims; a just and agreed solution for Palestinian refugees, one that does not diminish the Jewish character of the state of Israel; and a resolution that finally allows Jerusalem to live up to its name as the City of Peace. (Applause.)
It will take hard work. I'm not pretending any of the answers – these are all narrative issues. They're tough issues. They complicated. But there is a vision of peace, and it takes tough choices on both sides, especially over the coming days. I guarantee you that America, that President Obama and this Administration will be there every day of the week, every step of the way. And we will stand with Israel's leaders today and with the leaders of the future. And we will ensure that our light shines not just throughout the nations, but throughout the generations.
Leaders like a fellow named Guy – I'll leave his last name out – but he's a young Israeli who took part in an exchange program with the State Department, sponsors that brings Israelis and Palestinians together to talk about their histories and their hopes. Guy's grandparents fled Europe. He was born and raised in Jerusalem. He served in the IDF. And he worked as an entrepreneur in Israel's booming tech industry. And this is what he said in that program: We respect our past, but we don't want to live it. We are young enough to dream, to believe that change is possible, and that fear can be defeated.
I think Guy is right. Change is possible. Fear can be defeated. But those are choices we have to make now.
My friends, a few months ago I landed in Tel Aviv and it was the 18th anniversary of Yitzhak Rabin's assassination. I went straight to Kikar Rabin, and I stood with the late-prime minister's daughter, Dalia, at the site of her father's murder. And we stood just steps away from where the great general, in the last moments of his life, sang the famous lyrics of Shir LaShalom: Don't whisper a prayer; sing a song of peace in a loud voice. Don't say the day will come; bring that day. (Applause.) That is our mission. All of us, in whatever capacity that we can, but just as important our mission is also to raise our voices for peace, and we also need to listen. We have to listen to those who first gave voice to our values, voices that still echo thousands of years later.
He almost – I think it was the first time I went to Israel. I spent a week there and went all over the country and like many first-time visitors, I climbed Masada. I climbed it with a guide – some of you may know him or heard of him, a fellow by the name of Yadin Roman. Yadin, the publisher of Eretz Israel. And our group debated Josephus Flavius's account of what happened on the top of that mountain, the account of what happened 2,000 years before we were there.
Then Yadin, after we'd had this long debate, made us all vote to determine did it happen as he recounted or was it different. And we all voted unanimously it did happen the way he recounted. He told us to then walk to the edge of the precipice which we did, and to look out across the chasm and to shout, to shout across the ancestral home of the Jewish people. And as we stood where every new Israeli soldier begins his or her service, by swearing an oath to honor that history and secure the future, Yadin instructed us to shout, all at the same time, "Am Yisrael chai." We shouted. (Applause.) And then I have to tell you, echoing across the chasm in the most eerie and unbelievably unforgettable way were these haunting echoes of "Am Yisrael chai, Am Yisrael chai, chai, chai." I'll never forget hearing the echo of those words bouncing off that mountain. It was literally like we were hearing the voices of the souls of those who had perished sacrificing their lives for Israel a thousand years ago. And we were affirming those words, the state of Israel lives. The people of Israel live.
We have to listen to those voices. Those long ago who encouraged us to build a city on a hill to be a light unto the nations, an example to the world, to ensure Israel's survival. And we have to listen to the voices of young people whose futures depend on the choices that we, the leaders of today, make. It's for their future that we will give new strength to the U.S.-Israel partnership as AIPAC does like no other organization in our country. It's for their future that we will come together giving greater voice to the timeless oath and we will remember forever those words and be driven by them: "Am Yisrael chai" will be said generations upon generations into the future because of the work you do and the work we will do together.
Thank you all very much. Honored to be with you. (Applause.)
The Office of Website Management, Bureau of Public Affairs, manages this site as a portal for information from the U.S. State Department.
###
With AIPAC in town, and having a low-key meeting this year, President Obama tells in public Prime Minister Netanyhu that Time for Peace with the Palestinians is Running Out.     Secretary of State John Kerry will meet Netanyahu Monday morning before the meeting with President Obama, and before taking off to Kiev.    Vice President Biden will see Mr. Netanyahu after that.
Obama's message to Netanyahu on peace with Palestinians: Time is running out.
In unusually blunt interview with Jeffrey Goldberg on eve of meeting with prime minister in Washington, U.S. president asks whether Netanyahu is ready to 'resign himself to permanent occupation of West Bank.'
U.S. President Barack Obama pauses while speaking during the Democratic Issues Conference February 14, 2014 in Cambridge, Maryland.
Photo by AFP
———————————————
WASHINGTON – In unusually blunt language, U.S. President Barack Obama said his message to Prime Minister Benjamin Netanyahu at the White House on Monday will be that time is running out for Israel to make peace with the Palestinians. Obama's remarks came in an interview with Bloomberg news agency journalist Jeffrey Goldberg that was published Sunday night.
Goldberg wrote that Obama was more blunt and direct than ever regarding the Israeli-Palestinian issue. The president said Palestinian Authority President Mahmoud Abbas was the most moderate leader Israel would encounter in the foreseeable future. Obama, according to Goldberg, gave the impression that Netanyahu was the one who had to be flexible in order to advance the peace talks.
"There comes a point where you can't manage this anymore, and then you start having to make very difficult choices," Obama said. "Do you resign yourself to what amounts to a permanent occupation of the West Bank? Is that the character of Israel as a state for a long period of time? Do you perpetuate, over the course of a decade or two decades, more and more restrictive policies in terms of Palestinian movement? Do you place restrictions on Arab Israelis in ways that run counter to Israel's traditions?"
Netanyahu was due to land in Washington on Sunday night. He is scheduled to meet with U.S. Secretary of State John Kerry Monday morning prior to his meeting with the president. After meeting with Obama, Netanyahu is to meet with Vice President Joe Biden. On Tuesday morning he is due to address the annual convention of the pro-Israel lobby AIPAC, after which he will fly to Los Angeles.
Before taking off for Washington, Netanyahu tried to relay a harsh message on his upcoming meeting with the U.S. president: "I'll stand firm on the State of Israel's crucial interests, first and foremost the security of the citizens of Israel," he said. "In recent years, the State of Israel has been subject to pressures, but we have pushed through the storm and the regional tempest, and that's how it will continue to be."
'If not now, when?'
In an hour-long interview conducted with Goldberg at the White House on Thursday, Obama said his question to Netanyahu regarding the Palestinians will be, "If not now, when?" Another will be: "And if not you, Mr. Prime Minister, then who?"
Obama stressed during the interview that if Netanyahu "does not believe that a peace deal with the Palestinians is the right thing to do for Israel, then he needs to articulate an alternative approach." He added: "It's hard to come up with one that's plausible."
During the interview Obama spoke out strongly against the Netanyahu government's settlement policy and warned of the consequences that failure in the peace negotiations Israel's international standing, and on the United States' ability to protect Israel in the institutions of the UN.
"The U.S.' friendship with Israel is undying," said Obama, but added: "If you see no peace deal and continued aggressive settlement construction – and we have seen more aggressive settlement construction over the last couple years than we've seen in a very long time," Obama said. "If Palestinians come to believe that the possibility of a contiguous sovereign Palestinian state is no longer within reach, then our ability to manage the international fallout is going to be limited."
During the interview, Obama expressed his support for Secretary of State John Kerry and his efforts to reach a framework agreement between Israel and the Palestinians. Kerry reports to him almost once a week on the progress in the talks and sometimes asks for instructions, Obama said. He noted that he has spoken little on the subject in recent months since he thinks it would make Kerry's mission even more difficult.
"We are coming to a point, though, over the next couple of months where the parties are going to have to make some decisions about how they move forward. And my hope and expectation is, despite the incredible political challenges, that both Prime Minister Netanyahu and Abbas are able to reach past their differences and arrive at a framework that can move us to peace," said Obama.
Relating to the warnings Kerry made on the rising threat of a boycott against Israel, Obama said: "With each successive year, the window is closing for a peace deal that both the Israelis can accept and the Palestinians can accept — in part because of changes in demographics; in part because of what's been happening with settlements; in part because Abbas is getting older, and I think nobody would dispute that whatever disagreements you may have with him, he has proven himself to be somebody who has been committed to nonviolence and diplomatic efforts to resolve this issue. We do not know what a successor to Abbas will look like."
The president also said he is convinced that would be willing to recognize Israel's right to exist and to provide the security arrangements Israel requires. "For us not to seize that opportunity would be a mistake," he said.
"We don't know exactly what would happen. What we know is that it gets harder by the day. What we also know is that Israel has become more isolated internationally. We had to stand up in the Security Council in ways that 20 years ago would have involved far more European support, far more support from other parts of the world when it comes to Israel's position. And that's a reflection of a genuine sense on the part of a lot of countries out there that this issue continues to fester, is not getting resolved, and that nobody is willing to take the leap to bring it to closure," said Obama. "And as long as those security needs were met, then testing Abbas ends up being the right thing to do."
Speaking about his relationship with Netanyahu, Obama  praised the prime minister, saying: "What is absolutely true is Prime Minister Netanyahu is smart. He is tough. He is a great communicator. He is obviously a very skilled politician. And I take him at his word when he says that he sees the necessity of resolving the Israeli-Palestinian conflict. I think he genuinely believes that."
As to the political sensitivity of the Palestinian issue in Israel, he said: "I also think that politics in Israel around this issue are very difficult. You have the chaos that's been swirling around the Middle East. People look at what's happening in Syria. They look at what's happening in Lebanon. Obviously, they look at what's happening in Gaza. And understandably a lot of people ask themselves, 'Can we afford to have potential chaos at our borders, so close to our cities?' So he is dealing with all of that, and I get that."
"What I've said to him privately is the same thing that I say publicly, which is the situation will not improve or resolve itself. This is not a situation where you wait and the problem goes away. There are going to be more Palestinians, not fewer Palestinians, as time goes on. There are going to be more Arab-Israelis, not fewer Arab-Israelis, as time goes on," said Obama.
"And for Bibi [Netanyahu] to seize the moment in a way that perhaps only he can, precisely because of the political tradition that he comes out of and the credibility he has with the right inside of Israel, for him to seize this moment is perhaps the greatest gift he could give to future generations of Israelis. But it's hard. And as somebody who occupies a fairly tough job himself, I'm always sympathetic to somebody else's politics," he said.
Obama also said he has yet to hear a convincing vision of how Israel can remain a Jewish and democratic state without a peace agreement with the Palestinians:   "Nobody has presented me a credible scenario."
"The only thing that I've heard is, 'We'll just keep on doing what we're doing, and deal with problems as they arise. And we'll build settlements where we can. And where there are problems in the West Bank, we will deal with them forcefully. We'll cooperate or co-opt the Palestinian Authority." And yet, at no point do you ever see an actual resolution to the problem."
 "And so if I'm thinking about the prime minister of Israel, I'm not somebody who believes that it's just a matter of changing your mind and suddenly everything goes smoothly. But I believe that Bibi is strong enough that if he decided this was the right thing to do for Israel, that he could do it. "
Speaking about the situation in the world today, Obama said "where international cooperation is needed in order to deal with those threats, the absence of international goodwill makes you less safe. The condemnation of the international community can translate into a lack of cooperation when it comes to key security interests. It means reduced influence for us, the United States, in issues that are of interest to Israel. It's survivable, but it is not preferable."
Obama: We can stop Iran from achieving nukes
Obama rejected the claim that his foreign policy – including his decision to attack in Syria in response to the Assad's use of chemical weapons – broadcasts weakness. He told Goldberg that it was his threats of attack that convinced Assad to give up his chemical weapons, and that sparked Iran and Russia to put pressure on the Syrian leader to do so.
Obama said he thinks Iran is taking seriously the possibility the United States could attack its nuclear facilities if the talks with the P5 + 1 powers fail: " We have a high degree of confidence that when they look at 35,000 U.S. military personnel in the region that are engaged in constant training exercises under the direction of a president who already has shown himself willing to take military action in the past, that they should take my statements seriously. And the American people should as well, and the Israelis should as well, and the Saudis should as well."
"Now, that does not mean that that is my preferred course of action. So let's just be very clear here. There are always consequences to military action that are unpredictable and can spin out of control, and even if perfectly executed carry great costs. So if we can resolve this issue diplomatically, we absolutely should."
Obama added that he believes the ongoing negotiations could indeed stop Iran from  acquiring nuclear weapons:  "And if we have any chance to make sure that Iran does not have nuclear weapons, if we have any chance to render their breakout capacity nonexistent, or so minimal that we can handle it, then we've got to pursue that path. And that has been my argument with Prime Minister Netanyahu; that has been my argument with members of Congress who have been interested in imposing new sanctions. My simple point has been, we lose nothing by testing this out."
###
The Obama Administration's EPA finally takes an honest look at the Gasoline used in the US and at cleaner air by toughening auto-mobile emission rules.
E.P.A. Set to Reveal Tough New Sulfur Emissions Rule.
By CORAL DAVENPORT, The New York Times,
WASHINGTON — The Environmental Protection Agency plans to unveil a major new regulation on Monday that forces oil refiners to strip out sulfur, a smog-forming pollutant linked to respiratory disease, from American gasoline blends, according to people familiar with the agency's plans.
When burned in gasoline, sulfur blocks pollution-control equipment in vehicle engines, which increases tailpipe emissions linked to lung disease, asthma, emphysema, chronic bronchitis, aggravated heart disease and premature births and deaths. Proponents of the rule say it will be President Obama's most significant public health achievement in his second term, but opponents, chiefly oil refiners, say it is unnecessarily costly and an unfair burden on them.
The E.P.A. estimates that the new rule will drastically reduce soot and smog in the United States, and thus rates of diseases associated with those pollutants, while slightly raising the price of both gasoline and cars. The rule will require oil refiners to install expensive new equipment to clean sulfur out of gasoline and force automakers to install new, cleaner-burning engine technology.
E.P.A. officials estimate that the new regulation will raise the cost of gasoline by about two-thirds of one cent per gallon and add about $75 to the sticker price of cars. But oil refiners say that it will cost their industry $10 billion and raise gasoline costs by up to 9 cents per gallon.
The E.P.A.'s studies conclude that by 2030, the cleaner-burning gasoline will yield between $6.7 billion and $19 billion annually in economic benefits by saving lives and preventing missed work and school days due to illness. The agency estimates that, annually, the new rule will prevent between 770 and 2,000 premature deaths; 2,200 hospital admissions and asthma-related emergency room visits; 19,000 asthma attacks, 30,000 cases of symptoms of respiratory symptoms in children, and 1.4 million lost school and work days.
"There is no other regulatory strategy that is as important from a health standpoint, in the foreseeable future," said S. William Becker, director of the National Association of Clean Air Agencies. Until now, the sulfur content standards in American gasoline lagged far behind those used in the European Union, Japan and South Korea. The new rule will close that pollution gap by cutting American gasoline sulfur content by more than 60 percent, from 30 parts per million of sulfur down to 10 parts per million, starting in 2017.
The cleaner gasoline standard has been years in the making. Mr. Obama asked the E.P.A. to create the rule in a 2010 presidential memorandum, and public health and environmental advocates lobbied the agency vigorously to complete it. It is the most recent in a cascade of aggressive air pollution regulations that have emerged as a hallmark of the Obama administration.
During the 2012 presidential campaign, the forthcoming gasoline rule was a hotly contested political target. Republicans criticized it as an example of what they called the Obama administration's regulatory overreach.
But since the presidential election, some Republicans have said they welcome the rule. Gov. Gary R. Herbert of Utah, a conservative Republican, said that because of mountain weather patterns, tailpipe smog is often trapped around Salt Lake City, giving his state many days with "gunky air that rivals L.A."
Mr. Herbert said the new rule would help clean up his state's air. "We've got to find a way to eliminate that with cleaner fuels and cleaner autos," he said in an interview. "Dirty air is not a partisan issue. The fact that we have technology that's available — cleaner burning fuels, cleaner burning autos — we ought to embrace that."
The new rule will have a significant impact on the health of low-income Americans who live near major highways, said Dr. Al Rizzo, a pulmonologist at Christiana Care Health System in Newark, Del., and a former chairman of the American Lung Association's board of directors. "The population that lives close to highways, that has the greatest exposure to these pollutants, air quality makes a big difference for them," Dr. Rizzo said.
But oil refiners say that the new rule will hurt their industry.
Charles T. Drevna, president of the American Fuel and Petrochemical Manufacturers, which lobbies for the oil refining industry, said that the rule comes on top of a series of other burdensome regulations. A decade ago, American gasoline contained 300 parts per million of sulfur, but earlier rules required refiners to cut the sulfur content by 90 percent, down to the current 30 parts per million.
Mr. Drevna said it was easier to comply with the earlier regulations because removing the first 90 percent of sulfur molecules from gasoline can be done without difficulty. Wringing the last 10 percent of those molecules is harder.
"They're tough little buggers that don't want to come out," Mr. Drevna said. "It's like getting the last little bit of red wine stain out of a white blouse."
Asked about the E.P.A.'s estimate that the rule would raise prices at the pump by less than a penny a gallon, Mr. Drevna laughed out loud. "I don't know what model E.P.A. uses," he said. "The math doesn't add up." His industry's estimate that the rule could raise gasoline prices by up to 9 cents a gallon comes from a study by the American Petroleum Institute, which lobbies for oil companies.
Not all industries oppose the regulation. Although the auto industry estimates that the rule will cost automakers about $15 billion over 10 years, Gloria Bergquist, vice president of the Alliance of Automobile Manufacturers, whose members include General Motors, Ford and Toyota, said her group had worked closely with the Obama administration to develop the regulation, and does not oppose it.
That is in part, she said, because complying with the new clean-gasoline regulation will help automakers more easily meet another set of Obama administration regulations, tightening vehicle fuel economy standards.
"We understand that this is the trend, to get cars cleaner and cleaner," Ms. Bergquist said. "Our engineers are prepared to work for it."
###

(photo: Baz Ratner/Reuters)
Putin Goes to War
02 March 14
ladimir Putin, the Russian President and autocrat, had a plan for the winter of 2014: to reassert his country's power a generation after the collapse of the Soviet Union. He thought that he would achieve this by building an Olympic wonderland on the Black Sea for fifty-one billion dollars and putting on a dazzling television show. It turns out that he will finish the season in a more ruthless fashion, by invading a peninsula on the Black Sea and putting on quite a different show—a demonstration war that could splinter a sovereign country and turn very bloody, very quickly.
Sergei Parkhomenko, a journalist and pro-democracy activist who was recently detained by the police in Moscow, described the scenario taking shape as "Afghanistan 2." He recalled, for Slon.ru, an independent Russian news site, how the Soviet Union invaded Afghanistan, in 1979, under the pretext of helping a "fraternal" ally in Kabul; to Parkhomenko, Putin's decision to couch his military action as the "protection" of Russians living in Crimea is an equally transparent pretext. The same goes for the decorous way in which Putin, on Saturday, "requested" the Russian legislature's authorization for the use of Russian troops in Ukraine until "the socio-political situation is normalized." The legislature, which has all the independence of an organ grinder's monkey, voted its unanimous assent.
Other critics of Putin's military maneuvers in Ukraine used different, but no less ominous, historical analogies. Some compared the arrival of Russian troops in Simferopol to the way that the Kremlin, in 2008, took advantage of Georgia's reckless bid to retake South Ossetia and then muscled its tiny neighbor, eventually waging a war that ended with Russia taking control of South Ossetia and Abkhazia.
In a recent Letter from Sochi, I tried to describe Putin's motivations: his resentment of Western triumphalism and American power, after 1991; his paranoia that Washington is somehow behind every event in the world that he finds threatening, including the recent events in Kiev; his confidence that the U.S. and Europe are nonetheless weak, unlikely to respond to his swagger because they need his help in Syria and Iran; his increasingly vivid nationalist-conservative ideology, which relies, not least, on the elevation of the Russian Orthodox Church, which had been so brutally suppressed during most of the Soviet period, as a quasi-state religion supplying the government with its moral force.
Obama and Putin spoke on the phone today for an hour and a half. The White House and Kremlin accounts of the call add up to what was clearly the equivalent of an angry standoff: lectures, counter-lectures, intimations of threats, intimations of counter-threats. But the leverage, for now, is all with Moscow.
The legislators in the Russian parliament today parroted those features of modern Putinism. In order to justify the invasion of the Crimean peninsula, they repeatedly cited the threat of Ukrainian "fascists" in Kiev helping Russia's enemies. They repeatedly echoed the need to protect ethnic Russians in Ukraine—a theme consonant with the Kremlin's rhetoric about Russians everywhere, including the Baltic States. But there was, of course, not one word about the sovereignty of Ukraine, which has been independent since the fall of the Soviet Union, in December, 1991.
If this is the logic of the Russian invasion, the military incursion is unlikely to stop in Crimea: nearly all of eastern Ukraine is Russian-speaking. Russia defines its interests far beyond its Black Sea fleet and the Crimean peninsula.
Marina Korolyova, the deputy editor of the liberal radio station Echo of Moscow, told Slon.ru, "I am the daughter of a military officer who went in with the troops that invaded Czechoslovakia, in 1968. Today's decision of the President and the Federation Council—I feel the pain personally. It is shameful. Shameful."
It is worth noting that, in Moscow, the modern dissident movement was born in 1968, when four brave protesters went to Red Square and unfurled a banner denouncing the invasion of Prague. Those demonstrators are the heroes of, among other young Russians, the members of the punk band Pussy Riot. This is something that Putin also grasps very well. At the same time that he is planning his vengeful military operation against the new Ukrainian leadership, he has been cracking down harder on his opponents in Moscow. Alexey Navalny, who is best known for his well-publicized investigations into state corruption and for his role in anti-Kremlin demonstrations two years ago, has now been placed under house arrest. Navalny, who won twenty-seven per cent of the vote in a recent Moscow mayoral ballot, is barred from using the Internet, his principal means of communication and dissidence. The period of Olympic mercy has come to an end.
It's also worth noting that, in 1968, Moscow was reacting to the "threat" of the Prague Spring and to ideological liberalization in Eastern Europe; in 1979, the Kremlin leadership was reacting to the upheavals in Kabul. The rationale now is far flimsier, even in Moscow's own terms. The people of the Crimean peninsula were hardly under threat by "fascist gangs" from Kiev. In the east, cities like Donetsk and Kharkov had also been quiet, though that may already be changing. That's the advantage of Putin's state-controlled television and his pocket legislature; you can create any reality and pass any edict.
I spoke with Georgy Kasianov, the head of the Academy of Science's department of contemporary Ukrainian history and politics, in Kiev. "It's a war," he said. "The Russian troops are quite openly out on the streets [in Crimea], capturing public buildings and military outposts. And it's likely all a part of a larger plan for other places: Odessa, Nikolayev, Kherson. And they'll use the same technique. Some Russian-speaking citizens will appear, put up a Russian flag, and make appeals that they want help and referendums, and so on." This is already happening in Donetsk and Kharkov.
"They are doing this like it is a commonplace," Kasianov went on. "I can't speak for four million people, but clearly everyone in Kiev is against this. But the Ukrainian leadership is absolutely helpless. The Army is not ready for this. And, after the violence in Kiev, the special forces are disoriented."
Just a few days ago, this horrendous scenario of invasion and war, no matter how limited, seemed the farthest thing from nearly everyone's mind in either Ukraine or Russia, much less the West. As it happens so often in these situations—from Tahrir Square to Taksim Square to Maidan Square—people were taken up with the thrill of uprising. After Viktor Yanukovych fled Kiev, the coverage moved to what one might call the "golden toilet" stage of things, that moment when the freedom-hungry crowds discover the fallen leader's arrangements and bountiful holdings—the golden bathroom fixtures; the paintings and the tapestries; the secret mistress; the lurid bedrooms and freezers stocked with sweetmeats; the surveillance videos and secret transcripts; the global real-estate holdings; the foreign bank accounts; the fleets of cars, yachts, and airplanes; the bad taste, the unknown cruelties.
The English-language Kyiv Post published a classic in the genre when it reported how journalists arriving at the "inner sanctum" of the mansion where Yanukovych had lived in splendor discovered that he had been cohabiting not with his wife of four decades but, rather, with—and try not to faint—a younger woman. It "appears" that Yanukovych had been living there with a spa owner named Lyubov (which means "love") Polezhay. "The woman evidently loves dogs and owns a white Pomeranian spitz that was seen in the surveillance camera's footage of Yanukovych leaving" the mansion.
But that was trivia. Masha Lipman, my colleague in Moscow, sketched out in stark and prescient terms some of the challenges facing Ukraine, ranging from the divisions within the country to the prospect of what Putin might do rather than "lose" Ukraine.
Putin's reaction exceeded our worst expectations. These next days and weeks in Ukraine are bound to be frightening, and worse. There is not only the threat of widening Russian military force. The new Ukrainian leadership is worse than weak. It is unstable. It faces the burden of legitimacy. Yanukovych was spectacularly corrupt, and he opened fire on his own people. He was also elected to his office and brought low by an uprising, not the ballot; he made that point on Friday, in a press conference in Rostov on Don, in Russia, saying that he had never really been deposed. Ukraine has already experienced revolutionary disappointment. The Orange Revolution, in 2004, failed to establish stable democratic institutions and economic justice. This is one reason that Yulia Tymoshenko, the former Prime Minister, newly released from prison, is not likely the future of Ukraine. How can Ukraine possibly move quickly to national elections, as it must to resolve the issue of legitimacy, while another country has troops on its territory?
Vladimir Ryzhkov, a liberal Russian politician who no longer holds office, said that the events were not only dangerous for Ukraine but ominous for Russia and the man behind them. "It's quite likely that this will be fatal for the regime and catastrophic for Russia," he told Slon.ru. "It just looks as if they have taken leave of their senses."
###
From:
The Right: All About Racism

It's obvious to anyone with a brain that racism is at the heart of the right's obsessive hatred of President Obama no matter that Ted Cruz, Rand Paul, Newt Gingrich and the rest of them never flat-out say it. But it predates Obama. The Republican strategy has centered on racism since President Lyndon Johnson signed the Civil Rights Act fifty years ago this year. That was the moment that the old slave states switched from being the Solid [Democratic] South to the Deep Red Republican south.
This isn't news.
But this is:
The Nation magazine has published the full text and video of an interview with Lee Atwater, the former GOP chairman who proudly used racism to elect the first George Bush in 1988 and whose race baiting is now standard both for Republican candidates and its media outlets like Fox News, Limbaugh,etc. It was first published in 2012 but I missed it. Maybe you did too. It is incredible even though we knew it all anyway. Here is Atwater:
You start out in 1954 by saying, "Nigger, nigger, nigger." By 1968 you can't say "nigger"—that hurts you, backfires. So you say stuff like, uh, forced busing, states' rights, and all that stuff, and you're getting so abstract. Now, you're talking about cutting taxes, and all these things you're talking about are totally economic things and a byproduct of them is, blacks get hurt worse than whites.… "We want to cut this," is much more abstract than even the busing thing, uh, and a hell of a lot more abstract than "Nigger, nigger."
The rest is
on the tape.
###
December 2013 Parliamentary Conference
Progressive Economy organised a first annual Progressive Economy Parliamentary Conference in Brussels on Wednesday 4 December and Thursday 5 December 2013.
Read more »
=================================================
###
FROM COHA – The Washington DC based Council on Hemispheric Affairs.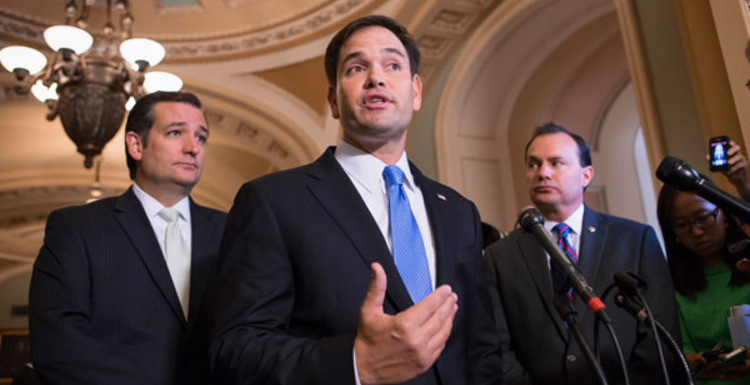 Photo Source: AP.
NOW IT IS THE TIME FOR A WASHINGTON—CARACAS DIALOG, NOT SANCTIONS.
By: Larry Birns, Director of the Council on Hemispheric Affairs; Frederick B. Mills, Senior Research Fellow at the Council on Hemispheric Affairs and Professor of Philosophy at Bowie State University.
At a time when Washington ought to seize upon overtures from Caracas for the re-establishment of full diplomatic relations and direct talks, the champions of the antiquated embargo against Cuba in the Senate are calling for sanctions against Venezuela. Such an approach to diplomacy with Venezuela would be detrimental to the development of a more constructive and mutually respectful US policy towards the region. Now is the time for a Washington—Caracas dialog, not sanctions.
Democratic Senator Bob Menéndez and Republican Senator Marco Rubio have introduced a proposed resolution in the Senate that would call on the Obama administration to study sanctions against Venezuela. The sanctions would be aimed at punishing "the violent repression suffered by pacific protesters" by targeting individual Venezuelan government officials. Of course, any state actors responsible for the repression of pacific demonstrations ought to be held accountable not only in Venezuela, but anywhere in the world. Indeed, the Venezuelan government is already taking steps to address this. The problem with the resolution is that it reflects a very myopic view of political violence in that nation. It also reflects an unproductive approach to diplomacy towards Venezuela as well as the region.
Not all demonstrations have been pacific. A significant amount of the violent demonstrations are ostensively anti- government.  The "exit" strategy being sought after by the ultra-right in Venezuela has generated violent anti-government demonstrations that have called for regime change through extra constitutional means. In other words, through a coup or by creating the escalating violence on the ground that might provoke a coup or an international intervention.
No doubt opposition demonstrators are not a homogeneous group and many prescribe to non-violent means of protesting. Yet it is indisputable that elements of anti-government protests, using the slogans of "exit," have deployed incendiary bombs, rocks, guns, barricades, wire, and other instruments of violence against government and public property as well as people, resulting in injuries and death. But those who have resorted to violence are most often portrayed in the press as responding to repression, as if the government has no legitimate recourse in response to violent attacks on persons and property. To be sure, violence is generally condemned by the State Department, but accountability is selectively applied predominantly to government actors.
The Council on Hemispheric Affairs has been calling for a change of course in US policy towards Venezuela and the rest of the region based on mutual respect and dialog, not imperial intervention and subordination.
It was Caracas that instigated the tit for tat after the expulsion of consular officials, and COHA called the expulsion of US consular officials into question at the time. But now President Maduro has proposed a new ambassador to the US and direct talks with the Obama administration. The State Department has also, on occasion, expressed an openness to rapprochement, so now is the time to seize the moment, not wait to see which way the political winds will blow in Venezuela.
There is obviously a great ideological divide between nations that prescribe to some version of neoliberalism and those engaging in various experiments in 21st century socialism. Yet such differences need not translate into either hard or soft wars. At the January CELAC meeting in Cuba, the member states, despite their political differences, figured out a way to declare all of Latin America a region of peace and mutual respect. Meanwhile, there is a national peace conference underway in Caracas, called by the government, that commenced two days ago and includes an increasingly broad spectrum of opinion in the opposition, and seeks to overcome the boycott of the MUD.  This will take a pull back against war and for political competition through the ballot box.
Surely, in this context, there is room for Washington-Caracas diplomacy. Rather than impose sanctions on Venezuela, Washington ought to accept the proposed Venezuelan ambassador and enter into a dialog with Caracas based on mutual respect and the common goal of regional peace and human development.
Please accept this article as a free contribution from COHA, but if re-posting, please afford authorial and institutional attribution.
###
CIFNews
Administrative Unit, Climate Investment Funds
T: 1.202.458.1801 | F: 1.202.522.2937 | cifnews@worldbank.org
1818 H St. NW, Washington D.C. 20433
www.climateinvestmentfunds.org | Follow us on @CIF_Action
Recent updates to the CIF Voices (blogs), videos  and news articles on CIF projects:

Snakes, Tomatoes, and Other Take Aways from the Asia-Pacific Dialogue on the GCF
Martha Stein-Sochas, CIF AU, Feb 26
Last week at the Asia-Pacific Dialogue on the Green Climate Fund (GCF), I heard many helpful suggestions and ideas from private sector participants on the GCF's future Private Sector Facility, which aims to provide financing for climate action in the private sector.  But no advice was more powerful than that of Paul Needham, President and Co-founder of Simpa Networks, who related to us the need to move quickly, take risks, and be catalytic.
Lessons from the field on CIF results monitoring and reporting
Emmanuel Kouadio, CIF AU, Feb 14
For the Climate Investment Funds (CIF), understanding the tangible results of its funding is essential to learning and accountability. It has been no small task to make monitoring and reporting (M&R) a reality across the four programs and 48 countries that comprise the CIF. But this year, 2014, all CIF pilot countries will report on results and annually thereafter.
——————————-
World Bank, Government of Samoa Launch Climate Resilience Program
World Bank, February 6
"The World Bank is committed to helping small island states manage pressing risks from natural disasters and climate change," said Drees-Gross. "Through the Climate Investment Funds, we are proud to support Samoa in critical efforts to increase the resilience of coastal communities and infrastructure, which could help protect their very survival as well as long-term development."
Keeping Partnership Strong as PPCR Planning Turns to Action in Samoa
Litara Taulealo, Ministry of Finance, Samoa, Feb 18
Last week the government of Samoa and the World Bank announced the launch of a new project to support climate change adaptation measures for coastal communities. Our Enhancing the Climate Resilience of Coastal Resources and Communities Project, supported by $14.6 million from the Pilot Program for Climate Resilience (PPCR), will assist 45,000 Samoans in coastal communities in adapting to climate change and climate variability, protect coastal infrastructure, and increase awareness about climate change impacts and adaptation activities among communities, civil society, and government entities.
——————————-
Drawing lessons from Turkey's energy use, emissions and fuel mix
Sandy Ferguson, EBRD, Feb 5
One thing jumps out when looking at the Turkish Sustainable Energy Financing Facility (TurSEFF) report: with the right combination of financing, one can achieve substantial changes in energy use, emissions, and fuel mix in middle income countries.
Transforming Waste to Energy in Nepal
Nepal is part of the larger effort to expand energy access and markets for renewable energy in the world's poorest countries. Today, Nepal is using SREP to develop large-scale commercial, institutional, and municipal bioenergy projects
Menengai Geothermal Power Plant in Kenya
Africa Express stopped in Kenya to learn more about geothermal power development at Menengai. SREP $25 million is supporting development of Menengai which envisions 120 wells injecting 400 megawatts of electricity into the national grid
AfDB facilitates private sector finance for climate-readiness in Niger, Mozambique and Zambia
AfDB, February 26
Over US $30 million in concessional funds has been made available for innovative private sector projects that seek to improve climate change adaptation or readiness in Niger, Mozambique and Zambia. This financing is part of the Pilot Program for Climate Resilience (PPCR), a financing window of the Climate Investment Funds (CIF)
Open Call to Private Sector
CIF AU, Feb 20
Access over $65 million in concessional financing set aside for innovative private sector projects in PPCR and SREP pilot countries. Proposals being accepted until March 31 (SREP) and April 30 (PPCR). Read more.
Rooted in Learning, Growing with Results
CIF AU, February 17
2013 was a year of growth for the CIF. The 2013 CIF Annual Report highlights emerging results, key lessons learned, and the momentum we are building for climate-smart development.
USELF Boosts Ukraine's Renewable Energy Sector
EBRD, February 14
The first phase of the EBRD's Ukraine Sustainable Energy Lending Facility (USELF) will deliver 200 GWh of renewable energy through an innovative combination of EBRD commercial financing, dedicated technical assistance support and
AfDB affirms its support for Power Africa, with a commitment of more than US $600 million
AfDB, February 13
In addition, under the aegis of the Climate Investment Funds, the Bank has led work on the Scaling-up Renewable Energy Program (SREP) Investment Plan for Tanzania and prepared jointly with the World Bank the Scaling-up Renewable Energy Program (SREP) Investment Plan for Liberia. This will lead to projects in both countries.
AfDB supports Ghana local communities with $14.55 million to reduce deforestation
AfDB, February 4
The project, called Engaging Local Communities in Reducing Emissions from Deforestation and Forest Degradation (REDD+) /Enhancement of Carbon Stocks, benefits from the support from the Climate Investment Funds' (CIF) Forest Investment Program (FIP).  It will directly benefit 12,000 people, half of them women, by providing capacity building, seeds and equipment, and financial incentives through benefit-sharing agreements to develop forestry, agroforestry and alternative livelihoods. The project will also indirectly benefit 175,000 people in the two regions.
###
Following up on our posting: ""GLOBE" – The UN via UNFCCC tells us that the word GLOBE means now "Global Legislators Organization" which is encouraging as their meeting hosted by the US Senate, covers 50 countries responsible for 88% of global carbon emissions, and is the best the UN can do trying to work for the People of the World."
we have now:
Domestic climate laws on the rise, a boost for pending UN action.
WASHINGTON Thu Feb 27, 2014 
Feb 27 (Reuters) – An explosion in the number of laws passed around the world aimed at confronting climate change in the last 20 years was hailed on Thursday as a step toward building support for a United Nations climate treaty to be negotiated in 2015.
Countries that together account for most global greenhouse gas emissions have passed nearly 500 laws since the Kyoto Protocol climate treaty was signed in 1992, with emerging economies leading many of the recent efforts, according to a report released by the Global Legislators Organisation (GLOBE) and the Grantham Research Institute at the London School of Economics.
Prior to the treaty, fewer than 40 laws addressing climate were on the books.
Much of the major legislative action on climate change in 2013 took place in countries like China and Mexico, whose economies are growing rapidly.
The report was launched on Thursday in Washington to an audience of over 100 legislators from 50 countries in the U.S. Senate's Kennedy Caucus Room.
The U.N. climate treaty to be negotiated next year is expected to consist of pledges of specific actions, or "contributions," from nearly 200 countries, aimed at reducing greenhouse gases.
Senator Edward Markey, a Massachusetts Democrat who had co-authored a comprehensive climate-change bill when he was a U.S. representative, said the study should encourage the U.S. Congress to enact its own climate legislation. The bill co-authored by Markey had passed the House of Representatives in 2009 but died in the Senate a year later.
"We need an international movement to pass climate legislation, and nowhere is that movement needed more than here in the United States," Markey said.
Others at the report's launch, including House Democratic leader Nancy Pelosi, said that with the U.S. House now controlled by Republicans and the Senate run by Democrats, efforts at legislation are likely to be stymied by policy gridlock.
"Action in Congress right now is unfortunately not in the cards," said Todd Stern, the U.S. State Department's special envoy on climate change and lead U.S. climate negotiator.
The U.S. will achieve emissions cuts through executive action taken by the administration, he added.
BYPASSING GRIDLOCK
The United States is pushing for a new approach to the climate treaty; under the previous, the requirement for unanimous consent made it difficult to agree to any changes.
Among the requirements envisioned by the United States for countries' contributions to the global pact are that they conform to a common timeframe with other countries, and be specific, quantified and quantifiable.
The United States' vision also would rely on countries' domestic authorities enforcing their contributions, since Congress is unlikely to ratify any new international treaty.
U.N. climate chief Christiana Figueres said on Thursday it is too early to predict what governments will agree to at the 2015 climate summit in Paris.
"It is clear that they are going to have a draft in Paris that will be robust, give certainty and be politically digestible in all countries," she told reporters.
Several preliminary meetings of climate negotiators are on the agenda. The next will take place next month in Bonn, and in September, heads of state will be invited to participate in a high level climate summit hosted by U.N. Secretary General Ban Ki-moon in New York.
(Reporting by Valerie Volcovici; editing by Ros Krasny and Leslie Adler)
###
*Full house for February's Sustainability Event. A standing-room only crowd enthusiastically engaged in a presentation by Ron Gonen,  NYC Deputy Commissioner for Recycling.
Gonen stressed that it is possible for NYC to divert all but 18% of waste from landfills. He explained both the economic and environmental benefits of intensive recycling, and the planning for future residential and commercial composting.  To get composting in your building or neighborhood, ask your city councilmember to contact the Sanitation Dept (hrogers@dsny.nyc.gov). Other presenters included: Brooklyn College Professor Brett Branco, who stressed sustainable use of phosphorous, a finite resource for agriculture; Elizabeth Balkan, a senior policy advisor to Mayor de Blasio, who talked about how the new city law requiring commercial food waste recycling will be rolled out; and Vandra Thorburn, who established Vokashi, a unique composting service using the Japanese method of fermenting organic matter and returning it to the earth.  There was much enthusiastic discussion.

Chesapeake Climate Action Network
*On the Bus to Baltimore. On February 20th, about 30 activists, including a number of Sierra Club members, got on a bus at 7:00 in NYC, picking up another 10-15 at two New Jersey stops, to join a rally against an LNG export facility in Cove Point,  Maryland on the Chesapeake Bay.  Dominion Resources which built an import facility there, wants to break its agreement to set aside wetlands and build an export facility on those wetlands. The demonstration was spirited and the speakers, including Sierra Club's Josh Tulkin, were inspiring. The Reverend Lennox Yearwood, Jr. (see picture) made a strong case to the environmental justice aspect of this issue, see picture right. For more pictures, see here.

Divestment Forum Panelists
*Fossil Fuel Stock Divestment is a movement that is quickly gathering steam on campuses across the country.  While still principally on campuses, it is moving into city and state governments. Six speakers at a February 26th "Divestment Open House" at the Ethical Culture Society  discussed the divestment movement from a variety of perspectives. Sierra Club's Lisa DiCaprio (far left in photo), spoke about how successful divestment efforts might shift the way investors view the value of fossil fuel investments, making them less attractive. The presentations were followed by a lively Q&A session with the audience.


Check out recent posts on our Blog: A Letter from Minisink, talks about a community's resistance to the intrusion of a gas compressor station and proposals for a gas power station in their community;  NYC Parks Under Siege, reports about efforts to block the granting  of permission for restaurants to locate in parks; and Promises and Pitfalls in the 2014 NYS Energy Plan raises questions about the State's newly released energy plan.   And don't forget to check our calendar for events of interest to environmentalists in and around New York City.

If you are interested in volunteering to work on the NYC Group's online and digital communications, please email Gary Nickerson at    gary@gwntec.com.
###
THE FOLLOWING SHOWS THAT UNDER UK LEADERSHIP, AND US BACKING, THE UN TURNS TO ITS MEMBER STATES' LEGISLATORS IN ORDER TO FIND A WAY TO TACKLE CLIMATE CHANGE.  IT SEEMS THAT FINALLY THE UN HAS LANDED ON SOMETHING – AND WE GIVE A LOT OF CREDIT FOR THIS TO  Dr. ROBERT ORR – a US citizen -  UN Assistant Secretary General in the UN Secretary-General's office.
We are told that In 2013 there was substantive legislative progress in 8 countries (passage of "flagship legislation") and positive advances in a further 19 countries:
– Americas: Bolivia passed its Framework Law on Mother Earth and Integral Development to Live Well; El Salvador adopted its National Climate Change Strategy; In Ecuador, Decree 1815 established the Intersectoral National Strategy for Climate Change; and in Costa Rica a draft General Law on Climate Change has been introduced and is expected to pass in 2014.
– Asia-Pacific: China published its National Adaptation Plan and made progress in drafting its national climate change law; Indonesia extended its forest moratorium; Kazakhstan introduced a pilot emissions trading scheme; Micronesia passed its Climate Change Act in late 2013.
– Europe: Poland adopted its National Strategy for Adaptation and Switzerland overhauled its CO2 Act to increase ambition.
– Middle East and North Africa: Jordan passed its National Climate Change Policy; and the United Arab Emirates launched a mandatory Energy Efficiency Standardization and Labelling Scheme.
– Sub-Saharan Africa: Kenya adopted 2013-2017 Climate Change Action Plan; Mozambique adopted 2013-2025 National Strategy for Climate Change;Tanzania passed its National Strategy on REDD+; Nigeria's Legislative Council
approved the adoption of a National Climate Change Policy and Response Strategy.
BUT WHEN THINGS MOVE UP THEY MAY ALSO COME DOWN – SO -
* Two countries began processes to reverse legislation:
– Following an election, the new Australian government has proposed to repeal aspects of the Clean Energy Act in 2014.
– Japan announced a lowering of its ambition on climate change in response to its reduced reliance on nuclear energy after the tsunami and resulting accident at Fukushima.
        Key information on the GLOBE Partnership for Climate Legislation (supported by the UN and the World Bank Group):
* The Partnership For Climate Legislation will support national legislators in 66 countries to share best practice and to develop and oversee the implementation of legislation on climate change, natural capital accounting and forests/REDD+.   The Partnership directly responds to the demand from legislators for technical, policy and analytical capacity.
* Specific aims:
i. To share best legislative practice through the annual GLOBE Climate
Legislation Study, national case studies and the convening of GLOBE Climate
Legislation Summits.
ii. To provide a dedicated international process that supports legislators
– on a demand-led basis – to develop and implement climate change
legislation.
iii. To explore how commitments made in national legislation can be
recognised within the architecture of an international climate change
agreement.
iv. To develop a Climate Legislation Resolution to be agreed at the World
Summit of Legislators and to be taken by legislators to their respective
national parliaments.
v. To support legislators to obtain, use and exchange relevant climate data.
* Climate-related legislation and policies (including mitigation, adaptation and forests/REDD), once implemented, carry the potential to bring additional benefits including disaster risk reduction and resilience, new sources of income/livelihoods, sustainable energy access and positive effects on public health.
* Recognizing that developing and passing laws is not sufficient in itself, the Partnership will support legislators to ensure they are equipped to effectively oversee the implementation of the law by national governments, including ensuring national budgets are consistent with climate goals, as well as assessing the impact of climate-related laws on the national
economy and key sectors of society.
           About the Global Legislators Organisation (GLOBE):
* GLOBE was established in 1989 by cross party legislators from the EU, Japan, Russia and the USA.  Today GLOBE International is the world's largest organisation of legislators dedicated to advancing laws on climate
change, forests/REDD+ and natural capital accounting .
* Legislators from 86 countries have participated in GLOBE's dedicated policy initiatives and legislators from 40 countries work through formal national and regional chapters of the organization.
* With headquarters in Great Britain, offices in 8 countries and over 25 locally-recruited policy advisors across a global network, GLOBE is uniquely placed to support national legislators to develop and implement laws.
—————————————
FURTHER – A PRESS RELEASE – THAT WAS EMBARGOED UNTIL 00:01 UK/GMT 27 FEBRUARY 2014
STUDY REVEALS RAPID ADVANCE OF NATIONAL CLIMATE CHANGE LAWS CREATING BASIS FOR NEW INTERNATIONAL CLIMATE AGREEMENT
UN and World Bank support partnership with the Global Legislators Organisation (GLOBE) to encourage development of national climate change laws.
********
Thursday 27th February, US Senate, Washington DC, 115 senior national legislators from 50 countries along with the heads of key United Nations Institutions, United Nations Climate Negotiations and the World Bank Group receive the results of the most comprehensive analysis to date of the reach and depth of national climate changes laws in 66 of the world's countries.  The Summit will be hosted in the US Senate Kennedy Caucus Room by Senator Edward Markey.
The Study covering countries responsible for 88% of global carbon emissions was co-authored by the Global Legislators Organisation (GLOBE) and the Grantham Research Institute at the London School of Economics (LSE).  The Study sets out a series of politically significant findings that will have a direct bearing on success of the international negotiations. Legislators will also consider how national laws can be recognised within a 2015 international climate change agreement.
Responding to the Study, the Global Legislators Organisation is launching a major new international initiative, The Partnership for Climate Legislation, supported by the United Nations and the World Bank Group.  The Partnership will help national legislators to develop and implement climate change laws. It will work across the 66 nations covered by the Study by sharing best legislative practice, provide detailed policy, analytical and legal capacity to cross party groups of legislators as they develop their own laws.
The GLOBE Climate Legislation Study findings show:
* Almost 500 national climate laws have been passed in the 66 countries
covered by the Study.  The 66 countries account for 88% of global
emissions.
* 64 of 66 countries have progressed or are progressing significant climate
and/or energy-related legislation.
* Much of the substantive progress on legislative activity on climate
change in 2013 took place in emerging economies, including China and
Mexico, which will provide the motor of global economic growth in coming
decades.
* Whilst the legislative approach often differs (whether directly inspired
by climate change, energy efficiency, energy security or competitiveness),
national legislation is achieving similar results — improved energy
security, greater resource-efficiency and cleaner, lower carbon economic
growth.
* While current national legislation does not yet add up to what needs to
be done to avoid dangerous climate change, it is putting in place the
mechanisms to measure, report and verify emissions, a pre-requisite for a
credible global climate treaty.
* There is an urgent need for those countries that have not yet passed
climate legislation to do so
US Senator Edward Markey, said: "Climate action is happening in legislatures around the globe because climate change is harming countries and their people around the globe.  We need an international movement to pass climate legislation, and nowhere is that movement needed more than here in the United States.  The GLOBE study show legislators around the
world are taking actives steps to develop significant national legislation and I urge colleagues here in the United States to acknowledge the movement and take action".
President of the Global Legislators Organisation, Rt Hon John Gummer, Lord Deben, said: "The message from the 4th GLOBE Climate Legislation Study is clear – more countries than ever before are passing credible and significant national
climate change laws. This is changing the dynamics of the international response to climate change and poses a serious question to the international community about how we can recognise credible commitments made by governments within their national legislature.  It is by implementing national legislation and regulations that the political conditions for a global agreement in 2015 will be created."
"Understanding this message from the Study and embracing it in how major international processes and institutions work between now and Paris 2015 will be critical.  We must see more countries develop their own national climate change laws so that when governments sit down in 2015 they will do so in very different political conditions to when they did in Copenhagen. The Partnership for Climate Legislation will support legislators across party political lines to advance climate change-related legislation. The Partnership will provide a combination of political, analytical and administrative capacity.  It will also serve as a platform where legislators from across the world can meet, discuss common barriers, issues and successes and share information about best legislative practice".
Executive Secretary of the United Nations Framework on Climate Change (UNFCCC), Christiana Figueres said: "It is no exaggeration to say that theclean revolution we need is being carried forward by legislation. Domestic legislation is critical because it is the linchpin between action on the ground and the international agreement. At the national level, it is clear
that when countries enact clean energy policies, investment follows. At the international level, it is equally clear that domestic legislation opens the political space for international agreements and facilitates overall ambition".
World Bank Group Vice-President and Special Envoy Rachel Kyte said: "2014 is the year we need to step up climate action.  Legislators have a critical role to play in raising political ambition and ensuring that effective laws and regulations support low carbon and resilient development.  For this reason, we're pleased to support the new Partnership for Climate
Legislation".
The President of the Mexican Congress, Hon. Ricardo Anaya Cortes said: "With the support of GLOBE, Mexico has passed ambitious climate legislation. We are here today in the US Senate to share our experience, to build a global coalition of parliamentarians against the damaging effects of climate change and to challenge inaction."
UK Foreign Secretary Rt. Hon William Hague said: "A global and legally binding deal on emissions reductions in the UNFCC in 2015 is imperative. As we work towards that agreement, it is clear that domestic legislation has a key role to play in building consensus and cementing ambition, which is why GLOBE's work is so important.  The launch of GLOBE's Partnership forClimate Legislation, with the backing of the UN and World Bank, is an  important step towards sustaining this work for long term, which the UK Government wholeheartedly supports".
Confirmed Keynote Speakers included:
Representing the United Nations Secretary General's Office:
* UN Assistant Secretary-General, Dr Robert Orr Representing the World Bank:
* World Bank Group President, Dr Jim Yong Kim
* World Bank Group Vice President and Special Envoy for Climate Change, Rachel Kyte
Representing the United Nations Framework Convention on Climate Change:
* UNFCCC Executive Secretary, Christiana Figueres
Representing the United Nations Environment Programmes:
* UNEP Executive Director, Achim Steiner
Representing the Congress of Mexico:
* President of Congress, Hon. Ricardo Anaya Cortes
—————————————————
For further information, please contact:
Study results and policy:
Terry Townshend, Study Author and Policy Director, Mobile: +86 15011 289613
and +44 7900 912808. E-mail: Terry.Townshend@globeinternational.org
Washington Summit:
Andrew Hammond, GLOBE Media Relations, Mobile: +44 7792926576. E-mail:
Andrew.Hammond@globeinternational.org
Office of Senator Markey:
Eben Burnham-Snyder, Telephone +1 202 224 2742, Email
eben_bs@markey.senate.gov
www.globeinternational.org
###
"Storms of My Grandchildren", by James Hansen
On the webpage "Updating the Climate Science: What Path is the Real World Following?", Drs. Makiko Sato and James Hansen update figures in the book Storms of My Grandchildren (see LA Times review) and present updated graphs and discussion of key quantities that help provide understanding of how climate change is developing and how effective or ineffective global actions are in affecting climate forcings and future climate change. A few errata in Storms are also provided.
Near Future Presentations
Mar. 1 (Sat): Short film and keynote address. The 32nd Annual Public Interest Environmental Law Conference , University of Oregon School of Law, Eugene, Oregon, 4-6 p.m.
Apr. 10 (Thur): Tenant Farming to White House Arrests: A Scientific Perspective on the Unfolding Climate Crisis". Emily Asplundh Concert Hall, West Chester University, West Chester, PA, 7:30 p.m.
Apr. 15 (Tues): "Can We Avert the Unfolding Climate Crisis?" to the wide MIT community (in the afternoon/early evening)
Apr. 16 (Wed): "Ice Sheet Melt, Sea Level and Storms" to MIT Earth, Atmospheric, and Planetary Science Department, 4 p.m.
Recent Communications
Dr. Hansen periodically posts commentary on his recent papers and presentations and on other topics of interest to an e-mail list. To receive announcements of new postings, please click here.
Recent Scholarly Publications
Hansen, J., P. Kharecha, M. Sato, V. Masson-Delmotte, et al., Assessing "Dangerous Climate Change": Required Reduction of Carbon Emissions to Protect Young People, Future Generations and Nature. PLOS ONE, 8, e81468.
Hansen, J., M. Sato, G. Russell, and P. Kharecha, 2013: Climate sensitivity, sea level, and atmospheric carbon dioxide. Phil. Trans. R. Soc. A, 371, 20120294, doi:10.1098/rsta.2012.0294.
Other Recent Publications
Apr. 4, 2013: Keystone XL: The pipeline to disaster. Op-ed in the Los Angeles Times.
Recent Presentations
February 2014: Symposium on a New Type of Major Power Relationship: Presentation given at Counsellors Office of the State Council, Beijin, China on Feb. 24.
+ Download PDF (3.5 MB)
December 2013: Minimizing Irreversible Impacts of Human-Made Climate Change: Presentation given at AGU Fall Meeting on Dec. 12.
+ Download PDF (4.3 MB)
September 2012: A New Age of Risk: Presentation given at Columbia University on Sep. 22.
+ Download PDF (2.1 MB)
+ Download PPT (2.5 MB)
Recent TV Appearance
in Recent News
Recent Video
December 2012: Discussion at Climate One about Superstorm Sandy and Carbon Pricing.
###
Don't Just Do Something. Sit There.
by Thomas L. Friedman,   Op-Ed Columnist of The New York Times
With Russia growling over the downfall of its ally running Ukraine and still protecting its murderous ally running Syria, there is much talk that we're returning to the Cold War — and that the Obama team is not up to defending our interests or friends. I beg to differ. I don't think the Cold War is back; today's geopolitics are actually so much more interesting than that. And I also don't think President Obama's caution is entirely misplaced.
The Cold War was a unique event that pitted two global ideologies, two global superpowers, each with globe-spanning nuclear arsenals and broad alliances behind them. Indeed, the world was divided into a chessboard of red and black, and who controlled each square mattered to each side's sense of security, well-being and power. It was also a zero-sum game, in which every gain for the Soviet Union and its allies was a loss for the West and NATO, and vice versa.
That game is over. We won. What we have today is the combination of an older game and a newer game. The biggest geopolitical divide in the world today "is between those countries who want their states to be powerful and those countries who want their people to be prosperous," argues Michael Mandelbaum, professor of foreign policy at Johns Hopkins.
The first category would be countries like Russia, Iran and North Korea, whose leaders are focused on building their authority, dignity and influence through powerful states. And because the first two have oil and the last has nukes that it can trade for food, their leaders can defy the global system and survive, if not thrive — all while playing an old, traditional game of power politics to dominate their respective regions.
The second category, countries focused on building their dignity and influence through prosperous people, includes all the countries in Nafta, the European Union, and the Mercosur trade bloc in Latin America and Asean in Asia. These countries understand that the biggest trend in the world today is not a new Cold War but the merger of globalization and the information technology revolution. They are focused on putting in place the right schools, infrastructure, bandwidth, trade regimes, investment openings and economic management so more of their people can thrive in a world in which every middle-class job will require more skill and the ability to constantly innovate will determine their standard of living. (The true source of sustainable power.)
But there is also now a third and growing category of countries, which can't project power or build prosperity. They constitute the world of "disorder." They are actually power and prosperity sinks because they are consumed in internal fights over primal questions like: Who are we? What are our boundaries? Who owns which olive tree? These countries include Syria, Libya, Iraq, Sudan, Somalia, Congo and other hot spots. While those nations focused on state power do play in some of these countries — Russia and Iran both play in Syria — the states that are more focused on building prosperity are trying to avoid getting too involved in the world of disorder. Though ready to help mitigate humanitarian tragedies there, they know that when you "win" one of these countries in today's geopolitical game, all you win is a bill.
Ukraine actually straddles all three of these trends. The revolution there happened because the government was induced by Russia, which wants to keep Ukraine in its sphere of influence, into pulling out of a trade agreement with the European Union — an agreement favored by the many Ukrainians focused on building a prosperous people. This split has also triggered talk of separatism by the more Russian-speaking and Russian-oriented eastern part of Ukraine.
So what do we do? The world is learning that the bar for U.S. intervention abroad is being set much higher. This is due to a confluence of the end of the Soviet Union's existential threat, the experience of investing too many lives and $2 trillion in Iraq and Afghanistan to little lasting impact, America's rising energy independence, our intelligence successes in preventing another 9/11 and the realization that to fix what ails the most troubled countries in the world of disorder is often beyond our skill set, resources or patience.
In the Cold War, policy-making was straightforward. We had "containment." It told us what to do and at almost any price. Today, Obama's critics say he must do "something" about Syria. I get it. Chaos there can come around to bite us. If there is a policy that would fix Syria, or even just stop the killing there, in a way that was self-sustaining, at a cost we could tolerate and not detract from all the things we need to do at home to secure our own future, I'm for it.
But we should have learned some lessons from our recent experience in the Middle East: First, how little we understand about the social and political complexities of the countries there; second, that we can — at considerable cost — stop bad things from happening in these countries but cannot, by ourselves, make good things happen; and third, that when we try to make good things happen we run the risk of assuming the responsibility for solving their problems, a responsibility that truly belongs to them.
###