Will Israel build two new ports in order to answer the needs of an evolving Fly-to-Buy trend?
Everything shown in article - www.npr.org/blogs/parallels/2014/… – was bought in China, including the lights and flooring of the entryway, had to be partially paid for upfront. There are no refunds and no returns in this niche fly-to-buy industry. Everything for the bathrooms was bought on the 10-day shopping trip to China except for the tile, which came from a Palestinian factory. Adi Asulin, the woman in the story, is shown in the kitchen of her family's remodeled apartment, in Raanana, north of Tel Aviv. She saved thousands of dollars by flying to China to buy furnishings and flooring directly from manufacturers.

Adi Asulin lives in a fabulous apartment on the top floor of a seven-story building in the Israeli town of Ra'anana, north of Tel Aviv. The entry hall is long and light. Windows open onto an enormous balcony, which wraps around three sides of her home. The decor is fresh and white.
"It's all made in China," Asulin says.
Not just made in China. Nearly everything — the floors, the lighting, the furniture — she bought in China on a 10-day shopping spree.
The day after Asulin and her husband got keys to the place, she got on a plane to Guangzhou, in southern China.
"An adventure!" she says.
The big appeal was the price.
"Forty, sometimes 50 percent off the prices in Israel," Asulin says.
The savings add up the bigger the job. Her new apartment had been a rental and needed a lot of fixing. But buying plus remodeling seemed beyond the family budget.
From a friend, Asulin heard about Israeli companies that arrange trips for individuals to buy directly from Chinese factories. She signed up, getting tickets and booking hotel rooms for herself, an architect and her dad for advice.
Once on the ground in Guangzhou, the trio was guided by the owner of the Israeli company and local staff. Their first stop was a flooring factory bigger than Asulin had ever seen — half the size of her city, she says.
"And I can choose whatever I want," she says. "Different colors, different materials, different prices."
The factory was organized by style: marble in one area, dark wood in another, colored linoleum somewhere else. For Asulin, it helped to have done a lot of planning and measuring before she arrived.
She loved having the time to focus exclusively on shopping — and finish most of it in a short time. She says this made the remodel much easier for her, a 37-year-old working mother of three.
"If I was buying everything in Israel, it was after work, with kids, afternoons and every weekend," she says.
Flying to China instead of letting Chinese products come to you is not the approach for everyone. Nurit Gefen, an Israeli interior designer, went on one China shopping trip with a client. She will not go again.
Gefen says it is the entirely wrong way to create a home.
"When you build a house, it's like pregnancy. You have to think about it, you have to dream about it," she says.
Plus, there are significant financial risks, she says.
"When you go to China, you have to buy everything in advance. Before you know the colors, before you know exactly what you want," Gefen says. "And you can make mistakes when you buy things in advance. And you can't exchange it afterwards."
Partial payment in cash is often required upfront. Israeli newspapers have run horror stories of people who were ripped off on China shopping trips.
Still, they go. And Israelis are not the only ones doing their shopping directly in China. Israelis in the business say it's popular among people from a number of places, including Russia, India and the Gulf states.
Economics professor Daniel Levy of Israel's Bar-Ilan University says this service began because of structural problems in the Israeli economy. Israel started out socialist, and he says many practices of centralized control still affect the economy today.
"We don't have what you are used to in the U.S.," he says, "everybody trying to offer the best deal, which brings about greater efficiency and lower prices and happy customers. That's not what we have here at all."
This shows up most dramatically in grocery bills in Israel. Protests over the cost of food shook up Israel's elections last year. A 2011 parliamentary report showed that just two companies controlled more than 80 percent of the domestic cheese and yogurt production.
But weak competition also affects imports, including nonfood items like flooring and furniture.
Shai Safran heads Basini, an Israeli company that takes about 10 customers a month to China to buy everything they need for home remodels or building. He doesn't have a big showroom in Israel. He just treats factories in China as his own.
"Like my stores are the factories in China," Safran says. "I don't need 50 workers; I don't need inventory. I can save the cost of the business in Israel."
Even with his fee — for his contacts, logistics and know-how — Safran says he still beats the prices offered in Israel.
But that could change over time. Israel is building two new private ports and is hoping to reduce import costs in part by banning labor unions. A contract for the first port was signed last month — with a construction firm based in Beijing.
Emily Harris is NPR's Jerusalem correspondent. Follow her @emilygharris.
###

U.S. Arctic envoy looks to 1970s New York for inspiration
Date: 22-Oct-14
Reuters Author: Timothy Gardner
As he contemplates dealing with crumbling shores, melting ice and other changes in the rapidly changing Arctic, Admiral Robert Papp looks back at the rough and tumble New York City of the 1970s for inspiration.
Papp, who became the first ever U.S. special representative for the Arctic in July, said he only needs to remember the first time he visited New York Harbor in 1970 for encouragement on tackling complicated issues. "It was disgusting," he said about the industrial and other waste that wrecked the city's shores.
Then the 1972 federal Clean Water Act began to turn things around and today the waterfront is an attraction to both locals and tourists. "We used to dump raw sewage into harbors, there's no way we'd consider doing that now," Papp said.

The Obama administration is about to take on a wider set of problems in the Arctic than city pollution. In May, U.S. Secretary of State John Kerry will kick off two years at the helm of the Arctic Council, which since 1996 has linked the United States, Russia, Canada and the Nordic countries, to coordinate policy in the world's air conditioner.
Papp said the United States will focus on three issues during its tenure as chair: Arctic ocean safety, mitigating and adapting to climate change, and exploring economic options for the people that live in the planet's North.

"We are going to have the microphone for two years," Papp told Reuters in an interview. "We are going to start a public relations campaign … to articulate the reasons why people should be concerned about the Arctic."
Climate change is revising the way the world views the Arctic, creating new and far shorter sea lanes, and sparking interest in new oil drilling despite the region's rough conditions.
Kerry who is very focused on climate change, will take the reigns from his Canadian counterpart, who focused heavily on energy and commercial development.
Believing that slowing climate change in the Arctic can reduce global warming in the rest of the planet, Papp wants to slash Arctic emissions of methane, a potent greenhouse gas, and black carbon, or soot, emitted by heavy fuels used by ships and machinery, that scientists blame for absorbing solar rays and melting ice.
Making development safer and cleaner for energy and other companies eager to uncover the region's plentiful resources is also part of Papp's job.
Not everyone thinks the Arctic Council is the best forum to take on difficult issues like climate change. Analysts have already said the group has yet to complete two other initiatives on search and rescue and oil spills.

But Papp said it is important to set the bar high to bring solutions to difficult problems. "If we set the bar low … you end up with a very mediocre product," he said. "I'm willing to address anything we can."
Among other issues, Papp said the forum should help mitigate the effects of climate change on residents of the Alaskan Arctic, including crumbling shores, melting permafrost and the flooding of traditional below-ground ice cellars where indigenous people store whale meat.

Papp acknowledged there are limits to how much Washington can hope to accomplish in the Arctic, however, saying the country will have to think hard about taking care of the basics in marine transport. The United States has not built a heavy icebreaker since the 1970s and only has one operational while Russia has up to 40. The ships can cost $1 billion each.
Still, any success in dealing with Arctic issues could lead to wider gains as the United States tries to secure a United Nations climate deal in Paris in 2015, a legacy-setting goal for Kerry and President Barack Obama.

Emerging powers India and China, two leading sources of global greenhouse gas emissions, earned places on the Arctic Council as observers last year. Papp said they could be encouraged to provide resources to help people adjust to the changing Arctic.

"If you want a seat at the table, perhaps you could provide resourcing as well as address some of the issues," he said. The Arctic is a region "that advertises for the rest of the world" how things can begin to change, Papp said.
(Additional reporting by Valerie Volcovici, Andrea Shalal and Ayesha Rascoe
—————————————————————-

Above article predicts enhanced US involvement with the Arctic region, but makes no mention of the Second Arctic Council Assembly meeting that will be held October 31 – November 2, 2014 in Reykjavik, Iceland, under the leadership of Iceland President Ólafur Ragnar Grímsson, whose leadership brought the Arctic to the world attention – he, not just Canada as mentioned in the article.
The Arctic will become focal point for those interested in stopping global warming and the Arctic Circle cannot be allowed to become just a supervisor of cleaner petroleum production. The issues are many and very complicated – rather well beyond natural freezers for storing whale meat. The US has to play catch-up to Russia in all Arctic and the US arrives now when China, Japan, Korea, Brazil, India are among claimants to participate in what they consider a region that is outside existing National Sovereignty rule – a truly global area of interest.
===============================================================
###

Biofuel Companies Look Beyond the Gas Tank
By DIANE CARDWELL, for The New York Times, October 17, 2014

When it comes to the future of advanced biofuel production, Abengoa Bioenergy, the Spanish company whose $500 million plant in Hugoton, Kan., is opening on Friday, has just one word: plastics.

For many of the companies opening big new biofuel plants in the Midwest, executives are already shifting their focus to replacing petroleum not only in the gas tank but elsewhere as well. In Abengoa's case, a big target is plastic bottles.
"There really is a huge upside potential in the nonfuel side of the business," said Chris Standlee, executive vice president of global affairs at the company. "Hugoton is the step that allows us to move on to some of these other things."
Other companies are joining in. DuPont, which is developing a plant in Nevada, Iowa, recently announced that it had reached an agreement with Procter & Gamble to funnel some of its ethanol into Tide Cold Water laundry detergent.
And companies using other technologies are pursuing similar paths. Under an agreement with Unilever, for instance, Solazyme, which uses microalgae to produce oils, is making ingredients for Lux soaps.
The ethanol companies are still relying on the fuels business for much of their sales. Of the roughly 25 million gallons of ethanol Abengoa plans to produce from agricultural waste — mainly the nonedible parts of corn plants — it will most likely sell the bulk to California, where a low-carbon fuel mandate is creating a stronger market for clean fuels. Since its technology can also transform municipal solid waste to fuel, Mr. Standlee said, the company could also open plants outside of the heartland.
But ethanol demand is limited, and it has turned out to be much more complicated and expensive to develop biofuel from cellulosic biomass like plant residue, wood chips and municipal solid waste. So despite millions in government grants and tax subsidies, many companies that originally aimed to make renewable fuel are also looking to make products and chemicals for which they can reap a higher price.
Abengoa plans to pursue supplying plastic for bottles, something beverage companies have been seeking to help bolster their green credentials, Mr. Standlee said.
This direction poses a problem for the Department of Energy, whose aim was to ignite the development of clean fuels, said Wallace E. Tyner, a professor of agricultural economics at Purdue. But the energy market may not be ready.
"Today, if you want to build a plant economically, it doesn't work unless you can get a decent amount of higher value product in the product stream," he said. "You would hope that the companies who are investing in these plants are learning a lot. Some of them — many of them, maybe — are going to fail. But maybe some of them who are making higher value products will learn enough that they can more efficiently get some fuels out of it too."
Ethanol operators have faced a shifting landscape in recent years. The market for ethanol to be used in vehicle fuels is already saturated, analysts say, and the industry is waiting on a long-delayed decision by the Environmental Protection Agency on whether to cut the amount required to be blended into the fuels by more than 40 percent. On top of this, technical challenges remain.
Still, major plants, representing hundreds of millions in investment, continue to come online. In addition to Abengoa's opening, a joint venture between Poet, an ethanol producer, and Royal DSM, the Dutch life and materials sciences company, held its grand opening in Emmetsburg, Iowa, in September. Together, they are expected to produce about 50 million gallons of cellulosic ethanol a year — all generated from agricultural waste like corn cobs, husks and leaves, known as stover.
The uncertainty has forced ethanol producers like Abengoa to broaden their horizons.
DuPont is even looking overseas. On Thursday, it announced an agreement with Macedonia to develop a commercial-scale plant in partnership with Ethanol Europe, to produce about 25 million gallons of cellulosic ethanol a year.
"This is yet another example of the market's readiness for cellulosic ethanol and the global interest," the company said in a statement.
###
[COP20-Lima] Por un Mundo habitable con justicia climática |
For Climate Justice and a World Fit to Be Lived |
Pour un Monde habitable et une justice climatique
Castellano | English | Français | Português
For Climate Justice and a World Fit to Be Lived
in Lima, December 8 to 11, 2014
In a spirit of solidarity, we call on all civil-society organizations, networks, social movements, research centers, and citizens in general to join in the Peoples' Summit on Climate Change to be held from December 8 to 11, 2014. The Peoples' Summit will be a major alternative event during the 20th Conference of the Parties to the United Nations Framework Convention on Climate Change (COP 20) scheduled for the first half of December in Lima, Peru.
Read more
Welcome!
Welcome everyone to the official mailing list of the Peoples' Summit on Climate Change – Peru 2014. This list is unidirectional and you will only receive summary information of the Communication Commission of the People's Summit. With this message we want to bring information related to People's Summit.
Six Major Themes
Debates and events will be organized under six major themes:
1. Civilizatory change and Development model.
2. Global Warming and Climate Change.
3. Energy
4. Food Security and Sovereignty
5. Sustainable Land Management
6. Financing, technology transfer and inter-learning.
Read more
Participation and self organized activities
The Summit is the independent space for civil society, an alternative space to the Twentieth Conference of the Parties (COP20) from the United Nations Framework Convention on Climate Change (UNFCCC). The People's Summit will be held from December 8 to 11th in downtown Lima. The Central Mobilization will happen December 10th, Global Day of Human Rights. Participation at the people's summit is completely free and open. You can register your event here. We recommend you review our list of FAQ.
Contact Us
contactoThe official e-mail is cumbredelospuebloscop20 at gmail.com.
Depending on the specific communication or requirement of information, you can send an email to:
General information, Logistics, Communications, International topics.
###
Humanity at Crossroad : How to Shape a New Sustainable Development Trajectory.
On US Columbus Day, The Women's International Forum at the United Nations in New York – WIF – took advantage of the slower ongoings at the UN and convened a meeting with the two Co-Chairs of the Open Working Group on Sustainable Development Goals (OWG SDG) who toiled for a full year to produce an aspirational text that eventually was accepted by all UN Member States, and which now has to be fleshed out so there is also a financing agreement by the end of this General Assembly year – ready to go to the Paris Summit of November 30 to December 11, 2015.
The wife of the UN Secretary-General Ban Ki-moon, Ms. Ban Soon-taek is the Patron of WIF and the wife of the Ambassador from Thailand, Ms. Nareumon Sinhaseni is the current President of the Executive Board of WIF.
Today's presentations by the two co-chairs was the best lay-out of the issues which encompass no less then the future of Humankind on earth. The presenters were:
H.E. Csaba Korosi – Ambassador of Hungary and H.E. Macharia Kamau – Ambassador of Kenya
The two Co-chairs of the Open Working Group on Sustainable Development Goals (OWG SDG).
Ambassador Korosi spoke first and with the help of power-points provided an in-depth analysis of how the Working Group spent their time. Then Ambassador Kamau boiled the future we aspire to down to Three Words – AMBITIOUS, TRANSFORMATIVE and UNIVERSAL.
I will proceed by reporting this vision first, and pick up the mechanics later.
The targets and goals boil down to us an image of a world without poverty, without hunger everywhere, where diseases are under control, a truly inclusive society, equality for genders, businesses are responsible in their production methods and where animals are not seen as means for us but part of the ecosystem – and countries are equal as well.
Then he said he wants to imagine the standard in Manhattan as the norm for the SDGs. He challenged us to think of the conditions in the year 1960 and contemplate on how the world changed since then in travel, phones, medicines, how we moved away from the danger of a nuclear war. Then he suggested to flip this and ask why not continue this progress for the next 40 years as well, and spread the gains worldwide. That was the AMBITION part.
Now to TRANSFORMATIVE – this when we realize that after 3,000 years of civilization we still talk of gender equality. We need
a major change in the economic, social, and political structure of our lives.
It must be UNIVERSAL because those that progress was denied to them will come to claim their part. We do not talk anymore of charity towards the poor – that got us nowhere.
We must be held with our feet to the fire of accountability. This is not just about money. It is rather about holding ourselves accountable – he said. After what we achieved in preparing goals and targets we now have the span of time – January – September 2015, to come up with an AGENDA THAT IS ACCOUNTABLE. We have to overcome the people that do not see this – and bring them on board. He knows for a fact that we will succeed, and that collective effort will lead us to the future we all want.
Ambassador Korosi opened by telling us that we have now 17 Sustainable Development Goals (SDGs) and 169 Targets – all accepted by all of the UN body after a year of hard work that spread over 13 sessions. All this is ACTION ORIENTED AND ASPIRATIONAL IN NATURE. Let us round this up to 170 TARGETS.
Now we use the resources of 1.5 Earths – but we have only one. This year the Earth Overshoot Day was August 19. That was the day we started to borrow this year resources from the future generations. This date of the "Overshoot" moves back year-by-year so it shows our consumption of resources accelerates us with increasing speed towards the climate disaster. If we do not change our ways by 2030 we need then 50% more food and 35% more freshwater while nnually we loose agricultural land equal to half a Hungary or the size of a Belgium.
Since 1900 the world population tripled and available water per capita decreased from 12.000 m3 to 5.000. Urbanization that is now at 52% of the 7.5 Bn people today will reach 75% of the 8.5-9 Bn by 2050. Looking at the MDGs that were not achieved yet we find that 2.5 Bn people today still need electricity.
SD was defined in 1987 as Development to meet the present needs but that does not compromise the future. Now SD is seen as a bridge between the past, present, and future – all right – but it is between humans and nature, between politics and economics, between governments, civil society, and business, between the rich and poor, and between the North and South, and South and South. Sustainability is thus a hub of bridges and the SDGs are there to motivate the construction of these bridges.
We were presented the 17 SDGs and told that the 169 targets, global in nature as well, result from looking at local, national, regional needed actions. We attach the list of the 17 SDGs further down.
The concept is to turn the global aspirations into opportunities. We will need methods for data collection in order to build a supporting system for achieving the SDGs. We tried working on single goals and developed indicators for that purpose – but it did not work because all goals are interconnected. To support this, Amb. Korosi showed us a slide how the three Dimension of SD in the SDGs – the environmental, social, and economic, cut across all 17 SDGs and from goal to goal.
Among the lessons we learned from the work with MDGs is the need for a global Paradigm Change. The SD is a joint commitment to change in global trends – not limited to assistance to address some challenges in a group of countries – we are really all in the muck – together.
Implementation will be on national / regional / local levels with political commitment, national responsibility, supporting international cooperation – resulting in 193 different ways of implementation that result from the fact that there are now 193 Member States at the UN – but also involving the cooperation of stake-holders – a term that allows windows for Civil Society, business, and we assume also factors that have only outside relationship to the UN like the indigenous peoples' Nations, or countries that are not Members of the UN. Cities and urbanization, as well as communities and sub-national States, come under the Local level while regional includes neighboring Nations.
Here we get to the issue of money and the speaker said that the global savings stand at 22 trillion with the value of assets reaching 230 trillion – so – in honesty – the 2-5 trillion needed as investment in the SDGs ought not to be a problem considering the vast amount of good these investments will provide. The problem is thus not money but accountability.

The home stretch of the follow up to the agreed-upon text, what the speaker called THE WAY AHEAD, includes the following steps:
- A Synthesis Report by the Secretary-General to be ready December 2014 followed by Intergovernmental negotiations – January to September 2015.
- The all important Summit on Financing SD to be held in Addis Abeba, July 2015
- The Summit on post-2015 agenda that is timed with the General Assembly 2015 meeting in September 2015 at UN New York Hqtrs.
- The target meeting in Paris, December 2015 of the make or brake Climate Summit 2015.
The speaker pointed out that a failure in any one of these steps is simply unaffordable.
————————
The presenters were introduced to the members of WIF:
"Elected by acclamation by members of the Open Working Group on Sustainable Development Goal (OWG SDG) as Co-Chairs of the OWG on SDGs on the first day of the first session of the OWG on SDGs on 14 March 2013, Ambassador Csaba Korosi, PR of Hungary, and Ambassador Macharia Kamau, PR of Kenya, had, in fact, been highly involved in the issue of Sustainable Development since they were the co facilitators for the preparations of the first session of the OWG.
Upon their election, PGA Vuk Jeremic remarked that "process of formulating the SDGs will undoubtedly be a complicated one, requiring great diplomatic skills".
Thirteen sessions of OWG from March 2013 to July 2014, 17 goals and 169 targets adopted by the OWG by acclamation, as well as the adoption of the Report of the OWG by UNGA 68, are clear evidence of the diplomatic skills of the Co-chairs. Proposing SDGs that are action oriented, concise and easy to communicate, limited in number, aspirational, global in nature and applicable to all countries. All the while ensuring that the intergovernmental process is transparent and inclusive to all stakeholders.
The two Co-chairs presented to WIF the process and results of their more than a year of hard work.
WIF members heard that of the 17 goals agreed upon, goal Five is devoted to "Achieving gender equality and empowering all women and girls" If this particular goal and its targets are faithfully integrated into the Post 2015 Development Agenda, it will be a real "game changer" towards the effective protection of women's rights throughout the world."
—————-
THE SDGs:
1. End poverty in all its forms everywhere
2. End hunger, achieve food security and improved nutrition, and promote sustainable agriculture.
3. Ensure healthy lives and promote well-being for all ages
4. Ensure inclusive and equitable quality education and promote life-long learning opportunities for all
5. Achieve gender equality and empower all women and girls
6. Ensure availability and sustainable management of water and sanitation for all
7. Ensure access to affordable, reliable, sustainable, and modern energy for all
8. Promote sustained, inclusive and sustainable economic growth, full and productive employment and decent work for all
9. Build resilient infrastructure, promote inclusive and sustainable industrialization and foster innovation
10. Reduce inequality within and among countries
11. Make cities and human settlements inclusive, safe, resilient, and sustainable
12. Ensure sustainable consumption and production patterns
13. Take urgent action to combat climate change and its impacts
14. Conserve and sustainably use the oceans, seas and marine resources for sustainable development.
15. Protect, restore and promote sustainable use of terrestrial ecosystems, sustainably manage forests, combat
desertification, and halt and reverse land degradation and biodiversity loss
16. Promote peaceful and inclusive societies for sustainable development, provide access to justice for all and build
effective, accountable and inclusive institutions at all levels
17. Strengthen the means of implementation and revitalize the global partnership for sustainable development.
—————
Much further information was provided in the lively follow up discussion with the WIF ladies.
We know about the relationship between Global Warming and the amount of CO2 in the atmosphere already since 1896 from the studies by Svante Arrhenius of Sweden who also thought of human induced increase of the gas concentration in air. It took 60 years to think of the need of an international agreement, and now 120 years since Arhenius we are still on the wrong trajectory.
So knowledge is not enough. Governments did not act because their interest is in the yearly budget, or the time period of their rule – so long term projects that we must be facing now had no chance until the problem became larger.
On a question from Peru if the number of SDGs was not too large – after all – "END POVERTY" would have been enough – the answer came that 250 SDGs were proposed and it was a long discussion that brought them down to 17.
The question of youth came up and the Ambassador from Kenya answered that actually we have only one SDG and that is for a Sustainable World that we can hand down to our children – so it is really not necessary to mention the youth because it is about ONE WORLD.
—————
Please Note:
While the 2014 COP20 (2014) conference of the UNFCCC at Lima, Peru, is the next in the annual series, Ban Ki-moon has directed more attention toward the COP21, 2015 conference in Paris. A statement made by Ban Ki-moon called for the climate change summit he held on September 22, 2014 in New York, to lead to the Paris conference, but made no reference to the 2014 conference in Lima.
According to the organizing committee, the objective of the 2015 conference is to achieve, for the first time in over 20 years of UN negotiations, a binding and universal agreement on climate, from all the nations of the world. This is part of the
package that includes the fulfillment of the MDGs and the establishing of the new SDGs
I found interesting that Ms. Ban was taking notes at the meeting of the WIF – I wonder if this was followed up by a direct report at the dinner table?
###

Reducing Carbon Emissions Would Fuel Global Economy.
By Anastasia Pantsios, EcoWatch
11 October 14
Evidence is amassing to discredit those middle-ground politicians who say they think climate change is real but don't think we should address it because of the steep economic costs.
Two reports issued today by the Climate Policy Institute add to the growing pile of studies showing that moving to clean-energy, low-carbon policies that help mitigate the effects of climate change could actually provide fuel for the economy.
They found that moving to such policies could save the global economy trillions of dollars in the next two decades to invest in economic growth. The reports were commissioned by the New Climate Economy project as part of the research conducted for the Global Commission on the Economy and Climate.
"For policymakers around the world wondering whether the transition to a low-carbon economy will help or hurt their countries' ability to invest for growth, our analysis clearly demonstrates that, for many, the low-carbon transition is a no-brainer," said Climate Policy Initiative's executive director Tom Heller. "It not only reduces climate risks, its benefits are clear and significant."
"Moving to a Low Carbon Economy: The Financial Impact of the Low-Carbon Transition" juxtaposes the costs of low-carbon electricity and low-carbon transportation system with the costs of the current system. "Moving to a Low Carbon Economy: The Impact of Different Policy Pathways on Fossil Fuel Asset Values" looks at the risk and extent of existing fossil fuel assets' loss of value (aka asset-stranding), which would limit governments and businesses' ability to borrow against them to finance growth and investment, including investment in a clean energy technologies.
The reports came to a number of conclusions about the positive economic impacts of shifting to policies that favor clean, renewable energy. They found that since governments worldwide and not private companies control 50-70 percent of oil, gas and coal resources, they also have the power to shape policies that can lead to savings or to asset-stranding. They also concluded that the savings in operational costs from renewable energy as opposed to fossil-fuel energy far outweighs the value of the stranded assets. And they assert that transitioning away from coal would provide the greatest benefits in emissions reductions with the least loss in value.
They also urge reducing the cost of financing renewable energy plants to lower the cost of transition worldwide, implementing a planning approach that includes taxes and innovation, and using gas as a bridge fuel in some regions—particularly China and India—until 2030 but saying gas use would have to decrease after that.
"Our analysis reveals that with the right policy choices, over the next twenty years governments can achieve the emissions reductions necessary for a safer, more stable climate and free up trillions for investment in other parts of the economy," said Climate Policy Initiative's senior director David Nelson. "This is even before taking into account the environmental and health benefits of reducing emissions."
###
Eastern countries (of the EU) oppose EU climate goals.
The EUObserver, By Peter Teffer, .October 2, 2014
Brussels – With only three weeks to go before the European Council is to make a final decision on new climate goals for 2030, six Central and Eastern European countries have declared their opposition to the proposed targets.
In an effort to limit global warming to no more than 2 degrees Celsius, the European Commission proposed in January 2014 several targets for 2030.
Greenhouse gas emissions should be 40 percent lower; the market share of renewable energy should be 27 percent and energy efficiency should be improved by 30 percent.
In March and June, the European Council failed to agree on the commission's proposal. When the EU government leaders meet again on 23 and 24 October in Brussels, they hope to reach a "final decision on the new climate and energy policy framework".
However, the ministers and deputy ministers for environment of six Central and Eastern European countries, declared on Tuesday (September 30) their opposition to binding targets for renewable energy and energy efficiency.
The six countries are the Czech Republic, Slovakia, Hungary, Poland, Bulgaria and Romania.
The six ask for a framework that "reflects different regional needs and circumstances". The energy mix differs greatly among member states and reaching the targets will be easier for some than others.
The EU share of renewable energy consumption was 14.1 percent in 2012, according to Eurostat, but that average conceals regional differences.
Hungary, Slovakia, Poland and Czech Republic are below that average, with shares between 9.6 and 11.2 percent. Most of the six rely heavily on coal, which is one of the energy sources that emits the most carbon dioxide.
The question then is, which targets will be binding for the whole of EU, and which for each individual member state.
A group of 13 mostly western and northern European states, called the Green Growth Group, is in favour of a binding greenhouse gas target of 40 percent for member states.
But in March it said the "Council should agree on a binding EU renewables energy target which should not be translated into binding national targets by the EU, leaving greater flexibility for Member States to develop their own renewable energy strategies."
###
Wednesday October 1, 2014, after all those UN Member States' Heads have left New York, the UN was still closed to the NGOs – supposedly for security reasons – the guards say this will hold on until next week – so it will be three weeks without "Civil Society" at the UN except for the handful handpicked by the UN itself. So much if you had any illusion that the UNSG hullabaloo about the enlargement of his entourage to include Civil Society in his deliberations was intended to lead to the new post-2015 world. Oh yes – we posted the harmless poem that was touted as the Civil Society contribution to the deliberations by that handful of participants.
Now we find that Grist publishes the analyses of the pure fact that the UN can in effect not aim at true results, and that it can only at best paint fake blue onto a heavy clouded sky – so please just know that you are being had and understand the reasons why. But also do not give up to despair – this because you are right in what you are fighting for and can rxpect that the truth will break through because it does make even economic sense. If allowed in some countries it will lead to alliances of States so it spreads eventually outside the UN that at best could then be used to bless the results.
———————————
Grist Daily posed 2014,today, October 14 2014, the question – "Is there any hope for international climate talks?"
A binding international treaty with firm emission limits just isn't happening. Now attention is turning to a bottom-up, "pledge and review" strategy. Can it work?
By David Roberts
I don't write very often about international climate talks because it's super-depressing and nothing ever changes. Which I guess characterizes most things I write about, but something about climate talks in particular really drains the spirit. Nonetheless! Let's take a fresh look at the landscape.
The original idea behind the U.N. Framework Convention on Climate Change (UNFCCC) talks was simple. Climate change is a classic tragedy of the commons. When emitting greenhouse gases, a country gets all the economic benefit but only a tiny fraction of the harm; conversely, when mitigating emissions, a country pays all the cost but receives only a tiny fraction of the benefit. I wrote about this in a recent post and Harvard's Robert Stavins sums it up nicely in a recent op-ed:

"Greenhouse gases mix globally in the atmosphere, and so damages are spread around the world, regardless of where the gases were emitted. Thus, any country taking action incurs the costs, but the benefits are distributed globally. This presents a classic free-rider problem: It is in the economic self-interest of virtually no country to take unilateral action, and each can reap the benefits of any countries that do act. This is why international cooperation is essential."
This has always been the logic of UNFCCC talks: burden sharing. Determine the proper way to distribute the load, and then sign a binding treaty to insure that all countries do their appointed part.
The same logic that yields the need for international cooperation, however, has made it virtually impossible to achieve in practice. Turns out national governments don't like burdens! So the dispute over how to properly divide the burden between developed and developing countries has been as endless as it has been intractable. Early on in the UNFCCC process, developing countries like China and India were effectively exempted from the obligation to reduce emissions. What the U.S. and Europe have wanted ever since is to ditch the (arguably outmoded) developed vs. developing dichotomy, acknowledge that China et al. are going to be major sources of emissions growth this century, and sign a treaty in which all countries, including China, commit to binding targets. China disagrees, as do India and all the other countries that have so far escaped targets.
The result has been stalemate. And despite feverish hopes in the run-up to each new meeting ("last chance!"), nothing has happened to dislodge that dynamic. Yet the 2015 climate negotiations in Paris are supposed to be all about a "binding treaty." What to do?
In many quarters, a comprehensive, binding treaty with national and global carbon targets is the holy grail. But its pursuit has led to nothing but a cycle of high hopes and crushing disappointment. There is very little hope of such a treaty in Paris, or maybe ever. What's more, the focus on burden sharing has made the meetings a defensive, angst-ridden affair, everyone blaming everyone else while trying to minimize their own responsibility.

Most of the world's major emitters agree that collective action on climate change is badly needed. Yet the meetings meant to facilitate such action produced little of it. Something had to change.
The idea that's gained traction since the 2009 talks in Copenhagen is that it's time to abandon the "burden sharing" frame altogether, give up on a binding treaty, and shift to a regime known as "pledge and review," in which countries pledge specific policies and reductions and agree to have those policies and reductions internationally verified. Rather than being forced to accept a target, every country is simply asked to put on record what it is willing to contribute. Peer pressure and economic competition are supposed to do the rest. This is more or less what came out of Copenhagen, and Durban in 2011, and what will likely come out of Paris in 2015.
Those pledges are unlikely to add up to what's needed to avoid 2 degrees C of warming, the stated international goal, any time soon. An outfit called Climate Interactive is tracking the pledges and adding them up; so far, they leave us on a path to exceed 4 degrees, which would be a disaster. But as John Podesta told Jeff Goodell (in the latter's must-read story on China and climate), "If we wait until we have a binding international agreement that actually puts us on track for 2 C, we'll hit 2 C before we get an agreement. But we have to get started if we hope to get to the destination." Fred Pearce has a nice rundown of this general line of thinking here. It also finds clear expression in a recent op-ed from retired senators Tim Wirth and Tom Daschle.
Wirth has been working in and around international climate talks for as long as they've been going on. When I talked to him about pledge-and-review, he grew most animated when discussing the sheer torpor of the UNFCCC talks. "Everybody's so depressed by the whole thing," he said. "It's a problem, it really is. They need a shot of energy! They need some enthusiasm! They need a new framework! Any time you run into a political dead end, you gotta change the rules. This is a way of changing the rules."
Wirth says pledge-and-review has a chance of working because the economics have shifted and clean energy investment is increasingly in countries' self-interest. He cites the recent New Climate Economy research project led by Nicholas Stern. Nations competing to outdo each other in these vast new markets could spark a "race to the top," a sense of energy and progress that has been sorely missing. "We're not saying we're in the best of all possible worlds, by any means," Wirth said, "but if we do it relatively soon, it's going to end up being in everyone's best interests."
Wirth has a close eye on this November's APEC meetings, where Obama and Chinese President Xi Jinping are likely to discuss climate change (among other things). A substantial bilateral agreement on climate would bring momentum into Paris, giving, Wirth laughed, "the U.S. a chance to hide behind China's skirts and China a chance to hide behind the U.S.'s skirts. That's important politically." The U.S. and China being the world's two largest markets, other countries would be pulled along. "The U.S./China relationship is so much more important than anything else in the world," Wirth said.
Whatever the prospects of a race to the top, there remains the question of climate justice — what to do about those most vulnerable to the effects of climate change, who did little to cause the problem. Wirth points to the Green Climate Fund, which is supposed to transfer money from the developed to the developing world. But the nature of those funds is in hot dispute. In their piece, Wirth and Daschle write:
Finance is the final key to a global deal. At Copenhagen in 2009, the United States memorably pledged that developed countries would mobilize $100 billion a year in climate change assistance for the rest of the world by 2020. At a time of fiscal retrenchment in the West, the chance of that pledge being met in the form of additional development assistance is approximately zero. The pledge is eminently achievable, however, in the context of global energy investment, which has an annual flow a dozen times as large as the amount pledged in Copenhagen.
And when I talked to Wirth, that's what he emphasized: opportunities to channel private investment money to developing countries. It appears that the climate fund is primarily going to consist in such investments.
But where does this leave the world's poorest countries and low-lying islands? There's a lot of adaptation to be done in those areas and not all of it is going to be a profit opportunity. Will the fund end up being just another instance of what Naomi Klein calls "disaster capitalism," wherein wealthy westerners descend on countries reeling from misfortune and treat them as business opportunities to exploit?
The reason climate-justice advocates have always relied on the UNFCCC framework is that it's the only venue in which the claims of vulnerable nations are guaranteed a hearing. If the meetings become nothing more than a forum for mutually advantageous bilateral and multilateral dealmaking, where is the pressure to do right by the vulnerable, much less any kind of guarantee?
I've never heard a good answer to that question. I sure don't have one. But we return again to an ineluctable fact: The chances of the U.S. Senate ratifying a binding climate treaty are nil. The chances of it ratifying one that is also supported unanimously by all 195 or so countries of the UNFCCC are even niller. So what else is there to do?
"The building blocks approach, bottom up, is the only way to go," says Wirth. "We're not going to get a top-down agreement. So you gotta go the other direction."
###
So what is the verdict on Climate Week, the summit meeting on global warming convened by the United Nations secretary general, Ban Ki-moon, in New York?

SundayReview | The New York Times Editorial – A Group Shout on Climate Change.
By THE EDITORIAL BOARD – Sunday September 27, 2014 – That is one week since the Sunday September 22, 2014 PEOPLE's CLIMATE MARCH and the September 23, 2014 one day – UNSG Ban Ki-moon Climate-topics UN display.
The marchers and mayors, the ministers and presidents, have come and gone. So what is the verdict on Climate Week, the summit meeting on global warming convened by the United Nations secretary general, Ban Ki-moon, in New York?
The meeting was not intended to reach a global agreement or to extract tangible commitments from individual nations to reduce the greenhouse gases that are changing the world's ecosystems and could well spin out of control. Its purpose was to build momentum for a new global deal to be completed in December 2015, in Paris.
In that respect …… it clearly moved the ball forward, not so much in the official speeches but on the streets and in the meeting rooms where corporate leaders, investors, Silicon Valley entrepreneurs and state and local officials pressed the case for stronger action.
It was important to put climate change back on the radar screen of world leaders, whose last effort to strike a deal, in Copenhagen five years ago, ended in acrimonious disaster. President Obama, for one, was as eloquent as he has ever been on the subject: "For all the immediate challenges that we gather to address this week — terrorism, instability, inequality, disease — there's one issue that will define the contours of this century more dramatically than any other, and that is the urgent and growing threat of a changing climate."
But most of the positive energy at this gathering came from people closer to the ground, like the 300,000 activists who marched last Sunday. They included mayors like New York's Michael Bloomberg and his successor, Bill de Blasio, who both spoke of the critical role that cities can play in reducing emissions. They included governors like California's Jerry Brown, who is justly proud of his state's pathbreaking efforts to control automobile and power plant pollution. And they included institutions like Bank of America, which said it would invest in renewable energy, and companies like Kellogg and Nestle, which pledged to help stem the destruction of tropical forests by changing the way they buy commodities like soybeans and palm oil.
Underlying all these declarations was a palpable conviction that tackling climate change could be an opportunity and not a burden, that the way to approach the task of harnessing greenhouse gas emissions was not to ask how much it would cost but how much nations stood to gain by investing in new technologies and energy efficiency.
This burst of activity comes at a crucial time. A tracking initiative called the Global Carbon Project recently reported that greenhouse gas emissions jumped 2.3 percent in 2013, mainly because of big increases in China and India. This means it is becoming increasingly difficult to limit global warming to an upper boundary of 3.6 degrees Fahrenheit (the long touted 2 degrees Celsius limit) above pre-industrial levels. Beyond that point, scientists say, a world already suffering from disappearing glaciers, rising seas and persistent droughts could face even more alarming consequences.
Avoiding such a fate is going to require a revolution in the way the world produces and consumes energy, which clearly has to involve national governments, no matter how much commitment there is on the streets and in the boardrooms. The odds are long that a legally binding treaty will emerge from Paris. Congress is unlikely to ratify one anyway. The smart money now is on a softer agreement that brings all the big polluters on board with national emissions caps, and there are reasons for hope that this can be done.
Mr. Obama is in a much stronger leadership position than he was at Copenhagen, having engineered a huge increase in automobile fuel efficiency and proposed rules that will greatly reduce the United States' reliance on dirty coal. The Chinese, in part because their own air is so dirty, have been investing heavily in alternative energy sources like wind and solar, and they are giving serious consideration to a national cap on coal consumption. The cooperation of these two countries could by itself create the conditions for a breakthrough agreement. But what might really do the trick — if Climate Week is any guide — is the emergence of a growing bottom-up movement for change.
—————————————————

Copenhagen was the COP 15 (Conference of the Parties to the UN Framework Convention on Climate Change – COP9 of UNFCCC – and those who follow our website will realize that we stopped counting after Copenhagen even though this year's end of the year's meeting will be already the 20th meeting – or COP20 of the UNFCCC – and it will be held in Lima, Peru. We have no intention of opening a new page for this meeting either – but we are optimistic nevertheless that we will be in much better shape when we go to COP21 of the UNFCCC in Paris – December 2015.
With the 70th celebration of the UN and the need to do something to mark this date – we believe that a more responsive Climate Change reduction path will be fleshed out by that time.
The People's March of last Sunday will then be remembered as the People's expression that they demand action from those that sit at UN's New York Headquarters in what they see as seats of the Global management. Also, please note the fact that even the UN has recognized by now that the Assembly of Governments will not reach the needed consensus to create true action – it will be rather the involvement of Civil Society, and business – led by scientists, economic and social developers and plain people that care for their environment – ethical and mass leaders from he line – that will do it.
###
Bi-annual conferences on "Drylands, Deserts and Desertification" (DDD), are one of the largest international academic forums on desertification. They take place at Ben Gurion University of the Negev – BGU's Sede Boqer campus.
Three hundred to five hundred people from around the world have come to learn practical lessons and make connections to bring back to their home countries.
The fifth DDD conference is scheduled for November 17-20, 2014.
The United Nations defined desertification as potentially the most threatening ecosystem change impacting livelihoods at the global scale; based on the total number of people threatened by desertification, this ranks among the greatest contemporary environmental problems.
Developed as a result of the 1992 Rio Summit, the United Nations Convention to Combat Desertification (UNCCD) has brought attention to the phenomenon of land degradation called "desertification" when it occurs in drylands, as the most vulnerable ecosystems. Fifteen years after coming into force, the UNCCD was increasingly recognized as an instrument which can make an important contribution to the achievement of sustainable development and poverty reduction. The Committee of Science and Technology (CST – United Nations Convention to Combat Desertification), provides information and advice on scientific and technological matters relating to combating desertification and mitigating the effects of drought to the UNCCD's Conference of the Parties (COP).
The uniting theme of the 2014 conference is "Healthy Lands – Healthy People" which encompasses a variety of aspects relating to Drylands, Deserts and Desertification, including natural sciences, social sciences, planning and policy issues.
Sessions with the following themes are already confirmed to be held during the conference:
• Afforestation in Drylands • AgroEcology • Architecture and City Planning in Drylands and Arid Areas • Carbon Footprint • Climate Change, Desertification and Society in the Ancient Near East: Lessons from the Past Desertification in Mongolia and China • Drip Irrigation (main theme of Desert Agriculture this year) • Deserts and Drylands in Ancient Literature and Archeology • Dryland Landscapes as Pattern-forming Systems: Modeling and Analysis • Ecohydrology of Dryland Landscapes • Economic Development in the Drylands • Environmental Education • Geological Aspects of Deserts and Desertification • GIS Applications for Dryland Studies • Green Building in Extreme Climates • Healthy Buildings • Hydrology in Drylands • Kidron River Restoration • Media and Environment • Mathematical Aspects of Desertification and Restoration • NGO Perspectives on Dryland Development • Nutritional and Food Security • On-site Waste Collection and Treatment • Public Health and Life in Deserts and Drylands • Remote Sensing • Society and Technology • Soil and Land Restoration • Water Policy in Drylands • Women and Economic Change in Rural-Arid Lands.
Additional specialized themes will be announced shortly. Some themes may be united with others.
An important part of the discussions will be The Economics of Land Degradation, and this connects to the developing science of the impact of man induced climate change.
###

NO! it is not as simple as that – it is our own evaluation of what we heard from the mouth of Heads of State.
For unclear reasons they like the number 3 as in the old shaky "TRIPOD" idea of Sustainable Development that was supposed to hold the planet on legs of "Social, Economic, and Environment nature – when they left out Good Governance from the structure.
Now we heard from the President of Niger about his three Ds – DEFENSE, DEMOCRACY and DEVELOPMENT, but then the Prime Minister of the Netherlands spoke of DEFENSE, DEVELOPMENT and DIPLOMACY.
We decided that there cannot be a trade-off between Democracy as in GOOD GOVERNANCE and Diplomacy as a way to avoid conflict – granted that there is a 2014 agreement that the post-2015 agenda is about SECURITY from terrorism and DEVELOPMENT for the poorer Nations.
I SUGGEST HEREWITH THUS the FULL SPECTER OF THE NEEDED Ds: DEFENSE, DEMOCRACY, DEVELOPMENT, and DIPLOMACY – and would like to see the 4Ds adopted by the Development-Poor, by the Oil-rich, and by the old-Democracy States of the North – all of them fueled by Renewable Energy based steam.
###
from: Chris Thomas, SierraRise

First Google, then Yelp and Facebook…but where's eBay?
Tell eBay: Quit ALEC today!
————————————-

Dear Pincas,
Huge news!
Google is dumping the Koch-fueled American Legislative Exchange Council (ALEC), an extremist group that pushes legislation like forcing public schools to teach climate denial.
The announcement comes on the heels of the People's Climate March where more than 400,000 people hit the streets of New York City for a clean energy future and after you helped send 100,000 messages to Google asking them to stop funding ALEC. It's clear our work is paying off.
But we can't stop now! eBay is still funding these climate deniers. Tell them to join Google and the 50 other corporations that have quit ALEC.
America's technological innovators have sent a message loud and clear: groups that promote a climate denying agenda have no place in the 21st century.
Just the other day, Google Chairman Eric Schmidt told National Public Radio's Diane Rehm Show that "The people who oppose [climate change] are really hurting our children and grandchildren and making the world a much worse place. We should not be aligned with such people. They are just literally lying."
BOOM!
Google, Yahoo, Yelp, Facebook, and Microsoft have all stopped funding ALEC. Tell eBay it's time to join the exodus. Help us send 30,000 messages to John Donahoe, eBay's CEO, today.
Thanks for all you do to protect the environment. Together we are showing ALEC and the Koch brothers that America won't stand for its climate denying agenda any longer!
In it together,
Chris Thomas
SierraRise
P.S. Five signatures are even more powerful than one — after you take action, be sure to forward this alert to your friends, family, and colleagues!
—————————————————————-
ALSO:
Dear Pincas,
Momentum is building in our fight against the American Legislative Exchange Council (ALEC). Just this week, tech leaders like Google, Microsoft, and Yelp have announced their withdrawal from the shadowy corporate lobby, but AOL and Yahoo! are still financing ALEC's backroom dealing.
Tell AOL and Yahoo! to cut their ties with ALEC and publicly separate from the organization.
Here's our message to Yahoo and AOL:
notgoodbusiness4
Google Chairman Eric Schmidt had this to say about ALEC and its work on Monday: "Everyone understands climate change is occurring, and the people who oppose it are really hurting our children and our grandchildren and making the world a much worse place. And so we should not be aligned with such people—they're just, they're just literally lying."
What's more, ALEC calls itself a charity, allowing its corporate members to deduct payments to ALEC on their tax returns. That's right, ALEC lets corporate lobbyists write legislation behind closed doors, then sticks you with the bill! Nobody wants to associate with such shady behavior, which is why ALEC's corporate sponsors are leaving by the dozens.
Sign our petition today and tell Yahoo and AOL to follow suit! We'll deliver your message to their D.C. offices next Tuesday.
Thanks for all you do,
Jay Riestenberg
and the rest of the team at Common Cause


THE LATEST NEWS = YAHOO PULLED OUT = AOL DID NOT PULL OUT YET !!
—————————————————————–
###
Common Cause
1133 19th Street NW, 9th Floor
Washington, DC 20036
202.833.1200
from: Allegra Chapman, Common Cause CauseNet at commoncause.org
about: National Voter Registration Day – NVRD
Dear Pincas,
Today, September 23rd, is National Voter Registration Day, and we're asking you to take a moment to check that your voter registration is up to date before Election Day. Then, talk to your family, your friends, and others in your community to make sure they're up to date, too. After all, democracy isn't for the few – it's for all of us.
America isn't fully living up to its promise. Belief in our government is at an all-time low, with some questioning whether we can even call ourselves a democracy anymore. The widening inequality in every aspect of our society allows the wealthy to saturate the political process with billions of dollars in political "speech," while police attack and arrest the most marginalized among us for peaceful protest.
But across the country, we're making ourselves heard and fighting back against a broken system. Last weekend in New York, over 400,000 marched against climate change and the big money interests blocking action on it. Earlier that week, we gathered with our partners the names of over 500,000 Americans demanding Congress protect voting rights for all. And over three million Americans have contacted their lawmakers to say our democracy must be guided by the best ideas – not the biggest spenders.
Each ballot cast this November 4th helps shape the direction of our country. Your vote helps determine who gets into office – at a local level, in the state, and for the country – and therefore sets the agenda on whether we move forward together. Without it, your voice stays on the sidelines for the next couple years. Don't let that happen.
Thanks for all you do,
Allegra Chapman
and the team at Common Cause
###
Environment – The Guardian / By Fiona Harvey
Lord Stern Report: Transform Global Economy to Fight Climate Change: One of the most influential voices on global warming releases a plan to fight climate change while growing the global economy.
—
September 16, 2014 |

The world can still act in time to stave off the worst effects of climate change, and enjoy the fruits of continued economic growth as long as the global economy can be transformed within the next 15 years, a group of the world's leading economists and political leaders will argue on Tuesday.
Tackling climate change can be a boon to prosperity, rather than a brake, according to the study involving a roll-call of the globe's biggest institutions, including the UN, the OECD group of rich countries, the International Monetary Fund and the World Bank, and co-authored by Lord Stern, one of the world's most influential voices on climate economics.

The report comes ahead of a UN-convened summit of world leaders on global warming next week at which David Cameron has pledged to lead calls for strong action.

"Reducing emissions is not only compatible with economic growth and development – if done well it can actually generate better growth than the old high-carbon model," said Stern.
It is his most significant intervention in climate politics since the landmark 2006 Stern review of the economics of climate change, which made the case that tackling climate change as a matter of urgency will be cheaper than attempting to deal with the effects of the problem decades in the future. That report marked a revolution in thinking on global warming, and was a major factor in the agreements forged in Copenhagen in 2009 by which developed and major developing countries for the first time set out joint measures to reduce greenhouse gas emissions.
The economic transformation proposed in the new report will improve the lives of billions, the authors argue, from people suffering from air pollution in crowded cities to farmers struggling with poor soils in developing countries, the authors found. But achieving this change will require strong political action to set limits on carbon dioxide emissions, while promoting alternatives such as renewable energy, sustainable cities, teaching modern farming techniques and better-designed transport.
The world is expected to add billions of people to the global population in the next two decades, and trillions of dollars in economic growth – but if the massive expected growth of developing world cities is poorly managed, and global investment is poured into existing high-carbon infrastructure, then a unique opportunity to change the pattern of prosperity will have been lost, and billions of people will be left the poorer as a result, the report warns.
Stern gave the example of cities, which if designed on public transport can have more efficient economies – because people aren't spending hours commuting and polluting, with its attendant effects on health – as well as better quality of life and lower carbon emissions.
The energy and climate change secretary, Ed Davey, told the Guardian that the UK has already seen benefits from focusing on clean development, and was committed to helping developing countries do the same. He said: "It has required UK business and international investors to recognize the costs of failure and the benefits of change and it has been sustained by a strong, vocal and committed network of NGOs, pressure groups and activists who have been instrumental in sustaining political will and public acceptance."
At next week's climate summit, the UN secretary general, Ban Ki-moon, will convene heads of state and government from around the world to discuss climate change for the first time since the 2009 Copenhagen conference, which produced the first commitments from major developing countries such as China and India to curb emissions, and marked the first time the US agreed to binding emissions targets, but was widely derided for the scenes of chaos that accompanied it.
Convening world leaders again is a risky strategy, but is seen by the UN as essential to lay the ground for a crunch meeting in Paris next year, at which world governments will attempt to forge a new agreement that will cut global greenhouse gas emissions after 2020, when current pledges run out. The EU has vowed to cut emissions by 40% by 2030, compared with 1990 levels, but is the only major developed country bloc to have laid out clear plans.
Today's report, the New Climate Economy, from the Global Commission on the Economy and Climate, says that although technological "fixes" to climate change – such as renewable energy, low-carbon fuels, better urban design and better use of agricultural land – are growing fast, they are currently nowhere near enough to produce the transformation needed. As new power stations, cities and transport networks are built today, they are still being engineered on a high-carbon basis – coal-fired power plants, roads rather than public transport, slums without facilities rather than planned developments – and once these are built they lock in high carbon emissions for decades to come. Breaking that cycle requires a coordinated effort, from rich and poor countries, that prioritizes sustainability and penalizes high-carbon growth, for instance through a price on carbon.
Such efforts will come at a price, but this is far outweighed by the benefits in economic growth and improvements in health, the report suggests. For instance, reducing the world's dependence on coal and other dirty fuels will cut air pollution and remove a key source of strain on healthcare systems.

The Global Commission on the Economy and Climate, launched a year ago by the UK along with six other countries, has involved the World Bank, the International Monetary Fund, the OECD, the International Energy Agency and the UN, as well as several research institutes, and former world premiers. It has been chaired by the Mexican president, Felipe Calderón, and advised by leading economists including Lord Stern and Nobel prize winners Daniel Kahneman and Michael Spence.
Ottmar Edenhofer, chief economist at the Potsdam Institute for Climate Impact Research, and an adviser to the report, said: "Economic growth and emissions reductions can be achieved together, the report clearly confirms …
Pricing CO2 is key. The heaven above us today is a waste dump for gases that harm our climate system. Wealthy states are disposing of them, free of charge, at the expense of all of us. If emitting CO2 came at a reasonable price, this would stabilize investors' expectations so they can push forward the innovation of climate friendly technologies."
###
We learned that the timing of the March – Sunday, September 21, 2014, has more to do with the release last night (September 16th, 2014) at the Ethical Culture Society New York Headquarters at Central Park West and 64th Street, then with the forthcoming September 23rd UN event on Climate Change.
The movie is -"THE FUTURE OF ENERGY: Lateral Power to The People" – which is in effect a logic – non-UN inspired – sequel to  Franny Armstrong's "THE AGE OF STUPID" that was released in 2009 prior to the Copenhagen COP 15 of the UNFCCC (The UN Convention on Climate Change). That movie belonged still to the time people believed in multilateralism as a way to answer the growing threat to humanity from our super-dependence on fossil-carbon fuels. Today the "People" are sophisticated enough to realize that governments via multilateralism do not stand a chance to an agreement that gives birth to a solution to the on-going changes in the global environment that lead to global warming and climate change. The PEOPLE in their own actions – in their communities – are our only hope. This is now the wave of the future – not the UN.
The UN was good to make it crystal clear that there is a problem that needs a solution – but the UN is impotent when it comes to provide the solution. This belongs now to the PEOPLE – the ethical guardians of their own future and the future of the generations to come.
This was made clear to me as I asked the panel that followed the inaugural viewing of the movie "What they expect of the upcoming event at the UN?" The answer from the Producer/Writer – Mr. Maximilian DeArmon – was very short and clear. What will save us are the People in their LOCALITIES and the fact that the non-fossil-carbon solutions to energy needs are already economical and their introduction will make them cheaper, while the continuing use of fossil-fuels makes those trouble-causing fuels more expensive. The logic is here and the People recognize what that means to politics, the economy, and their daily lives.
——————————————————————————–
The March – 11:30 am, Sunday, September 21st
Assembly Location: Central Park West, between 65th and 86thstreets.
NOTE – Some streets will be closed.  Enter on 65th, 72nd, 77th, 81st, or 86th street.
March Route:  The march will begin at 11:30 am.  Assembly starts from 9:00 a.m.
March down Central Park West and go east on 59th Street.  Turn onto 6th Ave. and go south to 42nd Street. Turn right onto 42nd Street and go west to 11th Ave.  Turn left on 11th Ave. and go south to 34th Street
End Location: 11th Ave. in the streets between 34th Street and 38thStreet.
350NYC at the People's Climate March! Meet us on Central Park West between 71st and 72nd by 10am on Sunday Sept 21st.  We'll be marching in the green "Solutions" section of the march. T
To receive updates.
——————————————————————————————
At the UN highlights were during the years of Secretary-General Kofi Annan and we want to mention two of his innovations:
(a) he chaperoned the introduction to the UN of the Principle of THE RESPONSIBILITY TO PROTECT (R2P) which, as he understood it – was the responsibility of governments to protect their citizens from the wrath of the government itself. Clearly, this was not the obviously understood – the responsibility of a government to protect their citizens from outside attacks.
Let us say that this was the first innovation of the UN Charter since the Declaration of Human Rights championed by Mrs. Eleanor Roosevelt. We like to view R2P also as a call to governments regarding their responsibility to protect the citizens from the effects of Climate Change and to act in order to avoid this subservience to fossil fuels and corporate greed.
(b) he was responsible for the creation of the United Nations Global Compact.
The United Nations Global Compact is a UN initiative to encourage businesses worldwide to adopt sustainable and socially responsible policies, and to report on their implementation. The UN Global Compact is a principle-based framework for businesses, stating ten principles in the areas of human rights, labour, the environment and anti-corruption. Under the Global Compact, companies are brought together with UN agencies, labour groups and civil society. Cities or localities can join the Global Compact through the Cities Programme.
The UN Global Compact is the world's largest corporate citizenship initiative with two objectives: "Mainstream the ten principles in business activities around the world" and "Catalyse actions in support of broader UN goals, such as the Millennium Development Goals (MDGs)." We like to see here an opening regarding the effects of Climate Change and the need that corporations are bound to help avoid Global Warming and Climate Change.
The UN Global Compact was announced by then UN Secretary-General Kofi Annan in an address to the World Economic Forum on January 31, 1999, and was officially launched at UN Headquarters in New York on July 26, 2000.
Under UN Secretary General Ban Ki-moon Climate Change continued to get a lot of attention, but we did not see yet the needed push to hold governments and corporations responsible for acting along the lines that became available under his predecessor's leadership. It seems that telling Dr. Assad that he is not allowed to gas his citizens is much easier then telling China not to poison Beijing's air by building more coal-fired power plants.
Nevertheless – we found that above might change now.
Please see: www.unglobalcompact.org/Issues/B…
Since 2008, UN Secretary-General Ban Ki-moon has convened the UN Private Sector Forum during the opening session of the General Assembly in order to bring the voice of the private sector to inter-governmental debates on key topics.
This year, the UN Private Sector Forum will be an integral part of the UN Secretary-General's Climate Summit. The Climate Summit will serve as a public platform for leaders at the highest level – all Member States, business, finance, civil society and local leaders – to:
Catalyze ambitious action on the ground to reduce emissions and strengthen climate resilience
Mobilize political will for an ambitious global legal agreement by 2015 that limits the world to a less than 2-degree Celsius rise in global temperature.
Convened by the UN Global Compact in close cooperation with the World Bank Group, and with the support of UN partners, the Private Sector Forum will provide a unique platform for Governments and business to demonstrate their leadership on climate change.
The theme of this year's luncheon segment of the Forum will be carbon pricing, focusing on actions that the public and private sectors can take to achieve an equitable and fair valuation of carbon through long-term strategies, investments and policies.
Objectives
Comprising two programme segments to showcase and catalyse leadership on climate change, the Private Sector Forum seeks to:
Provide a platform for business and investors to demonstrate the contribution that they can make towards reducing global emissions and strengthening resilience; and
Inspire new public policy measures, commitments to action, and public-private partnerships to steer global and local climate action
Put a Price on Carbon:
Carbon pricing is a critical tool to address climate change, and momentum is building to put in place carbon pricing schemes. Nearly 40 countries and more than 20 cities, states and provinces use carbon pricing mechanisms such as emissions trading systems and carbon taxes or are preparing to implement them. The private sector has been increasingly outspoken in its support for consistent carbon pricing.
Many companies already operate in countries with carbon pricing and use an internal carbon price in their planning and investments, however more leadership is needed if we are to limit global warming to 2 degrees Celsius.
Two separate initiatives representing a progression of commitments to support carbon pricing will be presented during the Private Sector Forum on 23 September 2014. To learn more, please read this letter from the UN Global Compact and the World Bank Group.
But the working part of the September 23rd meetings are slim. They amount to:
11:40 Welcoming Remarks -Mr. Georg Kell,
Executive Director, United Nations Global Compact
-
11:50 Introduction to the Roundtable Discussion by the Master of Ceremonies Ms. Christiana Figueres,
Executive Secretary, United Nations Framework Convention on Climate Change (UNFCCC).
11:50 – 12:20 Roundtable Discussion
Participants will be seated at tables of ten and will discuss the following question:
What effective measures can private and public sectors take to significantly advance corporate
action on climate change and help limit global temperature rise to less than 2 degrees Celsius?
12:20 – 12:50 Report back and Announcements: Commitments to Action
The Master of Ceremonies calls on leaders from business and civil society to report back on the roundtable
discussions and to announce a commitment to action
Mr. Feike Sijbesma, Chief Executive Officer and Chairman, Royal DSM
Mr. Ajit Gulabchand, Chairman and Managing Director, Hindustan Construction Company, India
Mr. Kerry Adler, President and Chief Executive Officer, SkyPower, Canada
Mr. Jose Lopez, Executive Vice President and Chief Operating Officer, Nestle, Switzerland
Mr. Morten Albaek, Group Senior Vice President and Chief Marketing Officer, Vestas, Denmark
Mr.  Jerry Lynch, Vice President and Chief Sustainability Officer, General Mills, USA
Mr. Peter Bakker, Chief Executive Officer, The World Business Council for Sustainable Development
12:50 – 12:55 Closing Remarks – Mr. Adolfo Heeren, Chief Executive Officer, Cálidda, Peru
12:55 – 13:00
Wrap up by the Master of Ceremonies Participants move to their seats in the Delegates Dining Room
===================================================
The Age of Stupid is a 2009 British film by Franny Armstrong, director of McLibel and Drowned Out, and founder of 10:10, and first-time producer Lizzie Gillett. The Executive Producer is John Battsek, producer of One Day in September.
The film is a drama-documentary-animation hybrid which stars Pete Postlethwaite as a man living alone in the devastated world of 2055, watching archive footage from the mid-to-late 2000s and asking "Why didn't we stop climate change when we had the chance?"
———————————————————————————————————-
www.thefutureofenergy.org/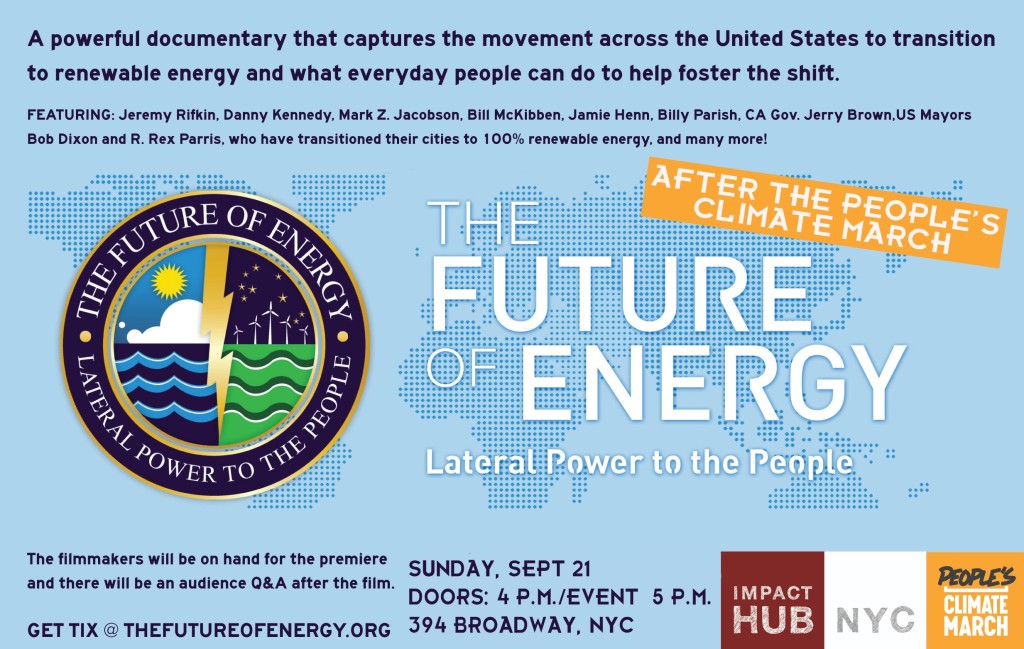 =================================================
###
From:  Vanessa, People's Climate March    -   peoplesclimate.org
   PLEASE SEE - " title="http://peoplesclimate.org/march/" target="_blank">Click here to find a bus near you: peoplesclimate.org/transportation.
More buses are being confirmed every day, so there may even be more than one nearby.
If the bus fills up and/or you'd like to step up and organize your own bus, click here to volunteer to be a bus captain.
It's pretty simple, and there's even some funding available –  the awesome bus team  will support you every step of the way.
If you need more info on transportation (and housing) options for the People's Climate March, click here.
We have a real chance to make a difference on the issue of our time – make sure you have a ticket to New York to be part of it.
Click here to find a bus near you: peoplesclimate.org/transportation.
We can't wait to march with you,
Vanessa T & the bus team
P.S. If you already have a ticket (or after you buy yours now), join our Thunderclap promoting the march. It only takes a second — you can sign up with your Twitter, Facebook, or Tumblr to join a huge simultaneous social media post on September 15th and make sure everyone knows that this is too big to sit out.
====================================================

Dear Pincas –
Trapped and hungry, in the middle of New York City. Climate change is here.
That is what I thought when I drove into Brooklyn, after Hurricane Sandy. My name is Carl Giles. I am a groundskeeper for the New York City Housing Authority and was dispatched after the storm to clear debris and set up generators and pumps at some of our hard-hit public housing.
I and other members of my union, Teamsters Local 237, were out even before the storm, to keep city residents safe and to prepare for the damage that Sandy would bring. The images from those days will be with me forever. People without power, begging for just an opportunity to charge their cell phones and let family members know that they are ok. Families in public housing without heat as cold weather bore down on the Northeast. Signs of the storm surge left behind; water marks three stories high on apartment buildings and four feet of sand covering the street.
Pincas, we've seen what climate change can do. That is why I and my Teamster brothers and sisters will be marching in the People's Climate March on September 21st. Will you join the fight and march alongside us?
Working people are on the front lines of climate change. We live in the most vulnerable neighborhoods. We lead the recovery after extreme weather. And work in the industries that have to change to reduce emissions and clean our atmosphere.
For many Teamsters, Hurricane Sandy was a traumatic experience. I heard about one member working in an underground garage who drowned during the storm. Another Teamster lost two children. Too many lost homes and livelihoods.
At the same time, we were called on to put our city back together. Many Teamsters cleared roads and delivered supplies by day, while repairing their own homes at night.
We are marching because we want to tell our story and tell the world that workers are part of the solution to climate change. Teamsters in the private waste hauling industry are working to reduce pollution from their garbage trucks. Meanwhile, Teamsters in food distribution are working to build a more climate-resilient food system for our city.
###
The Climate Swerve.
By ROBERT JAY LIFTON,  The New York Times,
AMERICANS appear to be undergoing a significant psychological shift in our relation to global warming. I call this shift a climate "swerve," borrowing the term used recently by the Harvard humanities professor Stephen Greenblatt to describe a major historical change in consciousness that is neither predictable nor orderly.
The first thing to say about this swerve is that we are far from clear about just what it is and how it might work. But we can make some beginning observations which suggest, in Bob Dylan's words, that "something is happening here, but you don't know what it is." Experience, economics and ethics are coalescing in new and important ways. Each can be examined as a continuation of my work comparing nuclear and climate threats.
The experiential part has to do with a drumbeat of climate-related disasters around the world, all actively reported by the news media: hurricanes and tornadoes, droughts and wildfires, extreme heat waves and equally extreme cold, rising sea levels and floods. Even when people have doubts about the causal relationship of global warming to these episodes, they cannot help being psychologically affected. Of great importance is the growing recognition that the danger encompasses the entire earth and its inhabitants. We are all vulnerable.
This sense of the climate threat is represented in public opinion polls and attitude studies. A recent Yale survey, for instance, concluded that "Americans' certainty that the earth is warming has increased over the past three years," and "those who think global warming is not happening have become substantially less sure of their position."
Falsification and denial, while still all too extensive, have come to require more defensive psychic energy and political chicanery.
But polls don't fully capture the complex collective process occurring.
The most important experiential change has to do with global warming and time. Responding to the climate threat — in contrast to the nuclear threat, whose immediate and grotesque destructiveness was recorded in Hiroshima and Nagasaki — has been inhibited by the difficulty of imagining catastrophic future events. But climate-related disasters and intense media images are hitting us now, and providing partial models for a devastating climate future.
At the same time, economic concerns about fossil fuels have raised the issue of value. There is a wonderfully evocative term, "stranded assets," to characterize the oil, coal and gas reserves that are still in the ground. Trillions of dollars in assets could remain "stranded" there. If we are serious about reducing greenhouse gas emissions and sustaining the human habitat, between 60 percent and 80 percent of those assets must remain in the ground, according to the Carbon Tracker Initiative, an organization that analyzes carbon investment risk. In contrast, renewable energy sources, which only recently have achieved the status of big business, are taking on increasing value, in terms of returns for investors, long-term energy savings and relative harmlessness to surrounding communities.
Pragmatic institutions like insurance companies and the American military have been confronting the consequences of climate change for some time. But now, a number of leading financial authorities are raising questions about the viability of the holdings of giant carbon-based fuel corporations. In a world fueled by oil and coal, it is a truly stunning event when investors are warned that the market may end up devaluing those assets. We are beginning to see a bandwagon effect in which the overall viability of fossil-fuel economics is being questioned.
Can we continue to value, and thereby make use of, the very materials most deeply implicated in what could be the demise of the human habitat? It is a bit like the old Jack Benny joke, in which an armed robber offers a choice, "Your money or your life!" And Benny responds, "I'm thinking it over." We are beginning to "think over" such choices on a larger scale.
This takes us to the swerve-related significance of ethics. Our reflections on stranded assets reveal our deepest contradictions. Oil and coal company executives focus on the maximum use of their product in order to serve the interests of shareholders, rather than the humane, universal ethics we require to protect the earth. We may well speak of those shareholder-dominated principles as "stranded ethics," which are better left buried but at present are all too active above ground.
Such ethical contradictions are by no means entirely new in historical experience. Consider the scientists, engineers and strategists in the United States and the Soviet Union who understood their duty as creating, and possibly using, nuclear weapons that could destroy much of the earth. Their conscience could be bound up with a frequently amorphous ethic of "national security." Over the course of my work I have come to the realization that it is very difficult to endanger or kill large numbers of people except with a claim to virtue.
The climate swerve is mostly a matter of deepening awareness. When exploring the nuclear threat I distinguished between fragmentary awareness, consisting of images that come and go but remain tangential, and formed awareness, which is more structured, part of a narrative that can be the basis for individual and collective action.
In the 1980s there was a profound worldwide shift from fragmentary awareness to formed awareness in response to the potential for a nuclear holocaust. Millions of people were affected by that "nuclear swerve." And even if it is diminished today, the nuclear swerve could well have helped prevent the use of nuclear weapons.
With both the nuclear and climate threats, the swerve in awareness has had a crucial ethical component. People came to feel that it was deeply wrong, perhaps evil, to engage in nuclear war, and are coming to an awareness that it is deeply wrong, perhaps evil, to destroy our habitat and create a legacy of suffering for our children and grandchildren.
Social movements in general are energized by this kind of ethical passion, which enables people to experience the more active knowledge associated with formed awareness. That was the case in the movement against nuclear weapons. Emotions related to individual conscience were pooled into a shared narrative by enormous numbers of people.
In earlier movements there needed to be an overall theme, even a phrase, that could rally people of highly divergent political and intellectual backgrounds. The idea of a "nuclear freeze" mobilized millions of people with the simple and clear demand that the United States and the Soviet Union freeze the testing, production and deployment of nuclear weapons.
Could the climate swerve come to include a "climate freeze," defined by a transnational demand for cutting back on carbon emissions in steps that could be systematically outlined?
With or without such a rallying phrase, the climate swerve provides no guarantees of more reasonable collective behavior. But with human energies that are experiential, economic and ethical it could at least provide — and may already be providing — the psychological substrate for action on behalf of our vulnerable habitat and the human future.
———————————-
Robert Jay Lifton is a psychiatrist and the author of "Death in Life: Survivors of Hiroshima," and a memoir, "Witness to an Extreme Century."
A version of this op-ed appears in print on August 24, 2014, on page SR4 of the New York edition with the headline: The Climate Swerve.
###
Ignoring Climate Change Could Sink U.S. Economy, Writes Rubin
"When it comes to the economy, much of the debate about climate change—and reducing the greenhouse gas emissions that are fueling it—is framed as a trade-off between environmental protection and economic prosperity," writes CFR Co-Chairman Robert E. Rubin in an op-ed for the Washington Post. "But from an economic perspective, that's precisely the wrong way to look at it. The real question should be: What is the cost of inaction?"

Rubin argues that, in economic terms, taking action on climate change will prove far less expensive than inaction. The findings come from an earlier bipartisan report on the economic risks of climate change:

"By 2050, for example, between $48 billion and $68 billion worth of current property in Louisiana and Florida is likely to be at risk of flooding because it will be below sea level. And that's just a baseline estimate; there are other scenarios that could be catastrophic."

"Then, of course, there is the unpredictable damage from superstorms yet to come. Hurricane Katrina and Hurricane Sandy caused a combined $193 billion in economic losses; the congressional aid packages that followed both storms cost more than $122 billion."

"And dramatically rising temperatures in much of the country will make it far too hot for people to work outside during parts of the day for several months each year—reducing employment and economic output, and causing as many as 65,200 additional heat-related deaths every year."

According to Rubin, one of the fundamental problems with tackling climate change is that the methods used to gauge economic realities do not take climate change into consideration. Rubin calls for metrics that accurately reflect climate-change risks, and requiring companies to be transparent in reporting vulnerabilities tied to climate.

"If companies were required to highlight their exposure to climate-related risks, it would change investor behavior, which in turn would prod those companies to change their behavior."

Read "How Ignoring Climate Change Can Sink the U.S. Economy."

You can also view the CFR InfoGuide "The Emerging Arctic," an interactive guide examining the economic opportunities and environmental risks emerging in the Arctic.

You can also read a blog post on the U.S. oil boom by CFR Senior Fellow and Director of the Maurice R. Greenberg Center for Geoeconomic Studies Michael Levi.

 
 
About CFR
The Council on Foreign Relations (CFR) is an independent, nonpartisan membership organization, think tank, and publisher dedicated to being a resource for its members, government officials, business executives, journalists, educators and students, civic and religious leaders, and other interested citizens in order to help them better understand the world and the foreign policy choices facing the United States and other countries.
###
UPDATES FROM THE SLOCAT PARTNERSHIP

Great Progress in the establishment of the SLoCaT Foundation

We expect that the SLoCaT Foundation, with the objective to provide support to the SLoCaT Partnership, will be formally established in the coming weeks. Over the last months the SLoCaT Secretariat, overseen by a special Ad-Hoc Committee, developed the governance structure, consisting of a Constitution and a set of By-Laws.  The members of the SLoCaT Partnership were asked on two opportunities to comment on the proposed governance structure.

The Board of the SLoCaT Foundation is being established in two phases, with the election of four Board members representing members of the SLoCaT Partnership taking place this week and the remaining three Board members representing the Supporters of the SLoCaT Foundation to be elected in Autumn 2014.

The SLoCaT Foundation will be registered in the Netherlands, while the Secretariat will remain to be located in Shanghai, China.  Over the next weeks we will be updating the SLoCaT website to provide more detailed information on the new organizational structure of SLoCaT.

We expect that the SLoCaT Foundation will be formally launched in late September at the sidelines of the UN Secretary General's Climate Summit on Climate Change.

Growing Support for the SLoCaT Partnership
###
GLOSSARY

CCAC
COP
ECOWAS
GWP
HFCs
HLA
OECD
SLCPs
SAP
SNAP
UNEA
UNEP
UNFCCC
WHO
Climate and Clean Air Coalition to Reduce Short-lived Climate Pollutants
Conference of the Parties
Economic Community of West African States
Global warming potential
Hydrofluorocarbons
CCAC High-level Assembly
Organization for Economic Cooperation and Development
Short-lived Climate Pollutants
Scientific Advisory Panel
Supporting National Planning for Action on SLCPs
United Nations Environment Assembly
United Nations Environment Programme
United Nations Framework Convention on Climate Change
World Health Organization
CCAC Bulletin
· · · · · · · · · · · · · · · · · · · · · · · · · · · · · · · · · · · · · · · · · · · · · · · · · · · · · · · · · · · · ·
Published by the International Institute for Sustainable Development (IISD)
in collaboration with the Secretariat of the Climate and Clean Air Coalition (CCAC)
Volume 172 Number 16 – Sunday, 20 July 2014
SUMMARY OF THE WORKING GROUP MEETING OF THE CLIMATE AND CLEAN AIR COALITION TO REDUCE SHORT-LIVED CLIMATE POLLUTANTS
16-17 JULY 2014
The Working Group meeting of the Climate and Clean Air Coalition to Reduce Short-Lived Climate Pollutants (CCAC) convened in Paris, France, from 16-17 July 2014. The meeting was attended by more than 90 participants, representing state and non-state partners of the CCAC, its Scientific Advisory Panel (SAP), the CCAC Secretariat and observers.

Over the two days of the meeting, the Working Group heard updates on partners' activities and considered new initiatives. It approved requests by two new organizations to join the Coalition, bringing the total number of partners to 93. The Working Group also discussed preparations for the upcoming CCAC High-level Assembly (HLA) and the UN Secretary-General's Climate Summit, both of which will be held in New York in September 2014. The SAP updated the Working Group on its work. The CCAC also discussed its vision for moving forward and strategies for engaging partners and increasing capacities.

A BRIEF HISTORY OF THE CCAC

The CCAC is a voluntary international coalition of governments, international organizations and non-governmental organizations (NGOs), which focuses on addressing short-lived climate pollutants (SLCPs). The CCAC was created in February 2012 by Bangladesh, Canada, Ghana, Mexico, Sweden and the US, together with the UN Environment Programme (UNEP). It is open to countries and non-state actors wishing to join the coalition, and currently consists of 93 partners with 40 country partners and 53 non-state partners.

SLCPs include black carbon, methane, tropospheric ozone and some hydrofluorocarbons (HFCs). These pollutants have a near-term warming influence on the climate, and, in many cases, are also harmful air pollutants that affect human health, agriculture and ecosystems. The objectives of the CCAC include raising awareness of impacts and transformative mitigation strategies of SLCPs. It also seeks to: enhance and develop new national and regional actions; promote best practices and showcase successful efforts; and improve scientific understanding of SLCP impacts and mitigation strategies.

INITIATIVES: The CCAC has approved 10 initiatives. Its seven sectoral initiatives include:
accelerating methane and black carbon reductions from oil and natural gas production;
addressing SLCPs from agriculture;
mitigating SLCPs and other pollutants from brick production;
mitigating SLCPs from municipal solid waste;
promoting HFC alternative technology and standards;
reducing black carbon emissions from heavy-duty diesel vehicles and engines; and
reducing SLCPs from household cooking and domestic heating.
The CCAC also has three cross-cutting initiatives on: financing mitigation of SLCPs; regional assessments of SLCPs; and supporting national planning for action on SLCPs (SNAP).
GOVERNANCE STRUCTURE: The CCAC institutional structure includes the HLA, Working Group, Steering Committee, SAP and Secretariat.
The HLA consists of ministers of state partners and heads of non-state partners. It meets at least once a year to provide strategic guidance and leadership to the CCAC. The Working Group includes focal points from each CCAC partner. It convenes at least twice a year to oversee activities.
The CCAC also has a Steering Committee composed of the two Working Group Co-Chairs, four state partners, one representative of international organizations and one NGO representative. The Steering Group meets every month to provide oversight support and recommendations to the HLA and Working Group. Current members of the Steering Group are Nigeria, Sweden, Canada, Jordan, Mexico, the US, the World Bank and the Institute for Governance and Sustainable Development.
The CCAC Secretariat is hosted by UNEP in its Division of Technology, Industry and Economics in Paris, France. The SAP consists of 14 scientists, including the UNEP Chief Scientist.
REPORT OF THE CCAC WORKING GROUP MEETING
OPENING: On Wednesday morning, 16 July, Co-Chair Annika Markovic (Sweden) opened the CCAC Working Group meeting. She highlighted upcoming milestones, including the HLA and the UN Secretary-General's Climate Summit, both to take place in New York in September 2014. She also identified the need to agree on a new initiative focusing on the health sector and urban air pollution, and consider the way forward beyond the September meetings. She welcomed Kenya, India and the Philippines which had been invited to observe the meeting together with the Children's Investment Fund Foundation.
Ligia Noronha, UNEP, expressed satisfaction that the CCAC was more than a "coalition of the willing" and has shown itself to be a "coalition of the working." She stressed the timeliness of the Working Group meeting. Regarding the way forward, she identified HFCs, waste and kerosene as important issues that need to be addressed.
UPDATE ON PARTNERSHIP AND CCAC: New partners: On Wednesday morning, Co-Chair Bahijjahtu Abubakar (Nigeria) reported on new partners that had joined the CCAC since the previous Working Group meeting in April (WG/JUL2014/2). The Working Group approved the applications of the World Meteorological Organization (WMO) and the International Network for Environmental Compliance and Enforcement to join the CCAC, bringing the total number of partners to 93.
Partners in Action: CCAC partners presented on new data, achievements and opportunities.
The Organization for Economic Co-operation and Development (OECD) highlighted the main findings of the report "The Cost of Air Pollution: Health Impacts of Road Transport," released in May 2014. She explained that new data from WHO shows that the number of deaths related to outdoor air pollution is much higher than previously believed, estimated at 3.5 million in 2012.
The OECD underscored that the economic cost of deaths from outdoor pollution in OECD countries amounted to approximately US$1.6 trillion in 2010. She noted that while the number of deaths caused by air pollution has reduced by 3.5% in some OECD countries, 14 of the 34 OECD members have shown worse statistics in this regard.
The OECD underscored the contribution of road transport to outdoor air pollution, saying its role has been particularly critical in countries such as India and China. She outlined actions to reduce pollution identified in the report, including: removing incentives to purchase diesel cars; maintaining and strengthening regulatory regimes; implementing more ambitious climate mitigation actions; continuing research on the economic value of morbidity impacts of air pollution; and paying attention to the most vulnerable populations.
Presenting on national actions, Chile noted that over 4,000 premature deaths are estimated to be caused by air pollution with transport as the most critical sector. He said the Chilean Government intends to establish a 2015-2019 strategy, including on sustainable heating and transport programmes.
Regarding the CCAC, Chile reported on work launched to address heavy-duty emissions in ports, municipal solid waste, methane and brick production. He said future steps include encouraging behavioral change, reducing housing energy demand and developing cleaner heating technologies. On the transport sector, he noted the development of retrofit and freight programmes.
Mali drew attention to important opportunities to reduce SLCPs in Mali and reported on national initiatives addressing, inter alia: emissions from heavy-duty diesel; air pollution in Bamako and other major cities; wood stoves; and black carbon emissions from open burning in agriculture.
Business for Social Responsibility emphasized the importance of private sector engagement to make CCAC a "coalition of winning." He underscored the need to communicate in a way that is more accessible for business, saying issues should be framed in a way that speaks to narrow business interests. He proposed preparing short reports that concentrate on essential issues and business interests.
Business for Social Responsibility further highlighted the importance of engaging private sector coalitions in the CCAC discussions. He highlighted the diversity of the business sector, emphasizing the need to identify the most effective ways of engaging with it, for example, by taking into consideration the market share of involved organizations.
Switzerland announced a contribution of CHF2 million to the CCAC over a three-year period until 2017. Mexico underscored initiatives on black carbon and brick production in a national strategy and drew attention to increasing cooperation within Latin America on SLCPs.
Bangladesh reported on new national legislation on brick production criteria and a regulation on HFCs. He also drew attention to cooperation between Bangladesh and the World Bank on clean air and sustainable development. Sweden highlighted work in the Arctic Council to reduce black carbon and methane emissions, and announced a new contribution of SEK3 million to the CCAC.
 ClimateWorks Foundation highlightedthe role of non-carbon dioxide (CO2) greenhouse gases in achieving the 2°C climate temperature target. She noted that a 50% reduction in CO2 emissions by 2050 and a 80% reduction by 2075 will lead to an average of 3.4°C of warming. She underscored calculations showing that reducing methane emissions by 26% by 2030, black carbon by 20%, F-gases by 49% and nitrous oxide by 7% can achieve important progress towards the 2°C target in the near-term, if quick action is taken.
Côte d'Ivoire reported on the set-up of an inter-ministerial committee to work on SLCPs with increasing interaction between different ministries on environment, agriculture, health and communication, contributing to increased public awareness of SLCP impacts.  He also noted a national alliance for clean cook stoves. The Russian Federation highlighted the St. Petersburg Initiative launched at the Baltic Sea Forum in April 2013. He explained that the initiative focuses on air quality and sustainable maritime transportation.
The US underscored the CCAC as a vital venue for exchanging experience on SLCPs. He reported that the US has recently launched a national methane strategy. Morocco announced the creation of a national charter for sustainable development, and the task force meeting to be held in Rabat in September 2014. She highlighted this as an occasion for multiple stakeholders to meet, particularly on air pollution, and invited CCAC partners to attend.
OECD said the OECD environmental review, which takes place every five years, has been extended to some non-OECD countries such as Brazil, China and South Africa. She highlighted further research on the social costs of energy taxation and on promoting greater private sector engagement in low carbon transportation. She explained that CCAC partners could benefit from this review and methodology.
Ethiopia highlighted national action on cook stoves and solid waste. India highlighted the importance of black carbon emissions and reported that work has already been undertaken in most sectors to address: improved design of brick kilns; alternative uses for crop residues so that they are not burnt in the fields; and bio-gas generation as well as bio-methanation or composting of municipal solid waste.
India further called for greater opportunities to share experiences, in particular, to address black carbon and to consider low-cost particulate traps to reduce particulate emissions from diesel vehicles, fuel quality upgrade and fuel efficiency norms. He also stressed that, for a paradigm shift, a new breakthrough is necessary. Kenya reported work on many of the mentioned areas and expressed interest in sharing their experiences.
Nigeria announced new investments in solar energy from the Clean Technology Fund. He also highlighted a Presidential initiative to provide a million clean cook stoves by November 2014.
Outreach: On outreach and partners in action (WG/JUL2014/3), Co-Chair Markovic highlighted CCAC engagement in the context of:  the Abu Dhabi Ascent in preparation for the UN Secretary-General's Climate Summit; Sustainable Energy for All (SE4All); and the Ad Hoc Working Group on the Durban Platform for enhanced Action (ADP) under the UN Framework Convention on Climate Change (UNFCCC).
Co-Chair Abubakar noted a forthcoming ADP workshop on non-CO2 greenhouse gases in October and drew attention to increasing interaction between the CCAC and the UNFCCC, emphasizing that the two processes are complementary. She also reported on various other outreach activities.
The CCAC Secretariat emphasized the importance of visibility and reported on discussions in Abu Dhabi between Coalition partners and UN Secretary-General Ban Ki-moon. She highlighted the UN Environment Assembly (UNEA) as a great opportunity for CCAC partners to discuss air quality. She also noted media roundtables with journalists and a green room event on the CCAC held during the UNEA.
The CCAC Secretariat also emphasized the 20th session of the UNFCCC Conference of Parties (COP 20) in Lima, Peru, as an important outreach opportunity.
Drawing attention to the agreed template for CCAC partners to share information about their activities, the CCAC Secretariat noted submissions from 15 partners and invited more of them to submit information on their activities using the template. Co-Chair Markovic stressed the importance of collecting and disseminating stories on action by CCAC partners. She encouraged partners to share information on their activities with the Coalition and others.
UN SECRETARY-GENERAL'S CLIMATE SUMMIT MILESTONE FOR CCAC: This issue was considered on Wednesday morning and afternoon.
Cynthia Scharf, UN Secretary-General's Office, updated participants on preparations for the UN Secretary-General's Climate Summit (WG/JUL2014/5). She commended the CCAC as an "exciting partnership," stressing the role of the SLCP agenda in showing that results are feasible and giving people hope that progress towards the 2°C climate target is possible.
Scharf reported that all heads of state have been invited to the Summit, along with heads of business, the private sector, financial sector and NGOs. She highlighted the Summit's two goals of mobilizing political will for the 2015 Paris climate agreement and catalyzing ambitious action on the ground given that the new climate agreement will only apply from 2020 onwards.
On the structure of the Summit, Scharf explained that the morning will consist of statements by heads of state in three parallel plenary sessions. In the afternoon, sessions focusing on multilateral and multi-stakeholder action announcements will take place on each of the 10 Action Areas identified in the UNEP Emissions Gap Report, including SLCPs. She explained that in parallel, thematic sessions will be held on science, co-benefits, economic case for action and voices from the frontlines.
Questions were raised concerning, inter alia: the role of ministers; criteria for allocating countries to the various sessions; time allocated for heads of state to speak; how to help heads of states to choose which session to attend; and links to the UNFCCC process. Scharf clarified that statements by heads of state will be limited to less than five minutes and countries will be allocated to the three parallel plenaries based on alphabetical order or UN protocol. She said countries that are not invited to chair sessions may choose freely the sessions they wish to attend in the afternoon.
Scharf stressed that the objective of the Summit is to engage heads of state, but that there will be opportunities for ministers to participate in private meetings. She noted that while there is no formal link between the UNFCCC and the Summit, the objective is to build political momentum around climate change. She specified that the UNFCCC parties will decide whether to use the Chair's summary of the Summit as a contribution to the UNFCCC negotiations.
CCAC Initiatives for the UN Secretary-General's Climate Summit: Participants presented on potential initiatives for the CCAC to showcase at the UN Secretary-General's Climate Summit.
On HFC Phase Down, one of the lead partners underscored that while HFCs are not dangerous for the ozone layer, they are powerful greenhouse gases and their emissions are growing rapidly. He added that due to their high global warming potential (GWP), the increase in HFCs can cancel the impact of climate change mitigation efforts addressing CO2 emissions.
The lead partner noted that discussions on global HFC phase down currently focus on four deliverables: refrigerant management; reducing emissions in the cold-food chain; public procurement of climate friendly alternatives; and global phase down of production and consumption of HFCs under the Montreal Protocol on Substances that Deplete the Ozone Layer.
On the Green Freight Programme, one of the lead partners highlighted "significant" stakeholder engagement after the call to action at the HLA in Warsaw in 2013 and explained that work has started in the US, Canada, Mexico, Bangladesh and Vietnam. He noted that the objective is to promote, enhance and scale up green freight programmes. As a deliverable, he proposed engaging high-level industry and government sign up and implementation of the action plan.
On the Oil and Gas Methane Partnership, one of the lead partners highlighted upstream methane emissions as one of the four key areas of climate change mitigation identified by the International Energy Agency. He outlined ongoing efforts to engage companies in this public-private partnership through Memoranda of Understanding, and called for governments and companies with connections to the relevant companies to support the launch.
On the Municipal Solid Waste Initiative, one of the lead partners emphasized landfills as the third largest anthropogenic source of methane emissions and an important source of black carbon. He identified the need to improve waste management through proven technologies and move cities up in the "waste hierarchy."  Reporting that 26 cities currently participate in the initiative and the goal is to engage 50 cities by 2016, he said replication would be driven by collaboration between cities and linkages with national governments.
On Agriculture, one of the lead partners explained that the aim is to share and implement best practices for minimizing SLCPs from agriculture in a way that ensures climate change mitigation benefits and enhances food security. He identified livestock, paddy rice and open burning in agriculture as the three focus areas. He also invited participants to assist in the designation of a "champion case" to be highlighted at the UN Secretary-General's Climate Summit under the Agriculture Action Area.
The World Bank presented on the Pilot Auction Facility for Methane and Climate Change Mitigation (PAF), saying the initial focus of this pilot project is on methane and on maximizing the involvement of the private sector.
Speaking for the Economic Community of West African States (ECOWAS), Co-Chair Abubakar informed the Working Group of a statement that ECOWAS intends to deliver at the Climate Summit, underscoring the impact of indoor air pollution on deaths in ECOWAS countries and emphasizing the goal of focusing on clean cooking and phasing out kerosene lighting. She also noted the intention of ECOWAS to commend the work of the CCAC and suggest the establishment of a regional CCAC Working Group.
Following discussion, Co-Chair Markovic noted the plan to present the initiatives on oil and gas, HFCs, green freight and municipal solid waste during the Action Area on SLCPs at the Climate Summit.
Outreach: Côte d'Ivoire presented on a communications plan for the Summit and HLA. He noted the intention to draw attention to SLCPs through opinion editorials before the Summit. He outlined plans, inter alia, for a CCAC press release in context of the HLA. He also noted plans for: a press briefing at the UN Climate Summit media room; photos and stories from the Assembly and Summit in social media; UNEP-DTIE photo exhibit outside the UN headquarters; and a launch of a health and air pollution campaign on 24 September 2014.
NEXT HIGH-LEVEL ASSEMBLY: Participants discussed the next HLA, focusing on the proposed agenda (WG/JUL2014/7). They addressed, inter alia, private sector engagement; key deliverables for the UN Secretary-General's Climate Summit and for the CCAC more broadly; announcements on domestic commitments; and engagement of new partners and observers.
SCIENTIFIC ADVISORY PANEL: This issue was considered on Thursday morning, 17 July.
Update on SAP work: The Working Group considered an update on SAP work and plans. SAP member Johan Kuylenstierna, University of York and Stockholm Environment Institute, presented on the SAP's role in finalizing the CCAC's Time to Act report. He emphasized the need to communicate the importance of addressing SLCPs for near-term climate change and public health, as well as food and energy security.
Kuylenstierna explained, inter alia, that: the net total impact of black carbon remains almost the same compared to the previous year; shifts in rainfall patterns remain a significant challenge for livelihoods; and uncertainties concerning the influence of aerosols remain significant. He highlighted key messages from the Fifth Assessment Report (AR5) of the Intergovernmental Panel on Climate Change regarding SLCPs, including the evaluation of metrics. He explained that the use of GWP risks being misleading in the case of SLCPs and that the AR5 does not endorse any particular time horizon or metric.
SAP members also re-emphasized that the CCAC's focus on SLCPs does not substitute CO2 mitigation, but acts as a complementary effort to tackle climate change with public health, ecosystem and other air quality benefits, as set out in the Coalition Framework.
On health and SLCPs, Andy Haines, London School of Hygiene and Tropical Medicine, highlighted the powerful links between black carbon and ozone depletion as a major cause of death. A.R. Ravishankara, University of Colorado, briefed the Coalition on latest HFC research, as released in the Ozone report of WMO/UNEP. Concerning freight, he noted that methane leakage is critical and indicated that rules for chemicals trade tend to become stricter.
During discussion, SAP members also noted a forthcoming SLCP research agenda briefing, which will serve as outreach towards other scientific experts and further the work of the CCAC, notably through the development of a roster of experts to bridge some knowledge gaps. Briefing notes on the economic case, kerosene lamps are also being prepared by SAP.
Issues raised during discussion included: the choice of metrics; communications strategies for the UNFCCC COP in Lima; linkages between SLCPs and health; the relationship between fracking and SLCPs; improvement of the CCAC website; and recruitment of a new scientific expert to the CCAC Secretariat.
SAP members responded by, inter alia, clarifying differences between GWP and global temperature potential and the impact of different time horizons. They recognized that the Kyoto Protocol uses GWP and that changing the metrics would be difficult. They noted the rapidly changing conditions of fracking procedures and investments, while pointing out the need to address linkages between health and SLCPs through an economic perspective.
SAP membership and roster of experts: On the SAP membership rotation plan (WG/JUL2014/9), SAP members recalled that the panel currently has only 14 instead of 15 members as indicated in its terms of reference. They recommended that an expert with a background in agriculture should fill this vacancy. They also suggested the expansion of the SAP number of experts through the creation of an extended list of experts available for consultation as a roster of experts (WG/JUL2014/10).
It was also noted that six SAP members are reaching the end of their two-year term. The Working Group agreed to renew the term of the other six SAP members, if they wish to remain in the SAP. The issue of SAP membership will be considered further at the next Working Group meeting in September.
The Working Group concluded the discussion by emphasizing the overarching goal of the CCAC to focus on the benefits of significantly curbing SLCPs for fighting climate change and that this should remain the guiding principle of the Coalition's work. One participant stated that "magnitude matters more than the metrics," with which SAP members agreed.
VISION FOR MOVING FORWARD: On Thursday morning, the Working Group discussed the CCAC vision for moving forward (WG/JUL2014/6).
INITIATIVES: On Thursday morning, the Working Group considered proposed new initiatives. Co-Chair Markovic explained that lead partners oversee the development and implementation of initiatives. Countries that are not coalition members can join initiatives as actors but do not become coalition members. She noted that 10 initiatives have been approved thus far and that all new initiatives are first reviewed and then approved by the Working Group. She also explained that activities under initiatives can be funded through funding requests.
WHO presented on an initiative focusing on realizing health benefits from SLCPs in cities (WG/JUL2014/11 and WG/JUL2014/12). He highlighted that: more than seven million people die annually from air pollution; its role in causing heart disease and strokes is not well known; and the local healthcare sector could play a more active role in providing advice on best ways to address SLCPs. Justifying the focus on the local-level, he underscored the importance of cities as sources of air pollution, especially in developing countries.
WHO also noted that many relevant policies, such as those on waste management and transport, involve local-level decision-making. He explained that the initiative aims to support policy choices and behaviors that realize SLCP reductions and maximize health benefits in cities, and equip urban health and development sectors with knowledge, tools, strengthened capacity, collaborative frameworks and awareness-raising. WHO noted that the initiative will develop tools for assessment, monitoring and evaluation, and disseminate results to city networks.
Norway emphasized that this "transformative" initiative will bring local-level benefits to developing counties in addition to addressing climate change. She noted the emphasis on capacity building at many levels, highlighting that the initiative will also empower poor and affected people, helping them to avoid exposure to air pollution.
During discussion, many participants commended the initiative and some expressed interest in joining it. The Working Group approved the proposal as a concept and agreed that a revised proposal will be presented at its September meeting along with a funding proposal.
The World Bank, with the ClimateWorks Foundation, presented the main findings of the report on climate-smart development, which examines the multiple benefits of policies related to transportation and energy efficiency in industry and buildings in different country-contexts. Focusing on Brazil, China, India, Mexico, the US and the European Union, the report shows, through a quantitative analysis, that emission reductions and economic development can be complementary.
UNEP underscored opportunities to engage with the Global Environment Facility to develop projects on SLCPs, highlighting projects on smart agriculture, urban sustainable policies, air conditioning and refrigeration.
In the afternoon, participants considered a new initiative model, governance and process for CCAC (WG/JUL2014/13). Canada and the US reported on the work of the task force dedicated to this issue, noting that the proposal aims to enhance the CCAC's efficiency by simplifying procedures for funding and revision of proposals. The Working Group approved the proposal with agreement to address minor issues at a later stage.
STRATEGIC DISCUSSION ON ENGAGING PARTNERS AND INCREASING CAPACITIES: This issue was taken up on Thursday afternoon.  The Working Group considered how the CCAC can engage the private sector more systematically, including proposed specific goals for private sector engagement (WG/JUL2014/14). It agreed to the private sector engagement plan as proposed by the CCAC Secretariat.
The Working Group also considered the proposed tasks of the Capacity Strengthening Advisory Group and participation in the group (WG/JUL2014/15). During discussion, participants stressed, inter alia, the need for strong donor presence in the group, as well as participation by developing countries and international organizations with experience in capacity development. The full composition of the Working Group will be considered at the Working Group meeting in September.
The Working Group considered an update on SNAP institutional strengthening activities to support CCAC developing country partners to further coordinate and scale up activities to reduce SLCPs and increase their participation in CCAC activities and decision-making. During discussion, it was noted that 14 developing countries have expressed interest in participating in this initiative. Participants also highlighted the need to take into consideration lessons from similar activities under the Montreal Protocol and other agreements.
HOUSEKEEPING: On Thursday afternoon, the Working Group considered various housekeeping issues, including: update on the CCAC Secretariat staffing (WG/JUL2014/16); overview of the CCAC Trust Fund (WG/JUL2014/16); invitation for pledges to the Trust Fund; review and approval of the compiled document with all Coalition decisions on partnership (WG/JUL2014/17); CCAC meeting dates in 2015 (WG/JUL2014/18), including possible additional HLAs in 2014 and in 2015; preparations for the mid-term evaluation; update on CCAC Annual Progress Report; and launch plans for a new website (WG/JUL2014/19).
The Working Group also considered a draft revision to the coalition framework (WG/JUL2014/8), identifying the need to insert some further revisions, including on extending the CCAC mandate beyond 2017 and defining a new deadline. It also discussed composition of the CCAC Steering Committee, with the objective that the new Steering Committee will start working after the HLA in September.
CLOSE OF THE MEETING: Co-Chair Markovic thanked her Co-Chair, participants, the CCAC Secretariat and interpreters for their work during the meeting. She said she looks forward to having the CCAC featured prominently in the UN Secretary-General's Climate Summit in September and closed the meeting at 6:00pm.
###