from Iulia Trombitcaia Iulia.Trombitcaia at unece.org via lists.iisd.ca
Dear colleagues,
UNECE has just published the third Environmental Performance Reviews of two countries: Georgia and Belarus.
Both reviews cover air, water, waste, biodiversity and the integration of environmental considerations into a wide number of sectors (energy, forestry, transport, tourism, health, etc.).
Both reviews reflect the successes and challenges for these countries in the achievement of MDGs, and we very much hope that the recommendations of the reviews will assist these countries in developing their national agendas for the achievement of SDGs.
The publications can be found here:
3rd Environmental Performance Review of Georgia:
www.unece.org/index.php?id=42309 (in English)
3rd Environmental Performance Review of Belarus:
www.unece.org/index.php?id=41226 (in English and Russian)
Yours,
Iulia Trombitcaia, UNECE
……………………………………………………………………………………….
Ms. Iulia TROMBITCAIA
Environmental Affairs Officer
Environmental Performance Review Programme
UN Economic Commission for Europe
Palais des Nations
CH-1211 Geneva 10
Telephone: 0041-22-917 3332
Telefax: 0041-22-917 06 21
E-mail: iulia.trombitcaia at unece.org
www.unece.org/env/epr.html
###
Argument
The Kremlin Pulls on Georgia
It's time for the West to stop taking Tbilisi for granted.
By Michael Cecire
Foreign Policy Magazine, March 9, 2015
As Russian forces consolidate their gains in Ukraine over the flat protests of Western leaders, the specter of Russian revanchism is keeping much of Eastern Europe on edge. But lumbering tanks and legions of insta-separatists aren't the only concern. Ukraine isn't Russia's only target.
Perhaps most alarming are the warning signs going off in Georgia, a steadfast Euro-Atlantic partner where a pro-Western political consensus has long been a foreign-policy calling card. A long-standing opponent of Russian military adventurism, Georgia sought escape velocity from Russian regional dominance by courting membership in Euro-Atlantic structures and earned a reputation as an enthusiastic and credible Western partner. But
Western quiescence in the face of Russian territorial aggression is starting to have an effect.
Western quiescence in the face of Russian territorial aggression is starting to have an effect. After decades of acrimony in which Georgians have watched Russian proxies occupy 20 percent of their territory and ethnically cleanse some 300,000 of their compatriots, certain groups are starting to ask if maintaining close ties to the West is worth all the loss. Increasingly, Georgians are beginning to think that it isn't.
The groups spearheading Russian influence operations in Georgia fly beneath the international radar under the cloak of local-language media and the oft-repeated surety of pro-Western sentiment. But they can be seen protesting in Tbilisi streets, preaching in Georgian churches, and holding improbably well-funded campaign rallies ahead of elections. The evidence shows that Russian influence in Georgia is growing stronger. (In the photo, a Stalin impersonator poses at a memorial service for the Soviet dictator in his Georgian hometown of Gori.)
But at Washington roundtables and in private conversations, Western officials and experts tend to downplay the possibility of Russian-exported propaganda taking root in Georgia. The root of this complacency is tied to regular polling from the U.S.-funded International Republican Institute and the National Democratic Institute (NDI) that has consistently showed public support for Euro-Atlantic integration at between 60 and 70 percent. Successive governments have relied on this popular approval to justify their Western-facing foreign-policy agendas.
So support for Euro-Atlantic integration is broad. But is it deep? Those who have spent time with ordinary Georgians say the reality, as is often the case, is far more complex.
There, in a scene in the popular Georgian soap opera Chemi Tsolis Dakalebi (My Wife's Best Friends), revelers at a wedding reception are interrupted by an announcement that Georgia has just been awarded a long-coveted "MAP" (membership action plan), a prelude to NATO membership. The announcement shocks the crowd into a stunned silence, which then gives way to raucous cheers. One character, while clapping and celebrating along with the others, turns to another partygoer and asks: "What's a MAP?"
While the scene colorfully illuminates NATO's outsized social, and even civilizational, pull among Georgians, it also suggests a harsher truth: that Georgian society's Western moorings may be more emotive than well-informed. The headline numbers from public opinion polls don't tell the whole story. Look deeper into the data, and the picture is much more worrisome.
According to an NDI poll last August, integration with the West was at best a tertiary issue for Georgians. Instead, "kitchen table" issues dominated respondents' concerns, with worries about jobs (63 percent) and poverty (32 percent) eclipsing other issues. NATO and EU integration came in far behind at 10th and 17th, respectively. And of 21 issues polled, Georgians picked NATO and EU membership as the top issues the government spent too much time discussing.
But most concerning, buried deep in the survey results, were signs of growing support for joining the Eurasian Union, a Moscow-led EU "alternative." A full 20 percent favored the idea of Georgian membership. This percentage has risen steadily from 11 percent in late 2013 to 16 percent in mid-2014. Who are these Georgians who would surrender their country's sovereignty to the same power that keeps a steely grip on Georgian territory and carves other neighboring states with impunity?
Part of the answer can be found in a budding segment of the nongovernmental sector, consisting of innocuously named pro-Russian groups like the "Eurasian Institute," "Eurasian Choice," and "The Earth Is Our Home." Many of these organizations pop in and out of existence as needed — the "Peace Committee of Georgia" one week, something else the next — but they are often tied to the same group of pro-Russian ideologues and policy entrepreneurs who make regular pilgrimages to Moscow and, according to Georgian officials in the ruling party and the opposition, almost certainly receive Kremlin funding. Their common message isn't high-church Russian apologia or Soviet nostalgia, but rather "Eurasianism" and "Orthodox civilization" — Kremlin shorthand for Putinism. Appeals to Georgian social conservatism, economic vulnerability, and lingering anger over past government abuses are winning converts within a population increasingly impatient with Georgia's unrequited love affair with the West.
In mid-2014, Eurasianist groups made headlines for their raucous opposition to an anti-discrimination bill making its way through the Georgian parliament. Their opposition centered on language in the bill banning discrimination on the basis of sexual orientation, which opponents claimed was tantamount to promoting non-heterosexual lifestyles. But they didn't come to the protests alone — accompanying the pro-Russian activists were unmistakably garbed clerics from the Georgian Orthodox Church.
The church, too, was nonplussed over the anti-discrimination bill and called for language protecting sexual minorities to be ejected. One of the oldest existing Christian churches in the world, the Georgian Orthodox Church is both a touchstone for Georgian nationalism and reliably polls as the most trusted institution in the country. But the church's common cause with the Eurasianists was not limited to tactical alliances over anti-gay rhetoric. Although nominally in favor of Georgian membership in the European Union, influential factions within the Orthodox hierarchy openly stoke religious nationalism and express admiration for Russia.
Today, church representatives are increasingly seen as a vanguard for reactionary activity. In mid-2013, clergy members were on the front lines of a horrifying anti-gay pogrom in central Tbilisi. Church officials have justified protests against and attacks on Georgian Muslims. And church leaders have called the West "worse than Russia," sometimes describing the 2008 Russian invasion as a kind of heavenly intervention against Western integration. Such language is echoed by Georgia's Eurasianist NGOs.
The growing profile of pro-Russian organizations and the sharpening anti-Western stance of the church is converging with a third leg in an emerging pro-Russian triad: the revitalization of anti-Western political parties.
Since the 2012 change in power, pro-Russian politicians have risen from the darkest margins of Georgian political life into an increasingly viable political force.
Since the 2012 change in power, pro-Russian politicians have risen from the darkest margins of Georgian political life into an increasingly viable political force.
Onetime pro-Western advocate turned pro-Russian political agitator Nino Burjanadze has fashioned a political coalition aimed squarely at breaking Georgia's Euro-Atlantic consensus. In presidential and local elections in 2013 and 2014, respectively, Burjanadze managed to get about 10 percent of the vote, armed with Eurasianist rhetoric and fueled by massive influxes of what was likely Russian money. And the rapidly growing Alliance of Patriots — a populist party with anti-Western leanings, which recently held a major rally in Tbilisi — won almost 5 percent in June 2014. If these numbers hold, parliamentary elections in 2016 could very well yield a very differently oriented Georgian government. A 15 percent result would be more than enough to send pro-Russian deputies into parliament in force, shattering cross-partisan foreign-policy unity and potentially playing kingmakers in coalition talks.
Irakli Alasania, Georgia's former defense minister, has Russia on his mind. "There are very active pro-Russia groups and thousands of protesters who are against Western integration," he told me recently, referring to the Alliance of Patriots rally. He expressed worry that the current government is downplaying a growing Russian threat. With his own Free Democrats now part of the parliamentary opposition, the ruling Georgian Dream coalition's ranks of solidly pro-Western parties has noticeably thinned, and the leverage of socially conservative, protectionist factions within the coalition has increased.
But this is probably only the beginning. If trends hold, Georgia's foreign-policy consensus — long taken for granted in the West — could begin to unravel in earnest. Although Georgian Dream, to its credit, has managed to skate the knife's edge between geopolitical pragmatism and Euro-Atlantic enthusiasm, it is increasingly losing popularity among once-hopeful voters. As things stand, parliament in 2016 looks like it will be very different from today's parliament. The pro-Western opposition United National Movement will likely see its 51 seats slashed by half or more. In its place is likely to be a collection of openly anti-Western deputies from Burjanadze's coalition and the Alliance of Patriots. If it stays together, Georgian Dream may well remain the largest parliamentary bloc, but the introduction of large anti-Western groupings into parliament could compel it to dilute, or even abandon, its pro-Western policies out of political necessity.
This trajectory ought to be a cause for deep concern. Even a Georgia that tried to split its orientation between the West and Moscow would likely sink into the quicksand of Russian dominance, as have each of the other paragons of this strategy — Azerbaijan, Armenia, and Kazakhstan. This result would mean the consolidation of Russian geostrategic supremacy over the Caucasus and, with it, a complete Russian monopoly over trans-Eurasian energy and trade flows.
There are ways the West could throw a much-needed lifeline to Georgian liberals.
There are ways the West could throw a much-needed lifeline to Georgian liberals. While the association agreement with the European Union signed last June is surely a welcome symbol, and the Deep and Comprehensive Free Trade Area has great future potential, the real prize for most ordinary Georgians is the prospect of visa-free travel to the EU. If this is introduced this year, as widely hoped, this could be a real boon for Western credibility. And if not outright NATO membership, other strong gestures, such as U.S. major non-NATO ally status, would be a relatively painless upgrade that would enshrine what is essentially the status quo while recognizing Georgia's long-outsized dedication and contributions to the Euro-Atlantic space.
What is clear is that the days of taking Georgia's pro-Western consensus for granted are quickly coming to a close. Russian influence is resurgent across its periphery, from Eastern Europe to the Caucasus to Central Asia, and Georgia remains a long-coveted prize. It may have taken successive military interventions, information warfare, and influence operations, but Moscow looks to be turning a corner in its bid to regain Georgia — both by hook and by crook.
###

New opportunity for EU support for climate action in Eastern Partnership countries
from: Zsolt Lengyel – zsolt.lengyel at climaeast.eu
February 10, 2015
Dear Madam/Sir,
We are pleased to inform you that the Clima East Expert Facility (EF) has a new round for applications for support from eligible organisations involved with climate actions, targeting both mitigation and adaptation in Armenia, Azerbaijan, Belarus, Georgia, Moldova and Ukraine.
In this round we will also accept collaborative applications from two or more beneficiary organizations. This track should enable sectoral ministries, other national or local administration bodies, and in particular civil society organisations, to contribute successfully to the definition, development and delivery of national climate policy and actions.

The Clima East Expert Facility is one of the channels through which the European Commission funded Clima East project provides technical assistance to Partner Countries' stakeholders to facilitate the development, adoption and implementation of effective and appropriate climate change mitigation and adaptation policies and actions.
###
Azerbaijan and the Two EUs.       (?? – this is our comment)

by Amanda Paul – a Policy Analyst at the European Policy Centre in Brussels, where she deals with the EU's Eastern Neighbourhood, Russia, Turkey and Eurasia Region. She is also a columnist for the Turkish Daily, Today's Zaman.

Of the six countries in the EU's Eastern Partnership (EaP), Azerbaijan is the only one that has not chosen to definitively align itself with either the EU or Russia. With the signing of Association Agreements with the EU on June 27, Ukraine, Moldova and Georgia declared their strategic choice to further integrate with the EU and, despite Russian opposition and aggression, stated full membership as their goal. Meanwhile, Belarus and Armenia have taken another path, choosing Russia's Eurasian Union (EaU).
Azerbaijan, as Georgia and Armenia, is located at a very sensitive and volatile geopolitical crossroads, sandwiched between Russia, and Iran. However, unlike its neighbors, Baku has chosen a policy of "choosing not to choose", having a cautious approach, not wanting to openly confront and create waves with Russia. Nevertheless, when analyzing Azerbaijan's relationships with the West and Russia, it seems that Baku's feet are increasingly under the West's table. In fact, this engagement is nothing new. It began 20 years ago when former President Heydar Aliyev signed the "Contract of the Century" with a consortium of Western energy companies. Over the last two decades ties with Euro-Atlantic institutions have gradually deepened, although Azerbaijan has no aspirations to join either the EU or NATO. However, Baku wants Western "know-how" to work on modernizing the country including vocational training, best practices in sectors such as energy, science and technology and education.
For the EU Azerbaijan is an important and reliable partner. While energy is the backbone of relations, with Azerbaijan the enabler of the Southern Gas Corridor, there is a desire from both sides to broaden areas of cooperation. This was underlined during a recent speech, on 12 June, at Azerbaijan's Diplomatic Academy, by President of the European Commission, Jose Manuel Barroso. Today the two partners are moving ahead with a "Strategic Partnership for Modernization (SPM)" along with ongoing Association Agreement talks. THE SPM, which will act as a framework for cooperation, is almost ready for signature, with EU officials hoping this can be done before the end of the present European Commission in the autumn. However, with the ongoing crisis between Russia and Ukraine and the ramifications this has had on the broader region it is not impossible that signature may take place at a later date, possibly at the 2015 EU EaP Riga Summit.
This relationship is also clearly not without difficulties. While on the one hand the EU would like to see Azerbaijan take more steps towards improving democracy and human rights, Baku on the other hand would like the EU to have a more credible and consistent approach towards recognizing Azerbaijan's territorial integrity, as it does with other EaP countries that have territorial disputes — Georgia, Moldova and most recently Ukraine following Russia's annexation of Crimea. Unfortunately, the EU's ambiguous approach towards Azerbaijan's territorial integrity is a thorn in relations. In fact in light of Russia's revanchist ideas, the EU should give explicit support to the territorial integrity of all EaP countries, not only those with territorial disputes.
Despite the fact that Azerbaijan has not expressed a desire to join the EU, and because Azerbaijan is not a member of the WTO  it is unable to have a deep trade agreement with the EU, with Russian President Vladimir Putin apparently fixated on "rebuilding" the Soviet Union, Baku has still come under increasing pressure from Moscow, to join the EaU. In recent weeks Moscow has significantly increased its diplomatic activity with a number of visits to Baku, including from Russian Foreign Minister Sergei Lavrov, who arrived the day after Barroso left.
Azerbaijan wants good relations with Moscow, but it also wants to maintain full control over its foreign and economic policies. Joining the EaU would affect this independence. Not only would it have no added value for Azerbaijan economically – Azerbaijan's economy, which is currently dominated by energy sector, is increasingly linked to the West – it would also impinge on Azerbaijan's sovereignty.
There is also little appetite for closer ties with Russia from Azerbaijani society. There is a broad dislike and distrust of Russia's leadership, something that has been exacerbated since the Russia's annexation of Crimea, while deep resentment also continues to exist over the role that Russia has played in the Nagorno-Karabakh conflict with Armenia. Furthermore, and fortunately, because the majority of Azerbaijanis prefer to watch Turkish television rather than Russian, they have not been exposed to Russia's extensive media propaganda campaign over Ukraine.
However, while Russia presently continues to be focused on Ukraine, as with the other EaP countries in the region, Moscow may also try to impact Baku's foreign policy choices although its leverage on Azerbaijan is less than some of the other countries in the region. All the same, some 500,000 Azerbaijanis work in Russia; Azerbaijan is home to a Russian-speaking Lezgin ethnic minority that Moscow has tried in the past to create internal tension; the Nagorno-Karabakh conflict with Armenia, where Russia is key to any settlement and uses for its own self-interest and Georgia. Georgia is important to Azerbaijan because it is the transit state for Azerbaijan hydrocarbons to European markets. Instability in Georgia could be disastrous for Baku.
Ultimately, while many people believe that Moscow may try to make Baku a very tempting offer, it is highly unlikely if not totally impossible that Azerbaijan will accept it. Nevertheless with such a resurgent Russia with a President that seems to have "no limits", the ongoing climate of uncertainty and trepidation over what may be around the corner, over what Russia may or may not do next, is of significant concern and will probably keep Baku on a very cautious track. Moreover, the fact that there has been a significant failure from the EU (and the West more generally), to adequately respond to Russia's actions towards Ukraine, is hardly reassuring to other countries in the region either.
(This article was originally published – in a shorter form – in Today's Zaman)
###
Ukraine: four crises, one country.
The Ukraine Neighbourhood

by Nicu Popescu –  senior analyst at the EU Institute for Security Studies in Paris, where he deals with the EU's eastern neighbourhood and Russia.
For most of the last two decades virtually every Ukrainian election or opinion poll has displayed two Ukraines – one Western-leaning and another looking to Moscow; one voting Timoshenko or Yushchenko and another pro Yanukovich; one against Putin and another in favour of him. Unsurprisingly, many feared that the ousting of Yanukovich, the Russian annexation of Crimea, and the infiltration of eastern Ukraine by Russian military intelligence would lead Ukraine to split in two or collapse altogether like a house of cards.
Ukraine still faces four interconnected existential crises: economic, political, territorial and diplomatic (with Russia). It is also clear that even if the country manages to overcome these challenges, it will not be left unscathed. The past three months, however, have shown that Ukraine was not a powder keg waiting to explode, despite several matches having been thrown at it.

The country's resilience has proven stronger than many assumed (both in Russia and the rest of Europe) and while its blend of problems might be poisonous, they are not insurmountable. Petro Poroshenko's unexpectedly smooth popular election – with support drawn evenly across Ukraine – represents a potential turning point in the spiral of overlapping crises that have characterised its recent past.
One Ukraine, not two
Both Sunday's elections results and the localised nature of the armed insurgency in east suggest there is neither two Ukraines nor a distinct 'southeastern' Ukraine. Although electoral preferences in Ukraine may have differed in the past, there is overwhelming popular and elite support for maintaining Ukraine as one state in the majority of its regions.
For all the worrying images of what looks like a descent into civil war, the armed insurgency is affecting just parts of two Ukrainian regions, or oblasts – Donetsk and Luhansk. The other regions of the 'southeast' – Dnipropetrovsk, Zaporizhia, Mykolaiv, Odessa, Kharkiv and Kherson – have more or less remained stable. None of these regions witnessed the overnight implosion of the state apparatus that occurred in Crimea or parts of Donetsk and Luhansk, although it is not impossible that further Russian inroads could destabilise the situation further.
This relative stability is partly due to attempts by Ukrainian elites – in Kiev and in the east – to find a new post-Yanukovich modus vivendi. But the wider public also seems to be on a similar path: an opinion poll conducted last month by the Kyiv International Institute of Sociology revealed that over 70% of people in the south and east of the country no longer consider Yanukovich their legitimate president; 79% do not support secession from Kiev (and only 25% support federalisation); and 45% would be happy with decentralisation. Although in the regions of Donetsk and Luhansk there are greater levels of support for Yanukovich, the armed insurgency, and for joining Russia, even there such support hovers around 20%-30% (in the other regions it is under 10%). In short, there is no broad-based support for either armed separatists or a Russian intervention.
Finally, the recent election results are indicative of a country that has significant regional variations but is, nonetheless, one country. Poroshenko, who was born in south Ukraine not far from Odessa, came first in the presidential race in every single region of Ukraine.
Localizing the armed insurgency
In response to the takeover of public buildings in parts of eastern Ukraine, the government deployed military and police units in an attempt to fight the armed challenge to state authority. The start of the operation was, however, a disaster. Local police and intelligence in the Donetsk and Luhansk area refused to obey orders or simply disbanded: in one instance, a group of soldiers surrendered several armed personnel carriers to a protesting crowd. In Mariupol, the army, not trained in the ways of managing large, mostly unarmed crowds in urban settings, opened fire on civilians. Now several weeks into the operation, several towns in the two regions remain outside governmental control.
Yet in another sense, the operation has been a qualified success. Although its maximalist goal of quickly defeating the separatists was not achieved, its minimalist goal – containing the insurgency, preventing its geographic spread, and holding the 25 May presidential elections in most parts of Ukraine – has been achieved. Elections were properly organised and carried out in 22 out of 25 regions (people were denied the opportunity to vote in Donbas and Luhansk, as well as in annexed Crimea). Despite the intensified fighting and additional bloodshed since the elections, the chances that Kiev can prevent the contamination of other parts of Ukrainian territory look reasonable.
A key player in containing and even rolling back the insurgency is one of Ukraine's most prominent oligarchs and leader of the United Jewish Community of Ukraine: Igor Kolomoisky. Upon being appointed governor of the Dnipropetrovsk region in March, he quickly stabilised the situation by asserting control over the law enforcement agencies. Parts of the Donetsk region, unhappy with the descent into separatist chaos, are now seeking protection from the Kolomoisky-led Dnipropetrovsk administration. And when around 40 people died after clashes in Odessa between pro-Russian and pro-Ukrainian activists, a Kolomoisky protégé was quickly appointed local governor.
Avoiding an economic crash
Thanks to Western assistance, a total economic collapse seems to have been averted, and the self-styled 'Kamikaze government' led by Yatseniuk has already begun to undertake certain reforms. An all-out assault on vested interests is unlikely, but a lower-key war of attrition against some of the more corrupt elements of the state is underway.
Partly thanks to strong IMF and Western conditionality, some progress is being made. A new, World Bank approved public procurement law was adopted in parliament (albeit on the second attempt and with a one vote majority). An anti-discrimination law, paving the way to EU visa liberalisation, has also been passed. The government has increased the cost of the hitherto subsidised energy prices, which should help redress some of Ukraine's gas debt. Pavlo Sheremeta, the economy and trade minister (a graduate from Harvard Business School and former advisor to the Malaysian government), boldly aims to bring Ukraine closer to the top 10 countries with the best business environment – according to the Cost of Doing Business report, where Ukraine held the 145th place in 2013. Admittedly this is no small task, but setting ambitious goals is having the positive effect of focusing minds in Kiev.
For a government that is three months old, and has spent most of its time managing an armed challenge to its statehood, localising separatism, organising presidential elections and taking steps to deal with the country's economic mess, this is a decent start. Yet success is far from assured, since the remedy for one type of crisis often aggravates another. In this respect, the central question for Ukraine in the following months will be how to maintain internal unity while reforming the oligarchic economy that triggered the revolution in the first place.
Disempowering the oligarchs?
The system whereby oligarchs made their fortunes by looting the state through corrupt public procurement, various subsidies (including gas), and the privatisation of law enforcement agencies – which allowed the most powerful business sharks to take over assets of their competitors through administrative pressure, in what is called 'reiderstvo'– had long undermined the Ukrainian state. Reform means conflict – with vested interests, a bloated public sector, and the subsidised sectors of the economy which are driving the whole country to bankruptcy. The system survived for so long precisely because it has so many stakeholders, with a handful of oligarchs being only the most visible beneficiaries.
Though tackling corruption was supposed to be a key priority for the post-Yanukovich government, the focus on internal reform shifted to territorial defence following the armed intervention on its eastern borders. Confronted with an military conflict, Kiev took steps to co-opt (rather than squeeze) the oligarchs – not least because most of them have their power bases in eastern Ukraine – and to offer them a stake in the new political system as a way of maintaining the country's unity. Declaring war on the oligarchs could have led to even greater destabilisation of eastern Ukraine. Igor Kolomoisky was appointed as governor of Dnipropetrovsk, and Serhiy Taruta as governor of Donetsk, while other oligarchs such as Dmitri Firtash, or regional 'barons' like Genady Kernes in Kharkiv, positioned themselves as relatively constructive players in order to retain as much (and as many) of their fiefdoms as possible. Petro Poroshenko, the new president of Ukraine, is one of the country's richest individuals and has served in various governments under both presidents Yushchenko and Yanukovich.
Co-opting the oligarchs has yielded success in the short term, helping to confine the armed insurgency in the east to just two regions. Yet this short-term success could turn into a mid-term failure if the oligarchic system remains the same. Since the government is not in a position to launch an all-out Saakashvili-style assault on corruption and vested interests, the best-case scenario would be to embark on a series of 'salami' reforms conducted by technocrats in the government with as much external support as possible and strong conditionality from international donors in order to strengthen the hand of the reformists. While such a piecemeal approach could be an arduous task and could easily fail, it appears to be the only real possibility given the current environment.
Federation or separation?
Ukraine's territorial crisis will not be resolved soon. Short of a Chechnya-style, large-scale military assault on urban areas – which would risk the mass indiscriminate killing of civilians – Ukraine is not in a position to defeat the armed insurgents as long as they receive (tacit) Russian support.
For the time being, two possible models of a 'non-solution' have been floated. One is labelled 'Finlandisation', i.e. the creation of a neutral state which – as the theory goes – would offer credible guarantees that NATO will not grant membership to Ukraine and thus assuage Russia. The other is labelled 'Bosnia-isation', i.e. the creation of a federalised entity with large veto powers for its constituent regions. The two models do not appear incompatible, and could even be combined.
On paper, both options have their merits. Finland has done well since the end of the Second World War, is prosperous and secure and joined the EU in 1995. For its part, while Bosnia might appear a rather dysfunctional federation but its constituent parts have at least prevented further bloodshed. Unfortunately, neither option is likely for Ukraine.
Should Ukraine become either neutral or federal – or both – it would end up nothing like either Bosnia or Finland. Bosnia might be still divided internally, but it sits in the middle of the single most benign international environment on earth. Finland's neutrality throughout the Cold War was agreed upon and respected: none of these two conditions are likely in Ukraine. It suffices to look at Moldova, which adopted neutrality in 1994 in the hope that this would persuade Russia to cease their support for secessionist Transnistria. Not only this has not happened, but Moldova has been under constant and growing Russian pressure not to move closer to the EU. Even Ukraine under President Yanukovich – who gave up trying to move closer to NATO – was placed under constant pressure not to sign the Association Agreement with the EU. Similarly, a neutral Ukraine would be unlikely to bring about a new era of Russian-Ukrainian-Western cooperation, for now Russia perceives it to be in direct competition with not just NATO but also the EU.
Another scenario, almost by default, would be the transformation of the Donetsk and Luhansk regions into a bigger 'Transnistria' – a secessionist territory that is not recognised by anyone, but which creates de facto state structures with Russian support. Moscow's logic would be that, at a later stage, this could be used as a bargaining chip with the government in Kiev to push for federalisation and/or neutrality.
These tactics has been employed several times before – in Abkhazia, South Ossetia, and Transnistria itself – but without much success for Russia. The presence of these frozen conflicts made Georgian and Moldovan moves away from Russia more, rather than less, likely. Both countries have now learned to live without their former regions and are on the verge of signing Association Agreements with the EU despite Russian threats and at the risk of complicating relations with their secessionist regions further. While Georgia and Moldova might lag far behind the EU in political and economic terms, they nevertheless have score reasonably well for resource-poor countries manoeuvring in a very difficult geopolitical environment.
There is already a growing sentiment among Kiev elites that, if it comes to it, losing the Donbass would not be catastrophic and might actually lead to a more cohesive and reform-oriented Ukraine. Against all odds, Ukraine is managing to survive as a country: it now needs to build a state.
EUISS Brief, May 2014
###
Ukraine: the view from China.
by: Nicu Popescu, senior analyst at the EU Institute for Security Studies in Paris, where he deals with the EU's eastern neighbourhood and Russia-
now he extended it to China and the Asian States Former members pf the Soviet Union. China being the mirror Image to the EU with similar interests regarding the States that emerged from under the Russian leadership of the USSR.
Posted by EUobserver March 22, 2014.
With every new major international crisis – be it the Arab Spring, the 2008 Russian-Georgian war, recurrent emergencies in Africa, or the current Ukrainian-Russian tensions – it does not take long for diplomats and observers to start wondering 'what does China think'. It is increasingly frequent during such crises for China to be put in the spotlight and expected to have a position on events and regions on which, until recently, Chinese opinions were barely worth a footnote. This is also true for the Crimean crisis. A few days into the crisis, the Russian foreign ministry announced that the Chinese and Russians shared "broadly coinciding points of view" on the situation.
Looking at China for comfort is driven by many factors. The rise of Chinese power is just one. In international public opinion China is often seen as a sort of 'swing' power, capable of tipping the political balance between entrenched political warriors whose preferences are already well known. On a crisis like the one in Crimea – which elicits completely different narratives from Russia, on the one hand, and the EU and US on the other – the Chinese are seen by some as a potentially less subjective or biased source of opinions. In this sense, China can offer surprises. After the 2008 Russia-Georgian war the Chinese maintained public politeness towards Russia but, in private, were clearly against the recognition of South Ossetia and Abkhazia – thereby helping Central Asian countries resist alleged Russian pressures to recognise the independence of those entities.
Hence the rush by Russia to claim Chinese support for its actions in Ukraine – as an effort to claim greater legitimacy for its military invasion of a post-Soviet state. However, the claim that China is on Russia's side is spurious.
China and the EU
The Chinese approach to the situation in Ukraine is driven by competing pressures. Its overall approach to the post-Soviet space is quite similar – or rather parallel – to that of the European Union as it is based on two equally important pillars: an evident desire to have good relations with Russia and a strong interest in not seeing the resurgence of a Russian empire and in supporting the independence of post-Soviet states. The difference here is that, for the EU, the Eastern Partnership states are of primary importance while, for China, the Central Asian countries are. In this respect, Brussels' and Beijing's interests and views regarding the post-Soviet states are both close and complementary. China would also like to see Central Asia become a higher priority for the EU – and it has been in principle favourable to the EU's Association with countries like Ukraine.
Even their toolboxes are not dissimilar in that they mainly rely on political dialogue and economic integration. The EU offered Russia and other post-Soviet states trade integration. Russia has de facto, though not formally, rejected the offer which has been on the table for over a decade. China made a similar offer: it proposed the creation of a Free Trade Area within the Shanghai Cooperation Organisation, but Russia has refused that too. And now China is suggesting the creation of a 'Silk Road Beltway' through Central Asia as a vehicle for economic integration.
In both cases, Russia refused to go along with EU and Chinese initiatives, preferring to launch its Customs Union. The problem is that the Russian-led Customs Union would complicate the existing trade relations between the EU, China and the post-Soviet countries. This is not irrelevant since the EU is the biggest trading partner for Ukraine, Moldova, Georgia, Armenia, Azerbaijan, and Kazakhstan – while China is the biggest trading partner for Turkmenistan, Uzbekistan and Kyrgyzstan.
As is the case for the EU approach to Russia, it is not uncommon for China's binary objectives (having good relations with Russia and supporting the independence of post-Soviet states) to clash each and every time Russia tries to assert its influence through economic, political or even military coercion. The Chinese think the crisis in Ukraine as a "headache" . It creates new problems in their relations with Russia since they cannot say either yes or no to their request for diplomatic support.
China and Ukraine
The Chinese strongly disapprove the Russian military intervention in Ukraine at several levels. Russia is an opportunistic supporter of the principle of state sovereignty: it resists military or political interventions in Kosovo, Iraq, or Syria, but practices such interventions in Georgia and Ukraine, while piling up pressure on other post-Soviet states. China is more consistent in its respect of sovereignty as it does not support or practice open military interventions, though it can still be tough with its neighbours.
The easy recourse by Russia to military means of power projection is also worrying for the Chinese with regard to Central Asia. It is not unimaginable that a country like Kazakhstan or Uzbekistan face a messy succession when their current ageing leaders have left the political stage. The question from a Chinese perspective is then: if such an intervention can take place in Ukraine, why should it not happen in Kazakhstan, too, provided there is a pretext for that?
There also are a number of Ukraine-specific reasons for China to be less than enchanted with Russia's military behaviour. To begin with, China has just engaged in a 10 billion USD project to build a deep-water port in Crimea, the function of which would be to redistribute cargo flows from the East to Europe. Any uncertainty in Crimea thus affects this project, especially in the event of a de facto secession.
China also had a general preference for Ukraine to have closer links with the EU. The Chinese are inclined to think that Ukraine was moving closer to the EU, even under Yanukovich. They believe that the main debate within Ukraine was on how fast – and Yanukovich was in favour of a slower path. Yet, the direction towards the EU was still clear for the Chinese. In fact, a Ukraine embedded in a free trade area with the EU and with an improved business climate could offer extra advantages to Chinese business, especially if the new 'silk road' project takes shape. Ukraine would then give China a direct inland access to the European market.
On the other hand, while the strategic objectives of China overlap significantly with those of the EU, Beijing strongly rejected the tactics of the Ukrainian revolution. On that, China's view is much closer to Russia's: the overthrow of an autocratic regime by popular protesters is not something to its liking. And Yanukovich's attempts to supress the Kiev revolt Tiananmen-style were also unlikely to provoke Chinese ire. Just like Russia, China hoped the 21 February agreement between the opposition and the President, giving him a lease of political life until December, would hold. Suspicion of US meddling is another factor bringing Russian and Chinese tactical views of the situation closer to one another.
In sum, sympathy with the European strategic interests in the post-Soviet space coupled with sympathy with the Russian assessment of the tactics of the revolution. None of these instincts is likely to be expressed in public. The China-Russia relationship is hidden under a much thicker layer of smiles, politeness and hypocrisy than the Russia-EU relationship – which often slides into impolite and 'frank' exchanges.
Chinese president Xi Jinping, over the phone with American president Obama, has "urged for a political and diplomatic solution to the Ukrainian crisis" says XinHua news agency. However, Chinese interests in Eastern Europe remain too small for Beijing to take an open and vocal stance – at least for now, and as long as Russia's aggressive actions do not reach into Central Asia.
Nicu Popescu and Camille Brugier, EUISS Alert, March 2014.
###
| | |
| --- | --- |
| Saudi Arabia announced its Kingdom Tower, a skyscraper aiming for a new world height record of over 1 kilometer high in the sky. |   |
---
Architectural Pornography: Saudi Arabia's Kingdom TowerPosted: 22 Mar 2013.

Saudi Arabia announced its Kingdom Tower, a skyscraper aiming for a new world height record of over 1 kilometer high in the sky.

Boys, boys, boys, when will you learn that size doesn't matter as much as performance? Next Azerbaijan broadcast plans to top that with their own mile-high cloud-puncher. Then Pakistan upstaged both with their own biggest building boast. And performance brings us full circle back to Team Saudi who just commissioned the project delivery team for their kilometer-high Kingdom Tower. Is this engineering ingenuity or architectural porn?

Actions speak louder than empty press releases. Obama may have scratched another trip to the moon, but, regrettably, the terrestrial race towards the heavens is on.

Green Prophet's told you all about Saudi Arabia's Kingdom Tower. First conceived years back, geological testing commenced in 2008 for the planned one-mile-high structure. That initial engineering resulted in a down-sizing of tower height, which still bests Dubai's Burj Khalifa.

Now Kingdom Tower is off the theoretical and into production. Its staying power lies in its wider context of regional development and in the deep pockets of its owner, billionaire Prince Alwaleed bin Talal. The Prince likes his things big.

The Tower is the centerpiece of an ambitious urban development project called Kingdom City, a phased construction on 2 square miles of undeveloped waterfront property near the Red Sea port city of Jeddah. Once the Tower's erected, they'll be multiple phases of expansion and major infrastructure works to support it all.

British-based EC Harris and Mace have hooked up to provide project, commercial and design management for the $1.2 billion development which will break ground later this year. (Construction, by Bin Laden Group, is planned to wrap up in six years.)

This team's delivered over 100 skyscrapers including London's Shard and Abu Dhabi's The Landmark. Adrian Smith, the American architect behind the Burj Khalifa and New York City's Trump Tower, is the designer.

Stack up those four skyscrapers and you could run a 5k race along their facades without ever treading on something sustainable. Despite their sky-high project price tags, they are devoid of innovative design elements that would reduce their gargantuan environmental impacts or enhance occupant safety.

Consider the waste generated, the power and water consumed, the resultant road congestion, and the devastating impact on local real estate. Consider the thousands of birds who die in collisions with the acres of tower skin (ornithologist Daniel Klem, Jr. estimates that collisions with skyscraper glass kills up to 1 billion birds a year in the United States alone). Are Jeddah emergency services equipped to handle fires a kilometer above ground? Think of the attraction for splashy acts of terror.

Then read through their project press releases. You'll find nothing to address those previous questions, but spot a few ho-hum green features including proximity to mass transit, high performance thermal glass, and efficient plumbing fixtures. The same can be said about my little apartment which was built over 25 years ago.

Middle Eastern mega-projects tend to chase world records in terms of manly dimensions or bloated price tags. What would it take to incite project teams to hit new heights in green technologies? Buildings made from smart materials that don't deplete already-stressed water resources, with on-site renewable energy-generation. International media would eat it up, and it would be a powerful project differentiator for all stakeholders to lay claim to, with bragging rights to the host nation.

Call me Miss Cranky, but these competitions to see whose is biggest are better suited for the locker room and not the world construction stage.

————————————————————————————–
  Adrian Smith + Gordon Gill make their own announcement: they're designing the Kingdom Tower, but it won't be a mile high.
Every blogger who gives a toot about sustainable building fell over themselves earlier this year to mock Saudi's mile high tower. We all bought the story without really thinking about what such a tall building might look like; but there's a very good reason we fell for what turned out to be a dirty news leak: absurd stuff like this actually happens in the Middle East.
Recently a billionaire Sheikh from Abu Dhabi etched his name – Hamad – into the sands of a one mile stretch of island. His self-aggrandizing graffiti is visible from space. And Dubai has the 2,651 foot Burj al Khalifa tower. Perhaps feeling left out of the cockshow, Saudi has now officially commissioned Adrian Smith + Gordon Gill to design a 3,280-foot spacescraper – skyscraper just doesn't seem high enough- that will surpass the Burj as the world's next tallest tower.
No restraint
World Architecture News recently announced that Dubai will not bid for the Olympics because it needs to focus on its own security and peace, showing uncharacteristic restraint. Saudi Arabia shows no such thing.
His Royal Highness Prince Alwaleed Bin Talal Bin Abdulaziz Alsaud, nephew of Saudi Arabia's King Abdullah and chairman of Kingdom Holding Company, today announced this newest addition to a slew of flashy Arab projects that always have disastrous environmental ramifications.
Part of the 17.4 million square foot Kingdom City development project, the Kingdom Tower alone will take up 5.7 million square feet of  north Jeddah, a sea port town along the Red Sea and the gateway to Saudi Arabia's holiest city Mecca.
Taller than the tallest
568 feet taller than the world's current tallest building also designed by Adrian Smith while at Skidmore, Owings & Merrill, the Kingdom Tower will feature a Four Seasons hotel, Four Seasons serviced apartments, Class A office space, luxury condominiums and the world's highest observatory.
Construction of the $1.2 billion tower is expected to begin as soon as possible and the entire Kingdom City project is anticipated to cost at least $20 billion.
###
As Jeremic (Former Foreign Minister of Serbia) Talks Sovereignty, What of Egypt and Kosovo, Budget from Serbia?
By Matthew Russell Lee
UNITED NATIONS, October 3 — The UN seems to make even articulate people bland, and to turn everything into buzzwords and cliches. So it seemed at Vuk Jeremic's first press conference as President of the UN General Assembly.
His deputy spokesman chose only five question — by the end of which, the obvious word "Kosovo" had not once been said.
Only on the seventh and last pre-drinks questions was the word broached. Jeremic answered indirectly, saying that just as he fought "for five and a half years" as Serbian foreign minister for the sovereignty and territorial integrity of Serbia, now he would fight for those things for the whole world. Is that a message to the proponents of Azawad in Northern Mali? Inner City Press has covered Mali's on-again, then off-again recognition of Kosovo.
More pertinently, is it true as buzzed at the UN that the "new" Egypt may move to recognize Kosovo? What if anything could a PGA (President of the UN General Asembly) try to do?
Inner City Press covered — and called — Jeremic's election as General Assembly President, and when the media in Serbia contacted it for stories about Jeremic's budget, Inner City Press also asked Jeremic's predecessor how much Qatar had spent (this was never answered).
But now one wants to know if it is true that the request to and contribution of Serbia is down to $1.5 million, and what will be the actual budgets of the office.
Wednesday these questions were not taken, nor more generic ones about mediation and the G-20. Team Jeremic offered drinks and cheese cubes to the correspondents, but that time might have been better spent on answering these questions. Perhaps in the future they will be answered.
———————-

UN Statement Calls for Restraint From Turkey and Syria, SC Prez Tells ICP
By Matthew Russell Lee
UNITED NATIONS, October 4 — On the UN Security Council's press statement on Akcakale in Turkey, what changed in the 22 hours between the silence procedure being broken by Russia and the statement's read-out by Council President Gert Rosenthal on Thursday evening?
Mostly the inserting of nine final words: "The members of the Security Council called for restraint."
Inner City Press asked Ambassador Rosenthal, once he had read out the statement, whether it would be fair to read this as a call for restraint by Turkey as well, or just Syria.
"Both," Rosenthal said. He confirmed that a separate draft press statement on bombings in Aleppo is under the Council's "silence procedure" until 10 am on Friday. Russian Ambassador Vitaly Churkin told the press that one Council member had extended silence until then. But would it be further extended?
There were a few other minor changes from the initial Azerbaijani (or "Ottoman") draft and the one agreed to: the first draft expressed condolences first to the Government of Turkey then to the families of the victims; this was reversed in the final statement. Also a reference to "international peace and security" was removed.
Some drew a link from the negotiations to an upcoming visit to Turkey by Russian president Putin on October 14. Others speculated about some other deal being reached.
In the run-up to the passing, a well placed diplomat told Inner City Press of passing the press statement, "If they can do it to keep Turkey quiet, good." But will it?
—————–
As France Spins 2-Step on Mali, ECOWAS Frustration, What of Algeria and Chad?
By Matthew Russell Lee
UNITED NATIONS, October 4 — When Thursday's Mali consultations of the UN Security Council broken up near 5 pm, French Ambassador Gerard Araud emerged and confirmed that France would circulate a draft resolution shortly (in a day or two) but NOT yet to deploy ECOWAS forces.
Why the delay? Araud twice said, we've been waiting for some time for details from ECOWAS. He said the resolution might specify, deliver the delays in 30 days or as soon as possible.
Inner City Press asked Araud, what about Mali neighbors which are not members of ECOWAS, like Mauritania and Algeria?
Araud replied that any and all countries are invited to be involved. He mentioned the European Union, then circled back to Chad.
But again, what about Algeria? The country has long opposed interventions, especially involving former colonialism France. While pretending not to take the lead or play any special role on Mali, it was Araud who came to the stakeout; it is France which is drafting.
Then again, MUJAO in Northern Mali last month executed an Algerian diplomat. Araud said that there is unanimity in the Council on Mali, and afterward Cote d'Ivoire Ambassador Bamba, who was not allowed in the meeting, emphasized to the press that at the Sahel meeting at the UN during General Debate week, there was a strong political demand a resolution authorizing force.
But what about the neighbors, which are not members of ECOWAS?
—————-
At UN, Syria Praises Jeremic as Heavyweight, Critiqus Qatari Ex-PGA
By Matthew Russell Lee
UNITED NATIONS, October 4 — Syria UN Ambassador Bashir Ja'afari had many duels with Qatar's Nassir Abdulaziz Al-Nasser while the latter was President of the General Assembly, culminating in UN Television being turned off when Ja'afari spoke.
On October 4, on UNTV, Inner City Press asked Ja'afari about new PGA Vuk Jeremic and about Nassir Abdulaziz Al-Nasser. Video here, from Minute 14:09.
Ja'afari lashed out at Nassir Abdulaziz Al-Nasser, and praised Jeremic as a "heavyweight." Later it was noted that Nassir Abdulaziz Al-Nasser repeatedly offered UN Secretary General Ban Ki-moon a private jet to travel for free.
Ban has since named Nassir Abdulaziz Al-Nasser as High Representative on the Alliance of Civilizations.
By contrast, Ja'afari told Inner City Press:
"I think the former PGA harmed his personal reputation, the credibility of his country's policy and the United Nations by misusing his mandate and the very important podium of the General Assembly. I think that he tried to use the national agenda of his country and to dictate this national agenda on the Member States as a whole…
"You may remember the procedural and political mistakes he made towards the point of view of my country as well as toward myself. In these wrongdoing, procedural and political, he crossed the line. He wasn't diplomat. He didn't act responsibly.
"In one of these meetings, the former PGA stopped the translation one time, and stopped recording the session, for the first time since 1945. He on many occasion manipulated the rules and procedure of the session and meetings of the General Assembly.
"The new PGA will be by all means different in his approach, his analysis, from former PGA. He is a real heavyweight, a trouble shooter, a professional diplomat… I guess that he will not fall in the same trap in which the former PGA had fallen.
My minister met with the new PGA and they discussed the best ways to help Syria, Government and people, to achieve national dialogue and to implement the Kofi Annan Six Point Plan as well as other instruments adopted by consensus with regard the Syrian crisis. We look forward to working with him very closely."
###
The scare tactics – The pundits say: "In a matter of hours of the Strait of Hormuz being shut down, prices would increase anywhere from $25 to $30 a barrel, after 72 hours, they foresee oil prices spiking to $150 very quickly, and rising much faster from there. From there, prices could climb to $180… even $200.
But what is the likelihood of this scenario?
———————
www.tomdispatch.com/post/175487/t…
Tomgram: Michael Klare, Energy Wars 2012
Last week, the president made a rare appearance at the Pentagon to unveil a new strategic plan for U.S. military policy (and so spending) over the next decade.  Let's leave the specifics to a future TomDispatch post and focus instead on a historical footnote: Obama was evidently the first president to offer remarks from a podium in the Pentagon press room.  He made the point himself — "I understand this is the first time a president has done this.  It's a pretty nice room.  (Laughter)" — and it was duly noted in the media.  Yet no one thought to make anything of it, even though it tells us so much about our American world.
After all, when was the last time the president appeared at a podium at the Environmental Protection Agency to announce a 10-year plan for a "leaner, meaner" approach to the environment, or at the Education Department to outline the next decade of blue-skies thinking (and spending) for giving our children a leg-up in a competitive world?  Or how about at a State Department podium to describe future planning for a more peaceable planet more peaceably attained?  Unfortunately, you can't remember such moments and neither can America's reporters, because they just aren't part of Washington life.  And strangest of all, no one finds this the tiniest bit odd or worth commenting on.
Over the last decade, this country has been so strikingly militarized that no one can imagine 10 years of serious government planning or investment not connected to the military or the national security state.  It's a dangerous world out there — so we're regularly told by officials who don't mention that no military is built to handle the scariest things around.  War and the sinews of war are now our business and the U.S. military is our go-to outfit of choice for anything from humanitarian action to diplomacy (even though that same military can't do the one thing it's theoretically built to do: win a modern war). And if you don't believe me that the militarization of this country is a process far gone, check out the last pages of Secretary of State Hillary Clinton's recent piece, "America's Pacific Century," in Foreign Policy magazine.  Then close your eyes and tell me that it wasn't written by a secretary of defense, rather than a secretary of state — right down to the details about the "littoral combat ships" we're planning to deploy to Singapore and the "greater American military presence" in Australia.
Of course, the irony of this American moment is that the Republicans, those supposed advocates of "small government," are the greatest fans we have of the ever increasing oppressive powers of the biggest of governments.  In recent years, have they seen a single enhanced power they didn't put their stamp of approval on or enhance further? Predictably, no sooner did the president's Pentagon press briefing end than assorted Republicans began attacking Obama and his relatively modest Pentagon plan for reshuffling military funds — from House Armed Services Committee Chairman Howard P. "Buck" McKeon ("a lead from behind strategy for a left-behind America") and Senator John McCain ("greatest peril") to presidential candidate Mitt Romney ("inexcusable, unthinkable") — as if it were a program for unilateral disarmament.
So when the U.S. faces a problem in the world — say, keeping the energy flowing on this planet — the first thing that's done is to militarize the problem.  It's the only way Washington now knows how to think.  As Michael Klare — whose upcoming book The Race for What's Left: The Global Scramble for the World's Last Resources will certainly be a must-read of the season — makes clear, a further militarization of oil and gas policy is underway with an eye tothe Pacific, and we have another anxious year on the horizon. (To catch Timothy MacBain's latest Tomcast audio interview in which Klare discusses the crisis in the Strait of Hormuz, click here, or download it to your iPod here.) Tom
Danger Waters
The Three Top Hot Spots of Potential Conflict in the Geo-Energy Era
By Michael T. Klare

Welcome to an edgy world where a single incident at an energy "chokepoint" could set a region aflame, provoking bloody encounters, boosting oil prices, and putting the global economy at risk.  With energy demand on the rise and sources of supply dwindling, we are, in fact, entering a new epoch — the Geo-Energy Era — in which disputes over vital resources will dominate world affairs.  In 2012 and beyond, energy and conflict will be bound ever more tightly together, lending increasing importance to the key geographical flashpoints in our resource-constrained world.

Take the Strait of Hormuz, already making headlines and shaking energy markets as 2012 begins.  Connecting the Persian Gulf and the Indian Ocean, it lacks imposing geographical features like the Rock of Gibraltar or the Golden Gate Bridge.  In an energy-conscious world, however, it may possess greater strategic significance than any passageway on the planet.  Every day, according to the U.S. Department of Energy, tankers carrying some 17 million barrels of oil — representing 20% of the world's daily supply — pass through this vital artery.

So last month, when a senior Iranian official threatened to block the strait in response to Washington's tough new economic sanctions, oil prices instantly soared. While the U.S. military has vowed to keep the strait open, doubts about the safety of future oil shipments and worries about a potentially unending, nerve-jangling crisis involving Washington, Tehran, and Tel Aviv have energy experts predicting high oil prices for months to come, meaning further woes for a slowing global economy.
The Strait of Hormuz is, however, only one of several hot spots where energy, politics, and geography are likely to mix in dangerous ways in 2012 and beyond.  Keep your eye as well on the East and South China Seas, the Caspian Sea basin, and an energy-rich Arctic that is losing its sea ice.  In all of these places, countries are disputing control over the production and transportation of energy, and arguing about national boundaries and/or rights of passage.

In the years to come, the location of energy supplies and of energy supply routes — pipelines, oil ports, and tanker routes — will be pivotal landmarks on the global strategic map.  Key producing areas, like the Persian Gulf, will remain critically important, but so will oil chokepoints like the Strait of Hormuz and the Strait of Malacca (between the Indian Ocean and the South China Sea) and the "sea lines of communication," or SLOCs (as naval strategists like to call them) connecting producing areas to overseas markets.  More and more, the major powers led by the United States, Russia, and China will restructure their militaries to fight in such locales.

You can already see this in the elaborate Defense Strategic Guidance document, "Sustaining U.S. Global Leadership," unveiled at the Pentagon on January 5th by President Obama and Secretary of Defense Leon Panetta.  While envisioning a smaller Army and Marine Corps, it calls for increased emphasis on air and naval capabilities, especially those geared to the protection or control of international energy and trade networks.  Though it tepidly reaffirmed historic American ties to Europe and the Middle East, overwhelming emphasis was placed on bolstering U.S. power in "the arc extending from the Western Pacific and East Asia into the Indian Ocean and South Asia."

In the new Geo-Energy Era, the control of energy and of its transport to market will lie at the heart of recurring global crises.  This year, keep your eyes on three energy hot spots in particular: the Strait of Hormuz, the South China Sea, and the Caspian Sea basin.

The Strait of Hormuz

A narrow stretch of water separating Iran from Oman and the United Arab Emirates (UAE), the strait is the sole maritime link between the oil-rich Persian Gulf region and the rest of the world.  A striking percentage of the oil produced by Iran, Iraq, Kuwait, Qatar, Saudi Arabia, and the UAE is carried by tanker through this passageway on a daily basis, making it (in the words of the Department of Energy) "the world's most important oil chokepoint."  Some analysts believe that any sustained blockage in the strait could trigger a 50% increase in the price of oil and trigger a full-scale global recession or depression.

American leaders have long viewed the Strait as a strategic fixture in their global plans that must be defended at any cost.  It was an outlook first voiced by President Jimmy Carter in January 1980, on the heels of the Soviet invasion and occupation of Afghanistan which had, he told Congress, "brought Soviet military forces to within 300 miles of the Indian Ocean and close to the Strait of Hormuz, a waterway through which most of the world's oil must flow."  The American response, he insisted, must be unequivocal: any attempt by a hostile power to block the waterway would henceforth be viewed as "an assault on the vital interests of the United States of America," and "repelled by any means necessary, including military force."

Much has changed in the Gulf region since Carter issued his famous decree, known since as the Carter Doctrine, and established the U.S. Central Command (CENTCOM) to guard the Strait — but not Washington's determination to ensure the unhindered flow of oil there.  Indeed, President Obama has made it clear that, even if CENTCOM ground forces were to leave Afghanistan, as they have Iraq, there would be no reduction in the command's air and naval presence in the greater Gulf area.

It is conceivable that the Iranians will put Washington's capabilities to the test.  On December 27th, Iran's first vice president Mohammad-Reza Rahimi said, "If [the Americans] impose sanctions on Iran's oil exports, then even one drop of oil cannot flow from the Strait of Hormuz."  Similar statements have since been made by other senior officials (and contradicted as well by yet others).  In addition, the Iranians recently conducted elaborate naval exercisesin the Arabian Sea near the eastern mouth of the strait, and more such maneuvers are said to be forthcoming.  At the same time, the commanding general of Iran's army suggested that the USS John C. Stennis, an American aircraft carrier just leaving the Gulf, should not return.  "The Islamic Republic of Iran," he added ominously, "will not repeat its warning."

Might the Iranians actually block the strait?  Many analysts believe that the statements by Rahimi and his colleagues are bluster and bluff meant to rattle Western leaders, send oil prices higher, and win future concessions if negotiations ever recommence over their country's nuclear program.  Economic conditions in Iran are, however, becoming more desperate, and it is always possible that the country's hard-pressed hardline leaders may feel the urge to take some dramatic action, even if it invites a powerful U.S. counterstrike.  Whatever the case, the Strait of Hormuz will remain a focus of international attention in 2012, with global oil prices closely following the rise and fall of tensions there.

The South China Sea

The South China Sea is a semi-enclosed portion of the western Pacific bounded by China to the north, Vietnam to the west, the Philippines to the east, and the island of Borneo (shared by Brunei, Indonesia, and Malaysia) to the south.  The sea also incorporates two largely uninhabited island chains, the Paracels and the Spratlys.  Long an important fishing ground, it has also been a major avenue for commercial shipping between East Asia and Europe, the Middle East, and Africa.  More recently, it acquired significance as a potential source of oil and natural gas, large reserves of which are now believed to lie in subsea areas surrounding the Paracels and Spratlys.

With the discovery of oil and gas deposits, the South China Sea has been transformed into a cockpit of international friction.  At least some islands in this energy-rich area are claimed by every one of the surrounding countries, including China — which claims them all, and has demonstrated a willingness to use military force to assert dominance in the region.  Not surprisingly, this has put it in conflict with the other claimants, including several with close military ties to the United States.  As a result, what started out as a regional matter, involving China and various members of the Association of Southeast Asian Nations (ASEAN), has become a prospective tussle between the world's two leading powers.

To press their claims, Brunei, Malaysia, Vietnam, and the Philippines have all sought to work collectively through ASEAN, believing a multilateral approach will give them greater negotiating clout than one-on-one dealings with China. For their part, the Chinese have insisted that all disputes must be resolved bilaterally, a situation in which they can more easily bring their economic and military power to bear.  Previously preoccupied with Iraq and Afghanistan, the United States has now entered the fray, offering full-throated support to the ASEAN countries in their efforts to negotiate en masse with Beijing.

Chinese Foreign Minister Yang Jiechi promptly warned the United States not to interfere.  Any such move "will only make matters worse and the resolution more difficult," he declared.  The result was an instant war of words between Beijing and Washington.  During a visit to the Chinese capital in July 2011, Chairman of the Joint Chiefs of Staff Admiral Mike Mullen delivered a barely concealed threat when it came to possible future military action.  "The worry, among others that I have," he commented, "is that the ongoing incidents could spark a miscalculation, and an outbreak that no one anticipated."  To drive the point home, the United States has conducted a series of conspicuous military exercises in the South China Sea, including some joint maneuvers with ships from Vietnam and the Philippines.  Not to be outdone, China responded with naval maneuvers of its own.  It's a perfect formula for future "incidents" at sea.

The South China Sea has long been on the radar screens of those who follow Asian affairs, but it only attracted global attention when, in November, President Obama traveled to Australia and announced, with remarkable bluntness, a new U.S. strategy aimed at confronting Chinese power in Asia and the Pacific.  "As we plan and budget for the future," he told members of the Australian Parliament in Canberra, "we will allocate the resources necessary to maintain our strong military presence in this region."  A key feature of this effort would be to ensure "maritime security" in the South China Sea.

While in Australia, President Obama also announced the establishment of anew U.S. base at Darwin on that country's northern coast, as well as expanded military ties with Indonesia and the Philippines.  In January, the president similarly placed special emphasis on projecting U.S. power in the region when he went to the Pentagon to discuss changes in the American military posture in the world.

Beijing will undoubtedly take its own set of steps, no less belligerent, to protect its growing interests in the South China Sea.  Where this will lead remains, of course, unknown.  After the Strait of Hormuz, however, the South China Sea may be the global energy chokepoint where small mistakes or provocations could lead to bigger confrontations in 2012 and beyond.

The Caspian Sea Basin

The Caspian Sea is an inland body of water bordered by Russia, Iran, and three former republics of the USSR: Azerbaijan, Kazakhstan, and Turkmenistan.  In the immediate area as well are the former Soviet lands of Armenia, Georgia, Kyrgyzstan, and Tajikistan.  All of these old SSRs are, to one degree or another, attempting to assert their autonomy from Moscow and establish independent ties with the United States, the European Union, Iran, Turkey, and, increasingly, China.  All are wracked by internal schisms and/or involved in border disputes with their neighbors.  The region would be a hotbed of potential conflict even if the Caspian basin did not harbor some of the world's largest undeveloped reserves of oil and natural gas, which could easily bring it to a boil.

This is not the first time that the Caspian has been viewed as a major source of oil, and so potential conflict.  In the late nineteenth century, the region around the city of Baku — then part of the Russian empire, now in Azerbaijan — was a prolific source of petroleum and so a major strategic prize.  Future Soviet dictator Joseph Stalin first gained notoriety there as a leader of militant oil workers, and Hitler sought to capture it during his ill-fated 1941 invasion of the USSR.  After World War II, however, the region lost its importance as an oil producer when Baku's onshore fields dried up.  Now, fresh discoveries are being made in offshore areas of the Caspian itself and in previously undeveloped areas of Kazakhstan and Turkmenistan.

According to energy giant BP, the Caspian area harbors as much as 48 billion barrels of oil (mostly buried in Azerbaijan and Kazakhstan) and 449 trillion cubic feet of natural gas (with the largest supply in Turkmenistan).  This puts the region ahead of North and South America in total gas reserves and Asia in oil reserves.  But producing all this energy and delivering it to foreign markets will be a monumental task.  The region's energy infrastructure is woefully inadequate and the Caspian itself provides no maritime outlet to other seas, so all that oil and gas must travel by pipeline or rail.

Russia, long the dominant power in the region, is pursuing control over the transportation routes by which Caspian oil and gas will reach markets.  It is upgrading Soviet-era pipelines that link the former SSRs to Russia or building new ones and, to achieve a near monopoly over the marketing of all this energy, bringing traditional diplomacy, strong-arm tactics, and outright bribery to bear on regional leaders (many of whom once served in the Soviet bureaucracy) to ship their energy via Russia.  As recounted in my book Rising Powers, Shrinking Planet, Washington sought to thwart these efforts by sponsoring the construction of alternative pipelines that avoid Russian territory, crossing Azerbaijan, Georgia, and Turkey to the Mediterranean (notably the BTC, or Baku-Tbilisi-Ceyhan pipeline), while Beijing is building its own pipelines linking the Caspian area to western China.

All of these pipelines cross through areas of ethnic unrest and pass near various contested regions like rebellious Chechnya and breakaway South Ossetia.  As a result, both China and the U.S. have wedded their pipeline operations to military assistance for countries along the routes.  Fearful of an American presence, military or otherwise, in the former territories of the Soviet Union, Russia has responded with military moves of its own, including its brief August 2008 war with Georgia, which took place along the BTC route.

Given the magnitude of the Caspian's oil and gas reserves, many energy firms are planning new production operations in the region, along with the pipelinesneeded to bring the oil and gas to market.  The European Union, for example, hopes to build a new natural gas pipeline called Nabucco from Azerbaijan through Turkey to Austria.  Russia has proposed a competing conduit called South Stream.  All of these efforts involve the geopolitical interests of major powers, ensuring that the Caspian region will remain a potential source of international crisis and conflict.

In the new Geo-Energy Era, the Strait of Hormuz, the South China Sea, and the Caspian Basin hardly stand alone as potential energy flashpoints. The East China Sea, where China and Japan are contending for a contested undersea natural gas field, is another, as are the waters surrounding the Falkland Islands, where both Britain and Argentina hold claims to undersea oil reserves, as will be the globally warming Arctic whose resources are claimed by many countries.  One thing is certain: wherever the sparks may fly, there's oil in the water and danger at hand in 2012.

Michael T. Klare is a professor of peace and world security studies at Hampshire College, a TomDispatch regular, and the author, most recently, ofRising Powers, Shrinking Planet. His newest book, The Race for What's Left: The Global Scramble for the World's Last Resources, will be published in March.  To listen to Timothy MacBain's latest Tomcast audio interview in which Klare discusses the crisis in the Strait of Hormuz, click here, or download it to your iPod here.



###
TRYING TYRANTS FOR HUMAN RIGHTS ABUSES VALIDATES UN, GEORGIA TELLS ASSEMBLY
International efforts, albeit halting, to punish perpetrators of crimes against humanity validate the very essence of the United Nations, Georgia has told the General Assembly, citing progress made since the end of the Cold War 20 years ago.
"Slowly, too slowly, new rules are emerging, and even these rules are still too rarely applied," Georgian President Mikheil Saakashvili said yesterday. "Step by step, though, tyrants start to fear that they could one day be held accountable for their crimes.
"There will be, I am convinced, less and less tolerance for ethnic cleansing and other war crimes that have stained my country and so many others. This is the very reason of our existence as the United Nations, is it not? To make the world a little better, to finally enforce the rules, charters, laws and principles on which we all have agreed."
Turning to Georgia's relations with Russia, Mr. Saakashvili said the Russian military currently occupied 20 per cent of Georgia's sovereign territory, in violation of international law and an August 2008 ceasefire agreement.
Fighting broke out in August 2008 between Georgian forces and South Ossetian and Abkhaz separatists and their Russian allies. South Ossetia and Abkhazia each subsequently declared their independence from Georgia, and those declarations have been recognized by Russia and several other countries.
"As I speak, more than 450,000 IDPs [internally displaced persons] and refugees continue to suffer because they are denied their rights, a right reaffirmed over a dozen times by this very house, to return to their homes and villages," Mr. Saakashvili said, referring to ethnic Georgians who fled the fighting.
"They cannot go back because, in Moscow, a foreign leader has decided that their home is no longer their home. To such cynicism and brutality we respond with calls for justice and commitments to peace," he added, noting that almost a year ago Georgia renounced the use of force.
"One year and we still are waiting for Russia's leadership to reciprocate this gesture of peace. Unfortunately, instead of dialogue the response we have received has come in the form of a dozen terrorist attacks targeting Georgia, attacks directly organized and supervised by confirmed officers of the Russian secret services."
Although the Cold War is over, "blackmails and brutal diktats" are still used against Ukraine, Moldova and Belarus, and even the Baltic States face manipulations and neo-colonial games with their minorities, he said.
"The Cold War is over, but the old Soviet habit to play on ethnic and religious hatreds is still alive," he added, stressing that Eastern Europe's so-called colour revolutions and the recent Arab Spring, both of which saw the fall of long-entrenched regimes, would not have been possible if the Soviet Union still existed.
###
NEW TRANSPORT AND ENERGY FORUMS NEEDED IN CENTRAL ASIA, TURKMENISTAN TELLS UN
Turkmenistan's President called for the creation of new mechanisms for Central Asian countries to cooperate on energy and transportation during a speech to the General Assembly's annual general debate in New York today.
"I believe there has come the time to start the development of concrete measures on the settlement of energy transportation issues," Gurbanguly Berdimuhamedov said, recommending the establishment of a new forum for Member States to cooperate in this area.
Mr. Berdimuhamedov also pointed to transport as a crucial component to the region's sustainable development and called for UN support to study and expand transit and transport opportunities among the countries in the Caspian and Black Sea basins, Central Asia, and the Middle East.
"Over the years, our country together with partners in the region is actively working on the implementation of major projects on optimization of traffic flow in the Eurasian space. We believe this is a very promising area, given the huge potential of the North-South and East-West corridors," he said.
He also spoke of Turkmenistan's concern for the environment of the Caspian Sea, and proposed hosting the Caspian Environment Forum in Ashgabat, the country's capital.
"We are convinced of the need to give specific content to international efforts to preserve unique natural resources of the Caspian Sea. In this regard, we propose to organize the Caspian Environment Forum as a permanent body to deal with environmental issues in the Caspian basin, as well as to make appropriate proposals and recommendations."

###
With Turkey so much in the news – mainly in its attempt at becoming more Arab then the Arabs and reseting itself as the leader of the Middle East by picking up the cause of the Palestinians and doing everything possible in order to annoy the Israelis, here comes a very different set of news – Turkey has become the ultimate test case for Austria – sort of who is better suited to play in the European Soccer games championship. Austria needed a win in order to have a chance to survive – in effect a win by two goals – to be accurate. This in a group of States, in the Qualifying games – that included also Germany and Belgium, but also Azerbaijan and Kazakhstan – call it a situation where three members of the EU had been accidentally paired with three Muslim countries on the outskirts of Europe.
The game was scheduled for September 6, 2011, 20:30 or 8:30 PM, at the largest stadium in Austria -that seats 53.000 people. The old, but rather newish looking Ernst Happel Stadium was built between 1929 and 1931 for the second Workers' Olympiad to the design of German architect Otto Ernst Schweizer. It was called the Prater Stadion until 1992, sometimes also called Wiener Stadion. It is located in Leopoldstadt, the 2nd district of Vienna. The stadium was renamed in honor of Ernst Happel following his death in 1992. Ernst Franz Hermann Happel (29 November 1925 – 14 November 1992) was Austrian –  football-player and coach.
Ernst Happel is regarded as one of the most successful football team-managers ever, winning both league and domestic cup titles in the Netherlands, Belgium, Germany and Austria as well as winning the European Cup twice, the first in 1970 and the second in1983, and a runners-up medal at the 1978 FIFA World Cup. He is the first of three managers to have won the European Cup with 2 different clubs, Ottmar Hitzfeld and Jose Mourinho being the other two. Austria is now desperately looking for a manager that could get close to Happel. These days Austria suffers from manager-collapse and it showed in the games.
I sensed that this will not be just a football game – it really had political implications – so I decided to attend in order to get a sniff at the atmosphere these days – how it is to be a Turkish guest-team in an Austria where there is a large Turkish minority that roots naturally for their country of origin, while pushing for their own position of new Austrians and for Turkey's acceptance into the EU, while it is known that there is probably a majority in Austria that neither would like to see Turkey in the EU nor like the increase in immigration from Turkey to the EU – this latter being a basic cause for the slow progress in the steps the EU handles this Turkey problem.
I made my move too late – the Stadium was sold out but two well placed gentlemen that I happened to meet – Mr. Walter Weise, Manager of the Sport-facilities of the city of Vienna – that includes the management of the Stadium – and Mr. Peter Klinglmueller, the Head of all the Press and Public Relations of the Austrian Football Association (OEFB), to whom I was introduced by the first gentleman, extended a courtesy ticket to me when I managed to convince them that the evening has real value to me, though I am no professional football reporter.
I came to the Stadium about 6:30 PM and the U-train was all in red – that is people wrapped in the Turkish flag – some with funny hats – all red&white – some with noise making trumpets. When I got off – I saw one flag with a man drawn on it that looked like a Kazakh. I asked – and was told that was Kemal Ataturk.  Interesting as he is no more the real favorite of the present government of Turkey. He was a secular dictator while the present government is moving more and more to the Islamic religion.
When I sat in my seat in Section B, At 7:00 PM, the Turkish team came out to show itself to the crowd that in my corner – a very Turkish corner, was received by the youth with call "Giul" which I assume meant "Goal." The same Turkish_Austrians in the stands did actually boo when the Austrian team showed up. When it came to playing the National anthems – the Turkish first, the older kids had to tell the younger brothers or cousins to continue to stand up and clap hands at the end. The pro-Turkish partisanship seemed to have taken hold of the younger and less experienced kids. Think for a moment – while the Turkish side showed a team with all on it having Turkish names, the Austrians had also one Turk on their team – EKREM DAG – who used to play for Besiktas, Istambul. The Austrians also had on their team an Austrian player who plays now for Munich – but was the best player on the field at this game – David Olatukunbo Alaba – born in Austria but clearly of West African parentage. I mention this as clear indication that Austria has overcome some of the personal background problems that are capable to create disunity.
I watched the advertisements along the Stadium. They were basically from the companies you would expect: Hyundai, Generali, Raiffeisen Bank (only one bank is my bank), Burgenland for tourism, the arches of McDonald without the name and saying "I'm loving it," the Kronen Zeitung, Toto, Puma, The City of Vienna etc., but also one single new company – GAZI – which is a Turkish-German company that makes the best Yogurt and cheese. I love it indeed – only that there is not enough chains that carry their products. I bought their yogurt t at Penny's.
On the negative side of the experience, I must mention just that some people managed to smuggle in firecrackers they used to make noise in an attempt to encourage the Turkish team.
Still during the first half – it became obvious that both teams were not at their best – so the 0-0 final score was no surprise – but it had the effect that the Turkish team loved. This indecision actually was a decision – it hopelessly eliminated Austria from contention to get the second place and the chance to move on to the UEFA EURO games. It left two contenders for that spot – Turkey and Belgium, but looking up the remaining games, it seems to us that Turkey will be the eventual #2 See please the following:
Both Turkey-Belgium games have been played already – and ended in  a Turkish win 3-2  on September 7, 2010, and a draw 1-1 on June 2, 2011. Each team still has two games to play. One of these games is with the tough German team. Both have finished their games with Austria. The other game left for each of them is with the weaker teams Azerbaijan, Kazakhstan.
The tough upcoming games Turkey still has to play is with Germany on October 7, 2011 and Belgium still has to play Germany on October 11, 2011.
These calculations leave in our opinion Turkey with the advantage to qualify for the second spot in group A for the UEFA EURO 2012 games. So this is the way for Turkey to show they are a power in Europe – at least so far as soccer goes.
AHEAD OF THESE LAST TWO GAMES – THE STANDS ARE AS FOLLOWS AND WE BELIEVE THAT THE FINAL ORDER WILL BE THE SAME AS TODAY:
	Germany		   21   7  0  0  22  3
    -------------------------------------------------------------
	Turkey		   14   4  2  2  11  8
    -------------------------------------------------------------
	Belgium		   11   3  3  2  16 11
	Austria  	    8   2  2  3  10 10
	Azerbaijan	    7   2  1  5   9 21
	Kazakhstan	    3   1  0  7   5 20
Coming 2012 - Turkey will thus play in the European tournament - Belgium and Austria will stay out. 
On the other hand, Turkey will play in the Middle East political stakes, and it is highly possible 
that most of Europe will be out there.
So why did we say that this was a political game? Turkey got in soccer what it might not get in
geopolitics - or perhaps the soccer will also show the way for how Europe might decide to link to
Turkey in their arena where they play in the Islamic World. We wait to see which will be it.
###
Sunday, October 25th, 2010 Fareed Zakaria, on his CNN/GPS program – 9 days before the US Mid-term Elections of November 2, 2010 –  started his analysis of the changing World – and he promised to continue to deal with this subject in his Halloween – Sunday, October 31st Very Special program to be seen also in the evening – and in a Special Time Magazine issue.
The World has changed in the last two decades mainly because of two developments – and the US must learn that it is no-more the one Super-power and that it will have to adapt to the idea that it might not even be the leading power anymore. These two developments are:
(A) the Technology Revolution – particularly the information technology which since the 1990s has started the economic spiral of job losses.
(B) Globalization that resulted in the largest 500 US companies getting an average of 26% of their profits from overseas and among the largest of theses companies this figure could be as high as 80%.
In global politics – Vietnam 1973 has changed to Bosnia 1996 and the art of negotiation that will be reapplied to a readiness to talk with the Taliban. Richard Holbrooke was on the program, and very thoughtfully said that at the moment there are not yet negotiations but "contact and discussions" – it is not yet the stage of secret negotiations that went on towards the end of the war in Vietnam. We are not trying to win the Afghanistan War and a Dayton-type of negotiations is in the cards – but we are not there yet, he said. If no-body noted this earlier, Holbrooke was appointed by Hillary Clinton in the name of President Obama  to the AF/Pak desk – just for this purpose – and he surely is eager to justify the trust in him.
The US must face it – 9 years of war and a half trillion dollars expenditures since 9/11, and the US has not started to scratch the issue of finding Bin Laden. The US must learn and reassess – and Fareed brought in a truly stellar panel to start this analysis.
SIMON SCHAMA – the author of "The American Future: A History", where he takes the long view of how the United States has come today to this anguished moment of truth about its own identity as a nation and its place in the world.
He was born in London, son of Jewish parents with roots in Lithuania, Romania, and Turkey – a renown British historian – he has lived half his life in the US and is now a Professor at Columbia University having taught in the 80s at Harvard.
Schama is a supporter of President Obama and a critic of President G.W. Bush. He appeared on the BBC's coverage of the 2008 U.S. presidential election, clashing with John Bolton.
SHASHI THAROOR – now a member of the Indian Parliament from the Thiruvananthapuram constituency in Kerala. On 2 May 2010, he was nominated to be a member of the Parliamentary Standing Committee for External Affairs.
Tharoor previously served as the United Nations Under-Secretary General for Communications and Public Information. He ran for UN Secretary General and lost to the present chief – Mr. Ban Ki-moon who had the G.W. Bush backing. Tharoor's loss was the World's loss of highly intellectual, outspoken, potential World leader. Born in London and educated in the US – His doctoral thesis at the Fletcher School at Tufts University, "Reasons of State", was a required reading in courses on Indian foreign-policy making. He was with the UN from 1978 till April 1, 2007 and we knew him well in his last years as UN Undersecretary-General for Communications and Public Information, and as the head of Department of Public Information (UNDPI) under UNSG Kofi Annan. During his tenure at the UNDPI, Tharoor reformed his Department and undertook a number of initiatives, ranging from organizing and conducting the first-ever UN seminar on anti-Semitism, the first-ever UN seminar on Islamophobia and launching an annual list of "Ten Under-Reported Stories the World Ought to Know About."
KISHORE MAHBUBANI – the author of "The New Asian Hemisphere: The Irresistible Shift of Power to the East,"  as well as "Can Asians Think?" and "Beyond the Age of Innocence: Rebuilding Trust between America and the World". Now he is the Dean and Professor in the Practice of Public Policy of the Lee Kuan Yew School of Public Policy at the National University of Singapore, he served for 33 years as a diplomat for Singapore, and has written many articles on world affairs. We met him several years ago at the Asia Society in New York and got material directly from him.
Mr. Tharoor observed that Americans are moving away from the concept of Globalization that they themselves managed to sell to the World. He said that a G-2 concept of the US and China is unacceptable to "THE REST OF US."
Mr. Mahbubani reminded Mr. Schama that in the past he also advocated a 5% Consumption tax that could be used to change the system – and flatly stated that China's views get more sympathy from us – meaning also THE REST OF US then the US does. Simply stated – The US capacity to provide leadership has diminished.
Mr. Schama pointed out that recently China threatened Japan unnecessarily, China's currency is undervalued, and that China's relationships with the rest of the world is based on what it can get in term of resources. To this Mahbubani answered that indeed China overplayed Japan and the Chinese President went to Japan for a making-up visit.
Mr. Schama reviewed the November 2nd 2010 US elections today as part of the Financial Times www.ft.com  /obamaatbay series. He says that if Mr. Obama's good works – and they were the best since the Lyndon Johnson's Great Society years of the 1960s, and the momentous opening charge of the New Deal of 1933 – he calls for Mr. Obama to discard his Plato and to summon instead his "inner Machiavelli" – but these topics are not the subject of our present article.
We will get back to them in a later – elections related posting.
———————
Watching the Fareed Zakaria stellar program  that touched upon the reality of a new world of global blocks – I decided to come up with a summation of our own views of the kind of World the Obama II Administration will be facing in the 2011-2013 years when preparing for the 2012 US elections.
The World population is pushing to the 7 Billion figure – presently as per US Census Bureau estimates it is 6.88 Billion – well over half of which is made up by clear three blocks – as we will see the agreed upon three blocks account for 4 Billion out of the 7 Billion :
CHINA – by the end of 2010 it is expected to be 1.4 Billion.
INDIA – presently at 1.2 Billion and by 2030, because of higher birth rates, India's population will surpass China's that will have stabilized at 1.45 Billion.
THE MUSLIMS presently at 1.2 Billion. Now still an agglomerate but with developing Turkish leadership.
In our opinion rather then continuing the Fareed Zakaria panel's talk of the US as the fourth block, a failed G-2 concept of the US and China – which by the way is  a concept we presented many times on our own website, and which we still see as a stepping stone on the way the World will eventually tackle the climate change issue – and their fifth block – the members of the panel called THE REST – simply does not agree with our gut-feelings and mental analysis – rather WE THINK THAT THE REMAINING 3 BILLION PEOPLE WILL BELONG TO A DIFFERENT SET OF Rather THREE BLOCKS as follows:
– THE CHRISTIAN EUROPE – LED BY GERMANY AND RUSSIA  – about 750 million that is Continental Europe –
up to and including Russia, Georgia and Armenia – excluding possibly the UK.
– THE US  and MORE-OR-LESS ANGLO  ALLIES – 310 million and about  650 million when including Canada, the UK,
Australia, New Zealand, and some others from among Japan, Korea, Mexico.
– THE REST – which will be BRAZILIAN LED including Sub-Sahara Africa, Central and South America, parts of Asia and
the Island States. This block remains the largest in total numbers of people.
———————–
Having seen the papers of Monday and Tuesday I found further justification to above suggestions I am making in the fact that some in the US, and perhaps even the UK, starting the blame game of WHO HAS LOST EUROPE TO RUSSIA.
We rather think that Europe getting together with resources rich Russia may prove to be in Europe's self-interest in the six-block World we see in the future and we rather find further justification in the attitudes expressed by the Fareed panel.
Jorge Benitez – NatSource of the Atlantic Council of NATO, October 26, 2010 notes:
From John Vinocur, the
International Herald Tribune
:  Germany and France, meeting with Russia in Deauville, northern France, last week, signaled that they planned to make such three-cornered get-togethers on international foreign policy and security matters routine, and even
extend them to inviting other "partners" — pointing, according to diplomats from two countries, to Turkey becoming a future participant
.
Then we saw by Politicus something like:
Will (or Could) the US Lose Europe to Russia.
as per JOHN VINOCUR, Published: October 25, 2010
PARIS — The United States used to call wayward members of NATO back to the reservation with a whistle or a shout. It decided what was deviation from doctrine, and that decision was pretty much law.
When the Obama administration stamped its foot this time, no one snapped to attention.
Rather, Germany and France, meeting with Russia in Deauville, northern France, last week, signaled that they planned to make such three-cornered get-togethers on international foreign policy and security matters routine, and even extend them to inviting other "partners" — pointing, according to diplomats from two countries, to Turkey becoming a future participant.
That can look like an effort to deal with European security concerns in a manner that keeps NATO, at least in part, at a distance. And it could seem a formula making it easier for Russia to play off — absolutely no novelty here — the European allies against the United States, or NATO and the European Union, against one another.
But there's more detail in the theoretical Euro-Atlantic apostasy department: Add Chancellor Angela Merkel's proposal, made in June, that the European Union and Russia establish their own Political and Security Committee, and President Nicolas Sarkozy's intention, enunciated in Deauville, to establish an E.U.-Russia economic space "with common security concepts."
Just before the Deauville meeting, Vladimir Chizov, Russia's ambassador to the E.U., leapt ahead of the Merkel/Sarkozy plans and told a reporter that Russia now wants a formalized relationship with the existing E.U. committee on foreign and security policy. "I don't expect to be sitting at every committee session," he said, "but there should be some mechanism that would enable us to take joint steps."
As for the Obama administration stamping its foot, what it came down to was a senior U.S. official saying: "Since when, I wonder, is European security no longer an issue of American concern, but something for Europe and Russia to resolve? After being at the center of European security for 70 years, it's strange to hear that it's no longer a matter of U.S. concern."
So, a follow-on burst of European contrition? I asked a German official about it. He spoke of German and French loyalty to NATO. And he said, "I understand there are American suspicions."
"But," he added, "the United States must accept that the times are changing. There are examples of it having done this. Why wouldn't it accept our view in this respect?"
The official did not list them, but there are obvious factors explaining the French and German initiatives.
A major one is President Barack Obama's perceived lack of interest and engagement in Europe. His failure to attend a Berlin ceremony commemorating the end of the Cold War and his cancellation of a meeting involving the E.U.'s new president has had symbolic weight.
Example: Ivo H. Daalder, the United States' permanent representative at NATO, gave a speech in Paris last week in which he skipped over the Russians' maneuvering, but described as "baffling" and "very strange" that "NATO doesn't have a real strategic partnership with the E.U."
True enough. On the other hand, Russia is getting a whole series of passes: Ten days ago, when Mr. Medvedev offered Hugo Chávez of Venezuela help to build the country's first nuclear power station, the State Department expressed concern about technology migrating to "countries that should not have that technology" — but added (bafflingly), that the relationship between Venezuela and Russia (for years Iran's supplier of nuclear wherewithal) "is not of concern to us."
Last week, more of the same. When Mr. Medvedev bestowed Russia's highest honors at a Kremlin ceremony on a group of sleeper spies who were expelled from the United States last July, a State Department spokesman turned away a reporter's question with a "no comment." Washington chooses not to say anything either about Mr. Medvedev's support, repeated in Deauville, for Mr. Sarkozy's plan, as next year's president of the G-20 consultative grouping, to focus its attention on limiting the dollar's role as the world's reserve currency.
In the Deauville aftermath, the Americans have preferred applauding Mr. Medvedev's decision to come to a NATO summit meeting in Lisbon next month, following U.S. congressional elections. He is not expected to announce Russian participation in or endorsement of a U.S.-initiated antimissile shield for Europe — the United States' notionally organic bond in strengthening the alliance's trans-Atlantic future — yet the Russian president's appearance as a guest on NATO's turf could be seen as an important gesture of real cooperation.
Still, for all the Americans' concern about Europe dealing with Russia on its own, there hardly has been a corresponding public statement from the administration that's a call for caution about Moscow's interest in setting up rivalries between NATO and the E.U. For David J. Kramer, a former senior State Department official with responsibility for Russia, the new circumstances show "the Russians now have far more leverage in the U.S. relationship than they should."
It was unexpected in the circumstances, but at a briefing in the run-up to the Deauville meeting the administration liked so little, a French presidential source put a big asterisk — more than Washington does openly — next to France's desire to create "an anchorage in the West" out of "fragile" indications of change in Russia.
"We do not have assurance there is a permanent strategic turn," the Élysée Palace said.
That can look like an effort to deal with European security concerns in a manner that keeps NATO, at least in part, at a distance. And it could seem a formula making it easier for Russia to play off — absolutely no novelty here — the European allies against the United States, or NATO and the European Union, against one another.
But there's more detail in the theoretical Euro-Atlantic apostasy department: Add Chancellor Angela Merkel's proposal, made in June, that the European Union and Russia establish their own Political and Security Committee, and President Nicolas Sarkozy's intention, enunciated in Deauville, to establish an E.U.-Russia economic space "with common security concepts. …"
At the same time, the U.S. reset with Russia and the administration's willingness to treat President Dmitri A. Medvedev as a potential Western-oriented partner has given the Germans and French the sense they were free to act on the basis of their own interpretations of the changes in Moscow.
In this European view, the United States has become significantly dependent on Russia through its maintenance of military supply routes to Afghanistan and its heightened pressure, albeit in wavering measure, on Iran. Because the reset is portrayed by the administration to be a U.S. foreign policy success, criticism from Washington of Russia is at a minimum.
Consider this irony: the more Russia makes entry into the E.U.'s decision-making processes on security issues a seeming condition for deals the French and/or Germans want (think, for example, of France's proposed sale to Moscow of Mistral attack vessels), the more the impression takes hold that the administration's focus for complaint about the situation has been off-loaded onto the Europeans.
————–
Looking at these last lines, our opinion is that the EU is a work in progress, as we said many times previously,  with three EU Presidents still functioning  in  parallel, while talking of extending invitation Eastwards and Southwards to the Ukraine and Serbia. This latter moves bring it clearly into the elbow space of Russia – so extending an invitation for co-operation with Russia becomes more and more the only option available to the EU. These are parts of the reasoning of our futuristic proposition.

###
Aid only trickles to Pakistan's monsoon disaster.
By Reza Sayah, CNN
August 18, 2010
Islamabad, Pakistan (CNN) — Pakistan is reeling from a natural disaster affecting 20 million people but relief groups say donors have been painfully slow in helping.
When a magnitude 7.0 earthquake hit Haiti in January, donors responded with $13 billion in aid. Within 24 hours Hollywood mega-stars like George Clooney, Madonna, Tom Cruise and Beyonce had signed up for a telethon to raise money for Haiti's quake victims.
By contrast nearly three weeks after flood waters inundated one-fifth of Pakistan, the United Nations has collected roughly half of the $460 million it has called for to meet the immediate needs of 20 million flood victims.
This week Oscar winner and U.N. goodwill ambassador Angelina Jolie made a high-profile plea to ask the international community to give more aid to Pakistan.
Video: Photographer focuses on Pakistan flood
Video: Aid trickles into flood ravaged Pakistan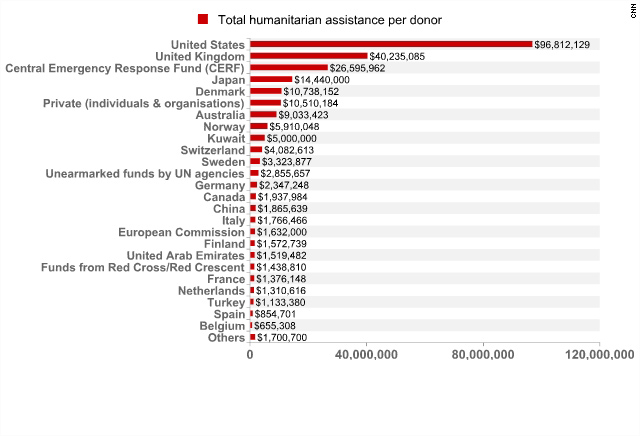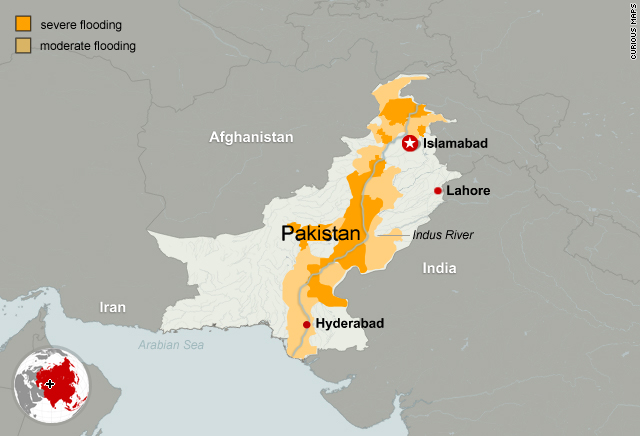 Pakistan's flood-affected areas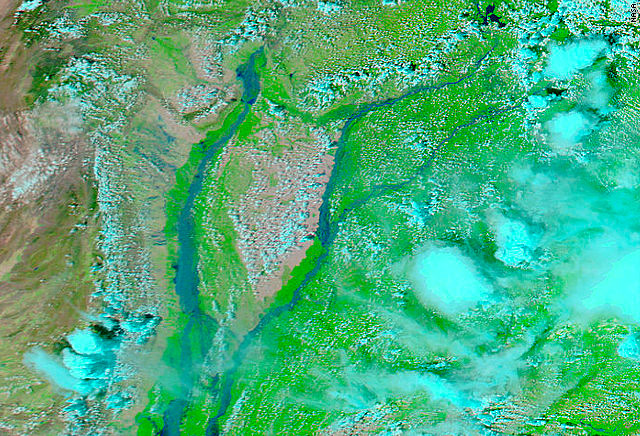 Pakistan flood: Before and after
"Hopefully there are a lot of people ready to give money," Jolie told British television network ITN.
Aid workers and analysts say there are several possibilities why governments, individual donors and celebrities are not giving to Pakistan the way they've done with other disasters. None, they add, is a good excuse.
The relatively low death toll — roughly 1,500 killed — may have created the impression that Pakistan's floods are not as severe as the Haiti quake and the Indian Ocean Tsunami where tens of thousands were instantly killed.
U.N. officials say the death toll in Pakistan's floods belies the desperate and often life-threatening conditions of the 20 million victims. Many of them have lost their homes, their belongings and their sources of income.
Analysts say governments may also be suffering from "donor fatigue" with Pakistan. For years now Pakistan has been on a seemingly constant round of donor needs — money to revive its feeble economy, fight the Taliban, recover from the 2005 Kashmir earthquake, the 2009 refugee crisis and now these floods.
"A donor never gets fatigued," Islamabad-based political analyst Mosharraf Zaidi told CNN.
"A donor, just as an idea, is not about 'I'm fresh so I'll give.' You don't give because you're fresh. You give because of humanity."
There's also the perception that Pakistan is run by corrupt politicians and the aid won't get to those who need it.
This week Pakistani Prime Minister Yousuf Raza Gilani insisted all aid would be transparent. Aid professionals say if you don't trust the Pakistani government, then give to an international aid group you do trust.
"There are so many ways people can give that doesn't have to be rooted in the government if that was a concern," said OXFAM's country director in Pakistan, Neva Khan.
Aid groups and analysts say the worst excuse not to give is the perception among many in the west that Pakistan is just not a good place, a country full of militants. It's an image reinforced by the media's obsession with extremism in Pakistan, says Mosharraf Zaidi.
"I think that coverage is fundamentally one of great reasons why it's been hard for people to reach into their wallet."
The cooling global economy may also have governments and individuals reluctant to give but analysts say the consequences of not giving to Pakistan could be costly.
In the short run people will go hungry, suffer from disease, and lose their fight to survive. In the long run a nation that's critical in the fight against extremism may face a political crisis that could further destabilize the region.
————————
Except for Kuwait  and the UAE – the Islamic States are not on the donor list – Why? Is this not Ramadan time – if nothing else?
Seemingly, it is all coming from the US, UK, EU, Japan, Australia, Denmark, Switzerland. We  find China at less the $2 million – and we learned that Pakistan refused $5 million from India. At the pledging we learned that Georgia is contributing $1oo,ooo and there are small amounts from around the world.

All of the above seems strange but clear to us. It is the US that fights to keep Pakistan in one piece as it did in Iraq. Can Pakistan hold when the real enemy is climate change?
###
nbsp;search.japantimes.co.jp/mail/eo20…
Monday, July 26, 2010
Black Sea challenge by U.S. set to keep Russia on edge.
A storm is gathering in and around the Black Sea as Russia faces a mounting challenge from the United States, which is beefing up its military presence in former Soviet satellite countries like Romania, Bulgaria and Hungary.
One look at a map of the region shows the critical geopolitical importance of the Black Sea, as its southern coast connects to the Middle East via Turkey and its northern coast adjoins Ukraine, which is home to Russia's Black Sea Fleet and which houses 80 percent of the pipelines supplying natural gas from Russia to Western Europe.
In Romania, the U.S. has spent $50 million since last year to expand bases to accommodate 1,700 troops. The principal facility is the Mikhail Kogalniceanu Air Base located in Constanta, facing the Black Sea. The U.S. Central Intelligence Agency is said to maintain a secret detention facility at the base.
There is nothing new about the U.S. maintaining military bases in Romania, which dates back to the beginning of the Iraq war. What is important is Washington's announcement of its intention to use them indefinitely. In May, a marine corps unit centered around a tank battalion was dispatched to the Mikhail Kogalniceanu base for the first time.
In Bulgaria, meanwhile, the U.S. plans to expand bases there to accommodate 2,500 troops. The core facility is the Bezmer Air Base, about 50 km from the Black Sea southern coast. When the project is completed, the U.S. will have a strategic air base in Bulgaria comparable in scale to the air bases at Inzirlik in Turkey and Appiano in Italy. Joint American-Bulgarian air force drills were conducted in May.
The American move to strengthen its defense capability in countries formerly under Soviet influence is not limited to Romania and Bulgaria. It is also conspicuous in Hungary, although that country does not face the Black Sea. For several years the Papa Air Base in Hungary has functioned as a base for the U.S. Air Force's state-of-the-art Boeing C-17 transport aircraft, making it one of the crucial strategic air transport centers outside of the U.S.
It is important to note that all these moves represent only the initial step that Washington has taken to expand its military presence in the Black Sea region. Upon completion of these base expansion projects in 2012, two-thirds of the highly mobile Rapid Reaction Corps of the U.S. Army in Europe will be concentrated in Romania and Bulgaria.
This means that the U.S. front line of defense is shifting from the eastern border of Germany to the Black Sea, which is adjacent to the Middle East, the Caucasus and Russia.
Another source of Russian uneasiness is a move to revive a plan to establish a U.S. missile defense system in Europe. Even though President Barack Obama is said to have abandoned a project involving Poland and Czech Republic, it is said that a similar system will be completed in Romania and Bulgaria between 2018 and 2020.
Romania is ready to accept deployment of 20 SM-3 anti-ballistic missile units, currently installed on American naval vessels with the Aegis Combat System. These missiles could later be replaced with the more advanced terminal high altitude area defense (THAAD) missiles. They will also be deployed in Bulgaria.
Meanwhile, it has become more likely that the X-band radar system, which the U.S. originally planned to install in the Czech Republic, will be set up in Israel.
U.S. destroyers carrying Tomahawk cruise missiles have made a number of calls on Georgian, Romanian and Bulgarian ports since the armed conflict between Russia and Georgia in 2008.
A leading official of the Russian Navy stated recently that an increased U.S. presence in the region would bring about a "dramatic change in the military balance in the Black Sea" and present a "serious threat to Russia." He went on to say that Russia would counter these American moves by further strengthening the Black Sea Fleet.
Washington responded by bluntly claiming that the deployment of the missile defense system is designed to prevent Iran from attacking Europe with its missiles. But anyone with even the most rudimentary military knowledge would admit that Tehran has neither the technology to develop long-range missiles nor the need to attack Europe. Russia's sense of crisis is not groundless.
The only consolation for Moscow of late came in Ukraine's presidential election in February, when pro-Western Viktor Yushchenko lost to pro-Russian Viktor Yanukovych. Subsequently, the Ukrainian legislature passed a new law, permitting the Russian Black Sea Fleet to continue using the facilities in Sevastopol for another 25 years. Even so, Moscow does not have any effective means of countering Romania and Bulgaria, which seek to strengthen their military collaboration with the U.S.
The whole world puzzles over Washington's motivation for seeking a greater military presence in the Black Sea region, since it hardly can be interpreted as mere expansion of the North Atlantic Treaty Organization.
Nor is it impossible to understand the true motive of the U.S. by reading the Quadrennial Defense Review, announced in February. It appears all but certain that the waves of the Black Sea will only get higher.
This is an abridged translation of an article from the July issue of Sentaku, a monthly magazine of political, social and economic affairs.
###
Power Plant Attacked in Caucasus
Yevgeny Kayudin/Reuters
The damaged turbine hall of Baksanskaya hydroelectric power station after it was attacked by militants Russia's restive North Caucasus region on Wednesday.
By THE NEW YORK TIMES
Published: July 21, 2010
MOSCOW — Militants attacked a hydroelectric power plant in Russia's restive North Caucasus region on Wednesday, killing two guards before setting off several bombs that forced the facility to be shut down, Russian investigators said.
Between three and five armed men raided the plant, a small station in the southern Russian region of Kabardino-Balkaria, around 5:30 a.m. local time, the investigators said. They said the attackers shot the two guards, then broke into the engine room of the plant, the Baksanskaya station.
"Unknown men in masks broke into the power plant, broke down a closed door, then tied up the employees," Valery Shigenov, the plant's director, told Russian television. Two of the employees were injured and had to be hospitalized.
The militants then set and detonated at least four bombs, which destroyed three generators, but failed to cause a breach in the dam, officials said. A fire caused by the explosions had been extinguished by midday, and no power failures were reported in the region.
Russian forces have for years been struggling to quash a simmering Muslim insurgency in the region, which includes Chechnya.
###
The GUAM States are Georgia, Ukraine, Azerbaijan, and Moldova – States on the Western Extended Borders of Russia – that have expressed interest in good relations with the West and in adopting Western Ways of Government and joining Western Institutions. They are not part of the EU. Azerbaijan is a Muslim Oil-State in conflict with Russia backed Armenia.

——————–

Remarks at Meeting With the Staff and Families of Embassy Baku.
Hillary Rodham Clinton
Secretary of State
Embassy Baku
Baku, Azerbaijan
July 4, 2010
---
SPEAKER:
Madam Secretary, on behalf of our entire embassy family, we welcome you to the embassy, and welcome you to our garden.
SECRETARY CLINTON:
Oh, thank you.
SPEAKER:
Please.
SECRETARY CLINTON:
Thank you, thank you. Well, Happy Fourth of July to all of you.
(Applause.)
SECRETARY CLINTON:
This is a wonderful way to celebrate the American Independence Day, here in this beautiful garden, and to be with all of you here in Azerbaijan, where independence and the values of freedom and equality and opportunity enshrined in our Declaration of Independence are all the more meaningful for this young, independent country.
This has been a very whirlwind trip, and I thank every one of you who has helped to make it possible. And I thank you, too, for all the work you have done this past year to further and steady our relationship between our country and Azerbaijan, and we are trying to do everything we can to support you, including working for a new embassy compound — although you won't have a garden like this, I'm afraid. That's kind of a trade-off, isn't it?
Earlier today I had a productive meeting with President Aliyev, and assured him of the importance of Azerbaijan to the United States, and that we are committed to working in partnership to enhance global security and promote democracy and stabilize the region.
I just came from a meeting with some young people at the Mugam Club in the historic, beautiful old city, who are working to promote civil society, protect human rights, develop a free media in the country. They are the reason that I come to work every day, because much of what I do is about the next generation. And I was very proud and impressed to listen to them, and especially 5 of the 10 had studied in the United States under the exchange programs that some of you help to run.
We are very focused in the Obama Administration on working to strengthen our relationship, and supporting the modernization, the secularization, the democratization of this very exciting country at this time in history.
I want to thank Chargé Donald Lu for his steady leadership during this past year. He has kept everything running during a difficult time without the help of an ambassador. We are working very hard to get our new ambassador confirmed, and hopefully he will be joining you shortly. And, in the meantime, I welcome Adam Stirling as the new chargé, and will look forward to working with him.
Now, I can imagine that for our locally-engaged staff, who have never celebrated an American Fourth of July — which means that you have never eaten barbeque or gone to a fireworks or gotten sunburned with your family out in some beautiful place — it might seem a little bit distant to be here in Baku, celebrating the founding of our country. But for Americans this is a very special day. And it's a day that we really do take time out to appreciate the founding of our country 234 years ago, and all that we have had to do over those years to create a more perfect union, to overcome injustice, discrimination, to make sure that the circle of opportunity grew bigger and bigger, so that it could encompass every American.
So, I thank each and every one of you on this Fourth of July for your hard work: our foreign service and our civil service officers, all of our colleagues from other U.S. government agencies, our Peace Corps volunteers, our family members, and especially our locally-engaged staff. We honor your sacrifices and your dedication. And I wish you a very safe and happy Independence Day. But, more than that, I wish you a day every single day of this upcoming year of greater cooperation and partnership to deepen and broaden our relationship.
And I know that when someone like me comes, it adds to your workload. So I am hoping that with the outgoing chargé and the incoming chargé, that maybe they will give you the rest of the Fourth of July off. What do you think? That's a departmental, Secretary of State directive.
###
www.unece.org/oes/disc_papers/climat_change.html
—–
UNECE climate change activities[1]
Table of Contents:
Introduction
Conventions
Vehicle regulations
Energy efficiency in production
Energy-efficient housing
Sustainable forestry
Sustainable biomass
Other related UNECE areas of work
Introduction
Climate change is a human-induced process of global warming, largely resulting from the emission of greenhouse gases (GHGs) such as carbon dioxide, nitrous oxide, methane and fluorocarbons.[2] Countries are under increasing pressure to curb their emissions of these gases and to enhance carbon sinks in a drive to mitigate the effects of climate change. However, combating the threats of human-induced global warming requires more than mitigation; it is equally important to reduce society's vulnerability to climate change through adaptation, as established by the United Nations Framework Convention on Climate Change (UNFCCC) Nairobi work programme on impacts, vulnerability and adaptation to climate change, launched in 2005. Adaptation addresses the impacts of climate change, including climate variability and weather extremes.[3]
The United Nations Secretary-General has put climate change at the top of the United Nations agenda, ensuring that the "United Nations system will continue … to bring to bear the collective strength of all its entities as an integral part of the international community's response to climate change."[4] The five regional commissions have assumed an active role in coordinating United Nations support for action on climate change at the regional level through the regional coordination mechanisms mandated by the Economic and Social Council in its resolution 1998/46 (annex III).[5] The five commissions are seen as conveners to support global, regional and national action on climate change, while coordinating their workplans and implementation efforts with other organizations that have significant mandates in their respective areas.[6]
The United Nations Economic Commission for Europe (UNECE) is a key driving force in combating climate change in the pan-European region and beyond. The UNECE region comprises 56 member States, spanning the whole European continent, the Caucasus and Central Asia, and also including Israel, Turkey, Canada and the United States of America. The region has a crucial role in contributing to the local and regional success of UNFCCC, as was noted by UNECE member States at the "Sixth Ministerial Conference "Environment for Europe" (Belgrade, 10–12 October 2007).[7] UNECE has spearheaded the region's efforts to achieve the targets of United Nations Millennium Development Goal 7, especially to integrate the principles of sustainable development into country policies and programmes and to reverse the losses of environmental resources.
Conventions
Long-range Transboundary Air Pollution
The 1979 UNECE Convention on Long-range Transboundary Air Pollution (LRTAP), and its protocols aim to cut emissions of air pollutants, inter alia, sulphur dioxide (SO2), nitrogen oxides (NOx) and non-methane volatile organic compounds (NMVOCs). Such pollutants can either directly influence global warming, by affecting the cooling or absorptive characteristics of the atmosphere, or indirectly influence it through, for example, ozone formation. Recent studies have shown important synergies in addressing air pollution control and climate change mitigation and have highlighted the economic and environmental co-benefits that are possible by tackling these issues in an integrated way.
The Convention has 51 Parties and eight protocols, which are all in force. The most recent of these, the 1999 Gothenburg Protocol, is currently under revision. It targets the environmental effects of acidification, eutrophication and ground-level ozone through emission cuts for SO2, NOx, NMVOCs and ammonia. Such cuts are known to mitigate global warming.
A recent major conference and workshop entitled "Air Pollution and Climate Change: Developing a Framework for Integrated Co-benefit Strategies" was held in September 2008 in Stockholm under the auspices of the Convention and the United Nations Environment Programme (UNEP), and in consultation with the UNFCCC secretariat. It brought together policymakers and scientists from all United Nations regions to consider ways to develop and implement integrated programmes for decreasing emissions of both air pollutants and GHGs. The conclusions stressed the importance of using integrated strategies. Of special note was the possible "buying of time" in GHG mitigation through cuts in such air pollutants as black carbon and ozone, and air pollutants with a strong radiative forcing effect, which might be cut more readily than CO2 and achieve some GHG mitigation in the short term. The conference agreed there was a need to strengthen air pollution abatement efforts as well as climate change mitigation to achieve better health and environmental protection. It also noted the significant cost savings of using integrated approaches. The conclusions and recommendations of the workshop will be considered by the Convention's Executive Body (Meeting of the Parties) in December 2008.
The Convention is using different models and methods to analyse environmental effects and to calculate the necessary emission abatement and related costs. In this way, cost-effective pollution control strategies can achieve the desired environmental targets with the least overall expenditure. Recent use of the Greenhouse Gas and Air Pollution Interactions and Synergies (GAINS) integrated assessment model, developed by the Convention's Centre for Integrated Assessment Modelling, has explored synergies and trade-offs between emissions of air pollutants and GHGs, for current and projected energy use. The model includes both end-of-pipe controls and non-technical measures, such as behavioural changes in traffic or economic instruments.
The Convention's scientific bodies are also incorporating climate change issues into their programmes of work. The European Monitoring and Evaluation Programme (EMEP), which monitors and models air quality, is involved in reporting and estimating emissions. Reporting requirements of the Parties have been harmonized with those of UNFCCC. EMEP is also responsible for the integrated assessment modelling work described above. The international programmes of the Working Group on Effects monitor and model environmental and human health effects of air pollution. Increasingly, these need to take account of the links to observed or predicted changes in climatic conditions. They also provide long-term monitoring of data that can identify changes that might be associated with a changing climate.
Discussions in the Convention's bodies have drawn attention to the strong links between air pollutant and GHG emissions and have highlighted specific issues where integration of strategies is needed. For example, the current emphasis on renewable energy is leading to increased use of wood as a fuel. However, unless appropriate boiler technology is used, this can also lead to increased air pollution.
Water
The intrinsic relation of the hydrological cycle – and thus water availability, quality, and services – to climate change makes adaptation critical for water management and the water sector in general. The UNECE Convention on the Protection and Use of Transboundary Watercourses and International Lakes (Water Convention) is an important legal framework for the development of adaptation strategies, in particular in the transboundary context.
At their fourth meeting in Bonn, Germany, in 2006, the Parties to the Water Convention took a decisive step to supporting the development of adaptation strategies by agreeing to elaborate a guidance document on water and adaptation to climate change. A draft has now been prepared by the Task Forces on Water and Climate and on Extreme Weather Events, both under the Convention's Protocol on Water and Health. This marks the first attempt under any convention to flesh out a climate change adaptation strategy in the water sector with a particular emphasis on transboundary issues. Based on the concept of integrated water resources management, the Guidance will "provide advice on how to assess impacts of climate change on water quantity and quality, how to perform risk assessment, including health risk assessment, how to gauge vulnerability, and how to design and implement appropriate adaptation measures" [ibid. p. 8]. The Guidance is expected to be formally adopted in November 2009 at the next meeting of the Parties.
One important step in the Guidance's preparation was a workshop on climate change adaptation in the water sector organized under the Water Convention and the Protocol on Water and Health (Amsterdam, 1–2 July 2008). The workshop, which allowed for an exchange of experience in the region, an assessment of information needs for adaptation strategies and a discussion of the benefits of and mechanisms for transboundary cooperation, touched upon the institutional, policy, legal, scientific and financial aspects of adaptation in the water sector and included cross-cutting issues such as education. The workshop highlighted current challenges such as still limited transboundary cooperation, the focus on short-term rather than long-term measures, and the need to consider climate change together with other global drivers of change, e.g. the energy and food crises and changes in production and consumption patterns.
The Protocol on Water and Health, the first legally binding instrument aimed to achieve the sustainable management of water resources and the reduction of water-related disease, is also highly relevant to climate change adaptation. It establishes joint or coordinated surveillance and early-warning systems, contingency plans and response capacities, as well as mutual assistance to respond to outbreaks or incidents of water-related disease, especially those arising from extreme weather events. The Protocol's Ad Hoc Project Facilitation Mechanism is a funding tool for implementation of the Protocol at the national level; its provisions on safe drinking water and sanitation are also of relevance to climate change.
Access to information, public participation and justice
The UNECE Convention on Access to Information, Public Participation in Decision-making and Access to Justice in Environmental Matters (Aarhus Convention) constitutes the only legally binding instrument so far to implement principle 10 of the Rio Declaration on Environment and Development, which provides for the participation of citizens in environmental issues by giving them appropriate access to the information concerning the environment held by public authorities, including access to judicial or administrative proceedings, redress and remedy. Access to scientifically based information and public participation in decision-making on environmental issues – as provided by the Convention – are widely recognized as an important foundation for climate change mitigation efforts. UNFCCC, for example, underlined the importance of these principles at its thirteenth session, encouraging Parties to facilitate access to data and information and to promote public participation in addressing climate change and its effects and in developing adequate responses.[8] Environmental information can help to raise awareness about climate change issues and to strengthen synergies between mitigation and adaptation needs. Public participation in this process ensures that social values and trade-offs are represented in political decisions on climate-related issues.
UNECE is a co-organizer of the international conference, "The Role of Information in an Age of Climate Change" (Aarhus, Denmark, 13–14 November 2008). The event, marking the Aarhus Convention's tenth anniversary, brings together leading scientists, policymakers, government authorities, non-governmental organizations, and representatives of the private sector to promote public access to information and public participation in addressing climate change.
The Protocol on Pollutant Release and Transfer Registers (PRTR), adopted in May 2003, is the first legally binding international instrument on PRTRs. PRTRs assist governments in collecting information on the emission of GHGs and toxic or hazardous substances from industrial facilities and other sources. By making this information available to decision makers and the wider public, PRTRs contribute to enhancing companies' environmental performance, regional mitigation efforts and the fight against global warming and climate change.
Vehicle regulations
Transport is a significant and growing contributor to global climate change. According to some estimates, it is responsible for 13 per cent of all anthropogenic emissions of GHGs and for almost one quarter of the world's total CO2 emissions from fossil fuel combustion.[9]
In May 2008 in Leipzig, Germany, UNECE took part in the OECD International Transport Forum Ministerial Session, "The Challenge of Climate Change", the first global meeting of transport ministers that focused on energy and climate change challenges relevant to the transport sector. Climate change mitigation and adaptation activities in the transport sector focus on different means of CO2 abatement: (a) innovative engine technologies to increase fuel efficiency; (b) use of sustainable biofuels; (c) improved transport infrastructure, including inter-modal transport and logistics to avoid road congestion; (d) dissemination of consumer information on eco-driving; and (e) implementation of legal instruments. In their key messages, transport ministers urged UNECE World Forum for Harmonization of Vehicle Regulations (WP.29) to "accelerate the work to develop common methodologies, test cycles and measurement methods for [light] vehicles" [ibid. p. 5], including CO2 emissions. For over 50 years, the World Forum has served as a platform for developing harmonized global regulations for vehicle construction, thus increasing their environmental performance and safety.
The World Forum agreed that a possible strategy for the automotive sector to contribute to the abatement of emissions was to pursue: (a) improved energy efficiency and the use of sustainable biofuels as a short-term objective (2015); (b) the development and introduction into the market of plug-in hybrid vehicles as a mid-term objective (2015–2025); and (c) the development and introduction into the market of electric vehicles as a long-term objective (2025–2040). This strategy would shift the automotive sector from the use of fossil energy to the use of hydrogen and electric energy. To be effective, this strategy needs to rely on the sustainable production of electricity and hydrogen, a crucial policy issue identified for future discussions on global warming and the reduction of CO2 emissions.
The World Forum previously adopted amendments to UNECE regulations to limit the maximum admissible level of vehicle emissions for various gaseous pollutants (e.g. carbon monoxide, hydrocarbons, NOx) and particulate matter. These have resulted in a substantial abatement of the emissions limits for new private cars and commercial vehicles. Moreover, UNECE Regulations were amended to include electric and hybrid vehicles as well as vehicles with engines fuelled with liquefied petroleum gas or compressed natural gas. At the present time, the World Forum is considering a number of energy efficiency measures, such as the development of a common methodology and measurement method to evaluate environmentally friendly vehicles, hydrogen and fuel cell vehicles, the use of other alternative energy sources such as biofuels including biogas, the installation in vehicles of engine management systems (e.g. the stop-and-go function), intelligent transport systems, tyre-pressure monitoring systems and the development of tyres with low rolling resistance. Once a consensus is reached, many of these measures are likely to be added to the UNECE regulations, which will help increase vehicles' energy efficiency.
As concerns fuel-quality standards, in 2007 the World Forum demonstrated the close link between the market fuel quality and the emissions of pollutants from motor vehicles.  It recognized that further reduction of emissions required that cleaner fuel be available to consumers.  The lack of harmonized fuel quality standards was seen to hamper the development of the new vehicle technologies. Supported by UNEP and the International Petroleum Industry Environmental Conservation Association, the World Forum is committed to developing a necessary standard on market fuel quality, thus enabling vehicles to use fuels that minimize vehicle emission levels.
The Transport Health and Environment Pan-European Programme (THE PEP), a joint project of UNECE and the World Health Organization Regional Office for Europe, was initiated to help achieve more sustainable transport patterns and a better reflection of environmental and health concerns in transport policy. In particular, THE PEP also promotes sustainable urban transport, including alternative modes of transport, in the region.
Energy efficiency in production
As energy is a major market in the UNECE region, which contains 40 per cent of the world's natural gas reserves and 60 per cent of its coal reserves, a number of UNECE activities promote a sustainable energy development strategy, a key to the region's climate change mitigation and adaptation efforts. The combustion of fossil fuels, the mainstay of the region's electricity generation, is also a major source of GHG emissions. The sustainable energy projects of UNECE aim to facilitate the transition to a more sustainable and secure energy future by optimizing operating efficiencies and conservation, including through energy restructuring and legal, regulatory or energy pricing reforms. UNECE projects also encourage the introduction of renewable energy sources and the use of natural gas until cleaner energy sources are developed and commercially available, as well as the greening of the coal-to-energy chain.
For the period 2006–2009, the UNECE Energy Efficiency 21 (EE21) programme is working to promote regional cooperation to enhance countries' energy efficiency and to reduce their GHG emissions, thus helping them meet their international treaty obligations under UNFCCC and the UNECE conventions. Energy efficiency is achieved by focusing on more efficient production, conservation and use of all energy sources in order to minimize GHG emissions.
Within the overall EE21 programme, UNECE manages the Financing Energy Efficiency Investments for Climate Change Mitigation project, with a budget of approximately US$ 7.5 million, financed by the Global Environment Fund, Fonds Français pour l'Environnement Mondial and the European Business Congress. This project is currently establishing a privately managed equity fund with private and public sector partners. The fund, which will benefit from both public and private sources, will target energy efficiency and renewable investment projects in 12 countries in Central Asia and Eastern and South-Eastern Europe.
Another project within the EE21 programme is RENEUER, a regional activity supported by the United States Agency for International Development, the United States Department of Energy, France and other bilateral donors. RENEUER promotes sustainable development in the region by overcoming regional barriers and creating favourable conditions for the introduction of advanced technologies for the efficient use of local energy resources.
Outreach activities to other regional commissions in the context of energy efficiency for climate change mitigation are being organized under the Global Energy Efficiency 21 (GEE21) project. This project, to be launched in December 2008 in Poznan, Poland, will develop a systematic exchange of information on capacity-building, policy reform and investment project financing to promote cost-effective energy efficiency improvements that will reduce air pollution, including GHGs.
The work of two expert groups under the Committee on Sustainable Energy relates to climate change mitigation. The Ad Hoc Group of Experts on Coal Mine Methane (CMM) promote the recovery and use of methane gas from coal mines to minimize GHG emissions. In February 2008 in Szczyrk, Poland, a UNECE-supported workshop assessed prospects for CMM recovery and use, noting that "Global potential for CMM projects to contribute to climate change mitigation and take advantage of the carbon markets is very strong because a reduction of one ton of methane yields reductions of 18 to 23 tons of carbon dioxide equivalent".[10] However, economic feasibility of such projects typically requires a clear regulatory and legal framework, reasonable access to markets and relatively stable prices.
The Ad Hoc Group of Experts on Cleaner Electricity Production from Coal and Other Fossil Fuels held its first meeting in November 2007. Its programme of work includes reviewing the prospects for cleaner electricity production from fossil fuels and measures or incentives to promote investment in cleaner electricity production. The Group also assesses the regulatory needs for promoting investment in cleaner electricity production from fossil fuels, appraises the comparative advantages of investments in new capacities and analyses issues related to carbon capture and storage technologies, especially in the context of emerging economies in the UNECE region.[11]
Energy-efficient housing
Due to both its high GHG emissions and its large potential for energy-saving measures, the housing sector plays a critical role in climate change mitigation. IPCC estimates that the global potential to reduce emissions at roughly 29 per cent for the residential and commercial sectors.[12] The energy-saving potential in this sector is also considerable: UNEP estimates that in Europe, buildings account for roughly 40 to 45 per cent of energy consumption, emitting significant amounts of carbon dioxide (CO2). Residential buildings account for the lion's share of these emissions.[13]
Energy-efficient buildings can contribute to climate change mitigation and adaptation by reducing buildings' energy consumption as well as by making them more resistant to severe weather events. Improving energy efficiency is especially important in the UNECE region, where projected increased housing construction and homeownership are likely to be accompanied by higher electricity consumption and thus growing emissions. UNECE has a programme geared to achieving maximal energy efficiency in the region's housing, which will allow countries to share experience and good practice in reducing energy consumption in the residential sector, both vis-à-vis existing housing stock and new residential housing construction. This is expected to especially improve energy performance in parts of the region where progress is hampered by low innovation capacity and by a lack of knowledge about technical options to improve the thermal efficiency of existing buildings, and by outdated building codes that prevent countries from embracing the latest energy-efficient construction techniques. The programme will also include a wide-ranging regional assessment – featuring financing mechanisms, case studies, workshops and seminars for policymakers – and will benefit from close collaboration with above-mentioned EE21 project.
To date, UNECE has published country profiles on the housing sectors of Albania, Armenia, Bulgaria, Georgia Lithuania, Poland, Republic of Moldova, Romania, Russian Federation and Serbia and Montenegro. In 2009, two workshops (in Sofia and Vienna) will address the issue of energy efficiency in housing. A group of interested experts will assist the host countries in shaping the programme of the events and will provide the necessary expertise. In September 2008, the Committee on Housing and Land Management addressed energy efficiency in housing in the region, focusing on the legislative framework and incentives.[14]
Sustainable forestry
Forests and wood are integrally linked to climate change and have an important role to play in mitigation and adaptation. Forests sequester carbon from the atmosphere when they grow, thereby offsetting a significant part of GHG emissions. According to the forthcoming UNECE Annual Report, the annual increase of carbon in EU-27 forests is equivalent to 8.6 per cent of GHG emissions in the European Union (EU). In Europe, forests sequester approximately 140 million tons of carbon a year. Wood products are a store of carbon, keeping it from release to the atmosphere. Forests store more than 80 per cent of terrestrial aboveground carbon and more than 70 per cent of soil organic carbon. They are also the source of wood energy that can substitute fossil energy, thereby reducing GHG emissions.[15] Wood can also be a substitute for non-renewable construction materials such as plastics, steel or concrete.
The UNECE Timber Committee has an active role in monitoring these trends and in promoting sustainable forest management. It collects basic data on forest resource assessment (e.g. carbon sequestration and storage in forests) and the production of and trade in forest products (e.g. harvested wood products, substitution of other materials). It contributes to policy monitoring by reporting on qualitative indicators of sustainable forest management and by publishing a chapter in the Forest Products Annual Market Review. It is currently developing a database on forest sector policies and institutions. In September 2008, UNECE hosted a workshop on "Harvested Wood Products in the Context of Climate Change Policies" to discuss different approaches to account for carbon stored in wood products and their economic, social and ecological impacts. It will also participate in the plenary session on Forest and Climate Change during European Forest Week (Rome, 21–24 October 2008). Finally, the UNECE Timber Committee provided an analytical contribution to the European Forest Sector Outlook Study in 2005 and has authored various papers on wood availability and the market for wood.
Sustainable biomass
Since 1998, UNECE has been directing a major cross-sectoral project for enterprises in the biomass sector in the region. One of the central tasks of climate change mitigation is to replace fossil fuels with alternative energy. The project aims to strengthen sustainable biomass supply from selected countries in the UNECE region to energy producers in the EU, with a focus on agro- and wood residues, whose use is an important alternative to the use of (food) crops for fuel. The project also seeks to improve the logistics chain of biomass trade from producer to the end-user through improved inland transportation, port and trade logistics, and customs cooperation with respect to imports and exports of biomass. Two further aims of the project are facilitating the exchange of good practice with the private sector and exploring cross-sectoral approaches that take into account environment, energy, trade and transport issues.
Other related UNECE areas of work
The "Environment for Europe" ministerial process
The "Environment for Europe" process provides a pan-European political framework for the discussion of key policy issues, development of programmes and launching of initiatives to improve the region's environment and harmonize environmental policies. At the Sixth Ministerial Conference "Environment for Europe" (Belgrade, 10–12 October 2007), environment ministers explicitly recognized the urgent need to address climate change in the UNECE region. The Conference saw the launch of the Belgrade Initiative[16], a subregional effort in South-Eastern Europe to support subregional implementation of the UNFCCC through a Climate Change Framework Action Plan and a virtual climate change-related centre in Belgrade designed to help raise awareness and build capacity.
UNECE Strategy on Education for Sustainable Development
The UNECE Strategy of Education for Sustainable Development (ESD), adopted in 2005 by ministers and other officials from education and environment ministries across the UNECE region, endeavours to integrate key themes of sustainable development into all education systems. It constitutes the regional pillar of implementation of the United Nations Decade of ESD. At the joint session on ESD held during the Sixth Ministerial Conference "Environment for Europe", environment and education ministers referred to the problems posed by climate change as a "leading example of where ESD could be applied to daily life, as climate change affects everyone and ESD offers an essential way to shape knowledge and attitudes, and hence could help us to address these problems" [17]
Modifying transport policies based on traffic-based information about carbon dioxide emissions
In order to evaluate the implementation of new national or regional measures to reduce their contributions to the global warming, Governments must analyse different possible strategies, especially those that address the total energy consumption of the transport sector. To make the right policy decisions and to optimize their strategies to attain CO2 reduction targets, an assessment and analysis tool is needed that integrates the most recent developments in transportation. This tool should be transparent so as to ensure that decisions overly swayed by special-interest groups. Such an information tool is currently under consideration. It is based on a uniform methodology for evaluating CO2 emissions in the land transport sector, and incorporates climate-relevant indicators as well as new transportation trends.
Environmental Performance Reviews
The UNECE Environmental Performance Reviews (EPRs), based on the OECD/DAC peer review process, aim to improve individual and collective environmental management. Since 1996, Central, South-East and Eastern European as well as Central Asian countries have been reviewed by UNECE, in addition to a few countries in transition that were reviewed in cooperation with OECD (Bulgaria, Belarus, Poland and the Russian Federation). A second round of EPRs have already been carried out for Belarus (2005), Bulgaria (2000), Estonia (2001), Republic of Moldova (2005), Ukraine (2006), Montenegro and Serbia and (2007) and Kazakhstan (2008), and are in process for Kyrgyzstan, Ukraine and Uzbekistan.
By disseminating relevant information, they contribute to enhancing public access to information about the environment and environmental issues and thus to more informed decision-making, relevant to the climate change debate. In future, they can provide a comprehensive analysis of instruments used in the context of regional climate change mitigation and adaptation efforts, a means to share good practice and highlight gaps in this area, and a way to offer important policy recommendations.
Strategic environment assessment
The UNECE Convention on Environmental Impact Assessment in a Transboundary Context (Espoo Convention) provides a framework for considering transboundary environmental impacts in national decision-making processes.
The Convention's Protocol on Strategic Environment Assessment (SEA), not yet in force, will ensure that Parties integrate consideration of the environment into their plans and programmes at a very early planning stage. SEA can be used to introduce climate change considerations into development planning. This is in line with the conclusions reached at the high-level event "The Future in Our Hands", convened by the Secretary-General in September 2007, as well as the recommendation of IPCC[18] that climate change mitigation and adaptation be integrated into an overarching sustainable development strategy. The IPCC also concluded that consideration of climate change impacts in development planning, as might be provided by SEA, is important for boosting adaptive capacity, e.g. by including adaptation measures in land-use planning and infrastructure design or by reducing vulnerability through existing disaster risk reduction strategies.[19]
Statistics related to climate change
The global official statistics community still only engages in an ad hoc way with the issues of climate change. UNECE is reviewing the possibility of setting up a joint task force (subject to the approval of the Bureau of the Conference of European Statisticians) to explore statistical activities related to the UNFCCC guidelines on the compilation of emission inventories. The task force will also take into account the recommendations that are expected to be developed at a forthcoming conference on statistics of climate change in the Republic of Korea. In June 2008, the meeting of the United Nations Committee of Experts on Environmental-Economic Accounting (UNCEEA) recommended that statistics on emissions should become part of the regular production and dissemination process of official statistics at the national level. In this context, national statistical offices should gradually take on the responsibility for regularly compiling emission statistics and contributing to the review of the guidelines to assembling emission registers.
This is expected to contribute to a better understanding of how official statistics can contribute to the understanding, measurement and monitoring of the different aspects of climate change as well as to bring together all current activities in a coherent framework.
Innovation and financing
UNECE has organized workshops and seminars with a view to enhancing the understanding of the process of technology diffusion, identifying possible barriers to take-up, and providing training and technical assistance to the region's Governments on their innovation policies. This includes a financing dimension, in particular regarding early-stage financing of innovative enterprises. During the International Conference Investing in Innovation, which took place in Geneva in April 2008, a session on how environmental challenges can be addressed through innovation brought together policy makers and specialized financial intermediaries to discuss emerging trends in the allocation of risk capital for eco-investing and the type of policies required to encourage the mobilization of private financing in this area.
Efforts to mitigate or adapt to climate change are significantly boosted by the diffusion of existing technologies but also by the introduction of new ones. Given the scale and systemic nature of the necessary shift towards low carbon technologies, there is a clear link between the challenges posed by climate change mitigation and innovation policies.  In future, work on innovation and its related financing and intellectual property aspects could help to inform policies in relation to climate change.
---
###
Turkey is an important State. It was born from the ashes of the Ottoman Empire after having chosen the loosing side in WW I. It went after that through a distilling process with the secular-military revolution of Ataturk, and was on its way to modernization. In the process Turks killed Armenians – that is well documented, and eventually Armenians said it was genocide. Those were clearly the childhood days of a more modern Turkey.
Growing up would have meant recognizing that in its evolution, Turkey has some darker shadows in its history basin – recognize it and stretch out a hand in peace. Instead Turkey preferred to continue without any relations to Armenia, while at the same time distancing itself from its Middle Eastern and Caucasian neighbors while courting a Europe that refuses to forgive a forgetful Turkey its past behaviour in relation to its Armenians, and then later its Kurds.
Turkey, in its ridiculous courting of Europe, has missed even the boat that was anchored in its doorsteps with the creation of five newly independent Central Asian States most of which being of Turkic ethnicity anyway. Turkey is torn now between Islam and secularism with an Islamic background – whatever they chose, it is going to be neither Christian Greek, nor Christian Armenian while the West – that is Europe and the US – are basically Christian and can be  counted upon as backing Armenia's simple request to call the killings of a century ago an example of genocide like they are ready to call what went on in Kosovo, much more recently, a genocide against Muslims.
Turkey is important to the West as a bridge to the Islamic world of Asia including the Middle East and Central Asia, but the West can not tell its parliaments that for foreign policy reasons they are not allowed to call an old case of genocide by its name, or to tell their more liberal people that a cartoon or some other free expression that might offend someone's feelings is not plain satire that they can express if it were their own leaders – secular or religious – be it even the Pope.
Turkey has now recalled its Ambassadors to the US and Sweden as sign of displeasure with Congress and Parliamentarian declarations in States that allow free expression via voting – specially as the direct consequence of it if it was genocide or plain heinous killing is not going to bring anyone to life back anyway.
We belabor this topic because our website has placed great hope in a reorienting Turkey on various issues – be these related to the place of Turkey on Kyoto Protocol and climate change, on oil and gas pipelines, or be it on the OIC, peace efforts in the Middle East, relations with Iran, Iraq etc. We are thus unhappy when Turkey steps back from responsibility that comes with maturity.  Why not just tell Armenia – let's sign a peace accord based on mutual understanding that what has happened then, call it what you want, and we are sorry for it, will never happen again. The whole world would then applaud. Look at Jews and Germans – it was worse – but they talk and do not walk out on each other.
###
———- Forwarded message ———-
From: BESA Center
Date: Wed, Feb 10, 2010
Subject: BESA Lecture: "Turkey and the Caucasus," Dr. Alexander Murinson, February 14, 2010
You are kindly invited to a lecture on
Turkey and the Caucasus
Dr. Alexander Murinson
University of London
Sunday, February 14, 2010, 17:00
BESA Seminar Room (Building 203), Room 131
Bar-Ilan University
Faculty of Social Sciences
Dept. of Political Studies
###