The Algemeiner as per Globes which is the Israeli business journal – August 18, 2014
"From Syria, we'll expand the caliphate, Allah willing, and Hizbullah and the Jews will meet their fate, and soon," vowed an American-born 26-year-old Islamic State (IS) fighter in Aleppo, Syria to a disguised Israeli reporter, Israel's Globes reported Monday.
Posing as "Abed al-Islam Afifi," 26, from Paris, the reporter contacted Abu Turab via a cellphone app.
"Of course, it's great to be here [in Syria]," Abu Turab said. "Jihad in our generation is a personal duty. While I can't directly recommend it to you, Allah, praised be His name, told all Muslims to follow in his path."
When the reporter asked for more information on how to join IS and the group's goals, he was told, "First, go to Turkey, and there, I'll give you a number of someone to call, and they'll do the rest. It's that simple," he was told.
IS boasts that dozens of American youths, and hundreds from various countries in Europe have joined its ranks and have already entered Syria and Iraq to fight alongside various factions, in part, thanks to easy access to information on the internet.
The reporter said he found Abu-Turab on a European social network dedicated to offering questions and answers on joining the worldwide terrorist scourge. Abu-Turab is a star on this particular network, according to the report, with hundreds of answers posted to questions about the group's aims and goals.
"What happens of Bashar [Assad's] dogs reach you?" one person asked.
"They haven't got to me yet, but I pray to Allah that it doesn't happen," Abu Turab replied.
According to the report, Prof. Meir Litvak of the Department of Middle Eastern History at Tel Aviv University, said,"These young people are highly alienated from their environment."
"They're attracted to whatever is the most 'anti' to whatever is in front of them," he said. "And radical Islamic fundamentalism represents it – [opposition] to the 'totally rotten and corrupt America,' in their view."
The easiest explanation for the attraction of young people to jihad is an economic rationale, but Professor Litvak argues that "most of them are not poor; no economic crisis pushed them into despair. Not at all. These youngsters are middle class."
"For example the British of Pakistani origin who perpetrated the attacks in London – it's same thing. While there are the typical 'marginal' Americans or Europeans youth, the majority are young Muslims from families who feel alienated from bourgeois society."
Dr. Muhammad Al Atawneh, a senior faculty member in the Department of Middle Eastern Studies at Ben-Gurion University of the Negev, suggested that these young people understand Islam and organizations like IS via non-religious sources.
"For these young people, this is a protest. They see radical Islam as an alternative to the failure of nation-states. They go to the edge of the edge, talking about the caliphate, but no one there knows what 'caliphate' really means," he said.
"There is tremendous ignorance on the subject," Al Atawneh said. "They're very confused in matters of religion. The distortions and gaps are so abysmal, it is impossible to understand what texts people who chop off heads are following."
###
Presided upon by Mr. Richard N. Haass, the President of the Council on Foreign Relations, a panel of six of the Council's experts in front of two rooms full in audience – one in New York the other in Washington DC, a whole gamut of Middle East problems was put on display and dissected.
The six experts were – Elliott Abrams who started out as staff member of Senators Henry M. Jackson and Daniel P. Moynihan and then moved on to the White House under Presidents Reagan and G.W. Bush;  Steven A. Cook who started out at the Brookings Institution, developed an expertise on Egypt, Algeria and Turkey, and is running a blog "From the Potomac to the Euphrates;    Robert M. Danin who started out as a journalist reporting from Jerusalem then worked at the State Department on Middle East Affairs and with Tony Blair as his Jerusalem based representative of the Quartet;   and Ray Takeyh, a widely published professorial expert on Iran – in Washington D C and Isobel Coleman who at CFR covers Civil Society, Markets and Democracy, comes from the business world, has written extensively on policy, was track leader at the Clinton Global Initiative, was named by Newsweek as one of 150 Women Who Shake the World and her blog is Democracy in Development; and Richard N. Haass who served in the White House at ambassadorial level but argued in a book that Foreign Policy starts at Home – the last two were with us in New York.
This discussion takes place at the beginning of the third week since this latest flare-up of Israel's war against the Hamas of Gaza. A very fast consensus was reached among the four members of the Washington DC panel that to cool the situation without giving Hamas some credit is really difficult. Israel wants really to destroy the infrastructure of tunnels into Israel. Hamas points out that they managed to-date to beat Israel at that as just a day earlier they demonstrated they are capable to infiltrate Israel through such tunnels. Richard Haass evoked Henry Kissinger who said that what is needed to create a lasting equilibrium is (a) a degree of balance, and (b) a degree of legitimacy that comes from mutual recognition between the forces. The latter point does not exist here. Israel is united and out to eliminate Hamas – but if the fighting continues it is expected that the demand for change in the status quo will get louder in Israel – or just a return to a system that allows only breaks in the fighting will be unacceptable.
Asked about how to bring the Palestinian Authority back into Gaza – the prediction expressed was that Hamas demonstrating that only resistance keeps you in authority will allow Hamas to emerge as winner.  Today's news that Israel bombed a UN managed school filled with displaced Palestinians, and probably also arms bearing Palestinians, will nevertheless put some more outside pressure on Israel.
Further, the news I get today from Vienna is that Saturday there will be large pro-Palestinian demonstrations in Europe on the occasion of the yearly celebration of the Al-Quds Day. This is a PR success for the Hamas – the show of harm done to the Palestinians that are being used as shield to those missiles, and then their misery exploited in order to achieve PR gains based in part also on the unleashing of an existing undertow of Antisemitism-comes-naturally to some layers of Christian Europe. These are aspects that were not looked at by the panel but which play now very seriously a role within Israel. My bet is that Israel will demand that the PA is reintroduced to Gaza at least at its borders – with a minimum role of making sure there are no tunnels. If this becomes part of the US and Egypt brokered solution, the other part will have to be a transparent start to the dissolution of some West Bank settlements. The military defeat of the Hamas can then be viewed as a success of the political leadership of the Hamas in ways acceptable to Israel.
Again – these ideas were not expressed at the Town-Hall meeting.
Steven Cook said that the present ruler of Egypt – President Abdel Fattah Saed Hussein Khalil al-Sisi, former Chief of the Army and Minister of Defense – is much more decisive then Mubarak was, and can be counted on to be more decisive in matters of Hamas. Now we have a situation that Egypt and the Saudis hate in full view the Muslim Brotherhood and their off-shoot – the Hamas,  while the Amir of Qatar is backing them.  So, now we have beside the Sunni – Shia Divide also a Sunni – Sunni Divide which is going and deepening and creates a further Divide between the Brotherhood & Hamas on the one hand and more extremist ISIS & Al Qaeda on the other hand. These latter without an official sponsor from any State.  Here again real life went beyond what was said at the CFR panel.
I made it my business to tell the organizer about the day's news at the UN, the finding by investigative journalist Matthew R. Lee that the UN Secretary General's charter flight to the Middle East was bankrolled by the Amir of Qatar, a sponsor of Hamas, does in effect put a notch in the UNSG effort in posing as an honest broker on Gaza. I thought this ought to be brought up at the Town Hall meeting and said I can volunteer to raise this as a question – but I could not – this because I was there as Press, and only Members of the CFR are allowed to ask questions. Members come from Think-Tanks but mainly from business. The reality is that the business sectors represented at the CFR are mainly those that belong to old establishments – Members of the International Chamber of Commerce, but no businesses that could profit from an economy less reliant on fossil fuels. The whole concept of energy seems here to still mean those conventional fuels – and it shows. It came up here as well when a question about Energy Independence was answered that though an Energy Revolution did happen lately in the US, we will never be Independent of "Energy" because the World Economy runs on "Energy."
Many other points came up – and I will now highlight some of them:
  -  Iran was mentioned in the context that July 20th Vienna meeting was the rage at that time – but then came the Ukraine and Gaza wars. Now Iran was delayed to November 25th and is barely noticed. It was noted that it is only a 4 months delay while it was technically possible to delay it for 6 months. The Iranians believe that they already agreed to the red lines. Can these Red lines be adjusted?
  -  The Kurds will make now moves to go their own ways. The Turks now play more favorably to the Kurds – but the Kurds continue to be split and fight among themselves.
  -   Winner Takes All has been disproved for the Middle East. Maliki in Iraq learned it does not work, so did Morsi in Egypt who saw his Brotherhod and himself ousted merciless.  I found this an extremely valuable observation for all combatants of the region.
  -   New forms of COLD WAR. there is one between the Saudis and the Gulf States (Intra Sunni – Sunni) – and there is one between the Saudis and the Iranians. Like in the US-Soviet case this is not a fight between States. mainly it goes on now on Syrian Territory between parts of Syria a country that will be dismembered like Iraq was.  In the past governments were oppressive and economically weak, but had power internally – now this did collapse.
  -  Now we reached a favorite question about the UN. Are there any useful capacities remaining for the UN? Elliot Abrams said that if appointed to the UN he would try to get another job. UNRWA has become more and more controversial – specifically when there is a cease-fire.
###
A Win-Win Solution for the Negotiations over Iran's Nuclear Program – as reported by Irith Jawetz who participated at the UN in Vienna Compound July 15th Meeting .

The Vienna Center for Disarmament and Non-Proliferation (VCDNP) and Search for Common Ground  invited

us

to attend a panel discussion titled "A Win-Win Solution for the Negotiations over Iran's Nuclear Program," which w

as

held on Tuesday, 15 July 2014 at 13:00

at the Vienna Center for Disarmament & Non Proliferation (VCDNP).



As P5+1 and Iran are meeting in Vienna at Foreign Ministers level to resolve the outstanding issues preventing a comprehensive agreement on Iran's nuclear program before the 20 July deadline, a group of renown experts on the technical and political aspects of the negotiations

have met

at VCDNP to discuss and identify possible compromises.
Dr. Frank von Hippel, Senior Research Physicist and Professor of Public and International Affairs Emeritus at Princeton University's Program on Science and Global Security 
Mr. Daryl G. Kimball, Executive Director, Arms Control Association. Previously he was the Executive Director of the Coalition to reduce Nuclear Dangers, and the Director of Security Programs for Physicians for Social Responsibility.

Ambassador (ret.) William G. Miller, Senior Advisor for the US-Iran Program, Search for Common Grou

p

. 
He is a Senior Policy Scholar at the Woodrow Wilson International Center for Scholars in Washington, D.C.. He is also a member of the Council on Foreign Relations, the International Institute of Strategic Studies, and the Middle East Institute. He is the co-Chairman of the Kyiv Mohyla Foundation of America and a Director of The Andrei Sakharov Foundation. He has also been a senior consultant for the John D. and Catherine T. MacArthur Foundation.

This was a very timely event, as the Foreign Ministers of the P5+1 group of Nations – the U.S., U.K., France. Germany, China, and Russia – spent the weekend in Vienna  discussing follow ups to the interim agreement reached between them and Iran in advance of this July 20th deadline.

At the start of the Panel discussion, it was announced that at that very moment Secretary of State John Kerry is giving his Press Conference before flying back to Washington to report to President Obama about the negotiations. He is willing to come back next weekend for the July 20-th continuation of the discussions.




Ambassador Miller was the first speaker, and he gave a rather optimistic view of the situation.

His presentation had more of a political nature.  In his

presentation he said that the basic principles of the negotiations is to assure that Iran has no nuclear weapons . Iran has the capability, brain, expertise and knowhow but has no strategic moral or ethical reason to develop nuclear weapons

to be used as weapons of mass destruction.
I

t is a fact, though, that the Iranians insist on use of peaceful nuclear energy – to what extent it is peaceful and how can the rest of the world be sure that it will be peaceful, this is why the negotiations have to succeed.

Am

bassador Miller is hopeful that, after 35 years of the current regime in Iran,

those negotiat
ions will result in a positive answer.
Ambassador Miller commended all the participating teams, the Press and Academia. First he mentioned the top quality Iranian team at the negotiations, many of the participants he knows personally. They were able, motivated, and anxious to find a solution. The US team, led by Secretary Kerry did a  remarkably good job, as did the rest of the teams. He commended the Press who were persistent – fully covered the negotiations and were very professional – and academia who helped with background information.
—————
Mr. Daryl G.Kimball, Executive Director, Arms Control Association talked about a solution for the Iranian Uranium-Enrichment Puzzle. In his presentation he stressed that "Solutions that prevent a nuclear-armed Iran, lower the risk of yet another major conflict in the region, and still provide Iran with the means to pursue a realistic, peaceful nuclear program are within reach" – he said.
Progress has already been achieved on several key issues – stregthening International Atomic Energy Agency (IAEA) inspections and oversight at existing and undeclared sites.  …   Iran has agreed to modify its Arak heavy-water reactor to drastically cut its plutonium output, and a general framework has been developed to waive, and eventually lift, sanctions against Iran.   …  Nevertheless, the two sides have more work to do to bridge differences on the most difficult issue: limiting Iran's uranium-enrichment capacity.As part of a comprehensive deal, Iran and the P5+1 have to agree on several steps to constrain Iran: limit uranium enrichment to levels of less than 5% – keep stocks of its enriched uranium near zero – and halt production-scale work at the smaller Fordow enrichment plant and convert it to research-only facility.
He shares Ambassador Miller's hope and positive outlook that the negotiations will succeed. Anything less than success will be a catastrophe.
The last speaker was Dr. Frank von Hippel who is a Senior Research Physicist and Professor of Public and International Affairs Emeritus at Princeton University's Program on Science and Global Security.Dr. von Hippel gave a very technical presentation about the Possible elements of a compromise on Iran's Nuclear Program.
Potential sources of fissile material from Iran's nuclear energy program are:
1. Plutonium presence in reactor fuel (current issue is Arak reactor)
2. Iran's centrifuge enrichment complex.
There are two stages in rationalizing the Current situartion:
Stage I
Iran currently has installed 18,000 IR-1 centrifuges  – the compromise would be:
1) to retire IR-1  and replace it with already installed IR-2ms to support research-reactor LEU needs.
2) Continued transparency for Iran's centrifuge production – possibly as a template for enhanced transparency for centrifuge production worldwide.
3) Continued minimization of stocks of low enriched UF6.
Stage 1 will provide time to cool down an inflamed situation and would provide Iran and the West an opportunity for a cooler assessment of the costs and benefits of diferent possible paths.
In stage II, negotiations might agree on a solution currently beyond reach and also lay a base for a new global regime for enrichment.
Stage II

National or Multi-National enrichment? A global Issue.
National – Every  state has the right to enrich fuel for power reactor fuel. However today only Brazil, China, Iran, Japan and Russia have completely independent national civilian enrichment programs.
Multinational – Urenco (Germany, Netherland, UK) . Today Urenco owns the only operating U.S,. civilian enrichment plant.
Building in Flexibility for Iran:
1. Iran should have access to nuclear reactor and fuel vendors worldwide – to ensure that it is getting a good price and reliable delivery.
2. Iran could build up stockpile of fabricated fuel for Bushehr. That would take care of Iran's fuel security concerns and make it easier for Iran to postpone a large domestic enrichment capacity or depend on a multinational enrichment plant – perhape equiped with Iranian centrifuges in another country in the Middle East.
Dr. von Hippel COPLIMENTED his theory with  charts.
The consensus at the end of the discussion was that the negotiations seem to go well, and all panelists, as well as some members of the audience expressed their hope that they will indeed succeed. Ambassador Miller even went as far as to state that Iran at the moment is the most stable nation in the region, and we have to take advantage of it, make sure the negotiation succeed,  and bring Iran back to the International community.
In the news today it was reported that Secretary of State John Kerry was on his way to Washington to brief President Obama on the negotiations – rather then on a prior advertised new effort in the Israel-Palestine arena. He was hopeful, but also said there are still some points which need to be clarified.
==========================
Further last comment by SustainabiliTank editor – we add – taken from a Thom Friedman article about a different issue:
We accept that in the future the World true powers of today – The US, China, India, Russia, Japan and the EU – and we like to add Brazil as well – will have to meet their minds and harmonize what ought to be a global leadership for a safe future planet. Just ad hoc chaperoning specific issues will be proven to be not enough.

The way to find a solution to the issue of a nuclear Iran shows that in the globalized world of today there must be an international guiding force. But on this much more has to be written for the sake of Sustainability.
###
However you cut it ISIS or ISIL (the second S for Syria, the L for the Levant) – this is a Sunni anti-Western and anti-Shiia organization that was sprung originally on the World by the Saudi Wahhabism.  Call it Al-Qaeda or Al-Qaeda alikes – these are Sunni anti-colonial fanatics who believe that all of Western Asia Palestine, Lebanon, Syria, Iraq, that were formed after the dismemberment of the Ottoman Empire, are basically one State or Arab Nation of Sunni Islam. To them the Shiia reform movement was actually another foreign intrusion. They understand the fact that the area was divided by colonial western powers for reasons of oil. To them all Western Asian  oil is Arab and they claim it now.
The US never acknowledged this self determination will of the Sunni Muslims as we in the West believe in human rights as an ethic that is beyond religion, but supported by Nationalism based on Democracy that can accept diversity of religions as long as they adhere in common to a Wahhabi style  of a capitalist economy. The Arabs say – all this is rubbish. ISIS or ISIL want just one Muslim-Sunni State based on religion and the Sharia Laws Wahhabi-style. For now the aspirations of ISIS/ISIL end at the borders of Jordan and Saudi Arabia – perhaps also leaving out all of the Gulf States.
By destroying Iraq that never was a true Nation State, the US allowed for an eventual unleashing of these Sunni forces that are being directed now against Iran and enclaves of non-Sunni communities in Lebanon and Syria. The US is now pushed to change sides from originally backing the Kingdom of Saudi Arabia that was business friendly to the US, to the practicality of working with Iran in order to disrupt the regional Sunni movement that does not want the US as part of the power structure in the region. The US still fights for the post-Ottoman division into so called States, which to them felt as manageable Administrative units. Syria like Iraq can exist only when headed by a dictator – so the US will back now the one running Syria because they saw what happened when they tried to change the government of Iraq.  Switching bedfellows makes life interesting in Washington – but seems very fishy to these Middle Easterners. The following article is a good description of the present "is."
Syria Bombs Iraq, US Doesn't (It Says).
By William Boardman, Reader Supported News
25 June 2014
US lines up to ally with Iran and Syria in support of Iraq.
In the current round of fighting, it seems the first international aerial bombing of Iraq was carried out June 23 by the Syrian Air Force, acting at the behest of the Iranian government in support of the Iraqi government, which the U.S. government has sort of pledged to support, just as soon as the Iraqi government purges itself to U.S. satisfaction, which may or may not please the governments of Iran and Syria to which the U.S. government has pledged clear opposition.
The Syrian attack apparently went unreported in almost all media. All the same, this escalation marked a widening of the ongoing war in Iraq and Syria, which already involves, at a minimum, Iran, Turkey, Saudi Arabia, Qatar, and the United States (as well as Israel and Lebanon), either overtly or covertly.
The Pentagon has denied reports of U.S. drone strikes along the Iraq-Syria border, according to The Jerusalem Post, which noted that:
BBC Arabic reported earlier on Tuesday [June 24] that unmanned American aircraft had bombed the area of al-Qaim, which was overrun over the weekend by Sunni fighters led by the Islamic State in Iraq and Syria (ISIS).
Syrian bombing of Iraq continued on June 24, this time reported by The Wall Street Journal (alone at first), which referred to the earlier attacks:
It was the second consecutive day of airstrikes by Syria, which has joined Iran in coming to the aid of the embattled Baghdad government. Tehran has deployed special forces to help protect the capital and the Iraqi cities of Najaf and Karbala, which Shiites revere. [Najaf and Karbala are each a hundred miles or more from the bombing targets.]
The Syrian Air Force comprises mostly Russian and French planes
Syrian bombs reportedly killed at least 50 people and wounded at least 132 others when they hit targets including the municipal building, a market, and a bank in Al Rutba, a town of about 55,000 in western Iraq, captured by ISIS forces June 21. Al Rutba (also Ar Rutba or Al Rutbah) is strategically located on the prime east-west highway across vast and mostly desert Anbar Province. It is about 90 miles from both the Syrian and Jordanian borders, and more than 120 miles from Baghdad.
U.S. forces occupied Al Rutba during most of 2003-2009.
In December 2013, a complex ISIS suicide attack on Iraqi military forces in Al Rutba killed at least 18 officers, including two commanders. Even though the current ISIS offensive has apparently surprised many – including the U.S. government – it's part of a long campaign, as documented in The Long War Journal in December 2013:
The ISIS continues to display its capacity to plan and execute coordinated operations against Iraq's security facilities. These attacks are part of multiple 'waves' of al Qaeda's "Destroying the Walls" campaign, which was announced by emir Abu Bakr al Baghdadi, who is also known as Abu Du'a, on July 21, 2012.
Another purported bombing target, Al Qaim, is located about 100 miles to the northeast, on the Euphrates River and the Syrian border. The city of about 250,000 was reportedly the site of Iraq's Uranium refining complex during the 1980s. Americans bombed the city and destroyed the complex during the 1991 Gulf War.
For most of 2003-2006, Al Qaim was occupied by American forces, who used it as a base for raids into Syria (tactics reminiscent of Viet Nam, where U.S. forces covertly raided Cambodia). When an Iraqi general there turned himself in to Americans in 2003, in an effort to free his two sons, Americans eventually tortured the general to death, without releasing his sons.
Al Qaim was scene of fierce fighting during last Iraq War
In 2005, insurgents took Al Qaim from the Iraqi forces left in charge by the Americans. American Marines were unable to fully re-take the city in the face of fierce resistance. American bombing of Al Qaim in August killed at least 47 people. Late in the year, a sign outside the city reportedly said, "Welcome to the Islamic Republic of Qaim."
Forces of ISIS took control of Al Qaim on June 21.
The American denial of drone strikes on Al Qaim is explained by RT (Russian Television) this way:
Unidentified bombers have reportedly launched an air strike on ISIS positions in the northern Iraqi city of al-Qaim. Iraqi television has claimed they are US planes, but the Pentagon has denied responsibility.

US planes were identified by Iraqi television, but the Saudi Al-Arabiya network claims that the raid was carried out by Syria, citing local tribal chiefs.
The Iraqi Air Force has bombed the Iraqi city of Baiji, about 130 miles north of Baghdad, on the Tigris River. Americans bombed the city in 1991, destroying most of its oil refinery, which was quickly rebuilt. Americans occupied Baiji for most of 2003-2009, putting down significant resistance in 2003.
ISIS and Iraqi forces have been fighting for control of the Baiji oil refinery since June 11. With ISIS in control by June 20, the Baghdad government over 100 miles away decided to start bombing. The United Nations has reported that the Iraq death toll for June is already the highest in years, with more than 1,000 killed, most of them civilians.
Meanwhile, Israel has bombed Syria, killing civilians, in retaliation for an attack from Syria that killed Israeli civilians in the Golan Heights.
###
The Second Iran-Iraq War and the American Switch
By Juan Cole, Informed Comment
13 June 14
SEE ALSO: Obama 'Urgently' Considering Air Assault on Targets in Syria and Iraq
ran has decided to intervene directly in Iraq and has already sent fighters to the front, according to the Wall Street Journal, based on Iranian sources. It is alleged that Iranian special forces have helped the Iraqi army push back in Tikrit, the birth place of Saddam Hussein that was overrun earlier this week by ISIS, which captured the city's police force. These reports come on the heels of President Hassan Rouhani's pledge on Thursday that Iran would not stand by and allow terrorists to take over Iraq. The hyper-Sunni Islamic State of Iraq and Syria fighters are closing in on a major Shiite shrine in Samarra and have pledge to take Baghdad, the capital, itself.
Iran has allegedly supplied small numbers of advisers and even hired Afghan fighters to the Syrian regime, and encouraged Lebanon's Hizbullah to intervene in Syria to prevent the fall of Homs to Sunni extremists. These Iranian interventions in Syria did shore up the al-Assad regime and reverse rebel momentum. Iran's Revolutionary Guards Corps may believe it can use the same tactics to roll back ISIS in Iraq. Iran is largely Shiite and has a Shiite religious ideology as the basis of the state. Iraq is 60% Shiite and the ruling government since 2005 has come from that community. Sunni Arabs in Iraq are probably only 17% or so, but had been the elite for most of Iraq's medieval and modern history, until George W. Bush overthrew the predominantly Sunni Saddam Hussein regime and allowed the Shiites to come to power.
Iraqi Shiites predominate in Baghdad and parts south. Shiites are more like traditional Catholics in venerating members of the holy family and attending at their shrines. Contemporary Salafi Sunni Islam is more like the militant brand of Protestantism of the late 1500s that denounced intermediaries between God and the individual and actually attacked and destroyed shrines to saints and other holy figures, where pleas for intercession were made. The shrine in Samarra is associated with the 12th in the line of vicars of the Prophet Muhammad, called Imams in Shi'ism, Muhammad al-Mahdi, a direct descendant of the Prophet himself. Shiites have a special emphasis on a millenarian expectation that the Twelfth Imam will soon return to restore justice to the world (rather as Christians believe in the return of Christ). When the Samarra shrine was damaged by Sunni militants in 2006, it threw Iraq into civil war, in which 3000 civilians were being killed every month. Baghdad was ethnically cleansed by 2008 of most of its Sunnis, becoming a largely Shiite capital. ISIS wants to reverse that process. Baghdad was founded by the Abbasid caliphate, who claimed to be vicars of the Prophet, in 762 AD and is a symbol of the glories of early Islam. ISIS leaders are threatening also to destroy the shrine of Ali in Najaf and the shrine of Husain in Karbala (Najaf for Shiites is the equivalent of the Basilica of St. Peter for Catholics).
The specter of Iranian troops on Iraqi soil can only recall the first Iran-Iraq War.
From September of 1980, when Saddam Hussein's Iraqi army invaded Iran's oil-rich Khuzistan Province, until summer 1988 when Ayatollah Khomeini finally accepted an armistice, Iran and Iraq fought one of the Middle East's longest and bloodiest wars. Its trench warfare and hidden naval encounters recalled the horrors of World War I, as did the Iraqi Baath government's deployment of mustard gas against Iranian soldiers at the front and sarin gas against Kurdish civilians suspected of pro-Iranian sentiments.
The Reagan administration in the United States largely backed Iraq from 1983, when Reagan dispatched then Searle CEO Donald Rumsfeld to shake Saddam's hand. This, despite Iraq being the clear aggressor and despite Reagan's full knowledge of Iraqi use of chemical weapons, about which George Schultz at the State Department loudly complained until he was shushed. Then, having his marching orders straight, Schultz had the US ambassador to the UN deep-six any UN Security Council resolution condemning Iraq for the chemical weapons deployment. The US navy fought an behind the scenes war against Iranian ships in the Persian Gulf, becoming a de facto appendage of the Baath military.
Just because the Reagan administration was so Machiavellian, it also gave some minor support Iran in the war. Reagan stole anti-tank and anti-aircraft weaponry from the Pentagon storehouses and illegally sold them to Khomeini despite Iran being on the US terrorism watch list. He then had Iran pressure the Shiite militiamen in Lebanon to release American hostages. Reagan sent the money received from Iran to death squads in Nicaragua fighting the people's revolution there against a brutal American-installed dictatorship. This money was sent to Nicaragua in defiance of the Boland Amendment passed by Congress forbidding US monies to go there. Ollie North, whom you see prevaricating on Fox News these days, was a bag man for the operation.
They may as well have broken into the National Archives Nick Cage style, broken out the original copy of the constitution, and put it through a shredder several times in a row till small confetti pieces were all that were left.
It is unclear how many people Saddam's bloody war killed off. A quarter of a million on each side seems plausible. So many young men were part of a "missing generation" that the Iranian regime had to let women into the workforce and universities in very large numbers despite its preference for them to remain home and secluded. In Iraq, there were many widows, and some were forced to become low-status second wives, or single heads of household, or, among Shiites, temporary wives. Iraq depleted its currency reserves in the war and went into debt with Kuwait among others, then in 1990 invaded and tried to annex Kuwait. Saddam dealt with his creditors the way organized crime might deal with its.
In the looming second Iran-Iraq War, the US will be de facto allied with Iran against the would-be al-Qaeda affiliate (ISIS was rejected by core al-Qaeda for viciously attacking other militant vigilante Sunni fundamentalists in turf wars in Syria). The position of the US is therefore 180 degrees away from what it was under Reagan.
In fact, since ISIS is allegedly bankrolled by private Salafi businessmen in Kuwait and elsewhere in the Oil Gulf, the US is on the opposite side of all its former allies of the 1980s. In some ways, some of the alleged stagnation of US policy in the Middle East may derive from a de facto US switch to the Iranian side on most issues, at the same time that US rhetoric supports Iran's enemies in Syria and elsewhere in the region.
It is possible that a US-Iran alliance against al-Qaeda-like groups in Iraq and Syria could clarify their budding new relationship and lead to a tectonic shift in US policy in the Middle East. The Indeed, Reuters says Iranian officials are offering the possibility of security cooperation with the us. One things seems clear. Without Iran, the US is unlikely to be able to roll by al-Qaeda affiliates and would-be affiliates in the Fertile Crescent, who ultimately could pose a danger to US interests.
=================================
Oil strikes nine-month peak on Iraq violence.
MENAFN – AFP – 13/06/2014
(MENAFN – AFP) Global oil prices surged to fresh nine-month high points on Friday as traders eyed worsening violence in OPEC's second biggest crude exporter Iraq.
Brent crude for July delivery soared to 114.69 per barrel in morning deals, touching the highest level since September 2013. It later stood at 113.57 in London afternoon deals, up 55 cents from Thursday, as traders booked profits.
US benchmark West Texas Intermediate for July added 42 cents to 106.95 a barrel.
"Prices are still being driven up by the events in Iraq, where militants from the Sunni terrorist group ISIL have seized further territory and are now said to be just a few kilometres away from the capital, Baghdad," said Commerzbank analyst Carsten Fritsch.
"The US is now considering air strikes by way of supporting the Iraqi armed forces in their fight against the ISIL. The Iraqi government increasingly appears to be losing control of the country."
- Jihadists near Baghdad -
The Iraqi government bolstered Baghdad's defences on Friday as jihadists pushed towards the capital and President Barack Obama said he was exploring all options to save Iraq's security forces from collapse.
Predominantly Shiite Muslim Iran will combat the "violence and terrorism" of Sunni extremists who have launched an anti-government offensive in neighbouring Iraq, President Hassan Rouhani warned.
"This is an extremist, terrorist group that is acting savagely," Rouhani said, without elaborating on what steps Tehran would take to thwart a bid by fighters from the Islamic State of Iraq and the Levant (ISIL) to push toward Baghdad after seizing several cities and towns to the north.
The International Energy Agency meanwhile cautioned that oil supplies from Iraq may not be at immediate risk.
Iraq is the second biggest oil exporter in the 12-nation Organization of Petroleum Exporting Countries (OPEC) after kingpin Saudi Arabia.
- IEA plays down impact -
"Concerning as the latest events in Iraq may be, they might not for now, if the conflict does not spread further, put additional Iraqi oil supplies immediately at risk," the Paris-based IEA said in its monthly oil market report on Friday.
It pointed out that Iraq's relatively small output from the north of the country has been off the market since March due to violence while output from the south has been on the rise and production has hit a 30-year high.
However the IEA, the energy monitoring and policy arm of the OECD group of advanced nations, pointed to the long-term importance of Iraq for the global energy market.
It calculated that "roughly 60 percent of the growth in OPEC crude production capacity for the rest of this decade will come from Iraq".
The 12-nation oil cartel, which pumps one third of the world's crude, earlier this week decided to hold their collective production target at 30 million barrels per day (bpd), where it has stood since late 2011, as they said the oil market was stable.
Oil producing nations have expressed their satisfaction with prices above 100 a barrel — where they have been for most of this year — as it brings them in sufficient revenue while appearing not to crimp growth in consuming nations.
=======================================
FURTHER ON THE OIL MARKET:
NPR NEWS
Militants' Advance In Iraq Agitates Oil Markets
When Sunni militants began seizing broad swathes of territory across northern Iraq last week, global oil markets shrugged it off. After all, instability in Iraq is nothing new.
But that all changed on Wednesday, when the insurgents swept into the oil refinery town of Baiji, says Robert McNally, president of the Rapidan Group, an energy consulting firm. The price of oil climbed nearly 4 percent in just a few short days.
"This jaw-dropping blitz assault … and the threat it posed to the Baiji refinery, the Baiji electrical power plant, and really the stability of Iraq itself, just caused the market to panic," McNally says.
Insurgents surrounded the refinery, but were not able to seize it. For now, it remains under government control, guarded by Iraqi special forces. The refinery is the largest in Iraq, but it's used only for domestic purposes.
The real concern for the global markets — and the entire global economy — is about securing the flow of crude oil out of Iraq's main oil fields. They are clustered around the city of Basra, in the far south of the country at the tip of the Persian Gulf. It's a relatively long way from militant positions now.
But Amrita Sen, chief oil market analyst with Energy Aspects in London, says that distance doesn't provide much relief, for two reasons.
"One, the militants are progressing towards the south very, very quickly," Sen says. "And two, the Iraqi army's complete inability to stop them … The fear factor is huge in the market at the moment."
There's also concern the Sunni militants' all-out charge through Iraq could spark widespread sectarian violence, possibly pulling in regional players, says McNally.
"The specter now is one of a sort of broad fragmentation and disintegration in Iraq, which eventually could spill over to the south and to Iraq's oil exports," he says.
Jim Burkhard, head of global oil market research at IHS, says militants don't have to occupy the oil fields; they can simply launch small attacks on the pipelines, much as they've done on export pipelines in the northern city of Kirkuk. But Burkhard says global oil markets would feel the pinch if anything happened to Iraqi exports.
"This summer we estimate the world will have about 2 to 2.5 million barrels per day of spare crude oil production capacity," he says. "That's the oil markets' shock absorber. That's how much we have to call on in case there's a disruption. … Iraq exports about 2.5 million barrels per day, so that's why the market is particularly sensitive to these fast-moving developments in Iraq right now."
Iraq has the potential to double the amount of oil it exports each day, but the industry has been plagued with problems despite investment from western companies. Burkhard says the escalating violence not only adds to Iraq's woes, it's part of a broader geopolitical story that's unfolding.
"The situation between Russia and Ukraine is not settled … Libya is in a very desperate situation right now; oil production is just a trickle," Burkhard says. "There's also concerns about Nigeria and Venezuala as well."
President Obama said on Friday that if there are disruptions in Iraq's oil supply, other producers in the Gulf are able to pick up the slack. But that will do little to calm market jitters that are driving up prices.
###
Kiev Struggles to Break Russia's Grip on Gas Flow.
CHASLOVTSY, Ukraine — As Ukraine tries to contain a pro-Russian insurgency convulsing its eastern region, a perhaps more significant struggle for the country hinges on what happens beneath the ground here in a placid woodland in the far west, on the border with Slovakia.
This is where about $20 billion worth of Russian natural gas flows each year through huge underground pipelines to enter Europe after a nearly 3,000-mile journey from Siberia. It is also, the pro-European government in Kiev believes, where Ukraine has a chance to finally break free from the grip of Gazprom, Russia's state-controlled energy behemoth.
In an effort to do this, Ukraine has for more than a year been pushing hard to start so-called reverse-flow deliveries of gas from Europe via Slovakia to Ukraine, thus blunting repeated Russian threats to turn off the gas tap.
An agreement signed last week between Slovak and Ukrainian pipeline operators opened the way for modest reverse-flow deliveries of gas from Europe, where prices are much lower than those demanded by Gazprom for its direct sales to Ukraine.
But the deal, brokered by the European Union and nudged along by the White House, fell so far short of what Ukraine had been lobbying for that it left a nagging question: Why has it been so difficult to prod tiny Slovakia, a European Union member, to get a technically simple and, for Ukraine and for the credibility of the 28-nation bloc, vitally important venture off the ground?
Some cite legal and technical obstacles, others politics and fear of crossing the Kremlin, but all agree that a major obstacle has been the power and reach of Gazprom, which serves as a potent tool for advancing Russia's economic and geopolitical interests, and is ultimately beholden to President Vladimir V. Putin.
 ————————————
———————————-
Gazprom not only dominates the gas business across the former Soviet Union, but also enjoys considerable clout inside the European Union, which gets roughly a third of its gas imports from Russia and is itself vulnerable to Russian pressure.
All the same, a fog of mystery surrounds the reluctance of Slovakia to open up its gas transit corridor — through which Russia pumps a large portion of its gas to Europe — for large reverse-flow deliveries to Ukraine.
Built during the Soviet era to link Siberian gas fields with European markets, Slovak pipelines, according to Ukrainian officials and experts, could move up to 30 billion cubic meters of gas from Europe to Ukraine a year — more than all the gas Ukraine is expected to import from Russia this year.
Instead, the majority state-owned Slovak company that runs the system, Eustream, has offered only a small, long-disused subsidiary pipeline that still needs engineering work before it can carry gas to Ukraine. Once the work is finished in October, Eustream will provide just a tenth of the gas Ukraine has been looking for from Europe. The company says that small amount can be increased sharply later.
Here in Chaslovtsy, in southwestern Ukraine, where technicians from Ukraine's pipeline company, Ukrtransgaz, and Gazprom monitor the flow of Russian gas into Slovakia, the Ukrainian head of the facility, Vitaly Lukita, said he wondered if gas would ever flow the other way.
"We are all ready here, but I don't know why the Slovaks are taking so long," Mr. Lukita said. "Everyone has been talking about this for a very long time, but nothing has happened."
Andriy Kobolev, the board chairman of Naftogaz, Ukraine's state gas company, said he was particularly mystified by the recalcitrance of Eustream because in 2011 the company had put forward the idea of using spare capacity in its trunk pipelines for reverse-flow supplies to Ukraine.
He said the Slovaks had rejected this option in recent negotiations, citing secret contracts with Gazprom. He added that he did not know what the problem was exactly, because he had not been allowed to see the contracts.
Eustream executives declined repeated requests for interviews. Vahram Chuguryan, the company's spokesman, declined to comment on the apparent change of heart or on whether it was related to an ownership shuffle in early 2013, when a group of wealthy Czech and Slovak businesspeople purchased a 49 percent stake in Eustream. At the time, Czech news media speculated that they were acting as a stalking horse for Gazprom.
Daniel Castvaj, a spokesman for Energeticky a Prumyslovy Holding, the company that made the purchase, denied Ukrainian assertions that Eustream has sought to limit reverse-flow deliveries to Ukraine, describing these as "not only untrue but nonsensical" since the pipeline operator, which makes its money off transit fees, has a strong commercial interest in boosting flows regardless of direction.
He said he was unaware of any 2011 offer by Eustream to use the trunk transit system to deliver gas to Ukraine, but added that such an option has always been technically and legally impossible "without the consent of Gazprom," which has not been given.
European Union officials, frustrated by months of haggling and worried about possible legal problems raised by Gazprom's contracts with Slovakia, hailed last week's modest deal as offering at least an end to the logjam. José Manuel Barroso, the president of the European Commission, described it as a "breakthrough" but also called it a "first step," signaling hope that Slovakia may, over time, allow more substantial reverse-flow deliveries to Ukraine.
Ukraine's dependence on Gazprom to heat homes and power factories — it buys more than half its supplies from Russia — has not only left the country vulnerable to sudden price changes, which fluctuate depending on whether Moscow wants to punish or favor the authorities in Kiev, but has also helped fuel the rampant corruption that has addled successive Ukrainian governments.
When Gazprom raised the price of gas to Ukraine by 80 percent last month and threatened to cut off supplies if Kiev did not pay up, Ukraine's interim prime minister, Arseniy P. Yatsenyuk, blasted Moscow for "aggression against Ukraine."
"Apart from the Russian Army and guns, they decided to use one of the most efficient tools, which are political and economic pressure," he said.
By pushing to buy the bulk of its gas from Europe instead of from Gazprom and murky middlemen endorsed by Gazprom, Ukraine hopes to protect what it sees as a dangerously exposed flank from Russian attack.
The best-known of those middlemen, the Ukrainian businessman Dmytro Firtash, was detained in Austria in April and has been fighting extradition to the United States.
"Imagine where you'd be today if you were able to tell Russia: Keep your gas," Vice President Joseph R. Biden Jr. told Ukrainian legislators during a visit to Kiev last month. "It would be a very different world you'd be facing today."
Nearly all the gas Washington and Brussels would like to get moving into Ukraine from Europe originally came from Russia, which pumps gas westward across Ukraine, into Slovakia and then on to customers in Germany and elsewhere. Once the gas is sold, however, Gazprom ceases to be its owner and loses its power to set the terms of its sale.
Russia is currently demanding $485 per thousand cubic meters for the gas Ukraine buys directly — instead of the price of $268 it offered the Ukrainian government under President Viktor F. Yanukovych before his ouster — while "Russian" gas sold via Europe, which should be more expensive because of additional transit fees, costs at least $100 per unit less.
Russia denies using gas as a political weapon and says all Ukraine needs to do to secure a stable supply at a reasonable price is pay its bills on time and clear its debts, which Gazprom said total $3.5 billion.
Ukraine has already started taking reverse-flow deliveries from Poland and Hungary. But the quantities, around 2 billion cubic meters last year, have been too small to make much of a difference. Only Slovakia has the pipeline capacity to change the balance of forces.
"We have been struggling for a long time to convince them to find a solution," said Mr. Kobolev, the Ukrainian gas chief. "We have now identified the problem, which was obvious from the beginning — restrictions placed by Gazprom."
Ukraine's energy minister, Yuri Prodan, dismissed Gazprom's legal and technical arguments as a red herring. "I think the problem is political. We don't see any real objective obstacles to what we have been proposing," he said.
Opposition politicians in Slovakia, noting that 51 percent of Eustream belongs to the Slovak state, attribute the pipeline company's stand to the country's prime minister, Robert Fico, a center-left leader who has sometimes seemed more in sync with Moscow's views than those of the European Union.
"Fico thinks that it is necessary to be very nice and polite to Mr. Putin," Mikulas Dzurinda, a former prime minister of Slovakia, said in a telephone interview. "This is the heritage of old communists in a new era: The big guys are still in Moscow," he said.
At a news conference in April, Mr. Fico insisted that Slovakia was "really ready" to help assist reverse-flow deliveries to Ukraine. But he added, "We naturally protect our own interests" and will not risk punishment by Gazprom for moves that violate Slovakia's own deals with the Russian energy giant.
Slovakia depends on Gazprom for around 60 percent of its gas supplies and worries that upsetting the Russian company would lead to higher prices for itself or even cuts in supplies.
Alexander Medvedev, the head of Gazprom's export arm, said he had no problem in principle with reverse-flow supplies to Ukraine but said such arrangements "require the agreement of all parties involved," including Gazprom.
"Normally, you can't arrange a physical reverse flow without a new pipeline," he added, indicating Gazprom's opposition to the use of existing Slovak pipelines.
Watching over workers in Chaslovtsy as they laid new underground pipes, Ivan Shayuk, a Ukrainian engineer for Ukrtransgaz, shook his head when asked why the scheme was taking so long.
"What is the problem? The problem is simple — Putin," he said.
——————————–
Hana de Goeij contributed reporting from Prague, and Alison Smale from Berlin.
A version of this article appears in print on May 5, 2014, on page A1 of the New York edition with the headline: Kiev Struggles to Break Russia's Grip on Gas Flow.
———————————
comment from: orbit7er
Here is another piece of the farce being pushed by the plutocratic elite in denial of the realities of Peak Oil and Climate Change. To ship…
And you know – the comment is right – it is those that refuse to let Europe move away from the use of gas that keep watch the umbilical cord to Russia is not broken. This umbilical cord to an unpredictable Russia is the undoing of the EU, and EU member-States that stand up for to hang on this umbilical cord are the un-doers of Europe.
Strange, as it might seem, Austria may be one of these European States that like Slovakia take real interest in conserving the is. Our eyes opened up Sunday May 2nd thanks to two articles in the Austrian news-papers:
(a)  "A Pipeline that Splits Europe" by Veronika Eschbacher, in the venerable and historic Wiener Zeitung, and
(b)  "How Russia wants to Renew its Might via Gas" by Guenther Strobl in the respected Business pages of Der Standard
Both articles give the facts about the Austrian National Oil Company OEMV, that is in the process of planing with the Russian Gazprom to build a new pipeline – "The Southern Stream" – that will shoot directly under the Black Sea, from Russia's Caucasus near Socchi, to Bulgaria's port at Varna. Then from there go directly through Serbia and Hungar to Austria – the town of Baumgarten on the border with Slovakia. The achievement here is that this line does not touvh the Ukraine, Moldova, Poland or Rumania which are inclined to be most reluctant to stay under the Russian boot.
So where in this is the Austria of the very active young Foreign Minister Sebastian Kurz who is laboring at finding an amicable solution in the conflict between The Ukraine and Russia?
Will an Austrian Government that listens to its own Oil Company be so influenced by it that it works against the better interests in Europe – that try to distance themselves from too close relationship with Russia and understand that Energy Independence in Europe means independence of imports of gas – specially if this gas originates in Russia – pipeline A or Pipeline B – there is no inherent difference in this?
The media has yet to explain this, and the politicians running in Austria for the European Parliament have yet to mention it.   Absolutely – not a single politician in Austria has yet had the courage to say that OEMV is not the source of Foreign policy or the guru of futurology and sustainability for Austria, the EU …  for Europe.
————————–
May 5, 2014, at the Wirtschaftsmuseum (the Economy Museum) at Vogelsanggassee 36, 1050 Vienna, Austria, a panel chaired by Dr. Patrick Horvath, included the Editor of the Wiener Zeitung, Mr. Reinhard Goeweil and titled "EU-Elections 2014 – The Role of the Media" gave me the opportunity to raise the importance of the OEMV in Austrian Government policy and the fact that the media just does not point it out. Dr. Horvath, PhD in Social Studies of Communication, is Head of the Union of Scientists dealing with Economic Policy (WIWIPOL) and the panel included as well Mr. Wolfgang Greif (a last minute addition) – Head of the Europe Section at the Employees and the Employers involved in Company Boards and wrote the book on the subject fighting for the right of the Employees to get information about their Companies; Professor Fritz Hausjell of the Vienna University Faculty of Journalism; and Mr. Wolfgang Mitterlehner – Head of Communication at the Viennese Workers' Union Central Office.
Professor Hausjell pointed out that the Wienner Zeitung is the best provider of information among the Austrian Media and this is something I argue as well, so it made it easier for me to formulate my question by starting with my own congratulation with the paper's editor right there on the panel. In effect, founded in 1703 under the name "Vienna Diarium" the WZ is worldwide the oldest newspaper still in print(!) (it appears now 5 times a week with Friday and Sunday excluded and carries the official announcements of use in legal Austria); Mr. Goeweil is editor since 2009 and by background a writer on economics.
As excited as I was by the paper's expose last weekend of the "Southern Stream" pipeline plans intended to keep the Russian gas flowing to Europe under conditions that exclude the Ukraine, Moldova, and Rumania, while using Russian friendly Serbia, and safeguarding the position of Slavic Slovakia – a multibillion project that might become active by 2017, but can kill all development of Renewable Energy in Europe right now, I realized that further involvement in the subject, even by a paper like WZ, will not come as long as even the good people of that paper take for granted the oil lobby arguments that there is not possible to replace the gas because there is not enough sun, wind, hydro-power etc. If nothing else, the Fossil and Nuclear lobbies have numbed the inquisitiveness of even the good media in the EU States, like they did in the US. Why not bring Jigar Shah over here and have him talk of CLIMATE WEALTH?  Why are not more active businesses that stand to flourish ? Are we the only ones to still say YES WE CAN?
———————————–
And Vienna is again the Center of Europe!
May 5-6, 2014 the Council of Europe is meeting in Vienna. 30 Foreign Ministers, including those of Russia and the Ukraine, are meeting here under the chairmanship of Mr. Thorbjorn Jagland, the second most popular politician of Norway and a person that has held all possible political positions in Norway and many in all of Europe who is trying to manage the States of all of Europe with the help of the resourceful Austrian Sebastian Kurz.
Norway is not part of the EU and is an outside gas supplier to the EU. Interesting that Mr. Kurz started his meetings on Sunday with meeting first the current Norwegian Foreign Minister – was this a line-up on gas policy? Is that what the New York Times had in mind when publishing their article? Is it all about lining up interests with Russia and Norway so gas continues to flow in those pipelines and The Ukraine pushed aside, isolated and neutralized?
We shall see and so far as Europe is concerned, we will keep a close eye on these developments because in them we see
a make or break not just for the Ukraine but even more important – for the European Energy Policy that some, like the Prime Ministers of Poland and Slovakia, think of as just a gas policy.
###
PLEASE VOTE NEVERTHELESS !
WE ALL KNOW THAT THE FOLLOWING IS TRUE BUT BY NOT VOTING AT ALL YOU DO NOT ACHIEVE A THING BEYOND ASSURING THAT DECISIONS WILL BE TAKEN WITHOUT ANY CONSIDERATION TO  WHAT YOU HAVE IN MIND. IF YOU VOTE YOU MIGHT OPEN THE DOOR FOR WHAT YOU NEED.
This is the eighth elections to the European Parliament – and perhaps the forst really important election as it will lead to the establishment of the FIRST PRESIDENT of the EU.
There are many subjects of first line importance that will have to be decided by the new Parliament but some of the most important topics are not mentioned in the election campaigns – this because they might be too controversial  for the constituencies.
We will deal here just with one such topic – the need for an European energy policy that is not based on imports of gas.The insecurity of Russian supplies ought to teach Brussels that best energy policy is one of efficiency in the use of energy and supplies that are local and from Renewable Energy sources. If this lesson is not forthcoming in days of constraints applied who is full enough to believe in promisses that such policies will be made posible in a calmer future – if this ever comes?
Just see:
Russian gas supplies 'not guaranteed', EU commissioner warns.
The EUobserver May 2, 2014.
BRUSSELS – A first mediation attempt by the EU between Russia and Ukraine on their gas price dispute on Friday (2 May) in Warsaw ended with no results other than the willingness to meet again.
"It is with concern that we see the security of supply for end consumers in EU and non-EU states like Ukraine is not guaranteed," EU energy commissioner Guenther Oettinger told press after the meeting.
The energy ministers of Ukraine and Russia, for the first time at a table since the annexation of Crimea and the Russia-backed separatist movements in eastern Ukraine, decided to hold separate press points rather than join Oettinger in a common press conference.
Still, when asked about the atmosphere in the meeting, Oettinger responded that "we are all adults" and emphasised the willingness of both sides to meet again mid-May.
"The European Commission will stabilize Naftogaz [Ukraine's state-owned gas company] and Ukraine and will be a fair mediator for justified and fair gas prices," Oettinger said.
At the core of the current dispute is how much Ukraine owes and has to pay for current and future gas deliveries from Russia: 485 US dollars per cubic meter of gas as Gazprom demands or roughly half of it, the price Kiev used to pay before the political turmoil that started late last year.
For the Russian side, the price is "clear, set in the contract signed until 2019″ and any negotiations are "odd".
Russian energy minister Alexander Novak told press after the meeting that Ukraine has not paid for any gas it imported in the last quarter of 2013 and the first three months of this year.
"There is a 16 May deadline when an invoice will be issued to pay for the gas by 31 May and to prepay for the consumption in June. If by June these payments are not made, Gazprom will have the possibility to restrict supplies to Ukraine," Novak said.
He added that European supplies should not be affected as they are paid for until September 2014. Any disruptions in gas flows to the EU during this time should only be blamed on Ukraine, if it "illegally" taps these supplies or diverts them to storage.
Novak also questioned plans by the EU to reverse the flow of gas and supply Ukraine with Russian gas via Slovakia.
"If such contracts are executed, we'll look at them very attentively and reserve our right to address courts and institutions of arbitration," he said.
As for Ukraine, its energy minister Yuriy Prodan said the doubling of the gas price by Russia was "discriminatory" and "abusive" and that Kiev will take the matter to the international court of arbitration in Stockholm.
"It is possible that in arbitration we can change the volume of our debt to Gazprom, possibly no debt at all," Prodan said.
He insisted that "Ukraine is a reliable partner, a transit country and it will fulfil all its obligations to its European partners."
Ukraine is the main transit country for Russian gas supplies to EU countries, with previous price disputes having translated into gas cuts at the height of cold winters, leaving citizens in Bulgaria and Slovakia in the cold.
The situation has since improved, with increased reserves and the capacity to reverse the gas flow from less-dependent EU countries to the ones totally relying on Russian imports.
But with pro-Russian separatists shooting down two Ukrainian helicopters and with Russian President Vladimir Putin declaring a Geneva peace deal "no longer valid", the chances of a solution to the gas dispute are low.
Related   — 
Ukraine signs gas deal with Slovakia.
——————————————–
Above is a fine description of the situation when all what Brussels is ready to talk about is the supply of new gas to old pipelines – "in reverse."  we find this ridiculous because we did not hear of any of the parties running in the elections for the European Parliament saying in full light that Energy Policy is not a synonim for Gas Policy. Where is the call for investment in a long term solution that makes the gas unneeded? YES, THEY CAN – AND IT IS POSSIBLE TO DO IT!
In Austria we follow this topic closely by monitoring the position of the top people in the various parties – and even having picked up in private this topic with them – we found something that until today I used to call a Chicken's attitude.
I said that "until today" and this because my eyes opened up when the papers today  wrote about -
"A PIPELINE SPLITS EUROPE" – it is the Austrian Oil Company OEMV that has a contract with the Russian GAZPROM to build the SOUTH STREAM PIPELINE to bring Russian Gas under the Black Sea to Bulgaria – and from there via Serbia, Hungary to a branch to Austria -  that will link to Central Europe,  and another branch to Slovenia – that will supply Italy and West Europe.
The First leg is to follow the route: Bergowaja near Sochi in Russia – all the length of the Black Sea to Varna in Bulgaria -Pleven in Bulgaria – Subotica on the Serbian/Hungarian border – to Baumgarten in Lower Austria.
The idea is to bypass the Ukraine, Moldova, and Romania. This is an answer the Russians think to apply to their relations with their pesky Ukrainian neighbors,  and Austria is playing the European partner in this scheme.  With OEMV having strong connections to the Austrian political system – voila – the reason the Austrian parties are not keen to do more then just speak with low voice about true ENERGY INDEPENDENCE. I find this very disturbing, and though I do not want to be the first to point fingers – suffice to say that this might undermine many good positions Austria has in its attempt to help solve in a logic way the Ukraine/Russian controversy – something that becomes impossible if the government ends up speaking for the National Oil Company.
###
In a rather conspicuous propaganda stunt, Hamas, the terror group ruling Gaza, foisted a new billboard showing the heads of its Islamist leadership, along with the leaders of Turkey and Qatar, with a caption that implies their help has been recruited to wrest Jerusalem from Israeli control.
The billboard shows Hamas political chief  Khaled Meshal and Prime Minister Ismail Haniyeh, alongside previous and current Qatari leaders Sheikh Hamad bin Khalifa Al Thani and Sheikh Tamim bin Hamad, with Turkish President Recep Tayyip Erdogan.
The billboard reads "Jerusalem is Waiting for Men," along with a photo of the Dome of the Rock.
The massive banner was photographed in Gaza by the Palestinian News Agency, and flagged on Thursday by blogger Elder of Ziyon.
The blogger wrote that the sign also implies two other messages.
First, the belittling of leaders of other Arab countries, especially Egypt, where Hamas gained under the Muslim Brotherhood leadership, and is now being shunned after that group, its political "big brother," was expelled last year.
And, second, that Hamas, which played second fiddle to Islamic Jihad in last month's shelling of Israel, is the stronger of the two groups and will be on the winning team to, one day, take Jerusalem.
===============================================
An Egyptian entrepreneur said he resents his country's hostility to Israel which prevents him from openly conducting any business with the Jewish state, Egyptian daily Al-Ahram reported late last week.
"It is very unfortunate that we cannot be pragmatic and say this particular country has good quality and inexpensive commodities and we are going to import from it because it is in our interest," said the unnamed Egyptian, who still does business with Israel on the down low. "After all these years an Israeli commodity on, say, the shelf of a supermarket would not be picked up except by a few people — if we assume that any supermarket would at all dare to carry, say, Israeli fruit juice."
Like most Egyptian businessmen who work with Israelis, he insisted on remaining anonymous for fear of being "stigmatized as dealing with the enemy," he told Al-Ahram.
"I really don't understand; we have a peace deal and we cannot do business, it has been 35 years since this peace treaty was signed and still it is a big issue if someone said let us do business with Israel or let us benefit of their agricultural expertise," he said.
Trade between Israel and Egypt dropped after President Hosni Mubarak was ousted in 2011, but government officials in Cairo say the fall was possibly a result of the subsequent political turmoil, according to the report.
Despite any current animosity Egypt may harbor toward Israel, an independent economic source told Al-Ahram that Egyptian authorities are considering all options in dealing with the country's current severe energy shortages, not excluding the import of natural gas from Israel.
"Cooperation in natural gas has been very stable for many years despite the suspension and trade dispute that occurred after the 25 January Revolution removed Mubarak — but this is the case with trade cooperation in general, limited and stable," said a government official.
==========================================
US Congress has things to tell the Palestinians and Iran with acceptable diplomacy in mind.
###
Palestinian students visit Auschwitz in first organized visit.
Visit is part of program that aims to teach Israeli and Palestinian students
about the other side's suffering in effort to study how empathy could
facilitate reconciliation.
By Matthew Kalman | Mar. 28, 2014
A group of 30 Palestinian students arrived at Auschwitz-Birkenau on
Thursday (yesterday), in what is believed to be the first organized visit by Palestinian
students to a Nazi death camp.
The students are spending several days in Kraków and O?wi?cim guided by two
Jewish Holocaust survivors.
A news blackout on the trip was requested by the organizers. The presence of
the Palestinian group at Auschwitz-Birkenau is being reported here for the
first time.
The students from Al-Quds University and Birzeit University, near Ramallah,
are participating in a joint program on Reconciliation and Conflict
Resolution with the Friedrich Schiller University in Jena, Germany, and
Ben-Gurion University of the Negev.
The program's aim is for Israeli and Palestinian students to learn about the
suffering that has helped shape the historical consciousness of the other
side.
Last week, a group of Israeli students visited the Dheisheh refugee camp,
located south of Bethlehem,  to learn about the Palestinian experience of
suffering during the founding of Israel in 1948 ­­– known to Palestinians as
the Nakba ("the catastrophe").
The reactions of each group will be studied by a group of PhD psychology
students to see whether exposure to the conflicting historical narrative
helps the students to understand their enemy, and facilitates efforts toward
reconciliation and coexistence.
The Palestinian side of the program is directed by Mohammed S. Dajani,
professor of American Studies at Al-Quds. Because of the Palestinian freeze
on joint projects with Israeli universities, the Palestinian students are
participating under the banner of Prof. Dajani's Wasatia movement of
moderate Islam.
Israeli groups regularly visit refugee camps in the West Bank searching for
cross-border understanding, but the Palestinian visit to Auschwitz is
unprecedented. It grew out of a visit by Prof. Dajani as part of a large
Jewish-Muslim-Christian delegation in 2011, after which he coauthored a New
York Times op-ed entitled "Why Palestinians Should Learn About the
Holocaust."
Since then, Prof. Dajani has written what he believes to be the first
objective introduction to the Holocaust for Palestinian students in Arabic,
which he hopes will become a textbook used in Palestinian schools and
universities.
"Basically, we want to study how empathy with the Other could help in the
process of reconciliation," Prof. Dajani says. "I feel I would like
Palestinians to explore the unexplored, and to meet these challenges where
you might find that within their community there will be a lot of pressure
on them not to do it or questioning why they are doing it, or that this is
propaganda. I feel that's nonsense."
Prof. Dajani says more than 70 students applied for the 30 places on the
Poland trip, but five later dropped out because of peer pressure.
He says the choice of Dheisheh for the Israeli students was not meant to
suggest there was an equivalence or even a direct link between the Holocaust
and the Nakba. They were chosen as the symbolic events that have deeply
affected the psyche on both sides of the conflict.
"We are seeking knowledge," he says. "We are seeking to know what has
happened; why did it happen; how can it be prevented from happening again? I
believe it is very important to break this wall of bigotry, ignorance and
racism that has separated us from crossing over to this new realm."
"One of my students asked me why we should learn about the Holocaust when
the Israelis want to ban even the use of the word 'Nakba,'" he adds. "My
response was: 'Because in doing so, you will be doing the right thing. If
they are not doing the right thing, that's their problem.'"
Prof. Dajani, who was banned from Israel for 25 years for his activities for
Fatah in Lebanon in the 1970s and '80s, says the student program is a
practical expression of his belief that Israelis and Palestinians can settle
their differences through compromise, moderation and human contact. He says
his own visit to the Nazi death camp had a profound effect that he wishes to
share with his students.
"I was also raised in the culture of denial, so for me, to go and see and
look and be on the ground – it was a very sad experience for me.
It had a lot of impact," he admits. "I was shocked about the inhumanity of
man to man. How can this happen? Why did it happen? Why would man be this
cruel?
"It was shocking for me, because it showed me the deep, deep, dark side of
human evil," he adds.
Prof. Dajani has a track record of espousing views that are unpopular with
the Palestinian academic mainstream. He is one of the few Palestinian
professors to openly oppose the call for Palestinians and others to boycott
Israeli universities.
Hanna Siniora, a veteran campaigner for Israeli-Palestinian reconciliation,
says Prof. Dajani's initiative should be welcomed.
"It's very important for people to see the viciousness of such acts,"
he says. "It should touch them in their humanity, in their sense of
understanding that human beings don't do evil things like that. This has
caused a major problem in the Israeli-Palestinian conflict, because the
psyche of the Israelis is so tormented by what happened to the Jewish people
that they cannot trust anybody.
"This is an educational trip. It opens the eyes and minds," he adds.
"If there is an empty place, I'd like to come along," he says.
###
Mixing Music in Istanbul: 
Turkish Jews and Their Sacred Songs
lecture/demonstration featuring
Maureen Jackson
special musical guest:
Munir Beken (oud)
at Center for Jewish History
15 W 16th Street in Manhattan
Admission is free – RSVP to info@jewishmusicforum.org
This lecture-demonstration explores the linked histories of Istanbul, its Jewish community, and historical musical traces of multi-religious music-making in Ottoman and Turkish society.  Author of Mixing Musics: Turkish Jewry and the Urban Landscape of a Sacred Song (Stanford University Press; winner of the National Jewish Book Award in Sephardic Culture, 2013), Dr. Maureen Jackson focuses on the Jewish religious repertoire known as the Maftirim, which developed in interaction with Ottoman court music. Her research in Istanbul illuminates the people, places, and practices that shaped an Ottoman music world, Jewish cultural life, and continuities and ruptures experienced across the 20th and 21st centuries. 
Munir Beken, an oud virtuoso and ethnomusicologist at UCLA's Herb Alpert School of Music will be on hand to perform musical examples that bring to life the Turkish musical forms at the heart of Dr. Jackson's study.
Dr. Maureen Jackson has received the Sabanc? International Research Award 2nd Prize in 2008 as well as grants from the Fulbright Foundation, National Endowment for the Humanities, and Turkish Cultural Foundation.
The Jewish Music Forum is a project of the American Society for Jewish Music, with the support of he American Jewish Historical Society and the Center for Jewish History. Founded in 2004, the Jewish MusicForum is now in its tenth season.
For more information please visit 
www
.
jewishmusicforum.org/
Panel Discussion
Passing the Torch: Jewish Music Archives
and the Future of Yiddish Song
moderated by
Mark Slobin
Sunday, April 6, 11:00AM
at Center for Jewish History
15 West 16th Street, Manhattan
Admission: $10
Around 1900, East European Jews became acutely aware of the impact of modernization and urbanization on their culture: on their songs, their tales, and customs. They set in motion a wide range of projects and institutions to gather, archive, and study fading folklore. YIVO was a pioneer in this push, along with a galaxy of Polish and Russian (later Soviet) activists. Today, with the loss of the original population and the huge demographic and cultural shifts of world Jewry, the surviving archives both preserve and channel a rising tide of interest, even a hunger, for what's called "Yiddish" music and folklore.
This symposium brings together archivists, scholars and performers to discuss the history and creation of Yiddish folk music archives, and the future of the study and performance of Yiddish song today. What is the role of Jewish music archives in fostering new scholarship and Yiddish music?
Wesleyan University ethnomusicologist  Mark Slobin will moderate the panel which will also feature CTMD artistic director Ethel Raim, Lorin Sklamberg (YIVO, The Klezmatics), Robert Rothstein (University of Massachusetts, Amherst), Gila Flam (National Library of Israel) and Lyudmila Sholokhova (YIVO).
The event is dedicated to the memory of Chana Mlotek, YIVO's Music Archivist from 1978 until her recent passing at age 91 in 2013. This program is made possible with the generous support of the Mlotek family. It is co-sponsored by the American Society for Jewish Music.  
featuring
Master Klezmer Clarinetist/Accordionist
Dance leading by 
Michael Alpert
Tuesday, April 22, 7:30PM-10:00PM
At the Stephen Wise Free Synagogue, 
30 W. 68th St. 
(btw Columbus and Central Park West on 
Manhattan's Upper West Side)  
CTMD's An-sky Institute for Jewish Culture is excited to bring back clarinetist/accordionist Isaac Sadigursky for a special program on Bessarabian* klezmer. Born in Belts, Moldova, the Los Angeles-based clarinetist/accordionist Isaac Sadigursky is a major exponent of the Bessarabian klezmer tradition and its rich Ottoman/Balkan-influenced repertoire.
Lace up your dancing shoes for a special Tantshoyz Yiddish Dance Party as Sadigursky will lead an all-star band with dance leading by Michael Alpert. Folks new to Yiddish Dance absolutely welcome! 
Instrumentalists can come at 5:30PM for a special workshop (extra charges apply), and hang around for a jam session at the end of the evening.
Presented as part of the New York Klezmer Series, curated by Aaron Alexander.
*Bessarabia, a historic region between the Prut and Dniester Rivers, named after the Basarab ruling dynasty is geographically equivalent to today's Republic of Moldova, inclusive of the contested Transnistrian Republic.  The region has been a fascinating cultural crossroads for centuries, fought over by the Ottoman and Romanov empires, then Romanian and later Soviet until the fall of the USSR. The region's largest city is
Chisinau
 (Yiddish: Kishinev).
The Internet's leading site for Yiddish folksong!
Online at www.yiddishsong.wordpress.com
Hundreds of Yiddish song enthusiasts from all over the world participate in an online community surrounding CTMD's Yiddish Song of the Week blog – the internet's leading destination for information, recordings and transcriptions of rare Yiddish folksong repertoire. Blog editor Itzik Gottesman of the Yiddish Forverts newspaper and a group of leading song researchers post their favorite field recordings of important traditional folksingers such as Lifshe Schaechter-Widman, Tsunye Rymer, Josh Waletzky, Beyle Schaechter-Gottesman and many others. 
Sponsors and Credits
Major support for the

An-sky Institute for Jewish Culture

is provided to the Center for Traditional Music and Dance by the Keller-Shatanoff Foundation and the National Endowment for the Arts. Additional support is provided by the Atran Foundation as well as public funds from the New York State Council on the Arts, a State agency and the New York City Department of Cultural Affairs, the Scherman Foundation, Con Edison, the Hearst Foundation, the Mertz Gilmore Foundation, Friends of Cantor Janet Leuchter and the Fan Fox and Leslie R. Samuels Foundation. We are grateful additionally to the Forward Association for providing seed funding for the Institute. Photo of Isaac Sadigursky courtesy of YiddishkaytLA. Photo of Lifshe Schaechter-Widman courtesy of Itzik Gottesman.
###
March 20, 2014 10:43 am
by Joshua Levitt, The Algemeiner.
Israeli President Shimon Peres delivering a festive greeting for Nowruz, the Persian New Year, on March 20, 2014. Photo: Screenshot.
Israeli President Shimon Peres on Thursday spoke to the people of Iran by delivering a festive greeting for Nowruz, the Persian New Year, through interviews with Persian language radio stations, Israel Radio Persian and Radio Farda, and via his YouTube channel.
Beginning with the traditional Persian greeting, Peres said, "Iraniane Gerami, Novruzetan Piruz Bad," or "Iranian citizens, wherever you are, Happy Nowruz."
"The Jewish people and the Persian people, the Iranian people have a very long history and we're going to have a long future," he said in the radio address. "We are old cultures, we learn history, we make history and we respect history. We have a heritage of values; we are not just business peoples but two nations that respect culture, that respect human dignity. We call to live in peace and understanding."
Ending the message he said, "Let us have a year of science and of peace, without war and threats. Happy Nowruz!"
In the interviews he granted to the Persian-language outlets, Peres spoke about his experiences and memories of his visits to Iran during the time of the Shah, when relations and diplomacy between the countries were different.
He said,"I don't have a special message for the people of Iran because it is the same message as the people of Israel: Let's forget wars, let our young people build a new future. Let's talk to each other, directly, without prejudices. We still have a great deal to do to make the world better, let's march together to this goal."
When asked about the future relations between the two countries, Peres said, "I think Israel will become the contributing member of the Middle East, I think our children and Arab children, Druze, Christians, everybody will go to the same universities and their major challenge will be the new ideas, the new discoveries."
"I do believe that the young generation of Iran, like the young generation all over the world will choose to live in peace, in cooperation," he said. "Instead of fighting, let's compete in scientific endeavor. In competition everybody wins, in war everybody loses."
###
Message to the Iranian People on Nowruz
Press Statement
John Kerry
Secretary of State
Washington, DC

---
I'm privileged to join President Obama in wishing the people of Iran and all those who celebrate around the world — from East Asia to the Persian Gulf region — a happy, healthy, and prosperous Nowruz.
All who celebrate Nowruz remember that it is not just an ancient tradition dating back over 3,000 years, but a time of renewal and hope. This season we reflect on the shared humanity that binds us together.
My own family is stronger today because of the presence and love of Iranian-Americans, and I am proud of the family ties that we Americans have to Iran and its people. Here in America, we value the significant contributions that Iranian-Americans continue to make, whether it's in science, medicine, engineering, business, art, or so many other ways.
On this Nowruz, we reaffirm our belief that strengthening cultural and academic ties between our two countries benefits our two peoples. Today, I am pleased to note that the Treasury Department will issue a new General License that will enhance educational ties between Iran and the United States through exchanges and the provision of new opportunities for Iranians to study in our country.
It's not lost on any of us that the United States and Iran have endured harsh winters in our past, but gathering to welcome Spring and the New Year with friends and family is an opportunity to look forward to what can lie ahead with hard work and commitment. And it is our hope that the people of Iran will be able to fulfill their aspirations in their own society in the coming year.
So as you gather with your loved ones around the Haft Seen Sofreh, the United States wishes you a joyous New Year filled with the hope for a better tomorrow.
Nowruzetan Pirooz!
The Office of Website Management, Bureau of Public Affairs, manages this site as a portal for information from the U.S. State Department.
———————————–
Re: Working on Happiness Week 2014?
HI all:
Here is the information about the International Day of Happiness being celebrated this year at the UN on the Day of Nowruz. See attached flyer.
The International Day of Happiness events is co-hosted by the Permanent Mission of El Salvador to theUnited Nations on Thursday, March 20, 2014.
The first event is from 10:30 AM to 12 PM titled "Happiness Happening: Impacting Communities Globally" and will be held in the UN Delegates Dining Room.
The Second event is from 3:15 PM to 6 PM titled "Social Entrepreneurs: Sharing Happiness Initiatives for the Post 2015 Agenda" and will also beheld in the UN Delegates Dining Room.
There will also be an invitation only luncheon with a panel.
This information is from Dr. Judy Kuriansky
###
B'nai B'rith Attends Unveiling of Iranian Arms Shipment
B'nai B'rith World Center Director Alan Schneider was on hand at the Eilat Naval Base as a guest of the prime minister's office for the unveiling of the Iranian arms shipment intercepted last week by the Israeli Navy in the Red Sea. The cache of 40 M-302 rockets, 181 122 mm mortar shells and 400,000 rounds of machine gun bullets found hidden under bags of cement marked "Made in Iran" and was destined for terrorists in the Gaza Strip to use against Israel.
Speaking in front of the exhibition to 70 foreign journalists, 30 military attaches and other invited guests, Israeli Prime Minister Benjamin Netanyahu expressed exasperation with the lack of international condemnation of Iran in the face of this blatant violation of international law.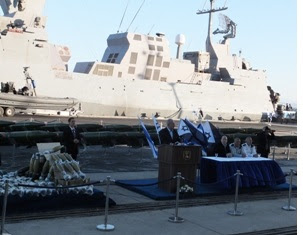 "There are those who would prefer that we do not hold this news conference here today. They feel uncomfortable that we show what is really happening inside Iran. They prefer that we continue to nurture the illusion that Iran has changed direction. They're not prepared to recognize that Iran, a brutal regime, has not abandoned its deep involvement in terrorism, its systematic efforts to undermine peace and security throughout the Middle East, and its ambition to destroy the State of Israel," Netanyahu said. "They conveniently ignore Iran's continued criminal aggression in the mass killings in Syria; in supporting the terrorist organizations in Lebanon, in Gaza; in subversion throughout the Middle East; in dispatching terrorists to five continents; in the execution of hundreds of innocent people inside Iran every year. Above all, they deceive themselves into believing that Iran has given up its goal of developing nuclear weapons."
Following Netanyahu, Defense Minister Moshe Ya'alon said that the smuggled arms were "another example of the fact that the Iranian regime is actually the largest terror exporter in the world. There is no conflict in the Middle East that this regime does not nourish with weapons or ammunition, with money or knowledge in terrorism." He accused Iran of using its diplomatic pouch to transport explosives to Iranian embassies in Asia and South America.
B'nai B'rith Mission to Nazi Concentration Camp with Members of the European Parliament
A delegation of Spanish Members of European Parliament participated in a joint B'nai B'rith International and B'nai B'rith France mission to the Nazi concentration camp Natzweiler-Struthof. The delegation included of former Spanish Minister of Interior and MEP Jaime Mayor Oreja, MEP Rosa Estaràs Ferragut, MEP Teresa Jiménez Becerril and MEP Agustín Díaz de Mera. The delegation was accompanied by B'nai B'rith Director for EU Affairs Nuno Wahnon Martins and the President of the Strasbourg Hischler Lodge Marcel Kohen. The mission was covered by Radio Judaica Strasbourg.
The camp, located one hour from the European Parliament in Strasbourg, France, is an especially poignant site of remembrance, because was not only was it used as a concentration camp, but also a death camp that employed the use of gas chambers, killing thousands Jews, Roma, homosexuals and political prisoners from around Europe. It was a very emotional visit, where the MEPs paid tribute to the victims of World War II and were able to better understand the challenges created by all forms of discrimination and Holocaust denial within the European Union.
B'nai B'rith Defends Hate Crimes Law
B'nai B'rith joined other civil rights groups in filing an amicus, or friend-of-the-court, brief in the case of United States v. Miller, urging the 6th U.S. Circuit Court of Appeals to uphold the constitutionality of a key federal hate crimes law. The brief also called on the court to affirm that the Matthew Shepard and James Byrd, Jr. Hate Crimes Prevention Act, whose passage in 2009 B'nai B'rith advocated for, applies to cases in which religiously motivated violence involves victims and perpetrators who share the same faith.
B'nai B'rith Supports Voting Rights Legislation
B'nai B'rith joined other Jewish organizations in signing a letter to Congress calling for passage of the Voting Rights Amendment Act of 2014. The legislation would replace critical voter protections that prohibited discriminatory voting practices but have been stripped away by federal courts.
###
03/04/2014 05:57 AM EST
Remarks at the American Israel Public Affairs Committee Conference.
Remarks
John Kerry
Secretary of State
Washington Convention Center

Washington, DC

March 3, 2014
---
Norm, thank you. Thank you very, very much. Thank you all, 14,000 strong or more. (Applause.) Howard, Howard Friedman and Executive Director Howard Kohr, incoming president Bob Cohen, incoming chairman Michael Kassen, outgoing chairman Lee Rosenberg, and Ambassador Ron Dermer and Ambassador Dan Shapiro. I don't know where our ambassadors are. Would they – somebody ought to applaud both of them here. (Applause.) There they are. Thanks for your own, Norman.
Let me tell you, it really is an enormous pleasure for me to be able to be here. It's a privilege. And good to see so many friends, all 14,000 of you – a little frightening to see myself on about eight, nine, ten screens up here – (laughter). The last time I spoke to AIPAC, I joined your national summit in Napa Valley. I did it via satellite. And you were in the vineyards, I was overseas – a different kind of vineyard. So today, I think I'm getting the better end of the deal because I am here with you in person, and your wine selection is a lot more limited this time.
I have to tell you, I had the pleasure of speaking to AIPAC back in the 1990s, it was a great honor, and every time I come here, whether I get a chance to talk to a smaller group during the daytime sessions or otherwise, this is a remarkably inspiring gathering – people from every corner of the country coming together to demonstrate our deep support as Americans for a strong U.S.-Israel relationship. (Applause.)
And it is no exaggeration. It's not just words to say that every single one of you brings here such a special passion to a cause that you so fiercely believe in. And let me tell you something unequivocally: After almost 30 years in the United States Senate, I can tell you that is precisely why AIPAC's work is in the best traditions of American democracy, and I thank you for practicing it. (Applause.)
I want you to know that in my judgment, these democratic values are stamped in the DNA of both the United States and Israel. But we also share something much deeper than that. Like no other two countries on the planet, against the deepest odds, both America and Israel confidently, purposefully set out to be examples to the world. Think about it. From its earliest days, Israel has always said it's not enough just to be one of many in a community of nations; Israel has strived since Isaiah's time to serve as a light unto the nations. (Applause.) And that responsibility to be a light unto the nations sounds actually unbelievably similar to something that we as Americans know is part of who we are, too.
My grandfather ten times over – too hard to count in other terms – was a man by the name of John Winthrop. And he came to what was then the New World, and he came in search of freedom, freedom to worship as he wished. He was a minister. He and his congregants were outcasts, persecuted, heading into a rough and unforgiving land with no guarantee even of survival. And on his way here, he delivered a now fairly famous sermon at sea in which he called on his community to create a city upon a hill in their new home, America.
So whether you call it a city upon a hill or a light unto the nations, it actually means the same thing: being a model to the world. It means having a home that sets a standard, a standard of dignity and a standard of freedom. So the foundation of the friendship between the American people and the people of Israel was actually laid centuries before a single stone was set under the U.S. Capitol or under the Knesset. And looking around this room tonight, it is clear that our friendship has never been stronger. (Applause.)
And I'll tell you why. Because today, as Israel faces serious challenges to her future, it is America that will stand firmly by her side. (Applause.) I will tell you that with the leadership of President Obama – and you can look it up, you can measure it; this is not an exaggeration, it's a matter of fact – there has been a complete, unmatched commitment to Israel's security. The record of this Administration in providing aid and assistance, consultation, weapons, help, standing up in various international fora, fighting, I am proud to tell you, is unrivaled. And the bottom line, pure and simple, has been making sure that Israel has the means to defend itself by itself and defending Israel's right to be able to do so. That is what we've done. (Applause.)
Security. Security is fundamentally what President Obama is committed to. And so too is he committed to using the full force of our diplomacy to resolve the two great questions that most matter when it comes to ensuring the security of Israel: preventing a nuclear Iran and ending the Israeli-Palestinian conflict. (Applause.)
Now let me start with Iran because I know there are many questions. I know many people – there's been a healthy debate about the approach. We welcome that. But let me sum up President Obama's policy in 10 simple, clear words, unequivocal: We will not permit Iran to obtain a nuclear weapon, period. (Applause.) Now, I added an eleventh word just for punctuation. (Laughter.)
But I want you to understand there are no if, ands, or buts. This is not a political policy. This is a real foreign policy. And we mean every word of what we say. You have the word of the President of the United States that Iran will not get a nuclear weapon. Now, as we said at the outset, and I say it again today, our diplomacy is guided by a simple bottom line: No deal is better than a bad deal. (Applause.) And we absolutely will not accept a bad deal. We are committed to a deal that gets the job done. (Applause.)
Why? Because we get it, we understand it. As President Obama said in Jerusalem, no one can question why Israel looks at the Iranian program and sees an existential threat. We understand it. We understand it in our gut. And we also know something else. This is not some favor that we do for Israel. This is something that is also in the interest of the United States of America, and it's in the interest of countries surrounding Israel. (Applause.) A nuclear bomb for Iran would also threaten the stability of the region, indeed the entire world. It would produce an arms race among the surrounding countries. There is no way the world is safer anywhere in the world with a nuclear weapon in Iran, and we are not going to let it happen, period, end of story. (Applause.)
Now, to do that, to achieve this all-important goal, important for America's security and for Israel's security, it is crucial that we seizes what might be the last best chance to be able to have diplomacy work, and maybe the last chance for quite some time. Because the reality is only strong diplomacy can fully and permanently achieve the goal. Those who say strike and hit need to go look at exactly what happens after you've done that, whether that permanently eliminates the program or opens up all kinds of other possibilities, including Iran leaving the Nuclear Proliferation Treaty, not even allowing IAEA inspectors in, not living under any international regimen. That's a possibility. Only strong diplomacy can guarantee that a nuclear weapons program actually goes away for good instead of just going underground and becoming more dangerous. Only the exhaustion of diplomacy can justify more forceful options if you have to take them in the end.
So we say – President Obama and myself and others – we say let's seize the diplomatic moment. And that's what we are trying to do. And the truth is it is strong diplomacy that has actually made this moment possible. And we need to give it the space to work. We need to make sure that if this opportunity were to elude us, it is not because we are the ones that close the window.
Now, I understand the skepticism. I've been around this city for 29-plus years as a senator, became chairman of the foreign relations committee, worked with most of the members of your board and with AIPAC and others around the country, and proud to tell you that during that time I had a 100 percent voting record for Israel. (Applause.)
And I'm not coming here to stand up in front of you and tell you that I know that Iran is going to reach an agreement. I don't know. I don't know what they'll do. I don't know if they are able to make some of the tough decisions they're going to have to make in the months ahead. But I know that if the United States is going to be able to look the world in the eye and say we have to do something, we have to have exhausted the possibilities available to us for that diplomatic peaceful resolution. Let me make it clear our approach is not Ronald Reagan's and the Soviets –We're not looking at this and saying trust, but verify. Our approach is a much more complex and dangerous world – it's verify and verify. And that's what we intend to do. (Applause.)
Now, there is very good reason for these sanctions to exist in the first place, and good reason that we have kept the architecture of these sanctions in place. And we continue to enforce it even as we negotiate a comprehensive agreement. In the last weeks, we have announced additional sanctions with respect to individuals who have been tempted to go around it or violate it. We have not changed one piece of the sanctions architecture. And yet we are able to negotiate. Our eyes, my friends, are wide open. This is not a process that is open-ended. This is not a process that is about trusting Tehran. This is about testing Tehran. And you can be sure that if Iran fails this test, America will not fail Israel. That, I promise. (Applause.)
Now, we have taken no options off the table, but so far there is no question but that tough sanctions and strong diplomacy are already making Israel and America safer. The first step agreement, the first step agreement – it's not an interim agreement, it's a first step agreement – and the agreement that's in force today didn't just halt the advance of the Iranian nuclear program for the first time in a decade; it's actually rolled it back. And we all remember how Prime Minister Netanyahu highlighted Iran's 20 percent enriched uranium in the 2012 speech at the United Nations. Well, today Iran is reducing its stockpile of 20 percent uranium. And without the agreement in force today, the opposite would have been in effect. The stockpile would have grown even more dangerous, and the amount of breakout time that they have would have grown smaller. Because of the agreement, Iran will soon have to take its entire stock of 20 percent enriched uranium down to zero. Zero. Zero. (Applause.) You don't have to be a math major to know that Israel is safer when Iran has zero uranium enriched to 20 percent, and that's what we've achieved.
The same independent inspectors who also tell us that Iran has halted its advances on the heavy water reactor known as the Arak reactor, without the agreement in force today, we could not have stopped them making progress on the Arak heavy water reactor, plutonium reactor. Iran has also stopped enriching all uranium above 5 percent, and it has given inspectors daily access to the facilities at Natanz and at Fordow. You know Fordow, you've heard about it, that underground facility that was a secret for so long. We've never had people in it. But because of this first step agreement, we now have people inside Fordow every single day telling us what is happening. (Applause.)
None of these things would have happened without forceful diplomacy by the United States and our international partners. But now, my friends, we have to finish the job. Like I tell my staff, there aren't any exit polls in foreign policy. It's results that count, final results. And that means we have to let forceful diplomacy keep working in order to put this test to Iran.
Now, right now we are carefully – and I mean carefully – negotiating a comprehensive agreement. We are consulting with our friends in Israel constantly. The minute Under Secretary Wendy Sherman finished her last set of meetings in Vienna the other day, she went immediately to Israel, briefed thoroughly on the talks, then went to Saudi Arabia and the United Arab Emirates and continued to brief and briefed our European partners.
You might be asking: If no deal is better than a bad deal, what does the United States consider a good deal? Well, you have my word – and the President's – that the United States will only sign an agreement that answers three critical questions the right way. First, will it make certain that Iran cannot obtain a nuclear weapon? Second, can it continuously assure the world that Iran's program remains entirely peaceful as it claims? And third, will the agreement increase our visibility on the nuclear program and expand the breakout time so that if they were to try to go for a bomb, we know we will have time to act?
Those are the tests. Those are our standards for any comprehensive agreement. It's that simple. And those objectives, if they're not met, then there won't be an agreement. (Applause.) Now make no mistake, make no mistake; we can't resolve the answer to those questions. It's up to Iran. It's up to Iran to prove to the world that its program is peaceful, and the world will hold Iran accountable.
Now, if it turns out that Iran cannot address the world's concerns, I guarantee you it will face more pressure, Iran will face more pressure, more and more isolation. And Congress will introduce more tough sanctions. And let me assure you – I know Eric Cantor is here, sitting here – I assure you it'll take about two hours to get it through the House and the Senate and it won't be delayed and the Congress will have to do nothing more than schedule the vote, because President Obama and I fully support those sanctions under those circumstances. (Applause.)
In the meantime, as I said earlier, we are enforcing every letter of the existing sanctions. I have personally instructed every State Department bureau and mission around the world to watch vigilantly for any signs of the sanctions being skirted. And to any country that wants to trade with Iran with these sanctions firmly in place, the United States will tell them exactly what I have told foreign leaders in no uncertain terms: Iran is not open for business until Iran is closed for nuclear bombs. (Applause.)
Now, strong diplomacy is also essential to another threat to Israel's security: ending the conflict with the Palestinians, and in doing so, preserving the Jewish and democratic nature of the state of Israel. (Applause.) I've had some folks ask me why I'm so committed to these negotiations and why I'm so convinced that peace is actually possible. And they ask, "Why does John Kerry go to Israel so often?" I think I heard Steny Hoyer say he'd been there 13 times, Eric Cantor who's been there 12 times. I've been there more times than that just in the last nine months. (Laughter.) And I've been in the Middle East more times than even that in the last months because I don't always wind up going to Israel.
But apart from the question, I'm surprised because people ask, because apart from my affection for Israel which dates back to my first visit back in 1986, and it just strikes me that it's the wrong question to ask, why do I go. This isn't about me. This is about the dreams of Israelis and the dignity of Palestinians. It's about reconciling two peoples who want at long last to live normal secure lives in the land that they have fought over for so long. It's about answering King David's timeless call that we seek peace and pursue it. It's about fulfilling the fervent prayer for peace that Jews around the world recite to welcome Shabbat. It's about parents from Tsefat to Eilat who want to raise their families in a region that accepts the nation-state of the Jewish people is here to stay. (Applause.)
Now, it's not news to any Israeli to hear me say that they live in a difficult neighborhood. Israelis know that better than anyone. No one needs to explain the importance of peace and security to a mother who has just sent her daughter to the army or a son who is waiting for his father to come home from another mission. No one knows the stakes of success or failure better than those who will inherit them for generations to come. And I have seen all of these realities in so many different ways in my travels in Israel, from the rocket casings in Sderot to the shelter in Kiryat Shmona that I visited years ago where children had to hide from Katyusha rockets. I've seen it.
My friends, I also believe that we are at a point in history that requires the United States as Israel's closest friend and the world's preeminent power to do everything we can to help end this conflict once and for all. Now, that is why America – (applause) – that is why America helped bring the parties back to the table, where, let's be honest, Israelis and Palestinians have difficult choices to make. And no one understands just how complex those choices are or how emotional they are better than the leaders who have to summon the courage in order to actually make them.
I have sat with Bibi Netanyahu for hours and hours and days and days. We have become good friends. (Applause.) I believe – in fact, he ought to be charging me rent. (Laughter.) I've seen up close and personally the grit and the guts of this man and his love of country. And I can tell you with absolute certainty and without question, Prime Minister Netanyahu has demonstrated his courage and his commitment in pursuit of peace with security. (Applause.) He knows that it is the only way for Israel to be a Jewish and democratic state; not a bi-national state. (Applause.)
As President Obama said publicly in the Oval Office today, and I quote him: "Prime Minister Netanyahu has approached these negotiations with a level of seriousness and commitment that reflects his leadership and the desire of the Israeli people for peace."
Thus far, I will tell you also that President Abbas, and I know there are many doubters here – I've heard the arguments for 30-plus years, 40 years – that there's no partner for peace, that Abbas won't be there, that – both sides, by the way, say the same thing about each other. That's one of the difficulties we have to try get through here. A very small needle to try to thread in terms of the trust deficit. Thus far, President Abbas, I will tell you, has demonstrated he wants to be a partner for peace. He's committed to trying to end the conflict in all of its claims, but he obviously has a point of view about what's fair and how he can do that. Let's be candid. I know that some of you doubt that. But as Israeli security officials will attest, President Abbas has been genuinely committed against violence, and his own security forces have worked closely with Israel in order to prevent violence against Israeli citizens.
I've also spent many hours with President Abbas, and I believe that he clearly understands both the tremendous benefits of peace and the great costs of failure. He understands that in terms of his own people, his own grandchildren, the country he hopes to be able to lead, and in terms of the history that beleaguers all. He knows the Palestinian people will never experience the self determination that they seek in a state of their own without ending the conflict in a solution that delivers two states for two peoples. (Applause.)
And so does Prime Minister Netanyahu. When Bibi looks me in the eye and says, "I can't accept a deal with Palestinians that doesn't make the people of Israel safer," we agree 100 percent. (Applause.) But I argue that there is a distinction between a unilateral withdrawal from Lebanon or from Gaza where nothing is resolved, and a phased withdrawal that is negotiated where everything is at least in an agreement resolved.
Now, I learned about Israel's security on many different trips over there, but one stands out. I was – I'd been a pilot since I was in college and I was on a trip over there. I was having a luncheon at Ovda Airbase with the Israel Air Force. And the colonel who was in charge was – had flown. He was an ace from the Six-Day War. And we were having lunch at the time at Ovda and I had been badgering them to maybe let me go up and fly. And they disappeared at lunch and finally he comes back and he says, "Senator, I hope you don't eat too much. We're going flying." I said, "Wow, great. This is what I've wanted." And we went out, the two of us, drove out to this jet, and he trusted me. We put on our helmets, got in the jet, and he says, "The moment we're off the ground, it's your airplane."
So literally, we took off, I take the stick, we go up, we're flying around. Next thing I know in my ear he says, "Senator, you better turn faster. You're going over Egypt." (Laughter.) So I turned very fast and then I asked him if I could do some aerobatics over the Negev. And I turned upside down and did a big loop and I was coming down, I was looking upside-down, and I said to myself, "This is perfect." I could see all of the Sinai. I could see Aqaba. I could see Jordan. I see all of Israel below me, each side to each side. Said, "This is the perfect way to see the Middle East upside-down and backwards." I understand it. (Applause.)
The real point of this story is just to tell you that I can't tell you the imprint on me, being up there and tiny – almost turning. You had barely space to turn. You get the sense of a missile from here, or a rocket from there, or the threat of war. You understand it's impossible to ignore just how narrow those borders are, how vulnerable Israel can be, and why Israel's security is our first priority. We understand that. (Applause.)
That is why, my friends, President Obama sent a four-star general, John Allen, one of the most respected minds in United States military to do something we've never done in all the history of administrations negotiating for Israel's and Palestinians' future and that is to work with Israelis and Jordanians and Palestinians to make the Jordan River border as strong as the strongest borders on Earth. That's what makes this effort different from anything we've ever done before. With the combination of the best military experience America can offer and the best ideas in the Pentagon and the best technology that we could deliver, we believe we can deliver to Israel security that Israel needs in order to make peace, and President Obama is committed to doing that.
Now we have no illusions. We saw what happened after Israel withdrew unilaterally from Gaza and Lebanon. We all learned lessons from that, I hope. That's why a negotiated agreement is so important. That's why the security arrangements that we are helping to design will need to be operationally proven. We're not doing this on a whim and a prayer. We will never let the West Bank turn into another Gaza. (Applause.)
My friends, we understand that Israel has to be strong in order to make peace. But we also understand that peace will make Israel stronger. Any peace agreement must also guarantee Israel's identity as a Jewish homeland. (Applause.) As Ehud Barak said on this stage last year, a two-state solution is the only way for Israel to stay true to its founding principles – to remain both Jewish and democratic. At last year's AIPAC conference, he said statehood is not a favor for the Palestinians, and let me reaffirm: He is right; it is not.
Israel also needs peace in order to create greater prosperity. All of you here know the great economic benefits of peace. All of you have already seen what Israel has already been able to build with the forces of the region that raid against it. Just imagine what it will be able to build as a result of peace with Palestinian neighbors. I've had the foreign minister of one of the surrounding countries – a very wealthy country and a very smart foreign minister say to me if we make peace – this is under the Arab Peace Initiative and the Arab Follow-on Committee that is following everything we're doing very closely and supporting it – and they said if we make peace, Israel will trade more in this community within a few years than it trades with Europe today. That's what we have available to us. (Applause.) And I believe that we need to stand together with a single voice to reject any of the arbitrary unwarranted boycotts of Israel. For more than 30 years, I have staunchly, loudly, unapologetically opposed boycotts of Israel – (applause) – and I will continue to oppose those boycotts of Israel. That will never change. (Applause.)
Every time that Israel is subjected to attacks on its legitimacy, whether at the United Nations or from any nation, the United States will use every tool we have to defeat those efforts and we will stand with Israel. (Applause.)
Finally, peace demands that Israel fulfill its destiny not just as a nation but also as a neighbor. And that begins with the Palestinians, and it extends to the entire Arab League whose Arab Peace Initiative can open the door to peace and normalized relations with 20 additional Arab countries and a total of 55 Muslim countries. The upheaval in the Middle East has shown us all that Arabs and Israelis share some of the very same security concerns. Without the Palestinian conflict to divide them, these common interests can grow into real relationships and transform Israel's standing in the region. And I just invite you – I promise you these conversations take place. I've had them throughout the Gulf region, throughout the Middle East, where increasingly those countries begin to see the possibilities of mutual security interests coming together for all of them against an Iran, against terrorism, against religious extremism. This is a commonality that is a new thread in the region, and I believe it brings the potential of new possibilities.
It is also important to remember that ending the conflict means ending the incitement. President Abbas has called incitement a germ that must be removed. And he has sought our help in order to try to deal with the problem. And I can tell you that with any final agreement it will also include a larger endeavor in order to help people on both sides move beyond a painful past and promote a culture of peace and tolerance.
After all these years, my friends, it is really no mystery what the end-game really looks like. I think you know that in your hearts. We understand what the end-game is. I know what peace looks like. When I talk to Prime Minister Netanyahu and others, I think everybody shares this because this is not new. After Camp David and Oslo and Wye and Annapolis and Taba and all of these efforts, what the end-game should look like is straightforward: security arrangements that leave Israelis more secure, not less; mutual recognition of the nation-state of the Jewish people and the nation-state of the Palestinian people; an end to the conflict and to all claims; a just and agreed solution for Palestinian refugees, one that does not diminish the Jewish character of the state of Israel; and a resolution that finally allows Jerusalem to live up to its name as the City of Peace. (Applause.)
It will take hard work. I'm not pretending any of the answers – these are all narrative issues. They're tough issues. They complicated. But there is a vision of peace, and it takes tough choices on both sides, especially over the coming days. I guarantee you that America, that President Obama and this Administration will be there every day of the week, every step of the way. And we will stand with Israel's leaders today and with the leaders of the future. And we will ensure that our light shines not just throughout the nations, but throughout the generations.
Leaders like a fellow named Guy – I'll leave his last name out – but he's a young Israeli who took part in an exchange program with the State Department, sponsors that brings Israelis and Palestinians together to talk about their histories and their hopes. Guy's grandparents fled Europe. He was born and raised in Jerusalem. He served in the IDF. And he worked as an entrepreneur in Israel's booming tech industry. And this is what he said in that program: We respect our past, but we don't want to live it. We are young enough to dream, to believe that change is possible, and that fear can be defeated.
I think Guy is right. Change is possible. Fear can be defeated. But those are choices we have to make now.
My friends, a few months ago I landed in Tel Aviv and it was the 18th anniversary of Yitzhak Rabin's assassination. I went straight to Kikar Rabin, and I stood with the late-prime minister's daughter, Dalia, at the site of her father's murder. And we stood just steps away from where the great general, in the last moments of his life, sang the famous lyrics of Shir LaShalom: Don't whisper a prayer; sing a song of peace in a loud voice. Don't say the day will come; bring that day. (Applause.) That is our mission. All of us, in whatever capacity that we can, but just as important our mission is also to raise our voices for peace, and we also need to listen. We have to listen to those who first gave voice to our values, voices that still echo thousands of years later.
He almost – I think it was the first time I went to Israel. I spent a week there and went all over the country and like many first-time visitors, I climbed Masada. I climbed it with a guide – some of you may know him or heard of him, a fellow by the name of Yadin Roman. Yadin, the publisher of Eretz Israel. And our group debated Josephus Flavius's account of what happened on the top of that mountain, the account of what happened 2,000 years before we were there.
Then Yadin, after we'd had this long debate, made us all vote to determine did it happen as he recounted or was it different. And we all voted unanimously it did happen the way he recounted. He told us to then walk to the edge of the precipice which we did, and to look out across the chasm and to shout, to shout across the ancestral home of the Jewish people. And as we stood where every new Israeli soldier begins his or her service, by swearing an oath to honor that history and secure the future, Yadin instructed us to shout, all at the same time, "Am Yisrael chai." We shouted. (Applause.) And then I have to tell you, echoing across the chasm in the most eerie and unbelievably unforgettable way were these haunting echoes of "Am Yisrael chai, Am Yisrael chai, chai, chai." I'll never forget hearing the echo of those words bouncing off that mountain. It was literally like we were hearing the voices of the souls of those who had perished sacrificing their lives for Israel a thousand years ago. And we were affirming those words, the state of Israel lives. The people of Israel live.
We have to listen to those voices. Those long ago who encouraged us to build a city on a hill to be a light unto the nations, an example to the world, to ensure Israel's survival. And we have to listen to the voices of young people whose futures depend on the choices that we, the leaders of today, make. It's for their future that we will give new strength to the U.S.-Israel partnership as AIPAC does like no other organization in our country. It's for their future that we will come together giving greater voice to the timeless oath and we will remember forever those words and be driven by them: "Am Yisrael chai" will be said generations upon generations into the future because of the work you do and the work we will do together.
Thank you all very much. Honored to be with you. (Applause.)
The Office of Website Management, Bureau of Public Affairs, manages this site as a portal for information from the U.S. State Department.
###
IRAN PULSE, Al-Monitor
Summary?

Print
In a telephone interview with Al-Monitor, Masoumeh Ebtekar, the head of Iran's Environmental Protection Organization, said that many of the plans to address Tehran's pollution were not implemented under the previous administration.
Iran's environment VP to Al-Monitor: 'We lost eight years'
Tehran, the overpopulated and heavily polluted capital city of Iran, is in constant struggle with environmental issues. Among the most drastic and dangerous issues is the city's ever-present pollution, which worsens in winter, causing schools and offices to close on some days, and prompting officials to caution residents — in particular children, the elderly and sick — to refrain from leaving their homes.
President Hassan Rouhani has invested his hopes in Masoumeh Ebtekar to resolve these issues. Ebtekar, 53, was the first woman to become a Cabinet member and a vice president after the 1979 Islamic Revolution. Ebtekar, who spent part of her childhood in the United States and attended an American school in Tehran afterward, became a well-known face during the hostage crisis. Due to her fluency in English, she was the spokeswoman and translator for the hostage-takers.
###
We pay a price for weakness.
The Post reports: "The U.N. Security Council on Saturday unanimously approved a resolution demanding that Syria immediately halt attacks on civilians and allow unfettered humanitarian access to besieged areas and across neighboring borders, threatening unspecified 'further steps' if the government does not comply. The action marked the first time Russia has agreed to a binding resolution against Syrian President Bashar al-Assad's regime since the conflict in his country began nearly three years ago. China, which vetoed three previous resolutions along with Russia, joined in approving the measure." This is a cruel joke, and for Russia which has supported Bashar al-Assad, a cynical one.
Mind you — to reach this empty gesture took "lengthy negotiations over the past week." In order to accommodate the Russians, in fact, the agreement had to be as tough on the rebels as it was on Assad. ("To secure Russia's agreement, sponsors of the resolution agreed to include specific demands for opposition fighters to cease their own violations of human rights international law, to condemn terrorism and to drop a demand that government violators be referred for prosecution to the International Criminal Court.") The last is an abomination; if ever a pack of murderers should be prosecuted for war crimes it is Assad and his cohorts.
So now the message to rogue states is: If you use WMD's against your own people, you might have to very sloooowly give part of your treasure trove back. And if you continue to kill thousands by other means, you need not worry about prosecution for war crimes. The complete lack of seriousness –  geopolitical and moral — is quite striking:
The United States and other strong advocates acknowledged a lack of specific enforcement tools in the resolution, which instructs U.N. Secretary General Ban Ki-moon to report back on compliance within 30 days. But U.S. Ambassador Samantha Power and others noted that the threat of "further steps" is far stronger than language in previous, vetoed measures and said it commits the council to take action.
What happened to Power's doctrine that the United States should use force to stop mass human rights atrocities? You need more than words, she acknowledges but actions now can be just words. No, really: "'A resolution is just words. It is implementation that matters, and that's what we are starting to measure right now.' Language committing the council to further actions, she said, is a 'significant hook, a significant commitment by the parties on the Security Council.'" You wonder if even she can believe such double talk.
And in calling for further political negotiations, this following the failed Geneva talks, the Obama administration itself signals that it has lost touch with reality. Reality, of course, does not include the fantasy that a decade of war is "ending." It does not permit the United States to shrug its shoulders and declare it merely wants to "nation build at home." And reality means that when you dawdle for three years, do not take swift and forceful action to back nonjihadi rebels and do not exact a price for use of WMD's, the country will descend into chaos, sending a stream of refugees pouring into surrounding countries.
Even more troubling than the lack of a Syria policy that could pass the laugh test is the impression this certainly makes with the mullahs in Tehran. They by now consider the United States to be gullible and all too eager to make a deal that will mask Iran's status as a nuclear threshold state. Seeing the Syrian sideshow must convince Iranian negotiators that any fig leaf will do for the United States to end remaining sanctions.
Former deputy national security adviser Elliott Abrams this week warned that we should be wary of just such a deal with Tehran. In a press call he explained, "My biggest worry is that the administration is desperately committed to the appearance of a foreign policy success and that they will therefore agree to a deal and claim that it's a great deal, but it will not actually do much to retrain and limit the Iranian program." If that wasn't obvious before, surely our farcical approach to Syria would leave little doubt that the United States is unwilling to back up what it says with hard power. We seem to be systematically undercutting what credibility we have, first with the interim deal and now with our feckless approach to Syria. Abrams worries, "The more immediate problem is, there's very strong Iranian rhetoric now suggesting that any terms like those that, for example, [Iran experts] seem to me to be talking about would be acceptable to Iran, and Iran may think that it is seeing a weakened P5-plus-1 unity, it is seeing a weakened American determination to maintain the sanctions, in which case we're in for, at the very least, an extremely tough negotiation and, at worse, no deal."
So there you have it. "Smart diplomacy" detached from a willingness to use U.S. power (economic and military) serves as a green light for rogue regimes to continue their bad behavior. To the extent there are any "moderates" in Iran (I personally think the notion is absurd, but let's assume so for purposes of discussion), then our weakness only undercuts them and enhances the stature of so-called hard-liners. ("I think that you need to show that bad behavior on the part of the Iranians will hurt Iran. I don't think that, for example, weakening our position so that we give gifts to the so-called moderate [President Hassan] Rouhani or the so-called moderate [Foreign Minister Mohammad Javad] Zarif, who just visited the tomb of Imad Mughniyeh. I don't think that's the way to do it. I think the way to do it is to show that we have a united front at least of the E.U.-3 plus the United States and that Iranian refusal to compromise will be punished by very heavy additional sanctions.")
All of this suggests the administration, having lost its credibility, will find it difficult to get it back, which in turn will make the situations in Syria and Iran worse. It should also serve as a reminder to opponents on the right and left of a muscular foreign policy that refusal to confront real dangers when they are manageable results in fewer options and greater threats to U.S. security down the road. This is no way for  a super power to behave.
###
  Muhammad's birthplace to be razed.
Bulldozers are set to demolish a building in Mecca situated right above the site believed by scholars to be the birthplace of Islam's Prophet Muhammad.
The Saudi Binladin Group, which is charged with redeveloping the historical area, plans to raze a small library on the site in order to build a modern complex which would include a presidential palace and imam's residence.
The demolition would take place just steps away from Mecca's Masjid al-Haram, or Grand Mosque, which surrounds the Ka'aba, one of Islam's holiest sites.
The project, whose details were published by The Independent Friday, will bring about yet more changes to the landscape of a holy city which has seen massive redevelopment, damaging ancient and sacred structures.
The cost of this latest redevelopment project, which has yet to be approved, was estimated by The Independent at billions of dollars.
"The last remaining historical site in the kingdom is the birthplace of the Prophet Muhammad, probably the most important site to the Muslim and Shia community around the world," The Independent quoted Irfan al-Alawi, a historian and executive director of the UK-based Islamic Heritage Research Foundation, as saying.
"Most people are not even aware there are plans now to destroy it."
The Saudi royal family has welcomed redevelopment projects in the holy city, even at the cost of destroying relics considered to be holy by pilgrims. The Saudi regime believes the relics encourage idol worship.
###
from:

 

english@other-news.info

date:

 Mon, Feb 17, 2014
Syrian rebels or international terrorists?
Vijay Prashad* – The Hindu
*Vijay Prashad is the Edward Said Chair at the American University of Beirut, Beirut, Lebanon.
With Bashar Assad arguing that this is a war against terrorism, and the rebels arguing that this is a war against authoritarianism, no agreement can come of the peace talks on Syria.
Geneva 2's mood mirrored the sound of mortar and despair on the ground in Syria. Not much of substance came of the former, as the U.N.-Arab League envoy Lakhdar Brahimi tiredly indicated that diplomacy continued despite the lack of a breakthrough. He hoped that the United States and the Russians would pressure their clients to remain at the table, from where, for three weeks, little of value has emerged. No agreement can come of these peace talks for at least two reasons. First, the government of Bashar Assad and the rebel coalition do not agree on the interpretation of the conflict. Mr. Assad argues that this is a war against terrorism (Al-Qaeda), while the rebels argue that this is a war against authoritarianism (the Assad government). Second, the rebels themselves are deeply fractured, with the Islamists in Syria who are doing the brunt of the fighting indisposed to any peace talks.
Mr. Brahimi hoped that humanitarian relief would be the glue to hold the two sides together. Residents in the old city of Homs and in the Palestinian neighbourhood of Yarmouk in Damascus have been under siege for two years. It was hoped that safe passage could be provided for food and medicine, but this was not accomplished. U.N. and Islamic Red Cross workers bravely avoided snipers and shells to transport food and medicines to the Syrians; children among them stared at fresh fruit, unsure of what to do with it. Absent momentum from Geneva, the options for a regional solution are back on the table.
In 2012, Egypt convened the Syria Contact Group that comprised Iran, Saudi Arabia and Turkey — unlikely partners. Pressure from the U.S. and Russia at that time closed down the Group. Today, the regional partners seek an exit from their exaggerated postures over Syria, but there is no diplomatic space for them to act. It falls to powers that are untainted by the war, perhaps China and India, to call for a meeting — a Beijing or New Delhi summit — to craft a serious agenda to pressure all sides to a ceasefire and a credible political process.
The war is now fought less on the ground and more over its interpretation. Expectations of a hasty collapse of the government withdraw as the Syrian Army takes Jarajir, along the Lebanon border. Islamists groups continue to fight against each other in the north, weakening their firepower as the Syrian army watches from the sidelines. The emboldened Syrian government has now stepped up its rhetoric about this war being essentially one against terrorists with affiliation to al-Qaeda. Ears that once rejected this narrative in the West and Turkey are now increasingly sympathetic to it. As the Islamists suffocate the rebellion, it becomes hard to champion them against the government. Focus has moved away from the prisons and barrel bombs of the government to the executions and social policies of the Islamists.
A year ago, the West and Turkey would have scoffed at talk of terrorism as the fantasy of the Assad government. The West and the Gulf Arabs had opened their coffers to the rebels, knowing full well that they were incubating the growth of the Islamist factions at the expense of the secular opposition. Turkey's government of Recep Tayyip Erdog?an micromanaged the opposition, provided bases in Turkey and allowed well-armed fighters to slip across the border into Syria. By early 2012, it had become a common sight to see well-armed Islamist fighters in the streets of Antakya and in the refugee camps in Hatay Province. The seeds of what was to come — the entry of al-Qaeda into Syria — was set by an opportunistic and poorly conceived policy by Erdog?an's government. It did not help that his otherwise well-spoken and highly-regarded Foreign Minister Ahmet Davutog?lu began to refer to Syria's Alawites (Mr. Assad's community) as Nusayri, a derogatory sectarian term. Turkey joined U.S., Europe and Gulf Arab calls for Mr. Assad's departure well before the numbers of those dead climbed above the thousands. Nervousness about the spread of al-Qaeda to Syria has made the rebels' patrons edge closer to the Damascus narrative.
The U.S. government wishes to arm the Iraqi government with Hellfire missiles and drones to combat the Islamic State of Iraq and al-Sham (ISIS) in Iraq's Anbar Province. Britain has said that any fighter who comes back from Syria will be arrested (last week, a Sussex man — Abu Suleiman al-Britani — conducted a suicide operation in Aleppo). The Saudi Royal Court decreed that any Saudi found to have waged jihad abroad could spend up to 20 years in prison.
General Mansour al-Turki of the Saudi Interior Ministry said: "We are trying to stop everyone who wants to go to Syria, but we can't stop leaks." The Turkish Armed Forces fired on an ISIS convoy on January 28 inside Syria, and told the government in a report prepared jointly with the Turkish National Intelligence agency that al-Qaeda had made credible threats on Turkey.
Mr. Erdog?an hastened to Tehran to meet the new Iranian leadership — their public comments were on trade, but their private meetings were all on Syria and the need to combat the rise of terrorism. What Mr. Assad had warned about in 2012 came to pass — for whatever reason — and led to a loss of confidence among the rebels' patrons for their future. Even al-Qaeda's putative leader, Ayman al-Zawahiri, has sought to distance himself from ISIS. These signs indicate that on Syria, the "terrorism narrative" has come to dominate over the "authoritarian regime narrative."
The fractious Syrian opposition that came to Geneva does not represent the main columns of rebel fighters on the ground. These are mainly Islamists — with the al-Qaeda wing represented by ISIS and Jabhat al-Nusra, and the rest represented by the Islamic Front. They have no appetite for negotiation. Mr. Abu Omar of the Islamic Front said that Syria's future would be created "here on the ground of heroism, and signed with blood on the frontlines, not in hollow conferences attended by those who don't even represent themselves." A U.S. intelligence official told me that when the U.S. went into Afghanistan in 2001, "We smashed the mercury and watched it spread out slowly in the area." Al-Qaeda was not demolished in Kandahar and Tora Bora. Its hardened cadre slipped across to Pakistan and then onwards to their homelands. There they regrouped, reviving the Libyan Islamic Fighting Group, al-Qaeda in Yemen, Ansar al-Sharia, Ansar Dine, and ISIS. The latter slipped into Syria from an Iraq broken by the U.S. occupation and the sectarian governance of the current government. There they worked with Jabhat al-Nusra and fought alongside other Islamist currents such as Ahrar ash-Sham. It was inevitable that these battle-tested Islamists would overrun the peaceful protesters and the defectors from the Syrian Army — the Free Syrian Army (FSA) — who scattered to the wind in 2012.
The FSA troops either joined up with the Islamists, continued to fight in small detachments, or linger precariously as twice defectors who are now homeless. The barbarism of the ISIS pushed other Islamists — with Gulf Arab support — to form the Islamic Front. The hope was that this group would run ISIS back to Iraq and remove the stigma of "al-Qaeda" from the Syrian rebellion. The problem is that one of the constituents of the Islamic Front — Jabhat al-Nusra, arguably the most effective of its fighting forces — sees itself as the Syrian franchise of al-Qaeda and has largely abjured the fight against ISIS. Another problem is that the in-fighting on the ground seems to have tapered off — one of the Islamist groups, Suqour al-Sham signed a truce with ISIS and pledged to work together.
By early 2014, these groups found their supply lines cut off.  Iraq's attack on ISIS began to seal the porous border that runs through the Great Syrian Desert.  Jordan had already tried to close its border since early 2013, having arrested over a hundred fighters who have tried to cross into Syria.  Lebanon's border has become almost inaccessible for the rebels as the Syrian Army takes the roadway that runs along the boundary line.  Last year, Turkey closed the Azaz crossing once it was taken over by the radical Islamists.
On January 20, the rebels attacked the Turkish post at Cilvegözü-Bab al-Hawa, killing 16.  This is what spurred the Turkish Army to attack the ISIS convoy a week later.
As the Islamists saw their supply lines closed off, the U.S. announced that it would restart its aid to the rebel fighters.  On February 5, the Syrian Coalition chief Ahmad Jabra told Future TV that his rebels would get "advanced weapons" — likely from the U.S.  The FSA announced the formation of the Southern Front – with assistance from the West — to revive the dormant fight in Syria's south-west.  All this took place during Geneva 2, signalling confusion in U.S. policy.
       Does Washington still want to overthrow the Syrian government?  Would it live with an Islamist government on Israel's borders?  Or, perhaps, the U.S. is eager for a stalemate, as pointed out by former CIA analyst Bruce Riedel, "The rebels lack the organization and weapons to defeat Assad.  The regime lacks the loyal manpower to suppress the rebellion.  Both sides' external allies are ready to supply enough money and arms to fuel the stalemate for the foreseeable future."  This is a cruel strategy.
It offers no hope of peace for the Syrian people.
Road ahead for Syria group:
A senior military official in West Asia told me that one of the most overlooked aspects of West Asia and North Africa is that the military leaderships of each country maintain close contacts with each other. During Turkey's war against the Kurdish rebellion in its eastern provinces, the military coordinated their operations with the Syrian armed forces. These links have been maintained. When it became clear that Mr. Erdog?an's exaggerated hopes for Syria failed, and with the growth of the Islamists on Turkey's borders and the Kurds in Syria having declared their independence, the Turkish military exerted its views. The Iraqi armed forces had already begun their operations against ISIS. Additionally, Egypt's new Field Marshal Sisi overthrew the government of Mohamed Morsi when the latter encouraged jihadis to go to Syria. This was anathema to the Egyptian military who acted for this and other reasons to depose Mr. Morsi. The military view of the political situation leans naturally toward the terrorism narrative.
It appears now that the regional states are no longer agreed that their primary mission is the removal of Mr. Assad.
This view — shared by the militaries — is evident in the political leadership in Iran, Iraq, and Turkey.With Egypt, these three states would be the core of a rejuvenated Syria Contact Group.
The 2012 group also had Saudi Arabia, which might be enjoined to come back to the table if they see that their outside allies — notably the U.S. — are averse to a policy that would mean Jabhat al-Nusra in power in Damascus.
Without Saudi Arabia, and perhaps even Qatar, the Syria Contact Group would be less effective.
If the Syria Contact Group is to re-emerge, it would need to be incubated by pressure from China and India, two countries that are sympathetic to multipolar regionalism.
Thus far, neither China nor India has taken an active role in the Syrian conflict, content to work within the United Nations and to make statements as part of the BRICS group.
But the failure of the U.S. and Russia and the paralysis of the U.N. alongside the continued brutality in Syria require an alternative path to be opened up.
Egypt, Iran, Iraq, Jordan, Saudi Arabia and Turkey have indicated willingness for a dialogue — China and India need to offer them the table.
###
Do 'Syria,' 'Iraq' and 'Lebanon' Still Exist?
based on the  original article by Jonathan Spyer that was posted by the Philadelphia-based Middle East Forum and that we re-post with a series of changes that are mainly of editorial nature.
The Tower
February 2014
www.meforum.org/3751/syria-iraq-lebanon-nation-states
For almost a century, the Middle East has been defined by the nation-states that emerged following the Allied Europeans – British and French – victory in World War I which was the end of the Ottoman Empire, and followed later by the unraveling of the resulting colonial era. Since then, strategic analyses of the region have concentrated on the relations between these states, created by bureaucratic lines drawn by the interim colonial powers, and diplomatic efforts have generally attempted to maintain their stability and the integrity of these borders. As a result, the current map of the Middle East has remained largely unchanged over more than nine decades.
But these actually never made sense and do so much less now.  The old maps do not reflect the reality on the ground, and the region is now defined not by rivalry between nation-states, but by sectarian divisions that are spilling across the old borders and rendering them irrelevant. Today, there is a single sectarian war underway across the Middle East, one that threatens to engulf the entire region.
This war has a number of fronts, some more intense and active than others, but it is everywhere defined by sectarian conflict – especially the divide between Sunni and Shia Muslims. It is most intense in the area encompassing the current states of Iraq, Syria, and Lebanon; but has also spread further afield—to Bahrain, northern Yemen, and to some degree Kuwait and eastern Saudi Arabia.
The core power on the Shia side is the Islamic Republic of Iran, the world's leading state that accepts terror as a means to implement its plans.  Iran was the founding patron of Hezbollah, which even before 9/11  had killed more Americans than any terror group in the world. The Assad regime in Syria, Hezbollah in Lebanon, the Maliki government and assorted Shia militias in Iraq, the Houthi rebels in northern Yemen, and Palestinian Islamic Jihad, are all allies or proxies of the Islamic Republic of Iran, which is capable of rendering substantial assistance to its friends through the Iranian Revolutionary Guards Corps (IRGC) – a powerful military and economic force that possesses substantial expertise and experience in building proxy organizations and engaging in political and paramilitary warfare.
On the Sunni side, the dominant power is the Kingdom of Saudi Arabia, which has been wary of Tehran, but also has struggled since 9/11 – on and off -  against the Islamists of Al Qaeda. Its allies include various groups among the Syrian rebels, the March 14 movement in Lebanon, the military regime in Egypt, the United Arab Emirates, Kuwait, Bahrain, Jordan, and sometimes Turkey. The Saudis, however, are at something of a disadvantage. They possess no parallel to the IRGC, and have problematic relations with the extreme Sunni jihadists of al-Qaeda, who have played a prominent role in the fighting on all three major fronts and who are an outgrowth of the Saudi Wahabbi movement – the kind of Islam on which the Saudi throne is based. (Here we have a clear different approach to the issue then we found in the original article – that seemed to be over friendly to the Saudis – possibly because of the way Washington is siding with the Saudis.)

How did this situation come about? Is there evidence of a clear linkage between the various forces on the respective sides? Why is this conflict so extreme in certain countries—like Syria and Iraq—where it appears to be leading to the breakup of these states? How dangerous are these changes for the West?
Focusing on the areas of most intense conflict—Syria, Iraq, and Lebanon—can help us answer these questions.
This war is a result of the confluence of a number of circumstances. First, Iraq, Syria, and Lebanon are all home to a host of different sectarian and ethnic communities. The stark divisions that exist in these societies have never been resolved. In Syria and Iraq, they were suppressed for decades by brutal dictatorial regimes. The Assad regime in Syria and Saddam Hussein's in Iraq – were family dictatorships based on minority sectarian communities – the Alawis in Syria, and the Arab Sunnis in Iraq – while claiming to rule in the name of pan-Arab nationalism. In service of this ideology, the Syrian and Iraqi regimes ruthlessly put down ethnic and sectarian separatism in all its forms; in particular, Shia Islamism in Iraq, Sunni Islamism in Syria, and the Kurdish national movement in both countries. All were treated without mercy.
Lebanon, by contrast, is a far weaker state, which was ruled by a power-sharing arrangement between ethnic and religious groups that collapsed into civil war in 1975. The issues underlying that war were never resolved; instead, between 1990 and 2005 the Syrian army presence in Lebanon ended all discussion of basic issues of national identity. (Here we must add something the original article has completely left untackled – the fact that in Lebanon the French colonial power has sponsored a Christian – mainly Maronite – minority and allowed for its governing over the Sunni and Shia parts of the population in a  prearranged structure that fell apart with the influx of Sunni Palestinian refugees. These refugees ended up being supported by the Shia backed Hezbollah and eventually got attacked from the outside by the Israelis). Lebanon thus developed a different dynamics that is still tripartite in its Arab make up. Lebanon's Maronite families with their French backing did not become dictators like in the cases of Iraq and Syria.

Over the last decade, the once ironclad structures of dictatorship and suppression that kept ethnic and sectarian tensions from erupting, have weakened or disappeared.
The 2003 U.S. invasion of Iraq destroyed the Saddam Hussein regime. A sectarian Shia government, based on the Shia Arab majority and conditionally accepted by the Kurds, took its place. In Syria, a brutal civil war has severely curtailed the power of the Assad regime, which now rules only about 40 percent of the country's territory. The Sunni Arab majority and the Kurdish minority have carved out autonomous sectarian enclaves in the 60 percent that remains.
Western hopes that a non-sectarian identity would take hold in the areas formerly ruled by Saddam and the Assads are persistent but proven illusory. Remarks about Iraq made by then-National Security Advisor Condoleezza Rice in 2004 sum up these hopes and the tendency to self-delusion that often accompanies them. "What has been impressive to me so far," Rice said, is that Iraqis—whether Kurds or Shia or Sunni or the many other ethnic groups in Iraq—have demonstrated that they really want to live as one in a unified Iraq…. I think particularly the Kurds have shown a propensity to want to bridge differences that were historic differences in many ways that were fueled by Saddam Hussein and his regime… What I have found interesting and I think important is the degree to which the leaders of the Shia and Kurdish and Sunni communities have continually expressed their desires to live in a unified Iraq.
This faith is expressed also by the Obama Administration, and as a result, it has continued to support the Shia-dominated government in Iraq, led by Prime Minister Nouri al-Maliki. It sees Maliki's opposition to Sunni insurgents in western Anbar province as an elected government's opposition to extremist rebels. This fails to take into account the sectarian nature of the Maliki government itself, and the discriminatory policies he has pursued against the Sunnis of western Iraq.
The reemergence of sectarian conflict so evident in Iraq has also emerged in Syria and is, in turn, showed up in neighboring Lebanon.
Lebanon was first drawn into the Syrian  conflict as a result of the significant and highly effective intervention in Syria in support of the Assad regime by Iran's Lebanon-based terrorist army, Hezbollah. This quickly led to retaliation against Hezbollah targets in Lebanon by elements among Syria's Sunni rebels. Supporters of the Sunni rebels have succeeded in attacking Hezbollah's Dahiyeh compound in south Beirut five times. The bombing on January 2, 2014,  was carried out by a young Lebanese member of an organization called ISIS (Islamic State in Iraq and Syria) named Qutaiba Muhammad al-Satem; ISIS are Islamic extremists who have been operating as a branch of al-Qaeda in Iraq and Syria.
A map of Syria showing zones of control by the regime and various militias. (Image Source: WikiMedia Commons)
While Hezbollah's decision to intervene on behalf of the Assad regime in Syria and the subsequent Sunni reaction is partially the result of the divided nature of Lebanon, and Syria, and their unresolved questions of national identity, larger regional conflicts, also of a sectarian nature, are a driving force behind the violence.
Hezbollah's participation in the Syrian civil war came not as a result of automatic sentiments of solidarity, but because Hezbollah forms part of a regional alliance headed by Iran, to which the Assad regime also belongs. When Assad found himself in trouble, Hezbollah was mobilized to assist him. On the opposing side, the Syrian rebels have benefited from the support and patronage of Iran's rival, Saudi Arabia, and other states along the Arabian peninsula, including the United Arab Emirates.
This rivalry is long standing and not just rooted in theological differences. It is about power. Iran is controlled by a revolutionary regime whose goal is to become the hegemonic force in the Middle East. Although the Iranians certainly regard the Saudis as an enemy and as unfit custodians of Islam's most holy sites, Tehran's main goal is to assert control over Arabian Gulf energy supplies, replacing the U.S. as guarantor of resources upon which world is dependent. Tehran understands that the real source of power in the region is the Gulf itself, with its enormous reserves of oil and natural gas that are essential to the global economy. To achieve its goals, Iran must tempt or coerce the Gulf monarchies away from U.S. protection and toward an alliance with Tehran, and ironically, American perceived weakness in the face of Tehran's nuclear pursuit makes that all the more possible.
Riyadh has emerged as the principle opponent to Iran's regional ambitions, mainly because the former guarantor of the current regional order, the United States, has chosen to leave the field. Until 2011, the Middle East appeared to be locked into a kind of cold war, in which the Iranians, along with their allies and proxies, sought to overturn the U.S.-dominated regional order, which was based on U.S. alliances with Saudi Arabia, Egypt, and Israel. Events over the last five years, however, have created the impression that the U.S. no longer wishes to play this role: America failed to back its longtime Egyptian ally, Hosni Mubarak, when he faced domestic unrest in early 2011. It failed to support the rebel forces fighting the Iran-backed Assad regime. And it failed to back Bahrain against an Iran-supported uprising in the same year. Now, the U.S. appears to be seeking a general rapprochement with Iran.
As a result of all this, Saudi Arabia has begun to take a far more active role in the region. Riyadh and its Gulf allies have certainly helped to finance and stabilize Egypt after the military removed Muhammad Morsi's Muslim Brotherhood government from power. It began to take a leading role in supporting the Syrian rebels. It has well-documented relations with the anti-Syrian March 14 movement in Lebanon. In December 2013, the Saudis pledged $3 billion to the official Lebanese army. They also support anti-Maliki elements in Iraq. In addition, they are seeking to create an alliance among the other Gulf states in order to oppose Iranian ambitions, with some success.
But all of the above will not work for the Saudis unless they also stretch out a friendly hand to Israel and do a "SADAT" – that is – backing the right of Israel provided it settles with the Palestinians and do this in a pro-active way by showing their readiness to bankroll a solution of the Palestinian conflict. We say this is the cheapest way for the Saudis to wrestle the region from the Iranians – but we found no such conclusion in the original article. This might be too revolutionary for the conventional mindset that believes the Israeli-Palestinian conflict is just another Middle East intractable conflict like the one in the article. The trick is to see how an opportunity is created when trying to go about two seemingly intractable problems in tandem!
The original article follows instead by saying -  "increasingly violent rivalry between Saudi Arabia and Iran, intensified by American withdrawal from the region, has helped turn a conflict that was once cold into an increasingly hot cross-border sectarian war."
There is considerable evidence of links between Iran and Saudi Arabia, on the one hand, and their respective allies in Iraq, Syria, and Lebanon, on the other.
On the Iranian side, Tehran no longer makes any serious attempt to deny the enormous assistance they have given the Assad regime in Syria. Indeed, the Iranians have effectively mobilized all their available regional assets in order to preserve it. The commander of the Revolutionary Guards' elite Qods Force, Qassem Suleimani, went to Syria himself in order to coordinate these efforts. Perhaps most notably, in mid-2012 the Iranians began training a new light infantry force for Assad. Called the National Defense Force, it was necessary because Assad was unable to use much of his own army, which consisted of Sunni conscripts whose loyalty was unreliable. Iran has even sent its own IRGC fighters to fight in Syria; a fact revealed by footage taken by an Iranian cameraman who was later killed by the rebels, the testimony of Syrian defectors, and the capture of a number of IRGC men in August 2012.
In April 2013, Hezbollah leader Hassan Nasrallah was summoned to Iran and instructed to deploy his own fighters in Syria. Up to 10,000 of them are now on the ground in Syria at any given time, and they played a crucial role in retaking the strategic town of Qusayr in August 2013. Hezbollah fighters are also taking a prominent role in the battle for the Qalamun area near the Lebanese border, as well as the fighting around Damascus.
Iranian financial donations have also been vital in keeping the regime alive. In January 2013, Iran announced a "credit facility" agreement with Syria that extended a $1 billion line of credit to Assad. Later the same year, an additional credit line of $3.6 billion was announced.
Iraq has also played a vital role in supporting Assad, mainly by allowing Iran to use Iraqi territory and airspace to transfer weapons to Syrian forces. At first glance, this appears to be a strange policy. Relations between Iraq and Syria prior to the civil war were not good, with Maliki openly accusing Assad of supporting Sunni insurgents. But this has now changed. Indeed, Maliki has openly supported Assad since the beginning of the Syrian civil war. This reflects his increasing closeness to Iran, which helped ensure Maliki's emergence as prime minister after the 2010 elections and pressured Assad to support him as well. Relations between Iraq, Iran, and Syria have only improved since.
In addition to government support, Iraqi Shia militias are now fighting in Syria on behalf of Assad. The Abu Fadl al-Abbas Brigades, Ktaeb Hezbollah, and the Ahl al-Haq group all have forces in Syria. They are playing an important role, given that one of Assad's major weaknesses is his lack of reliably loyal soldiers. The eruption of violence in Iraq's western Anbar province has further cemented this alliance, since the insurgency is a direct result of advances made by Sunni jihadis in Syria.
As a result of all this, the Iranian-led side of the regional conflict has emerged as a tightly organized alliance, capable of acting in a coordinated way, pooling its resources for a common goal, and fighting effectively from western Iraq all the way to the Mediterranean.
The Sunni side of the conflict is more chaotic and disjointed. Saudi Arabia is its main financier, but it lacks an equivalent to the Qods force and the IRGC, who are world leaders in subversion and irregular warfare.
Only the most extreme jihadi elements appear capable of clear coordination across borders. For example, the Islamic State in Iraq and Syria, as its name suggests, is active in both countries and controls a contiguous area stretching from the western Anbar province in Iraq to the eastern Raqqa province in Syria. ISIS regards itself as a franchise of al-Qaeda, although it does not take orders directly from the al-Qaeda leadership in Pakistan. Another al-Qaeda group, Jabhat al-Nusra, is active in Syria. In Lebanon, a third branch of al-Qaeda, the Abdullah Azzam Brigades, has played a role in the attacks on Hezbollah. In addition, both the ISIS and Jabhat al-Nusra are active in Lebanon.
But there are also less extreme groups opposing the Syrian-Iranian axis. Saudi Arabia has backed the March 14 movement, which is the main Sunni opposition party in Lebanon, as well as providing financial support to the Lebanese army. In Syria, the Saudis have fostered the Islamic Front, an alliance of eight Islamist groups unconnected to al-Qaeda. It includes some of the strongest rebel brigades, such as Ahrar al-Sham, Liwa al-Islam, and Liwa al-Tawhid. It is now emerging as the key bloc among the rebels. The Saudis also dominate the Syrian opposition in exile, with Ahmed Jarba, who has close links to Riyadh, recently reelected chairman of the Syrian National Coalition.
There are no indications that the Saudis are backing Sunni insurgents in Iraq, but the larger Sunni community is certainly looking to Riyadh for help. Relations between Saudi Arabia and the current Iraqi government are very bad. The border between the two countries is closed except during the Hajj pilgrimage, there is no Saudi embassy in Baghdad, and commercial relations are kept at a minimum. Some of the Sunni tribes in western Anbar have close links to the Saudis. While they are hostile to al-Qaeda, they are also opposed to the Maliki government, which they regard as a sectarian Shia regime.
There is a third element to this regional conflict that is something of a wild card: The Kurds. A non-Arab people who have long sought an independent state, the Kurds have succeeded in creating a flourishing autonomous zone in northern Iraq that enjoys most of the elements of de facto sovereignty. Since July 2012, another Kurdish autonomous zone has been established in northeast Syria. These two areas occupy a contiguous land mass, but are not politically united. The Kurdish Regional Government in Iraq is controlled by the Kurdish Democratic Party, led by Massoud Barzani, while the autonomous zone in northeast Syria is controlled by the PYD (Democratic Union Party), which is the Syrian branch of the Turkish-based leftist PKK movement.
These movements are rivals, and each sees itself as the appropriate leader of the Kurds. But while there is tension between them, each appears to be securely in control of its respective areas. The Kurds do not enjoy the support of any state in the region, and both the Iranians and the Saudis regard Kurdish national aspirations with suspicion. Nonetheless, the Kurds have managed to accumulate sufficient organizational and military strength to ensure the survival of their self-governing enclaves.
All these factors indicate that two rival alliances are clashing for hegemony over the region. There are myriad practical links between the various combatants, and their activities have long since spilled across the borders of the various states involved in the fighting; as indicated by the presence of Iranian fighters, ISIS, and Hezbollah in Syria; Syrian rebels in Lebanon; and many other examples. Iran is the leader of one side, Saudi Arabia is the main backer of the other, while the Kurds are concerned with maintaining their areas of control and are trying to stay out of the conflict.
The most significant result of the analysis is that the continued existence of Syria and Iraq as unified states is now in question. Practically speaking, Syria has already split into three areas, each controlled by one of the three elements listed above. Iraq has also effectively split into Kurdish and Arab zones, with Sunni and Shia groups fighting over the latter.
In many ways, Lebanon ceased to function as a unified state some time ago; since Hezbollah essentially functions as a de facto mini-state of its own. The Lebanese Sunnis lack a military tradition and have proved helpless in the face of Iran's support for Hezbollah. But now, the emergence of the Syrian rebels and the growing popularity of Islamism among the Sunni underclass may be altering this balance. This appears to be borne out by the recent surge in Sunni violence against Hezbollah, which is the result of an attempt by Syrian jihadis and other rebels—in concert with their local allies—to bring the war to Lebanon.
Taken together, this indicates that a massive paradigm shift is underway in much of the Middle East. The eclipse of Arab nationalist dictatorships in Iraq and Syria, the historical failure to develop a unified national identity in these states, their mixed ethnic and sectarian makeup, and the U.S.'s withdrawal from its dominant position in the region—with the resulting emergence of a Saudi-Iranian rivalry—have all combined to produce an extraordinary result: A region-wide sectarian war is now taking place in the areas still officially referred to as Iraq, Syria, and Lebanon.
For the West, as in the region itself, this has very serious implications. Dealing with it effectively will required an equally massive paradigm shift in strategic thinking on the Middle East, one that is capable of dispensing with previous illusions and admitting that sovereign borders once regarded as sacrosanct are swiftly becoming meaningless.
There are new borders taking shape, defined by sectarian divisions that the West ignores at its peril. Despite fantasies of withdrawing from the region, the security of global energy supplies and the maintenance of regional stability are still essential to Western interests. The West has as large a stake in the outcome of this sectarian conflict as the regional players involved. If it cannot adapt to the new Middle East that is swiftly taking shape, it will find itself on the losing side.
Jonathan Spyer is a senior research fellow at the Global Research in International Affairs (GLORIA) Center, and a fellow at the Middle East Forum.

The concluding paragraphs are why we thought highly about the article even we had to make some changes in it – and now again – we do not think the Western powers – the United States and the former Middle East colonial Powers of Britain and France have to try to keep onto the internal borders of the fictional States of Iraq, Syria, and Lebanon and Saudi Arabia, they helped create years ago, and then helped maintain by helping the dictatorial and monarchic regimes that they helped institute.

It is obvious – if the Iran led Shia forces and allies come out victorious in Syria, there will be immediate follow-ups in Bahrain and the oil regions of Eastern Saudi Arabia itself – regions with clear Shia majorities.

As we said, the self preservation of the Saudi regime, that is if Saudi Arabia wants indeed to be considered as half of the tongues that hold together the Middle East – takes them to Jerusalem/Tel Aviv/Ramallah – and this might not be what the original article intended.

That article wanted the Saudis to travel to Washington instead – but really – President Obama with the US experience in Iraq and Afghanistan is best advised to let the Arabs stew in their own pot, go for alternate energy, help China go for alternate energy as well – so they are not dependent on this imaginary Middle East source of global oil either. After all – the US has already lost the oil of Iraq and the contracts now are with China – who imagines the US thinks they will still manage the Saudi oil? The only ones still ready to hang on to strong positions in the region are the Israelis – and that is where the Saudis could find real brothers. Trying  to differentiate between varieties of Islamic extremists will not help create that devil with talent to know the difference between an Al-Qaeda Sunni who works well with the Iranian Shia and the Iraqi Sunni who still likes Saudi money.
###
---
BrightSource's Ivanpah, the world's largest solar thermal project, is live
Posted: 14 Feb 2014
It has been a long, controversial and expensive road for BrightSource Energy, but their 392 megawatt concentrating solar plant is now finally delivering renewable energy to the California grid and it is the largest plant of its kind in the world.
Ivanpah Solar Energy Generating System (ISEGS), which is comprised of 350,000 garage door-sized mirrors that reflect sunlight onto boilers atop 40 foot towers, is jointly owned by NRG Solar, Google and BrightSource Energy –
a company that started out at Luz International in Israel.
In addition to offsetting roughly 400,000 tons of carbon dioxide emissions every year, the massive solar facility located roughly 50 miles northwest of Needles, California, will deliver solar power to roughly 140,000 homes via California utility companies PG&E and Southern California Edison.
Despite this enormous boost for solar energy, BrightSource Energy has taken a lot of heat from environmentalists and social activists for their five square mile solar project in the Mojave desert.
It took months to resolve the issue of relocating desert tortoises that call the desert home, to make way for thousands of concentrating mirrors, and Native Americans complained that the project destroys sites that are sacred to them.
The Wall Street Journal reports that the towers, which reach temperatures of 1,000 degrees Fahrenheit, have scorched an astonishing number of birds.
The paper also notes that the energy produced at Ivanpah will cost four times as much as natural gas and boasts a smaller generation capacity to land ratio than conventional plants. In other words, CSP projects like ISEGS require more land than fossil fuel plants.
Despite these downsides, the $2.2 billion plant will produce one third of all solar thermal energy in the United States, and potentially pave the way for similar projects to take flight as well.
:: WSJ
###