The Jerusalem Post Opinion Piece of this Weekend.
BY ILAN EVYATAR MARCH 30, 2017 20:50

EARS TO THE GROUND: In approaching Middle East peace, Trump should focus on the attainable, not the improbable.
The Annual Arab League Summit took place in Amman this week with US President Donald Trump's international negotiator, Jason Greenblatt, in attendance as part of his Middle East "listening tour." Greenblatt told Arab foreign ministers in the Jordanian capital that peace between Israel and the Palestinians is possible and reaffirmed Trump's desire to pull off a deal.
Egyptian President Abdul Fatah al-Sisi, Palestinian Authority leader Mahmoud Abbas and Jordan's King Abdullah will all be in DC over the next month and peace talks will be high on the agenda at all of those meetings.
Reports have suggested that Trump is looking into the possibility of hosting a Middle East summit with Abbas, Netanyahu and Arab leaders, including from Saudi Arabia and the Gulf states.
"The time has come to make a deal," Greenblatt said before heading to Amman. Arab foreign ministers expressed their support for a two-state solution in the summit's closing statement. Abbas, too, told Greenblatt a deal is possible, while Netanyahu also said he is committed to working with Trump "to advance peace with the Palestinians and with all our neighbors."
Reports have suggested that Trump is looking into the possibility of hosting a Middle East summit with Abbas, Netanyahu and Arab leaders, including from Saudi Arabia and the Gulf states.
"The time has come to make a deal," Greenblatt said before heading to Amman. Arab foreign ministers expressed their support for a two-state solution in the summit's closing statement. Abbas, too, told Greenblatt a deal is possible, while Netanyahu also said he is committed to working with Trump "to advance peace with the Palestinians and with all our neighbors."

The ball is rolling and diplomatic crunch-time is approaching. All sides will have to decide how to turn their words into actions and what positions they will bring to the table.
Meanwhile, Netanyahu has said that he is in discussions with the US administration over ground rules for settlement construction in the West Bank. Yesterday he hinted that he was about to approve a new settlement, the first in 25 years, for the 40 families evicted from Amona – perhaps a hint that some kind of understanding has been reached on the matter.
But if the Trump administration is serious about convening a Middle East summit, then there will be greater issues for Netanyahu to decide upon.
Is Trump really serious? Or is he just going through the motions? If he does convene a summit, will he make do with a photo-op that gets Israel and the leaders of Saudi Arabia and the Gulf states on the same stage for the first time or does he really think he can clinch the "ultimate deal"? Does he really believe he can succeed where all other presidents have failed?
=================
WE WROTE YESTERDAY THAT WE THINK TRUMP IS VERY SERIOUS ON THE MIDDLE EAST – THIS IS ACTUALLY THE ONLY AREA HE COULD PULL OFF A SUCCESS THESE DAYS.
================
For all the talk about a convergence of interests between Israel and the moderate Sunni states that are all threatened by Iran, it is highly unlikely that the Middle East's strange bedfellows will go public with their relationship without Israel's prior agreement to conditions it cannot accept.
Furthermore, relations with Israel are hardly a priority for Saudi Arabia, as senior Saudi commentator Jamal Khashoggi wrote a few months back. Its priorities, he says, are economic reforms and the security threats posed by Iran and the collapse of neighboring countries – issues in which Israel cannot take a direct role. And when it comes to Iran, the worst thing Saudi Arabia could do, he said, is to be publicly aligned with Israel against Tehran.
While tacitly acknowledging existing ties in certain fields, he notes, "Whatever the kingdom needs is accessible without his help. If we presume that we need to buy an advanced Israeli device to accomplish a strategic Saudi project, there are a thousand third parties that are ready to buy the device and re-export it to us."
As for the Palestinians and Israelis, Trump is hardly likely to have too much luck on that front either. It remains true that the maximum Israel is willing to give the Palestinians is less than the minimum the Palestinians are willing to accept and vice versa, and the fact that Trump prides himself on being a man who knows how to cut a deal will not change that.
If Greenblatt has been listening to his interlocutors on his tour he should report back to the president that conditions are not ripe for the ultimate deal, but that common interests do exist.
While a regional peace deal would obviously be desirable, rather than risk almost certain failure – that could well result in a new round of violence in a bid for an all-embracing final status agreement – Trump should concentrate on interim solutions; those that increase Palestinian autonomy, build up the Palestinian economy and institutions of state, increase freedom of movement, rein in settlement construction to the blocs and develop ties between Israel and the moderate Sunni states where common interests exist.
=========================
WE BELIEVE THE TIME FOR SMALL MOVES IS OVER – THEY LED NOWHERE AND THIS WAS FOR ALL TO SEE.
TRUMP WILL HAVE TO DO IN BUSINESS WAYS ARM-TWISTING AND DISH OUT LOTS OF CANDY TO BUILD ON EXISTING PLANS AND HAVE THEM SUGAR COATED. THE TRUTH IS THAT BY NOW ALL MAIN ACTORS OUGHT TO BE INTERESTED IN THE TRUMP DEAL. TRUMP – JUST GO FOR THE GOLD AND LET NOBODY HOLD YOU BACK.
YOU STARTED WELL BY NOT GOING TO AIPAC.
========================
=============================================
###
Ein Gedi is a kibbutz founded in 1953 on the edge of the Green Line separating Israel from the Jordanian-held West Bank, the kibbutz was completely isolated in the desert above the Dead Sea, the nearest Israeli village being several hours away via a dirt road.
Now the Kibbutz is home of several Israeli schools and other institutions and runs a highly valued hotel – an International Spa. With this hotel as base – I went with the Paul Winter group to Masada to listen to a panel that put bare the most important climate change issue
that is displayed here on the birds-high-flight between Europe and South Africa in an area
contested between Israel and the Arab/Islamic World. Then the following day Wednesday the 22nd, we went to a Nature Preserve to observe how children from unfriendly four States were brought together by the Convener David BenShabat, Musician Paul Winter, and Professor Yossi Leshem of the Israeli Society for the Protection of Nature.
At Masada Winter performed on his saxophone parts of his new composition – "Flyways" –
and airways photographer Matya Shick showed us photos she takes from a small AirCam plane that was built for National Geographic and Amir Ben Dov showed us pictures of unique local birds -the most interesting among them was the Lilit Hamidbar small owl.
We heard from Dov Litvinoff – the Mayor of the local Regional Council – Tamar, and Spanish Wildlife Artist Juan Varela Simo, who helps spread love of nature and got caught by the concept of painting of nature to bring together the children of the opposing factions of the Middle East.
On the following day, Wednesday the 22nd, 160 children showed up for an activity that will
help them understand issues of nature and climate and allow them to see that the "other"
side do not have to be regarded as enemies if you learn you can paint nature in tandem.
Oh well! this might be a log term investment – but could parents learn from their children?
I noted 4 States. Israel and Jordan are obvious two. Then comes the Palestinian State-in-the-making, but I mentioned to myself a fourth State of those settlers on Palestinian land that came in as colonists and are the element that stands in the way of full Palestinian-Israeli cooperation. They were here as well as their children were also invited to this joint enterprise. S far as I know – this was a first.
Later I learned that Thursday April 6, 2017 there will be another concert at Masada –
this one will be sponsored by UNESCO – a UN organization that had in the pat feuded
with Israel by taking Arabs' position that denies rights to Israel. Can they be co-opted to become a co-convener for friendly events?
###
BIRDS KNOW NO BORDERS, THE RESULTS OF HUMAN ACTIVITIES THAT IMPACT CLIMATE _ KNOW NO BORDERS.

The Jerusalem International YMCA event of March 16th 2017
An Opening with the "Treasures of the Dead Sea movie filmed and edited by Yuval Dax.
Greetings by:
Member of the Israeli Parliament (The Knesset) Tzachi Hanegbi – newly appointe Minister of Regional Cooperation who had now the first chance to share the podium with General (Ret.)
Mansour Abu Rashid) of Jordan, Chairman of the Amman Center for Peace and Development (ACPD)
and Major Gen. (Res.) Doron Almog, Israel – Chairman of the Hoopoe Foundation.
Also, Dov Litvinoff – Mayor of the Tamar Regional Council, Iris Hahn, CEO, Society for the Protection of Nature, Israel, and Ysbrand Browers, Director, Artists for Nature Foundation.
The Concert led by Paul Winter – seven time Grammy Rewards Recipient, Plays the soprano Saxophone.
The Paul Winter consort included:
David Haughey (USA – chello); Paul McCandless (USA – oboe); Eren Basburg (Turkey – keyboards);
and Zohar Fresco (Israel – percussion);
Followed by words by Professor Yossi Leshem.

The upcoming event – March 21, 2017 at 19:30 – at the Dead Sea Research Institute auditorium
at the feet of the Masada fortress above the Dead Sea.
The Convener is David BenShabat – Dead Sea Research Institute.
The Opening Movie – "THINK TOGETHER."
Greetings: by the Mayor of the Tamar Region; Photographer of the Dead Sea Matya Shick; and Juan Varela – Artists for Nature Foundation and the Dead Sea.
The Concert by Paul Witer with exerpts from his new composition "FLYWAYS" celebrating bird migration and the countries along the GreatRift Valley.
The Lectures by Professor Yossi Leshem on the international highway for migrating birds and
Amir Ben Dov on the Tamar Region birds.
in between above two events of March 16th and March 21st and then continuing till March 26th,
the Paul Winter team and further 30 visual arts professionals, will have cooperative events in locations around the Dead Sea the Negev and South to Eilat, – in Israel, Jordan, and Palestine. These will be joint painting or music making events intended to popularize the reasons for the plight of this sea.
###
The Uri Avnery Column at the Israeli Gush Shalom website of February 4, 2017
RESPECT THE GREEN LINE!
THE MOST incisive analysis of the Israeli-Palestinian conflict I have ever read was written by the Jewish-Polish-British historian Isaac Deutscher. It consists of a single image.
A man lives on the upper floor of a building, which catches fire. To save his life, he jumps out of a window and lands on a passerby in the street below. The victim is grievously injured, and between the two starts an intractable conflict.
Of course, no metaphor is completely perfect. The Zionists did not choose Palestine by chance, the choice was based on our religion. The founder of the movement, Theodor Herzl, initially preferred Argentina.
Still, the picture is basically valid, at least until 1967. From then on, the settlers continued to jump across the Green Line, with no fire in sight.
THERE IS nothing holy about the Green Line. It is no different from any other border line around the world, whatever its color.
Most borders were drawn by geography and the accidents of war. Two peoples fight for the territory between them, at some point the fighting comes to an end, and a border is born.
The land borders of Israel – known for some reason as the "Green Line" – were also established by the accidents of war. A part of that line was the result of a deal between the new Israeli government and the king of Jordan, Abdallah I, who gave us the so-called Triangle as a baksheesh, in return for Israel's agreement to his annexation of most of the rest of Palestine. So what's so holy about this border? Nothing, except that it's there. And that is true for many borders throughout the world.
A border is established by accident and confirmed by agreement. True, the United Nations drew borders between the Jewish and the Arab states in its 1947 resolution, but after the Arab side started a war in order to thwart this decision, Israel greatly enlarged its territory.
The 1948 war ended without a peace treaty. But the armistice lines established at the end of the war were accepted by the entire world as the borders of Israel. This has not changed during the 68 years that have passed since then.
This situation prevails both de facto and de jure. Israeli law applies only within the Green Line. Everything else is occupied territory under military law. Two small territories – East Jerusalem and the Golan Heights – were unilaterally declared to be annexed by Israel, but nobody in the world recognizes this status.
I ELABORATE on these well-known facts because the settlers in the occupied territories have lately started to taunt their critics in Israel by bringing up a new argument: "Hey, what's the big difference between us?"
You too sit on Arab lands, they tell us. True, before 1948 the Zionists settled on land they bought with good money – but only a small part of it was bought from the fellahin who tilled it. Most of it was acquired from rich absentee landowners, who had bought it cheaply from the Turkish sultan when the Ottoman Empire was in dire financial straits . The tillers of the land were driven out by the Turkish, and later the British, police.
Large stretches of land were "liberated" during the fighting of 1948, when masses of Arab villagers and city-dwellers fled before the advancing Israeli forces, as civilians do in every war. If they didn't, a few salvos of machine-gun fire were enough to drive them out.
The inhabitants who were left in Jaffa after the town was conquered, were simply packed on trucks and sent to Gaza. The inhabitants of Lod (Lydda) were driven away on foot. In the end, about 750 thousand Arabs were expelled, more than half the Palestinian people at the time. The Jewish population in Palestine amounted then to 650 thousand.
Some inner voice compels me at this point to mention a Canadian-Jewish officer named Ben Dunkelmann, then 36 years old, who commanded a brigade in the new Israeli army. He had served with distinction in the Canadian army in World War II. He was ordered to attack Nazareth, the home-town of Jesus, but succeeded in inducing the local leaders to surrender without a fight. The condition was that the local population would not be harmed.
After his troops had occupied the town, Dunkelmann received an oral order to drive the population out. Outraged, Dunkelmann refused to break his word of honor as an officer and a gentleman, and demanded the order in writing. Such a written order never arrived, of course (no such orders were ever put in writing), but Dunkelmann was removed from his post.
Nowadays, when I pass Nazareth, a thriving Arab town, I remember this brave man. After that war, he returned to his native Canada. I don't think he ever came back here again. He died 20 years ago.
HONEST DISCLOSURE: I took part in all this. As a simple soldier, and later as a squad leader, I was a part of the events. But immediately after the war I wrote a book that disclosed the truth ("The Other Side of the Coin"), and a few years later I published a detailed plan for the return of some of the refugees and the payment of compensation to all the others. That, of course, never happened.
Most of the land and the houses of the refugees were filled with new Jewish immigrants.
Now the settlers say, not without some justice: "Who are you to despise us? You did the same as we are doing! Only you did it before 1967, and we do it now. What's the difference?"
That is the difference. We live in a state that has been recognized by most of the world within established borders. You live in territory that the world considers occupied Palestinian territory. The state of Texas was acquired by the USA in a war with Mexico. If President Trump were now to invade Mexico and annex a chunk of land (why not?), its status would be quite different.

Binyamin Netanyahu – some now call him Trumpyahu – is all for enlarging the settlements. This week, under pressure from our Supreme Court, he staged the removal of one tiny little settlement, Amona, with a lot of heartbreak and tears, but immediately promised to put up many thousands of new "housing units" in the occupied territories.
OPPOSITE POLITICAL extremes often touch each other. So it is now.
The settlers who want to wipe out the difference between us and them, do it not just to justify themselves. Their main aim is to erase the Green Line and include all the occupied territories in Greater Israel, which would extend from the Mediterranean Sea to the Jordan River.
A lot of Israel-haters want the same borders – but as an Arab state.
Indeed, I would love to chair a peace conference of Israel-haters and Palestine-haters. I would propose to decide first on the points they all agree on – namely the creation of a state from sea to river. I would leave to the end the decision whether to call it Israel or Palestine.
A world-wide movement called BDS now proposes to boycott all of Israel, in order to achieve this end. I have a problem with that.
GUSH SHALOM, the Israeli peace organization to which I belong, takes great pride in being the first to declare a boycott on the products of the settlements many years ago. We still uphold this boycott, though it is now illegal under Israeli law.
We did not declare a boycott on Israel. And not only because it is rather awkward to boycott oneself. The main object of our boycott was to teach Israelis to differentiate between themselves and the settlements. We published and distributed many thousand copies of the list of companies located and products produced outside the Green Line. Many people are upholding the boycott.
The BDS boycott of all Israel achieves the exact opposite: by saying that there is no difference between Israel within the Green Line and the settlers outside, it pushes ordinary Israelis into the arms of the settlers.
The settlers, of course, are only too happy to get the assistance of BDS in erasing the Green Line.
I HAVE no emotional quarrel with the BDS people. True, a few of them seem to be old-school anti-Semites in a new garb, but I have the impression that most BDS supporters act out of sincere sympathy for the suffering of the Palestinians. I respect that.
However, I would urge the well-meaning idealists who support BDS to think again about the paramount importance of the Green Line – the only border that makes peace between Israel and Palestine possible, with some minor mutually agreed adjustments.

ISRAEL IS there. It cannot be wished away. So is Palestine.
If we all agree on that, we can also agree on the continued boycott of the settlements – and of the settlements only.
=====================================
###

Role of Non-State Actors as seen from Jordan when reviewing the Paris2015 Outcome.
Non-state actors include mainly Non Governmental Organizations (NGOs), cities and regions, as well as companies. The Paris Agreement is seen as a major turning point when it comes to the emphasizing the role and leadership of non-state actors, especially the private sector, side by side with governments. It calls upon 'non-Party' stakeholders to scale up their efforts and to demonstrate them via the UNFCCC website, and it also recognizes that tools such as domestic policies and carbon trading are important. Already 11,000 commitments from 4,000 companies and local authorities have been registered on the UNFCCC website, and that number is expected to grow in the coming years. climateaction.unfccc.int/
The Agreement contains clear messages to business community to join the climate action and implement short and long term projects to reduce their emissions. Climate leadership has a cascaded impact throughout the value chain: as emissions are reduced, money is saved, stakeholders are engaged and business reputation is enhanced.
——————————–
from Ruba Al-Zu'bi rubaalzoubi at gmail.com via lists.iisd.ca
Dear Colleagues,
I include below a couple of articles highlighting some of Jordan's efforts and priorities post Paris.
– Paris Agreement: Role of Effective Climate Governance
www.ecomena.org/paris-agreement-f…
– Jordan's Journey Towards Climate Action
www.ecomena.org/jordan-climate-ac…
kind regards,
Ruba

Jordan has the distinction of being the third Arab country to submit its Intended Nationally Determined Contributions (INDCs) prior to Paris COP21, in addition to being the first Arab country to address climate change and its implications on vital sectors through a national policy (2013 – 2020).

Moreover, Jordan is taking serious steps to mainstream climate change into development policies and strategies starting with the National Women Strategy (2012) and the National Poverty Reduction strategy (2013), the Jordan Vision 2025 which is considered to be the overall developmental blueprint for the country (2015) to the recently launched National Water Strategy (2016 – 2025).
On another front, Jordan is preparing a National Green Growth Strategy (NGGS) through the Ministry of Environment and a number of sectoral action plans to drive its green economy agenda.
Jordan is helped in its efforts by GIZ, Germany.
================
###
Argument
America Is Losing the War in Syria
Moderate rebel groups are suffering. The Islamic State and Nusra are gaining ground. And Washington's piecemeal efforts are worthless. Here's a grand plan worth paying for.
By Robert S. Ford
Foreign Policy Magazine, March 9, 2015
The current U.S. strategy in Syria isn't working. Despite the coalition airstrikes against the Islamic State, the group still has strategic depth in Syria to back its campaign in Iraq. Syrian President Bashar al-Assad's regime, meanwhile, isn't fighting the Islamic State — it's locked in combat with the moderate opposition. Despite Washington's hope for a national political transition away from Assad, there is no sign of a cease-fire, much less a comprehensive political deal.
More than ever, Americans — and Syrians — need to ask themselves what has gone wrong and what can be fixed. U.S. strategy needs to center on taking back ground from the Islamic State and driving a wedge between Assad's small ruling circle and his increasingly wobbly support base so that a new government can be established to rally more Syrians against the jihadis. Reinforcing Syria's moderate rebels is still the key component in achieving these goals, but we — and they — have to get the strategy and tactics right.

U.S. President Barack Obama's administration should undertake a major diplomatic and assistance effort, or it should walk away from Syria.

U.S. President Barack Obama's administration should undertake a major diplomatic and assistance effort, or it should walk away from Syria. Merely continuing to inject small amounts of aid and men in the fight won't sustainably contain the jihadis or be sufficient to reach the political negotiation the administration keeps hoping for.
The quiet end to the Syrian armed opposition's Hazm Movement, with which the Americans had worked in northern Syria, was the latest signpost of the current failed policy. With aid coming too little and too late, the movement was easily knocked aside by al Qaeda-linked extremists who gained new territory and border crossings. It is far from the only moderate rebel group to suffer large setbacks in recent months: Others are simultaneously under attack from Assad regime forces (which are strongly reinforced by Iranian and Hezbollah troops), jihadis from the al Qaeda-affiliated Nusra Front, and the Islamic State.
Meanwhile, the Americans didn't ramp up aid to the secular moderates when they needed it most. Instead, assistance to moderate Syrian fighters has been small and erratic, and the rebel fighters have been badly divided by foreign states parceling out desperately needed aid among multiple groups. This has created a vicious cycle, forcing the moderate rebels to compete against each other and to sometimes cooperate with al-Nusra Front. That in turn has aggravated foreign states and scared off any regime elements that might want to negotiate a deal, thus extending the war of attrition to the benefit of the Islamic State.

Rather than boosting the capacity of existing moderate fighting groups, the U.S. administration has decided to build an entirely new force. As currently envisioned, this plan will be too little, too late. The fighting units will be much smaller than Islamic State forces operating in Syria. In addition, the plan will further split the moderate armed opposition and will do nothing to counter the Islamic State's biggest recruitment tool — the Assad regime's brutality.

Moreover, Assad will likely make good on his recent threat in a Foreign Affairs interview to attack the U.S.-trained Syrian rebel force. This is nothing new: Assad's ground and air forces have consistently targeted moderate armed groups fighting the Islamic State in northern and eastern Syria over the past two years.

If the administration wants these beleaguered fighters to be successful, it will face the question of expanding the U.S. air mission in Syria. Protecting these small units from Assad air force attacks, even in eastern Syria, would require some kind of no-fly zone, a step the administration has long resisted. If the Obama administration goes through with such a step, it ought also to negotiate a package deal with the Syrian opposition and regional allies to get all sides on the same page on a strategy for degrading the Islamic State and achieving a negotiated Syrian political deal.
The larger package deal is vital. Simply increasing material aid to the moderate fighters in northern and southern Syria, even by huge amounts, won't be enough. The key is settling on a revised strategy that establishes a unified command structure for the non-jihadi opposition.
This unified structure must be the sole conduit for external funding, arming, and training. It must include the main non-jihadi rebel groups and must be led by a Syrian who enjoys wide support from Syrians fighting on the ground and from foreign states. Those who refuse to follow orders from the unified command must be cut off from any assistance. This is the only way to end the fragmentation that has long plagued the moderate armed opposition and to ensure it will support any eventual negotiation.

Syrian fighters, especially Sunni Arabs, are best placed to confront Sunni Arab extremists in their country and limit the spread of the extremists' appeal. This means that Islamist opposition groups that are conservative, but do not insist on imposing an Islamic state by force, likely will be part of the solution.

The United States and Turkey need to find common ground under the revised strategy. Turkey must finally shut off smuggling paths across its borders for the Islamic State and al-Nusra Front, which have been hugely beneficial to these jihadi groups.
Ankara has been trying to exploit extremists to fight both the Assad regime and the PYD, the terrorist PKK-affiliate operating in Syria. A U.S. strategy that provides greater support for moderate forces fighting Assad and the jihadis, and which also ends U.S. actions that foster Kurdish separatism in Syria, could convince Turkey to abandon this path. SustainabiliTank.info editor takes exception from this last proposition that originates with the author iof this paper!}
While U.S. military aid to the Syrian Kurdish fighters from the PYD helped to combat the Islamic State around the northern city of Kobani, it also fosters the PYD's separatist ambitions. The PYD has already unilaterally announced an autonomous zone in northern Syria, which has spurred fearful Arab tribes in the area either to back Assad or the Islamic State. The U.S. emphasis on using Syrian Kurds against the Islamic State won't end the jihadi threat — it will only aggravate it, and the broader Syrian conflict. The Syrian Kurds' demand for decentralization may be the only way to reassemble a shattered Syria one day, but for now, the Americans and their allies must tell the PYD that autonomous zones only belong as part of longer-term political negotiations involving all Syrians.
Hugely boosted U.S. aid to the Syrian opposition should come with strings attached — a lot of them. In return for increased support, the Syrian opposition writ large must agree on these six conditions:
1) That armed groups receiving assistance from the newly created central command will obey its orders only.
2) That the armed opposition will stop atrocities against civilian communities that have backed the Assad regime and that the armed opposition command will accept responsibility for actions of its constituent groups.
3) That the armed opposition will sever all ties with al-Nusra Front.
4) That the armed opposition's leadership must constantly reiterate that it is not seeking to destroy Christian, Alawite, or other minority communities and is prepared to negotiate local security arrangements, including with Syrian Arab Army elements, to protect all Syrians.
5) That it will negotiate a national political deal to end the conflict without Assad's departure as a pre-condition.
6) That any political coalition purporting to lead the opposition must have genuine representation from minorities and top-level businessmen in Syria — communities that have, broadly speaking, supported Assad's government — and that representation will not come mainly from long-term expatriates.
Implementing these steps would help create a moderate rebel force able to confront the Islamic State and al-Nusra Front, and also pave the way for a real national political negotiation. If U.S. regional partners and the Syrian opposition won't accept the strategy and the tactics to make it work, or if the Obama administration won't expand its level of assistance and the air mission, then Washington needs to drop the goal of significantly degrading the Islamic State in Syria over the next several years.
It would be better for American credibility to walk away than try more halfhearted measures in Syria.
It would be better for American credibility to walk away than try more halfhearted measures in Syria.
After two years of experience, we should realize that limited actions aren't enough to address the major threats emanating from Syria. Our foreign partners want U.S. vision and leadership to contain extremists and launch a successful negotiation for a Syrian unity government, which is the only sustainable fix to the extremist threat. Let's give it to them.
###

ISIL Oil Control and Financing
February 18, 2015, 5:30 – 8:00 PM
McGraw-Hill Building – 12th Floor
Two Penn Plaza
New York City, NY 10121
PLEASE NOTE OUR NEW VENUE: McGraw-Hill Building, Two Penn Plaza (on top of Penn Station), 12th Floor, New York, NY 10121

Please join the New York Energy Forum for a panel discussion on Wednesday, February 18th. Mr. Rick Westerdale will discuss a recent presentation by the U.S. Department of State on topic of oil control and financing by the Islamic rebel group in Iraq and Syria. Mr. Karwan Zebari, Director at the Kurdish Regional Government Mission in DC, will then provide additional insight on the political and security outlook as well as the energy implications in Iraq.
SPEAKERS:
Rick Westerdale
Richard (Rick) W. Westerdale II is Director of the Energy Resources Bureau's Policy Analysis and Public Diplomacy Office in the U.S. State Department. He leads and directs efforts to identify, analyze, and evaluate the strategic importance of policies in international energy affairs including governance, access to energy, use of renewables and low carbon technologies, and increasing access to conventional energy resources. He represents the Department in a variety of senior-level engagements and carries out official visits to advance international engagement, forge cooperation with partner-nations and establish agreements on a range of energy security policy initiatives. Prior to his current assignment in Washington, Mr. Westerdale was responsible for providing expert commercial & technical advice, guidance, and leadership in the oil and gas sector with a specialization in Energy at the United States Embassy in Baghdad, Iraq.
Karwan Zebari
Karwan Zebari is currently the Director of Congressional & Academic Affairs at the Kurdistan Regional Government Representation in the United States, based in Washington, DC. Within his capacity Mr. Zebari works closely with Congress on all matters relating to Kurdistan Region of Iraq; strengthening the ties between the legislative body of the US government and the Kurdistan Regional Government. Mr. Zebari oversees all academic research dealing with the Kurdistan Region of Iraq from any US-based academic institution. Mr. Zebari holds a Bachelor degree from the State University of New York Institute of Technology and a Master from Binghamton University. In 2006, he was awarded the New York State Technology Association Scholar of the year. He has worked for several Department of Defense Aerospace & Defense contractors. He is also the co-founder of the American Kurdish Council and was the President of the New York Chapter from 2009 till 2011 where he mobilized the upstate New York Kurdish communities to become active in the local, state, and national grassroots efforts. Mr. Zebari has appeared on many local, national, and international media outlets.
MODERATOR: David Knapp
David Knapp is President, Energy Forum Advisory Board and Chief Energy Economist and Senior Editor for Global Oil Market Analysis at Energy Intelligence Group in New York. He is Editor of EIG's monthly Oil Market Intelligence. He has analyzed energy markets for 40 years in the international, government, business and financial sectors. Dr. Knapp holds a Ph.D. in Economics from the University of California at Santa Barbara.
PROGRAM:
5:30 – 6:00 PM: Registration
6:00 – 7:30 PM: Presentation and Discussion
7:30 – 8:00 PM: Reception
COST:
$40.00 for General Admission
$10.00 for Academic/Military
$0.00 for Energy Forum Sponsors
$0.00 for Energy Forum Subscribers
Online registration is necessary in order to facilitate building security requirements.
PLEASE NOTE WE HAVE A NEW VENUE: McGraw-Hill Building, Two Penn Plaza (on top of Penn Station), 12th Floor, New York, NY 10121
QUESTIONS:
We would be pleased to answer any questions you might have about The Energy Forum, Inc. or about this session.
Contact: Lila Noury
Online Registration
====================================
PLEASE NOTE WE HAVE A NEW VENUE: McGraw-Hill Building, Two Penn Plaza (on top of Penn Station), 12th Floor, New York, NY 10121
QUESTIONS:
We would be pleased to answer any questions you might have about The Energy Forum, Inc. or about this session.
Contact: Lila Noury
Online Registration
=====================================
###

We post this with the understanding that it is about a different way of making sense of the ISIS mind that seems to claim that reacting to their audacity does in effect play in their fields set up to create chaos in the Arab World.
Scott Ritter has had an interesting track record that might point at good use of opportunism dangerous for the uninitiated.
Did he learn his way of thinking from Soviet and Nazi books?
But then, after having written the draft of our comments on the Ritter article, I had the good fortune to watch the Fareed Zacharia CNN/GPS hour of today also – Sunday, February 8, 2015.
Fareed hosted a great panel – Former Prime Minister Of Jordan – Mr. Marvin Muasher – now vice president for studies at Carnegie, where he oversees research in Washington and Beirut on the Middle East; Fawaz Gerges, Professor of International Relations at the London School of Economics and Political Science (LSE); and Rula Jebreal a Palestinian-Italian foreign policy analyst, journalist, novelist, and screenwriter (She was a commentator for MSNBC). But more then anything else – Fareed Zacharia reminded us of David Fromkin whose old article in Foreign Affairs explained two examples of terrorism: – the bombing of the King David Hotel North Wing by the Irgun, and a bombing in Paris by the Algerian FLN. In both cases the idea of the bombers was to pull the British and the De Gaul Government of France into over reacting – and by this create chaos that eventually leads to the terror activators victory – the Britsh leaving Palestine and the French leaving Algeria. In those cases continuing the involvement by outside forces was nomore to their advantage. But is this example of value when the two warring sides are both Arab but Islamic of different sects? But then the facts here are that in the Middle East as well – like in the French case – the victims of the perpetrators are Arab Muslims – even Sunnis – like the perpetrators.
Fromkin, noted author, lawyer, and historian, is best known for his historical account on the Middle East, "A Peace to End All Peace" (1989), in which he recounts the role European powers played between 1914 and 1922 in creating the modern Middle East.
In the CNN/GPS debate it became clear that the miserable act of burning the Jordanian pilot with modern media called in to scare the Muslim world into ISIS submission, was a calculated act – not a mere mistake.
Gerges, the most conventional among the members of the panel said that "This is about the Identity of the State in the Islamic World>" He also said that ISIS is self-destructing but the answer must come from inside the Islamic World when it realizes that ISIS is more a danger to Islam then the US and the West.
Rula said that with 20 milion Muslims in Europe – they have to be integrated – we need an economic reform that makes them part of society.
Muasher pointed out that the recent years in the Middle East were marked by (a) the 2011 Arab Uprising which left positive change only in Tunisia, and (b) the more recent ISIS that followed it as an alternative for change. Bottom line – it is for the Arab states to face this reality.
The second half of alf of Fareed's program today dealt with Putin, the West, and Ukraine – and I found here similarities as well – but will not deal with this here. Simply – I am going back to the original draft – strengthened in the belief that what Scott Ritter writes could have been understood by David Fromkin and I wish Fareed Zacharia gets hold of Ritter's posting.
———————————————————————–

A Tipping Point Toward Chaos.
By Scott Ritter, Reader Supported News
07 February 2015
he murder by militants from the Islamic State in Iraq and Syria (ISIS) of a Jordanian pilot Moaz al-Kasasbeh is being viewed by analysts as a tipping point for mobilizing public support in the region against the forces of Islamic extremism. Prior to Lieutenant Kasasbeh's execution, public opinion in Jordan appeared to be evenly split on the issue of their nation's participation in the US-led coalition targeting Sunni Arab Islamists in Iraq and Syria.
Now, in the aftermath of the pilot's death, there seems to be a consensus among these analysts that a majority of Jordanians will rally around King Abdullah as he seeks revenge against ISIS by executing prisoners in Jordanian custody and considers expanding the role of Jordan in the anti-ISIS coalition. This may be the outcome in the short term, as passions flare in response to what most Jordanians view as a vicious act on the part of ISIS. The reaction of the Jordanian government (indeed all of the western world and much of the Middle East) has been predictable — so predictable that one must wonder if this is precisely the outcome desired by ISIS in killing Lieutenant Kasasbeh in such a high profile fashion, and if so, why?
The Islamic State has never hidden its desire to create a Sunni Islamic Caliphate that extends over much of the territory that comprises the modern states of Iraq, Syria and Jordan (and elsewhere, as recent events in the Sinai and Libya have shown). In the minds of many who live in the region, these three nations are artificial entities, created at the whim of western imperialists in the aftermath of the dissolution of the Ottoman Empire for the sole purpose of facilitating western economic and geopolitical ambitions at the expense of legitimate Arab nationalism and Sunni Islam. There is a growing level of resentment, especially among the ranks of young and disenfranchised males, that feeds off this perception, creating a rich pool of pre-radicalized talent from which ISIS is able to recruit.
ISIS was born from the chaos and anarchy that erupted in Iraq after the United States invaded and occupied that country, removing from power a Sunni dictator, Saddam Hussein, and replacing him with a pro-Iranian Shi'a government. ISIS was able to exploit similar chaos that engulfed Syria in 2011 during popular unrest against the government of Bashar al-Assad. Assad's government is dominated by members of a minority Shi'a sect known as the Allawites, and has close ties with Iran and the Lebanese Shi'a militia-cum-political party, Hezbollah.
In addition to playing off of the notion of historical illegitimacy of the pro-western (and anti-Sunni Islam) governments of Iraq and Syria, the Islamic State has created a de facto Sunni-Shi'a sectarian conflict that, in and of itself, serves as a rallying cry for many of its recruits, undermining the legitimacy of any Sunni Arab country that joins in the anti-ISIS fight. It is in this context that Lieutenant Kasasbeh's murder must be evaluated. By goading Jordan into assuming a larger role — perhaps even a leadership role — in the fight against the Islamic State, ISIS may be seeking to accelerate the process of creating social divides within Jordan that could lead to the kind of internal chaos and unrest that the Islamic extremists have shown themselves so adept at exploiting.
It will be difficult for King Abdullah to control the anger unleashed by the actions of ISIS in killing Lieutenant Kasasbeh. The Lieutenant's family is from a large and influential tribe which, while proud of their relative's military service, has not spoken with one voice on the Hashemite Kingdom's policies vis-à-vis Iraq and Syria. ISIS has a long history in both Iraq and Syria of turning tribal angst to its advantage, and this may be exactly the strategy ISIS is pursuing by its gruesome actions.
There can be no doubt that what ISIS did was not an accident. Lieutenant Kasasbeh was killed on January 3, 2015 — nearly a month before ISIS began "negotiating" a prisoner exchange involving the pilot and a would-be female suicide bomber. ISIS knew that by releasing the video of Kasasbeh's murder it would be guaranteeing the execution of its fellow Jihadists at the hands of the Jordanians.
The Islamic State also knew that the resulting public outrage in Jordan, especially amongst the influential al-Kasasbeh tribe, would push Jordan toward accepting a larger role in the fight against ISIS. And it also knows that, in assuming this role, the Jordanian King would be even further aligning himself with the United States and, indirectly, with a competing Shi'a alliance involving Iran, Iraq, Syria and Hezbollah.
Rather than serving as a tipping point for mobilizing public sentiment in the Sunni Arab world against ISIS, it seems that a case can be made that the actions of ISIS seem geared toward achieving the exact opposite reaction — the mobilization of angry, disenfranchised Sunni Arab youth inside Jordan against the actions of their King, creating the kinds of social rifts ISIS thrives upon. Jordan should proceed cautiously before agreeing to any expansion of its role in the anti-ISIS coalition. To do otherwise, and surrender to an emotional call for revenge, may very well pull the Hashemite Kingdom into the same vortex of fundamentalist sectarianism that has torn Iraq and Syria apart. And this is exactly what ISIS wants.
Comments
We are concerned about a recent drift towards vitriol in the RSN Reader comments section. There is a fine line between moderation and censorship. No one likes a harsh or confrontational forum atmosphere. At the same time everyone wants to be able to express themselves freely. We'll start by encouraging good judgment. If that doesn't work we'll have to ramp up the moderation.
General guidelines: Avoid personal attacks on other forum members; Avoid remarks that are ethnically derogatory; Do not advocate violence, or any illegal activity.
Remember that making the world better begins with responsible action.
– The RSN Team
+14 # Activista 2015-02-07 13:19
"exploit similar chaos that engulfed Syria in 2011 during popular unrest against the government of Bashar al-Assad. Assad's government is dominated by members of a minority Shi'a sect known as the Allawites, and has close ties with Iran and the Lebanese Shi'a militia-cum-pol itical party, Hezbollah."
ISIS is mimicking/execu ting Israel/US policy to create perpetual civil wars … ISIS Leader Abu Bakr Al Baghdadi Trained by Israeli …
www.globalresearch.ca/isis-leader-abu-bakr-al…mossad-nsa…/5391593
Jul 16, 2014 – ISIS Leader Abu Bakr Al Baghdadi Trained by Israeli Mossad, NSA … Snowden said intelligence services of three countries created a terrorist ..
+8 # motamanx 2015-02-07 14:20
Has anyone determined what ISIS wants? Was the question ever asked: "What do you guys want?" If our leadership had studied the history of the region, they would have been reminded that our dealing with the Middle East has been spotty at best. We have been meddling with them in draconian ways (and worse) for more than 100 years. Perhaps we should apologize, and leave.
+6 # REDPILLED 2015-02-07 16:33
Western "leadership" has never given a damn about the people of the Middle East as human beings. Since the end of WW I, when the greedy, arrogant Western European victors carved up the region to suit only their own resource and geopolitical aims, and imposed the Balfour Declaration's goal on Palestine, the stage has been set for bloodshed and chaos.
The U.S. was a mostly silent partner until WW II, when FDR entered into his Devil's Bargain with Saudi Arabia: Saudi oil for everlasting U.S. support and protection.
Western greed and powerlust have been the root causes of most of the violent turmoil since then.
+19 # angryspittle 2015-02-07 14:23
Another gift from W that just keeps on giving.
-8 # brux 2015-02-07 14:35
—
-39 # brux 2015-02-07 14:35
Scott Ritter … pedophile political analyst from the Left … it should be so proud.
+15 # MHAS 2015-02-07 15:43
Dear Brux,
Classic deflection. How about responding to his analysis rather than mischaracterize his politics…whic h until 2002 were that of a life-long Republican and former Marine. And as to pedophile charges, they just happened to crop up when he was exposing the lies of the W. Bush Admin in the lead up to the Iraq invasion. He has been proved right, btw….
+15 # azei2n 2015-02-07 14:56
No one has raised a wink on the burning alive of thousands of Muslims in each of Burma, India, and Egypt. The whole world had watched these atrocities without involvement. We raised no concern to the burning and killings in Chechnya, as well. We created the chaos in the Middle East and supported the Russian aggression in Chechnya. The funny things that we are still willing to go to war in Ukraine to counter the "Separatists." You notice that we don't call them "Terrorists" to legitimize our involvements. It's crazy world!!!!
+7 # REDPILLED 2015-02-07 16:38
U.S. illegal drone attacks on 7 Muslim nations since Obama took office have decapitated and immolated many more people, including non-combatants (many children), than ISIS. But the corporate Western media rarely shows these victims of U.S. state terrorism, which continues as I write this.
+9 # Kimc 2015-02-07 14:57
A friend of mine says this is all lies, made up by the people who want another war to make money on. Could that be possible?
+7 # dyannne 2015-02-07 16:25
We know that the Bush Administration and advisors (Bush, Cheney, Wolfowitz, Perl, Hayden, Bolton, Baker, Rumsfeld, et. al.) created this situation and now Jeb Bush wants to be president -and that same mind set of friends and associates will come right along with him. What a disaster that will be if he prevails.
+3 # Akeel1701 2015-02-07 18:01
It is certainly possible – isn't there an old saying that "The first casualty of war is the truth"?
+5 # Dale 2015-02-07 15:31
The Directorate of National Insecurity
Knows that a "War on Terror"
Is a never-ending cycle of creating terrorists,
Medieval and Evil as they are.
Evil begets Evil to better serve
The Devil of Empire.
With the manufactured intelligence of NSA
The boogeymen abroad are missiled and droned,
Only to create a thousand more.
Special Ops secretly assassinate suspects
And the drones guide their deadly missiles
Because The War on Jihadist Ghosts keeps the money flowing,
And creates for every martyr a hundred militants,
The more to feed the Death Machine.
The Super Rogue State draws red lines of blood in the Middle East desert sands,
Arming Islamic insurgents that blowback
To bite the asses of those who pursue the Imperial Vision.
But the Blowback from
Afghanistan, Iraq, Libya, Syria…
Is intended consequence,
How else to cycle Perpetual War?
A Warfare State demonizes Muslims,
Invades and occupies their lands,
Bombs their villages,
Threatens continuing violence,
Imposes sanctions,
The only definable ethical principle being "American First".
The end being Global Domination
Administered by the War Machine.
A Lawless State pursuing the Global Empire
Envisioned by the Dominant Class of AmeriKa Inc.
As retaliatory tactics the violence of Jijad is counterproductive,
Serving to fire the Imperial Beast
And yielding power to the most retrograde elements of Muslim society.
But no one can deny the right of victims to justice.
+3 # torch and pitchfork 2015-02-07 16:16
"Rather than serving as a tipping point for mobilizing public sentiment in the Sunni Arab world against ISIS, it seems that a case can be made that the actions of ISIS seem geared toward achieving the exact opposite reaction — the mobilization of angry, disenfranchised Sunni Arab youth inside Jordan against the actions of their King, creating the kinds of social rifts ISIS thrives upon. Jordan should proceed cautiously before agreeing to any expansion of its role in the anti-ISIS coalition. To do otherwise, and surrender to an emotional call for revenge, may very well pull the Hashemite Kingdom into the same vortex of fundamentalist sectarianism that has torn Iraq and Syria apart. And this is exactly what ISIS wants."
The best way to unite the Arab tribes is with a common enemy–those that invade and occupy your land. The Islamic faith has many warring sects but the one thing that unites them all is a trespasser. In America it's legal to shoot a home invader without consequences, why should we think it would be any different in the Middle East?
0 # Activista 2015-02-07 18:11
"the same vortex of fundamentalist sectarianism that has torn Iraq and Syria apart. And this is exactly what ISIS wants …"
that has torn Iraq, Syria, Libya apart. And this is exactly what US Neocons/Bibi want ..
————————————————————–
Scott Ritter was born into a military family in 1961 in Gainesville, Florida. He graduated from Kaiserslautern American High School in 1979, and later from Franklin and Marshall College in Lancaster, Pennsylvania, with a Bachelor of Arts in the history of the Soviet Union and departmental honors. In 1980 he served in the U.S. Army as a Private. Then in May 1984 he was commissioned as an intelligence officer in the United States Marine Corps. He served in this capacity for about 12 years. He served as the lead analyst for the Marine Corps Rapid Deployment Force concerning the Soviet invasion of Afghanistan and the Iran–Iraq War.
Ritter's academic work focused on the Basmachi resistance movement in Soviet Central Asia during the 1920s and 1930s, and on the Basmachi commanders Fazail Maksum and Ibrahim Bek. During Desert Storm, the Gulf War, he served as a ballistic missile advisor to General Norman Schwarzkopf. Ritter later worked as a security and military consultant for the Fox News network. Ritter also had "a long relationship […] of an official nature" with the UK's foreign intelligence spy agency MI6 according to an interview he gave to Democracy Now! in 2003.
Ritter was a United Nations weapons inspector in Iraq from 1991 to 1998 – Ritter "ran intelligence operations for the United Nations"from 1991 to 1998 as a United Nations weapons inspector in Iraq in the United Nations Special Commission (UNSCOM), which was charged with finding and destroying all weapons of mass destruction and WMD-related manufacturing capabilities in Iraq. He was chief inspector in fourteen of the more than thirty inspection missions in which he participated.
Ritter was amongst a group of UNSCOM weapons inspectors that regularly took Lockheed U-2 imagery to Israel for analysis, as UNSCOM was not getting sufficient analysis assistance from the U.S. and UK. This was authorised by UNSCOM, the U.S. U-2 having been loaned to UNSCOM, but caused Ritter to be subjected to criticism and investigation by U.S. authorities. Iraq protested about the supply of such information to Israel.
When the United States and the UN Security Council failed to take action against Iraq for their ongoing failure to cooperate fully with inspectors (a breach of United Nations Security Council Resolution 1154), Ritter resigned from the United Nations Special Commission on August 26, 1998. In his letter of resignation, Ritter said the Security Council's reaction to Iraq's decision earlier that month to suspend co-operation with the inspection team made a mockery of the disarmament work. Ritter later said, in an interview, that he resigned from his role as a United Nations weapons inspector over inconsistencies between United Nations Security Council Resolution 1154 and how it was implemented.
On September 3, 1998, several days after his resignation, Ritter testified before the United States Senate Committee on Armed Services and the United States Senate Committee on Foreign Relations and said that he resigned his position "out of frustration that the United Nations Security Council, and the United States as its most significant supporter, was failing to enforce the post-Gulf War resolutions designed to disarm Iraq.
Later Ritter became a critic of United States foreign policy in the Middle East. Prior to the invasion of Iraq in March 2003, Ritter stated that Iraq possessed no significant weapons of mass destruction (WMD) capabilities. He became a popular anti-war figure and talk show commentator as a result of his stance.
He has written several books on US policy, including "Dangerous Ground," published by Nation books.
In 1999, Ritter wrote "Endgame: Solving the Iraq Problem — Once and For All" in which he reiterated his claim that Iraq had obstructed the work of inspectors and attempted to hide and preserve essential elements for restarting WMD programs at a later date. However, he also expressed frustration at alleged attempts by the CIA to infiltrate UNSCOM and use the inspectors as a means of gathering intelligence with which to pursue regime change in Iraq – a violation of the terms under which UNSCOM operated, and the very rationale the Iraqi government had given in restricting the inspector's activities in 1998.
In the book's conclusion, Ritter criticized the current U.S. policy of containment in the absence of inspections as inadequate to prevent Iraq's re-acquisition of WMD's in the long term. He also rejected the notion of removing Saddam Hussein's regime by force. Instead, he advocated a policy of diplomatic engagement, leading to gradual normalization of international relations with Iraq in return for inspection-verified abandonment of their WMD programs and other objectionable policies.
Ritter again promoted a conciliatory approach toward Iraq in the 2000 documentary In Shifting Sands: The Truth About UNSCOM and the Disarming of Iraq, which he wrote and directed. The film tells the history of the UNSCOM investigations through interviews and video footage of inspection missions. In the film, Ritter argues that Iraq is a "defanged tiger" and that the inspections were successful in eliminating significant Iraqi WMD capabilities.
In 2003 – Just after the coalition invasion of Iraq had been launched, but prior to troops arriving in Baghdad, British Prime Minister Tony Blair told the Parliament of the United Kingdom that the United States and the United Kingdom believed they had "sufficient forces" in Iraq. At that very time Ritter offered an opposing view on Portuguese radio station TSF: "The United States is going to leave Iraq with its tail between its legs, defeated. It is a war we can not win … We do not have the military means to take over Baghdad and for this reason I believe the defeat of the United States in this war is inevitable … Every time we confront Iraqi troops we may win some tactical battles, as we did for ten years in Vietnam, but we will not be able to win this war, which in my opinion is already lost," Ritter added.
Australian Richard Butler, Scott Ritter's boss under the United Nations in Iraq, said that Ritter "wasn't prescient" in his predictions about WMDs, saying, "When he was the 'Alpha Dog' inspector, then by God, there were more weapons there, and we had to go find them — a contention for which he had inadequate evidence. When he became a peacenik, then it was all complete B.S., start to finish, and there were no weapons of mass destruction. And that also was a contention for which he had inadequate evidence."
In February 2005, writing on Al Jazeera's website, Ritter wrote that the "Iraqi resistance" is a "genuine grassroots national liberation movement," and "History will eventually depict as legitimate the efforts of the Iraqi resistance to destabilize and defeat the American occupation forces and their imposed Iraqi collaborationist government." On December 20, 2005, in a debate with Christopher Hitchens at the Tarrytown Music Hall in Tarrytown, NY, Ritter said furthermore that he would "prefer to be an Iraqi under Saddam than an Iraqi under a brutal American occupation."
In an October 19, 2005 interview with Seymour Hersh, Ritter claimed that regime change, rather than disarmament, has been the primary objective of President George H. W. Bush, and later of President Clinton and the second President Bush, in imposing and maintaining economic sanctions on Iraq after the Gulf War.
Ritter has also been harshly critical of Bill Clinton for politicizing the inspection process during his presidency, and of Hillary Clinton for obfuscating that record.
Ritter was a staunch Republican who voted for G.W. Bush and turned to the left. Personally – he was accused of pedophilia via the internet – first acquitted then convicted on some of the same charges.
###
The so called Islamic State has shown that there is no limit to their subhuman nature. It is first for all God Fearing Muslims to act against them – and also for all Europeans that remember what happens if you accept something like the Holocaust – to rally behind decent Muslims and help them exterminate this 21st Century insanity that came into our living rooms via the sensationalism loving corporate mass media.
King Abdullah II has done the right thing terminating by hanging the life-license of convicted mass-murderers. The IS leaders that managed her wanted her release in exchange of a Jordanian pilot whom they burned alive five weeks ago and released only now a video showing that act thinking that this will frighten us to submit some more to them. Weak minded people of the West might indeed equivocate and wait uselessly for a sign from the oil-sellers that taking serious steps against this menace is allowed.
The Jordanian pilot was shot down over the city of Rakka – the capital of their Islamic State located in what used to be called Syria – on Christmas day 2014 – in an American led bombing action. The immediate reaction called for now is for Jordan to obliterate the city of sin – Rakka – and for Europe to applaud such an action. Just remember that in 1942 the US refused to save innocent people by refusing to bomb the railways leading to the extermination camps. We did not forget and the Arabs are called not to forget now that burning pilot.
Further, and we do not feel this is unrelated – we call for Europe to unite under an Angela Merkel – Merkel Plan for a strong European Union – by starting with a plan to deal with the insolvency of the Greek State by seriously reducing their debt that was instigated by irresponsible capitalism pushing money on folks they knew had no economy that would ever return those funds.
It is rather a United Europe that could back States like Jordan – to do the right thing in the face of the 21st century scourge.
Next, we need a Green Economy to repair the devastation caused by the income-inequality fossil fuel economy over the last 40 years. Justice requires the wealthy to voluntarily adopt a Maximum Income to help repay their debts to society that came from taking money from people and treasuries and transferring it to oil exporters that then used it to fuel this pseudo-Islamic fury.
————————————————————————————————————————-
Muslim Outrage Against Islamic State after Killing of Jordanian Pilot – Liz Sly and Hugh Naylor
Declarations of outrage swept the Middle East on Wednesday as the spectacle of an Arab pilot being burned alive in a cage triggered some of the harshest reactions yet. The pan-Arab daily al-Hayat headlined its coverage: "Barbarity," while Iyad Madani, secretary general of the Organization of Islamic Cooperation, condemned the killing as an affront to Islam. "Most of the people executed by [the Islamic State] have been foreigners, but this time it was an Arab Muslim man," said Labib Kamhawi, a political analyst ba sed in Amman.
However, Hisham al-Hashimi, an expert on ISIS who advises the Iraqi government, said, "The Islamic State has gained more from this than it has lost." In the Syrian city of Raqqa, the Islamic State broadcast video of the pilot's death on giant video screens as crowds shouted, "God is Great." (Washington Post)
See also Muslim Clerics Denounce Burning Alive of Pilot as Un-Islamic – Sami Aboudi and Suleiman Al-Khalidi
The Grand Sheikh of Al-Azhar, Ahmed al-Tayeb, Egypt's top Muslim authority, said the killers themselves deserved to be "killed, crucified or to have their limbs amputated." In Qatar, the International Association of Muslim Scholars, headed by Youssef al-Qaradawi and linked to the Muslim Brotherhood, called the burning of t he pilot a criminal act. (Reuters)

So what now?
===================================================================
###
December 4-6, 2014 I joined Genia and Yehuda Kedem – professional tour organizers – who with the help of Eilat based tour guide
Sam Caspi were taking about 25 people on a bus trip to the South of Israel with a two nights accommodation at the Leonard Hotel in Eilat. I write about this because we visited with four extremely interesting individuals or couples – who I felt espouse the heroic spirit of the country's past, but also have input to the direction the State will take.
The trip was mainly to the Arava, (Arabah in Arabic) – that section of the Jordan Rift Valley running in a north-south orientation between the southern end of the Dead Sea and continues further south ending at the Gulf of Aqaba.
It is on the Eastern side of the Negev Desert joining the Kingdom of Jordan. Thanks to the ingenuity of the Jewish pioneers and their skill in using whatever water resources they could generate locally, then enhanced with a water pipeline from the more endowed North – great farm areas were developed here with various forms of agriculture.
But before I talk of the three people of the Arava proper, I will first report on a marvelous Beduin woman that plainly charmed all of us.
In the Yerucham region, filled with Israeli military installations and Bedui non-recognized villages – Salima is running her "Tent of Dreams" where she serves very sweet tea and tells her life story to tourists, and smiles showing off her beautiful little niece. Her clan has settled there after years of wandering in the desert – and as they could not produce a deed of ownership they are just tolerated – but their community is not recognized as a settlement. Like all other Bedui women she is the property of her husband, who has also other wives. But here the difference – he did not interfere with her drive to learn – and yes – she has learned to perfection both Arabic and Hebrew and even is going to the University in Beer Sheba to learn Hebrew literature.
Sure – she absorbed the Bedui culture, but the only learned culture she knows is the one that she managed to grab – the Hebrew culture. In effect we felt that she did better then some Jews that immigrated from Arab countries or from Russia.
The Bedui wanderers were historically at loggerhead with the Arab farmers, so when the Jews came they cooperated with them.
Bedui are the trackers in the Israeli army as they are native to the desert, but when Israel pushed to settle them, and then did not recognize their settlements – this created a change in the Bedui attitude towards the State. Salima is outspoken and we enjoyed seeing a an intelligent woman that grew out of nowhere, and managed to break many taboos. If she were not a woman I could see her as member of the Knesset – the Israeli Parliament – but she must nevertheless watch out she does not anger too much the Bedui traditionalists.
From drinking her tea and hearing from her about the life of the Bedui women, we continued to the Arava with first stop at the Vidor Center – an interactive museum and window to the Arava; nearby there is also the headquarters of the Arava District.
The Center is a research station for advanced agriculture alongside the desert's soil and water challenges.
From there we went to the Moshav Ein Yahav where we visited some more greenhouses before going to meet the widow of one of the founders – the fascinating Cha Cha Porat who continued the bee-keeping business that she started with her husband. Now she passed the business to her son so she can spend her time with her love – making art.
Her home is an astonishing museum – all the sculptures paintings, constructs were made by her. She spent her whole life here and would not want to live anywhere else.
In the honey business they developed a bumble bee that thrives in the heat of the area.
The following day we first went to the Timna Park to see the old Copper works that were once believed to be King Solomon's mines but now have been placed at a different time in history. In any case – it is clear that once there was here a thriving civilization. After this touristic site we continued to look up our third fabulous host at a private company that everyone calls the Botanical Gardens of Eilat. We visited there with Yoram Nadel of the www.BotanicGarden.co.il The place was once a military
strong-point but after the peace with Jordan the military decided to vacate the place.
This Botanical Garden is a unique Organic and Ecological Garden -the first organic farm ever established in Israel that grows and acclimatizes plants to desert conditions. The impressive collection of plants began as seeds from all over the world. Everything started here 16 years ago when there was nothing there – only desert.
The seeds sprouted side by side, in harmony regardless of geographical association, in desert soil reinforced with compost only.
Stone terraces were built over the years, in ancient Biblical style, to produce balanced growth areas and overcome the high salinity of the ground. They have here the Baobab tree, Cuban almond tree, Coconut trees, etc. They have a palm tree that was grown from a 1250 year old seed that was found jn an archeological dig at the Dead Sea.
The garden is watered solely by brackish water and for the fun of it they even built a spray system to give the impression of a rain forest!
From here we drove north and passed the place where a burst oil pipeline just caused a huge disaster by destroying some ecological sites that we just learned how hard it was to get them in the first place. Oh well – that is what is due to a country that has not done yet enough to disengage itself from the importation of oil. This is the pipeline that brings shipped-in oil from Eilat to the two Israeli Petroleum refineries.
Then we stopped for our fourth visit at the Arendal Farm run by a young couple that turned it into a hotel while planting olive trees and getting on the market a high quality oil product. The place is run as a green business – everything organic and energy saving. Originally also a military stroghold but the army gave it up when the relations with Jordan improved.
It was a pleasure to talk to the couple running the place and clearly they are pioneers. Nobody before them planted olive trees in the Arava – now the Jordanians are trying to copy them on their side of the valley.
###
Our original posting date was September 25, 2011, and we do this re-posting because we were just reminded of the article by a comment I received from India from seemingly a non-political person. We wonder ourselves if that article is still relevant after this week's events at the UN, and on the eve of a new meeting today in Washington between President Obama and Prime Minister Netanyahu.
—————————————————————————————–
THE LINK IS HERE AND YOU CAN READ IT BUT NOT COPY IT:
www.menafn.com/qn_news_story_s.as…
of September 25, 2011.
MENAFN – stands for Middle East North Africa – read ARAB  Financial Network – it is   a Delaware-based corporation with a wholly owned subsidiary in Amman, Jordan.
So, it must be an American Oil Industry enterprise, probably close to the Republican party,  with a Jordanian address as well.
The site [www.menafn.com] offers regional and global business content in both Arabic and English. It attracts over 340,000 highly targeted visitors on a regular basis.
It has a weekly e-Newsletter that reaches 55,000 subscribers. It summarizes major business news and events, market data and research for the Middle East region and the globe.
—
We hope that our readers in the Arab world see this posting of ours on www.SustainabiliTank.info so they understand the depth of the hole their leaders have dug for the Arab world. There is no way to bitch about Israel – if you are not ready to acknowledge the Israelis that try to find a way to peace. You will not have peace if you do not recognize Israel.
If some business interest thinks they can profit from the state of war the time has come that the Arab World distances itself from them.
——————————-
BUT THE ARTICLE IS AS FOLLOWS – AND WE GOT IT FROM URI AVNERY HIMSELF.
WHY DID MENAFN NOT POST THAT ARTICLE AS ORIGINALLY POSTED?  – THEY TOOK IT VERBATIM FROM AVNERY AND DID NOT MENTION HIM –  NEITHER DID THEY SAY  THAT AVNERY, – OR AT LEAST "THE WRITER" –  IS AN ISRAELI.  THIS SHORTCOMING POSES BIG QUESTION ON THE CREDIBILITY OF THIS MENA – MIDDLE EAST NORTH AFRICA – READ ARAB – FINANCIAL REPORT.
THIS REMINDS US OF THE ARAB SPRING, TAHRIR SQUARE,  LEADER WHOM I ASKED IN VIENNA, BEFORE AN AUDIENCE  – IF AN ISRAELI LIKE URI AVNERY APPROACHES YOU WOULD YOU OUTSTRETCH YOUR HAND IN PEACE?  SHE ANSWERED FLATLY – "NO! HE IS A ZIONIST."
THIS IS THE REAL DOWNFALL OF THE ARAB WORLD – AND IN NO WAY CAN I HAVE SYMPATHY FOR SUCH HYPOCRASY.
WHY DID NOT THIS MENAFN ACKNOWLEDGE URI AVNERY? WHY DID THEY NOT HAVE THE GUTS TO SAY – WELCOME ABOARD – HERE YOU ARE THE ISRAELI WE WANT TO TALK TO.  IN THE LIGHT OF THIS LACK OF HONESTY AND LACK OF COURAGE  –  I THINJK NOW THAT URI AVNERY HAS INDEED GOOD REASON TO RETHINK HIS NOBLE VIEWS.
————————–
Uri Avnery
September 24, 2011
Abu Mazen's Gamble
A WONDERFUL SPEECH. A beautiful speech.
The language expressive and elegant. The arguments clear and convincing. The delivery flawless.
A work of art. The art of hypocrisy. Almost every statement in the passage concerning the Israeli-Palestinian issue was a lie. A blatant lie: the speaker knew it was a lie, and so did the audience.
It was Obama at his best, Obama at his worst.
Being a moral person, he must have felt the urge to vomit. Being a pragmatic person, he knew that he had to do it, if he wanted to be re-elected.
In essence, he sold the fundamental national interests of the United States of America for the chance of a second term.
Not very nice, but that's politics, OK?
IT MAY be superfluous – almost insulting to the reader – to point out the mendacious details of this rhetorical edifice.
Obama treated the two sides as if they were equal in strength – Israelis and Palestinians, Palestinians and Israelis.
But of the two, it is the Israelis – only they – who suffer and have suffered. Persecution. Exile. Holocaust. An Israeli child threatened by rockets. Surrounded by the hatred of Arab children. So sad.
No Occupation. No settlements. No June 1967 borders. No Naqba. No Palestinian children killed or frightened. It's the straight right-wing Israeli propaganda line, pure and simple – the terminology, the historical narrative, the argumentation. The music.
The Palestinians, of course, should have a state of their own. Sure, sure. But they must not be pushy. They must not embarrass the US. They must not come to the UN. They must sit with the Israelis, like reasonable people, and work it out with them. The reasonable sheep must sit down with the reasonable wolf and decide what to have for dinner. Foreigners should not interfere.
Obama gave full service. A lady who provides this kind of service generally gets paid in advance. Obama got paid immediately afterwards, within the hour. Netanyahu sat down with him in front of the cameras and gave him enough quotable professions of love and gratitude to last for several election campaigns.
THE TRAGIC hero of this affair is Mahmoud Abbas. A tragic hero, but a hero nonetheless.
Many people may be surprised by this sudden emergence of Abbas as a daring player for high stakes, ready to confront the mighty US.
If Ariel Sharon were to wake up for a moment from his years-long coma, he would faint with amazement. It was he who called Mahmoud Abbas "a plucked chicken".
Yet for the last few days, Abbas was the center of global attention. World leaders conferred about how to handle him, senior diplomats were eager to convince him of this or that course of action, commentators were guessing what he would do next. His speech before the UN General Assembly was treated as an event of consequence.
Not bad for a chicken, even for one with a full set of feathers.
His emergence as a leader on the world stage is somewhat reminiscent of Anwar Sadat.
When Gamal Abd-al-Nasser unexpectedly died at the age of 52 in 1970 and his official deputy, Sadat, assumed his mantle, all political experts shrugged.
Sadat? Who the hell is that? He was considered a nonentity, an eternal No. 2, one of the least important members of the group of "free officers" that was ruling Egypt.
In Egypt, a land of jokes and jokers, witticisms about him abounded. One concerned the prominent brown mark on his forehead. The official version was that it was the result of much praying, hitting the ground with his forehead. But the real reason, it was told, was that at meetings, after everyone else had spoken, Sadat would get up and try to say something. Nasser would good-naturedly put his finger to his forehead, push him gently down and say: "Sit, Anwar!"
To the utter amazement of the experts – and especially the Israeli ones – this "nonentity" took a huge gamble by starting the 1973 October War, and proceeded to do something unprecedented in history: going to the capital of an enemy country still officially in a state of war and making peace.
Abbas' status under Yasser Arafat was not unlike Sadat's under Nasser. However, Arafat never appointed a deputy. Abbas was one of a group of four or five likely successors. The heir would surely have been Abu Jihad, had he not been killed by Israeli commandoes in front of his wife and children. Another likely candidate, Abu Iyad, was killed by Palestinian terrorists. Abu Mazen (Abbas) was in a way the choice by default.
Such politicians, emerging suddenly from under the shadow of a great leader, generally fall into one of two categories: the eternal frustrated No. 2 or the surprising new leader.
The Bible gives us examples of both kinds. The first was Rehoboam, the son and heir of the great King Solomon, who told his people: "my father chastised you with whips, but I will chastise you with scorpions". The other kind was represented by Joshua, the heir of Moses. He was no second Moses, but according to the story a great conqueror in his own right.
Modern history tells the sad story of Anthony Eden, the long-suffering No. 2 of Winston Churchill, who commanded little respect. (Mussolini called him, after their first meeting, "a well-tailored idiot."). Upon assuming power, he tried desperately to equal Churchill and soon embroiled Britain in the 1956 Suez disaster. To the second category belonged Harry Truman, the nobody who succeeded the great Franklin Delano Roosevelt and surprised everybody as a resolute leader.
Abbas looked like belonging to the first kind. Now, suddenly, he is revealed as belonging to the second. The world is treating him with newfound respect. Nearing the end of his career, he made the big gamble.
BUT WAS it wise? Courageous, yes. Daring, yes. But wise?
My answer is: Yes, it was.
Abbas has placed the quest for Palestinian freedom squarely on the international table. For more than a week, Palestine has been the center of international attention. Scores of international statesmen and -women, including the leader of the world's only superpower, have been busy with Palestine.
For a national movement, that is of the utmost importance. Cynics may ask: "So what did they gain from it?" But cynics are fools. A liberation movement gains from the very fact that the world pays attention, that the media grapple with the problem, that people of conscience all over the world are aroused. It strengthens morale at home and brings the struggle a step nearer its goal.
Oppression shuns the limelight. Occupation, settlements, ethnic cleansing thrive in the shadows. It is the oppressed who need the light of day. Abbas' move provided it, at least for the time being.
BARACK OBAMA's miserable performance was a nail in the coffin of America's status as a superpower. In a way, it was a crime against the United States.
The Arab Spring may have been a last chance for the US to recover its standing in the Middle East. After some hesitation, Obama realized that. He called on Mubarak to go, helped the Libyans against their tyrant, made some noises about Bashar al-Assad. He knows that he has to regain the respect of the Arab masses if he wants to recover some stature in the region, and by extension throughout the world.
Now he has blown it, perhaps forever. No self-respecting Arab will forgive him for plunging his knife into the back of the helpless Palestinians. All the credit the US has tried to gain in the last months in the Arab and the wider Muslim world has been blown away with one puff.
All for reelection.
IT WAS also a crime against Israel.
Israel needs peace. Israel needs to live side by side with the Palestinian people, within the Arab world. Israel cannot rely forever on the unconditional support of the declining United States.
Obama knows this full well. He knows what is good for Israel, even if Netanyahu doesn't. Yet he has handed the keys of the car to the drunken driver.
The State of Palestine will come into being. This week it was already clear that this is unavoidable. Obama will be forgotten, as will Netanyahu, Lieberman and the whole bunch.
Mahmoud Abbas – Abu Mazen, as the Palestinians call him – will be remembered. The "plucked chicken" is soaring into the sky.
###

Abbas' UN speech further widens Israeli-Palestinian rift.
Belligerent rhetoric irks U.S. administration but does not mention timeframe for statehood.
By Jack Khoury and Barak Ravid | HAARETZ, Sep. 28, 2014
The serious rift between Israel and the Palestinian Authority widened further over the weekend following the speech by PA President Mahmoud Abbas to the U.N. General Assembly Friday.
In one of his most belligerent addresses ever, Abbas accused Israel of "genocide" during last summer's war in Gaza, said the Palestinian people "will not forget and will not forgive" and declared that the Palestinians will act in the international arena to bring to justice Israeli officials responsible for war crimes.
Prime Minister Benjamin Netanyahu is to travel to New York this morning and will address the U.N. General Assembly tomorrow. On Wednesday Netanyahu will meet in Washington with President Barack Obama at the White House. In the context of the international struggle against the Islamic State, Netanyahu is expected to focus his speech on the dangers of extremist Islam and the Iranian nuclear program. However, he is now expected to devote a good portion of his speech to Abbas' attacks.

"After the Iranian president's fraudulent speech and the speech of incitement by Abu Mazen (Abbas), I will tell the truth on behalf of the citizens of Israel in front of the entire world," Netanyahu said yesterday. "In my speech to the UN and in all my meetings I will represent the citizens of Israel, and I will refute in their names the lies and slander (spoken) about their country," he added.
Senior officials in Netanyahu's bureau said Abbas' speech was "full of lies and incitement and "this is not the way a man who wants peace speaks."
Foreign Minister Avigdor Lieberman said Abbas' speech proved that the Palestinian president "doesn't want to be, and cannot be, a partner for a logical diplomatic resolution" and that "Abbas complements Hamas when he deals with diplomatic terrorism and slanders Israel with false accusations."
Abbas' speech greatly angered the American Administration; State Department spokeswoman Jen Psaki responded sharply by saying it included "offensive characterizations that were deeply disappointing and which we reject." She added, "Such provocative statements are counterproductive and undermine efforts to create a positive atmosphere and restore trust between the parties."

The Palestinian Authority, in turn, was infuriated by the U.S. reaction to Abbas' address and the critical remarks by State Department spokeswoman Jen Psaki. PA sources said the U.S. response was "improper, irresponsible, and the Palestinians categorically reject it."
According to chief Palestinian negotiator Saeb Erekat, Abbas' remarks related to a number of issues, first among them a condemnation of the Israeli assault in Gaza. "The Palestinians will not retreat from their intention to bring those responsible to justice," said Erekat.
Erekat called on the United States and the international community to "come down on the side of justice and the right of the Palestinian people to self-determination, and not support Israel's destructive policies."
Two days before Abbas' speech, Obama told the U.N. General Assembly that the United States would not abandon its efforts to bring an end to the Israel-Palestinian conflict. However, Obama said the conflict is not the source of all the problems in the Middle East. Obama said the wave of violence in the region had led too many Israelis to abandon efforts to reach peace and that the status quo in the West Bank and the Gaza Strip could not go on.

Abbas said in his speech that the Palestinians would work together with Arab countries to move ahead a U.N. Security Council resolution on an end to the Israeli occupation of the West Bank and the establishment of a Palestinian state based on the 1967 lines, with its capital in East Jerusalem. He said a timetable should be established for an end to the occupation, but did not cite a timetable in his speech or give details of coming Palestinian moves.
Senior Palestinian officials told Haaretz after Abbas' speech that he did not mention dates or timetables so as not to clash head-on with the American government on the matter. As opposed to statements made by people close to Abbas before his speech, he did not say the resolution should include a demand to end the occupation within three years.
It is believed that the change in the content of the speech came after meetings Abbas had at the United Nations before the speech with several leaders, including U.S. Secretary of State John Kerry. According to a senior Palestinian official, the Palestinian delegation heard clear opposition from the Americans to a unilateral move in the Security Council and that the United States would veto such a resolution if it won a majority.
Abbas started his speech on Friday with an attack on the government of Israel, which he said had launched a "devastating war" in the Gaza Strip "by which its jets and tanks brutally assassinated lives and devastated the homes, schools and dreams of thousands of Palestinian children, women and men, and in reality destroying the remaining hopes for peace."
The Palestinian president accused Israel of committing war crimes "before the eyes and ears of the entire world, moment by moment." Abbas also said: "We will not allow war criminals to escape punishment."
Abbas said the Palestinian people reserved the right "to defend themselves against the Israeli war machine" and the right to oppose the occupation and settlements. He said the Palestinians would act only in accordance with international law and would not "abandon our humanity, our values ??and our ethics."
The Palestinian president accused Israel of causing the American peace initiative to fail and blowing up the negotiations between the parties that had lasted eight months. He said the Palestinians had acted positively during the negotiations while Israel's "settlement construction, land confiscations, home demolitions, killing and arrest campaigns, and forced displacement in the West Bank continued unabated."
Abbas claimed Israel had breached the agreement to release veteran prisoners who were to have been released as part of the understandings that led to the renewed talks. He added Israel had opposed any accord based on a Palestinian state within the 1967 borders. According to Abbas, Israel's best offer during the negotiation included areas that did not constitute contiguous territory, "without sovereignty over its airspace, water and natural resources."
Abbas accused Israel of racism against Palestinians and mentioned attacks by settlers whom he called "fascists." He said increased incitement and racist discourse against Palestinians is what led to the murder of the teen from the Jerusalem neighborhood of Shoafat, Mohammad Abu-Khdeir, in July.
Abbas accused the Israeli government of attempts to weaken the PA and undermine its institutions. He said after the reconciliation with Hamas that led to the establishment of the Palestinian unity government, the whole world welcomed it while Israel tried to counter it.
The Palestinian president said he had no intention of returning to the negotiating table with Israel merely for the sake of negotiations without dealing with the core issues of the conflict. "There is neither credibility nor seriousness in negotiations in which Israel predetermines the results via its settlement activities," he said.
Abbas complained that for years the Palestinians and not Israel, had been required to make goodwill gestures and concessions to prove the seriousness of their intentions. In a barb at Netanyahu, Abbas said the Palestinians would not be the ones "to understand the conditions of the other party and the importance of preserving its coalition government while it entrenches its occupation."
================================================================
THIS WAS PUBLISHED ON THE EVE OF THE PRESENTATION by PRIME MINSTER BENJAMIN NETANYAHU BEFORE THE 69th SESSION OF THE UNGA IN NEW CITY – AN OP-ED WRITTEN ACTUALLY BY THE EDITOR HIMSELF WITH THE INTENT OF CALLING ON THE ISRAELI PM NOT JUST TO REJECT THE PALESTINIAN'S STATEMENTS BUT ACTUALLY TO SHOW THAT IT IS IN THE INTEREST OF BOTH PEOPLES THAT THE TONE OF THE CONVERSATION BE CHANGED AND ATTEMPT BE MADE TO A JOINT EFFORT AT FINDING A SOLUTION TO THE CONFLICT.
OP-ED by DAVID HOROVITZ, THE TIMES OF ISRAEL, September 28, 2014.
Since Abbas is no partner, Israel should help try to produce one.
One wishes Netanyahu, apart from bashing the PA chief, would tell the UN that Israelis and Palestinians have an interest in creating a different climate here — in which demonization gradually gives way to moderation
Palestinian Authority President Mahmoud Abbas addressed the 69th UN General Assembly on September 26, 2014.

David Horovitz is the founding editor of The Times of Israel. He previously edited The Jerusalem Post (2004-2011)
More on this story:
Netanyahu vows to 'refute lies' in United Nations address.
Hamas said ready to accept PA forces on Gaza borders.
Iranian military said 'in the field' advising 'Palestinian resistance.'
US official talks up potential for cooperation with Iran.
Hamas says it's ready for more fighting, promises 'surprises.'
Livni reportedly meets with clutch of Arab foreign ministers.

We didn't need Mahmoud Abbas's ghastly "genocide" speech to the United Nations General Assembly on Friday to make plain that this is a man with whom Israel cannot reach viable terms for co-existence and a two-state solution.
His unleashing of incendiary false accusations before the watching world was particularly despicable, but this was only the worst in a long series of vicious speeches calculated to exacerbate the hostility to the very fact of Israel's existence among his own people, across the region, and indeed worldwide.
More substantively, while not personally fostering terrorism, Abbas has long since proved disinclined to counter the uncompromising narrative that his late and unlamented predecessor Yasser Arafat bequeathed the Palestinians — namely, that there was no Jewish temple in Jerusalem, and that the Jewish people thus have no sovereign legitimacy here. Under his rule, as under Arafat's, most aspects of normalized relations with Israel and Israelis are discouraged, and Palestinian media routinely demonizes and delegitimizes Israel.
At the negotiating table, moreover, Abbas has proved himself a serial rejectionist.
Most tellingly, six years ago he opted not to seize upon prime minister Ehud Olmert's bombshell offer of everything the Palestinians ostensibly seek: Israel was gone from Gaza and now offered a 100% withdrawal from the West Bank with one-for-one land swaps, the division of Jerusalem into Israeli and Palestinian sovereign sections, and shared authority for the Palestinians, alongside Israel, as part of an international, non-sovereign tribunal responsible for the Old City area. Abbas placed firm blame Friday on Prime Minister Benjamin Netanyahu for taking uncompromising and unworkable positions in peace talks over recent months. And Netanyahu's settlement policies — including last month's announcement of planned land expropriation in the Etzion Bloc — certainly haven't helped build trust, bolster moderation, and discredit extremists. But it was Abbas who passed up compromising, workable positions in 2008.
The problem is that, as things stand, there is absolutely no prospect of a Palestinian leadership emerging after Abbas that will interact more fair-mindedly with Israel in the cause of viable co-existence.
Moreover, as chief Israeli negotiator Tzipi Livni reminded us in her Times of Israel interview last week, it was Abbas, just months ago, who similarly failed to respond to the US-drafted framework document, accepted with reservations by Israel, that was intended to serve as the basis for the self-same substantive effort to negotiate a two-state solution he purports to seek.
Abbas the rejectionist, and duplicitous about it, too. Doubtless, when he addresses the General Assembly on Monday, Netanyahu will focus on this.
For that overwhelming majority of Israelis who want to maintain a Jewish and democratic Israel, however, the problem is that, as things stand, there is absolutely no prospect of a Palestinian leadership emerging after Abbas that will interact more fair-mindedly with Israel in the cause of viable coexistence. Quite the reverse.
Netanyahu might well note this, too. After all, he subscribes to a particularly bleak worldview, often vindicated, that holds that the Jewish people always have been and always will be persecuted, that the prime imperative of Jewish leaders is to protect the people from such persecution, and that his privilege is to lead the Jews in a rare period of history when the Jewish nation-state has been revived and has an army capable of defending it.
Prime Minister Benjamin Netanyahu addresses the 68th Session of the United Nations General Assembly on Tuesday October 1, 2013 at the United Nations headquarters in New York (photo credit: AP/Andrew Gombert,Pool)
Prime Minister Benjamin Netanyahu addresses the 68th Session of the United Nations General Assembly on Tuesday October 1, 2013 at the United Nations headquarters in New York (photo credit: AP/Andrew Gombert,Pool)
What one wishes Netanyahu might also say, once he's countered Abbas's genocide slander, however, is that Israelis and Palestinians alike have an interest in creating a different climate here — an atmosphere in which hostility, demonization and delegitimization gradually give way to moderation and mutual acceptance.
In her interview, Livni vouchsafed that baby steps in this direction were discussed in the months of US-mediated talks that collapsed in April — that a document was drawn up, and agreed upon for implementation, geared at fostering a "culture of peace" between Israelis and Palestinians. It aimed, she said, at countering racism and discrimination in the media, in the speeches of political and spiritual leaders, in schoolbooks and more, promoting mutual understanding, tolerance and respect instead.
Netanyahu's critics, overseas and here at home, assert that his rhetorical support for a two-state solution is contradicted by his policies, especially ongoing support for the expansion of settlements. A speech in which the prime minister sets out territorial red lines — broadly delineating those areas he believes Israel must retain, and beyond which he will not seek to expand settlements — could begin to address those concerns. A speech in which he then seeks a partnership with the international community to work to marginalize violent extremism — hostility to Israel among the Palestinians, as well as hostility to the West throughout this region — would offer a path forward that could be immensely appealing worldwide, precisely as the widening US-led coalition battles IS and other brutal iterations of radical Islam.
Abbas's speech on Friday essentially told Israel, and the US for that matter, to go to hell. It underlined what his years of failed leadership had long since confirmed — that he lacks the will or the guts to challenge and change the poisoned mindset of his people.
For Netanyahu to bitterly point this out, however, is insufficient. Since Abbas is no partner, Israel should at least try to do what it can to help create a climate in which a partner could emerge and flourish.
Netanyahu needs to galvanize the international community by specifying how the climate of hostility could be altered for the better, and by committing Israel to playing its part. No such radical shift can happen overnight. It will take years. But since Israel would be a prime beneficiary, Monday at the UN General Assembly would be a particularly good time and place to start.
The Times of Israel www.timesofisrael.com/since-abbas… Follow us: @timesofisrael on Twitter | timesofisrael on Facebook
========================================================
Also, reminded that in the past PM Netanyahu showed a closeness to US Republicans, surfing the internet we found that anti-Obama Republicans take now positions that might be embraced again by Mr. Netanyahu and we are curious if any of the following will find its way into his speech tomorrow:

(1) The main issue was defined by a source as "Keep an eye on the ball: the Iranian nuclear build-up is 1,000 times a greater threat than ISIS." Tehran should be left to deal with this problem, which threatens its allies in Damascus and Baghdad, and potentially even Iran itself.
(2) Remembering the strong interest by Republican business in the oil industry, and the fact that The "Islamic State" – actually like most well-to-do Muslim States – gets its financial underpinnings from oil – – and the US finds it attractive to bomb their oil facilities – the critics offer the opinion – "Destroying oil production facilities is almost always a mistake."
(3) From the above, the remaining conclusion that leads to a lower level of activity – is thus one of "American efforts should be limited only to (a) providing assistance to the Kurds and (b) humanitarian missions."
(4) If it is decided to fight and eventually stimulate a US war economy – "Never initiate fighting unless prepared to do what is needed to win. (I.e., don't in advance rule out ground troops which are needed if serious involvement is contemplated.)
###
Bi-annual conferences on "Drylands, Deserts and Desertification" (DDD), are one of the largest international academic forums on desertification. They take place at Ben Gurion University of the Negev – BGU's Sede Boqer campus.
Three hundred to five hundred people from around the world have come to learn practical lessons and make connections to bring back to their home countries.
The fifth DDD conference is scheduled for November 17-20, 2014.
The United Nations defined desertification as potentially the most threatening ecosystem change impacting livelihoods at the global scale; based on the total number of people threatened by desertification, this ranks among the greatest contemporary environmental problems.
Developed as a result of the 1992 Rio Summit, the United Nations Convention to Combat Desertification (UNCCD) has brought attention to the phenomenon of land degradation called "desertification" when it occurs in drylands, as the most vulnerable ecosystems. Fifteen years after coming into force, the UNCCD was increasingly recognized as an instrument which can make an important contribution to the achievement of sustainable development and poverty reduction. The Committee of Science and Technology (CST – United Nations Convention to Combat Desertification), provides information and advice on scientific and technological matters relating to combating desertification and mitigating the effects of drought to the UNCCD's Conference of the Parties (COP).
The uniting theme of the 2014 conference is "Healthy Lands – Healthy People" which encompasses a variety of aspects relating to Drylands, Deserts and Desertification, including natural sciences, social sciences, planning and policy issues.
Sessions with the following themes are already confirmed to be held during the conference:
• Afforestation in Drylands • AgroEcology • Architecture and City Planning in Drylands and Arid Areas • Carbon Footprint • Climate Change, Desertification and Society in the Ancient Near East: Lessons from the Past Desertification in Mongolia and China • Drip Irrigation (main theme of Desert Agriculture this year) • Deserts and Drylands in Ancient Literature and Archeology • Dryland Landscapes as Pattern-forming Systems: Modeling and Analysis • Ecohydrology of Dryland Landscapes • Economic Development in the Drylands • Environmental Education • Geological Aspects of Deserts and Desertification • GIS Applications for Dryland Studies • Green Building in Extreme Climates • Healthy Buildings • Hydrology in Drylands • Kidron River Restoration • Media and Environment • Mathematical Aspects of Desertification and Restoration • NGO Perspectives on Dryland Development • Nutritional and Food Security • On-site Waste Collection and Treatment • Public Health and Life in Deserts and Drylands • Remote Sensing • Society and Technology • Soil and Land Restoration • Water Policy in Drylands • Women and Economic Change in Rural-Arid Lands.
Additional specialized themes will be announced shortly. Some themes may be united with others.
An important part of the discussions will be The Economics of Land Degradation, and this connects to the developing science of the impact of man induced climate change.
###
Kein Grund zur Euphorie
Kommentar | Gudrun Harrer15. August 2014, 14:35
Maliki ist nicht die einzige Barriere zur politischen Gesundung und Einheit des Irak.
Am Ende hat er noch US-Lob für seine "ehrenvolle" Entscheidung bekommen: Nuri al-Maliki hat seine – von seinem Wahlsieg bei den Parlamentswahlen abgeleiteten – Ansprüche auf das Amt des Premiers aufgegeben und damit die Gefahr gebannt, dass sich zur Sicherheitskrise im Irak auch noch eine Verfassungskrise gesellt. Haidar al-Abadi kann nun seine Regierung bilden, ohne dass einer der eigenen Leute mit der Axt hinter ihm steht.
Allerdings ist jede Euphorie, in der die Person Malikis als einzige Barriere zur politischen Gesundung und Einheit des Irak gesehen wurde, völlig fehl am Platz: Abadi wird den arabischen Sunniten und den Kurden weit reichende Angebote machen müssen, um sie wieder einzubinden. Und er wird seine Zusagen – anders als es Maliki nach den Wahlen 2010 getan hat – auch halten müssen.
Alle, auch seine eigene Dawa-Partei, hatten Maliki fallen gelassen. Mit seinem Schritt hat er sich erspart, einmal mehr in der Freitagspredigt des Vertreters der wichtigsten schiitischen Autorität im Irak, Ayatollah Ali Sistani, wenig subtil zum Abtreten aufgefordert zu werden. Aber dass erfolglose Politiker sich besser zurückziehen, hatte Sistani schon vor den Wahlen dekretiert, seinerseits erfolglos, weder Maliki noch seine Wähler hatten auf Sistani gehört. Erst als das Trommelfeuer auch aus dem Iran, von höchsten Stellen, kam, hatte Maliki ein Einsehen.
US-Präsident Barack Obama wiederum knüpfte seine Zusage für ein verstärktes militärisches Engagement an eine inklusive Regierung in Bagdad, unter Kooperation aller Gruppen. Dem stand der polarisierende Maliki im Wege. Es ist traurig, dass es der Gefahr des "Islamischen Staats" (IS) und einer humanitären Krise katastrophalen Ausmaßes bedurfte, um ihn zum Gehen zu bewegen. Umgekehrt könnte man sein (vorläufiges) Ende auch als Erfolg des sunnitischen Aufstands gegen Bagdad verbuchen – wäre nicht dieser Aufstand längst vom jihadistischen Wahnsinn aufgesogen und delegitimiert worden.
Wenn man die Berichte von Militäranalysten über die von der IS infizierten Gebiete liest, könnte man den Schluss ziehen, dass die IS zwar momentan punktuell noch gewinnt, aber ihre große Offensive etwas stockt. Die schlechte Nachricht ist, dass gegen die IS oft nicht die irakische Armee, sondern schiitische Milizen erfolgreich sind: Sie muss Bagdad schnell in den Griff kriegen, denn ihr Wüten ruft wieder eine sunnitische Gegenbewegung hervor.
Die Jesiden sind zwar nicht alle in Sicherheit, aber die US-Hilfe greift. Der Vorwurf, dass es den USA einmal mehr um die Ölfelder und den Schutz der dort präsenten internationalen Ölfirmen ankommt, konnte nicht ausbleiben. Aber erstens ist das in diesem Moment ohnehin sekundär. Und zweitens ist die US-Einstellung zu den nahöstlichen Ölvorkommen in einem grundlegenden Wandel begriffen. Das eigene Interesse am Öl mag ein Motiv sein, aber vor allem gilt es zu verhindern, dass noch mehr Ressourcen der IS in die Hände fallen. Und das ist ja wohl vernünftig. (Gudrun Harrer, DER STANDARD, 16.8.2014)
###
Presided upon by Mr. Richard N. Haass, the President of the Council on Foreign Relations, a panel of six of the Council's experts in front of two rooms full in audience – one in New York the other in Washington DC, a whole gamut of Middle East problems was put on display and dissected.
The six experts were – Elliott Abrams who started out as staff member of Senators Henry M. Jackson and Daniel P. Moynihan and then moved on to the White House under Presidents Reagan and G.W. Bush;  Steven A. Cook who started out at the Brookings Institution, developed an expertise on Egypt, Algeria and Turkey, and is running a blog "From the Potomac to the Euphrates;    Robert M. Danin who started out as a journalist reporting from Jerusalem then worked at the State Department on Middle East Affairs and with Tony Blair as his Jerusalem based representative of the Quartet;   and Ray Takeyh, a widely published professorial expert on Iran – in Washington D C and Isobel Coleman who at CFR covers Civil Society, Markets and Democracy, comes from the business world, has written extensively on policy, was track leader at the Clinton Global Initiative, was named by Newsweek as one of 150 Women Who Shake the World and her blog is Democracy in Development; and Richard N. Haass who served in the White House at ambassadorial level but argued in a book that Foreign Policy starts at Home – the last two were with us in New York.
This discussion takes place at the beginning of the third week since this latest flare-up of Israel's war against the Hamas of Gaza. A very fast consensus was reached among the four members of the Washington DC panel that to cool the situation without giving Hamas some credit is really difficult. Israel wants really to destroy the infrastructure of tunnels into Israel. Hamas points out that they managed to-date to beat Israel at that as just a day earlier they demonstrated they are capable to infiltrate Israel through such tunnels. Richard Haass evoked Henry Kissinger who said that what is needed to create a lasting equilibrium is (a) a degree of balance, and (b) a degree of legitimacy that comes from mutual recognition between the forces. The latter point does not exist here. Israel is united and out to eliminate Hamas – but if the fighting continues it is expected that the demand for change in the status quo will get louder in Israel – or just a return to a system that allows only breaks in the fighting will be unacceptable.
Asked about how to bring the Palestinian Authority back into Gaza – the prediction expressed was that Hamas demonstrating that only resistance keeps you in authority will allow Hamas to emerge as winner.  Today's news that Israel bombed a UN managed school filled with displaced Palestinians, and probably also arms bearing Palestinians, will nevertheless put some more outside pressure on Israel.
Further, the news I get today from Vienna is that Saturday there will be large pro-Palestinian demonstrations in Europe on the occasion of the yearly celebration of the Al-Quds Day. This is a PR success for the Hamas – the show of harm done to the Palestinians that are being used as shield to those missiles, and then their misery exploited in order to achieve PR gains based in part also on the unleashing of an existing undertow of Antisemitism-comes-naturally to some layers of Christian Europe. These are aspects that were not looked at by the panel but which play now very seriously a role within Israel. My bet is that Israel will demand that the PA is reintroduced to Gaza at least at its borders – with a minimum role of making sure there are no tunnels. If this becomes part of the US and Egypt brokered solution, the other part will have to be a transparent start to the dissolution of some West Bank settlements. The military defeat of the Hamas can then be viewed as a success of the political leadership of the Hamas in ways acceptable to Israel.
Again – these ideas were not expressed at the Town-Hall meeting.
Steven Cook said that the present ruler of Egypt – President Abdel Fattah Saed Hussein Khalil al-Sisi, former Chief of the Army and Minister of Defense – is much more decisive then Mubarak was, and can be counted on to be more decisive in matters of Hamas. Now we have a situation that Egypt and the Saudis hate in full view the Muslim Brotherhood and their off-shoot – the Hamas,  while the Amir of Qatar is backing them.  So, now we have beside the Sunni – Shia Divide also a Sunni – Sunni Divide which is going and deepening and creates a further Divide between the Brotherhood & Hamas on the one hand and more extremist ISIS & Al Qaeda on the other hand. These latter without an official sponsor from any State.  Here again real life went beyond what was said at the CFR panel.
I made it my business to tell the organizer about the day's news at the UN, the finding by investigative journalist Matthew R. Lee that the UN Secretary General's charter flight to the Middle East was bankrolled by the Amir of Qatar, a sponsor of Hamas, does in effect put a notch in the UNSG effort in posing as an honest broker on Gaza. I thought this ought to be brought up at the Town Hall meeting and said I can volunteer to raise this as a question – but I could not – this because I was there as Press, and only Members of the CFR are allowed to ask questions. Members come from Think-Tanks but mainly from business. The reality is that the business sectors represented at the CFR are mainly those that belong to old establishments – Members of the International Chamber of Commerce, but no businesses that could profit from an economy less reliant on fossil fuels. The whole concept of energy seems here to still mean those conventional fuels – and it shows. It came up here as well when a question about Energy Independence was answered that though an Energy Revolution did happen lately in the US, we will never be Independent of "Energy" because the World Economy runs on "Energy."
Many other points came up – and I will now highlight some of them:
  –  Iran was mentioned in the context that July 20th Vienna meeting was the rage at that time – but then came the Ukraine and Gaza wars. Now Iran was delayed to November 25th and is barely noticed. It was noted that it is only a 4 months delay while it was technically possible to delay it for 6 months. The Iranians believe that they already agreed to the red lines. Can these Red lines be adjusted?
  –  The Kurds will make now moves to go their own ways. The Turks now play more favorably to the Kurds – but the Kurds continue to be split and fight among themselves.
  –   Winner Takes All has been disproved for the Middle East. Maliki in Iraq learned it does not work, so did Morsi in Egypt who saw his Brotherhod and himself ousted merciless.  I found this an extremely valuable observation for all combatants of the region.
  –   New forms of COLD WAR. there is one between the Saudis and the Gulf States (Intra Sunni – Sunni) – and there is one between the Saudis and the Iranians. Like in the US-Soviet case this is not a fight between States. mainly it goes on now on Syrian Territory between parts of Syria a country that will be dismembered like Iraq was.  In the past governments were oppressive and economically weak, but had power internally – now this did collapse.
  –  Now we reached a favorite question about the UN. Are there any useful capacities remaining for the UN? Elliot Abrams said that if appointed to the UN he would try to get another job. UNRWA has become more and more controversial – specifically when there is a cease-fire.
###
But above statement does not sit well with the Secretary's benefactor on this trip – His Highness Sheikh Tamim bin Hamad Al-Thani, Amir of the State of Qatar, who is funding the UN Secretary-General's current trip to the Middle East, or the Mr. Ban Ki-moon's Middle East Policy guide, Dr. Nabil ElArabi, the Secretary-General of the League of Arab States, the linchpin between the opposing two Arab Sunni factions headed by Qatar – the Godfather of the Muslim Brotherhood and of its off-Shoot the Hamas, and Saudi Arabia, that detests those two last named political Islamic fundamentalist organizations.
Following this we can say that except in the UN released report of that OFF-THE-CUFF Press conference in the presence of Israel's Prime Minister Benjamin Netanyahu which can be read at    www.un.org/offthecuff/index.asp?c… no other document, press release, or other UN paper has anything as clearly expressed as this. It is always about the suffering of the Gaza Palestinians – the poor poor innocent people that are being bombed continuously by the Israelis because they are being used as human shields to the rocket launchers that hide among them.
Not only that, it is the UN paid for and UN maintained facilities that are used as storage place for the rockets. when such a use of a facility became public the UN paid folks just turned them over to the Hamas. It is just not enough to acknowledge as the UNSG did when in Ramallah on July 22nd that UNRWA's regular operations were "acutely affected" by the fact that they were used to store weapons. and then say that he strongly condemns "the indiscriminate rocket fire launched by Hamas and Islamic Jihad from Gaza into Israel. I am also alarmed by Israel's heavy response and corresponding high civilian death toll. This is the "proportionality argument" that forgets that in the World there are more then a billion Muslims and less then 10 million Jews – which would indeed mean a proportionality of 1:1,000 – or in mathematical terms each Jew killed weighs as much as 1,000 Muslims killed – this when the killing is started by people that dream of cleansing their region of the Infidel Jews.
In that video-conference from Ramallah Mr. Ban complains that in the last 5 years, the time he is UN Secretary-General this is his third time to come on an emergency mission tp the region to help in a crisis.
That means the children of Gaza are now living through the third major assault in the last five years of their lives, he said.
Obviously, the UNSG just said the truth which is that just achieving a cease-fire without demilitarization of  Gaza achieves nothing else then a short break in a continuing warfare and there is no reasn why Israel should accept this. The ridiculous fact is that Israel nevertheless did accept Egypt's proposal to allow for just such a break and it was Hamas grand-standing that rejected it. Hamas hates Egypt perhaps even more then their hate for Israel. The ruler of Qatar sees this self destructing attitude of Hamas and has sponsored the UNSG mission in an attempt to save Hamas from Israel and from itself.
The UNSG in his trip was in Egypt as well – just to make sure Egypt does not give up its efforts in the face of this Hamas intransigence and to ask Egypt to figure out a face saving approach for Hamas so they do not look like losers. Will a united Israel cave in to such pressure that leaves the Hamas enemy look like a winner? Specially now when Hamas managed to close Israel's link to the World by in the post downing of Malaysia 17 in the Ukraine that forces civil airlines to avoid flying over war zones.
To top this all we just received the following e-mail from UN Watch that nixes a UN were Arab States and some sworn anti-Western states are shredding the UN Charter and the UN Declaration on Human rights.
But before we post that e-mail, let us remind the UNSG that his predecessor was able to pass on the very important and here relevant PRINCIPLE OF THE RESPONSIBILITY TO PROTECT which here translates into the responsibility of a ruling government to protect its citizens. This is something the Israeli Government is trying to do, but the Hamas that took over the governing of Gaza from the National Palestinian Authority uses its citizens as human shield to their missiles something that has to be undone by outside intervention that removes them from the business of government. Only the Palestinian Authority, with outside help, could do this. Qatar does not back the PA but Hamas. As such the Qatar money carpet used to fly te UNSG to the Middle East may have been a very bad idea. It seems that this is being realized at high levels at the UN and texts are being altered as reported today by Matthew Russell Lee of the Inner City Press Office at the UN who speaks also for FUNCA – the Free UN Coalition For Access.
—————–
THE UN WATCH PRESENTATION TODAY IN GENEVA BEFORE THE UNHRC:

GENEVA, July 23, 2014 –
The Palestinian ambassador to the UNHRC, together with Iran, Syria, Egypt, Cuba and Venezuela tried but failed to silence UN Watch Executive Director Hillel Neuer during today's UN Emergency Session on Gaza, as he defended Israel's right to resist Hamas aggression, and called out the hypocrisy of those who initiated the biased proceeding.
As expected, the council voted 29 to 1 (USA), with 17 abstaining (EU & others), to condemn Israel for "gross violations of international human rights," and it created a new commission of inquiry to produce a second Goldstone Report. Click here to see the grossly one-sided resolution—and a list of the nations who ignominiously voted for it.
Testimony delivered today, 23 July 2014, by UN Watch Executive Director Hillel Neuer, at the UN Human Rights Council Emergency Session on Gaza
Mr. President, I have just returned here from visiting Israel to tell this assembly, and the world, about the grave situation that I witnessed and experienced.
An entire nation—towns, villages and cities, from the Negev Desert up to the Galilee, from the Judean hills of Jerusalem to the Tel Aviv seashore—has been under brutal and relentless attack, from more than two thousand mortars, rockets and long-range missiles, fired from Gaza toward civilians in every part of the Holy Land.
Never before, in the history of Israel's seven decades of existence, has its men, women and children come under such a massive aerial assault, forcing them, at the sound of air raid sirens day and night, to run for shelter.
And never before, in the modern history of nations, has a free and democratic society come under such sustained bombardment from a terrorist organization, one that openly strives for and celebrates the murder of civilians, and that, as its general worldview, glorifies death.
Did the world ever imagine that the ancient city of Jerusalem—sacred to Judaism, Christianity and Islam, and replete with holy places that are recognized by the United Nations as protected world heritage sites—would be deliberately targeted by indiscriminate rockets?
And yet it is.
During one air raid in Jerusalem, I ran down to the basement of a building with little children crying and traumatized. During an air raid in Tel Aviv, the neighbors of an apartment building showed great strength of spirit in defiance of terrorism, by reaching out to strangers in the shelters, as we heard the booms of the rockets above.
And as  I was seated in my airplane, about to depart and return back here to Geneva, the air raid siren went off around the airport. We all had to rush off the plane and seek shelter. You've heard the news today: that international airlines are now ceasing to fly to Israel because of this danger.
I believe that the world should salute this terrorized, besieged and embattled nation, which has refused to surrender to demoralization, instead showing such courage, resolve and strength of spirit in surviving—and resisting—this massive aggression.
And people should consider: Is there any precedent in world history for a nation passively to suffer a three-week bombardment of its civilian population, by more than 2,000 deadly rockets?
The attempt by Hamas to shut down Israel's sole international airport, in a country already besieged by land from hostile forces from north to south, would constitute the strangulation of an artery vital to the life of Israel's people and economy.
These acts of aggression also target the sovereign rights of the nations under whose flags these airplanes fly.
I ask each ambassador in this chamber to take a moment and imagine terrorists deliberately firing deadly rockets at the airports of Heathrow, Charles de Gaulle, or Frankfurt; Rio de Janeiro, Johannesburg, or Tokyo.
How would your government react?
How long would your nation wait before doing everything in its power to exercise its right, under international law and morality, to resist such aggression?
Mr. President,
I turn now to the resolution upon which this Council will soon vote. The text before us denounces Israel, denies its right to self-defence, and disregards Hamas war crimes.
We ask: why does this Council refuse to say that which was said only two weeks ago by the Palestinian ambassador himself?
In an extraordinary moment of candor, Palestinian Ambassador Ibrahim Khraishi admitted, on Palestinian TV, that "each and every" Palestinian missile launched against Israeli civilians constitutes "a crime against humanity."
And that, by contrast, Israel's own response actions in Gaza "followed the legal procedures" because, as Hamas spokespersons admitted on TV, "the Israelis warned them to evacuate their homes before the bombardment; but, "as for the missiles launched from our side, we never warn anyone about where these missiles are about to fall or about the operations we carry out."
Can any UN entity, or any individual, be truly for human rights when they refuse to say that which was said by the Palestinian ambassador himself?
Is it possible that the true purpose of this session is to silence the true victims and voices of human rights around the world by deflecting attention from the world's worst abuses?
We ask all those who embrace hypocrisy and double standards: if in the past year you didn't cry out whe thousands of protesters were killed and injured by Turkey, Egypt and Libya; when more victims than ever were hanged by Iran; women and children in Afghanistan were bombed; whole communities were massacred in South Sudan; hundreds in Pakistan were killed by jihadist terror attacks; 10,000 Iraqis were killed by terrorists—
[Egypt interrupts with an objection.]
President of UNHRC Session: We have a point of order. Egypt, you have the floor.
Egypt: Mr. President, I think we are meeting today for the special session to discuss the current crisis in Gaza and the violations committed within this crisis. So I don't see why we have a reason to discuss other issues relating to human rights situations on other countries.
United States of America: We think it is relevant to the subject under debate, and therefore you should allow the NGO to continue to speak.
Iran: We fully support the point of order made by Egypt.
Canada: We urge you to allow the NGO to complete their intervention, which is relevant to the discussions at hand.
Israel: It is important that civil society participate in this debate, and we request that you allow this NGO to continue.
Venezuela: We support the point of order made by Egypt.
Palestine:
This is not a point of order, but more a clarification. The speaker will continue along the same lines if the speaker is not stopped. I would ask you not to waste any time on this so we can conclude this meeting in good time.
Cuba:
It is inconceivable that a NGO should be able to come to this Council to distract us with the little time we have to debate an issue which is of such crucial importance as the genocide being committed currently against the Palestinian people.
President:
I give the floor back to UN Watch, with the request that he adhere to the subject matter under discussion today.
UN Watch: Thank you, Mr. President. I'll just note that there had been some questions whether the videotape interview of the Palestinian ambassador on Palestinian TV was genuine or not, but we see that the Palestinian ambassador has just intervened—and has failed to deny those remarks. Let the record show that.
Finally, we ask: If those who refuse to speak out for Palestinians—1800 Palestinians, if not more—who were starved to death, murdered, by Assad in Syria, but you only cry out when Israel can be blamed, then you are not pro human rights, you are only anti-Israel.
Syria: We're used to hearing this NGO creating divisions among the speakers, and speaking out of turn. It is strange to hear an NGO defending the killing of women and children, and the destruction of infrastructure in Palestine. I would hope that the speaker is no longer allowed to continue his statement.
President: I give the floor back to UN Watch.
Hillel: Thank you, Mr. President. Let the world note: that in a session purportedly on Palestinian human rights, the government of Syria objected to us mentioning the 1800 Palestinians that they starved and murdered.
tel: (41-22) 734-1472 • fax: (41-22) 734-1613
www.unwatch.org
###
---
Turning words into energy at 'Powering the Middle East' in Jordan
Posted: 18 Apr 2014 on Green Prophet.
It starts by saying: Many conferences end in handshakes and no action, but Powering the Middle East aims to close deals.
This two day summit in Amman, hosted by HRH Prince Assem Bin Nayef from Jordan, will connect energy and water players
in the private sector with government officials capable of turning words into real projects. Hit the jump for details.
Apart from the World Future Energy Summit (WFES) sponsored by Masdar in Abu Dhabi, few summits in the Middle East region are designed to not only talk about the issues but to act on them.
Part of the Power Strategy Summit Series which will convene in Brazil, South Africa and other countries, Powering the Middle East will bring together governments from 10 Middle Eastern countries and vested players in the private sector that together aim to turn worthwhile, meaningful, scalable projects to fruition.
An agenda advisory board will conduct ongoing surveys to ensure that the topics broached in panel sessions on 17 and 18 September, 2014 are absolutely the most relevant.
Members of this board include Alice Cowan, Program Director of The Clean Energy Business Council (CEBC), Loay Ghazeleh, Undersecretary Advisor on Major Infrastructure & PPP at Ministry of Works, Bahrain and Kishan Khoday, Regional Practice Leader for Environment & Energy at United Nations Development Program.
Unlike the WFES, which is like a small city when in full attendance, Powering the Middle East restricts delegates to 125 people with a 70/30 public to private split to ensure that the conference is manageable. And since quality is better than quantity, some of the most important businesses involved in the Middle East's renewables industry will be there.
JinkoSolarco, Sun Edison, Tata Power, and First Solar are among the firms that will send representatives to meet up with governments from Turkey, Iraq, Jordan, UAE, Saudi Arabia and Oman, among others along with Ministers of Utilities, Academic and research institutes and Public sector bodies.
Related: Jordan moves ahead on its first solar PV project worth 52 megawatts
Fundamentally, this two-day conference aims to "erode the barriers to uptake of renewable energy sources and improve electrification in these economically growing and important regions.
The posting notes that "The International Renewable Energy Agency (IRENA) is sending Dr Mustapha Taoumi, MENA Program officer as a representative, which speaks volumes about the summit's expected efficacy."
"Renewable energy presents a powerful opportunity for the Middle East and North Africa (MENA) region to achieve a globally important position in the renewable energy market – a market which is likely to become the cornerstone of the low-carbon green economy of the future," Taoumi said in a recent statement.
"At Powering Middle East, IRENA will offer ideas on the business models most likely to attract investors and it will contribute to important discussions about policy and regulation, institutional frameworks, grid infrastructure, financial resources and capacity building."
If you or your organization could benefit and fits the above criteria, be sure to register now for what is likely going to a game-changing event that could catalyze a host of important developments in the MENA region.
Visit: www.ese-power.com/register to get involved.
We hope indeed that above is not just another talk-fest as Jordan really does not have money to waste like some of the other Middle East States. We also hope that the Jordanians will have the courage to host Israeli technology – their closest neighbors as well. Indeed some Palestinian companies are ahead as well having worked with the Israelis Further, having invited Sun Edison we hope that Jigar Shah will speak to at these panels and present there that you can indeed make money from renewables if you are ready to strike away all conventional thinking that attributes to oil, gas and coal all what is an energy based economy.
###
from:

 

english@other-news.info

date:

 Mon, Feb 17, 2014
Syrian rebels or international terrorists?
Vijay Prashad* – The Hindu
*Vijay Prashad is the Edward Said Chair at the American University of Beirut, Beirut, Lebanon.
With Bashar Assad arguing that this is a war against terrorism, and the rebels arguing that this is a war against authoritarianism, no agreement can come of the peace talks on Syria.
Geneva 2's mood mirrored the sound of mortar and despair on the ground in Syria. Not much of substance came of the former, as the U.N.-Arab League envoy Lakhdar Brahimi tiredly indicated that diplomacy continued despite the lack of a breakthrough. He hoped that the United States and the Russians would pressure their clients to remain at the table, from where, for three weeks, little of value has emerged. No agreement can come of these peace talks for at least two reasons. First, the government of Bashar Assad and the rebel coalition do not agree on the interpretation of the conflict. Mr. Assad argues that this is a war against terrorism (Al-Qaeda), while the rebels argue that this is a war against authoritarianism (the Assad government). Second, the rebels themselves are deeply fractured, with the Islamists in Syria who are doing the brunt of the fighting indisposed to any peace talks.
Mr. Brahimi hoped that humanitarian relief would be the glue to hold the two sides together. Residents in the old city of Homs and in the Palestinian neighbourhood of Yarmouk in Damascus have been under siege for two years. It was hoped that safe passage could be provided for food and medicine, but this was not accomplished. U.N. and Islamic Red Cross workers bravely avoided snipers and shells to transport food and medicines to the Syrians; children among them stared at fresh fruit, unsure of what to do with it. Absent momentum from Geneva, the options for a regional solution are back on the table.
In 2012, Egypt convened the Syria Contact Group that comprised Iran, Saudi Arabia and Turkey — unlikely partners. Pressure from the U.S. and Russia at that time closed down the Group. Today, the regional partners seek an exit from their exaggerated postures over Syria, but there is no diplomatic space for them to act. It falls to powers that are untainted by the war, perhaps China and India, to call for a meeting — a Beijing or New Delhi summit — to craft a serious agenda to pressure all sides to a ceasefire and a credible political process.
The war is now fought less on the ground and more over its interpretation. Expectations of a hasty collapse of the government withdraw as the Syrian Army takes Jarajir, along the Lebanon border. Islamists groups continue to fight against each other in the north, weakening their firepower as the Syrian army watches from the sidelines. The emboldened Syrian government has now stepped up its rhetoric about this war being essentially one against terrorists with affiliation to al-Qaeda. Ears that once rejected this narrative in the West and Turkey are now increasingly sympathetic to it. As the Islamists suffocate the rebellion, it becomes hard to champion them against the government. Focus has moved away from the prisons and barrel bombs of the government to the executions and social policies of the Islamists.
A year ago, the West and Turkey would have scoffed at talk of terrorism as the fantasy of the Assad government. The West and the Gulf Arabs had opened their coffers to the rebels, knowing full well that they were incubating the growth of the Islamist factions at the expense of the secular opposition. Turkey's government of Recep Tayyip Erdog?an micromanaged the opposition, provided bases in Turkey and allowed well-armed fighters to slip across the border into Syria. By early 2012, it had become a common sight to see well-armed Islamist fighters in the streets of Antakya and in the refugee camps in Hatay Province. The seeds of what was to come — the entry of al-Qaeda into Syria — was set by an opportunistic and poorly conceived policy by Erdog?an's government. It did not help that his otherwise well-spoken and highly-regarded Foreign Minister Ahmet Davutog?lu began to refer to Syria's Alawites (Mr. Assad's community) as Nusayri, a derogatory sectarian term. Turkey joined U.S., Europe and Gulf Arab calls for Mr. Assad's departure well before the numbers of those dead climbed above the thousands. Nervousness about the spread of al-Qaeda to Syria has made the rebels' patrons edge closer to the Damascus narrative.
The U.S. government wishes to arm the Iraqi government with Hellfire missiles and drones to combat the Islamic State of Iraq and al-Sham (ISIS) in Iraq's Anbar Province. Britain has said that any fighter who comes back from Syria will be arrested (last week, a Sussex man — Abu Suleiman al-Britani — conducted a suicide operation in Aleppo). The Saudi Royal Court decreed that any Saudi found to have waged jihad abroad could spend up to 20 years in prison.
General Mansour al-Turki of the Saudi Interior Ministry said: "We are trying to stop everyone who wants to go to Syria, but we can't stop leaks." The Turkish Armed Forces fired on an ISIS convoy on January 28 inside Syria, and told the government in a report prepared jointly with the Turkish National Intelligence agency that al-Qaeda had made credible threats on Turkey.
Mr. Erdog?an hastened to Tehran to meet the new Iranian leadership — their public comments were on trade, but their private meetings were all on Syria and the need to combat the rise of terrorism. What Mr. Assad had warned about in 2012 came to pass — for whatever reason — and led to a loss of confidence among the rebels' patrons for their future. Even al-Qaeda's putative leader, Ayman al-Zawahiri, has sought to distance himself from ISIS. These signs indicate that on Syria, the "terrorism narrative" has come to dominate over the "authoritarian regime narrative."
The fractious Syrian opposition that came to Geneva does not represent the main columns of rebel fighters on the ground. These are mainly Islamists — with the al-Qaeda wing represented by ISIS and Jabhat al-Nusra, and the rest represented by the Islamic Front. They have no appetite for negotiation. Mr. Abu Omar of the Islamic Front said that Syria's future would be created "here on the ground of heroism, and signed with blood on the frontlines, not in hollow conferences attended by those who don't even represent themselves." A U.S. intelligence official told me that when the U.S. went into Afghanistan in 2001, "We smashed the mercury and watched it spread out slowly in the area." Al-Qaeda was not demolished in Kandahar and Tora Bora. Its hardened cadre slipped across to Pakistan and then onwards to their homelands. There they regrouped, reviving the Libyan Islamic Fighting Group, al-Qaeda in Yemen, Ansar al-Sharia, Ansar Dine, and ISIS. The latter slipped into Syria from an Iraq broken by the U.S. occupation and the sectarian governance of the current government. There they worked with Jabhat al-Nusra and fought alongside other Islamist currents such as Ahrar ash-Sham. It was inevitable that these battle-tested Islamists would overrun the peaceful protesters and the defectors from the Syrian Army — the Free Syrian Army (FSA) — who scattered to the wind in 2012.
The FSA troops either joined up with the Islamists, continued to fight in small detachments, or linger precariously as twice defectors who are now homeless. The barbarism of the ISIS pushed other Islamists — with Gulf Arab support — to form the Islamic Front. The hope was that this group would run ISIS back to Iraq and remove the stigma of "al-Qaeda" from the Syrian rebellion. The problem is that one of the constituents of the Islamic Front — Jabhat al-Nusra, arguably the most effective of its fighting forces — sees itself as the Syrian franchise of al-Qaeda and has largely abjured the fight against ISIS. Another problem is that the in-fighting on the ground seems to have tapered off — one of the Islamist groups, Suqour al-Sham signed a truce with ISIS and pledged to work together.
By early 2014, these groups found their supply lines cut off.  Iraq's attack on ISIS began to seal the porous border that runs through the Great Syrian Desert.  Jordan had already tried to close its border since early 2013, having arrested over a hundred fighters who have tried to cross into Syria.  Lebanon's border has become almost inaccessible for the rebels as the Syrian Army takes the roadway that runs along the boundary line.  Last year, Turkey closed the Azaz crossing once it was taken over by the radical Islamists.
On January 20, the rebels attacked the Turkish post at Cilvegözü-Bab al-Hawa, killing 16.  This is what spurred the Turkish Army to attack the ISIS convoy a week later.
As the Islamists saw their supply lines closed off, the U.S. announced that it would restart its aid to the rebel fighters.  On February 5, the Syrian Coalition chief Ahmad Jabra told Future TV that his rebels would get "advanced weapons" — likely from the U.S.  The FSA announced the formation of the Southern Front – with assistance from the West — to revive the dormant fight in Syria's south-west.  All this took place during Geneva 2, signalling confusion in U.S. policy.
       Does Washington still want to overthrow the Syrian government?  Would it live with an Islamist government on Israel's borders?  Or, perhaps, the U.S. is eager for a stalemate, as pointed out by former CIA analyst Bruce Riedel, "The rebels lack the organization and weapons to defeat Assad.  The regime lacks the loyal manpower to suppress the rebellion.  Both sides' external allies are ready to supply enough money and arms to fuel the stalemate for the foreseeable future."  This is a cruel strategy.
It offers no hope of peace for the Syrian people.
Road ahead for Syria group:
A senior military official in West Asia told me that one of the most overlooked aspects of West Asia and North Africa is that the military leaderships of each country maintain close contacts with each other. During Turkey's war against the Kurdish rebellion in its eastern provinces, the military coordinated their operations with the Syrian armed forces. These links have been maintained. When it became clear that Mr. Erdog?an's exaggerated hopes for Syria failed, and with the growth of the Islamists on Turkey's borders and the Kurds in Syria having declared their independence, the Turkish military exerted its views. The Iraqi armed forces had already begun their operations against ISIS. Additionally, Egypt's new Field Marshal Sisi overthrew the government of Mohamed Morsi when the latter encouraged jihadis to go to Syria. This was anathema to the Egyptian military who acted for this and other reasons to depose Mr. Morsi. The military view of the political situation leans naturally toward the terrorism narrative.
It appears now that the regional states are no longer agreed that their primary mission is the removal of Mr. Assad.
This view — shared by the militaries — is evident in the political leadership in Iran, Iraq, and Turkey.With Egypt, these three states would be the core of a rejuvenated Syria Contact Group.
The 2012 group also had Saudi Arabia, which might be enjoined to come back to the table if they see that their outside allies — notably the U.S. — are averse to a policy that would mean Jabhat al-Nusra in power in Damascus.
Without Saudi Arabia, and perhaps even Qatar, the Syria Contact Group would be less effective.
If the Syria Contact Group is to re-emerge, it would need to be incubated by pressure from China and India, two countries that are sympathetic to multipolar regionalism.
Thus far, neither China nor India has taken an active role in the Syrian conflict, content to work within the United Nations and to make statements as part of the BRICS group.
But the failure of the U.S. and Russia and the paralysis of the U.N. alongside the continued brutality in Syria require an alternative path to be opened up.
Egypt, Iran, Iraq, Jordan, Saudi Arabia and Turkey have indicated willingness for a dialogue — China and India need to offer them the table.
###
We saw first on Sunday January 26th the clip on Fareed Zakaria's show from Davos that included a Rocking Canadian PM – Stephen Harper performing at a Gala in Jerusalem. Power to this Canadian Conservative who is capable to show that politics and real life to mix sometimes. Our curiosity sent us to the internet.
Harper is clearly a one of a kind in a world of gloom. His foray into Israel and Jordan is noted by us as a real breath of fresh air to a quite stale Middle East reality – power to him.
Arond the Web:
Stephen Harper breaks into song after Israel trip announcement …
Harper breaks into song after announcing first official trip to Israel …
Canadian Prime Minister plays Hey Jude to Israel's Benjamin Netanyahu
Stephen Harper rocks out in Israel with Beatles tunes
Stephen Harper says backing Israel a 'moral imperative' | Toronto Star
Stephen Harper goes over the top in Israel: Mallick | Toronto Star
PM Stephen Harper cheered at Western Wall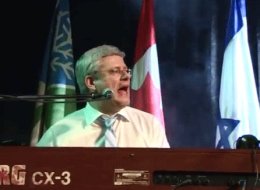 It's fair to say Stephen Harper has received a "rock star" welcome on his first official visit to Israel. (CP)
And on Tuesday, he rocked out.
The prime minister took the stage at a state dinner in Jerusalem to perform some Beatles tunes on the keyboard, including "Hey Jude," with Israeli Prime Minister Benjamin Netanyahu looking on.
And judging by the videos posted online, it seems Harper's musical stylings were warmly received by Netanyahu and his wife, Sara.
The Jerusalem Post described Harper's performance as courageous.
Netanyahu posted a brief clip to his YouTube account.
Harper also dusted off an old classic, "With A Little Help From My Friends."
Harper famously sang that tune in a surprise performance at the National Arts Centre Gala in 2009, back when few Canadians knew the PM loved to rock.
Harper Sings 'Hey Jude' At State Dinner In Jerusalem (VIDEO)
It's fair to say Stephen Harper has received a "rock star" welcome on his first official visit to Israel.
And on Tuesday, he rocked out.
The prime minister took the stage at a state dinner in Jerusalem to perform some Beatles tunes on the keyboard, including "Hey Jude," with Israeli Prime Minister Benjamin Netanyahu looking on.
And judging by the videos posted online, it seems Harper's musical stylings were warmly received by Netanyahu and his wife, Sara.
The Jerusalem Post described Harper's performance as courageous.
Netanyahu posted a brief clip to his YouTube account.
Harper also dusted off an old classic, "With A Little Help From My Friends."
Harper famously sang that tune in a surprise performance at the National Arts Centre Gala in 2009, back when few Canadians knew the PM loved to rock.
But the prime minister's performances have become pretty common since that first standing ovation a few years ago.
In the 2011 federal election, he sang "Imagine" with YouTube star Maria Aragon, but seemed to struggle with some high notes.
In November, after his big speech to delegates at the Tory convention, Harper sang some Johnny Cash and BTO at Calgary nightclub.
And, at the Jewish National Fund's Negev dinner in December — where he announced his Israel trip — Harper rocked out with other classic rock tunes, including The Rolling Stones' "Jumpin' Jack Flash."
———————————————–
Related News On Huffington Post:

Harper's Israel, Jordan Visit Likely To Resonate More At Home
OTTAWA – Prime Minister Stephen Harper left behind a bitterly cold Canadian capital, his poll numbers sagging and his government poised to face renewed criticism…

Harper's Middle East Trip: PM Tours Refugee Camp In Jordan
ZA'ATRI REFUGEE CAMP, Jordan – Prime Minister Stephen Harper visited a massive Syrian refugee camp on Friday, taking in first-hand the sea of humanity that…

Harper's Middle East Trip: PM Pledges $105 Million In Aid To Jordan
AMMAN, Jordan — On the eve of his visit to a Syrian refugee camp in Jordan, Prime Minister Stephen Harper announced an additional $100 million…
###
Israel Permanent Representative to the UN in New York, Ambassador Ron Prosor addressed the UN Security Council on the Situation in the Middle East on January 20, 2014 – Martin Luther King Jr. birthday – a US holiday. In his speech Ambassador Prosor  attacked the Palestinian leadership's continuous incitement against Israel and discussed the violence and instability afflicting the Middle East region.
Thank you, Mr. President.
Before I begin, I want to express Israel's condolences on the death of United Nations personnel in Friday's terrorist attack in Kabul.  There is no excuse for targeting civilians and UN workers.
Mr. President,
Allow me to take this opportunity to congratulate Jordan on its election to the Security Council.  We thank the Secretary-General, Foreign Minister Judeh, Mr. Jean Asselborn, and Vice Minister Cho Tae-yul for being here today.
We also congratulate the new non-permanent members of the Security Council – Chad, Chile, Lithuania and Nigeria. You as Ambassadors have the privilege of representing your countries – good luck.
Mr. President,
The Middle East is known as the cradle of civilization – the birthplace of history's greatest empires and three world religions.  The region was once admired for its stirring art, striking architecture and significant innovations.
Today, the world looks at the Middle East and sees a region shaken by violence.  From the Arabian Sea to the Mediterranean Sea, not a day goes by when we do not read about brutality and bloodshed or new threats looming on the horizon.
Amidst this sea of hostility, Israel is an island of stability and democracy.  It is a nation in which the majority governs, but the minority enjoys equal rights; a nation that embraces diversity and welcomes diverse opinions; and, a nation that leads the world in human rights and encourages women to be leaders.
Israel is proud of its democracy and yearns for peace with its neighbors and security in its borders.  The people of Israel are still mourning the loss of their legendary statesman and soldier, Ariel Sharon.  He was a fearless leader who knew the heavy price of war and was willing to take bold steps for peace. 
The State of Israel is still willing to take courageous steps for peace and is committed to serious and meaningful negotiations with the Palestinians. I would like to take this opportunity to thank the United States and Secretary Kerry, in particular, for his tireless devotion to promoting peace in our region.
Mr. President,
Twenty years ago, I recall watching King Hussein and Prime Minister Yitzhak Rabin meet in the Arava desert to sign the historic peace treaty between our two countries.  At the signing, King Hussein said (and I quote), "This is peace with commitment. This is our gift to our peoples and the generations to come." 
Fifteen years after his death, King Hussein's legacy of peace lives on. Israelis from across the political and religious spectrum still admire King Hussein's towering morality and his profound belief in the sanctity of life and the dignity of every human being. 
I and most Israelis will never forget the sight of King Hussein consoling the Israeli families whose children had been killed in a terrorist attack.  After learning that a Jordanian soldier had murdered seven Israeli schoolgirls, King Hussein traveled to Israel to visit the homes of the bereaved families.  One by one, he sat with the grieving parents, held their hands, offered words of condolence and hugged and kissed them.
King Hussein told them (and I quote), "I feel that if there is anything left in life, it will be to ensure that all the children enjoy the kind of peace and security that we never had in our times."  This is the legacy that his son, King Abdullah, proudly continues today.
Mr. President,
Contrast this picture, with a picture from just a few weeks ago. In December, Israel once again made the heartbreaking decision to release convicted Palestinian terrorists in an effort to advance the peace process. 
The released terrorists were given a heroes' welcome by the Palestinians and embraced by President Abbas.  Murderers were met with fireworks and festivities and showered with candies and congratulations.  The Palestinian Authority is rewarding terrorists with tens of thousands of dollars. The motto of the PA's pension plan seems to be 'the more you slay, the more we pay.' 
This is coexistence? This is tolerance? This is mutual respect?  Grieving Israelis watched as Palestinians celebrated men like Abu Harbish who threw a firebomb at a bus, murdering 26-year-old Rachel Weiss and her three young children. 
To everyone in this room I ask – how would you feel if you had to watch your family's murderers being celebrated?  Would you call into question the so-called 'peaceful' intentions of your neighbors? President Abbas could learn a great deal from King Hussein of Jordan about demonstrating his commitment to making peace.
Mr. President,
Since peace talks began in July, there have been hundreds of examples of Palestinian incitement against Israelis and Jews.  From cradles to kindergartens and from schools to soccer stadiums, Palestinian children are besieged by messages of hate. 
They are born in hospitals named after violent Palestinian groups, attend schools named after terrorists, and are taught from textbooks that describe Zionism as racism.  In their free time, Palestinian children play on sports teams named after murderers and watch television programs that teach that Jews are "our enemies and should be killed."
Rather than condemning this incitement, the Palestinian Authority is amplifying the messages of intolerance.  President Abbas's Fatah party regularly displays maps that erase Israel. In one map, for example, the Palestinian flag flies over the entire geographic area of the State of Israel.  This map extends from the Mediterranean Sea to the Jordan River and is entitled "Palestine." 
In a speech on Christmas Day, President Abbas declared that Jesus was a (quote) "Palestinian messenger" and suggested Israel was to blame for the exodus of Christians from the Holy Land.  This is a blatant attempt to rewrite history and erase any connection between the Jewish people and the land of Israel.  Today we are witnessing a mass exodus of Christians from the Palestinian territories and the Arab world because of the constant persecution and discrimination that they face by the Arab states.
Abbas's made-up maps and mythical accounts could join the fables of One Thousand and One Nights.
We have already lost an entire generation to incitement.  How many more children will grow up being taught hate instead of peace; violence instead of tolerance; and martyrdom instead of mutual understanding?  The international community must finally confront Palestinian leaders and publically demand an end to the incitement.
Mr. President,
The glorification of terrorists combined with unrelenting messages of hate are having deadly consequences.  In 2013, there were 1,500 attacks against Israelis, 700 of which occurred after peace negotiations began in July.  In recent months there has been a sharp increase in terrorist attacks including the murder of five Israelis.
Just last month, a Palestinian sniper murdered 22-year-old Saleh Abu Latif, an Israeli Bedouin civilian.  Two day earlier, a bomb exploded on a civilian bus in a suburb just outside Tel Aviv.  Had it not been for the quick thinking of the bus driver and an alert passenger, dozens of people could have been killed.  A successful attack could have had disastrous consequences for the peace talks.
In the face of this violence and bloodshed we have yet to hear President Abbas and the Palestinian Authority, utter a single word denouncing these attacks. They even remained silent when it was revealed that one of the bus bombers was a member of the Palestinian police force.  While most police forces have officers that uproot terrorism, this police officer was busy planting bombs.
The Palestinian leadership has yet to learn that real peace requires real commitment. You cannot condemn terrorism to international media and congratulate terrorists on Palestinian media.  You cannot victimize others and then insist you are the victim.  And you cannot use this forum to spread destructive messages and expect constructive results.
Mr. President,
How many times have you heard that the Israeli-Palestinian conflict is the major conflict in the Middle East?  'You solve this conflict, you solve all the conflicts in the Middle East.' Some in this Chamber have even repeated this fiction.
Really?  The Israeli-Palestinian conflict is the major conflict in the Middle East? Wow. People who say this need an eye doctor to help them see clearly – beginning maybe with the ophthalmologist from Damascus, Bashar al-Assad, who is butchering his people every day.  I'm sure that's connected to the Israeli-Palestinian conflict. 
Shiites fighting Sunnis fighting Alawites; extremist groups battling one another in Libya, Yemen and Tunisia; Al-Qaeda forces overrunning major cities in Iraq – all of this is caused by the Israeli-Palestinian conflict? That's a revelation.
The truth is that Israel is an island of stability in a sea of tyranny.  Dr. Martin Luther King, Jr., whose legacy is being celebrated today, once described Israel as (quote): "one of the great outposts of democracy in the world and a marvelous example of what can be done – how desert land can be transformed into an oasis of brotherhood and democracy. Peace for Israel means security, and that security must be a reality."
I think it should be obvious that the violence and instability afflicting the Middle East has nothing to do with Israel. We must solve the Israeli-Palestinian conflict on its own merits because it's important for us. Solving this conflict isn't a prescription to cure the epidemic of violence plaguing the Middle East.
Despite what you constantly hear, the core of the Israeli-Palestinian conflict has never been about borders or settlements. The major obstacle to peace remains the refusal of Palestinian leaders to accept the Jewish State in any border. You will never hear President Abbas or any Palestinian leader utter the phrase "two states for two peoples."
Let me understand this – the Palestinians call for an independent Palestinian state, but want millions of their people to flood the Jewish state?  It will never happen.  It is a complete nonstarter.  Many in this Chamber are vocal about telling Israel what to do, but begin to stutter, mumble and fall silent when it comes to telling the Palestinians what they must do.  
Each and everyone here must tell the Palestinians that there will never be peace as long as they refuse to recognize Israel as the nation state of the Jewish people and insist on a so-called right of return.
Mr. President,
Despite what many may believe, Israel dedicates a great deal of its energy and resources to assisting the Palestinian people.  Today, more than 100,000 Palestinians earn their living in Israel and their income constitutes more than 10% of the Palestinian GDP. 
Israel helps generate solutions to energize the Palestinian economy.  We transfer millions of dollars in electricity, water and natural gas to power Palestinian homes, schools and hospitals.  When a giant storm struck last month, Israel delivered humanitarian aid and water pumps and facilitated the passage of fuel and cooking gas to Palestinians in need.
Yet for every truckload in the name of coexistence, we seem to be feeding a Palestinian opposition that challenges our very existence.  It is time for Palestinians leaders to lead.  It is time for them to set a course towards coexistence.  And it is time for them to build the Palestinian people up rather than tear Israel down.
Mr. President,
The Middle East is plagued by a reign of tyrants and a drought in leadership.  Millions of people have taken to the streets demanding better lives, better economies and greater opportunities.  The first peaceful protests in the region were in the streets of Tehran, where the government brutalizes it citizens and throws innocent people into jail. 
Many in the international community believed that the new Iranian president would set a new precedent.  It has been almost six months since President Rouhani took office and Iran is still persecuting minorities, imprisoning journalists, and targeting political adversaries.  The Iranian government has executed more of its citizens per capita than any other government. Last year alone, the regime executed almost 600 people, including 367 since President Rouhani took office in August. 
Iran does not confine its violence and extremism to its own borders.  From Buenos Aires to Burgas, Iran is the world's primary sponsor of terror.  Just this month, Iranian Foreign Minister Zarif paid tribute on behalf of the Islamic Republic at the grave of one of Hezbollah's most notorious murderers.
Rather than cleaning house, the new president believes he can sweep Iran's atrocities under the Persian rug by introducing UN resolutions that condemn violence and extremism. Iran's WAVE resolution may have made a splash at the UN, but messages of intolerance and violence continue to trickle down from the top.
Behind Iran's smiling façade, President Rouhani and Ayatollah Khamenei continue to preach hatred and provoke hostility.  Ayatollah Khamenei recently appeared on state television and delegitimized Israel using disgusting profanity that doesn't bear repeating.

The ink is barely dry on the interim nuclear agreement and Iran is already showing its true colors. This is a regime that crosses red lines, produces yellow cake, and beats its citizens black and blue.  Meanwhile, some in the international community are willing to serve Iran its yellow cake on a silver platter.  Permitting Iran to keep its enrichment capabilities today means that Iran will retain the ability to breakout and build a nuclear bomb tomorrow.

Mr. President,
Violence is encoded in the Iranian regime's DNA.  It doesn't take a crime scene investigator to see Iran's fingerprints on the violence erupting in parts of the Middle East. 
In the Gaza Strip, Iran backs the Hamas terrorist organization that uses Palestinian schools, hospitals and mosques to launch rockets at Israeli citizens.  We are barely three weeks into the new year and Hamas has already launched 17 rockets at Israel – attacks that have closed schools and kept tens of thousands of children in Southern Israel at home.
The international community has yet to find the time to utter even a single condemnation of these attacks – attacks that could derail the peace process.  It has also yet to condemn Hamas for deliberately exploiting children.  Schools in Gaza have become the training ground for the next generation of terrorists. Last week, Hamas graduated 13,000 students from paramilitary camps geared at training children to fight Israel.
In Lebanon, Iran has helped Hezbollah hijack the Lebanese state and transform it into an outpost for terror.  For years, Hezbollah insisted it needed a private army to defend Lebanon against Israel. Today, that army has sent 2,000 fighters to butcher the Syrian people and shoot rockets into Israel.
Hezbollah has positioned 60,000 missiles and rockets in the heart of Southern Lebanon's civilian population.  General Hajizadeh, a senior commander in Iran's Revolutionary Guards recently boasted that Hezbollah has improved its missile capabilities and can now "hit and destroy any target" in Israel.
Hezbollah intentionally hides these missiles in the basements of homes, in the playgrounds of schools, and in the back rooms of hospitals.  In doing so, Hezbollah is committing a double war crime – first by using Lebanese civilians as human shields and second by targeting Israeli citizens.
The Government of Lebanon cannot continue to ignore what is happening in Southern Lebanon and it can no longer ignore its international obligations under resolution 1701.  Throughout December, armed terrorists fired shots across the Blue Line into northern Israel.  In one incident, a member of the Lebanese Armed Forces shot Israeli, Shlomi Cohen, in a ruthless and unprovoked attack.
It is time for this Council to hold accountable all those that arm, train and harbor terrorists. It is time to speak out against those who callously disregard human life.  As we have seen in Syria, the failure to do so has disastrous consequences.
Mr. President,
The war in Syria is approaching its fourth year and the death toll continues to climb.  The Syrian government has resorted to new depths of brutality by dropping "barrel bombs" packed with explosives, nails and other shrapnel on markets and hospitals. In just a few days, more than 700 people were killed and over 3,000 were injured. 
The State of Israel and the Jewish people are deeply troubled by the suffering of the Syrian people and are reaching out to help them.  While some in the region are aiding the murderous Assad regime, Israel is providing medical aid. 
Sunnis, Alawites and Shiites are running to Israel – the so-called "enemy" because they know that Israel will treat anyone without prejudice and regardless of ethnicity, religion or gender. And we will continue to lend humanitarian assistance to the victims with open arms and an open heart.
Mr. President,
Today, the Middle East stands at a critical juncture.  There are two roads before us.  The first is the future offered by Iran and Syria – a future of more extremism and greater violence.  And the second is the road towards equality, reform and stability.  
Study after study has shown the clear connection between advancing peace and advancing equal rights.  When a woman receives an education, her children are healthier and more likely to get an education. And when a woman generates her own income she reinvests 90% in her family and community.  But women can only help drive a nation's economy if they are allowed into the driver's seat.
As we begin this new year, the international community must call upon Arab leaders to choose the path of progress and abandon the road of repression.  Tell them that tyranny will fail; tell them peace is built on tolerance; and tell them that every man and every woman is entitled to equal rights and equal opportunities.
As Winston Churchill said: "All the great things are simple, and many can be expressed in a single word: freedom… honor…hope."  The international community must stand on the side of human rights and human dignity. You must speak up and speak out so that the people of the Middle East can finally enjoy freedom, honor and hope.
Thank you, Mr. President.
======================================
 AND FROM THE UNITED STATES:
01/20/2014 02:46 PM EST
---
Thank you, Mr. President, thank you for joining us here today and for chairing this critical session. Thank you Secretary General Ban, Mr. Deputy Secretary General. And thank you also Foreign Minister Judeh for your remarks.
Mr. President, ministers, colleagues, the Middle East has often been prey to the turbulence of conflicting forces, but rarely have we seen efforts toward peace and the staggering human costs of war so vividly and simultaneously evident.
This contrast is especially striking in Syria, where diplomatic initiatives have intensified against the backdrop of an ever more brutal civil war. The best way to begin to end that war is through the Geneva II talks scheduled to start in Switzerland on Wednesday. My government has been working closely with the international community and the Syrian Opposition Coalition to prepare for that conference. We welcome the Coalition's courageous decision this past weekend to participate in the talks, the purpose of which is implementation of the Geneva Action Group Communiqué. That document calls for the establishment, based on mutual consent, of a transitional governing body with full executive authority, including over military and security entities. It is vital that all participants in the opening ministerial and subsequent talks support that core goal. As of this morning, Iran still has yet to demonstrate its willingness to explicitly and publicly subscribe to the full implementation of the Geneva communiqué that is a minimum requirement for participation in this peace process.
Mr. President, the Syrian government's recent and deadly bombing campaign — including the use of SCUD missiles and "barrel bombs" — in the Aleppo and Damascus suburbs provides a further demonstration of the Asad regime's cruelty and of the fact that there is no military solution to this conflict. That is why we are so focused on a negotiated political transition of the type to be discussed in Geneva.
The urgency of diplomatic progress is highlighted by the deepening of the humanitarian crisis created by the war and by the Syrian government's failure to implement the Council's October 2 presidential statement. In recent days, the Syrian regime has seemingly agreed to improve humanitarian access to besieged areas, but we haven't seen evidence of meaningful implementation on the ground. For months, communities including Yarmouk, East Ghouta, Darayya, Old City of Homs, and Mouadhamiya have been besieged and cut off from food and medical supplies. And it is not just the case that food can't get in. People, starving people, desperate people, can't get out. And in the very rare occasions that evacuations from besieged areas are organized, the regime has taken inhabitants away to be screened. In many cases the whereabouts of those individuals are unknown and remain unknown today.
East Ghouta is an egregious example of Syrian obstruction. This is an area where international chemical weapons inspectors were allowed access, but 160,000 civilians remain cut off from humanitarian aid. Pro-Assad snipers regularly target residents attempting to travel through checkpoints. The government has blockaded fuel supplies and residents have electricity for only a couple of hours a day. A young child even died of carbon monoxide poisoning because his family had been compelled to burn firewood inside their house to keep warm. Let us be clear: if inspectors can obtain access to East Ghouta, so too should the providers of medicine and food.
Yarmouk provides another tragic example. It has been under constant siege since July 2013. Recent reports of more than a dozen malnutrition-related deaths among children and other Palestinian residents are horrifying and should shock the conscience of all of us. We received reports from the UN in recent days that UNRWA was able, finally, to carry in a small amount of food parcels: 200 parcels that will feed 1,000 people for one month. There are 18,000 people in Yarmouk who are under siege, lacking food and medicine. It is devastating to imagine how starving people will divide up the food parcels. Humanitarian providers who managed to deliver these parcels literally had to dodge sniper fire.
Although the regime is primarily responsible for denying humanitarian assistance, some opposition groups have also been culpable in such communities as Nubl, Zahra and Fuo. This is unacceptable. The deliberate blocking or withholding of life-giving aid by any party cannot be justified and must stop now – before more innocent people die.
Mr. President, the plight of Syrian civilians and refugees is heartbreaking and makes last week's conference in Kuwait all the more important. The United States pledged $380 million in new funds to help tackle the crisis, bringing our total commitment since the fighting began to more than $1.7 billion. We welcome the new pledges from other donor nations, as well as the international community's renewed commitment to assist the Syrian people and the neighboring countries that are providing a safe haven for refugees.
In the brief period before Geneva II, and as the talks go forward, it is critical that we make concrete progress on humanitarian access issues. We must also do everything that we can to halt the violence. To that end, we call urgently on all parties to agree on local ceasefires and to move ahead with prisoner releases.
We commend, Mr. President, your country of Jordan for sheltering some 600,000 refugees and we recognize the enormous economic and social toll the conflict has taken on your country. Jordan has opened its doors for an emergency situation and we know that that is draining its domestic resources. The international community has an obligation to ensure that Jordan's generosity does not become an unsustainable burden on its population.
In Lebanon, the situation has grown even more perilous, as the Syrian war has exacerbated the security, financial, and social pressures faced by the nation's leaders. More than 1,600 Lebanese communities bear the burden of hosting more than 900,000 refugees from Syria. My government continues to help Lebanon tackle its massive challenges via the recently-established International Support Group (ISG), and we urge other donors also to provide aid that is consistent with ISG priorities.
A stable and united Lebanon, with strong democratic institutions, is in the best interests of the Lebanese people and of citizens throughout the Middle East. In that context, we encourage formation of a new cabinet to address the country's security, economic and humanitarian challenges and to meet its international obligations.
The Syrian civil war has contributed to rising sectarian violence and political friction inside Lebanon. As has been said, the December 27 assassination of the widely-respected former finance minister, Mohammad Chattah was an outrage. The January 2 suicide bombing in southern Beirut's Haret Hreik neighborhood killed five people and wounded many more. Meanwhile, sporadic violence has continued for weeks in Tripoli and near the Syrian border. To that end, we note Saudi Arabia's commitment – announced last month – to provide generous amounts of additional aid to the Lebanese Armed Forces. We will continue to partner closely with Lebanon's security services, which have a pivotal role to play in support of Lebanon's security and its sovereignty.
We condemn the violence and urge all parties to exercise restraint, and commend the LAF for their efforts to stem the violence. The Lebanese government's policy of disassociation from the Syrian conflict, as enshrined in the Baabda declaration, must be upheld.
It is equally vital that all relevant Security Council resolutions be implemented, including numbers 1559 and 1701, which call for the disbandment and disarmament of all militias in Lebanon. The United States strongly condemns the December 29 rocket attack that was launched from Lebanese territory into Israel.
Finally, we welcome the start of the trial before the Special Tribunal for Lebanon of four persons charged with the assassination of former Prime Minister Rafik Hariri and others who were killed in the bombing. This trial is a positive step toward justice and away from the acceptance of impunity for political violence. We commend the Lebanese Government and other donor countries for supporting the court.
Turning to the subject of Middle East peace, the United States is continuing its efforts to assist the Israelis and Palestinians in reaching a final-status agreement that recognizes two states for two peoples, living side-by-side in peace and security. Secretary of State Kerry returned to the region earlier this month in support of a proposed framework that addresses all core issues. As the parties consider the difficult decisions ahead, the United States remains convinced that the benefits of peace – for both sides – can best be achieved through the kind of process in which we are presently engaged.
Accordingly, the United States reiterates its view that all parties should refrain from actions that might undermine the atmosphere required for ongoing negotiations. Steps that diminish trust, such as continued settlement activity, only feed skepticism on both sides.
Further, we are deeply troubled by the escalation of violence leading to civilian casualties and condemn rocket attacks from Gaza into Israel and the attempt to kill civilians by placing a bomb on a public bus in Tel Aviv.
We are also seriously concerned about the humanitarian situation in the Gaza Strip, and urge all parties to cooperate in expanding access for people, goods, and humanitarian supplies.
The consistent support of peace efforts by key partners is essential. We particularly welcome the European Union's generous pledge last month to provide "unprecedented" political and economic support for Israel and the Palestinians in the context of a final status peace agreement. We are gratified, as well, by the decision of the Arab League, whose representatives met with Secretary Kerry in Paris on January 12, to reaffirm its commitment to these negotiations.
Finally, Mr. President, on Iraq, I thank the Secretary General for reporting on his recent visit and would like to commend the United Nations Assistance Mission and the High Commissioner for Refugees for their efforts to ensure the delivery of aid to the people of Anbar Province. The U.S. strongly condemns the attacks carried out by forces affiliated with Al-Qaida in Anbar and elsewhere in Iraq. Their brazen attempt at destabilization cannot be allowed to succeed. As this Council, in its recent statement made clear, "No terrorist act can reverse the path towards peace, democracy and reconstruction, which is supported by the people and Government of Iraq and the international community." In that spirit, we are encouraged by the cooperation being shown by Iraq's government, its national security forces, and local tribal leaders in trying to restore stability, resist terrorist aggression, and ease the hardships faced by Iraqi civilians.
Mr. President, I too note that, in the United States, today is a national holiday. Dr. Martin Luther King, Jr. taught the citizens of my country and people everywhere to pursue justice and the resolution of differences by peaceful means. In his words, "returning violence for violence multiplies violence, adding deeper darkness to a night already devoid of stars." The wisdom in that warning is always and everywhere relevant, but never more so than now in the Middle East, where peace initiatives demand our support amid the anguish of continued conflict.
Thank you.
==============================================================
Statement by UK Ambassador Sir Mark Lyall Grant to UN Security Council on Situation in the Middle East – 20 January 2014  
Thank you, Mr President.
I welcome your Foreign Minister's attendance in the Security Council today. And I would also like to thank the Secretary-General for his statement and the representatives of Palestine and Israel for their contributions to this debate.
As we enter 2014, we are at a moment of opportunity for the Middle East Peace Process. Entering back into direct negotiations last year was a bold step forward. It was a welcome move toward peace in a troubled area. It is the responsibility of all of us here to support the parties, led by the United States, to capitalise on this opportunity.
My government continues to put its full support behind Secretary Kerry and his team, and we urge the Israeli and Palestinian leaderships to continue their admirable focus and commitment.
This year started on a positive note with the implementation of Israel's brave decision to release the third tranche of Palestinian prisoners. The United Kingdom firmly believes that such steps, despite their difficulty, are important to achieving a lasting peace and security.
However, we are very concerned by Israel's decision to announce further settlement building in East Jerusalem and the West Bank. My government condemns these announcements and considers such actions as a serious a threat to peace. We urge Israel to avoid any further illegal settlement activity and to reverse the advancement of plans.
The United Kingdom has also been clear that for this process to be a success, people on the ground – both Israelis and Palestinians – need to see the real and tangible benefits of peace. We remain deeply concerned about the 663 Palestinian-owned homes and livelihood structures demolished in Area C and East Jerusalem in 2013. Demolitions and evictions are harmful to the peace process; and, in all but the most limited circumstances, are contrary to international humanitarian law.  Reports of "price-tag" attacks, including on a mosque in Deir Istiya village on 15 January, are also of serious concern. We condemn such acts and urge the Israeli authorities to bring those responsible to justice.
We are also concerned about rocket fire from the Gaza strip into Israel and in particular condemn the rockets fired at Ashkelon on 16 January in violation of international law.  All parties must respect the November 2012 ceasefire agreement in full. The people of Gaza and Israel will only lose from further violence.
There will be difficult decisions in the months ahead, but we urge all those involved to keep their shared goal in mind – a negotiated two state solution leading to a sovereign, viable and contiguous Palestinian state living in peace and security alongside a safe and secure Israel. The United Kingdom stands ready to do its part. That is why we strongly back the European Union's readiness to offer an unprecedented package of political, economic and security support to both parties in the event that a final status deal is reached.
Mr President, on Syria,
The United Nations Secretary-General has made clear that the aim of this week's Geneva Conference on Syria is to "assist the Syrian parties in ending the violence and achieving a comprehensive agreement for a political settlement, implementing fully the Geneva Communiqué, while preserving the sovereignty, independence and territorial integrity of Syria".  As the permanent members of this Council agreed on 30 June 2012, and was endorsed by the whole Council in Resolution 2118 last September, this means agreeing a transitional governing body in Syria with full executive powers, formed by mutual consent, to meet the aspirations of the Syrian people. 
Yesterday, the Secretary-General announced that he was extending an invitation to Iran to attend the opening of the conference at Montreux on the basis that they acknowledge that the conference's purpose is the full implementation of the original Geneva Communiqué. If they are to attend, it is now vital that the Iranian government confirm publicly and clearly that they share this understanding.
We have also urged the United Nations, as mandated by the Security Council in many resolutions, including resolution 2122 of October 2013,  to ensure a full role for women in the Syrian peace negotiations. 
It is important to remember these negotiations  will be a process – not a single event . We should not underestimate the formidable challenges ahead and we must not lose sight of the desperate situation Syrian civilians are facing on a daily basis. 
The Syrian Observatory for Human Rights now puts the death toll at over 125,000 people.  In Aleppo and across all of Syria, we have seen the regime continue to attack its own civilian population with barrel bombs.  This indiscriminate bombardment is yet another war crime on the part of the regime and Assad and those around him should be in no doubt that the world will hold them to account.   The situation in Syria should be referred to the International Criminal Court.
Mr President,
The humanitarian crisis has reached catastrophic proportions.  11 million Syrians are in desperate need of urgent assistance, particularly in besieged and hard to reach areas.  This is an unparalleled crisis and the world needs to respond accordingly.  We welcome the $2.4 billion in pledges made at the Kuwait Pledging Conference last week.  My government announced a further pledge of $163 million in humanitarian assistance, bringing our total contribution to nearly $1 billion – the largest sum that the United Kingdom has ever committed to a single crisis.  This funding is going towards meeting the basic lifesaving needs of Syrians affected by the conflict, both inside Syria and in Jordan, Lebanon, Turkey and Iraq. 
We pay tribute to those neighbouring countries, including Jordan, for the burden that they are carrying to help alleviate the suffering of the Syrian people.
But increased funding can only make a difference if there is progress on access and protection for humanitarian actors in Syria – where 21 UN staff members remain in Government detention and 47 humanitarian workers have now been killed.  Progress on implementing this Council's Presidential Statement of 2nd of October remains extremely limited.  It is unacceptable that humanitarian organisations are being deliberately obstructed by the regime from delivering aid. The regime has shown it can facilitate access for chemical weapons inspectors – it needs to show the same commitment to ensuring aid reaches those most in need. 
Thank you, Mr President.
###