We learned that the timing of the March – Sunday, September 21, 2014, has more to do with the release last night (September 16th, 2014) at the Ethical Culture Society New York Headquarters at Central Park West and 64th Street, then with the forthcoming September 23rd UN event on Climate Change.
The movie is -"THE FUTURE OF ENERGY: Lateral Power to The People" – which is in effect a logic – non-UN inspired – sequel to  Franny Armstrong's "THE AGE OF STUPID" that was released in 2009 prior to the Copenhagen COP 15 of the UNFCCC (The UN Convention on Climate Change). That movie belonged still to the time people believed in multilateralism as a way to answer the growing threat to humanity from our super-dependence on fossil-carbon fuels. Today the "People" are sophisticated enough to realize that governments via multilateralism do not stand a chance to an agreement that gives birth to a solution to the on-going changes in the global environment that lead to global warming and climate change. The PEOPLE in their own actions – in their communities – are our only hope. This is now the wave of the future – not the UN.
The UN was good to make it crystal clear that there is a problem that needs a solution – but the UN is impotent when it comes to provide the solution. This belongs now to the PEOPLE – the ethical guardians of their own future and the future of the generations to come.
This was made clear to me as I asked the panel that followed the inaugural viewing of the movie "What they expect of the upcoming event at the UN?" The answer from the Producer/Writer – Mr. Maximilian DeArmon – was very short and clear. What will save us are the People in their LOCALITIES and the fact that the non-fossil-carbon solutions to energy needs are already economical and their introduction will make them cheaper, while the continuing use of fossil-fuels makes those trouble-causing fuels more expensive. The logic is here and the People recognize what that means to politics, the economy, and their daily lives.
——————————————————————————–
The March – 11:30 am, Sunday, September 21st
Assembly Location: Central Park West, between 65th and 86thstreets.
NOTE – Some streets will be closed.  Enter on 65th, 72nd, 77th, 81st, or 86th street.
March Route:  The march will begin at 11:30 am.  Assembly starts from 9:00 a.m.
March down Central Park West and go east on 59th Street.  Turn onto 6th Ave. and go south to 42nd Street. Turn right onto 42nd Street and go west to 11th Ave.  Turn left on 11th Ave. and go south to 34th Street
End Location: 11th Ave. in the streets between 34th Street and 38thStreet.
350NYC at the People's Climate March! Meet us on Central Park West between 71st and 72nd by 10am on Sunday Sept 21st.  We'll be marching in the green "Solutions" section of the march. T
To receive updates.
www.PeoplesClimateMarch.org  – www.BeyondTheMarch.org
www.PeoplesClimate.org – www.PeoplesClimate.org
——————————————————————————————
At the UN highlights were during the years of Secretary-General Kofi Annan and we want to mention two of his innovations:
(a) he chaperoned the introduction to the UN of the Principle of THE RESPONSIBILITY TO PROTECT (R2P) which, as he understood it – was the responsibility of governments to protect their citizens from the wrath of the government itself. Clearly, this was not the obviously understood – the responsibility of a government to protect their citizens from outside attacks.
Let us say that this was the first innovation of the UN Charter since the Declaration of Human Rights championed by Mrs. Eleanor Roosevelt. We like to view R2P also as a call to governments regarding their responsibility to protect the citizens from the effects of Climate Change and to act in order to avoid this subservience to fossil fuels and corporate greed.
(b) he was responsible for the creation of the United Nations Global Compact.
The United Nations Global Compact is a UN initiative to encourage businesses worldwide to adopt sustainable and socially responsible policies, and to report on their implementation. The UN Global Compact is a principle-based framework for businesses, stating ten principles in the areas of human rights, labour, the environment and anti-corruption. Under the Global Compact, companies are brought together with UN agencies, labour groups and civil society. Cities or localities can join the Global Compact through the Cities Programme.
The UN Global Compact is the world's largest corporate citizenship initiative with two objectives: "Mainstream the ten principles in business activities around the world" and "Catalyse actions in support of broader UN goals, such as the Millennium Development Goals (MDGs)." We like to see here an opening regarding the effects of Climate Change and the need that corporations are bound to help avoid Global Warming and Climate Change.
The UN Global Compact was announced by then UN Secretary-General Kofi Annan in an address to the World Economic Forum on January 31, 1999, and was officially launched at UN Headquarters in New York on July 26, 2000.
Under UN Secretary General Ban Ki-moon Climate Change continued to get a lot of attention, but we did not see yet the needed push to hold governments and corporations responsible for acting along the lines that became available under his predecessor's leadership. It seems that telling Dr. Assad that he is not allowed to gas his citizens is much easier then telling China not to poison Beijing's air by building more coal-fired power plants.
Nevertheless – we found that above might change now.
Please see: www.unglobalcompact.org/Issues/B…
Since 2008, UN Secretary-General Ban Ki-moon has convened the UN Private Sector Forum during the opening session of the General Assembly in order to bring the voice of the private sector to inter-governmental debates on key topics.
This year, the UN Private Sector Forum will be an integral part of the UN Secretary-General's Climate Summit. The Climate Summit will serve as a public platform for leaders at the highest level – all Member States, business, finance, civil society and local leaders – to:
Catalyze ambitious action on the ground to reduce emissions and strengthen climate resilience
Mobilize political will for an ambitious global legal agreement by 2015 that limits the world to a less than 2-degree Celsius rise in global temperature.
Convened by the UN Global Compact in close cooperation with the World Bank Group, and with the support of UN partners, the Private Sector Forum will provide a unique platform for Governments and business to demonstrate their leadership on climate change.
The theme of this year's luncheon segment of the Forum will be carbon pricing, focusing on actions that the public and private sectors can take to achieve an equitable and fair valuation of carbon through long-term strategies, investments and policies.
Objectives
Comprising two programme segments to showcase and catalyse leadership on climate change, the Private Sector Forum seeks to:
Provide a platform for business and investors to demonstrate the contribution that they can make towards reducing global emissions and strengthening resilience; and
Inspire new public policy measures, commitments to action, and public-private partnerships to steer global and local climate action
Put a Price on Carbon:
Carbon pricing is a critical tool to address climate change, and momentum is building to put in place carbon pricing schemes. Nearly 40 countries and more than 20 cities, states and provinces use carbon pricing mechanisms such as emissions trading systems and carbon taxes or are preparing to implement them. The private sector has been increasingly outspoken in its support for consistent carbon pricing.
Many companies already operate in countries with carbon pricing and use an internal carbon price in their planning and investments, however more leadership is needed if we are to limit global warming to 2 degrees Celsius.
Two separate initiatives representing a progression of commitments to support carbon pricing will be presented during the Private Sector Forum on 23 September 2014. To learn more, please read this letter from the UN Global Compact and the World Bank Group.
But the working part of the September 23rd meetings are slim. They amount to:
11:40 Welcoming Remarks -Mr. Georg Kell,
Executive Director, United Nations Global Compact
–
11:50 Introduction to the Roundtable Discussion by the Master of Ceremonies Ms. Christiana Figueres,
Executive Secretary, United Nations Framework Convention on Climate Change (UNFCCC).
11:50 – 12:20 Roundtable Discussion
Participants will be seated at tables of ten and will discuss the following question:
What effective measures can private and public sectors take to significantly advance corporate
action on climate change and help limit global temperature rise to less than 2 degrees Celsius?
12:20 – 12:50 Report back and Announcements: Commitments to Action
The Master of Ceremonies calls on leaders from business and civil society to report back on the roundtable
discussions and to announce a commitment to action
Mr. Feike Sijbesma, Chief Executive Officer and Chairman, Royal DSM
Mr. Ajit Gulabchand, Chairman and Managing Director, Hindustan Construction Company, India
Mr. Kerry Adler, President and Chief Executive Officer, SkyPower, Canada
Mr. Jose Lopez, Executive Vice President and Chief Operating Officer, Nestle, Switzerland
Mr. Morten Albaek, Group Senior Vice President and Chief Marketing Officer, Vestas, Denmark
Mr.  Jerry Lynch, Vice President and Chief Sustainability Officer, General Mills, USA
Mr. Peter Bakker, Chief Executive Officer, The World Business Council for Sustainable Development
12:50 – 12:55 Closing Remarks – Mr. Adolfo Heeren, Chief Executive Officer, Cálidda, Peru
12:55 – 13:00
Wrap up by the Master of Ceremonies Participants move to their seats in the Delegates Dining Room
===================================================
The Age of Stupid is a 2009 British film by Franny Armstrong, director of McLibel and Drowned Out, and founder of 10:10, and first-time producer Lizzie Gillett. The Executive Producer is John Battsek, producer of One Day in September.
The film is a drama-documentary-animation hybrid which stars Pete Postlethwaite as a man living alone in the devastated world of 2055, watching archive footage from the mid-to-late 2000s and asking "Why didn't we stop climate change when we had the chance?"
———————————————————————————————————-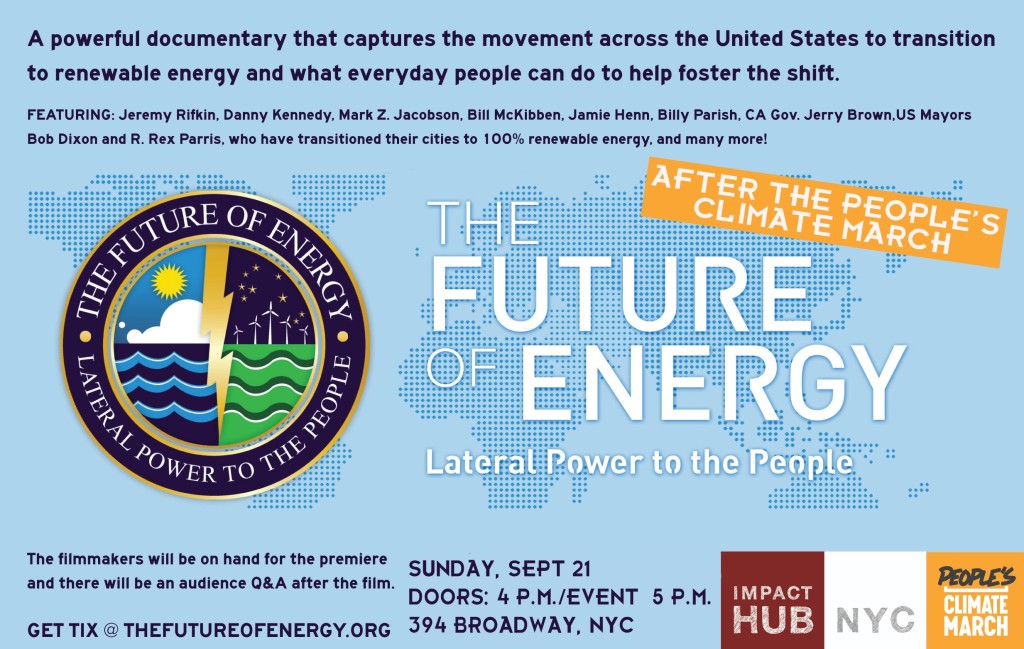 =================================================
Leave a comment for this article