Mammoth Town Council supports Mammoth Community Water District Board (MCWD), California, over ORMAT plans.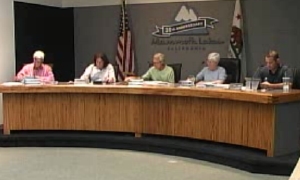 The powers-that-be in Washington reportedly want the project done. The Forest Service and BLM signed off on ORMAT geothermal's environmental document in a record 7 days. In the face of an apparent fast track, plans for geothermal expansion and up to 16 new groundwater wells have caused grave concerns about impacts on Mammoth's town water supply. The Town Council voted this week to sign a letter of support for Mammoth Community Water District over this troubling issue. The letter will go to legislators and agencies.
The Water District appealed the federal environmental approvals of ORMAT's expansion plans. The Forest Service denied the appeal and BLM is considering it. The Air Pollution Control District has not approved ORMAT's EIR and has held out for a monitoring and mitigation plan. Water District Board member Tom Cage said while renewable energy like geothermal is a good thing, not at the expense of Mammoth's underground water supply.
Cage said that ORMAT has had two new wells pumping since 2006 and there are measurable impacts. With 14 to 16 more new wells in the expansion plan, concerns are high. Cage emphasized that the District just wants a monitoring and mitigation plan to assure safe reliability of the water supply for years to come. He said without proper protection, the District will "fight this to the bitter end. We're not going to be intimidated or bullied." He called ORMAT less than a good neighbor and said they're appealing their property tax assessments.
Cage also said ORMAT wants to take ten times the amount of water Mammoth uses in a year. He said the community's water is in between ORMAT's pumps and the surface. Water District Manager Patrick Hayes said ORMAT's plans could pollute Mammoth's water and puts the groundwater at risk. He said neither the Forest Service or BLM required monitoring or mitigation.
ORMAT's wells and pipes would go around Shady Rest Park. Councilman Matthew Lehman said Mammoth had almost no say over the project that will mean a "pipe running through a recreation area." John Wentworth of Mammoth Lakes Trails said while green energy needs to succeed, there is no mitigation for ORMAT's recreational impacts. He said the company would send someone to a meeting of MLTPA April 24th. Wentworth said in Mammoth the door to being a good neighbor has never been closed.
Planning Commissioner Mickey Brown suggested calling ORMAT names, such as bully and plunderer, should be eliminated. Manager Hayes stood up for the seriousness of the issue. He said a BLM manager told him that from Washington "his bosses said they want the ORMAT project to go." Hayes said, "Thankfully APCD Director Ted Schade is holding out for monitoring and mitigation."
Planning Commissioner Dave Harvey said fear is being spread in town over this project and that he would like to see "people in the sand box play nice." He faulted those who have denounced ORMAT for being a foreign company. "They have management in Reno," he said. Harvey said the Water District should "raise the bar." He supported work toward a geothermal heating district in town.
The Town Council stood firmly behind the Water District and its concerns. John Eastman said there are no solid answers about the dangers to Mammoth's water. Said Eastman, "I'm not willing to risk the town water supply. Our local supply of drinking water is the single most important asset we have. I'm not willing to jeopardize it." The Council voted unanimously to sign a letter of support.
2010 Demographics:

The 2010 United States Census  reported that Mammoth Lakes had a population of 8,234. The population density was 325.4 people per square mile (125.6/km²). The racial makeup of Mammoth Lakes was 6,643 (80.7%) White, 29 (0.4%) African American, 49 (0.6%) Native American, 128 (1.6%) Asian, 5 (0.1%) Pacific Islander, 1,151 (14.0%) from other races, and 229 (2.8%) from two or more races. Hispanic or Latino of any race were 2,772 persons (33.7%).
The Census reported that 8,076 people (98.1% of the population) lived in households, 158 (1.9%) lived in non-institutionalized group quarters, and 0 (0%) were institutionalized.
There were 3,229 households, out of which 942 (29.2%) had children under the age of 18 living in them, 1,401 (43.4%) were opposite-sex married couples living together, 177 (5.5%) had a female householder with no husband present, 144 (4.5%) had a male householder with no wife present. There were 293 (9.1%) unmarried opposite-sex partnerships, and 13 (0.4%) same-sex married couples or partnerships. 899 households (27.8%) were made up of individuals and 153 (4.7%) had someone living alone who was 65 years of age or older. The average household size was 2.50. There were 1,722 families (53.3% of all households); the average family size was 3.14.
The population was spread out with 1,719 people (20.9%) under the age of 18, 1,050 people (12.8%) aged 18 to 24, 2,833 people (34.4%) aged 25 to 44, 2,100 people (25.5%) aged 45 to 64, and 532 people (6.5%) who were 65 years of age or older. The median age was 32.6 years. For every 100 females there were 121.4 males. For every 100 females age 18 and over, there were 127.0 males.
There were 9,626 housing units at an average density of 380.4 per square mile (146.9/km²), of which 1,502 (46.5%) were owner-occupied, and 1,727 (53.5%) were occupied by renters. The homeowner vacancy rate was 3.4%; the rental vacancy rate was 33.6%. 3,464 people (42.1% of the population) lived in owner-occupied housing units and 4,612 people (56.0%) lived in rental housing units.
History:
The European history of Mammoth Lakes started in 1877, when four prospectors staked a claim on Mineral Hill, south of the current town, along Old Mammoth Road. In 1878, the Mammoth Mining Company was organized to mine Mineral Hill, which caused a gold rush. By the end of 1878, 1500 people settled in the mining camp called Mammoth City. By 1880, the company had shut down, and by 1888, the population declined to less than 10 people. By the early 1900s, the town of Mammoth was informally established near Mammoth Creek. The economics of the original town was based on logging and tourism.[8] The first post office at Mammoth Lakes opened in 1923.
In 2004, the Mammoth Ski Museum opened in town. The museum featured many vintage artifacts, photographs, and posters. A movie documenting the life of the founder of the ski resort (Dave McCoy) and those of early famous skiers in the area is shown. In 2010, photographs taken by Dave McCoy were featured in an exhibit at the museum.
Due to its high altitude, Mammoth Lakes has become popular among elite long-distance runners, who live and train in the thin air.]
Leave a comment for this article