On Sri Lanka, Tamils "Shame Ban Ki-moon" at UN As Pillay Report Leaks.

By Matthew Russell Lee (Inner City Press) from the UN Headquarters in New York.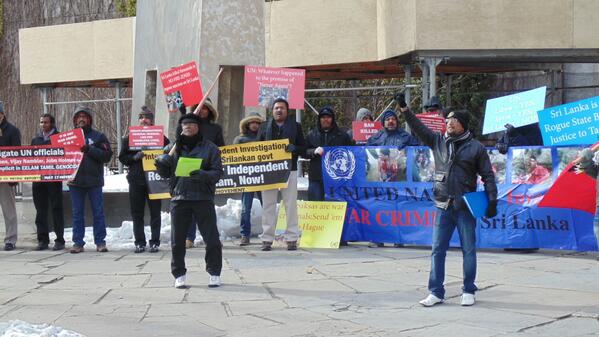 —————————————————-
UNITED NATIONS, February 15 — As the Sri Lanka resolution at the UN Human Rights Council in March grows closer, the Sunday Times has excerpted High Commissioner for Human Rights Navi Pillay's report, see below.  Meanwhile on February 12 Tamils protested in front of the UN in New York, chanting "Ban Ki-moon, shame on you," under the watchful eye of a Sinhalese UN Security officer known to report to the Sri Lanka mission to the UN (he asked a photograph for his photos of the protest — he refused). This is the UN.

   The same United Nations Correspondents Association (UNCA) which screened the Rajapaksa government's denial of war crimes, "Lies Agreed To" complete with speech by Shavendra Silva (here recounted in Italian along with Reuters' censorship) is set for another in its propaganda film series.

  Now, however, after UNCA tried to get Inner City Press thrown out of the UN, it is confronted by the new Free UN Coalition of Access (FUNCA), of which "the photographer who refused" is a member.

  The Sunday Times quotes Pillay:

"new evidence — including witness testimony, video and photographic material — continues to emerge on what took place in the final stages of the armed conflict. Human remains also continue to be discovered, for instance in Matale in November 2012 and Mannar in December 2013. As the emblematic cases highlighted above show, national mechanisms have consistently failed to establish the truth and achieve justice. The High Commissioner believes this can no longer be explained as a function of time or technical capacity, but that it is fundamentally a question of political will… The High Commissioner remains convinced that an independent, international inquiry would play a positive role in eliciting new information and establishing the truth where domestic inquiry mechanisms have failed. In the absence of a credible national process, she believes the international community has a duty to take further steps which will advance the right to truth for all in Sri Lanka and create further opportunities for justice, accountability and redress. The High Commissioner reiterates concern about the continuing trend of attacks on freedom of expression, peaceful assembly and association, particularly against human rights defenders, journalists and families of victims; the rising levels of religious intolerance; and continued militarization which continues to undermine the environment where accountability and reconciliation can be achieved. She therefore reiterates and updates the recommendations made in her previous report to the Human Rights Council, most of which remain unimplemented."
Leave a comment for this article