The Update : President Rouhani – Sometimes the bull wins.
Iran's presidential elections prove the old saying that sometimes the bull wins.
Last Friday's victory by former Iranian nuclear negotiator, Hassan Rouhani, probably came as a surprise for the regime, despite the carefully choreographed election process that ensured all candidates were unswerving regime loyalists. If nothing else, it vindicates Western pressure on the regime and proves that if Iran is to be prevented from acquiring nuclear weapons, sanctions' pressure must relentlessly continue.
Hopeful early commentary of Rouhani's success focuses on his supposedly reformist credentials, forgetting that albeit unintentionally, Rouhani represents a propitious star alignment for the regime. After all, Ali Khamenei, Iran's Supreme Leader, had Rouhani appointed head of the Supreme National Security Council in the 1990's and later to the Expediency Council. A product of Iran's clerical establishment who spent most of his life dealing with security and intelligence matters – including, possibly, an active role in the systematic murder of regime opponents in the 1990's – Rouhani is hardly a dissident. He has already distanced himself from the endorsement he received from his reformist predecessor, Mohammad Khatami, by criticizing the radicalism of Khatami's era. He took pride in his memoirs of deceiving the West during his time as nuclear negotiator. And he has publicly boasted that he sees Pakistan as a model for emulation when it comes to the nuclear question. This is hardly promising for those who see in his election a potential page turner for nuclear negotiations.
This is not to say that Rouhani's victory was a cunning plot by the regime. He probably won fair and square – for once, the regime realized that it had everything to lose by tampering with the vote. Voters, having been denied all other choices after the regime disqualified almost all candidates, concentrated their support on the only candidate left standing, who appeared least favored by the Supreme Leader. Their vote is a rejection of the regime's reckless nuclear policies – both a sign that sanctions are working and that the people by and large blame their rulers.
It is not the first time the regime has let the people choose – it happened in 1997, when reformist cleric Mohammad Khatami won the presidency. Then as now, Iran's predicament was one of political isolation and economic difficulty. In 1997 oil prices were low and Iran was isolated because of its terrorist activities under former president Akbar Hashemi Rafsanjani. In 2013, Iran is subject to severe sanctions and its oil income has decreased significantly.
The regime could not risk a rerun of 2009, when the fraudulent re-election of the Supreme Leader's preferred candidate, then-incumbent president Mahmoud Ahmadinejad, led to one of the biggest domestic challenges to clerical rule since the Revolution in 1979. Four years later, elections seem to show that Iranians of all walks of life are losing their patience with the regime. Even the poorer, the rural countryside and the more traditionalist base appear to have thrown their support for Rouhani. Aware that regime support was hemorrhaging heavily, Khamenei must have resigned himself to Rouhani, as any major fraud could lead to another uprising except, this time, it would engulf the entire country.
Keenly aware of the growing international isolation Iran experiences and the attendant economic hardship it suffers due to sanctions, Iran's rulers need someone who can turn the page, both domestically and internationally, to restore enough breathing space for their policies. As sanctions continue to bite into Iran's oil revenues and access to the international financial system, reconciling Iran's nuclear ambitions with the danger of internal collapse under economic pressure has become a perilous business. Allowing Rouhani to win, despite the ferocious criticism conservative media poured on him in the run-up to the vote, shows that the Supreme Leader presently sees the advantage of a 'moderate' rising to the presidency.
After all, the president will not have a free hand in making policy but his accession to power will buy Iran time.
Having Rouhani as Iran's public international face may drive a wedge within Western countries on the nuclear issue just long enough for the regime to cross the finish line. Allowing him to run the country's domestic affairs may placate internal dissent. And if Rouhani – who already asked for it – manages to squeeze sanctions' relief from his Western interlocutors, the regime will have squared the circle. While it is still too early to draw a clear picture of why Khamenei let people choose Rouhani, the magic combination of low oil income, international isolation and military threats offers a plausible explanation.
The real glimmer of hope one must draw from Rouhani's victory, then, is not that reform and compromise are finally on their way. Rather, this is a vote of no confidence in the system, proof that most Iranians do not care about the nuclear program and conclusive vindication, if any was still needed, that Western sanctions' policy has undermined the regime beyond all predictions.
It is not time to waiver then – more pressure can bring this regime to its knees – and who knows, as Rouhani succumbs to a system he has no desire to dismantle, maybe Iranians will conclude that no improvement will come their way until they square off with this regime once and for all.
–
=============================================
Rouhani Victory 'Major Opportunity' for U.S.-Iran Diplomacy
June 15th, 2013 by Suzanne DiMaggio of The New York City based ASIA SOCIETY.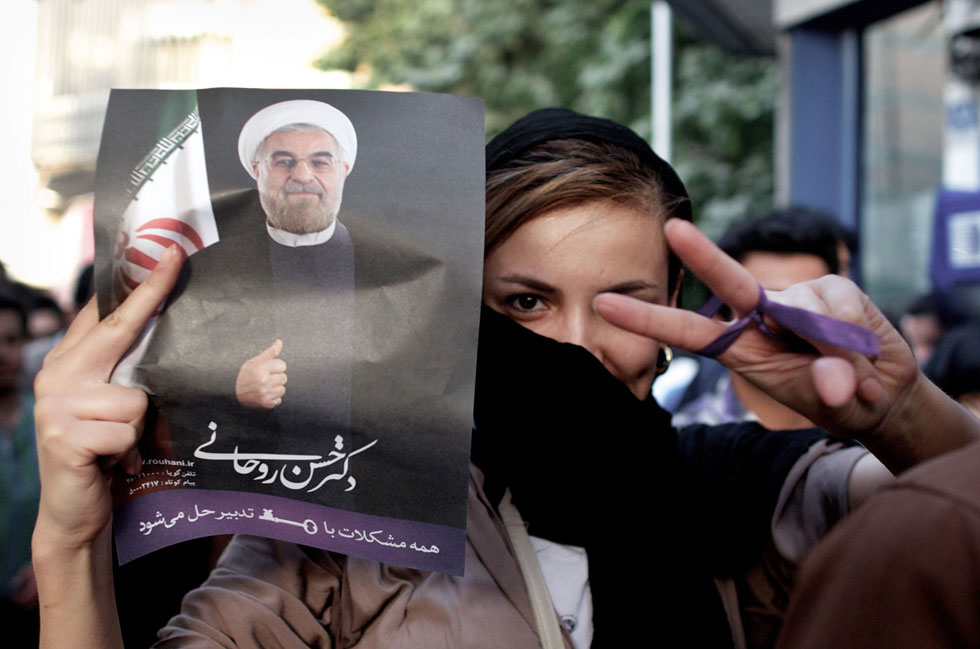 An Iranian woman flashes a victory sign as she holds a portrait of moderate presidential candidate Hassan Rouhani during celebrations in downtown Tehran, June 15, 2013. Iran's Interior Minister has said Rouhani won the election with 18.6 million votes, or 50.68 percent of the vote. (Behrouz Mehr/AFP/Getty Images)
Politically moderate cleric Hassan Rouhani, who garnered support from opposition and reformist camps, won the vote in Iran on Friday to replace Mahmoud Ahmadinejad. Rouhani is set to take office on August 3.
With voter participation reportedly at 72%, Hassan Rouhani won more than 50% of the ballots cast, scoring a decisive victory and a mandate for change. But in a society ruled by an ever-powerful "Supreme Leader," we need to keep our expectations in check. Early changes will be more in tone than in substance. Given the level of hostility between Tehran and Washington, even a modest adjustment could make a difference.
During his campaign, Mr. Rouhani's platform focused on two related objectives: fixing a seriously broken economy at home and pursuing a more conciliatory approach with the West. In order to achieve the former, he will need to find a way to get sanctions relief — and that will only come through a nuclear deal.
As a first step, watch for changes in Iran's nuclear team. Mr. Rouhani served as the lead nuclear negotiator under reformist president Mohammad Khatami and knows first-hand the importance of placing capable diplomats at the table to engage in talks.
Saeed Jalili, who is currently the lead nuclear negotiator and widely viewed as ineffective, will likely be replaced.
Moving Ali Akbar Salehi, Iran's current Foreign Minister who holds a Ph.D. in nuclear engineering from MIT, into the position would be a smart move.
The question remains if Supreme Leader Ali Khamenei will give Mr. Rouhani the space to forge a new path for Iran's relations with the United States and the authority to deliver. Mr. Rouhani did not support Iran's Green movement or the hardliners in 2009. He has positioned himself as a "centrist," who is able to walk the middle ground to unify the country and pursue a more pragmatic foreign policy.
For Washington, Mr. Rouhani's victory represents a major opportunity to bolster diplomacy with Tehran to defuse the standoff over Iran's nuclear program. The Obama administration has built a formidable international coalition against Iran, which has led to unprecedented sanctions and coercive measures. The time to balance sanctions with diplomacy is long overdue. Reaching a political solution should be the priority. This will require a shift from tactical maneuvers to a strategy centered on step-by-step diplomacy, including direct bilateral talks. At the same time, Iranian decision makers must commit to working with their counterparts in Washington to reach a mutually acceptable approach for heading off a disastrous confrontation. Nothing can happen without buy-in at the highest level of leadership in both countries.
———————
Asia Society's Vice President of Global Policy Programs Suzanne DiMaggio directs the Society's U.S.-Iran Initiative and has been involved in Track II talks with Iranian officials and scholars since 2001. 
DiMaggio is one of 35 experts who signed the new report, Strategic Options for Iran: Balancing Pressure with Diplomacy www.theiranproject.org], released by —- The Iran Project, a non-profit group that seeks to promote U.S.-Iran dialogue, resolve the nuclear crisis peacefully, and encourage greater regional cooperation with Iran.

     Suzanne DiMaggio
is the Vice President of Global Policy Programs at the Asia Society
and former Vice President of the United Nations Association of the USA.
======================================================================
Dr. Amirahmadi Congratulates Mr. Rouhani and Urges Him to Apply His Platform for Real Change
Dr. Amirahmadi Congratulates Mr. Rouhani and Urges Him to Apply His Platform for Real Change
The Iranian presidential election on June 14, 2013 once again reconfirmed my long-held conviction that the Iranian people prefer peaceful evolutionary change through elections over all other options, including regime change and war. It also reaffirmed my vision that the Iranian nation prefers realism and pragmatism over romanticism and radicalism. On election day, the people came out in record numbers and voted for Mr. Hassan Rouhani, a moderate and pragmatic man who gave them hope for change through a measured and wise plan of action. In fact, since the revolution in 1979, Iranians have many times participated in elections in large numbers.
The election also surprised those who argued that most Iranians will not participate because it is not free and fair and the result is predetermined. Yes, the election was less than free and fair and certain forces had wished to control the result, but the pessimists discounted the wisdom of the people and their commitment to use every opportunity to reject the status quo in favor of any degree of improvement. I can only hope that their wishes will be granted as otherwise the status quo will fast deteriorate beyond repair and the system will decline beyond redemption.
I want to take this opportunity to congratulate the Iranian people for showing vision and wisdom. I also want to congratulate Mr. Rouhani on his win, wish him good luck, and hope that he will deliver on his campaign promise of change toward a better Iran, a goal that my campaign assiduously followed. Mr. Rouhani now must also move beyond factionalism, form a true coalition government, utilize experts irrespective of political orientation, and become the President of all Iranians, defending their rights and solving their problems. He needs to move fast but cautiously, and be resolute in his commitment for real change.
I also urge Mr. Rouhani's competitors in this election, particularly the hardline Principalists, to cooperate with him towards building a better Iran. The opposition groups and pessimists should also approach the Iranian situation with more realism and pragmatism. More than anything, the nation needs national solidarity and reconciliation. Only under such a condition, Mr. Rouhani might resolve the conflict with the United States and improve the crippled economy. Mismanagement due to policy inconsistency, itself a consequence of factional infighting, and sanctions, a by-product of the conflict with the US, are the two principal causes of Iran's economic decline.
My involuntary withdrawal to register as a candidate in May was a difficult, yet tactful, decision. It was our right and that of the Iranian nation to have our campaign judged by the people. Nevertheless, I believe our campaign has made a lasting procedural and substantive impact on the Iranian presidential campaign. In particular, we outlined a campaign platform that identifies the nation's major problems and offers specific solutions. It is the only campaign plan ever offered by any Iranian presidential candidate. We explained and expanded our platform in many writings, university speeches, private meetings, media interviews, and television debates. We also used social media effectively to spread our words to Iran and throughout the world.
Significantly, I identified three interrelated problems facing Iran that require urgent attention: lack of national solidarity (factional infighting), conflict with the United States, and economic malaise. For each of these issues, I have provided a roadmap that the next president must follow to put the nation in the right direction. It is our hope that the President-elect will take the next four years to implement our practical and realistic ideas to better serve the Iranian nation. It is now in the hands of Mr. Rouhani to either heed this call to build a better life for Iranians, or ignore it and let the nation's unfortunate decline continue.
Finally, this election marks a turning point not only for the Iranian people but also for our campaign. We wish to channel the tremendous momentum we have gained through this Presidential campaign and apply it towards our long-term goal of building a better Iran. Towards that noble goal, we will be prepared to fully cooperate with Mr. Rouhani, who we trust will also work towards that same goal. We also expect other political leaders and groups to extend similar hands of cooperation. We are particularly looking forward to the wise counsel and efforts of the Iranian people and our global supporters as we move forward towards building a better Iran.
Hooshang Amirahmadi, PhD
Princeton, New Jersey, USA
June 15, 2013
Leave a comment for this article