Fareed Zakaria, the anchor of the CNN/GPS Global Public Square Program – a journalist and much more – whose program we credited many times as the only program we recommend watching as  a religious commitment to the tube, has a very clear view of the world.

He knows that the dependence on Middle Eastern oil is at the base of all US problems – economical, social, and political – internal and external. From the gauging at the pump – to the political antics of the Brothers Koch.

He knows that the world is changing and US attention must switch to Asia from Europe, and secure its backyard by finding more ways to cooperate with Latin America. To be able to do that,  the US must start by cutting its umbilical cord to the Middle East. Yes, he knows this raises a lot of howls – from the Arabs who think they do a great favor to the US by selling their oil, and eventually from pro-Israel friends in the US that think Israel is still the baby that must be spoon fed rather then credited that it has matured and can be counted upon as a grown up ally. All this even before global warming/climate change is mentioned.

So far so good – and this seems completely correct.  But Fareed may tend to forget the advice scientists – his friends and my friends – give him.

They say – keep away from all fossil fuels, not just the Arab oil – and develop an infrastructure that is based first on energy that was not spent – the cheapest way to enlarge the resource base – and then do everything possible to introduce renewable sources of energy that are long term sustainable.
You will find – we say – that you do not have to wait for the long range, the so called externalities by the fossil fuels industry, when taken into account as expenditures, as they should be, assure us that the alternatives to burning oil and coal make already for sound economics in the medium range.
This weekend Fareed Zakaria backed the Keystone pipeline and the Canada tar-sand oil extraction in Alberta – which will supply that pipeline – this without taking into consideration that this simply plays into the hands of the US oil industry but is a total NO-NO to the seekers for a true alternative. If the idea is simply jobs – it might be reasonable perhaps just to give money to the unemployed without causing the environmental destruction that goes with that pipeline and with the extraction of the Canadian oil.
The moment he leaves the Keystone topic – Fareed returns to his best – the analysis of the evolving China, and of the new opportunities that opened up in Latin America with thr death of Hugo Chavez. Without Fidel Castro and Hugo Chavez, the US can attempt now a total reconfiguration of its strategy for its own hemisphere-base. Then, with its back more secure – it can extend a friendly hand to a changing China – a continental size, 1.3 billion people large State that is building with maximum speed the largest middle-class the world has ever seen. This new Chinese want quality of life and that they can achieve only by working in tandem with a secure United States. Everybody knows now that there is only one G-2 situation – disturbed now by the US in-fighting – but evident nevertheless to the incoming new Chinese leader.
The days that China had a tremendous labor cost advantage over the US seem to be over, instead they feel water and energy shortages that they must handle in ordr not to slip from their path of growth. They do a lot to phase in renewable energy at a pace that is reasonable to them and would appreciate the breezing space that the US leaves behind when the US decreases imports of oil from Western Asia.Chavez as a devil figure but judges him in context of his country and the region and is able to see the positive aspects of Chavez having taken over leadership in a continent that US governments totally neglected and US business helped destroy. Each Latin country has its own US business excesses to tell about, as coincidentally Iran does. That does not mean that anyone North of the Border will have anything good to say about Chavez or Ahmadi-Nejad, but here we talk needed policy and not sentiments – and Fareed always was ahead of the Washington decision-makers in this non-technical areas.

———————————————————————-
March 9th, 2013
11:41 PM ET
By Fareed Zakaria
Watch the video for the full Take.
Later this year, the Obama administration will have to make a decision on whether to green light the Keystone pipeline – the 2,000-mile pipeline that would bring oil from the tar sands of Canada to the Gulf of Mexico. I'm sure you've heard all the dire warnings about it. But another way to look at it is to ask what would happen if the project does not go forward.
The U.S. Department of State released an extremely thorough report that tries to answer this question. It concludes, basically, that the oil derived from Canadian tar sands will be developed at about the same pace whether or not there is a pipeline. In other words, stopping Keystone might make us feel good, but it wouldn't really do anything about climate change.
Why? Well, given the need for oil in the U.S., Canadian producers would still get Alberta's oil to the refineries on the Gulf of Mexico. There are other pipeline possibilities, but the most likely method of transfer is by train. The report estimates that it would take daily runs of 15 trains with about 100 tanker cars each to carry the amount planned by TransCanada…And remember, moving oil by train produces much higher emissions of CO2 (from diesel locomotives) than flowing it through a pipeline.
For more on this, read the TIME column here.
Topics: GPS Show
March 9th, 2013
12:47 PM ET
"Fareed Zakaria GPS," Sundays at 10 a.m. and 1 p.m. ET on CNN
On GPS this week, should the Keystone pipeline be allowed to go ahead? Fareed presents his take on the proposed oil pipeline, and then invites a dissenter onto debate the issue: Sierra Club Executive Director Michael Brune.
What does the future hold for Venezuela and the region with the passing of President Hugo Chávez? And what does it mean for U.S.-Venezuela relations? Fareed convenes a panel of thinkers including Moises Naim, a former minister of trade and industry in Venezuela, Rory Carroll, author of the new book Comandante, and Nikolas Kozloff, author of Hugo Chávez: Oil, Politics, and the Challenge to the United States.
"In the next few months and perhaps years, they would need to find international external scapegoats and scapegoats at home," Naim says. "Someone will have to explain to the people that are now addressing President Chavez why the situation, their standard of living, has declined so dramatically. Someone will have to explain why, without Chavez, life is not as good as it used to be."
And, China's new president: How Xi Jinping will manage the world's most important relationship – that with the United States? Fareed speaks with China watcher Evan Osnos.
Topics: GPS Show
March 8th, 2013
11:12 AM ET
By François Godement, Special to CNN
Editor's note: François Godement is a senior policy fellow and head of the China program at the European Council on Foreign Relations. The views expressed are his own.
This week's National People's Congress will complete China's once-in-a decade leadership change, with Xi Jinping becoming the country's new head of state. China's partners, and above all Americans, want a China that is a predictable and reliable. After all, huge business interests require stable relations with China. And there is no doubt, China is becoming more powerful – it is not only present in most parts of the world, but has also become a determining factor in the international arena. We would all therefore love to see Mr Xi as a Chinese Gorbachev. But getting to know Xi's real personality, and his likely style of governing, feels like Kremlinology. And what is emerging is worrying.
Xi is reputedly a charmer with an engaging and easygoing style. His wife is a famous singer, his daughter is quietly studying at Harvard. It is reported that he is even reluctant to embrace a luxurious lifestyle (although this does not appear to prevent some of his relatives from doing so). In public, Xi refrains from making controversial statements – an exception of course being the 2009 remark about the "full stomach" and the "constant finger pointing of Westerners" during a trip to Mexico.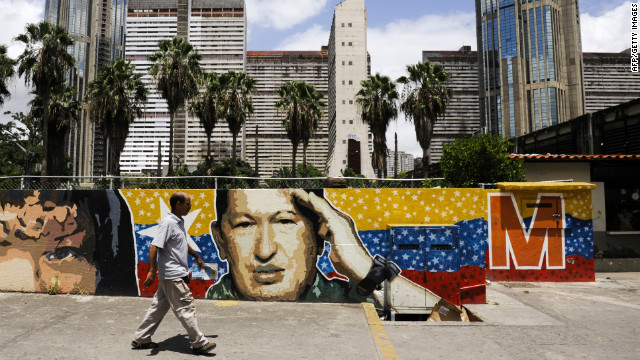 March 8th, 2013
10:42 AM ET
By Mark P. Jones, Special to CNN
Editor's note: Mark P. Jones is the Joseph D. Jamail Chair in Latin American Studies and the Chair of the Department of Political Science at Rice University in Houston. The views expressed are his own.
Hugo Chávez was a great unifier.  Not of all Venezuelans, as even the most casual observer of Venezuela realizes, but rather of the two polar political camps into which Venezuela divided during Chávez's 14 year reign.
Within the Bolivarian movement he created, Chávez was the unquestioned leader, bringing together the disparate factions that together made up the governing United Socialist Party of Venezuela (PSUV).  Cliques, distinct ideological groups, varied regional-based interests, and a new wealthy business class (the Boliburguesía, whose members experienced a rise from rags to riches due to their ties to the government) were all united by their support – both principled and self-interested – for Chávez.
On the opposition side, the one common thread that tied together a heterogeneous opposition alliance (the Democratic Unity Roundtable, or MUD) was the goal of removing Hugo Chávez from power.  This vibrant and often passionate opposition to Chávez provided the glue that held together such diverse actors as socialists, conservatives, state-based parties, recently established parties, and parties linked to the country's discredited pre-Chávez political system.
March 7th, 2013
09:34 PM ET
By Fareed Zakaria
U.S. wages have fallen from 53 percent of GDP in 1970 to less than 44 percent last year, notes Michael Hiltzik in the Los Angeles Times.
"The most succinct way to measure how corporate earnings have fared vs. workers' wages is to examine their share of the U.S. economy — that is, gross domestic product. From 1950 through the 1970s, corporate profits hovered in the range of 5 percent to 7 percent of GDP. They dipped as low as 3 percent in 1986, but since then have staged a long-term ascent that has brought them to 11 percent today, their highest level since World War II. (That's as far back as Federal Reserve figures go.)"
"China's large pool of surplus labor has fueled its rapid industrial growth. Now this demographic dividend may be almost exhausted," argue Yukon Huang and Clare Lynch in Bloomberg.
"College graduates are four times as likely to be unemployed as urban residents of the same age with only basic education, even as factories go begging for semi-skilled workers. Given the underdeveloped service sector and still-large roles of manufacturing and construction, China has created a serious mismatch between skills of the labor force and available jobs."
Leave a comment for this article