Drylands, Deserts and Desertification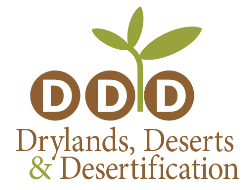 The International Conference on Drylands, Deserts and Desertification (DDD) has emerged as an important global gathering of scientists, field workers, industry, government, CSOs, international development aid agencies and other stakeholders from over 60 countries concerned about land degradation in the drylands, and their sustainable use and development.
The program combines plenary lectures and panels, parallel sessions, workshops, field trips and social events. The four day conference provides an opportunity for a diverse group of experts, policy makers and land managers to consider a range of theoretical and practical issues associated with combating desertification and living sustainably in the drylands.
The 4th DDD conference will focus on the outcome of Rio+20 (UN Conference on Sustainable Development – UNCSD) and consider the science required for implementing the UNCSD recommendations relevant to drylands and desertification. Local case studies will be highlighted alongside success stories from around the world with an emphasis on indicators of progress. Additional sessions will be held considering a broad range of topics associated with sustainable living in the drylands and means to address desertification, as well as achieving the target of zero net rate of land degradation.

Conference Themes
Leave a comment for this article