In this release…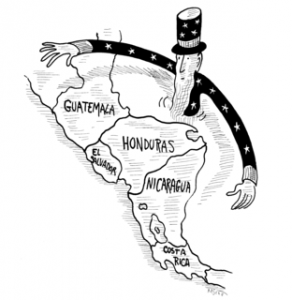 Source: Margaret Scott
CAFTA-DR Governments in Contrast to Small-Scale Owners Parcel Engines of Development
[THE CENTRAL AMERICAN FREE TRADE AGREEMENT THAT INCLUDES THE US AND THE DOMINICAN REPUBLIC OF THE CARIBBEAN ISLANDS.]
After 8 years of free trade agreement between Central America and the United States, CAFTA-DR has brought increased dependency on international markets for the region. Whereas this development decision was potentially positive for the countries' economy, it has hindered food security in the region, representing a huge risk to peasant's lives.
This article was prepared by Mar Guinot Aguado, Research Associate at the Council on Hemispheric Affairs.
To read full article, click here.
parts of it say:
Historically dependent on their neighbor to the North as the engine for development, the Central American countries agreed to fully open their markets to the United States in the late 2000s. The Central American Free Trade Agreement (CAFTA-DR), initiated in 2002 between El Salvador, Guatemala, Honduras, Nicaragua, Costa Rica, the Dominican Republic and the United States, strove to liberalize Central American markets in an effort to increase investments and create economic opportunities throughout the region. The neoliberal policy was aimed at eliminating trade barriers and tariffs on guaranteed agricultural and manufactured goods, investments, and services, which traditionally have led to misery for vulnerable peasants in the agreement's less developed countries. Central America is the third largest U.S. export market in existence, and up to now the neoliberal ideals imposed by the agreement have mainly benefited large corporations that have migrated to the region. The decision of these governments to establish a free market has hampered the Central American agricultural sector and has decreased food security. This process intensifies the area's dependency on volatile international markets in a region already threatened by structural malnutrition.
Free-trade advocates had argued that CAFTA-DR would decrease poverty in rural areas and accelerate the development of Central America, substantially benefiting consumers by decreasing prices of consumer products and improving their purchasing power. But years after its implementation, CAFTA-DR has re-structured the countries' economies by flooding their markets with subsidized grains coming from the Unites States. In fact, between 1995 and 2011, the U.S. government spent $277.3 billion USD in agricultural subsidies, exporting many of these products to Central America.[6] Since the free-trade agreement, Central American countries and the Dominican Republic have been transformed into net food importers, with their governments unable to dedicate as much investment to the agricultural sector. As a result of the international economic integration with trade liberalization, the region has dramatically increased its dependency on imports supplemented by diminishing amounts of aid, and thus has been exposed to the volatility of commodity prices. Yet, low food prices in Central America have not effectively mitigated hunger.
According to the 2008 State of the Region Report, "An increase of 15 percent in the price of food could mean 2.5 million more people in extreme poverty, particularly in Guatemala and Honduras." The report shows "a model of rising imports (wheat, rice and corn went up to about 30 percent in available food between 1990-2003) with tripled prices for wheat and doubled prices for corn and rice (2008-2009)," which not only "leads to profits for the companies that import the goods, but growing malnutrition, especially among the region's rural and indigenous poor."[7] For example, El Salvador imports 79 percent of its rice and 43 percent of its corn. Similarly, Costa Rica imports 77 percent of its beans while Guatemala imports 100 percent of its wheat and 70 percent of its rice.[8] Food prices have risen internationally; wheat prices have grown 152 percent and maize prices have grown 122 percent between 2006 and 2008.[9] This price inflation, therefore, has negatively affected poor people in the region, who suffer from a huge dependency on agricultural imports promulgated by CAFTA-DR.
Instead of growing yields destined for local consumption, the trade agreement has led to a decrease in the diversification of production and a concentration on exportable crops in Central America. From the 1990s to 2005, local food production—such as rice, beans, and corn—shrank by 50 percent.[10] Prior to the agreement, 75 percent of Central American exports had free access to the U.S. market through bilateral agreements. This slashed CAFTA-DR's developmental benefits for Central America.[11] Moreover, the huge size differences between the United States' and the other countries' markets seriously hindered Central America in seeking an equal negotiation.
Developed countries are promoting the cultivation of biofuel crops, such as palm oil in Guatemala, as a sustainable development project strategy. Yet, this expansion deepens food insecurity in this afflicted region by weakening rural sustainability.
According to USA Rice Federation Chairman Lee Adams, echoing the upbeat attitude of other unalloyed boosters, "support for CAFTA-DR means more jobs for rural America, and greater stability for U.S. agriculture."[18] Their argument is that CAFTA-DR has positively impacted agriculture in the U.S., increasing its exports to the region by 84 percent from 2005 to 2011, which represented $4.2 billion USD in 2010.[19] For the United States, removing agricultural barriers to this market has thus created a beneficial solution to its overproduction of farming goods. In that sense, the trade agreement is destroying any possibility of balanced regional integration within a Central American common market. Yet, the Central American governments continue to push toward a developmental model through free trade agreements, signing the new Association Agreement with the European Union in June 2012.[20] Similar to CAFTA-DR, this economic integration allows at least some kind of cooperation within Central America. While other trade alternatives exist such as ALBA, based on a more cooperative perspective, Central American governments chose the CAFTA-DR approach for their countries, which appears to only support narrow development.
The neoliberal policies implemented in the region through the CAFTA-DR agreement have negatively impacted these less developed countries. Subsidized production from the U.S. and superficially sustainable biofuel projects from developed countries have repeatedly devastated rural economies
———————————————————————
Ecuador's Correa Sounds The Bugle
Senior Research Fellow Sean Burges examines the political ramifications of Ecuadorian President Rafael Correa's decision to grant Wikileaks founder Julian Assange asylum. In this piece, Burges examines how Correa is expanding upon his tradition of a reformist populist agenda that confronts the established political orders of more Westernized countries. As the media focus on Assange, Correa is using the distraction to further implement his domestic agenda while using the splash tiny Ecuador has caused to solidify his leftist credentials.
This article was prepared by Sean Burges, Senior Research Fellow at the Council on Hemispheric Affairs.
To read full article, that explains the Correa Ecuador stand vis-a-vis the UK and the US please click here.
Some excerpts are:
The situation with respect to the US is not much different from the way Correa views the UK which has its entanglement with Latin America because of the Malvinas Islands. Correa can bank on Latin support versus the UK – this includes the strong Brazil. Relations with Washington remain stable despite sustained provocations. In 2009 Correa delivered a major blow to US drug interdiction policy by refusing to renew the Pentagon's lease on the Manta airbase in southern Ecuador. This was followed last year with the expulsion of the US ambassador, ironically because of the material released in the WikiLeaks Cablegate.
These provocations and a habitually anti-imperialist rhetoric from Correa had little impact on trade with the US. From 2005 to last year, exports to the US grew by 20.5 per cent. More importantly for Correa's strategic thinking, the US share of Ecuador's exports fell from 49.7 per cent to 34.6 per cent, and this trade was concentrated in the fish, fruit and oil that have a ready Chinese market.
The foreign policy and economic cost of provoking Britain and US is thus remarkably low for Correa, allowing him to use Assange to further burnish his anti-imperialist credentials among his domestic political supporters. For Correa, maintaining credibility as a forceful voice against imperialism and a staunch rhetorical critic of the US is a domestic political necessity. His entire agenda is directed towards transforming the political and social structure of Ecuador, which automatically threatens the interests of the established political and economic elite.
Given that the three presidents elected before Correa were belted from office by massive indigenous popular protests or congressional conspiracy, it is hard to argue that there was not a need for constitutional reform in Ecuador. At issue were the twin problems of the near impossibility of electing a congress that would co-operate with the president and the systemic exclusion of the country's indigenous peoples (25 per cent of the population) and the mixed-heritage mestizos (65 per cent) from real political participation.
Correa wasted little time in pursuing reform after his 2006 election. To facilitate inclusion and break gridlock, Correa called a constitutional convention in 2007, which duly drafted a new magna carta for Ecuador. In 2008, the document was put to a national referendum and approved by 64 per cent of the population as the country's 20thconstitution. The established political and economic elite is not happy and is doing all it can to undermine Correa. Although poverty rates in Ecuador have dropped from 37.6 per cent to 28.6 per cent over the past five years, the political reality is that it is very easy to spin a quarter of the population remaining impoverished as a cataclysmic failure of governmental policy.
Leave a comment for this article