South Sudan celebrates year of freedom.
REPORTING BY CHINA DAILY.
Dancing and singing, South Sudanese on July 9 put aside dire warnings over the stability andeconomic viability
of their fledgling nation, the world's newest, to celebrate its first year ofindependence.
Celebrations began at midnight as crowds took to the streets of the capital, Juba, with peoplecrammed into cars
driving around the city and honking horns to mark the anniversary ofseparation from former civil war foe Sudan.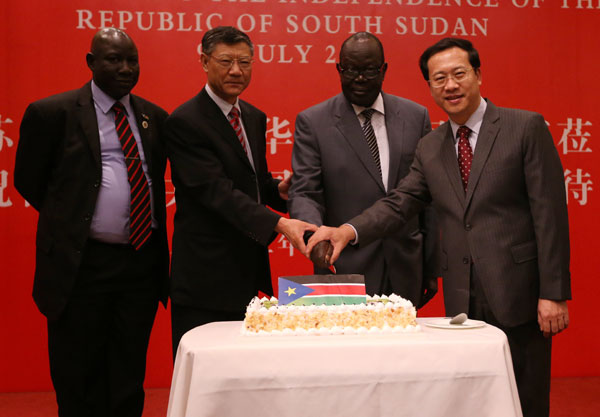 Deputy Foreign Minister Zhang Zhijun (second left), Assistant Foreign Minister Ma Zhaoxu (right) andSouth Sudan Ambassador Eluzai Mogga Yokwe (second right) cut a cake to celebrate the firstanniversary of the African country's independence on Monday. Cui Meng / China Daily
"It is a good day because it's the first birthday of my country," said Rachel Adau, a nurse, whoarrived soon after dawn to secure  a place at the official ceremony, which took place at themausoleum of the late rebel leader John Garang.
"Today is the day we celebrate when the people came out from the Arabs and liberatedthemselves," said Michael Kenyi Benjamin, a student.
South Sudan has spent the past year wracked by border skirmishes with the rump state ofSudan, as well as internal violence and the
shutdown of its vital oil production in a bitter disputewith Khartoum.
While South Sudan has made progress, it remains one of the world's poorest countries, whereeven the most basic infrastructure,
such as roads, electricity and water-distribution networks, islacking.
The outstanding issues, including the sharing of revenues of oil, were among the most prominent differences that prevented the establishment of normal ties between Khartoum andJuba.
South Sudanese are also suffering from a lack of development and basic services, and fromhigh prices for basic commodities.
Mohamed Hassan Saeed, a Sudanese expert, told Xinhua that "the events which followed theseparation of South Sudan have proved
that the security issue is still the major threat to thestability of relations between the two countries".
"Full normalization in relations between Khartoum and Juba cannot be achieved withoutexploring a settlement for security issues,"  he added.
The issues with the Blue Nile and South Kordofan areas as well as oil-rich Abyei should beresolved first, and then the two sides can search for an agreement that will restore pumping ofthe south's oil  through Sudan, he added.
He said the current disputes between Sudan and South Sudan are the result of theirseparation because both countries are having
trouble adapting to the situation.
"The south is suffering from the difficulties of building a state from nothing under chronic tribalconflicts, scarcity of resource and
a lack of infrastructures, while Sudan is suffering fromeconomic, security and political issues," he said.
AFP-Xinhua
——————————————-
Nation looks to China for model.
Updated: 2012-07-10 07:08
By Qin Zhongwei ( China Daily)
China's economic miracle and rapid growth during the past 30 years is a good example tolearn from, South Sudan's
new ambassador to China said on Monday.
Eluzai Mogga Yokwe, who arrived in Beijing over the weekend, spoke to China Daily on thefirst anniversary of his country's
independence.
Given that China took three decades to transform itself into theworld's second-largest economy, "I wonder how long it will takeus to develop.
We definitely can learn something from China,"Yokwe said.
China began to send teams of doctors to what was thenthe southern part of Sudan in the 1970s. The countryhas more than 3,000 Chinese there now, the ambassador said. An increasing Chinesepresence is touching local people's lives through telecommunications, hotels and restaurants.
"The friends who come when really need help are true friends," he said.
Chinese companies are also involved in the building of South Sudan's infrastructure, the youngnation's biggest priority, Yokwe said.
Meanwhile, the South Sudan people still hold on to their faith and pride as their country isblessed with many riches not yet
developed -not only the oil, but also the agriculture potentialsand mineral resources such as gold, Yokwe said.
South Sudan also is seeing more international cooperation and support in areas such asclean-water production and education, not just with China, but also the United States, Britainand Egypt, among other countries, he said.
And South Sudan's admission as a member of the African Union last year not only ensures thecountry won't be "left out", but also
helps it to be more involved in the affairs of the continent,Yokwe said.
South Sudan's foreign minister is scheduled to come to Beijing later this month to attend the5th Ministerial Conference of the
Forum on China-Africa Cooperation, which will be from July19 to 20. It will be the first time South Sudan participates in the forum.
One year after South Sudan's separation from Sudan, relations between the two countries arebleak. South Sudan stopped pumping
its oil through Sudan earlier this year because of adisagreement over the charge to export South Sudan's oil through Sudan's pipeline.
But Yokwe is optimistic about achieving a peaceful resolution to the current deadlock, as bothsides want peace and "we can all benefit from the oil". And he noted the bilateral negotiationsare still going on.
"Problems created by human beings can also be solved (by human beings), as long as if youcan sit down together and talk to each
other," he said. "You can always find a solution."
China will definitely play an important role in the mediation as a good friend of both Sudan andSouth Sudan, he added.
Liang Liang contributed to this story.
qinzhongwei@chinadaily.com.cn
Leave a comment for this article