(illustration: Rio Earth Summit)
Rio+20 Earth Summit: Leaked Draft Portends Another Failed Climate Summit.
By John Vidal, Guardian UK
09 June 12
he latest draft text that 180 governments are expected to sign up to at the end of the Rio+20 Earth summit has been leaked to the Guardian. According to the UN, only about 20% of the wording has been agreed, so with just three days formal negotiating time before world leaders arrive in Brazil on 20 June, and with the most contentious language still in, there is unlikely to be a strong agreement.
Sha Zukang, the Chinese diplomat who is head of the UN Department of Economic and Social Affairs and will chair the Rio+20 summit, accepts that crucial issues remain unresolved.
According to Third World network, the only non-governmental group to publish daily reports on the progress of the negotiations, developed countries are still firmly opposed to proposals by developing countries calling for the provision of "new and additional financial resources". This has created serious tensions and frustrations with Pakistan, speaking for the G77 and China, saying there was no point in discussing further and no scope for further work and that it was better to "eliminate the entire finance chapter itself", given the response of developed countries.
WWF director general, Jim Leape is deeply concerned that the talks could collapse under the pressure of having to negotiate so much in such a short time. Earlier this week he said: "Currently we are a long way from where we need to be in these negotiations. Heads of state still have a unique opportunity in Rio to set the world on a path to sustainable development – but they need to step up their game dramatically. As things currently stand, we are facing two likely scenarios – an agreement so weak it is meaningless, or complete collapse."
The most recent text is a significant weakening of previous drafts, particularly in the areas of valuing natural wealth, energy and ocean protection, and even this draft was privately rejected by a number of delegations. "When they gather in Rio, governments must restrain the flow of weasel words that is threatening to emasculate any agreement," said Leape. "They are not helping their people or the planet by 'noting', 'recognising' or 'emphasising'. We need to see time-bound commitment and action words like 'will', 'must' and 'deliver'," he said.
To give some idea of the divisions and tensions in the negotiations, here is a much abridged extract from Third World network's report of the negotiations about one single paragraph, number 50. Note how countries are arguing about the headings to sections as well as the order of words, and the meaning of the order of words:
"The division over the role of the 'green economy' concept was apparent in disagreement over the title of the section. The G77 asked the chair to retain the title previously proposed by the group which was, 'Framing the context of green economy, challenges and opportunities, as well as other approaches, visions, and models of sustainable development and poverty eradication.' This was rejected by the US, Switzerland, EU and Korea.

"Similarly, in negotiation on paragraph 50 of the co-chair's proposed text, which attempts to define 'green economy' and give it context, there were deep differences between developed and developing countries with only a tentative agreement on phrasing of the subject of the section. That phrasing was: 'policies for a green economy.'
"The EU then inserted words in paragraph 50 to make the primary subject of the paragraph, and therefore the section, 'the transition towards a green economy' and insisted, with a textual insertion, that it should be a 'tool' for 'all countries.'
"The G77 introduced language to paragraph 50 to clarify that 'green economy policies' were to be 'one of the tools' and 'should not be a rigid set of rules.' In the splinter group, the G77 noted it could support the chair's text in general but that the "feeling" of the group was that they were 'not heard' and the new iterations of the text did not include much of the G77 position. However, paragraph 50 was, in general, one of the few it was happy with and so asked for flexibility from other countries.
The EU said to the splinter group that the beginning of the section required some kind of message 'our leaders' would be comfortable with, and insisted it was about the 'tone of the sentence'.
The G77 said … the question was "how can we contextualise green economy" and it felt the co-chair's text had a reasonable compromise. To raise "environmental protection" was unbalanced as, for the Group, to achieve sustainable development, reform of international financial institutions was needed; and so if environmental protection was mentioned then that issue should be mentioned too. Equally, it said, if states wanted flexibility, the word 'transition' did not help as it did not suggest green economy was just 'one' of the options."
When the G77 asked what the difference was between "policies for a green economy" and "green economy policies", the US replied that "green economy policies" was more explicit about the subject but if the objective was a green economy then you could have either formulation.
This textual hard grind is enough to make a sane person mad. Whether it can produce a deal to save the planet, we will have to wait and see.
======================================================
the previous two articles as we posted on June 9, 2012 – we said at start:
Ban sees hope for agreement at Rio+20
United Nations Secretary-General Ban Ki-moon expressed optimism that negotiators will find common ground for sustainable development at the Rio+20 conference. Separately, the World Wildlife Fund expressed pessimism. "We are facing two likely scenarios — an agreement so weak it is meaningless, or complete collapse," said Jim Leape, director general.
The Guardian (London) (6/6),
The Guardian (London) (6/6)
=====================================
Rio+20 Earth summit: Ban Ki-moon 'optimistic' about sustainability deal
Secretary general tries to rally global community as failure to agree text casts air of gloom over forthcoming conference.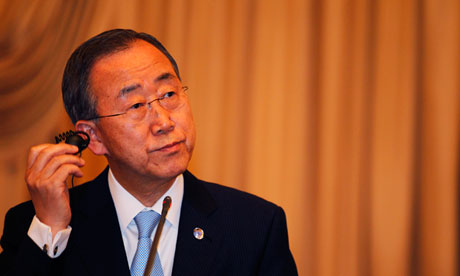 Ban Ki-moon, the UN secretary general, insisted progress was being made in the lead up to the Rio+20 Earth summit. Photograph: Damir Sagolj/AFP/Getty Images
The United Nations secretary general, Ban Ki-moon, expressed cautious optimism that the upcoming Rio+20 conference will result in a "once in a generation" blueprint for global sustainable development.
The upbeat comments, which run contrary to his earlier gloom, appear aimed at injecting a shot in the arm to the Earth summit, which takes place at the end of the month.
Expectations for the conference have plunged as several world leaders, including David Cameron, said they would not attend and negotiators complained of debilitating delays in whittling down the vague and bulky negotiating text. The WWF previously warned that the summit might collapse.
Ban insisted progress had been made at recent advance talks in New York, which were extended for several days to give delegates more time to find common ground. But he acknowledged that there was still much to be done.
"This has been quite a difficult negotiating process. Even with five extra days, members states have not been able to streamline the package," he said. "This is not unusual. It takes a long time, until the last minute."
Negotiators have honed down more than 2,000 pages of recommendations but they are still grappling with 26 priority areas, including ocean management, food security, sustainable energy and global governance.
Divisions remain particularly wide on how to define a "green economy" and sharing the financial burden.
Ban said agreement on all 26 areas would be the ideal, but failing that he wanted negotiators to identify "must have" items.
A binding treaty is out of the question but Ban said nations were willing to set sustainable development goals that would complement the Millennium Development Goals set by the United Nations on poverty reduction.
"This is not the end of the everything, it is the start," the secretary general said. "For too long we have tried to consume our way to prosperity. Look at the cost: polluted lands and oceans, climate change, growing scarcity of resources from food to land to fresh water, rampant inequality.
"We need to invent a new model; a model that offers growth and social inclusion… that is more respectful of the planet's finite resources.
"Nature has been kind to human beings, but we have not been kind to nature."
===================================
and
Rio+ 20 Earth summit could collapse, WWF warns.
Countries fail to agree on draft text for sustainable development goals and definition of key objectives including green economy.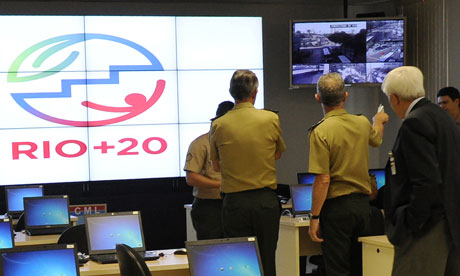 Rio+20 Earth summit aims to bring together 120 countries to set a new path on sustainable development but there are deep divisions.
Photograph: Vanderlei Almeida/AFP/Getty Images
The Rio+ 20 Earth summit could collapse after countries failed to agree on acceptable language just two weeks before 120 world leaders arrive at the biggest UN summit ever organised, WWF warned on Wednesday.
An extra week given over to the UN's preparatory negotiations in New York fell into disarray over the weekend as talks aimed to bring countries together to set a new path for sustainable development splintered into 19 separate dialogues with major internal disagreements on the processes to be followed.
"We are facing two likely scenarios – an agreement so weak it is meaningless, or complete collapse.
Neither of these options would give the world what it needs. Country positions are still too entrenched and too far apart to provide a meaningful draft agreement for approval by an expected 120 heads of state", said WWF director general Jim Leape.
Countries are not being asked by the UN to legally commit themselves to anything, but only to sign up to an aspirational "roadmap" contained in a document called "the future we want" and to a commitment to the so-called 'green economy' of jobs generated from industries such as renewable energy and energy efficiency.
It is hoped that they will also agree to introduce by 2015 a set of sustainable development goals (SDGs) similar in ambition to the millennium development goals which covered areas like HIV reduction and clean water provision. The SDGs could cover areas such as energy, water and food.
However, in a repeat of battles played out in global climate and trade talks, they have fought bitterly over every comma and phrase in the prepartory meetings and in particular are still deeply divided over the definition and scope of the phrase "green economy". They are now expected to take several years to identify, formulate and agree on the goals.
According to both WWF and Malaysia-based NGO Third World Network, the most recent draft text put forward in New York was a "significant weakening" of previous drafts, particularly in the areas of valuing natural wealth and ocean protection.
The best that is now likely to come from Rio is a process aimed to achieve agreement over many years, and a series of eye-catching initiatives proposed by individual countries, UN bodies and large businesses often working together. These include actions to make transport more sustainable, reduce hunger, improve the health of oceans, and to provide electricity for everyone in the world.
Definition of the concept and principles guiding the "green economy" have proved the hardest to reach because what is decided at Rio could favour or limit the development of some countries. The EU and other rich countries want all countries to agree to remodel their economies to manage resources more efficiently, develop renewable and low carbon energy, and reduce pollution.
But G77 countries have argued that while the goal is acceptable, they risk being at a competitive disadvantage in the race for future global markets and are suspicious that the green economy is a pretense for rich countries to erect "green" trade barriers on developing country exports.
They further argue that if they are to sign up to the "green economy", there should be commitments by rich countries to new finance and technology transfer agreements – something so far unacceptable to the US and EU.
Many environment and development NGOs are also fearful of the green economy proposals, which they believe will encourage countries to put monetary value on all nature, reducing forest and ocean protection to markets and profits and undermining principles of ecological justice and collective wellbeing.
"Instead of putting a price on nature we must recognise that Nature is not a thing or mere supplier of resources.
What we need is to forge a new system of development based on the principles of collective wellbeing, social and environmental justice and the satisfaction of the basic necessities of all", said Pablo Solon, former Bolivian ambassador to the UN and now director of Bangkok-based NGO Focus on the Global South .
"We cannot keep promoting such destructive model of development that does not acknowledge the planetary limits of economic growth", he said.
Divisions between the countries are now thought to be as deep as any seen in the long-running and separate climate negotiations.
Many developing countries are said to be distraught that the US is consistently trying to bury the principles guiding sustainable development agreed after fierce struggles at the Rio earth summit in 1992 and its follow-up meeting in Johannesburg in 2002.
"We are in real danger of going backwards. [The US] wants to reject principles including national sovereignty, the right to development, common but differentiated responsibilities and the obligation not to cause environmental harm", said one observer.
Despite the differences, UN leaders remained upbeat. "I sense a real dialogue – a real willingness to find common ground," said Rio+20 Secretary-General Sha Zukang. "This spirit is encouraging, and we must carry it to Rio."
Kim Sook, ambassador of the Republic of Korea and co-chair of the preparatory committee said that before the negotiations, only 6% of the text had been agreed upon. Now, that number has jumped to more than 20%, with many additional paragraphs "close to agreement".
Leave a comment for this article