Help President Nasheed of the Maldives.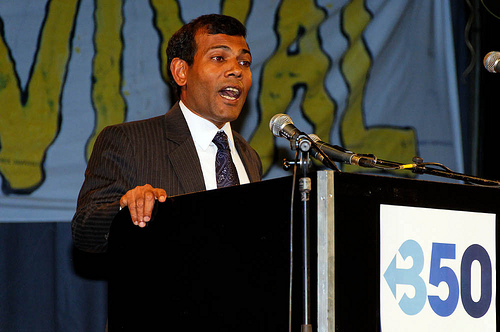 President Mohamed Nasheed of the Maldives, a friend and ally of the climate movement, is in danger, and when our friends need our help, we respond. Sign on to tell world leaders to do what they can to keep him and his people safe.
President Mohamed Nasheed of the Maldives has been one of 350.org's strongest allies, and friends, for many years. As the first democratically elected leader of the small island nation, he has been a tireless voice for climate action and strong advocate for getting us back to 350 ppm. "For us, this is a matter of life and death," Nasheed has said.
Now it is he specifically who is at risk. A military coup forced President Nasheed from office on Tuesday morning with threats of violence. He is currently under house arrest and needs our help.
From Bill McKibben:
Dear friends,
Our fight is a global fight, and early this morning one of our greatest allies, Maldives President Mohamed Nasheed, was ousted in a military coup. He's under house arrest at the moment and could be in serious danger. We're collecting signatures on a petition that we will deliver to key secretaries of state and foreign ministers to make sure there's pressure on the coup leaders to keep President Nasheed safe.
On our action page,  you'll see a video of President Nasheed at the Copenhagen climate talks–it was one of the great moments of the 350 movement.
We also pasted an account of the coup from inside the government. Click Get More Info on the page for both.
The Maldives was on course to become the world's first carbon-neutral nation, a beacon for the rest of the planet; but for the moment, all that matters is the safety of our dear friend and his colleagues.
Days like today remind us how hard this fight will be, and how many setbacks we'll see on the way. They also remind us that we need solidarity above all else. If you're a praying person, include Pres. Nasheed and his family in your prayers.
We know that all of you are action people–so here's that sign-on link again.
With respect,
Bill McKibben and the 350.org team.
————
Tell your national leaders:
We are deeply concerned about the recent coup that forced Maldives President Mohamed Nasheed from office and is currently keeping him under house arrest. President Nasheed was the first democratically elected leader of his country and a global voice for action to address the climate crisis. He needs your support to ensure his safety.
Please put diplomatic pressure on the leaders of this coup to avoid violence and to work for a peaceful, democratic solution to their conflict.
---
350.org is building a global movement to solve the climate crisis. Connect with us on Facebook and Twitter, and sign up for email alerts. You can help power our work by getting involved locally and donating here.
What is 350? —-   Go to our website to learn about the science behind the movement.
Leave a comment for this article