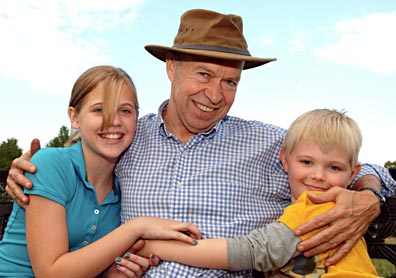 Dr. James E. Hansen
Columbia University
Armstrong Hall
2880 Broadway
New York, NY 10025 USA
"Storms of My Grandchildren", by James Hansen
On the webpage "Updating the Climate Science: What Path is the Real World Following?", Drs. Makiko Sato and James Hansen update figures in the book Storms of My Grandchildren (see LA Times review and appearance on Letterman show), and present updated graphs and discussion of key quantities that help provide understanding of how climate change is developing and how effective or ineffective global actions are in affecting climate forcings and future climate change. A few errata in Storms are also provided.
Recent Communications:
Dr. Hansen periodically posts commentary on his recent papers and presentations and on other topics of interest to an e-mail list. To receive announcements of new postings, please click here.
Recent Video
October 2010: Video clip for "The Million Letter March for Effective Climate Legislation" posted on YouTube.
Recent Presentations
August 2011: Drawing a Line in the Tar Sands: Why Stopping the Pipeline is Vital to the Future of Our Children & Our Planet:Preentation at National Press Club in Washington, DC, on Aug. 29
+ Download PowerPoint (7 MB)
Recent Scholarly Publications
Hansen, J., Mki. Sato, P. Kharecha, and K. von Schuckmann, 2011: Earth's energy imbalance and implications. Atmos. Chem. Phys.,11, 13421-13449, doi:10.5194/acp-11-13421-2011.
Other Recent Publications
2010. The Price of Change. Op-ed in South China Morning Post, Nov. 3.
Leave a comment for this article